Lono (Los Angeles, CA)
Lono Hollywood Lounge, Bar & Restaurant
6611 Hollywood Blvd, Los Angeles, CA 90028
323.848.4475
www.lonohollywood.com
Sat 07/28/2018, 07:15p-11:30p
It's been a while since I've dined this deep into Hollywood, but what brought be back was a birthday party at Lono, a new-ish tiki bar situated right on the Walk of Fame (and a stone's throw away from the location of the original Don the Beachcomber, coincidentally). Named after a Hawaiian deity of sorts, the place was opened in June 2017 by Austin Melrose and Zach Patterson, the guys behind Umbrella Hospitality Group (Melrose Umbrella Company, The Corner Door). Heading up the kitchen is Executive Chef David Lespron (SBE-Katsuya, The Dolce Group) and Chef de Cuisine Sam Hoke (Idle Hour,
Harlowe
). Michael Lay, of
Broken Spanish
and
Faith & Flower
fame, served as opening GM and Beverage Director, but left in September last year for
Hotel Figueroa
.


Lono resides in the address once home to David Judaken's short-lived East, which closed in August 2010 and was actually taken over by SBE and used as an event venue. The spot was revamped by
M. Winter Design
(
Jaffa
,
Manuela
, Gjusta, Bardonna, The Lincoln), with assistance from Melrose. Lono definitely has that tiki bar vibe going on, at least in the front part of the space.

Meanwhile, the back area, known as the Green Room Patio, has a noticeably airier feel. It's only open on Fridays and Saturdays apparently, and actually gets a little clubby later into the night.







Lono features a lengthy list of tiki-inspired cocktails, along with a smattering of beer and wine, while the food program fits the theme with its decidedly Asian-y bent. Corkage is $30 per bottle, limit two per table. Click for larger versions.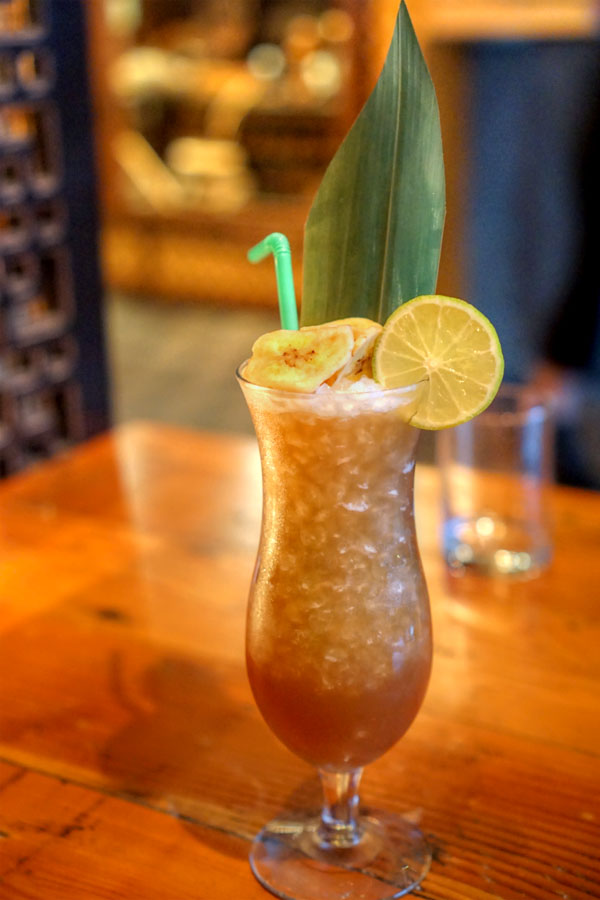 Banana Boo Loo [$14.00]
| Engineered by Helena Olsen, with our friend Bryan Davis' Lost Spirits Navy Rum, fresh lime, pineapple, banana, & demerara
The first thing I have to say about our first cocktail was that there was actually surprisingly little banana, but that doesn't mean I didn't enjoy it. It was probably more spirit-forward than I expected, really showing off notes of dark fruit and brown sugar contrasted by a tart, acerbic character that sort of stays with you.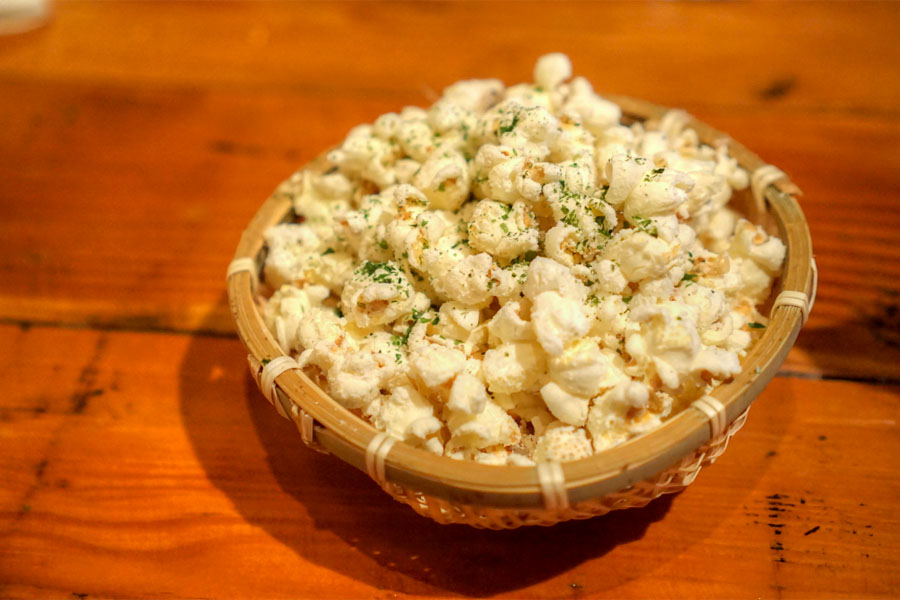 A complementary serving of Lono's signature coconut popcorn with
furikake
. It was definitely less coconut-y than anticipated, and in fact, almost "cheesy."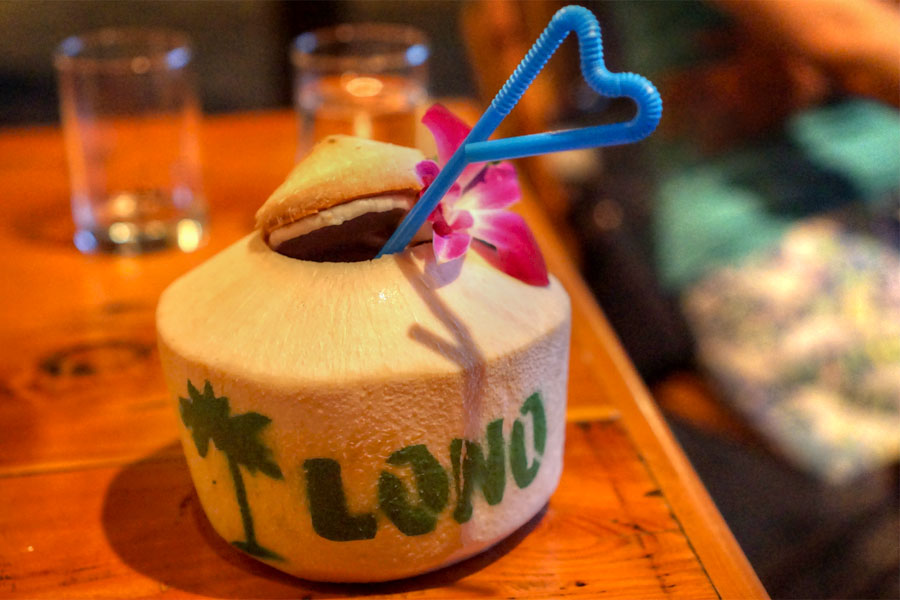 Several of my dining companions ordered these Lono-branded coconuts, which were filled with coconut water. From what I was told, once you finished it, you could request unlimited refills of piña colada, which seems like a good deal?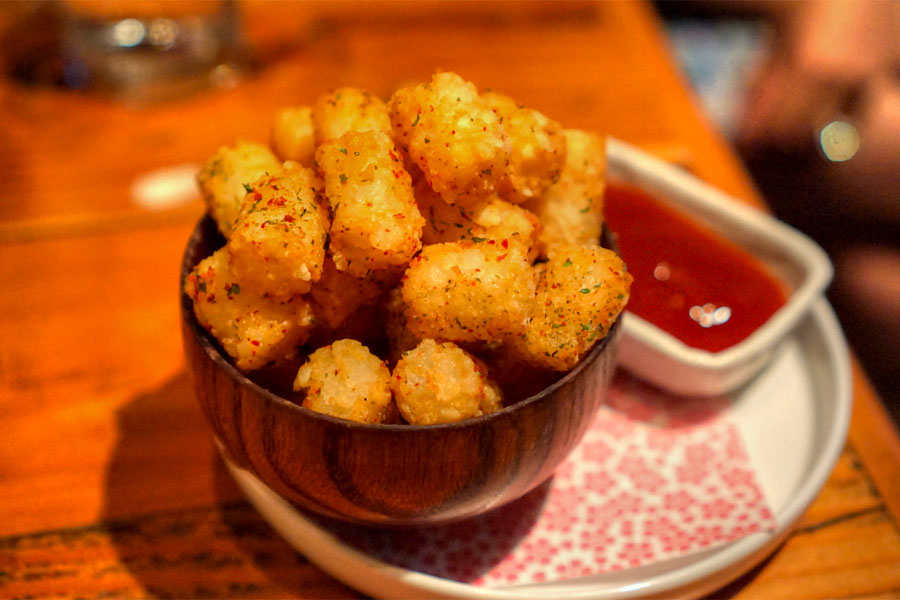 Tiki Tots [$10.00]
| Ao nori, banana ketchup
I'm a bit of a sucker for tater tots, and these were as perfect as any I've encountered, with some extra oomph from the
aonori
and a great sweet-tart counterpoint from that ketchup.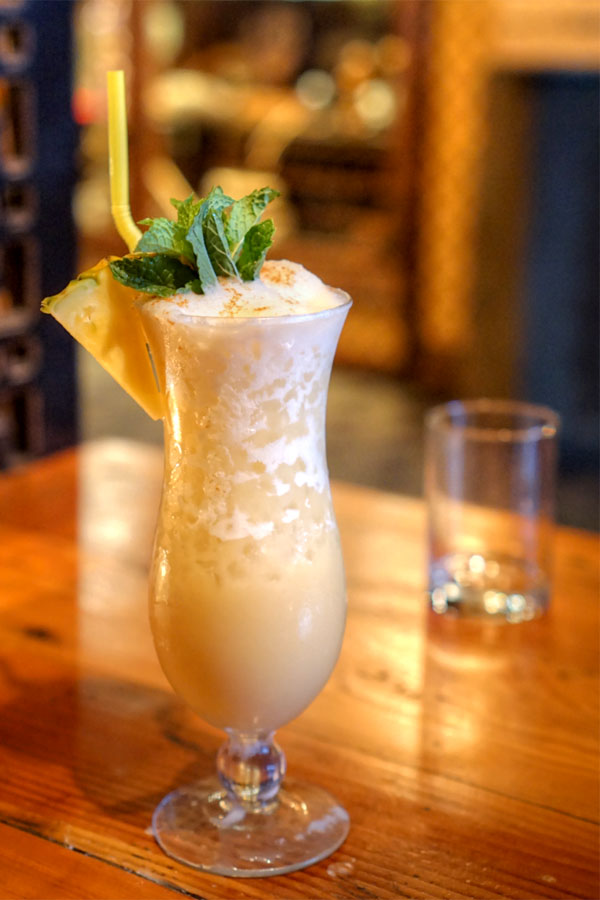 Painkiller [$14.00]
| Pusser's Rum, pineapple, Cara Cara orange & coconut cream
The classic Painkiller cocktail went down super smooth, with lots of coconut-y sweetness evened out by tart fruit, nutmeg spice, and a touch of herbaceousness.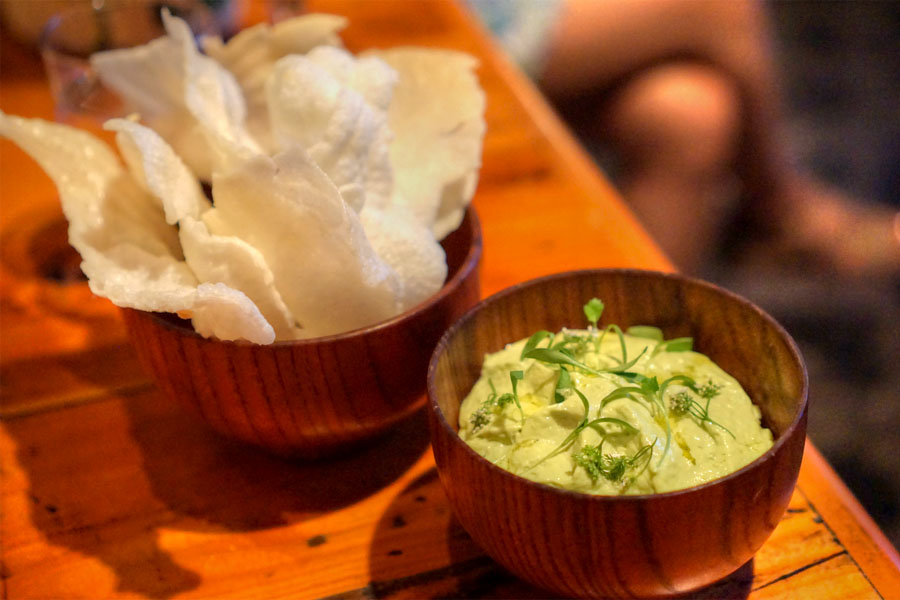 Chips 'n Dip [$12.00]
| Fresh avocado-yuzu crème fraiche, cilantro, California olive oil, serrano pepper, rice crackers
An unconventional take on chips and dip worked. The salty, crunchy crackers were enjoyable just by themselves, but really sang with a dab of that airy, silky crème fraîche.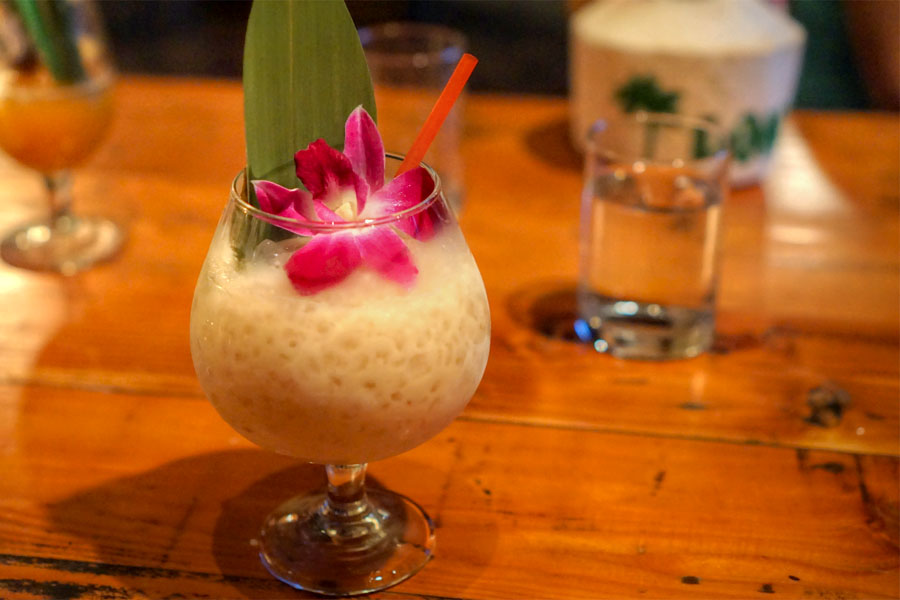 Pearl Diver [$16.00]
| Overproof dark Jamaican & aged Puerto Rico rums, fresh lime, Cara Cara orange & Don's Gardenia mix
Served in a snifter, this classic tiki cocktail from Don the Beachcomber drank sweet and fruity, but also conveyed contrasting nutty, bitter, boozy notes with a trace of warm spice on top.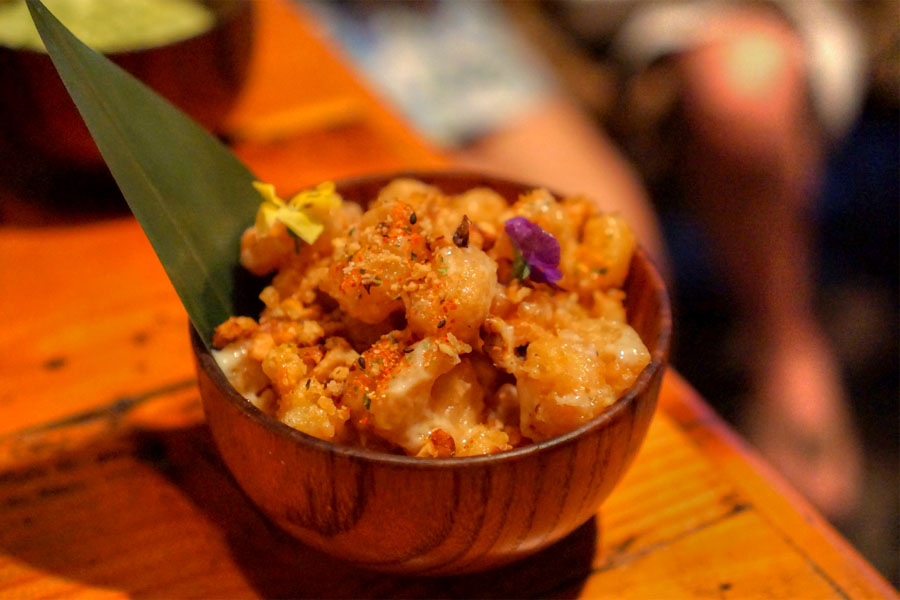 Shrimp Shack [$15.00]
| Pineapple popcorn shrimp, yuzu, walnuts, ichiimi
This was a highlight. I was afraid that the shrimp would be overcooked, but they actually came out perfectly textured, with a spot on balance of sweetness and salinity.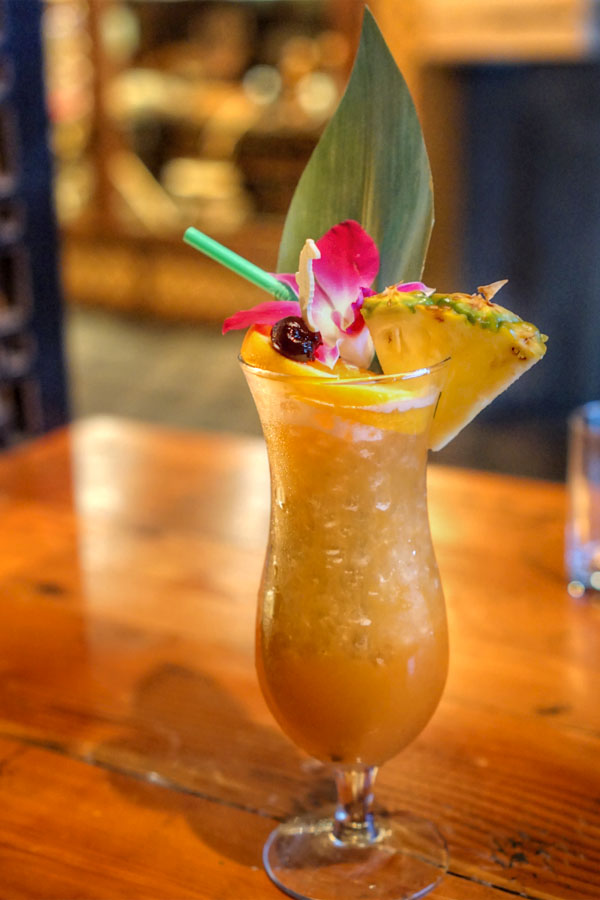 King Kamehameha [$14.00]
| Many fine Rums from many fine places, Aperol, fresh lime, Cara Cara orange, pineapple, passion fruit, honey
Our third and final cocktail to be served in a hurricane glass, this showcased flavors of tart citrus, passion fruit, and honey in a very drinkable package with only a smidgen of rum. Sweet and easy, but also dangerous.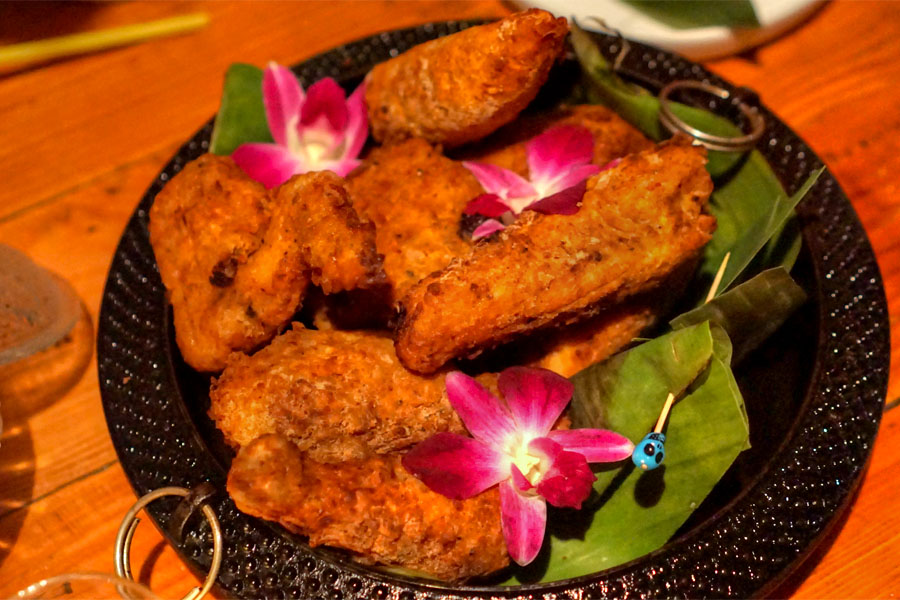 El Pollo LONO [$40.00]
| A 10 piece bucket of Jidori free range organic chicken, potato-mac salad
It's hard to be led
too
astray with fried chicken, and tonight's was no exception. I opted for the drumstick (my preferred part), and found it super juicy and flavorful, with a lovely contrast between the tender flesh and the delicate crispness of the skin.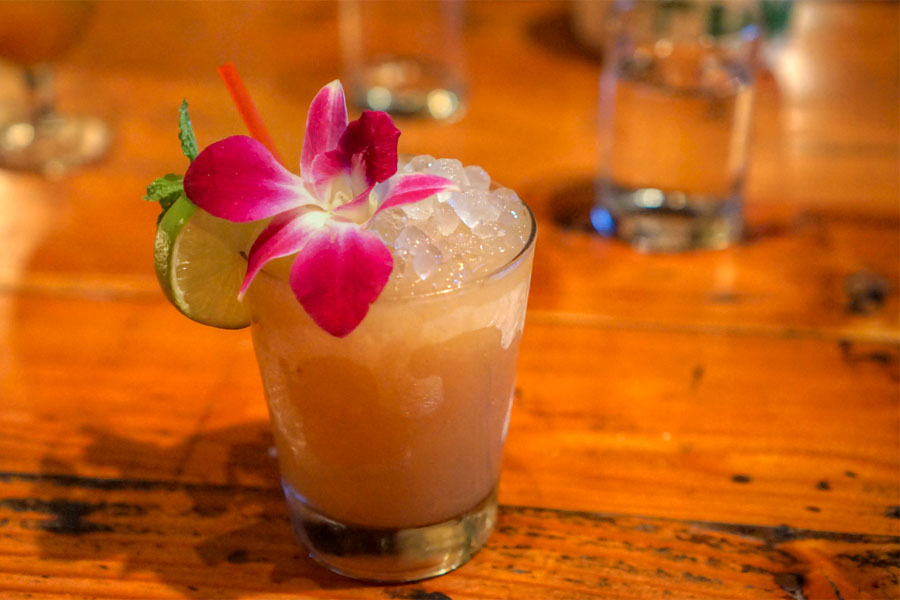 Mai Tai [$12.00]
| Jamaican and Guyanese Rums, fresh lime, macadamia, Orgeat, and vanilla demerara
Lono's take on perhaps the most iconic of tiki cocktails was surprisingly brisk at first blush, with an astringency that made itself known against a backdrop of rum. The mid-palate displayed more of the orgeat character of the drink, while I got a lot of vanilla on the back end.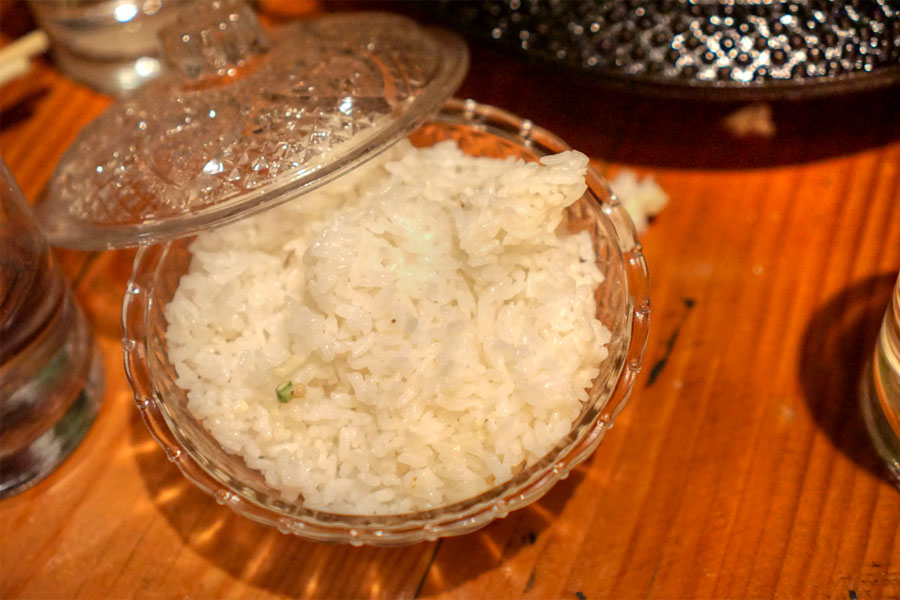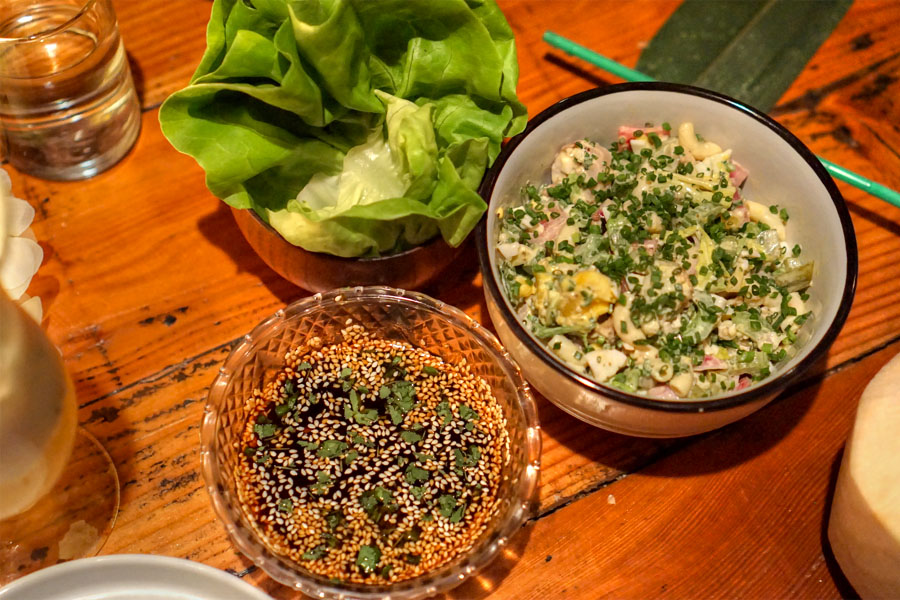 Along with the chicken above came a tangy, well-textured potato-mac salad, a sweet-spicy dipping sauce, and white rice, which I really appreciated as a foil to all the strong flavors at play.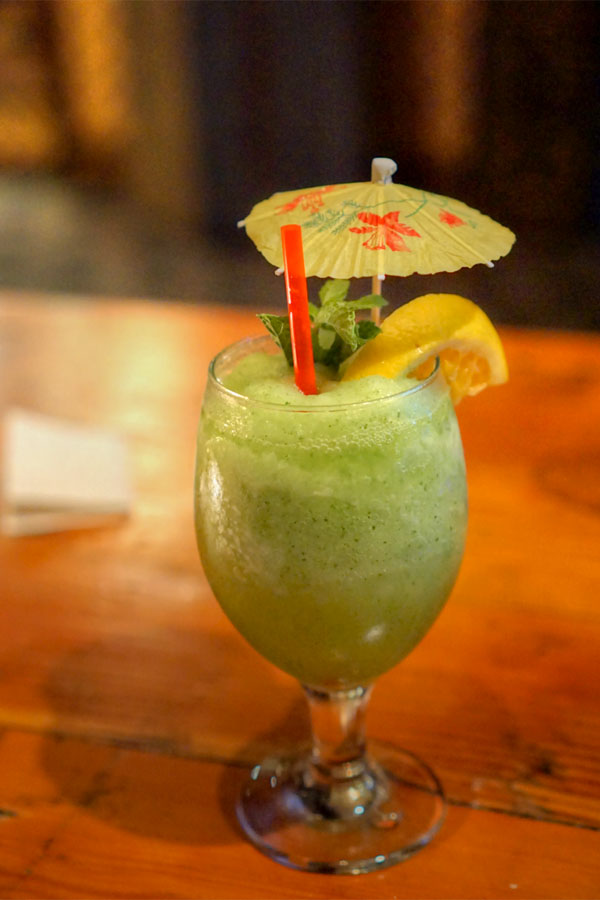 Missionary's Downfall [$13.00]
| LONO light Rum blend, Crème de Peche, pineapple, honey, and mint
This green-hued cocktail from Don the Beachcomber was more interesting than I was expecting, and also quite quaffable. They key here was the mint, which gave the drink a bright, herbaceous element that really worked hand in hand with the sweetness and rum potency present.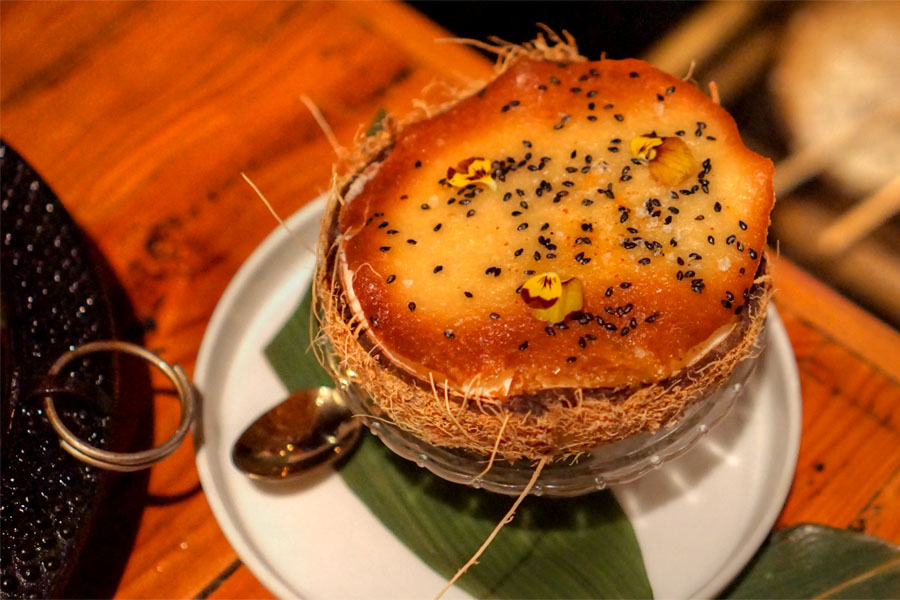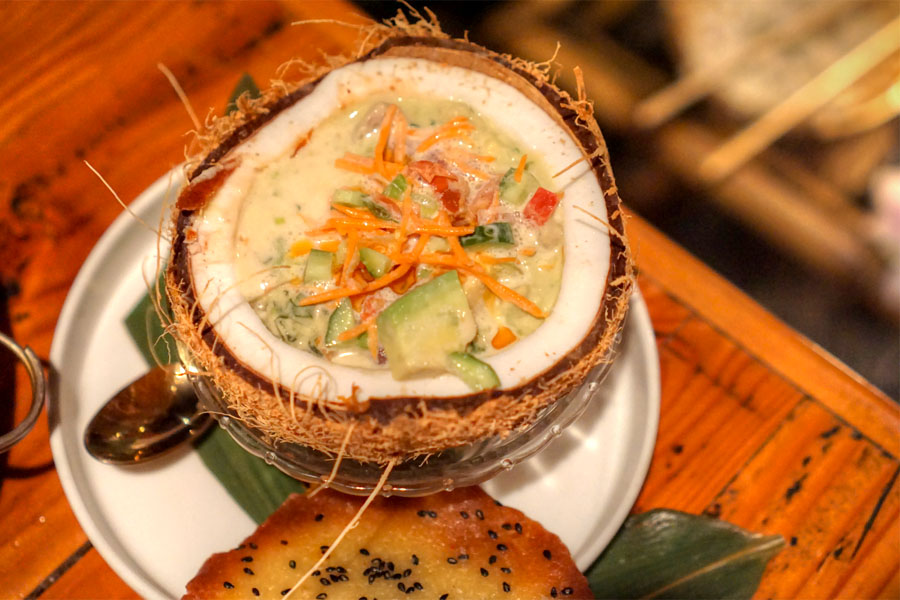 Ota Ika [$17.00]
| Tahitian style ceviche, wild caught yellowfin tuna, cucumber, tomato, coconut milk, passion fruit, topped with a black sesame cracker
This Polynesian ceviche was a bit of a miss for me, as I found the dish overly sweet from the coconut, and lacking in acidity. The cracker on top added some textural contrast, but also more sugar, which wasn't needed.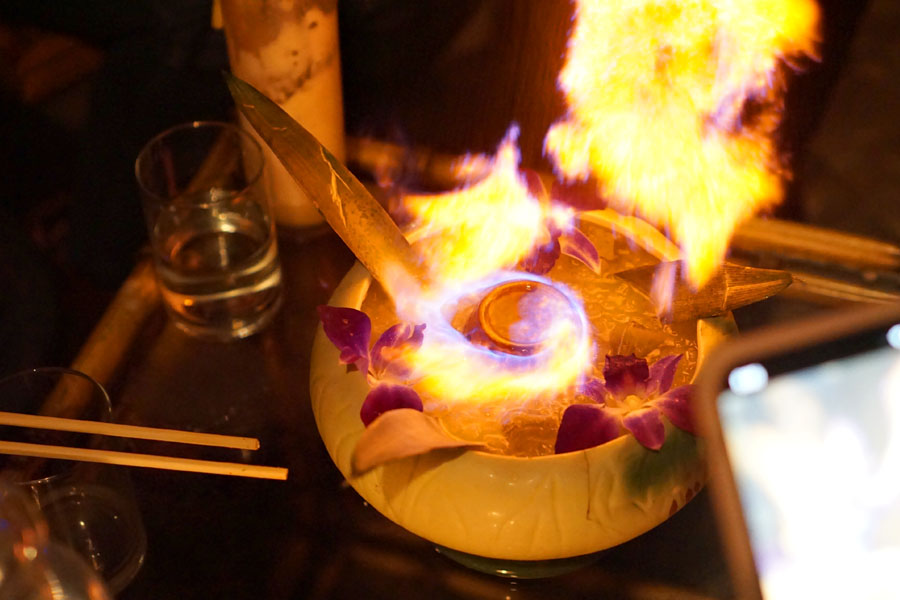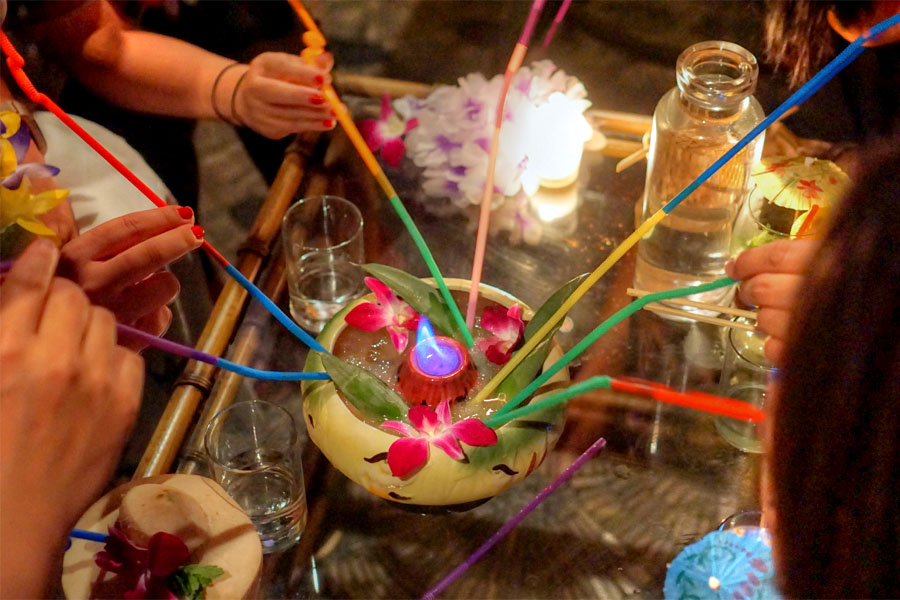 Scorpion Bowl [$50.00]
| Built for 4... or a brave 2 / A collection of Rums with a hint of Cognac, lemon, orange & orgeat
Served in the classic volcano bowl, this quintessential multi-person tiki cocktail definitely brought the fire, as well as plenty of sweet, fruity flavors backed by a dosing of alcoholic heat. We actually had some difficulty finishing it all, despite the number of straws you see.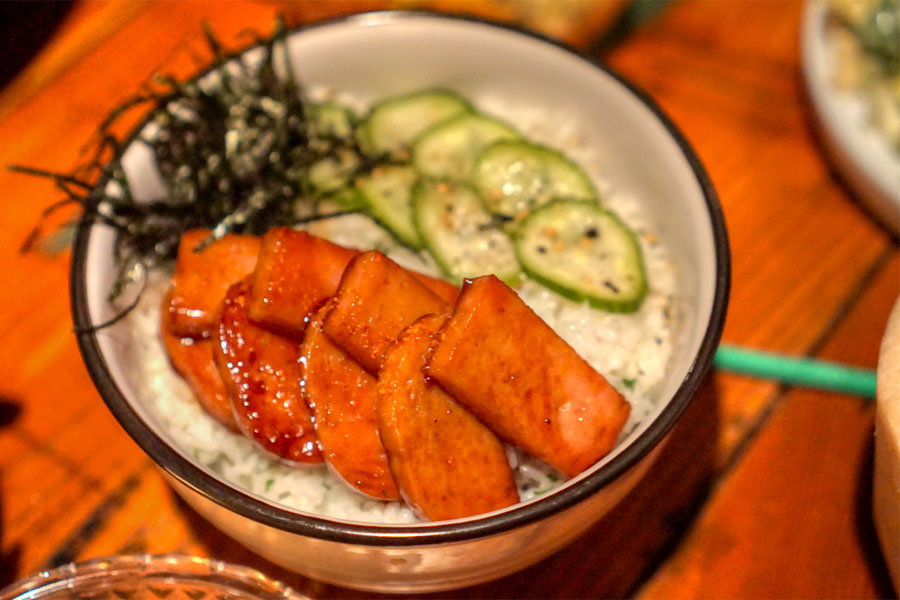 Musubi Bowl [$13.00]
| Teriyaki glazed spam, seasoned rice, amazu pickled cucumber, toasted nori
This was another favorite of mine. I really enjoyed the super savory, comforting, familiar nature of the Spam, and how that worked against the tanginess of those pickles, all while the rice moderated everything.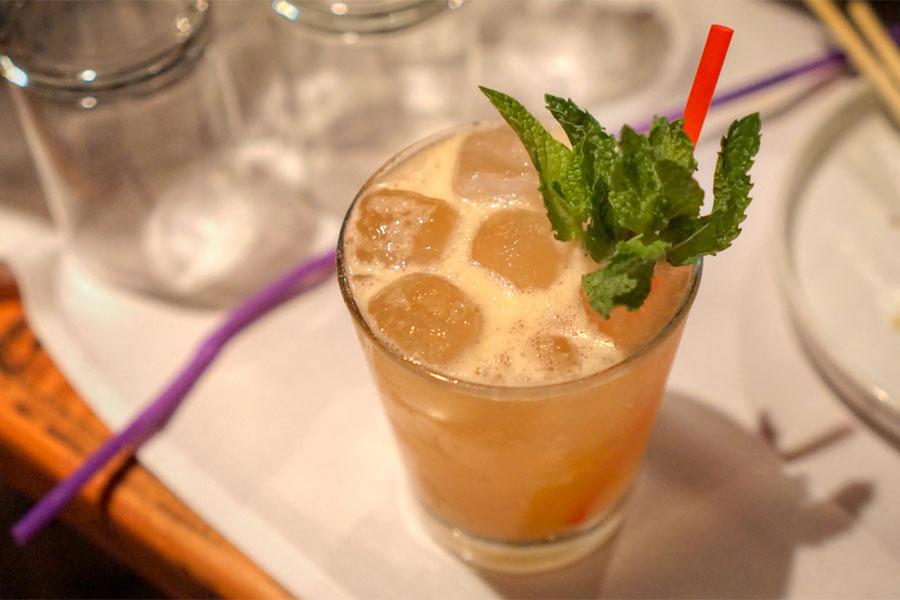 Suffering Bastard [$14.00]
| Cairo's favorite hangover cure during the war... Ford's Gin, Bourbon, ginger, Angostura, soda & mint
Our next cocktail was ostensibly created by Joe Scialom at Cairo's Shepheard's Hotel, designed to be a hair of the dog. What struck me first was the zesty, zippy nature of the ginger, but this was evened out by the other ingredients at play, making for a pretty easy-drinking beverage overall.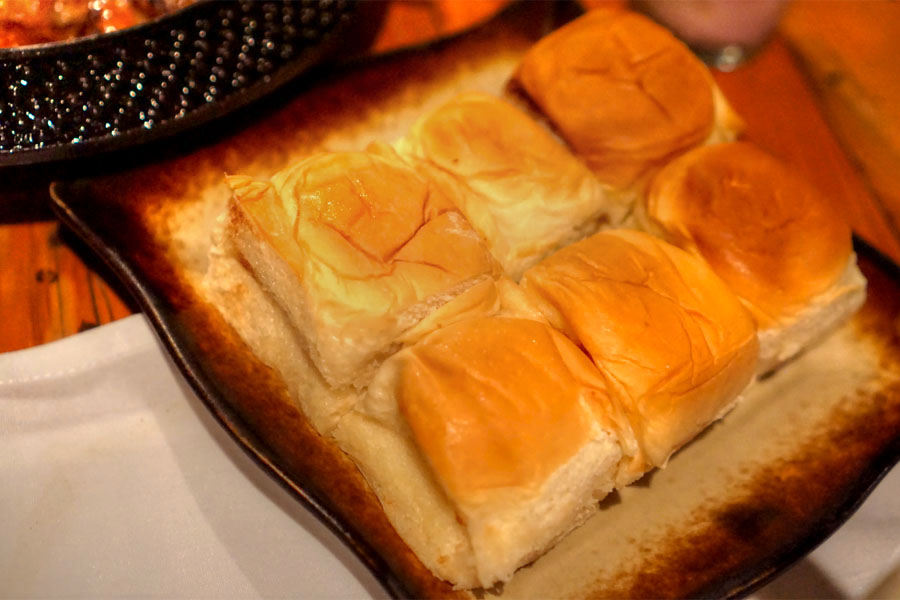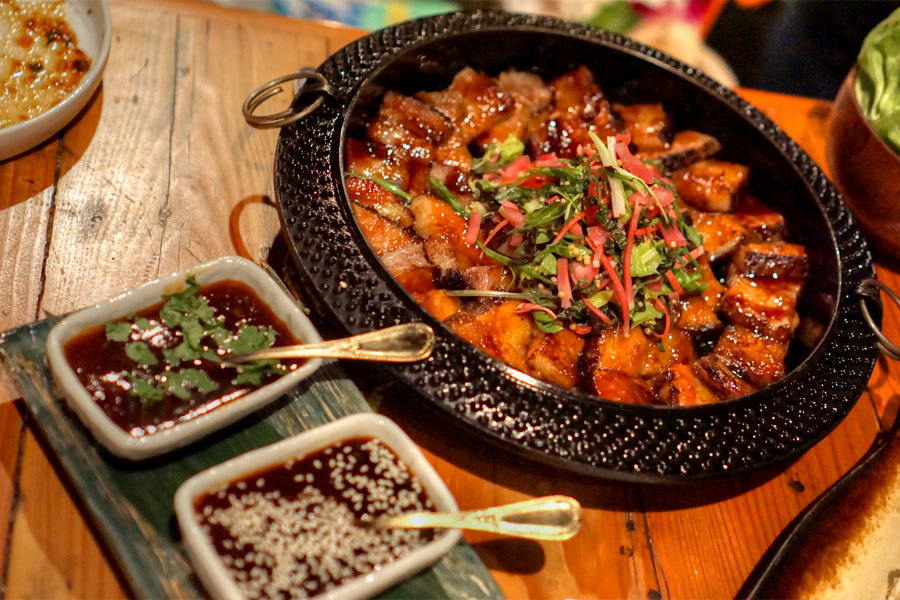 Pork Belly 2 Ways [$100.00]
| Heritage Berkshire pork grilled with hoisin over the charcoal & glazed, chilled pickled salad
Pork was cooked to a superb consistency, with a good mix of lean and fat. However, it veered sweet for me, though the included lettuce (for making your own
ssam
) and pickles did make for some semblance of balance.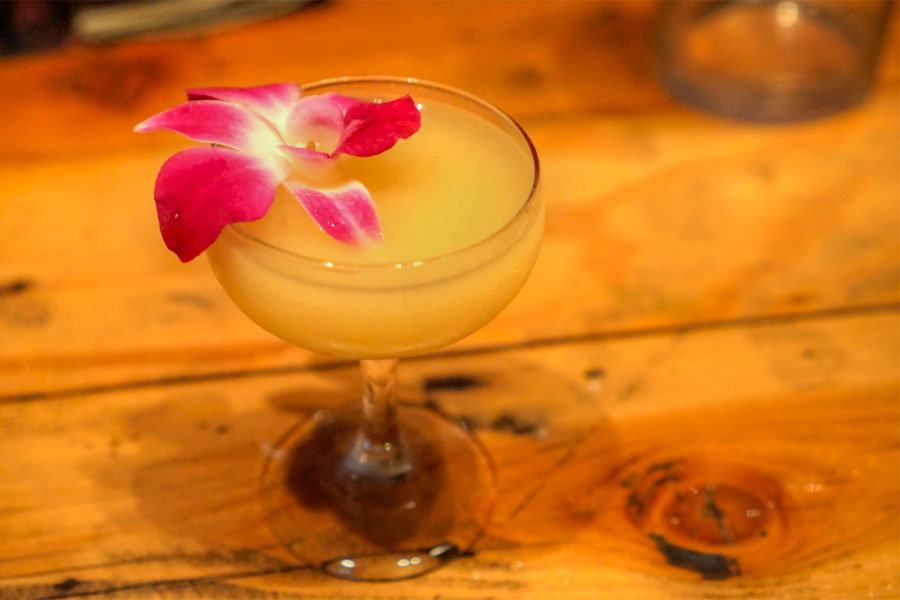 Saturn [$12.00]
| Bombay Sapphire East, passionfruit, lemon, Orgeat & Falernum
This was the only gin-focused cocktail of the evening, and turned out quite well. I found it tart at first, almost bracingly so, but then I got a healthy serving of tropical fruit and spice that made the drink oh-so tiki-ish.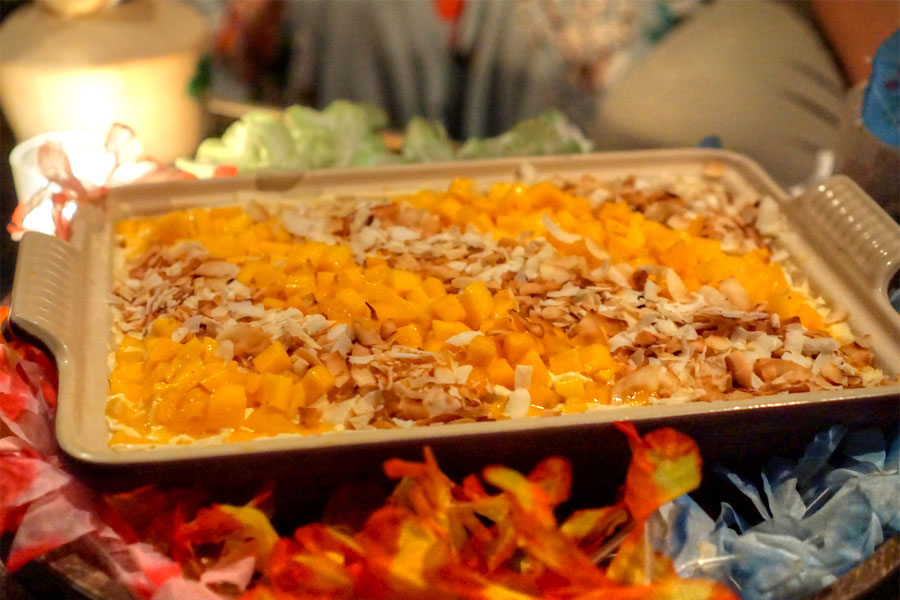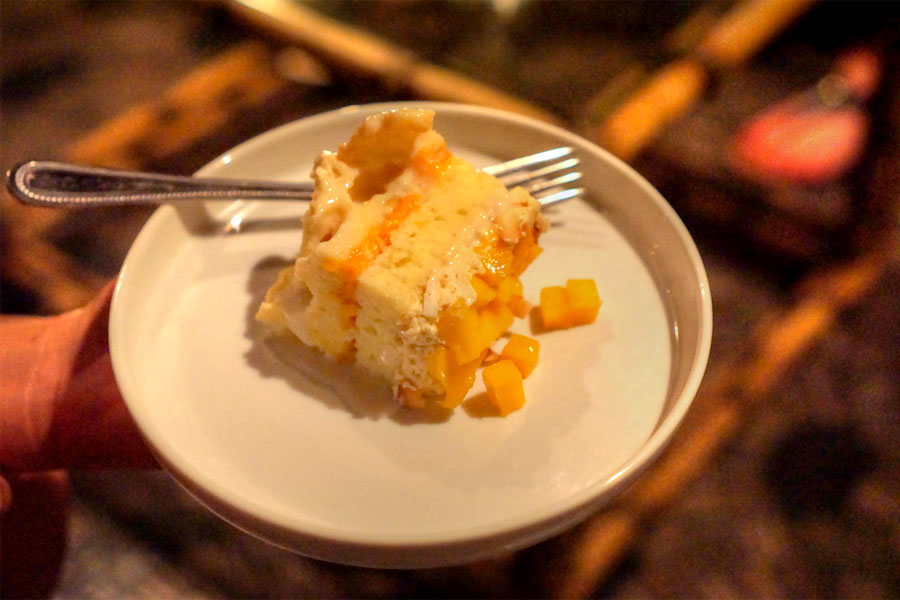 Since this was a birthday, one of my fellow revelers prepared a lovely (and theme-appropriate) mango-coconut tres leches cake. It used coconut milk in place of the usual evaporated milk, and featured two layers with a homemade mango jam, mango whipped cream, and diced mango in between, while the topping was more mango whipped cream, diced mango, and toasted coconut. Note that there was a cake cutting fee of $30.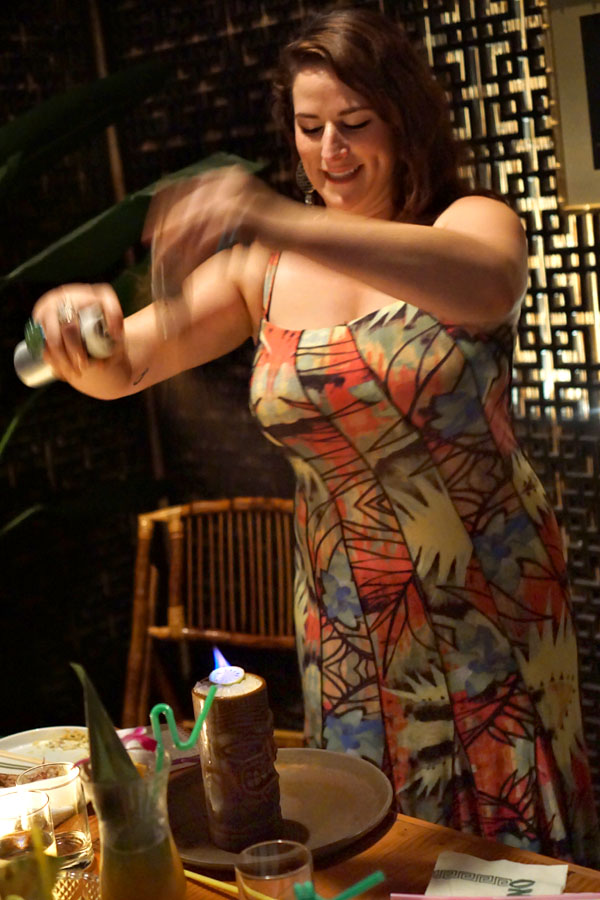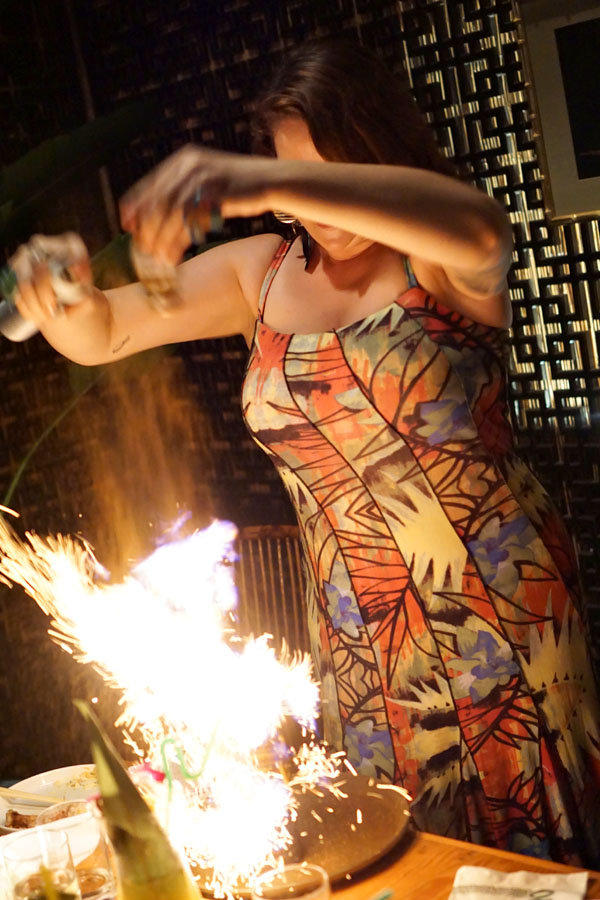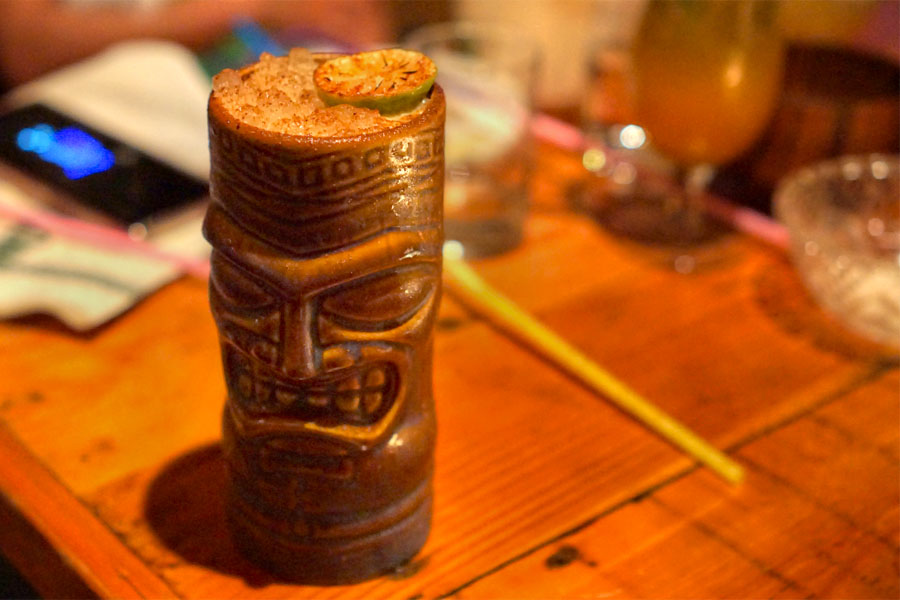 Curse of LONO [$16.00]
| As tradition dictates, this recipe has been entrusted only to the proprietors. They'll only say that it is a special blend of exotic juices, intense spices and intoxicating spirits served in a fiery chalice...
We concluded with Lono's signature cocktail, which featured its fair share of pyrotechnics. I got loads of cinnamon on the nose, while the palate was sweet, creamy, the booze well-hidden. The finish, meanwhile, showed off more warm spice commingled with tart, tropical, pineapple-like notes.
Apparently there's hope for Hollywood after all, since this was some of the most memorable dining/drinking that I've had in the area in a while. Lono really is a preeminent tiki experience for LA, with a strong library of cocktails and unexpectedly tasty food, all served in fun, convivial atmosphere. It's one of the most pleasant surprises of the year for me.