Kyirisan (Washington, DC)
Kyirisan Restaurant
1924 8th St NW, Washington, DC 20001
202.525.2383
www.kyirisandc.com
Thu 07/26/2018, 08:10p-11:20p

For the third and final dinner of my latest DC visit, I chose a lesser known restaurant that sounded interesting to me. Kyirisan was opened in March 2016 by Chef Tim Ma and wife Joey Hernandez and serves Asian-French fare in the northern portion of Shaw. A note about the name: it's formed from a combination of "Kun" (the generational name of the couple's three children) and the numbers 1-2-3 (
yi-er-san
) in Chinese.
About the Chef
: Ma was born in 1978 to parents who immigrated to the US from Taiwan in the 1970s, and he grew up in the midst of their Chinese restaurant in Maumelle, Arkansas. The family eventually moved to New York in the 80s, where his uncle ran the well-regarded Paul Ma's China Kitchen in Yorktown Heights. Later on, they relocated to northern Virginia, and Ma attended Centreville High School in Fairfax County, where he excelled in math and science. Following, he chose to attend the Georgia Institute of Technology, majoring in electrical and computer engineering, and graduated from Georgia Tech in 2000 after spending five years there; he later went on to attain a master's degree as well. He then became a government contractor, working in engineering for Raytheon in Falls Church.
However, Ma was always drawn to the kitchen, and, after a sushi meal with his sister and brother-in-law in LA in 2006, declared that he wanted to have his own restaurant. His family was not pleased, but he pushed forward, moved to New York with Hernandez, and enrolled at the French Culinary Institute in 2008. During this period, he externed at
David Chang
's acclaimed Momofuku Ko, and upon graduating, cooked briefly in Saint Thomas. Ma and his now-fiancée subsequently returned to NoVa and opened their first restaurant in August 2009: Maple Ave in Vienna. Located in a former donut shop in a somewhat odd part of town, the spot started out slow, but eventually made a name for itself for its Asian-inflected new American cuisine. After leaving the day-to-day running of Maple Ave to CdC Nyi Nyi Myint, the couple followed up with Water & Wall in Virginia Square, Arlington. The restaurant bowed in November 2013, and was named after the NYC intersection where the two lived while the Chef was attending culinary school.
In 2014, the Mas began looking for a home for Kyirisan, and after passing on the location where
The Dabney
now resides, signed on for a space in the yet-to-be-built Shay apartment complex. February 2015 saw the duo leave Maple Ave (as did Myint, who joined Water & Wall), while the Chef kicked off the
Gather + Feast
supper club on Kickstarter a month later. In November that year, Ma teamed up with Michael Amouri of Caffe Amouri and launched Chase the Submarine (a sandwich shop named after his son) in Vienna. As for Kyirisan (its original name
Freehand
was nixed by the Sydell Group), it ended up debuting in March 2016 with Myint once again on board. Not long after, the place drew a 2.5 star review from
The Washington Post
's Tom Sietsema, while Michelin bestowed a Bib Gourmand in October 2016. Shortly after the Michelin nod, it was announced that Ma would be consulting on the menu for the upcoming Ten Tigers Parlor, a bar with Asian-y fare that ended up opening in December that year with Myint at the helm yet again.
Some bad news came in February 2017 with the shutter of Water & Wall, though that same month saw Kyirisan on
Washingtonian
's "100 Very Best Restaurants" list. In June 2017, Ma and company decamped from Ten Tigers, replaced by none other than
Erik Bruner-Yang
. Meanwhile, in November it was announced that Ma and
Derek Brown
(who's no longer involved, sadly) would be opening concepts inside the upcoming Eaton, a hotel project from Katherine Lo (daughter of Langham Hospitality Group chairman Ka Shui Lo). Chase the Submarine ended up closing the same month, while Michelin once again deemed Kyirisan Bib Gourmand worthy in October.

Kyirisan is located on the ground floor of The Shay apartment building and was penned by
Grizform Design Architects
, a local firm that was also responsible for
Doi Moi
,
Estadio
, and
Fiola
, among other projects. The space is supposed to have a homey sort of feel, with blue being the dominant hue it seems. Note also the "Cook Nook" in the photo above, a communal table that can accommodate up to a dozen diners.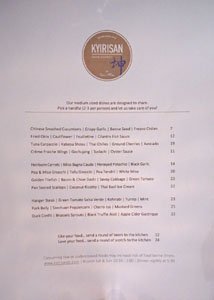 Kyirisan's fusion-y menu is refreshingly brief, which I'm appreciating more and more these days. In addition to dinner, the restaurant also serves brunch on weekends, and has happy hour at the bar every day except Saturday. Drink-wise, you get a small array of cocktails along with a handful of beers/ciders, not to mention a compact wine list featuring smaller producers from France and the West Coast US. Corkage, meanwhile, is $25 a pop, with no limit on the number of bottles, which is nice. Click for larger versions.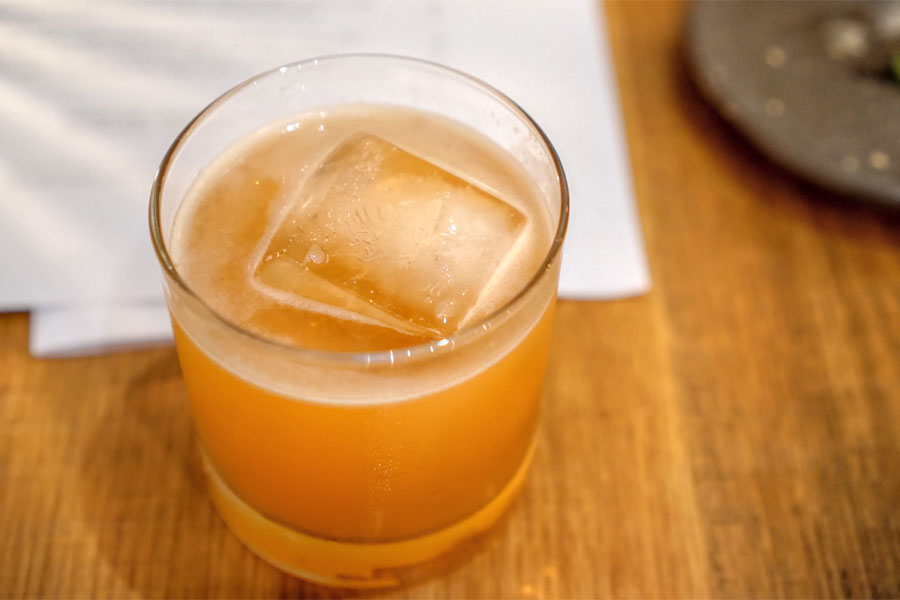 Way Off Base [$15.00]
| Mezcal, Scotch, Falernum, Lime, Bitters
The evening's first cocktail was a winner. I definitely got a smokiness on the nose, joined by plenty of contrasting citrus. Taste-wise, things were fruity from the falernum at first, but then the spicy, boozy nature of the mezcal-whisky combo made itself known on the finish.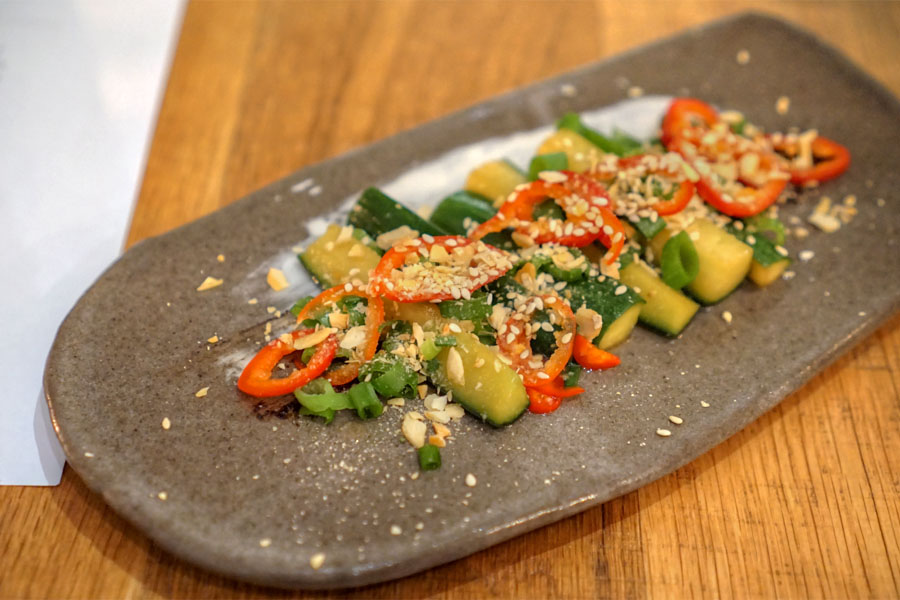 Chinese Smashed Cucumbers [$7.00]
| Crispy Garlic, Benne Seed, Fresno Chilies
Cucumbers were delightfully crunchy, their tart, refreshing flavors well matched by a smidgen of heat and the nuttiness of those sesame seeds. A fun, promising start.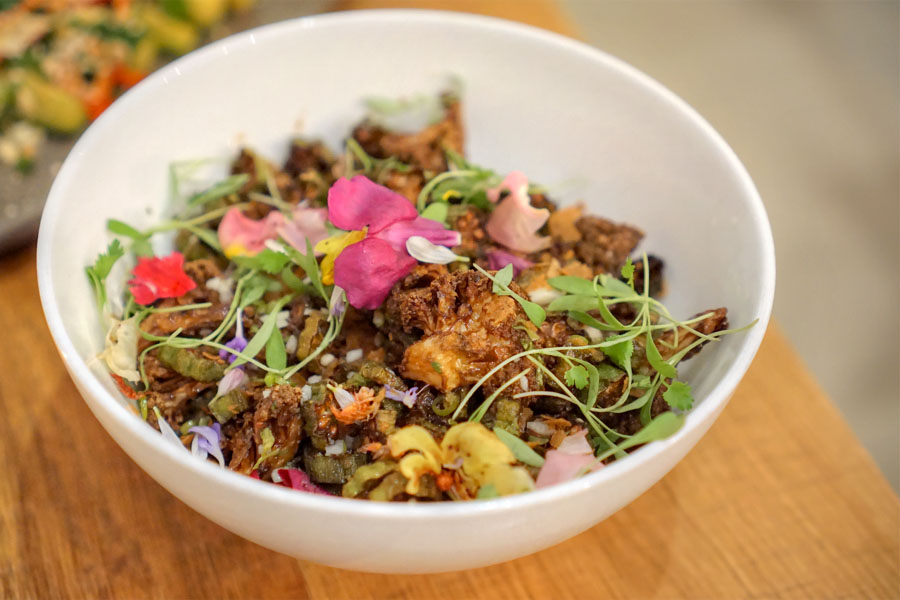 Fried Okra [$12.00]
| Cauliflower, Feuilletine, Cilantro Fish Sauce
Okra and cauliflower were doused with a heavy helping of fish sauce, which gave the dish a decidedly salty, savory funk. It was pretty intense, so I could've used some additional herbs or something to balance things out more. I also would've liked less cook and more crunch on the veggies.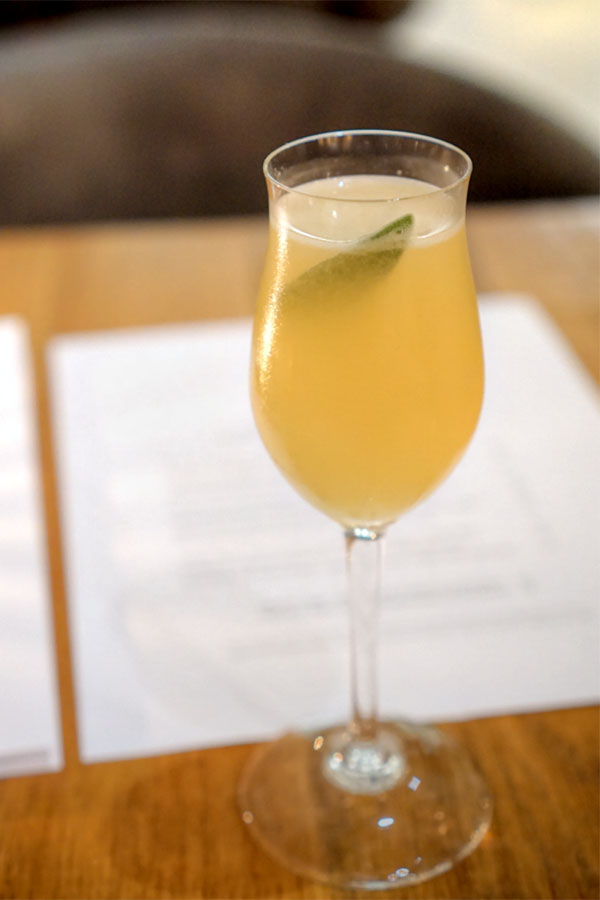 Whiskey & Weird [$13.00]
| Rye, Becherovka Herbal Liqueur, Sage Shrub
The next cocktail showed off a somewhat "eggy" aroma, with notes of sweet citrus and sage as well. Its taste was definitely on the sweet side, and not boozy at all, with some herbaceous notes providing a modicum of balance to the drink.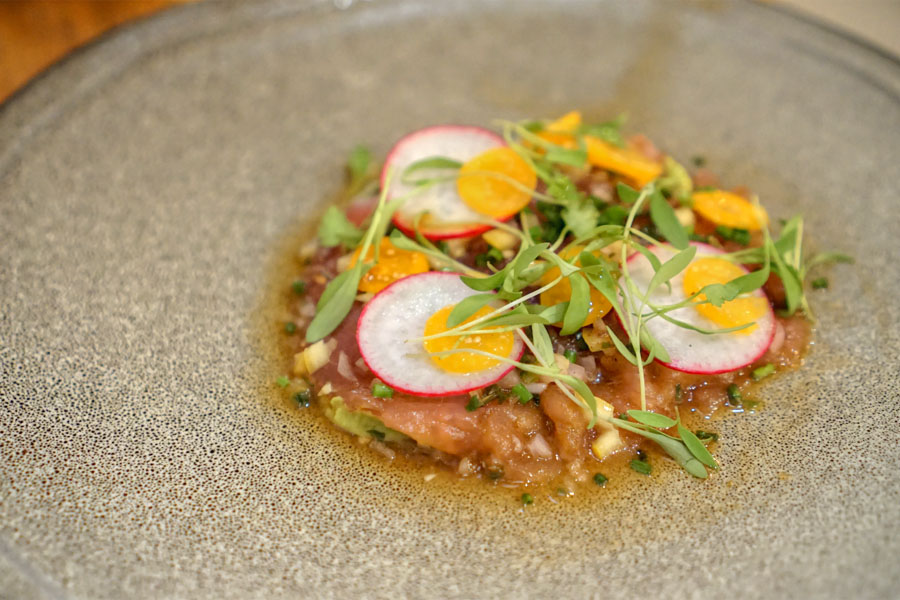 Tuna Carpaccio [$19.00]
| Kabosu Shoyu, Thai Chilies, Ground Cherries, Avocado
Slightly gristly cuts of tuna certainly took on some umami notes from the
shoyu
, while the cherries added a surprisingly floral touch. I did get the citrusy character of the
kabosu
on the finish, but did feel that the dish needed some more acidity, more brightness to really make it pop.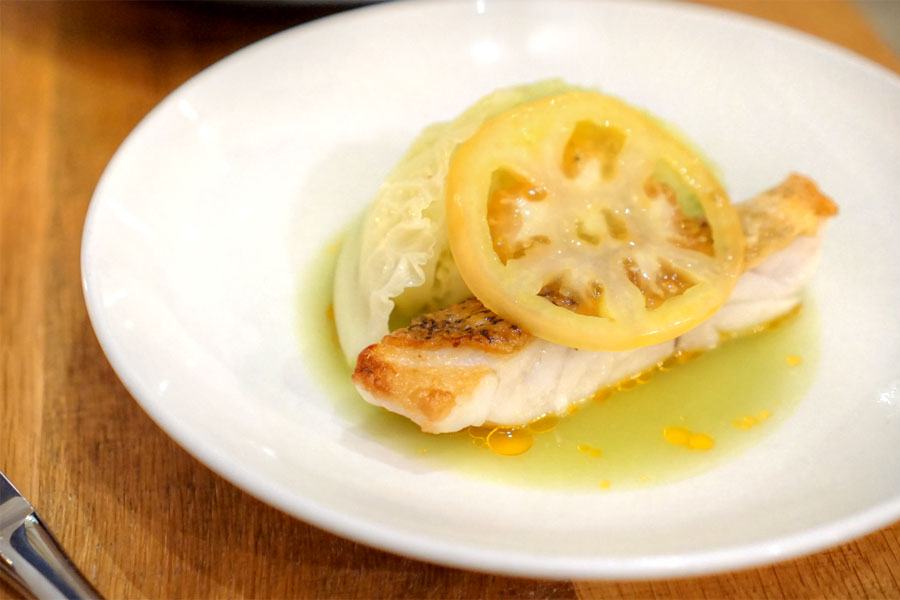 Golden Tilefish [$22.00]
| Bacon & Chive Dashi, Savoy Cabbage, Green Tomato
Tilefish was cooked just right, coming out properly flaky and flavorful, with a wonderfully crisp skin to boot. The dashi worked swimmingly as a complement, but the tomato, I will say, did seem a bit out of place.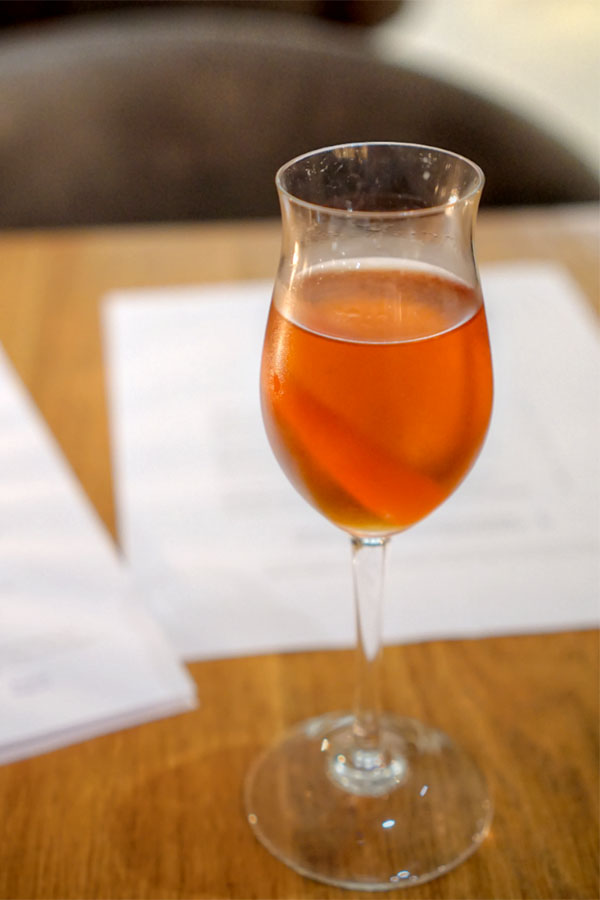 Manhattan [$11.00]
The classic Manhattan cocktail made a worthwhile showing tonight. I got lots of bitters on the nose, along with moderating elements of dark fruit. In terms of taste, think spirit-forward, and quite spicy from the rye, the vermouth peeking through just a bit.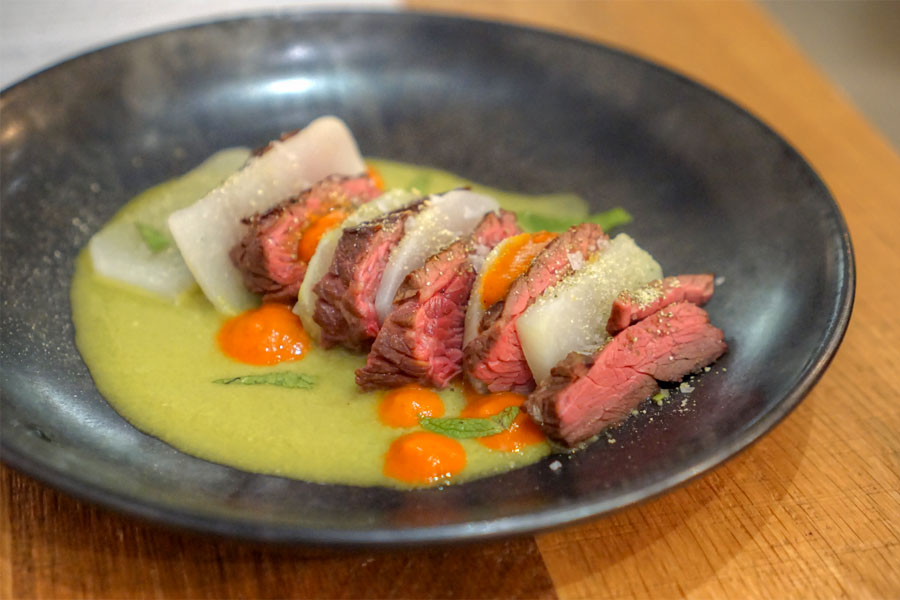 Hanger Steak [$23.00]
| Green Tomato Salsa Verde, Kohlrabi, Turnip, Mint
Hanger steak was quite tasty, and made sense with the zippiness of its paired salsa verde. However, I wasn't as keen on the kohlrabi-turnip combination, as the root veggies just seemed bland here.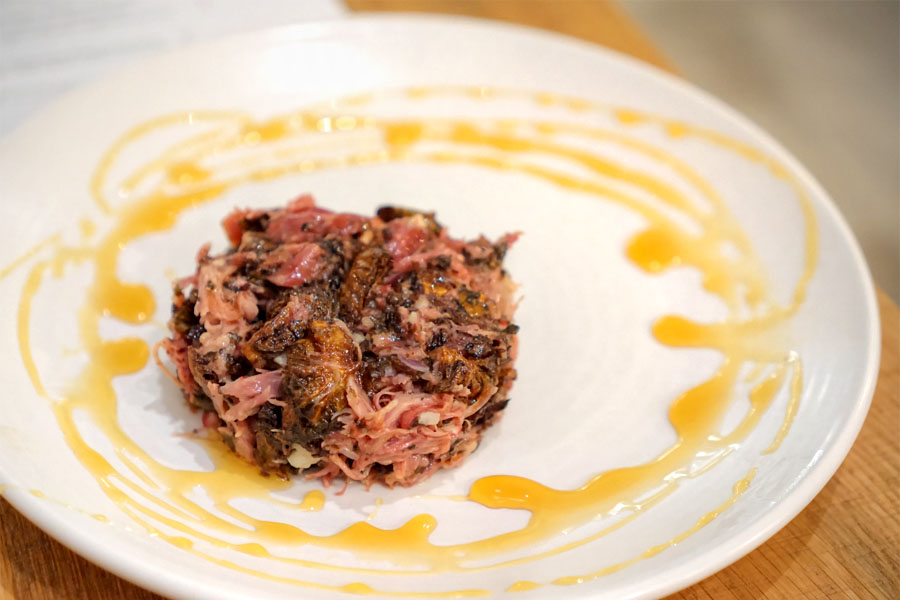 Duck Confit [$22.00]
| Brussels Sprouts, Black Truffle Aioli, Apple Cider Gastrique
A duck confit was as rich as you'd expect, with lots of salty, savory flavors amped up even further by the char of Brussels and a restrained muskiness from the truffle. The cider gastrique did provided a touch of tartness to the mix, but overall the dish felt heavy and could've really used something to brighten it up.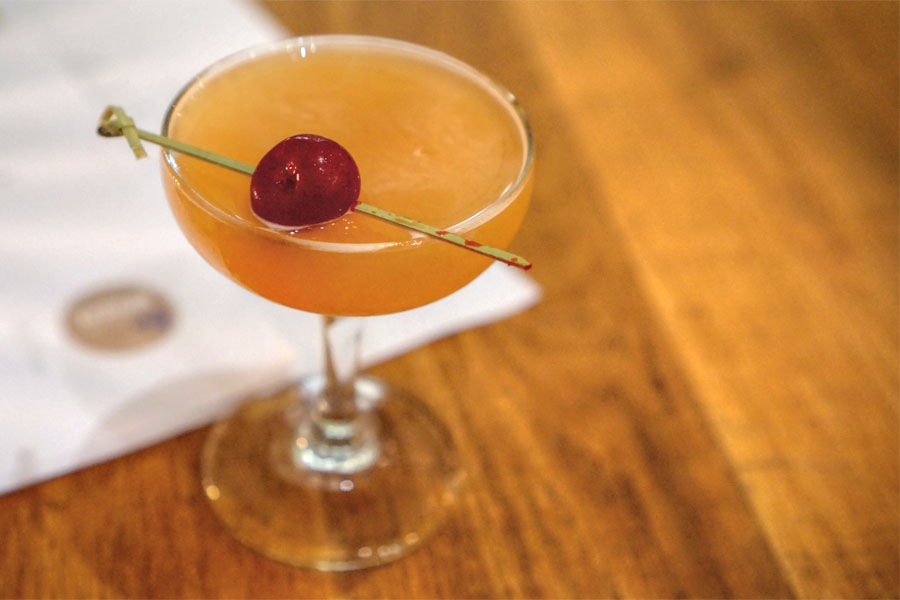 "Unnamed Cocktail #1"
| Rum, Tawny Port, Amaretto, Kalamansi
At this point, I asked my server (who was also a bartender) to whip up something on the fly, and this is what he came up with (which ended up being comped). It was a combination of Smith & Cross rum, ¼oz amaretto, and ½oz tawny port, along with kalamansi purée. Its aromas were citric and bitter, the richness of the port showing through. Taste-wise, I got the deep, caramel-y notes of the rum at first, joined by a bevy of sweet, nutty flavors that worked out surprisingly well.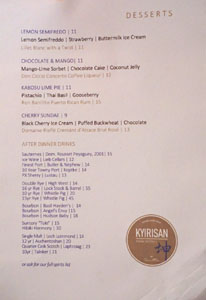 I made sure to save room for the desserts, which basically follow the same theme as the savory menu. Click for a larger version.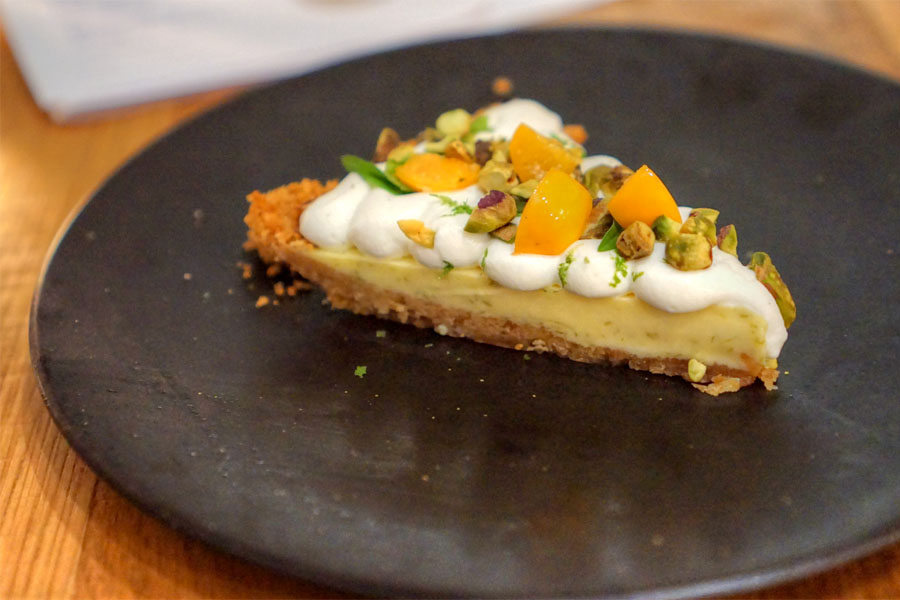 Kabosu Lime Pie [$11.00]
| Pistachio, Thai Basil, Gooseberry
This citrusy pie delivered. The tartness of
kabosu
was front and center, linking up beautifully with the pistachios while the crumbly crust served as a moderating element.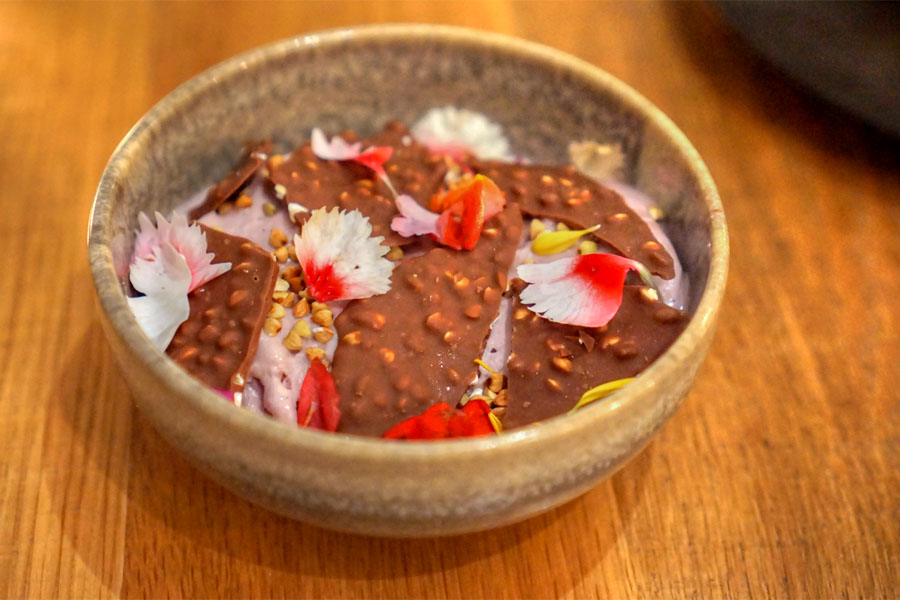 Cherry Sundae [$9.00]
| Black Cherry Ice Cream, Puffed Buckwheat, Chocolate
The reimagined sundae was even better, and actually one of the stronger desserts I've had in DC. The ice cream was pretty marvelous by itself, but was even better when paired with the Nestlé Crunch-esque shards of chocolate. Excellent use of the buckwheat too as a nutty, crunchy component.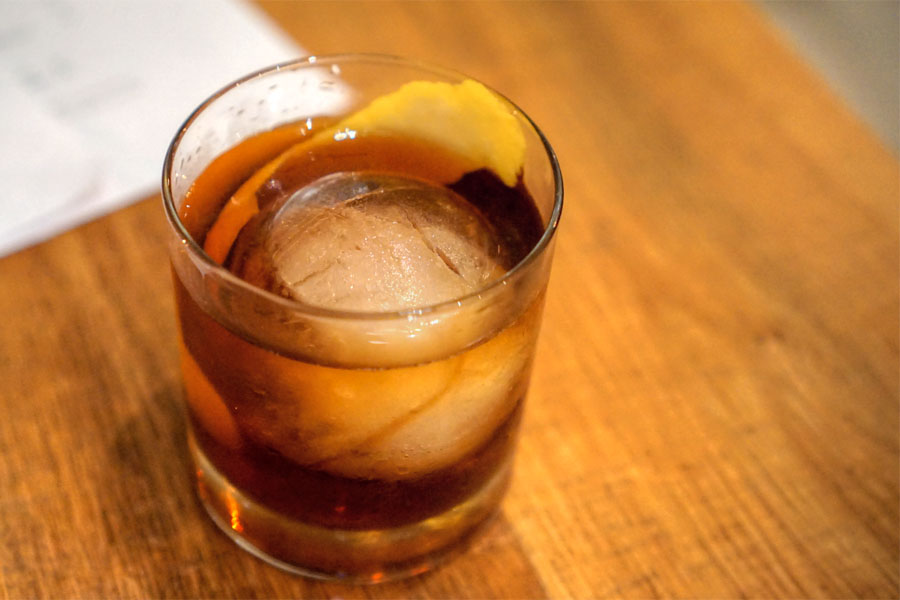 "Unnamed Cocktail #2"
| Fernet, Arrack, Sweet Vermouth, Hopped Grapefruit Bitters
We ended with another complimentary cocktail from my server, and for this one I requested something that would work as a digestif. It was a combination of 1½oz Fernet Francisco, ½oz Batavia arrack, <½oz Carpano Antica, and Bittermens Hopped Grapefruit bitters. This one smelled enticingly spicy, but with a citrusy edge. On the palate, I definitely got the cola-like nature of the amaro, which was joined by other spicy, savory, herby flavors, making it a very suitable ending to the meal.
I had a lot of mixed feelings about my meal here. I feel like there were some good ideas, some intriguing ideas, but many of the dishes just fell short. Perhaps the kitchen simply wasn't in top form given the impending opening of Ma's restaurant inside the Eaton, which should be dropping in the coming weeks. The spot, called American Son, will be an all-day affair featuring the Chef's take on "comfort food," but informed by his immigrant background. It sounds pretty promising, and I may have to give the place a go on a future trip despite any misgivings I have about Kyirisan.