Reverie (Washington, DC)
Reverie Restaurant
3201 Cherry Hill Ln, Washington, DC 20007
202.808.2952
www.reveriedc.com
Tue 05/14/2019, 08:05p-11:15p

The last time I caught up with Johnny Spero, he was still running the kitchen over at
Drink Company
's
Columbia Room
, which he'd joined in the latter part of 2016 after spending time
staging
at Mugaritz. With the backing of Drink Company, the Chef began conceptualizing Reverie at the end of that year, and soon enough, had begun securing investors and starting pre-construction. In April 2018, he started holding preview dinners at Columbia Room, while the long-awaited restaurant ended up opening on October 6th. Just days later, Spero's wife Alexis gave birth to their first child, Fiona, and in November, he appeared on Netflix's
The Final Table
, paired with Spanish chef Jessica Lorigio.

Reverie is located down a cobblestone walkway in Georgetown, and occupies a spot that was previous used as office space from what I understand. Designed by
Edit Lab at Streetsense
, the restaurant boasts an ostensibly Japanese-slash-Nordic aesthetic, with a touch of mid-century modern. A nine-seater bar is situated up front, while the kitchen and its 20 counter seats take center stage. There's even a covered patio with room for another 15 or so.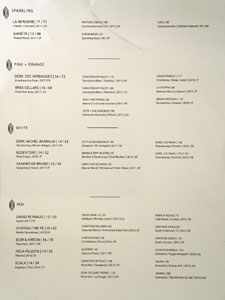 The menu is charmingly compact, and features Spero's Nordic-accented, contemporary Mid-Atlantic fare. Drink-wise, you get a tiny cocktail list from Drink Company's JP Fetherston, as well as an equally minute beer/cider selection, while there's a larger array of wines on offer. Corkage is $50 a pop. Click for larger versions.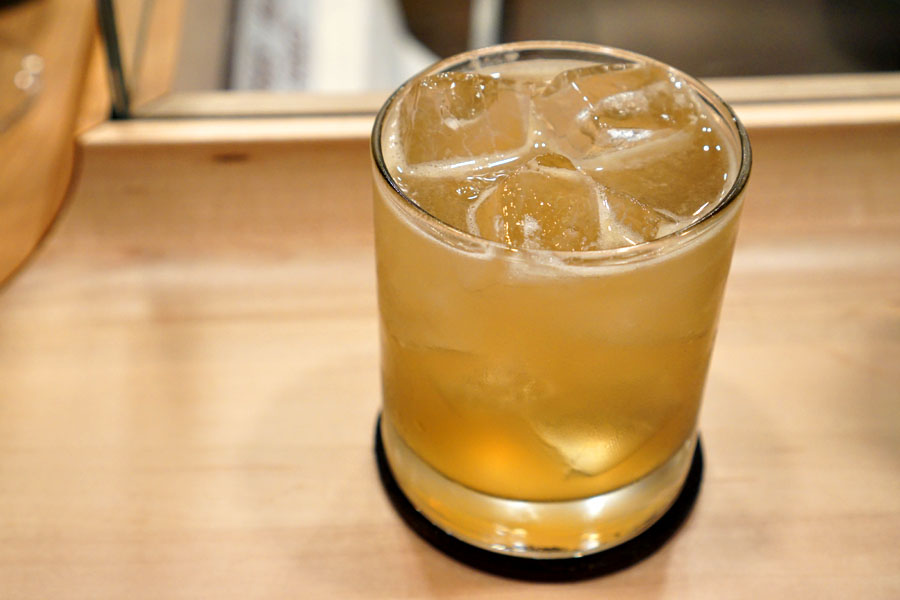 Batting Average [$16.00]
| Sherry/Pear/Citrus/Seltzer
We went all-cocktails for the night, and up first was this apéritif-ish number. It had a scrumptious bouquet of tangy, juicy pear with light sherry. The palate, on the other hand, really highlighted the fortified wine, giving up nutty, oxidative notes with a fruity undertone.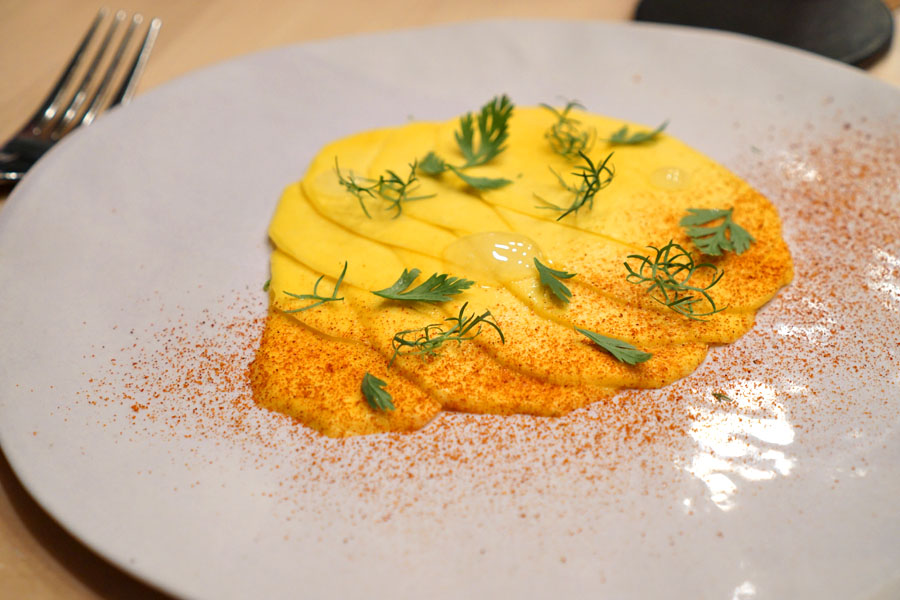 Mango [$17.00]
| Espelette/Pistachio/Lime
The first plate to hit the table was probably the most intriguing mango dish I'd ever tasted. The slices of the fruit were sweet and supple, but hiding underneath was this preparation of pistachio that gave things a surprising depth and this delightful nutty, savory complexity. Meanwhile, the herbs imparted a zesty accent to the mix, and I didn't mind the heat provided by the dried peppers, either.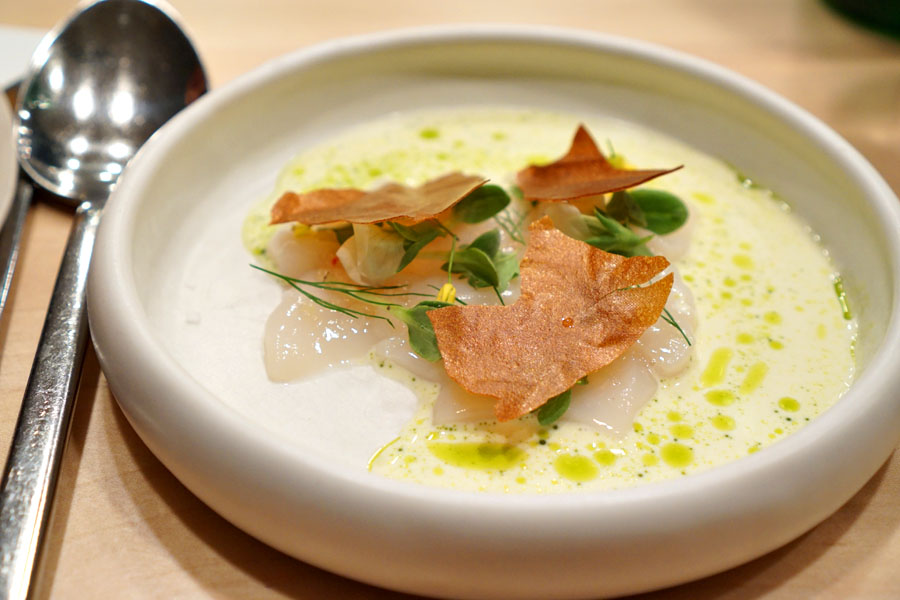 Scallop Crudo [$18.00]
| Buttermilk/Dill/Dried Scallop
Clean cuts of scallop had their marine qualities taken up a notch by what I'm assuming must've been those crispy shards of dried scallop. The dill imparted a wonderful offsetting brightness, while at the same time buttermilk functioned as a mellowing element.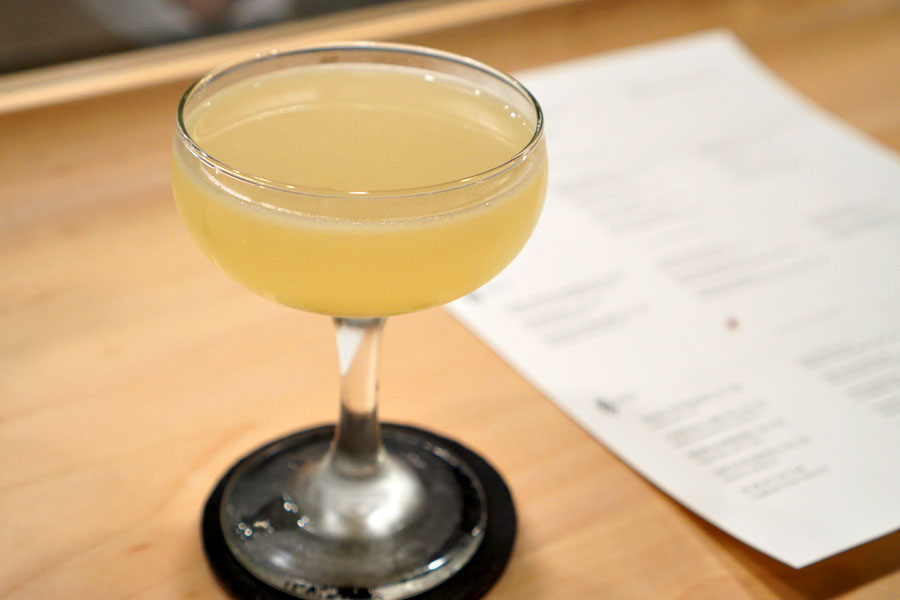 The Business [$16.00]
| Gin/Honey/Citrus
The next cocktail had this unabashedly botanical nose, but with a telltale undercurrent of honey. Taste-wise, I got more gin botanicals up front, joined by lots of citrus and a super perfume-y floral quality.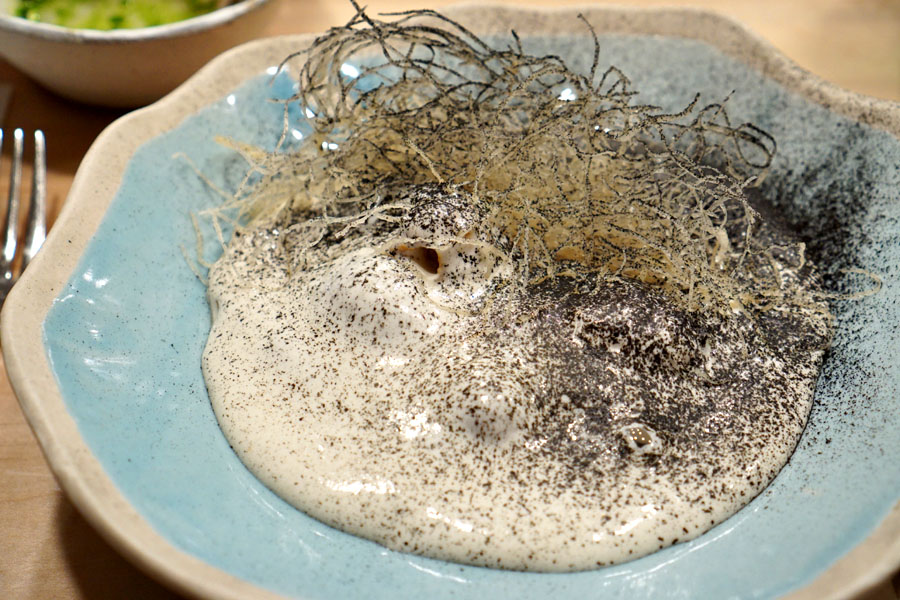 Pickled Asparagus [$32.00]
| Potato/Idiazabal and Truffle Cheese/Uni
I can say with pretty good certainly that I've never had asparagus prepared anywhere close to this before. At first, there were these intensely cheesy, funky flavors abound, but then came the actual asparagus, which offered up an offsetting bitterness and piquancy. Also key was the potato, which added a certain gravitas to the dish, and I appreciated the slight heat present, too. The sea urchin, finally, provided a sweetness and brine that was unexpected, but not unwelcomed, though quite frankly, it wasn't strictly necessary.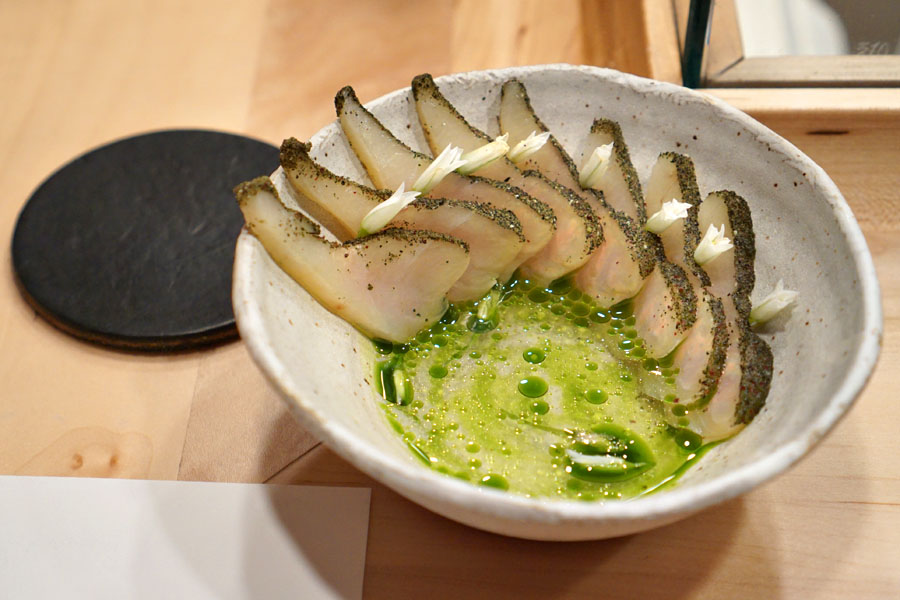 Kanpachi [$18.00]
| Green Tomato/Habanero/Matcha
Amberjack arrived firm to the bite, with a pleasantly fishy quality that was well complemented by the in-your-face zippiness of green tomato. More interesting was the hint of bitterness from the green tea, and I really appreciated the spice imparted by the habanero; in fact, I would've liked even more of it.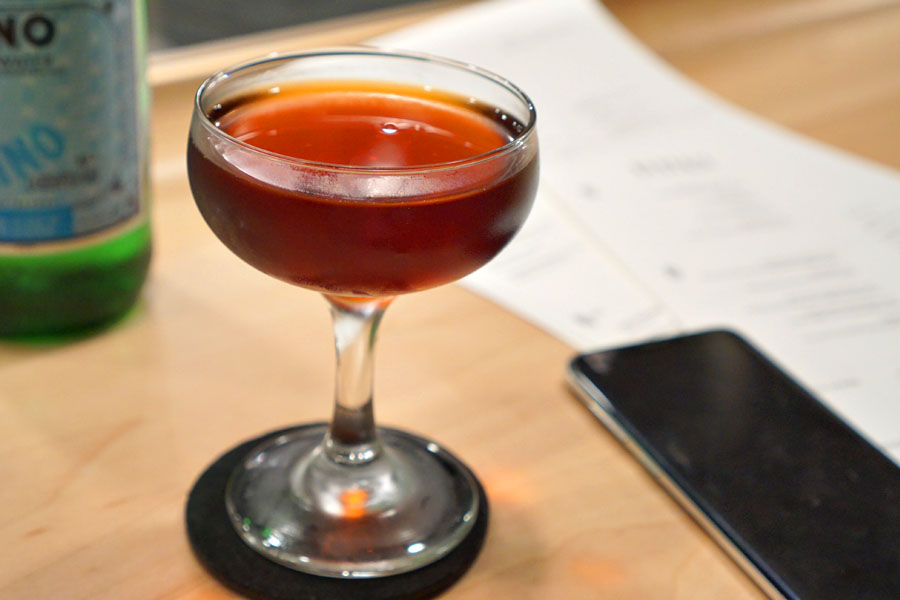 Crystal Vision [$16.00]
| Rum/Vermouth/Campari/Grapefruit Peel
This was the most potent cocktail I tried. It had aromas of dark fruit, but with a bittersweet edge, while the palate was herbal and medicinal, with layers of fruit and astringency.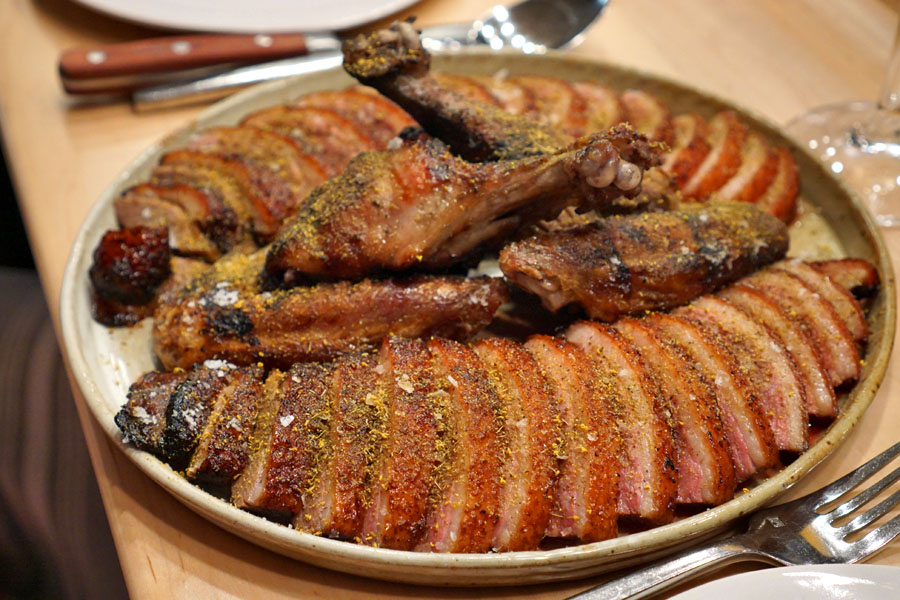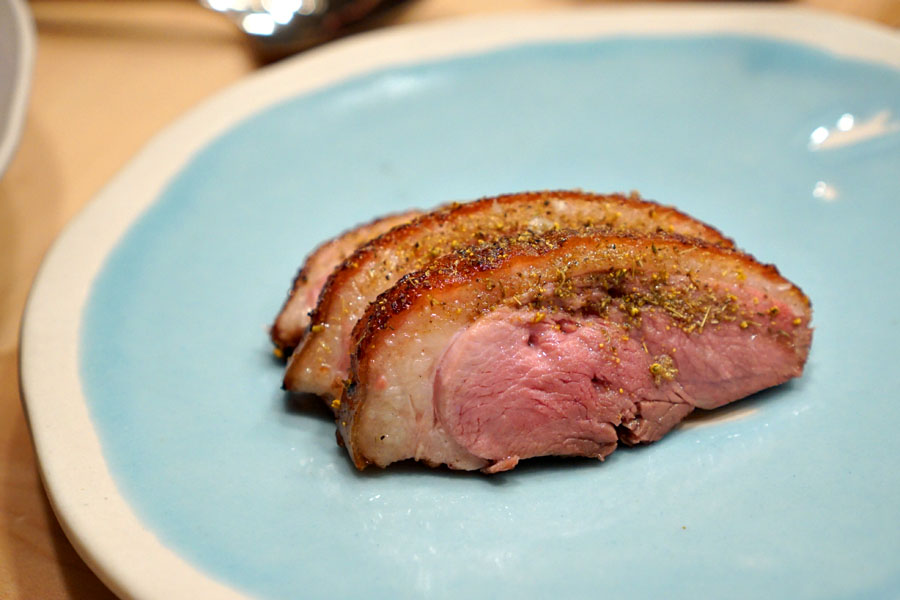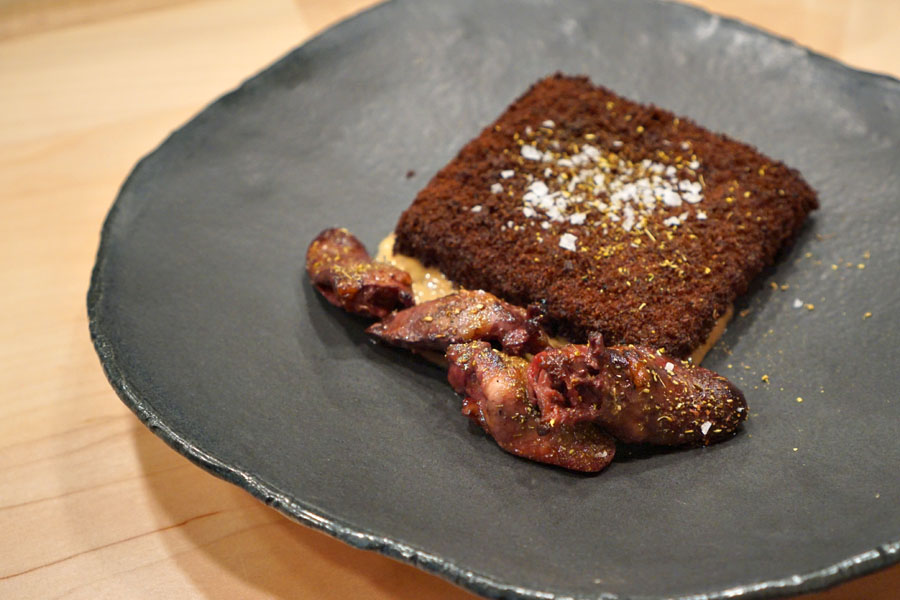 Duck [$115.00]
| Licorice/Fennel/Beet
A couple next to me (thanks Greg and Tracy!) was kind enough to offer a taste of their large-format duck dish, which Spero had apparently been working on for almost two years. The result of that R&D was pretty great, the bird coming out tender and juicy, with a properly crisp skin and harmonizing flavors of sweet licorice, all leading to a lingering, unmistakably "duck-y" finish. In addition, we were provided duck liver (fantastic with a dab of mustard) as well as an immensely gratifying, ultra savory duck confit.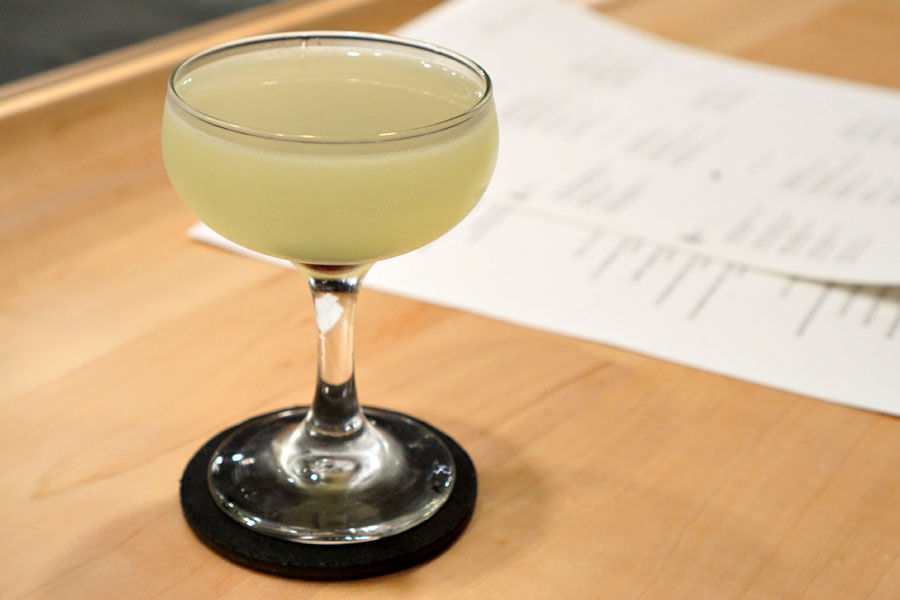 Last Word [$17.00]
I asked our server for his favorite cocktail, and he came back with this Prohibition-era concoction featuring gin, green Chartreuse, lemon juice, and Luxardo maraschino liqueur. It smelled quite pungent, in a good way, with strong notes of citrus and licorice. In terms of taste, botanicals came through clearly, with supporting notes of tart citrus and anise, but what was amusing was that I detected an almost coconut-like sweetness.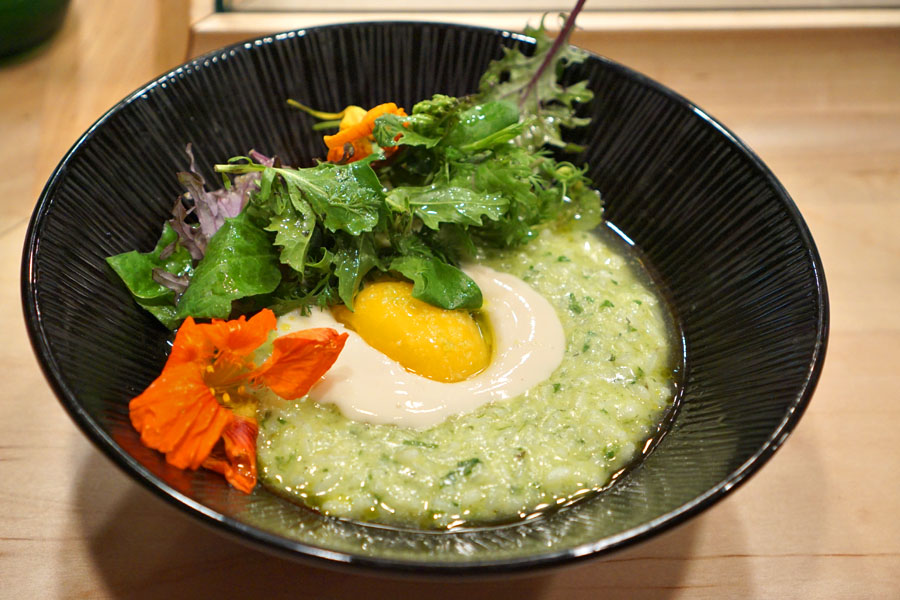 Carolina Gold Rice [$26.00]
| Duck Egg/Fines Herbes/Bay Leaf
The fabled Carolina Gold strain of rice was used as a base for this surprisingly light, bright course, one that showed off the delicacy of
fines herbes
, with perhaps a more robust component from the bay leaf. Concurrently, the duck egg supplied just a smidge of weightiness to the dish.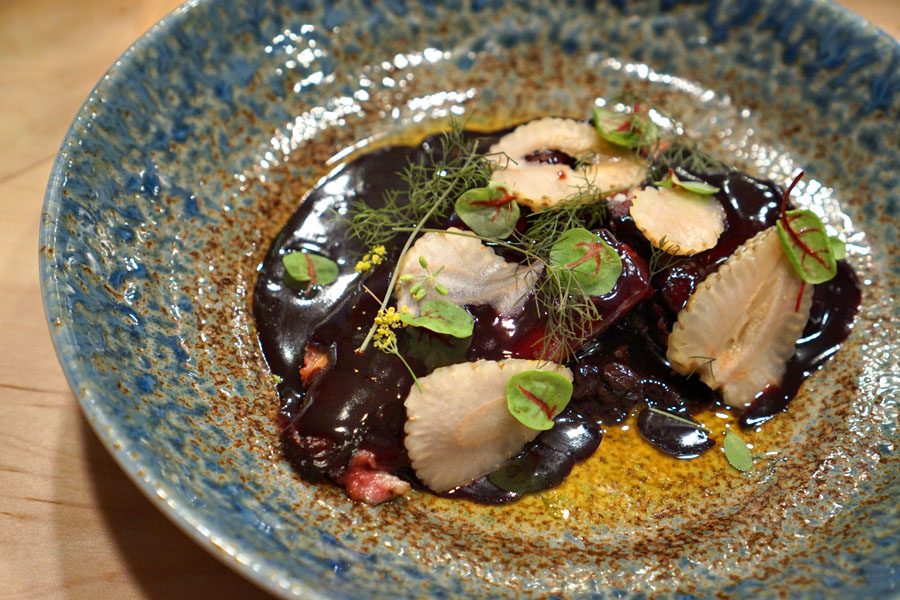 Lamb [$32.00]
| Currants/Sorrel/Green Strawberry
The evening's final savory was a winner. The lamb itself was super tender, with a fantastic pepperiness to it that worked hand-in-hand with the tart, fruity flavors of currant. At the same time, the sorrel and strawberries added a crucial sharpness and acidity to the fray.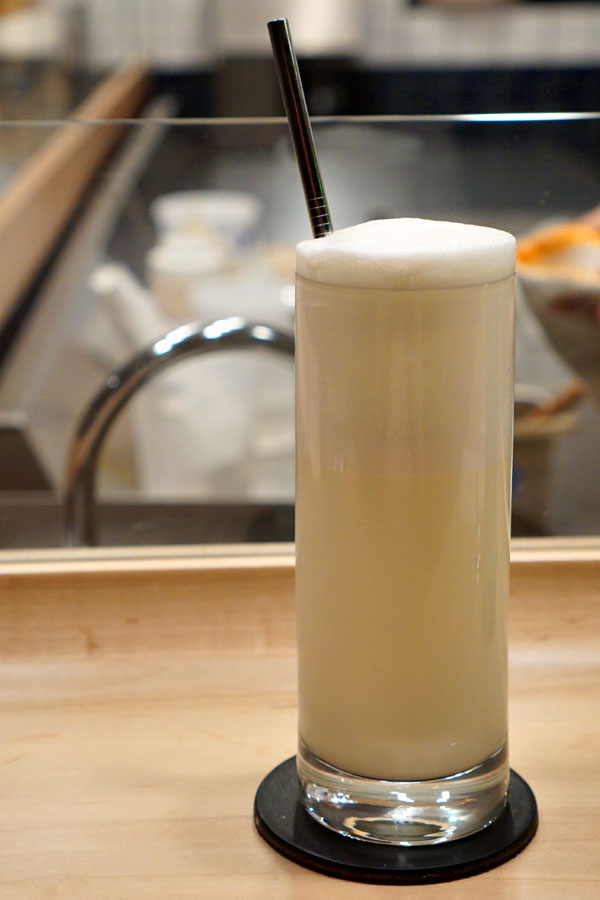 Ramos Gin Fizz [$17.00]
Last to imbibe was another classic cocktail, with Reverie's rendition featuring Neversink gin, which is actually made with an apple base spirit. The drink paired well with the dessert courses to follow, with its soft palate showcasing a blend of sour and creamy notes at first blush, all leading to a boozy, botanical finish laced with sweet, floral spice.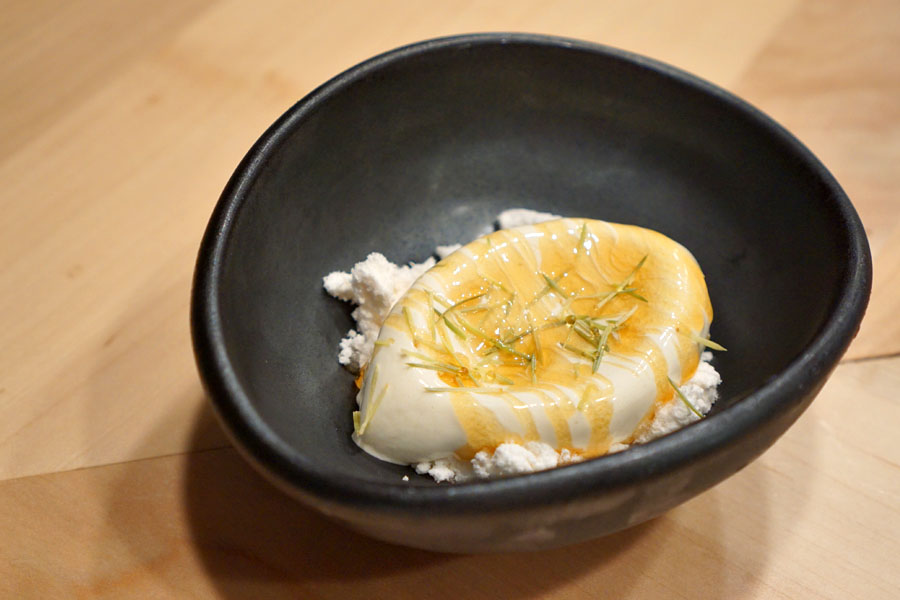 Birch Ice Cream [$12.00]
| Spruce/Root Beer/Charcoal
By itself, the birch ice cream was fragrant and inviting, though further interest came in the form of a very palpable smokiness (from the charcoal I assume), while I also got a fascinating, almost marshmallow-like sweetness and a tinge of spice. Some interesting textures at play here as well.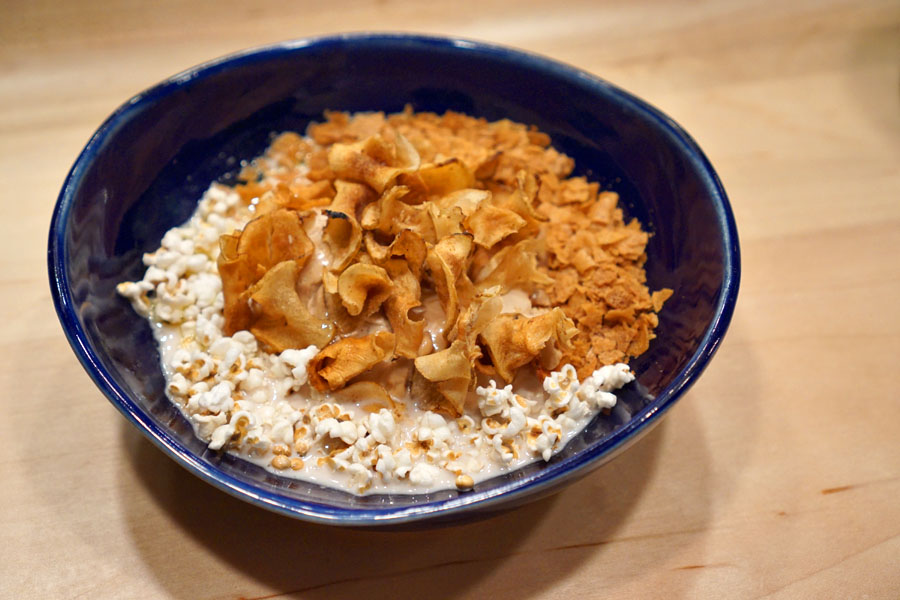 Milk Chocolate [$12.00]
| Smoked Olive Oil/Wildflower Vinegar/Sunchoke
Last up was the requisite chocolate dessert, which was more compelling than most. The crux here was the olive oil, which had a plethora of spicy, savory, utterly smoky flavors that matched up swimmingly with the subdued sweetness of milk chocolate. Also important was the popcorn, which imparted both salt and crunch.
Given Spero's background, I'd been waiting for Reverie to drop for a couple years now, and was pretty ecstatic when I heard that it finally opened. I was expecting some progressive food here, and that's what I got. I experienced some things that I'd never experienced before, and overall the cooking was contemplative and captivating, maybe unusual at times, yet somehow approachable. The kitchen is still young though, so I expect things to get even better with time.