Restaurant Guy Savoy (Las Vegas, NV) [4]
Restaurant Guy Savoy at Caesars Palace
3570 Las Vegas Blvd, Las Vegas, NV 89109
702.731.7286
www.caesars.com/caesars-palace/restaurants/guy-savoy/
Sun 08/25/2019, 8:20p-12:05a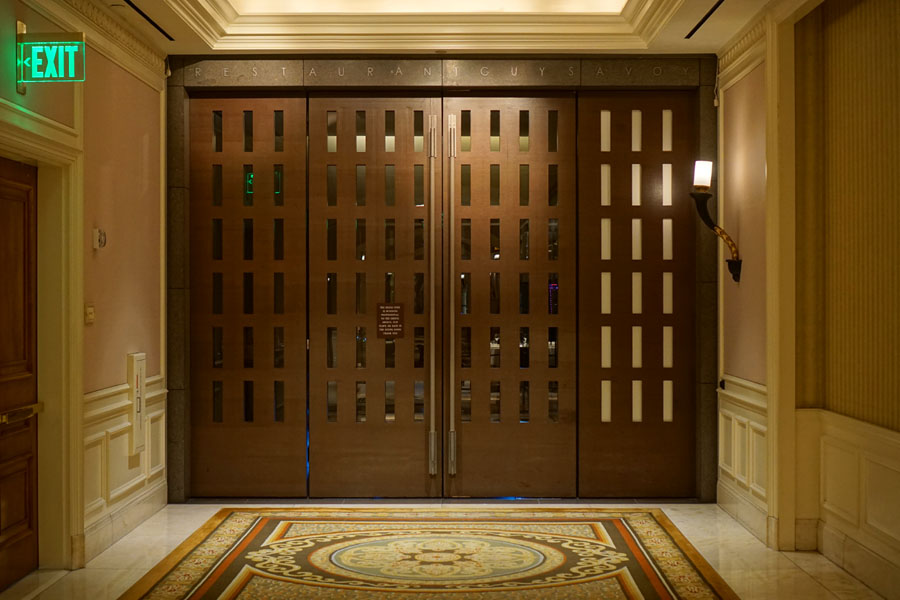 After dining at local favorite
Herbs & Rye
the previous night, I wanted to do something decidedly fancier this evening, and ended up picking Guy Savoy. I was last here
in 2012
, and back then this place was commanded by one Mathieu Chartron. Chartron, however, left in October 2015, returning to France to take the reins at his parents' restaurant. He was soon replaced by Julien Asseo, who'd been at Savoy since 2011, starting as a tournant before advancing to the position of Chef de Cuisine (interestingly, he was also opening sous at
Rivera
back in the day). Asseo, meanwhile, decamped himself in February this year to open Les Petites Canailles, a bistro-like spot in Paso Robles, and superseding him is new Executive Chef Nicolas Costagliola.
About the Chef
: Nicola Costagliola was born in Paris, but grew up in Nice, and first got interested in food as a result of his grandmother's cooking. When he was 15, he enrolled in hotel school at Lycée Hôtelier Paul Augier in his hometown, and following graduation, worked his way through various restaurants in France. In 2007, he relocated to the US and soon began working as a commis at Downtown Vegas' longstanding Pamplemousse Le Restaurant. From there, Costagliola moved to Marché Bacchus in Summerlin, as well as Garfield's, situated just a few doors down. However, he left Garfield's in early 2010 and subsequently went back to the south of France, where he cooked on the line at Restaurant Alain Llorca in La Colle-sur-Loup until November 2011.
He then came back to Las Vegas to take on a chef de partie position at Guy Savoy--under Mathieu Chartron--before rising to sous; he also got married to Celine Imbach in August 2013. In October 2014, Costagliola became sous at
Gordon Ramsay Steak
at Paris, a gig that lasted a year. From there, he returned to Guy Savoy as CdC, working with Julien Asseo until June 2017, when he took over the Assistant Executive Chef position at Caesars' Bacchanal Buffet. During this period he also assisted in the opening of another Bacchanal at Caesars Bluewaters Dubai, as well as Gordon Ramsay Hell's Kitchen here at Caesars Palace. Finally, Costagliola was named Executive Chef of Savoy this May.
He's joined in the kitchen by Pastry Chef Sebastien Polycarpe, who's been at the restaurant since 2012 and also runs Brioche by Guy Savoy, a quick-service spot at Caesars that opened in 2016. Day-to-day pastry duties are handled by Pastry Sous Chef Joie Griego, while Alain Alpe remains in place as General Manager.

Guy Savoy resides on the second floor of the Augustus Tower, and above we see the main dining room, which is pretty much exactly how I remember it from before. There have, however, been a couple changes to the restaurant. First of all, the Krug Room is gone, replaced in 2013 by the Krug Chef's Table, a six-seater table situated inside the kitchen (which was there previously, but just not Krug-branded). Secondly, the old Bubbles & Bites Lounge in the front was replaced in February 2013 by the Cognac Room, a spot featuring numerous bottles of high-end brandy. However, the Cognac Room itself was replaced in 2017 by the Caviar Room, a spot featuring an all-caviar menu in both à la carte and tasting formats. The Caviar Room, though, has since been nixed, and now the front bar/lounge area serves no particular purpose.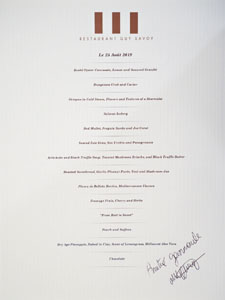 As far as the menu goes, the one to get is the Prestige Tasting Menu, a 14-course dégustation of both new and classic dishes priced at $385 a head, plus $200 or $375 for wine pairing. On this evening, there was also a shorter six-course Forbes menu at $555pp, inclusive of wine pairing, and it is possible to order à la carte, but why? Corkage, I'm told, is not allowed, though I didn't attempt it myself. Click for a larger version.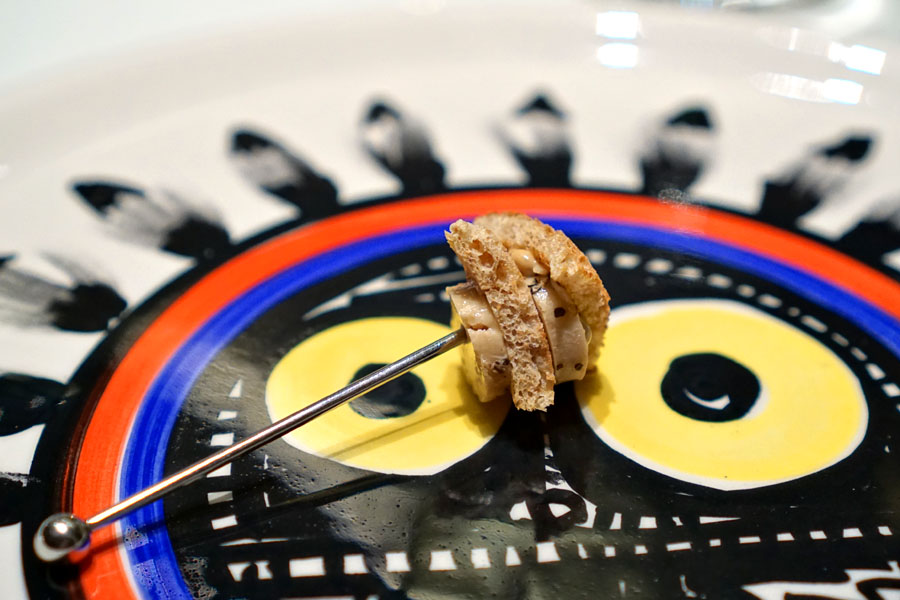 After being seated, I was quickly presented with a miniature sandwich of sorts. It married the flavors of foie gras and black truffle perfectly, while sea salt added pricks of salinity to the mix. However, I was a bit concerned with the bread, which was tougher than I'd prefer.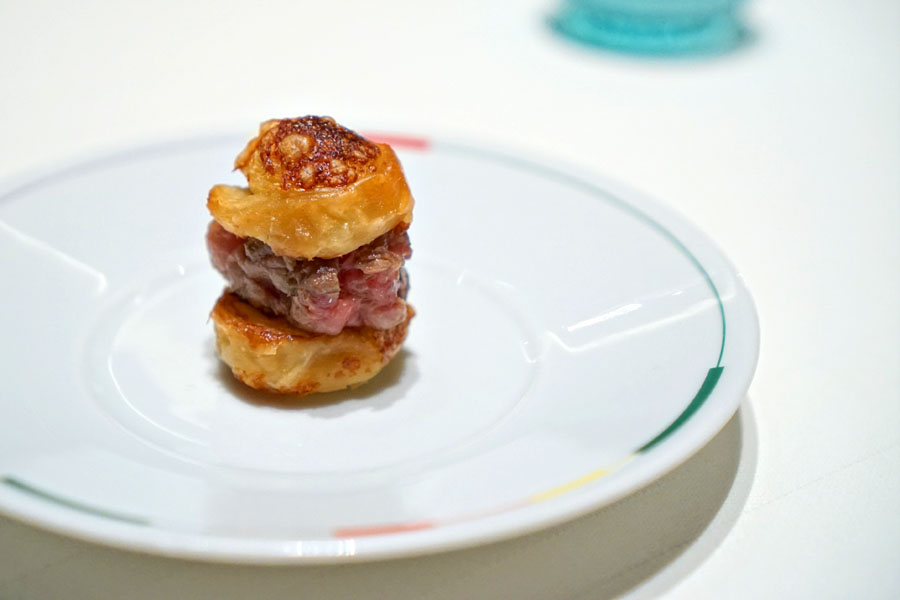 The sammie was soon followed by a mini burger, one featuring seared beef tartare and tarragon mustard, on a Parmesan brioche bun. It was pretty great, the headiness of the meat meshing superbly with the tanginess of mustard, all while the sweet, soft bread moderated it all. I could pop a whole bunch of these.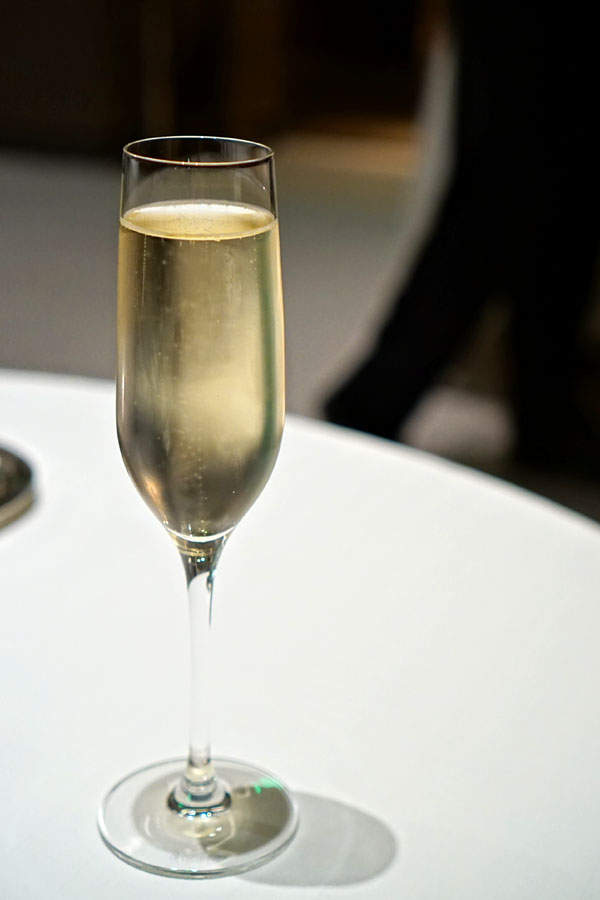 At this point I was still feeling the after effects from the previous night, so I went easy on the alcohol, and just had a couple glasses of Champagne, the first of which was the private label
R. & L. Legras, Guy Savoy Blanc de Blancs, Chouilly [$29]
. Rich, heady nose filled with pome fruit and backed by a touch of oxidation. On the palate, think slightly oxidative, nutty, bitter, with restrained fruit. Overall, I found this rich and robust and a very pleasant surprise.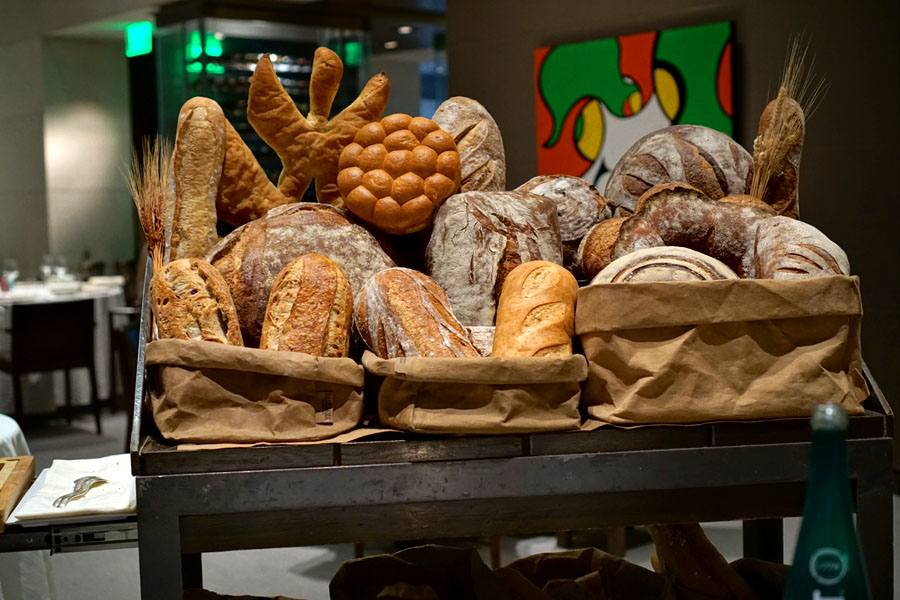 Here we see Savoy's impressive bread spread. Varieties this evening included baguette, multigrain fennel baguette, rosemary
fougasse
, black olive, bacon-onion country, honey, sourdough, brioche, cherry-pecan, and classic
pain de campagne
.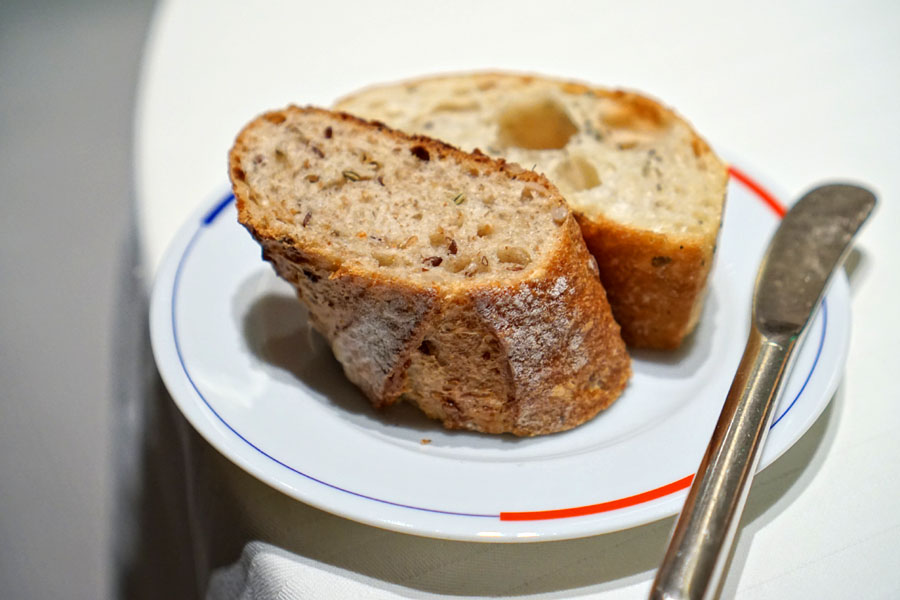 I had my server Adrien select his two favorites for me, and he picked the
fougasse
, which seemed to convey more rosemary the more I chewed, and the multigrain, which had a wonderfully zingy anise taste.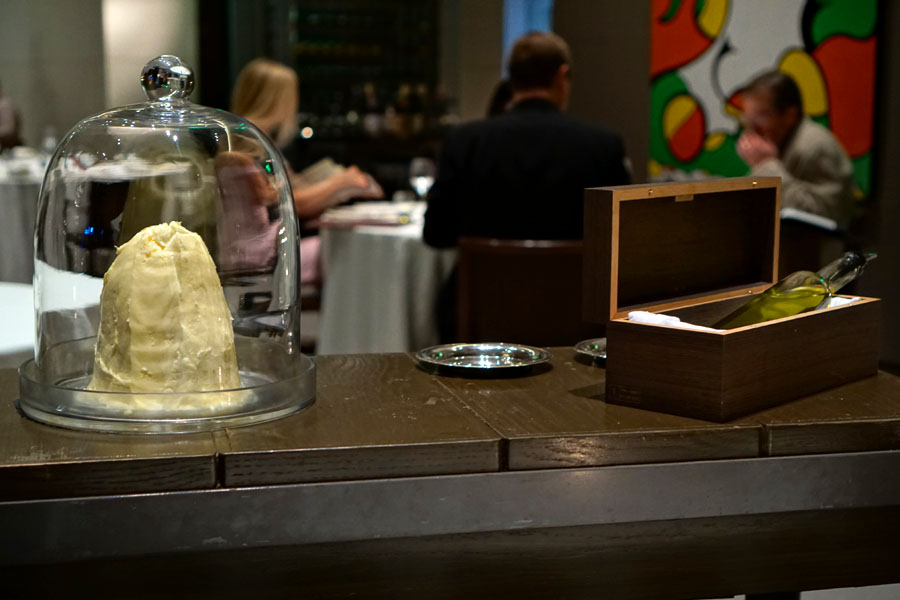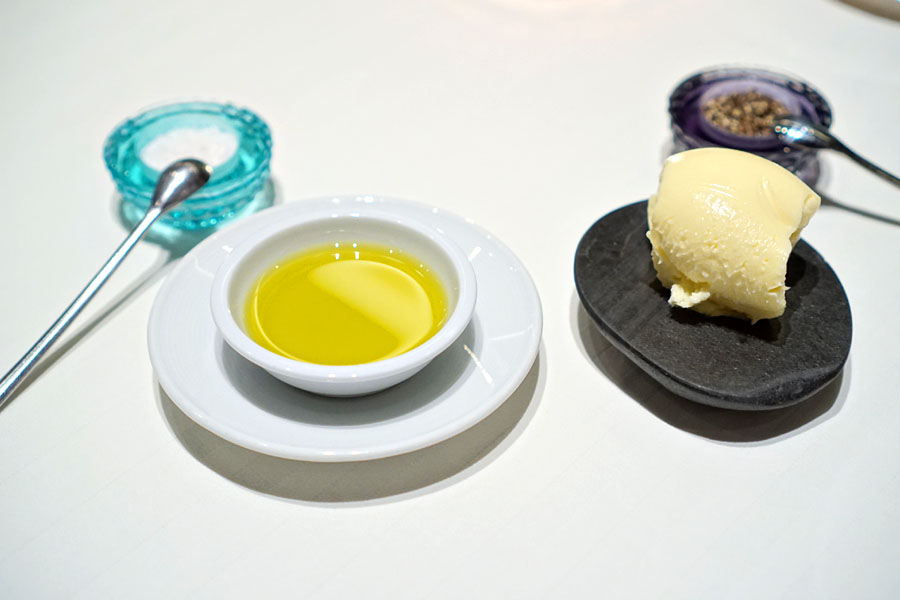 I was then presented with the butter cart, which was new to me. Adrien proceeded to shave me off some soft, sweet, delicate unsalted Échiré butter, and also poured me some of that olive oil, a particularly intense, almost bracing example from Provence.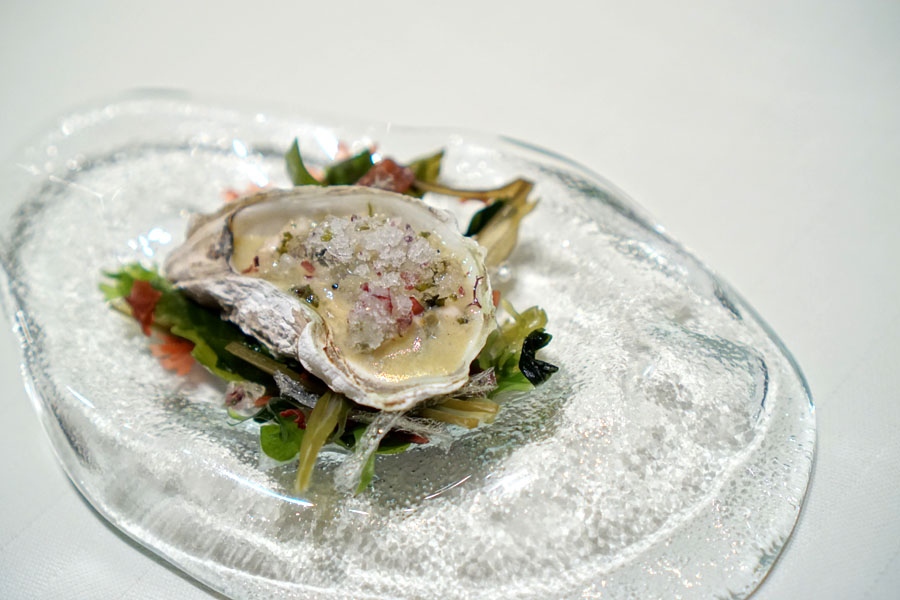 1: Kushi Oyster Concassée, Lemon and Seaweed Granité
The first proper course comprised a Kusshi from British Columbia, with a concasse seasoned with olive oil and green scallion, then finished with a lemon and seaweed granita. The dish smelled strongly of the sea, while the oyster itself ate creamy and soft, its subtle salinity nicely matched by the sweet-tart nature of its accompaniments. Also of note was the somewhat dramatic temperature contrast here.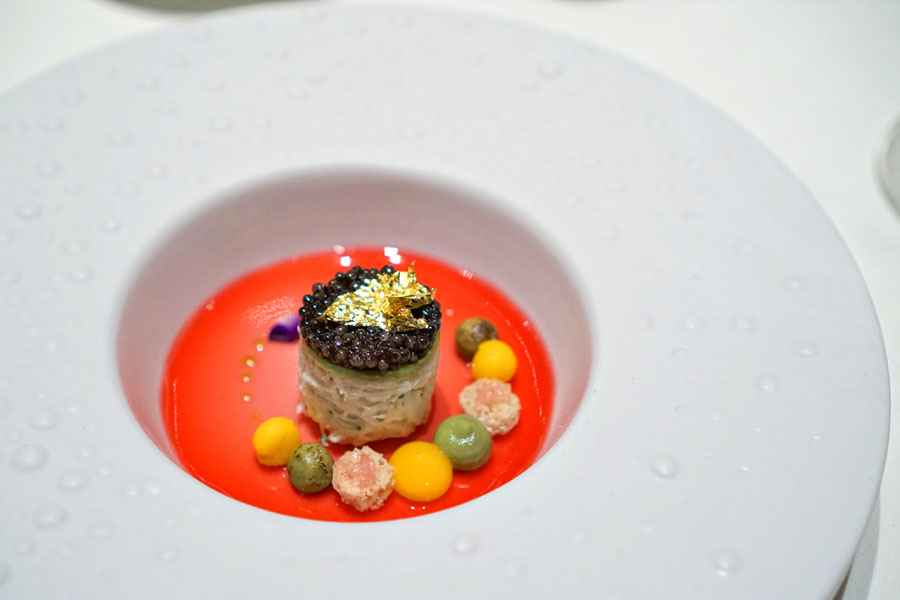 2: Dungeness Crab and Caviar
Next came a stout cylinder of Dungeness, crowned with a thin layer of avocado, as well as Royal Ossetra caviar and gold leaf, all sitting atop a base of watermelon radish gelée. Also present were bits of smoked crostini topped with finger lime, dots of fresh and torched avocado, as well as fresh mango and smoked mango purée. What struck me first here was the sweetness of the crab, and how clearly that was conveyed. Said sweetness worked swimmingly with the saltiness from the caviar, while the fruit and avocado came in later and moderated the interaction. Bringing up the rear, meanwhile, was a long, lingering brine from the Dungeness, which was somehow silent previously.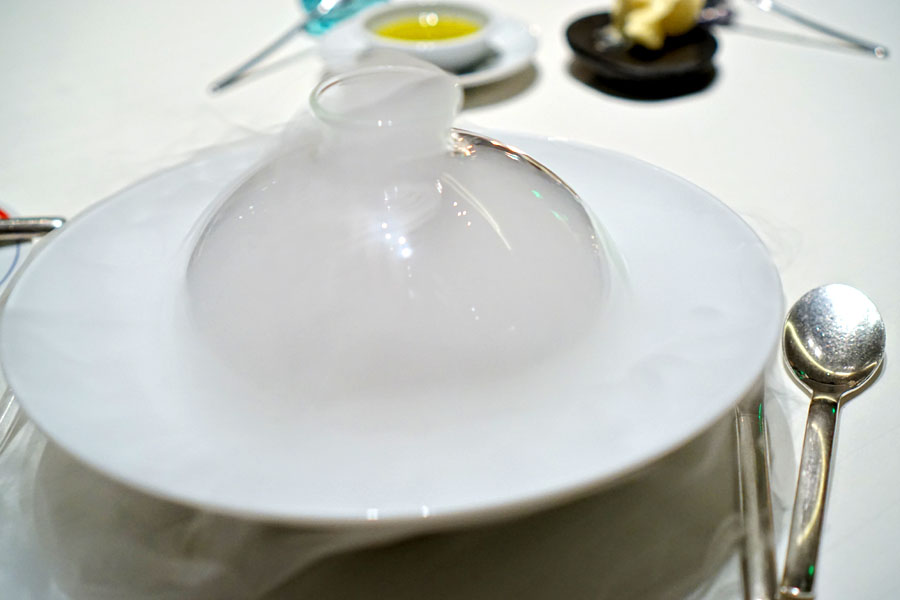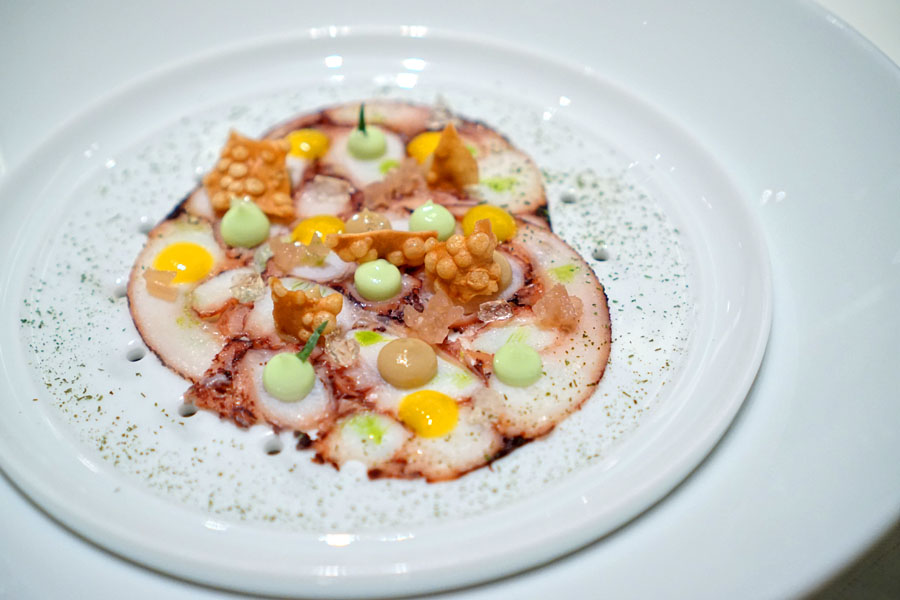 3: Octopus in Cold Steam, Flavors and Textures of a Béarnaise
Here was a somewhat theatrical course featuring slow cooked octopus, thinly sliced, dotted with tarragon, egg yolk confit, and shallot puree, with crispy bits made from octo juice and tapioca. The whole shebang was then cold steamed with seaweed water in order to convey the essence of the ocean. The end result was arguably the most fine-spun presentation of octopus that I've had. I loved how the dish's subtle seasoning and spice enhanced its natural brine, while my favorite element here has to be the crunchy, savory bits of tapioca, which worked as a super smart, super effective counterpoint to everything.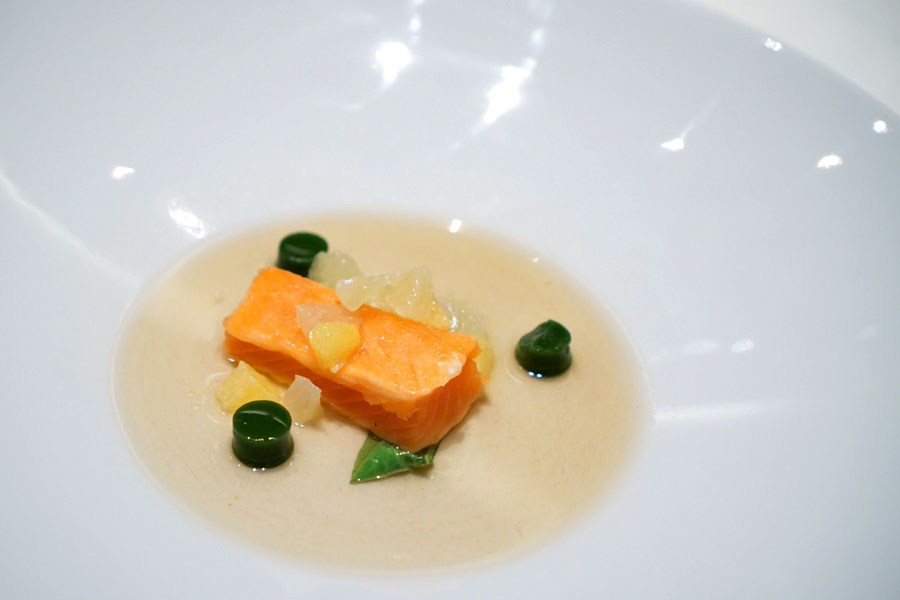 4: Salmon Iceberg
This was Ora King salmon from New Zealand, placed on a block of red Himalayan salt for three minutes, then "cooked" atop dry ice. The fish was then served with a lemongrass bouillon, steamed bok choy, a mixture of lime-lemon-Meyer lemon-finger lime, and blocks of chervil gelée. Tasting the salmon alone, I found it smoky and saline and delicious, with a healthy amount of fat. Meanwhile, the dry ice treatment offered up contrasts in both texture and temperature, and I loved the amazing aroma of that lemongrass, not to mention the bitterness of bok choy. However, I found the citrus a bit too strong here, and its sourness tended to overwhelm the fish.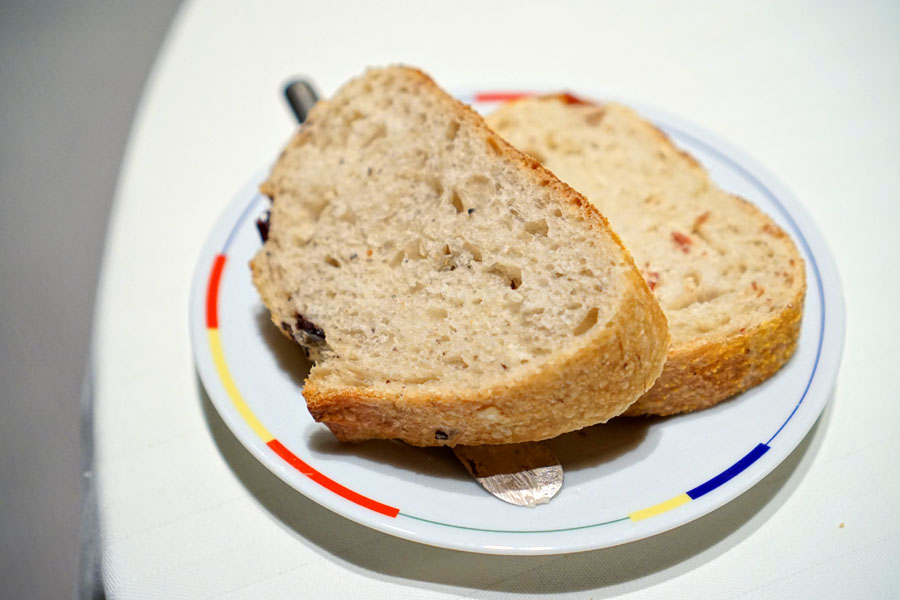 With my previous two pieces of bread dispensed with, Adrien then selected the surprisingly restrained black olive varietal, as well as the bacon bread, replete with crispy, savory bits of the advertised pork.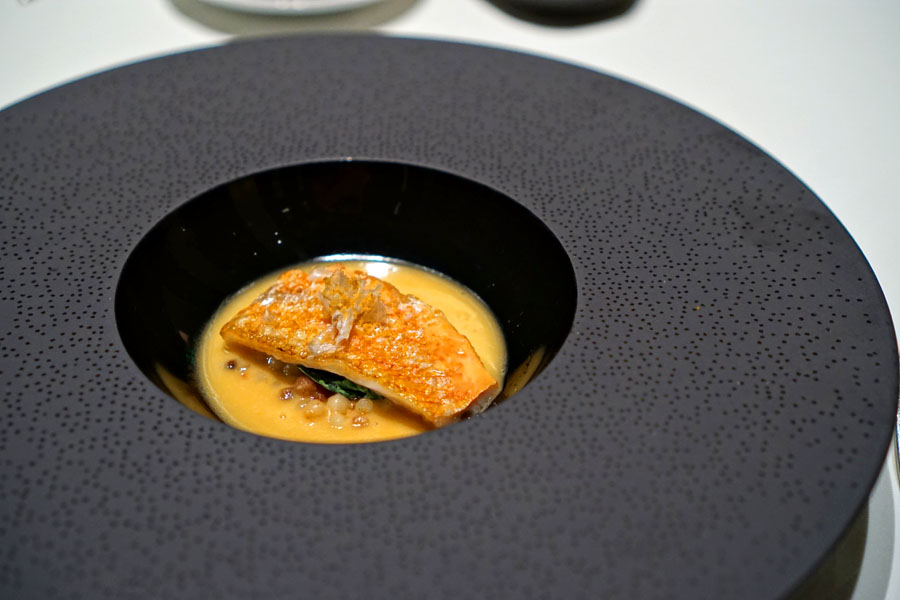 5: Red Mullet, Fregula Sarda and Jus Corsé
Mediterranean red mullet featured a mouthwateringly intense salinity that I loved, along with a soft, supple consistency and a super crisp, delicate skin. The fish was delicious just by itself, but I also liked the bitterness of the braised spinach, while the pasta provided both texture and served to temper the strong flavors present. The finishing fumet, meanwhile, imparted further depth and umami to the dish. A favorite course of mine.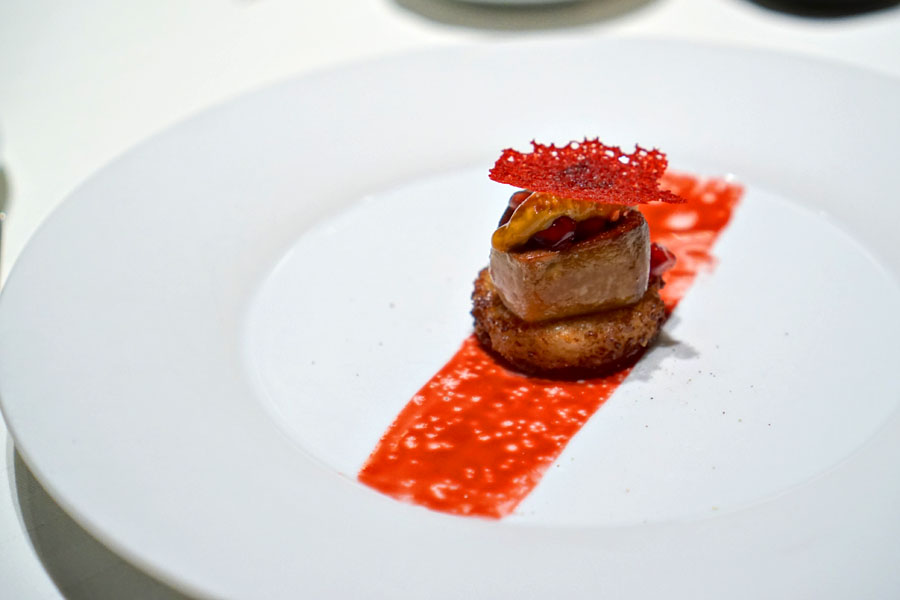 6: Seared Foie Gras, Sea Urchin and Pomegranate
I'm generally not a huge fan of seared foie (much preferring it cold), but this managed to be a standout. The liver was presented on top of a disk of
yamada nishiki
rice along with roasted pomegranate seeds and celery root, then topped with sea urchin, pomegranate gastrique, and pomegranate rice cracker. The crux of the course was that rice, which tempered the richness, the luxuriousness of the foie while providing a crunchy contrast in texture. Uni imparted further depth to the dish, and the fruit a punch of tartness and acidity. I didn't mind the slight herbiness of the celeriac, either.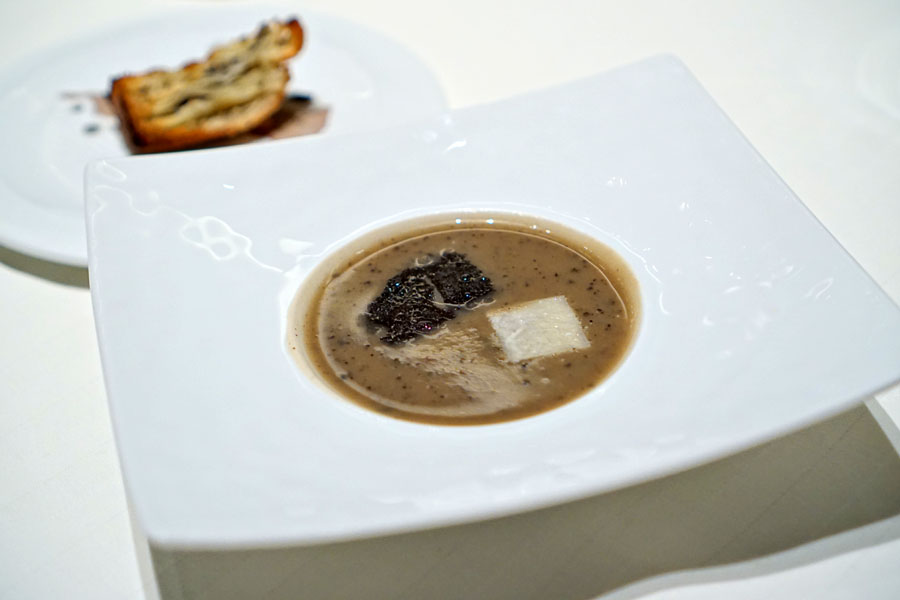 7: Artichoke and Black Truffle Soup, Toasted Mushroom Brioche, and Black Truffle Butter
Next came arguably Savoy's most well-known dish. I've had this a couple times before, and from what I can remember, the vegetal nature of the artichoke was actually much more apparent this time around. It actually made for a lighter-than-expected soup, but one still dutifully imbued with the heady aromatics of truffle. On the side, meanwhile, was a soft, sweet toasted mushroom brioche, replete with truffle butter. Be sure to sop up the remaining liquid with it.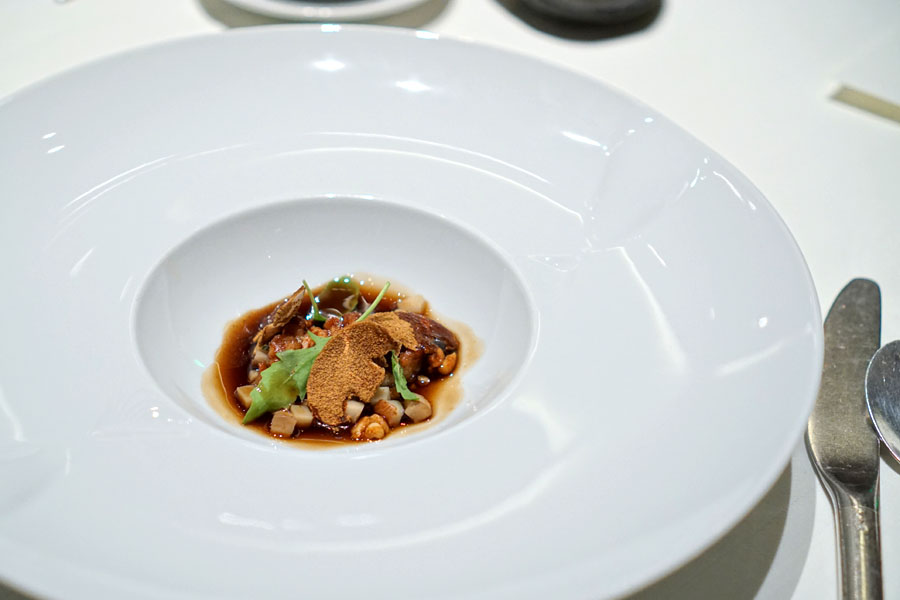 8: Roasted Sweetbread, Garlic Pinenut Purée, Veal and Mushroom Jus
Pan-seared veal sweetbread arrived with a supple, almost creamy consistency and plenty of lush, earthy flavors, flavors that were taken up a notch by the sweet-savory nature of both porcini and mushroom jus. The garlicky pine nut purée, meanwhile, imparted a nuttiness to the dish that made it smell like the autumn, while the arugula provided a much-appreciated zestiness.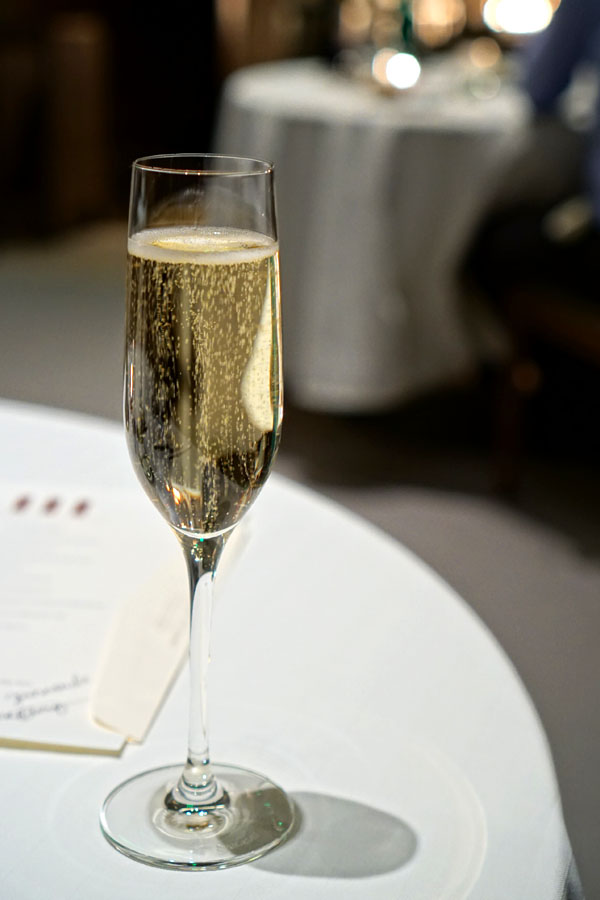 The second Champagne of the evening was the
Doyard, Cuvée Vendémiaire, Blanc de Blancs, 1er Cru, Vertus [$40]
. This was a much lighter wine compared to the first, and displayed crisp, fresh apple on the nose, along with a touch of toast. On the palate, I found it clean and fresh overall, though there were hints of oxidation alongside minerals, more pome fruit, lemon, and a bit of yeast.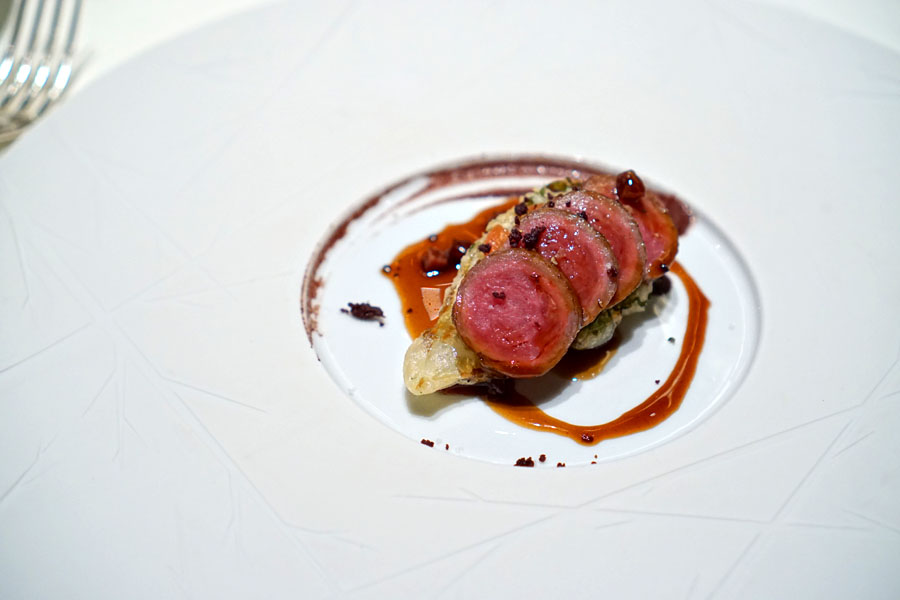 9: Pluma de Bellota Iberico, Mediterranean Flavors
Iberian pork shoulder loin made for probably my favorite course of the night. Taken alone, I found the cut super tender, yet still very satisfying, with immensely porcine, peppery flavors that were further augmented by the drizzles of jus. Accompaniments of tomato confit and tapenade certainly made sense, but the key here was that baby gem lettuce tempura, which functioned as a flawless contrast in both taste and texture. Superb.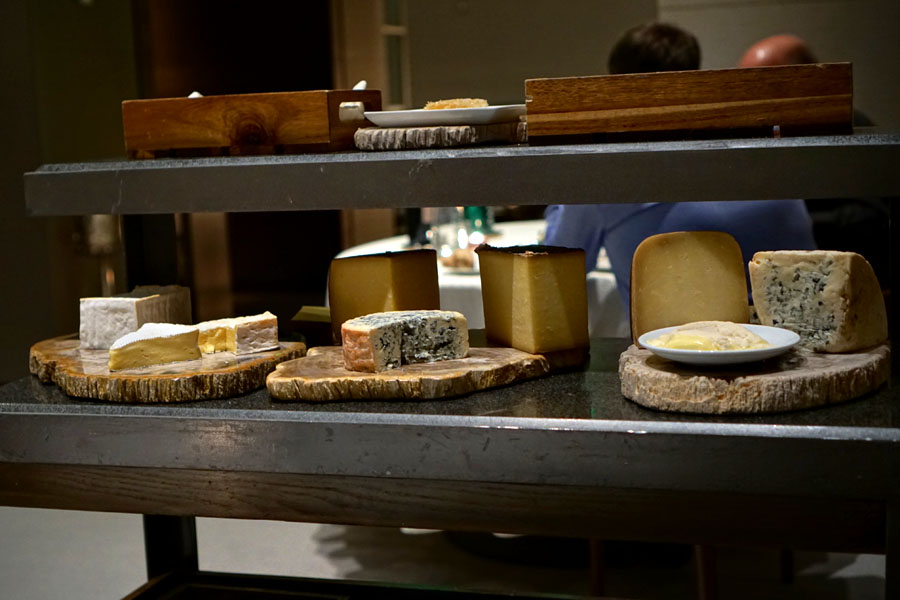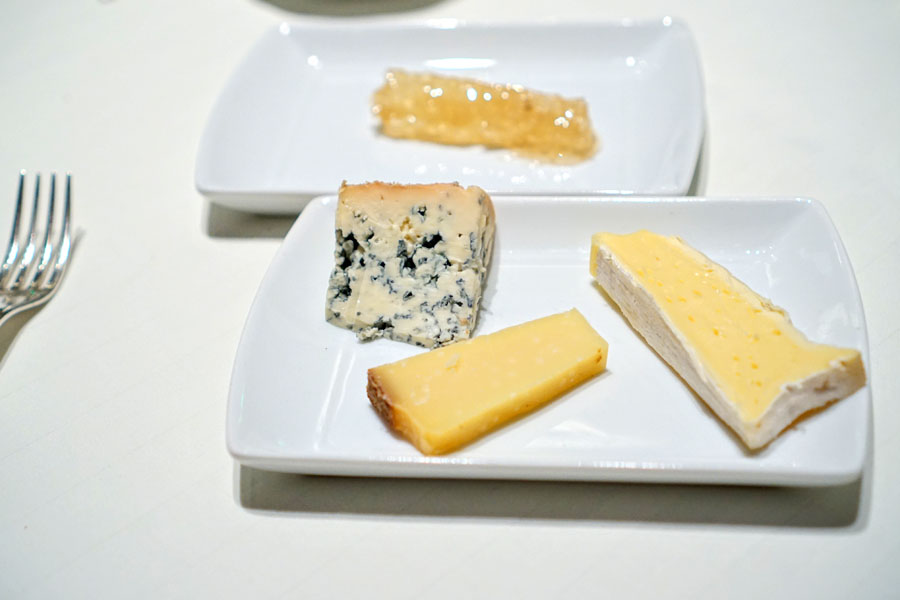 At this point I requested the cheese cart, which actually isn't normally part of the Prestige Menu, though the staff was happy to provide it free of charge. Going from left to right, selections this evening included: Saint Angel, Brie, Pont-l'Évêque, Fourme d'Ambert, an unknown cheese (Gruyère-like, aged 36 months), Ossau-Iraty, another unknown cheese (a very runny one, made with sheep's milk), and Roquefort. I first opted for the Fourme, arguably my favorite blue, and found it sweet and salty and refined, with a bit of grass and funk mixed in. Also on my plate was the Pont-l'Évêque, which ate wonderfully herbaceous, but with a barnyard-y quality to it and an excellent rind. My third selection was the Gruyère-like unknown (the name was something like "la mer du Gironde"). This one was decidedly nutty, but what was most notable was the texture, which was sandy and crystalline on account of its considerable age. Note also the honeycomb, which I found unabashedly sugary, yet never cloying.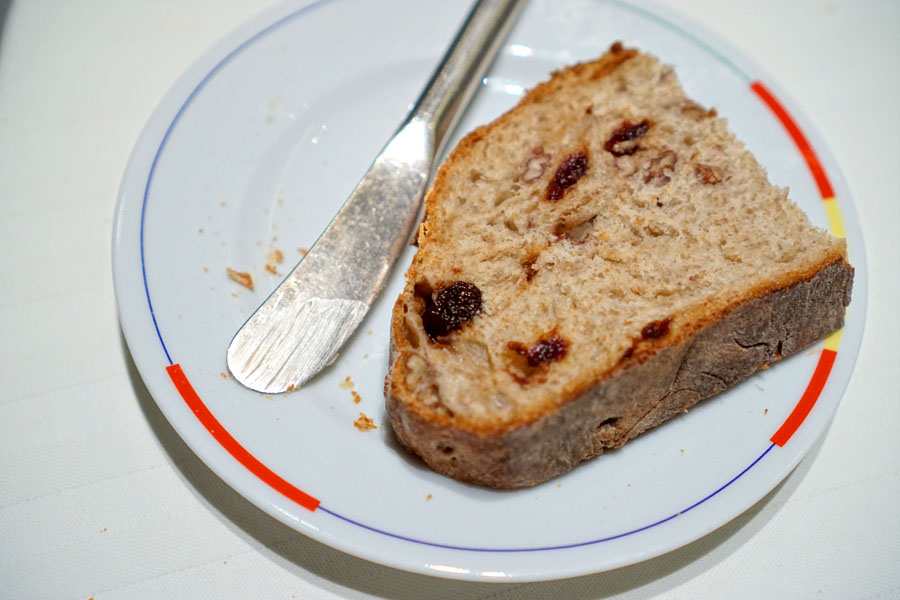 Adrien suggested a cherry-pecan bread to pair with the cheese--a wise selection.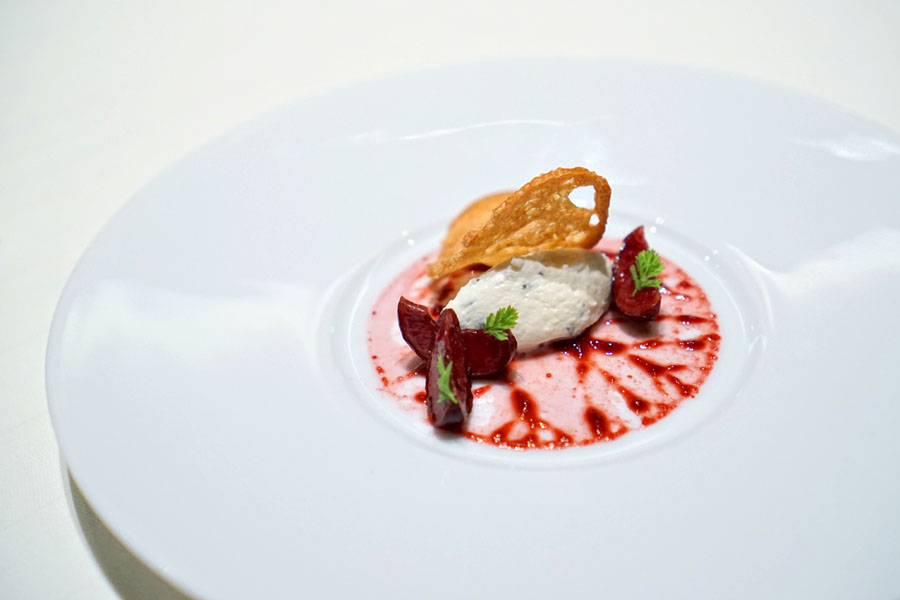 10: Fromage Frais, Cherry and Herbs
With the cheese cart done with, we got back into the set menu and its composed cheese course. Fresh housemade goat cheese was excellent, its soft, creamy nature meshing gorgeously with all the herbs that were incorporated. It was delicious alone, but even better when taken with that fruity cherry coulis, and I loved the crunch and salt of the crouton on top, too.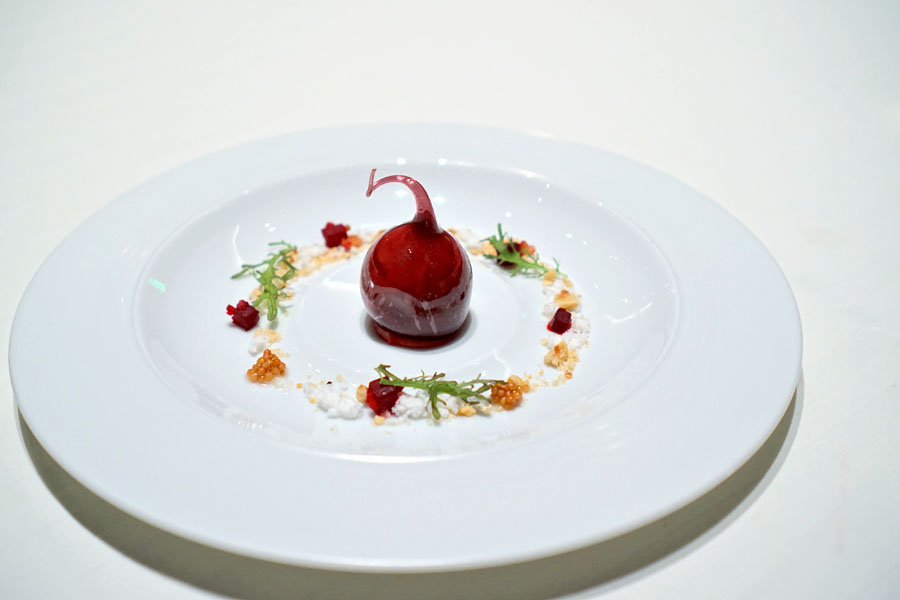 11: "From Beet to Sweet"
This course brought beet espuma, encased in a candied beet shell, along with pickled mustard seeds, chopped hazelnut, hazelnut powder, and mustard greens. As regular readers will know, I'm no fan of beets, but this was about as good as beet can be for me. Its earthy sweetness was well-conveyed, but also very polished, and worked particularly well with the nuts here. A smart transition of sorts from savory to sweet.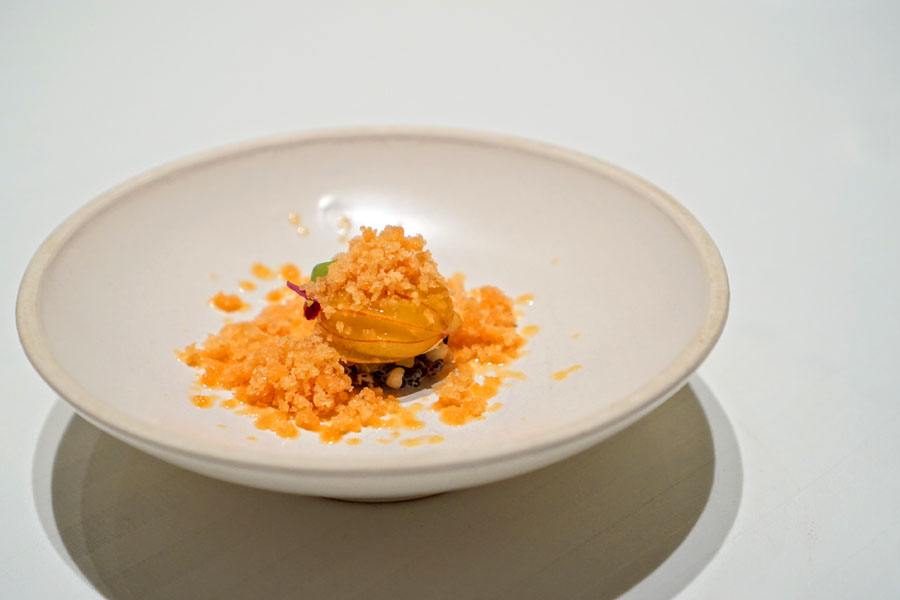 12: Peach and Saffron
The first proper dessert comprised saffron-marinated peach, topped with a peach-saffron granité, sitting on a pile of white chocolate and buckwheat tossed in saffron. It was a winner, displaying intense, almost candied peach notes against a backdrop of nutty, crispy buckwheat, all while the saffron contributed a grassiness on the back end. Cool and refreshing and delicious.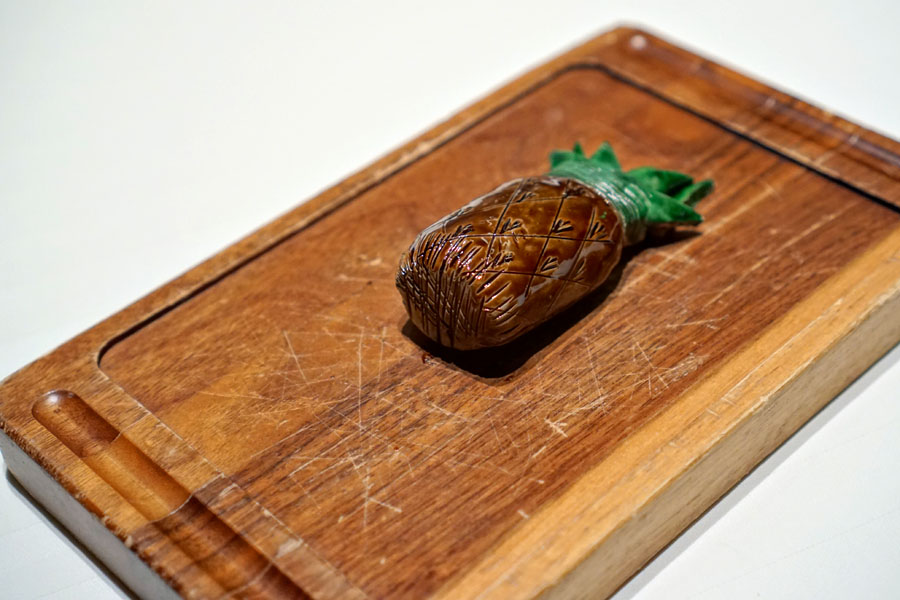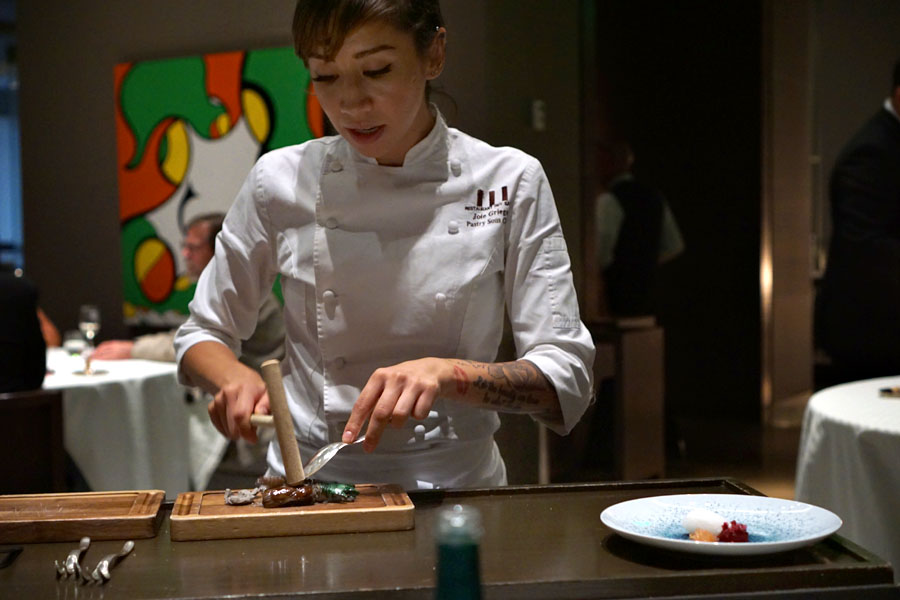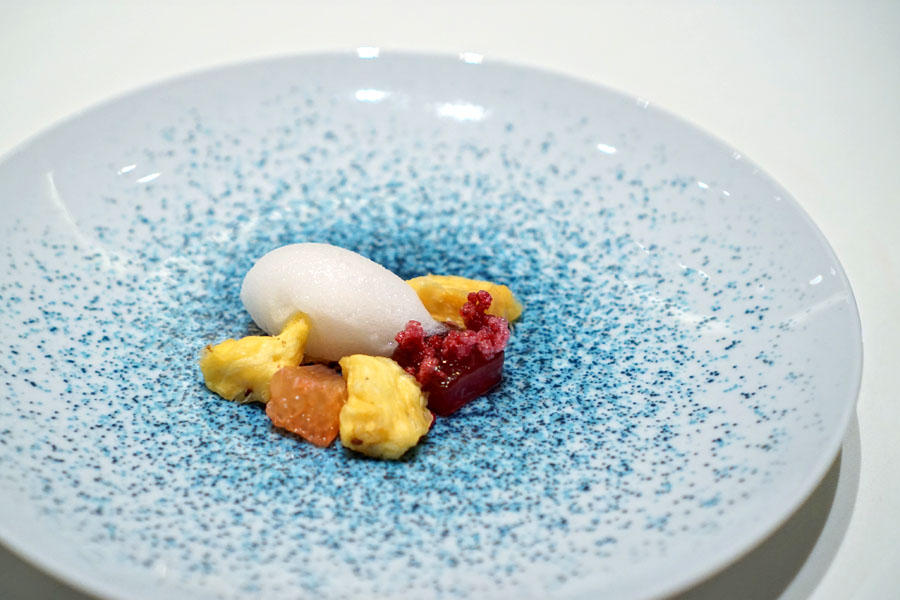 13: Dry Age Pineapple, Baked in Clay, Scent of Lemongrass, Mellowest Aloe Vera
Next came perhaps the most fascinating presentation of pineapple I'd ever encountered. The process involves small West African pineapples, which are shaved upon receipt, tied with string and hung in a refrigerator for two-to-three weeks. With the aging complete, the resultant pineapples are cut into pieces, covered in clay, shaved, carved, and baked in an oven. The clay is then broken with a mallet tableside, and plated with lemongrass sorbet, fresh grapefruit, aloe vera soaked in hibiscus tea, tapioca soaked in the same hibiscus tea and fried, yuzu, and a coconut tuile. The end product of this whole ordeal was something pretty special. The pineapple had this wonderfully fragrant aroma that I loved, while its taste was super concentrated, with a depth of flavor that almost recalled caramel. It matched absolutely beautifully with the bracing nature of the lemongrass, and I enjoyed the floralness of the aloe vera as well, not to mention the crunch from the tuile.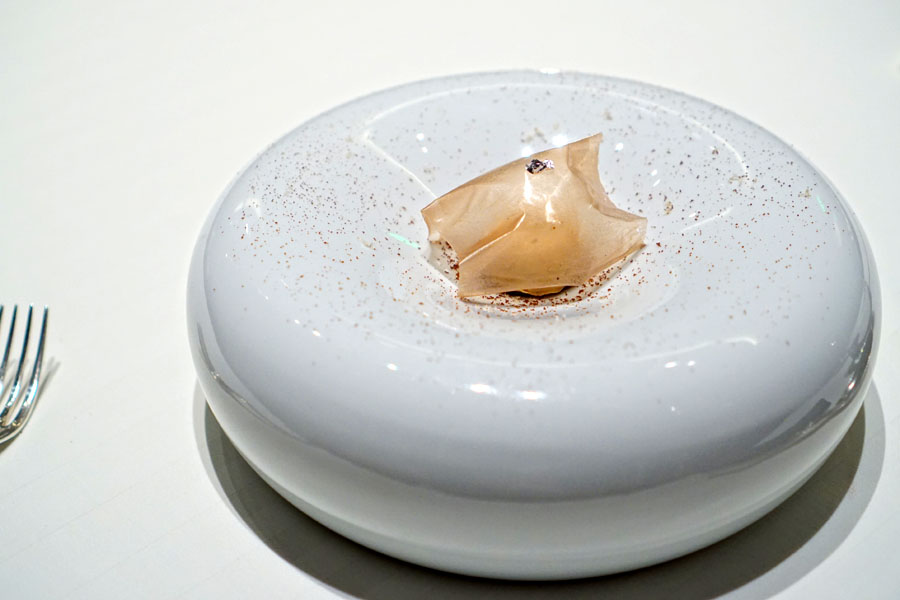 14: Chocolate
Our final proper course was this Dulcey chocolate-banana cremeux, atop chocolate crumbles, topped with banana "paper" and silver foil, and dusted with coffee bean powder. The back-and-forth between the chocolate and the vibrant flavors of banana was spot on, and I was definitely into the bitter, roasty notes from the coffee on the back end.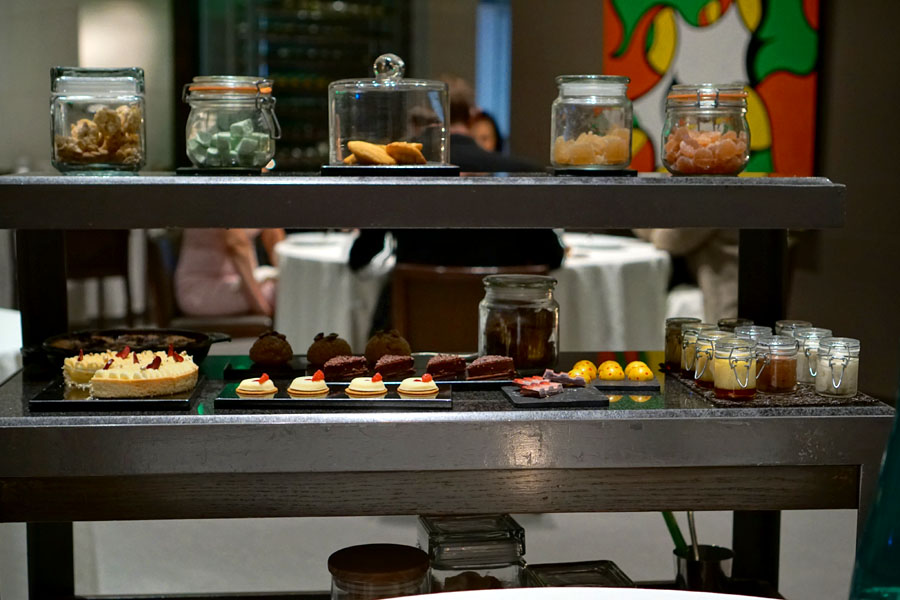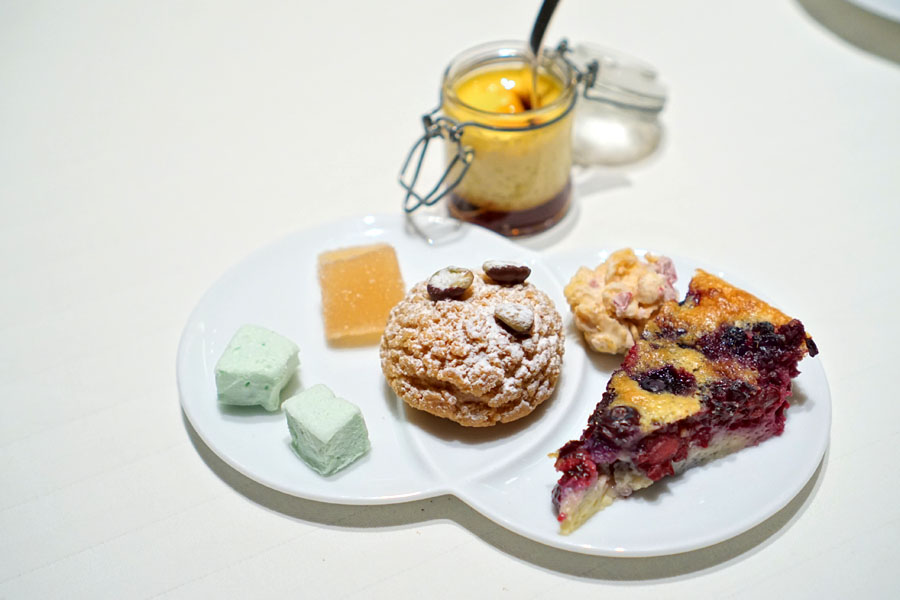 Mignardise duties were handled by the restaurant's famed candy cart. Clockwise from upper-left, we have (my selections in bold):
corn flakes balls with white chocolate and pineapple
(sweet and nutty, though I didn't really get the pineapple),
pandan marshmallows
(classic marshmallow at first, with aromatic pandan coming in on the mid-palate), madeleines,
lychee pâtes de fruits
(subtle initially, then a good amount of vibrant fruit), peach
pâtes de fruits
, French vanilla rice pudding,
mousse au chocolat
,
crème caramel
(very eggy, with lots of sugary caramel on the bottom), dark chocolates with strawberry ganache, dark chocolate bars with nuts, chocolate brownies, chocolate tarts with cocoa nibs, cheesecake with raspberry jam,
cream puffs with pistachio cream
(my favorite, thanks to its amaretto-like sweetness and gritty, nutty bits), lemon meringue tartlet, and
blueberry-blackberry clafoutis
(like a blueberry muffin).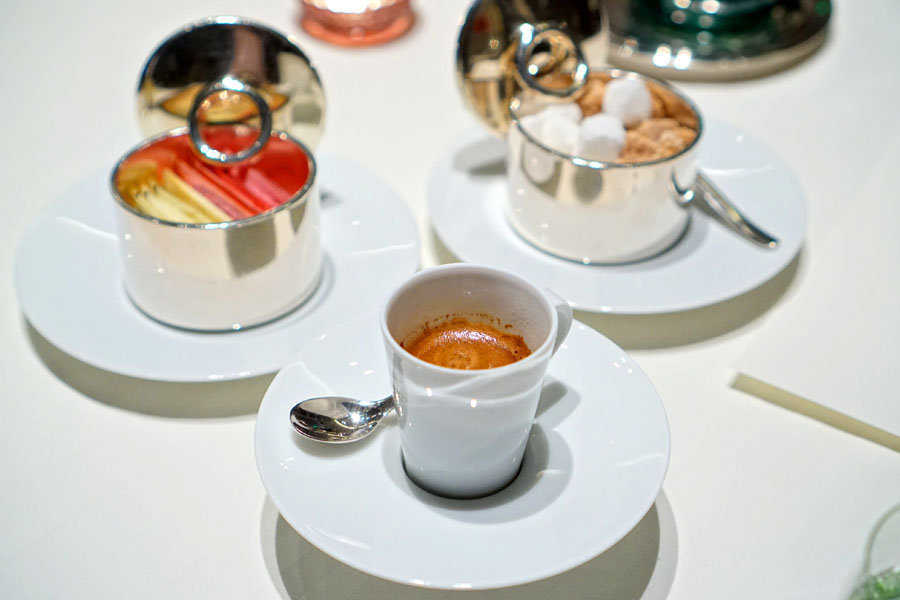 Some
Espresso [$6]
to go along with the petits fours.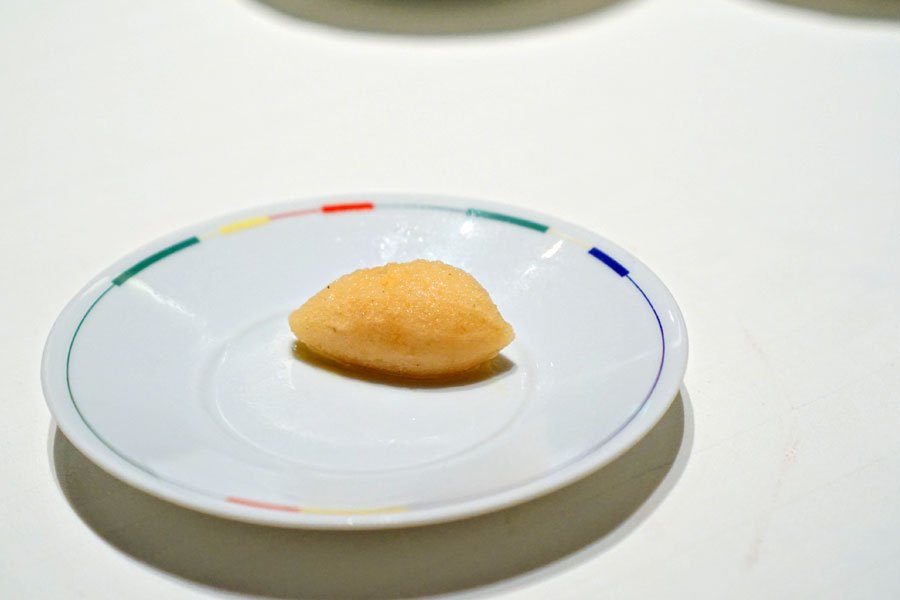 The meal concluded with an Earl Grey tea sorbet with black pepper. I found this a refreshing palate cleanser, its great floral notes transitioning to an unexpectedly strong pepperiness on the finish.
To take home: a citrus brioche of some sort. I had it the next day and it was pretty great.
It'd been a whopping seven years since my last meal at Guy Savoy, but I'm glad to report that the place seems to be holding up just fine with Costagliola at the helm now. The menu seems a bit more venturesome, which is nice to see, but of course the food still remains true to the ethos of what makes Guy Savoy, well Guy Savoy. I'm sure I'll make it back here on a future visit to Vegas.