Pasjoli (Santa Monica, CA)
Pasjoli Restaurant
2732 Main St, Santa Monica, CA 90405
424.330.0020
www.pasjoli.com
Thu 10/17/2019, 09:00p-12:10a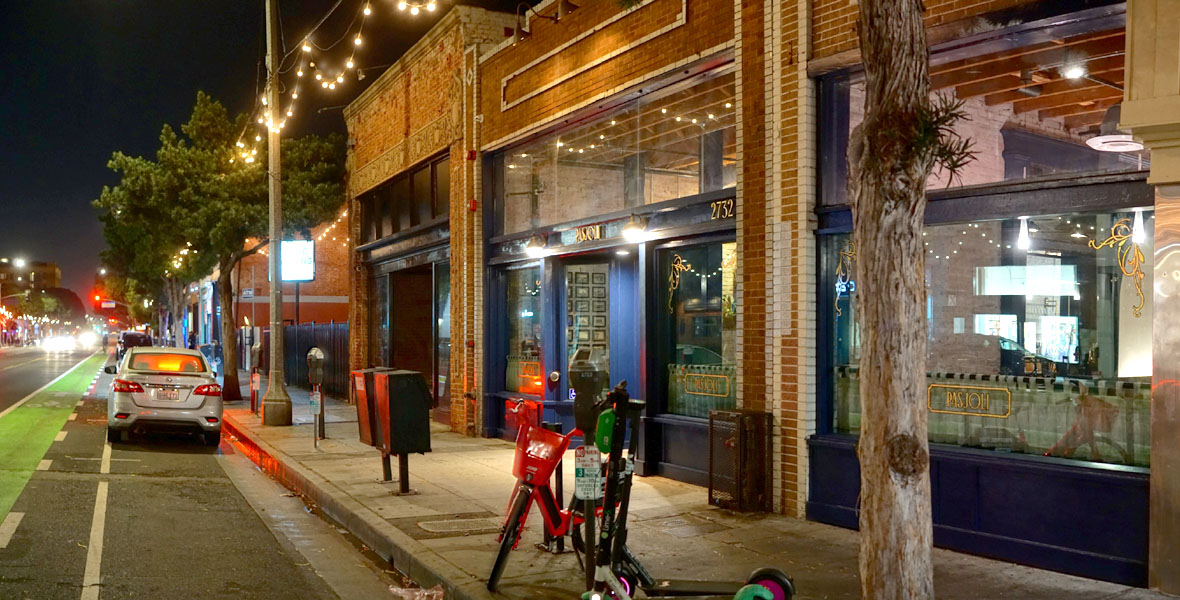 I last posted about Dave Beran back in September 2017, shortly after the debut of his first solo project,
Dialogue
. I had an excellent meal there, very possibly my best of that year, which reminds me:
I need to go back
. In any case, I wasn't the only one impressed with the place. Dialogue landed four stars from
LA Weekly
in November 2017, which was followed by a glowing review from Jonathan Gold shortly afterward.
Time Out
's Simon Majumdar gave the restaurant a full five stars, while Michelin doled out a single star just this past June (I felt it deserved at least two).
The whole time though, Beran was formulating his sophomore effort, an elevated-but-fun, bistro-y, Escoffier-inspired French eatery. Named Pasjoli because it's
not Jolie
(Jolie being the original name of what became Dialogue), the spot debuted on September 18th in the former home of Bareburger (and the longstanding Ocean Park Omelette Parlor before that) following a nine month build-out. Chef de Cuisine duties are being handled by Matthew Kim, a former sous at Dialogue.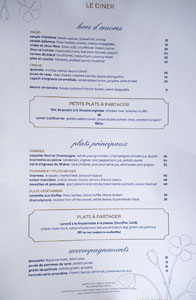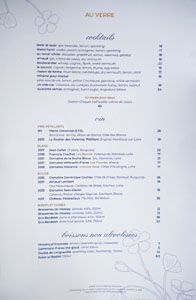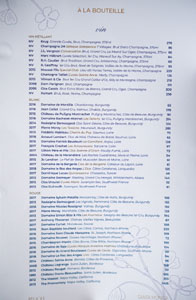 There's no mistaking Pasjoli's menu for anything else but emphatically French, but at the same time, you won't find a lot of your usual tropes, either. Do note that the restaurant's signature pressed duck is available by reservation only, a fact that we sadly weren't aware of. Drinks are handled by Beverage Director Daniel Lovig (who relocated from Grand Rapids), and he's got a theme-appropriate cocktail selection joined by an almost exclusively French wine list. Corkage is $50, but was kindly waived tonight. Finally, keep in mind that all prices are inclusive of service, as this is a no-tipping restaurant. Click for larger versions.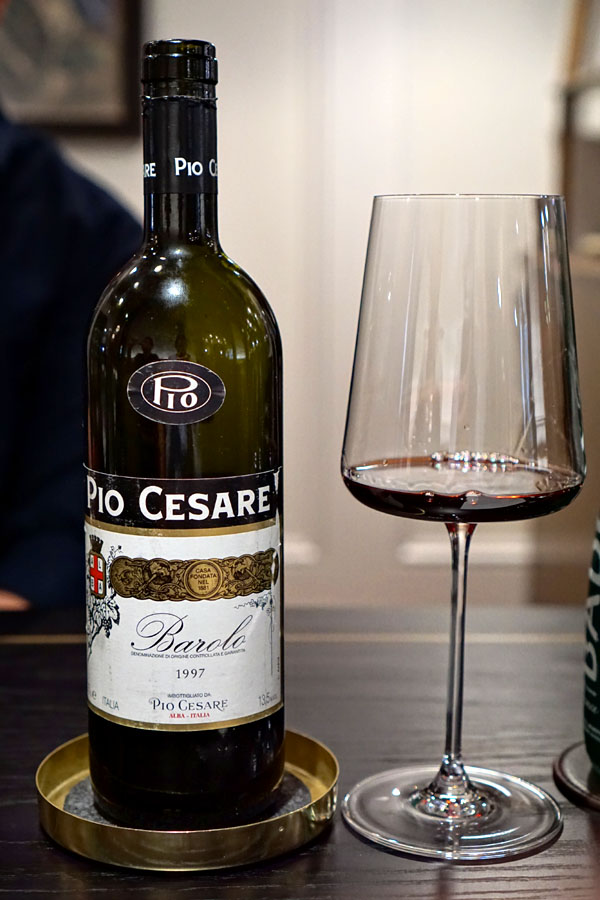 Beverage-wise, things got started with a bottle of the
1997 Pio Cesare Barolo
(brought by one of my dining companions), which was decanted pretty much right when we got there and enjoyed throughout the meal. The wine demonstrated a heady, perfume-y nose that I could smell from across the table, with dark fruit notes up front leading to dry herbs and meat. Tasting it, I got tannic berries leading the charge, backed by more herbaceousness and some spice, the finish showing off a pleasant heat. And as the wine warmed, I detected more and more lingering, unripe fruit flavors.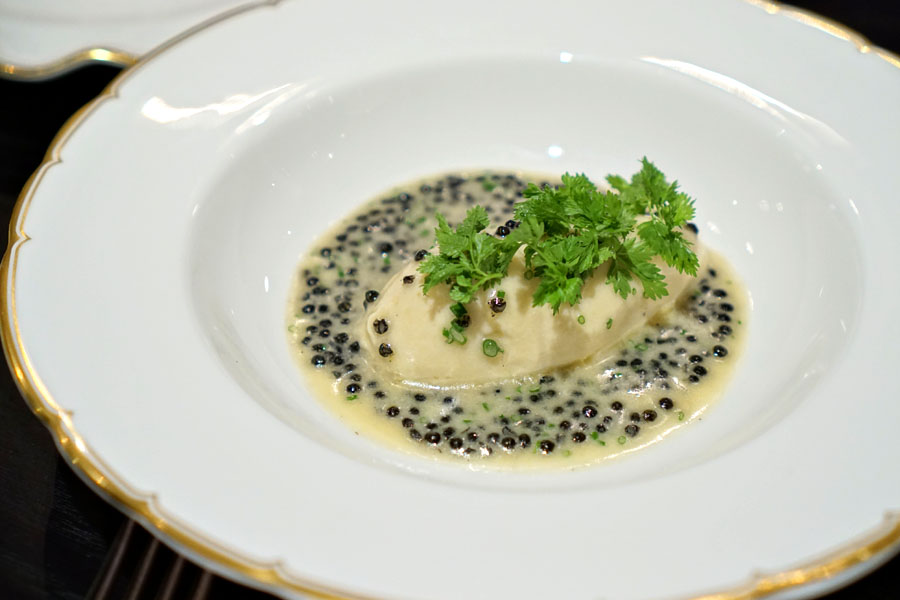 quenelle [$36.00]
| scallop, caviar beurre blanc
Pasjoli's seafood quenelle was supple, delicate, yet effectively conveyed the sweetness of the scallop. What made the dish really work, though, was the incorporation of caviar, which imparted pops of salinity that were crucial for juxtaposition.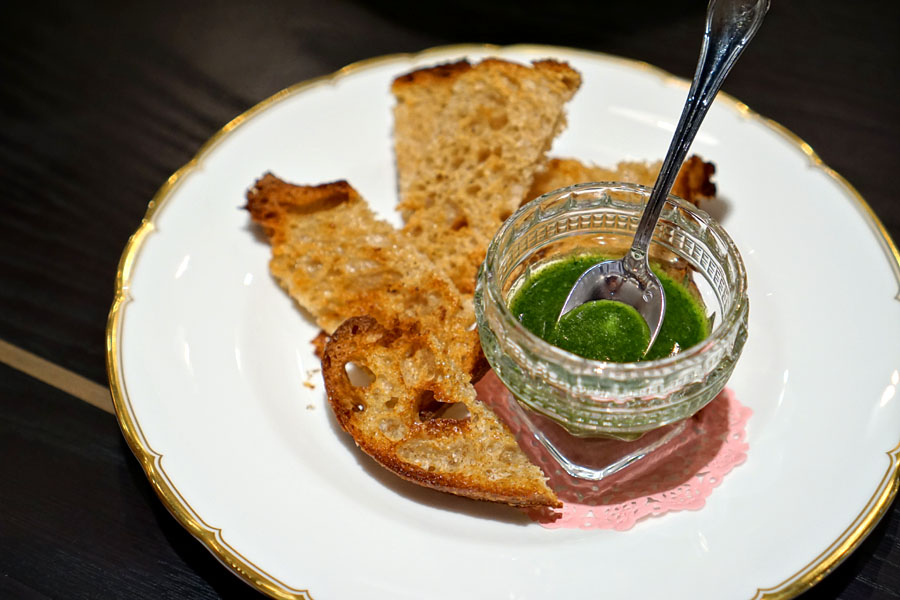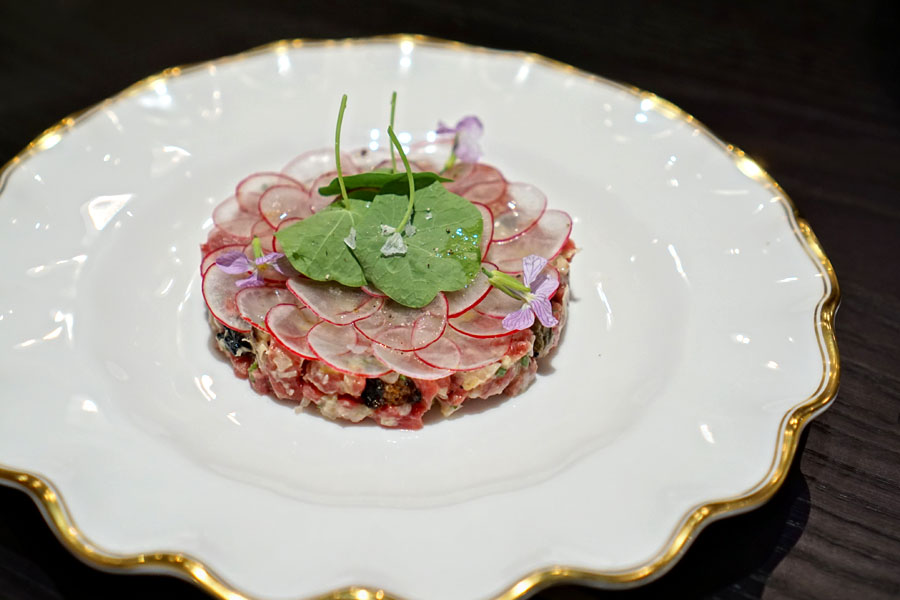 tartare de bœuf [$26.00]
| traditional, nasturtium, country toast
Next came one of the prettiest beef tartars I've ever seen, and fortunately, its taste lived up to its appearance. The meat had a satisfyingly springy consistency, as well as a plethora of salty, beefy flavors that were dutifully offset by the presence of radish and that intriguingly zippy nasturtium pesto. Great textural component from the toasted bread, too.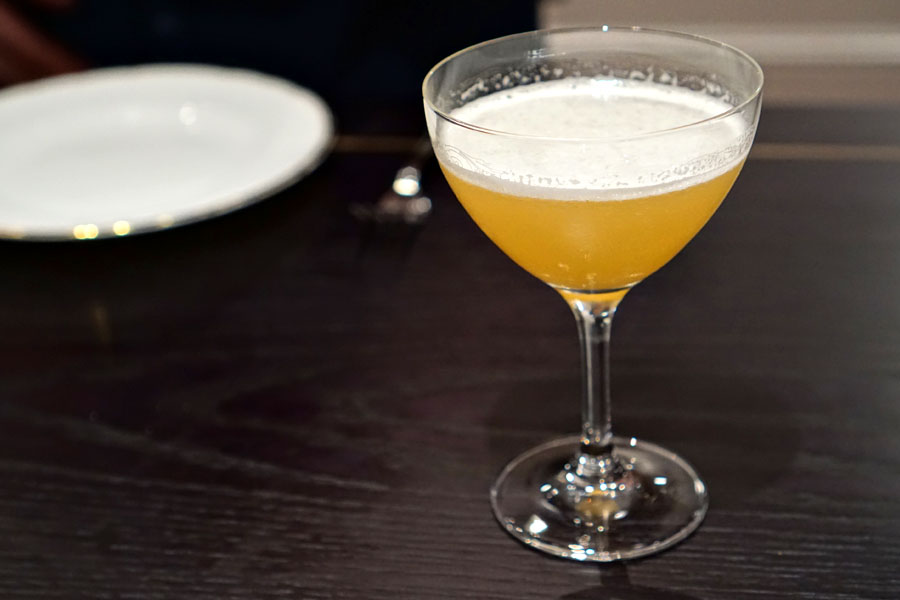 un side-car [$18.00]
| calvados, dry curaçao, buckwheat honey, lemon, walnut
We ended up ordering all of the cocktails, and first up was this take on the classic sidecar. The brandy made itself known right up front, delivering tasty notes of apple commixed with citrus. This then transitioned to nutty, almost chocolate-y flavors, the whole thing undergirded by a persistent dosing of sugar.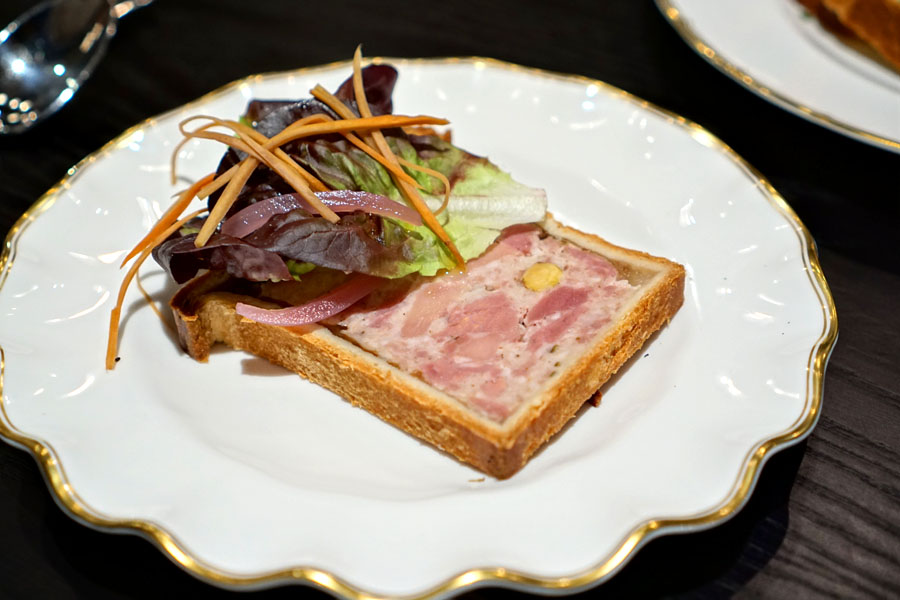 pâté en croûte [$22.00]
| Madeira, pickled carrot, mustard
I was really looking forward to the pâté (comprised of veal, pork, chicken, and an aspic consommé), and it was pretty much perfect. I loved the rustic, yet subtly-spiced nature of the forcemeat, and how it matched up with its pastry crust. If that wasn't enough, accompanying the dish was an excellent Dijon mustard, one that I just kept going back to over and over.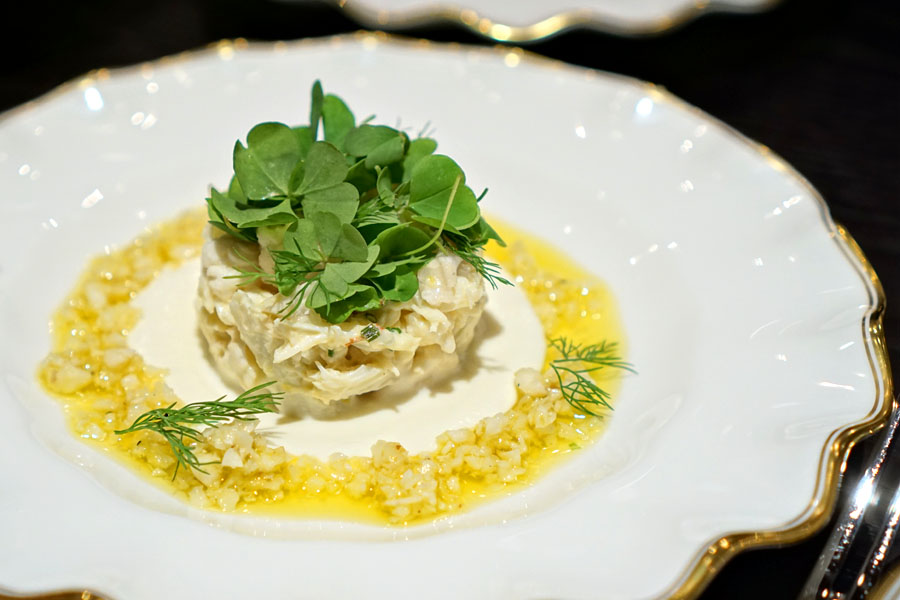 crabe et chou-fleur [$26.00]
| blue crab, cauliflower cream, sorrel
The sweet salinity of
crabe bleu
was on vibrant display here, though the key was that cauliflower, which offered up a wondrous crunch and contrast that managed to temper certain parts of the crab while emphasizing others. Really smart--I was actually surprised at how well this dish came together.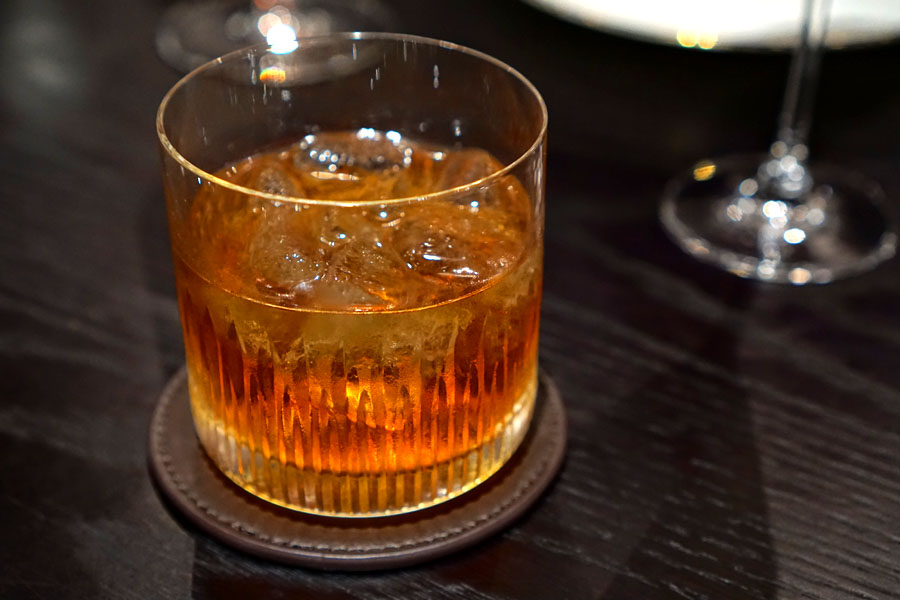 quarante vertus [$24.00]
| armagnac, burnt sugar, Angostura bitters
This next cocktail featured a nose strong on the citrus, with a restrained backing of sweet spice. The palate, however, was surprisingly light, soft, even a bit watery, and gave up more of that sugary spice, countered by a subdued bitterness on the mid-palate, while the potency of the brandy was almost nowhere to be found.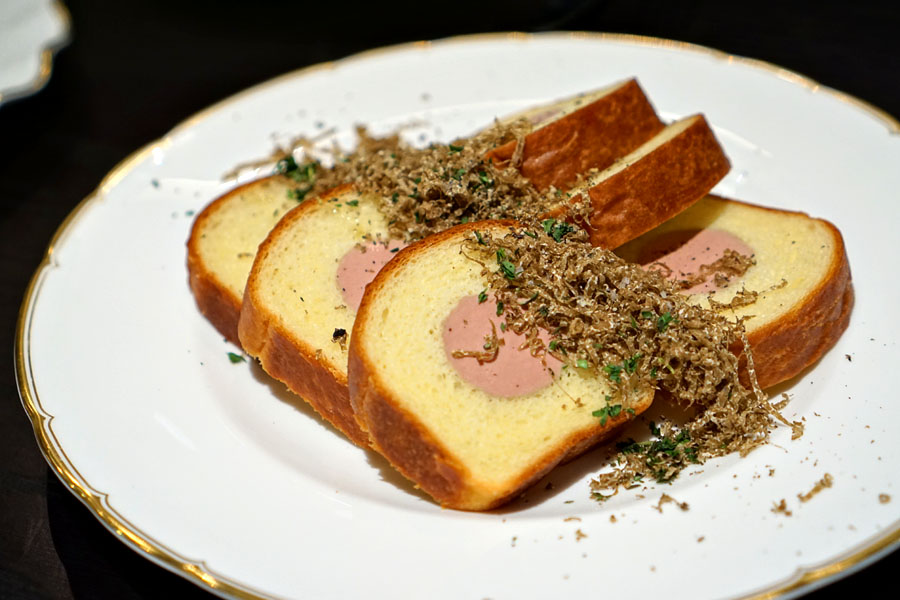 foie de poulet à la Strasbourgeoise [$39.00]
| chicken liver, brioche, truffle
This was a must-try for us, and didn't disappoint. I was a big fan of the richness of the Madeira-boosted liver, and how close it was to real-deal foie gras. The Burgundy truffle formed a natural pairing thanks to its muskiness, while the soft, sweet brioche moderated everything. To add icing on the cake, there was even a superb shallot-winter truffle jam included, one that a dining companion of mine wanted to take home. Another standout, and excellent when enjoyed with the wine above.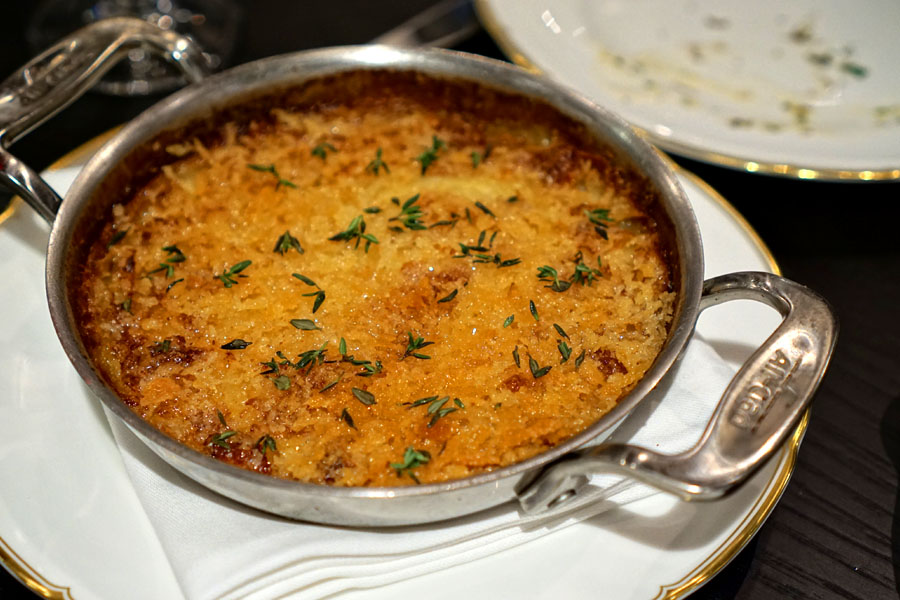 gratin dauphinois [$16.00]
| potato gratin, gruyère
Given my penchant for potatoes, this was a no-brainer. The
pommes
here were a deft blend of creamy, cozy, and savory, while the incorporation of cheese lent even more heft and luxury. My favorite of the side dishes we tried.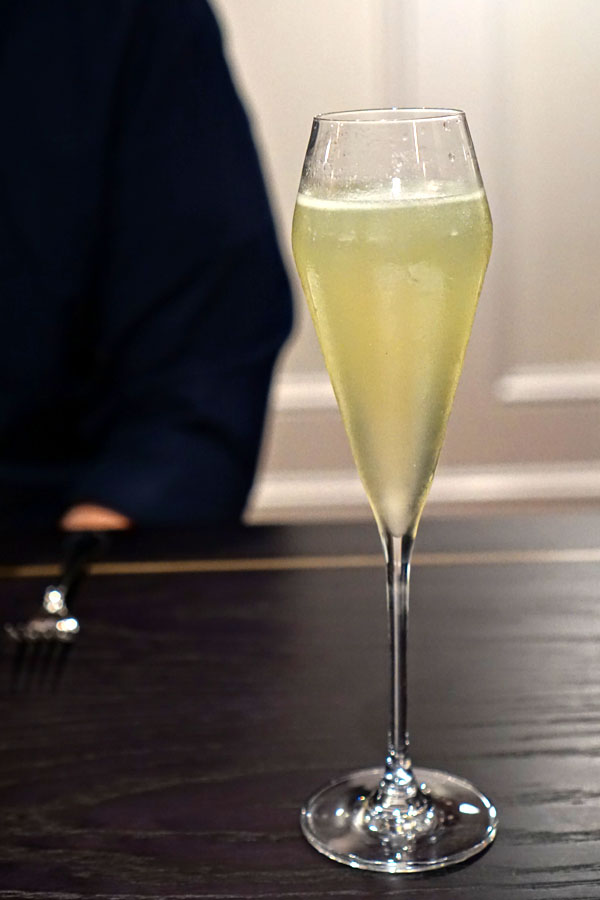 lever et laver [$18.00]
| gin, lavender, lemon, sparkling
As you can infer from the glassware used, this cocktail was on the quaffable side. I got a very strong floral element here, cut by citrus, with an undercurrent of sweetness permeating it all. The actual gin was fairly reticent.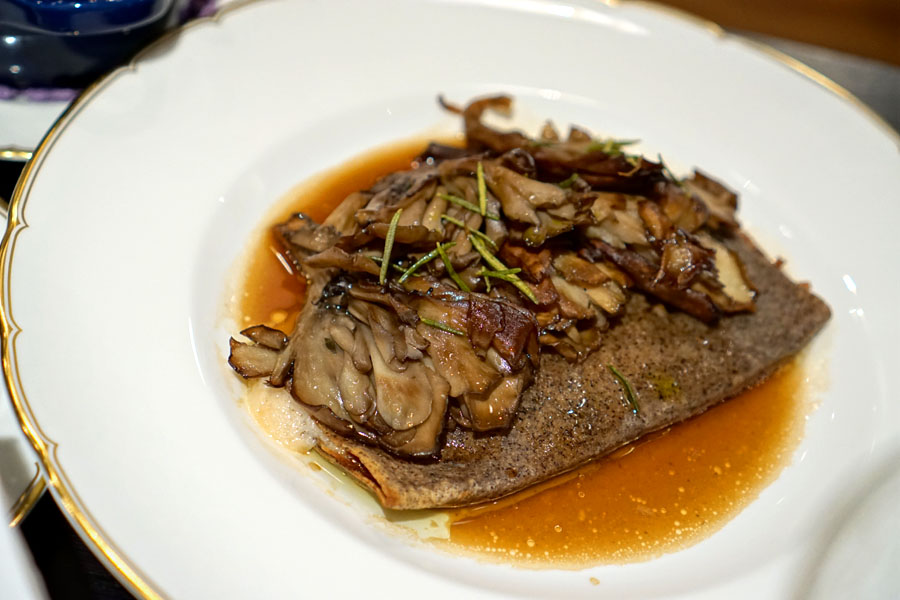 champignons [$36.00]
| roasted hen of the woods, white beans, buckwheat crêpe
Maitakes were beautifully textured, their inherent woodsiness well-matched to the liberal amount of rosemary present. White beans worked as a moderating force, as did the sweet, smoky nature of that crêpe.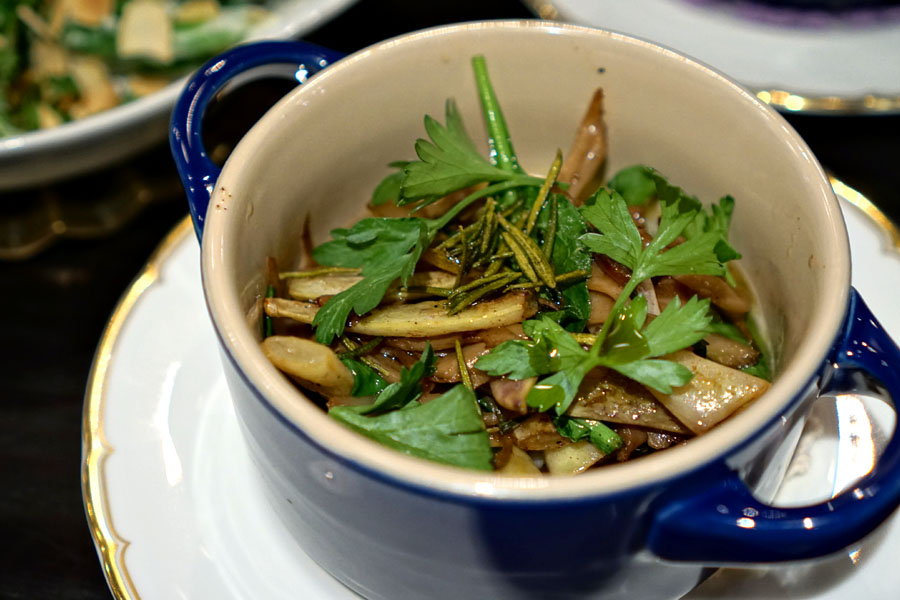 The main courses all seemed to come with an accompanying side, and so here we had more mushrooms, with more rosemary.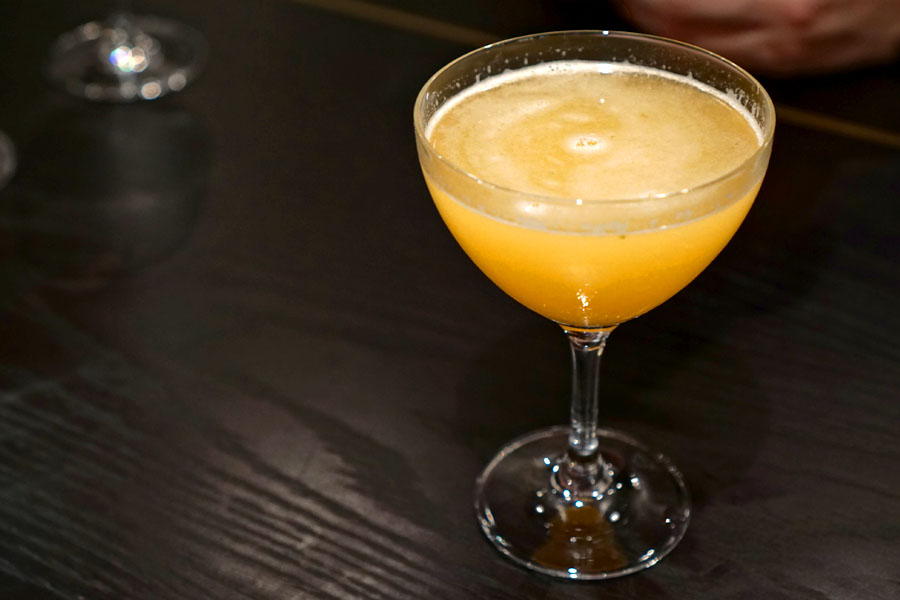 melon de ferme [$17.00]
| rhum blanc, cantaloupe, dry vermouth, lemon, mint
Our next beverage certainly takes the crown for most gluggable cocktail of the night. The drink showed off flavors of pure, sweet, utterly fruity cantaloupe, with nary a trace of booze, surprisingly.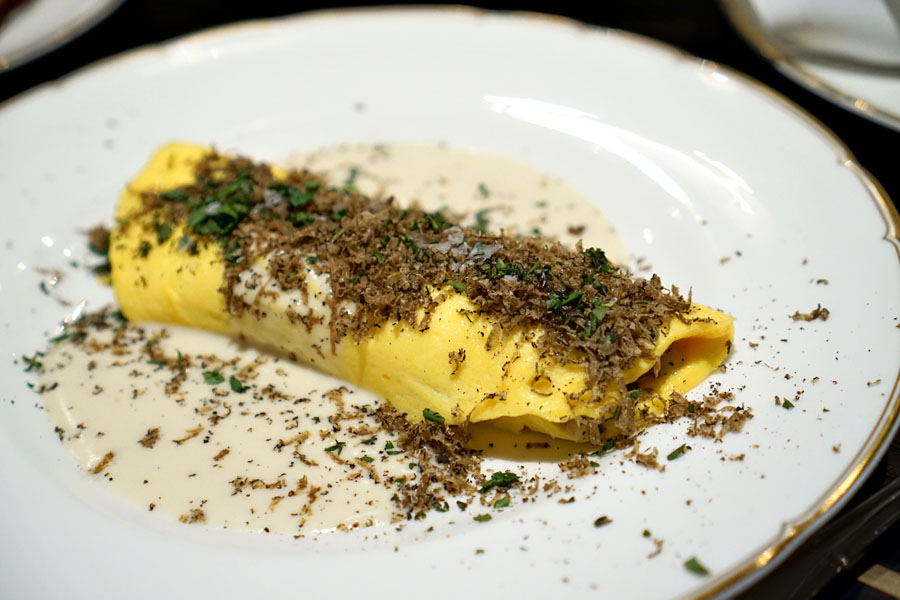 omelette aux truffes [$39.00]
| fines herbes, black truffle, Pierre Robert
The omelet I found thoroughly enjoyable, which you'd probably expect given the ingredients. Texturally, the egg was slightly firm, but yielding and pliant, and really worked hand-in-hand with the cheesy, herby elements present. However, we have to come back to that truffle again, which imparted a perfect amount of funk that really made the dish complete. Yum.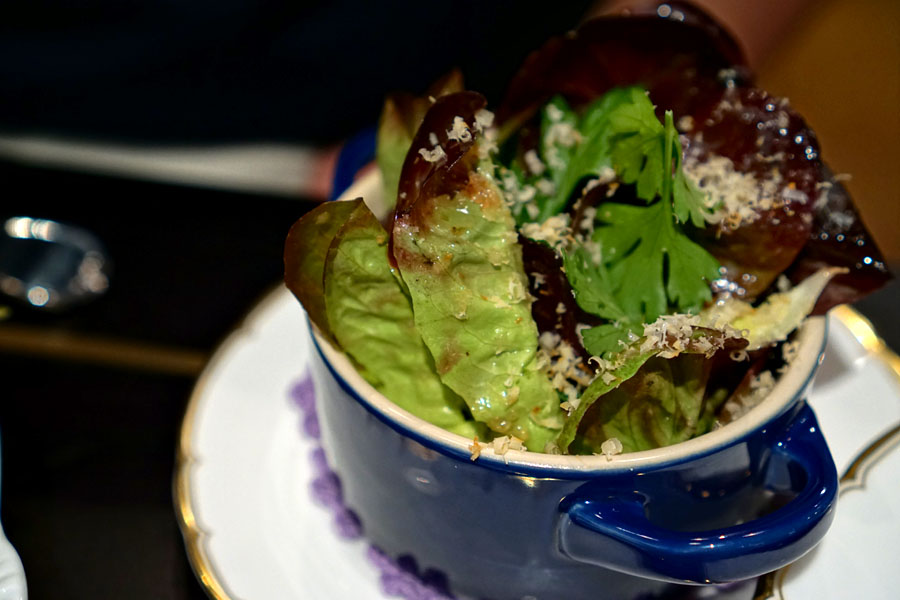 Some dressed greens turned up with the omelet.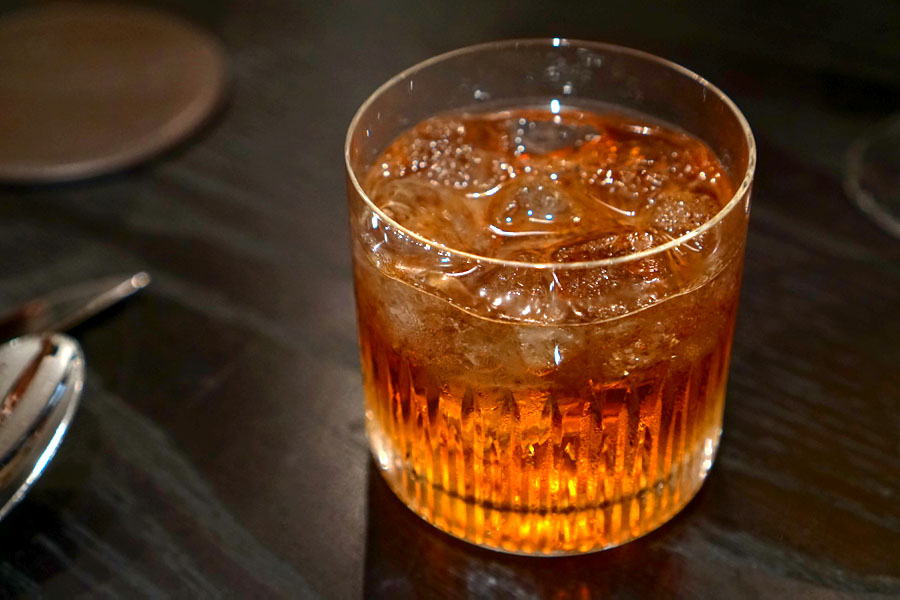 boulevardier [$22.00]
| whisky, cognac, Byrrh, white vermouth
Pasjoli's take on the classic boulevardier cocktail had a nose filled with sweet caramel, lemon, and the herbaceous nature of the drink's secret bay leaf tincture. On the palate, I found the drink surprisingly soft, with sweet, fruity notes dominating while the Corsican vermouth brought a little more interest.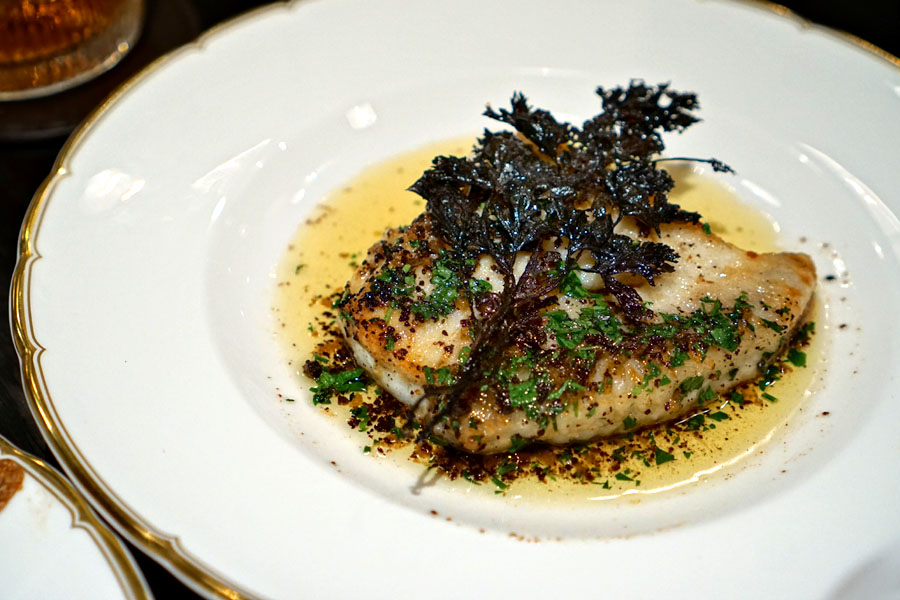 turbot meunière [$46.00]
| turbot, brown butter, lemon, French beans
The turbot managed to be another favorite of mine. The fish came perfectly cooked, with a springy, spongy texture and a delicate brine augmented by the richness of
beurre noisette
. I could've done without the fried parsley, though.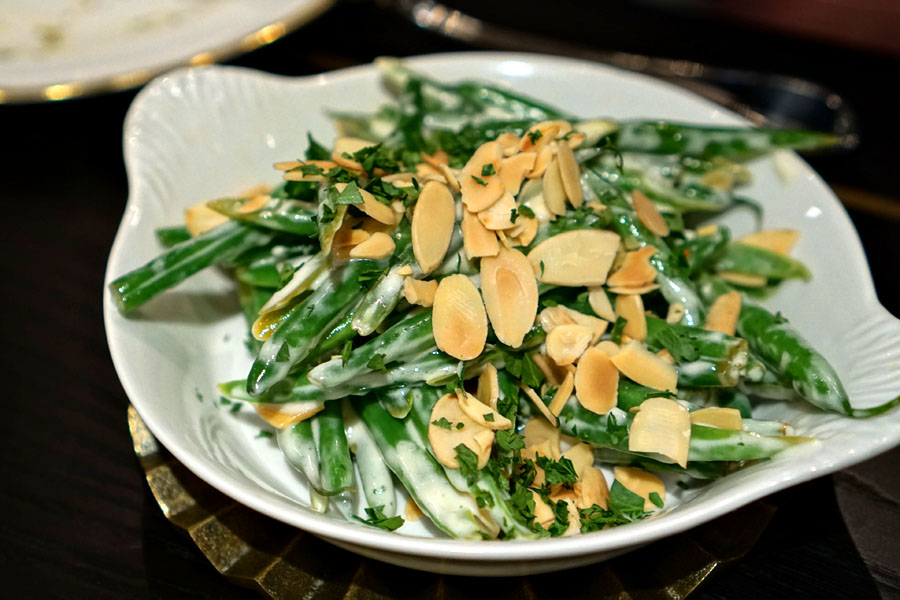 A side of
haricots verts amandine
displayed a wonderful bitterness and crunch, along with a complementary creaminess.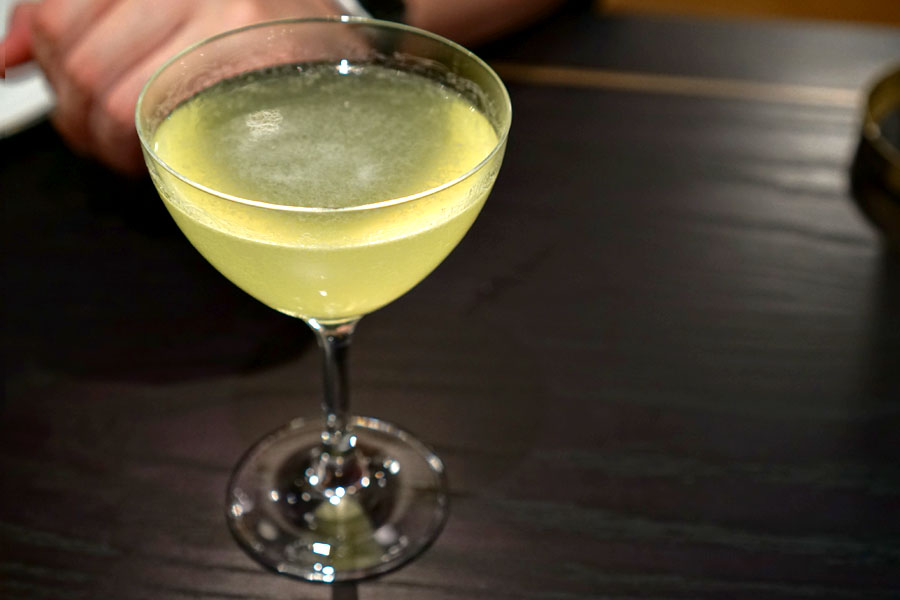 mitaine pour michel [$19.00]
| pear eau de vie, lemon, yellow Chartreuse, gentiane, white vermouth
This cocktail featured a pear brandy, though I actually didn't get much from the fruit. Rather, I found the drink rather raisin-y, I'm guessing from the gentian, while the back end was on the bitter, herbaceous side.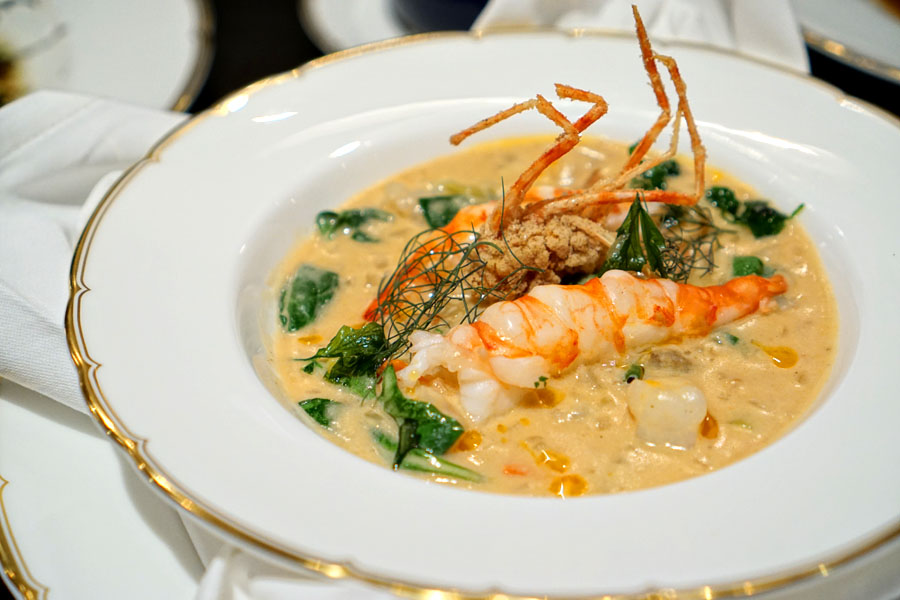 crevettes et palourdes [$49.00]
| spot prawns and clams, bloomsdale spinach, sauce Nantua
Shrimp were beautifully cooked, arriving snappy and sweet, their brine enhanced by the inclusion of clams. The Nantua sauce, meanwhile, contributed a lobster bisque-esque heft to the dish, and I was pretty enamored with the astringency from the spinach, too. However, my one quibble here was that the fried head of the shrimp tasted a bit "off."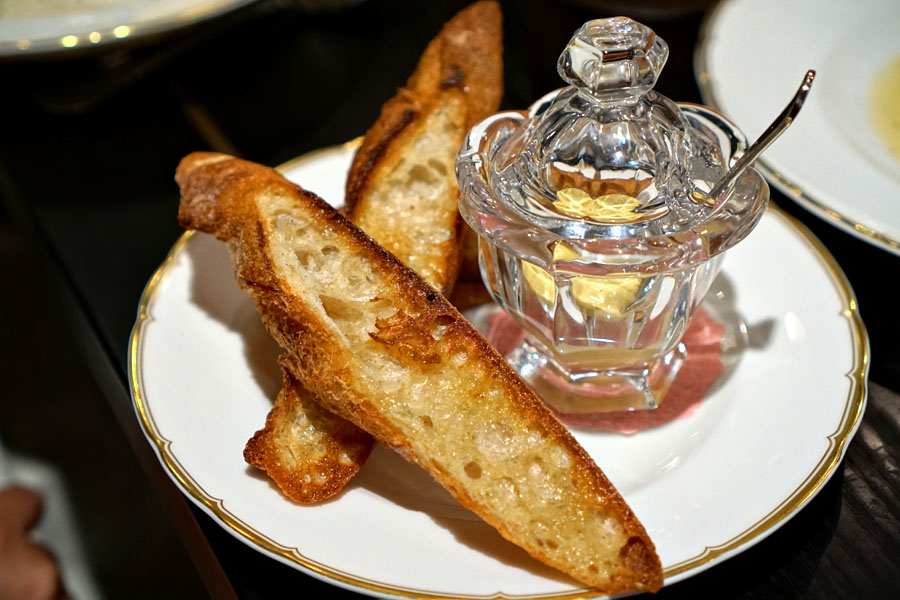 A few slices of toasted bread were much appreciated.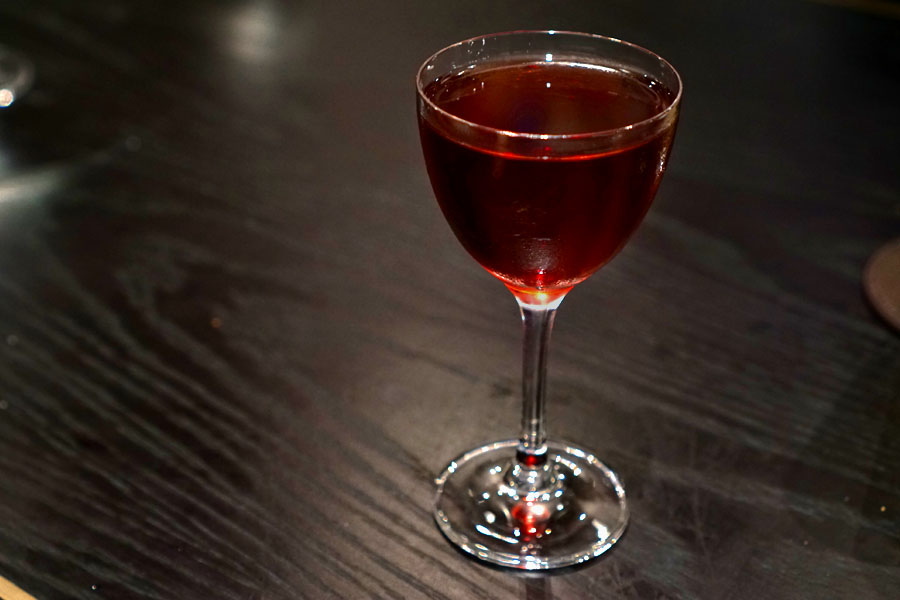 arnaud [$18.00]
| gin, crème de cassis, dry vermouth
Featuring equal parts of Citadelle gin, crème de cassis, and Dolin, this cocktail drank green and grapey, with a distinct medicinal bent.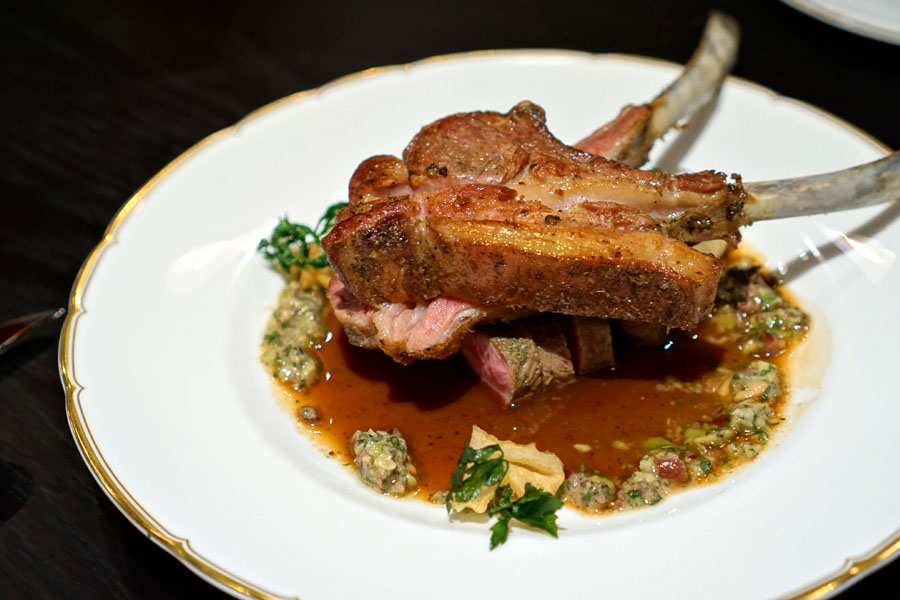 carré d'agneau de Rhône [$52.00]
| rack of lamb, olive and lamb jus, artichokes and grapes
Lamb came to the table in impressive fashion. Fatty and flavorful, the meat was augmented by the unmistakable piquancy of olive, while a healthy dosing of herbs (lots of rosemary if I recall) provided a very necessary contrast.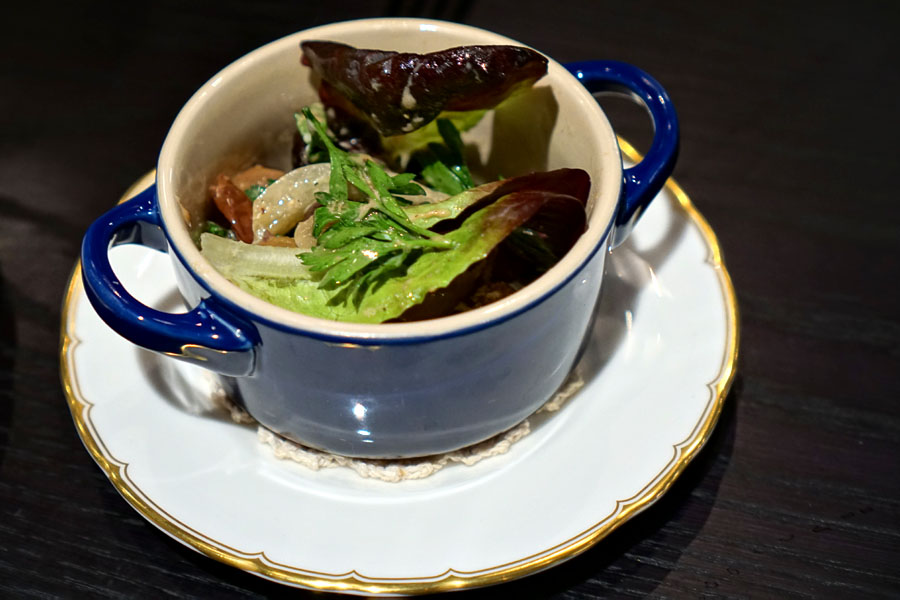 More greens, which worked as almost a palate cleanser of sorts.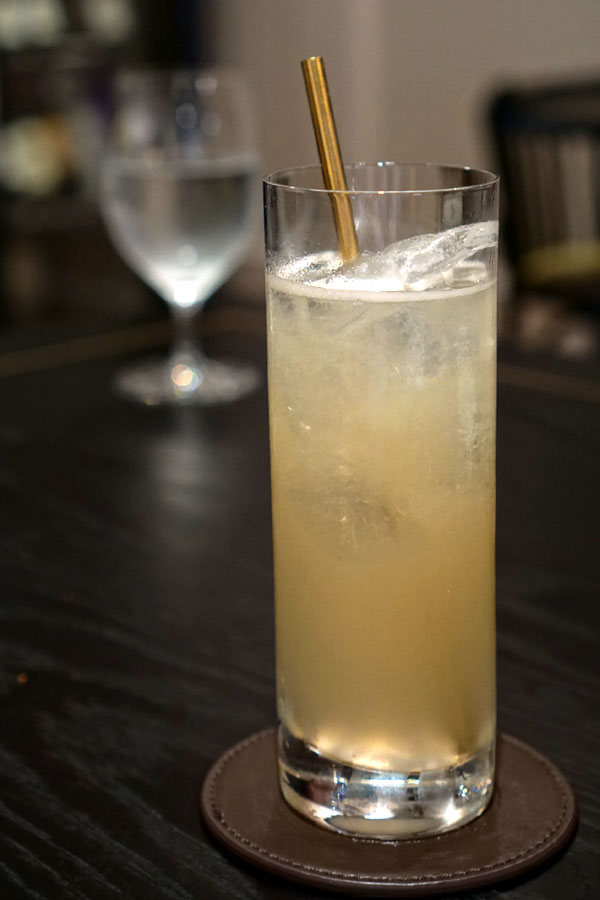 au revoir olivier [$18.00]
| Escubac, grapefruit, lemon, rosemary, génépy
The first of two long cocktails we had drank tropical and grassy at first, while robustly floral, nearly "soapy" flavors came in later. Overall, pretty refreshing and easy-going.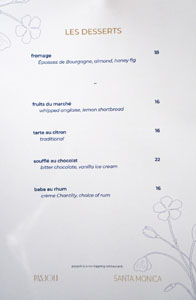 Pasjoli's dessert menu is short and (mostly) sweet. Click for a larger version.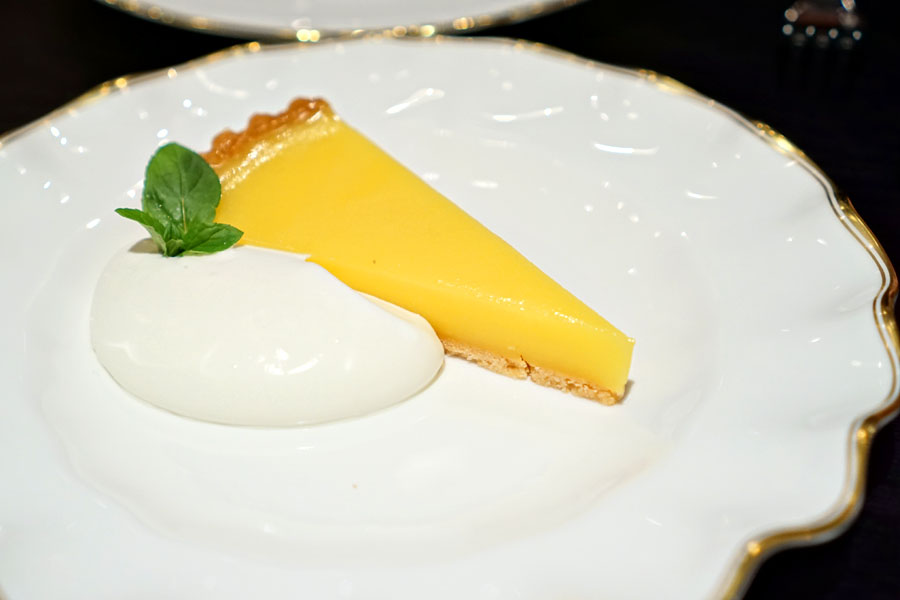 tarte au citron [$16.00]
| traditional
We were getting pretty full by this point, and only opted for three desserts. The first came recommended by one of our servers, and was a pretty classic rendition of a lemon pie. Think sour, almost bracing citrus, softened by the tart's firm, crumbly crust.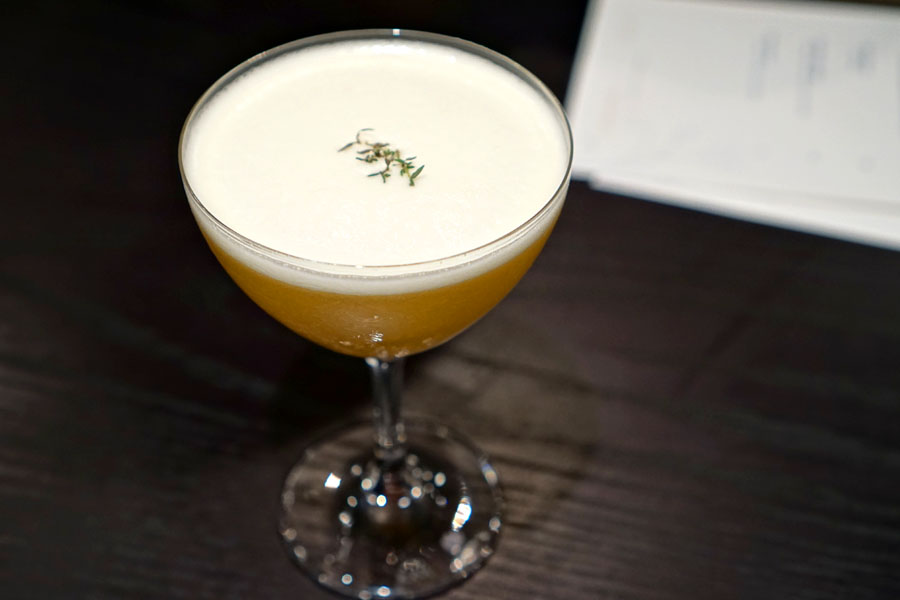 le sourcis [$19.00]
| cognac, tangerine, lemon, thyme, egg white
Our penultimate libation was named after Jean-Paul Sartre's novel
Le Sursis
. Now I do appreciate a punny cocktail name, and this was perhaps the most high-brow example I'd ever encountered. In any case, this was basically a cognac sour, one that played the sweet-sour nature of the fruit against pungent thyme and the eggy nature of the drink's foamy head.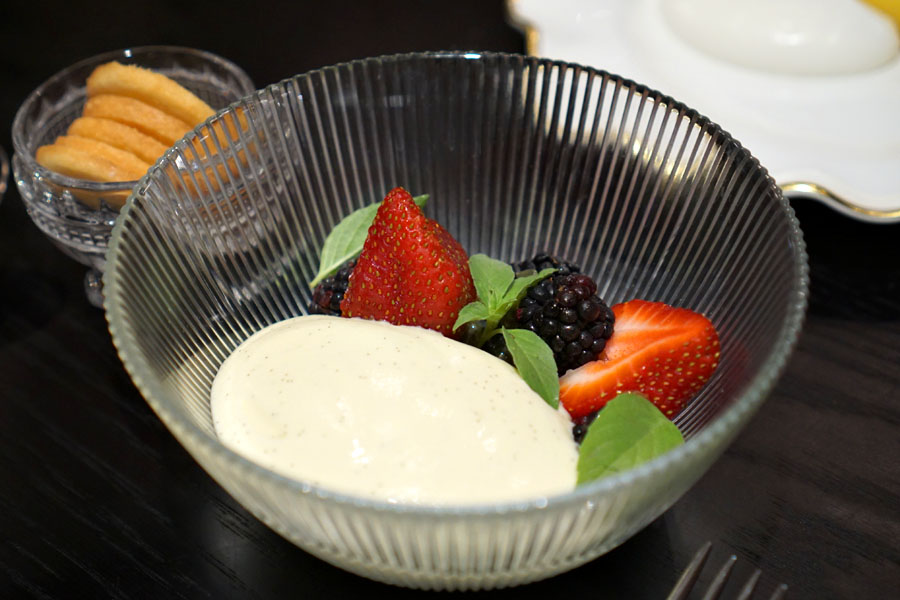 fruits du marché [$16.00]
| whipped anglaise, lemon shortbread
Tart, vibrant fruit meshed perfectly with the greenery in the bowl, and we all really appreciated the sweet, creamy counterpoint provided by the crème anglaise.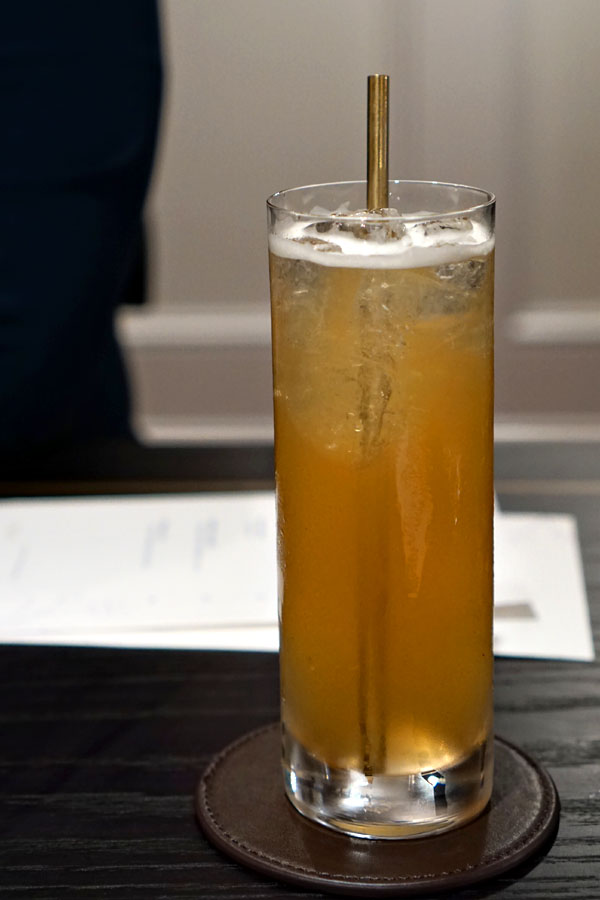 merci henri [$17.00]
| vodka, peach, armagnac, lemon, sparkling
Our last cocktail was a riff on the ubiquitous Bellini, one that utilized peach-infused Helix vodka and fruit from the local farmers' market. It was a more contemplative version of the classic drink, one that showed off a somewhat nuanced presentation of peach, along with additional complexity from the two spirits used.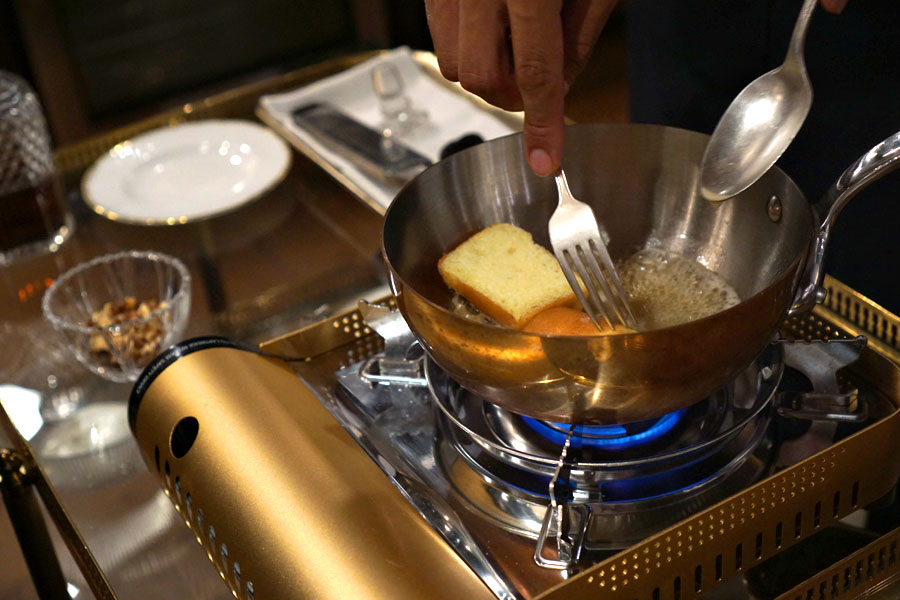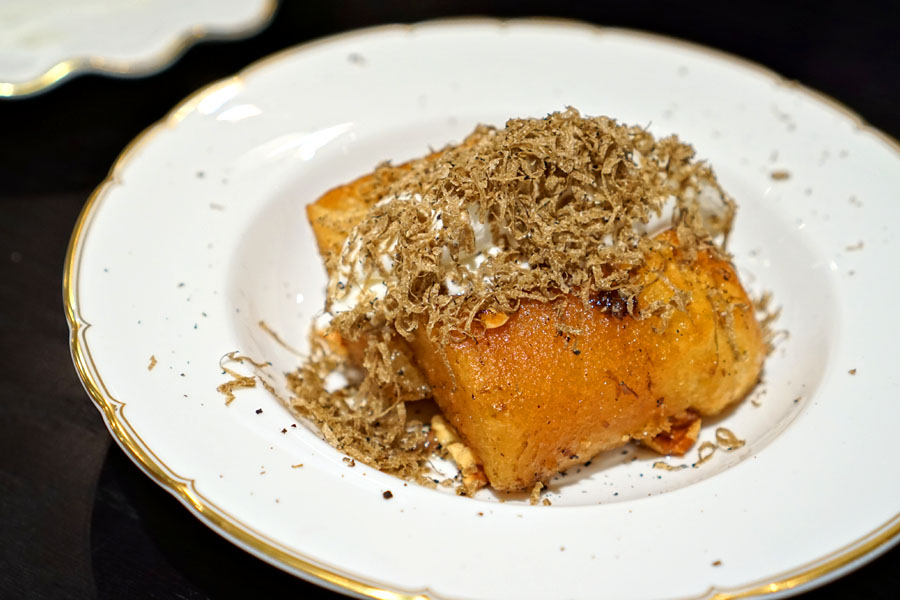 baba au rhum [$16.00 + $35.00]
| crème Chantilly, choice of rum
Finishing things off was the rum baba, which was prepared tableside (a rare sight to see these days) and incorporated a special truffle-infused rum we requested (at extra cost). The cake ate soft and saturated, its inherent sugariness evened out by boozy, bitter elements and the unabashedly earthy qualities of truffle.
Given Beran's background, I had high expectations going to Pasjoli, and was not let down. You might think of this place as a mere bistro, but that would be a bit reductive. The cooking's undoubtedly French at its core, but there's a noticeably contemporary, maybe even Californian
je ne sais quoi
to the food that makes it much, much more than meets the eye. This is one of the top Los Angeles area openings of 2019, and now I really want to go back for that duck.