Gabi James (Redondo Beach, CA)
Gabi James Restaurant
1810 S Catalina Ave, Redondo Beach, CA 90277
310.540.4884
www.gabijamesla.com
Sun 01/19/2020, 07:15p-09:55p

I don't dine out in Redondo very often, but I made it a point to visit recently to check out Gabi James, which had been on my to-try list ever since it opened back in April 2018. The restaurant occupies the Riviera Village site of the old Zazou, which had been run by Guy Gabriele and his family for over two decades before closing in September 2017. With Gabi James, daughter Sara Gabriele and her husband Adam Aro have taken over, transforming the space into a Spanish-focused eatery, albeit one with coastal French influences. Meanwhile, to design the menu, they've hired none other than Chris Feldmeier.
If you recall, we last caught up with Feldmeier back in March 2016, shortly after the debut of his meat-centric Spanish spot
Moruno
. Moruno was followed by Bar Moruno, a more casual outpost at Grand Central Market that dropped in June that year. However, the original restaurant ended up closing in October 2016, while Bar Moruno also closed at the end of February 2017. From there, Feldmeier moved to John Atkinson's Louie's of Mar Vista, both taking over the stoves and becoming a partner in September 2017; however, the restaurant ended up shutting down just a couple months later. In March 2018, it was revealed that the Chef would be leading the team at Gabi James, and the restaurant debuted shortly thereafter. Following news that Michael Fiorelli would be leaving
Love & Salt
(Gabi James' sister spot), Feldmeier was given responsibility of the kitchen there as well in September 2018. Meanwhile, running things at Gabi James on a day-to-day basis is Jorge Torres, who's apparently worked for the Gabriele family for over 20 years.

The former Zazou space was redone by
Ana Henton
and
Blanchard Fuentes Design
, and I have to say that it's quite a departure from what was here before. The capacity of the dining room is around 70, and there's also an upstairs private dining area, replete with its own bar and patio.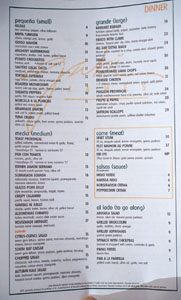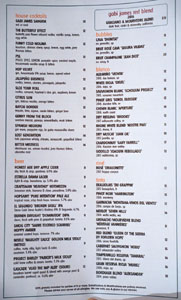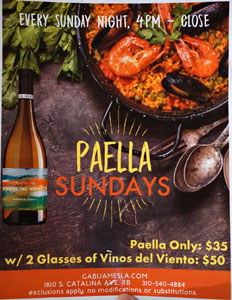 The menu's broken up by size, and features mostly tapa-ish type dishes with a bit of pan-Mediterranean influence. To drink, there's a fairly interesting cocktail list (created by none other than Vincenzo Marianella), some pretty decent beer, a Spanish-heavy wine list, and well as a theme-appropriate selection of gin, sherry, and vermouth. Corkage is $25 for the first two bottles, and $50 after that. Click for larger versions.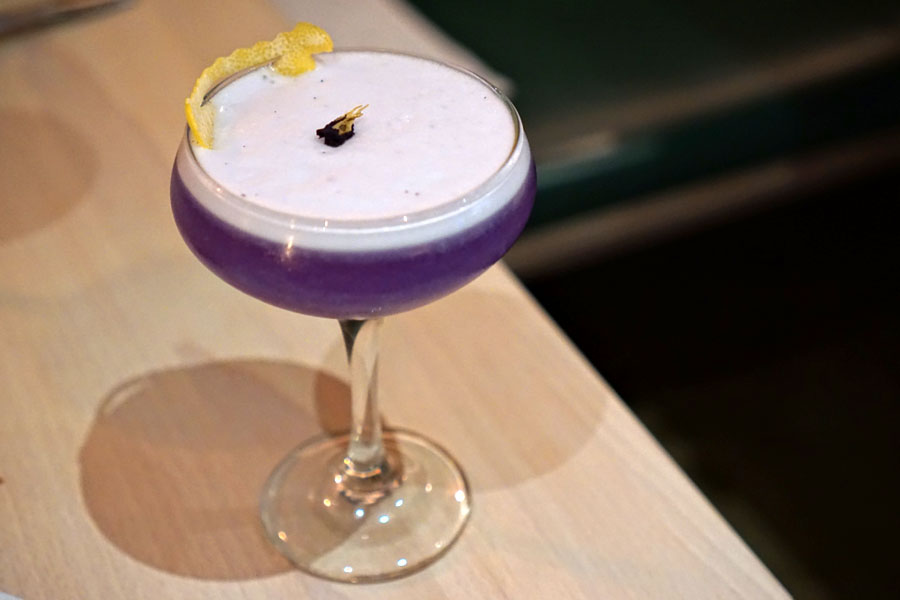 The Butterfly Effect [$12.00]
| butterfly pea flower infused vodka, vanilla syrup, lemon, egg white
This vibrantly-hued cocktail displayed distinctly floral flavors at first, but then transitioned to notes of astringent citrus and sugary vanilla. Curiously, as time went on, the drink began to taste more and more like what I'll describe as "melted ice cream."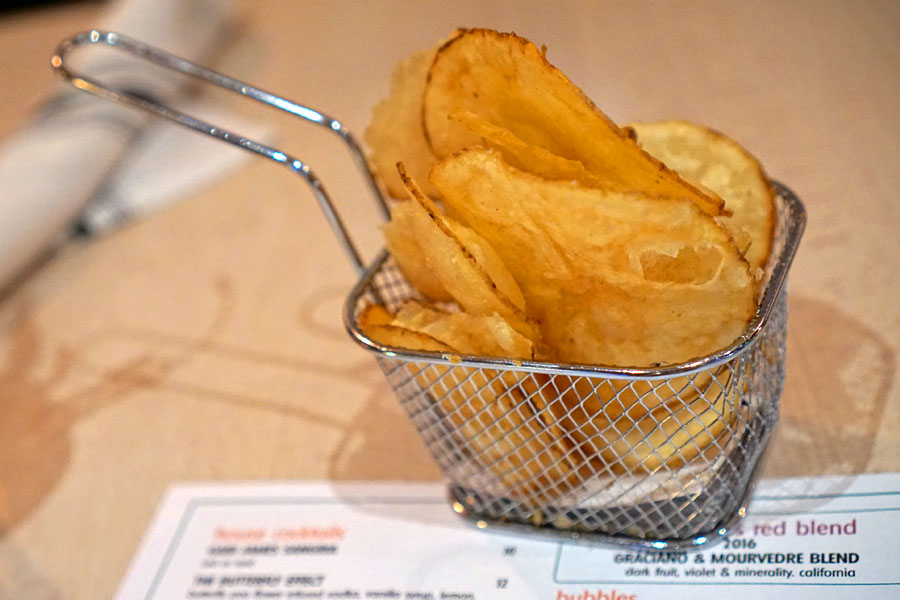 We were provided some complimentary potato chips to start, which could've been crunchier by my estimation.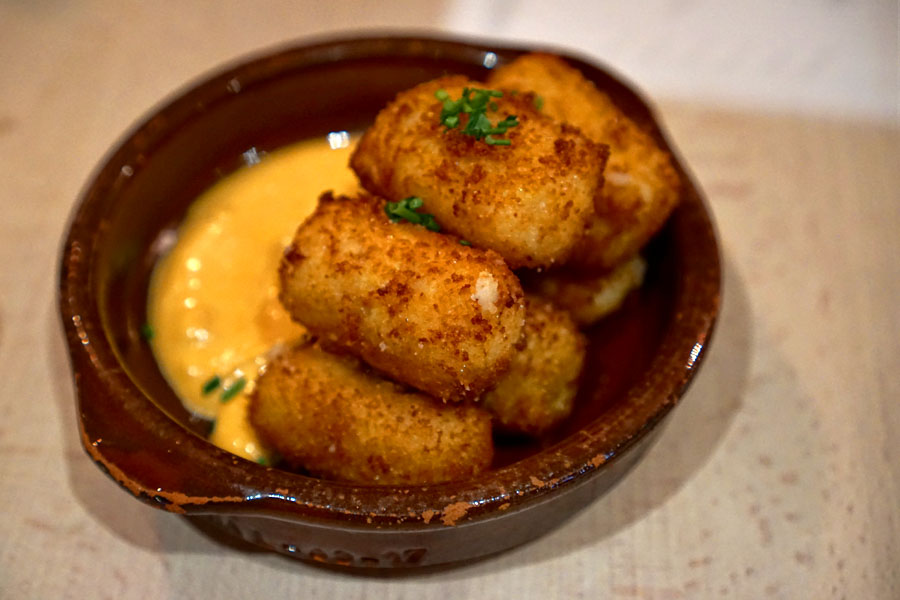 Potato Croquettes + Chorizo [$12.00 + $2.00]
| harissa aioli
Crisp-yet-creamy
croquetas
really hit the spot, delivering sweet, chorizo-fueled spice juxtaposed against potato, all while the harissa added further heat and depth to the dish.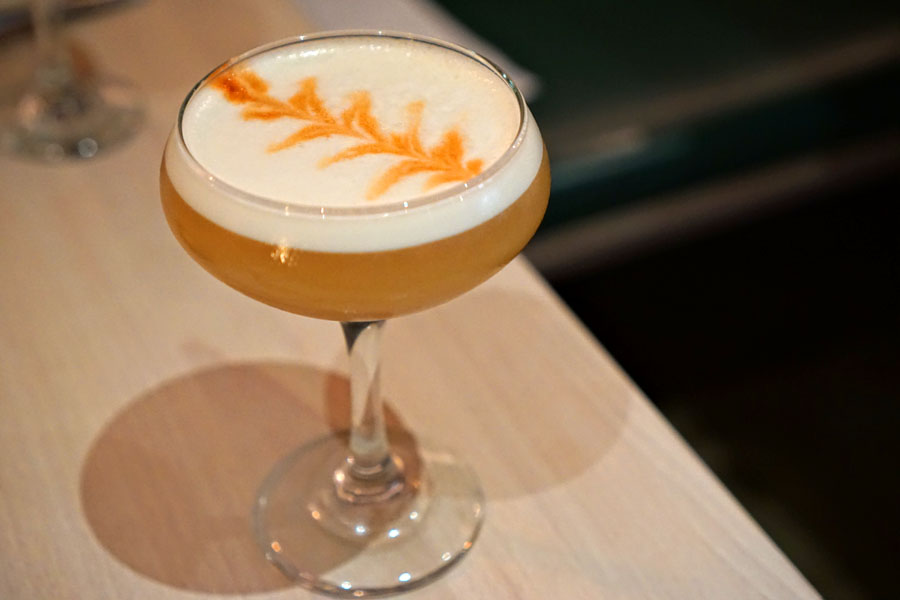 Funky Cold Molina [$12.00]
| bourbon, oloroso sherry syrup, lemon, egg white, jerry thomas bitters
Our second cocktail delivered sweet 'n' spicy nuances set over a base of coffee-slash-chocolate flavors, while the finish went in a medicinal direction. Nice overarching egginess here, too.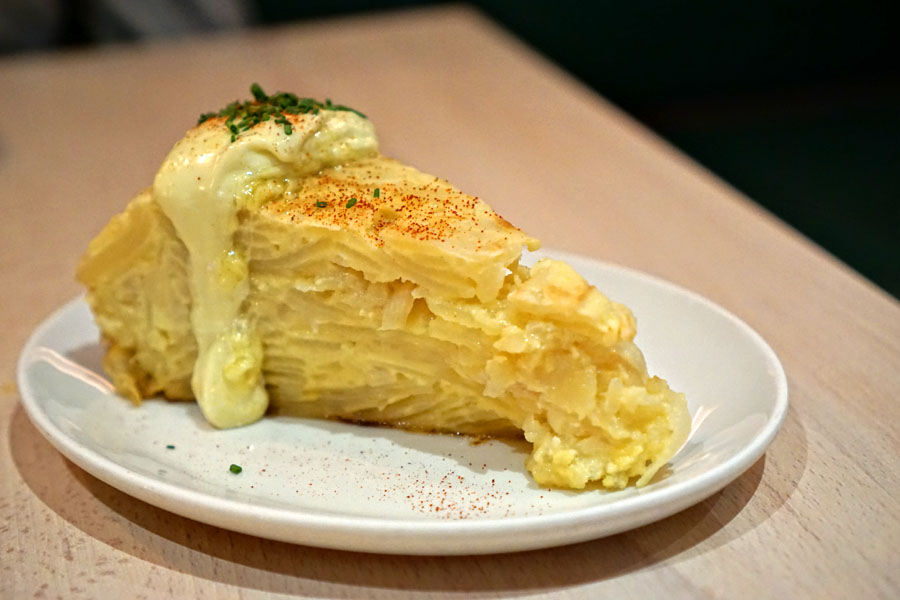 Tortilla Espanola [$12.00]
| egg, onion, potato, sherry vinegar aioli
The Spanish omelette was a bit different than usual, but still tasty. The first thing I noticed was how prominent the onion was vis-à-vis the potato, and secondly, there was a very marked tartness here on account of the vinegar.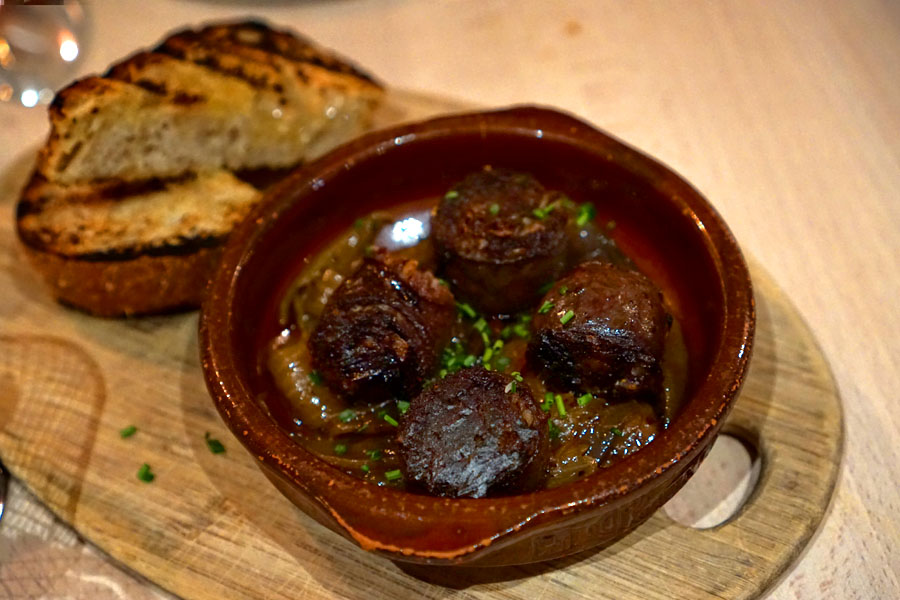 Morcilla a la Plancha [$11.00]
| grilled red onion, garlic
The blood sausage was a winner, showing off a wonderful depth to it, along with a gratifying, multifaceted texture. Very nice when taken with the smoky bread on the side.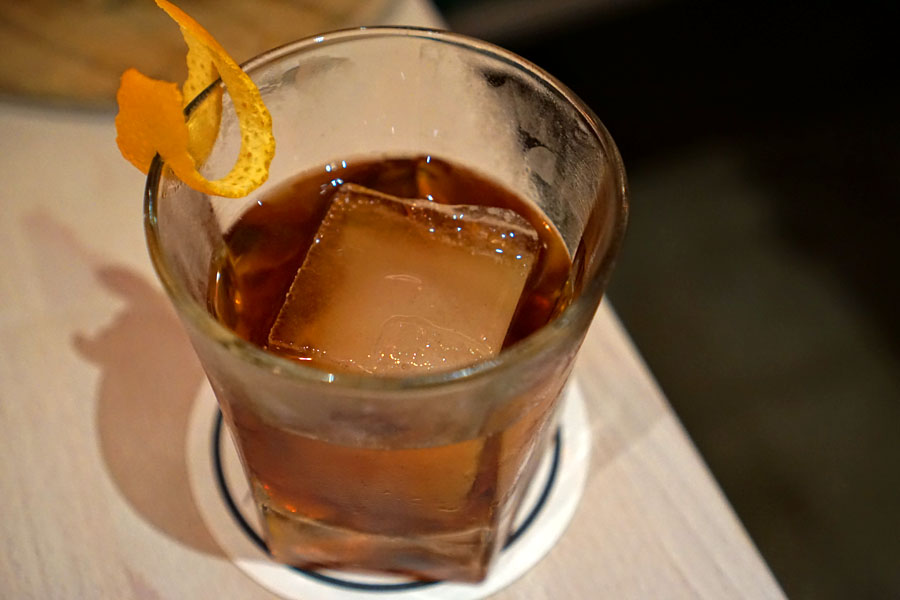 Lost Generation [$14.00]
| toki japanese whisky, chinato, ramazzotti, grapefruit bitters
Curiously, this next cocktail had a nose reminiscent of sugar-laced cola that definitely belied its taste, which went in a smoky, acerbic, bitter, herbal, and spicy direction. Not bad at all.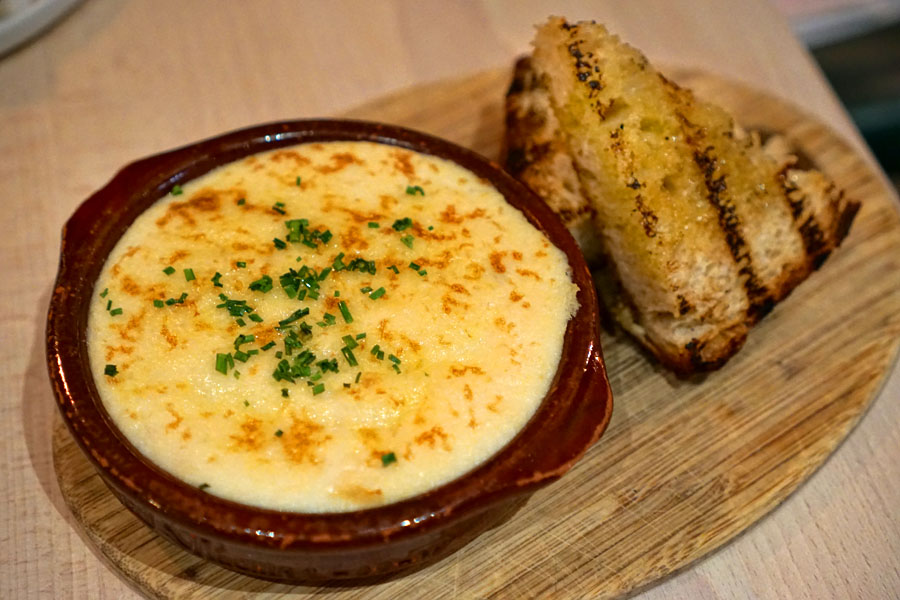 Brandade Gratin [$13.00]
| salt cod & potato purée, grilled bread
I was quite the fan of this
brandada de bacalao
. The cod was as salty as advertised, but in an elegant manner, and meshed beautifully with the potato, resulting in an almost "fluffy" consistency. Given the potency of the fish, the accompanying toast was key for balance.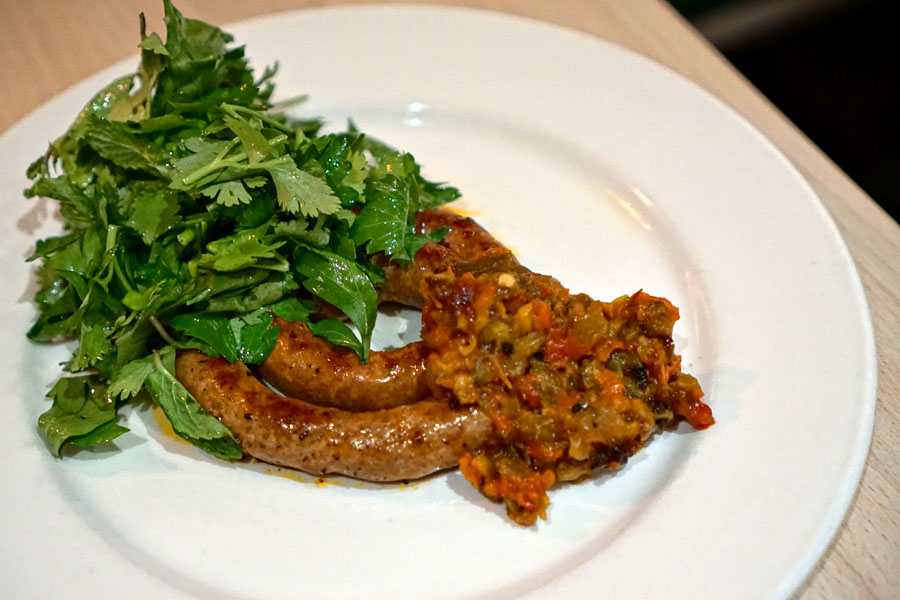 Housemade Merguez [$17.00]
| tunisian lamb sausage, mechouia
I'm generally a fan of encased meats, so I had to get the Merguez, and it did not disappoint. I found it well-spiced, with a moist, rustic texture that was just super satisfying. The greenery on the side definitely worked to lighten up the dish, and I didn't mind the tomato-y tartness from the
mechouia
salad, either.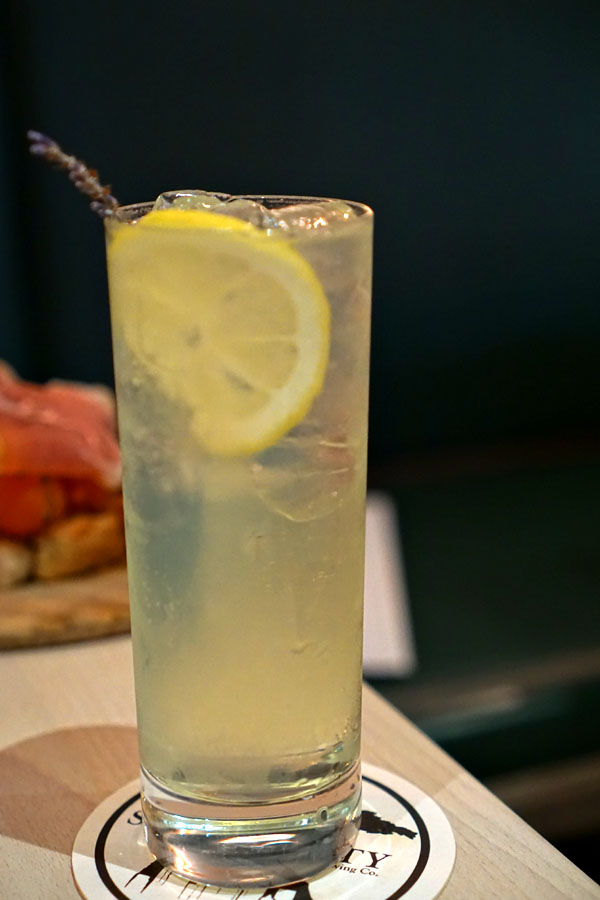 Summer in Provence [$12.00]
| hayman's 'royal dock' navy strength gin, green chartreuse, fever tree indian tonic
For our next cocktail, a gin tonic certainly felt appropriate. The crux here was the interaction between the gin and the floral elements present, while the finish was also unique, highlighting the medicinal nature of the Chartreuse.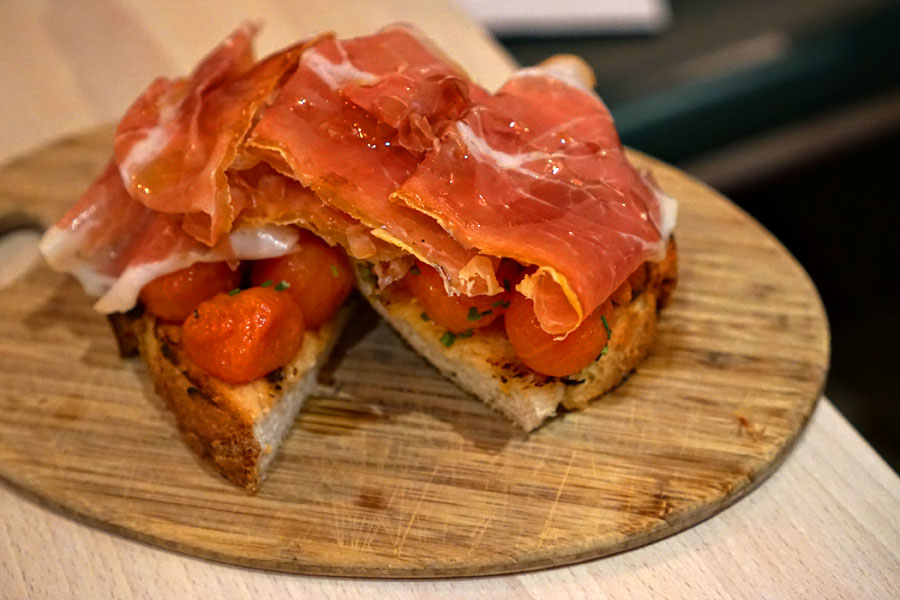 Pan con Tomate + Jamon [$10.00 + $7.00]
| tomato, garlic, olive oil
Our final savory dish was this take on the ubiquitous
pa amb tomàquet
, which had all your classic flavors, dutifully amped up by the saltiness of that ham. I think I still prefer the traditional version of the dish though, as this was rather difficult to eat, as the tomatoes kept falling off the bread!

A mere three desserts are joined by a much larger selection of after-dinner libations. Click for a larger version.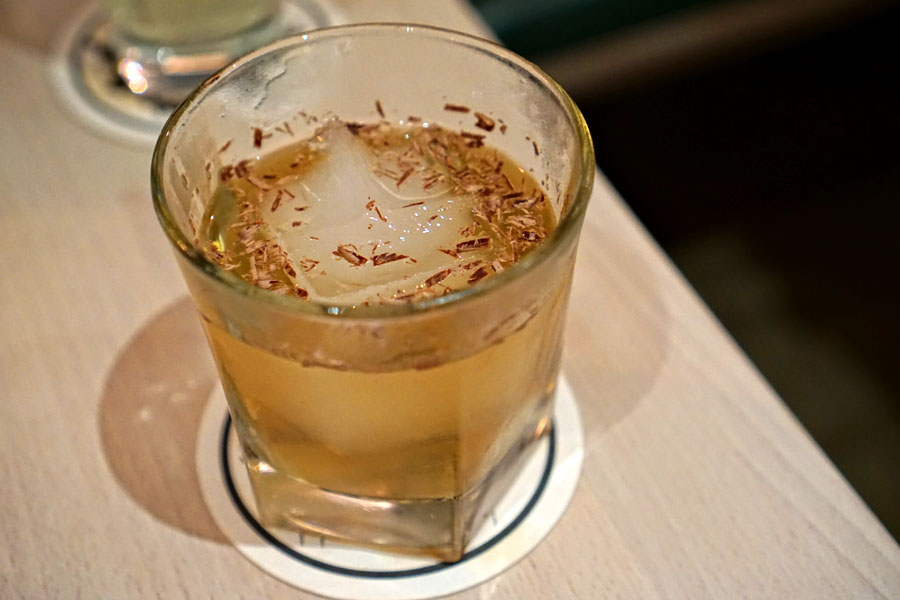 Genny from the Block [$14.00]
| sombra mezcal, genepy, amontillado, molé bitters
The evening's final cocktail smelled of smoky mezcal, commingled with bitter chocolate. Tasting it, I got more of that smoke, along with a sweet spiciness set against further dark chocolate notes, while the finish veered boozy and medicinal.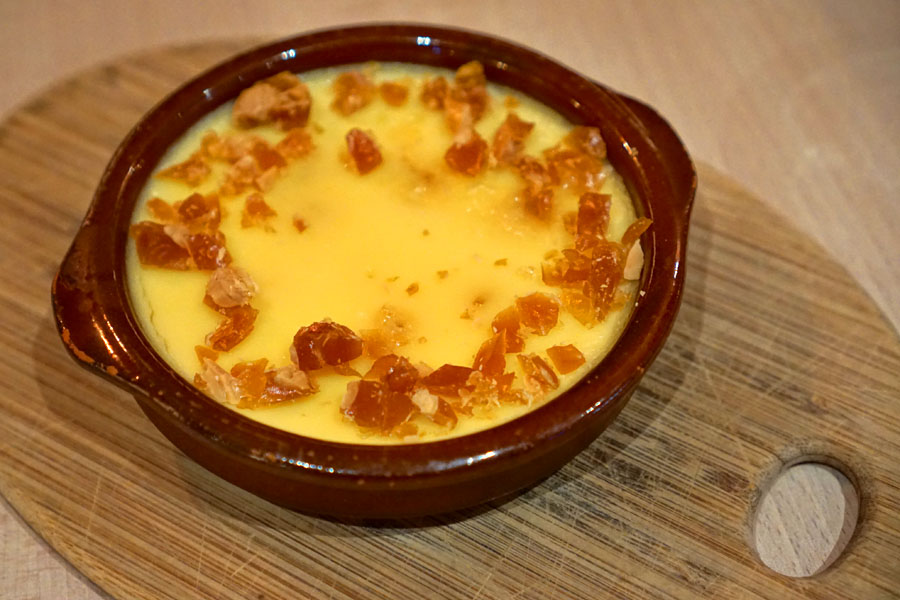 Crème Catalan [$11.00]
| caramel, marcona almond brittle
We concluded with the
crema catalana
, a not-too-sweet rendition that really emphasized the egginess of the custard. The bits of brittle on top made for a crunchy, nutty counterpoint, but I will say that the custard here was extremely runny (with lots of caramel on the bottom), so it may not have set well.
I've been wanting to check this place out for a while, and I'm glad that I finally made the effort. Gabi James is certainly a worthwhile choice for tapas-style plates, and in fact, I wish I could've tried more of the dishes available. It's also nice to see that Feldmeier's found a place to call home, at least for the time being. I wonder, though, if it might be better for the restaurant to concentrate on the Spanish side of things, in order to pair down its rather lengthy menu and demonstrate a bit more focus.