Angler (Los Angeles, CA)
Angler Restaurant
8500 Beverly Blvd, Los Angeles, CA 90048
424.332.4082
www.anglerrestaurants.com
Fri 01/24/2020, 08:15p-11:15p

One of the most memorable meals I've ever had in the Bay Area was at Joshua Skenes'
Saison
back in August 2011. However, after that dinner, I never really made it a point to keep up with what Skenes was up to until he announced a couple years ago that he was opening a spot here in LA, one focused on seafood prepared over live fire. Angler dropped last June, and while I did check it out shortly thereafter, it wasn't a proper meal, so I recently went back to give the Beverly Center restaurant a more thorough going-over.
An update on Skenes
: So about a year after my meal at Saison, the team took control of a larger space at 178 Townsend Street. The Folsom location closed at the end of November that year, and Saison re-opened at the new address in February 2013, with Skenes living in a space above the restaurant. In September 2014, it was announced that the Chef would be partnering with none other than
Adam Fleischman
to launch Fat Noodle, a fast casual Chinese eatery. It seemed like an odd collaboration, and sure enough, the concept was dead by the following December. October 2014, meanwhile, saw Saison land its third and final Michelin star. Following, Skenes invited Hamano's Jiro Lin to do a two-month sushi pop-up at Saison starting in April 2015, which led to an announcement that the two were going to start a sushi bar together, but this, also, didn't materialize. In 2016, the Chef (and longtime business partner Mark Bright) formed the umbrella company Saison Hospitality Group, and later that year, began hosting a series of mysterious dinner parties (which included hunting, fishing, and foraging) at his ranch in Sonoma.
Some bad news came in May 2017, when Skenes filed a lawsuit against two former employees, accusing them of appropriating Saison's trade secrets, while in June, it was revealed that tickets to those aforementioned Sonoma dinner parties would be available on Tock, starting at hefty $1,000 a head (with mandatory beverage pairing). In December 2017, we found out that the Chef's new seafood-y spot Angler would be opening up in both San Francisco and SoCal, in partnership with investor group Terra Ventures. Some interesting news came in July 2018, when Saison added
Laurent Gras
to its kitchen. Angler SF ended up opening in September 2018 in the former Chaya Brasserie space on The Embarcadero, and was largely well-received, earning a "Best New Restaurants in America" nod from
GQ
the following year. Another lawsuit came in January 2019, though this time Saison was on the receiving end, accused of misusing loaned funds. The next month, news came that a third Angler outpost was coming to the Seattle area, to be located in the new Avenue Bellevue development.
Shortly after, plans for Skenes Ranch--basically a more formalized version of the Sonoma dinners, but held at a hunting lodge on Washington's Olympic Peninsula--were disclosed. In April 2019, Skenes proclaimed that he was stepping away from Saison, naming Gras a co-owner in the process and giving him full control of the kitchen. Perhaps not surprisingly, Saison was demoted to two stars in Michelin's 2019 California guide, which was published that June. The SF location of Angler also received a star, and just days later, on June 19th, Angler LA opened. In November last year, the Chef announced Skenes Place, an invitation-only dinner series to be held at his home in the Hollywood Hills, one with a price point of $800 per person (it's since been upped to $1,000, all-in). It's supposed to represent the latest evolution of Saison, one that ostensibly gives Skenes a chance to actually cook again. Finally, at the start of the new year, we discovered that Laurent Gras cooked his last meal at Saison on New Year's Eve, with plans to move to New York.
Running the day-to-day here at Angler is Executive Chef Dameon Evers, an alum of the original San Francisco restaurant. Before that, he cooked at
Bouchon
in Beverly Hills from around 2013 until its closure in December 2017, and also spent time at
Bourbon Steak
. General Manager duties are handled by Bryce Vaughan, who comes to us from Vespertine, Gramercy Tavern, and
Per Se
.

Angler's richly-decorated interior sports a maritime-rustic sort of aesthetic, replete with lots of wood, fish tanks, and, right in the middle of it all, a huge wood-burning hearth that touches much of the food coming out of the kitchen. Capacity is 70 in the main dining area and 18 in the lounge section, and there are also two private dining rooms available (with six and 16 seats).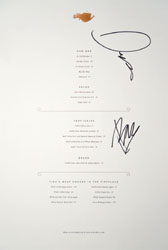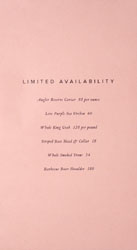 The menu's pleasantly compact, and definitely lends itself well to sharing; note also the handful of daily specials. Click for larger versions.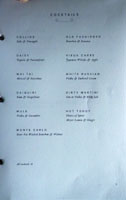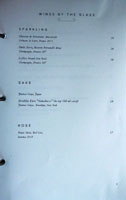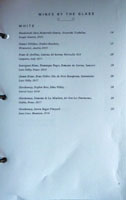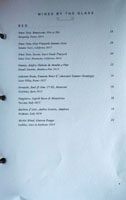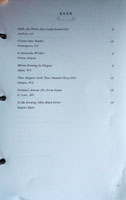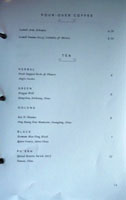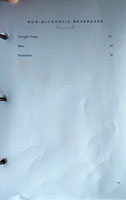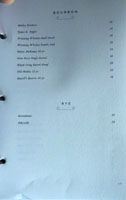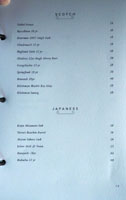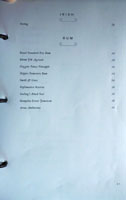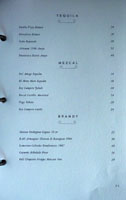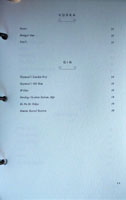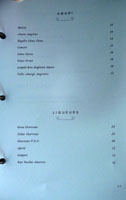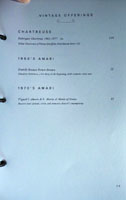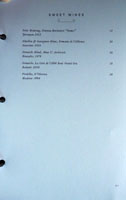 Above we see the beverage menu, which lists classic-ish cocktails by Brandyn Tepper (
Felix
, Cocktail Academy, Simbal,
Hinoki & the Bird
), some beers, coffee/tea, and a wines by the glass selection put together by Wine Director Peter Carrillo. There's also a separate wine list of course, one's that actually quite extensive. Click for larger versions.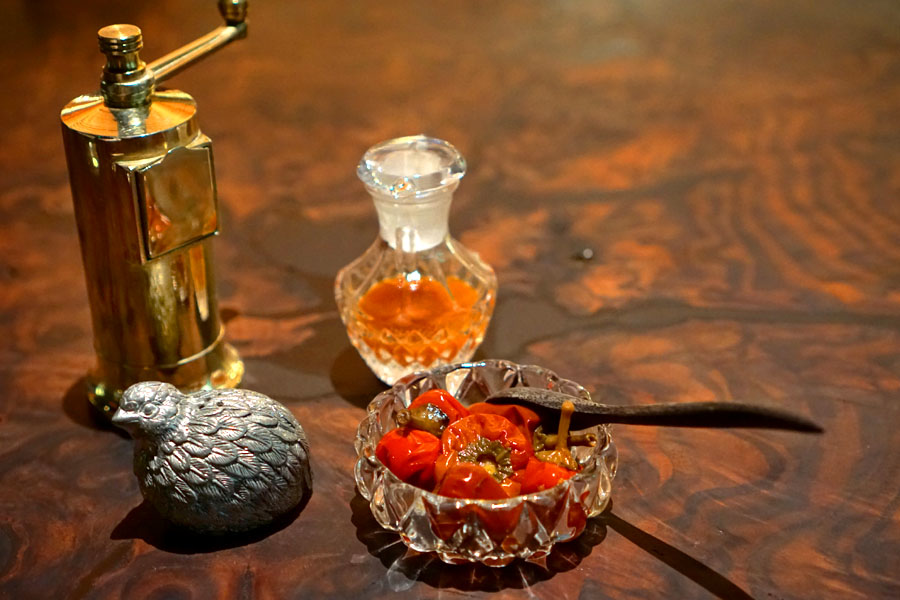 We were quickly provided with a quartet of condiments: pickled Calabrian chilies (which were quite smoky, with a prickly, lingering heat), barbeque salt, black pepper, and hot sauce.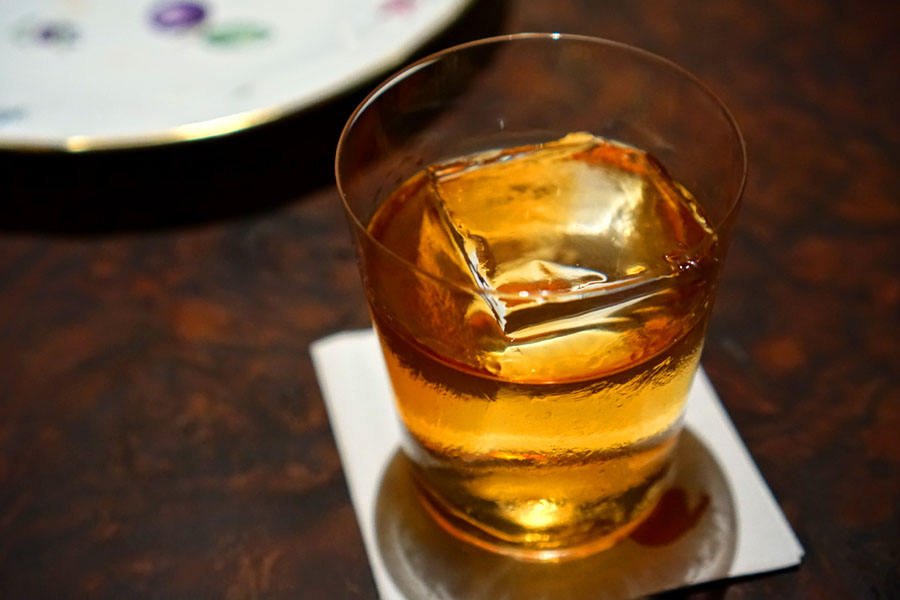 Vieux Carre [$16.00]
| Japanese Whisky & Apple
The night's first cocktail was this updated take on the Vieux Carré. Nosing it, I got subdued apple along with herbal undertones, while on the palate, the drink showed off a great spiciness mixed with fruity notes, while the finish was all about this tingling bitterness.
Angler Reserve Caviar [$88.00 + $10.00]
Here, we were instructed to spread the caviar and barbequed banana peel butter on top of one of those macerated banana pancakes, and eat the whole thing like a taco. The end result was actually pretty amazing, since I never thought banana and caviar would make sense together, but turns out they do! The marriage of sugary, tropical fruit and salty roe worked wonders, while those eminently fluffy, subtly charred pancakes moderated the interaction in stellar fashion. A very strong start to the meal, though the kitchen really shouldn't be so stingy with those flapjacks (we paid $10 for two extra orders, since the dish only comes with one).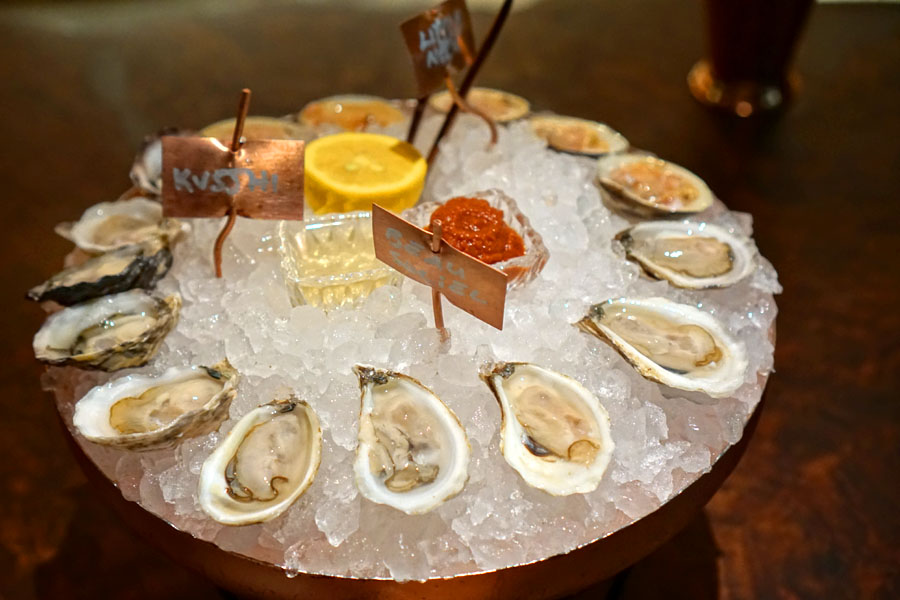 Kusshi Oysters [$4.00 x 5]
| Vancouver Island, BC
Beausoleil Oysters [$4.00 x 5]
| Miramichi Bay, NB
Little Neck Clams [$4.00 x 5]
| Cedar Key, FL
Next came the requisite raw bar order. I started the with Kusshis, and found 'em clean and sweet, though with a stronger salinity than usual. The Beausoleils, on the other hand, had a surprisingly restrained balance of sweet and salty that was unexpectedly elegant. As for the clams, they were satisfyingly textured for sure, with a more assertive flavor profile as well. Do also note the splendid seaweed vinegar provided, which we actually saved for future dishes.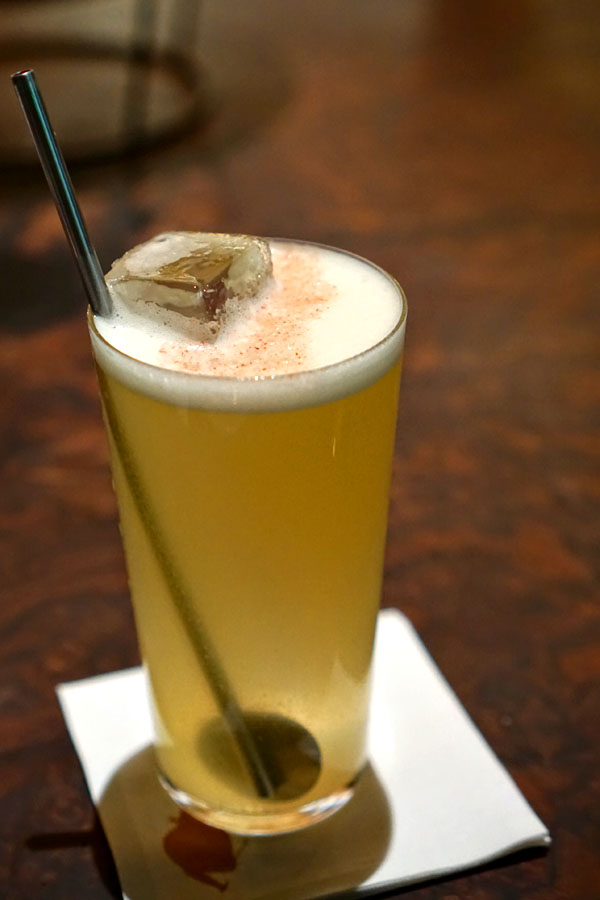 Collins [$16.00]
| Sake & Pineapple
This thoroughly reworked version of a Collins cocktail featured delectably juicy notes of pineapple set against a light, fizzy, easy-drinking backdrop of sake.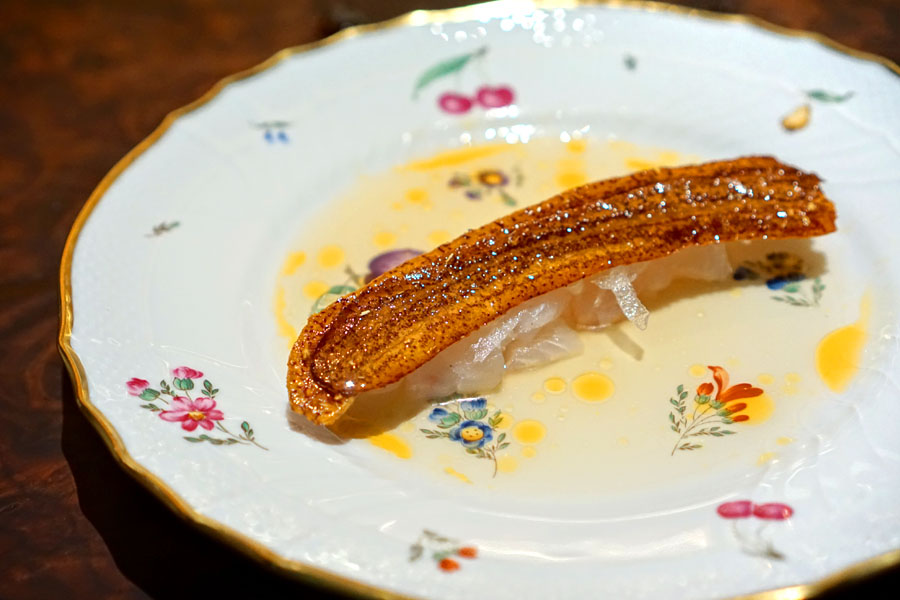 Sea Bream Ceviche [$16.00]
Bream was beautifully textured, arriving with a delightfully pillow-y consistency that I was quite smitten by. In terms of taste, we had a delicate interpretation of traditional Thai flavors, one that functioned swimmingly as a juxtaposition to that super crispy, savory plantain chip teetering on top.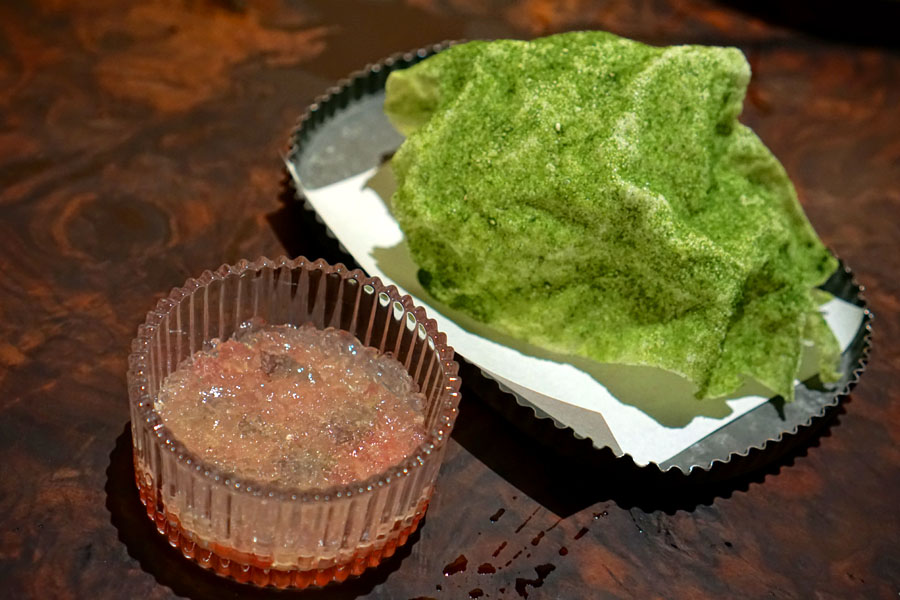 Big Eye Tuna [$20.00]
A bigeye tartar was topped with a layer of grilled tomato jelly, and the combination was superb, the fish melding seamlessly with its translucent, sweet-tart-savory accoutrement. Meanwhile, the rice cracker on the side--dusted with freshwater seaweed powder--imparted a necessary contrast in texture.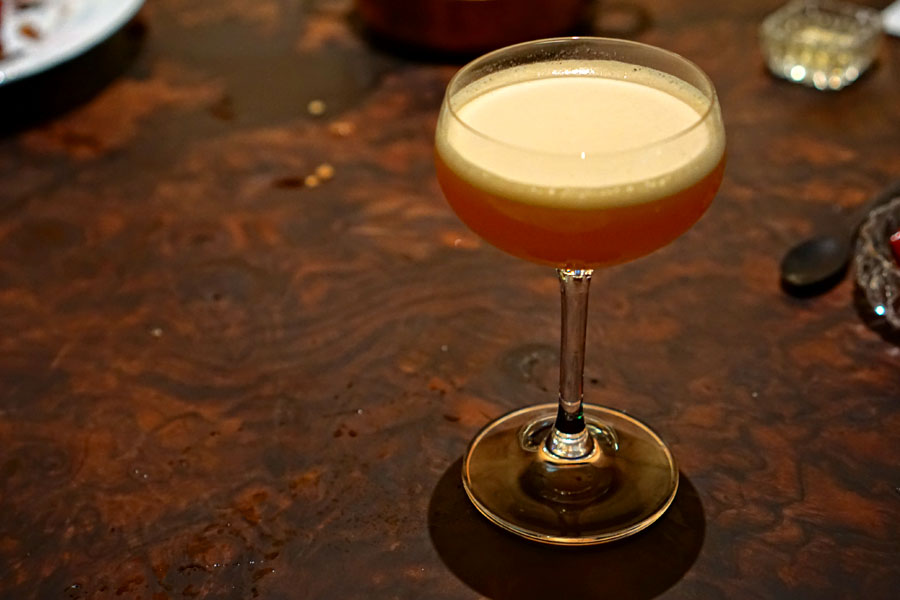 Daisy [$16.00]
| Tequila & Passionfruit
This was certainly the most quaffable cocktail of the lot, and even convinced one of my generally-non-drinking dining companions to order one. Think loads of tropical fruit and citrus, with nary a hint of booziness.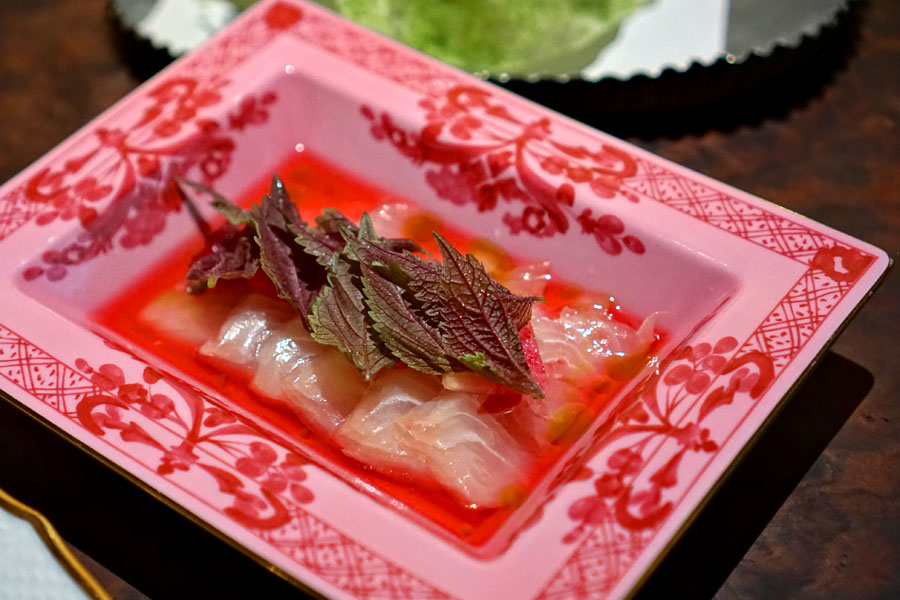 Amberjack [$19.00]
Utterly clean cuts of kanpachi were set in a salted plum broth and topped with shiso. The combination of perilla and umeboshi made total sense, both with one another and as a complement to the amberjack, giving the dish an effective Japanese-y bent.
Antelope Tartare [$18.00]
This was another favorite, the tartar arriving nutty and deeply savory, with a slight heat to it and a touch of lushness from the egg yolk sauce spread on top. Though delicious alone, the antelope really sang when placed in those minty, herbaceous seasoned lettuce cups, which really functioned as a perfect counterpoint to the meat.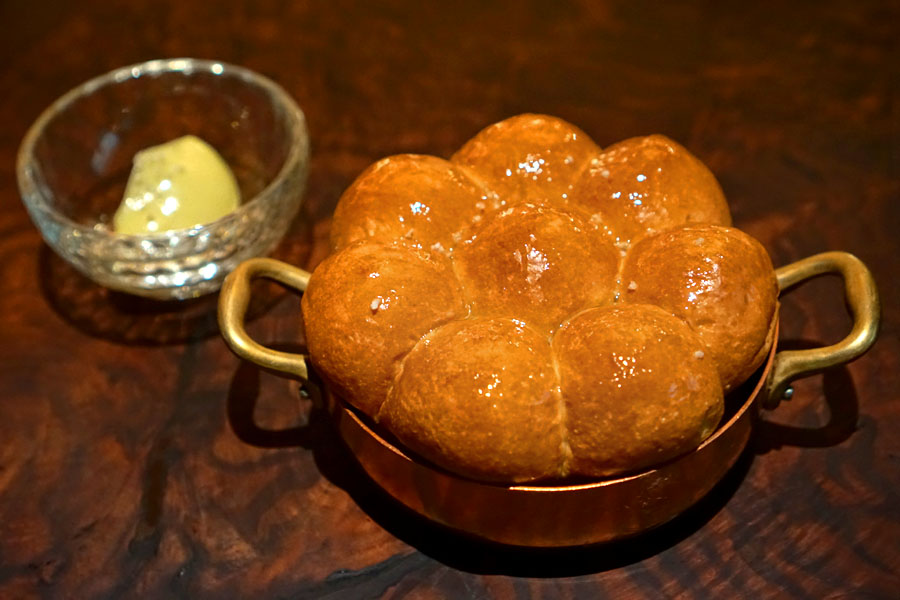 Grilled Parker House Rolls & Cultured Butter [$12.00]
The rolls were a must-try for us, and they were pretty much spot on, coming out soft and sweet, but slightly crisp on the outside, with great pops of salt, while a dollop of that almost sugary butter made 'em even better.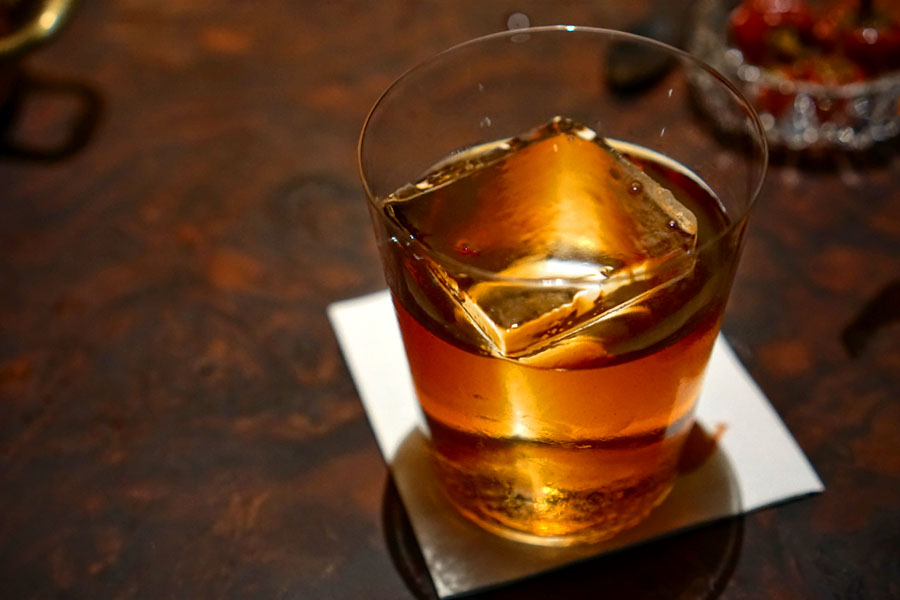 Monte Carlo [$16.00]
| Boar Fat Washed Bourbon & Walnut
The next cocktail was certainly on the more potent side. It had a bouquet rife with rich dark fruit, citrus, and a subdued astringency. On the palate, I found it herbal and spicy for the most part, and almost puckering, while the finish showcased delightful hints of
suanmei
.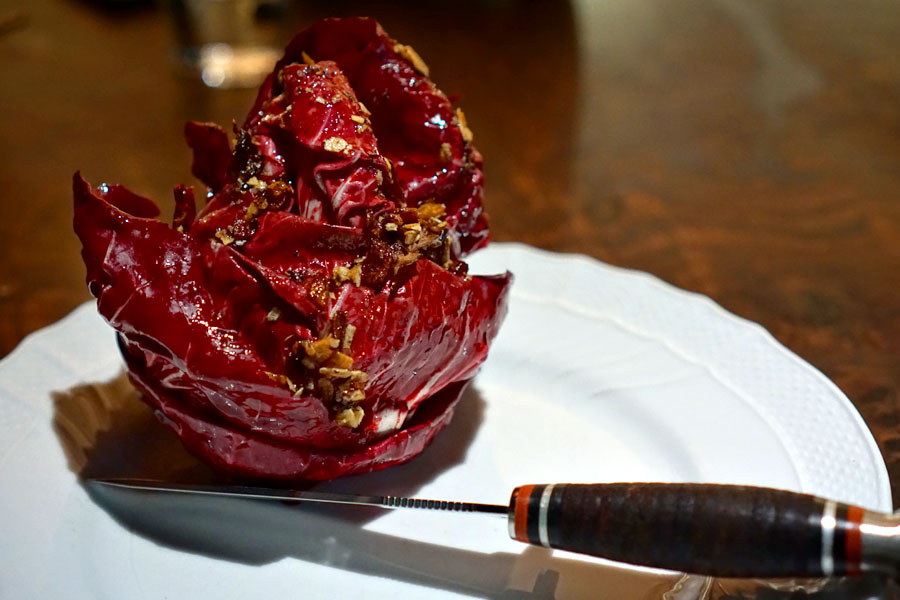 Radicchio with Radicchio X.O. [$15.00]
And now we come to Angler's most well known dish, first created at the San Francisco location. A nearly entire head of radicchio "bled" profusely when we cut into it, its crunch and bittersweet taste meshing effectively with the umami-laden, tart-ish notes from the XO. Some savory fried bits (shallots?), meanwhile, served as welcomed exclamation points.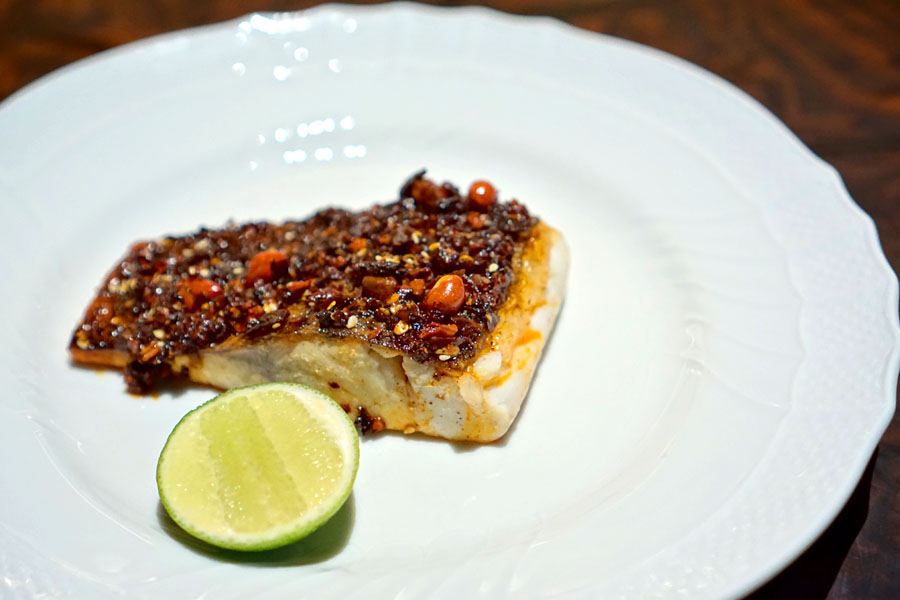 Grilled Striped Bass [$42.00]
The striped bass was pretty stupendous, showing off flesh that was flaky and oh-so succulent, along with a perfectly crisp skin. The crux of this dish, though, was clearly its topping of
mala
sauce, which succinctly captured the essence of Sichuan cooking with its heat, numbing, and undercurrent of sweetness. I loved the crunch and counterbalance provided by the peanuts too, while a squeeze of lime played well with the chilies. Another favorite of mine.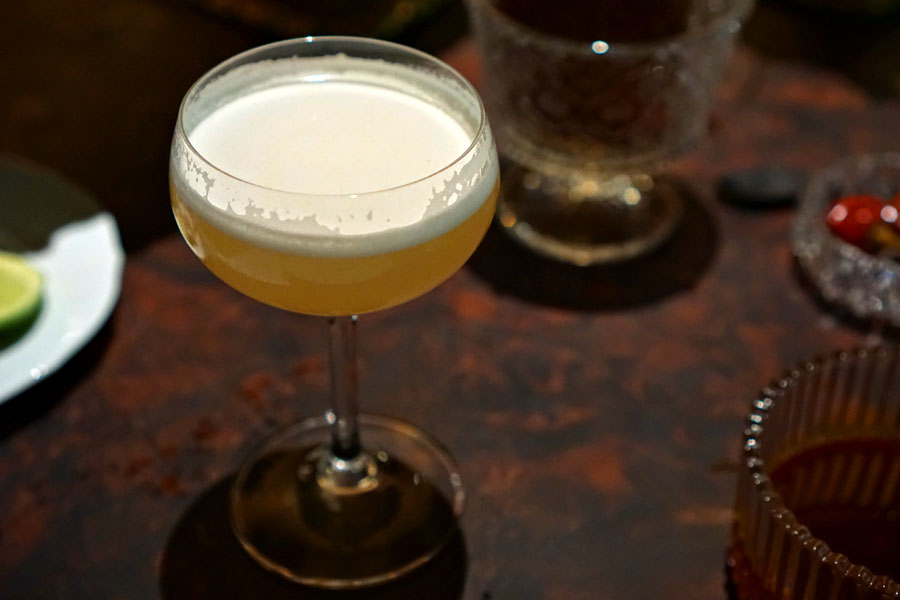 Daiquiri [$16.00]
| Rum & Grapefruit
A reworked version of the classic daiquiri cocktail veered in a sweet and creamy direction, but with a offsetting "rubbery" element that I quite enjoyed. Curiously enough, upon tasting the drink, I instantly said to my dining companions that it "tasted like Las Vegas," though I can't really articulate what that even means.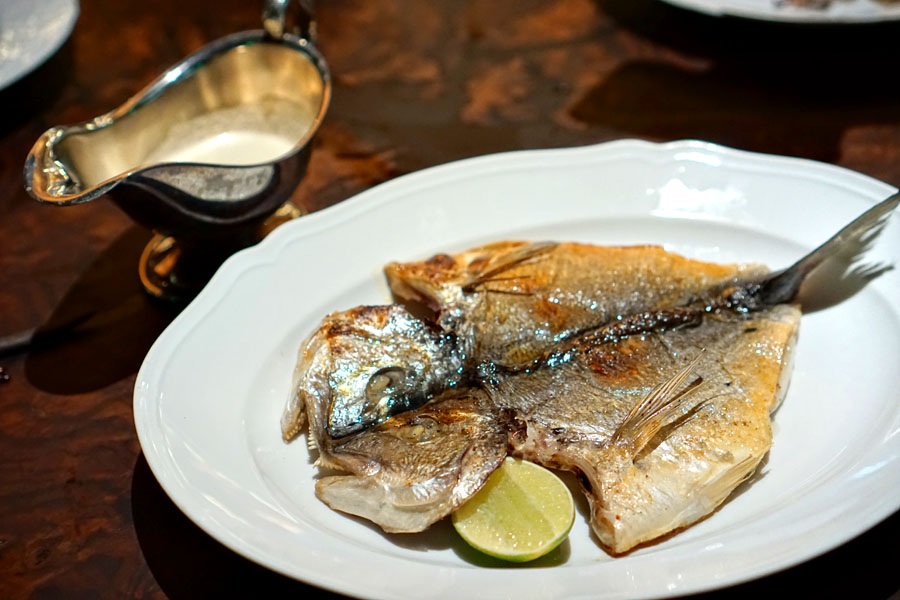 Whole Grilled Porgy [$48.00]
The grilled porgy was another winner. I found it superbly textured--a deft combination of flaky and supple--with a delicate flavor profile that matched swimmingly with the fish's light char, and really opened up with a squirt of lime. The fish was so tasty that the accompanying citrus-yogurt sauce wasn't even necessary.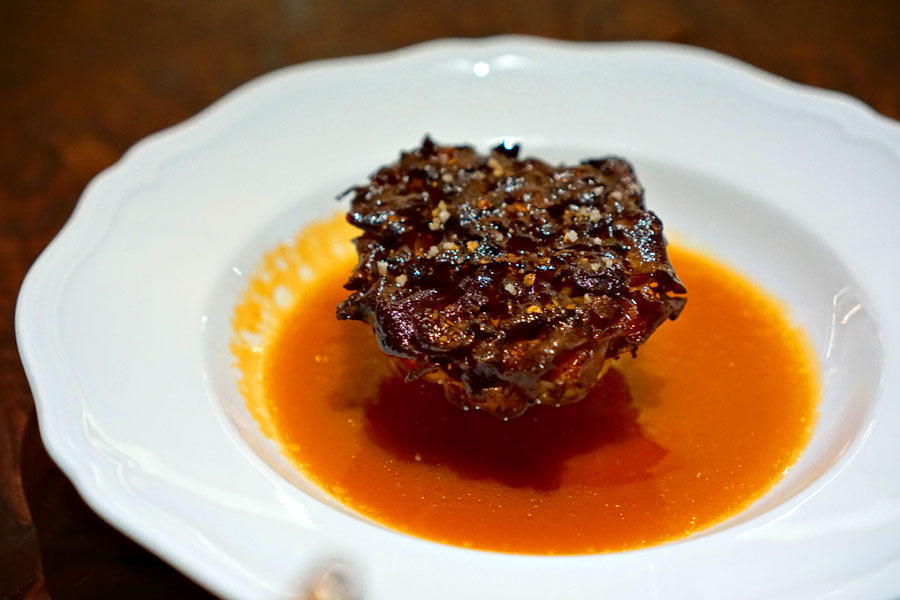 Slowly Grilled Hen of the Woods Mushroom [$15.00]
Maitake was grilled to a lovely crispness, the presence of the sear working hand-in-hand with the mushroom's inherent earthiness. What was intriguing here was the pool of Angler hot sauce in the bowl, which, when applied to the 'shroom, made the whole thing taste like a pepperoni pizza!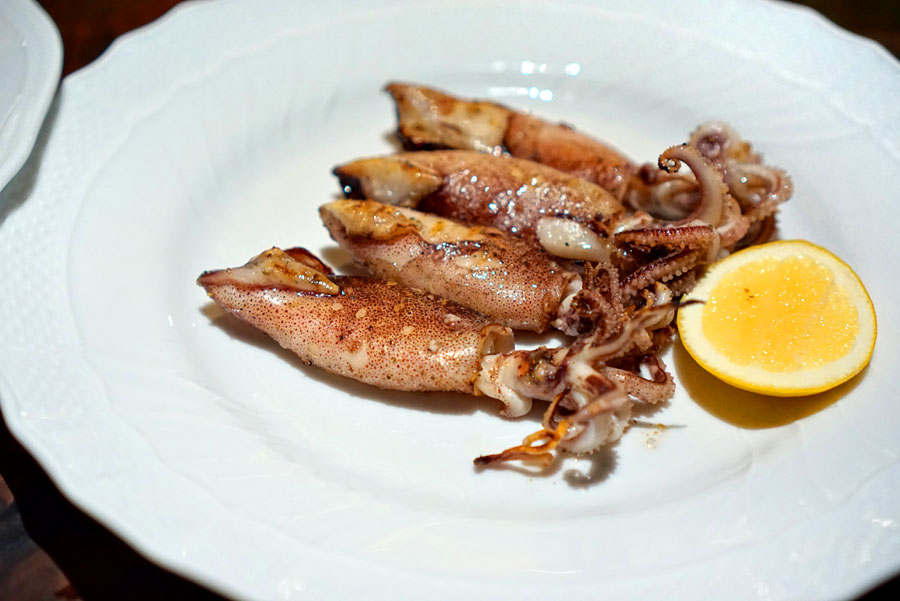 Grilled Santa Barbara Squid [$14.00]
Squid came out gorgeously textured, its natural sweetness and salinity blending flawlessly with the smoke and sear imparted by its live-fire cooking.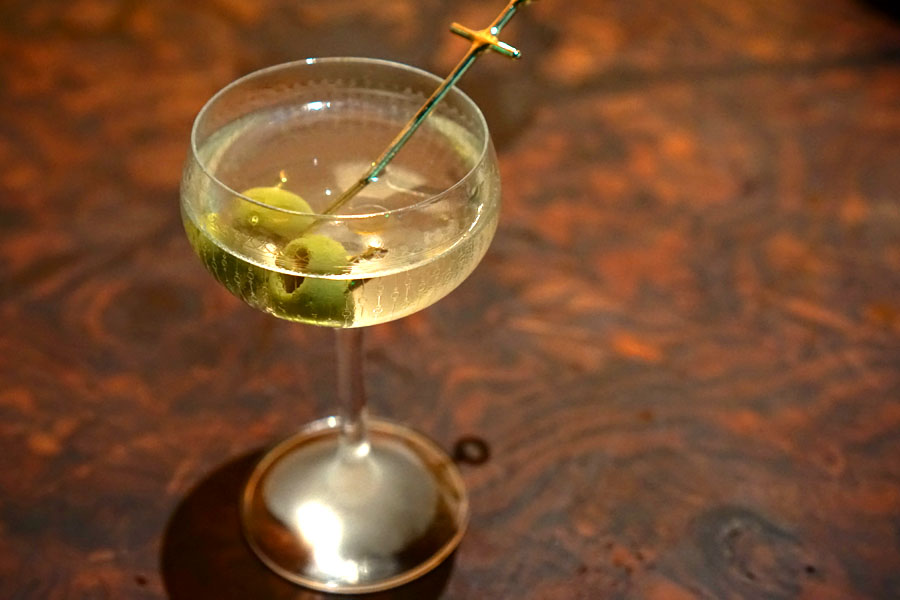 Dirty Martini [$16.00]
| Gin or Vodka & BBQ Salt
Our next cocktail was quite possibly the dirtiest gin martini I've had. The nose on this one was super floral, which worked as a nice contrast to the sheer saltiness and savoriness of the drink.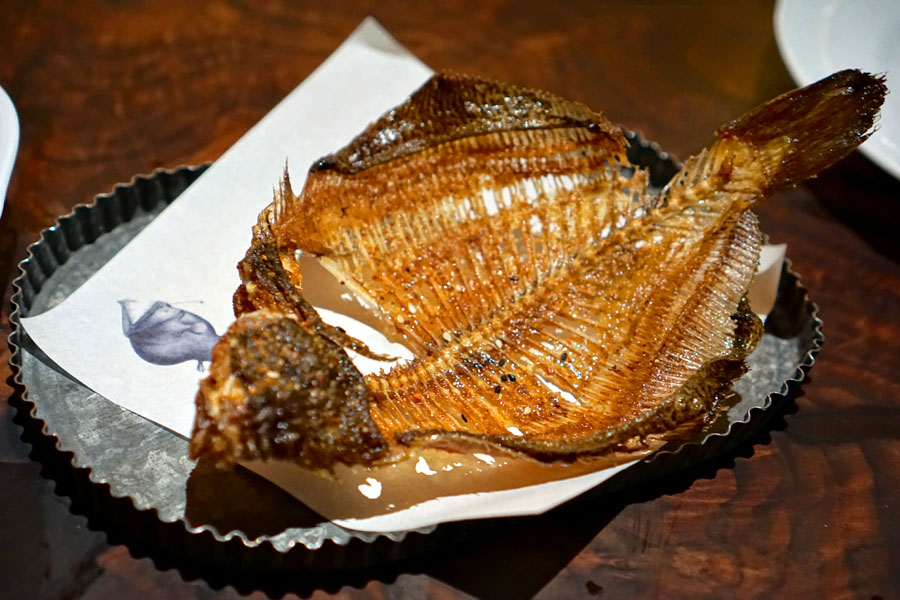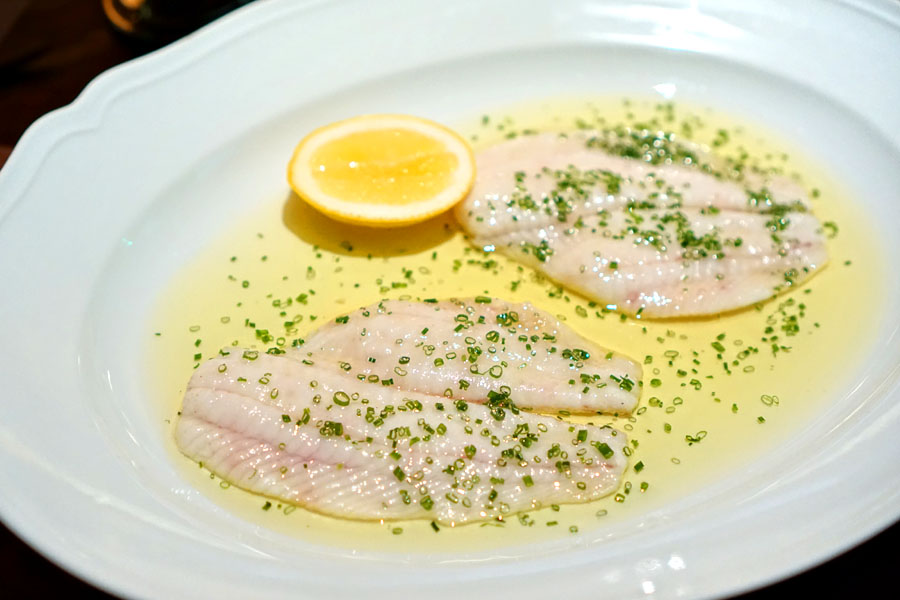 Whole Poached Marble Fish [$72.00]
I was a big fan of the marblefish, too. Texturally the filets were fantastic thanks to their ultra soft, slippery consistency, while flavors were delicate-yet-buttery, with a great zesty contribution from the chives(?). The bones, meanwhile, were deep-fried to an utter crunch, and their salty savor really worked beautifully as a foil to the fish.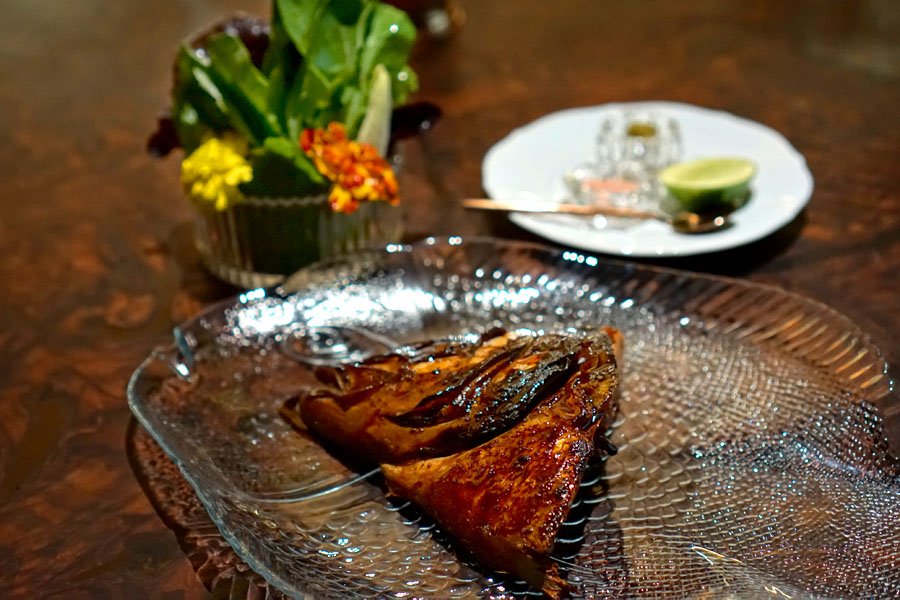 Striped Bass Head & Collar [$18.00]
Bass collar arrived coated in a sweet soy glaze, with accoutrements of greens/herbs/edible flowers, as well as
yuzukosho
/cherry blossom salt/lime. In terms of consistency, the fish was spot on, and I definitely appreciated its almost BBQ-like taste profile. Given its potency, the greens were actually key for balance.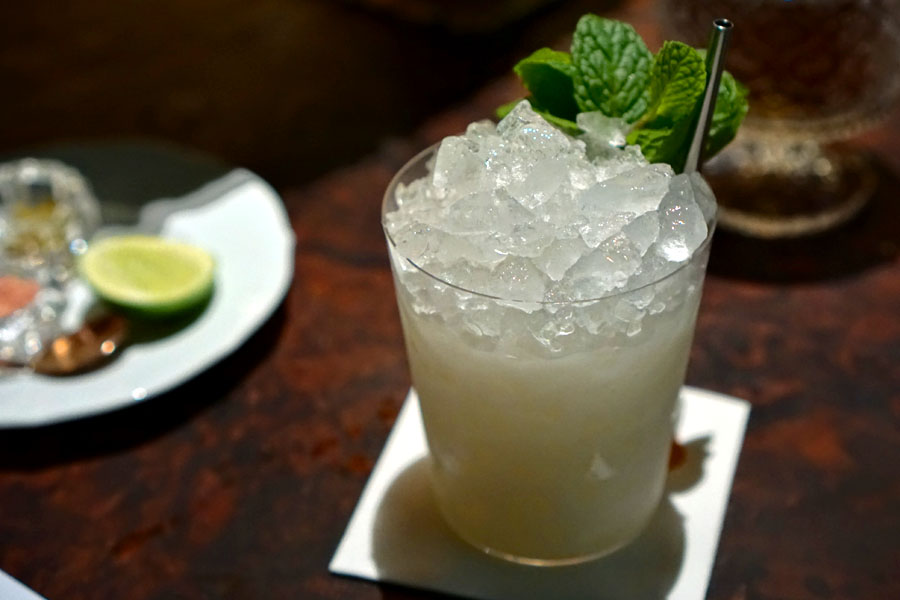 Mai Tai [$16.00]
| Mezcal & Hazelnut
A mezcal-based version of the quintessential tiki cocktail was actually pretty subdued, conveying mostly creamy-sweet notes, with traces of citrus and plenty of mint.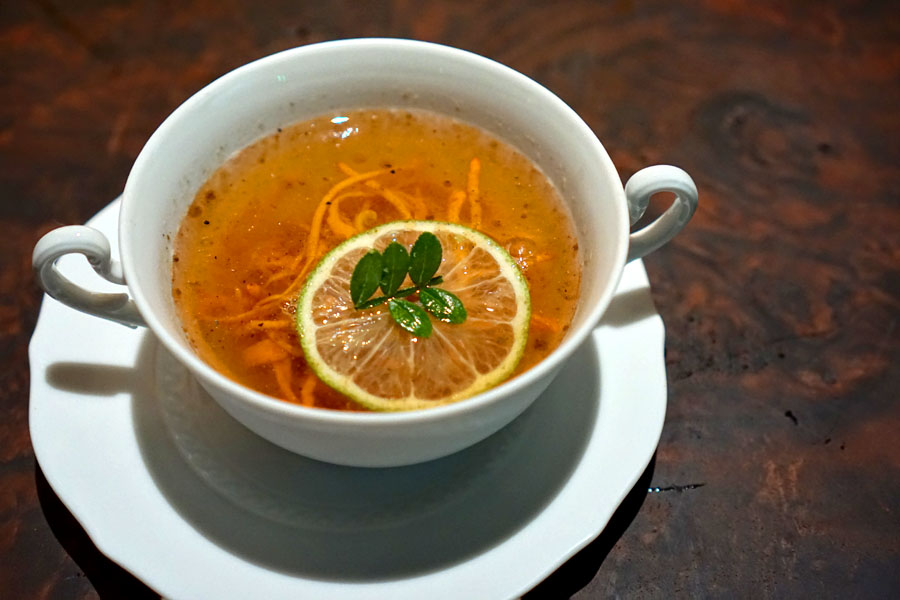 Golden Straw Mushrooms in Broth [$18.00]
Straw mushrooms had this fascinatingly meaty texture, while their woodsiness matched impressively with the dish's smoky chicken broth, and especially the tartness of lime. Note that we had two orders of this for our party of five, and the kitchen split up the soup into individual portions (pictured above).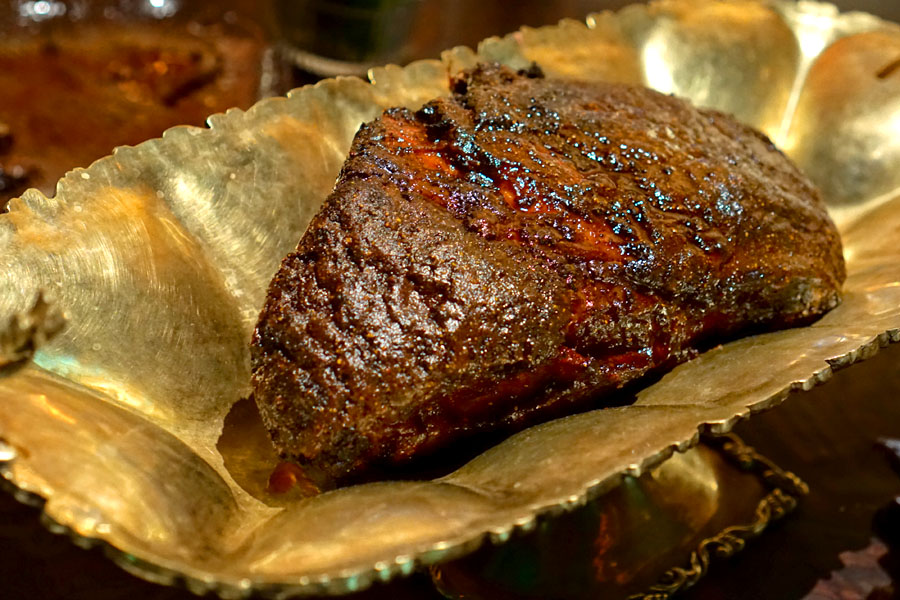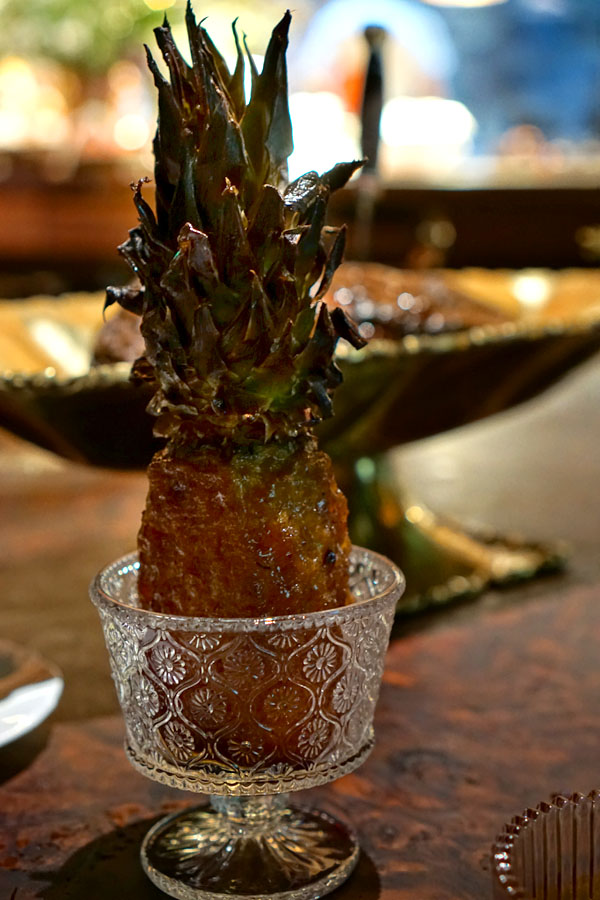 Barbecue Boar Shoulder [$180.00]
Our final savory was this massive cut of wild boar. The meat had a certain "flake" to it, and was mostly juicy and generally tender, while its al pastor-esque flavors displayed a delectable spice and depth. Accompaniments here included greens-n-herbs (great for making
ssam
), a bracingly tart vinegar sauce, and a delightful whole caramelized pineapple. Hint: try the boar with the hot sauce provided at the beginning of the meal, too.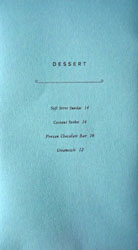 Angler's dessert selection is about as uncomplicated as they come, though at the same time, it's sort of not. Click for a larger version.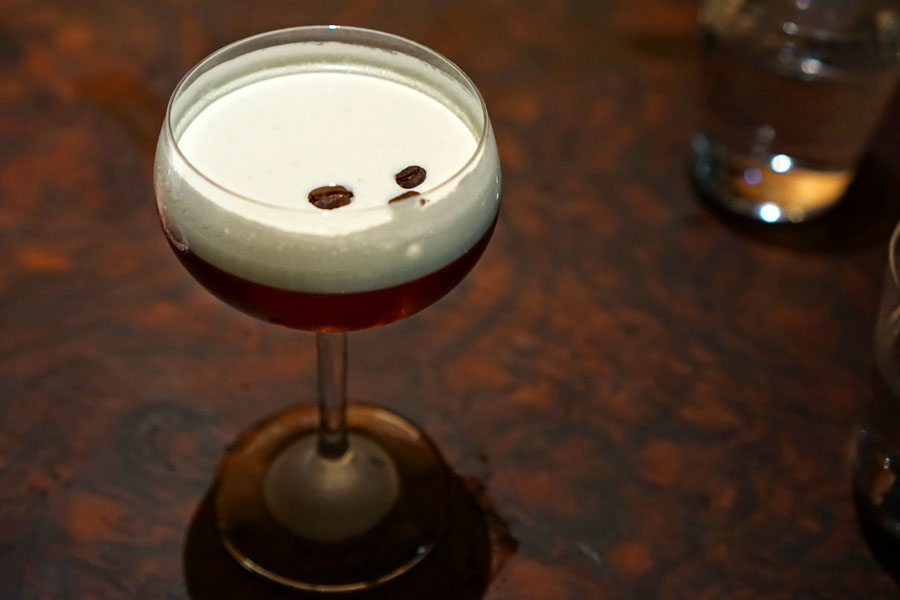 White Russian [$16.00]
| Vodka & Embered Cream
We closed out dinner with some more dessert-y cocktails. First was a seemingly straightforward take on the White Russian, one that drank luscious and sweet, with a great tinge of acridity from the coffee and just a wisp of smoke.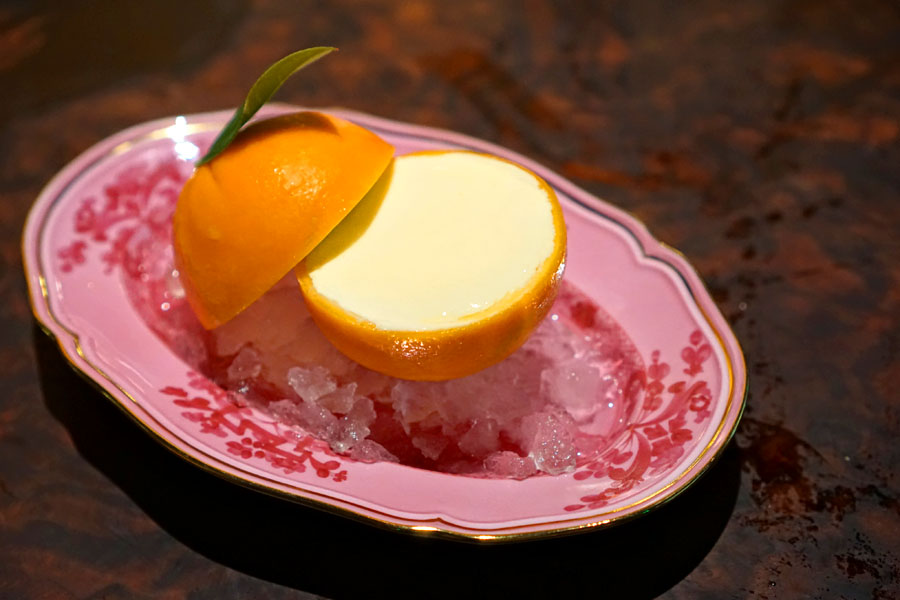 Creamsicle [$12.00]
This really did taste like an orange Creamsicle, its bright, citrusy flavors playing marvelously with the vanilla ice cream. I loved the whimsical presentation here, and yes, both halves came filled.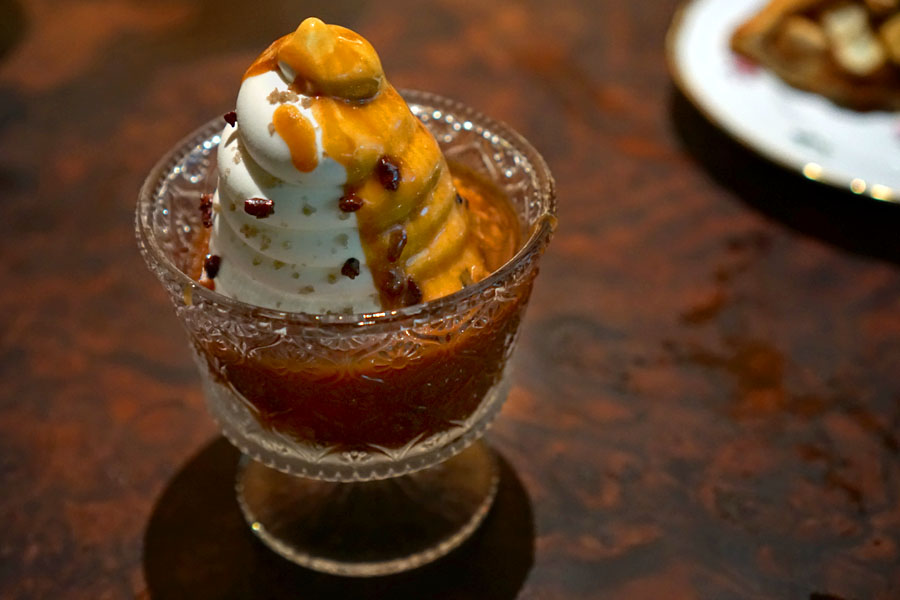 Soft Serve Sundae [$14.00]
This fun take on the classic sundae was near-ridiculously smooth, and paired well with its two, nutty scoops of caramel sauce.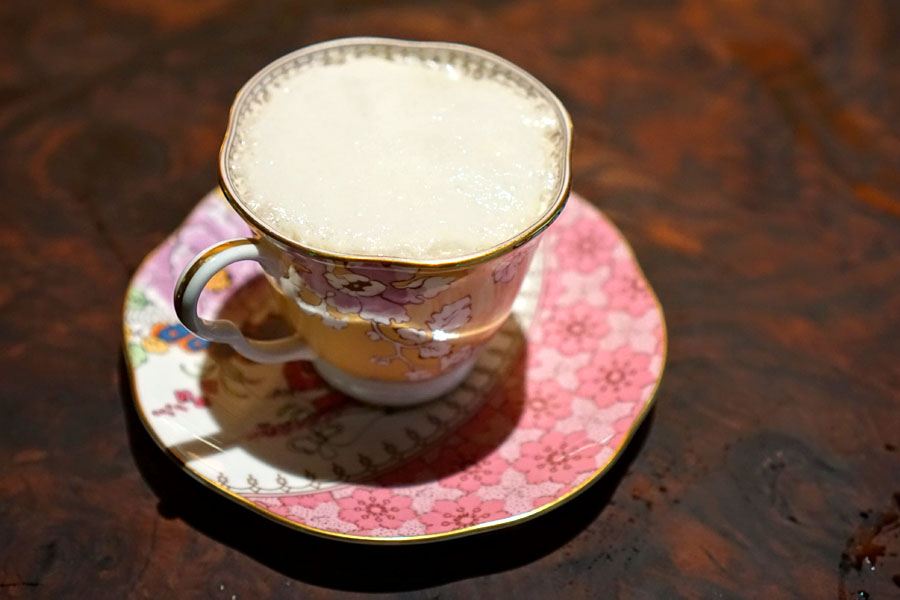 Hot Toddy [$16.00]
| Choice of Spirit, Meyer Lemon & Ginger
Our final cocktail was this whiskey-based hot toddy. It was indeed as hot as advertised, and had this apple-like sweetness to it commingled with the right amount of citrus and spice.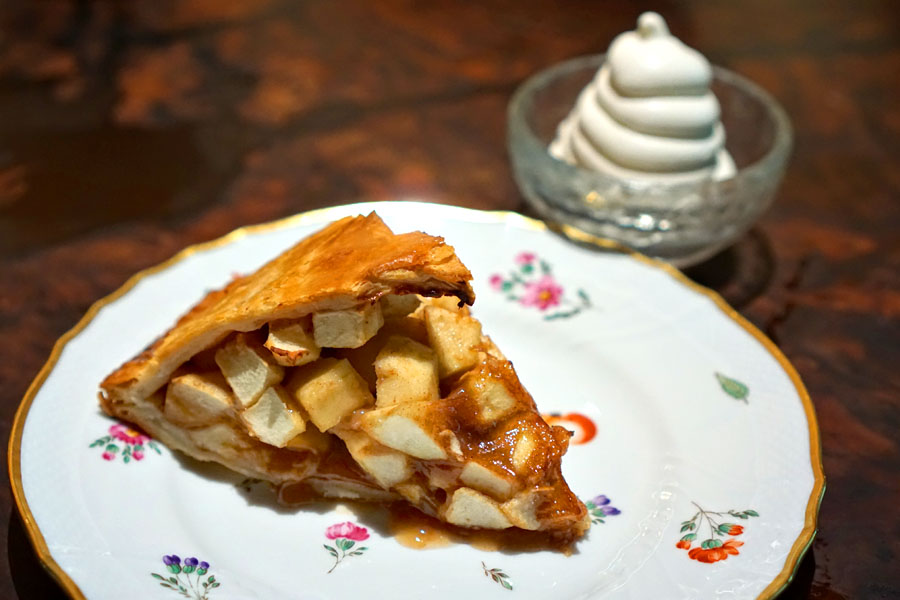 Apple Pie [$14.00]
The kitchen had run out of the "Frozen Chocolate Bar" and thus substituted this in its stead. Featuring Grammy Smiths, it was a smart rendition of a traditional apple pie. I found the apples well-spiced and the crust properly crisp 'n' flaky, and didn't mind the soft serve on the side, either.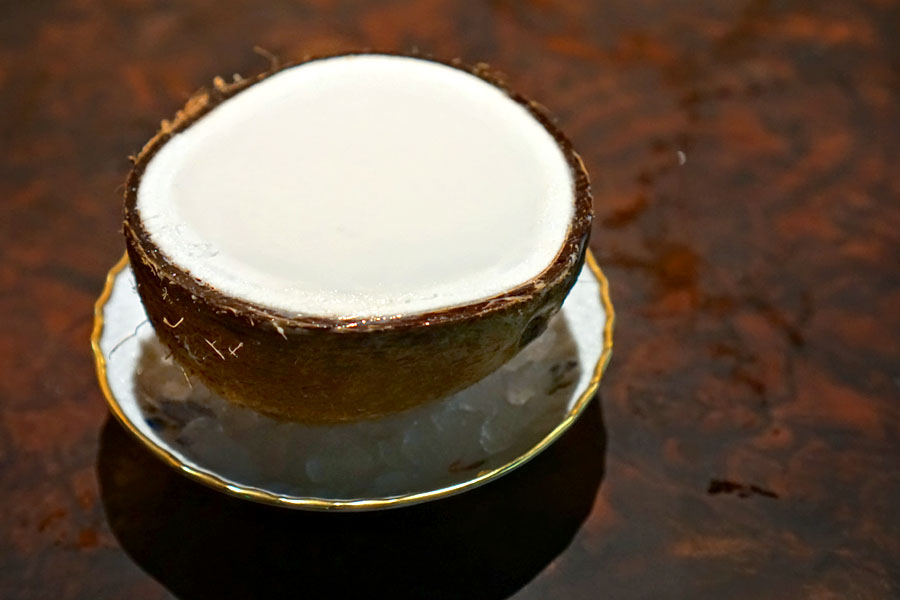 Coconut Sorbet [$14.00]
Last up was this uncommonly smooth sorbet, which exhibited wonderfully pure, unadulterated coconut flavors. And again, big fan of the presentation here utilizing an actual coconut.
I think every one of us in my party walked out of here duly impressed. The food at Angler is much more than meets the eye, as though the dishes may sound simple, there's actually so much more to the cooking. The kitchen walks a fine line between highlighting the inherent, pure characteristics of an ingredient and interpreting said ingredient in fun, new, exciting, and unexpected ways. You really do get a sense of the precision, deliberation, and detail that goes into each plate, that goes into presenting each item in the most gratifying way possible. Service, meanwhile, was efficient and polished, though friendly, but I do have to ding them for forgetting the potato dish we ordered. Missing tater aside, this refreshing approach to seafood (or just food in general) at Angler is something worthy of consideration, and made for my best meal of 2020 so far.