Woon (Los Angeles, CA)
Woon Kitchen
2920 W Temple St, Los Angeles, CA 90026
213.674.7434
www.woonkitchen.com
Sat 07/25/2020, 08:35p-09:15p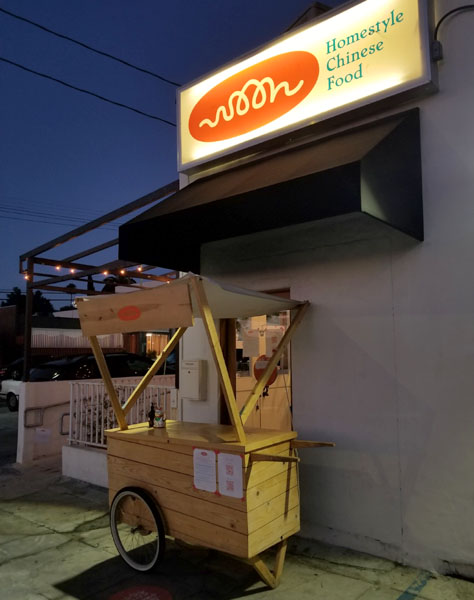 I was recently in the mood to try out a new spot for takeout, and settled on the upstart Chinese eatery Woon, a former pop-up that had been on my to-eat list well before the advent of the coronavirus. Named after the Cantonese word for bowl, the restaurant resides in Westlake's Historic Filipinotown district, and opened in March last year.
The story of Woon begins with Julie Chen Fong (a.k.a. Mama Fong). Born in Shanghai and raised in Hong Kong, she relocated to the US when she was 18. Her parents settled in the San Fernando Valley, and though her mother wasn't really active in the kitchen growing up, she was eventually able to teach herself how to cook. Fong later had two kids, Andrea Knopf and Keegan Fong, whom she raised as a single mother in the Pasadena/San Marino area. Keegan attended the University of San Diego from 2005 to 2009, majoring in business, and quickly discovered that he missed his mom's food. Thus, he always made sure to get his fill when he was visiting home, and these sorts of dinners soon caught the attention of Keegan's friends as well, who were also enamored with Mama Fong's cooking. That's when he first realized that there could be a business here. Drawing upon his experience in the marketing realm (at surf brand Vissla), Keegan teamed up with his mom, sister (an apparel designer), and brother-in-law Philipp Knopf (a video editor), and Woon was born (Michael Chen also joined the team a while later).
Their first pop-up was on September 20th, 2014 at the Parachute Market design fair held at JF Chen, an antiques shop run by Mama Fong's brother Joel Chen. The event was a success, with Woon easily selling out of their Shanghai-style noodles despite competition from fellow vendor
Guerrilla Tacos
. The team continued to pop-up sporadically for the next couple years, but things really kicked into high gear in 2018, when they began appearing at places like ETA in Highland Park and Resident in the Arts District. Efforts to open a brick-and-mortar location were well underway by this point, and at the start of 2019, it was revealed that Woon would be taking over a Hi-Fi building that was previously home to the likes of The Hungry Pig, Tara Mediterranean Grill, and Quickie Thai. The 1,400 square-foot space was revamped by Keegan's roommate
Peter Wilday
, and Woon ended up debuting at the start of March 2019.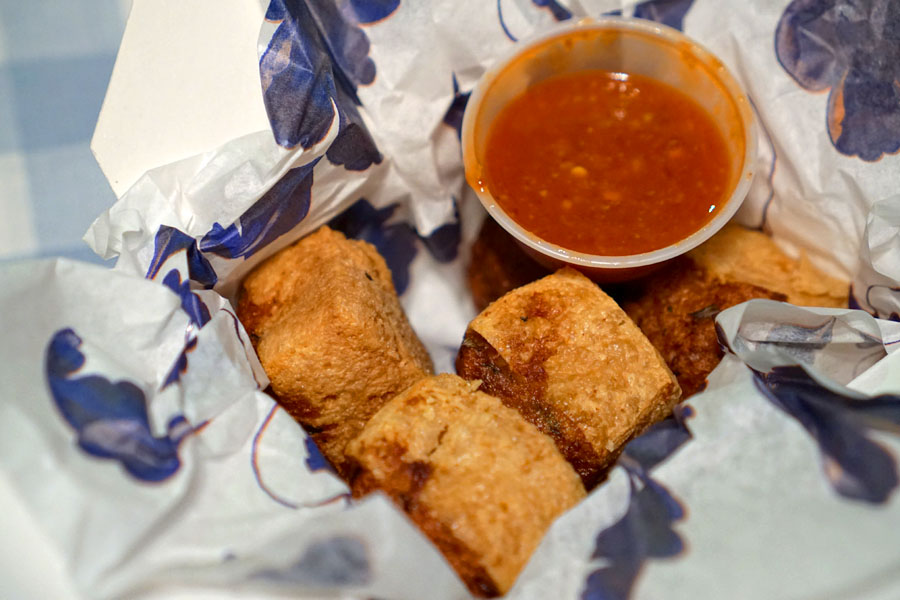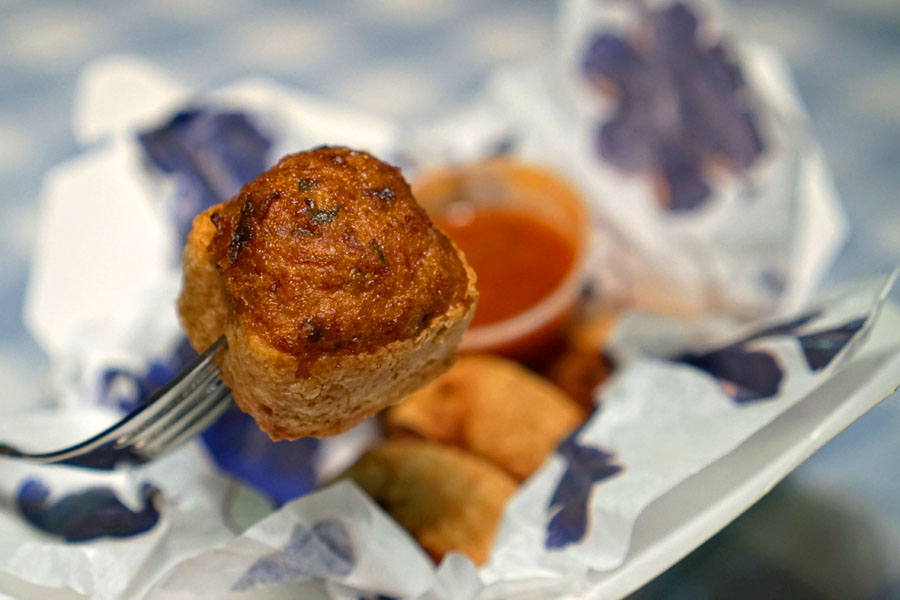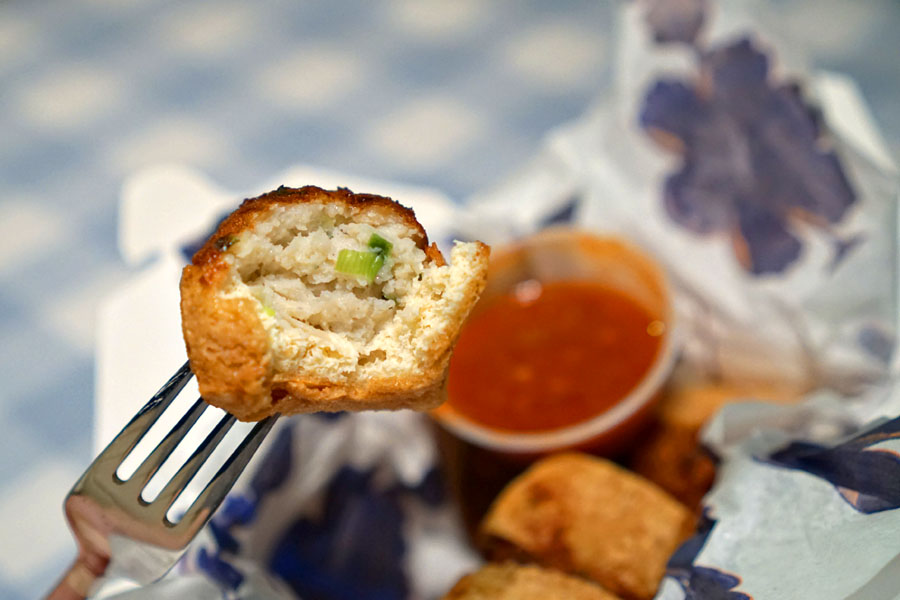 Fried Tofu Fishcakes [$8.00]
| Fried tofu cakes, stuffed with fish paste, cilantro, green onions. Served with a side of Worcestershire sauce.
I began with a fun snack of
yurou niang doufu pao
. The dish did a great job playing the brininess of the fish against the comparatively mild, crisp tofu while a subtle sweetness pervaded everything. The fishcakes were tasty alone, but really sang with a dab of "Mama's Way" chili sauce, which packed a punch with its tanginess and delectably sweet heat.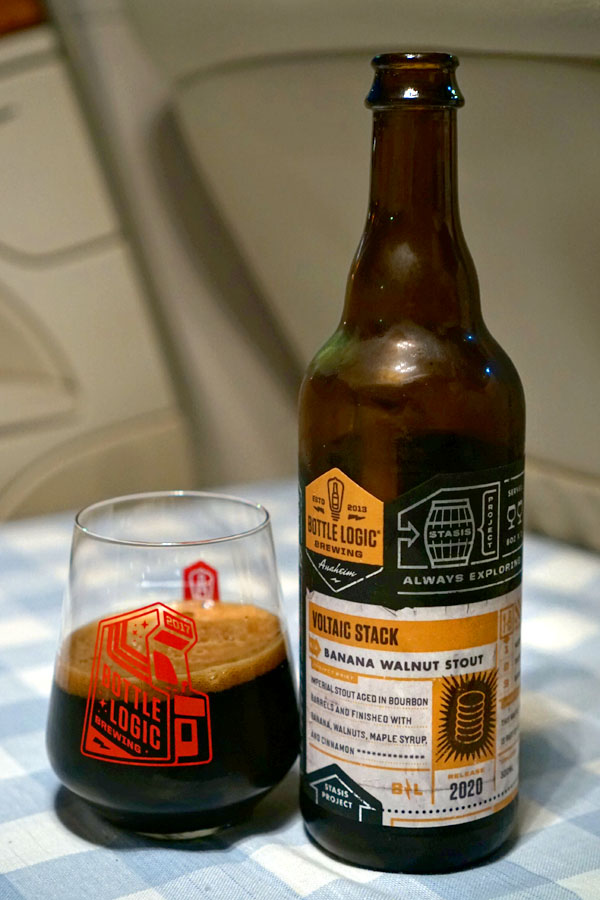 To drink, I opted for the
2020 Bottle Logic Voltaic Stack
, a bourbon barrel-aged imperial stout finished with banana, walnuts, maple syrup, and cinnamon. It smelled intensely of walnut intertwined with sweet banana, with cocoa and malt in the background. Tasting it, I found lots of chocolate commingled with maple up front, leading to a palpable oakiness before the beer finished strong with more banana and nuts.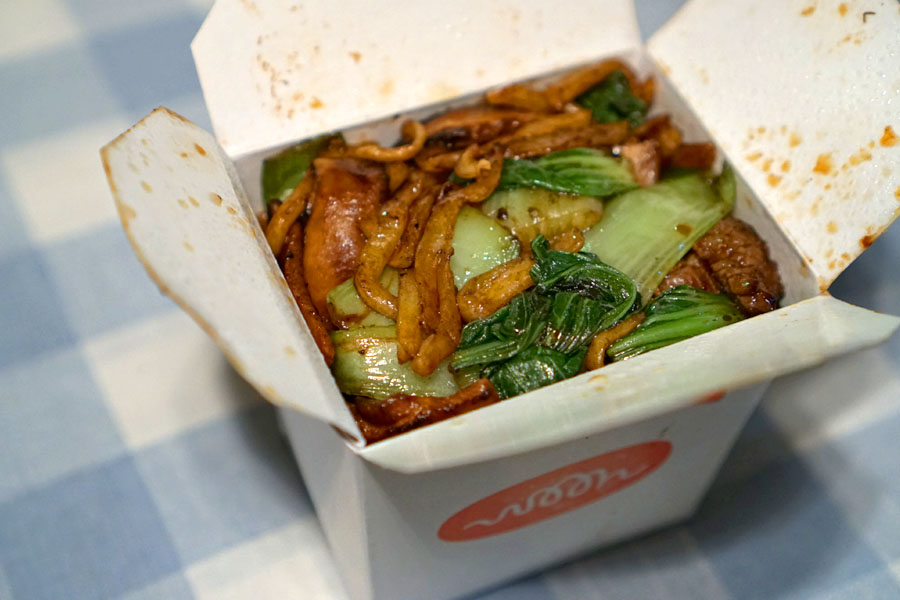 Beef Noodle [$12.00]
| Woon homestyle chewy noodles, marinated flank steak, bok choy, shiitake mushrooms, stir fried.
Now of course I had to sample the
niurou cu chaomian
that Woon built its reputation on. What struck me here was the sheer amount of
wok hei
present, which was impressive and meshed seamlessly with the tender cuts of beef and umami-laden mushrooms, all while bok choy provided a crucial lightness and crunch. As for the noodles themselves, they were definitely on the thicker, chewier side, and perhaps not what many customers would be used to.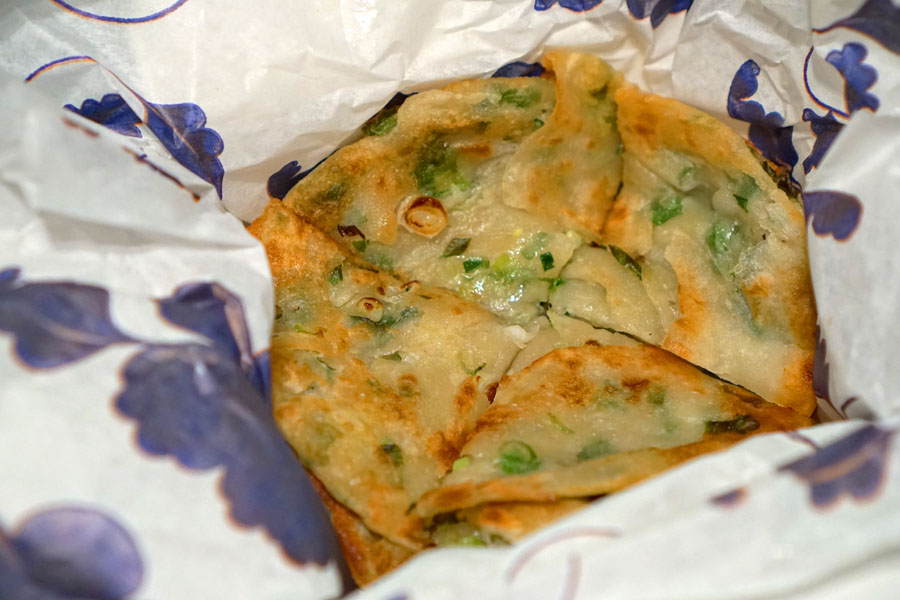 Scallion Pancake [$7.00]
| TjCrispy, chewy and savory with chopped scallions, oil and dough. Made in-house for our staff meals, and now some extras for you to have at home. Served with a side of Mama's Way and Worcestershire sauce.
Cong you bing
is one of those things I'm drawn to on a menu, so naturally I had to try it here. What I really appreciated was how the flatbread so forcefully conveyed the nature of the scallions. It was one of the more "oniony" versions I've had, while texturally, it veered doughy, with requisite crispy bits. Even better with the included Worcestershire.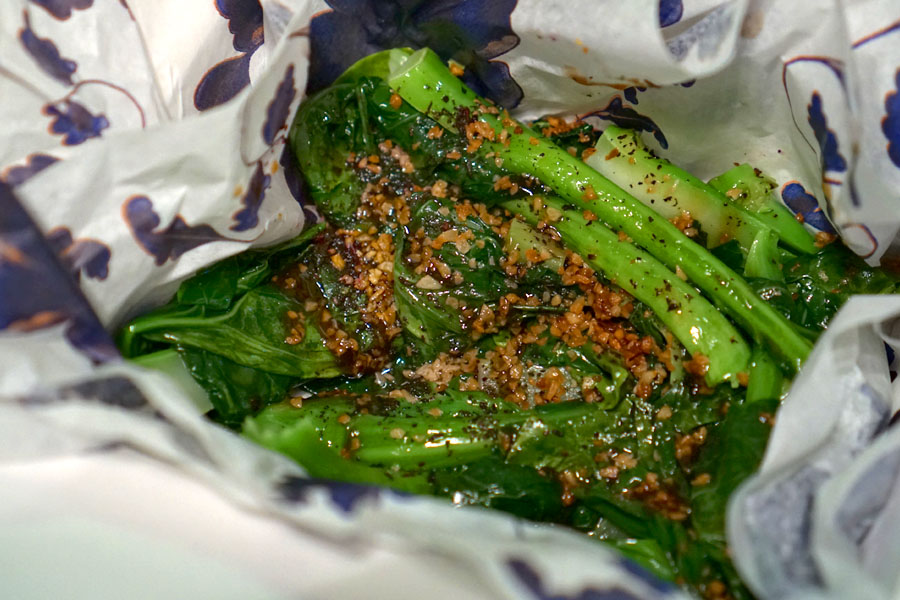 Gai Lan [$8.00]
| Chinese broccoli topped with oyster sauce, shiso seasoning, fried garlic.
I was quite the fan of Woon's
jie lan
. The dish had this super garlicky, inviting aroma, and tasting the broccoli, that garlicky savor matched beautifully with the bitterness of the veggie. The most interesting thing here, though, was presence of some fragrant, almost tea-like elements that really added an unexpected dimension to things.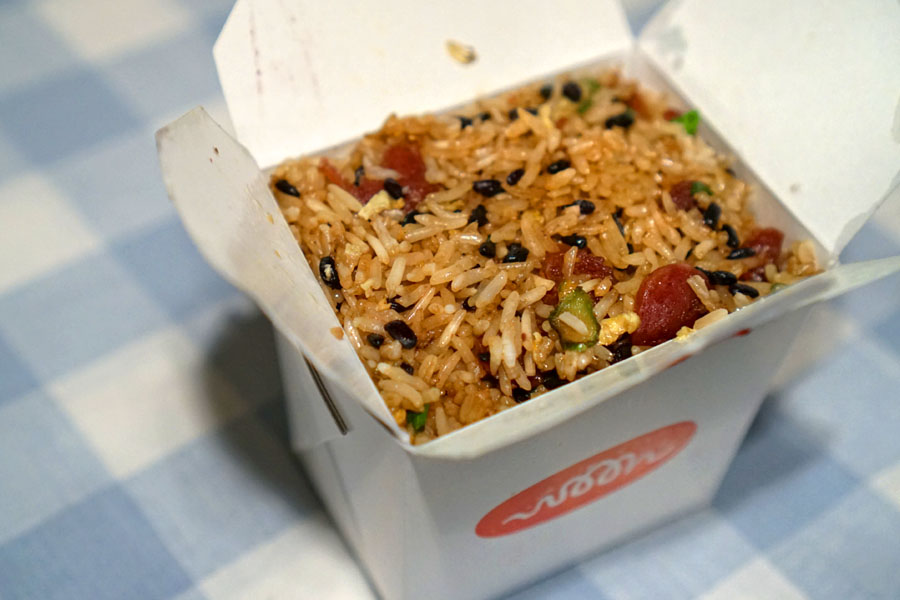 Fried Rice [$12.00]
| White and black rice, Chinese sausage (lap cheung), Chinese broccoli (gai lan) stems, eggs, green onions, stir fried.
Last up was the
lachang chaofan
. The rice was spot on texturally, and I really enjoyed how well the inherent sweetness of the sausage was highlighted. The broccoli imparted a moderating bitterness, but what really stood out to me was this warm, nutty nuance to the dish that made me think of
zongzi
. I'm assuming that this sensation was due to the black rice, but whatever it was, I just found it rather unique.
Woon advertises itself as a place for "homestyle Chinese food," and based on that claim, it pretty much delivers. The cooking really did satisfy in a homey sort of way, and I believe that it lends itself well to our new normal of take-out replacing dining-in. Judging by the relatively brisk business that the restaurant was doing this evening, I don't think I'm the only one who feels this way.