Petit Trois (Los Angeles, CA) [2]
Petit Trois Restaurant
718 N Highland Ave, Los Angeles, CA 90038
323.468.8916
www.petittrois.com
Sat 07/18/2020, 06:30p-08:00p
If you recall, about four years ago I visited Ludovic Lefebvre's home to partake in filming for the PBS series
The Mind of a Chef
. It was an interesting experience, though I actually haven't watched that particular episode yet, as I don't enjoy seeing myself on camera (it's still on my DVR). In any case, I'll briefly catch you up on what the Chef's been up to since then:
Just a couple months after the filming, Lefebvre, along with partners Vinny Dotolo and Jon Shook, took control of the old Il Tiramisu space in Sherman Oaks with the intent of turning it into a second outpost of
Petit Trois
. In February 2017, Ludo received a "Best Chef: West" semifinalist nod from James Beard, and that May, made a somewhat unexpected move and established Coffee & Waffles, serving yes, coffee and waffles from an Airstream trailer parked at the Native Hotel in Malibu. January 2018 saw
Trois Familia
expand into dinner service, while Petit Trois Valley launched in April that year, offering breakfast/lunch/dinner daily. In 2019, the Michelin Guide returned to Southern California, and dropped a Bib Gourmand on Petit Trois while
Trois Mec
landed one star. Shortly after the Michelin announcement, Trois Familia shuttered. The plan was to flip it into a completely new restaurant (probably named "El Vy") run by Javier Ramos (The Draycott--extremely briefly, Sqirl,
Lucques
), but that never happened, and the address is now home to
Spencer Bezaire
's Eszett.
June 2019 also had Ludo teaming up with Gilles Epié to debut a summer pop-up called "Summer of Ludo & Gilles" at the Montage Beverly Hills (in the old Georgie space), which also included an incarnation of LudoBird. This ran for roughly three months before Epié took sole control of the pop-up; the Montage was subsequently sold that December, and is now known as the Maybourne Beverly Hills. In November, Lefebvre revealed that he was planning a kebab-focused eatery in the storefront attached to Petit Trois Valley, the one that was originally rumored to be turned into a French bakery. In February, he received "Outstanding Chef" semifinalist status from James Beard, and also announced that he'd be doing a
LudoBites
tribute menu at Trois Mec starting in March. I actually had reservations to that dinner series, but unfortunately those plans were quickly scuttled on account of the coronavirus. Thus, with Trois Mec locked up tight
for the foreseeable future
forever, I figured that a visit to its sister restaurant might be appropriate.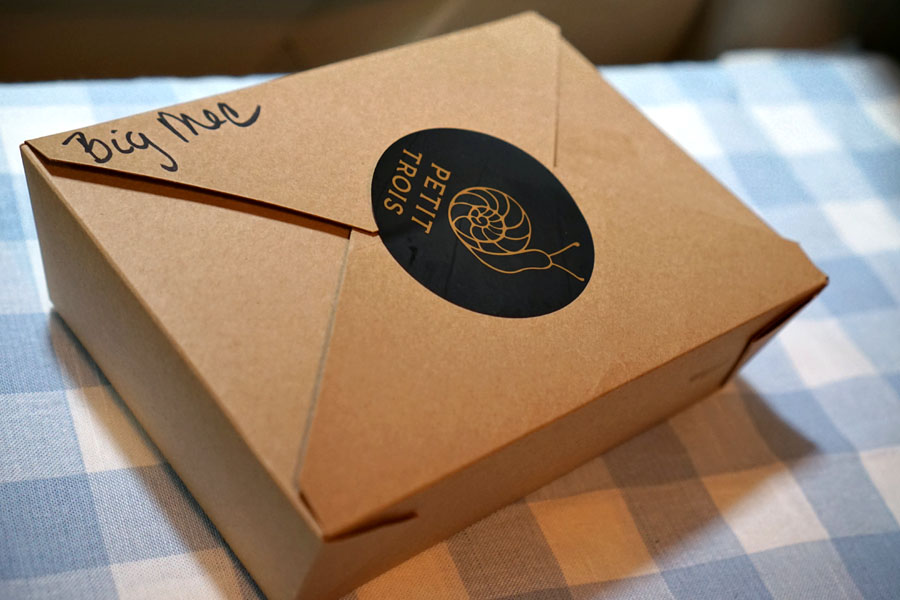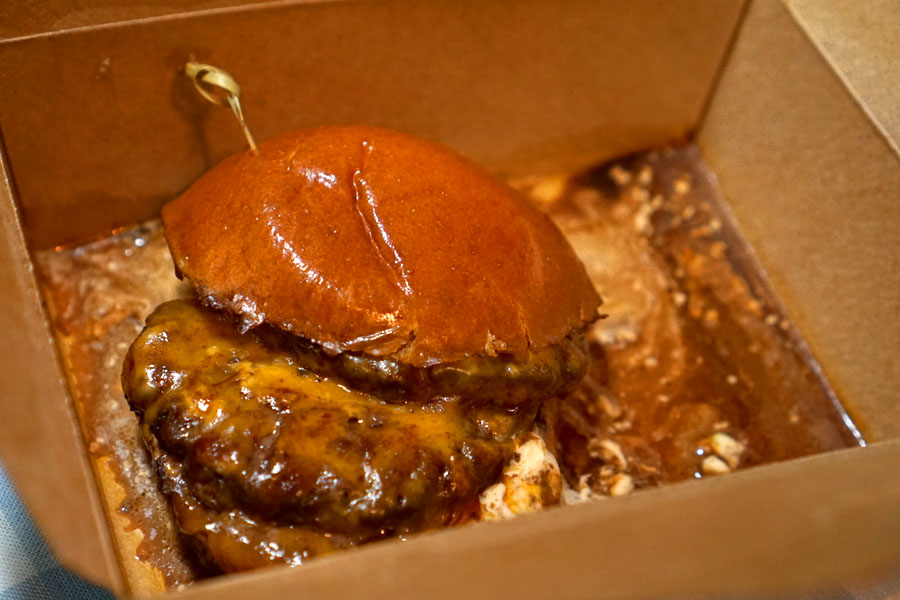 Big Mec [$25.00]
| Chef Ludo's famous double cheese burger. Freshly ground short rib & skirt steak blended patties. Sharp cheddar cheese, house made 1000 island dressing and bordelaise sauce.
I started with what's probably become Petit Trois' most well-known dish. If you're familiar with the Big Mec, you'll know that it's somewhat difficult to eat cleanly even under normal circumstances. Now given the photo above, and the fact that I was in the backseat of my car eating out of a cardboard box, I didn't even attempt to use my hands and went straight for the fork and knife. That being said, the hamburger was pretty damn delicious. I got this pure, concentrated beefiness right up front, which was quickly joined by a cheesy companion, as well as bountiful amounts of salt and sear. Functioning as an effective counterpoint was the tangy Thousand Island, especially the pickles incorporated into the dressing. This was certainly one of the tastier burgers I've had in a while.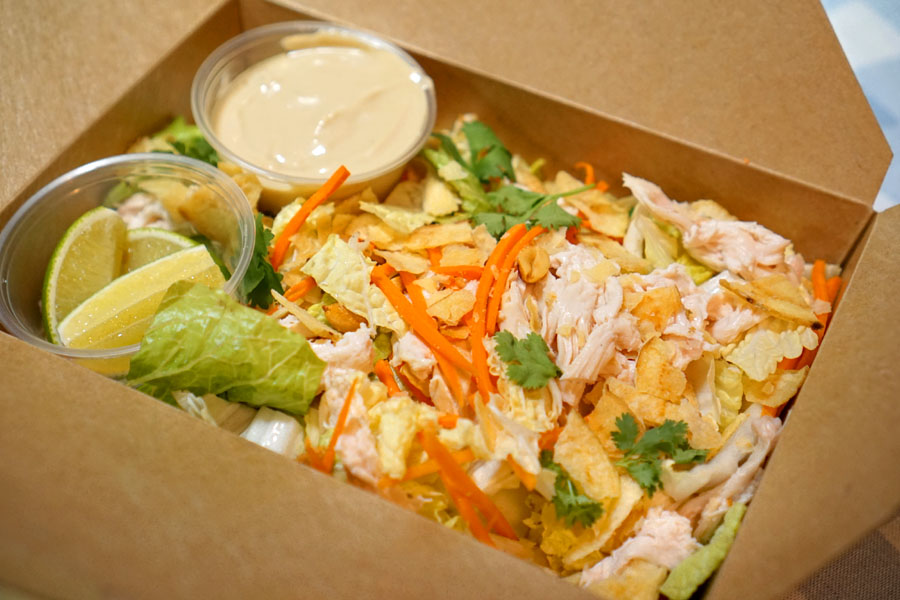 Chinese Salad [$18.00]
| Shredded iceberg and romaine lettuces, shredded Napa cabbage, shredded chicken, chive, fried peanuts, potato chips, sesame vinaigrette.
The Chinese chicken salad wasn't all that Chinese-y, but was pretty enjoyable nevertheless. I particularly appreciated the overt nuttiness and tartness of the dressing, which really bound the various elements here together. Another highlight was the crunch and salt from the peanuts, though I didn't get that much from advertised potato chips unfortunately.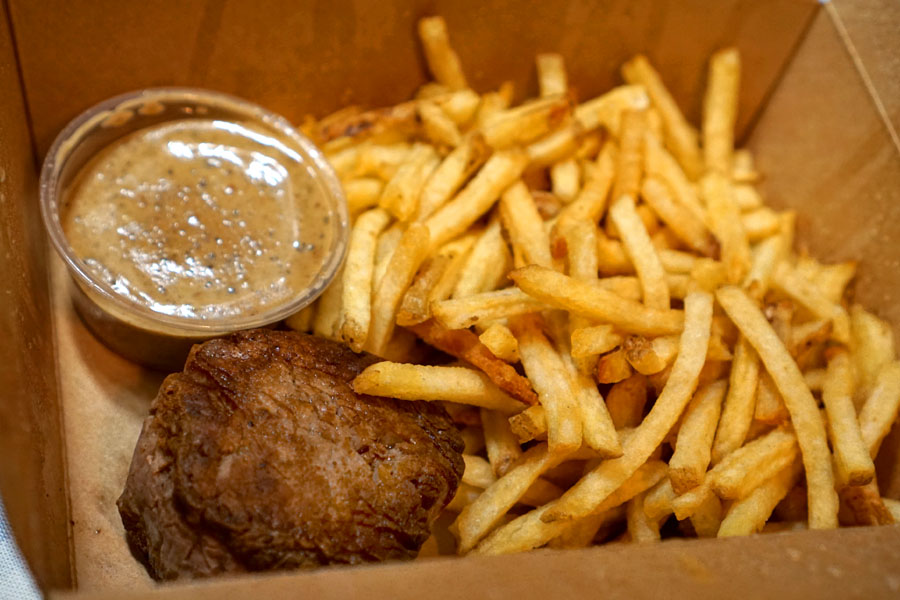 Steak Frites [$36.00]
| 6 oz Filet. Cognac pepper sauce.
Next came a solid rendition of the brasserie staple that is steak-frites. I was pleasantly surprised at how tender the beef was, and it met the mark taste-wise too, marrying its expectedly bovine flavors with a subtle peppery character. The tenderloin stood on its own merits, but also paired well with that creamy, super punchy sauce on the side. As for the fries, I'll liken them to a classier version of McDonald's'.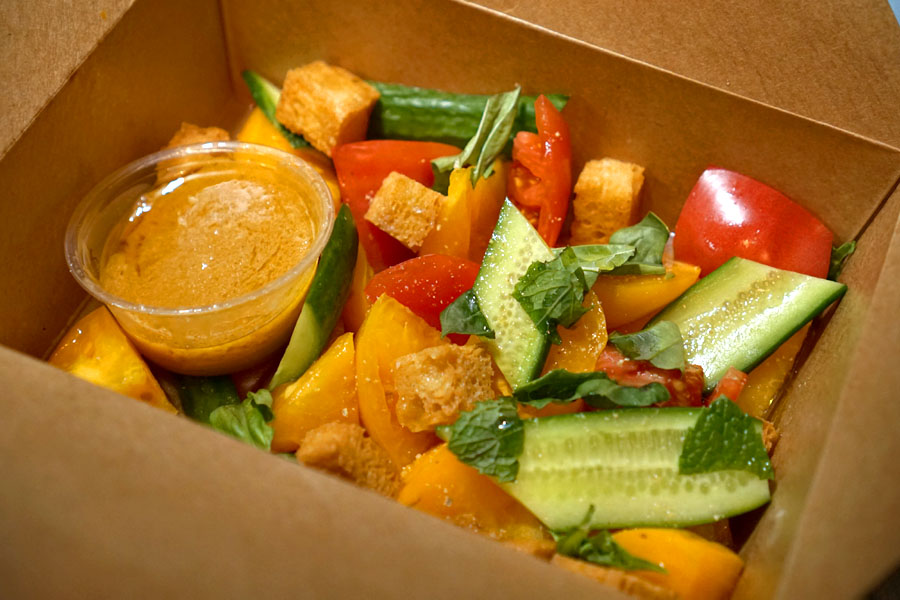 Tomato Salad [$16.00]
| Heirloom tomatoes tossed in a sherry vinaigrette with baguette croutons, basil, mint, chives, and persian cucumbers.
My second salad featured a back-and-forth between juicy chunks of tomato and bright, crisp slivers of cucumber, while just as crucial was the piquant, balsamic-y, surprisingly multifaceted dressing. Croutons, meanwhile, were super crunchy, and I definitely appreciated the aromatics from the basil, too.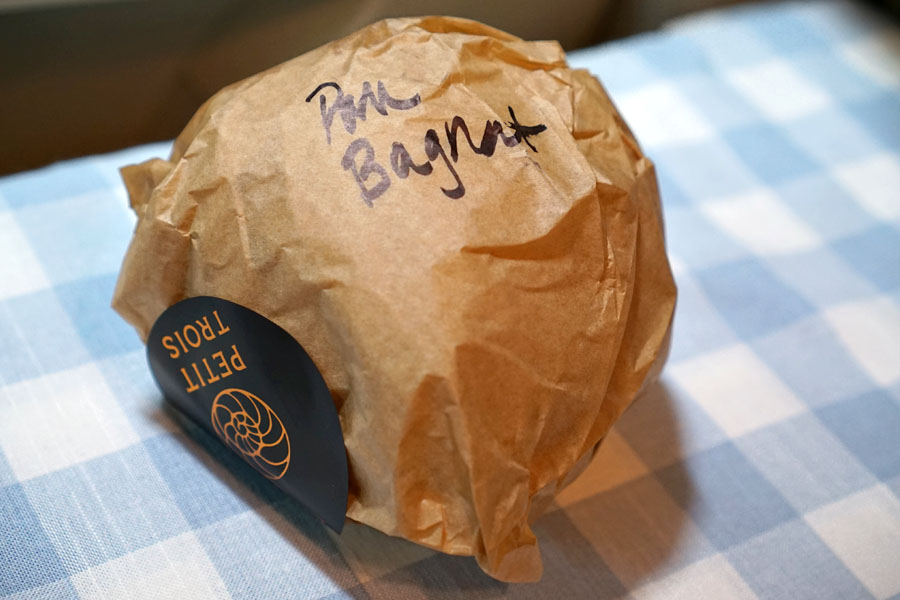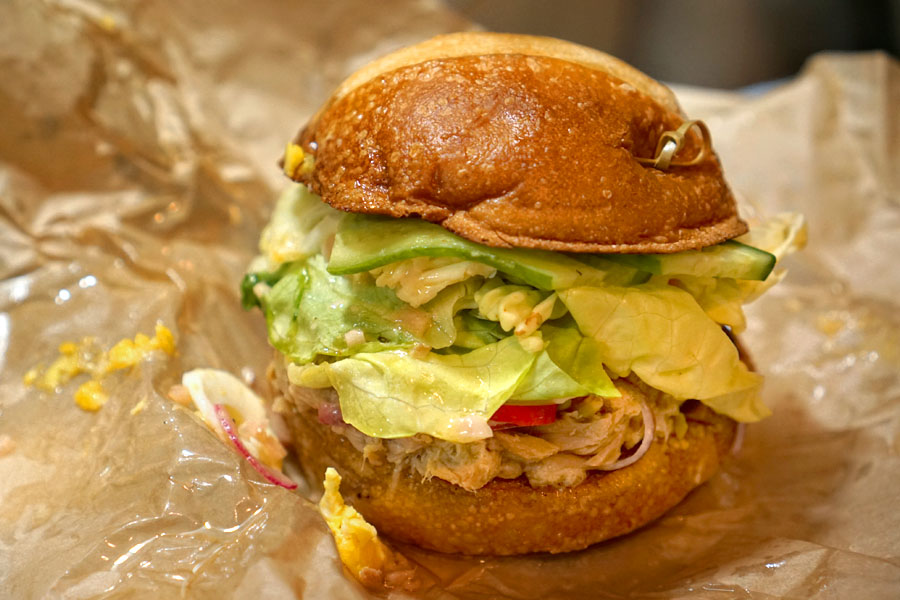 Pan Bagnat [$19.00]
| tuna in olive oil, hard boiled egg, tomato, fennel, fava beans, bell peppers, niçoise olives, mustard vinaigrette, ciabatta
Rounding things out was the pan bagnat, which started out being a lunch-only item at the restaurant. This was actually my first time having the sandwich, and I was pretty impressed. The hero here was that wonderfully flaky, full-flavored tuna, which just meshed effortlessly with the crumbles of hard-boiled egg. Red onion slivers offered up a zesty contrast, while the veggies, olives, and mustard-y dressing completed the package. Also key was the bread, which I found subtly crisp, with a slight sweetness to it.
This was a pretty successful meal from Petit Trois, which I guess isn't too surprising given that the restaurant's casual, bistro-y fare would seem to lend itself well to COVID-19 take-out. The location in Sherman Oaks is apparently open for dine-in service, so maybe I'll check it out sometime.