Vespertine (Culver City, CA) [3]
Vespertine Restaurant
3599 Hayden Ave, Culver City, CA 90232
323.320.4023
www.vespertine.la
Sun 07/05/2020, 07:35p-10:30p
If you've been keeping up with my web site during this coronavirus crisis, you'll likely know that I've already posted about Vespertine twice. So what keeps me coming back? Well as I've said before, I think that the restaurant offers some of the most interesting, thematic takeout menus available in all of Los Angeles. My
first visit
featured a Southern motif, while the
second
was a tribute to The French Laundry. Now, Jordan Kahn has switched things up to a Cuban-inspired menu dedicated to his grandparents. Remember, the Chef grew up in a Cuban-American family in Georgia, and his grandmother's cooking helped get him started on the path to a culinary career.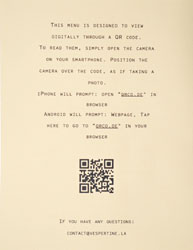 Tonight's meal was priced at $65 per person (minimum two people), plus a mandatory 20% service charge and 10.25% tax. The menu cards included in previous dinners were replaced with what's pictured above. The intent was to read the QR code using your phone, which would then take you to
this web site
(now updated to reflect a different menu) containing the digital cards. Click for a larger version.












































For your convenience, I've included all 45 cards from Kahn's "Abuela's Recipes" menu for your reference. There's quite a bit of useful information contained within. Click for larger versions.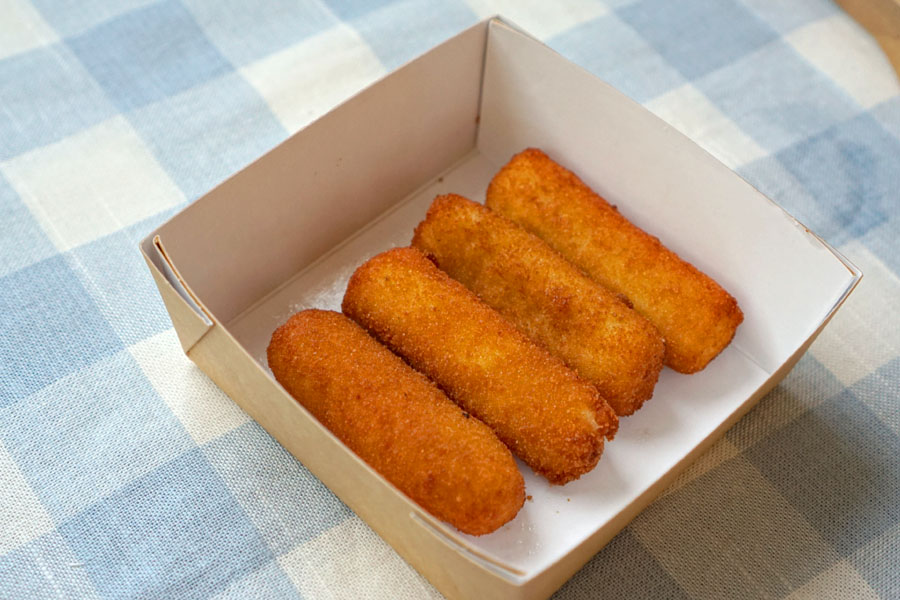 1: Croquetas de Jamón
We began with ubiquitous Cuban-style croquettes. They featured creamy, "hammy" interiors, though I would've liked them crispier on the outside.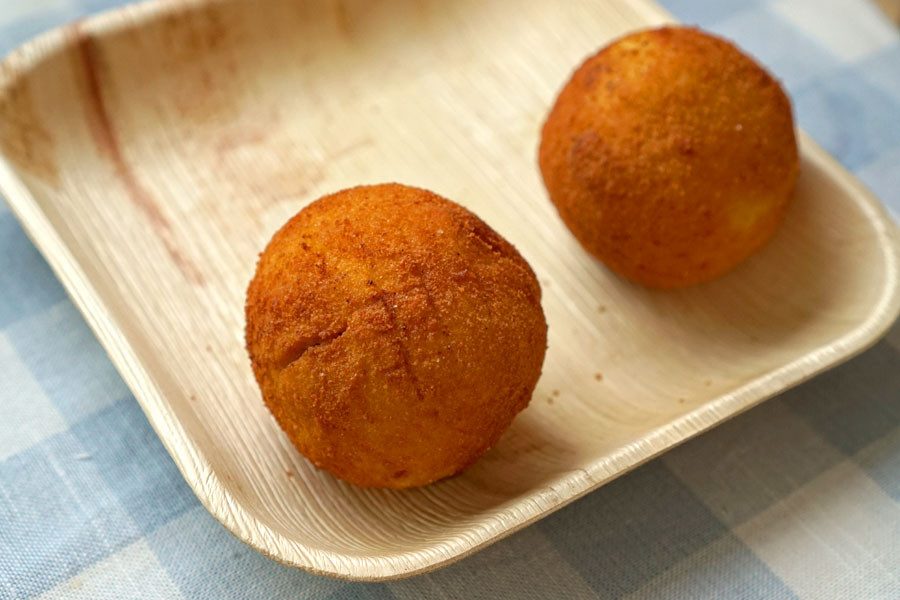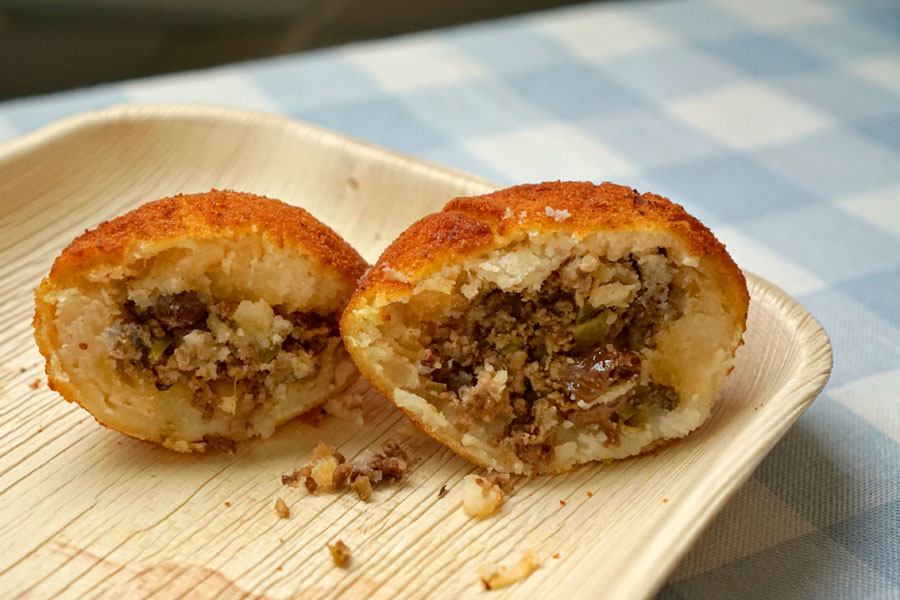 2: Papas Rellenas with Picadillo
Speaking of ubiquitous croquettes, here we have well-fried spheres of mashed potato, stuffed with ground beef. The meat was aggressively seasoned, but a touch drier than I prefer, while the potato worked to effectively moderate the assertive flavors present.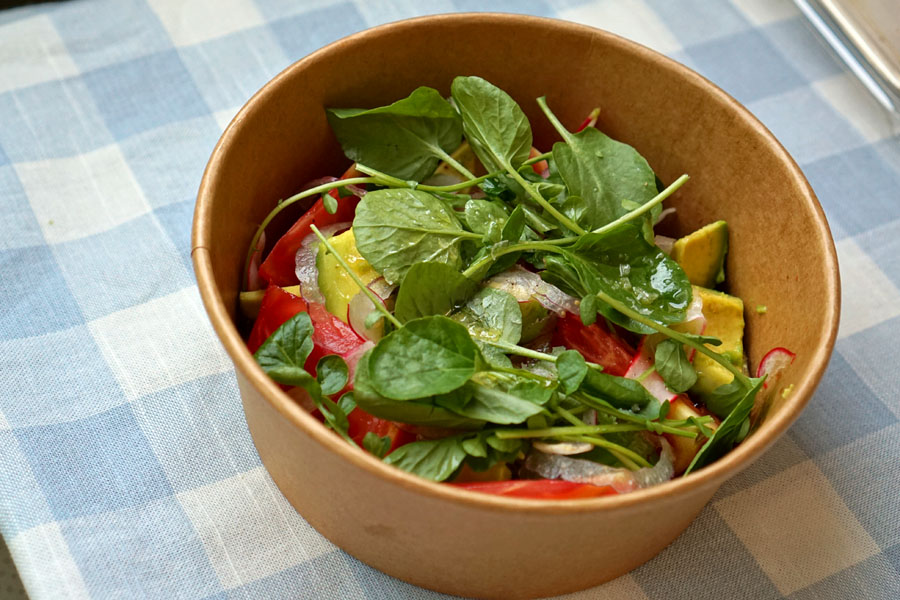 3: Ensalada de Aguacate
The avocado salad was a surprise standout. I was pretty smitten by the back-and-forth between those rich, luscious slices of Hass avocado and the tart, juicy cuts of tomato. The greens provided a crucial offsetting bitterness, while there were these well-placed pinpricks of salt that I liked, too.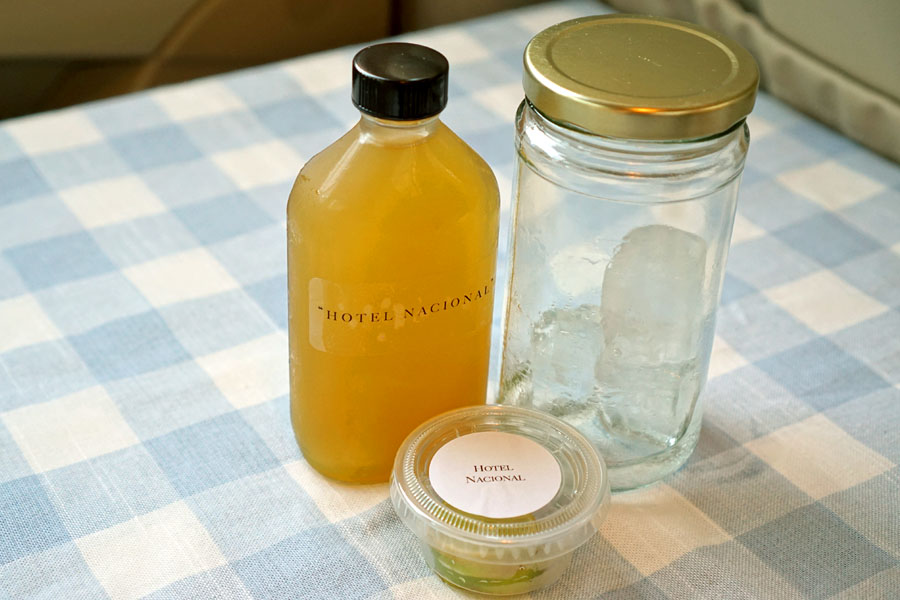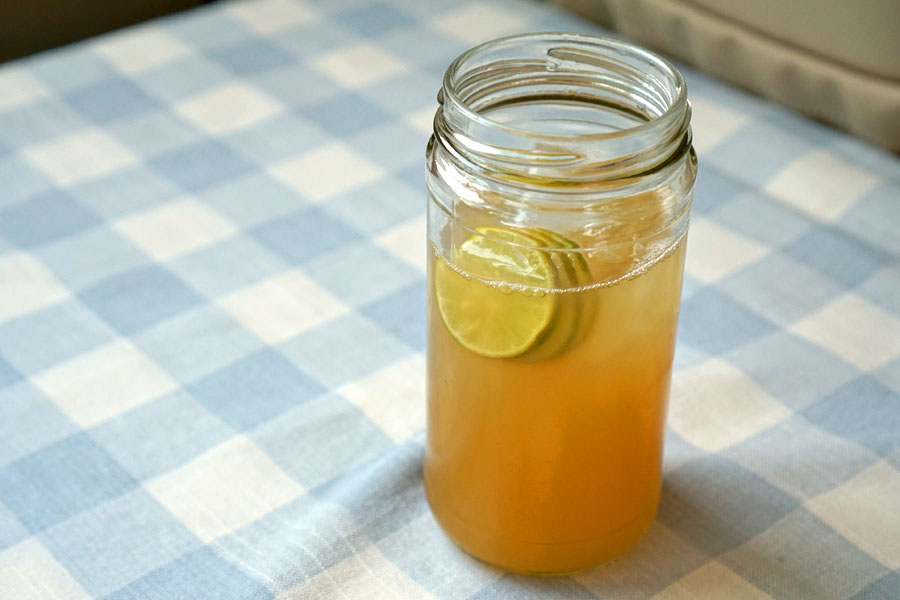 Hotel Nacional [$18.00]
| White Rum, Apricot Liqueur, Pineapple, Lime
I added on a couple cocktails to my meal, as I tend to do. Named after Havana's famed Hotel Nacional de Cuba, the first showed off a bevy of fruity, tropical, citrusy flavors backed by an almost honeyed element and a healthy dose of rum-fueled heat. Note Vespertine's inclusion of ice and a drinking vessel, which I really do appreciate.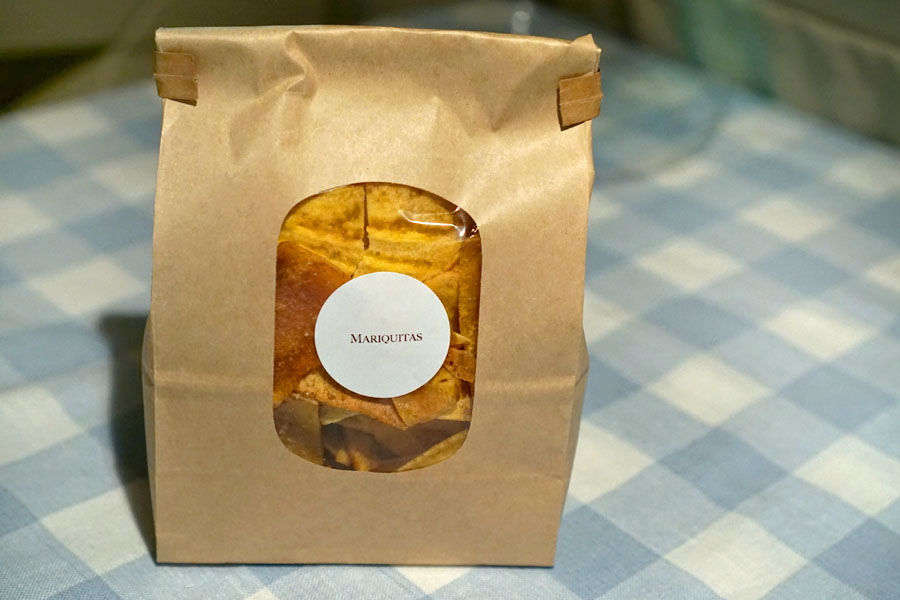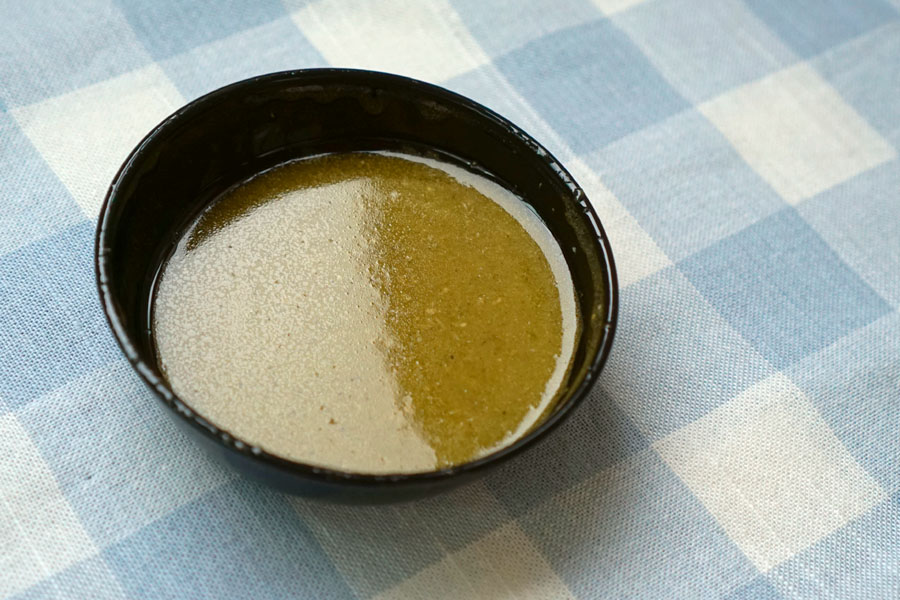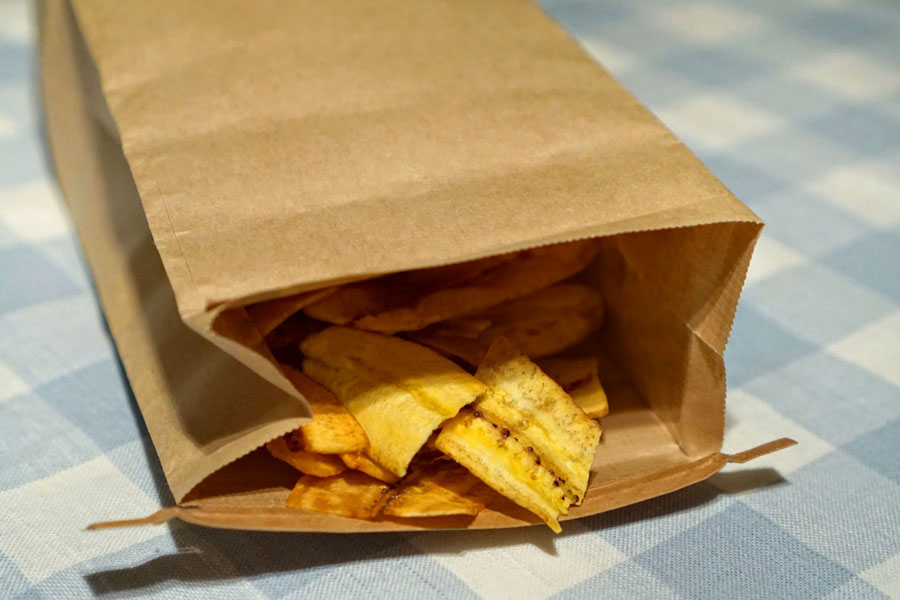 4: Mariquitas con Vinagreta
Fried green plantain chips were delightfully crunchy, demonstrating a deft balance of sweet and salty, with an almost briny finish. They were quite tasty alone, but make sure to try 'em with the tart, acidic
vinagreta de mojo
dipping sauce.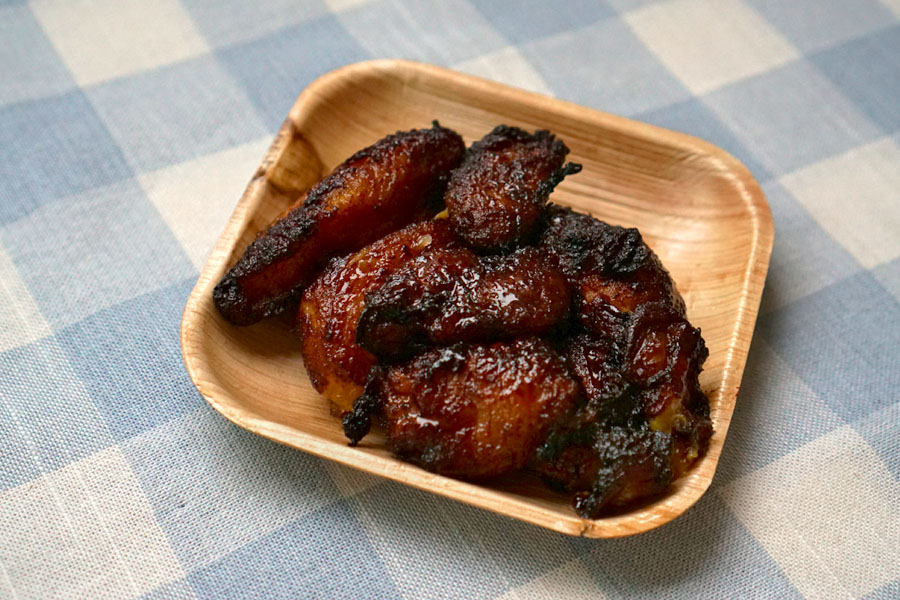 5: Platanos Maduros
Plantains took on a completely different form in our next course. Ripened fruit was fried until caramelized, giving the dish a wonderfully smoky-sugary sort of flavor profile that was almost beguiling.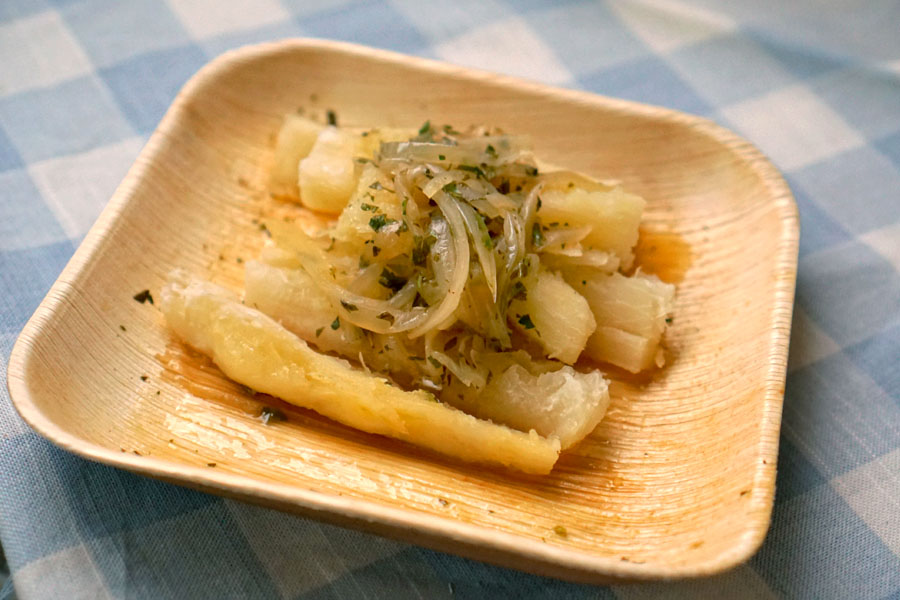 6: Yucca with Mojo
Boiled yuca (a.k.a. cassava) displayed a soft, starchy texture and an earthy sort of sweetness that was dutifully juxtaposed with acidic slivers of mojo-laced onion on top.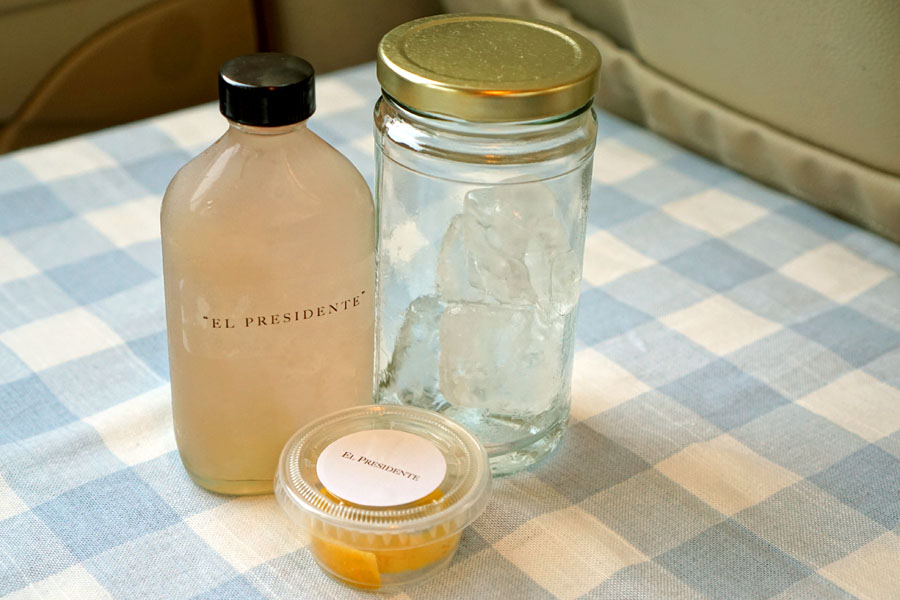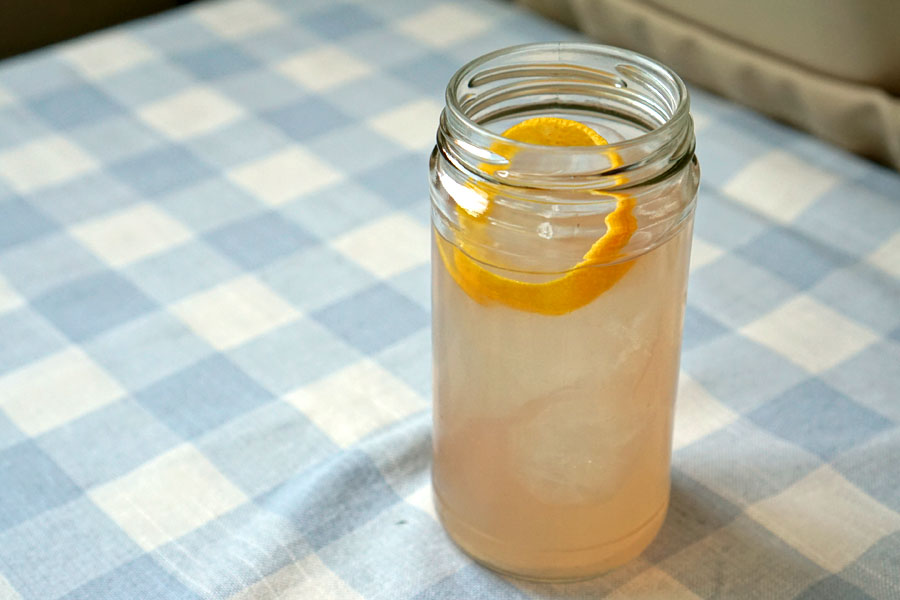 El Presidente [$18.00]
| Golden Rum, White Vermouth, Orange Curaçao, Rhubarb Syrup
Vespertine's take on the classic, Prohibition-era El Presidente cocktail substituted rhubarb syrup for the usual grenadine. This resulted in a lighter-hued drink, while flavors went in a floral, tangy direction, but with a pervasive backing of boozy astringency.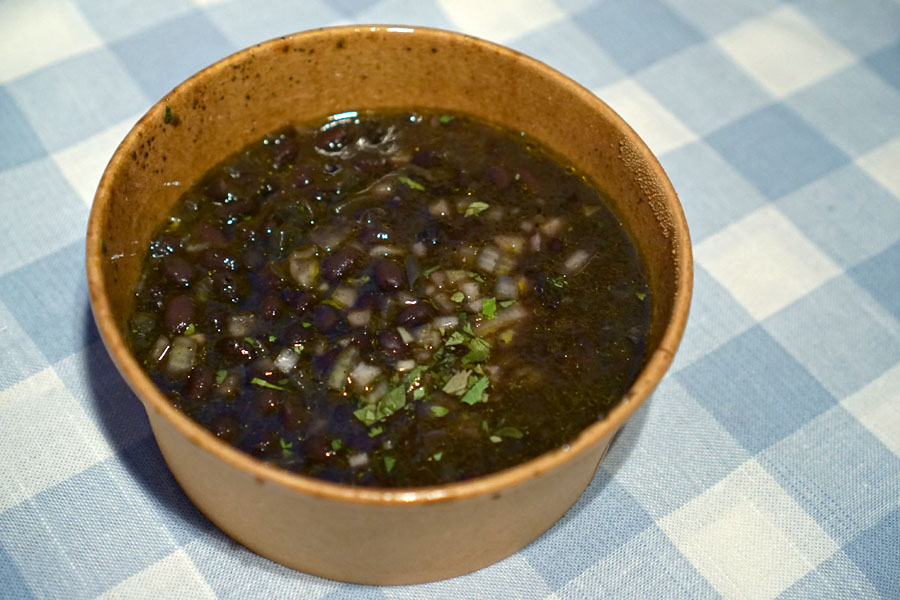 7: Potaje de Frijoles Negros
The black beans were another favorite of mine. They were super cozy, and I was a big fan of how their earthy, almost nutty nuances played with those zesty bits of onion.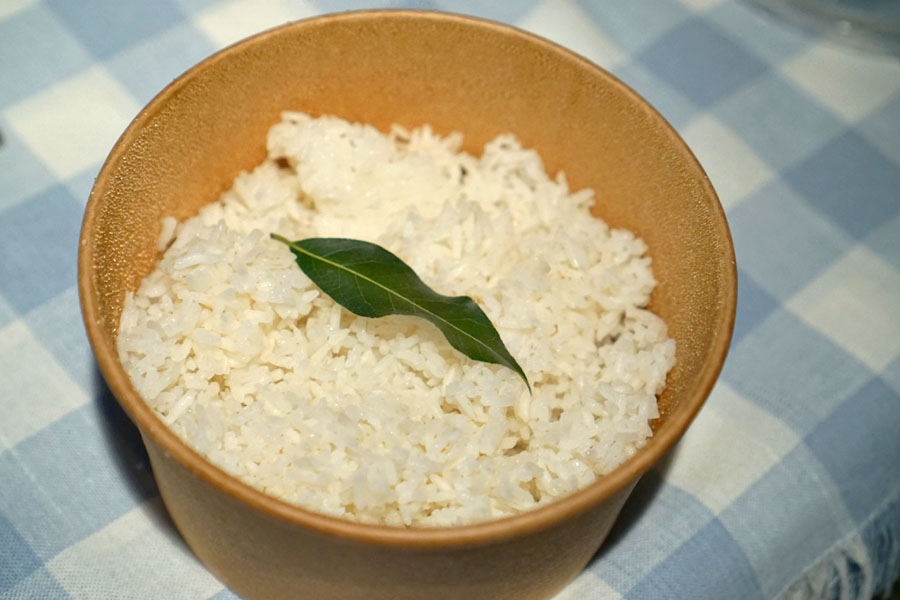 8: Arroz Blanco
Rice was beautifully textured, and worked as a natural accompaniment to the beans above and the meat dishes to follow.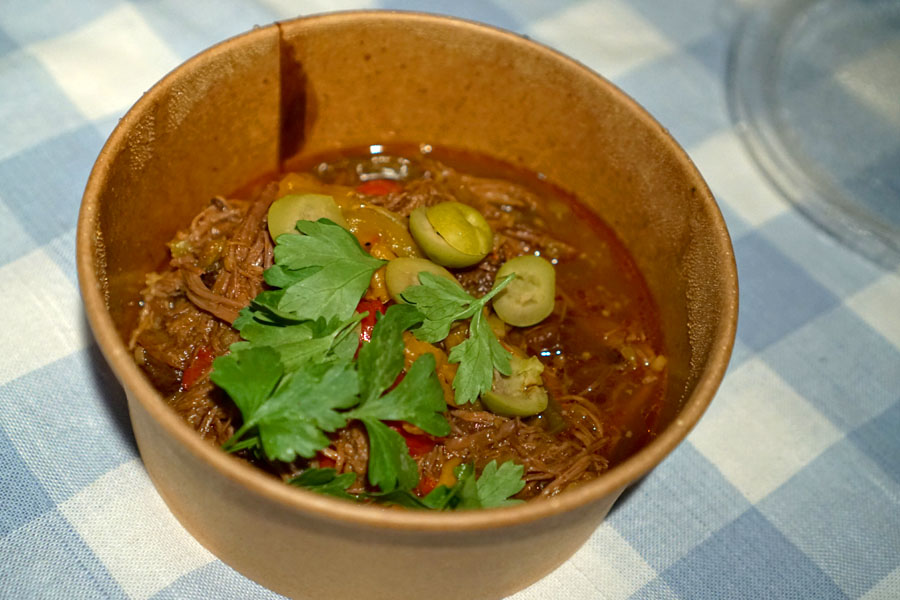 9: Ropa Vieja
Here, in one of Cuba's most iconic dishes, flossy shards of long-cooked beef conveyed a meaty, almost "dried" sort of savor, along with an overarching olive-y sweetness. Great with the aforementioned rice.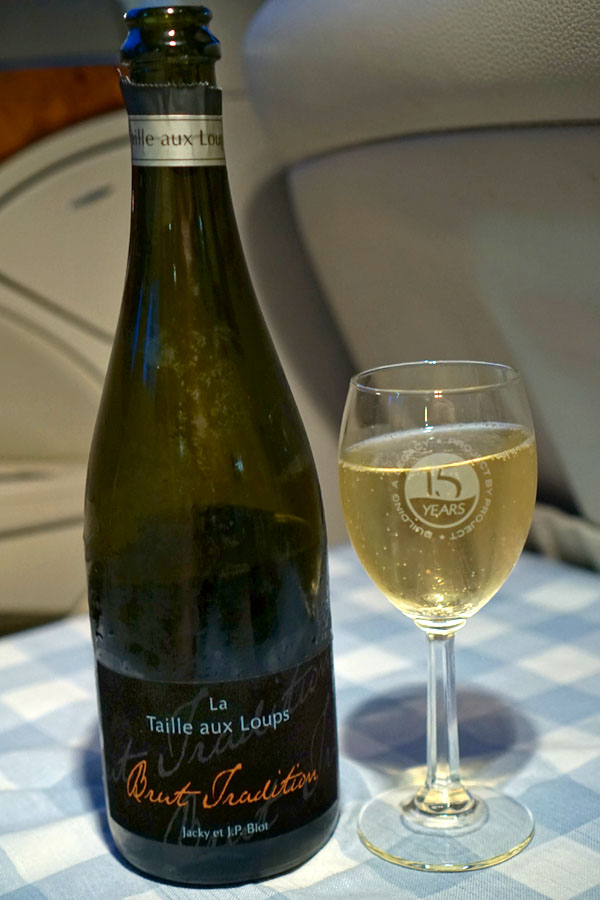 At this point we moved on to a bottle of sparkling wine: the
NV Taille aux Loups, Jacky Blot, Brut Tradition | Loire, France [$30]
. The bouquet here was quite intriguing, recalling both tart stone fruit and pie crust--it was almost reminiscent of peach cobbler. Tasting it, I got more of that stone fruit, along with a bit of a citrusy vibe, and overall the wine went in a light, fresh, easy-drinking direction.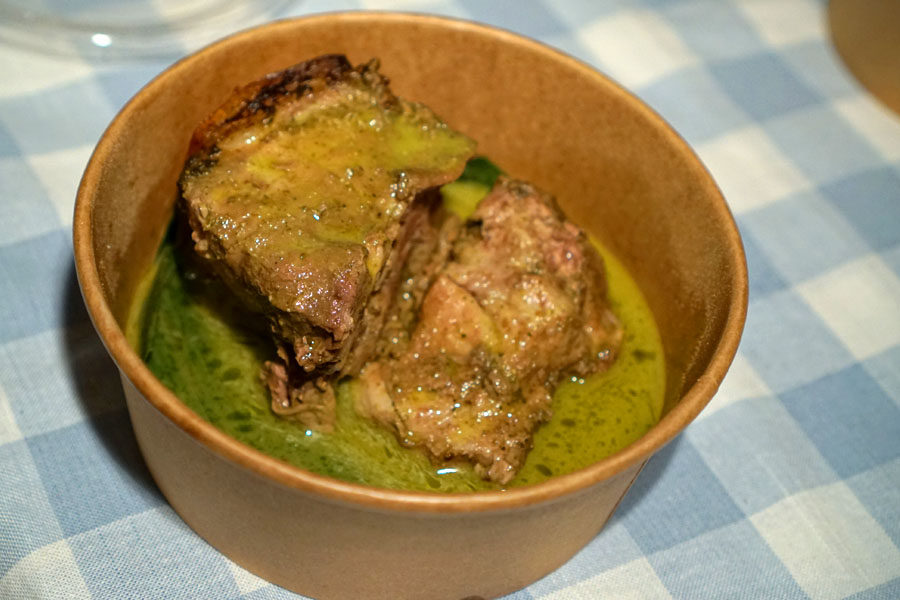 10: Lechón Asado
The roasted pork was a winner as well. It arrived flaky and fork-tender, its pure, focused porcine flavors countered by a lovely, permeating tartness in the dish. The skin, meanwhile, was as thick and crunchy and crackly as you'd want.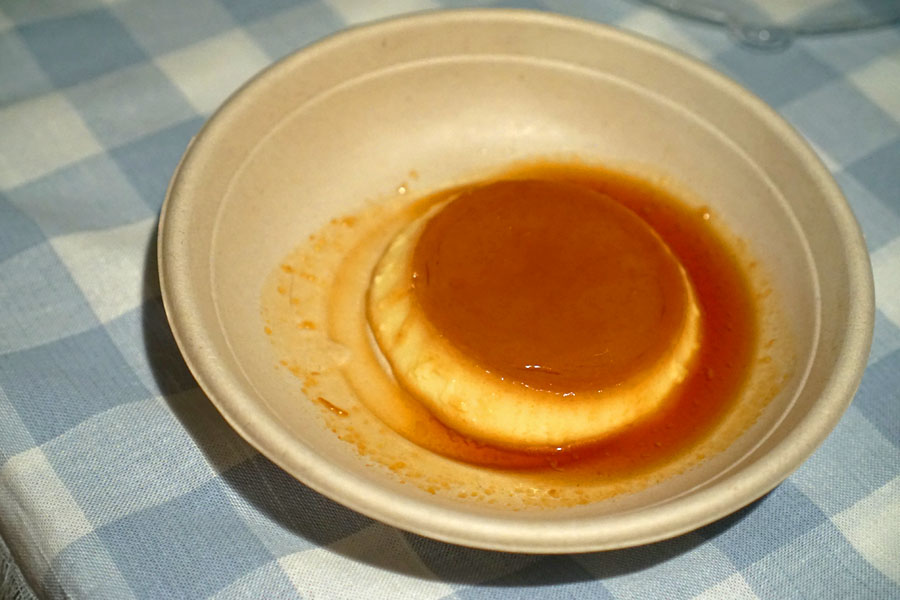 11: Flan de Leche Malteada
And now we move on to the first of three dessert courses. Kicked up a notch by the incorporation of cream cheese and malt, Kahn's crème caramel was one of the richer versions I've tried. I found it particularly "eggy" and lactic, with lots of sugary caramel to boot.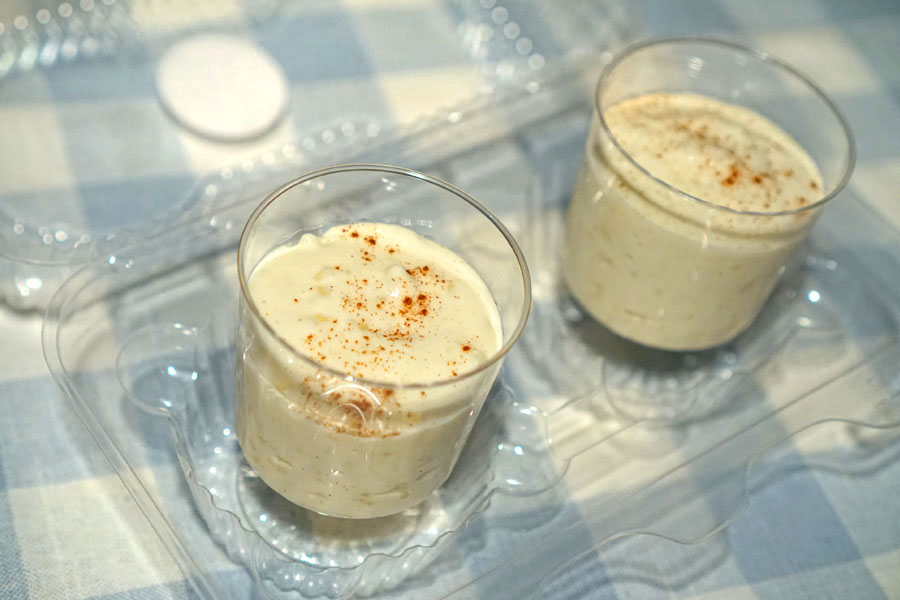 12: Arroz con Leche
The rice pudding was a favorite thanks to both its spot on creaminess as well as how elegantly its sweet-spicy flavors (cinnamon I assume) were conveyed.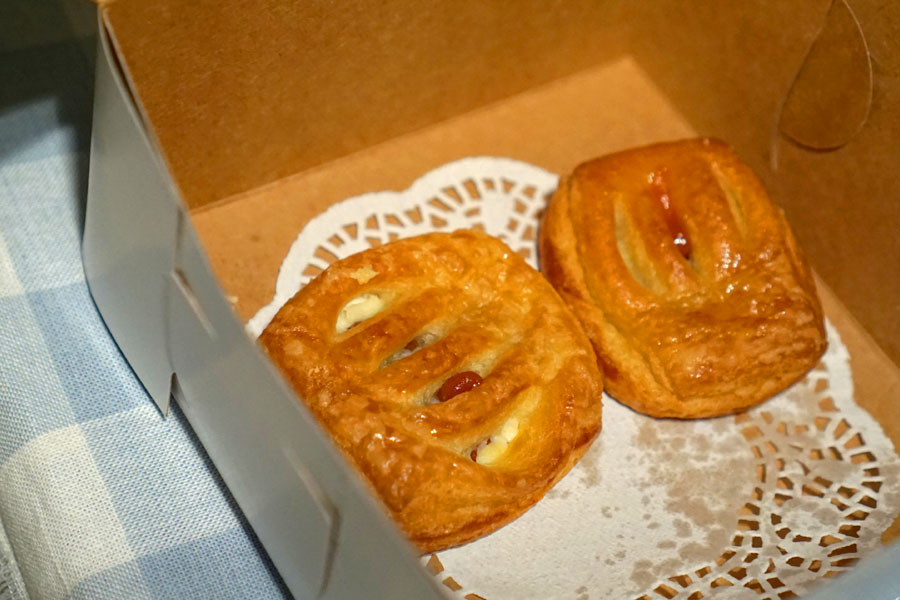 13: Pastelitos de Queso y Guayaba
Last up were these guava-cheese pastries, which were actually meant for breakfast the next day (of course I couldn't wait). They featured tart, jammy fruit married with creamy cheese, while the puff pastry sort of softened the interaction.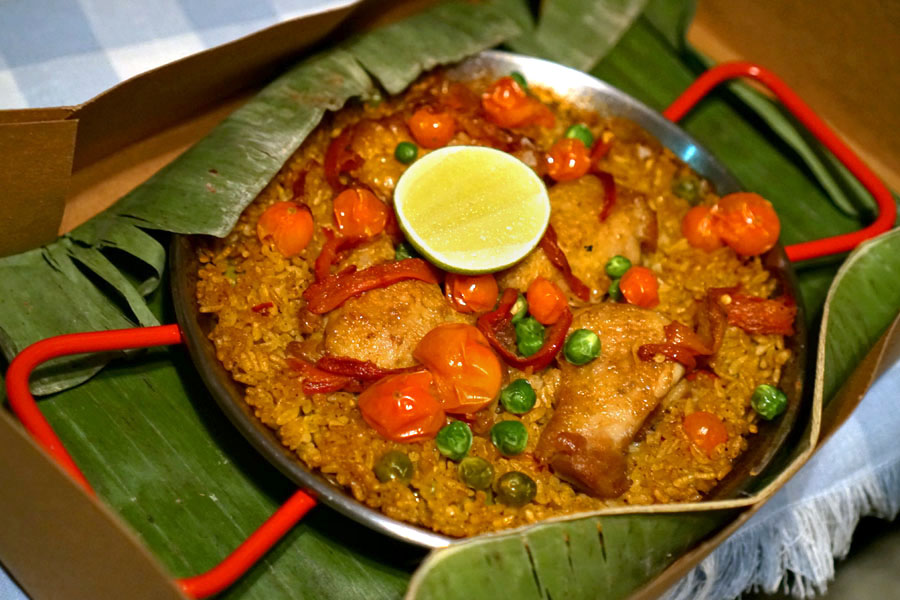 Supplement: Arroz con Pollo a la Chorrera [$29.00]
| "Bomba" Rice, Mary's Organic Chicken, Sugar Snap Peas, Beer - Baked in a traditional Steel Cazuela Española
There were two further supplementary dishes available, so I tacked them on to my order as well. Kahn's preparation of rice with chicken ate homey and comforting, as expected. The bird itself was full-flavored and well-textured, and just made sense with the annatto-tinted rice, which actually developed a decent amount of
socarrat
. Meanwhile, tomatoes provided a tart, juicy contrast that really stood out.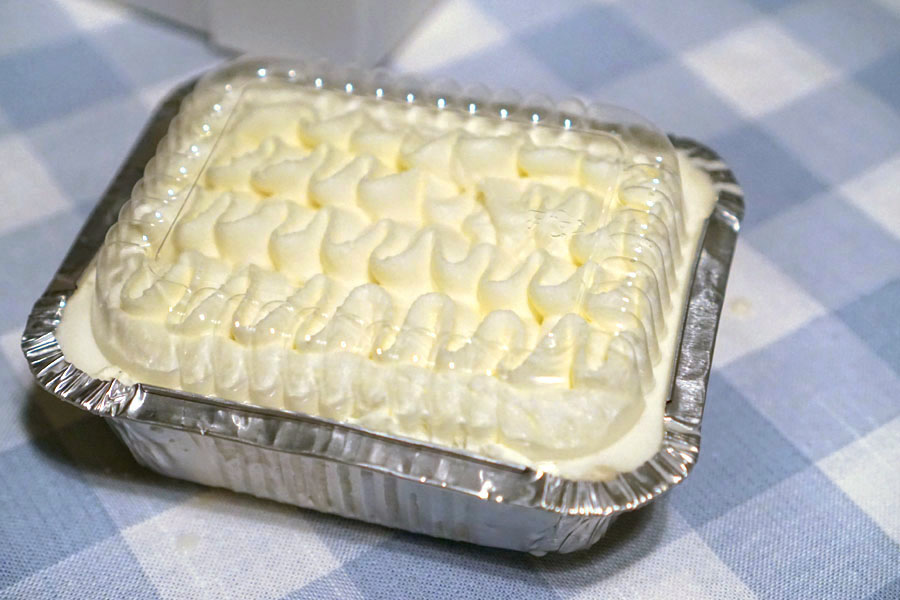 Supplement: Pastel de Tres Leches [$20.00]
| A traditional Cuban dessert made of Tahitian vanilla bean cake, soaked in 3 different types of milk, covered in soft whipped cream
I'm a sucker for tres leches cake, and the version tonight did not disappoint; in fact, it was one of the best I've had. I appreciated how saturated the vanilla sponge was. It ate lush and decadent and sweet, but despite its potency, never felt heavy or soggy.
I don't get to have Cuban food all that often, so it was a treat to enjoy it this evening. It was also nice to witness a part of Kahn's culinary background that we don't get to see under normal circumstances, especially given how personal the cuisine is to him. What would really be interesting is if he decided to open a Cuban restaurant somewhere down the line, but I wouldn't hold my breath.