Providence (Los Angeles, CA) [6]
Providence Restaurant
5955 Melrose Ave, Los Angeles, CA 90038
323.460.4170
www.providencela.com
Sat 07/18/2020, 06:35p
It's been a long spell since I posted about
Providence
, Michael Cimarusti and Donato Poto's seafood-centric, fine dining standard-bearer. The last time was all the way back in March 2014, believe it or not. Since that 2014 dinner, quite a bit has happened. Cimarusti extensively remodeled Providence, and opened (March 2016) and closed (January 2019) a retail shop called Cape Seafood and Provisions. The Chef also debuted Il Pesce Cucina at Eataly and Best Girl at Downtown's Ace Hotel (replacing LA Chapter), both in October 2017. This was followed in 2019 by a "Best Chef: West" win from James Beard (he'd been
at least
a semifinalist every year since 2008!), and perhaps more importantly, the receipt of two stars in Michelin's inaugural California guide.
Given my years-long absence from Providence, I was planning on revisiting the place at the start of this year. Sadly, the coronavirus had different plans, and the restaurant, like many others, announced its closure on March 16th. That temporary shutter lasted for two months, and then on May 19th, Cimarusti revealed that he'd be starting his "En Voyage" series of takeout meals. First up was a "Tour de France" menu inspired by Marseilles, which was followed the next week by "A Journey to Italy," featuring cuisine from the Amalfi Coast (where Poto hails from). After that, the restaurant actually re-opened for dining in on June 17th (its 15th anniversary), but this turned out to be short-lived, as Providence closed once again at the start of July per the Governor's orders. Take-out thus resumed on July 8th with the California-inspired "Golden State" menu. I was
very
close to ordering it, but ended up getting the following week's Spain-focused meal instead.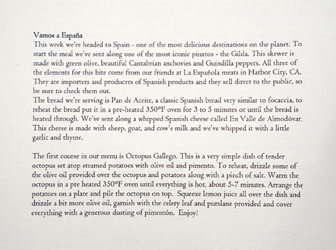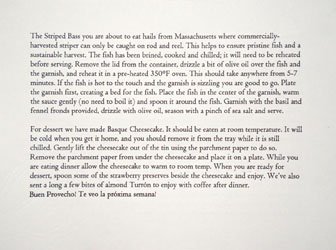 Above we see the card that came with my "Voyage to Spain" menu. The dinner was priced at $75 a head, plus 9.5% tax and an optional 20% gratuity. Do keep in mind that these meals
are not
ready-to-eat, and require finishing at home. Click for larger versions.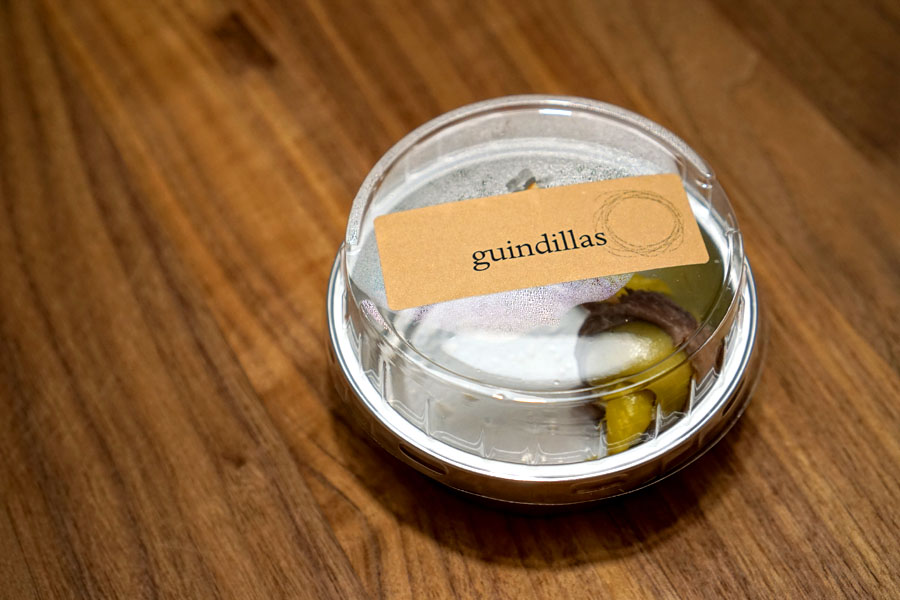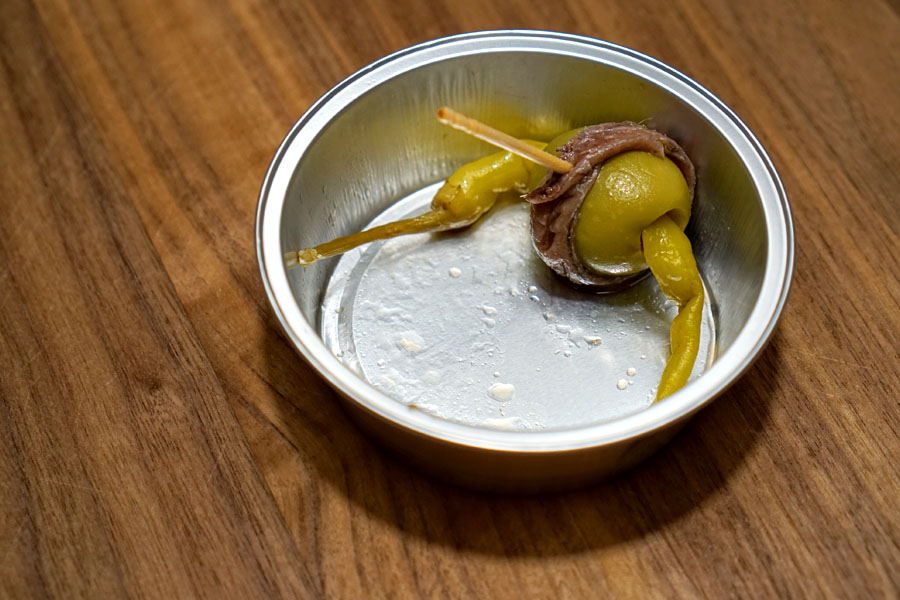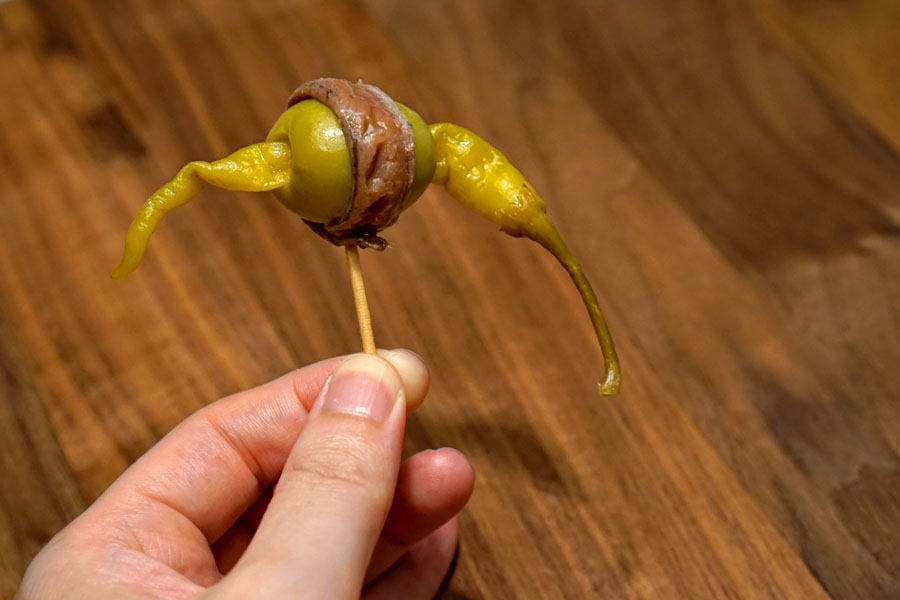 1: Guindillas
| Pickled Peppers with Olives and Anchovy
We began with one of Cimarusti's favorite pintxos: the gilda, comprised of a green Gordal olive, penetrated by a pickled guindilla pepper and encircled by Cantabrian anchovy, with all three elements sourced from La Española Meats in Harbor City. The skewer really did set the stage for the rest of the meal, as it was an aggressive bite that played the considerable brine of the anchovy against a bevy of tart, zippy flavors.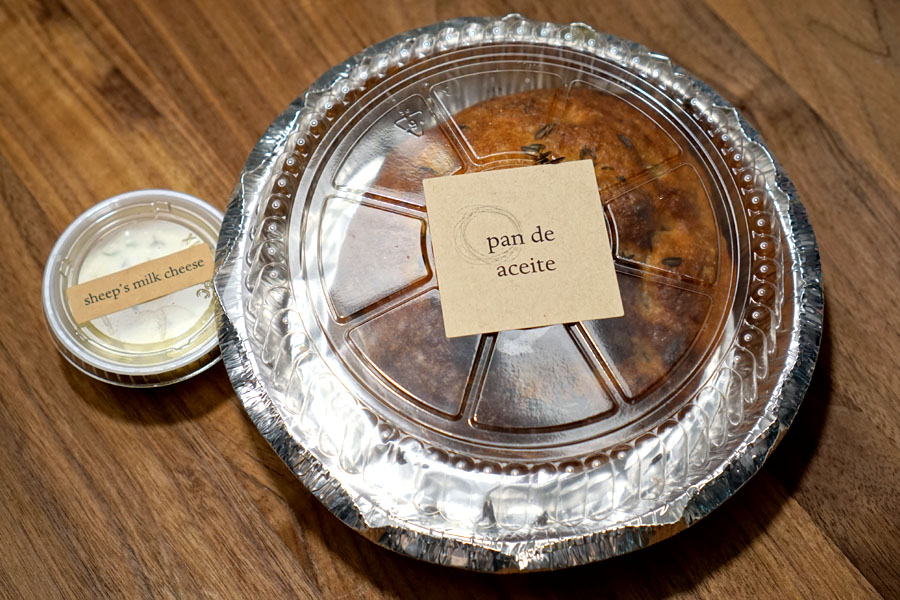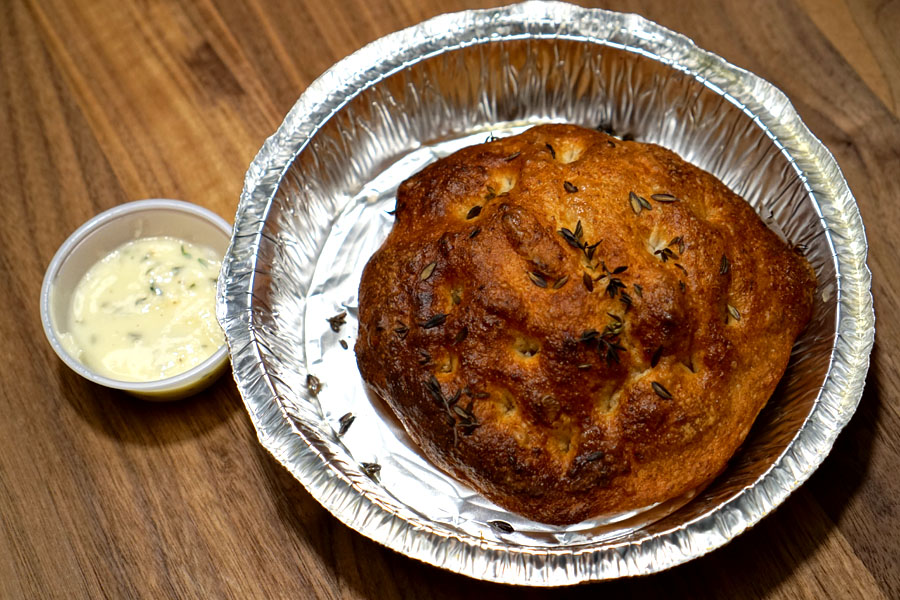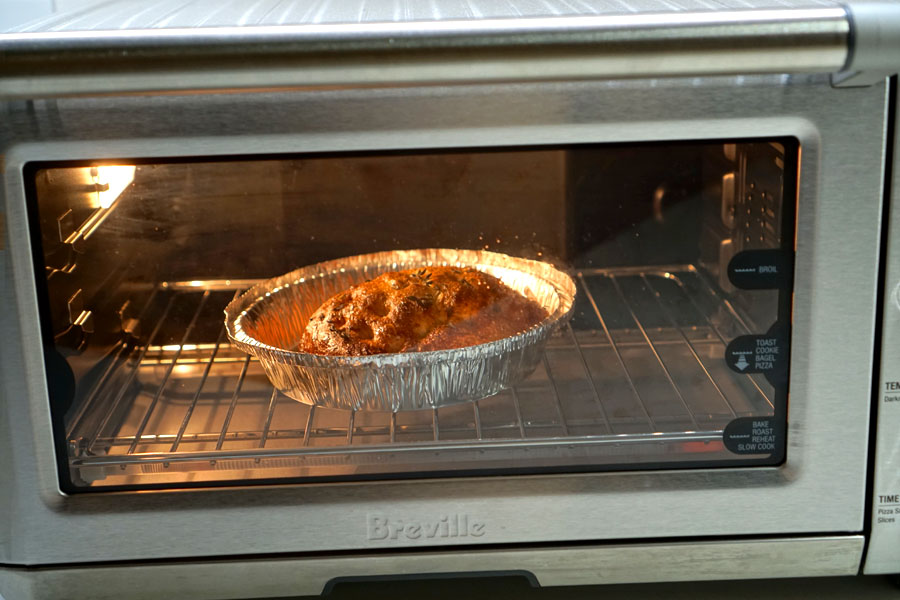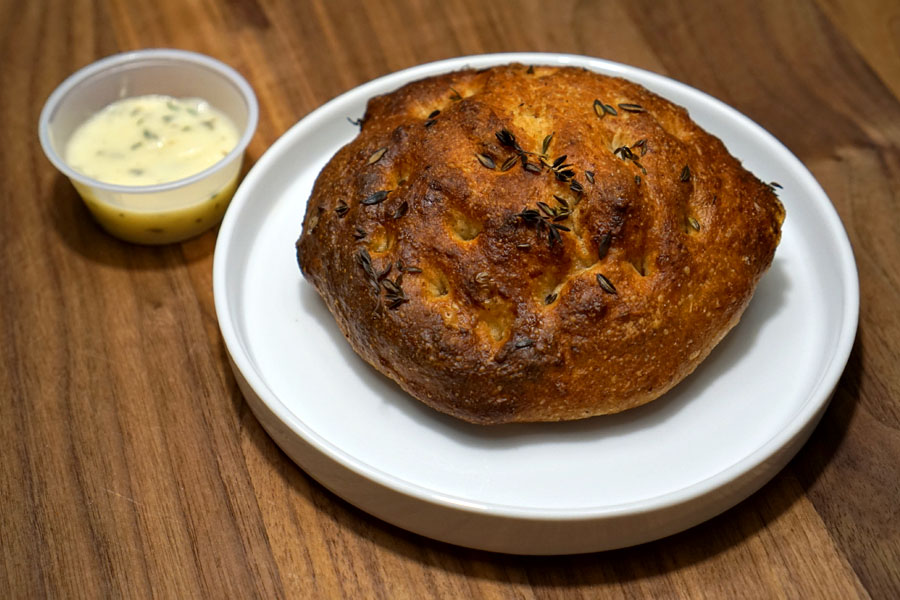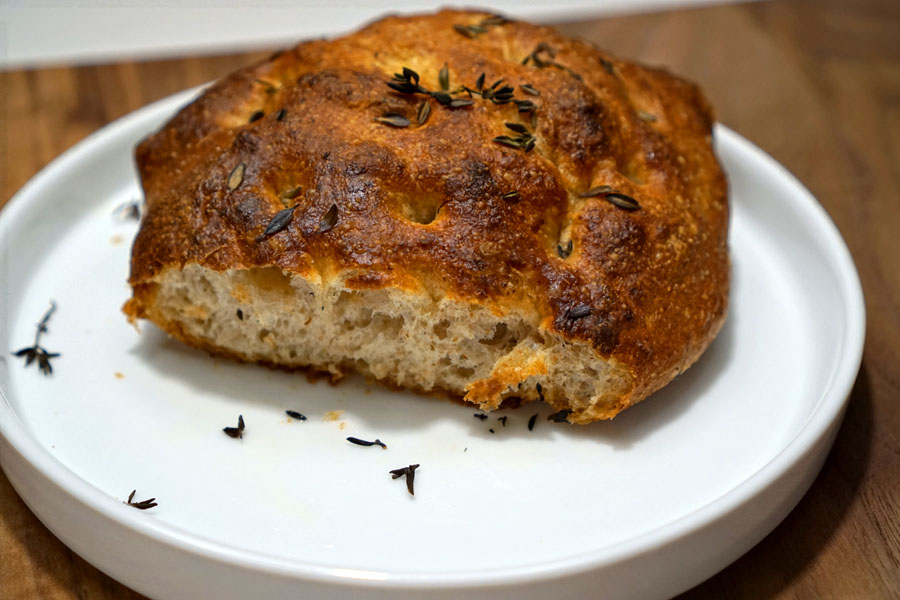 2: Pan de Aceite
| Olive Oil Bread, Whipped Sheep's Milk Cheese
The included pan de aceite was marvelous, simply one of the best pieces of bread I've had in a while thanks to its delightfully crisp crust and balance of Ricchiuti Family olive oil, herb, and astringent char flavors. Curiously, the bread's texture and oil saturation actually reminded me of the crusts of the Pizza Hut pan pizzas I often ate in my childhood! As for the included cheese, it was a cow/goat/sheep milk varietal from El Valle de Almodóvar, blended with garlic and thyme. I found it sublimely creamy, herbaceous, and a perfect pairing with the bread.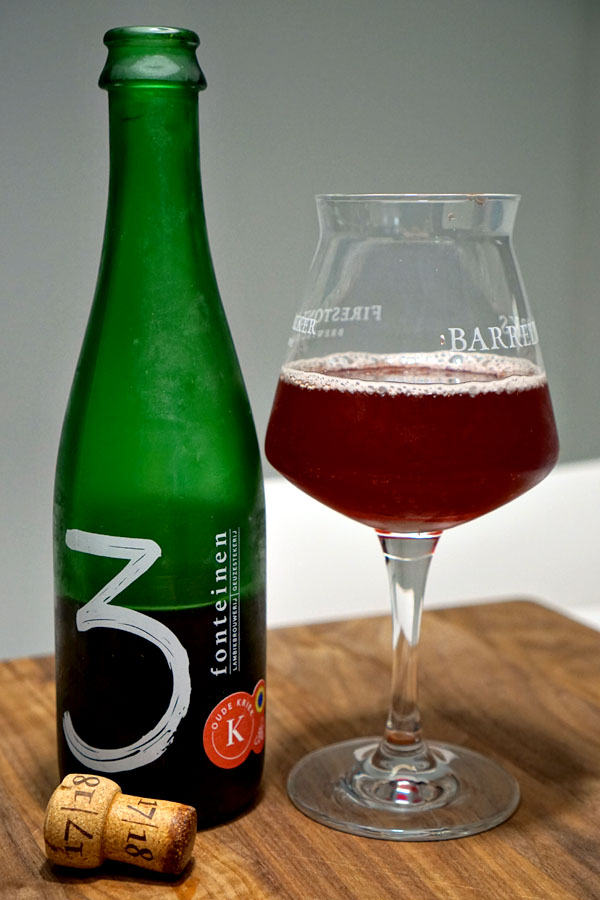 To drink, we had here a half bottle of the
2018 Drie Fonteinen Oude Kriek with Honey
, a lambic blended with honey, then macerated with whole sour cherries for nearly six months. The nose here was really nice, giving up aromas of rich, tart cherry backed by relatively subdued funk. On the palate, the beer was low in carbonation and quite smooth, with tangy cherry flavors all over the place and just a smidgen of earth. You could just make out the honey hiding underneath, and there was a distinct bitterness lingering on the finish.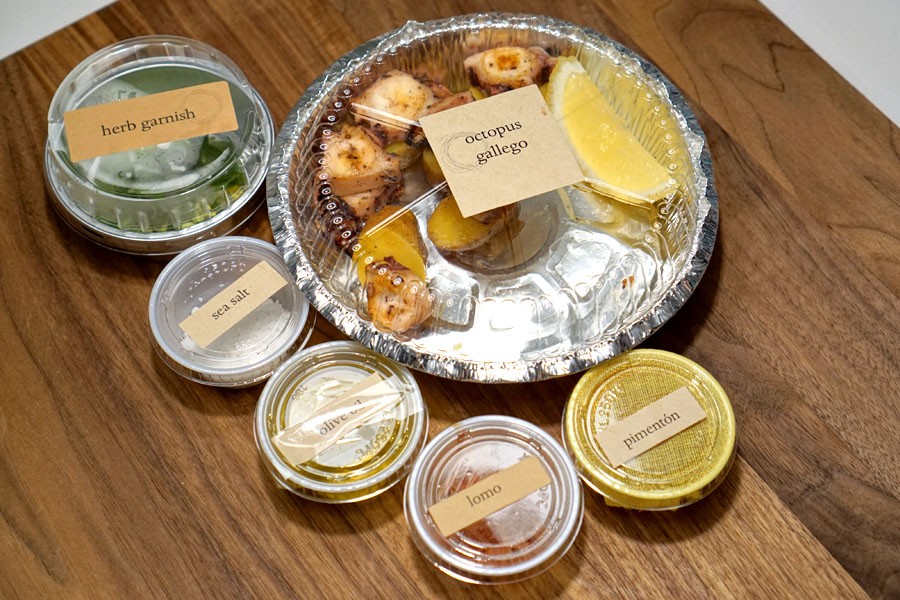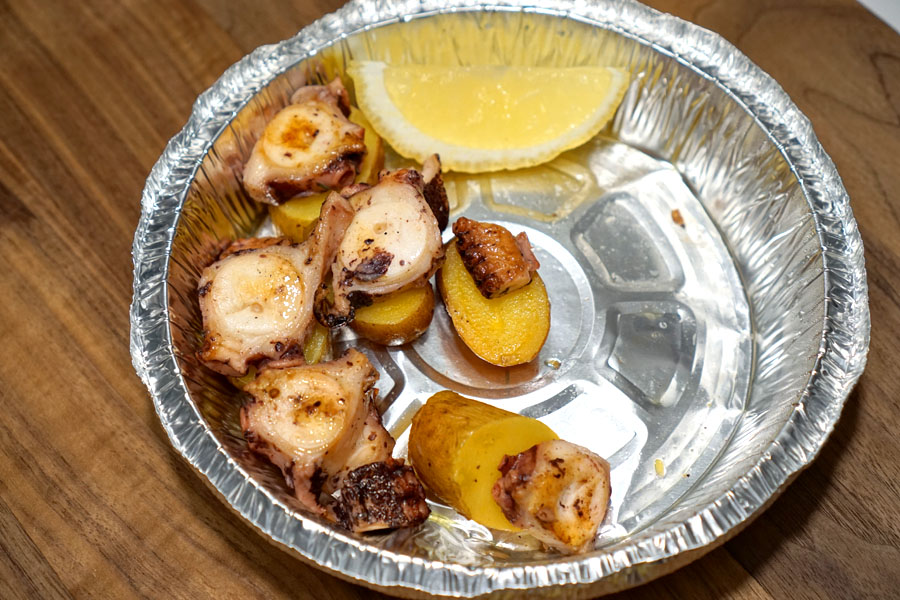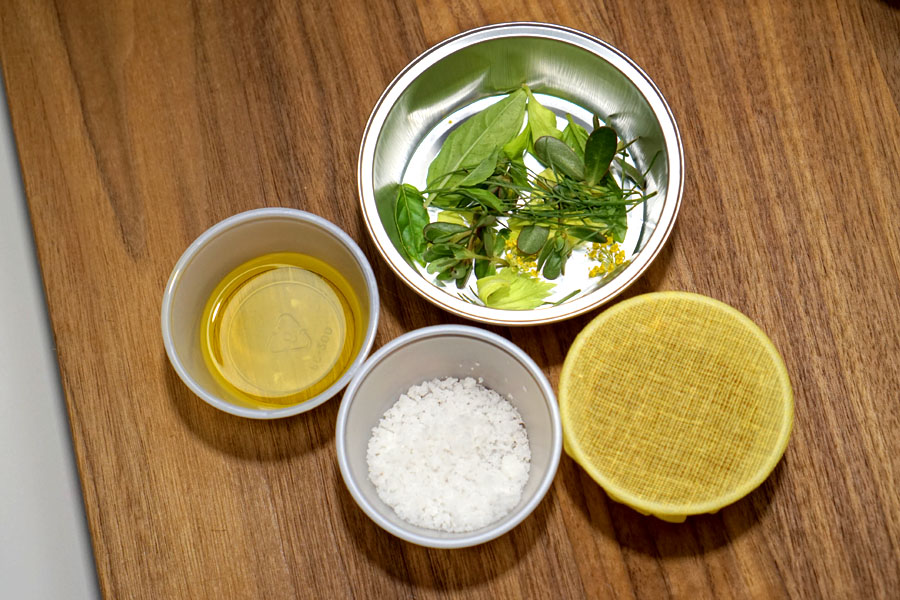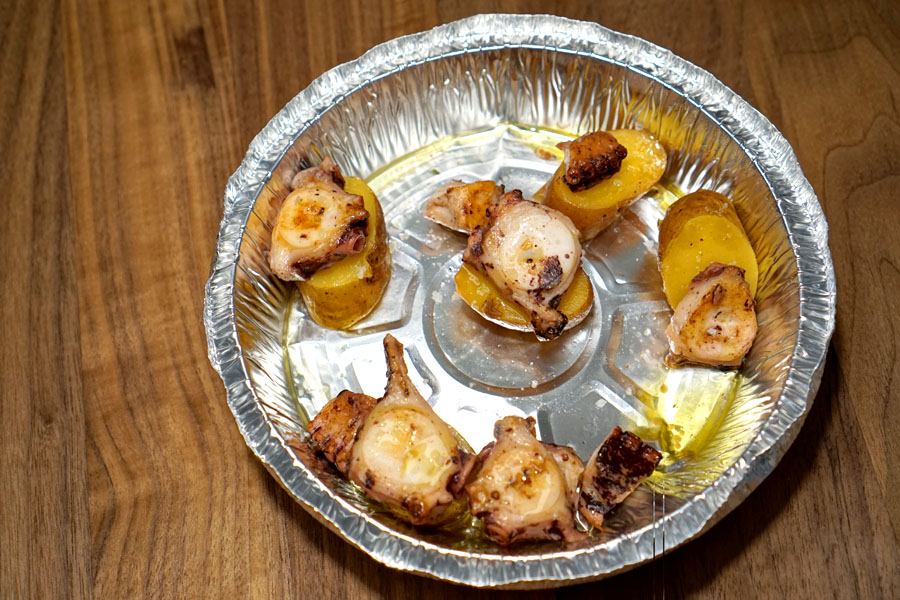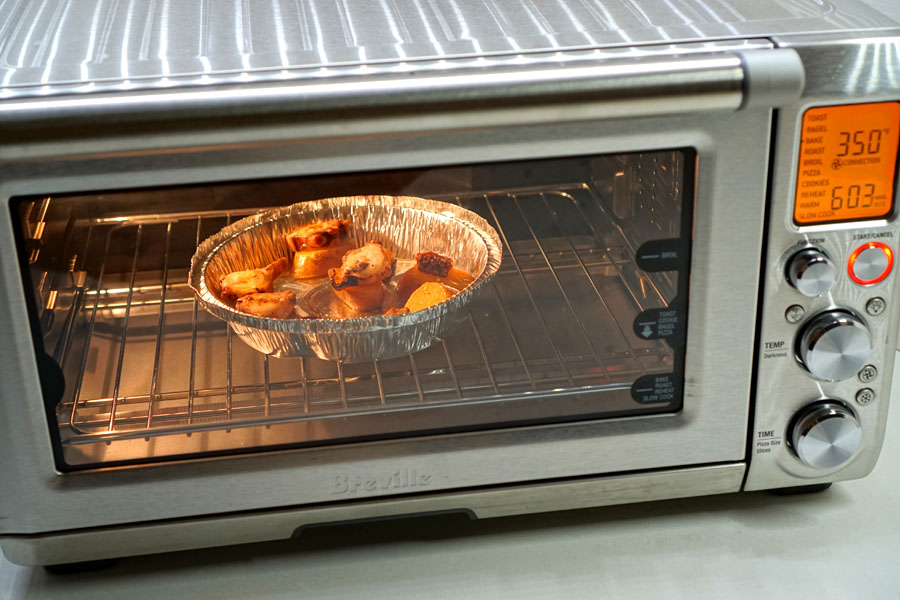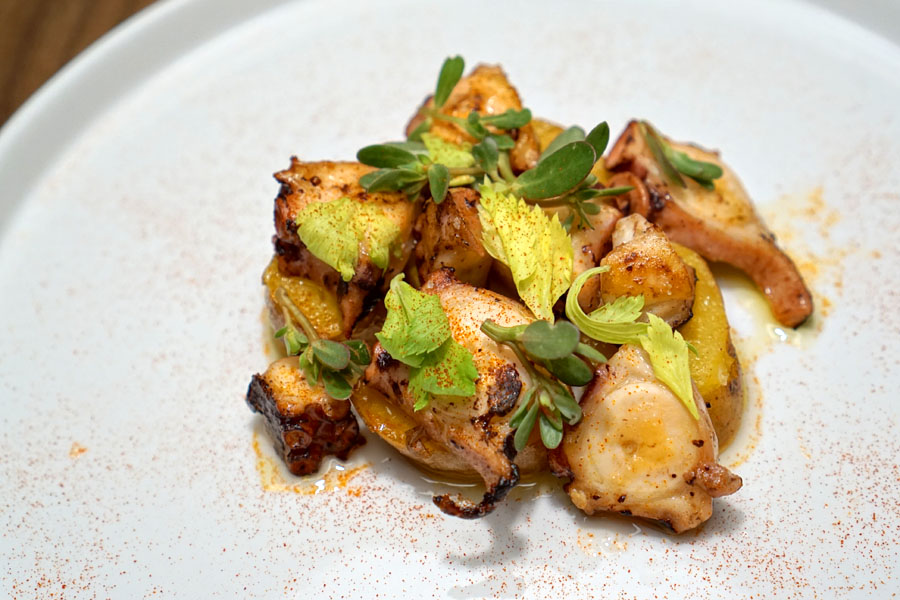 3: Octopus Gallego
| Marinated Octopus, Pimenton, Steamed Potatoes
I'm a sucker for octopus, and I was certainly not let down by this rendition of the Galician staple
pulpo a la gallega
. Wild octo from Spain was braised with water, sea salt, red wine vinegar, bay leaf, and thyme for 45 minutes, left in the broth for an hour, then sliced and seared. The result was a wonderfully tender-yet-substantial texture, with flavors that were delectably savory and briny, boosted by a touch of piquancy from a dusting of both smoky and spicy paprika. A squirt of lemon really opened up things even more, and I loved the brightness of the celery and citrusy purslane. German Butterball potatoes from Weiser Family Farms, meanwhile, served as a hearty, necessary foil.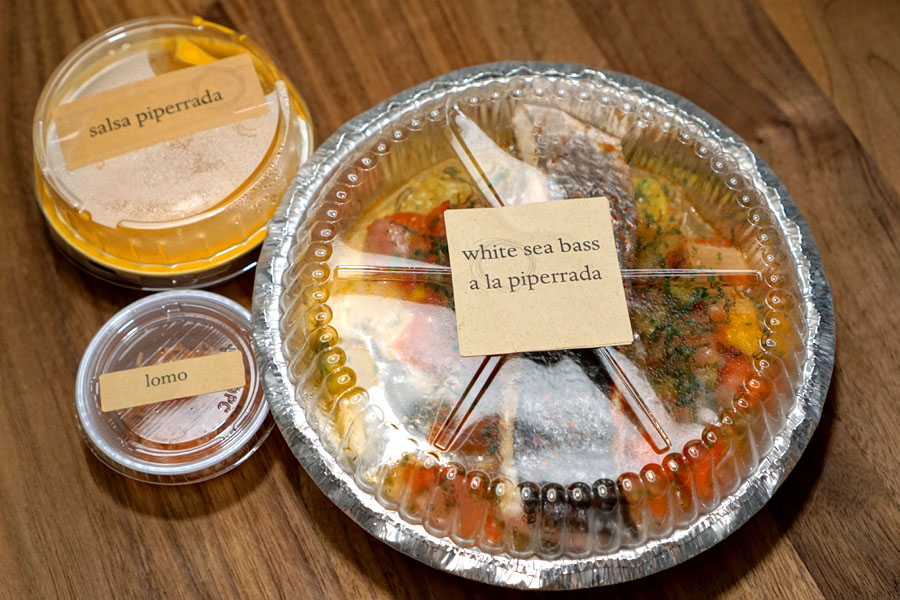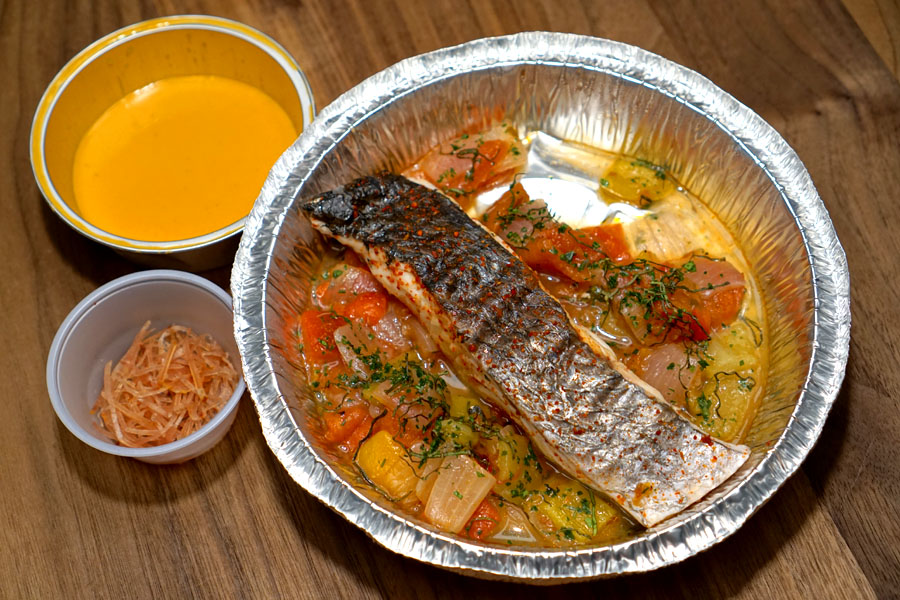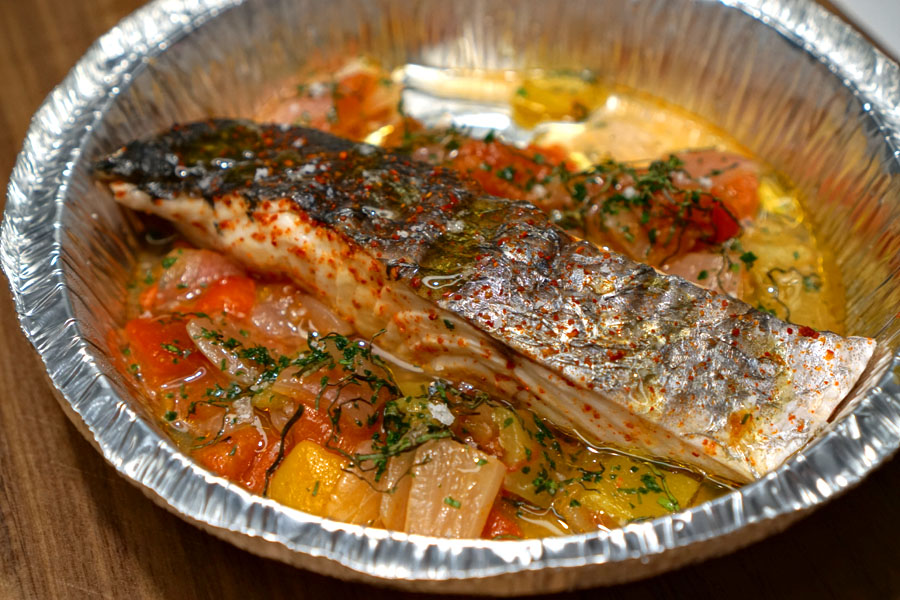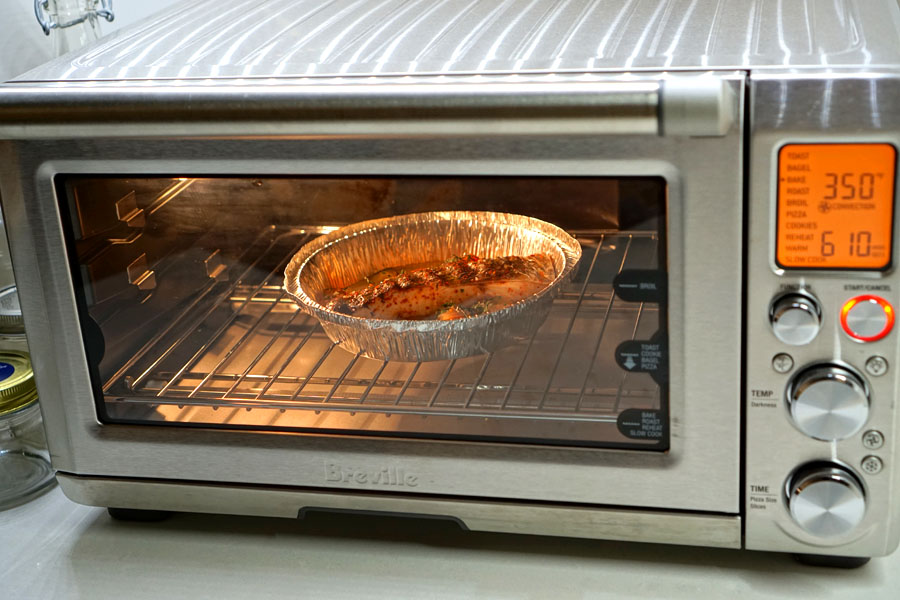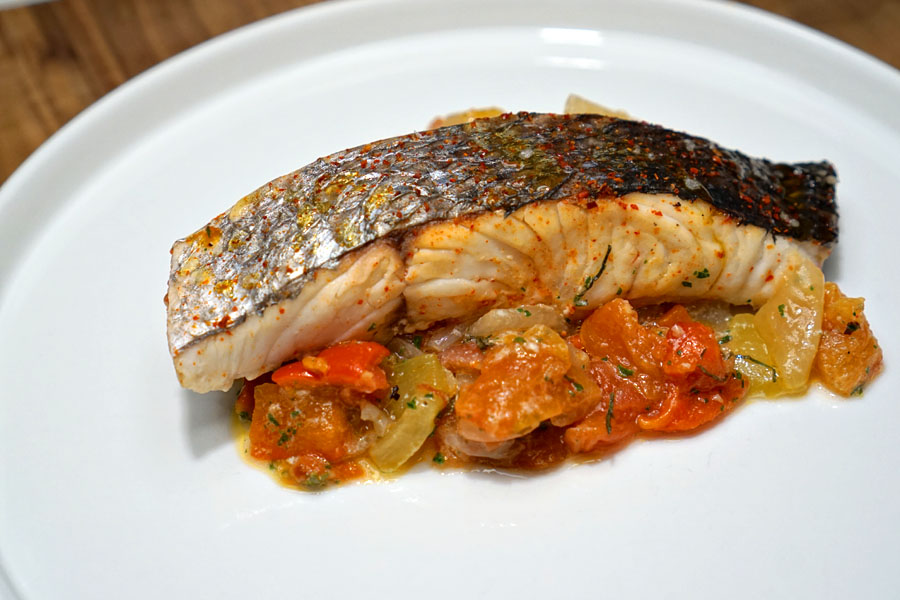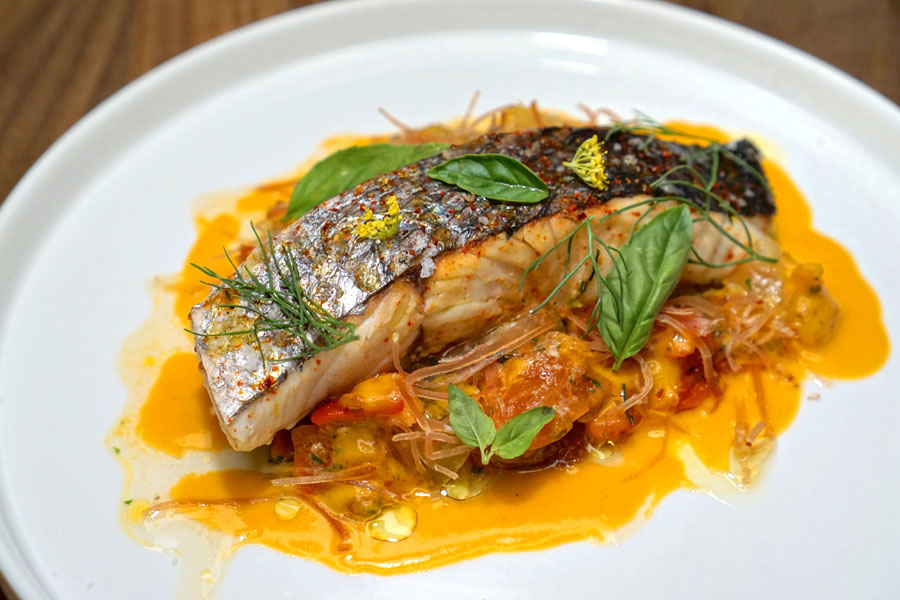 4: Striped Bass a la Piperrada
| Sweet Peppers, Tomato, Garlic, Olive Oil, Lomo
My main course featured brined rod and reel-caught bass from Massachusetts. The fish showed off a firm, meaty, dense flesh, with a nice flake to it, while flavors were concentrated, and a bit peppery, with a slight anise-y edge. The paired piperade and piperade-inspired sauce (onion/tomato/pepper cooked down with vegetable broth, red wine vinegar, and herbs, then emulsified with olive oil) just plain made sense as tangy, contrasting accompaniments. Lomo embuchado (cured pork tenderloin, also from La Española Meats) added a hit of salt to the mix, and I was a big, big fan of the basil aromatics present.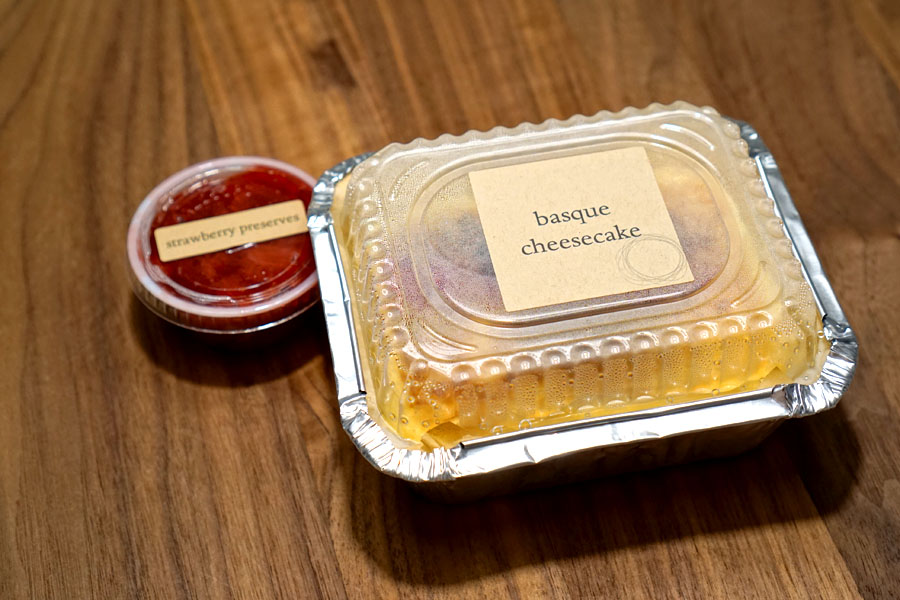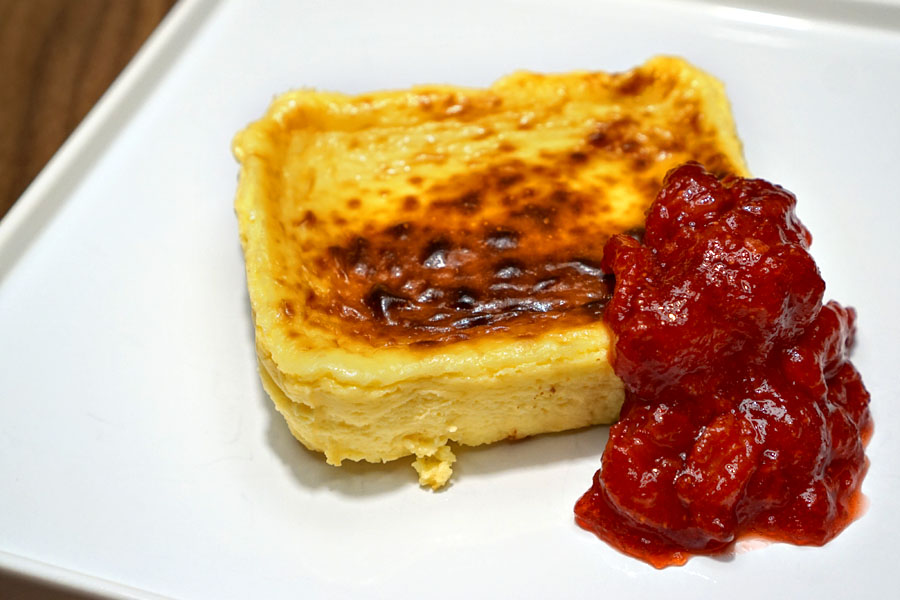 5: Basque Cheesecake
| Harry's Berries Strawberry Preserves
As I mentioned before, I'm not sure what the deal is with Basque cheesecake, but it seems to have gotten very popular all of a sudden. I've already had it for take-way from four places during the COVID-19 lockdown:
Republique
,
Dialogue
,
Playground
, and
Interstellar
. That being said, this fifth example was of the lusher, creamier, eggier type, with more sugar and less smoke than some of the others I've tried. It was pretty damn delicious, and even more so with a dollop of sweet-tart strawberry jam.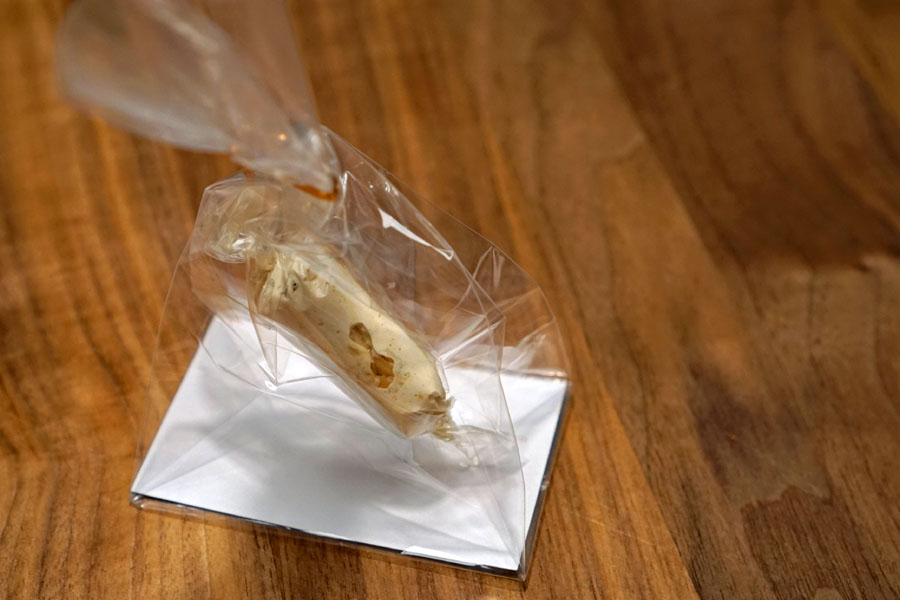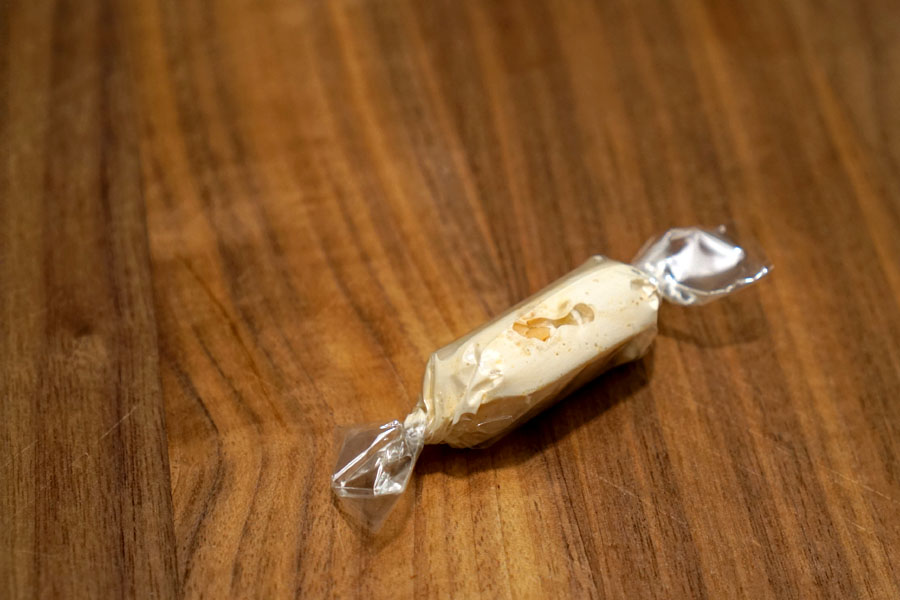 Mignardise duties were handled by this lone turrón, a sort of nougat made with almonds. Think soft and chewy, with nutty flavors commingled with sweet, fruity notes.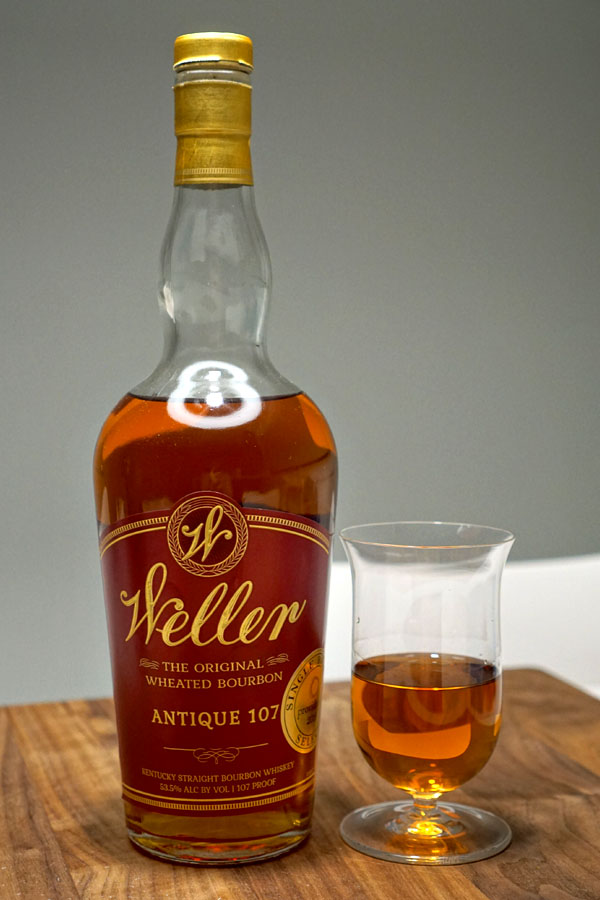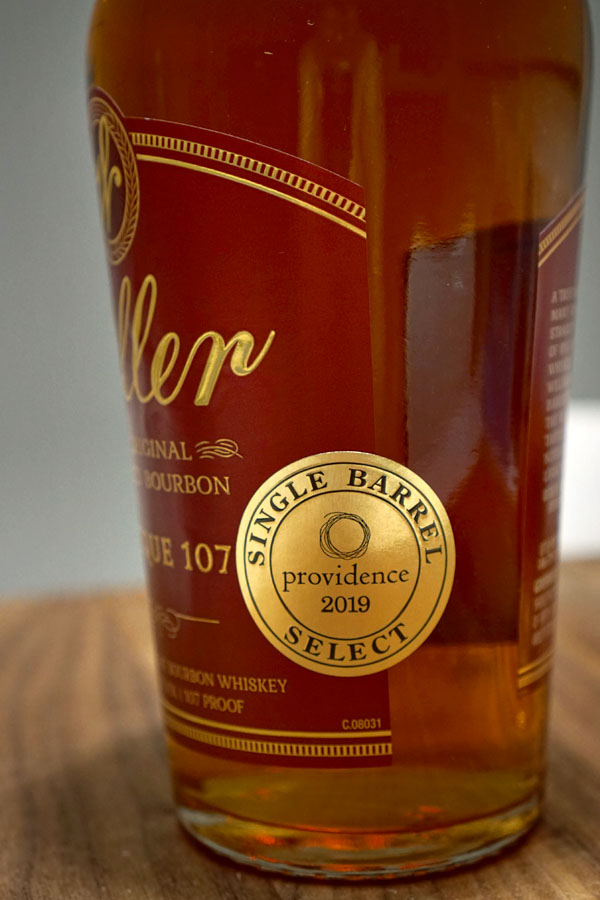 Pictured above is the
2019 Weller Antique 107 - Providence Single Barrel Select [$150]
. It turns out that Cimarusti's quite the bourbon enthusiast, and back in 2018, he had the opportunity to create his own single barrel bottling of Weller Antique 107, which involved a visit to the distillery in Kentucky. The Chef was able to do the same for 2019, and actually made his barrel choice at a Providence whiskey dinner back in last June. The wheated whiskey was subsequently made available on the restaurant's Tock page, so I added it on to my order. It was actually very well priced, given that a normal, non-limited edition bottle of the stuff can sell for around $150-$200 these days. In any case, the OWA smelled great, giving up a nose filled with stewed cherry and brown sugar, along with very light peach, oak, and spicy heat. Tasting it, I found lots more of that dark fruit up front, joined by a palpable herbiness, vanilla, oak, cinnamon, and a touch of marzipan. The finish veered nutty, with wisps of brine and stone fruit and more spice, and I even got a little bit of pistachio ice cream in there as well. A very lovely whiskey overall.
I think this is the first time I've enjoyed Spanish cuisine during lockdown, and it was pretty much a home run. Actually, this may have been one of my favorite carry-out dinners so far, and perhaps things were helped by the fact that I had to finish and plate the dishes myself, which provided a sense of accomplishment. As far as I know, Providence will continue having weekly-changing themed take-out meals in the near future, so don't be surprised if I come back here again before this pandemic passes.