Ludobab (Los Angeles, CA)
Ludobab Pop-Up
716 N Highland Ave, Los Angeles, CA 90038
323.484.8588
www.ludobab.com
Thu 10/29/2020, 07:40p-08:50p

There's no doubt that the coronavirus pandemic has resulted in numerous restaurant closures through the Southland, and one of its more well-known victims is none other than Ludovic Lefebvre's
Trois Mec
, which shuttered at the end of July. Since that time, Ludo's repurposed the space for Ludobab, a pop-up serving the Chef's Frenchified take on the ubiquitous skewered meat dish that is the kebab. The spot opened on September 16th, and apparently doesn't have a definite lifespan. Curiously, back in November last year, Lefebvre announced that he was launching a similar brochette-centric eatery next to the Petit Trois in Sherman Oaks, but it never materialized.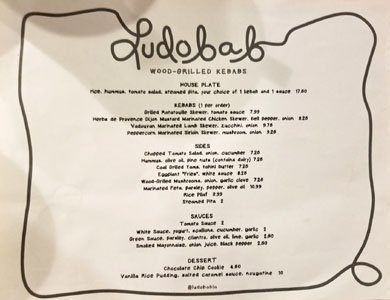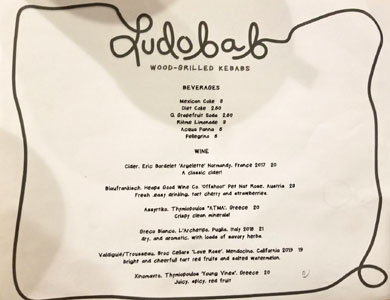 As expected, the menu's focused on a small array of wood-grilled kabobs, along with appropriate sides and easy-going beverages. Click for larger versions.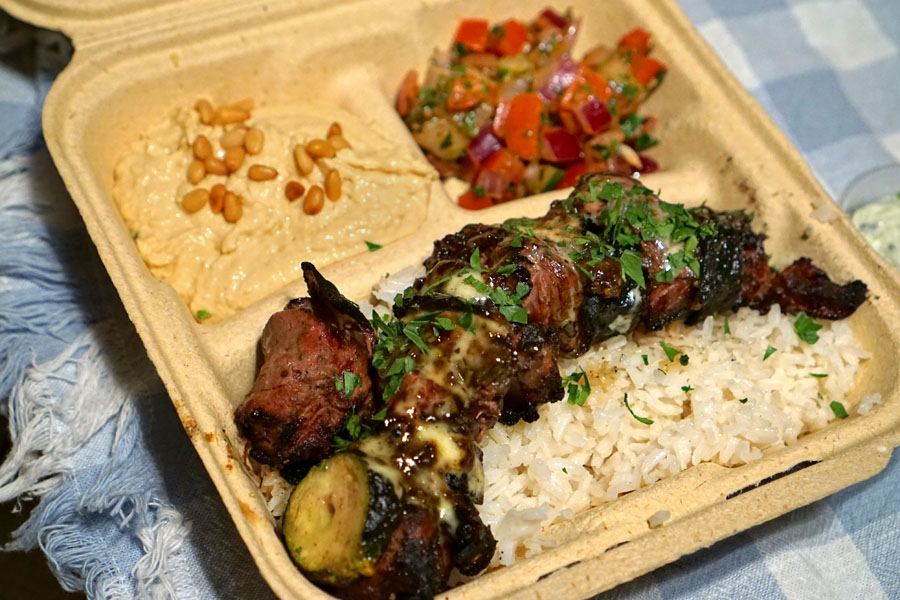 House Plate [$17.50]
| rice. hummus. tomato salad. steamed pita. your choice of 1 kebab and 1 sauce
I began with Ludobab's combo plate, which I imagine is what most people will opt for. My choice of protein was the vadouvan marinated lamb, which I found superbly spiced and well seared. It had a distinct sweetness to it that blended easily with the bitter char elements, though the meat was a touch less tender than I would've hoped for. A fluffy rice pilaf was just as I wanted, as was the hummus, a particularly creamy example boosted by the presence of olive oil and pine nuts. We also had a crunchy, herbaceous chopped tomato salad with onion and cucumber that provided a bright respite from the potency of the lamb.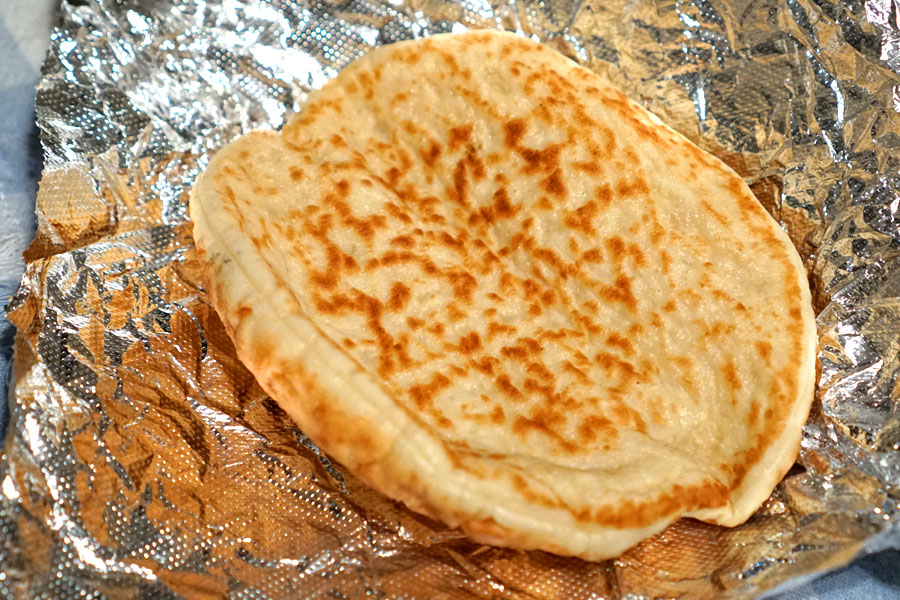 The accompanying steamed pita was a winner, coming out thick and pillow-y, with a good amount of stretch. It actually reminded me of the version at
Mizlala
.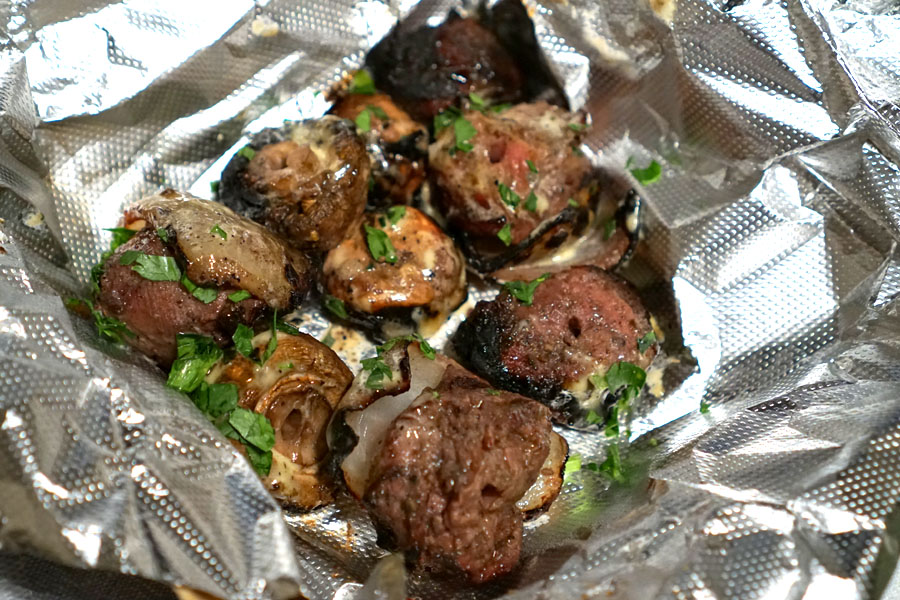 Peppercorn Marinated Sirloin Skewer [$9.25]
| mushroom. onion
The steak skewer was a bit on the tough side, but was spot on in terms of taste. The meat had a lovely sweet-spicy character that was balanced by an assertive pepperiness, and I enjoyed contribution from the onions and mushrooms, too.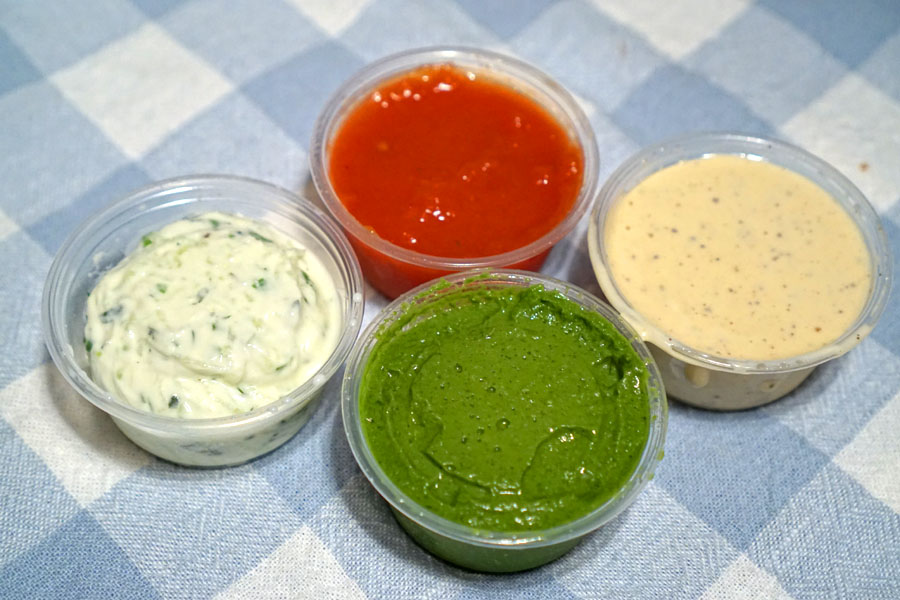 I ended up sampling all four sauces offered:
White Sauce [$2.00] | yogurt. scallions. cucumber. garlic - This tzatziki-like condiment ate cool and creamy, with a refreshing herby bent.
Tomato Sauce [$2.00] - Light, thin, and classic at its core; I got just the faintest hint of spicing.
Smoked Mayonnaise [$2.50] | onion juice. black pepper - This one had a palpable smoke that was tempered by the mayo's innate creaminess.
Green Sauce [$2.50] | parsley. cilantro. olive oil. lime. garlic - Sour, vegetal, and vibrant, just as you'd expect with that list of ingredients.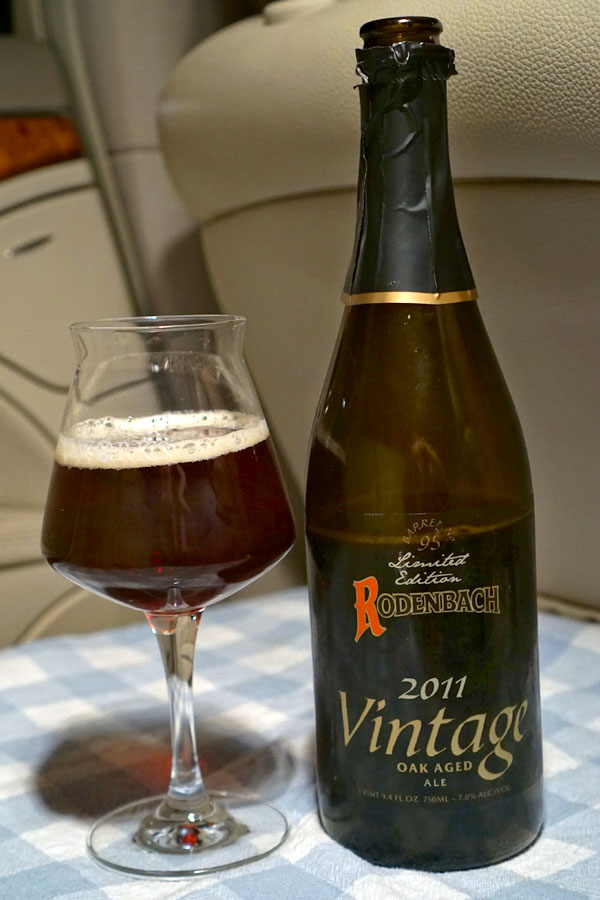 To drink, I opened up a bottle of the
2011 Rodenbach Vintage Oak Aged Ale (Barrel No. 95)
, a mixed fermentation Flemish red-brown sour ale that I'd been cellaring for the past six years. The beer had an elegant nose teeming with dark, tart fruit and a bit of a vinous character. Taste-wise, think sour, fruity, and punch-like, with notes of oak and earth leading to a pleasantly drying finish. Mature yet still vivacious--this is one that's aged gracefully.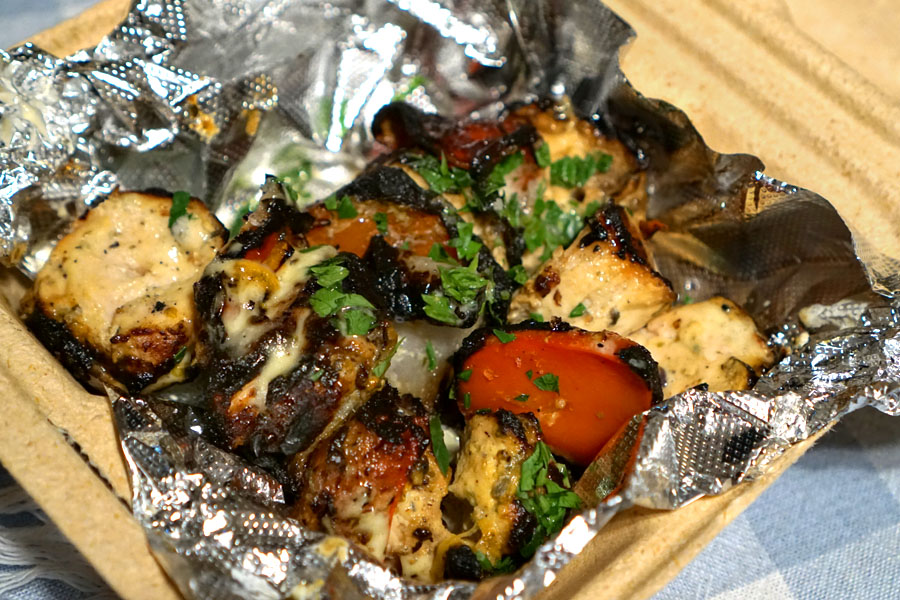 Herbs de Provence Dijon Mustard Marinated Chicken Skewer [$8.25]
| bell pepper. onion
The chicken skewer came out juicy and appropriately charred, with a delectably aggressive piquancy from the dried herb mixture that really satisfied. Probably my favorite of the skewers.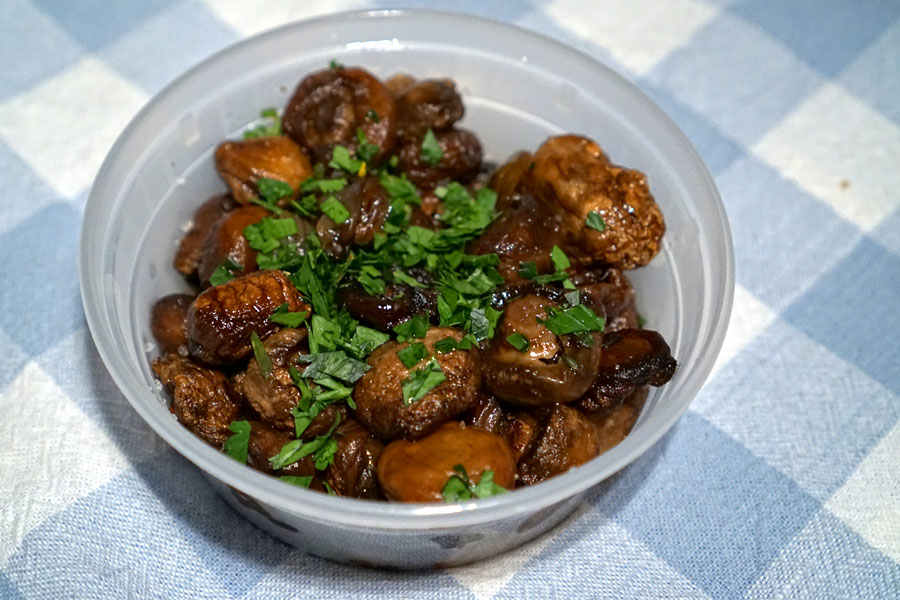 Wood-Grilled Mushrooms [$7.25]
| onion. garlic clove
Mushrooms delivered with their buttery, woodsy flavor profile, punctuated by pops of salt.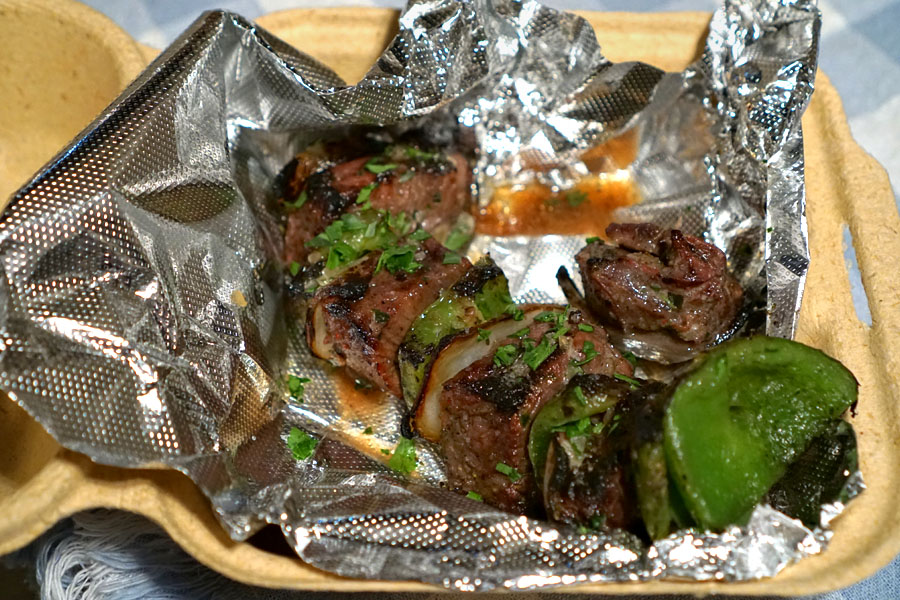 Australian Wagyu Short Rib Skewer [$15.50]
| bell pepper. onion. béarnaise butter
The short rib was definitely fattier and more flavorful than the sirloin above, and conveyed a sweetness, lushness, and umami-focused depth that matched well with all the charred bits. Nice contrast from the bell peppers and onions, too. An off-menu special for the evening.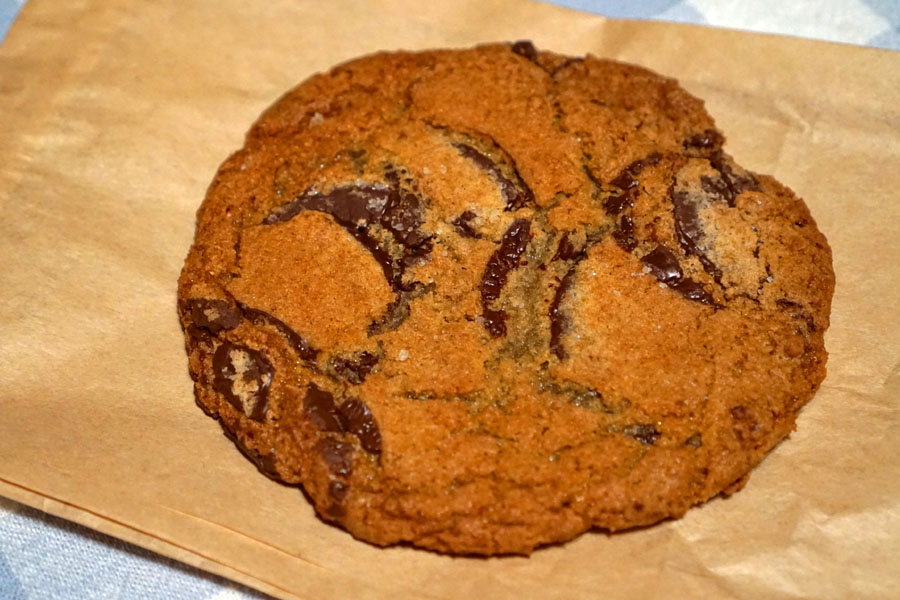 Chocolate Chip Cookie [$4.50]
A chocolate chip cookie managed to be both chewy and crisp. Flavors were pretty textbook, though the chocolate was perhaps a smidge more bitter than usual, and I could definitely taste a sprinkle of salt.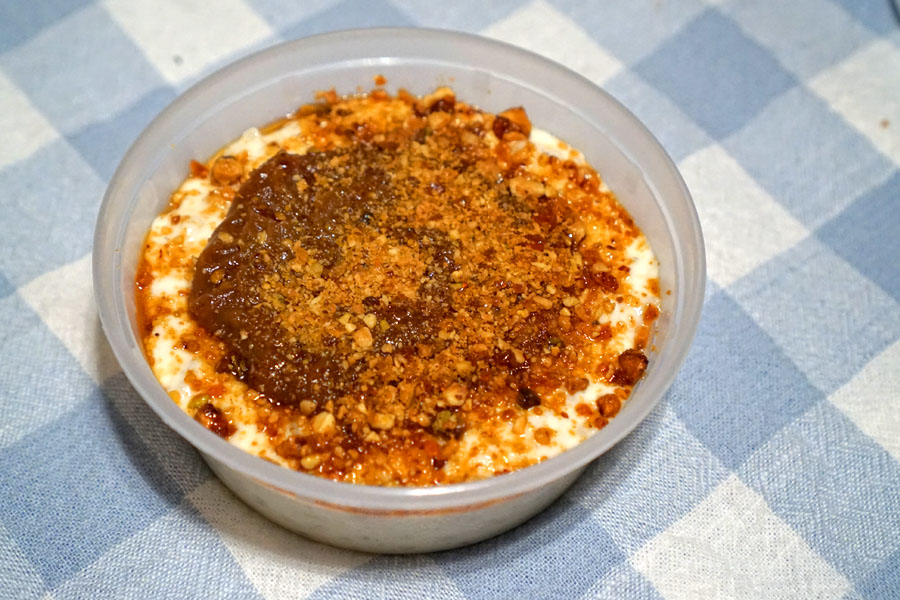 Vanilla Rice Pudding [$10.00]
| salted caramel sauce. nougatine
My rice pudding looked a bit of a mess, but was one of the better versions I've had. The rice itself was perfectly perfumed with fragrant vanilla, and I loved the sweet-n-salty kick in the pants provided by the caramel, all while the nougatine imparted some textural variation. Curiously, the overall effect actually reminded me of the Danish butter cookies of my childhood.
I was pretty satisfied with my meal here, and it was worthwhile to see Ludo's take on a category of food as omnipresent as the kebab. Ludobab isn't going to replace your go-to Middle Eastern joint, but it is the type of establishment I could see myself returning to every so often. This place is billed as a pop-up, but it wouldn't surprise me if it turned into something permanent, or if ownership decided to expand to more than one location.