Crawfords (Los Angeles, CA)
Crawford's Chicken
2616 Beverly Blvd, Los Angeles, CA 90057
213.568.3133
www.crawfordschicken.la
Thu 11/05/2020, 07:45p-09:20p

I was in the mood for fried chicken recently and thus decided to check out Crawfords in Westlake, which I'd wanted to try for a while now. This dive bar-inspired spot is the brainchild of Dave Abrams (
L&E Oyster Bar
) and Matt Dittman (
The Hermosillo
), while also on board as partners are Michael Blackman (The Hermosillo/Highland Park Brewing, Hi-Hat) and Dustin Lancaster (Bar Covell, L&E Oyster Bar,
El Condor
, Augustine, The Hermosillo/HPB, Hi-Hat, Hotel Covell, Oriel,
Firehouse Hotel
, Holcomb).
Crawfords grand-opened on January 8th, 2016 in the former home of the longstanding Linda's Place (an actual dive bar), and had Chef Brian Garrigues (The Little Easy, Short Cake, The Little Door) at the helm. Two years later, a second location called Crawford's Pass debuted in Burbank (in the old Sardo's space) with a full liquor license, but shuttered in March this year.

Inside, the dive bar aesthetic has largely been maintained, which is generally considered a plus. The place was empty due to coronavirus restrictions of course, though a few tables were set up outside.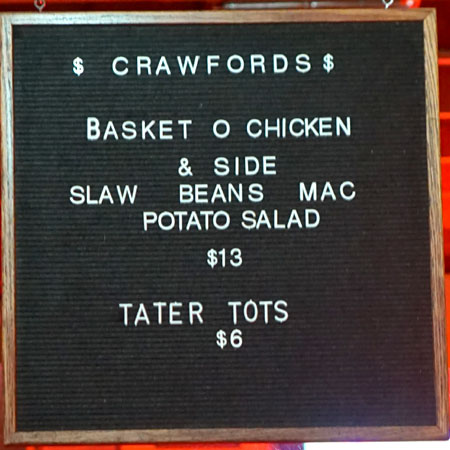 The menu is about as simple as it gets. As usual these days, I ordered everything to-go.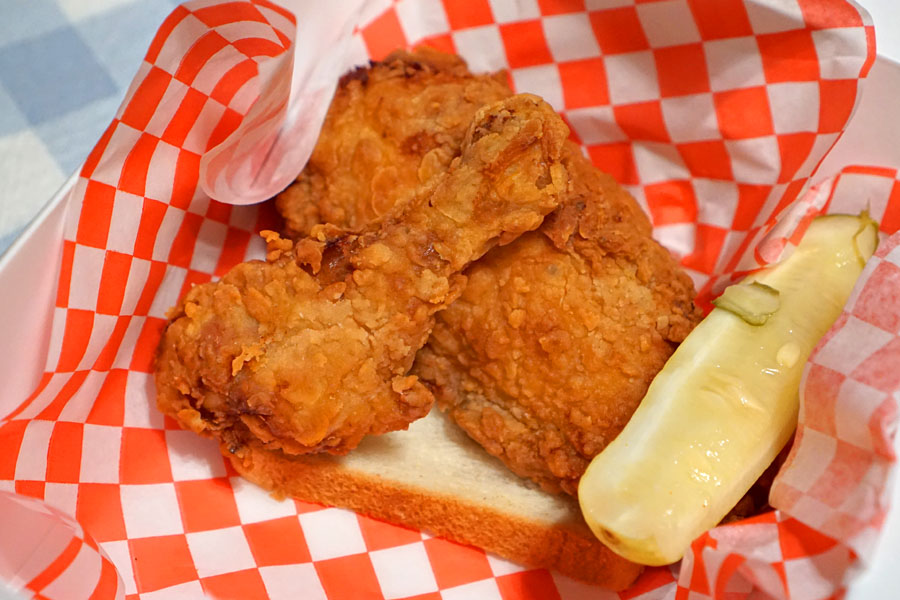 Fried Chicken [$13.00]
| Mix of White & Dark Meat
Up first was a serving of Crawfords' much-lauded fried chicken. I began with the drumstick (my favorite part), and I have to say that it was pretty impressive. The bird showed off a thick, crunchy, well-seasoned crust while the meat inside ate juicy and flavorful--utterly classic and satisfying. However, even more impressive was the breast, which was one of the most succulent examples I've ever experienced. This was one of those rare instances where the white meat doesn't lose out to the dark.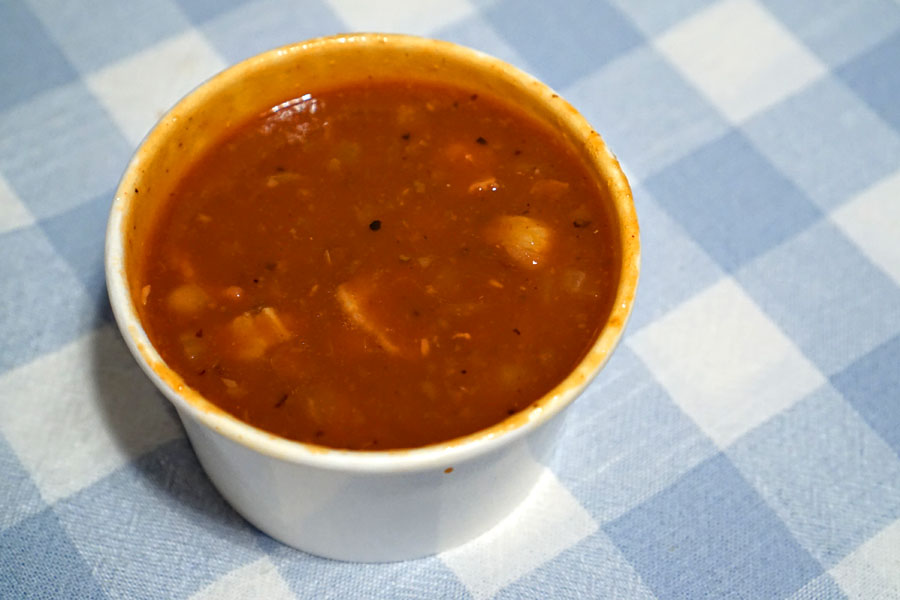 Baked Beans
The beans were also first-rate thanks to the sheer amount of smoky, meaty, and peppery flavors going on, balanced out by an undercurrent of sweetness. One of the best versions of this dish I've had, no doubt.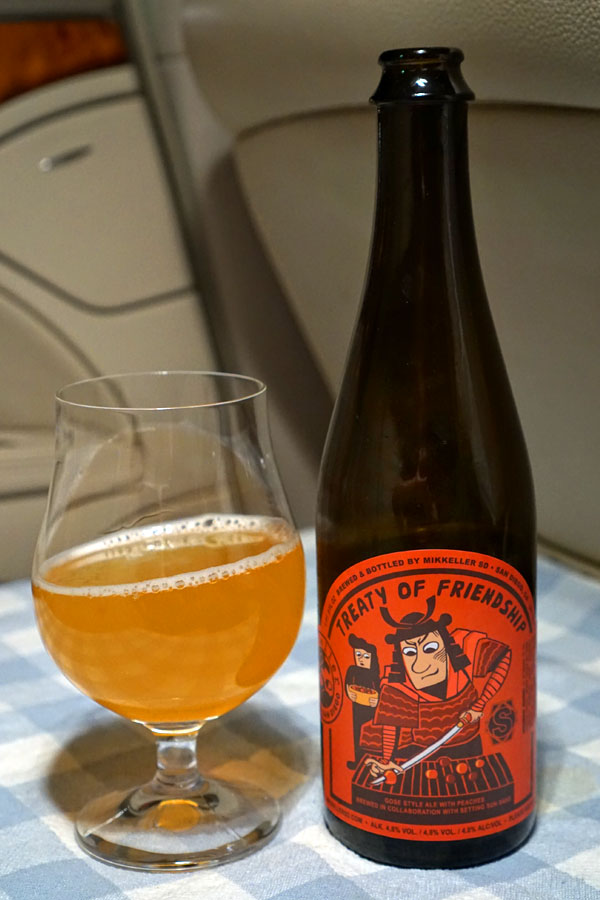 Beer is the natural accompaniment to fried chicken, so I opened up a bottle of the
2020 Mikkeller San Diego Treaty of Friendship
, a gose-style ale brewed with peaches, created in collaboration with Setting Sun Sake. The nose on this one was quite inviting, featuring a rich stone fruit sweetness combined with the requisite sour notes and a bit of funk. The palate, unfortunately, was a bit of a letdown. The beer drank smooth and soft, but there was surprisingly little fruit, but instead more of a nondescript type of tartness, along with a graininess and almost none of the signature salinity you expect from a gose.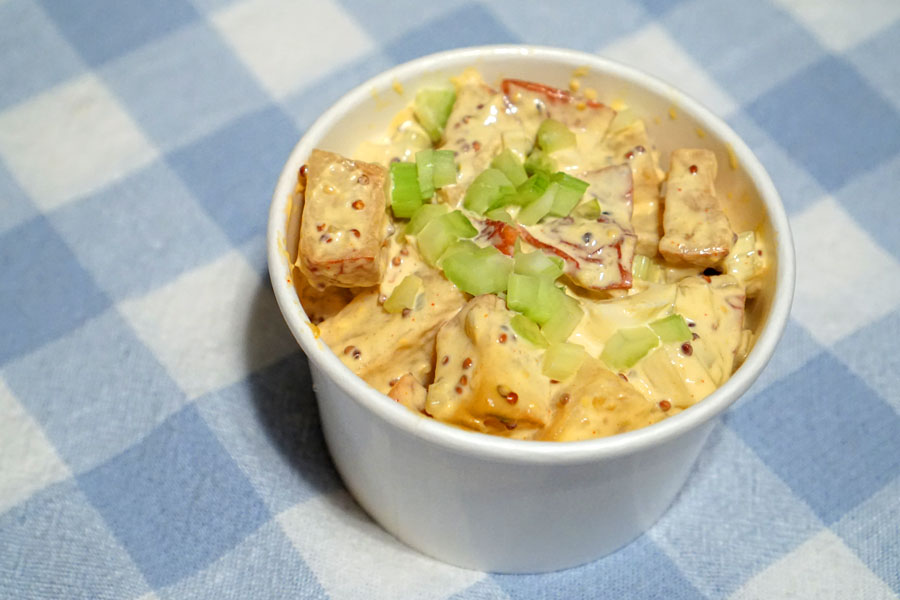 Potato Salad [$4.00]
The potato salad was the heartier, chunkier variety, and displayed a delightful mustard-y tang that I enjoyed. Also crucial was the crunch and zestiness from those bits of celery on top.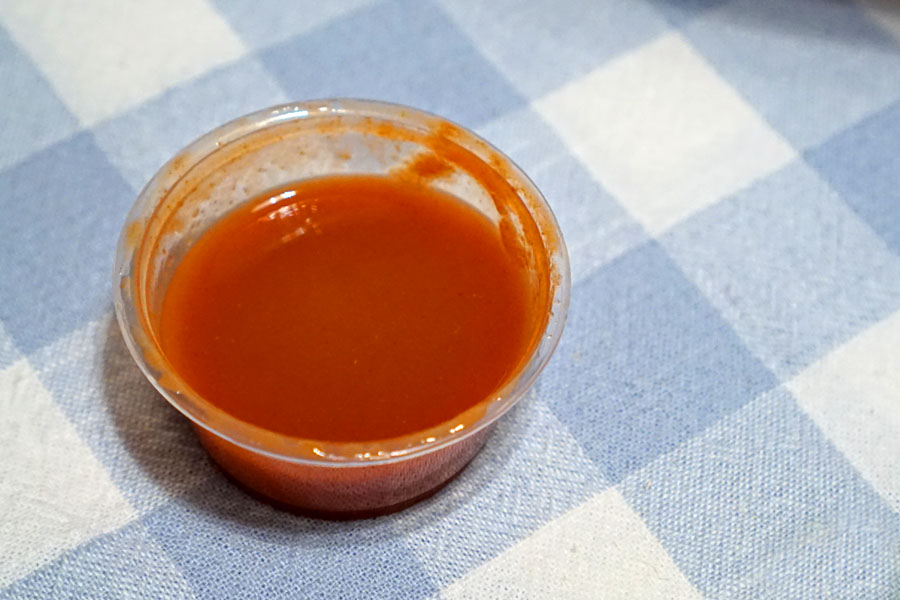 A small amount of Crystal Hot Sauce was provided with my order. A Louisiana staple, it had a sour sort of heat that contributed a welcomed brightness to the chicken.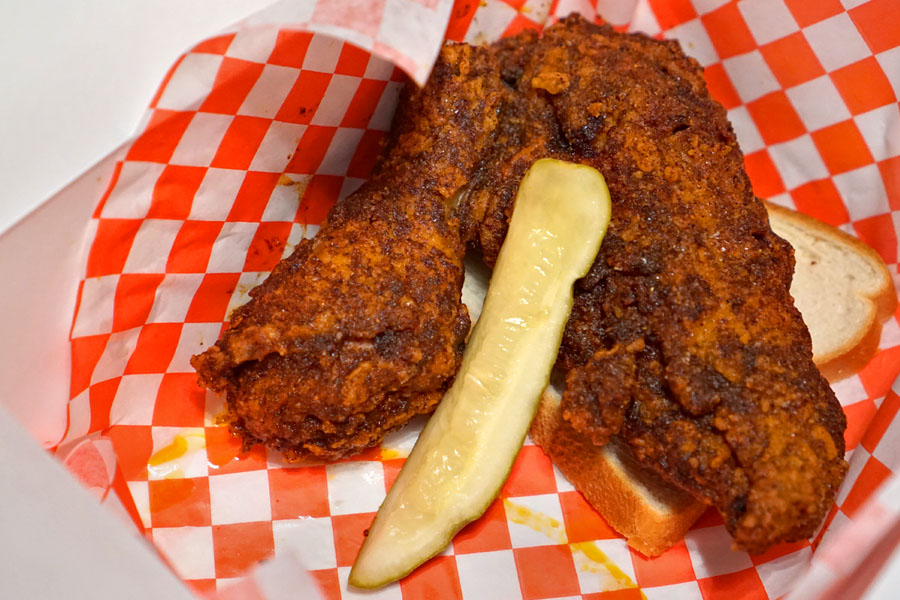 Hot Fried Chicken [$13.00]
| Mix of White & Dark Meat
Naturally I had to sample the restaurant's take on hot chicken as well. The bird itself was just as top-notch as above in terms of succulence, taste, and gloriously crunchy texture. Now the heat here was of the dry spice sort of variety, and provided a multifaceted burn that, fortunately, didn't overwhelm the inherent deliciousness of the chicken. That being said, I definitely still felt the heat, and certainly got a tad moist.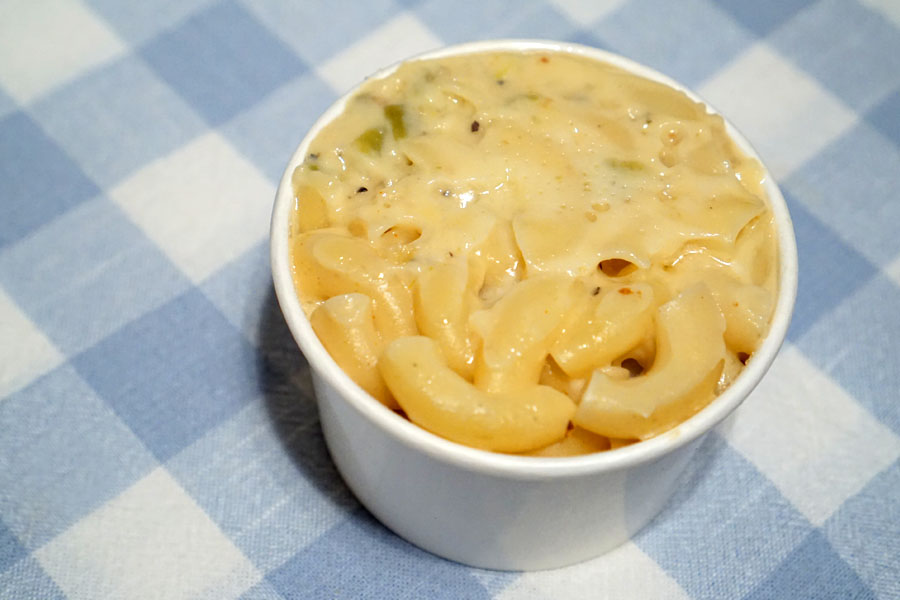 Mac & Cheese
The macaroni and cheese was a winner as well, coming out properly cheesy and nicely textured, with a subdued chili pepper-fueled heat to boot.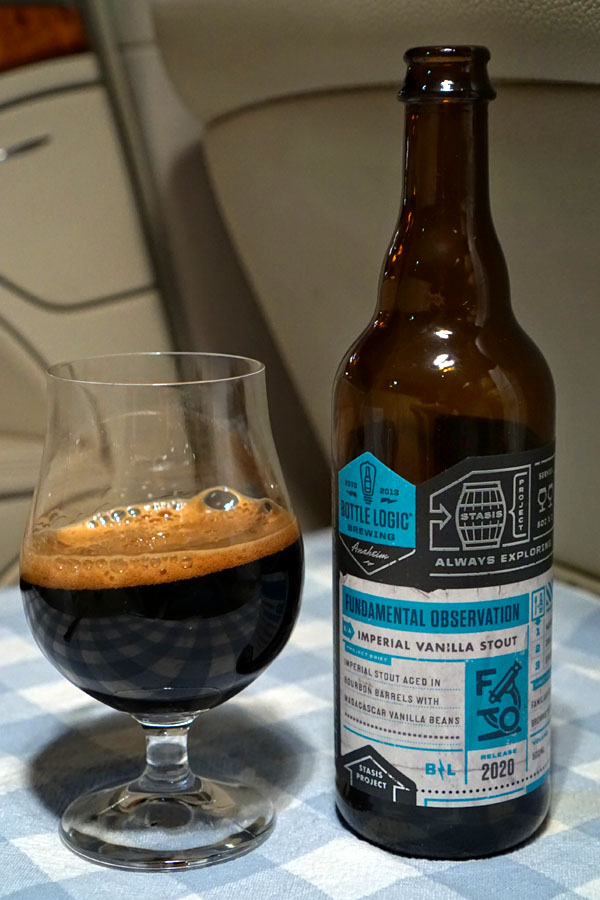 The evening's second beer was the
2020 Bottle Logic Fundamental Observation
, an imperial stout aged in bourbon barrels for a year, then finished with Madagascar vanilla. The aroma here was chocolate and raisin and vanilla, with a slight soy-like umami note. Tasting it, I got fragrant vanilla up front, leading to lots of dark fruit, cocoa powder, and oak.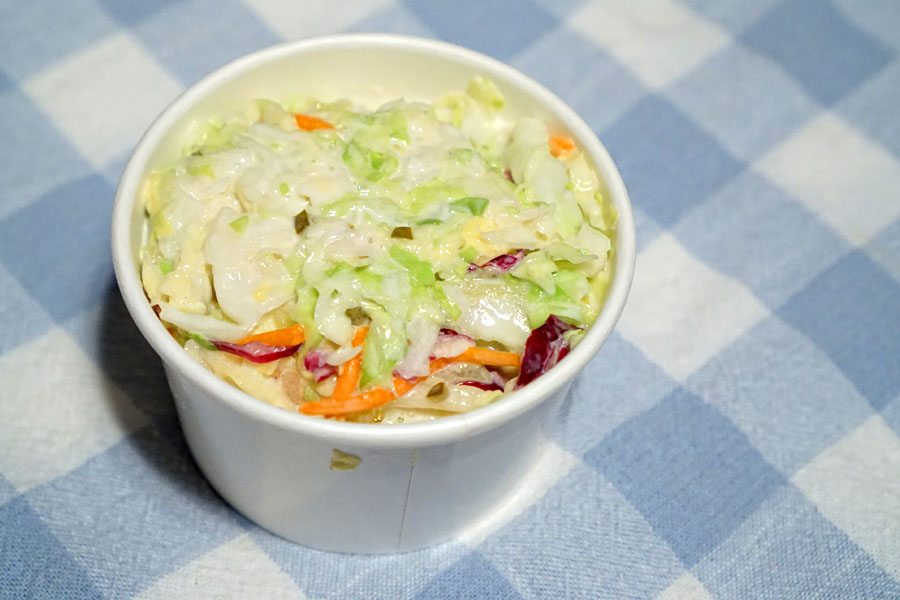 Coleslaw [$4.00]
Crawfords' cole slaw ate creamy and sweet, but with a crunchy, bitter counterpoint from the veggies. It actually reminded me a bit of the version at KFC, and that's not necessarily a bad thing.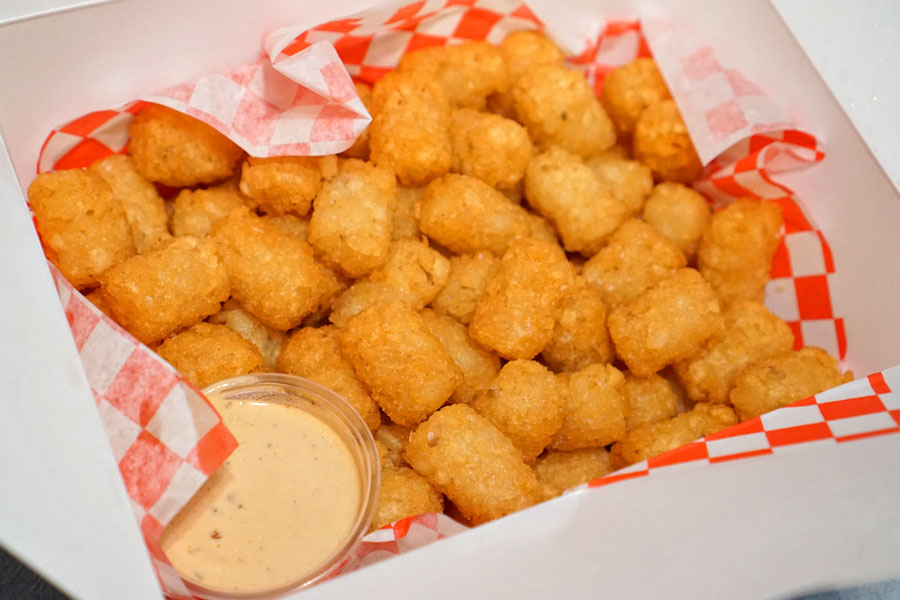 Tater Tots [$6.00]
I'm a big fan of tater tots, but these just didn't do it for me. They had this tough, chewy consistency that simply wasn't right. On the bright side, the flavors were there, and I did enjoy that creamy, pickle-y, subtly spicy sauce, which I found reminiscent of Thousand Island. The sole misstep of the night.
Whenever I hear about the top fried chicken joints in LA, Crawfords is one of the places that comes up a lot, and I have to admit that it lives up to the hype. It's definitely some of the best I've had in a while. I was especially impressed with the breast pieces, and really enjoyed the various side dishes too (minus the tots). Yep, Crawfords is gonna be one of my go-to spots for fried chicken from now on.