The Window (Los Angeles, CA)
The Window
1538 Sunset Blvd, Los Angeles, CA 90026
213.266.8001
www.thewindow.la
Fri 01/15/2021, 10:30p-11:35p

I was recently on the prowl for some late night takeout near Downtown, and it turns out that there aren't all that many options, save for the usual fast food-y suspects. I ended up at The Window in Echo Park, which is basically the coronavirus iteration of Lowboy-Adamae-Bar Flores. If you're not familiar with that trio, they're the work of Michael Francesconi and Matthew Glaser, the guys behind Wolf & Crane in Little Tokyo.
In late 2017, they took over the sprawling site of The Lost Knight (and Barragan's Mexican Restaurant before that) and divided up the property into three different concepts. Up first was Lowboy, a relaxed, classics-focused cocktail bar that debuted in June 2019. Adamae, a restaurant created in partnership with
New School
, opened in July, while Bar Flores, a more lighthearted cocktail bar, followed in August. The Window, meanwhile, started up in the June 2020 time frame, and serves as a to-go operation representing all the restaurant group's properties.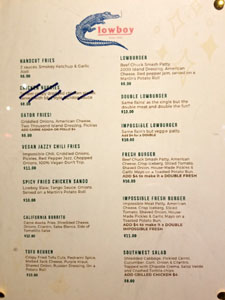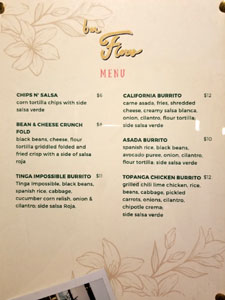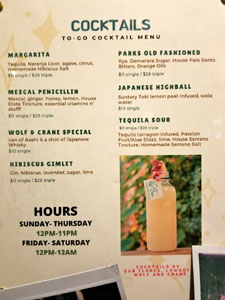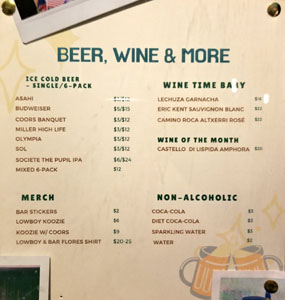 The menu comprises casual, pubby fare along with a smattering of cocktails (which, curiously, have different names than what I saw on the online menu I ordered from) and other beverages. Click for larger versions.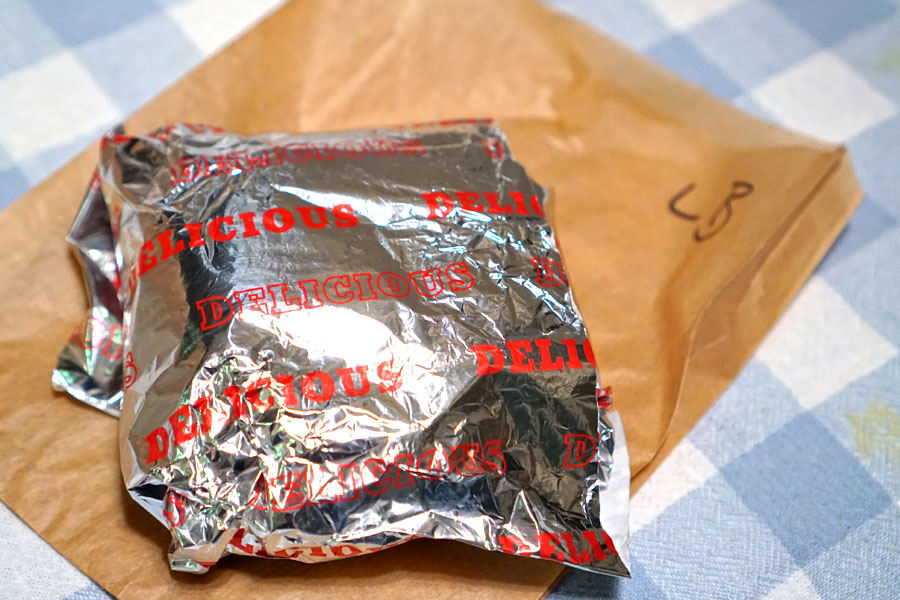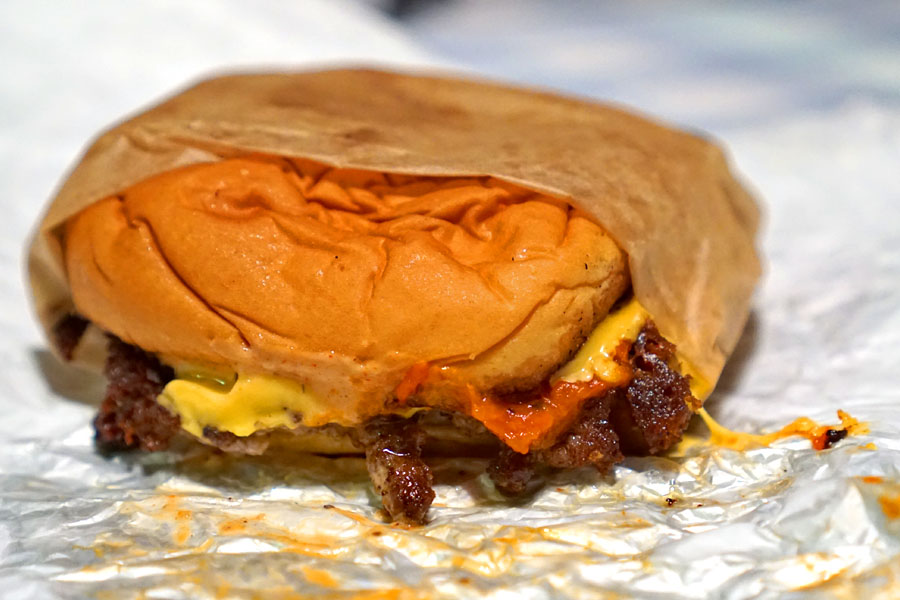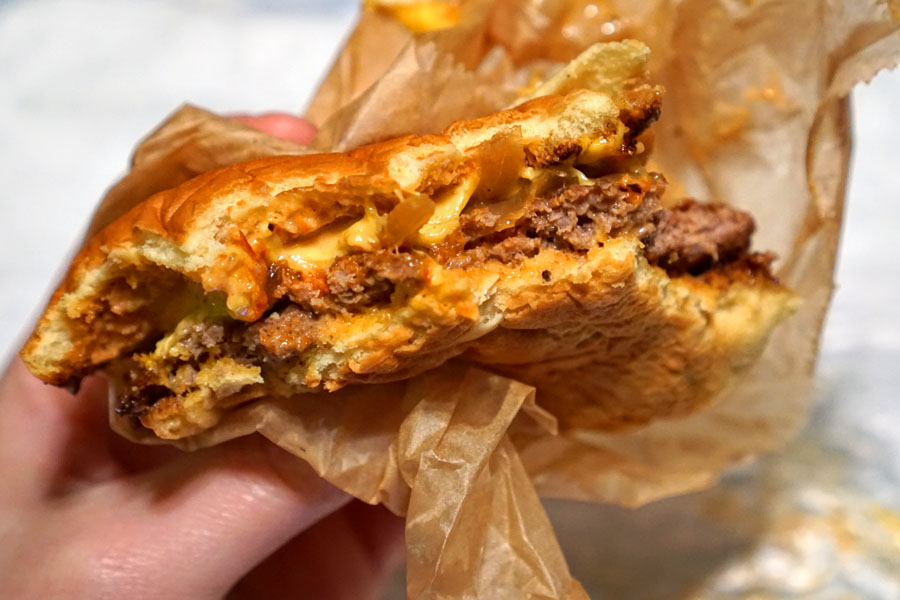 Lowburger [$9.00]
| Beef chuck smash patty, 2000 island, american cheese, griddled onions, red pepper jam, on a Martin's potato roll
Up first was Lowboy's take on the smashed burgers that have been all the rage lately. It looked a bit of a mess, but fortunately the taste was there. I liked the hamburger's thin, crisp, well-charred patty, while the Thousand Island and sugary caramelized onions definitely made themselves known. Taken all together, it was a bit trashy, but enjoyable.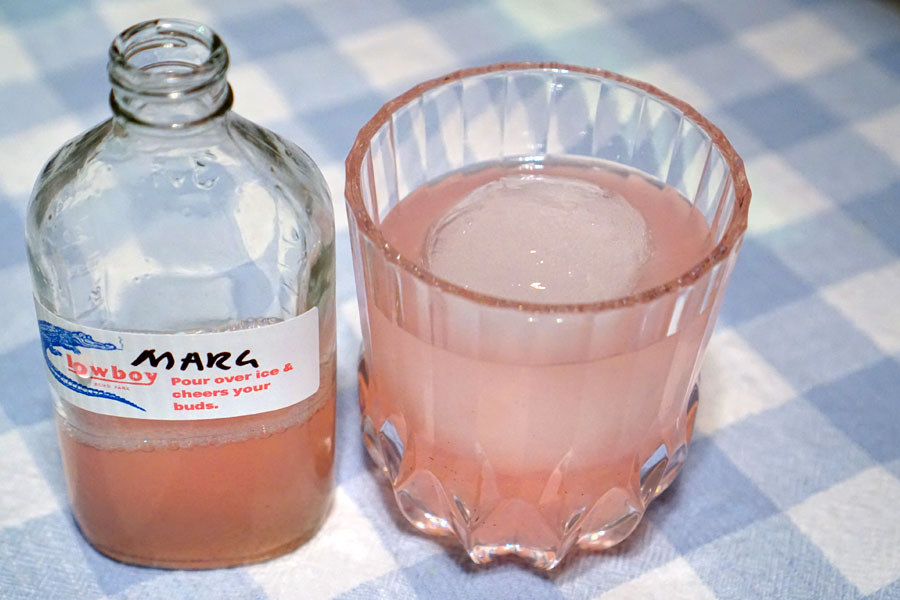 Pink Margarita [$11.00]
| Tequila, Naranja Licor, Citrus, Agave, Hibiscus Salt
I ended up getting a few of the bottled cocktails, and the first was one of the better margaritas I've had in recent times. I appreciated its forceful agave flavor, and how that matched up with the sweet, citrusy elements in the drink.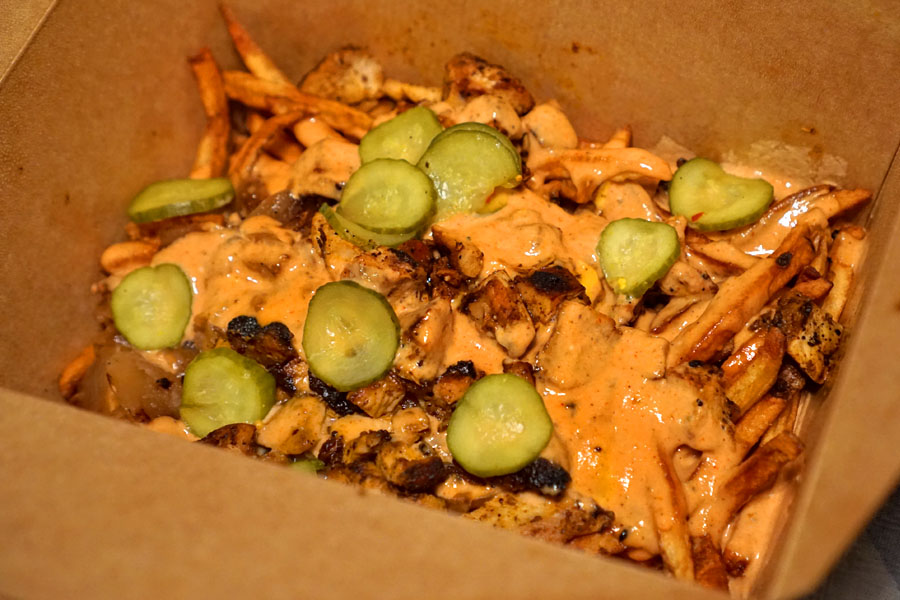 Gator Fries + Pollo [$8.00 + $4.00]
| Griddled onions, 2k sauce, American cheese, house made pickles
When I saw this on the menu, I was really hoping that the kitchen would be using actual alligator meat, but sadly I could only choose between chicken, asada, or a vegan tinga. I went with the chicken, and was surprised at how well-charred and flavorful it was. The bird made sense with the fries, though the Thousand Island was a bit too assertive for my tastes. Caramelized onions were just as sugary as in the burger above, while pickles were a welcomed addition.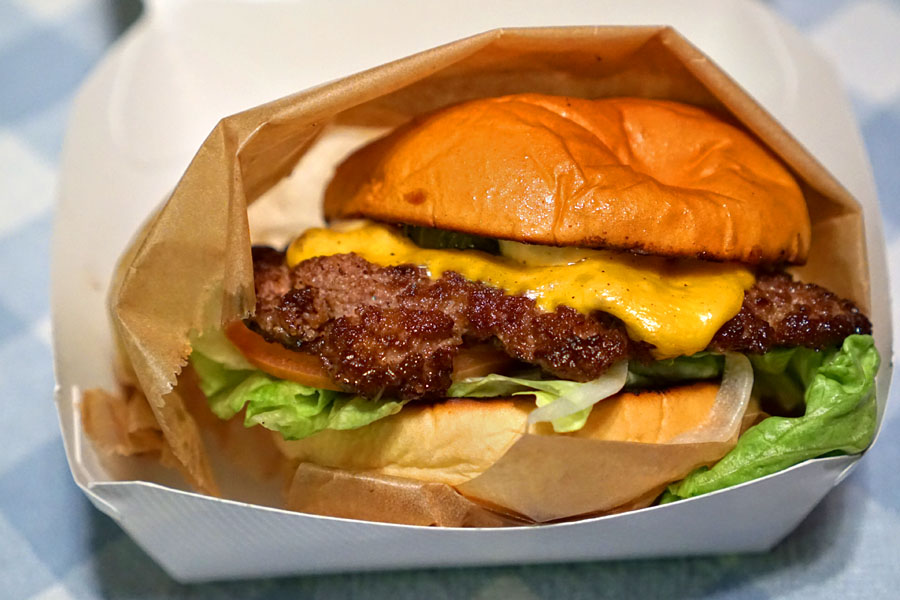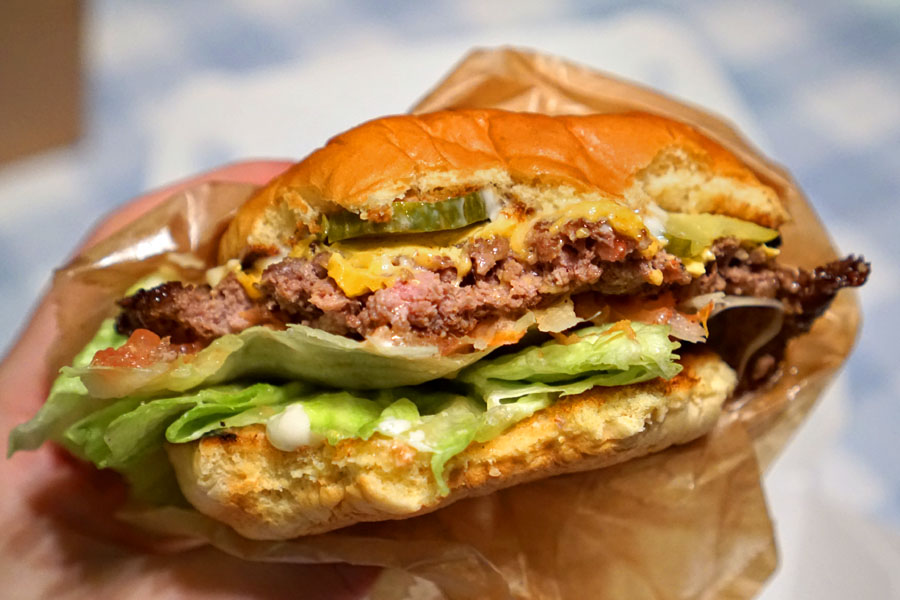 Fresh Burger [$10.00]
| Beef chuck smash patty, garlic mayo, American cheese, crisp iceberg lettuce, sliced tomato, shaved onion, house made pickles, on a toasted Martin's potato roll
My second burger was even better. Again, it had the thin-crisp patty from above, but the brightness and crunch from the veggies really livened things up, especially the pickles. Just as important, though, was the garlic mayo, which really brought all the elements together. Yum.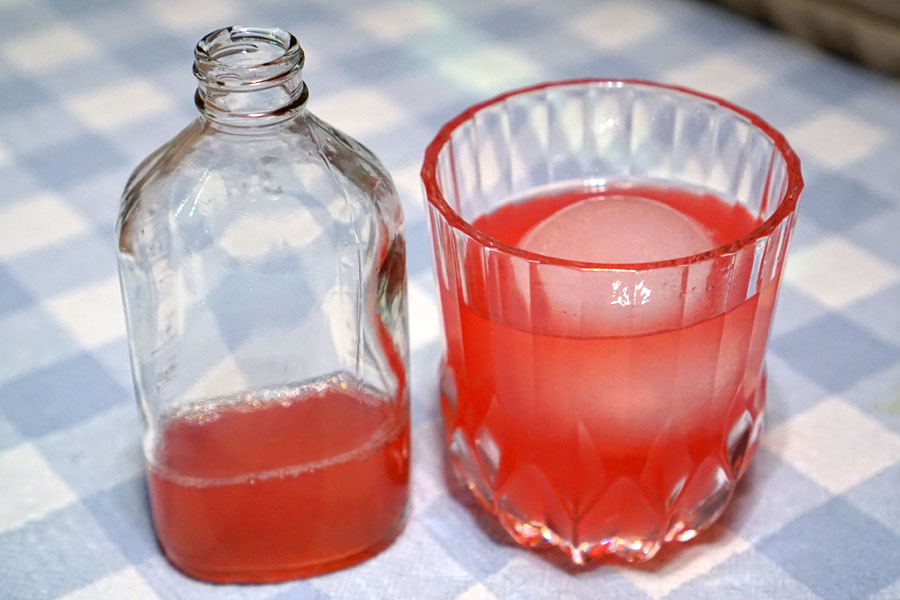 Little Baddie [$11.00]
| Gin, hibiscus, lavender, sugar, lime
Next to imbibe was this hibiscus-boosted gimlet. The cocktail displayed strong initial notes of lime and sugar, then the botanicals of the gin came in, joined by a layer of floral, fruity elements while the lavender lingered a bit.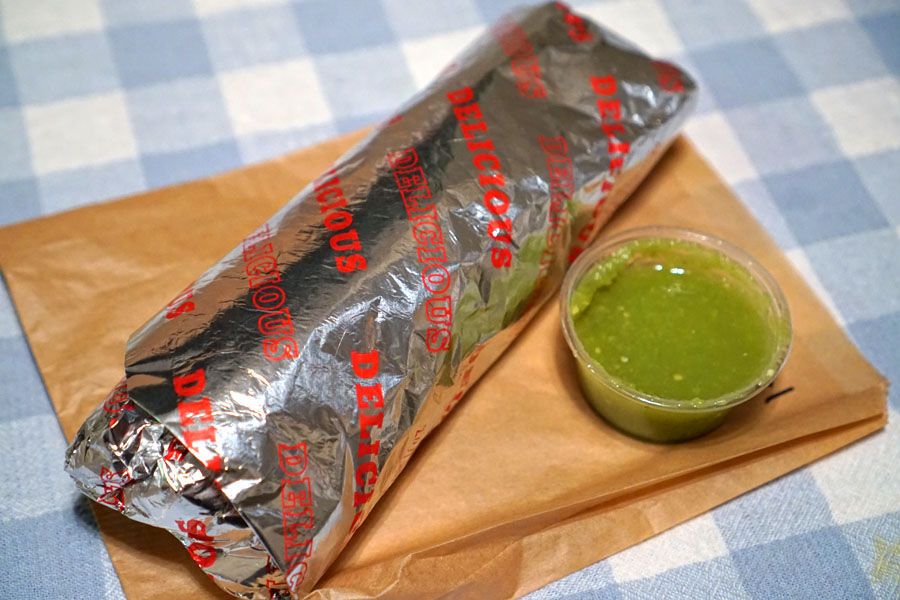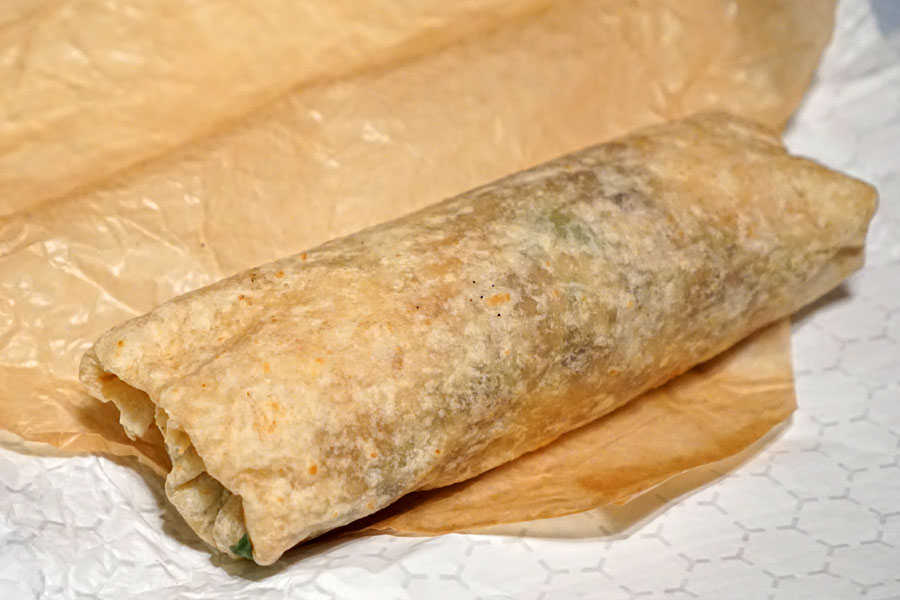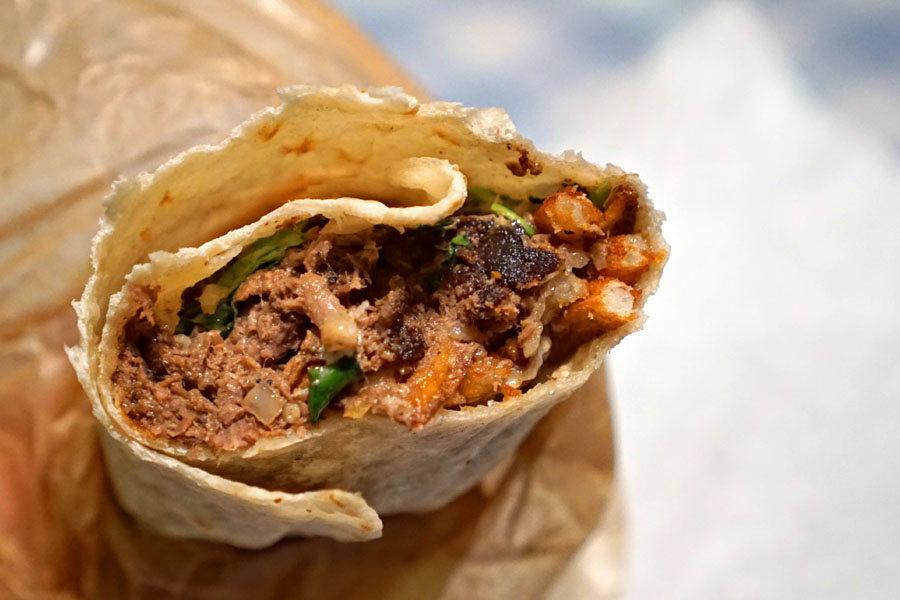 Cali Burrito [$12.00]
| Carne Asada, hand-cut Fries, Cheese, creamy salsa Blanca, Onion & Cilantro; side salsa Verde
The California burrito is a staple of mine when it comes to late night Cal-Mex cuisine, so naturally I had to sample the version here. It was actually a bit untraditional in that the beef was pretty aggressively seasoned, though I would've liked it smokier. At the same time, the fries were also more flavorful than most, while the onions and cilantro were subdued, too much so for me in fact. A highlight here absolutely has to be the accompanying tomatillo salsa, which featured a wonderful zippiness that really opened things up.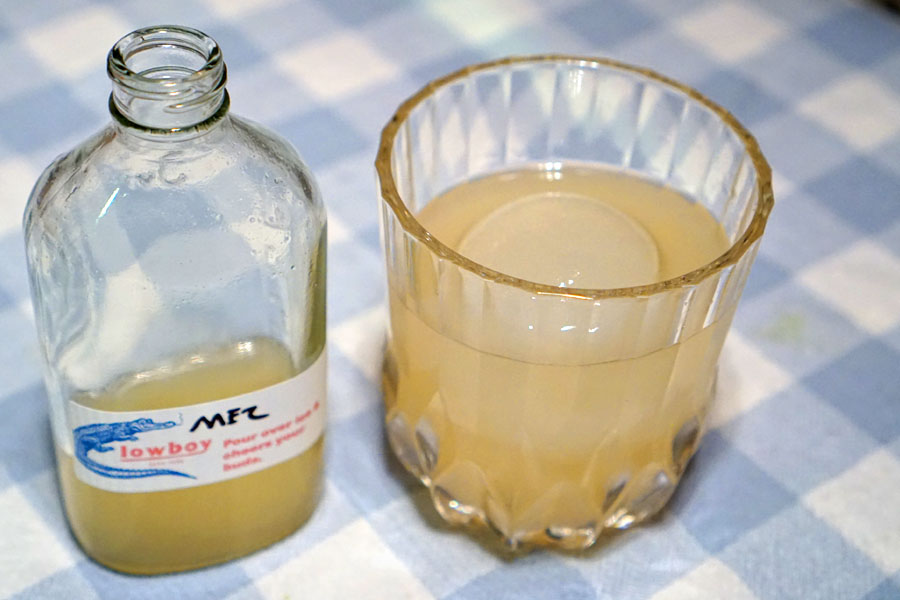 Mezcallin [$11.00]
| Mezcal, homemade Ginger Syrup, honey, lemon, homemade Elote Tincture
My third cocktail was this mezcal-fueled riff on the Penicillin. I got a very noticeable, yet elegant smokiness from the mezcal up front. This then transitioned to a ginger-y sweetness, while the finish was redolent of honey, with a bit of burn.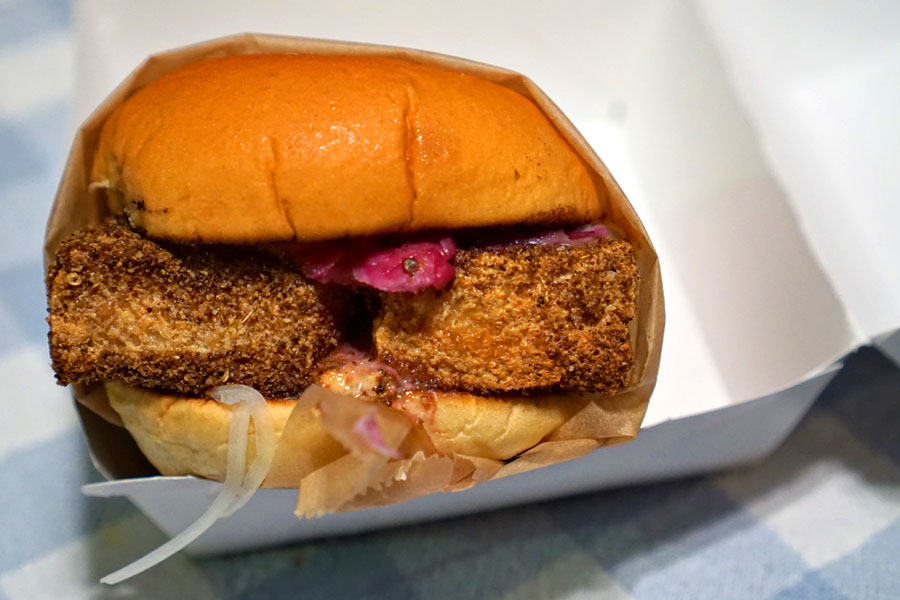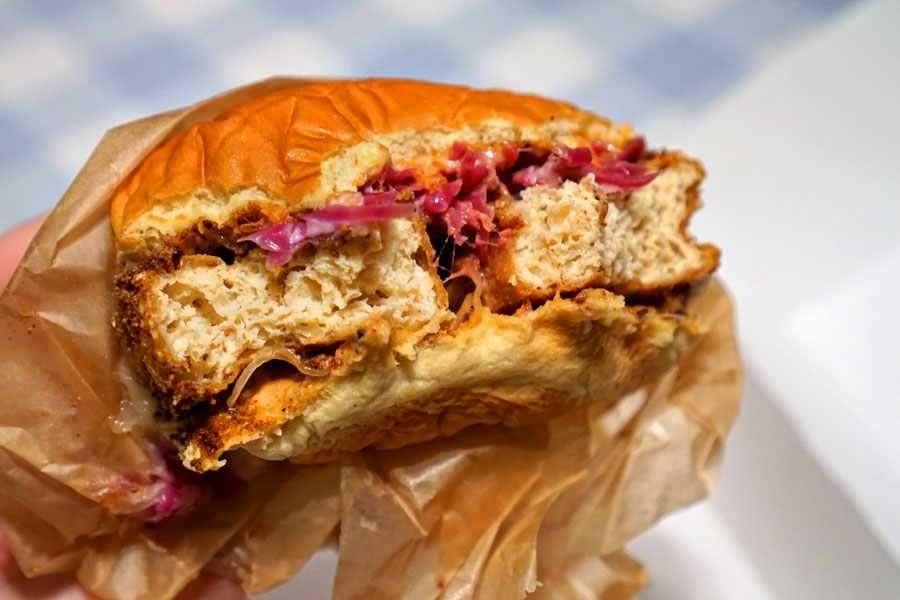 Fried Tofu Reuben [$10.00]
| Crispy tofu cutlets, pastrami spice, melted Jack cheese, purple sauerkraut, shaved onions, Russian dressing, on a toasted potato roll
Non-meat eaters have the option of this tofu sandwich, which turned out surprisingly well. The tofu showed off a crispy consistency, and was quite robustly spiced, much to my delight. The spices married well with the sourness of the kraut, and the Russian dressing really helped bind everything together.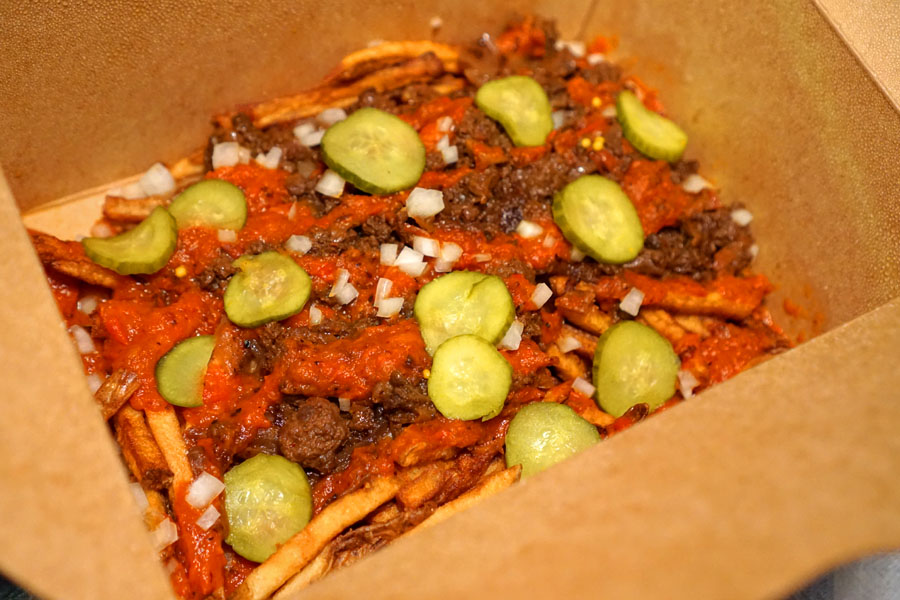 Vegan Jazzy Chili Fries [$12.00]
| Impossible chili, griddled onions, red pepper jazz, chopped pickles & onion; 100% vegan, my guy, for real
Speaking of plant-based options, a vegan version of chili was a relatively reasonable approximation of the real thing. It worked with the fries, though I found the red pepper overwhelming, while the onions and pickles gave the dish an almost burger-like feel.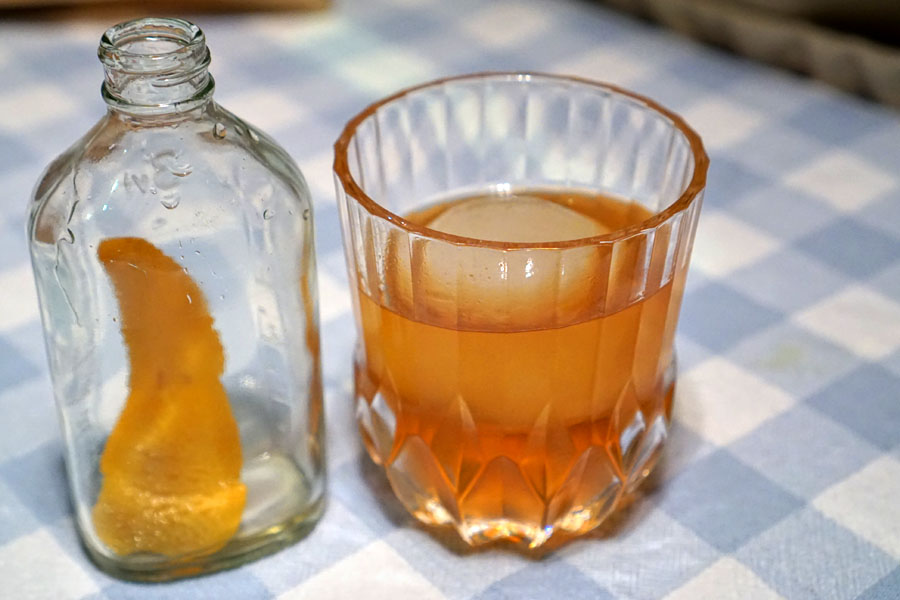 Lowboy Old Fashioned [$11.00]
| Rye, Demerara sugar, House Palo Santo bitters
My final cocktail was certainly the stiffest of the bunch. Nose here was sweet and fruity, with brown sugar notes and hints of bubble gum. Taste-wise, I got a delicate booziness leading to herbaceous, bitter nuances and long-lasting caramel.
I'd say that this was a pretty successful late night meal, and I have to give the team here credit for offering takeout until midnight. I'm reminded of the fact that I need to pay Lowboy and Bar Flores a proper visit once we get past the pandemic. As for Adamae, I've seen reports that it's shuttered for good, but from what I understand, the owners do hope to bring it back once they can.