The WeHo Sausage Co (Culver City, CA)
The WeHo Sausage Company at Citizen Public Market
9355 Culver Blvd, Culver City, CA 90232
310.869.5824
www.thewehosausagecompany.com
Wed 04/28/2021, 08:20p-09:30p

Food halls have become sort of a "thing" over the past several years, and LA's latest entrant is Citizen Public Market, which opened on November 18th, right before our huge coronavirus spike. Located in a historic 1929 Beaux Arts-Art Deco structure that formerly served as the headquarters for Citizens Publishing Company, the building provides room for eight vendors. However, not all the spaces are filled, and as of this writing, there are but six tenants: coffee shop-café Goodboybob, seafood specialist Jolly Oyster, (stuffed) pizza spot Pizzette, taco slanger Mexicology, rooftop drinking den Bar Bohémien, and the subject of this post: WeHo Sausage Co.
About the Chef
: WeHo Sausage is the brainchild of Peter Tulaney, a native of Bay Ridge, Brooklyn who actually didn't set out to become a chef. After graduating from Bucknell University, he moved to Southern California to attend Pepperdine, where he attained a master's in clinical psychology in 2005. He then began working as a marriage/family therapist in the Malibu area, and in 2009, even started his own children's art therapy practice called Malibu Art Barn. In 2012, Tulaney was gifted a KitchenAid stand mixer from a friend who had won it on
The Price Is Right
. Having always loved cooking, he quickly started experimenting with the machine's meat grinder and sausage stuffer attachments, and began bringing his homemade sausages to events hosted by friends.
At one of these gatherings in 2013, another guest wound up hiring Tulaney to cater a birthday party, which forced him to establish a properly registered and licensed catering business. Now a professional caterer working out of a kitchen at 1313 West 8th Street in Westlake (which also had a small retail lunch counter), he decided to finally step away from his psychotherapy career in 2016. At the start of 2018, he expanded his business to encompass Los Angeles Office Catering Co (a collaborative concept offering catering from multiple caterers) and Action Catering (focused on the television and film industry). In 2019, he catered a child's birthday brunch, and happened to meet one of Citizen Public Market's developers, who eventually convinced Tulaney to join the food hall as one of its opening tenants.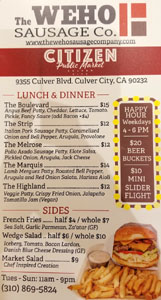 Despite this place's name, WeHo Sausage doesn't serve your classic tubed meats. Instead, it offers sausage patty sandwiches along with housemade charcuterie and various accompaniments. The food stall also boasts a
surprisingly impressive beer list
, one with over 100 selections. Click for larger versions.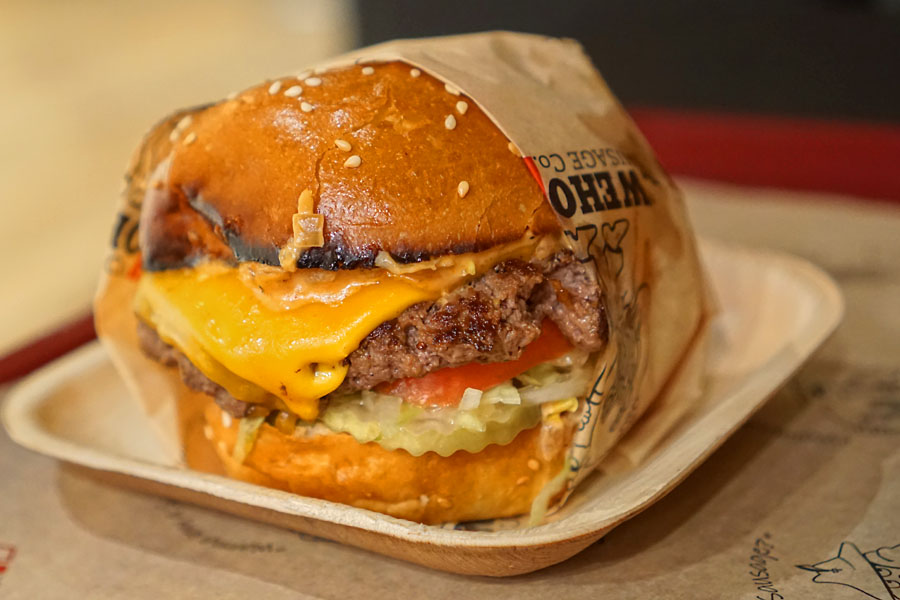 The Boulevard [$15.00]
| Angus Beef Patty, Cheddar, Lettuce, Tomato, Pickle, Fancy Sauce
I think it made sense to start with your classic hamburger, which was a bit old school in its approach. It featured a savory, salty, well-griddled patty that was easy to enjoy. Pickles and onions offered up a bright, crunchy counterpoint, and the "fancy sauce" definitely helped tie everything together.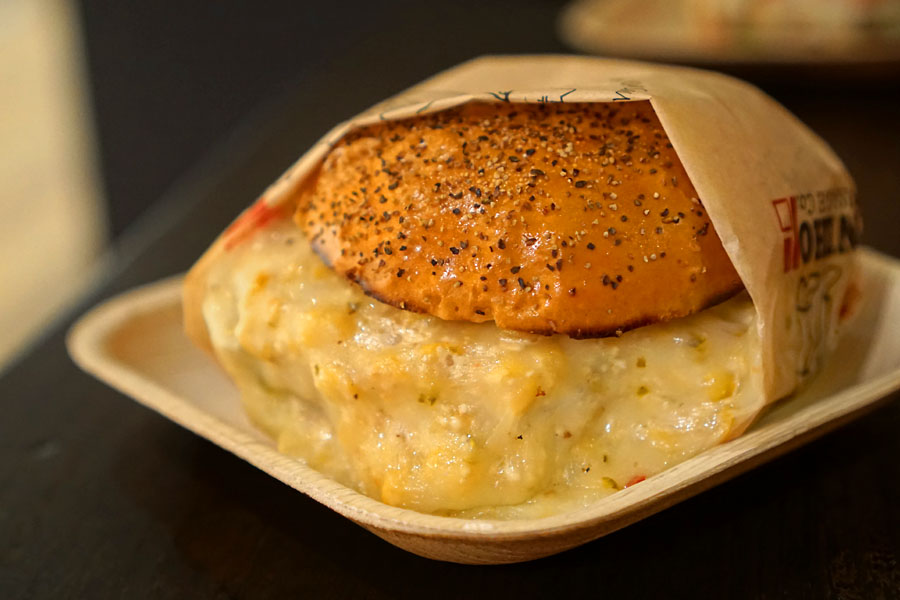 The Melrose [$12.00]
| Pollo Asado Sausage Patty, Elote Salsa, Pickled Onion, Arugula, Jack Cheese
Up next was the most unconventional sandwich of the night. The patty did a nice job capturing the essence of pollo asado, though I found the corn overly sugary, as it tended to overwhelm the chicken. Fortunately, the onion and arugula did rein in some of that sweetness, making for more balanced bites.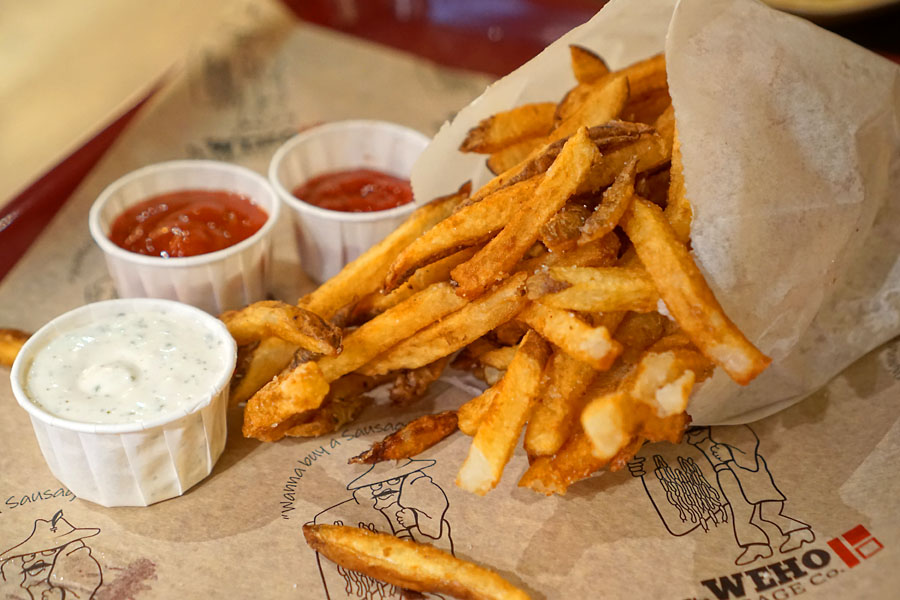 French Fries - whole [$7.00]
| Sea Salt, Garlic Parmesan, Za'atar
Made with russet potatoes, fries were assertively seasoned, which I appreciated. They were a natural pairing with the ketchup, but even better with a dab of that zingy housemade ranch.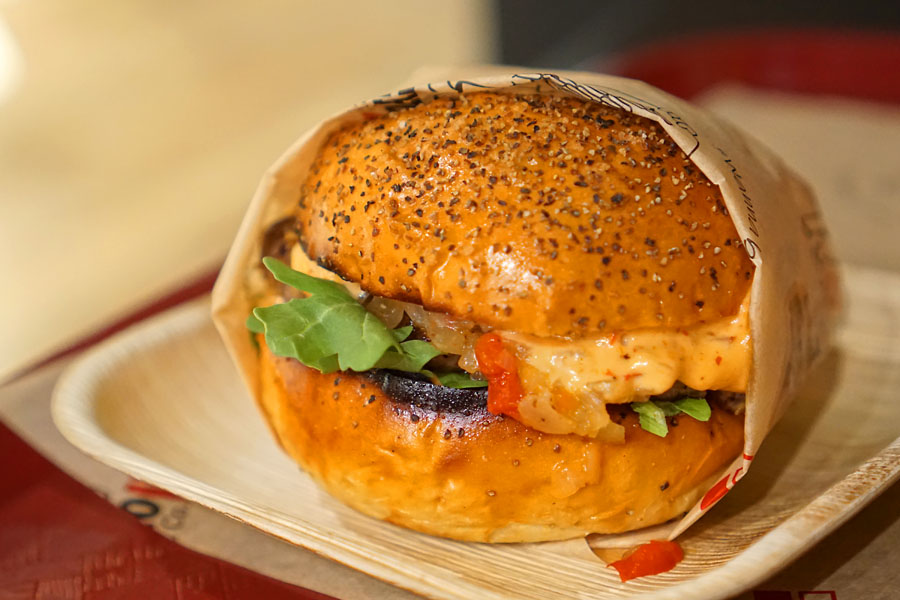 The Marquis [$14.00]
| Lamb Merguez Patty, Roasted Bell Pepper, Arugula and Red Onion Salata, Harissa Aioli
This was my favorite of the sandwiches. I loved the seasoning on the lamb leg patty, which ended up meshing wonderfully with the spicing on the bun. Also key was the contrast provided by the arugula and roasted peppers, while the slight heat of the aioli was spot on, too.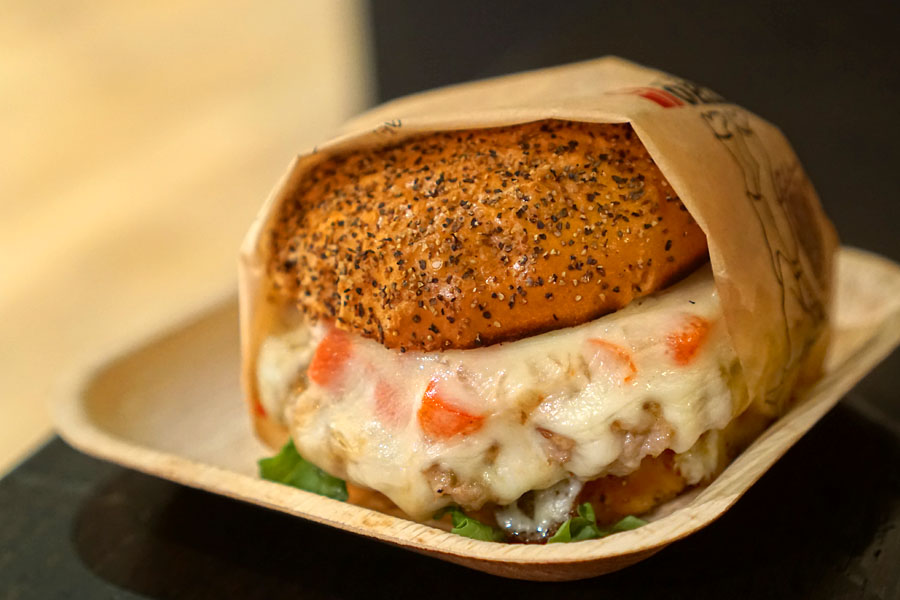 The Strip [$12.00]
| Italian Pork Sausage Patty, Caramelized Onion and Bell Pepper, Arugula, Provolone
My final sandwich was also a winner. What struck me the most was how well-spiced the pork sausage was; it actually reminded me of the pizza topping, and that's a good thing. Arugula and peppers functioned beautifully here as well, and the cheese contributed an enveloping lushness that served as the perfect finishing touch.
The sausage patties tonight represented a twist on your traditional burger, one that I was actually pretty happy to see. WeHo Sausage provided a tasty introduction to Citizen Public Market, and I do plan on exploring more of the vendors in the future, starting with that bar upstairs...