Playita (Los Angeles, CA)
Playita Mariscos
3143 Sunset Blvd, Los Angeles, CA 90026
323.928.2028
www.instagram.com/playitamariscos/
Tue 03/30/2021, 08:15p-09:45p

The story of
Guisados
is no doubt one of the shining examples of taco-related success here in the Southland. Started in 2010 by Armando De La Torre and Chef
Ricardo Diaz
(who's no longer involved), the taqueria mini chain has blossomed from a single outpost in Boyle Heights to seven locations throughout LA. Since my last visit to Guisados back in July 2017, De La Torre and his son have expanded to Koreatown inside the Platform 35 Food Court (January 2019, closed a year later), Beverly Hills in the former Cool Basil Thai Bistro space (May 2019), and Pasadena at the old Doña Rosa building (May 2020).
In November 2018, the De La Torres diversified their portfolio with a takeover (in partnership with Robert McCord) of George's Drive-In, a hamburger/burrito spot in Boyle Heights that'd been in operation since the 1960s. Along those same lines of diversification comes Playita, which replaces Silver Lake's La Playita Siete Mares. The seafood shack debuted at the end of March, and is ostensibly inspired by the De La Torre family's trips down to Mexico.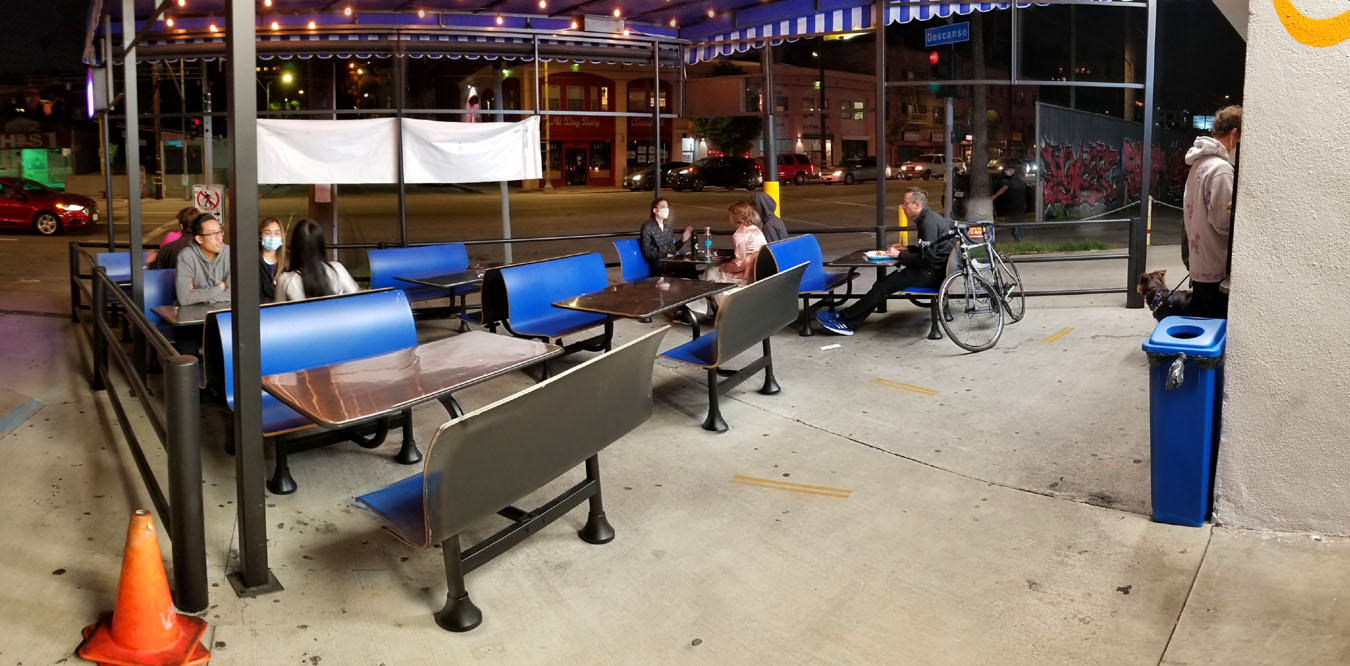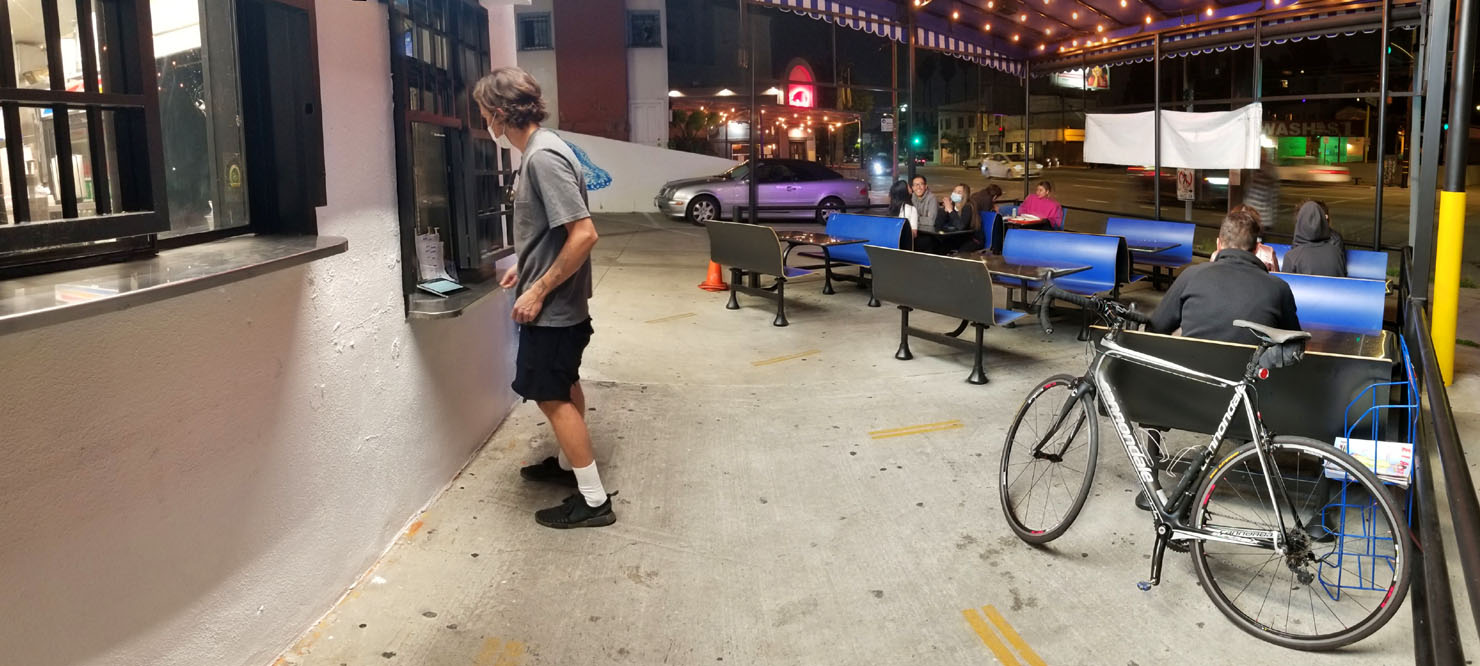 Playita is an outdoor seating-only sort of setup, which plays well with our current coronavirus environment.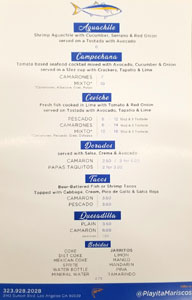 The menu lists a tight selection of your usual casual mariscos favorites. Click for a larger version.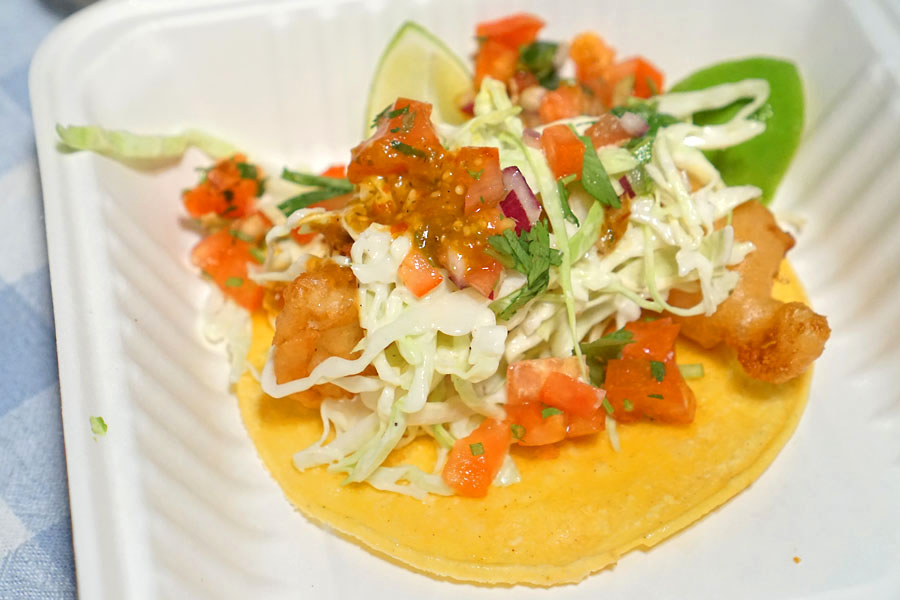 Tacos - Pescado [$3.50]
| Beer-Battered Fish Tacos Topped with Cabbage, Cream, Pico de Gallo & Salsa Roja
I had to begin, of course, with the fish taco, and it was a promising start for sure. The pescado was coated with a thin, crisp, almost dainty batter, while the actual flesh ate supple and moist, with a delicate salinity. It played well with the ever-present crunch of cabbage, and at the same time, the salsas contributed a sweet spiciness on the back end. The tortilla, meanwhile, was softer, floppier than usual, while the lime was appreciated, but not strictly necessary.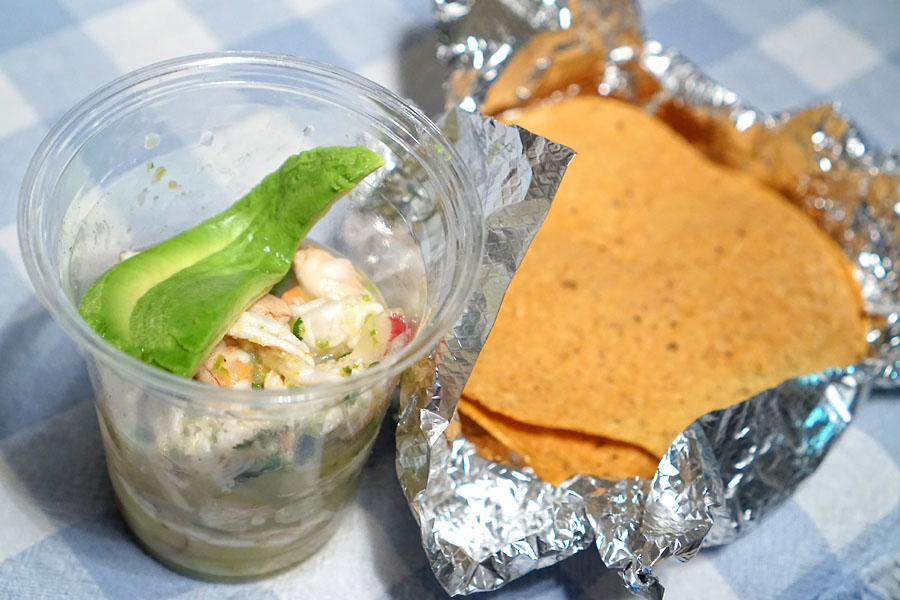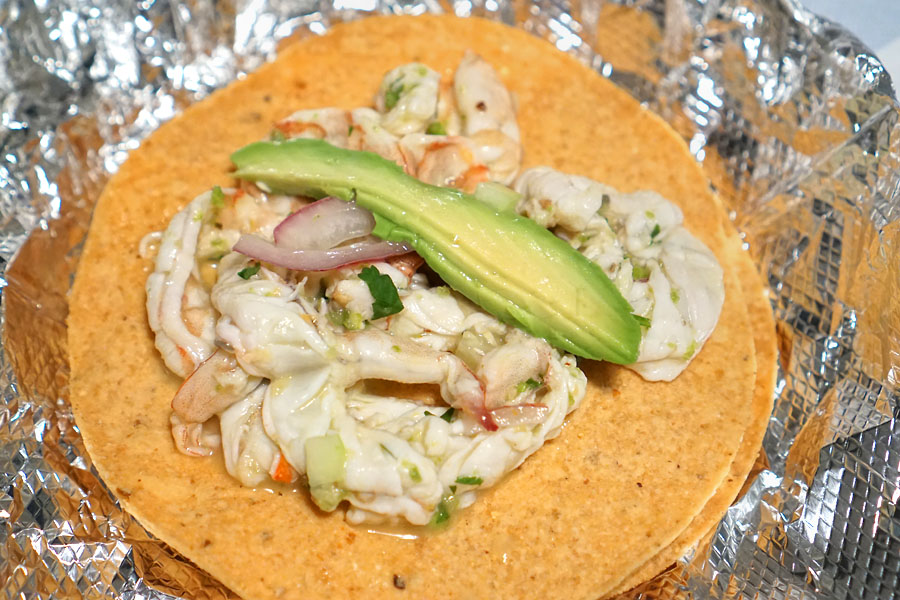 Aguachile [$6.00]
| Shrimp Aguachile with Cucumber, Serrano & Red Onion served on a Tostada with Avocado
The aguachile featured fresh, meaty cuts of shrimp, paired with a bright, zippy liquid imbued with a heat that sneaks up on you. A great match with the included tostadas, which were super crunchy, and almost Fritos-esque in fact.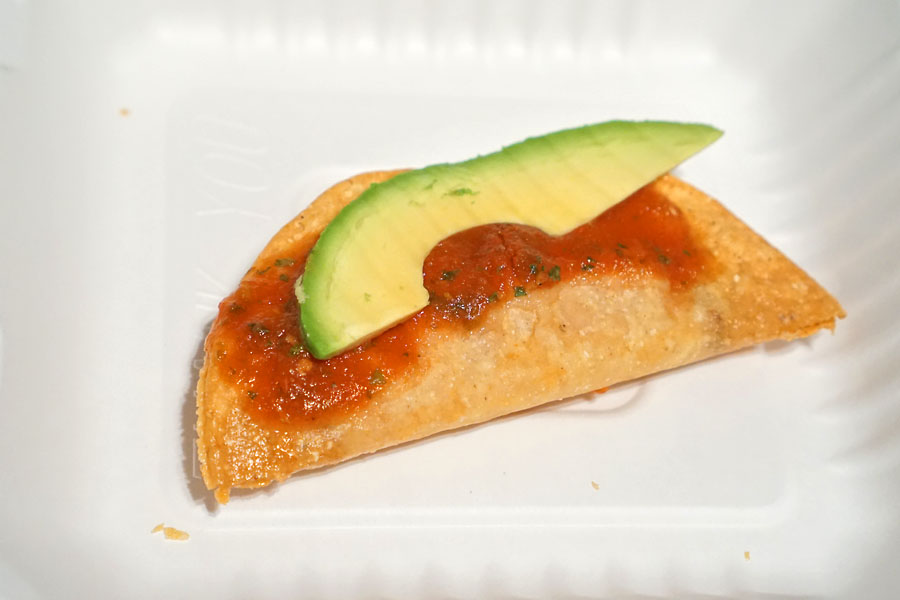 Dorados - Camaron [$2.50]
| served with Salsa, Crema & Avocado
A compact, crispy, hard-shelled taco combined familiar flavors of red sauce with the savory brine of shrimp, though I didn't get much from the crema.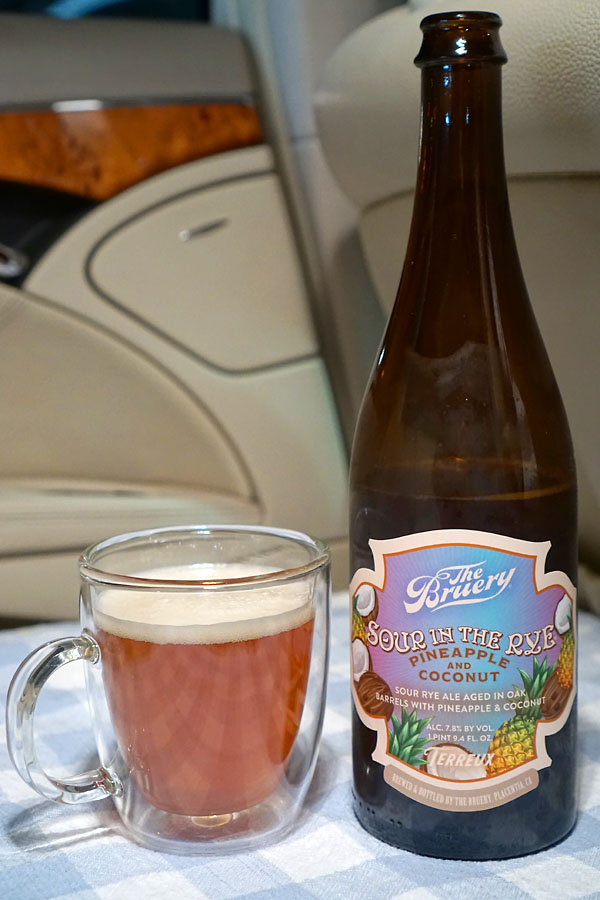 Drink duties were taken care of by an oak-aged sour rye ale, the
2020 The Bruery Terreux Sour in the Rye with Pineapple and Coconut
. The beer had aromas that were simultaneously spicy, sweet, and sour, with fragrant coconut hiding underneath. Its palate was tart and very, very acidic, though a healthy dosing of fruity, somewhat tiki-like flavors did soften things up.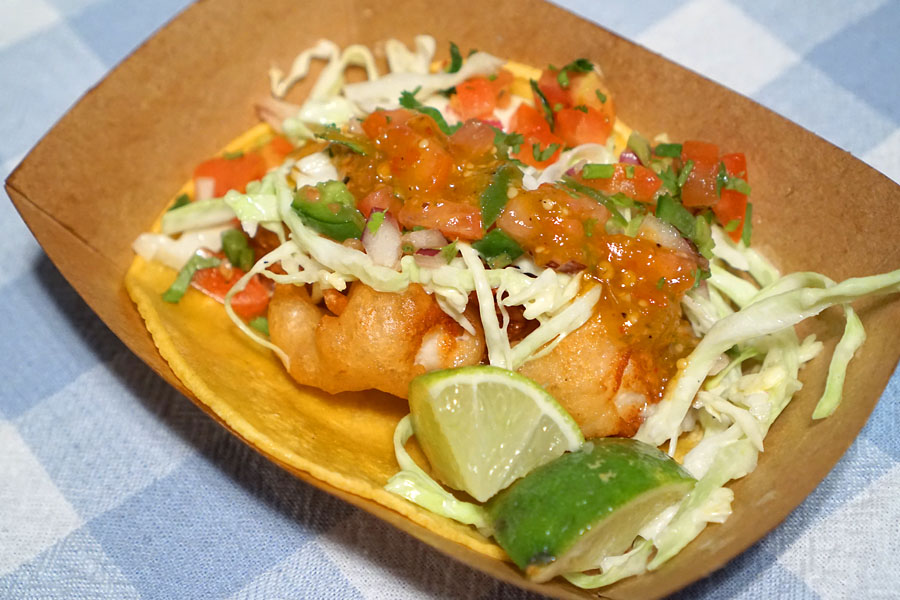 Tacos - Camaron [$3.50]
| Beer-Battered Shrimp Tacos Topped with Cabbage, Cream, Pico de Gallo & Salsa Roja
Now naturally I had to compare the shrimp taco with the fish version above. This one featured the same elegant batter, only this time said batter enveloped snappy, oceany cuts of camaron. I'd also say that the taco in general had a sweeter, less spicy flavor profile, so a squirt of lime was more apropos.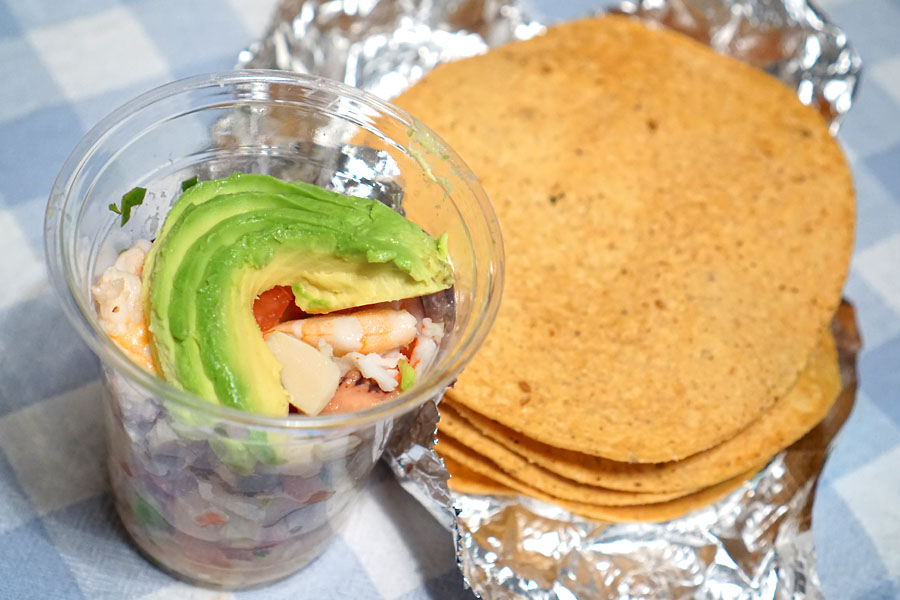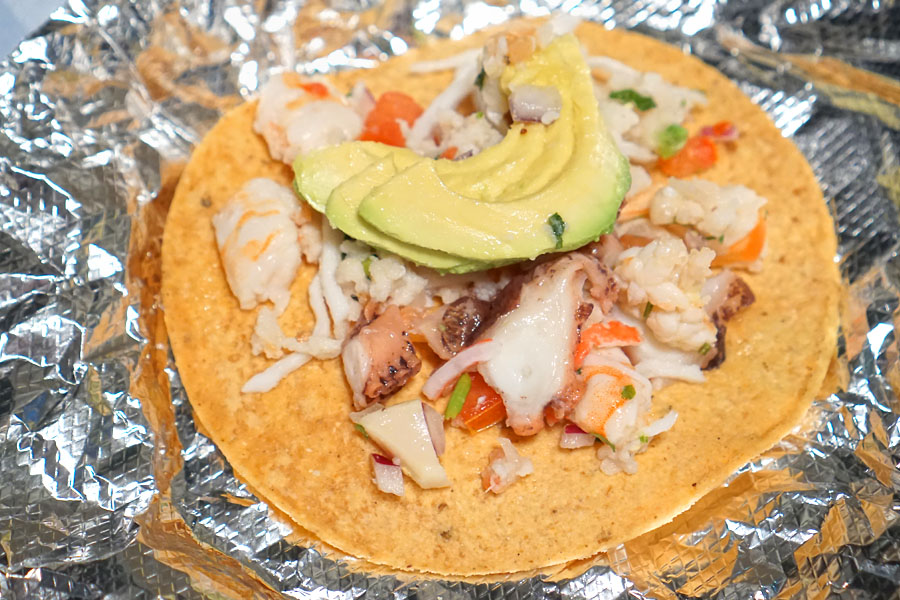 Ceviche - Mixto (Camarones, Pescado, Crab, Octopus) [$10.00]
| Fresh fish cooked in Lime with Tomato & Red Onion served on a Tostada with Avocado, Tapatio & Lime
This Mexican-style ceviche showed off a multitude of textures, and did a nice job demonstrating both sweetness and salinity, but countered by the subdued sourness of its marinade. And again, a good match-up with those extra crunchy tostadas.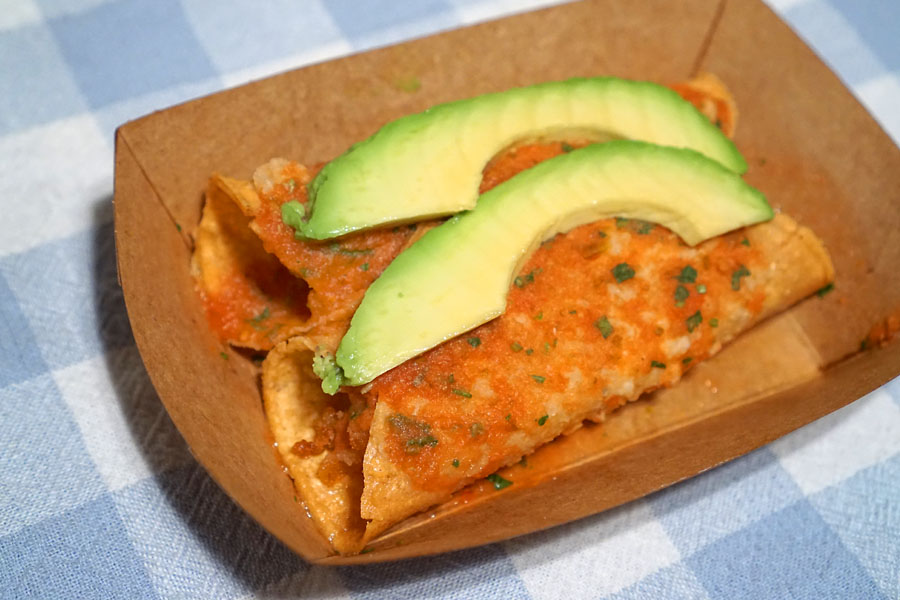 Dorados - Papas Taquitos [$3.00]
| served with Salsa, Crema & Avocado
These rolled tacos married homey, finely mashed potatoes with an even homier salsa roja, the whole thing encased in pleasantly brittle shells. I could've used some more acidity, though.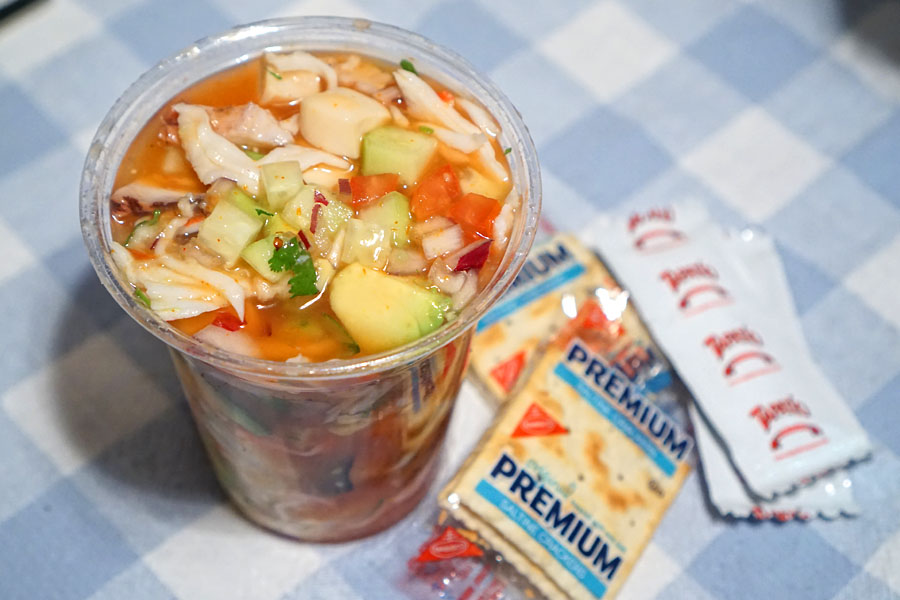 Campechana - Mixto (Camarones, Albacore, Crab, Pulpo) [$10.00]
| Tomato based seafood cocktail mixed with Avocado, Cucumber & Onion served in a 12oz cup with Crackers, Tapatio & Lime
Last up was this attractive looking cocktail. Each item of seafood was well presented, and fortunately, the sweetness of the dish's tomato base was relatively restrained. However, the coctel was even better with a dash of Tapatío, which really opened up the flavors. An accompaniment of crackers certainly made sense, but I preferred this even more when paired with the tostadas from above.
I had a solid meal here tonight, and Playita looks to be a worthy addition to SoCal's already strong mariscos scene. The place seems pretty popular already, so if that level of interest continues, I could definitely see more Playitas popping up around LA in the coming years.