Perle (Pasadena, CA)
Perle Restaurant
43 Union St, Pasadena, CA 91103
626.460.8819
www.perlerestaurant.com
Thu 04/15/2021, 07:45p-10:15p

Amazingly, it'd been over four years since I last blogged about a place in Old Town Pasadena (the unfortunately-shuttered
Lost at Sea
), so it was high time for me to return. For my choice of restaurant, since I hadn't had French in a while, I decided on Perle, a new-ish brasserie-type spot that opened back in June last year. The place is the first solo effort from Chef/Owner Dean Yasharian (it's reportedly named after his eldest daughter), and for the project, he's partnered up with the Ying Fund, a Chinese-led micro venture capital firm.
About the Chef
: Dean Lee Yasharian was born in April 1981, and spent his childhood on an Upstate New York dairy farm and in rural Pennsylvania. By the time he completed high school, he was cooking at a local Italian spot owned by a friend's parents, and really enjoyed it. In 1999, he enrolled at the Pennsylvania College of Technology in Williamsport, and during this period, worked briefly in Las Vegas. Following graduation in 2003, Yasharian spent time in Virginia Beach, then headed over to England to become a line cook at Daniel Clifford's Midsummer House in Cambridge, which earned its second Michelin star the following year. Visa issues resulted in him returning to the US, where he settled in New York and got a job as a junior sous at Daniel Boulud's eponymous flagship. In 2006, he took on a similar role at Gordon Ramsay at The London (which had just opened), and stayed there for a year, during which time the place was awarded two Michelin stars.
2008 saw Yasharian return to Boulud's side, as he became opening CdC at NYC's Bar Boulud. In October 2009, he got married and also appeared on an episode of Food Network's
Chopped
(which he won). The following year, he moved back to the UK to become opening Executive Chef at Bar Boulud in London. Yasharian spent five years in Britain, and even had three children there, but moved back to the US in 2015. This time, he settled in Los Angeles (as his wife is from South Pasadena), and took over the EC role at André Balazs's Chateau Marmont in June that year. However, he decamped from the property in 2018, and soon began working on opening his own spot. He chose Pasadena since it was an area that he was familiar with (again, due to his wife's family), and the original plan was to grand-open on March 19th last year. However, coronavirus shutdowns quickly altered those plans, and the restaurant instead ended up debuting in the middle of June.
Joining Yasharian here as front-of-the-house chief is GM Roderick Daniels. The Ohio State University grad found his love for the hospitality biz while working in restaurants during college, and upon returning to the Southland, landed at Noir Food & Wine in Pasadena. From there, he went on to work under Mary Thompson at
Saint Martha
and Ben Teig at
Redbird
. In July 2015, Daniels became a sales manager for Bock Wine & Spirits, and stayed there for a year. Following, he served as AGM at Santa Monica's Local Kitchen + Wine Bar until April 2017, then spent 11 months at
Farmshop
at the Brentwood Country Mart. He then worked at
Gwen
for four months, ending in October 2018, and then became Dining Room Manager at
Auburn
. Finally, in September 2019, Daniels left Eric Bost's stellar Hollywood spot to take the reins at Perle.
Above we see the theme-appropriate interior of Perle, which just re-opened recently for indoor dining (though we sat outside). Note that previous tenants of this space include Harlowe's French Dip, Nikka Fish & Grill, Kal's Mediterranean Bistro, Quadrupel Brasserie, Siena, Greco's, and Patakan Thai Restaurant.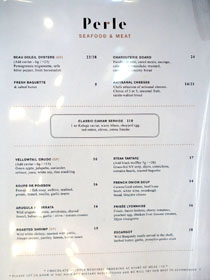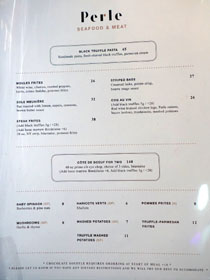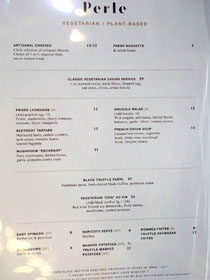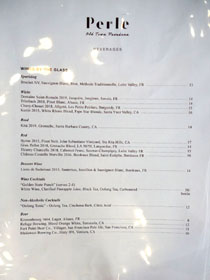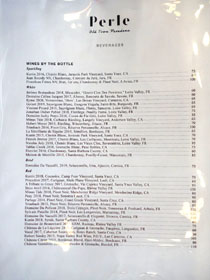 As for the menu, Perle offers a mix of classic French bistro-esque fare alongside more California-inspired creations, and there's also a surprisingly large assortment of vegetarian items. To drink, we have a relatively compact wine list featuring exclusively French and Californian selections, along with a handful of beers. Corkage is $40 I believe. Click for larger versions.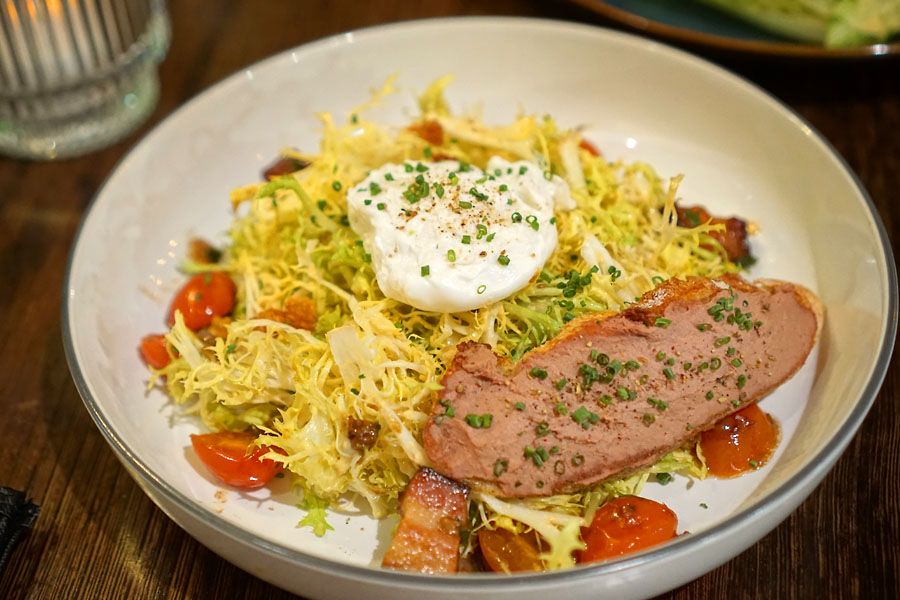 Frisée Lyonnaise [$16.00]
| Frisée, bacon lardons, cherry tomatoes, poached egg, chicken liver mousse crouton, Dijon vinaigrette
The salade Lyonnaise is a French staple that I ate rather often in the early 2010s, so it was nice to revisit it tonight. I appreciated the dish's overarching mustard-y tartness as well as its pillowy poached egg, while the lardons contributed requisite hits of salt and savor. However, my favorite part was the chicken liver, which imparted an unexpected, but very welcomed layer of earthiness.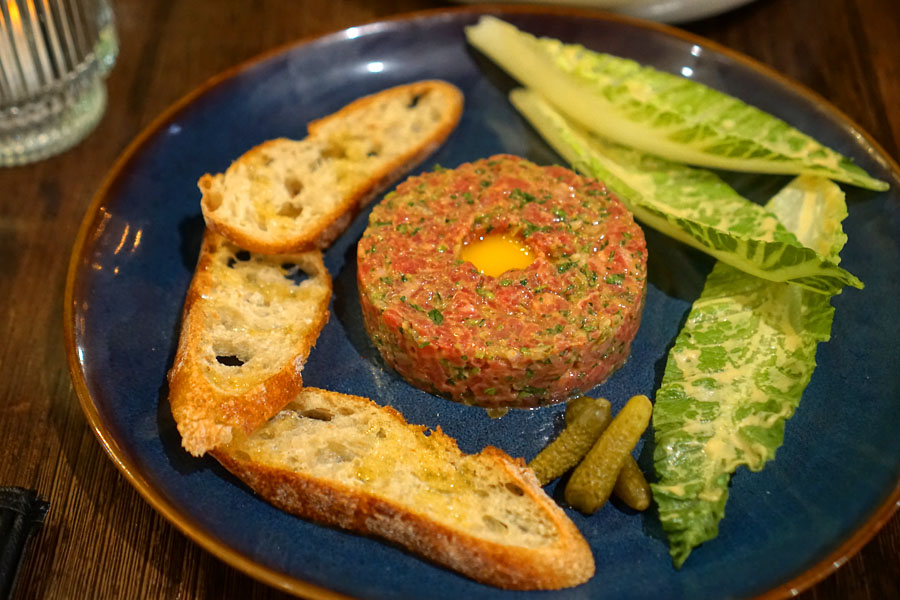 Steak Tartare [$17.00]
| Grass-fed NY strip, dijon, cornichons, romaine hearts, toasted baguette
As many of you will know, I have a hard time saying no to a beef tartare. Perle's version exhibited a great chew and springiness to the steak, along with a focused, meaty flavor profile that meshed seamlessly with the tanginess of the pickle-mustard combination.
Roasted Shrimp [$19.00]
| Wild white shrimp, sautéed with garlic, Aleppo pepper, parsley, lemon, butter sauce
The kitchen did a good job not overcooking the shrimp, which showed off a fine salinity that married easily with its rich, buttery, slightly spicy sauce.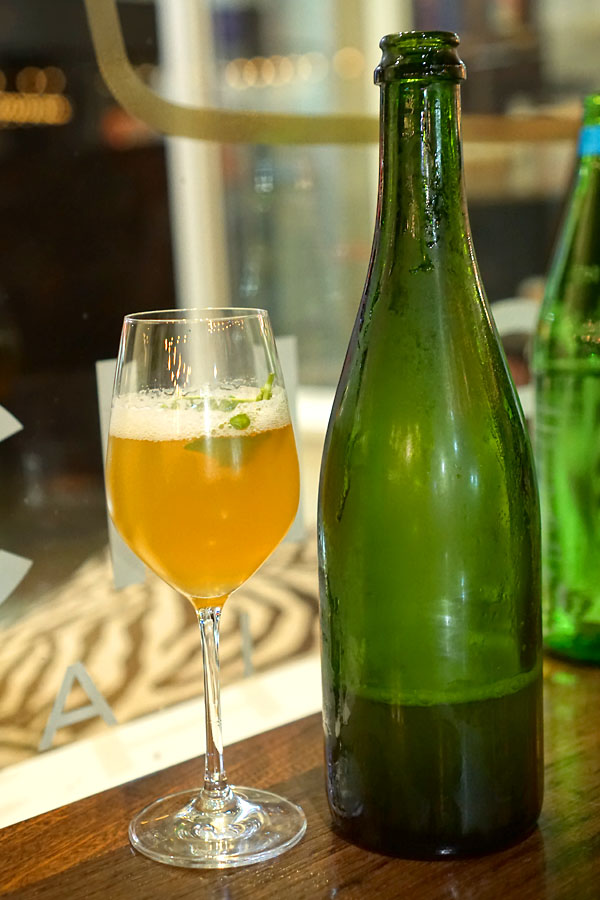 Golden State Punch [$50.00/bottle]
| White Wine, Clarified Pineapple Juice, Black Tea, Oolong Tea, Carbonated
I was very curious to try this wine cocktail, the creation of Scott Sullivan, an alum of Clayton's Public House,
Faith & Flower
,
The Ponte
, Blue Bottle, Short Cake, Bar Nine, and Groundwork Coffee Company. The drink had an inviting bouquet of fragrant tea intertwined with stone fruit, while its taste brought notes of basil, pineapple, and tea together in a sweet, balanced, easy-drinking package.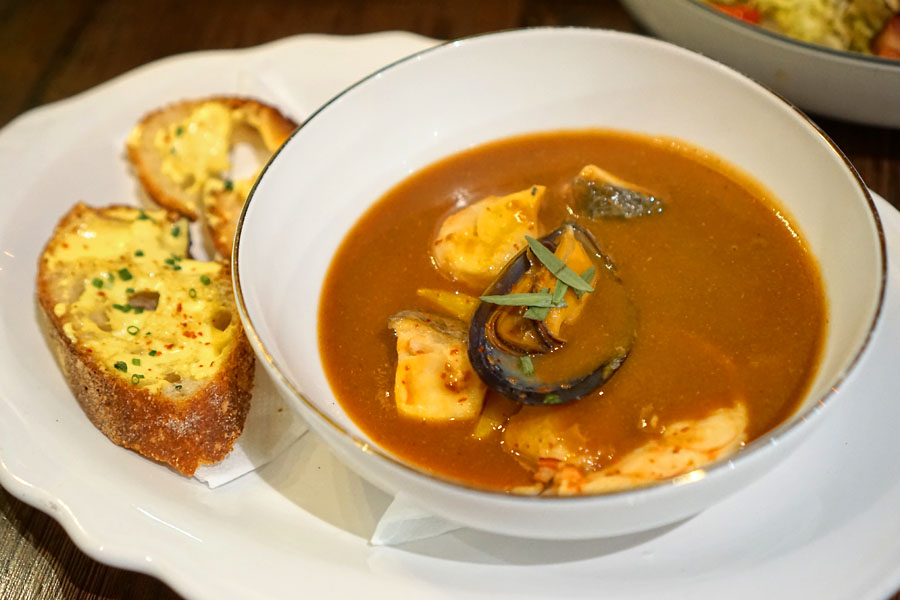 Soupe de Poisson [$16.00]
| Provencal fish soup, saffron, seafood, potato, fennel, rouille, garlic toasts
Next came a seemingly bouillabaisse-inspired soup. Each item of seafood here was distinctly presented, while the broth demonstrated deep, dark flavors, amped up by undertones of sweetness.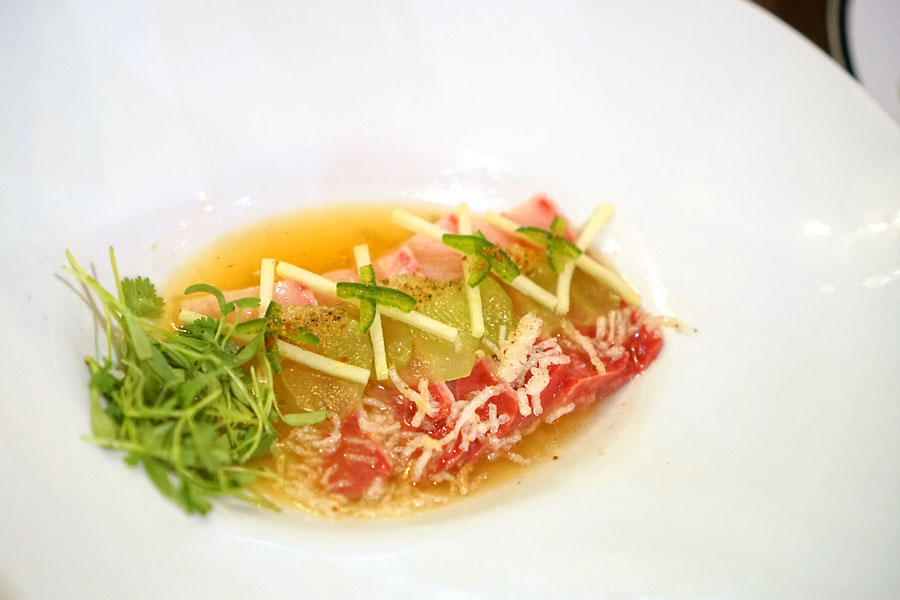 Yellowtail Crudo [$16.00]
| Green apple, jalapeño, coriander, celtuce, yuzu, white soy, rice crackling
Cuts of yellowtail ate fresh and fatty, and worked hand-in-hand with the brightness from the herb and citrus. A light, refreshing dish that almost functioned as a palate cleanser.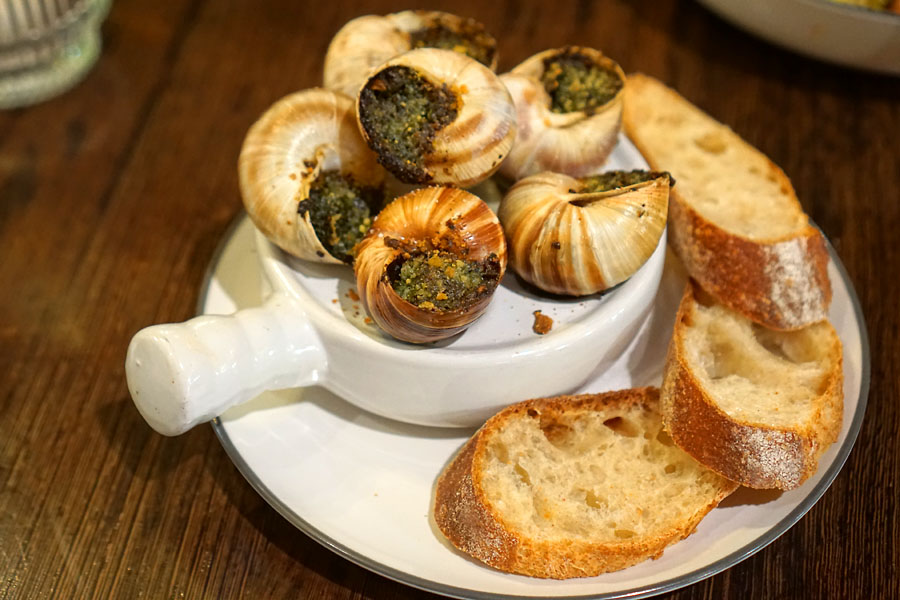 Escargot [$18.00]
| Wild Burgundy snails served in the shell, herbed butter, garlic, pistachio-panko crust
Escargots conveyed all the traditionally buttery, herby, garlicky flavors that you'd want, all juxtaposed against a slight bitterness.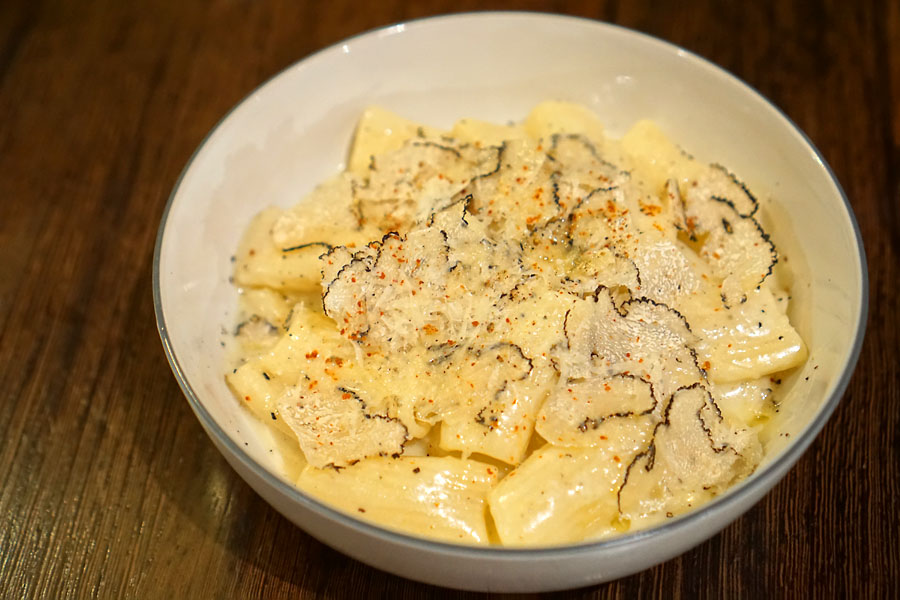 Black Truffle Pasta [$45.00]
| Handmade pasta, fresh-shaved black truffles, parmesan cream
In our first main, a
paccheri millerighe
-like pasta was delightfully textured, and worked effortlessly as a base for the plethora of cheesy, peppery, truffle-y flavors in the dish. This one was easy to enjoy, no doubt.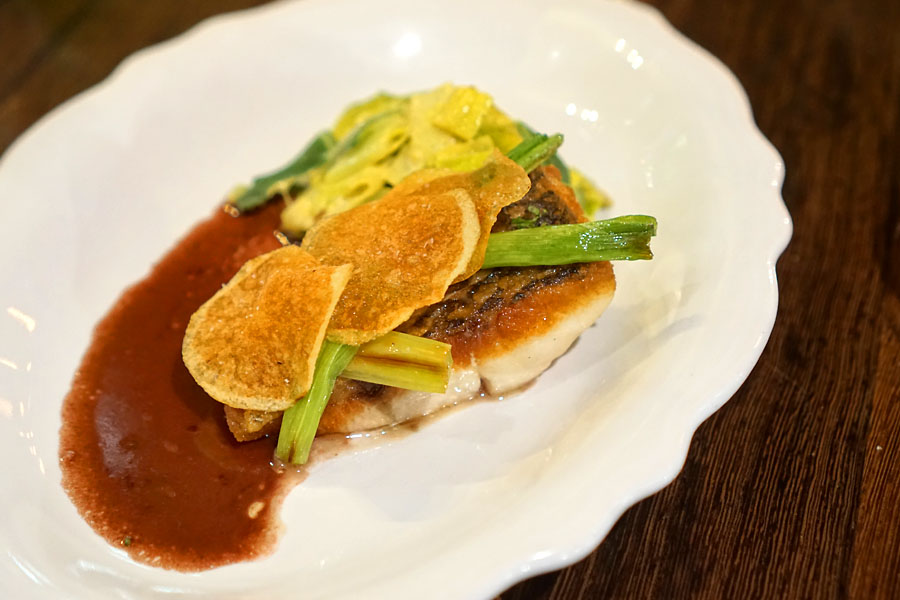 Striped Bass [$27.00]
| Creamed leeks, potato crisp, beurre rouge sauce
Striped bass arrived juicy and flavorful, with a salty, satisfying, super crispy skin to boot. The accompanying red butter sauce was a bit too potent, but fortunately, the zippy leeks did a commendable job softening its blow.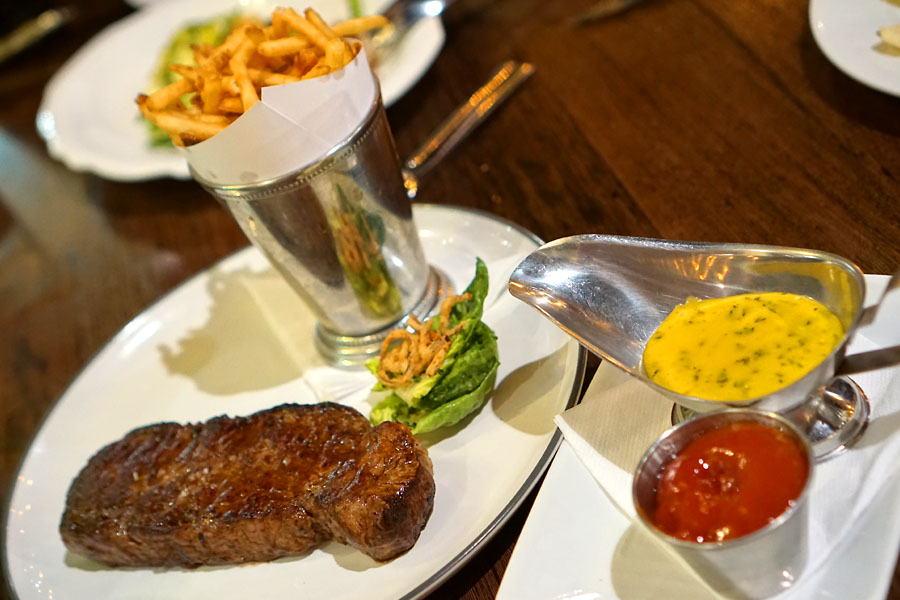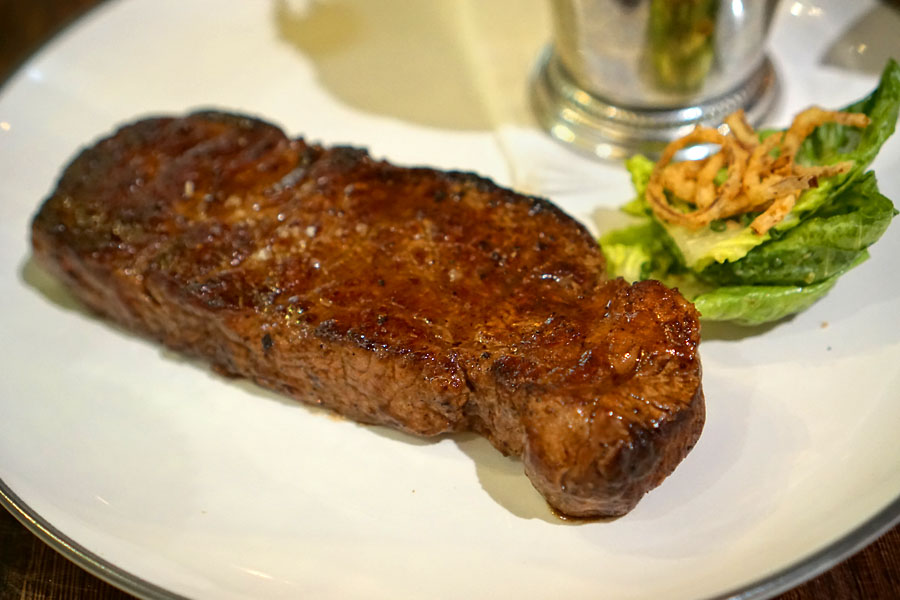 Steak Frites [$38.00]
| 10 oz. NY strip, béarnaise, pommes frites
We went with the classic steak and fries for our final savory. Unfortunately, the steak was cooked more than we'd requested (it was at least a medium instead of a medium-rare), though its taste was pleasantly peppery and very agreeable. The potatoes, meanwhile, were thin, crispy, and enjoyable either with or without the included ketchup.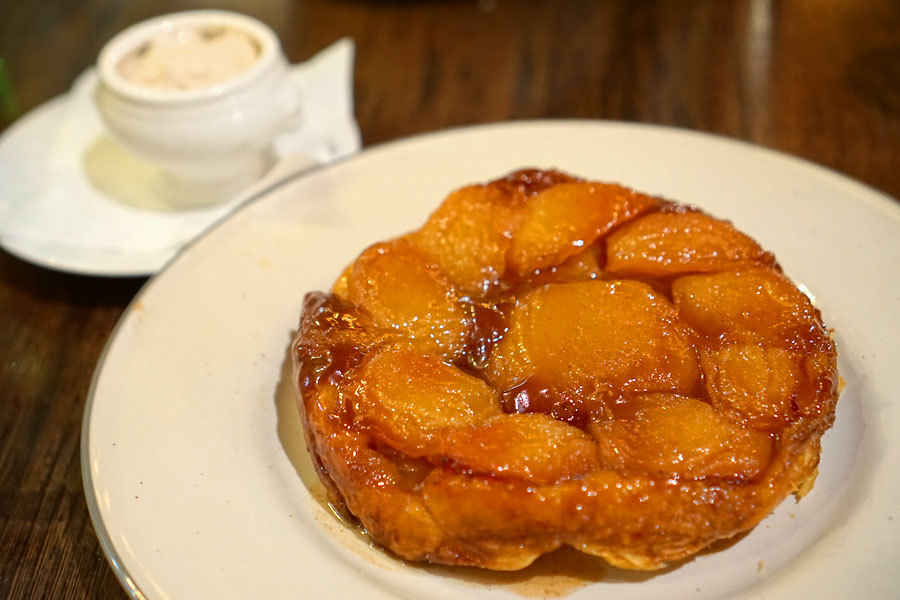 Apple Tarte Tatin [$16.00]
| Caramelized pastry, gala apples, cinnamon-labneh cream
For dessert, we opted for the Midsummer House-inspired apple tart, which is the work of Yasharian and Pastry Chef Anthony Lopez (who was actually CdC at the now-shuttered POP Champagne Bar & Restaurant a few doors down). It was actually one of the best I've had, thanks to its combination of a brittle, sticky caramelized crust, concentrated apple flavors, buttery puff pastry, and the creamy, sweet-spiciness of the yogurt.
As I mentioned above, it'd been a rather long while since I'd gone out for French cuisine, so I'm glad that Perle was able to bring me back into the mix. Yasharian's cooking largely delivered exactly what he promised, combining casually elegant classic French cookery with a distinctly Cal-inspired sensibility. It's a concept that seems to have resonated quite well with the area's dining populace, and I'm happy to have this place as a new dinnertime option in the area.
---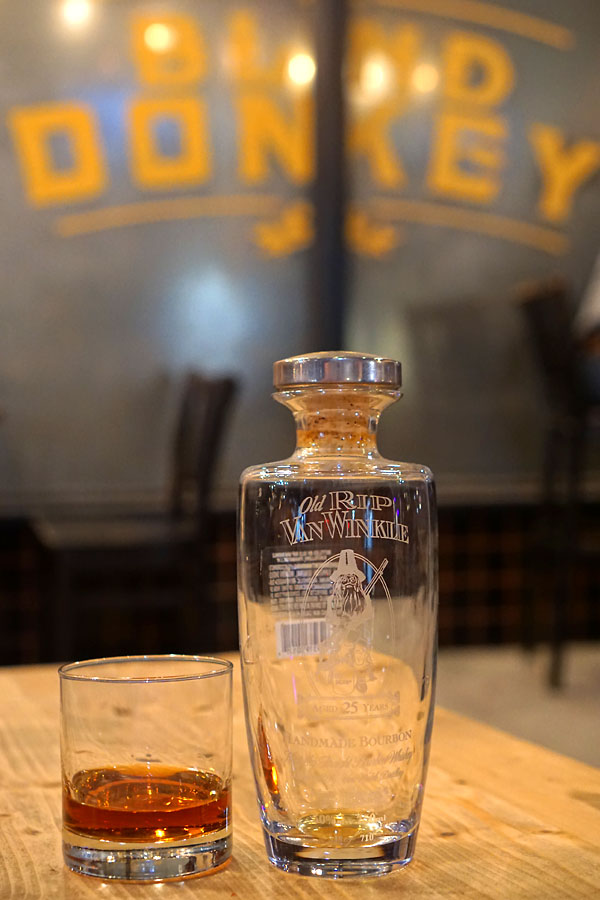 After dinner, we moseyed on over to The Blind Donkey next door to enjoy some whiskey, specifically the
Old Rip Van Winkle 25 Year [$500/2oz]
. Bottle #338 of only 710 produced, the spirit was distilled in 1989, aged for 25 years in 11 barrels, packaged in Glencairn crystal decanters, and released in 2017. I'd wanted to try it ever since then, but given the bourbon's rarity and price, I never thought I'd get the opportunity until I spotted it on The Blind Donkey's menu. And yes, though five Benjamins is certainly a good chunk of change for two ounces of booze, it's also a downright bargain given that a bottle of the stuff is now
selling for $30,000
.
In any case, the whiskey was intensely perfumed, and I could easily smell it through my mask as it was brought to our table. Initial aromas were dark fruit and raisin combined with minty, herbaceous notes, with traces of vanilla that strengthened as the evening progressed. Tasting it, I got sharp floral flavors joined by distinctly grassy qualities, all leading to sweet heat and elements of candied fruit, along with some barrel notes on the back end. Overall, I found the bourbon eminently balanced, and not overly oaky despite its age--delicious.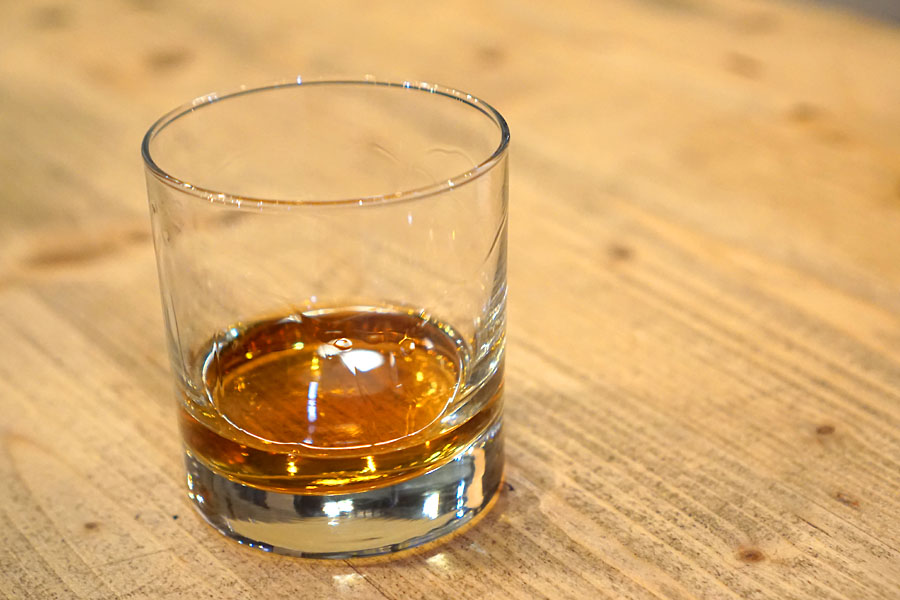 We also ordered a pour of the
Four Roses 130th Anniversary [$45/2oz]
, a four bourbon blend that was released in 2018 to celebrate the company's 130th birthday. This one had a much rounder, warmer nose that displayed notes of citrus, pome fruit, and oaky astringency, though a lot more caramel came out as the liquid sat. The palate, meanwhile, had loads of soft, ripe (stone) fruit alongside zesty herb and vanilla, with heat and spice lingering toward the rear. Another strong showing.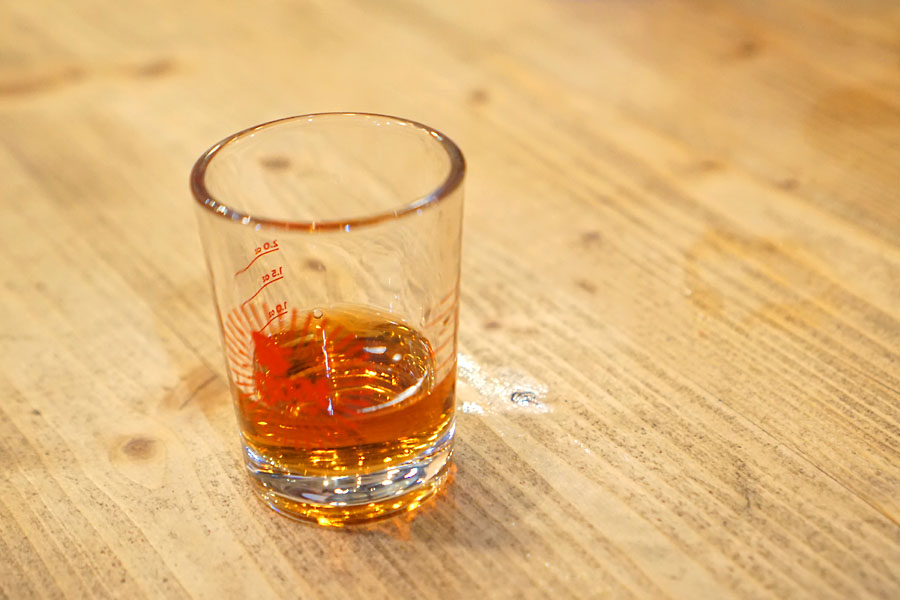 Last up were shots of the
2021 Woodford Reserve Batch Proof
, which were graciously given to us free of charge by our server John (who provided top-notch service this evening). Since I shot instead of sipped here, I wasn't able to get tasting notes, but I will say that this one went down really damn smoothly despite its 64% ABV.