Sushi Ii (Newport Beach, CA) [2]
Sushi Ii
100 West Coast Hwy, Newport Beach, CA 92663
949.287.6268
www.sushi-ii.com
Thu 04/01/2021, 07:35p-09:35p
You might recall that, right at the start of the coronavirus crisis last year, I paid a visit to the then-new
Sushi Ii
down in Newport. The brainchild of Chef Susumu Ii and Natsuko Travioli, the restaurant managed to deliver a terrific takeout sushi meal, the best I've had in fact. Given the strength of that experience, I vowed to return here for a proper dinner once I could, and now that time has come.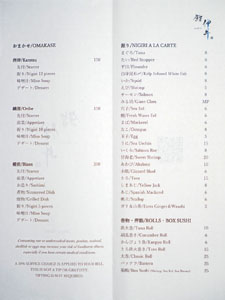 Pictured above is Sushi Ii's dinner menu. There are three omakase options offered (we went for the flagship "Bizen"), though you can also order à la carte. Corkage was $50 a pop. Click for a larger version.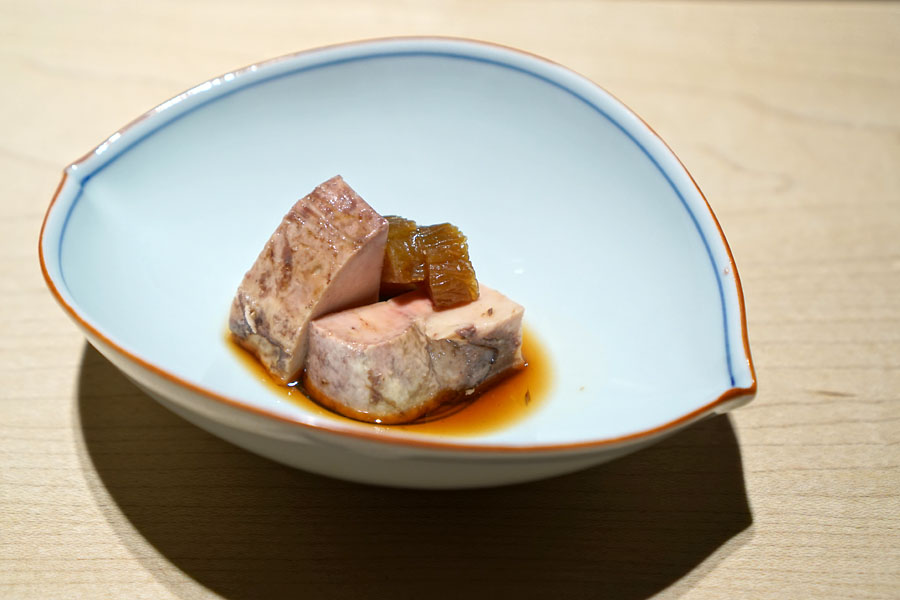 1: 先付 / Starter - Ankimo
First to arrive was our
sakizuke
course, which functioned as a bit of an amuse bouche. This was a prime example of monkfish liver. I appreciated its luxurious consistency, while flavors were briny and smoky, with an almost "hammy" character, while a lingering vegetal note came in on the back end and lingered. Meanwhile, serving as a counterpoint to all this richness were crunchy, sweet-n-sour
narazuke
pickles. An encouraging start.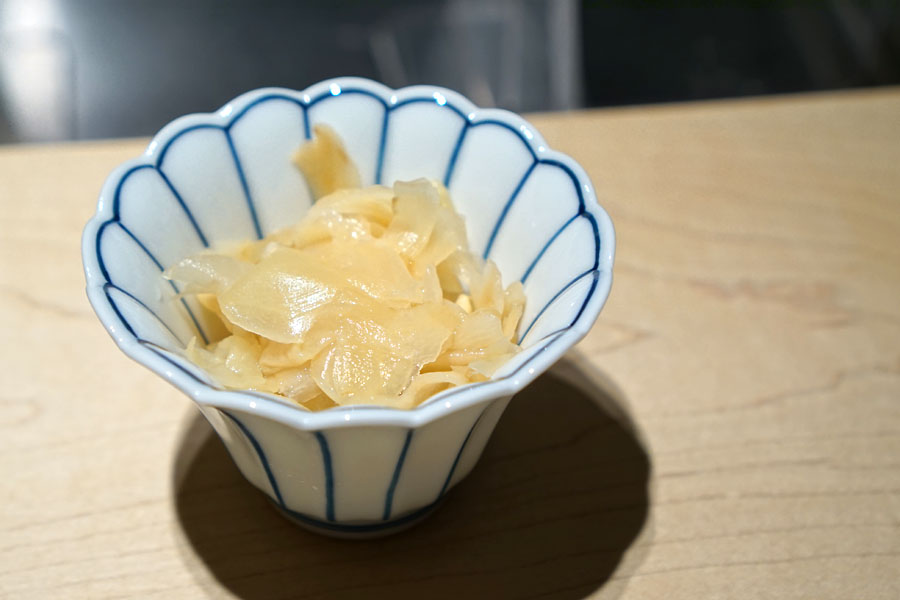 A generous amount of
gari
was then brought out. I found the ginger unusually spicy, which wasn't a bad thing.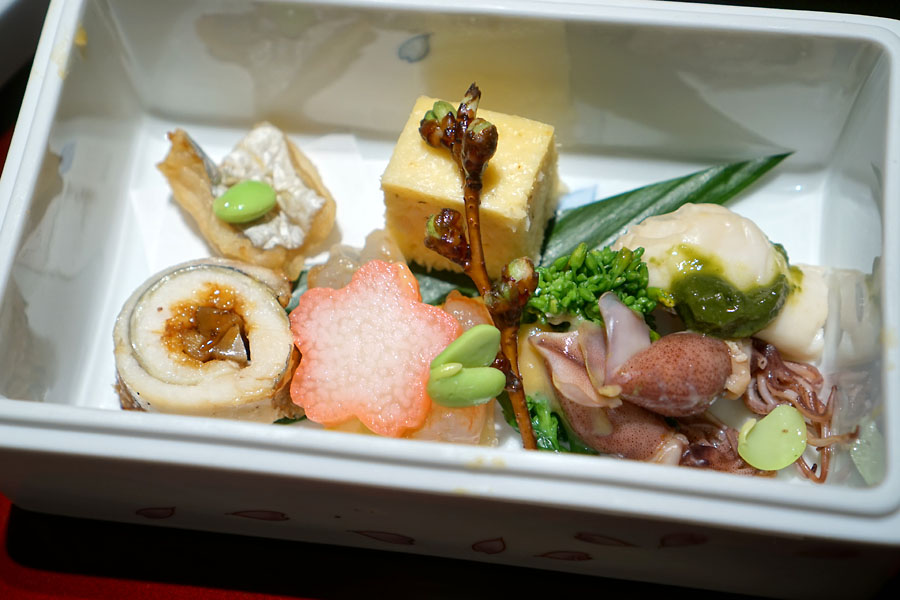 2: 前菜 / Appetizer
Next was an assortment of
zensai
. Counter-clockwise from lower-left:
I began with a presentation of gobo wrapped in eel. I was a big fan of the crunch of the burdock root, and how it matched up with the fish's sweetness and savor. One of my favorites.
Scarlet-tinted yamaimo (Japanese mountain yam) combined its crisp, mucilaginous texture with a mild flavor profile.
Cuts of shrimp cured with kelp displayed a stickiness of sorts, while their taste was umami-forward, yet still sweet and tangy.
Supple-but-snappy hotaru-ika (firefly squid) were pleasantly oceany, and certainly made sense with the sweet-sour nature of their sumiso (miso vinegar paste) dressing.
My favorite item of the septet was the custard-y shirako (sea bream soft milt), which showed off an apparent, yet delicate brine that matched up beautifully with the tartness of its accompanying sauce. One of the best preparations I've had.
A crab-fish cake was another standout of the seven thanks to its delectable combination of sweetness and salinity.
Last up was the salty, satisfying tachiou (beltfish), which was also a joy to eat.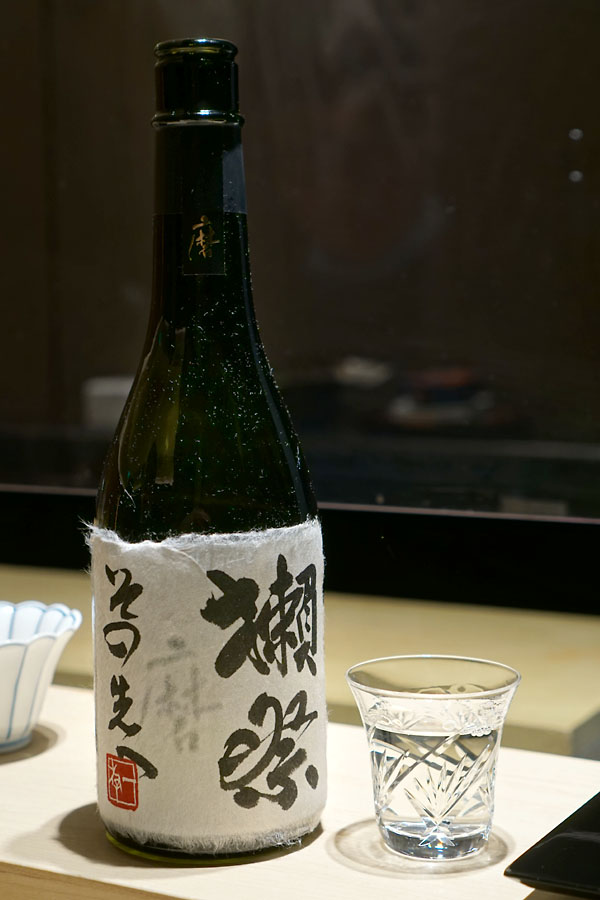 To drink, I brought a bottle of the
2019 Dassai Beyond
(a.k.a.
Migaki Sonosakie
, or 磨き その先へ), a
junmai daiginjo
-class,
yamada nishiki
-based sake with a secret
seimaibuai
, produced by Asahi Shuzo out of Yamaguchi Prefecture. I'd actually purchased the
nihonshu
during my
last visit to Japan
, and was waiting for a good opportunity to bring it out. The sake had an intense, incredible nose of juicy fruit, floral, and funk that I could smell clearly even through my mask. Its palate was soft and velvety, showing off loads of sugary melon and a touch of honey, while the long finish conveyed a slight tingle of rice and umami--a very strong effort overall. Do also take note of the bottle's label, which is apparently hand-written by calligrapher Ichiyu Yamamoto on genuine
mino washi
paper.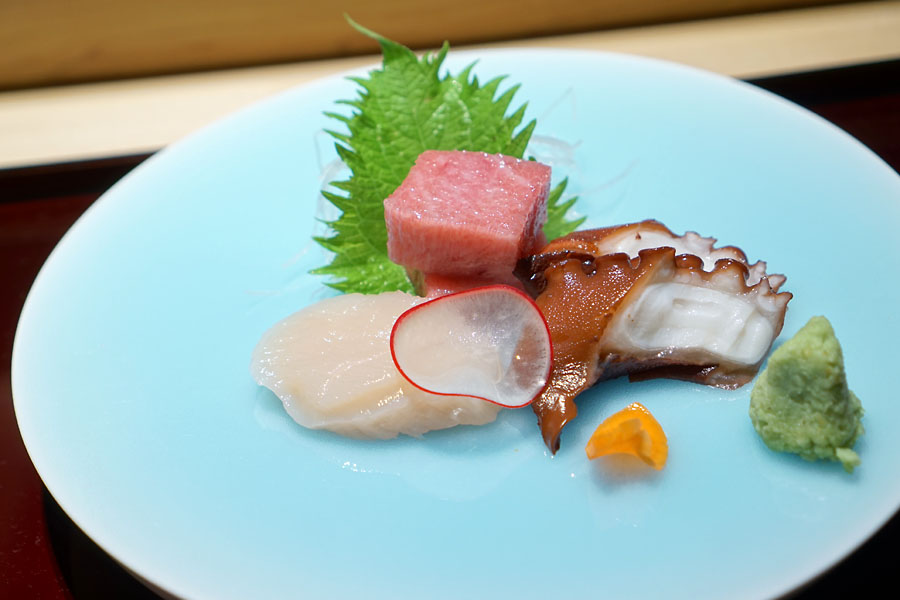 3a: お造り / Sashimi - Otoro, Tako, Hotate
The evening's
otsukuri
course comprised three types of sashimi:
I went for the octopus first, which had a wonderfully toothsome texture and an elegant taste that really sang when paired with a dab of wasabi.
I tried the bluefin next. It was a dense, super fatty cut that seemingly oozed oil upon mastication. Superb with a dip of soy sauce.
I finished with the scallop. I found the bivalve gorgeously textured, its sweetness and salinity in perfect balance.
3b: お造り / Sashimi - Katsuo
Our sashimi selection continued with skipjack tuna (or bonito). The fish displayed a lovely consistency that was almost "sticky." Flavors, meanwhile, were deep, rich, and savory, and so I really appreciated the sharp counterpoint provided by the combo of grated ginger and scallion.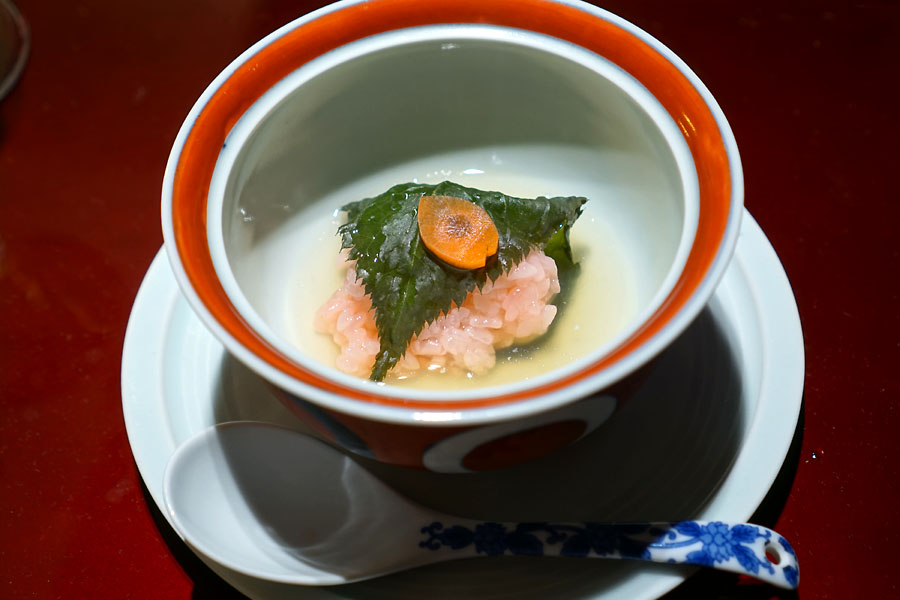 4: 煮物 / Simmered Dish
Nimono
duties were handled by this delightful marriage of sticky rice, rockfish, and cherry blossom. The rice itself was excellent, and had this homey, familiar flavor profile that recalled the
zhongzi
of my childhood. It was delicious alone, but was made even better by the fragrant, zingy essence of the sakura, all while the broth drank hot and heartwarming. A surprise favorite.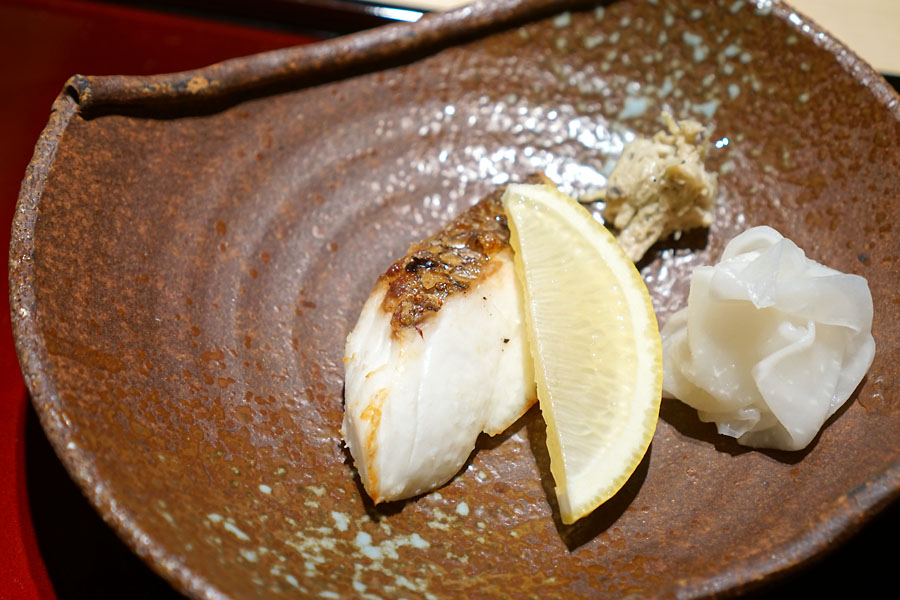 5: 焼物 / Grilled Dish - Madai
We were in peak
madai
season, so it wasn't surprising to see the fish featured in tonight's
yakimono
course. The red sea bream showed off a succulent, substantial texture, along with a perfectly crispy, salty skin, while flavors were robust, deep, and oh-so satisfying. Accoutrements here included a pungent
wasabi zuke
(wasabi pickled with sake lees) and sweet-tart, easy-going
kabu
(turnip) pickles.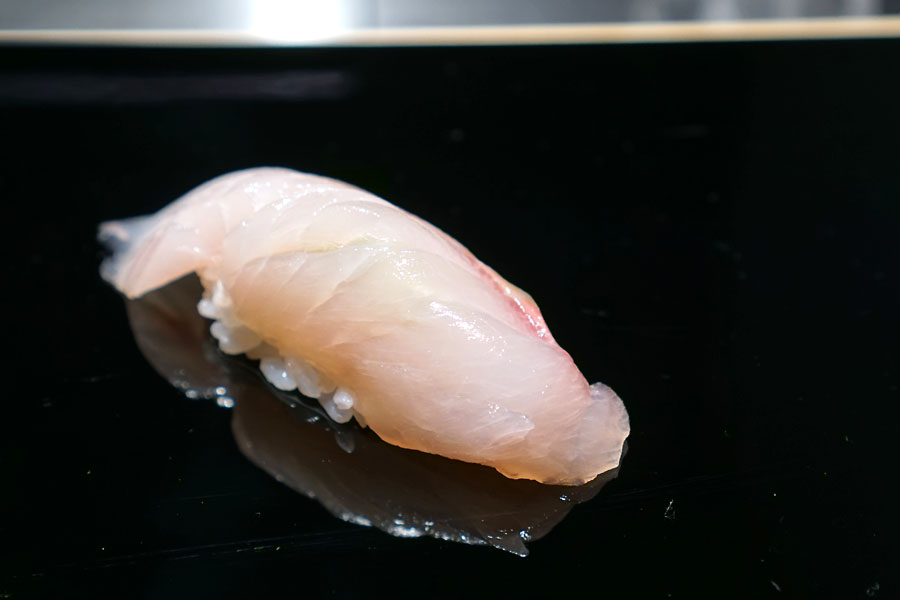 6a: しまあじ / Yellow Jack
At this point we got into the
nigiri
portion of the meal. Up first was the
shima aji
, which I found splendidly balanced, both in terms of texture and taste. As for the rice, I'd say that it was agreeably neutral; it didn't draw attention away from the fish, yet was always there for contrast.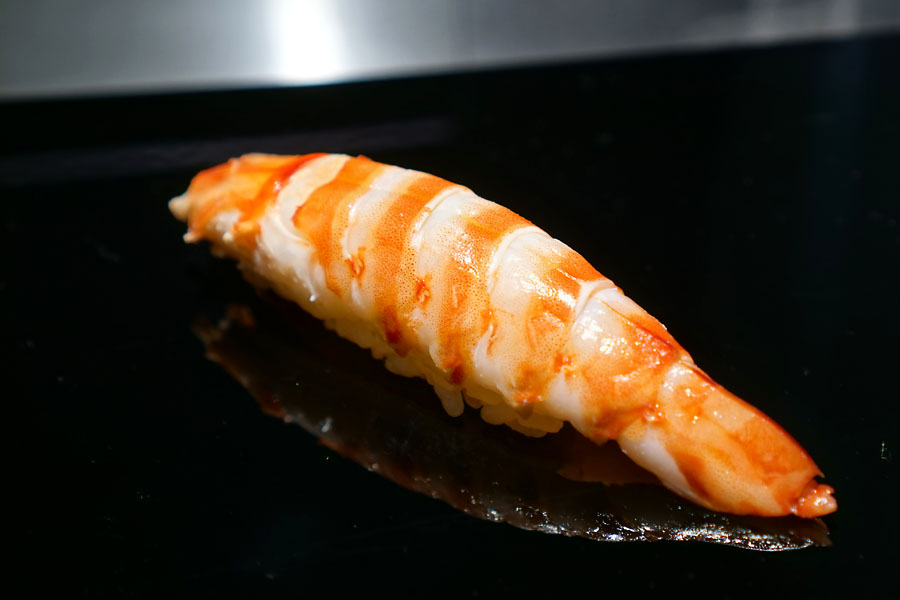 6b: えび / Ebi
I generally shy away from cooked shrimp, but this
kuruma-ebi
was much to my liking. Its mouthfeel was immensely rewarding, as was its considerable sweetness, and I'd really like to see this type of prawn used more often as a
neta
.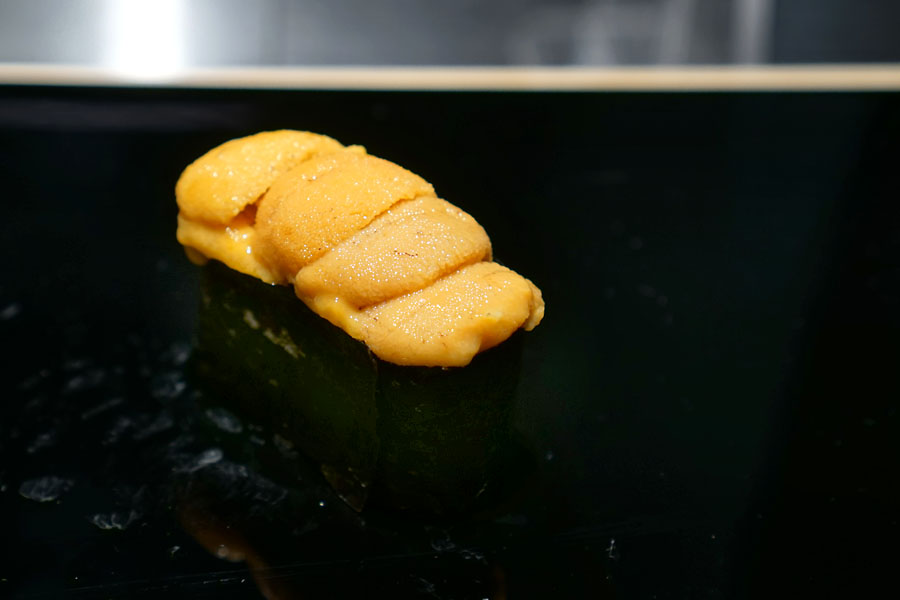 6c: うに / Uni
Hokkaido-sourced
ezo-bafun uni
was super creamy, while its taste was soft and sweet. The
shari
and sea urchin played off each other like clockwork, and I really enjoyed the finish of umami from the nori.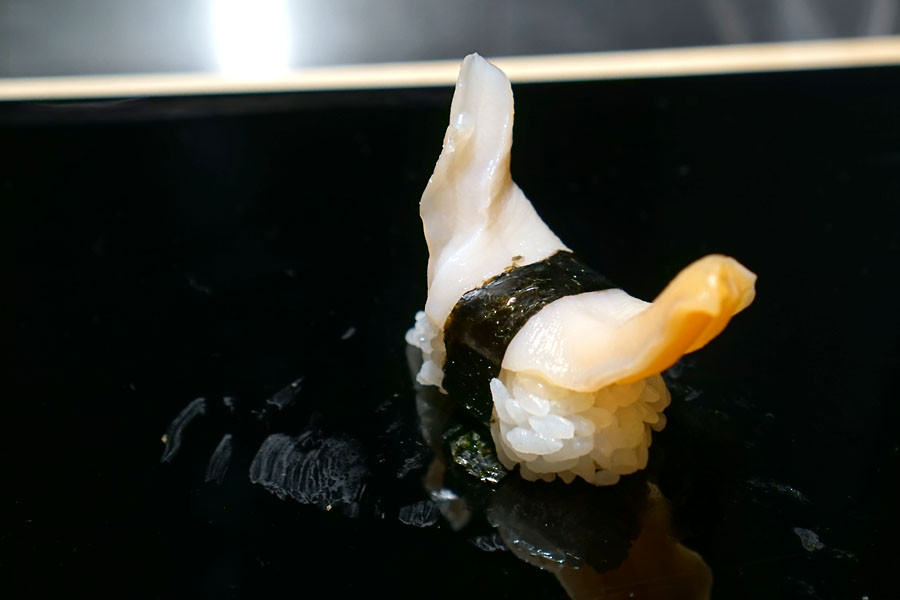 6d: みる貝 / Giant Clam
Mirugai
(geoduck) had a fantastic crunch to it, as well as a refined saline quality that matched up swimmingly with the seaweed notes present.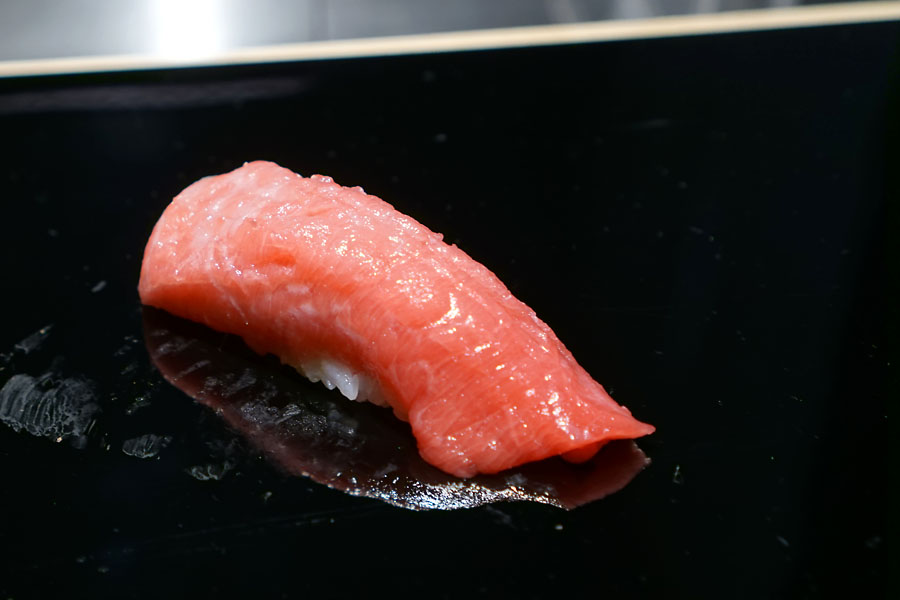 6e: とろ / Toro
Tuna belly was as fatty and lush as you'd expect, but still very balanced, and really opened up with a brush of soy. I was especially impressed with the consistency of the fish, which was unusually silky.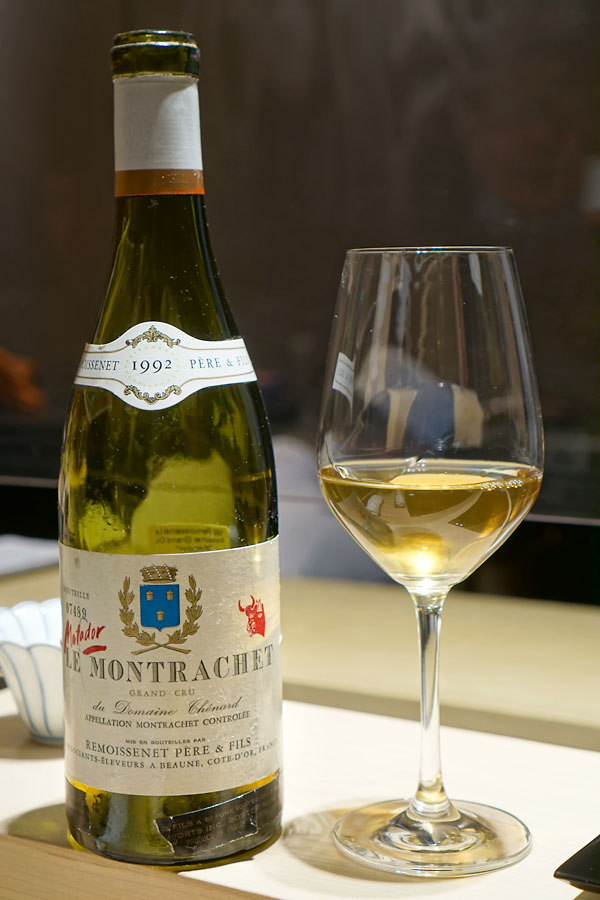 Our second bottle was an old burgundy, the
1992 Remoissenet Père et Fils Le Montrachet Grand Cru "Matador"
. The wine had a powerful bouquet demonstrating notes of yellow fruit, flowers, butter, and barnyard. Taste-wise, I found more of those fruity, buttery nuances, but they were joined by nutty, sherry-like flavors, along with a slight minerality and touch of spice. This was drinking quite well tonight, and though it was certainly a mature bottling, it also had a marked vibrancy to it that really appealed to me.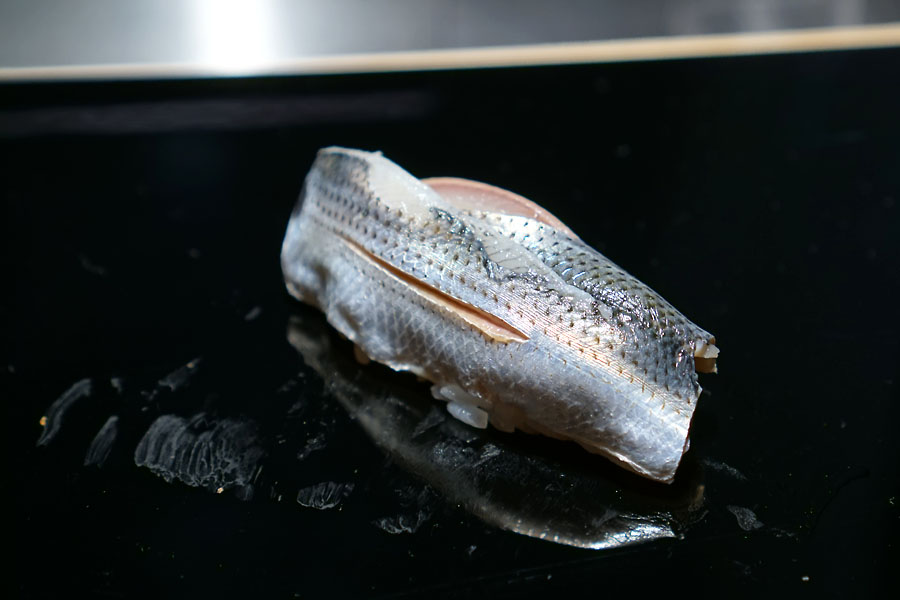 小肌 / Gizzard Shad [$6.00]
At this point, we opted to add on a few supplemental sushi courses. Traditionally salted and then marinated in rice vinegar,
kohada
was certainly robust when it came to umami and salinity. But at the same time, the fish had a palpable refinement to it, and the rice worked great as a foil, too.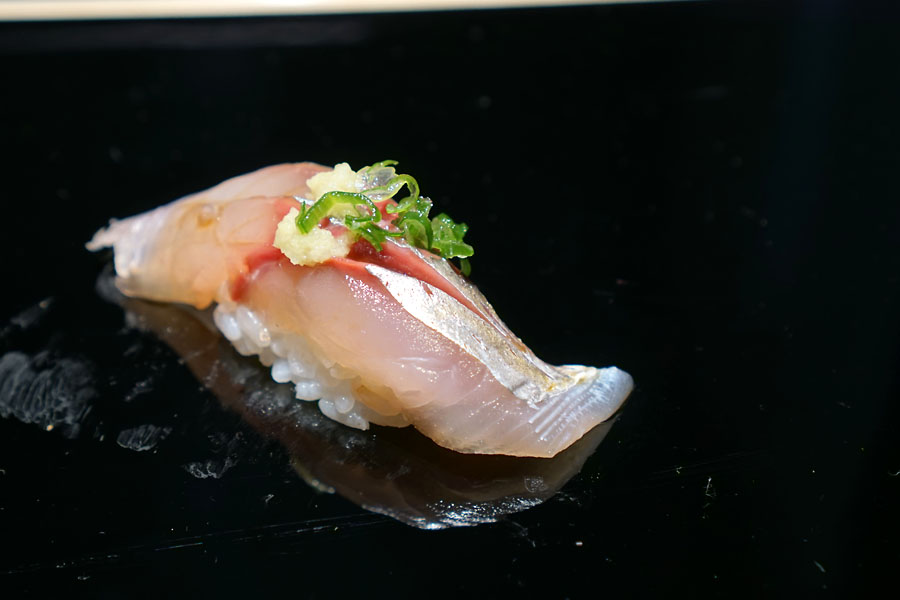 あじ / Spanish Mackerel [$6.00]
Our second serving of
hikarimono
was also a winner. The fish had a nice "crunch" to it, along with a surprisingly finespun taste that matched easily with a classic pairing of ginger and scallion. Interestingly, the mackerel seemed to draw out the sweetness of the rice here.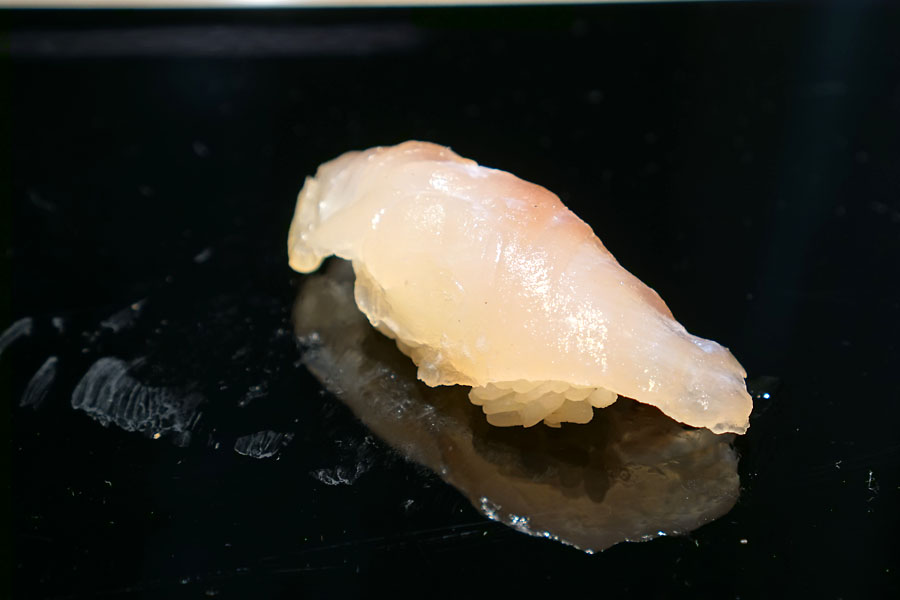 白身昆布〆 / Kelp Infused White fish [$8.00]
Given that red sea bream ushers in the spring season (it's often known as
sakuradai
during this period), it made sense that it was utilized for the
shiromi kobujime
. The bite displayed a dense, sticky texture, and flavors were deep and savory thanks to the fish's kelp treatment.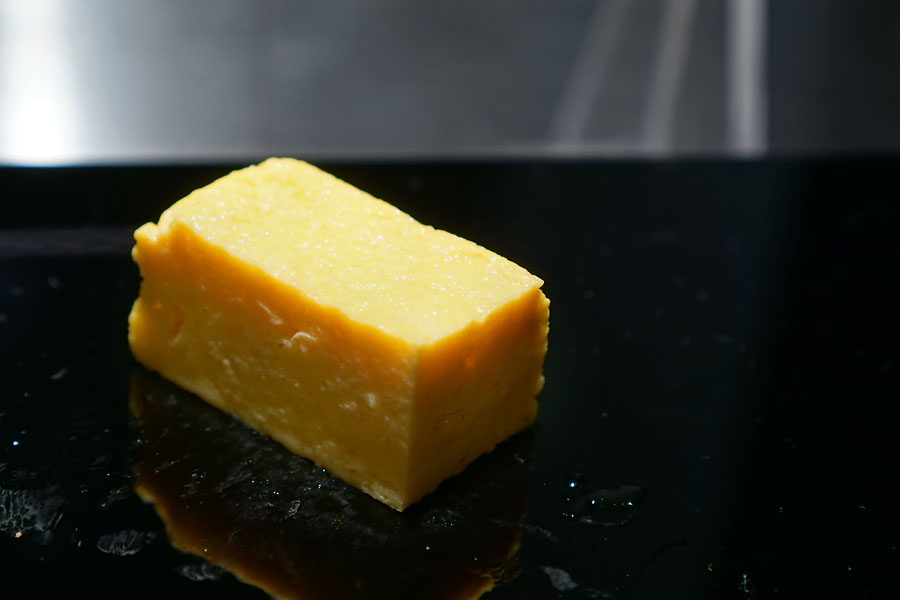 玉子 / Egg [$5.00]
We also requested the traditional closer of tamago. The egg arrived cool and sweet, and was almost like a palate cleanser.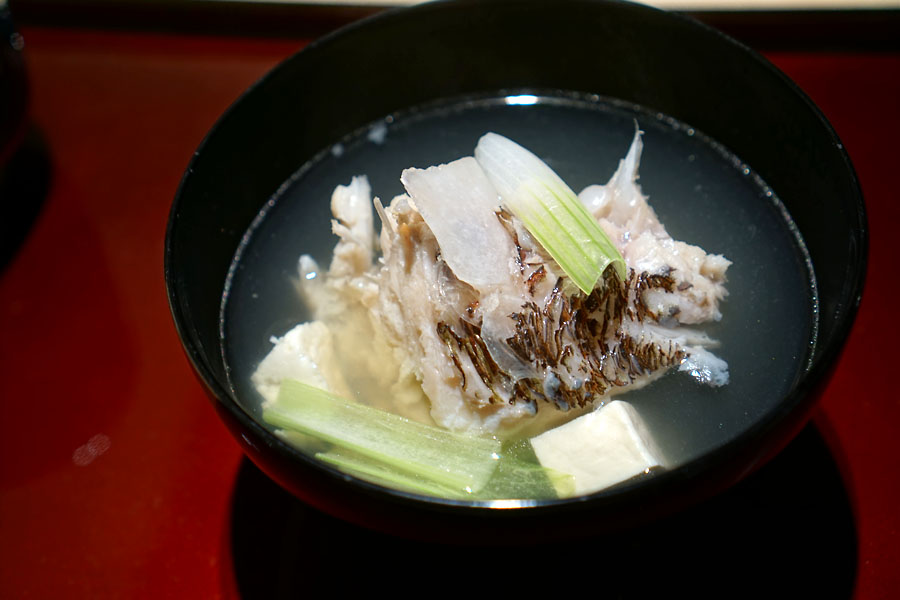 7: 潮汁 / Clear Soup
Sea bream appeared again in our
ushio-jiru
, or clear soup, which replaced the standard miso soup listed on the menu. The fish showcased a lovely depth, one that meshed effortlessly with the zestiness of green onion, and overall, this course was definitely on the cozy, comforting side.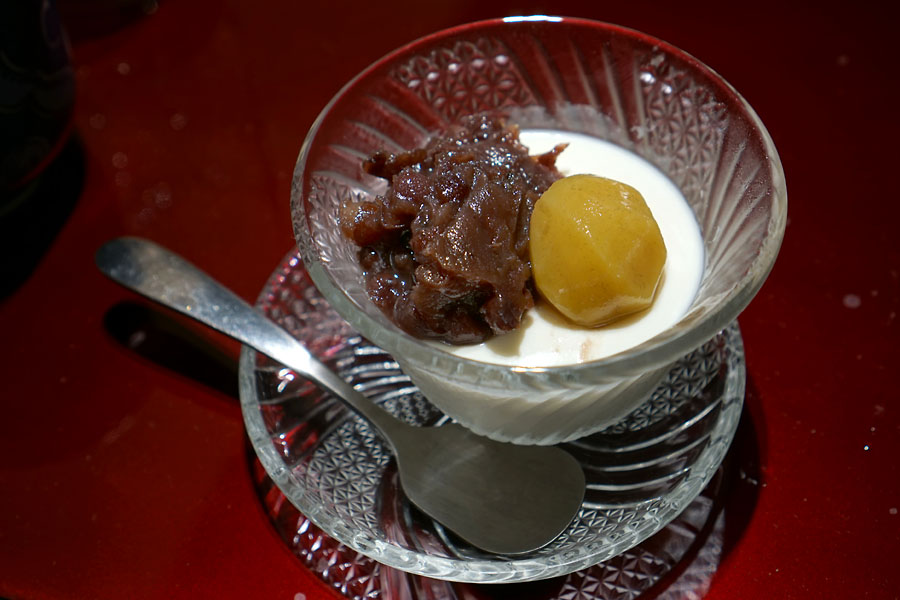 8a: Panna Cotta
It was now time for dessert, and we were presented with multiple
mizumono
options. They were tiramisu, panna cotta, and five types of homemade ice cream: green tea, red bean, chestnut, rum raisin, and apple sorbet. Obviously, we have here the panna cotta. Its creamy, lactic nature served as a counterweight to the sweetness of the red bean, and I also appreciated the chestnut sitting on top.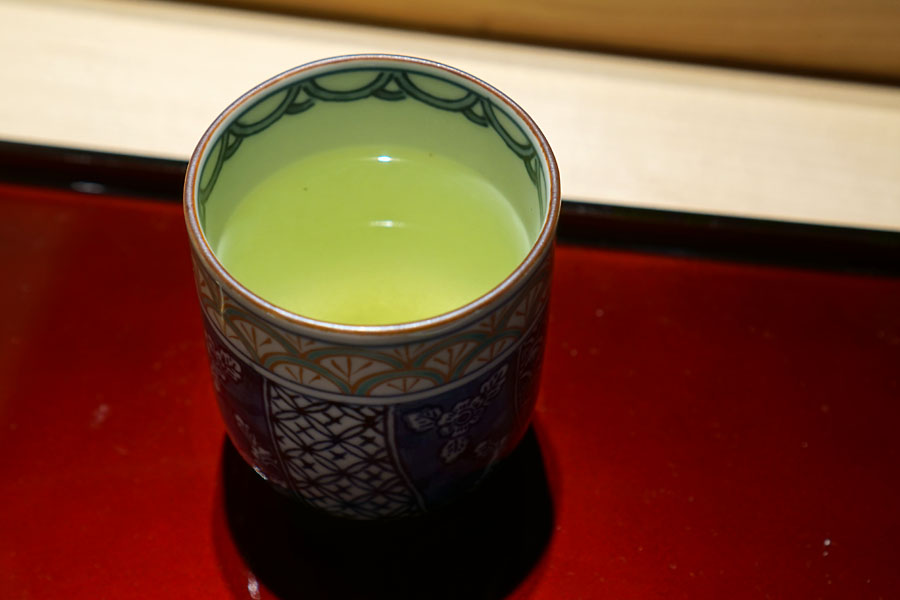 Also arriving with dessert was a hot, snug cup of green tea.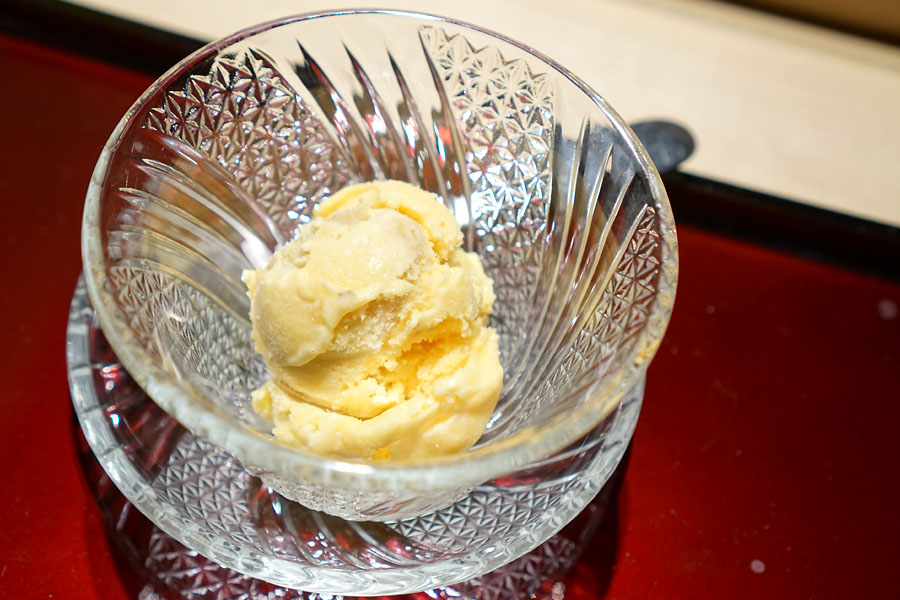 8b: Kurumi Ice Cream
I was able to try three different varieties of the restaurant's housemade ice cream. This chestnut version was simultaneously nutty and sweet, and was a joy texturally as well.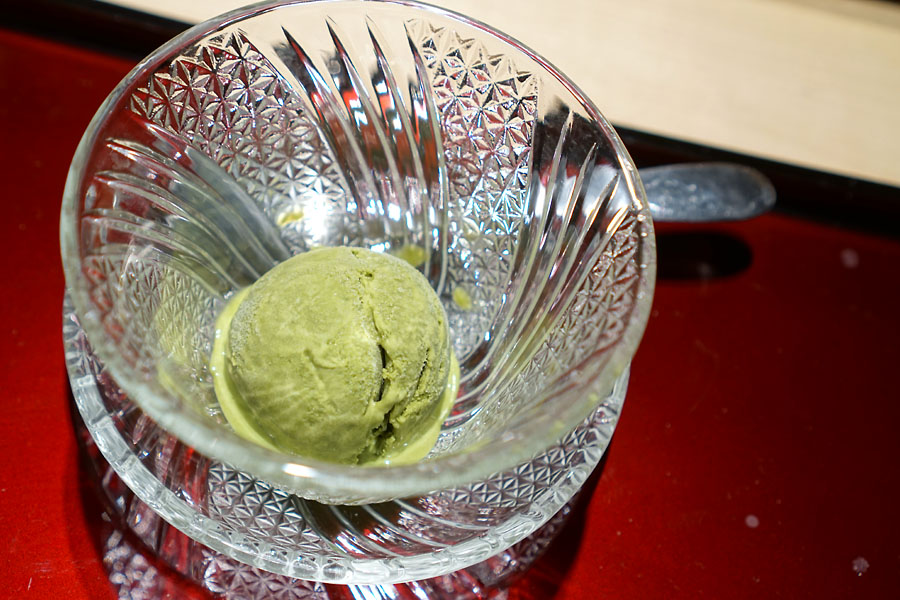 8c: Matcha Ice Cream
Sushi Ii's take on the ubiquitous green tea ice cream was especially forceful in its bitterness, and that wasn't a bad thing.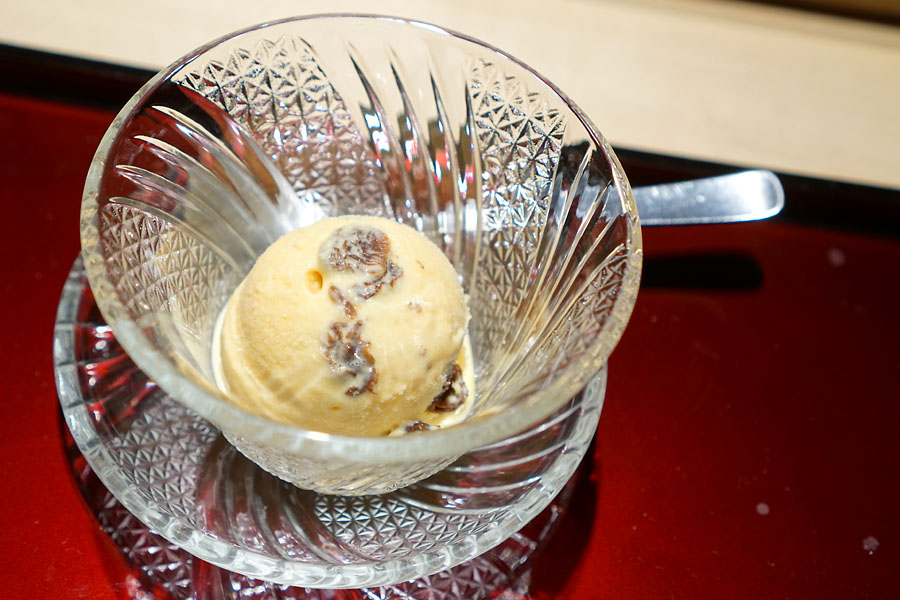 8d: Rum Raisin Ice Cream
My favorite of the trio, though, was the rum raisin, which had an engaging, boozy piquancy that coalesced very well with the sugary fruit.
It'd been over a year since my last proper sushi meal, and I'm happy that Sushi Ii was the spot that reintroduced me to the pleasures of sitting and eating at a sushi bar. Tonight's dinner was basically flawless, which didn't surprise me given how good the takeout last time was. This just might be the best sushi spot in Orange County right now, and if Michelin ever returns to SoCal, I could certainly see this place getting starred. If you're a fan of sushi like myself, Ii should be at the top of your "to-try" list for OC.