RiceBox (Los Angeles, CA)
The Rice Box at Spring Arcade Building
541 S Spring St, Los Angeles, CA 90013
213.988.7395
www.ricebox.net
Tue 04/20/2021, 08:30p-09:45p

If you recall, back in March I had an excellent experience getting takeout from Johnny Lee's
Pearl River Deli
, and that meal actually reminded me of another new wave, casual Cantonese spot that I needed to try: RiceBox. Named after the Chinese term for "lunchbox" (飯盒, or
fànhé
), the eatery opened in Downtown's Spring Arcade Building back in 2018, and comes to us from Chef Leo Lee and wife Lydia Lee, both of whom grew up in restaurant-running families.
About the Chef
: Leo's parents hail from Hong Kong and China, but he was actually born and raised in Mexicali, Mexico. As a youngster, he spent considerable time at his grandparents' Chinese restaurant, beginning his career there as a dishwasher before working his way up. To improve his culinary chops, he later moved to the US to study at the Culinary Institute of America at Hyde Park. After completing his two-year degree there, Leo cooked briefly in New York City before relocating to Miami, where he spent another couple of years. He then came to SoCal, and began working intermittently for
Patina
Restaurant Group. At PRG, he started out at
Catal
in Anaheim, then moved on to the company's more casual cafés in LA proper. During this period, Leo also augmented his hospitality education, and apparently even taught at the Art Institute of California's Orange County campus.
Lydia, meanwhile, is in charge of the front-of-the-house at RiceBox, and grew up in a restaurant family in Hong Kong. Her grandfather actually ran a Cantonese barbeque spot there for over two decades, while her uncle still operates BBQ joints in Taiwan. Her family eventually immigrated to Vancouver, and then to Southern California. After meeting Leo here, Lydia was able to secure her grandfather's recipes from her aforementioned uncle. Leo began updating and adapting said recipes, and the couple eventually opened RiceBox in September 2018 as a way to further Cantonese cooking here in the Southland. The place has always emphasized takeaway, which certainly plays well with the current coronavirus environment.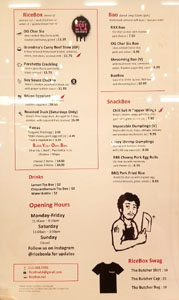 As for the menu, it's fairly compact, and focuses on a somewhat contemporary take on Cantonese barbecue (a.k.a. 燒味 or
sīuméi
). Think traditional flavors, but informed by the Chef's classical training. Click for a larger version.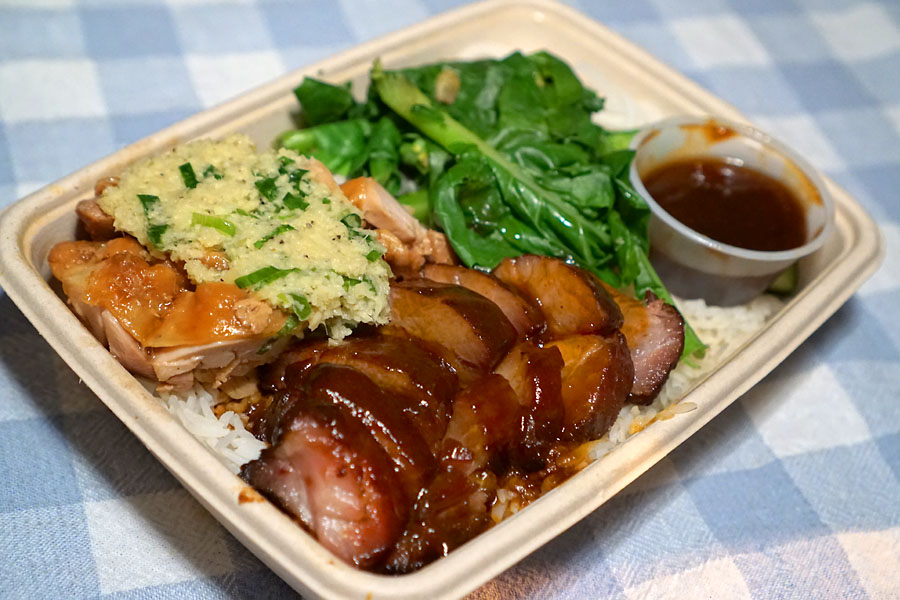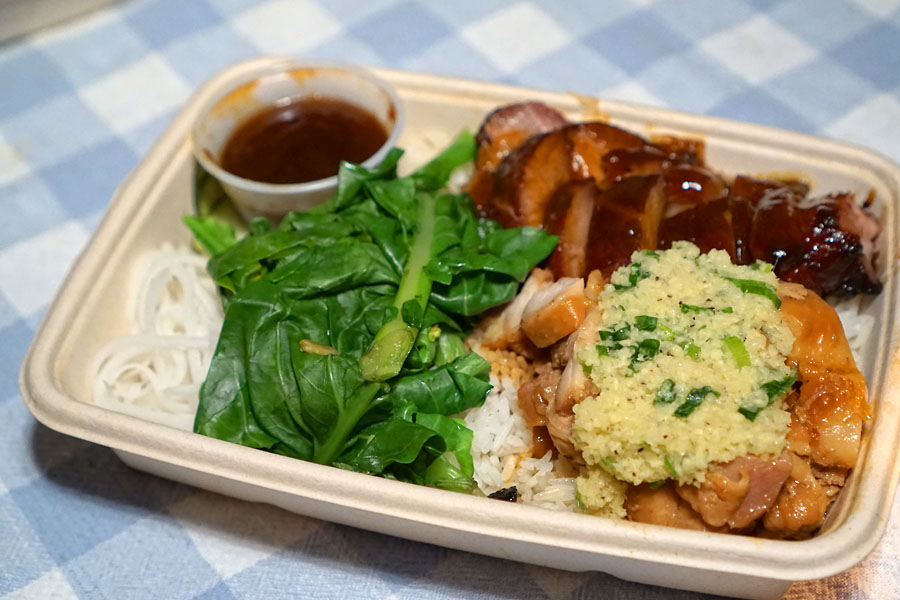 Build Your Own Box [$14.50]
| choose 2 items
OG Char Siu
| slow cooked bbq Duroc pork, roasted and honey glazed
Soy Sauce Chicken
| Mary's chicken poached in black soy with ginger scallion sauce
RiceBoxes are available in combo format, which is what I opted for in order to try as many proteins as I could. Let's commence with this twosome:
It made sense to start with the signature char siu, made with pork butt that's marinated for a day, basted in honey, and cooked in a smoker. The end result was a superb rendition of the Canto staple. I was impressed by the shoulder's balance between smoke, honey-fueled sweetness, and lingering porcine funk, while the meat was spot on texturally as well, its tender, gratifying texture showing off a perfect ratio of lean-to-fat. I loved the crispy charred, caramelized bits on the outside, too. If it's your first time here, you just gotta try this.
I enjoyed the chǐyóujī as well. Poached in soy stock for a reported three hours, the chicken had a lovely bite to it, along with a delicate savoriness from the soy sauce that married beautifully with all the zesty ginger.
Also included in the box were crunchy pickles and bitter greens, both of which acted as sort of palate cleansers. As for the rice, grains were dry and distinct, just how I like 'em.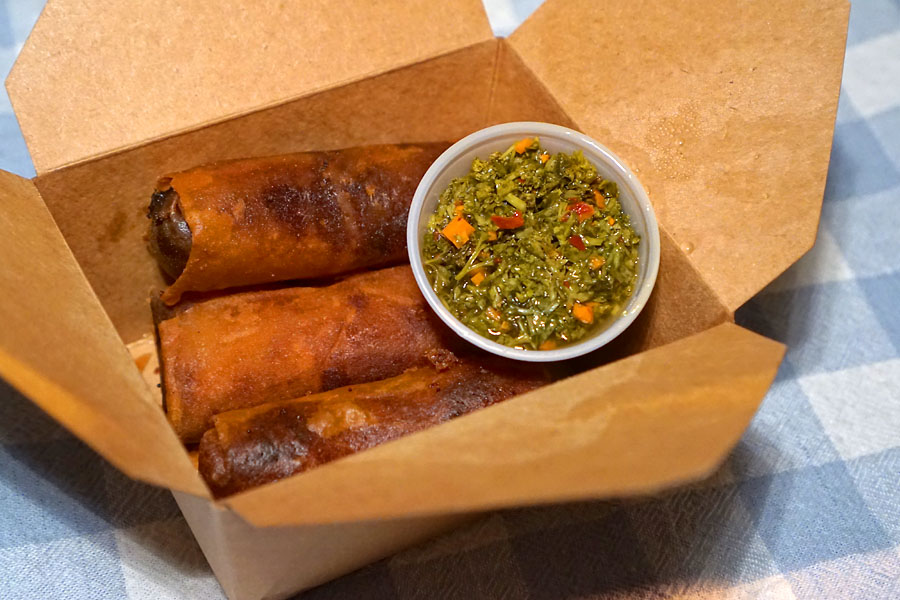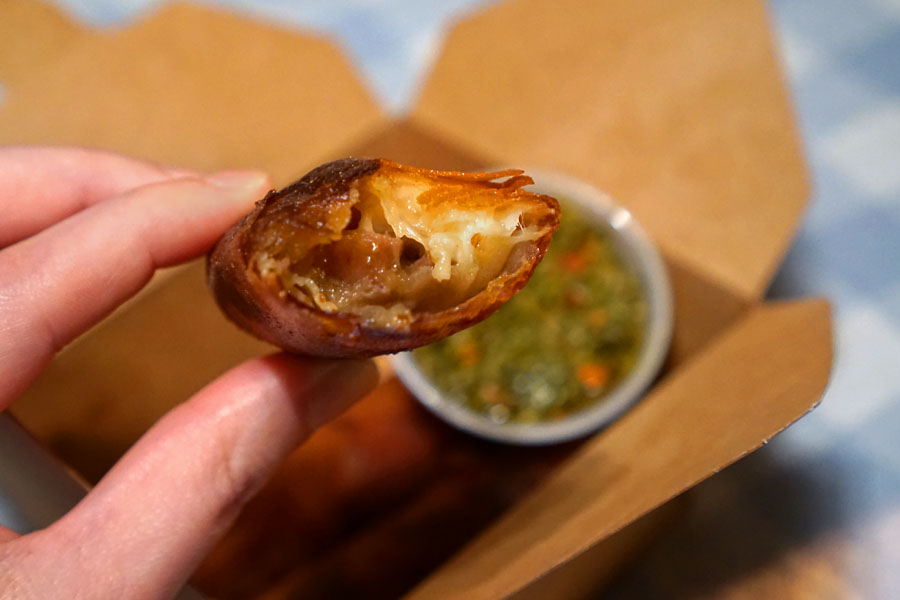 RBX Cheesy Pork Egg Rolls [$8.75]
| OG char siu with monterey jack cheese (3)
The egg rolls were quite unlike any other I've had before, marrying the familiar porky sweetness of charsiu with elements that reminded me of a mozzarella stick. It was sort of an odd combination, but one that somehow all came together when taken with a dab of the zingy chimichurri on the side.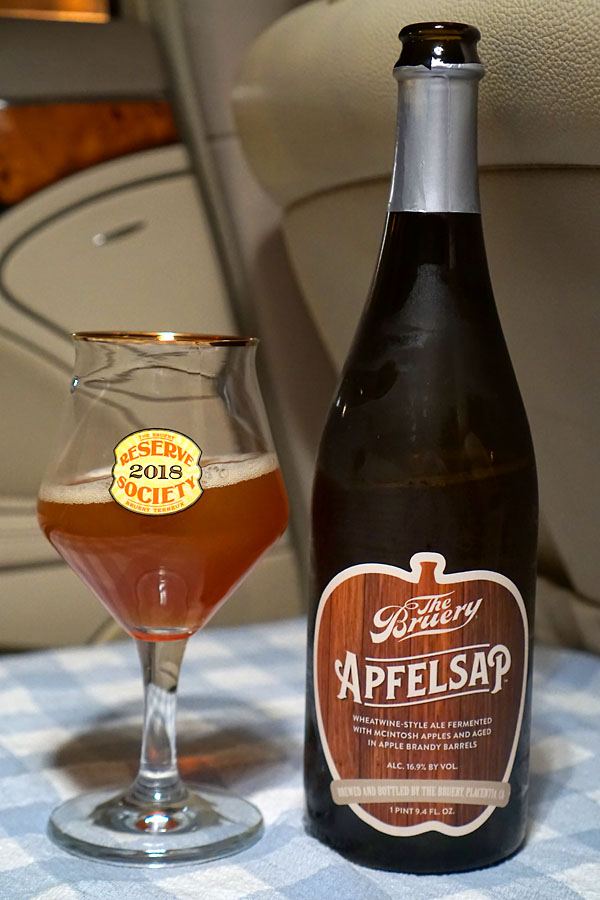 The
2020 The Bruery Apfelsap
was a wheatwine-style ale fermented with McIntosh apples and aged for over a year in Copper & Kings apple brandy barrels. The beer had an appealing nose filled with apple sauce-like sugariness, baking spice, malt, and caramel. Tasting it, I got sweet-n-spicy apple pie all over the place, joined by oak and light earth, all while the finish recalled Mott's apple juice. Very unique, and rather tasty to boot.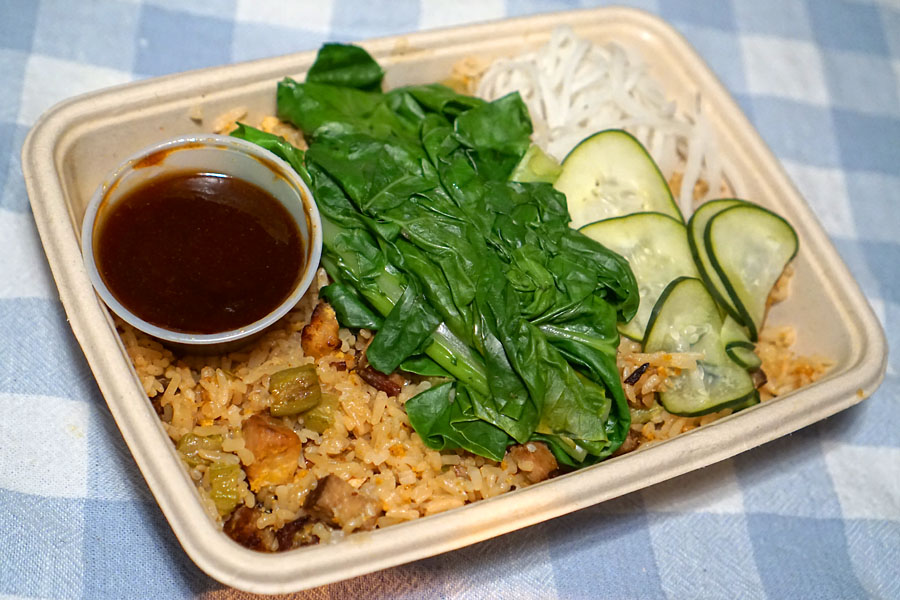 BBQ Pork Fried Rice [$8.95]
| diced OG char siu with organic egg, Chinese broccoli, green onions
The fried rice effectively showcased the sweet-savory nature of the BBQ pork, while hoisin sauce added an extra oomph to things. Also appreciated was the aggressive presentation of the eggs here, as well as the bitter notes from the greens. I think I even detected some
xiā mǐ
, which was a pleasant, briny surprise. Unfortunately, I wasn't a fan of the rice's texture, which was too soft and clumpy.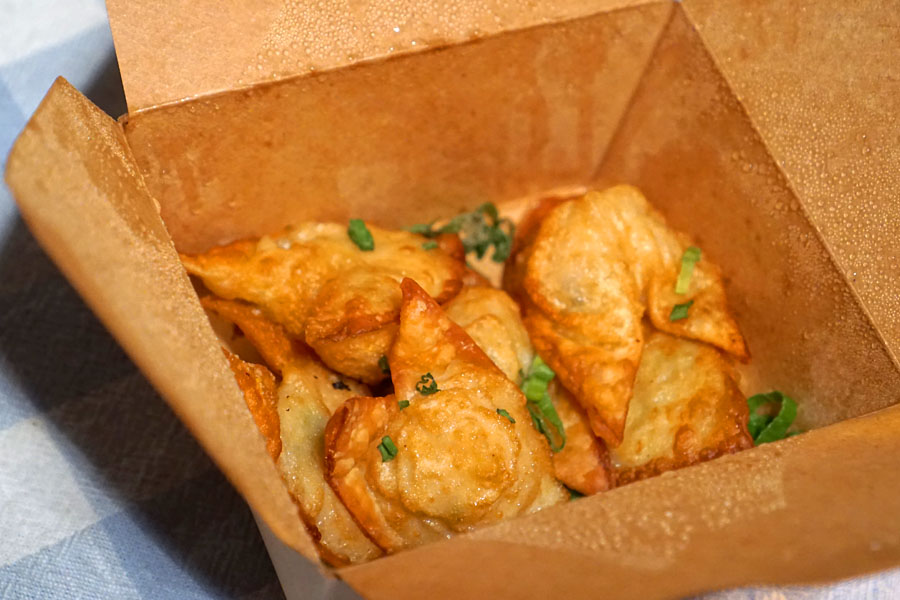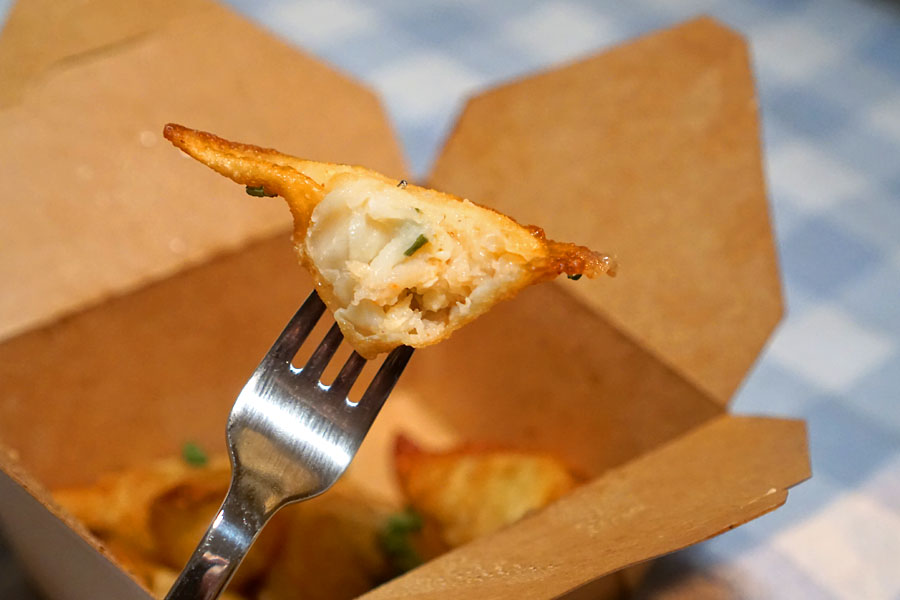 Crispy Shrimp Dumplings [$8.00]
| shrimp and bamboo shoots with chili-soy sauce (6)
I was curious about the dumplings as well. The shrimp conveyed an elegant sort of salinity that really made me think of dim sum, and I liked the crispness of the wrappers, too. Sadly though, I was not provided with any of the advertised chili-soy sauce.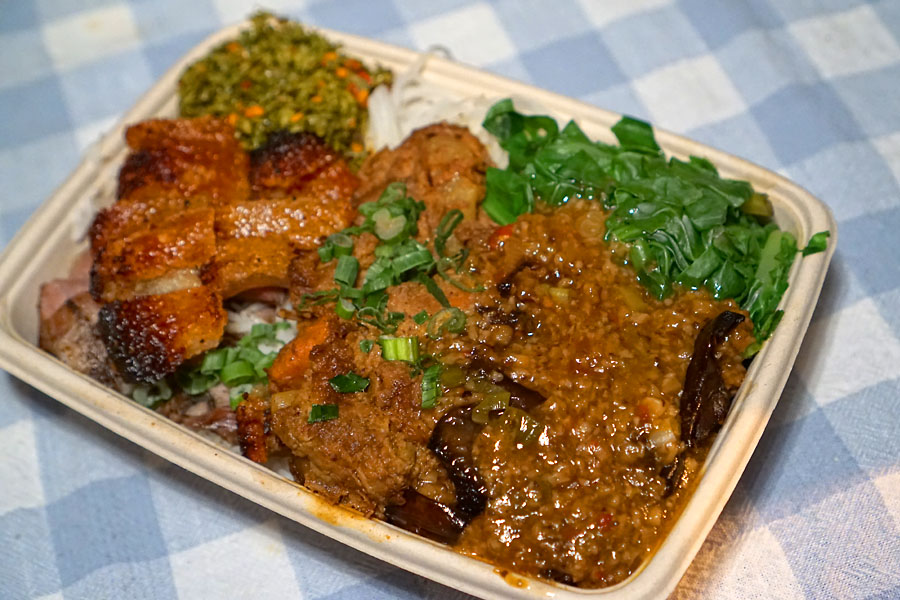 Build Your Own Box [$16.50]
| choose 3 items
Porchetta Crackling
| seven spice Duroc pork belly, triple roasted
Grandma's Curry Beef Stew
| 6-hour braised Prime beef brisket, potatoes, onion, tomatoes, coconut milk
Mapo Eggplant
| braised shiitake, chili oil, ginger, scallion, eggplant
To conclude the meal, I went for another combination box so that I could finish trying the three remaining proteins:
A definite standout was Lee's take on sīu yuhk, a porchetta-inspired preparation that's supposedly marinated for a full day and triple-roasted using both an oven and a smoker. The process made for a thoroughly enjoyable eating experience. I loved the sheer crunch, salt, and smoke of the skin here, as well as how that played with both the fat and the juicy, tender lean. There was a pretty remarkable depth of savor present, and it all contrasted beautifully with the zippiness of that chimichurri. A must-get.
Next up was a beef curry inspired by a version that the Chef's grandmother used to make. It had all the cozy, comforting flavors you'd expect, along with a building spice and palpable potency, while the root veggies added a homey heft to the mix. Scallions were a much-appreciated addition on top, and overall, the stew was pretty great when eaten with the included rice.
Naturally, I couldn't resist ordering this vegan take on mapo tofu. I found the eggplant smoky and satisfying, and the kitchen was able to develop its flavors rather fully. However, though the dish did possess a noticeable heat, I found it lacking in the mala tingle that I was looking for.
It'd been nearly four years since my last visit to the Spring Arcade Building, but RiceBox did a nice job in welcoming me back. The char siu and siu yuk were the favorites tonight, and in fact, they were among the best versions I've had. Given how well this place has been received, I wonder if the Lees might open up other locations. RiceBox seems like a replicable concept, and I certainly wouldn't mind an outpost closer to me.