Aymara Peruvian Kitchen (Los Angeles, CA)
Aymara Peruvian Kitchen
242 N Ave 25, Los Angeles, CA 90031
323.605.6208
www.aymaraperuviankitchen.com
Mon 04/12/2021, 08:00p-09:20p

I was in the mood for Peruvian food recently, and thus made my way to Aymara, a new operation based out of
Amped Kitchens
, a ghost kitchen facility in Lincoln Heights. Aymara comes to us from the wife-and-husband team of Caroline Beaurin Walde and Ralph Walde, and opened back in October.
A bit of history
: Caroline hails from France, where she trained extensively in hospitality, and first came to the United States in 2011. She settled in LA, and started out doing a short stint at
Patina
Restaurant Group. She also worked the FOH at Damon's Steak House in Glendale, was the Assistant F&B Manager at the Parker Palm Springs resort, and functioned as Food Service Director for
Le Petit Paris
in Downtown. Following her departure from Le Petit Paris in January 2018, she started her own company:
Beaurin Walde Hospitality Consulting
.
Ralph, meanwhile, grew up in Peru, and immigrated to the US in 2008. After arriving in Southern California, he soon found a job as a server at Kendall's Brasserie, a French spot at The Music Center where he ended up working for numerous years. In 2011, he briefly joined PRG's team at the Hollywood Bowl, which is where he first met Caroline. The two quickly fell in love, and got engaged a mere six months later. Ralph also spent time at the now-shuttered L.A. Live location of The Farm of Beverly Hills.
Given their many years spent in the restaurant biz, the Waldes had always wanted to open a place of their own, and were actually meeting with landlords right before the coronavirus lockdowns. However, once the pandemic hit, Ralph lost both his jobs, and Caroline failed to attract clients to her consultancy. That's when the two found out about the concept of virtual kitchens. They ended up going with Amped due to its central location, and signed a one-year lease on a space. After learning the traditional recipes of Ralph's grandmother Luyita (who comes from the Ancash region, near the Andes), the couple launched Aymara on October 3rd last year, and so far, the place has been pretty well-received.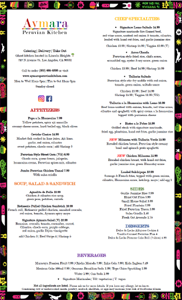 Aymara's menu is shown above, and offers up most all your classic Peruvian favorites. Click for a larger version.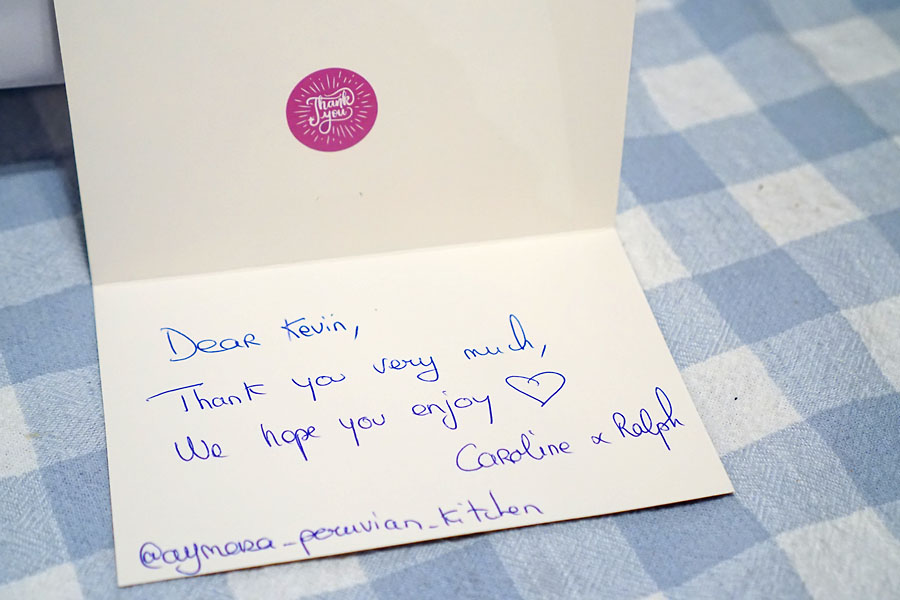 The meal arrived with a thank you card, a thoughtful touch that one rarely sees these days.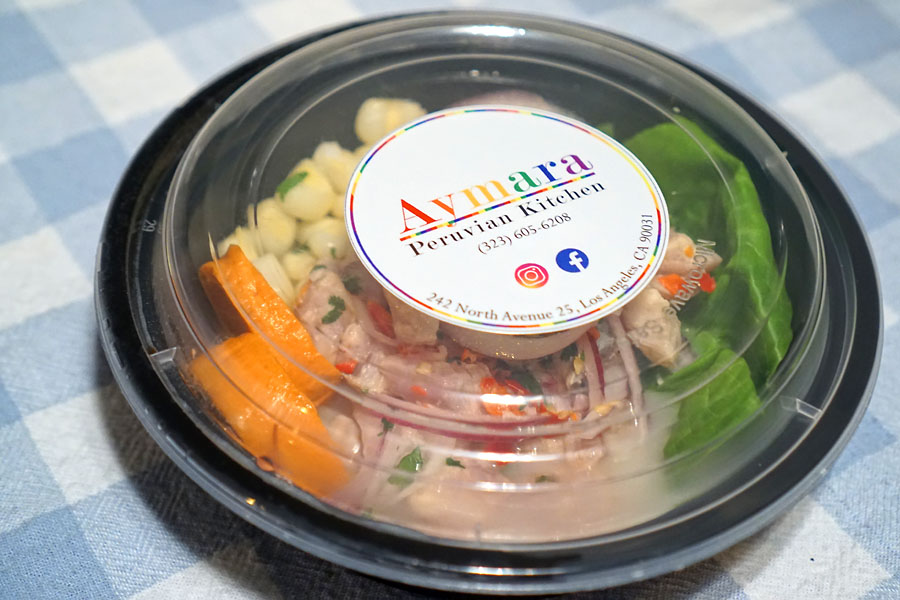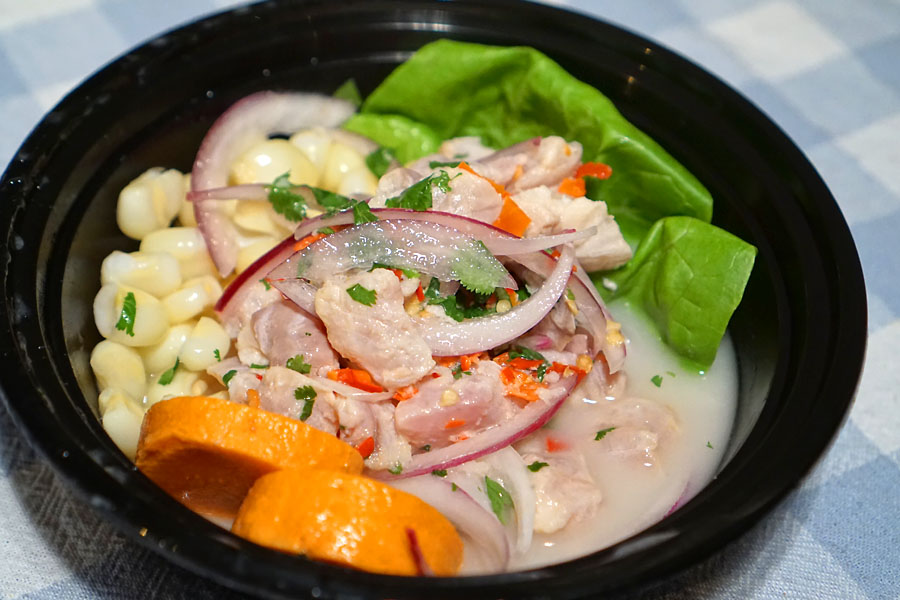 Ceviche Clasico [$14.99]
| Market fish cooked in lime juice, Aji limo leche de tigre sauce, garlic, red onion, cilantro, sweet potatoes, choclo corn
I almost always order the ceviche when I see it on a menu, and tonight was no departure. I appreciated the chew on the fish, as well as its elegant salinity, while the sheer sourness of the marinade and zestiness of the raw onion made for fantastic contrast. At the same time, the corn kernels worked as a textural counterpoint, while the sweet potato softened the flavors at play.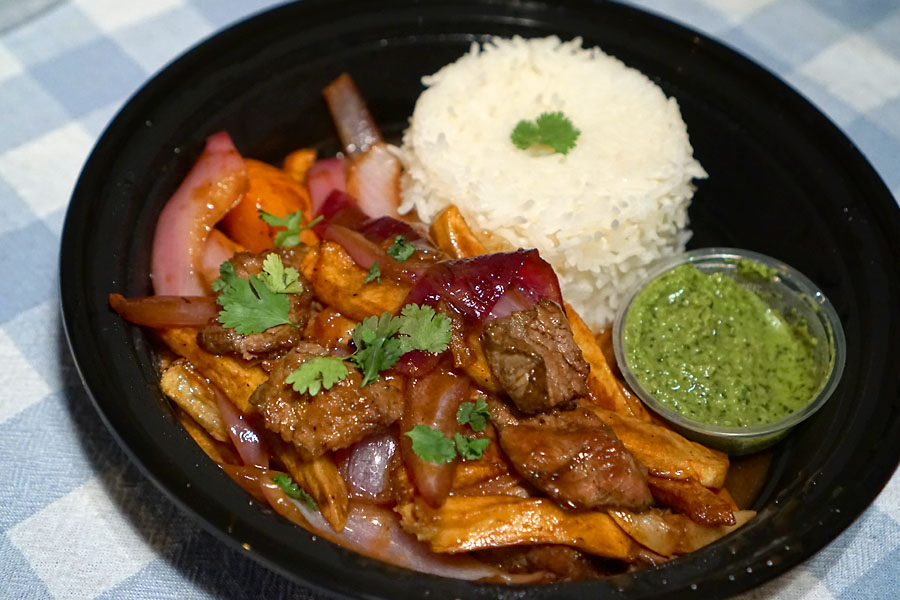 Signature Lomo Saltado - Beef [$14.99]
| Signature marinade, fire flamed, red wine sauce, sautéed red onion & tomato, fresh herb, loaded with fries, and garlic jasmine rice
Lomo saltado is perhaps the most ubiquitous Peruvian dish out there, so of course I had to give it a try. I was certainly a fan of the dish's rich, savory, soy-fueled flavors, as well as how the onion and juicy cuts of tomato worked to offset the heft of the meat. With its distinct grains and not-too-sticky consistency, the rice was also to my liking, as was the zippy huacatay sauce on the side.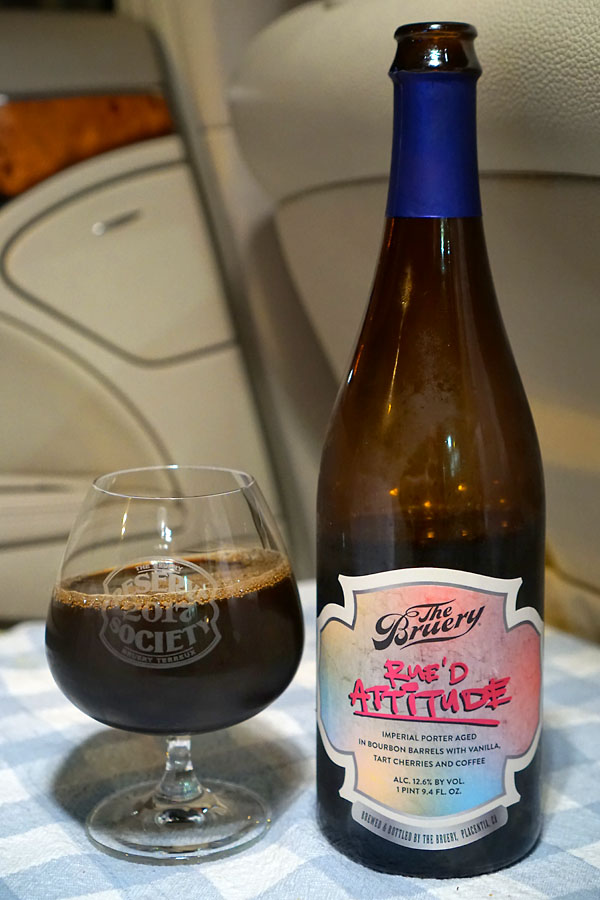 A bourbon barrel-aged imperial porter with vanilla, tart cherries, and Hidden House coffee, the
2019 The Bruery Rue'd Attitude
took care of beverages duties tonight. The beer smelled great, giving up notes of heady, bitter, roasty coffee, backed by loads of sweet chocolate. Taste-wise, I got lots more coffee and dark fruit, but with a cacao lining, as well as a bit of green pepper on the back end.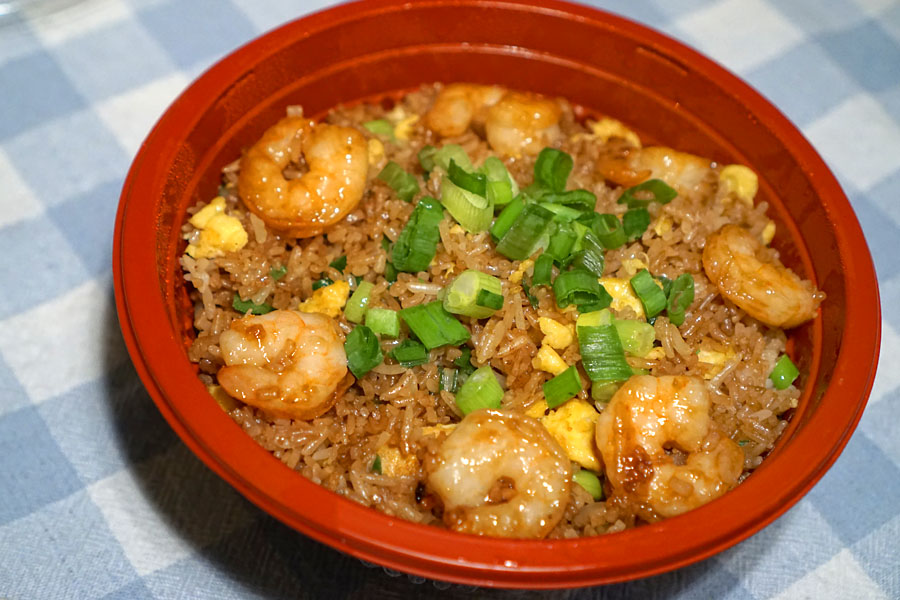 Arroz Chaufa - Shrimp [$15.99]
| Peruvian style fried rice, chifa sauce, scrambled egg, oyster & soy sauce, green onion
As many of you may know, I have a hard time turning down fried rice. Tonight's example featured a heady aroma filled with egg and green onion, one that greeted me immediately the moment I opened its lid. The rice itself was perfectly textured, and displayed deep, salty, umami-laden flavors, while the shrimp were on the small side, but aggressively seasoned. At the same time, the generous amount of scallion included brightened up each bite, and the fluffy egg was a joy to eat as well. What I found most intriguing, though, was the undercurrent of sweet spice present, which I don't think I'd ever encountered before with fried rice.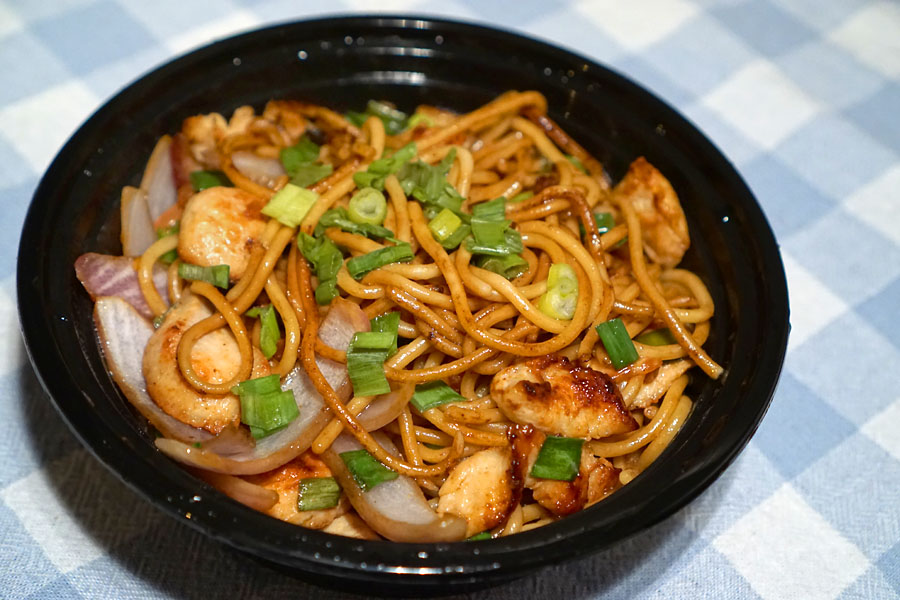 Tallarin Saltado - Chicken [$13.99]
| Peruvian style stir-fry noodle with red onion, tomato, green onion, and saltado sauce
This riff on chow mein was super familiar, and its well-textured noodles wouldn't be out of place at your favorite Chinese spot. Flavors were similarly cozy, and I appreciated the inclusion of both red and green onion, which lightened up the dish. My only concern was the actual chicken, which was tasty, though on the dry side.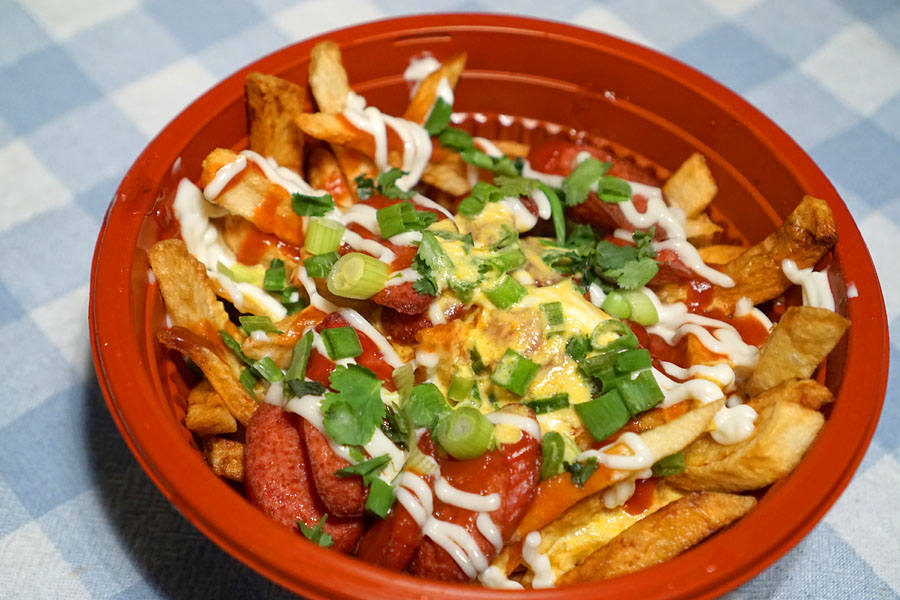 Loaded Salchipapa [$12.99]
| Sausage & French fries, topped with green onions, cilantro, spicy crema huancaina sauce, ketchup, mayo
This Peruvian street food staple made use of savory-sweet cuts of sausage that really hit the spot. Said sausage definitely worked with the fries, and I liked the sprinkling of scallion on top, too. Even more crucial, though, was the creamy heat of the huancaína-style sauce, which helped bring everything together.
Chicken Milanesa [$15.99]
| Breaded chicken breast, with homemade French Fries, garlic jasmine rice and green Huacatay sauce
I quite liked the milanesa as well. The cutlet was actually pretty tender and juicy, with a very apparent herbiness that I really enjoyed, not to mention a light, crisp, gritty bread crumb coating. The bird was tasty just by itself, but also paired easily with the huacatay sauce, and also the fries in particular. The long-grain rice, meanwhile, was just as good as above.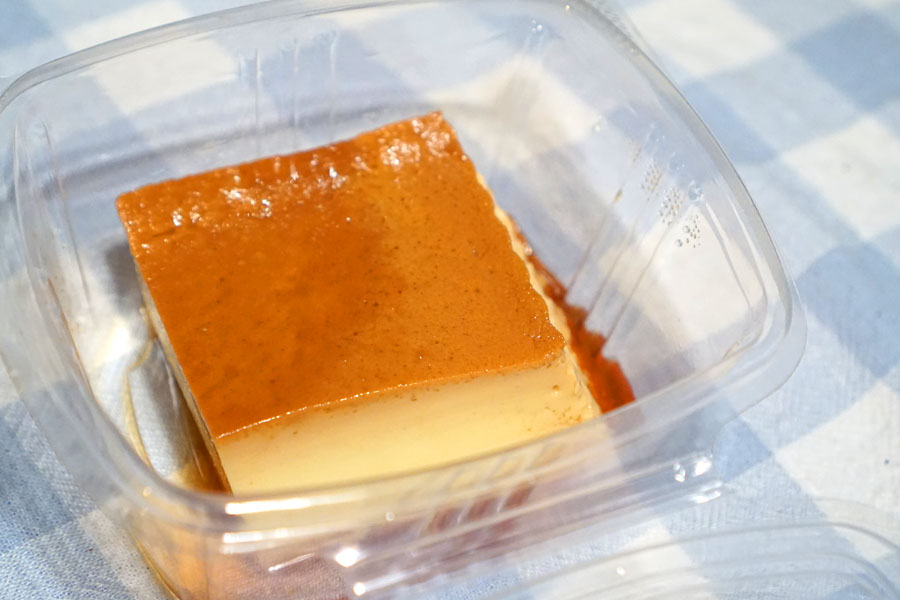 Peruvian Flan [$4.00]
| Vanilla caramel custard
My meal included a complimentary flan, a semi-dense, eggy preparation gently perfumed with vanilla, and not so gently with caramel.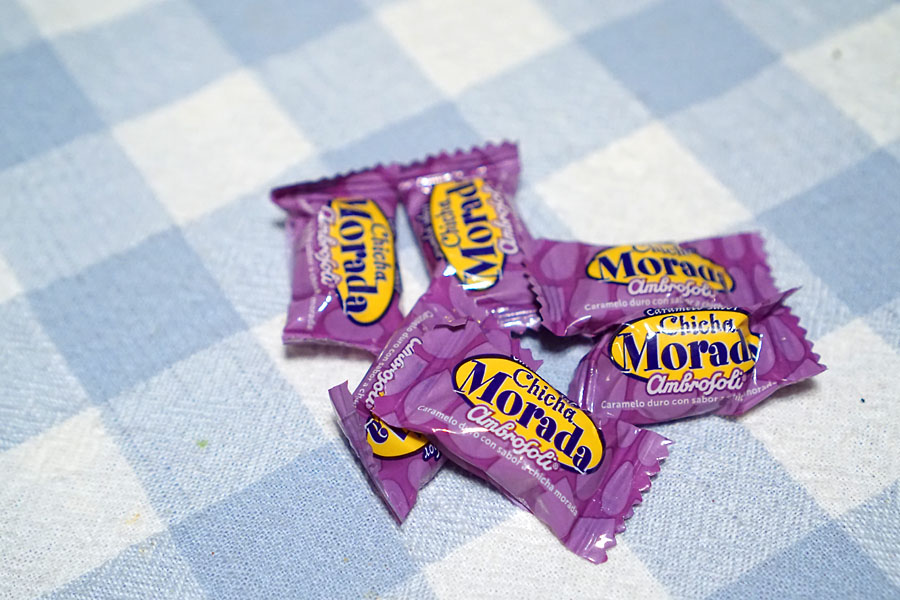 Also included with dinner were these chicha morada-flavored hard candies.
Tonight was actually my first time reporting on a commissary kitchen operation, and the experience turned out rather well I have to say. This type of paradigm looks to be a quick, effective, low-cost way for first-time restaurateurs to get in the game, so I expect that we'll see more of these popping up in the future. In any case, Aymara is a worthy entrant in LA's casual Peruvian cuisine scene, and I'm curious to see if the Waldes will eventually turn it into a permanent, brick and mortar restaurant.