Angry Egret Dinette (Los Angeles, CA)
Angry Egret Dinette at Mandarin Plaza
970 N Broadway, Los Angeles, CA 90012
213.278.0987
www.aedinette.com
Sat 04/24/2021, 02:45p-04:00p

As we all know, LA was ground zero for the rise of the new school food truck, and certainly one of the more notable examples has to be
Guerrilla Tacos
. Started in 2014 by Wes Avila (after he graduated from a taco cart), Guerrilla Tacos quickly made a name for itself as one of the premier mobile food slangers in the Southland, and even landed the Chef a semifinalist nod from James Beard. A
brick-and-mortar version
of GT debuted in July 2018 in partnership with Brittney Valles, and was also generally well-received. The fame and acclaim that Avila had garnered even allowed him to launch a restaurant at the Ace Hotel in Kyoto. Called Piopiko, the eatery opened in June 2020, and describes itself as a "bar & taco lounge."
Nonetheless, Guerrilla Tacos was hit hard by the coronavirus shutdowns, and perhaps partly because of this, Avila announced his departure from his flagship restaurant back in August. He was replaced by Jason Beberman (who'd previously superseded Jessica Largey at
Simone
), while Steven Londono remained on board as CdC. However, Avila bounced back just months later with the opening of Angry Egret Dinette on October 24th. Located in the former Chinatown home of Becky Reams and Yeekai Lim's Lately, the place is focused on various cheffy interpretations of the Mexican torta.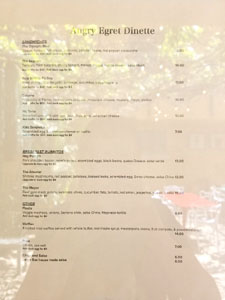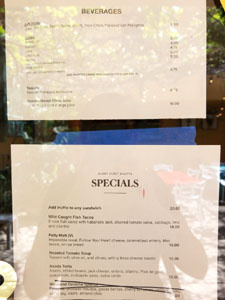 The menu features Avila's fanciful takes on sandos and burritos, joined by a smattering of specials. Click for larger versions.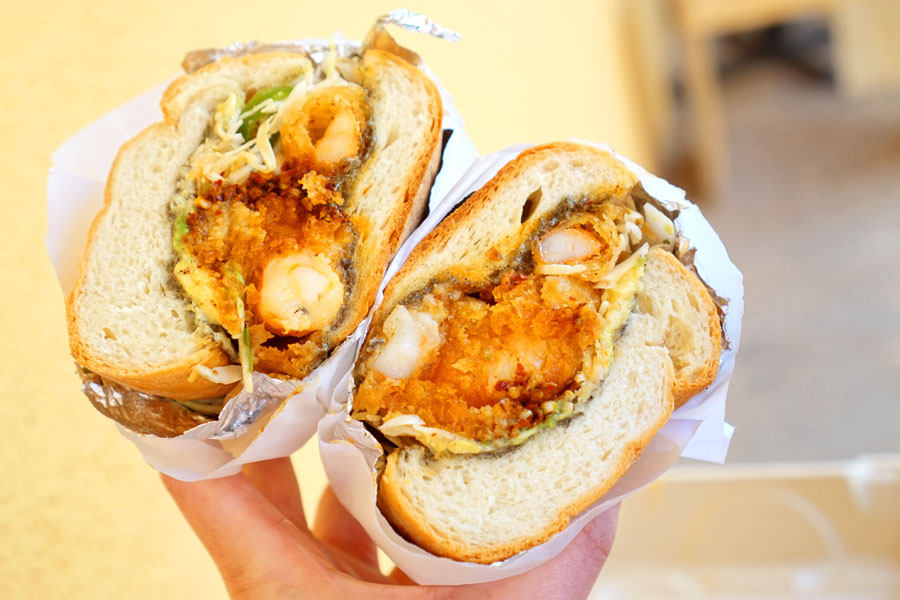 Baja Shrimp Po Boy [$17.00]
| Fried shrimp, pico de gallo, cabbage, cucumber, salsa negra, avocado
I'm a fan of po' boys in general, and this was a strong rendition of the New Orleans staple. What I found most impressive were the actual shrimp, which were cooked just right and chock-full of sweet salinity. The avocado and veggies were a perfect pairing, and I appreciated the subtle undercurrent of heat. Also key was the soft-yet-substantial
bolillo
bread, which helped set the stage for everything.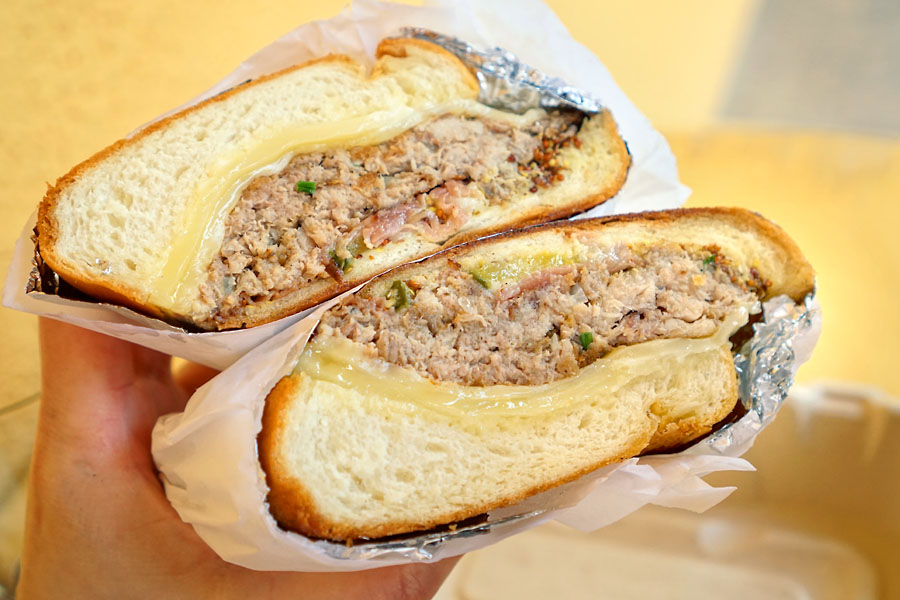 Cubano sandwich [$16.00]
| Prosciutto di Parma, roasted pork shoulder, maasdam cheese, mustard, mayo, pickles
The Cuban is another one of my favorite sandwiches, and this was a fine example. There was a fantastic marriage of meat and cheese, but the mustard-pickle combo was the third party that really spiced things up and enlivened the dish. Yum.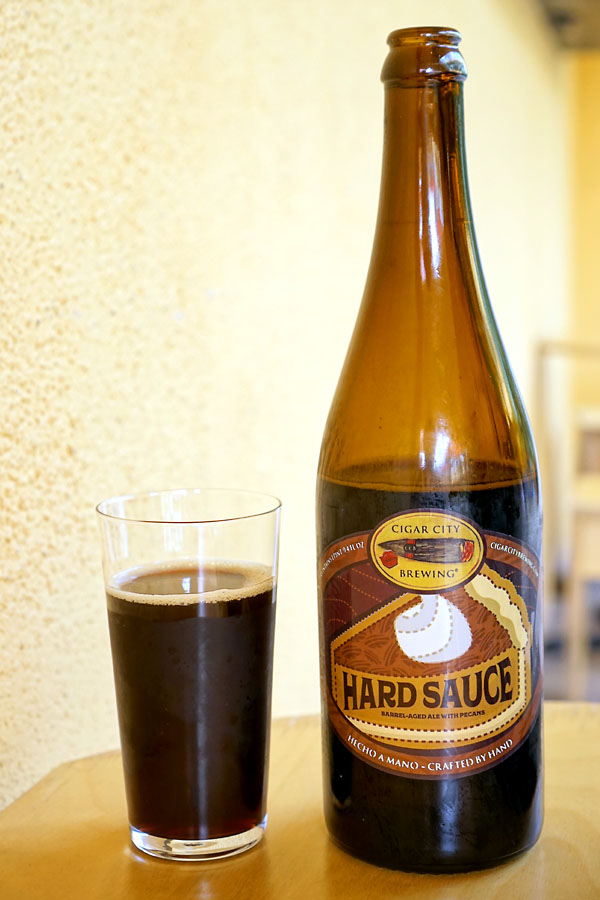 The
2016 Cigar City Hard Sauce
was a bourbon barrel-aged strong ale with pecans and vanilla. The beer had a nose loaded with dark fruit, malt, and caramel, with some nuts in the background. Tasting it, I got the desired pecan pie flavors, though they were somewhat faded. Also present were more of those raisin-y notes, along with woody, bourbon-y elements, and a smidge of metallic bitterness.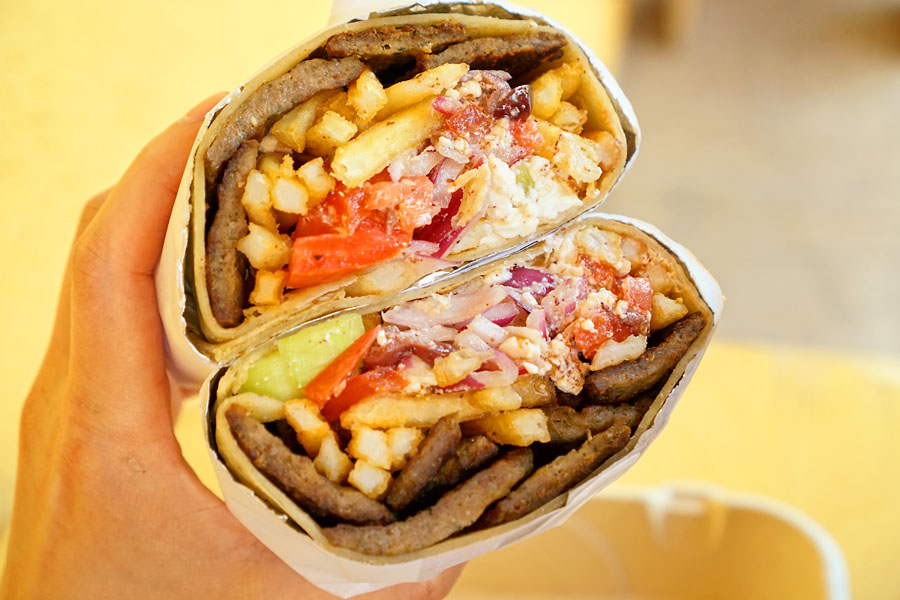 The Mayor [$16.00]
| Beef gyro meat, potato, tomato, cucumber, jalapeño, onion, kalamata olives, sumac, tzatziki, feta cheese in a burrito
Cuts of gyros meat were nicely spiced, and linked up easily with the tangy feta and light, refreshing nature of the veggies. The fries, meanwhile, actually worked to moderate the interaction, and I enjoyed the pungency from the olives, too.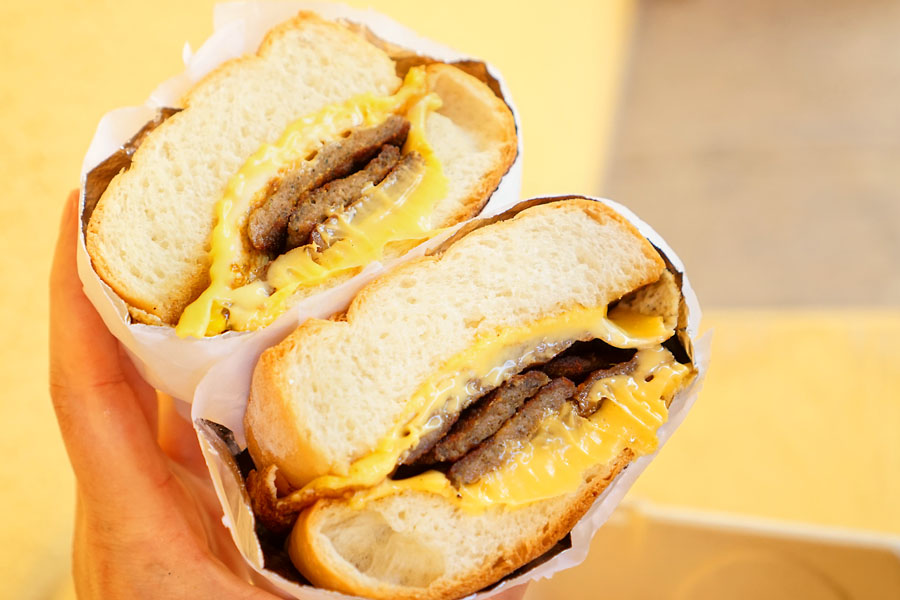 Mc Torta [$10.00]
| Breakfast sandwich with gyro beef, fried eggs, American cheese
I'm quite the proponent of the Egg McMuffin sandwich, and you totally get the reference here, especially with that "dusty" muffin bread. The gyros made another appearance, and the meat was certainly more assertively seasoned compared to what McDonald's uses. Even more assertive, though, was the cheese, which I found much more enveloping, palate-coating, and in-your-face (not necessarily a bad thing, mind you).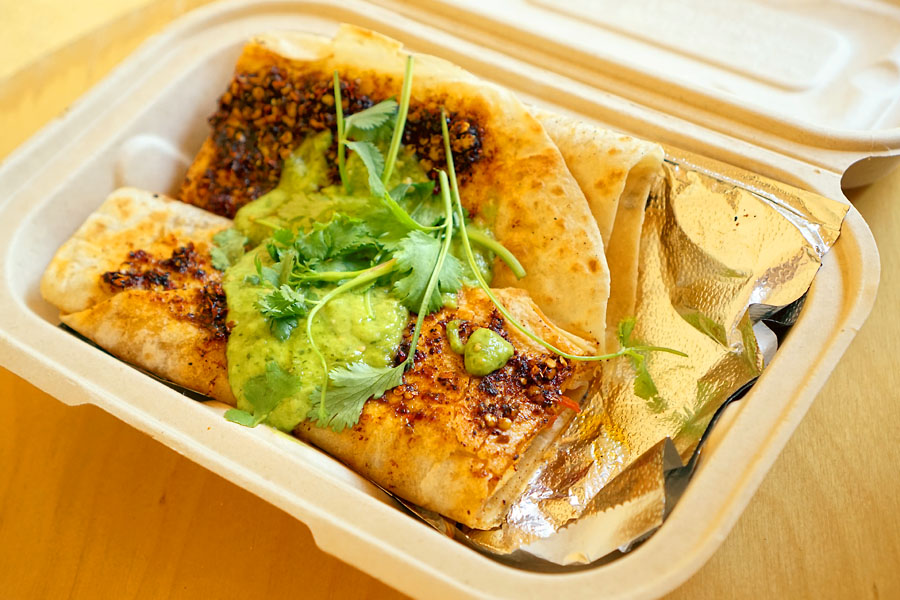 Veggie Machaca Flauta [$9.50]
| Veggie machaca flauta made with mushrooms, green beans, potato, pine nuts, flour tortilla, onions, Serrano chile, salsa china, cilantro (very spicy)
Flautas are another one of those things that I always have to order, and Avila's version today didn't let me down. The kitchen was able to develop a pretty remarkable depth of flavor, and I didn't miss the meat at all. Particularly key was the caramelization achieved on the onions, not to mention the heartiness of the potatoes, and I loved the zippiness of the cilantro and salsa verde combo. Also of note was the dish's sturdy flour tortilla, which is apparently sourced from
Mejorado
, a new producer created by
Alberto Bañuelos
and
Eduardo Ruiz
.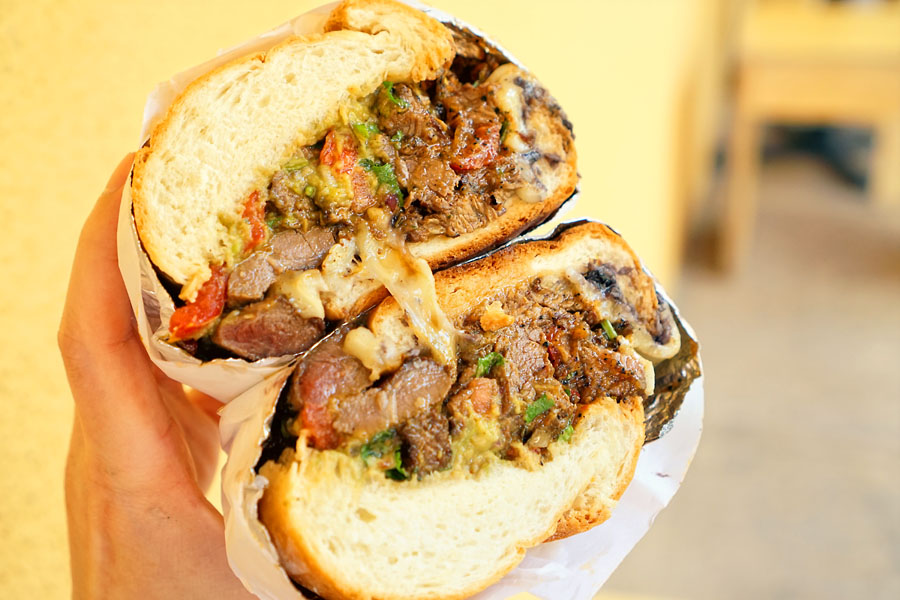 Asada Torta [$16.00]
| Asada, refried beans, jack cheese, onions, cilantro, Pico de gallo, guacamole, molcajete salsa, salsa verde
We'll conclude with one of the day's specials. Carne asada arrived well-seasoned, with a gratifying bite, savoriness, and sear. The meat was quite enjoyable just by itself, but also meshed wonderfully with the salsa and guac. What I was most surprised with, though, was the use of refried beans, a crucial addition that really helped bind everything together.
It's fairly rare that I make a special trek out to visit a daytime-only spot, but I'm glad I did. It was good to see Avila back in action, and even better to be able to taste the sort of flair and flourish he used to put into his tacos, but in a different format. So now I'm left wondering: how long is Angry Egret Dinette going to last? Initially, this was only supposed to be a three-month pop-up, but we're obviously already well beyond that. Will AED be permanent? And if so, how about expanding into dinnertime?