George's Burger Stand (Los Angeles, CA)
George's Burgers Pastrami Shakes
2311 East Cesar E Chavez Ave, Los Angeles, CA 90033
323.268.3965
www.georgesburgerstand.com
Mon 04/05/2021, 07:40p-09:15p

As you might know, I recently paid a visit to
Playita
, a new mariscos joint in Silver Lake opened by the family behind
Guisados
. The meal actually reminded me that I needed to check out George's Burger Stand, which is now also run by De La Torres.
The Boyle Heights eatery first opened as George's Drive-In during the 1960s, and apparently, Armando De La Torre Jr., his father Armando De La Torre Sr., as well as
his
father all ate there with some frequency. In fact,
abuelo
started the family real estate business right next door, and that business reportedly still owns the land beneath George's to this day.
De La Torre Sr. witnessed the slow decline of the restaurant over the years, and not wanting to see it close for good, decided to purchase it, installing Junior and Robert McCord to run the place. After some quick renovations, the revamped George's opened in October 2018, and has been pretty well received since then.

Here we see the "indoor" dining area. Not surprisingly, patrons were asked to sit at every other table due to coronavirus distancing requirements.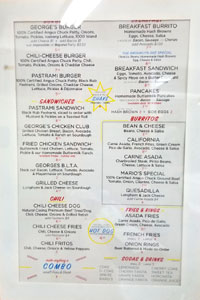 The menu features many of your American-Mexican favorites. New ownership has drastically cut down on the number of items listed, and the remaining offerings ostensibly make use of higher quality ingredients. Click for a larger version.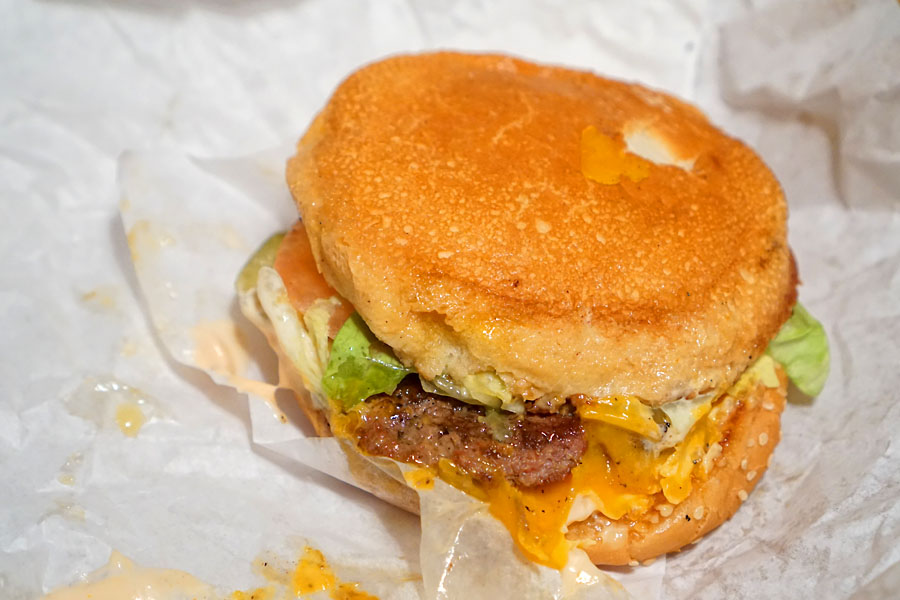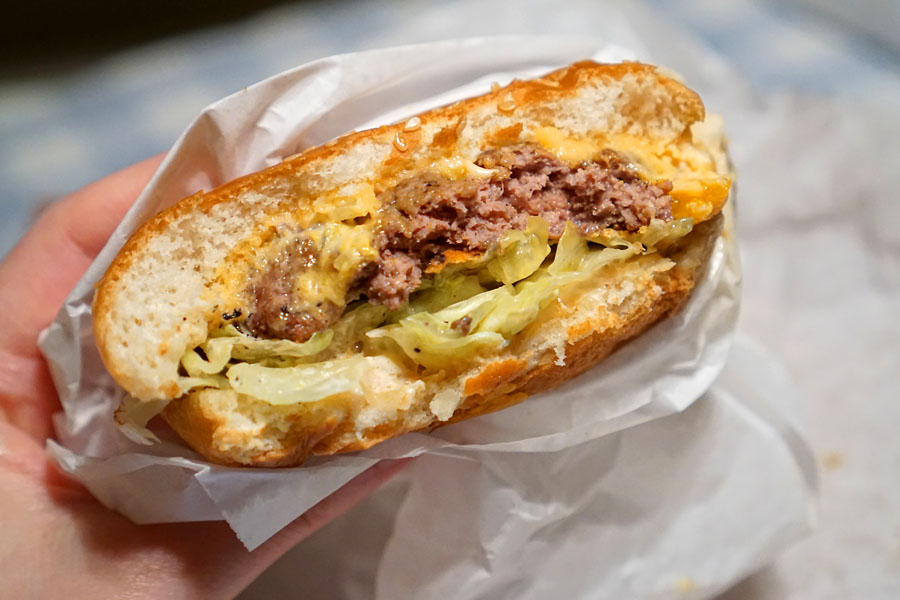 George's Burger [$5.50 + $1.00]
| 100% Certified Angus Chuck Patty, Onions, Tomato, Pickles, Iceberg Lettuce, 1000 Island + add Cheese
It made sense to commence with this place's namesake hamburger, which wasn't very attractive, but definitely delivered in the taste department. I was a fan of the char on the beef, which combined easily with the cheese, all while the crunch of the lettuce-onion combo worked as a great counterpoint. Also key was the Thousand Island, which helped bind everything together, and the squishy bun certainly made sense, too. The burger has an old school sort of feel to it, and that's a good thing.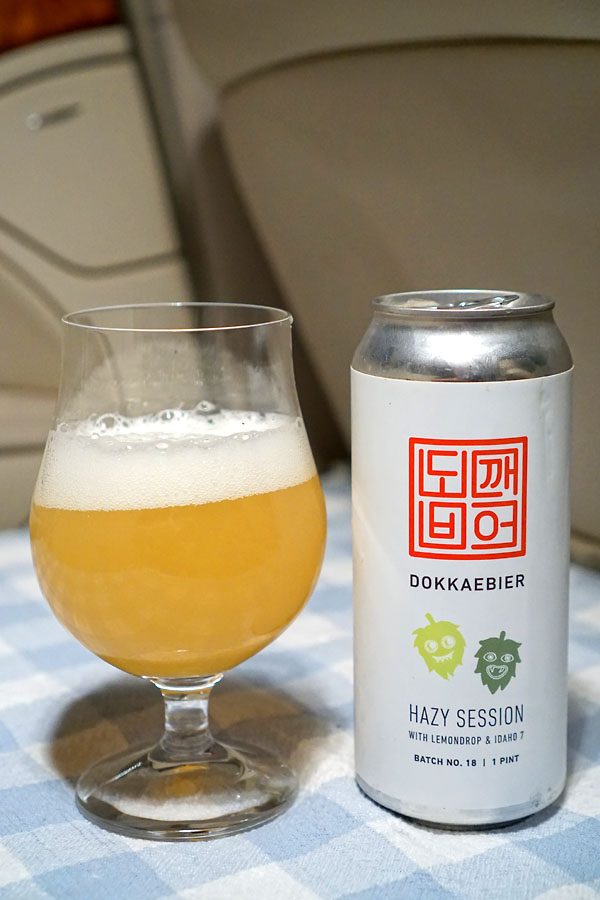 To drink, we begin with an IPA, the
2021 Dokkaebier Hazy Session with Lemondrop & Idaho 7
. The beer had a fragrant nose that balanced hoppy, grassy notes with juicy citrus and a smidge of stone fruit. Its palate was soft, pleasant, and refreshing, with flavors of piney hops, citrus, and tropical fruit combined with a distinct graininess in the middle, the whole thing finishing with an herbal bitterness.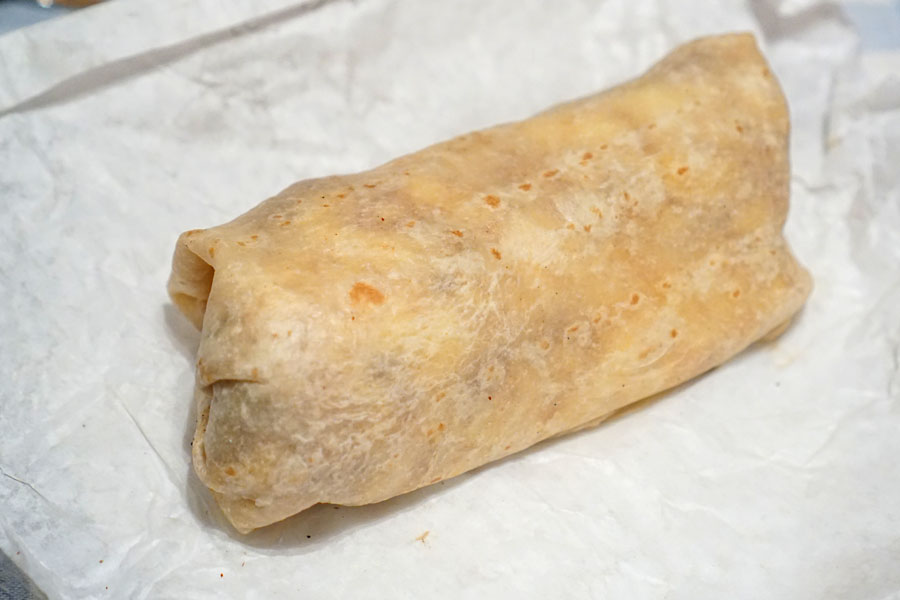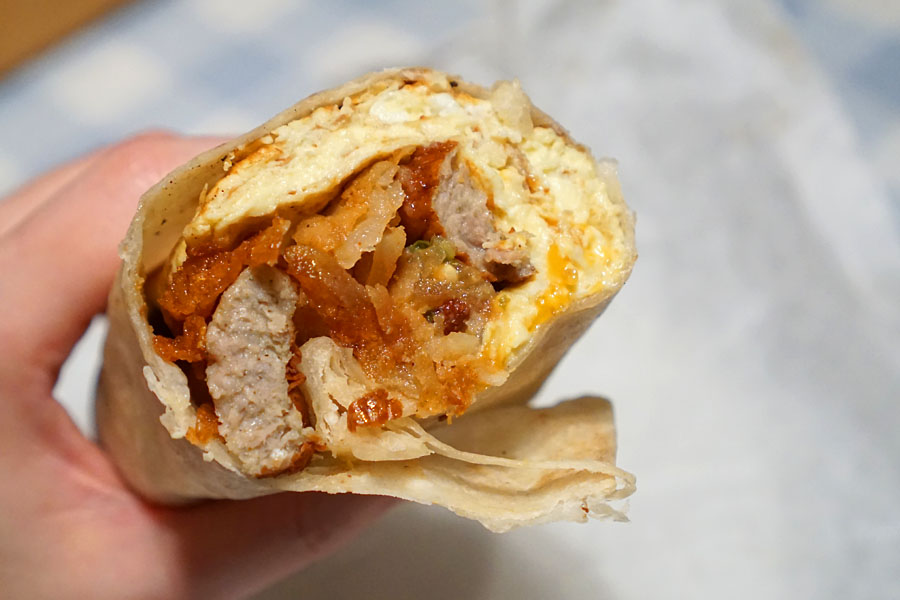 Breakfast Burrito - Sausage [$7.50]
| Homemade Hash Browns, Eggs, Cheese, Salsa
I'm a sucker for breakfast-y burritos, so this was a gotta-try item. I loved the sausage used here, which was as juicy, salty, and savory as I wanted, and actually reminded me of the Farmer John pork links I relished in my childhood years. At the same time, the eggs were nice and fluffy, while hash browns were crispy for contrast. Be sure to apply some salsa to bring it all together.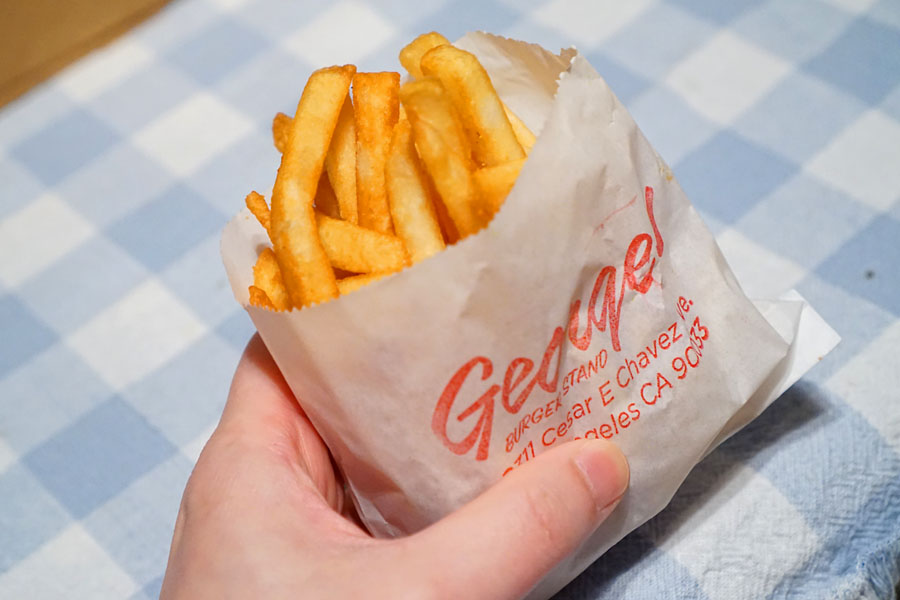 French Fries - Small [$2.00]
The staff tossed in some complimentary fries, and they were just what you'd want from a place like this, with a spot-on thickness and texture.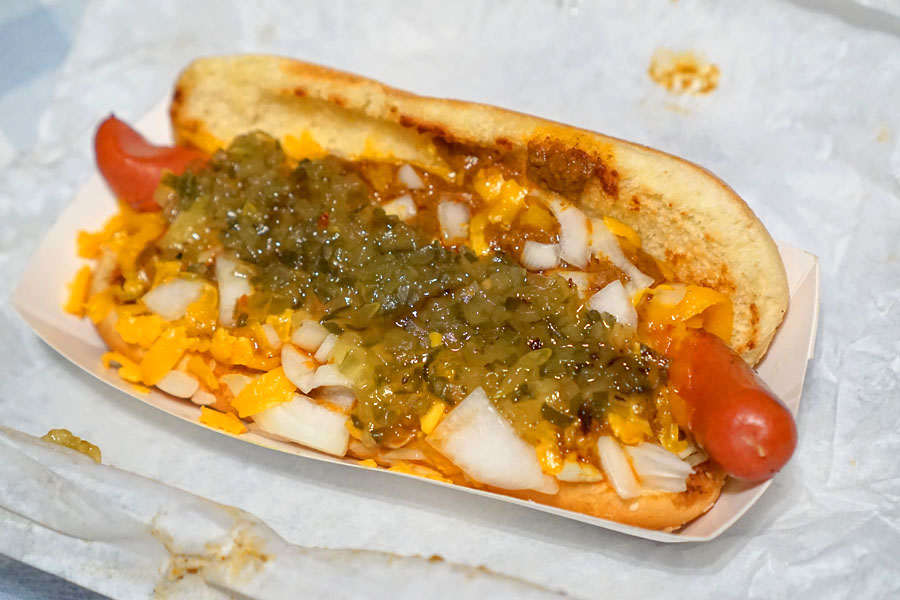 Chili Cheese Dog [$6.50]
| Natural Casing Premium Beef 'Snap' Dog, Chili, Cheese, Onions & Grilled Relish
The chili dog was also a winner. The sausage itself was as snap-tastic as advertised, and had that familiar, satisfying savoriness commingled with a slight spice and a touch of sweetness. It married effortlessly with the homey flavors of the chili and cheese combination (reminiscent of my childhood favorite
Volcano Burger
), all while the sharpness of the raw onion enlivened the dish. Rounding things out, meanwhile, was the bun, which came out lightly toasted and subtly sweet.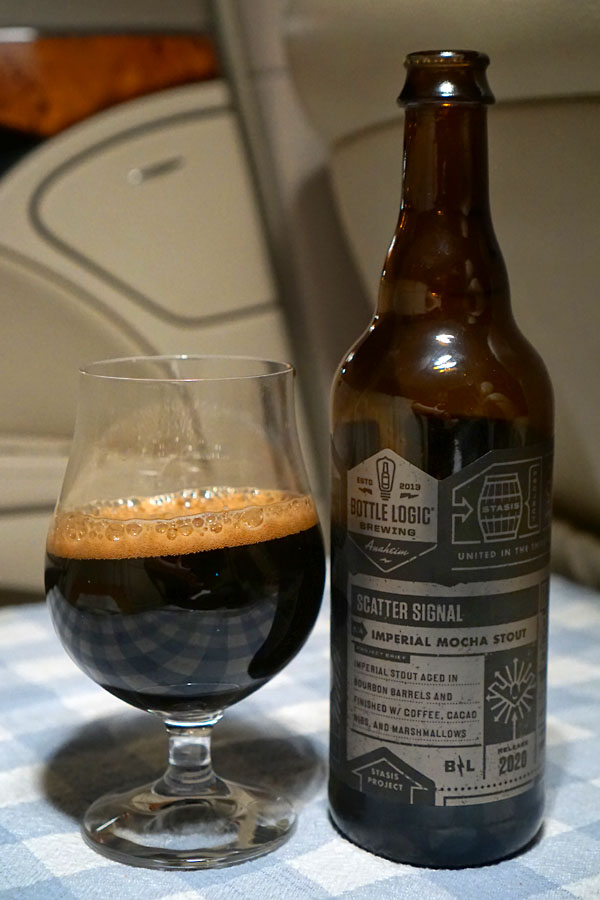 The evening's second beer was the mocha-inspired
2020 Bottle Logic Scatter Signal
, an imperial stout aged in bourbon barrels and finished with coffee, Ecuadorian cacao nibs, and marshmallows. This one had a powerful, invigorating aroma of dark, juicy fruit intertwined with chocolate. Taste-wise, I found lots of hot chocolate and juicy berries, overarched by oak, marshmallow-y sweetness, and a slight bell pepperiness from the coffee.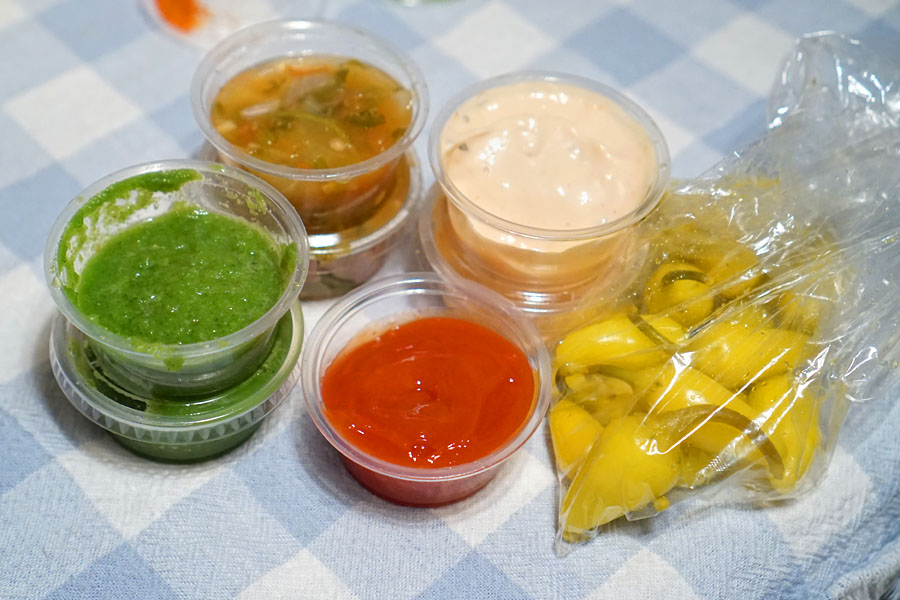 Accoutrements were provided free of charge, and included ketchup, salsa verde, salsa roja, Thousand Island, and pickled chili peppers.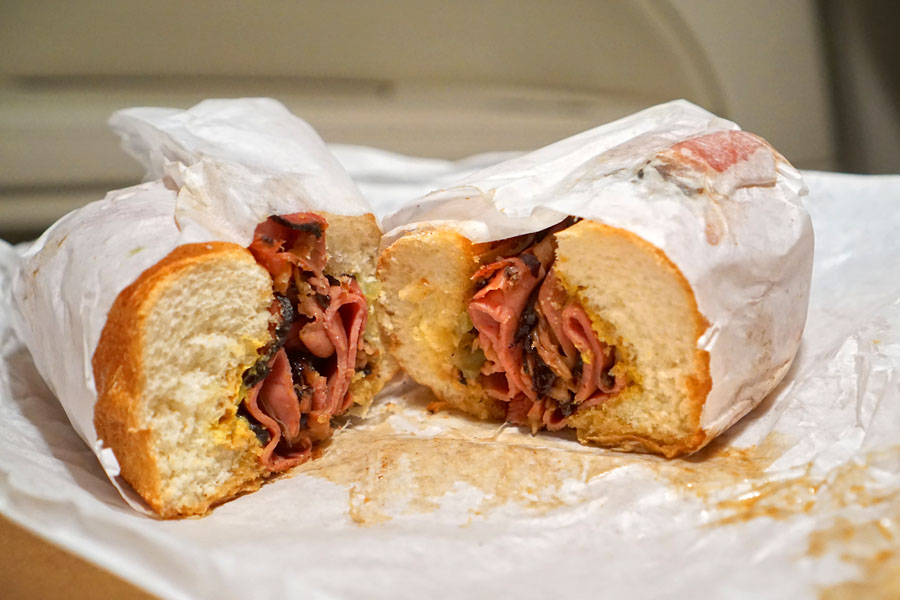 Pastrami Sandwich [$8.50]
| Black Rub Pastrami, sliced to order with Mustard & Pickles on a Toasted Roll
Of course, I had to try the pastrami, which is supposedly sourced from RC Provisions (the supplier for Langer's). Done in the black style, the pastrami was expertly seasoned, and it was those spicy, peppery notes that hit me first. This was followed by a smoky, almost "hammy" savor that meshed easily with the zip of the mustard-pickle combination, all while the hearty bread moderated it all.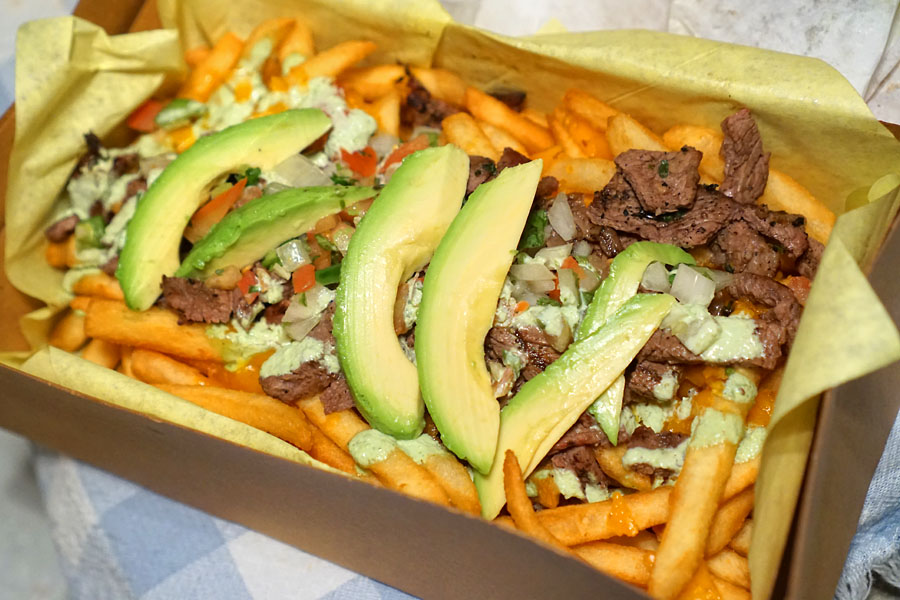 Asada Fries [$9.50]
| Carne Asada, Pico De Gallo, Green Cream, Cheese, Avocado
I have a hard time resisting carne asada fries, so here we are. The meat ate tender, though it wasn't too smoky, but instead conveyed a sweetness that somewhat recalled bulgogi. As for the fries, they were just as good as above, and easily stood on their own merits. My concern here was that the dish was a bit "dry," and needed more cheese and more salsa to better integrate all the elements.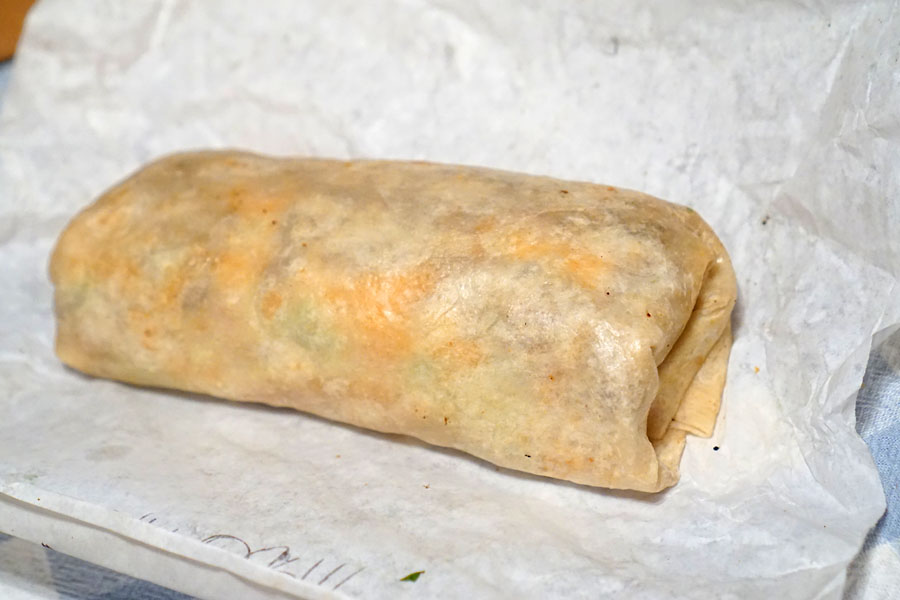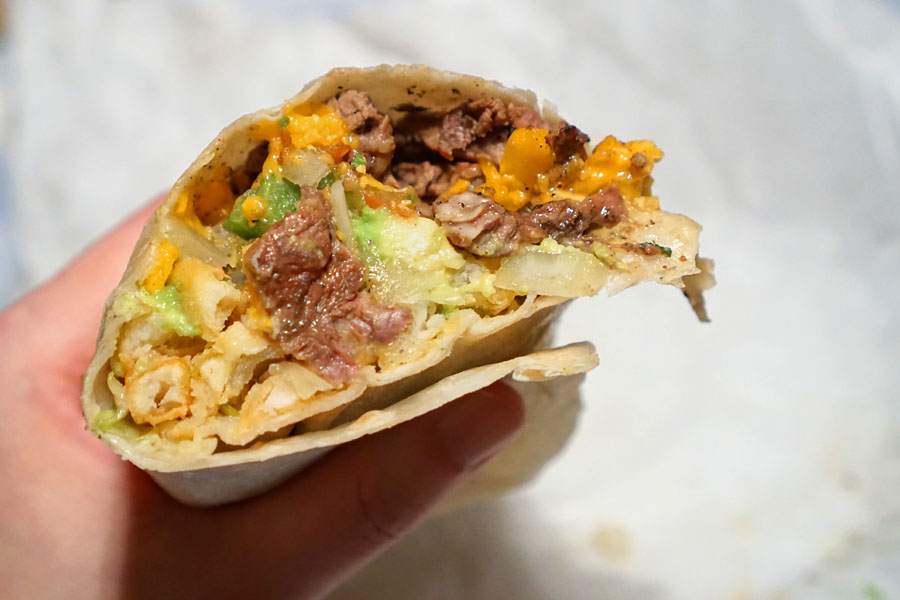 California Burrito [$8.50]
| Carne Asada, French Fries, Green Cream, Pico de Gallo, Avocado, Cheese & Salsa
Last up was the iconic California burrito, a late-night Cal-Mex staple of mine. I preferred the asada in this application, since its char and sear were more clearly highlighted. The meat paired perfectly with the brightness imparted by the salsa and avocado, while the fries were an omnipresent force in the background. Everything just came together swimmingly.
George's made a strong showing for itself tonight. Think pure comfort classics, done right. I'd totally come here regularly if the place were located near me, but unfortunately, from what I can tell, George's looks to be a one-off restaurant. The De La Torres have done a commendable job revamping the spot, and I'll certainly be on the lookout for what the family comes up with next.