The Hideout (Los Angeles, CA)
The Hideout Sycamore
911 N Sycamore Ave, Los Angeles, CA 90038
323.552.6054
www.instagram.com/thehideoutsycamore/
Thu 03/25/2021, 09:15p-10:55p
[4/10 Update: The Hideout has been shuttered, likely permanently, due to liquor license issues. Sadly, it appears as though my concluding statement below was prophetic.]

If I had to name the most bandied about bartender in LA over the past decade or so, I think Julian Cox would be my pick. As many of us know, he started out over at
David Myers
' Comme Ça in West Hollywood, but really began making a name for himself over at
Rivera
. Given the warm response Cox's cocktails garnered at Rivera, owner Bill Chait famously hired Cox to create the bar programs at pretty much all of his following Sprout group properties. This included early spots such as
Picca
,
Sotto
, and
Bestia
, as well as later efforts like The Rose and
Otium
. However, the culmination of the barman's efforts at Sprout was the debut of
The Fiscal Agent
in October 2015. I was a fan of the cocktail bar, but sadly, Cox ended up leaving Southern California just a few months after its opening (the place shuttered for good at the start of July 2016).
Apparently, he was concerned about his mental health, and thus sought out a more relaxed position in Chicago, specifically with Rich Melman's Lettuce Entertain You Enterprises (he spent most of his time at tiki bar Three Dots and a Dash). His tenure in the Windy City didn't last too long though, and in December 2017, he teamed back up with Chait, this time at Chad Robertson and Liz Prueitt's Tartine (Chait had become a partner in the business the previous year). Cox thus went on to design the cocktail programs at a number of Tartine group properties through 2018/2019, including the
Manufactory
right here in Downtown. During this time, he also made his mark at Tim Hollingsworth's
Free Play
, Ayala at Union Square's Hotel G,
Tesse
in WeHo (another Chait project), and Floodwater in Mill Valley.
Given the background above, it totally makes sense now that Cox's latest venture, The Hideout, resides in the same building as the Hollywood outpost of Tartine (the two businesses even share seating). His partner here is Alex Marchesini, who's most known for his work up in Portland (Native Wine Co, Arden, Thelonious Wines), but who also spent time in the Southland (
Eveleigh
,
Patina
Restaurant Group). Marchesini's extensive knowledge of natural wine complements Cox's abbreviated list of cocktails, while Chef Leo Lanussol (of the veggie-centric Proper in Buenos Aires) offers up a short menu of Spanish-inspired fare. The Hideout grand-opened on March 19th, and I made sure to prioritize a visit.

Pictured here is The Hideout's main bar area. Though indoor seating was permitted, there was no congregating at the bar allowed due to coronavirus restrictions.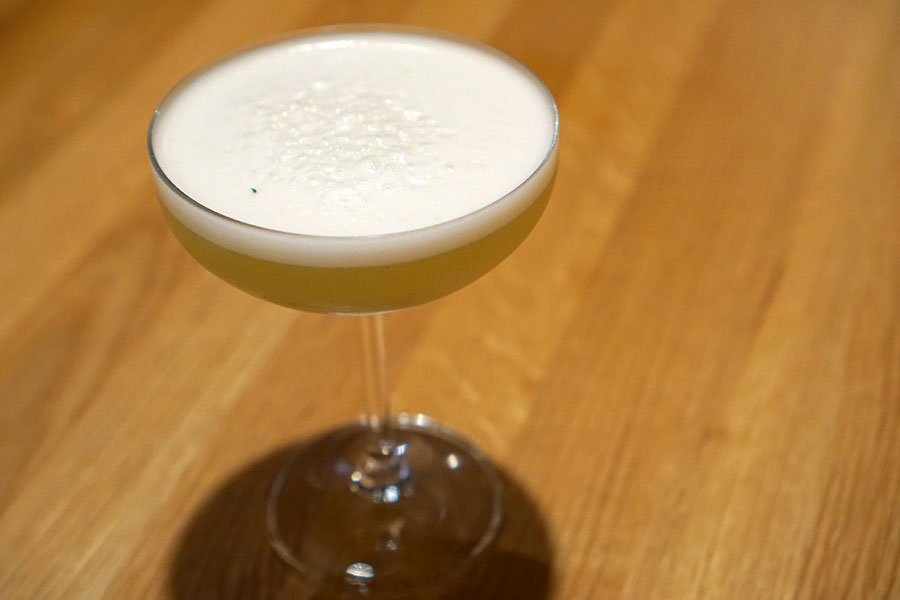 Doncha Beach [$16.00]
| Hideout rum/Rhum blend, nitro spearmint, pineapple, peché
The night got off to a very strong start thanks to this tiki-ish cocktail. Hiding underneath a layer of soft, pillow-y foam were all the fruity, tropical notes that you'd want, but with a sharp minty edge and distinct spiciness that recalled caraway. Really well balanced.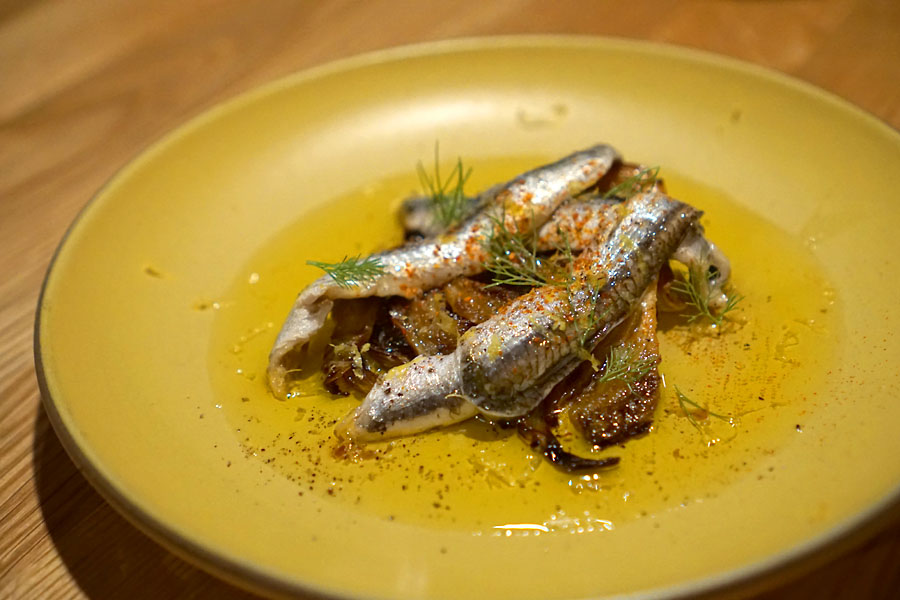 Boquerones on Grilled Fennel Bulb [$7.00]
| Salt, pepper, orange oil, dill, lemon zest, arbequina and vinegar
Anchovy fillets had their signature brine offset by the tart, forceful nature of their vinegar marinade. At the same time, olive oil imparted a vibrant, fruity quality to the dish, while the grilled fennel imbued both savoriness and piquancy.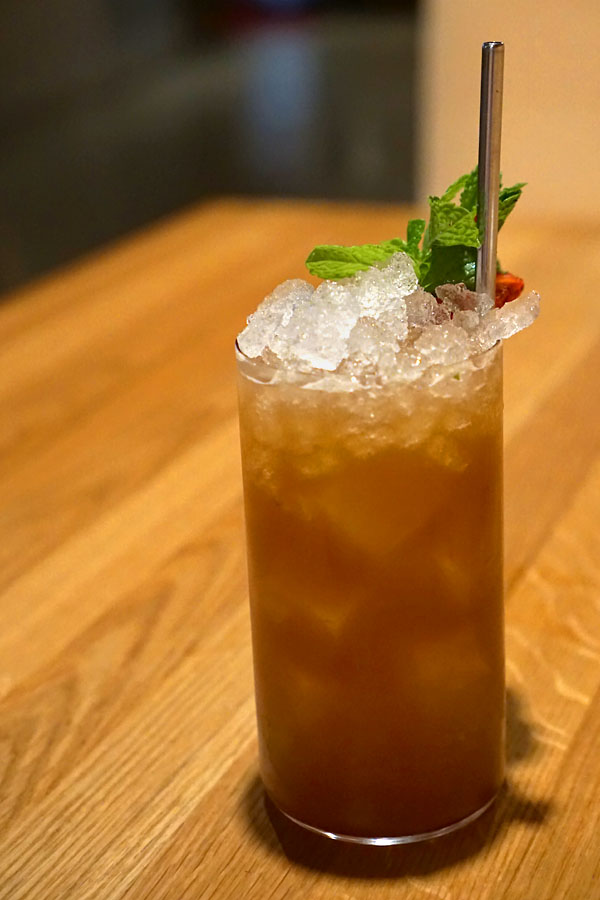 Fruit Basket Delux [$15.00]
| Tequila, Tamarind, house pimms, fruit basket sfumato, riesling, ginger ale
Our second cocktail married a bevy of spicy, almost vegetal flavors with familiar, deep, tangy sensations of red fruit. The phrase that came to mind for me was "dirty strawberries." Very neat.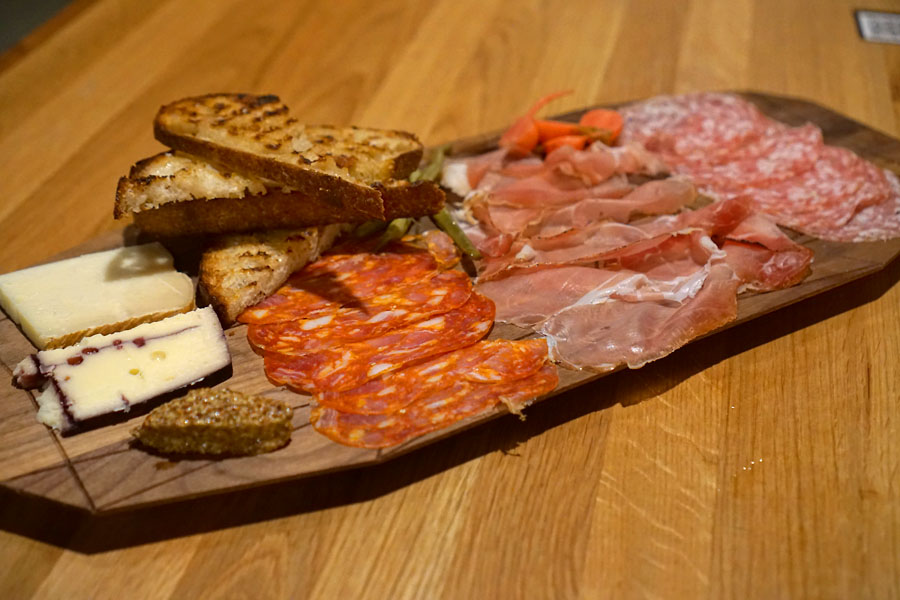 Cheese & Charcuterie Board [$24.00]
The charcuterie and cheese board featured five selections this evening:
I started with the finocchiona, a type of pork salami incorporating fennel seed. Think fatty and waxy, with a growing savor and relatively light anise-y notes.
Next came the Italian speck, a gently smoked ham that displayed all the porcine flavors I was craving, but amped up by a slightly zesty, herbaceous element.
Thanks to its delectable spicing and satisfying mouthfeel, the soppressata piccante was something that I could snack on all day.
The first cheese was a sheep's milk variety from Italy, one with a crumbly, somewhat crystalline paste and mildly nutty, grassy flavors.
Far more interesting was the red wine-washed cow's milk cheese from Piedmont, which really showed off the fruity, vinous nature of the wine--very cool.
Accoutrements, meanwhile, included crunchy, smoky toast, two types of pickles, and a grainy, deeply-flavored mustard.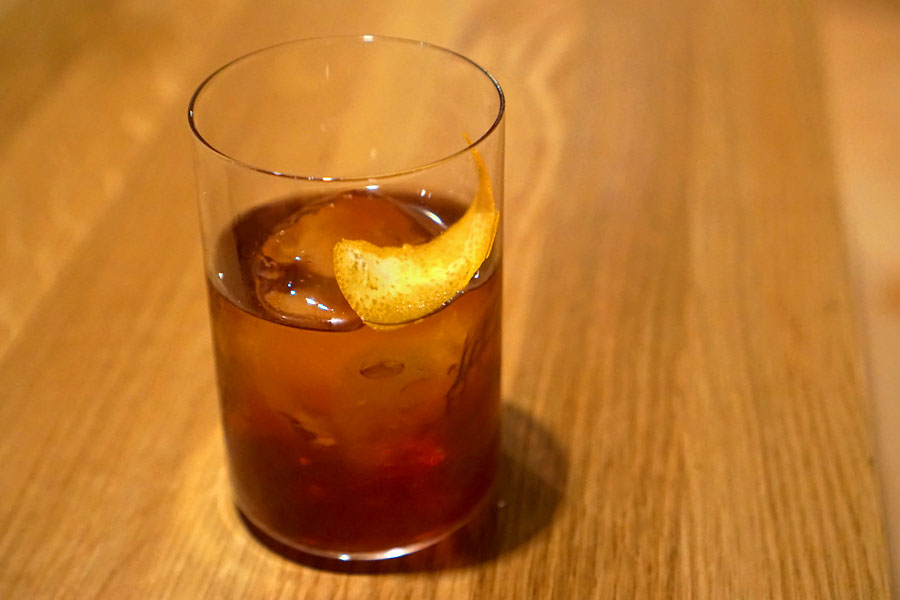 Inverted Negroni [$15.00]
| Apricot liquor, Jenever, Byrrh
This fanciful take on the Negroni was certainly the stiffest cocktail I sampled this evening. It had your classic bittersweet nose, but the palate was something altogether different. I found it smooth and silky, as well as sweet-n-spicy, but what really struck me was the drink's super floral character, which was almost bracing in its presentation.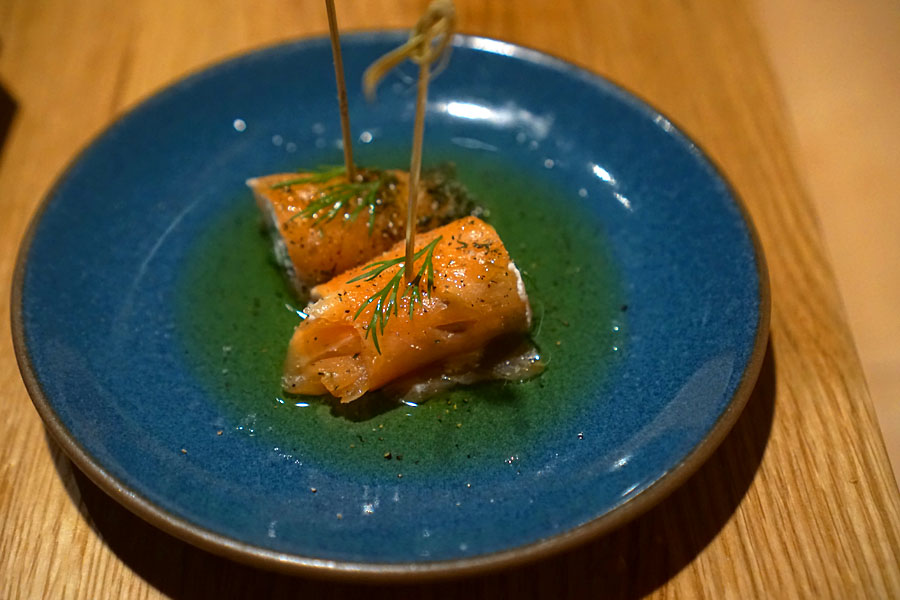 Pintxo of Lox, Ricotta, and Dill [$7.00]
Pinchos married lush, velvety ricotta against briny cuts of salmon, the interaction complemented by plenty of olive oil and the fresh, zippy nature of dill.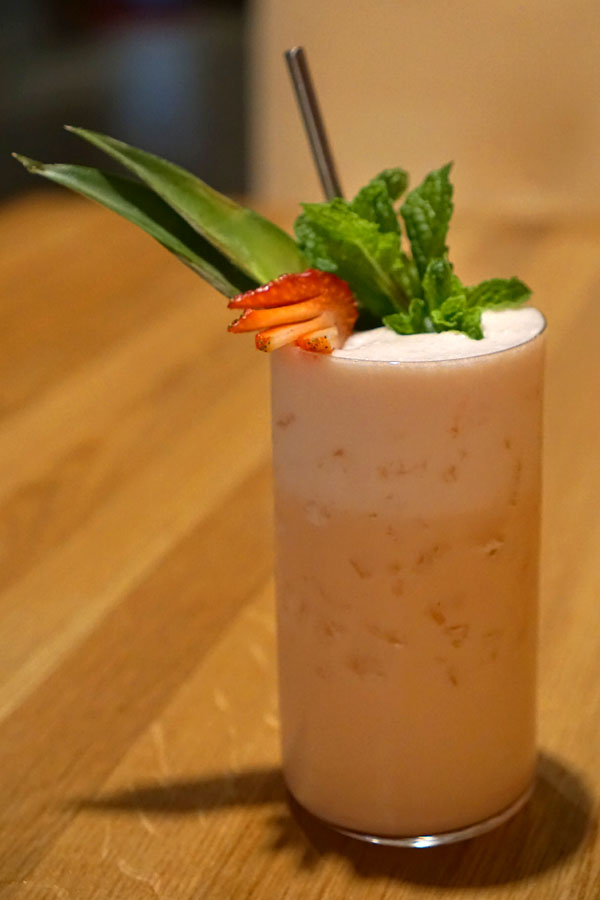 Miami Vice [$16.00]
| Strawberry Daiquiri x Pina Colada...IYKYK
This mash-up of two famous Caribbean cocktails was soft and creamy in its approach, and conveyed loads of fragrant coconut up front before the strawberry crept in.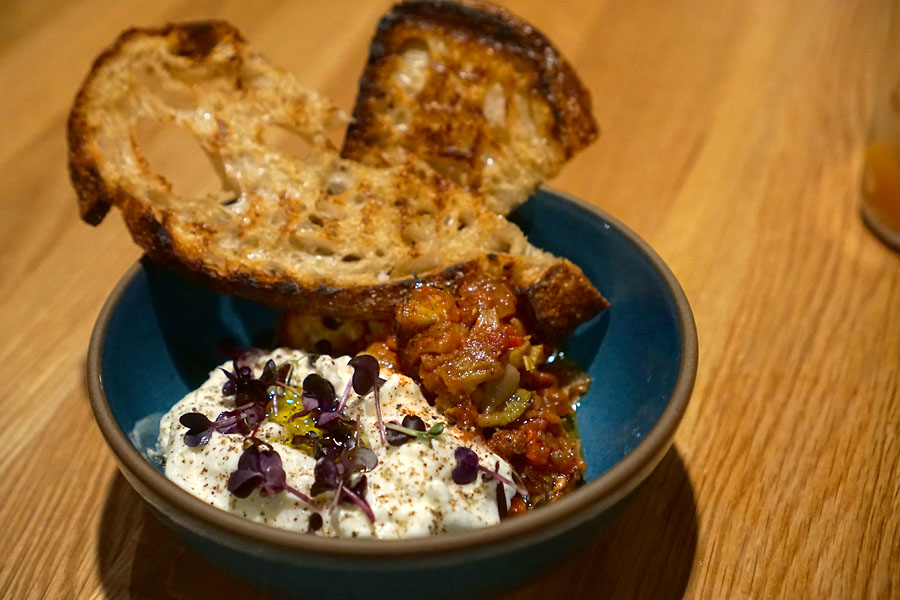 Burrata with Eggplant Caponata [$18.00]
As I was waiting for the mussels below to arrive, I was unexpectedly presented with this complimentary dish. It's hard to go too wrong with burrata, and indeed, tonight the cheese was on point with its trademark lusciousness, but also crucial were counterbalancing flavors of olive oil and black pepper, not to mention the smoky, tangy, vegetal nature of that eggplant. Nice toast on the side, too.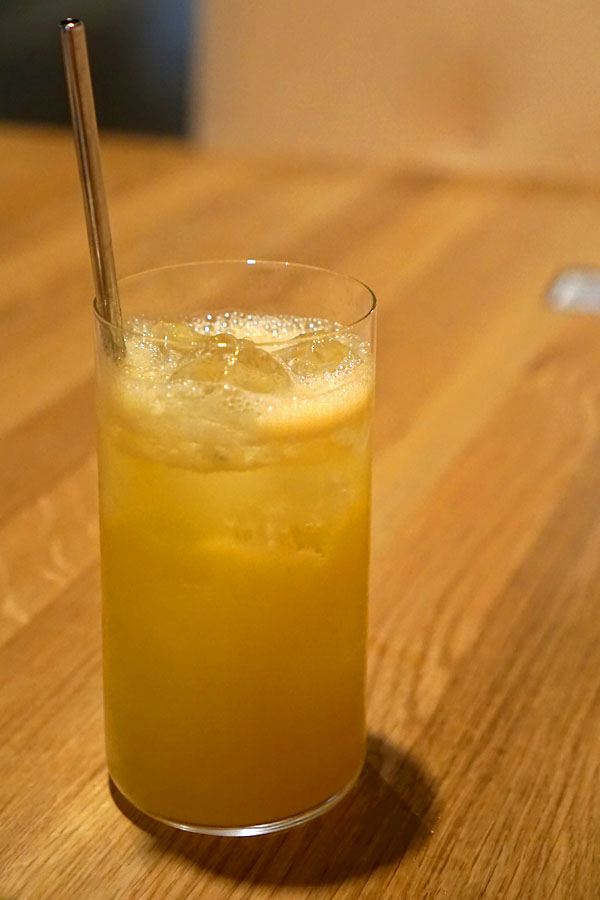 Baller Melon [$15.00]
| Fresh melons, Mindoro, lemon, gin
Our final cocktail was to my liking as well. I found massive amounts of fragrant, sugary melon all over the place, but deftly moderated by the application of citrusy, botanical nuances to keep it all in check.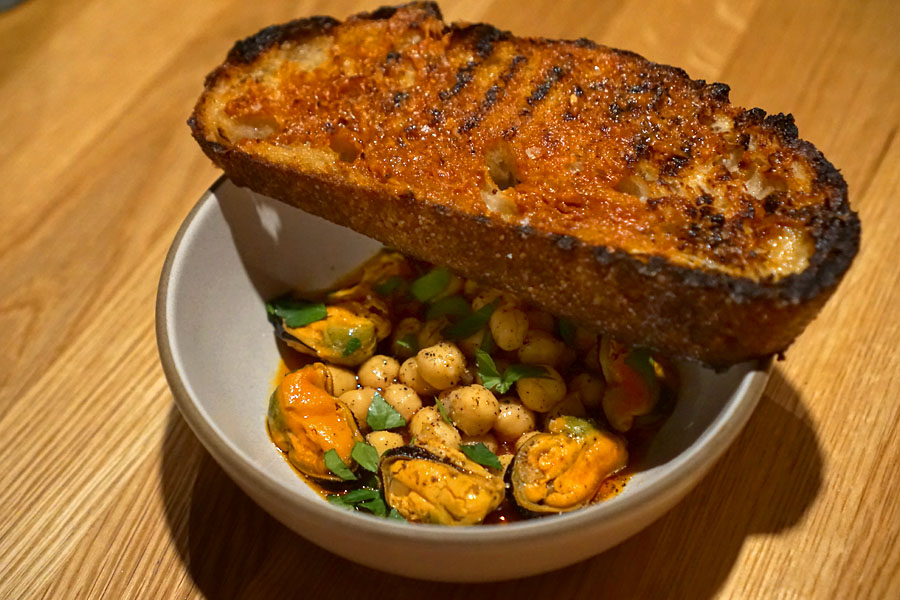 Mussels Escabeche with chickpeas and 'nduja toast [$14.00]
| Chickpeas
Mussels arrived just as I'd expected, and had their brininess supplemented by a subtle heat, while hearty garbanzos provided a contrast in both taste and texture. Also crucial was the meaty, spicy nature of the 'nduja, and overall, this was akin to a fun take on the classic combo of mussels and chorizo.
Tonight's early look at The Hideout managed to be rather promising. The cocktails tended toward the easy-going, fresh, farmer's market side of things, and as expected, didn't disappoint, while Lanussol's food met the mark as well. This is a nice, low-key sort of place, and I hope to be able to return here in the future. However, given Cox's somewhat spotty history with regard to longevity (see The Fiscal Agent as stated above, not to mention the short-lived
Brilliantshine
), there is some concern on my part. Fingers crossed, I guess.