Saso (Pasadena, CA)
Saso Restaurant
37 S El Molino Ave, Pasadena, CA 91101
626.808.4976
www.sasobistro.com
Thu 04/29/2021, 07:45p-10:40p

I've always felt that Spanish cuisine is somewhat underrepresented in the Los Angeles region, so I was glad when I heard about Saso's impending debut last year. Named after the Basque word for ocean (
itsaso
), the seafood-centric restaurant resides at the Pasadena Playhouse, and though it was supposed to open in November, ended up dropping on February 18th due to coronavirus-related delays. The Chef/Owner behind the spot is none other than Dominique Crisp, who's most known around these parts for his work over at
L&E Oyster Bar
.
About the Chef
: A native of Wren, Oregon, Dom Crisp grew up on his family's vineyard and got interested in food at a young age. He landed his first restaurant job when he was 15, working at a local pizzeria in Corvallis. After finishing high school, he went to Forcalquier, a small town in Provence, to train at Le Bistrot de Pierrerue, which was actually owned by distant members of his family. Upon returning Stateside, Crisp studied French at Oregon State University, then moved to Portland in 2008, when he was 21. He cooked at a number of spots in PDX, including Davide Filippini's Trattoria Gallo Nero, cocktail bar Rum Club, and perhaps most importantly, the gastropubby Dig a Pony.
In September 2015, he moved to Southern California for a girl: his now-wife Alicia Fairbrother. Now in SoCal, Crisp found employment as a sous at Silver Lake's L&E Oyster Bar, and eventually took over the kitchen upon the departure of opening EC
Spencer Bezaire
. Then, in February 2018, he himself decamped to become Executive Chef at Blue Plate Oysterette. However, after a visit to Basque Country in October 2019, he decided to strike out on his own, and left the Santa Monica eatery in February 2020 to start work on Saso.
Joining Crisp in the kitchen here are Pastry Chef Dolly Webster and Sous Chef Timothy Garcia, while GM Matt Krawczyk (an alum of LGO Hospitality) handles the FOH and Brian Vito Morales (The Nixon Steakhouse in Whittier) takes care of the bar.

Pictured above is Saso's main dining room (penned by Nicholas Musso, Crisp's old boss at Dig a Pony), which takes over a space previously occupied by the likes of Trejo's Cantina, Redwhite+Bluezz, and Elements Kitchen.
We, however, ended up sitting outside in the cozy courtyard.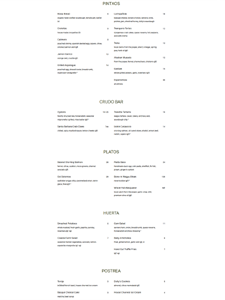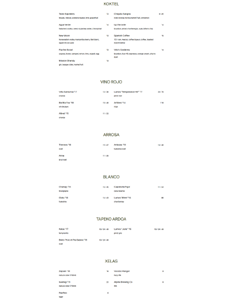 Here we see Saso's Basque-influenced, seafood-focused menu, which is joined by a pretty interesting selection of cocktails, a compact wine list, and a smattering of beer. Click for larger versions.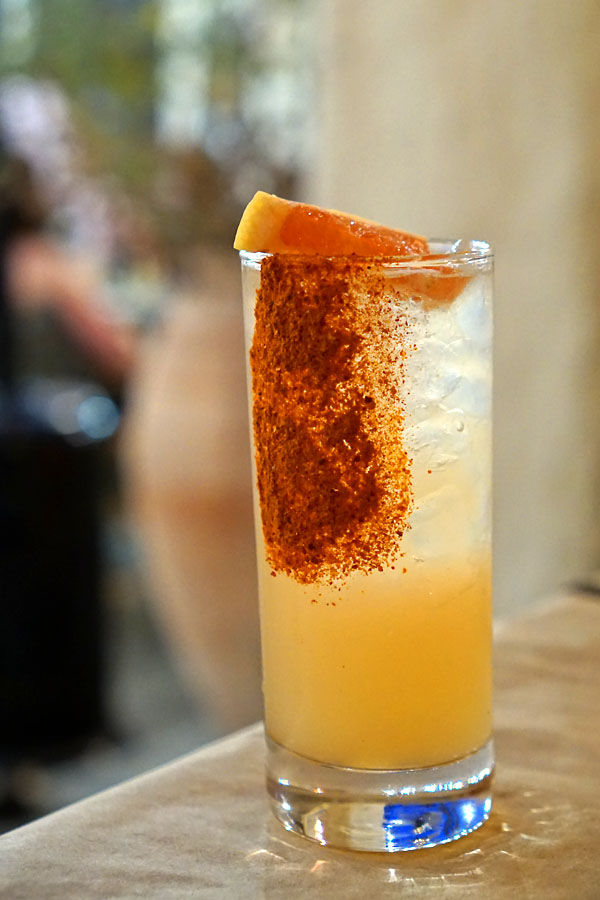 Txolo Squinkles [$13.00]
| tequila, mezcal, poblano liqueur, lime, grapefruit
We ended up making our way through six cocktails, beginning with this paloma riff. Think easy-going and refreshing, with dimensions of smoke, agave, citrus, and heat all presenting themselves in measured amounts.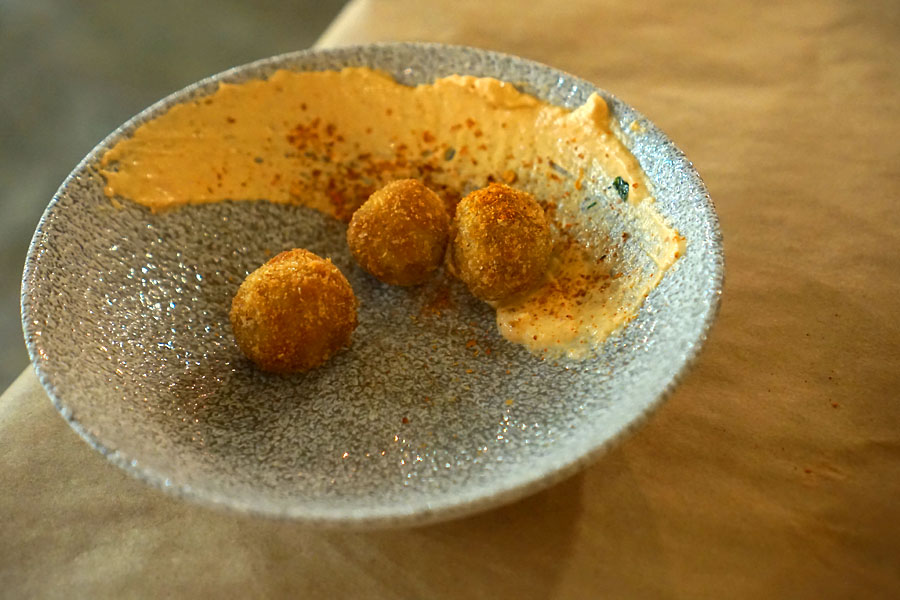 Croketas [$9.00]
| house made croquettes (3)
Croquetas were drier than I'd prefer, but also delightfully crunchy and very, very flavorful. They were appetizing just on their own, but were undoubtedly improved with a dab of that creamy, subtly spicy sauce smeared on the bowl.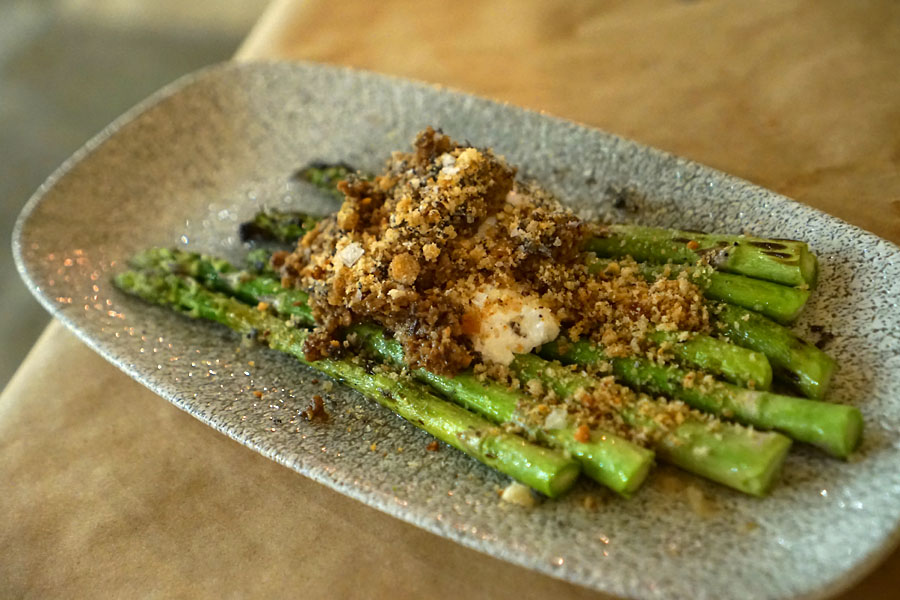 Grilled Asparagus [$14.00]
| poached egg, shaved caviar, breadcrumb, mushroom vinaigrette
Our next dish was a definite standout, and one of the best preparations of asparagus I've had in a while. The spears were perfectly crisp and juicy, and showed off a bitterness that meshed beautifully with that runny egg and those salty, savory crumbs.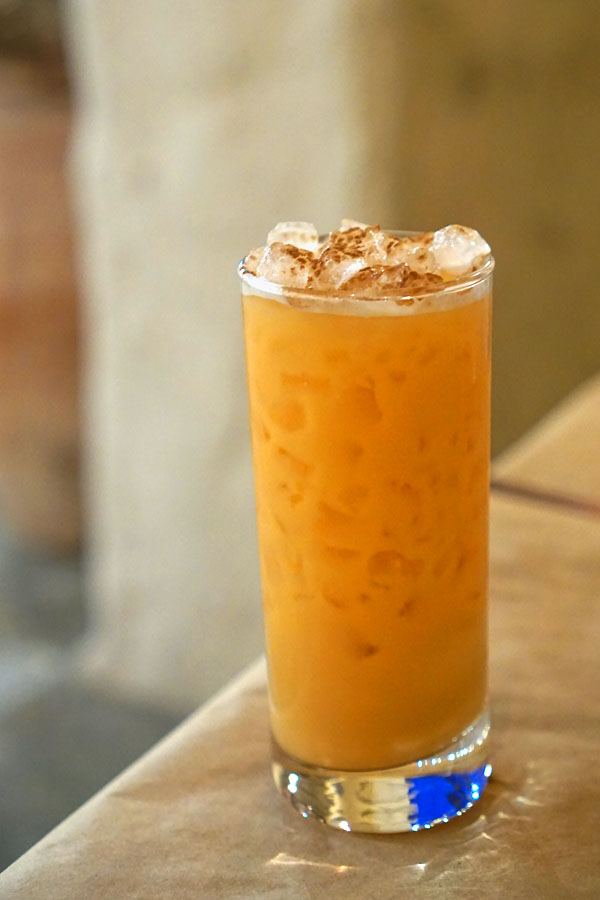 Flip the Script [$13.00]
| cognac, torani, campari, lemon, lime, orgeat, egg
This flip variation ended up being my favorite cocktail of the bunch. I loved its combination of nutty, fruity, and almost candied flavors, which meshed like clockwork with the milky, eggy components in the drink. I found this somehow familiar, but at the same time exciting.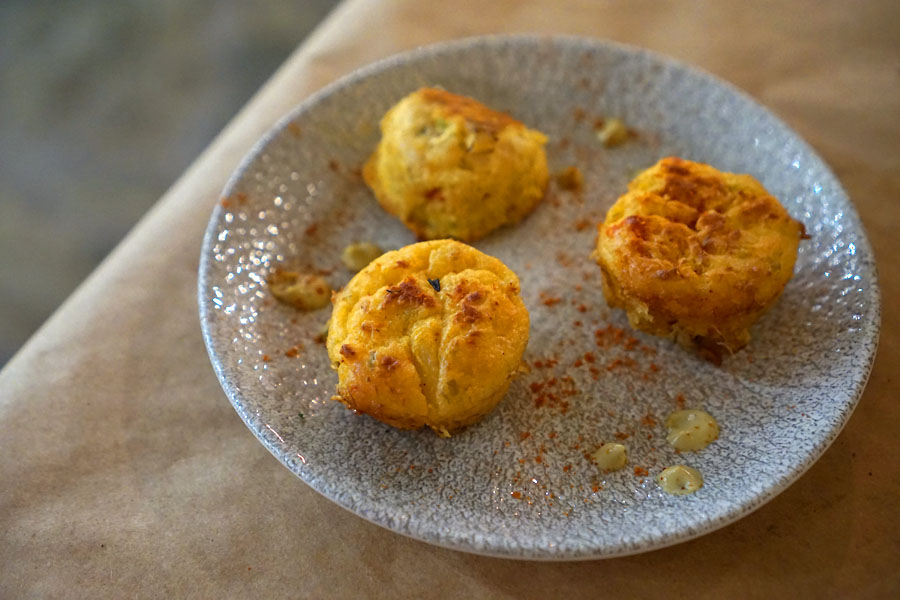 Txangurro Tortas [$12.00]
| dungeness crab cakes, queso navarra, hot peppers, avocado crema
Mini crab cakes demonstrated a surprising depth, their brine and savor joined by cheesy qualities and a smidge of levity from the avocado.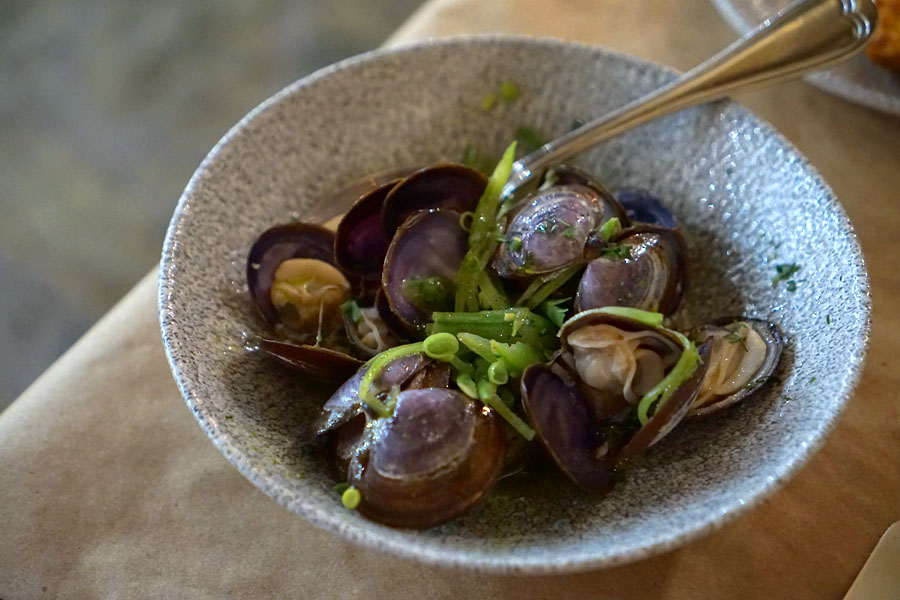 Txirla [$13.00]
| local clams from the josper, sherry vinegar, spring pea, herb oil
Clams were perfectly textured, and set in a super flavorful, olive oil-heavy broth. The key here, though, was the use of pea greens, which did a wonderful job offsetting the salinity of the bivalves.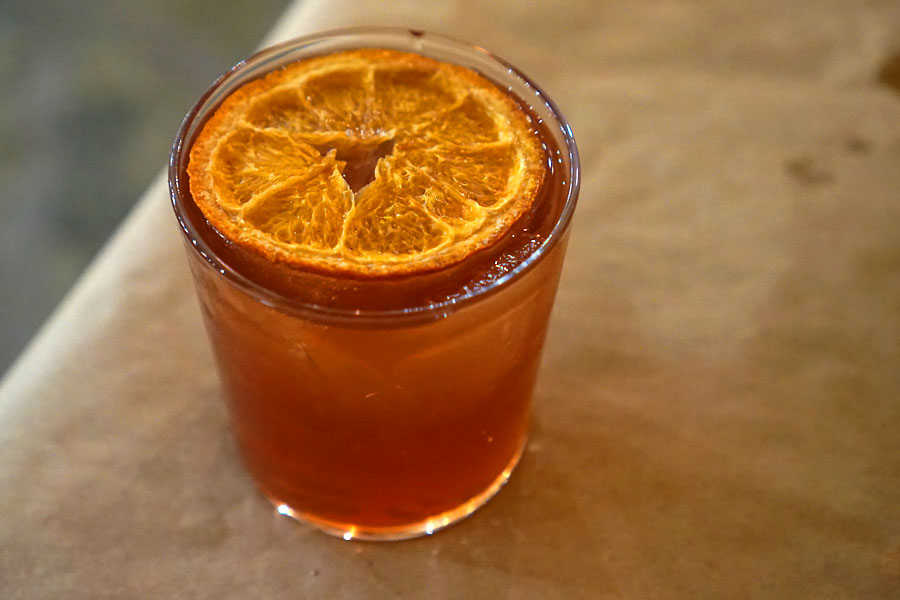 Chiquita Sangria [$9.00]
| rosé, brandy, honey, market fruit, cinnamon
Saso's take on sangria was classic at its core, but I appreciated the additional oomph from the brandy, while the cinnamon imparted an agreeable spice.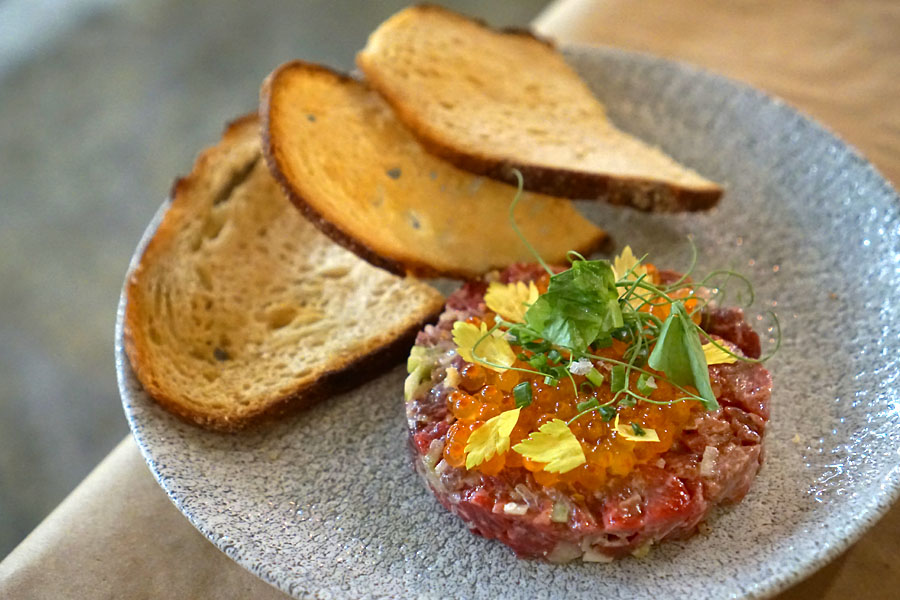 Txuletta Tartarra [$16.00]
| wagyu tartare, caviar, celery, anchovy aioli, sourdough chip
The beef tartar managed to be another standout. The wagyu was superbly textured, and I really liked the oceany additions of both salmon roe and anchovy. Even better, however, was the inclusion of celery, with its bright, vegetal notes that really made the dish sing. Big fan of that super crunchy bread, too.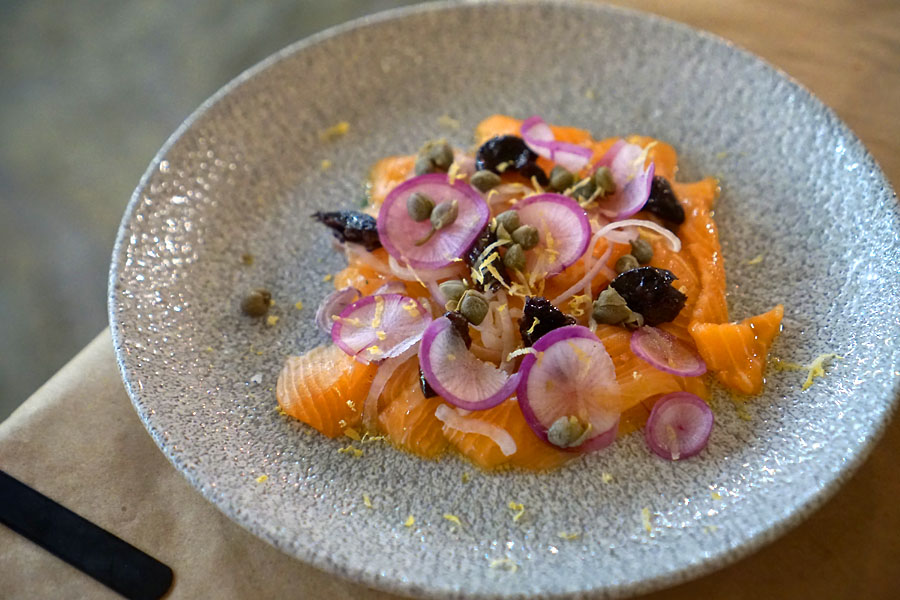 Izokin Carpaccio [$14.00]
| ora king salmon, oil cured olives, shallot, lemon zest, radish, capers
Substantial cuts of salmon were joined by potent portions of olive and caper, fortunately without being overwhelmed. Crucial was the hot, zesty nature of the raw shallot and radish, which helped uplift the plate.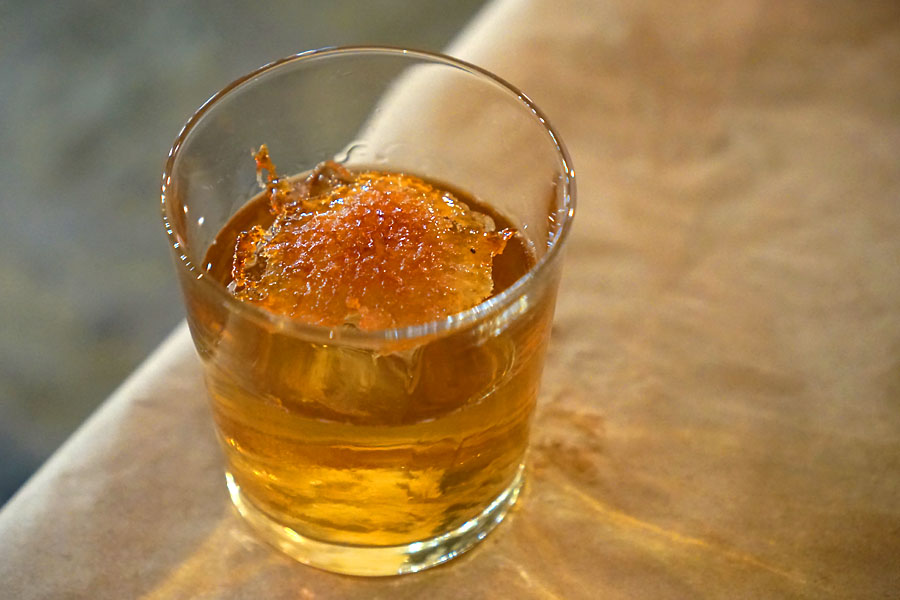 Up the Ante [$14.00]
| bourbon, amaro montenegro, suze, bitters chip
Next to arrive was no doubt the booziest cocktail of the evening, one that combined the kick of whiskey with plenty of citrusy, bitter notes layered over a sugary backbone.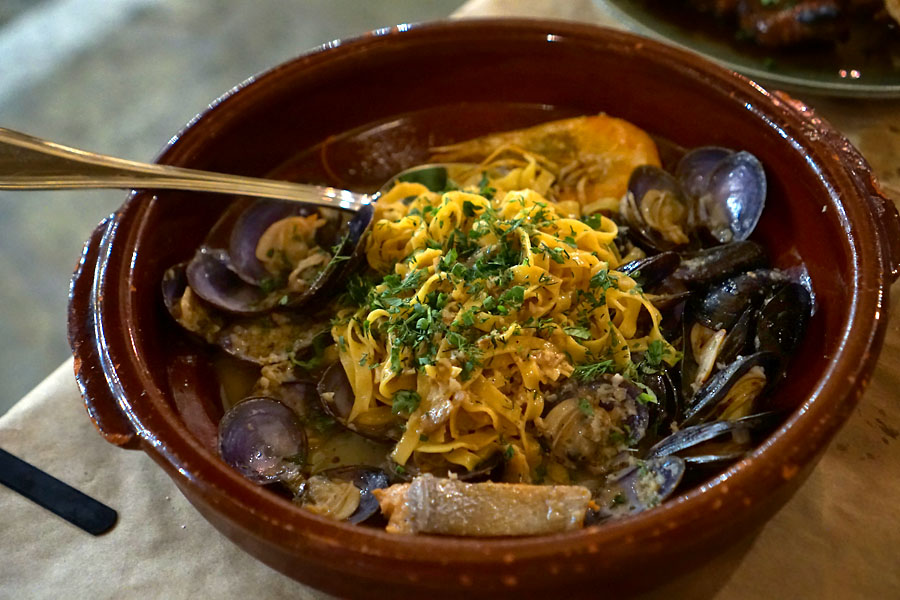 Pasta Saso [$24.00]
| handmade duck egg-yolk pasta, shellfish, fin fish, prawn, ginger
At this point we moved into our mains. The pasta was a crowd pleaser, the noodles demonstrating a supple, silky texture and elegant flavor profile that married easily with all the briny components in the dish. Each item of seafood was dutifully presented, and I especially enjoyed the salmon.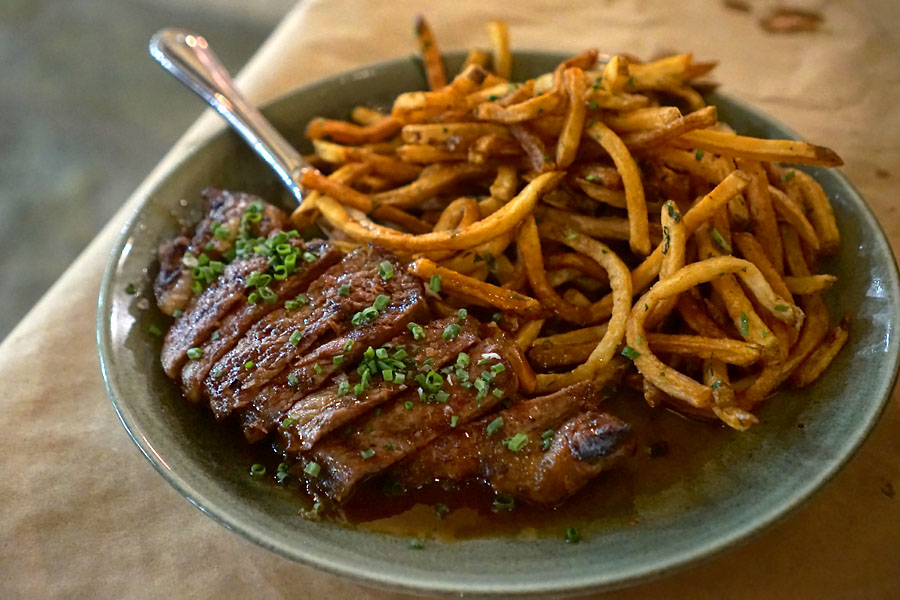 Goi Solomoa [$29.00]
| australian angus strip, caramelized onion, demi-glace, fries
Time for steak. We requested the cut medium-rare, but unfortunately it arrived at the table a solid medium-plus. That being said, it was still quite enjoyable, with plenty of juiciness and tenderness along with a very gratifying depth of savor. Meanwhile, the fries were on point, though I will say that I didn't need so much demi-glace on the plate.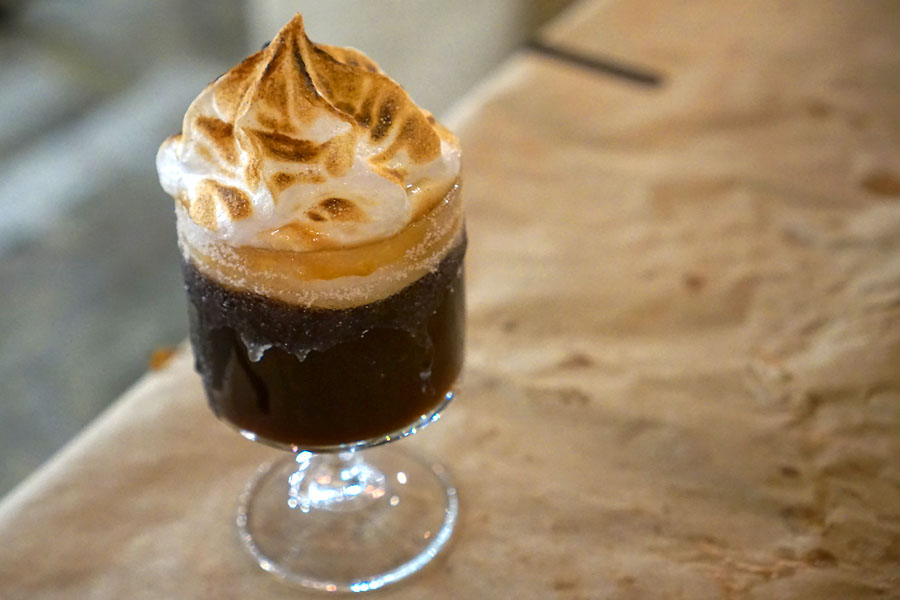 Spanish Coffee [$15.00]
| 151 rum, mezcal, coffee liqueur, coffee, toasted marshmallow
With our savories dispensed with, we ended up getting two dessert-appropriate cocktails. The first one was served piping hot, and displayed loads of fluffy, sugary marshmallow up front leading to plenty of boozy, spicy, coffee-tinged notes.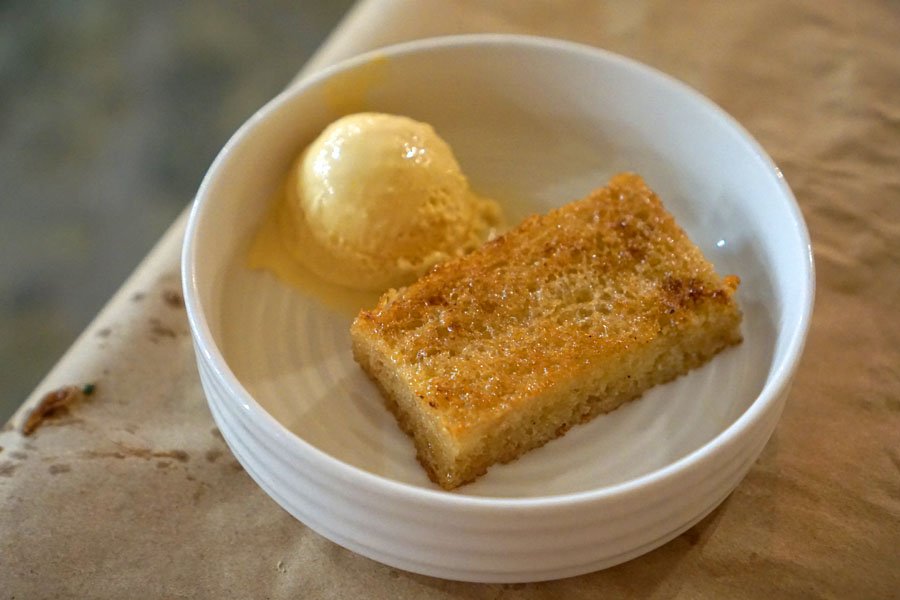 Torrija [$9.00]
| brûléed french toast, house churned ice cream
This Spanish take on French toast featured a sweet, saturated, crispy cuboid of bread that was tasty alone, but much improved when taken with the accompanying ice cream.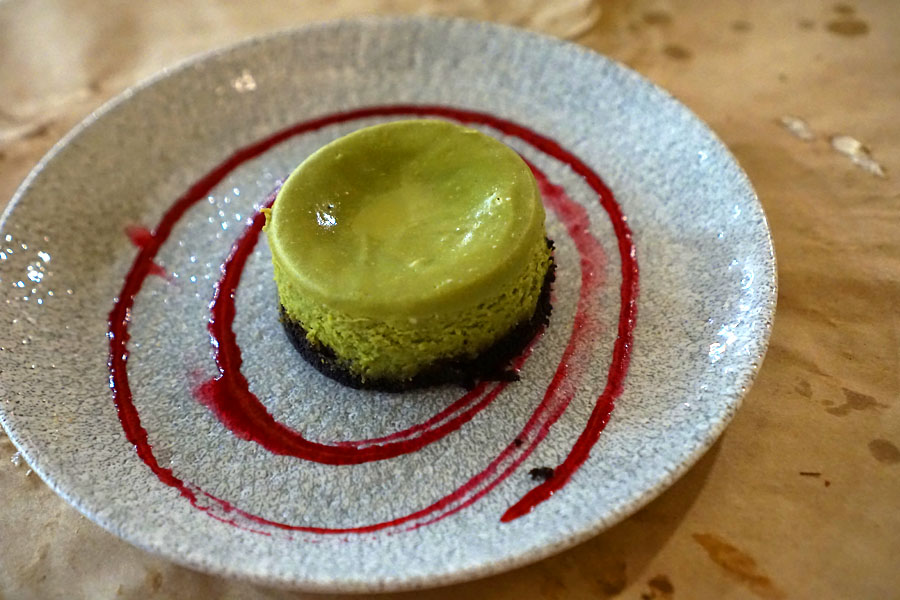 Basque Cheese Cake [$9.00]
| matcha, beet syrup
I've had a surprisingly large number of Basque cheesecakes over the past year or so, but this was quite unlike any of them. There was the green tea, of course, but also the consistency of the cake, which was on the denser side, while I didn't get the smokiness I was expecting.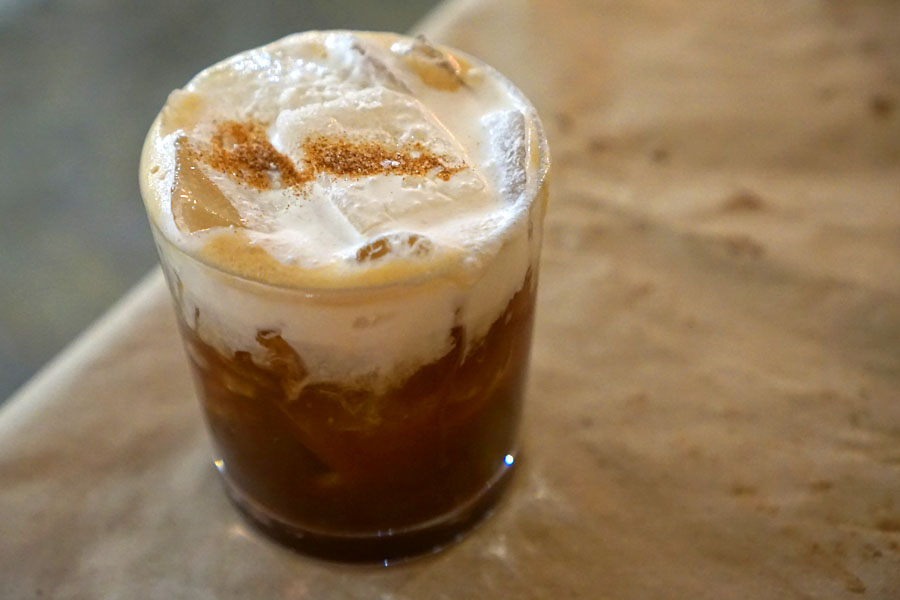 Vito's Coldbrew [$14.00]
| bourbon, licor 43, espresso, orange cream, churro dust
Our final cocktail exhibited the classic cold brew coffee flavors I was anticipating, its elements of roast and fruit backed by a spicy, caramel-like undertone.
Overall, I'd have to call this meal a success. Crisp is doing a commendable job presenting another facet of coastal Spanish cookery, one that we perhaps don't encounter all that often here in the Southland. The place seems to fill a bit of a void for me (and many others, it seems), and I'm quite content to have Saso as a new dining option in the SGV. I'm sure I'll be back here eventually.