The Guild Club (Costa Mesa, CA)
The Guild Club Bar
3321 Hyland Ave, Costa Mesa, CA 92626
949.500.5561
www.theguildclub.com
Fri 06/04/2021, 08:15p-10:35p

Over the past decade or so, I've established a set of go-to restaurants in Orange County, and one of those is definitely
Arc Food & Libations
, situated at Costa Mesa's South Coast Collection (a.k.a. SoCo) shopping center. The brainchild of Chef Noah von Blöm and wife/business partner Marín Howarth von Blöm, Arc opened in February 2013 with a focus on wood-fired cooking. The place has been pretty consistently busy over the past several years, and this success eventually allowed the von Blöms to expand their footprint.
In 2015, they took over Wildflower Linen next door with the goal of turning it into two completely different spaces. The first was Restaurant Marin, a sort of contemporary diner concept that bowed in March 2016 but shuttered the following November. It was quickly flipped into Arc Pizza House, but today, effectively functions as an extension of Arc proper. Restaurant Marin was subsequently relocated to Newport Beach and renamed Arc Butcher & Baker (open March 2019).
The Guild Club, meanwhile, debuted around the end of 2016 as a members-only supper club type of affair. Membership supposedly cost a cool $15,000 (along with a $1,000 annual fee), and reportedly entitled you to your own table, inscribed with your name and everything. However, changing business conditions rendered this business model somewhat obsolete, and The Guild Club eventually opened to the public on October 4th, 2019, which meant that I needed to pay the place a visit.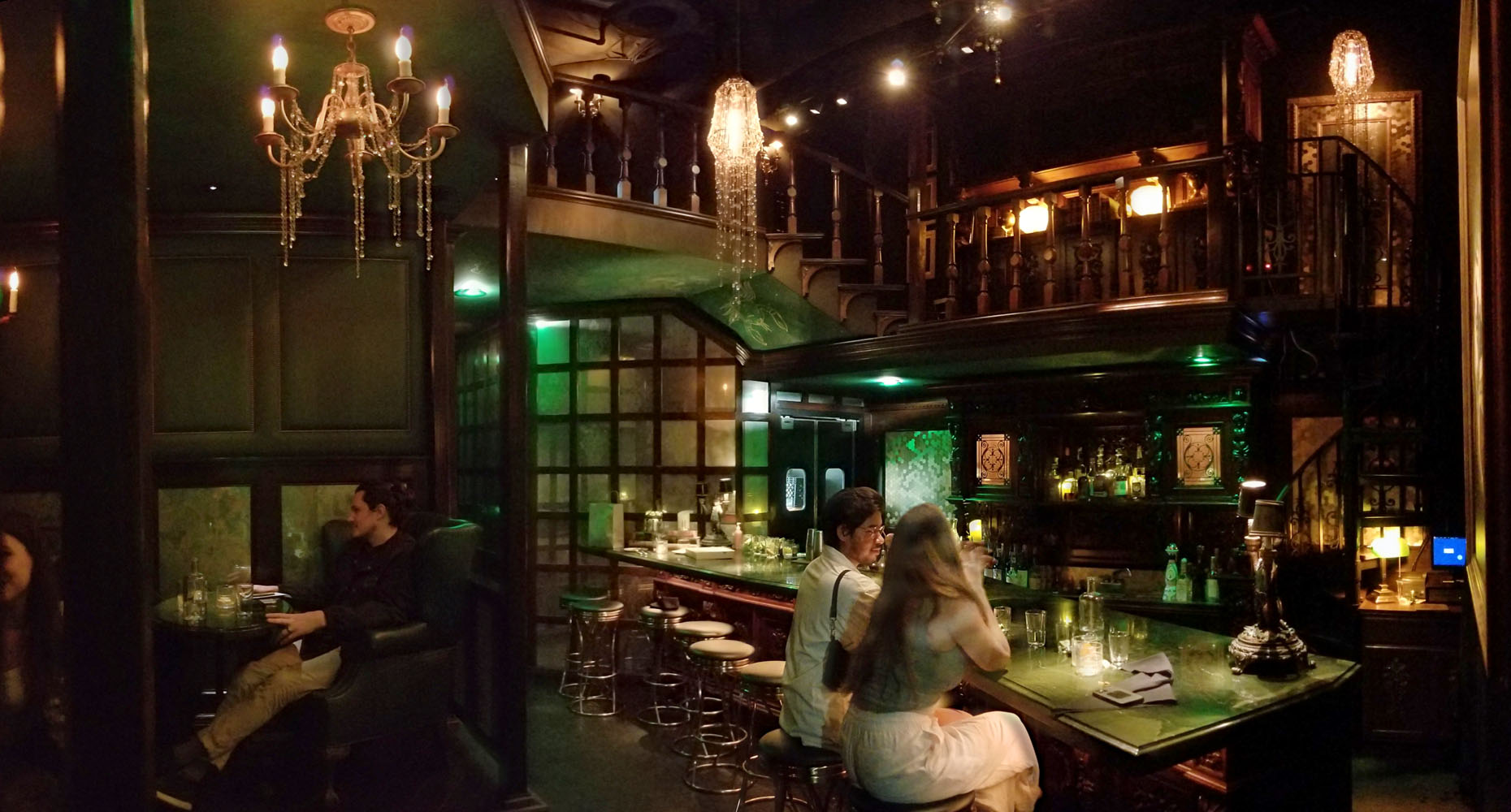 Swathed in loads of dark wood, The Guild Club features a moody, clubby aesthetic befitting its original intent. Note the somewhat mysterious second floor, which sadly isn't open to customers but was previously used to house live entertainment.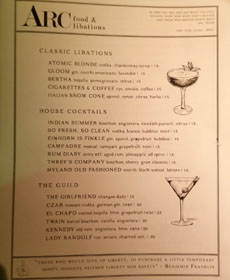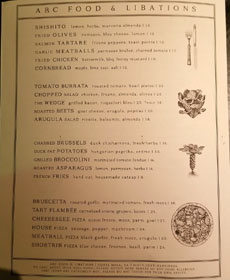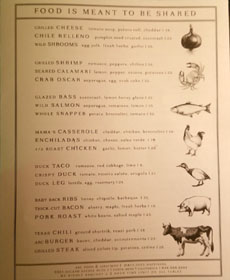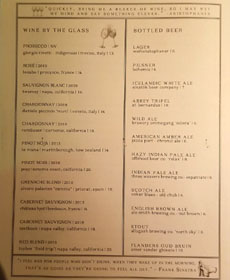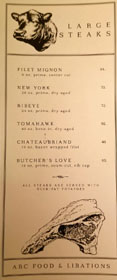 When it opened, The Guild Club sported a menu of old school fare like Lobster Thermidor, though the place switched to a more casual array of elevated bar bites when it got rid of its membership system. Unfortunately, even that menu was rationalized shortly before last year's coronavirus shutdowns, and now the bar shares its food and drink program with Arc. Click for larger versions.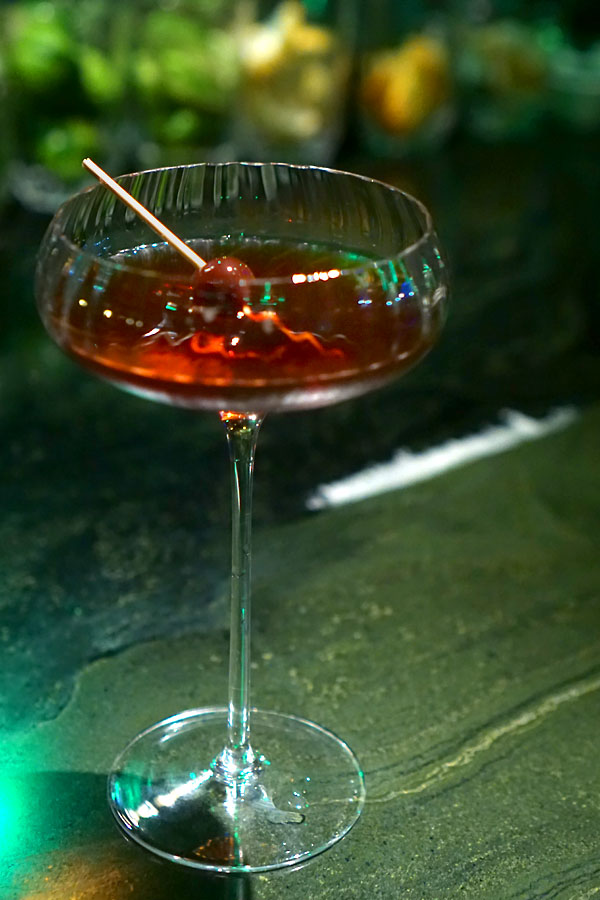 Lady Randolf [$20.00]
| rye. amaro. charred oak
It felt right to me to stick with the cocktails under "The Guild" section of the menu, and this first one was my favorite of the bunch, and in fact one of the best I've had in recent memory. The drink conveyed a wondrous bouquet filled with cinnamon-esque sweet spice and dark fruit, with smoke in the background. Tasting it, I got a complex, balanced amalgamation of bitter, herby, minty, and berry-like flavors, accented by spice and smoke.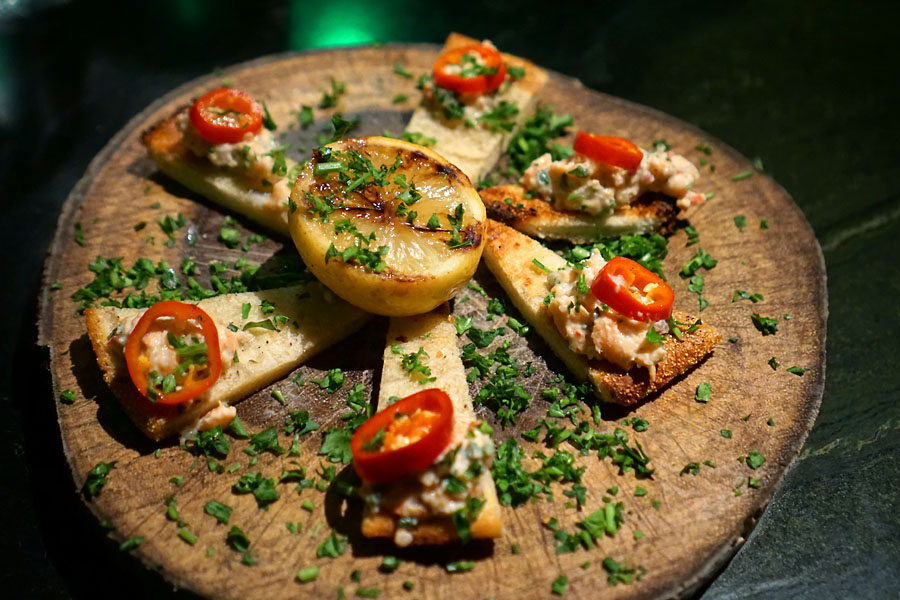 Salmon Tartare [$12.00]
| fresno peppers, toast points
Luscious, creamy dollops of salmon were perked up by the prickly heat of chili peppers while the crispy, toasty bread offered contrast both in terms of taste and texture. A good start.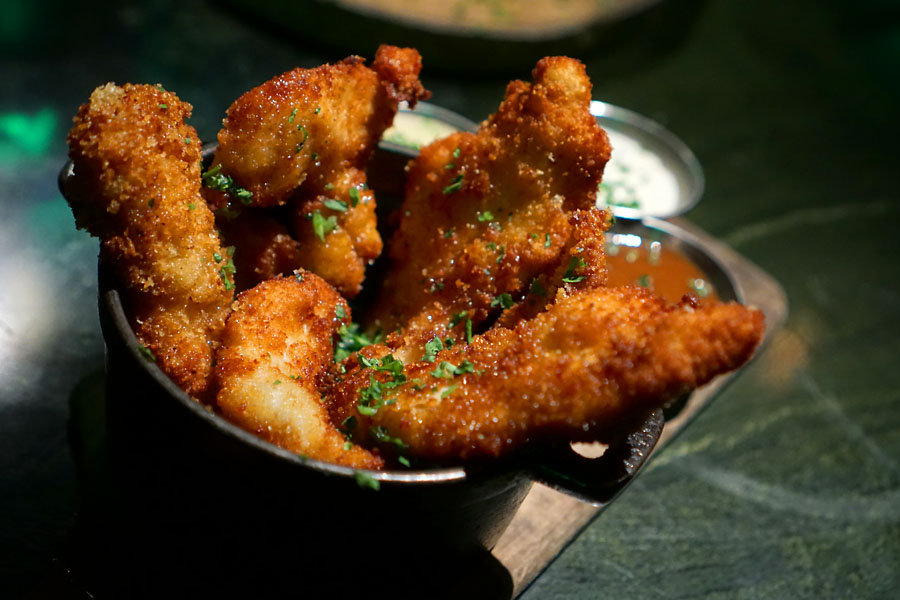 Fried Chicken [$18.00]
| buttermilk, bbq, honey mustard
The fried chicken had a gritty, crunchy, panko-like coating and a lingering sweetness, though for juiciness reasons I would've liked to have seen thigh meat instead of breast utilized. As for the sauces, my favorite was the bright, herby, celery-centric buttermilk. Thankfully, the honey mustard was restrained in its sweetness, while the BBQ showed off a very apparent smoke that was to my liking.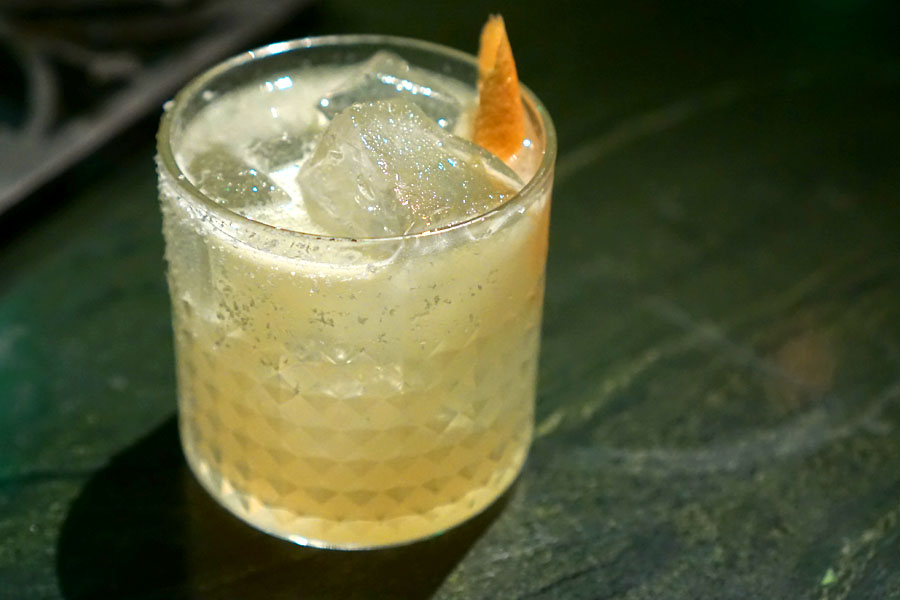 El Chapo [$25.00]
| rested tequila. lime. grapefruit twist
My next cocktail demonstrated an overtly citric nose with an oaky backing, and actually had hints of lemon Jolly Rancher. Taste-wise, I found the vegetal, herbaceous, woody nuances of the tequila at the forefront, joined by multifaceted citrus and plenty of salt on the finish.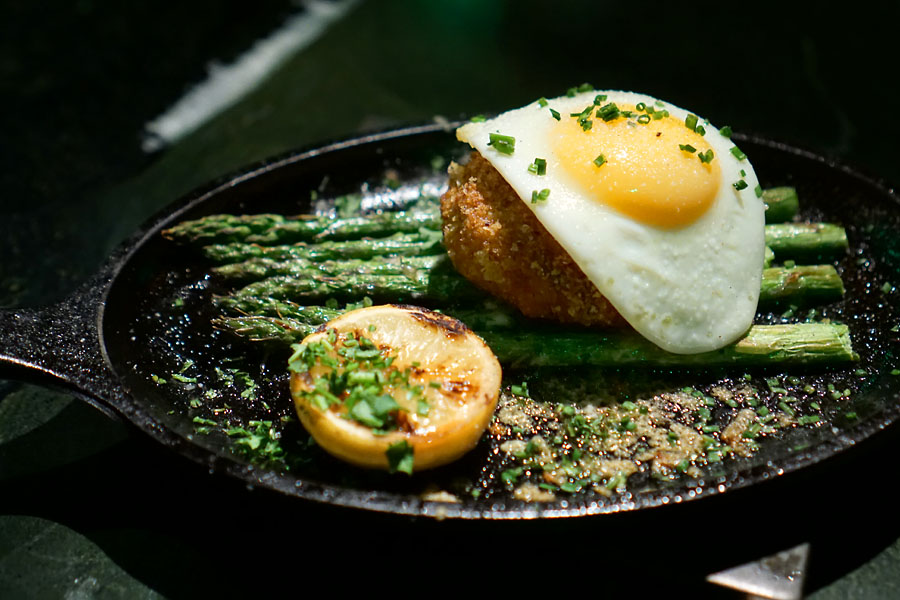 Crab Oscar [$32.00]
| asparagus, egg, crab cake
This riff on the classic Oscar featured flossy, saline shards of crabmeat backed by a marked sweetness. The egg imparted a crucial lusciousness that melded effortlessly with the cake, while just as key was the asparagus, with its bitter, charred character that emboldened the dish.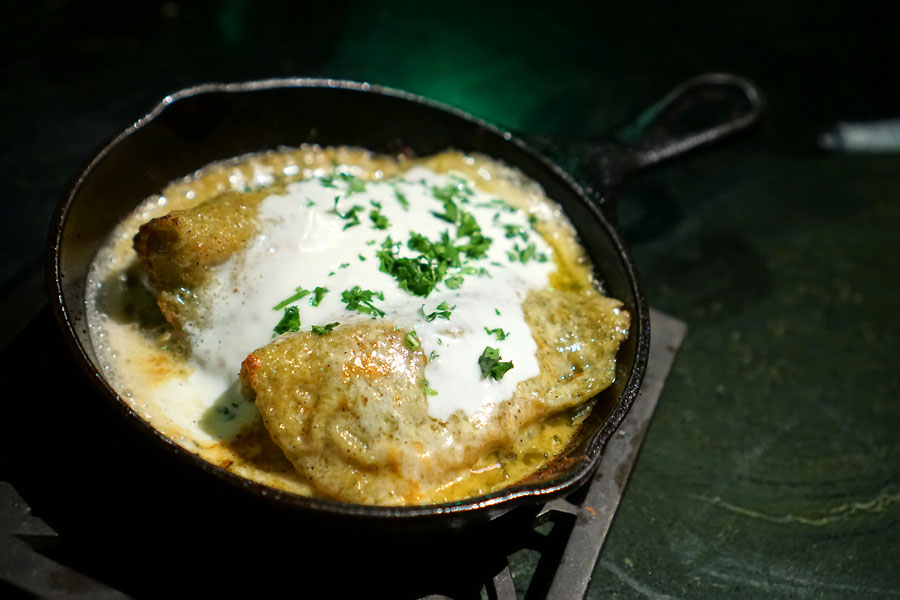 Enchiladas [$18.00]
| chicken, cheese, salsa verde
The enchiladas were my favorite dish of the night thanks to just how well the zing of the salsa verde paired with the chicken. I was also quite into all the cheesy, caramelized bits present. Homey and satisfying.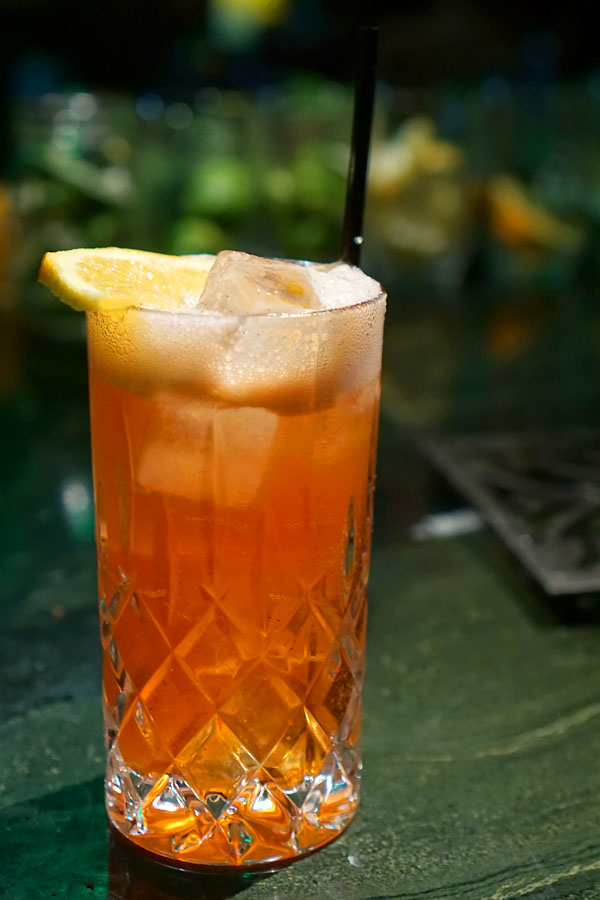 The Girlfriend [$15.00]
| changes daily
Tonight's daily-changing cocktail comprised Aperol, Campari, pineapple juice, vanilla, and Prosecco. The result of all this was a fairly easy-going drink, one that blended astringent, herby, fruity flavors and fragrant vanilla on the mid-palate with a finish filled with the signature bittersweet nature of the two apéritifs.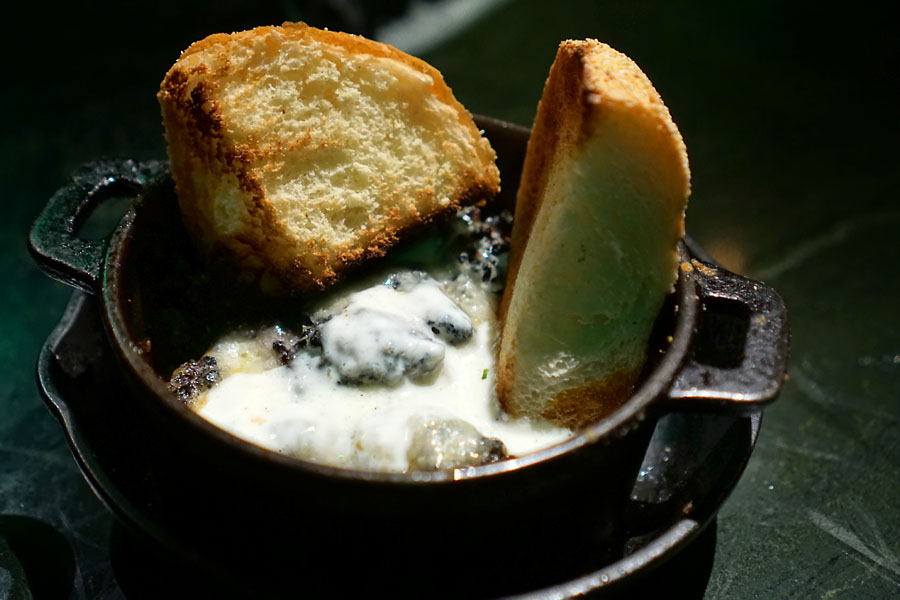 Texas Chili [$18.00]
| ground shortrib, roast pork
I'm quite the fan of chili, but wasn't particularly enamored with this preparation. I found it overly herbaceous, bitter, and burnt-tasting, as more sweetness and spice were definitely called for. The dish was also far too "dry", though I did like the bread on the side.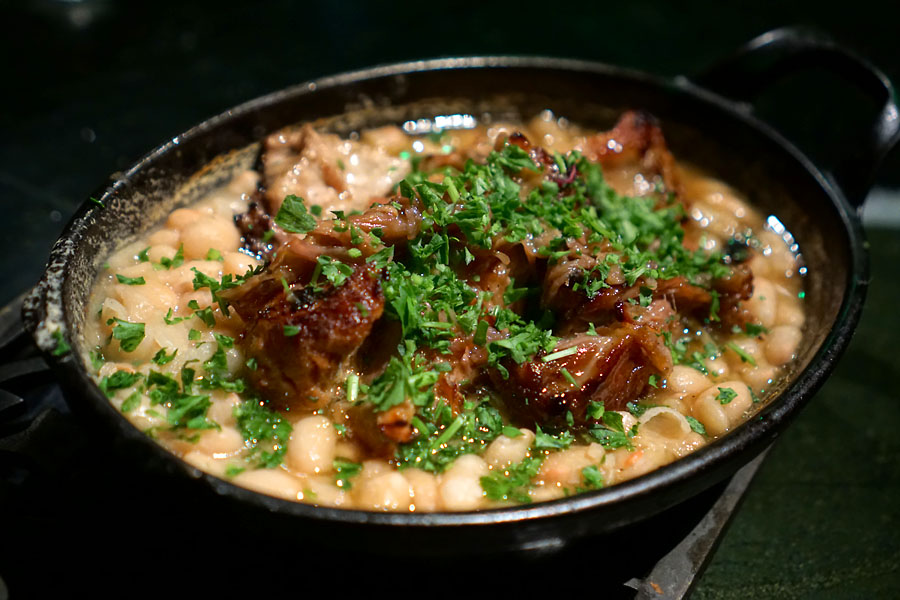 Pork Roast [$23.00]
| white beans, salted maple
Roasted pork came out super tender, its porcine depth married to a penetrating, maple-fueled sweetness. Fortunately, the subtly seasoned beans worked to provide the right balance in the dish.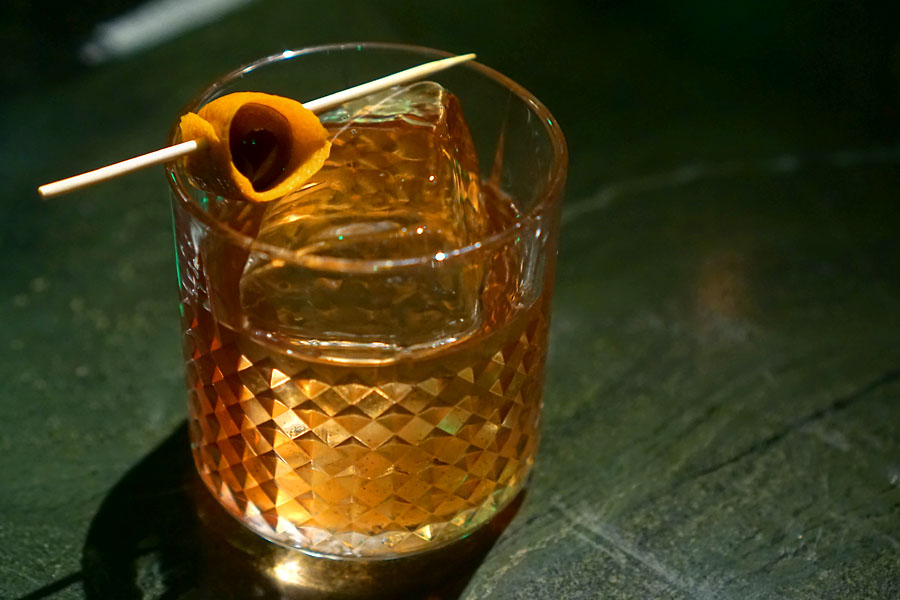 Twain [$20.00]
| barrel bourbon. vanilla. angostura
My final cocktail was an old fashioned variation featuring what I believe was E.H. Taylor bourbon. The aroma here was brimming with citrus, dry herb, brown sugar, and vanilla. In terms of taste, I found dark fruit, spice, caramel, and rich vanilla, all nicely harmonized and finished with a lingering bite.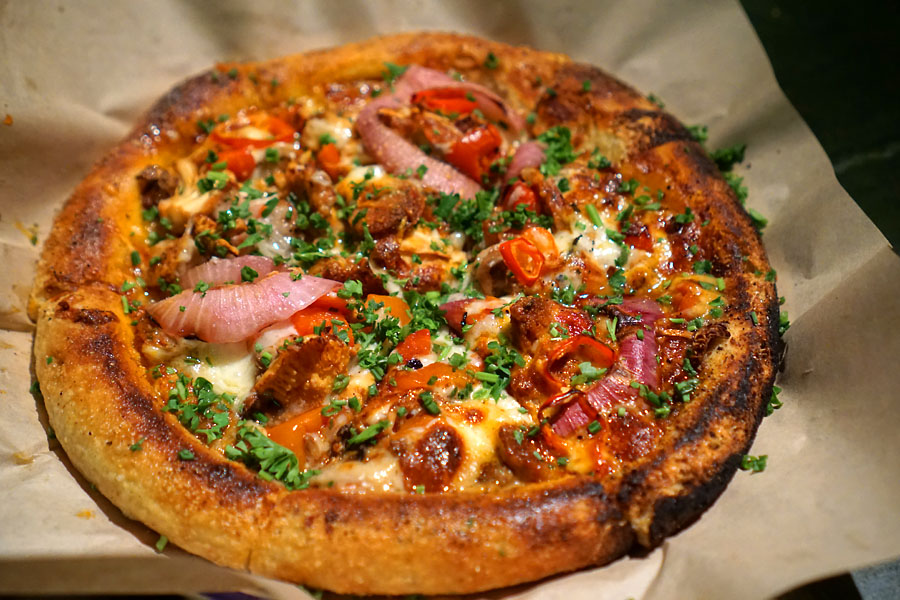 House Pizza [$24.00]
| sausage, pepper, mushroom
I wanted to make sure to try one of the pizzas, so we'll end with one. What was unexpected was how brazenly spicy and herbaceous the sausage here was, and how this was further bolstered by the seasoning on the pie's crispy, well-charred crust. The tomato and mushroom thus served as absolutely essential moderating elements.
I wish I'd visited The Guild Club earlier, so that I could've sampled the spot's dedicated menu. As it stands now, the place is essentially an addendum to the original Arc, though that's not necessarily a bad thing. Since the menu is identical, I imagine I'll prefer to come here in the future, since the decor is admittedly much neater, and it's quite nice to take a seat at the bar as I did tonight.