Arisu Korean BBQ (Buena Park, CA)
Arisu Korean Restaurant
7814 Orangethorpe Ave, Buena Park, CA 90621
714.266.0124
arisukoreanbbq.business.site
Sun 01/30/2022, 05:30p-08:50p

I was recently in search of a good KBBQ joint in the northern reaches of Orange County, and thus decided to check out Arisu (아리수). Named after an ancient name for the Han River (漢江 in Hanja, as in the restaurant's signage), the place is relatively new, having opened at the start of December 2020. It takes over the old Aria, an AYCE barbeque-slash-raw seafood spot that I believe had been around since circa 2000, but closed at the start of the pandemic. The owners here are Sung-chin Kim and Miran Kim, and their daughters Isabel and Jasmine actually help run the place.


Inside, things have definitely been remodeled since the Aria days, and the space sports a decidedly gray-toned aesthetic. Pictured here is the main dining area (named Goguryeo), but there are also two smaller rooms (Baekje and Shilla) situated behind those sliding wooden doors.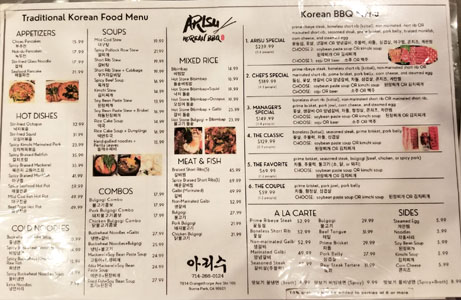 Arisu's menu is shown above, and is nothing too out of the ordinary. You get premium meats in à la carte and combo formats, along with quite a few Korean staple dishes. There's not too much to talk about in terms of booze, so I'd recommend that you BYOB. Corkage was $25. Click for a larger version.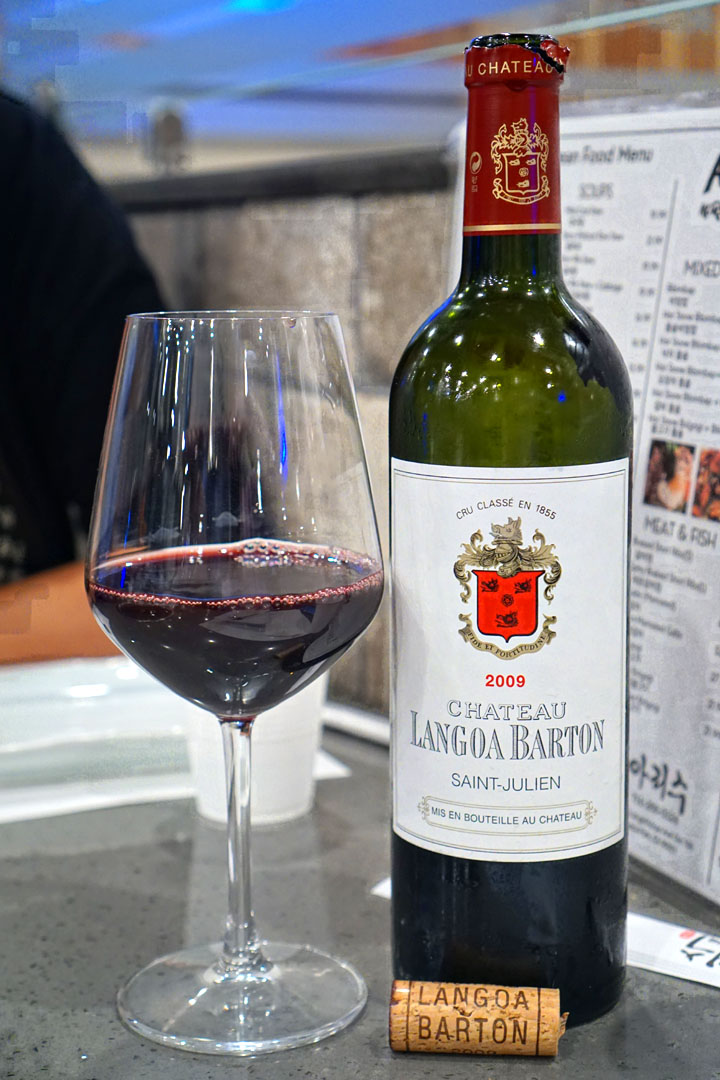 I took advantage of the aforementioned corkage option and brought along a bottle of Bordeaux, the
2009 Château Langoa-Barton
. The wine smelled great, giving us aromas of ripe dark fruits and violets, but with an herbaceous backing--very inviting. On the palate, think silky smooth, with more of those robust berries joined by apparent notes of cedar, tobacco, and spice box, especially as the claret warmed. This one was drinking lovely tonight.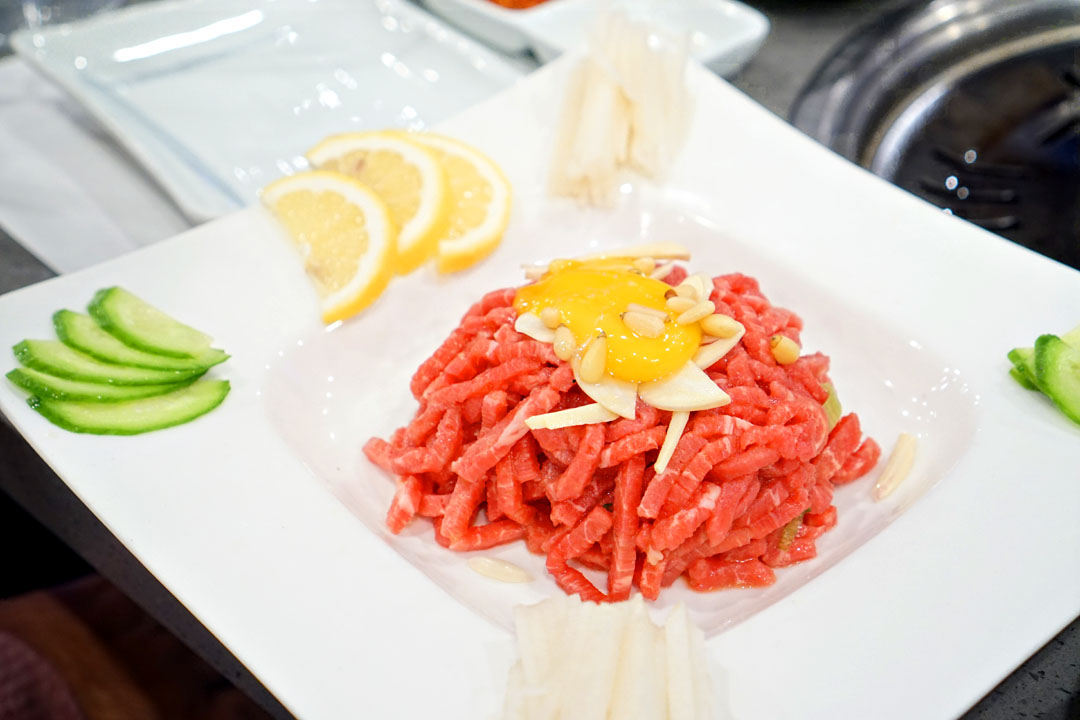 Raw Steak Tartare [$31.99]
| 육회
I'm quite the
yukhoe
fan, so I was curious to try Arisu's version. The beef was a bit colder than I would've liked, but was spot-on in terms of taste, displaying a fruitiness up front leading to some delectably nutty notes to go along with the dish's considerable heft. Nice crunch from the pine nuts, too.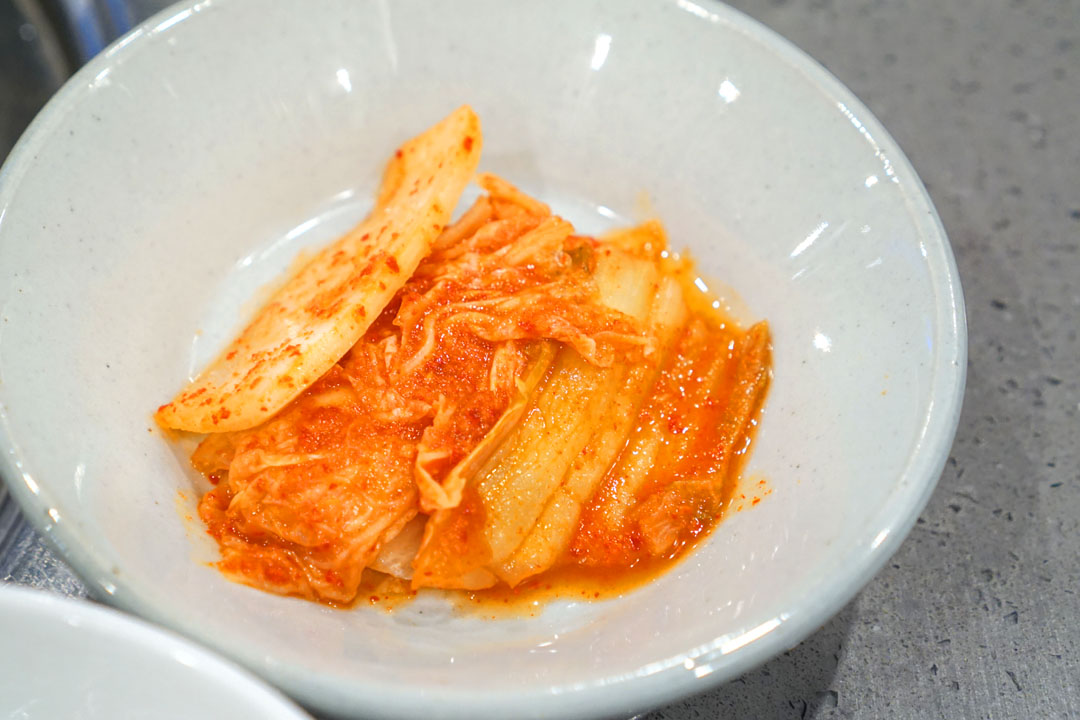 The requisite napa cabbage kimchi was just what I expected, serving as piquant counterpoint to our various meats. Unsurprisingly, I found it particularly well-matched with the pork belly.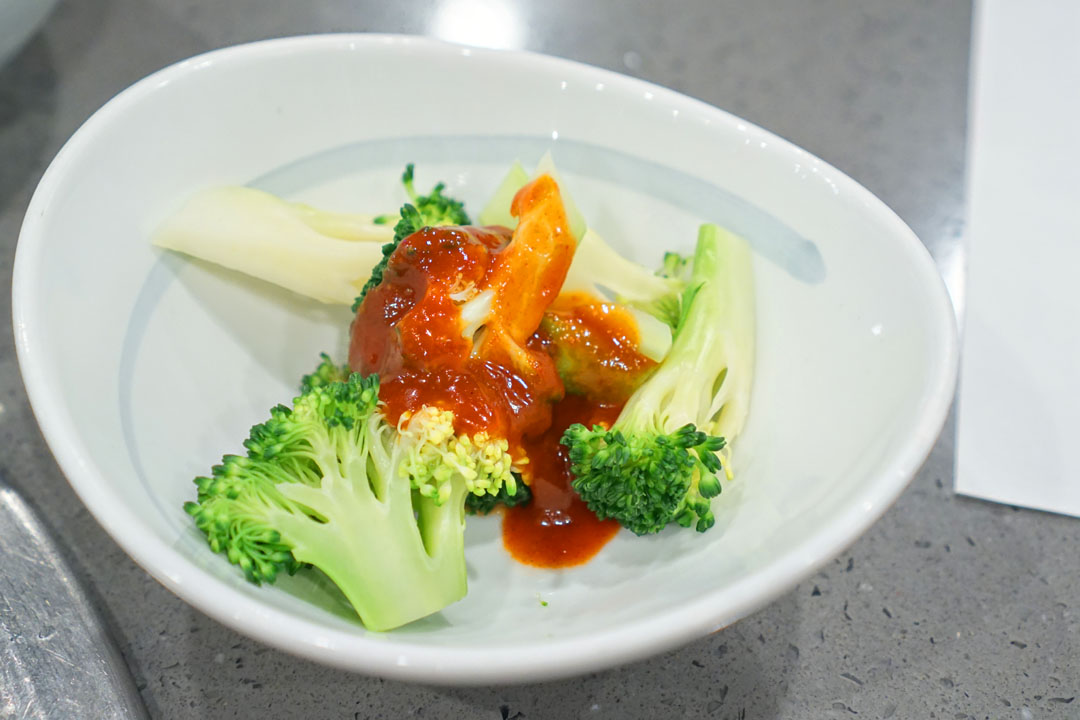 Broccoli florets were bright and crunchy, and made sense when taken with the sweet-n-savory nature of their
gochujang
-based dressing.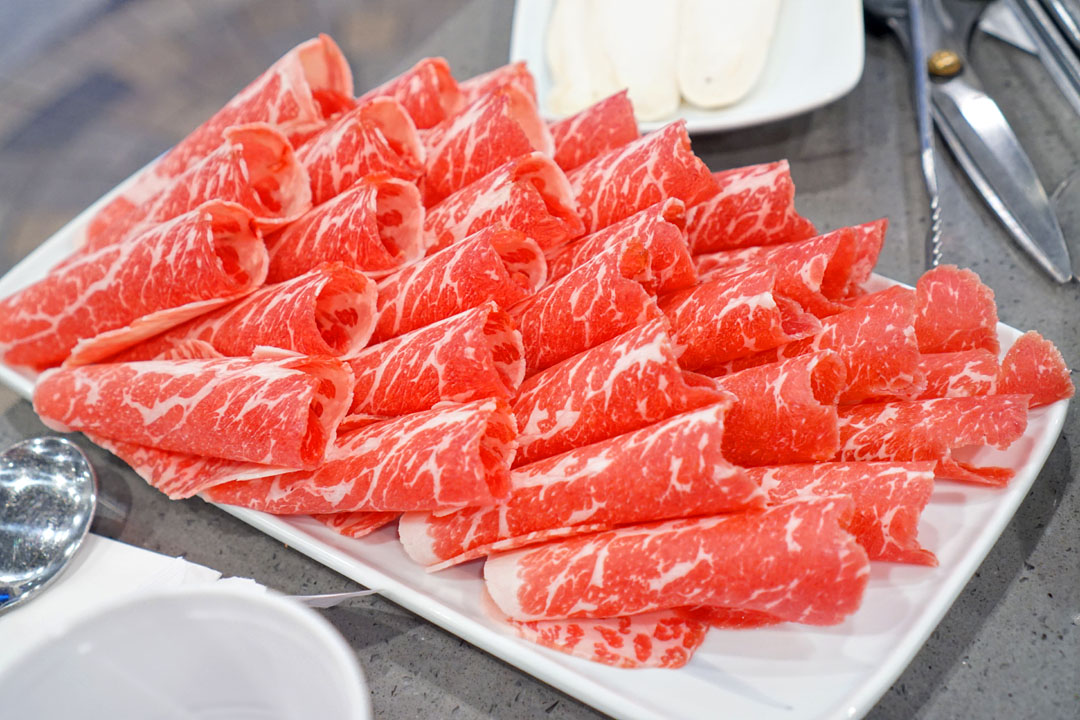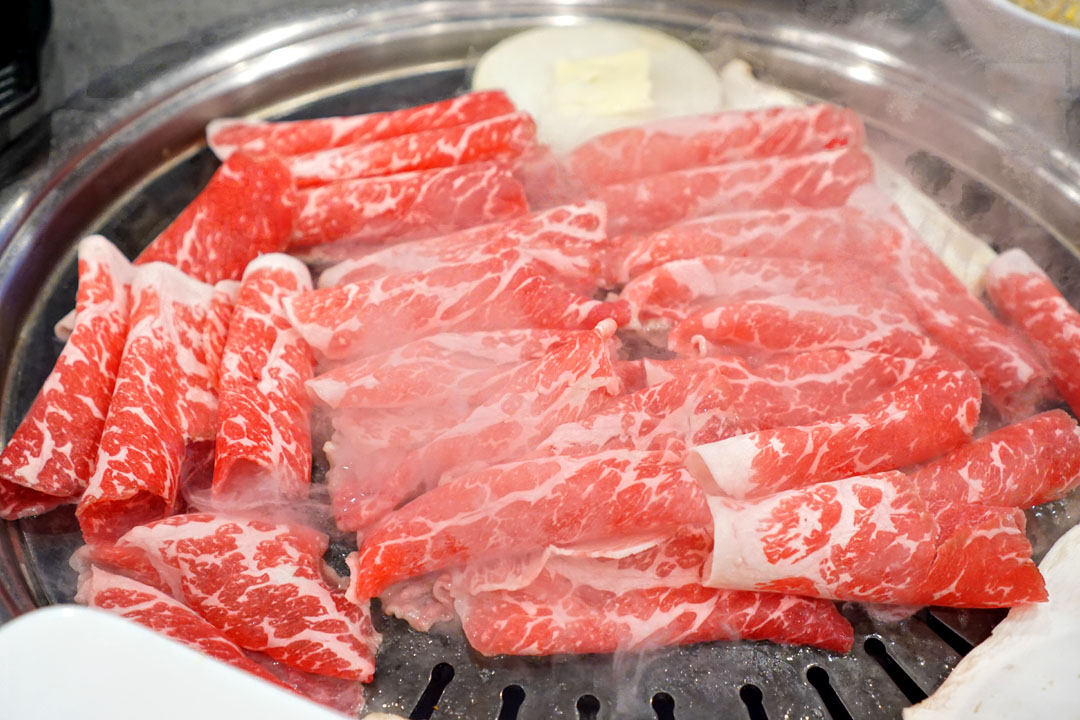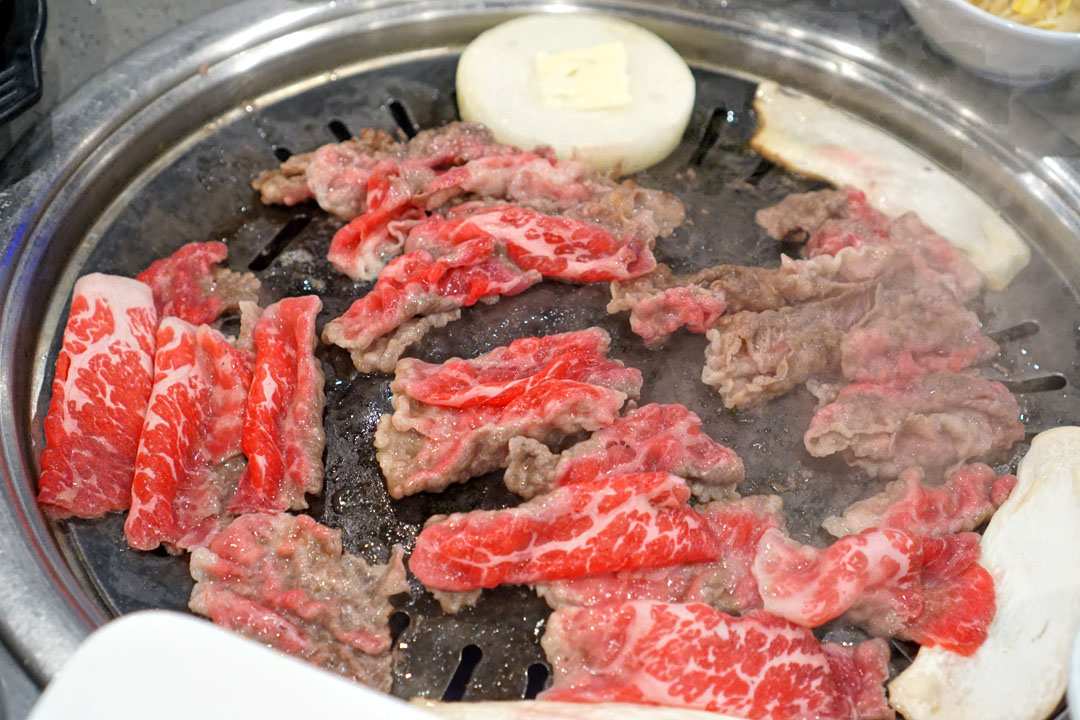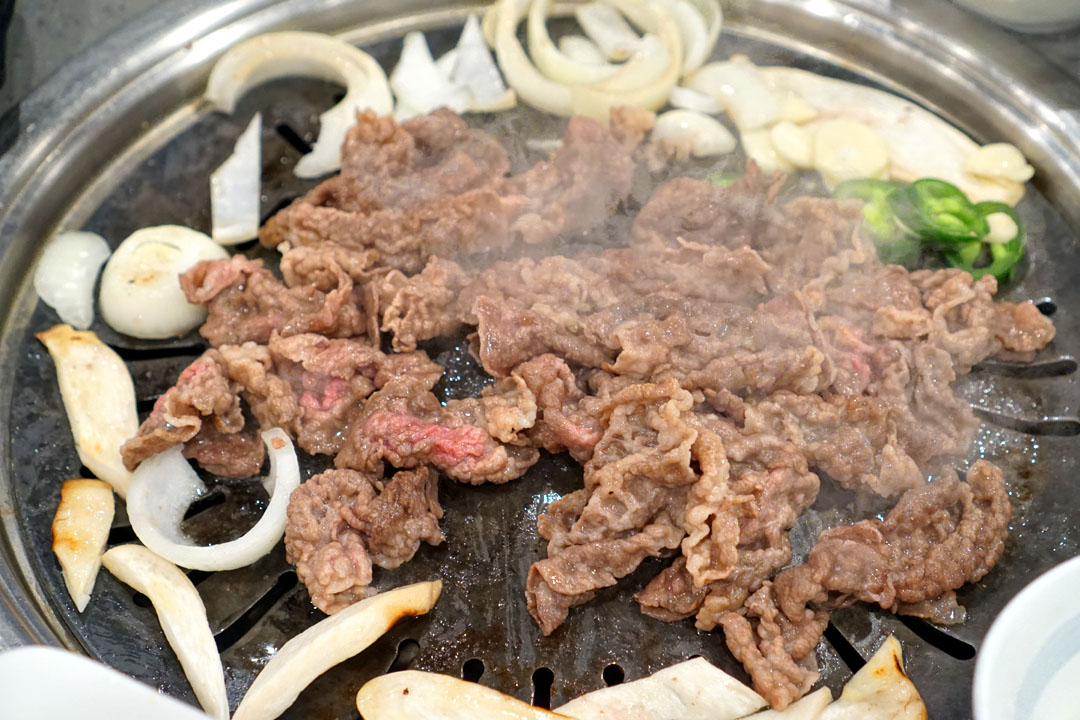 Prime Brisket [$29.99]
| 차돌
I generally like to start with
chadol
, and Arisu's was a prototypical interpretation of the meat, one showcasing a restrained-yet-unmistakably beefy taste that really opened up with a dip in the soy sauce below.
Speaking of condiments, we were provided
ganjang-jangajji
(soy sauce with pickles), a spicy
maeun
sauce, and salt to begin with, and were also given garlic and
ssamjang
upon request.
Kongnamul
(soybeans sprouts) were light and crisp, and also conveyed a creeping bit of heat that I quite liked.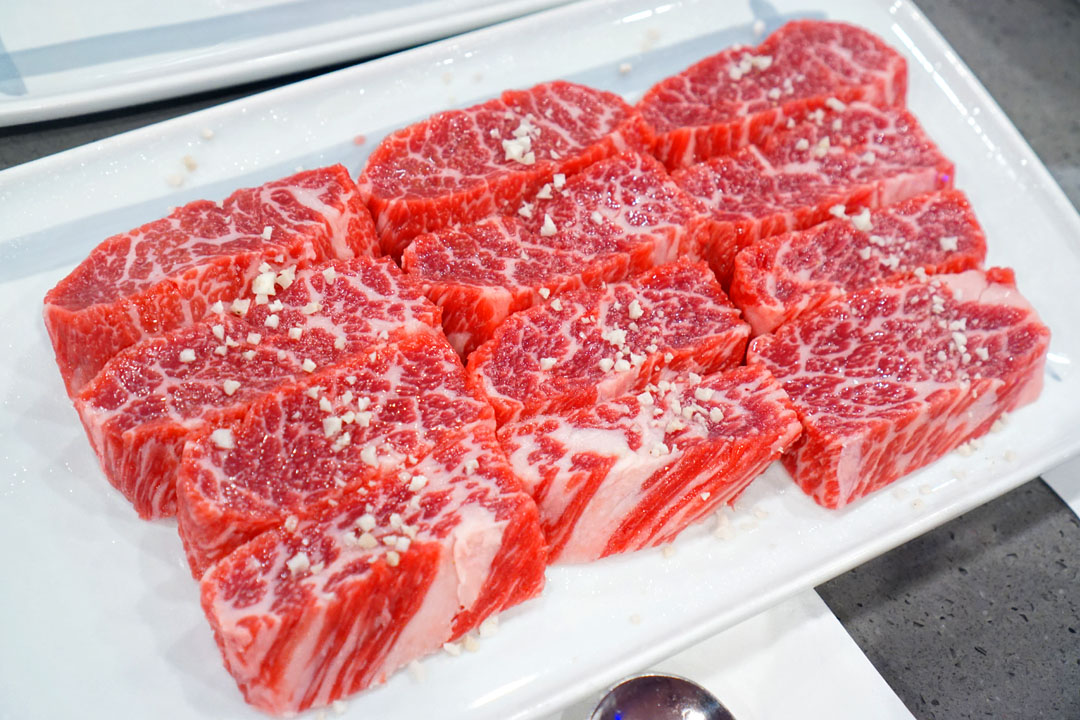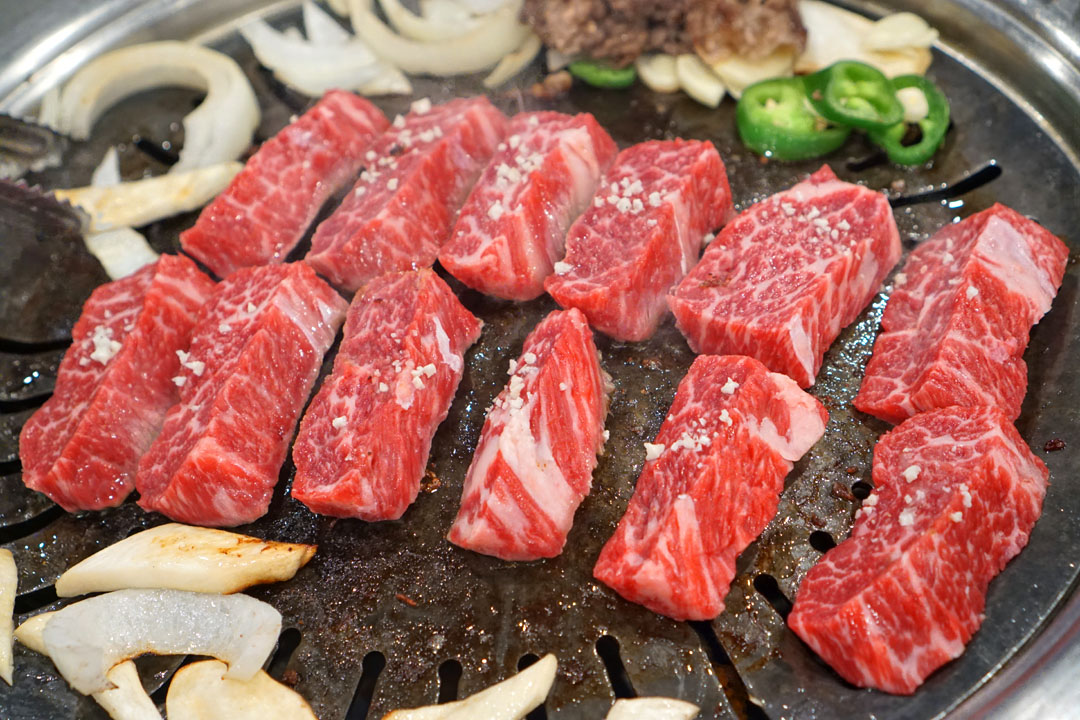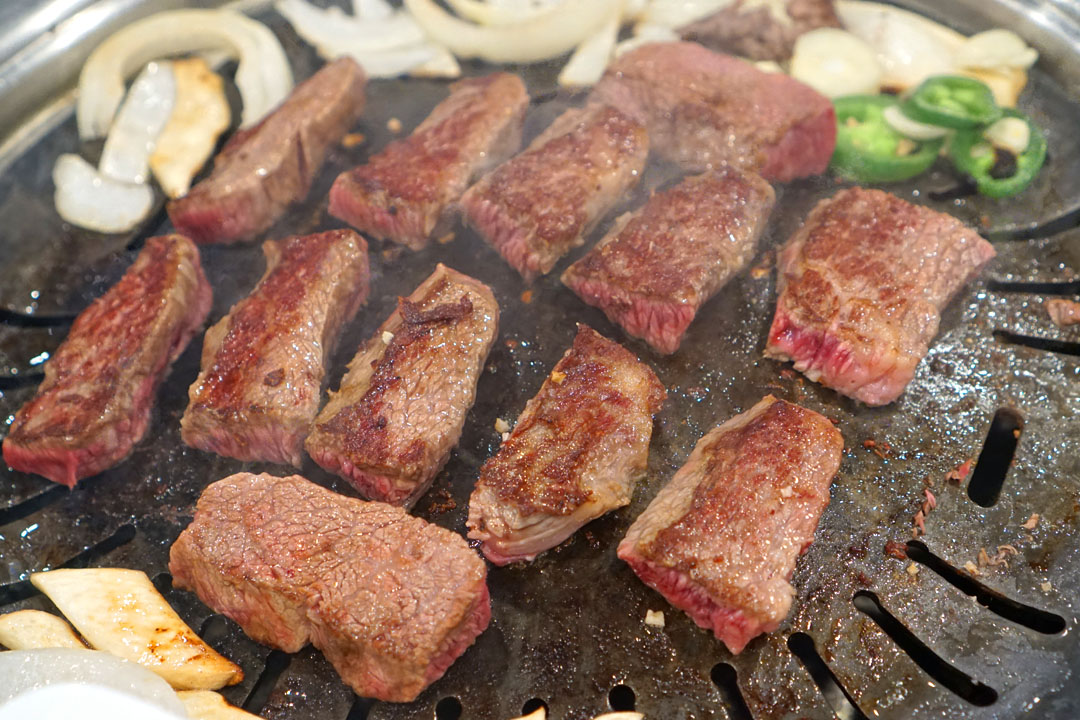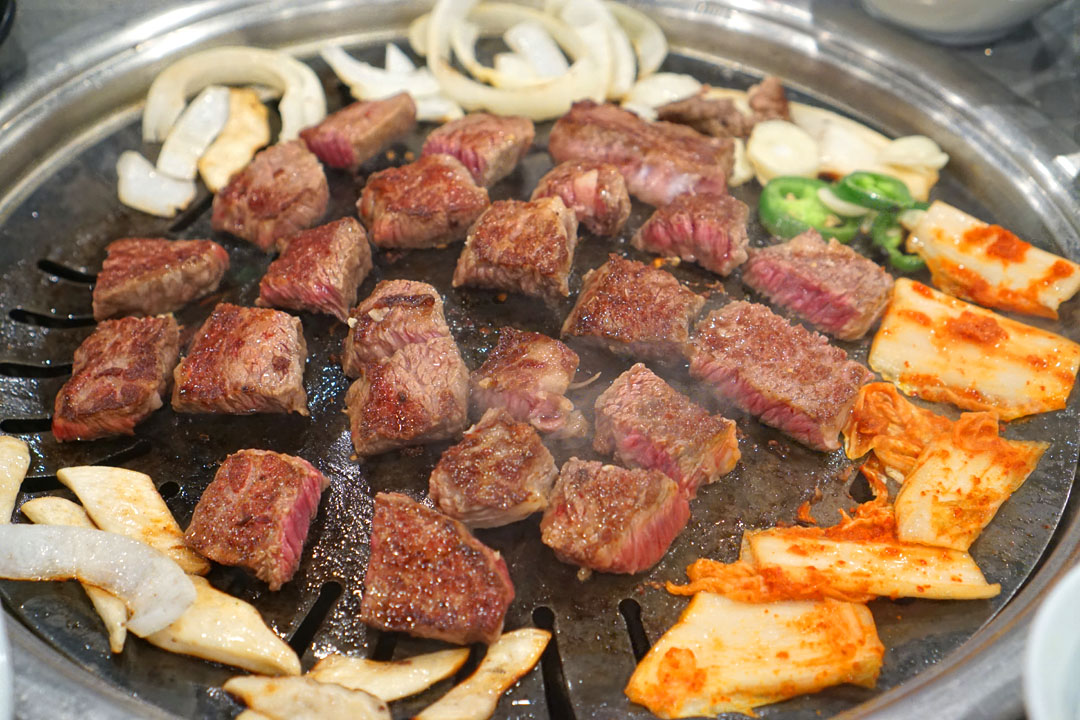 Boneless Short Rib [$52.99]
| 꽃살
Kkotsal
is something that I tend to order pretty often at KBBQ, and Arisu's didn't disappoint thanks to the beef's tender, fatty nature and laser-focused beefiness. This was even better with a very slight dab of salt. Yum.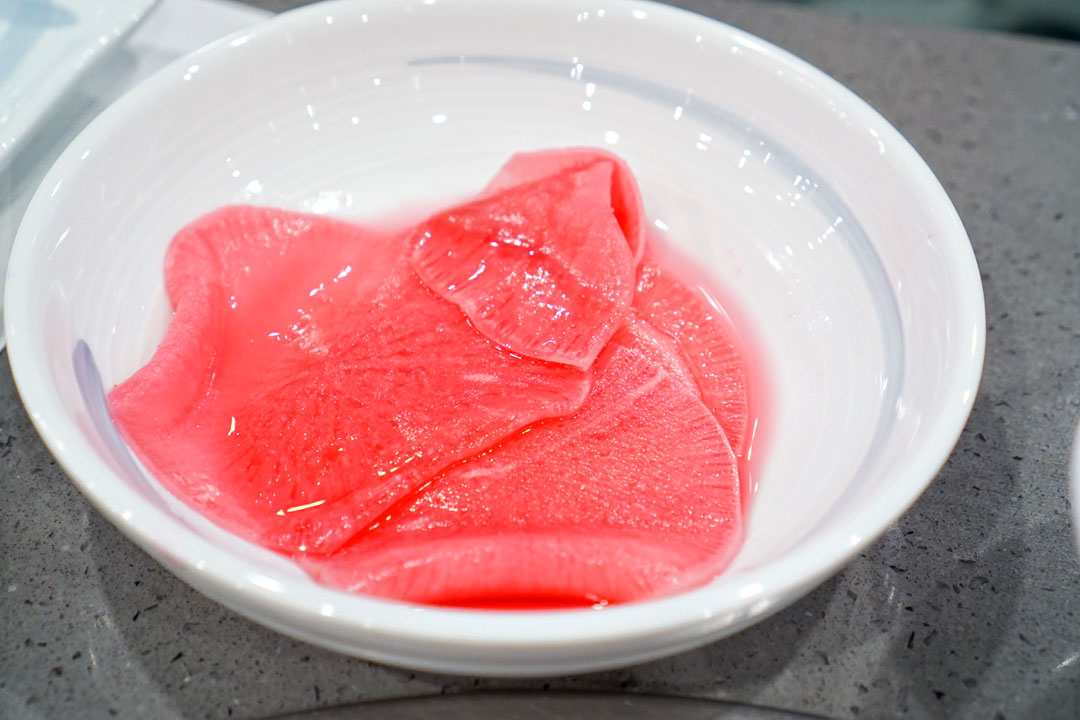 Pink-hued, pickled
ssam mu
put forward acidity and crunch to counteract the potency of all the meat we were eating.
The complimentary
gyeran jjim
was commendable, arriving with a silkier-than-usual consistency and a cozy savor.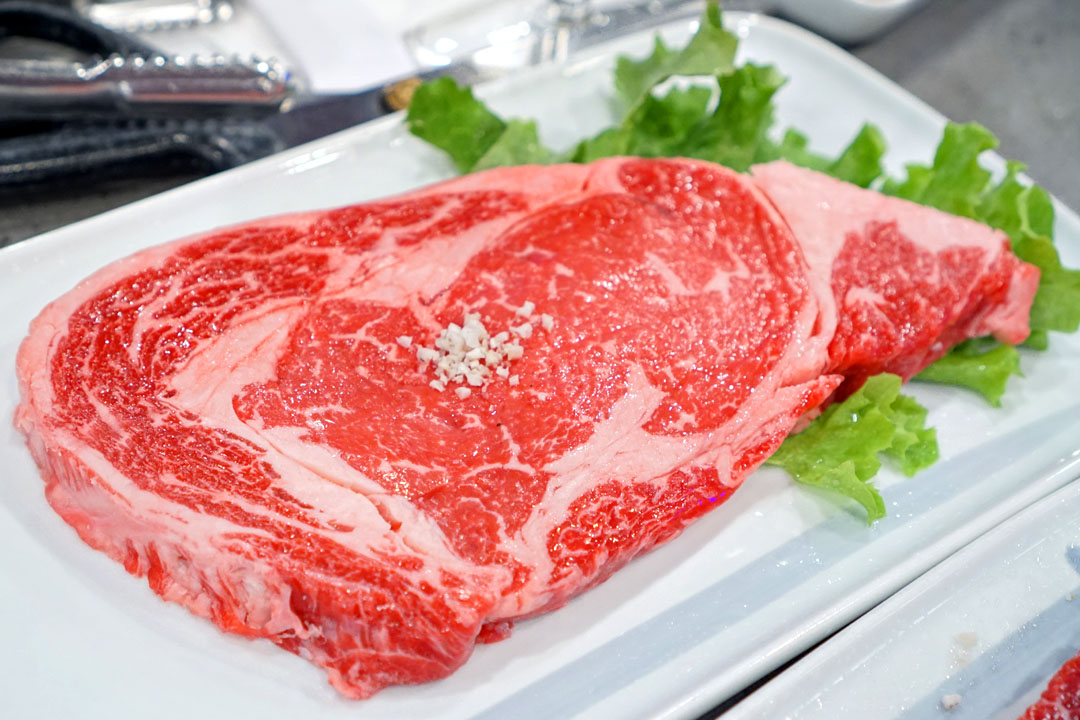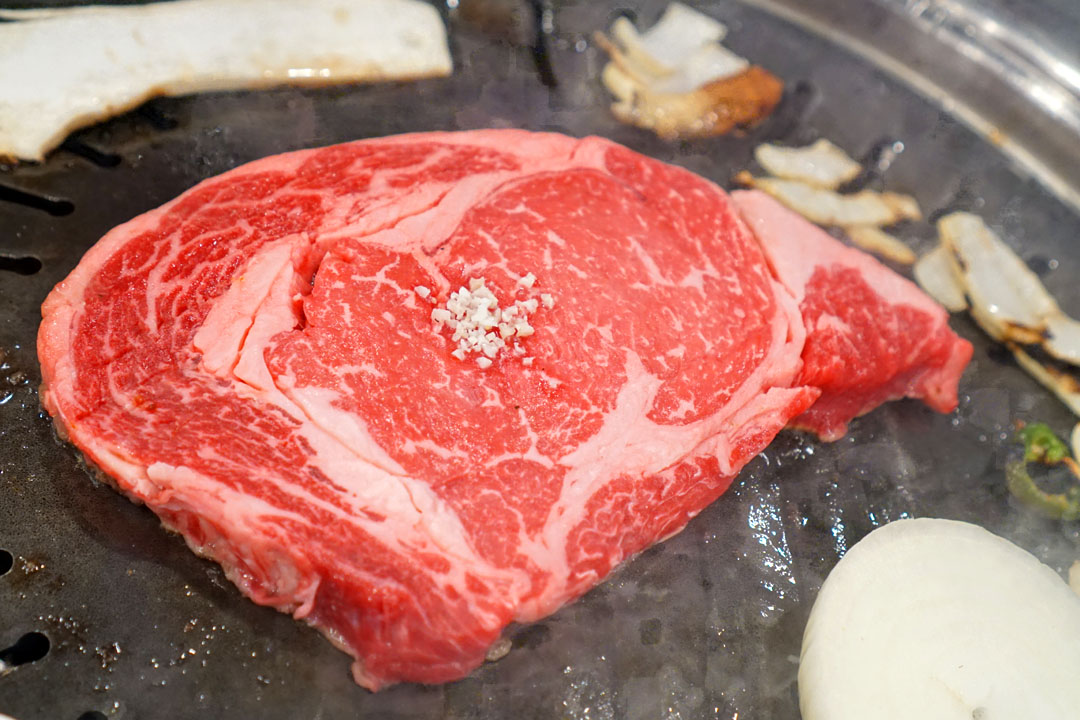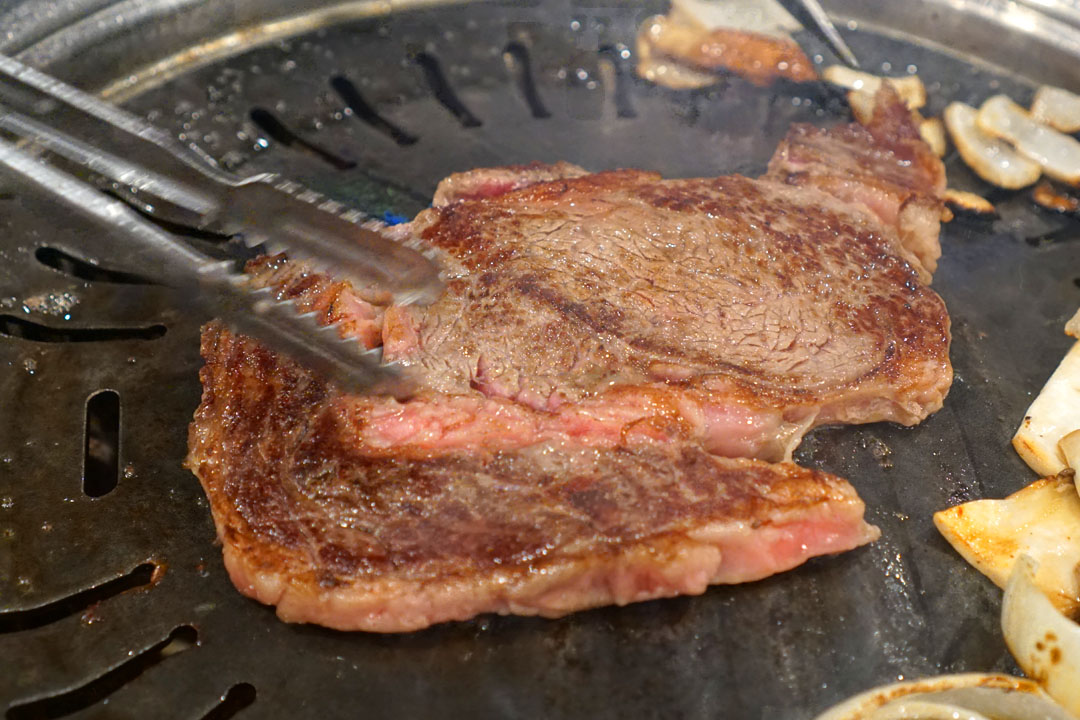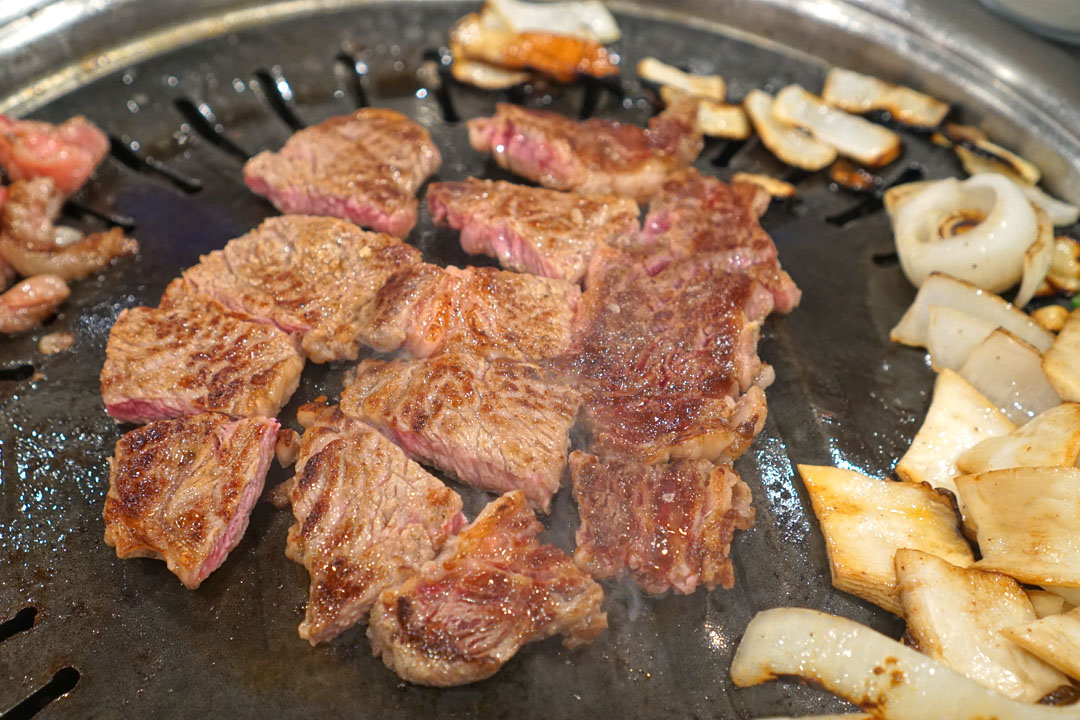 Prime Ribeye Steak [$52.99]
| 꽃등심
The
kkot deungsim
was also a favorite. I found the beef superbly textured, while its taste was the most balanced, the most elegant of the bunch. I actually preferred this one without sauce, but instead liked it with the grilled onions and mushrooms shown above.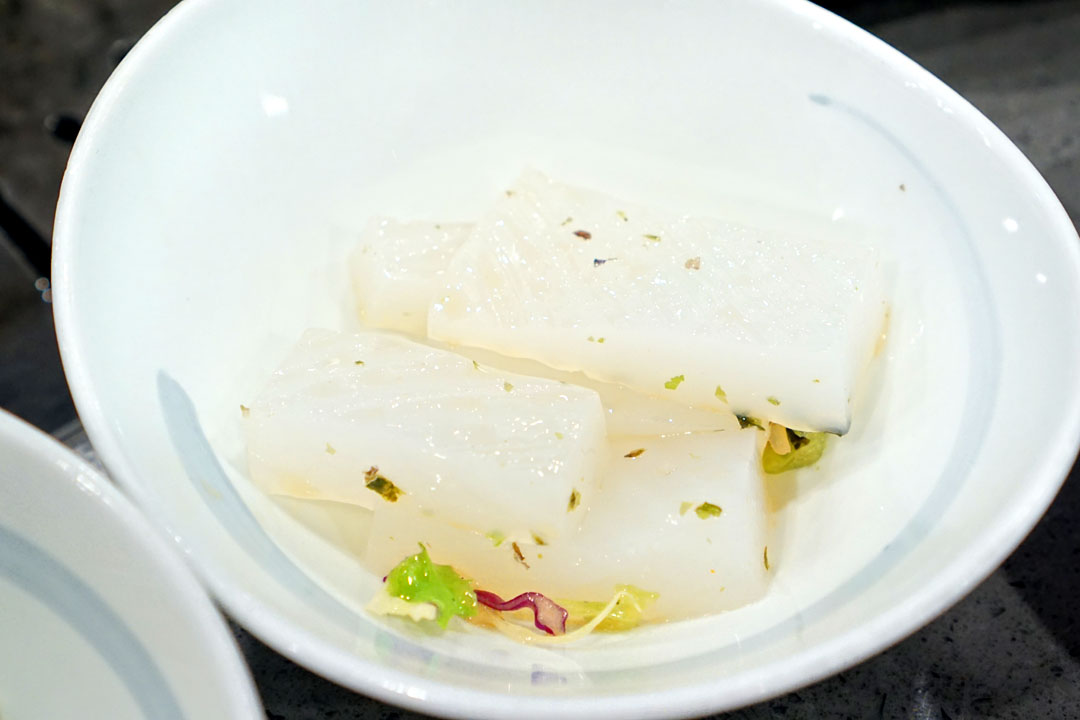 Translucent blocks of
nokdu muk
(mung bean jelly) were mildly flavored, while their slippery, firm consistency provided some textural variation.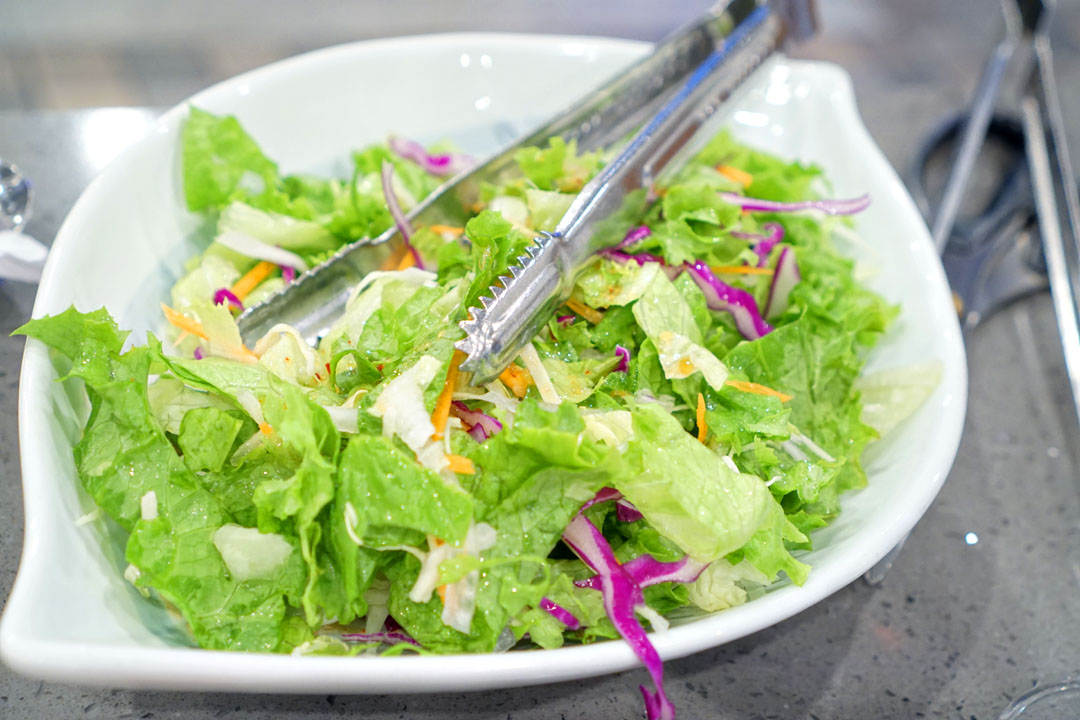 The salad ate bright and refreshing, and provided a respite from all the heavy flavors we'd been encountering.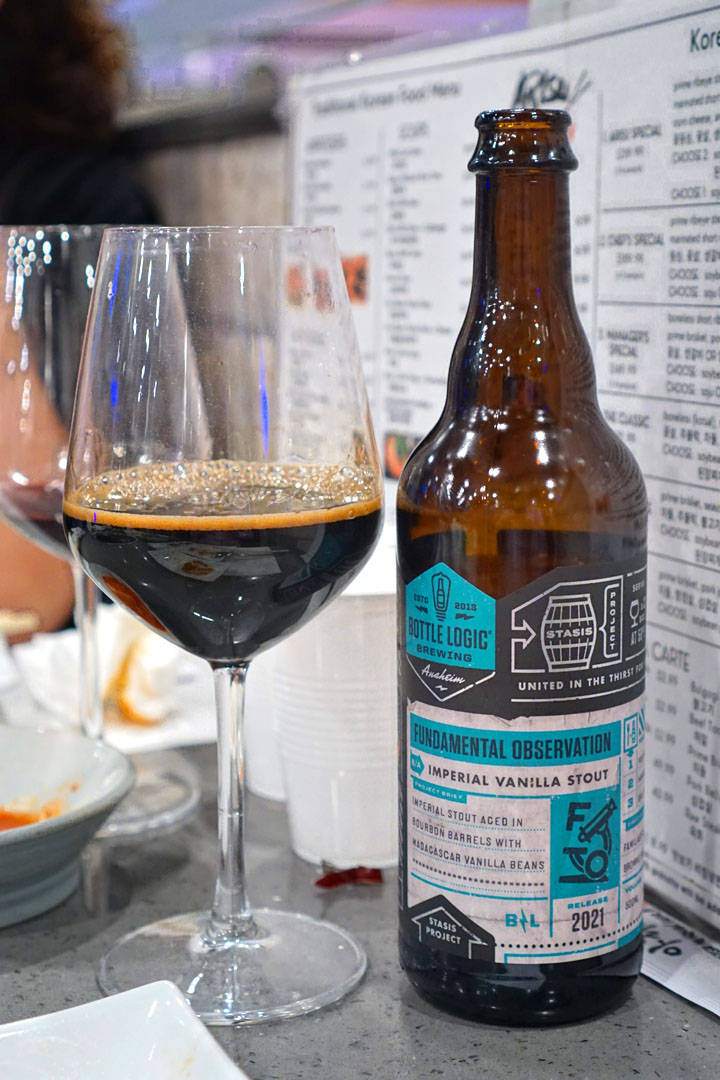 With the wine drunk up, we moved on to the
2021 Bottle Logic Fundamental Observation
, an imperial stout aged in bourbon barrels with Madagascar vanilla beans. It smelled pretty great, offering aromas of rich chocolate and vanilla that were a bit more intense than I previously recall. Thanks to what I assume must be the double-mashing used in this year's batch, the beer had a softer, smoother, creamier mouthfeel, and really did recall FO's oft-used "brownie batter" descriptor, with loads of cocoa all over the place, the whole thing finishing with spices and barrel on the back end. One of the better batches of FO in recent years I'd say.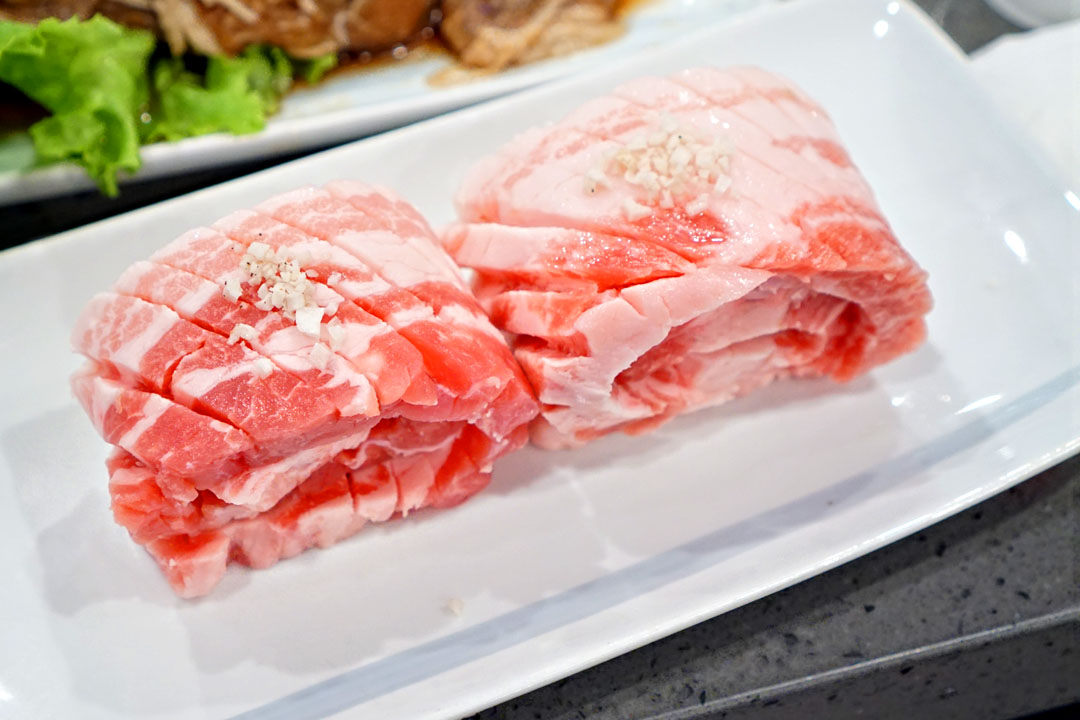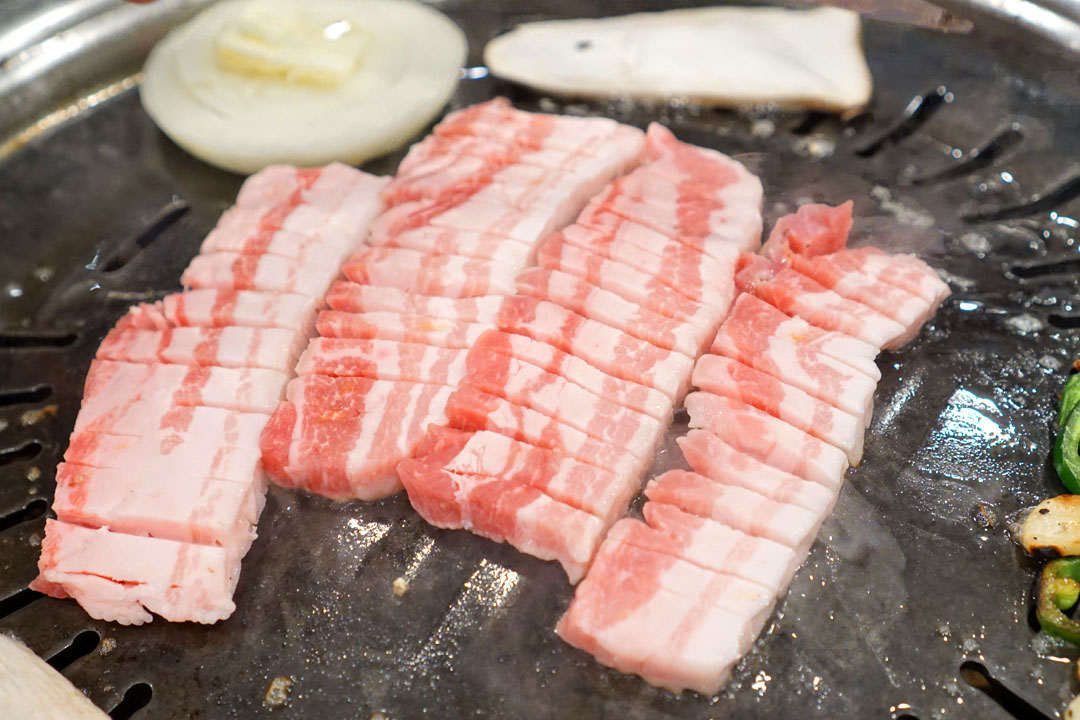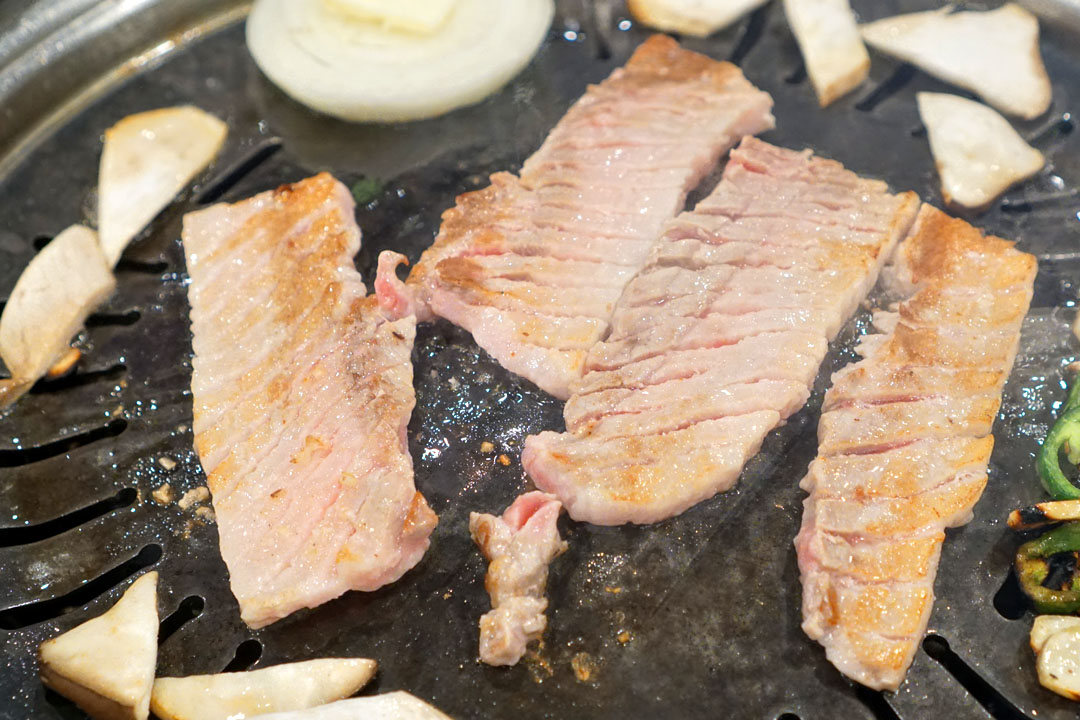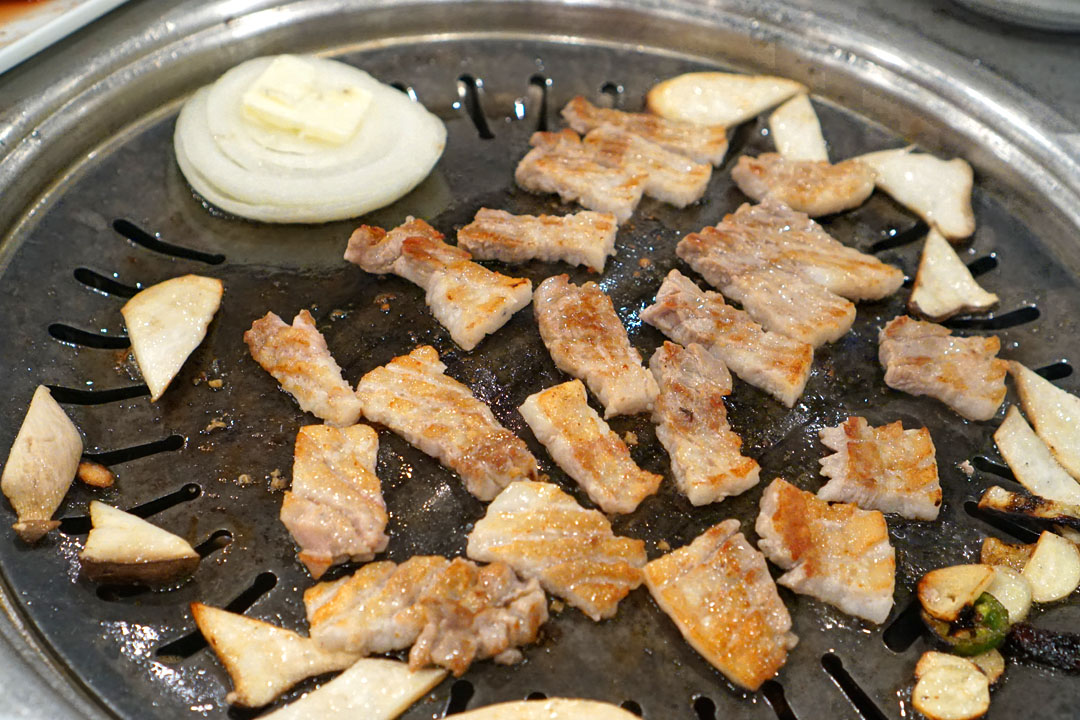 Pork Belly [$27.99]
| 삼겹살
The
samgyeopsal
showed off all the classically porky flavors I wanted, along with a nice balance of lean-to-fat. I quite liked all the crispy, caramelized bits going on, too.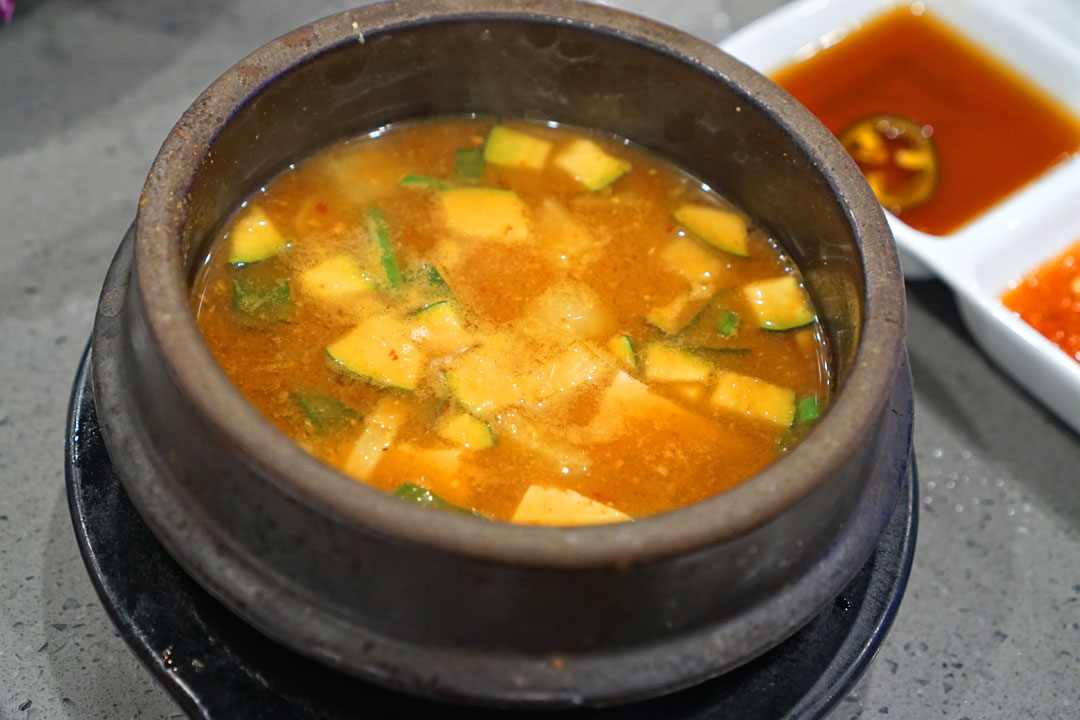 A complimentary serving of
doenjang jjigae
was saltier and savorier than most, and was almost what I'd describe as funky, which wasn't necessarily a bad thing.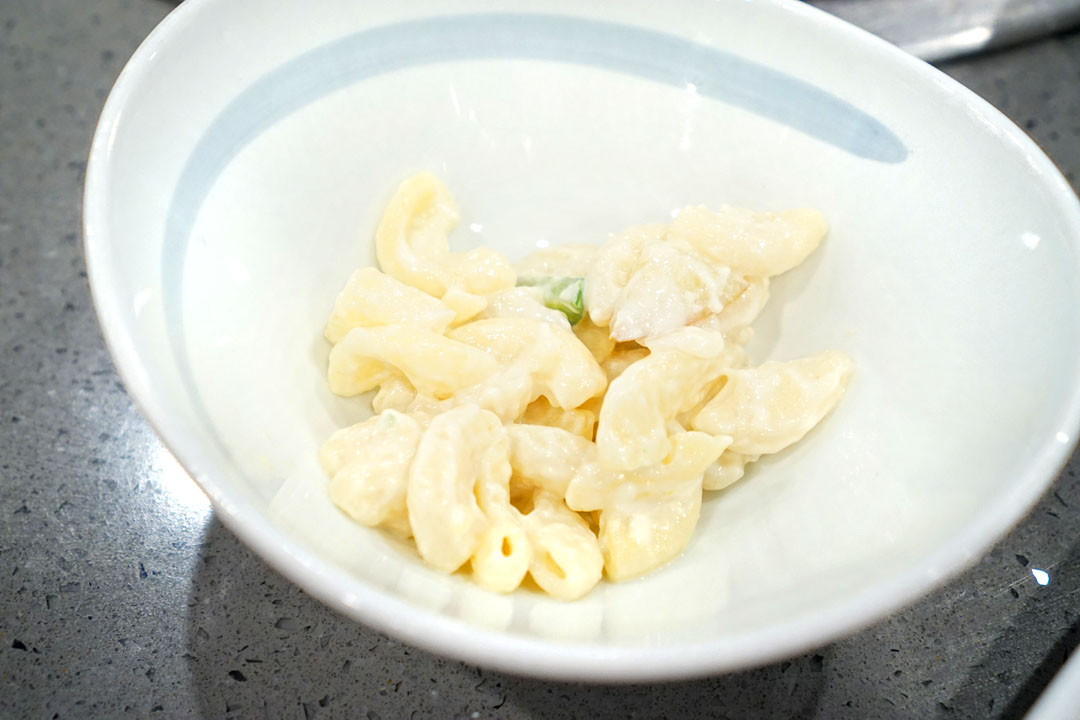 Macaroni salad was kicked up a notch by crunchy, juicy cuts of what I believe was apple.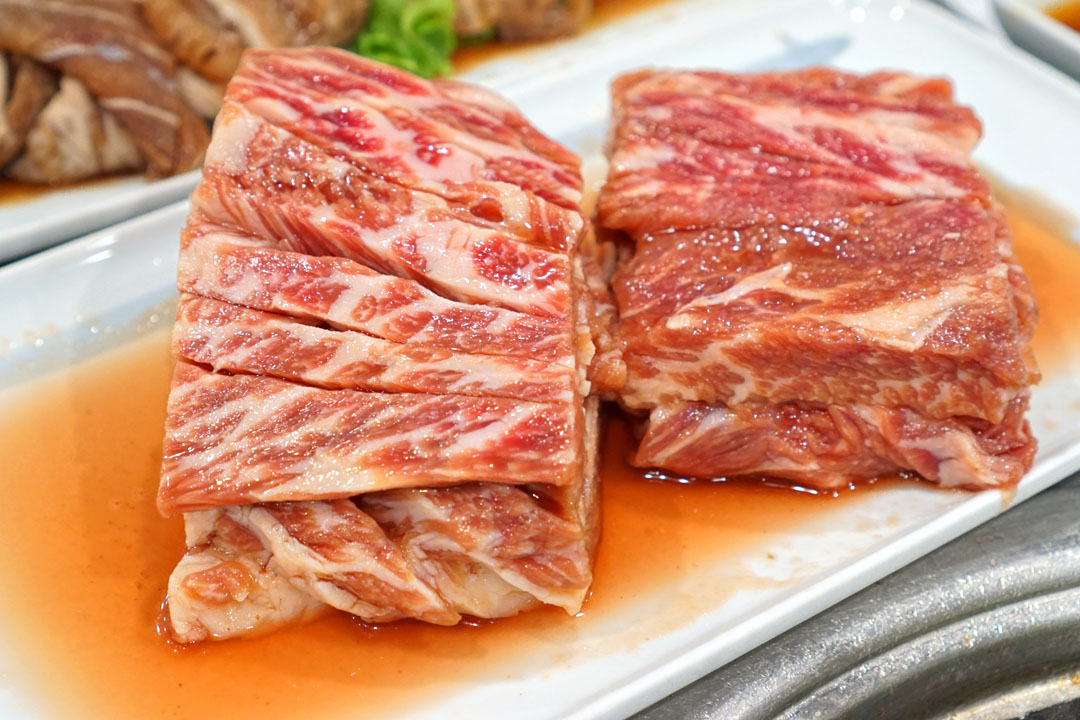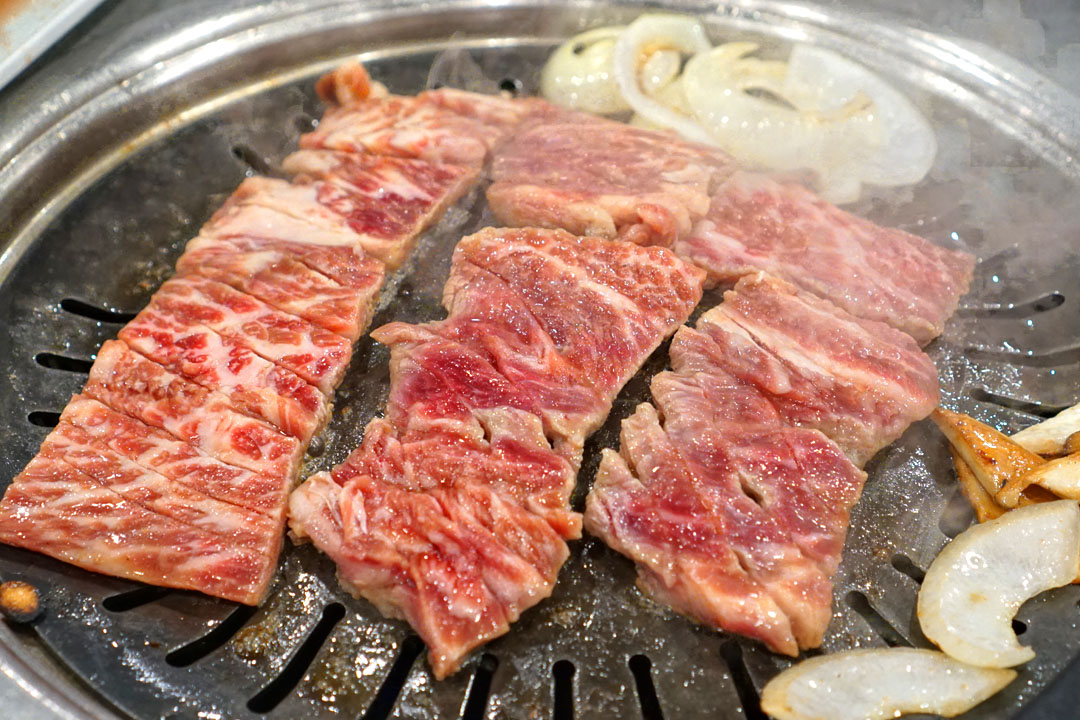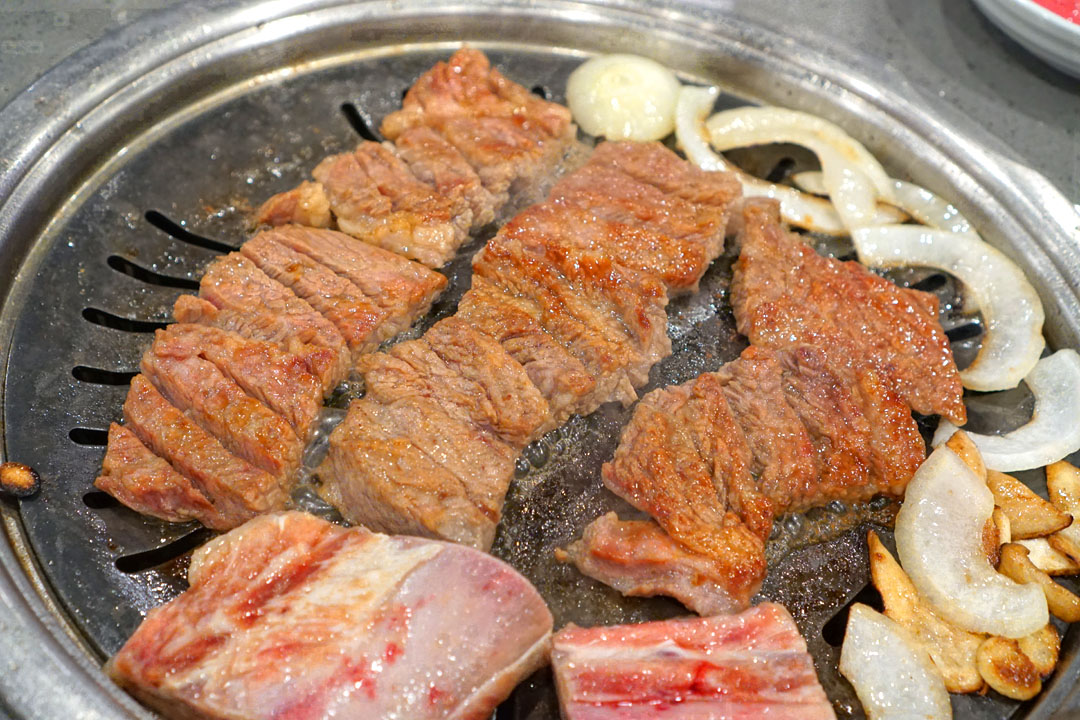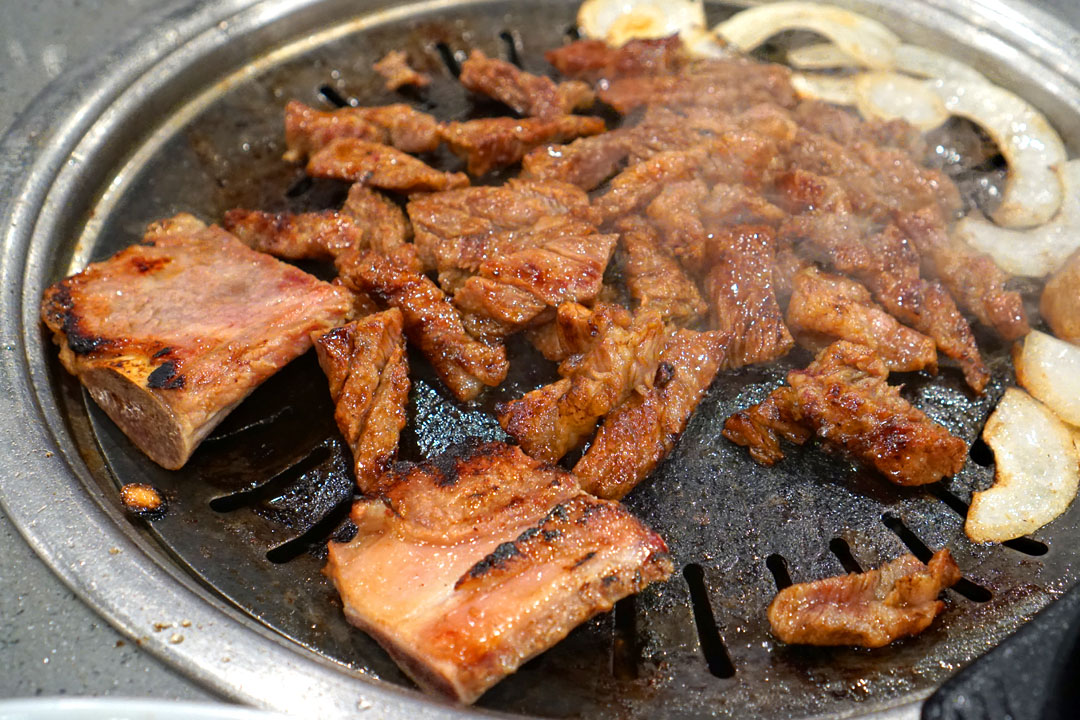 Marinated Galbi [$49.99]
| 양념갈비
Also a standout was the
yangnyeom galbi
, which was super tender. And fortunately, the beef's sweetness was relatively subdued, and meshed beautifully with the caramelization happening on the exterior of the meat. This is one to try.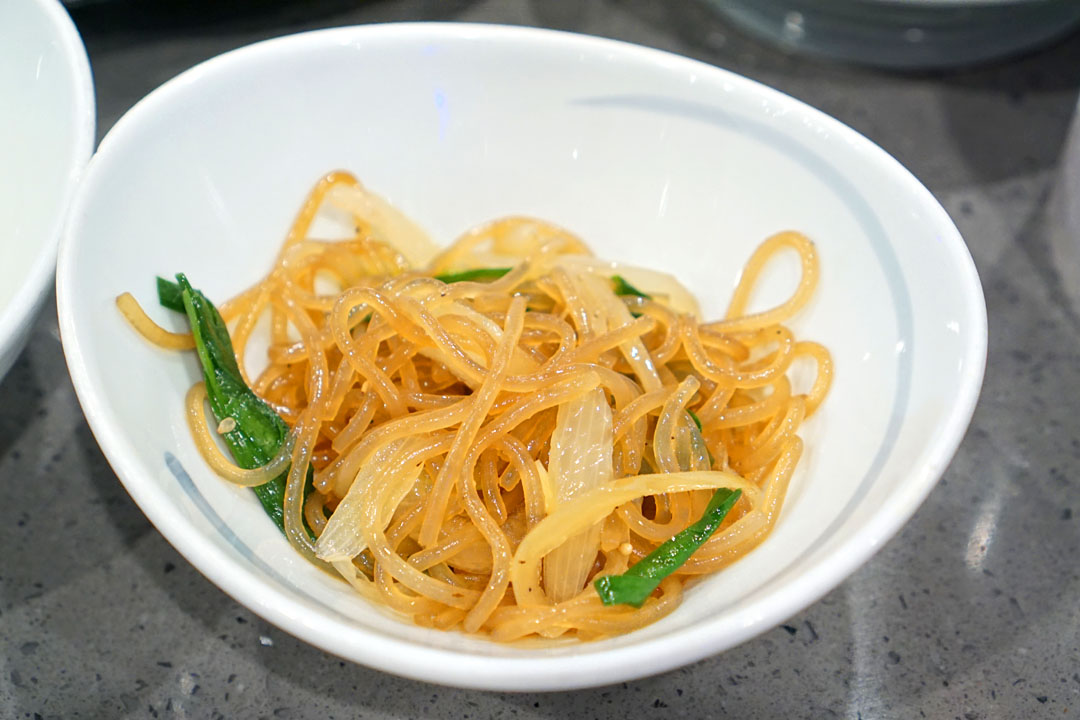 Japchae
noodles were delightfully slick, and I liked the stronger-than-usual bitterness imparted by the greens.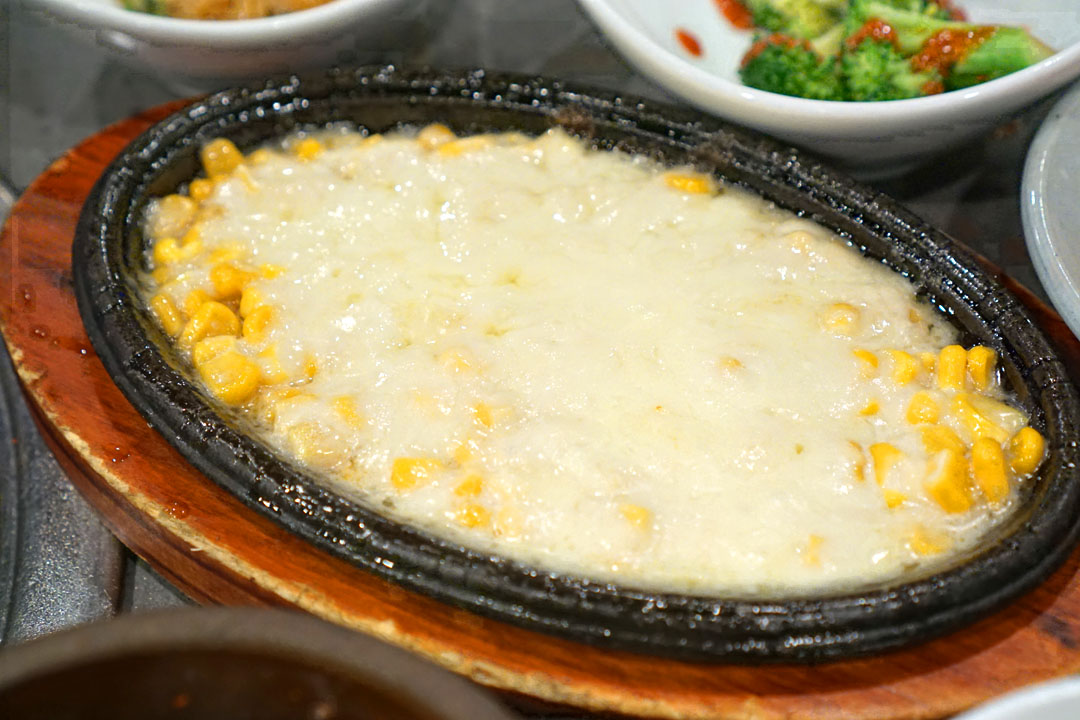 The
kon chijeu
was somewhat cheesier than most, but all that cheese did make sense against the innate sugariness of the corn.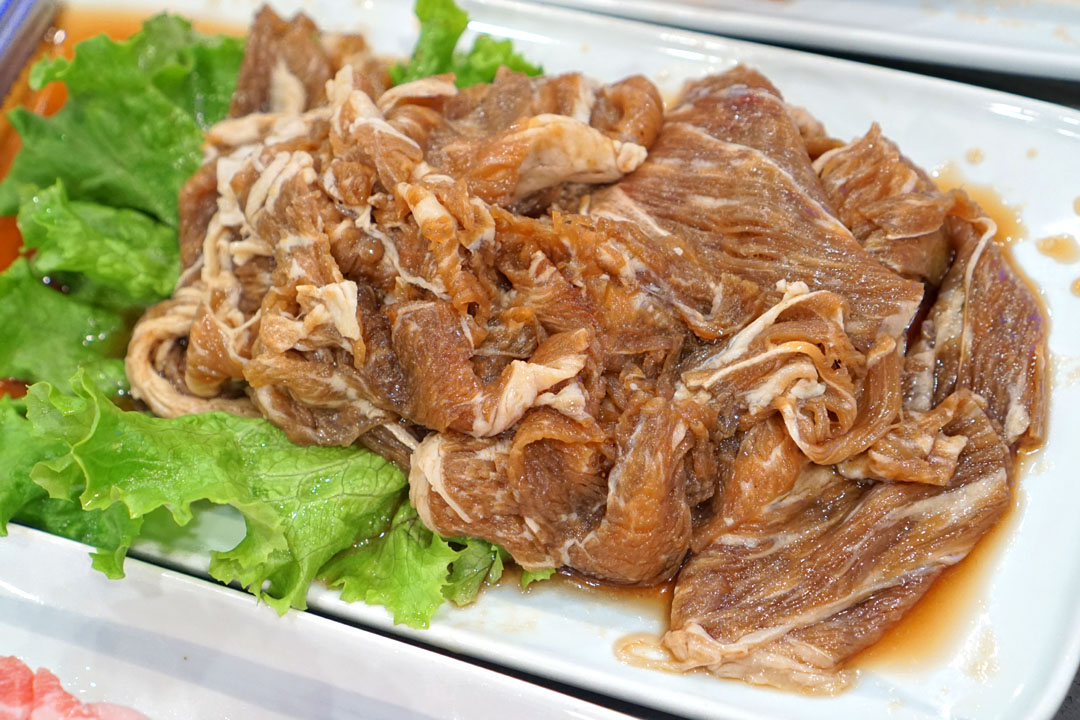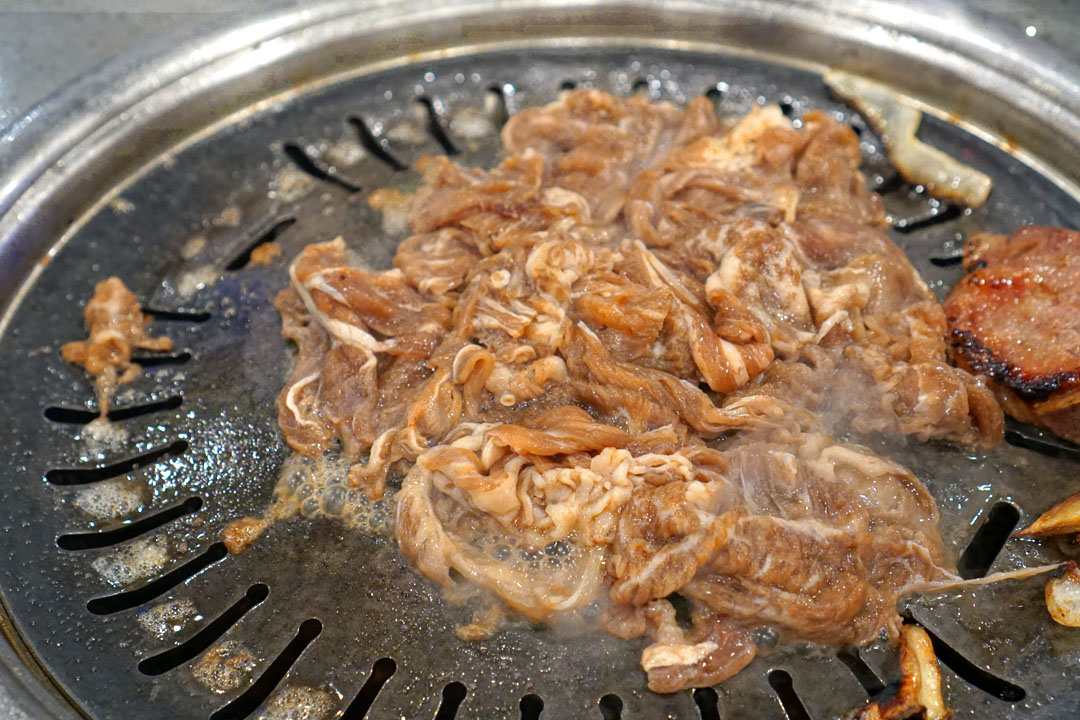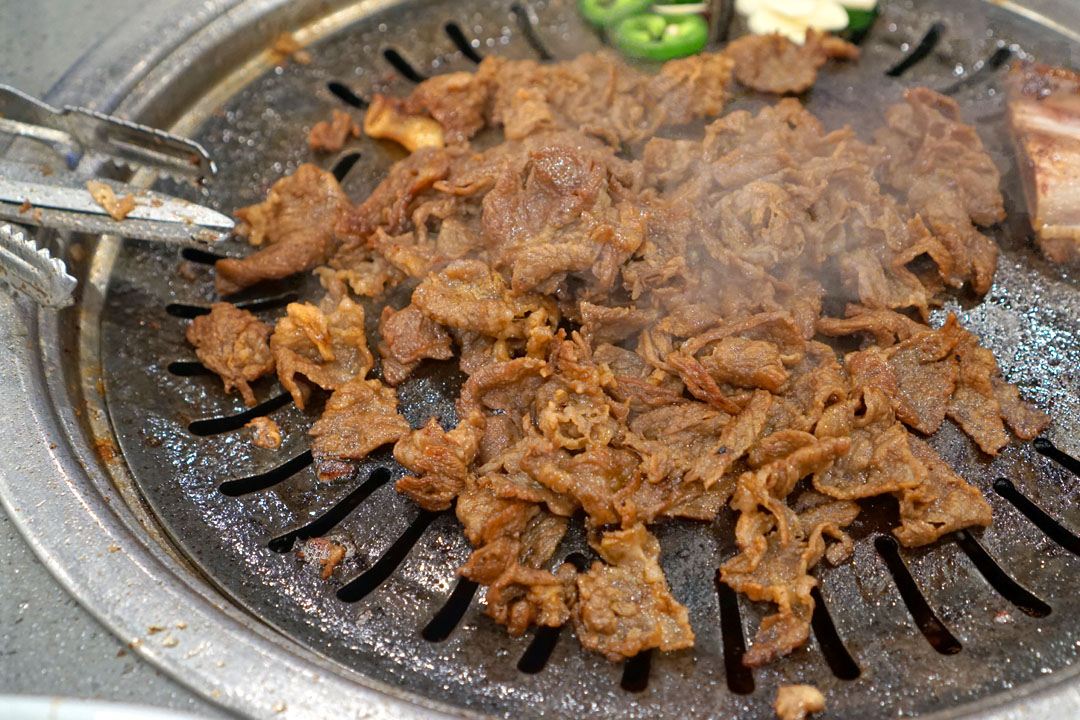 Bulgogi [$29.99]
| 불고기
I generally don't order bulgogi at KBBQ, but one of my dining companions requested it tonight. The beef was on point texturally, and thankfully, its sweetness didn't get out of hand thanks to the moderating effect of all that searing and charring going on.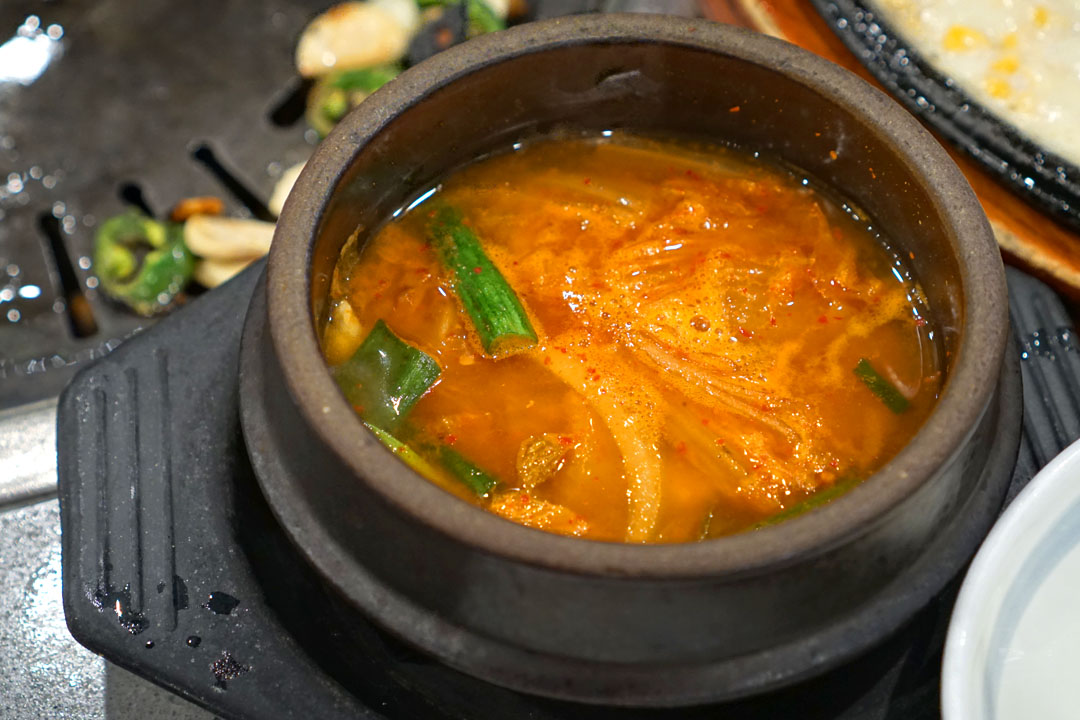 A kimchi stew was also gratis, and featured a pronounced spice set against a pretty healthy amount of pork.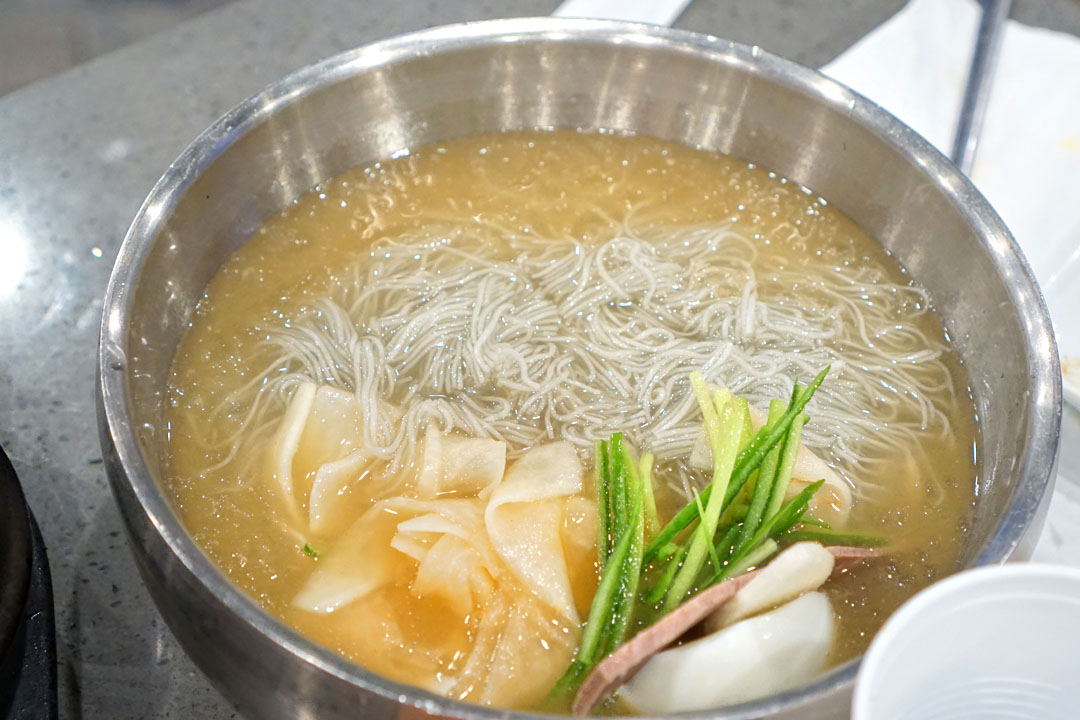 Buckwheat Noodle Soup [$13.99]
| 물냉면
Last up was the
mul naengmyeon
, which served as a fitting closer due to its refreshing nature. I loved the chewiness on the noodles here, while the dish's bright, tangy broth really did perk up the palate. I got a welcomed crunch from the radish and cucumber, too.
It'd been almost exactly three years since my last
gogi gui
experience in Buena Park, so it was good to get back into the fray. Arisu is a worthy entrant to the scene, which I assume has to be competitive. The quality of the food seemed pretty high across the board, and we also had no complaints regarding service, so I could see myself coming back here in the future to get my KBBQ fix.