Kinn (Los Angeles, CA)
Kinn Restaurant
3905 W 6th St, Los Angeles, CA 90020
213.291.0888
www.instagram.com/kinn.la/
Wed 01/05/2022, 07:45p-09:00p

Despite having the largest population of Koreans outside of the homeland, LA has historically been somewhat lacking when it comes to more modern interpretations of Korean cuisine. However, there's a new entrant in K-town that aims to change that status quo. Kinn is the brainchild of Chef Kiyong "Ki" Kim along with the team behind
Hanchic
, and the restaurant's moniker is actually a play on the word "kin" (family) and Chef's name. Kinn launched for F&F service on November 11th, then transitioned to soft-opening mode before grand-opening on December 1st.
About the Chef
: Kim Ki-yong was born in South Korea, but immigrated to the US in the late 2000s during his teenage years. In August 2010, he began studying journalism at the University of Colorado Denver, and during his time there, started working at a local Japanese spot called Sushi Train. He soon realized that his true calling was cooking, and wrapped up his studies in February 2012. He continued at Sushi Train for a while, but in March 2014, left to become a chef de partie at the Aspen outpost of
Matsuhisa
. During his tenure there, Kim apprenticed at
Benu
in San Francisco, then traveled to Japan to learn at Chukatei in Shizuoka Prefecture and Ginza Kojyu in Tokyo. He departed Matsuhisa in April 2017 in order to move to New York and cook at Jung-sik Yim's game-changing modern Korean restaurant Jungsik. In December 2018, he returned to Aspen to start a three-month pan-Asian pop-up called Hao House, but soon returned to NYC.
August 2019 saw Kim transition to a line cook role at Atomix, Junghyun and Ellia Park's well-regarded contemporary Korean spot. However, that position only last a few months, and by November, he was sous chef at Carlo Mirarchi's Blanca in Brooklyn. After holding a pop-up in September 2020 in collaboration with
Resident
, he came to LA and teamed up with Arnold Byun (a FOH colleague from Atomix) and founded a high-end
dosirak
pop-up called Naemo. Naemo launched out of a Sawtelle location in January 2021 and was met with considerable success, then moved its base of operations to Hanchic in February. In May 2021, Kim became exec sous at
n/soto
, and in July, popped up at Koreatown's Yellow House Cafe serving updated takes on Korean comfort fare. The Chef was already working on Kinn during this period, and the restaurant debuted soon thereafter in November, taking over a storefront that was previously home to Sushi One (and before that: BodyBook Fitness, Collective Skate Shop, The Red Eye Flight, and Jenny's Dog Grooming).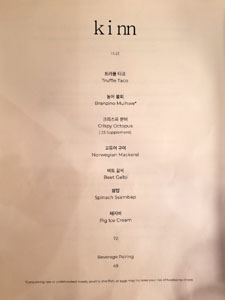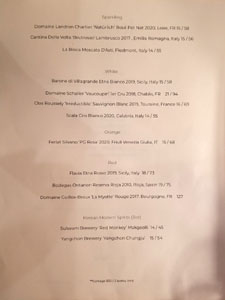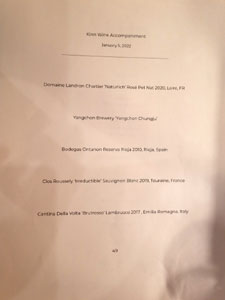 Though Kinn launched with an à la carte menu, the restaurant switched over to a five-course tasting menu format right at the start of December, which has since grown to a $72 six-courser with optional supplement. To drink, there's a wine pairing at $49 along with a small wine list, while corkage is $50, with a limit of two bottles. Click for larger versions.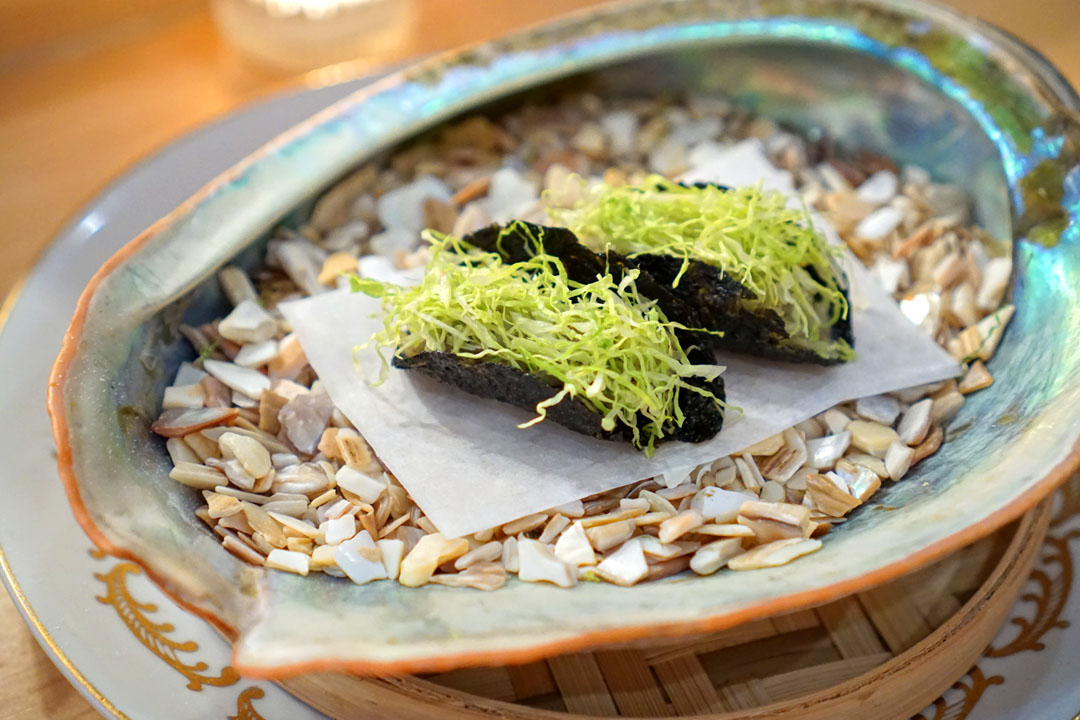 1: 트러플 타코 – Truffle Taco
Our meal began with a couple of fun bites. I actually didn't get much truffle here, but nonetheless, this thoroughly rejiggered taco, replete with seaweed shell, avocado, pickled radish, and romaine lettuce, was still pretty damn tasty. For me, the flavors went in a creamy, tangy direction at first, then transitioned to a wasabi-esque kick before finishing in a sweet, fruity manner.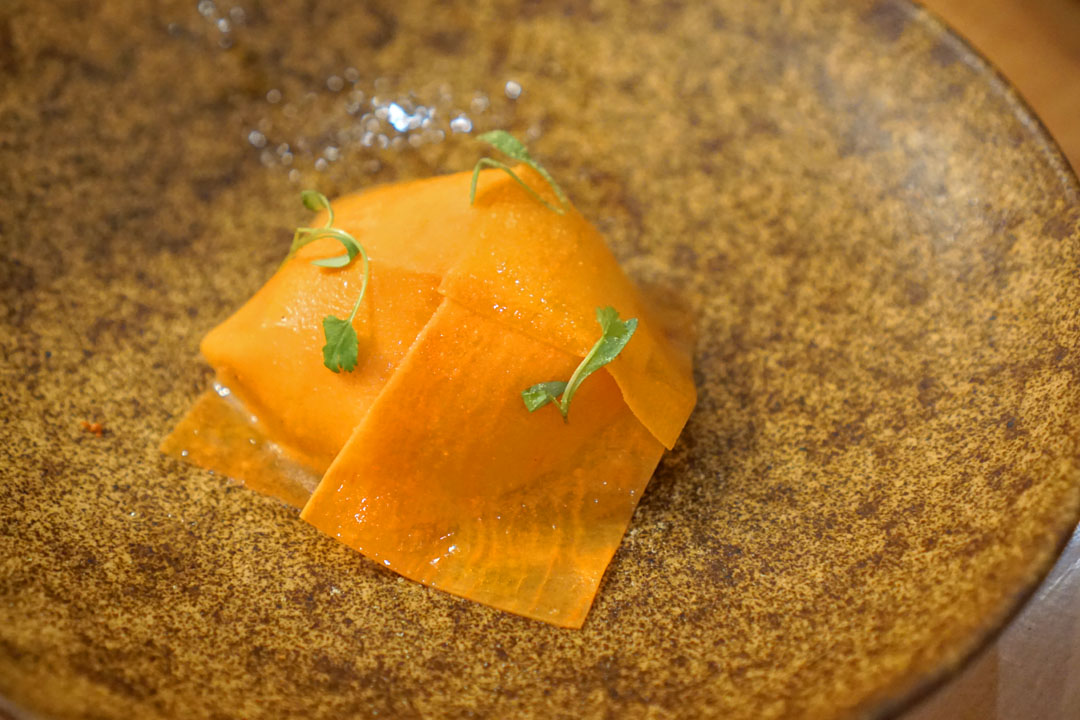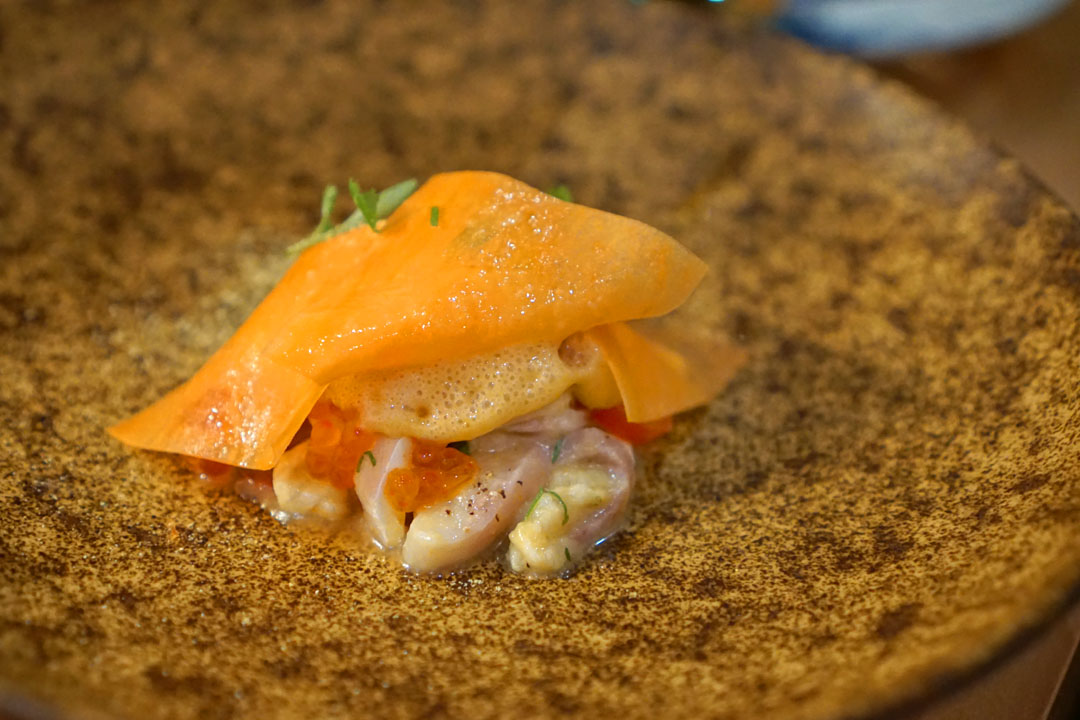 2: 농어 물회 – Branzino Mulhwe
The evening's first proper course was a riff on
mulhoe
(a type of cold fish soup), and was composed of sea bass, sweet potato foam, and smoked trout roe, all concealed in layers of blanched sweet potato. The fish showed off a cool, saline character that was complemented by the nutty, sweet, creamy elements in the dish, while the roe imparted a subtle smoke on the back end. Also crucial were the thin layers of sweet potato up top, which contributed both texture and levity.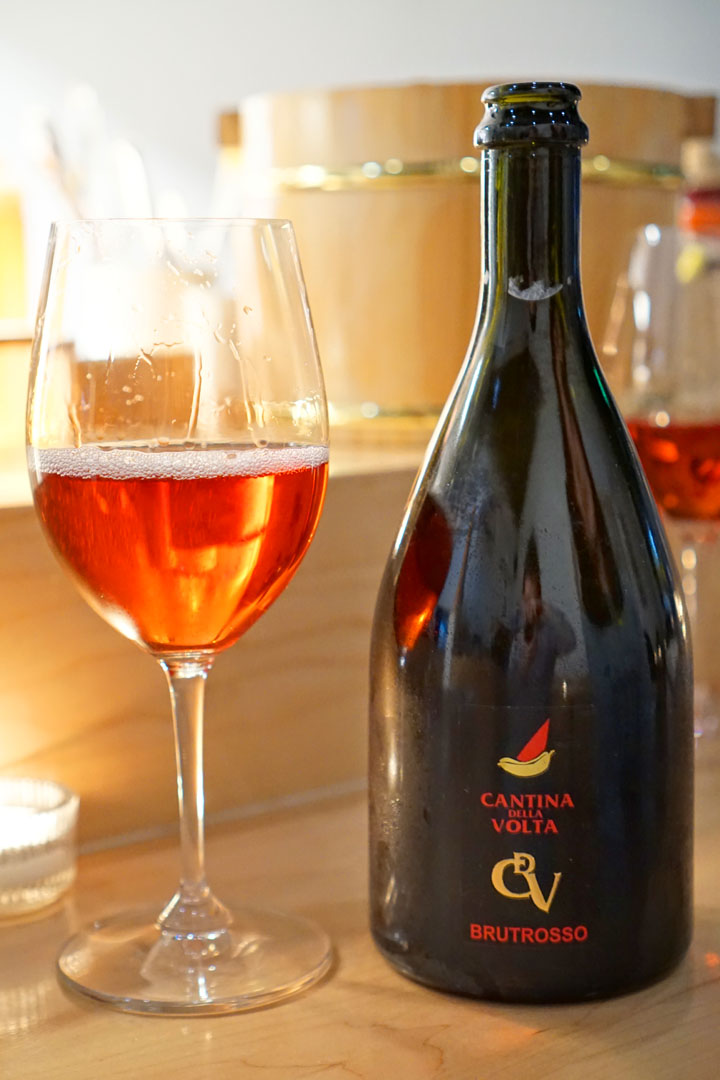 To drink, I opted for something sparkling: the
Cantina Della Volta 'Brutrosso' Lambrusco 2017, Emilia Romagna, Italy [$56]
. The wine featured a straightforward nose of bright berry fruits, while the palate was slightly deeper, more cherried, but dry, with a healthy dosing of citrus along with a palpable acidity.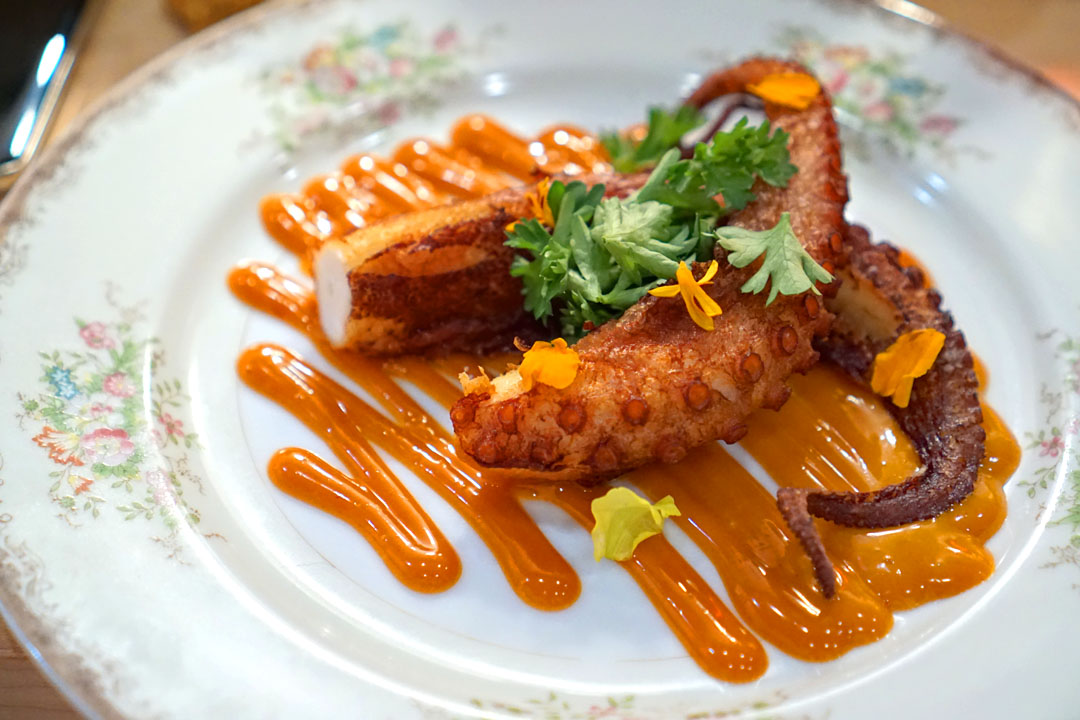 Supplement: 크리스피 문어 – Crispy Octopus [$23]
I was told that this was one of the Chef's signature dishes, and I can see why, as it was the best octo I've had in a while. The
muneo
was texturally perfect, a deft interplay of crispy skin and soft, creamy insides that was just what I was looking for. At the same time, flavors were robust and savory, but elegant, and I loved the juxtaposition with the sweet heat of that gochujang aioli. A favorite for sure.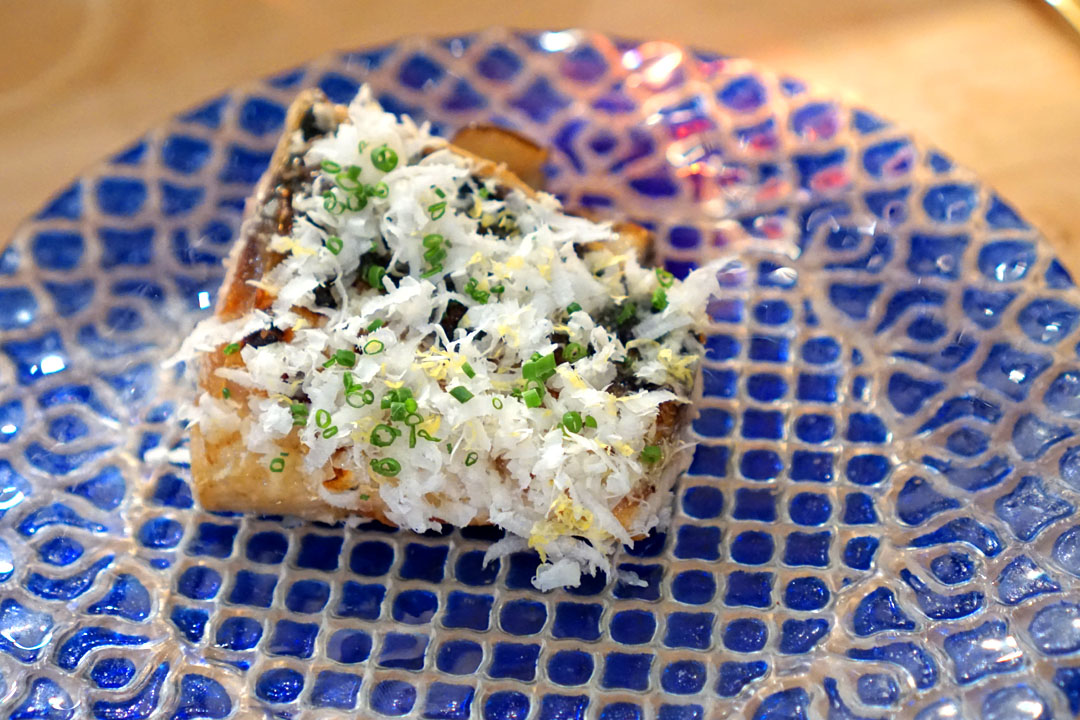 3: 고등어 구이 – Norwegian Mackerel
The
godeungeo gui
was another standout. I was a big fan of the delicate cook on the fish, but the key here was how its briny, saline flavors meshed with the earthiness of the hen-of-the-woods, all while stings of horseradish and lemon zest offered up a masterful contrast. I've never had this combination of flavors before with mackerel--very smart, very cool.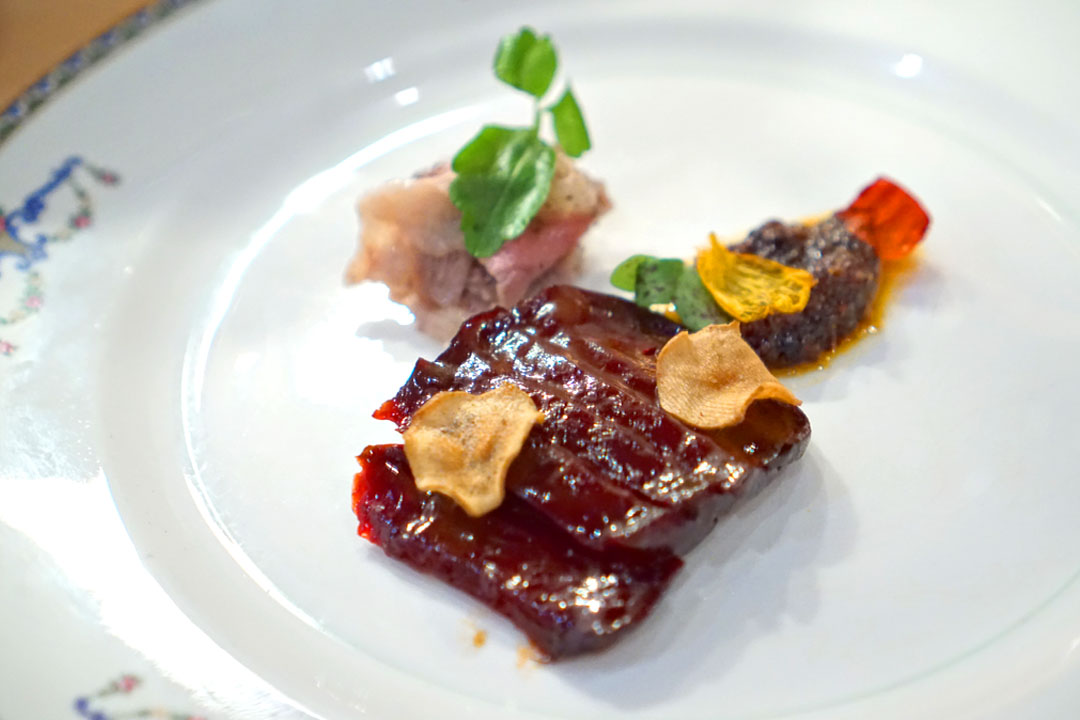 4: 비트 갈비 – Beet Galbi
I've never been huge into beets, but quite enjoyed this. The beets were dehydrated, giving them a meaty, sticky, satisfying consistency, and their galbi marinade really did convey the sweet-n-savory essence of the classic dish. There was a pickle-y element here that worked for balance as well, and I was rather fond of the zing of what I believe was a salsa macha, too.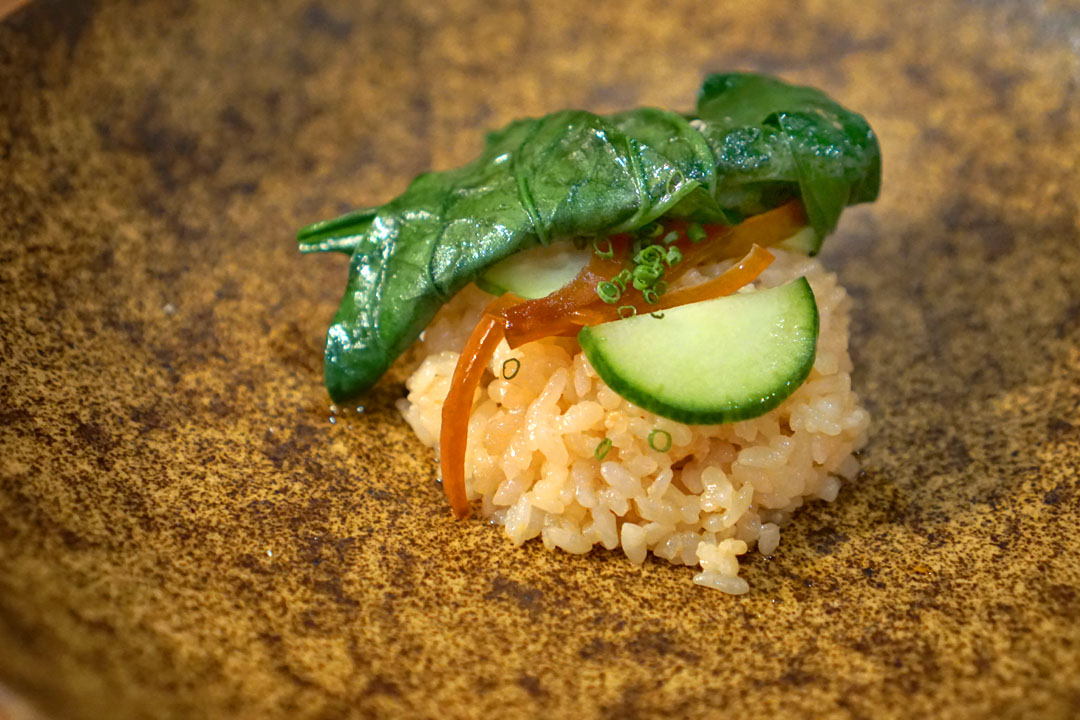 5: 쌈밥 – Spinach Ssambap
Our rice course was a winner as well. The
bap
itself was spot-on texturally, and featured a liberal dosing of sesame oil that I thoroughly enjoyed. It gave the dish a cozy, comforting feel that married easily with the brightness from the onion and cucumber, all while the spinach contributed a subdued bitterness. We were also provided a side dish of dried radish kimchi (
mumallaengi muchim
?), which offered both crunch and pungency to complete the package.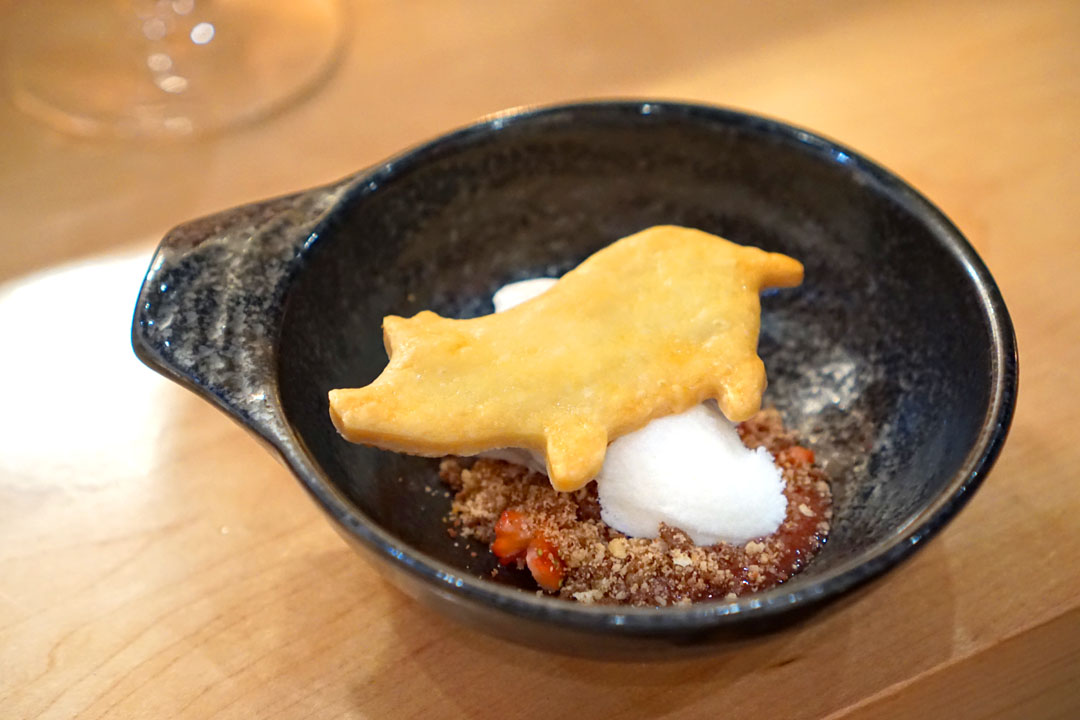 6: 돼지바 – Pig Ice Cream
Comprised of milk ice cream, strawberry purée, cookie crumbles, and pig-shaped pastry dough, the Chef's dessert course was an homage to the Pig Bar, a classic Korean frozen treat. Tasting it, I was reminded of strawberry shortcake, but with a savory edge that really worked for me--yum.
LA's Korean food scene has long been regarded as the best in the country, but we've gotten another feather in our cap thanks to the arrival of Kinn. Kim's interpretation of his native cuisine is quite unlike anything we've seen in the Southland so far, blending familiarity and perhaps even nostalgia with updated tastes, techniques, and presentation. The place is off to a strong start, and I'm actually reminded a bit of
Kato
in its early days, but given the Chef's background and talent, I'm confident that the best is still to come. I'm very excited to see where he takes this.
---
It wouldn't be a proper night out in K-town without another stop, so for
i-cha
, we headed over to Chef Kang's Sul Box, a nearby
suljib
that I'd heard good things about.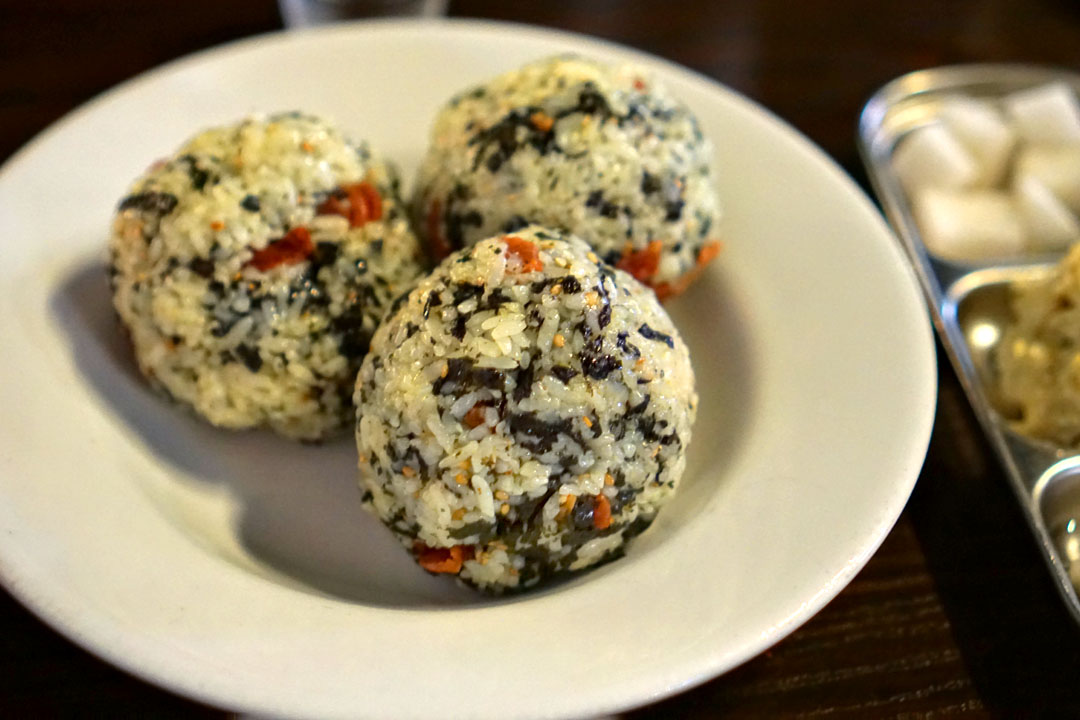 김가루/ 베이컨 주먹밥 – Bacon Seaweed Rice Ball [$13.00]
| Rice, bacon bits, seasoned crispy seaweed mixed together and made into a ball.
Jumeokbap
were on the larger side, and featured your classic back-and-forth between rice and seaweed, but punctuated by delectably salty hits of pork.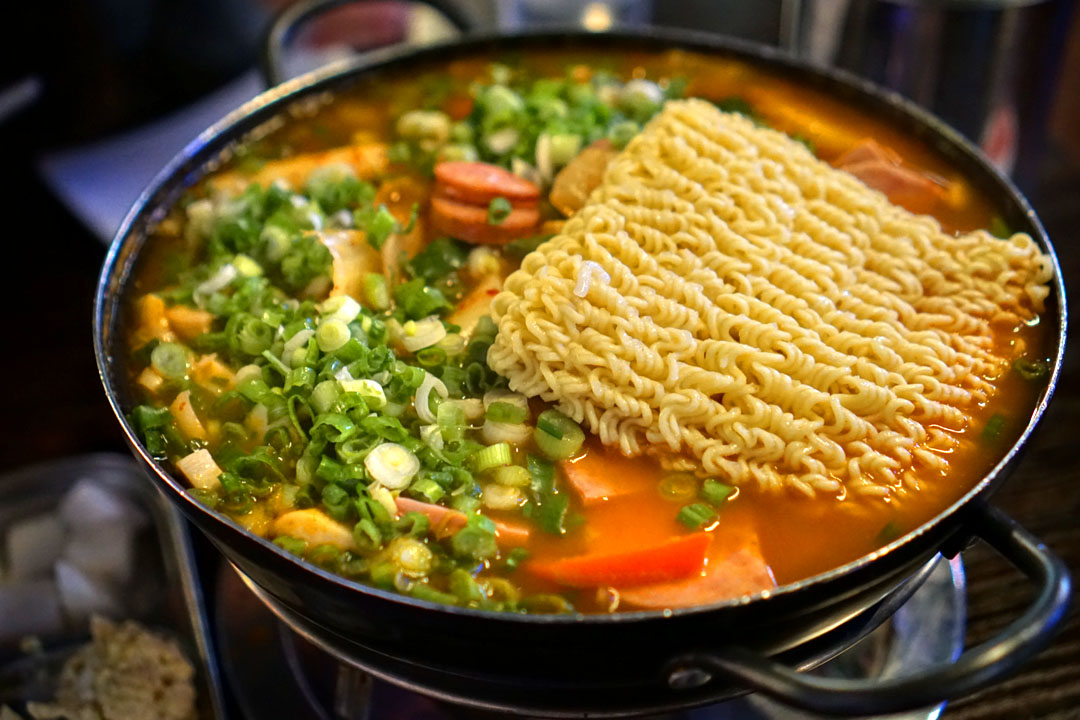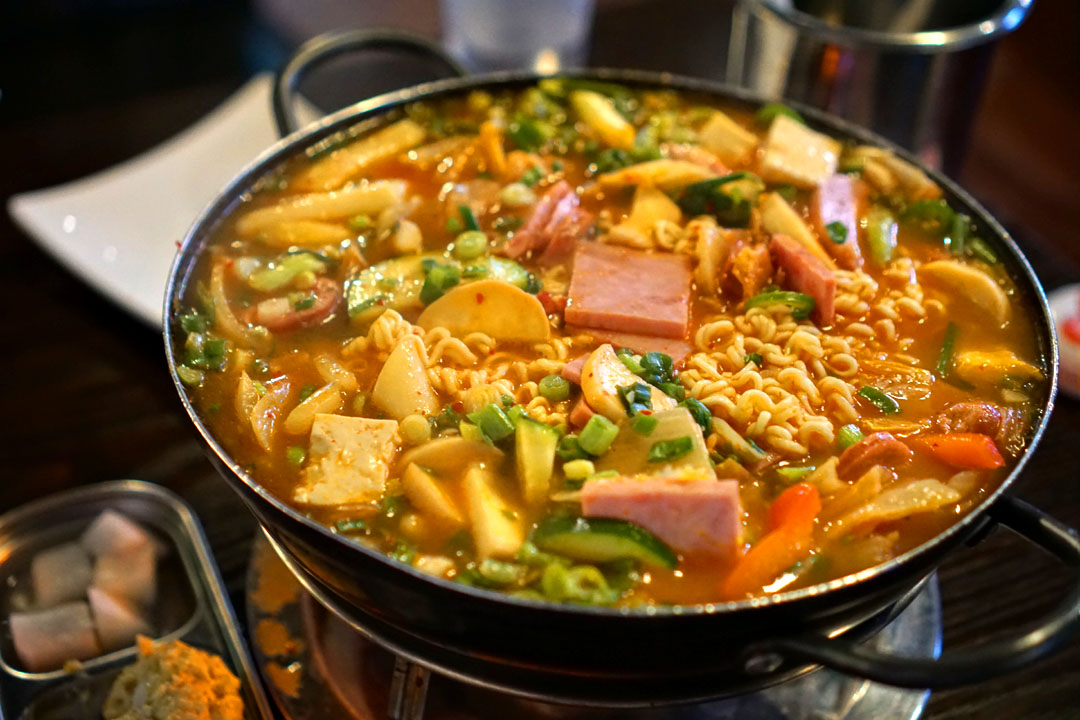 강부대찌개 – Chef Kang Signature Army Stew [$24.00]
| Beef knee bone broth based stew with spam, sausage, tofu, veggies and ramen noodles. Must Try
The
budae jjigae
was one of the tastiest versions I've had, a hearty, heartwarming dish that was great for the cold weather we were having. However, there was also a sophistication to the stew that made it stand out, and I found the spam especially satisfying. A fitting way to close out the night.