El Ruso (Los Angeles, CA)
El Ruso Silver Lake
3140 Sunset Blvd, Los Angeles, CA 90026
323.246.6819
elrusola.weebly.com
Sun 01/23/2022, 08:25p-09:30p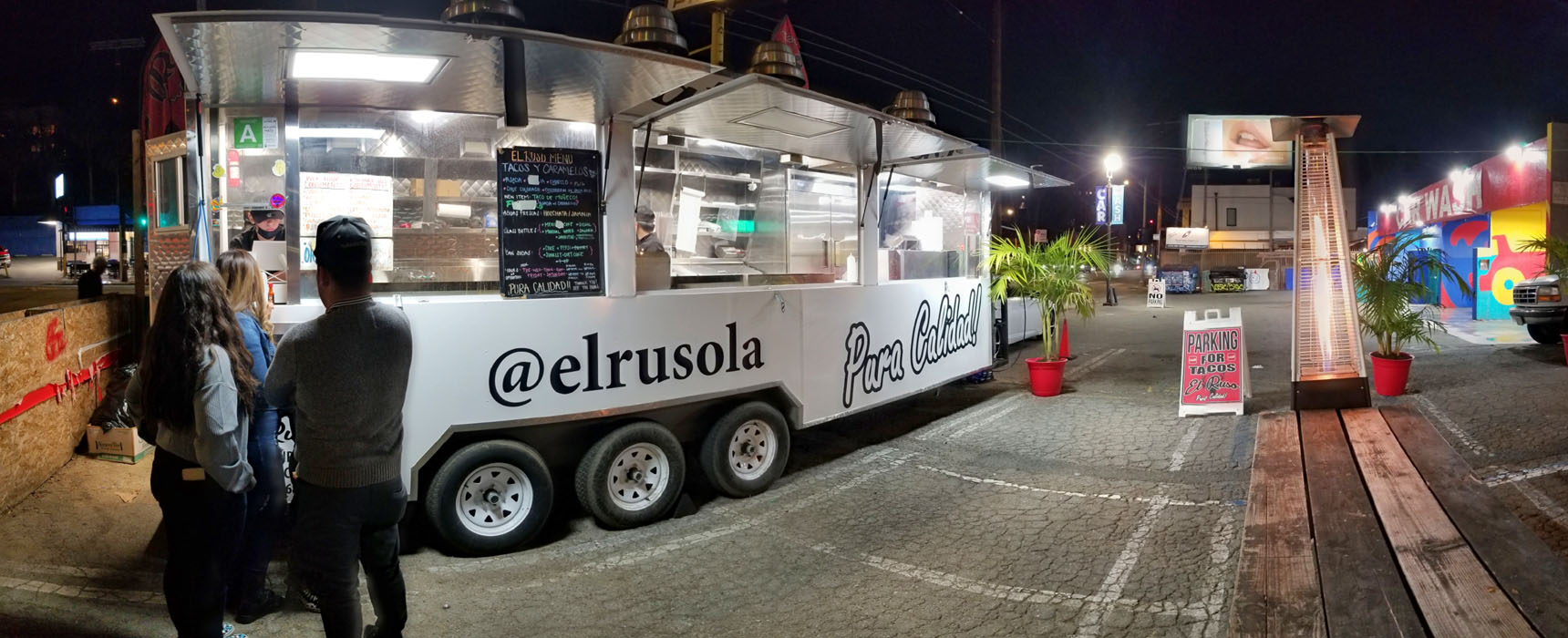 I was recently struck by a craving for tacos and taco-related foods, and after considering a few potential options, I ended up at Walter Soto's much-hyped El Ruso ("The Russian"). It's a spot that's really risen to prominence over the past couple years, primarily due to the reputation of its handmade flour tortillas, as well as the large
sobaqueras
(burritos) wrapped in them. Thus, given all the fanfare behind this place, I really wanted to see what all the fuss was about.
About the Chef
: Walter "El Ruso" Soto was born and raised in Tijuana, and apparently got his nickname during his younger years due to his quasi-Russian appearance. After finishing high school, he got his first real culinary job in 1996 at La Carreta de Lichi in the Sinaloan capital of Culiacán. He was 17 at the time, and from there, he continued to train across Mexico, cooking in Mazatlán, Mexicali, Guadalajara, and Nuevo Laredo before landing in Ímuris, Sonora. There, Soto met Julia Silva, a native Sonoran, expert tortilla maker, and eventual love interest (they're no longer an item, but did have a daughter named Suri together). Following some time back in Tijuana, the pair immigrated the United States, settling in LA. Soto wound up finding employment in construction, but an injury eventually caused him to get back into cooking. He and Silva started their business in 2016, with their operation seemingly finalized in spring 2017. They moved around a few locations in Boyle Heights in these early years, and times were tough.
El Ruso's popularity grew considerably in 2019, when Soto made the decision to promote the business via Instagram (this was when they were still at 3631 Union Pacific Ave). He was subsequently able to upgrade his trailer setup, and at the end of May 2020, debuted a second location in Highland Park with a more Sinaloan-style menu. However, after being threatened by an angry local shortly after opening, he decided to shut things down. Despite that setback, El Ruso was named one of
Food & Wine
's "
Best New Restaurants 2020
" not long after the incident. In June 2021, the Chef was finally able to expand properly, setting up shop at the former SiLa home of The Goods Mart, though unfortunately, this expansion did ultimately result in the closure of the original Boyle Heights location. In December last year, El Ruso was named one of the "
101 Best Restaurants in LA
" by the
LA Times
, while an Arts District outpost followed soon after. That one started out at 4th/Seaton, but the team later moved to Rose/Traction before shuttering on January 23rd and moving back to HP, but that location also ended up closing on February 4th.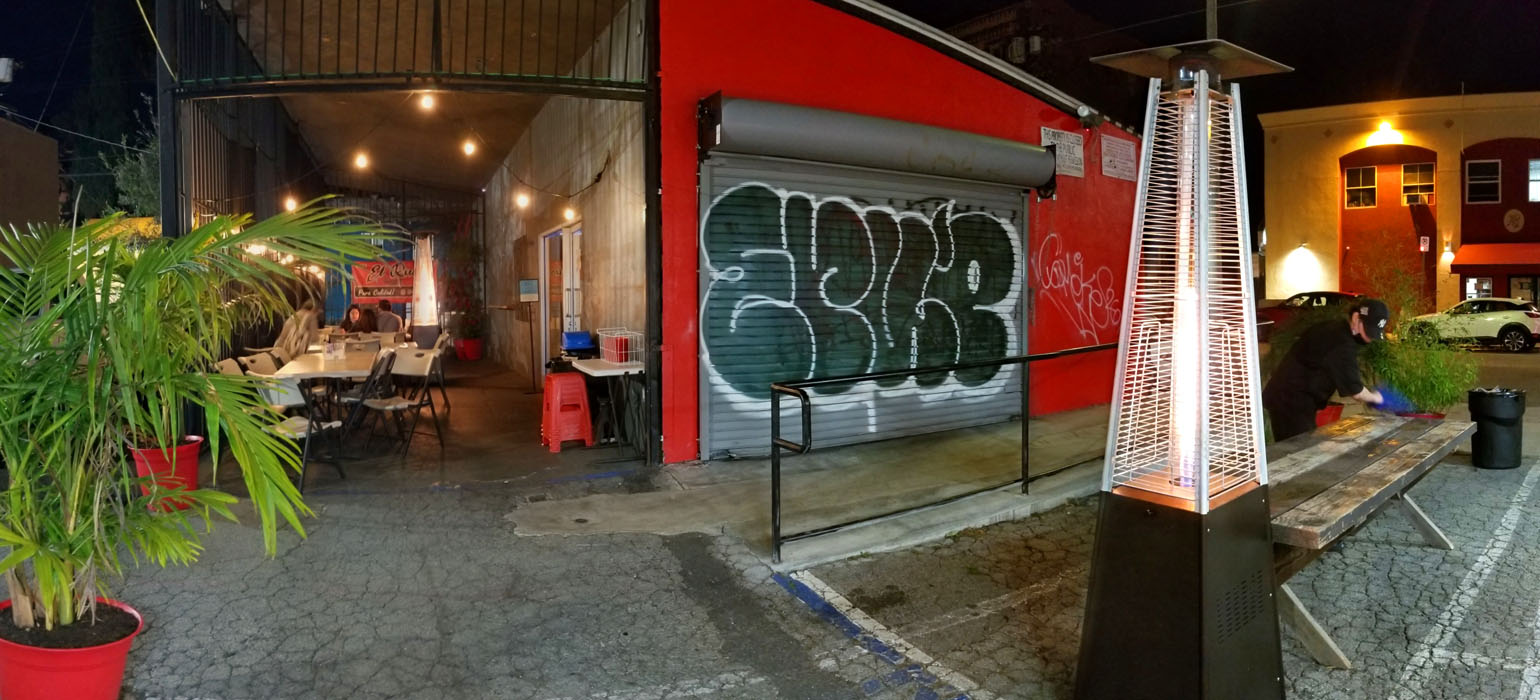 Here we see the seating situation in Silver Lake, which actually includes covered tables. However, this setup won't last for long, as apparently El Ruso is moving down the street to 3110 West Sunset starting February 15th.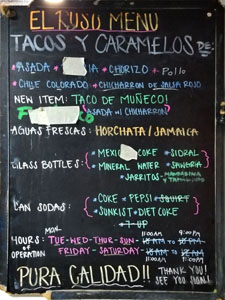 Pictured above is the current menu, a fairly straightforward affair listing a variety of meats available in a handful of formats. Note that the menu's been streamlined since El Ruso first opened, as they used to offer tortas and such, while the signature
sobaquera
was actually added later. Sadly, those large-format burritos weren't being served tonight, ostensibly due to Silva being on vacation, and the kitchen had also run out of the fish tacos, tacos dorados, and birria. Click for a larger version.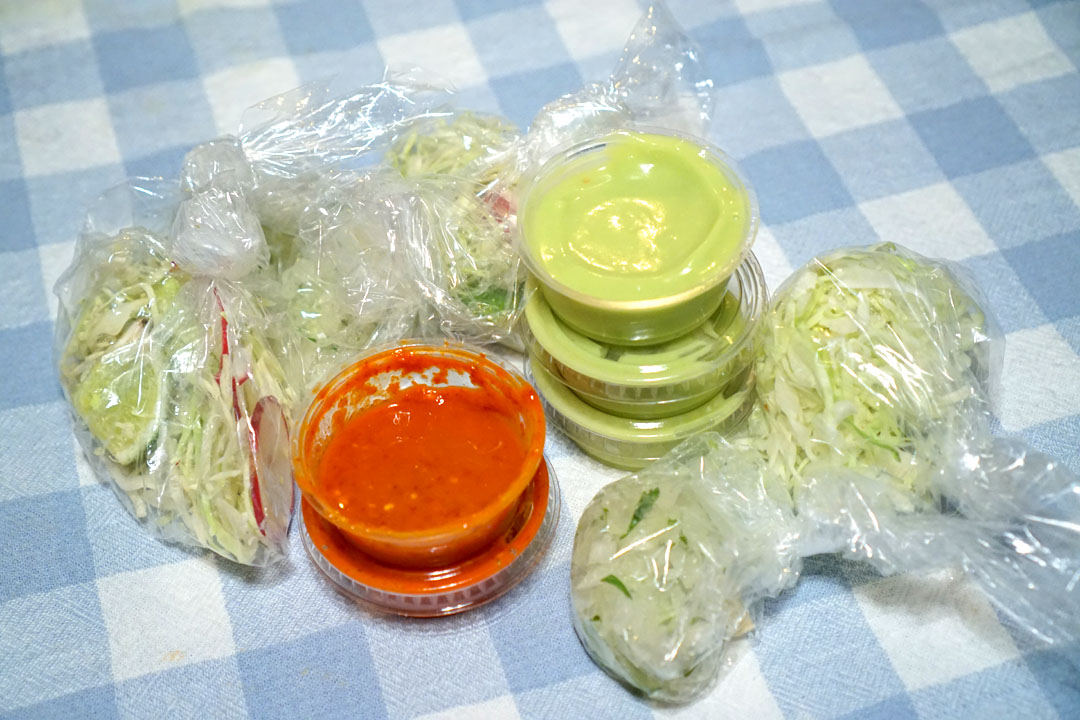 Complimentary condiments included onion, cilantro, cabbage, radish, lime, and two types of salsa: a zingy, surprisingly potent roja and a mild, creamy
aguamole
-style guacamole.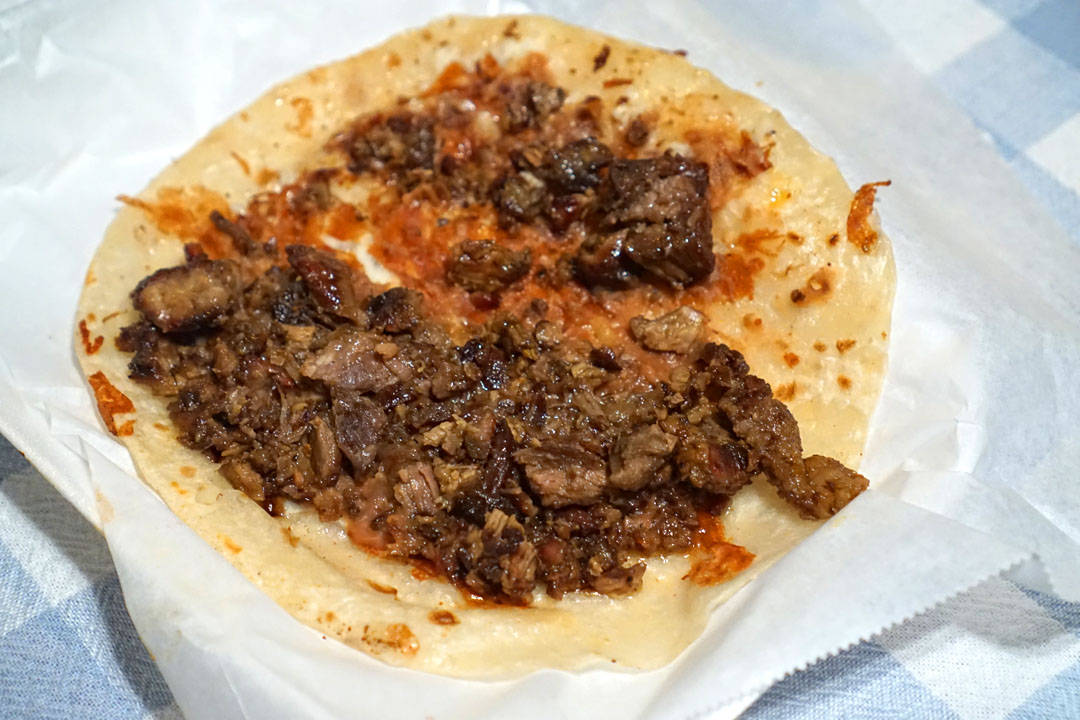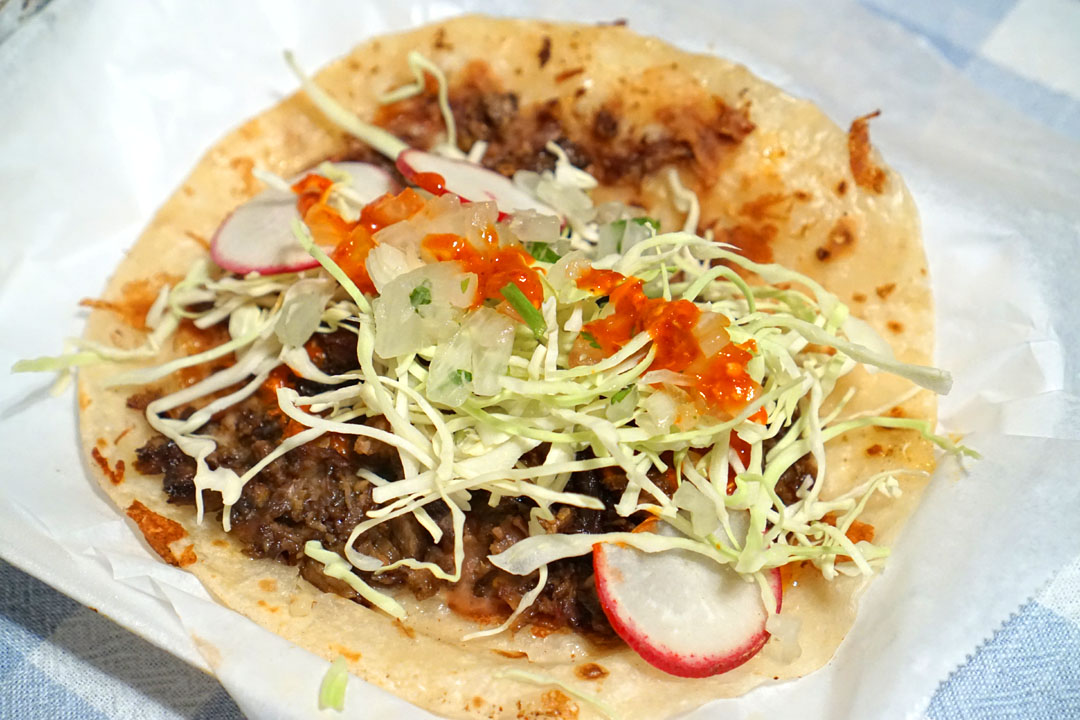 Taco de Asada [$4.94 + $0.26]
I began with the most prototypical of taco fillings: carne asada. The meat had a bit of chew to it, and showed off a decent amount of smoke and sear, while the overall seasoning was relatively restrained. It meshed well with the melted cheese, and really came into its own when taken with all the various accompaniments. As for the flour tortilla, I found it delightfully stretchy and just thin enough, while its taste was a bit more robust than most--the perfect vessel for the asada.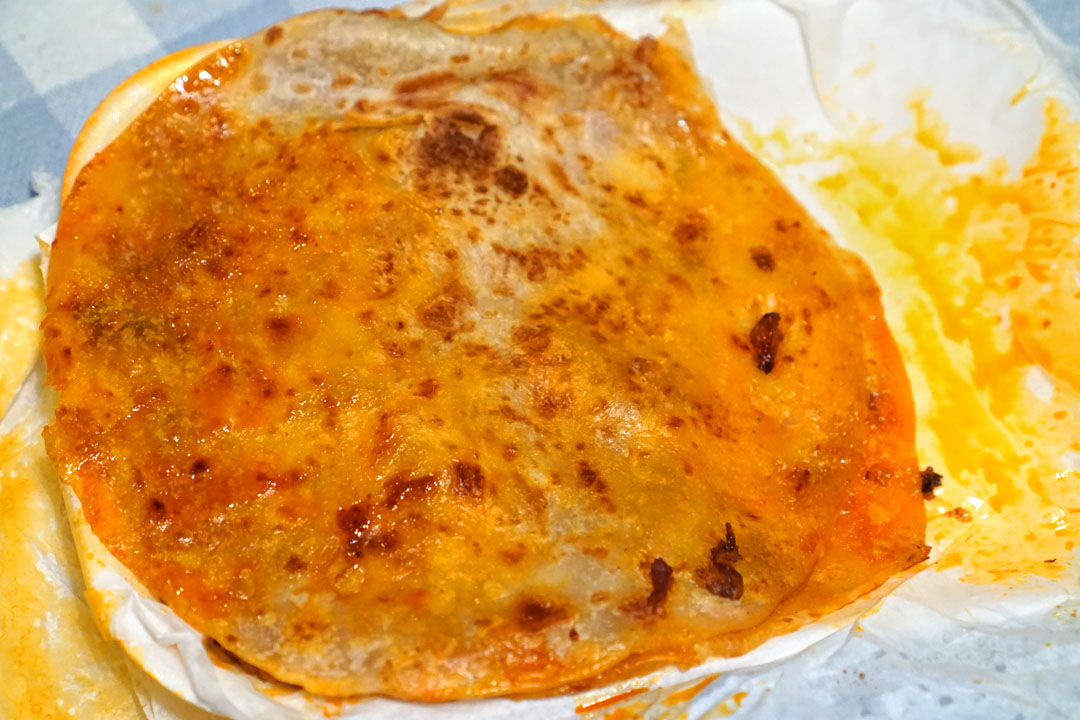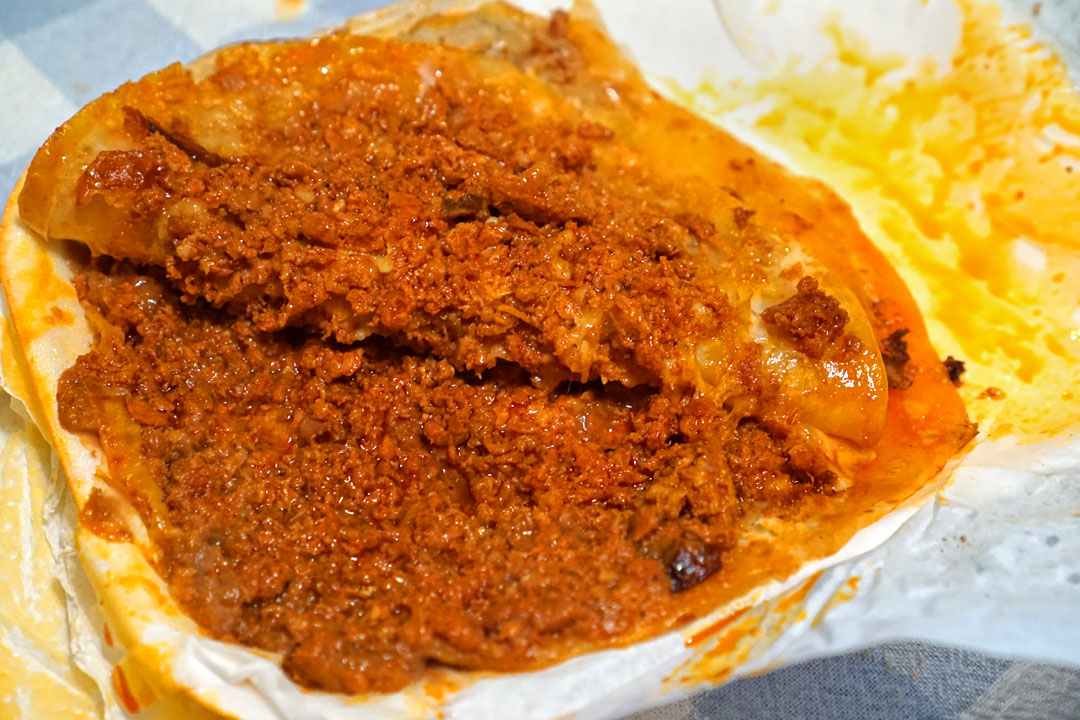 Caramelo de Chorizo [$5.98]
I also made sure to try El Ruso's caramelo, which as far as I can tell, is pretty much the same thing as a mulita. This chorizo version did an admirable job conveying the delectable spice and sourness of the sausage, though regrettably, I didn't get much from the advertised cheese.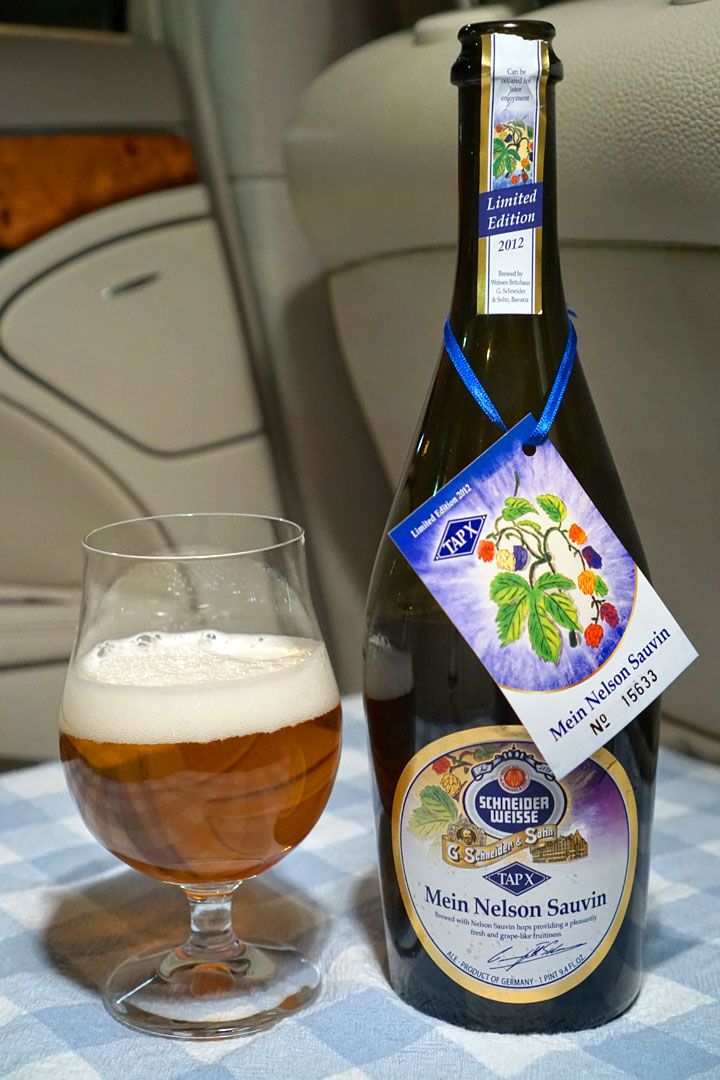 To drink, I brought along the
2012 Schneider Weisse Tap X Mein Nelson Sauvin
, a bottle-fermented Weizenbock brewed with Nelson Sauvin hops. The beer smelled amazing, its potent, super fruity nose giving up unabashedly tropical aromas that utterly recalled lychee. On the palate, I found it soft and smooth, with fresh, vibrant fruit and flowers leading to traces of spice and just a smidge of countering bitterness on the back end. This one really has held up beautifully over the past decade, and makes me wish that I had another bottle!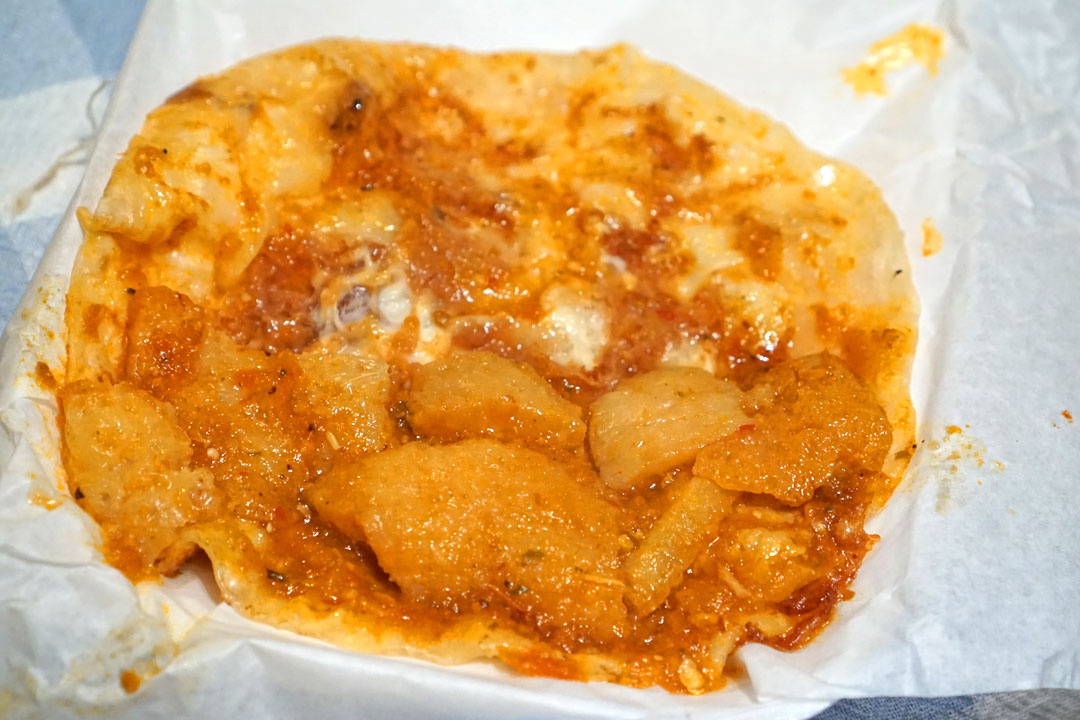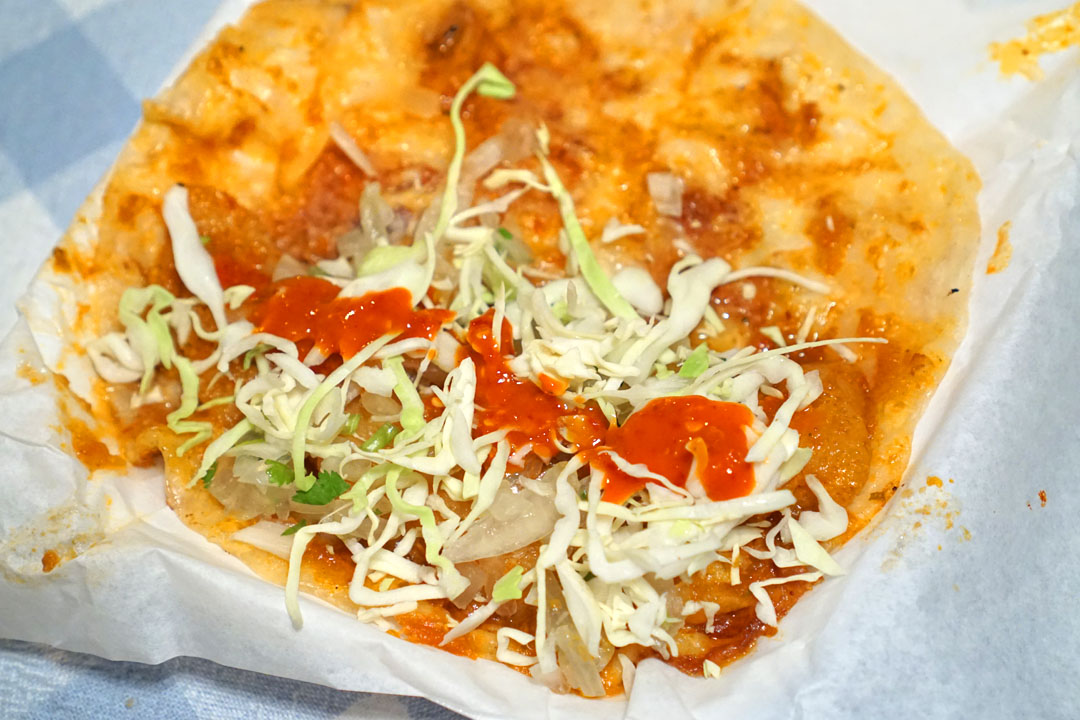 Taco de Chicharron de Salsa Rojo [$4.94 + $0.26]
Shards of chicharrón arrived soft and gelatinous, with a brazenly porcine flavor profile that really sang when paired with a dash of salsa roja, while the veggies imparted the necessary levity. I will note that this taco (and indeed, my two others as well) was missing the expected beans (an El Ruso signature), which was a bit disappointing.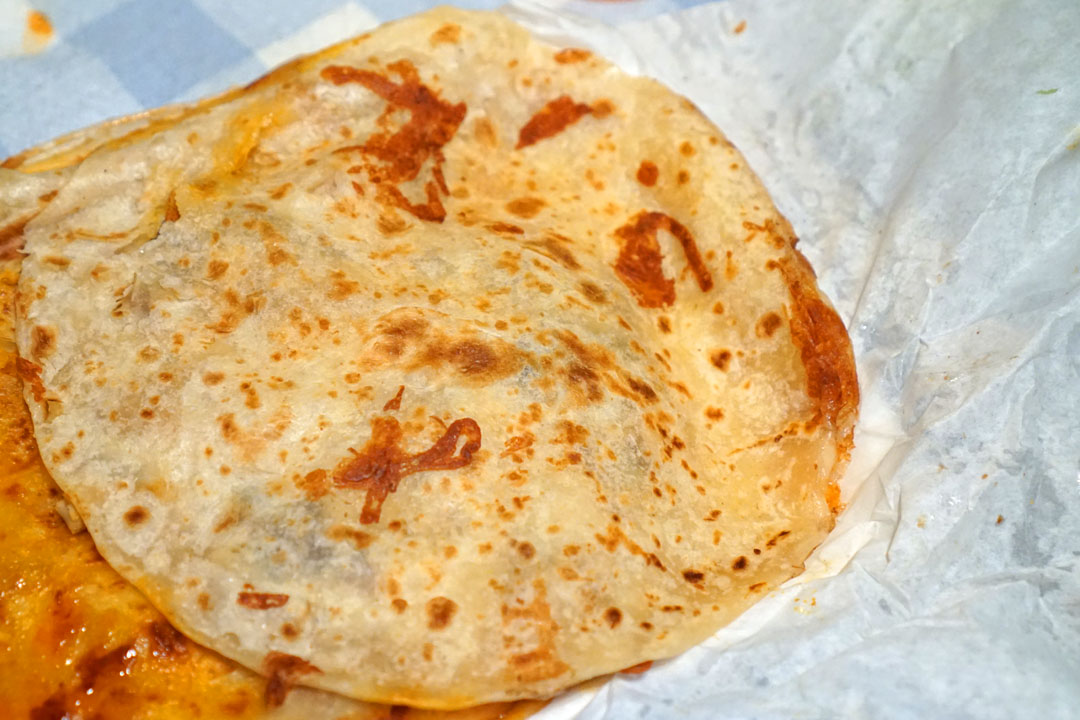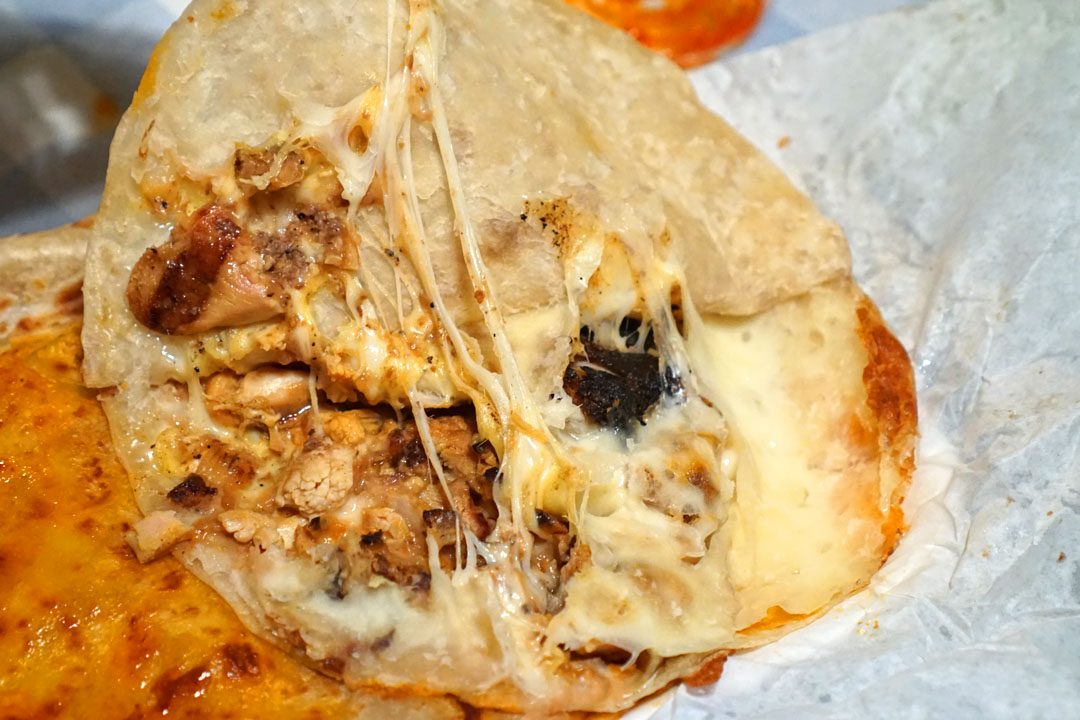 Caramelo de Pollo [$5.98]
Unlike the first, my second caramelo wasn't lacking in the cheese department, and indeed, said cheese melded quite well with the chicken, which was pretty spot-on texturally, and boasted a nice sear to boot.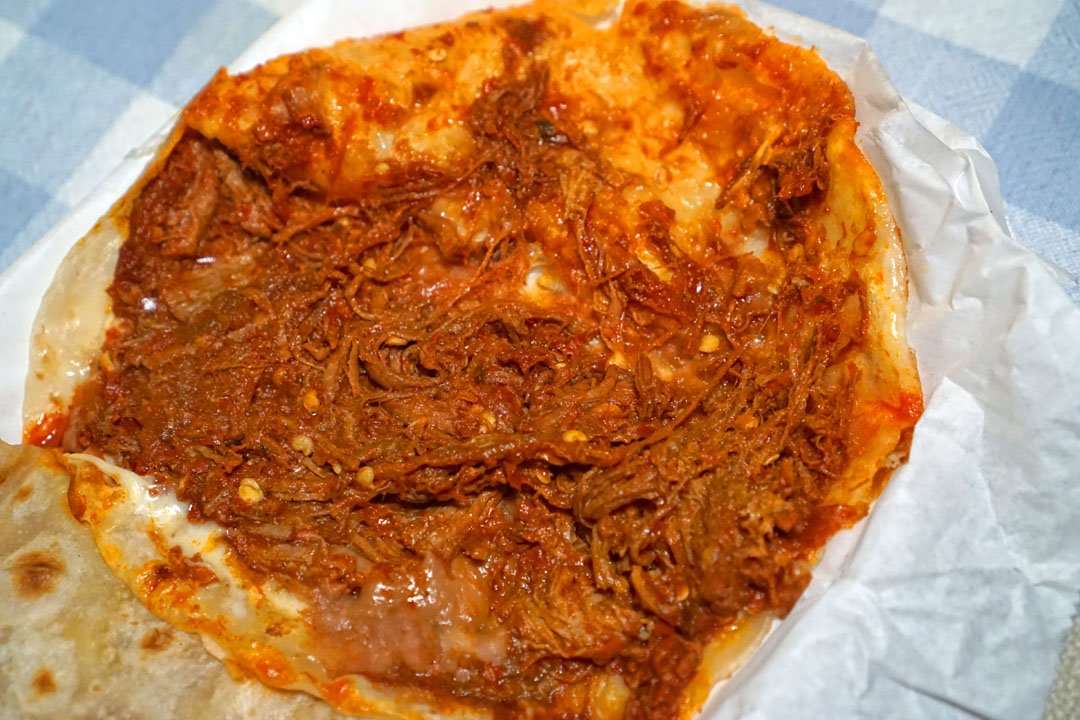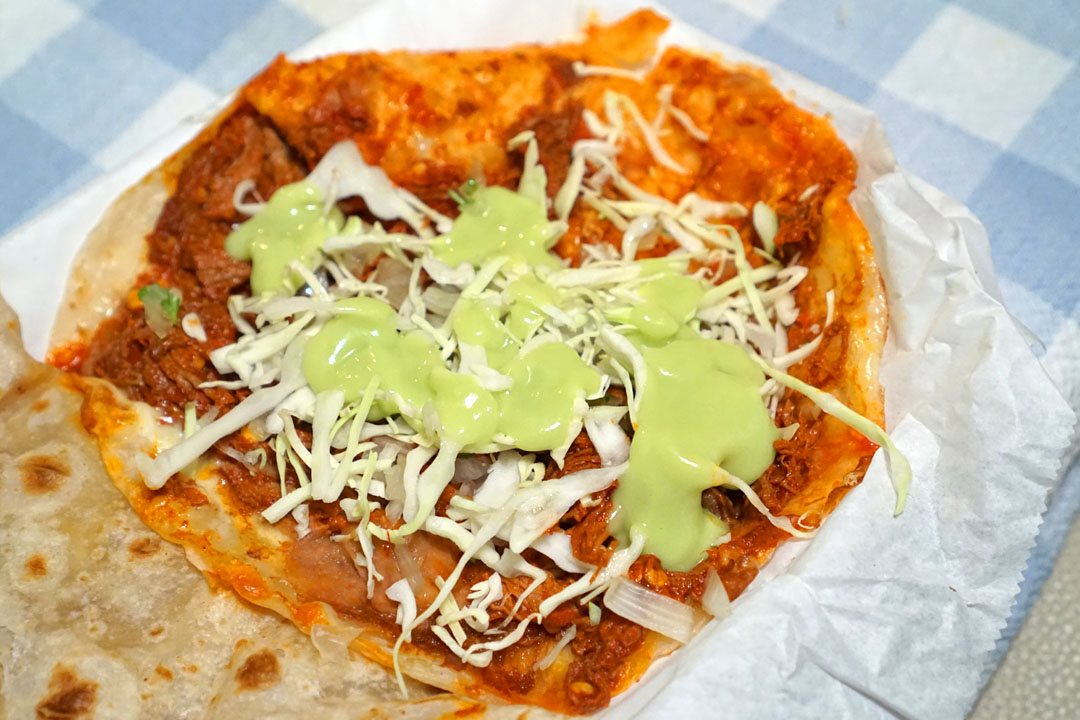 Taco de Chile Colorado [$4.94 + $0.26]
Last up was this taco, filled with flossy strands of long-cooked beef that displayed a lovely earthy spice. The meat was certainly tasty alone, but really opened up when paired with those crunchy shreds of cabbage. And again, the flour tortilla really made its presence known.
My meal at El Ruso didn't quite reach the lofty heights that I was hoping for, but perhaps that's a near impossible task given the massive amounts of hype that the place has garnered recently. That being said, what I ate was still quite good, and furthermore, I do have to give the team credit for those supple, stretchable tortillas, which alone may warrant a visit.