Detention (Santa Ana, CA)
Detention DTSA
220 E 4th St, Santa Ana, CA 92701
714.560.4444
www.detentiondtsa.com
Tue 01/18/2022, 07:15p-09:35p

If you've been checking this blog over the past several weeks, you'll surely have read about the closure of Jason Quinn's Playground, one of my go-to spots in Orange County. In fact, I even made it a point to get in final meals at both
Playground
and its sister eatery, the tasting menu-focused
Playground 2.0
(now known as
Trust Kitchen
, and led by Justin Werner). Given my fondness for these restaurants, I absolutely felt the need to prioritize a visit to Playground's highly anticipated replacement: Detention.
Detention debuted on January 18th, making this an opening night dining report, so yep, we're doing things old school style. Though Quinn is no longer involved in the day-to-day here, the place is led by some familiar faces. The front-of-the-house and beverage program is still the charge of Jarred Dooley, who's been on the team since Playground opened back in 2012, while the running the kitchen is Executive Chef John Parker (a.k.a. Chef Parkie), who's been promoted from his former Chef de Cuisine role at Playground.
About the Chef
: Parker attended the now-shuttered
Art Institute of California
in Santa Monica, where studied for two years before earning his associate degree in 2007. He started cooking at the Sherwood Country Club near Thousand Oaks while he was still a student, and stayed on after graduation. In April 2009, he began working as a sous at the nearby Mediterraneo, the restaurant at Westlake Village Inn, but left in 2010 for a gig up in Seattle at Tom Douglas' Dahlia Lounge. However, in 2011, Parker returned to Westlake Village Inn as Exec Chef, a position he held until the end of 2015. In February 2016, he went to cook at Uchi in Dallas, but the job only lasted for a couple months, while his stint at CBD Provisions at The Joule hotel was only slightly longer. November 2016 saw Parker become exec sous at Gemma in Dallas, but he moved back to SoCal in spring 2018 to help open Davio's, an Italian steakhouse in Irvine. From there, he was hired as CdC at Playground in February 2019, and has been around since.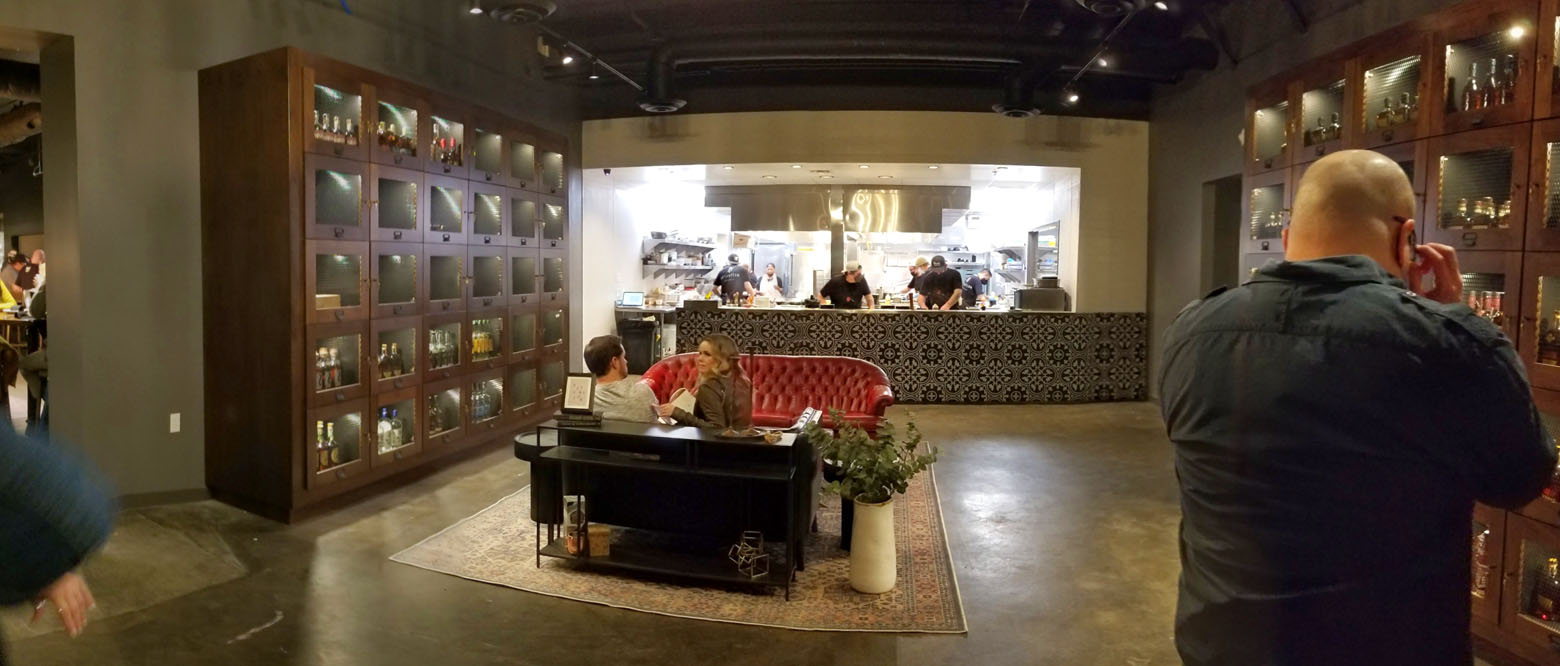 Inside, the same basic layout remains from the Playground days, but the space has been reconfigured and refreshed by Shanna Kerr over at
S.M. Design Associates
. The restaurant's primary entrance and host stand is actually located in what was previously the middle dining area, and as we can see above, the room now boasts liquor lockers.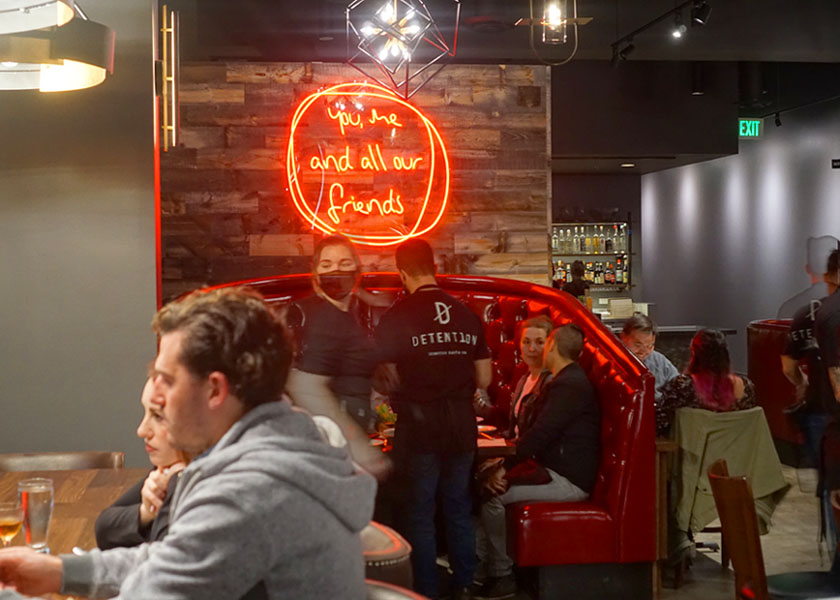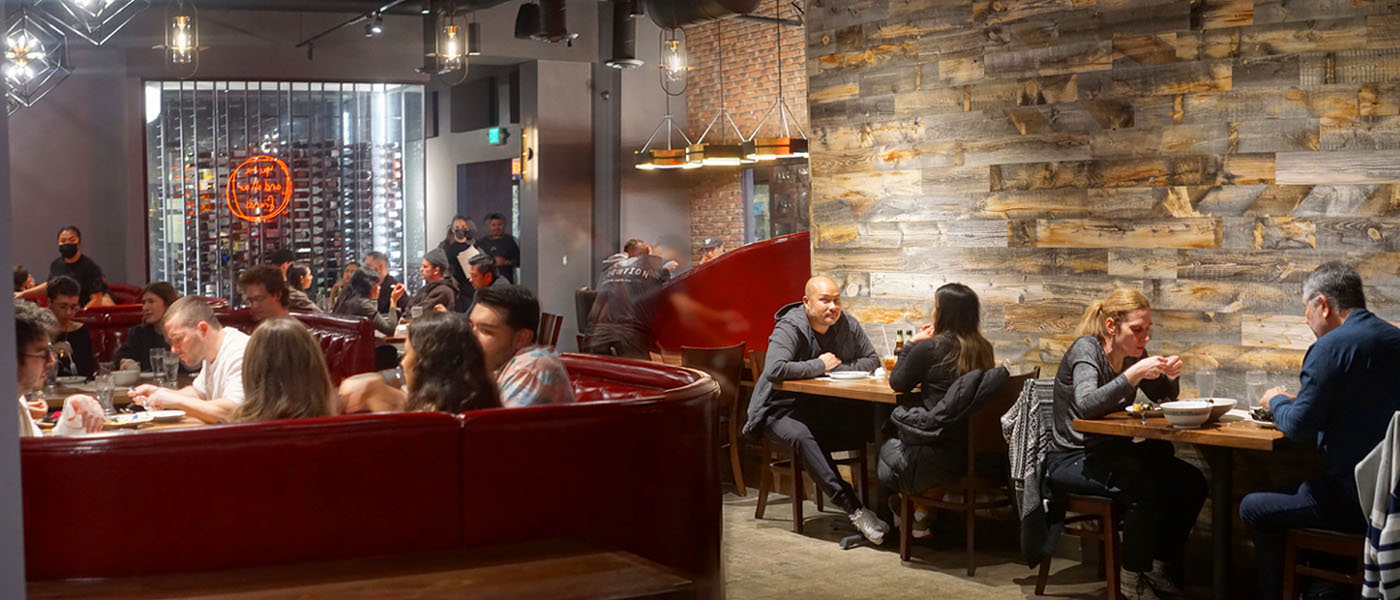 The main dining space is off to the right, and comprises the former west dining room as well as the old private event space in the back. Both seating and lighting have been improved, making for a more comfortable eating experience overall.

As for the space that comprised the original pre-expansion Playground, it's been turned into a much more intimate bar/lounge area that's rather conducive to postprandial drinking. Note that there's also an expanded patio attached to this room, though it wasn't in use this evening.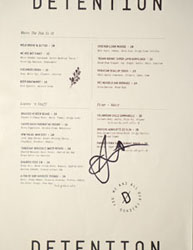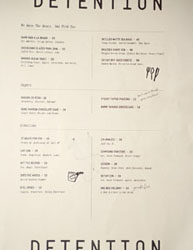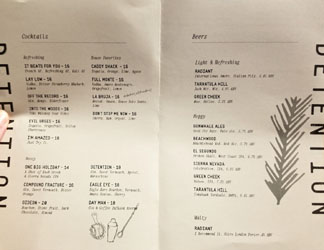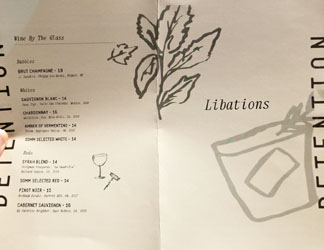 According to Chef Parker, his new menu for Detention "plays on nostalgia" and rotates seasonally instead of seemingly randomly as was the case before. The food also seems a bit less "all over the place," which admittedly was one of Playground's charms. Meanwhile, the beer/wine/cocktail situation doesn't look like it's changed all that much. Click for a larger version.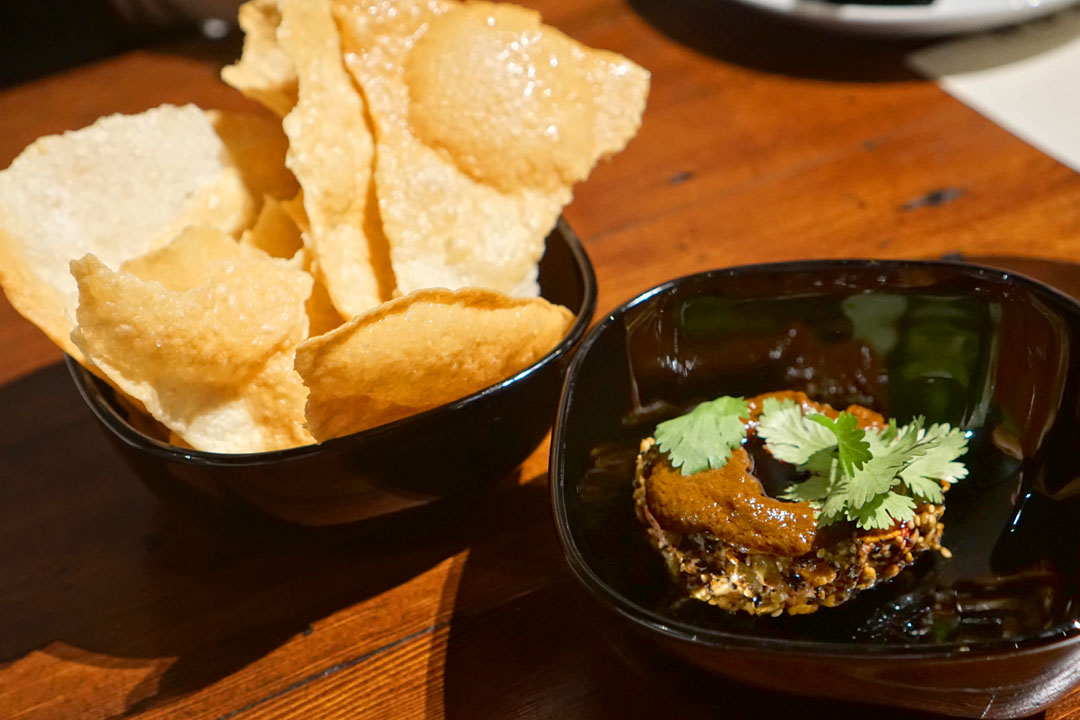 Chicken Liver Mousse [$20.00]
| Mole Negro, Chamoy, Salsa Seca, Crispy Flour Tortilla
The evening's first dish wasn't very visually attractive, but it turned out to be one of the best preparations of chicken liver mousse I've ever had. I absolutely loved all the nutty-herby flavors going on here, and how they were so effectively juxtaposed against the heady, earthy nature of the liver. Almost as crucial was the crunch of the salsa and how it melded with the smoothness of the mousse, and if that wasn't enough, I also got a creeping heat on the back end that served as a perfect finishing touch. As for the included tortillas, they were on the brittle, oily side, so I would've preferred 'em a bit more substantial.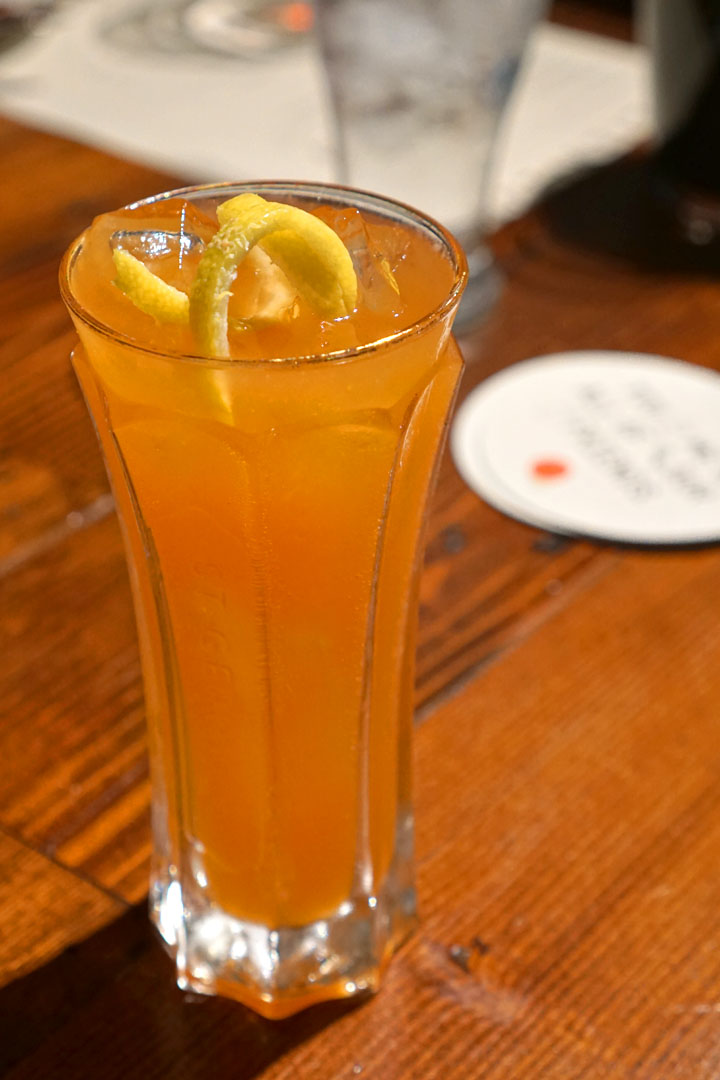 Off the Record [$16.00]
| Gin, Mango, Elderflower
We ended up sampling a half-dozen cocktails, and our first was on the easy-going side for sure, and actually made me recall a boozy version of Squirt, but one with a botanical-laced finish from the gin.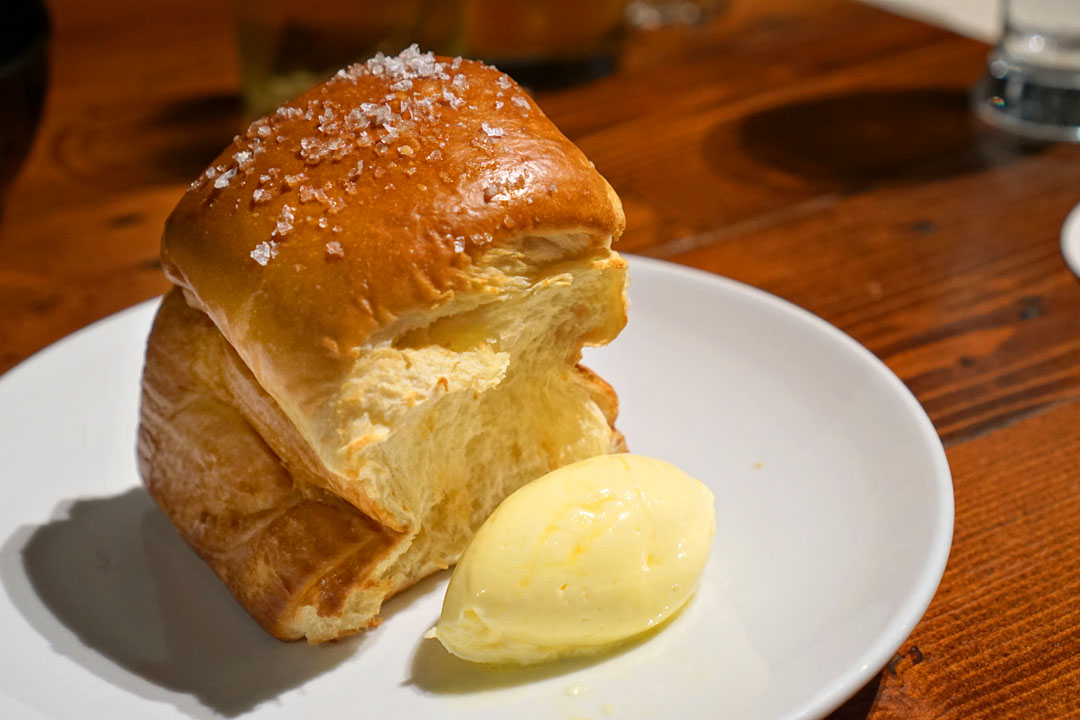 Milk Bread & Butter [$10.00]
I do appreciate a good milk bread, and Detention's was excellent. I found the loaf wonderfully soft and supple, with a sweet-ish flavor profile perked up by pricks of salt. The bread was delicious alone, but was even better when paired with that butter, which came out light and airy, and showed off an almost cheese-like quality.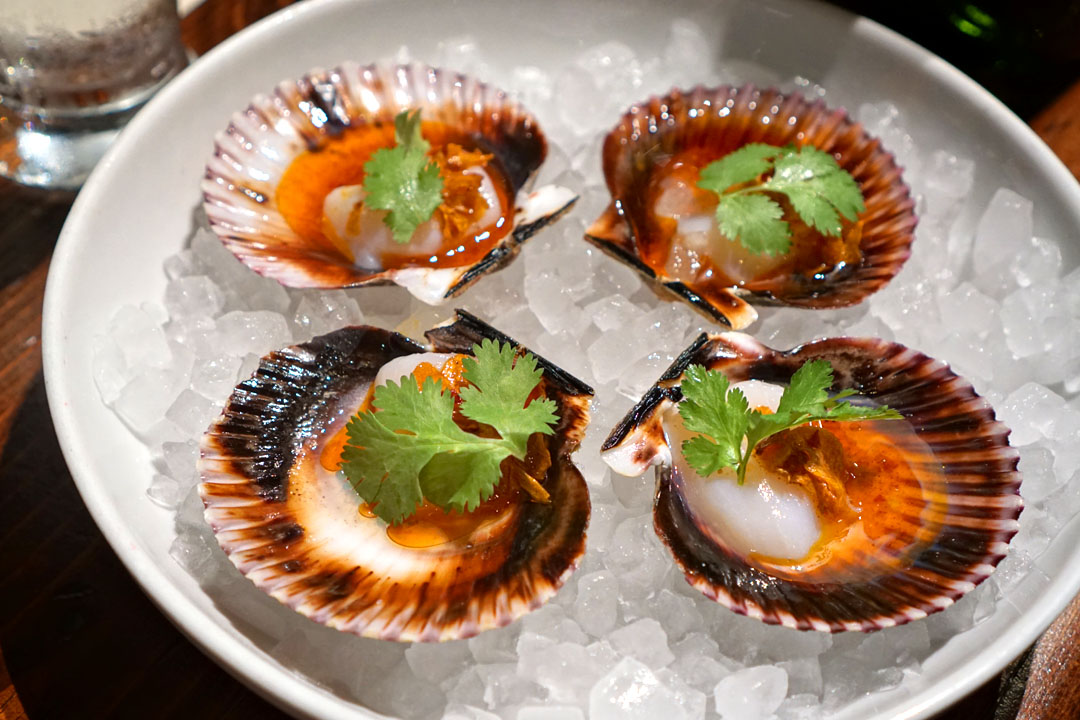 Peruvian Scallop Crudo [$23.00]
| Chili Garlic Condiment, Cilantro, Cumin, Lime
Scallops came out cool and sweet, and matched swimmingly with all the nutty, spicy notes present, while the cilantro imparted a layer of herbaceousness that was key.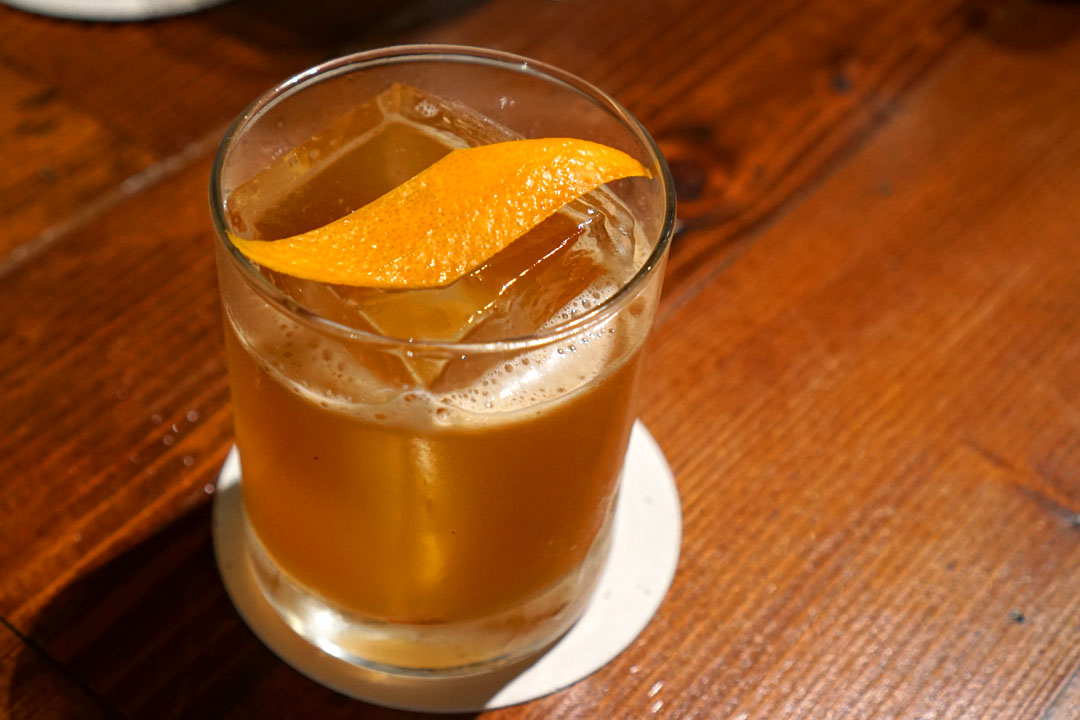 Into the Woods [$16.00]
| Tiki Whiskey Sour Vibes
Our next cocktail was a riff on the whiskey sour, and featured all your classic boozy and citrusy elements, but taken up a notch by notes of sweet, winter-y spice.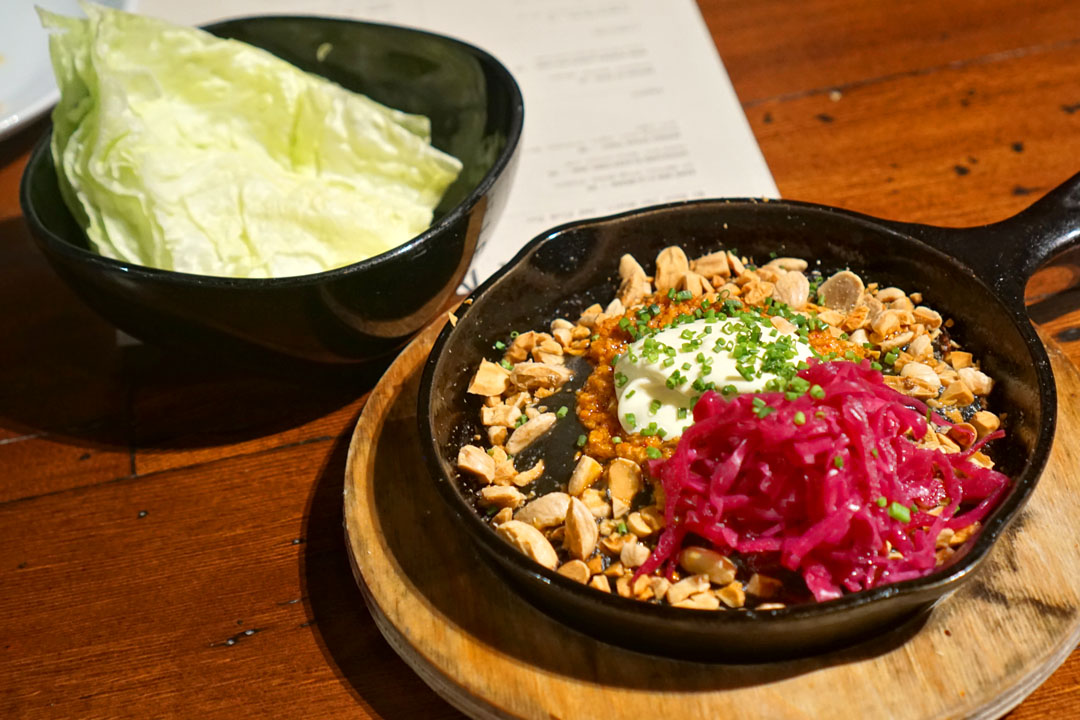 Charred Rice 2.0 [$24.00]
| Brown Rice, Burnt Allium Purée, Romesco, Saffron Aioli, Marcona Almonds, Iceberg Lettuce Cup
Playground was somewhat known for this one charred rice dish, and I have to assume that what we had here was an upgraded version of said dish. It definitely went in a Spanish direction this time around, and I really liked the crispness from the bits of
socarrat
. At the same time, there was a nutty-crunchiness that pervaded the rice, one that meshed easily with the piquancy of the romesco-saffron combo. It was all very tasty alone, but I did appreciate the extra layer of levity imparted by the lettuce cups.
I'm Amazed [$16.00]
| Just Try It.
This somewhat mysterious drink was essentially a clarified milk punch incorporating melted mint chocolate chip ice cream, single barrel malt whiskey, and mint liqueur. It really did taste like its dessert inspiration, and was indeed pretty damn amazing as far as cocktails go, living up to its moniker.
Cucumber Crush [$16.00]
| Yuzu, White Soy, Cilantro, Scallion
Crushed cucumbers were potent yet refreshingly, giving up a familiar flavor profile that did a great job balancing savory and sour with the intrinsic brightness of the veggies. Now I
am
wondering if this might be improved with the application of some heat.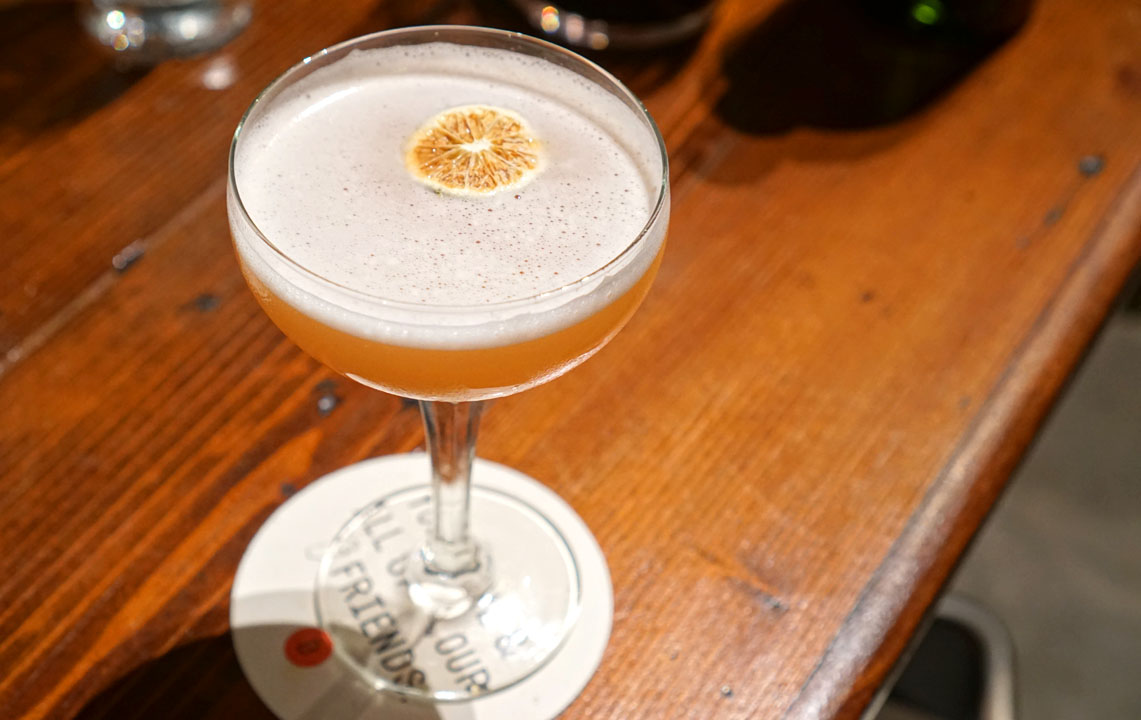 La Bruja [$16.00]
| Mezcal, Guava, House Palo Santo, Lime
Named after the Spanish word for "witch," this next cocktail was indeed rather
bewitching
. It was probably the most balanced of the bunch, with its base of fruity, tropical guava marrying beautifully with the smoke and aromatics of mezcal and palo santo, all while the lime imparted an overarching tartness.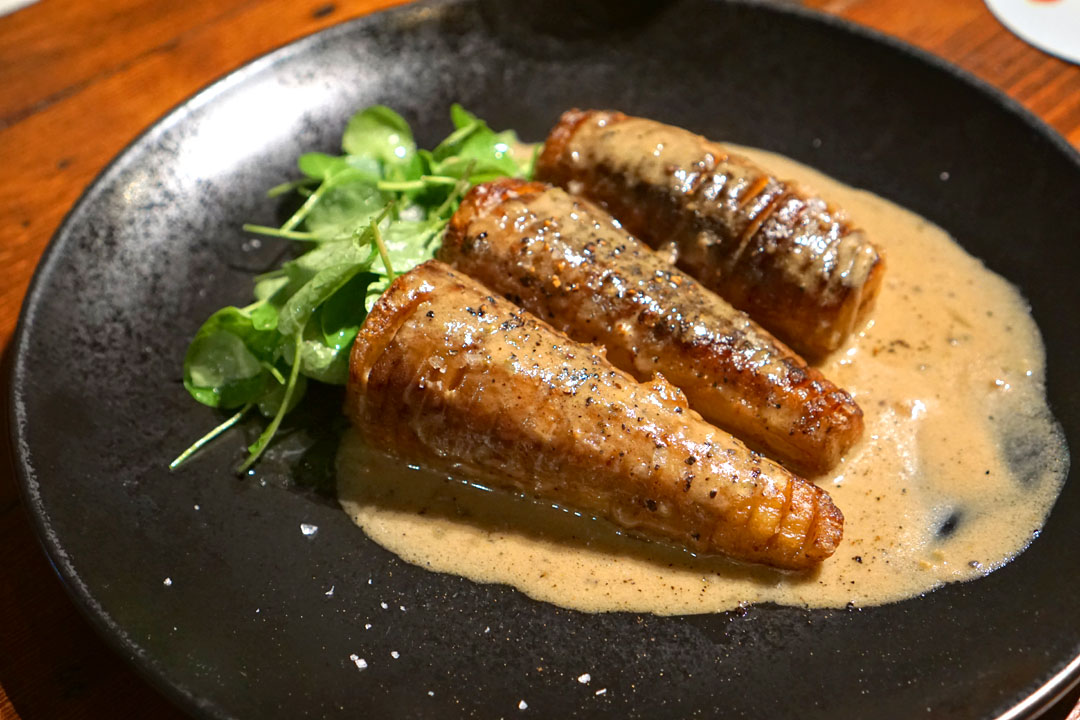 Hasselback Parsnip au Poivre [$18.00]
| Green Peppercorn, Parsnip Cream, Watercress
Parsnips had a hearty, somewhat fibrous consistency, while their natural sweetness made sense with the subdued pepperiness present. The watercress was critical, since it offered up a contrasting zestiness, but I wanted more of it, since the root veggies got a bit monotonous toward the end.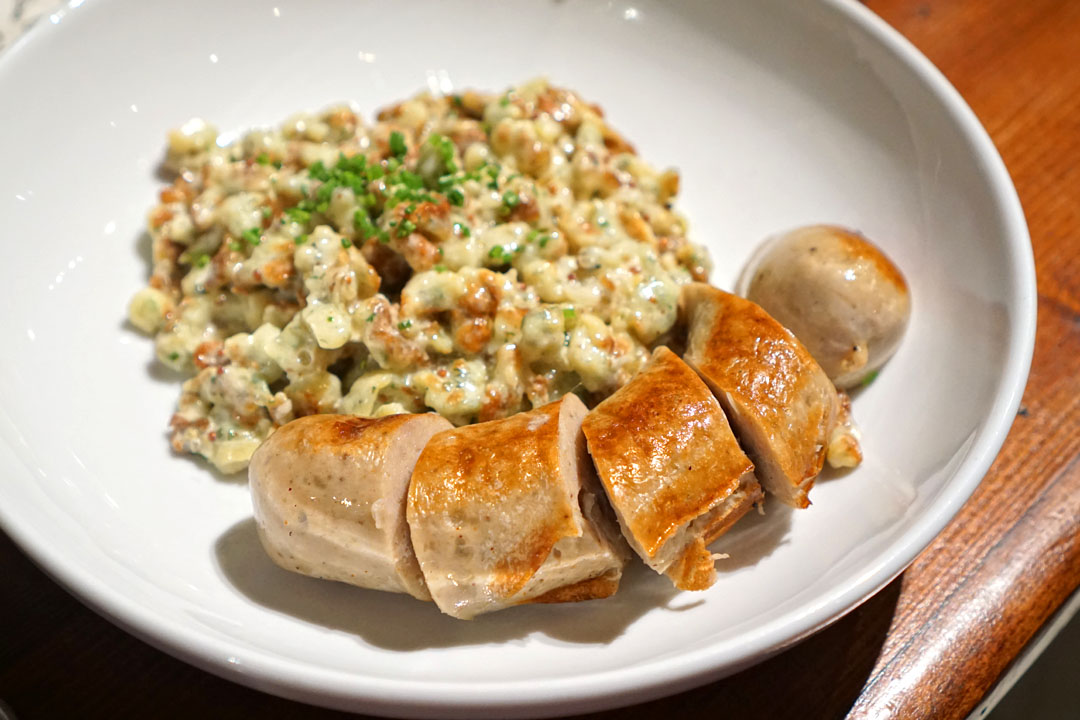 Beer Bratwurst [$16.00]
| Herb Spaetzle, Mustard Cream
Given my penchant for tubed meats, this was a must-order for me, and didn't disappoint. The sausage showcased a finespun consistency, while flavors were earthy, yet elegant. Meanwhile, that rich, herby spätzle on the side boosted the comfort factor even more.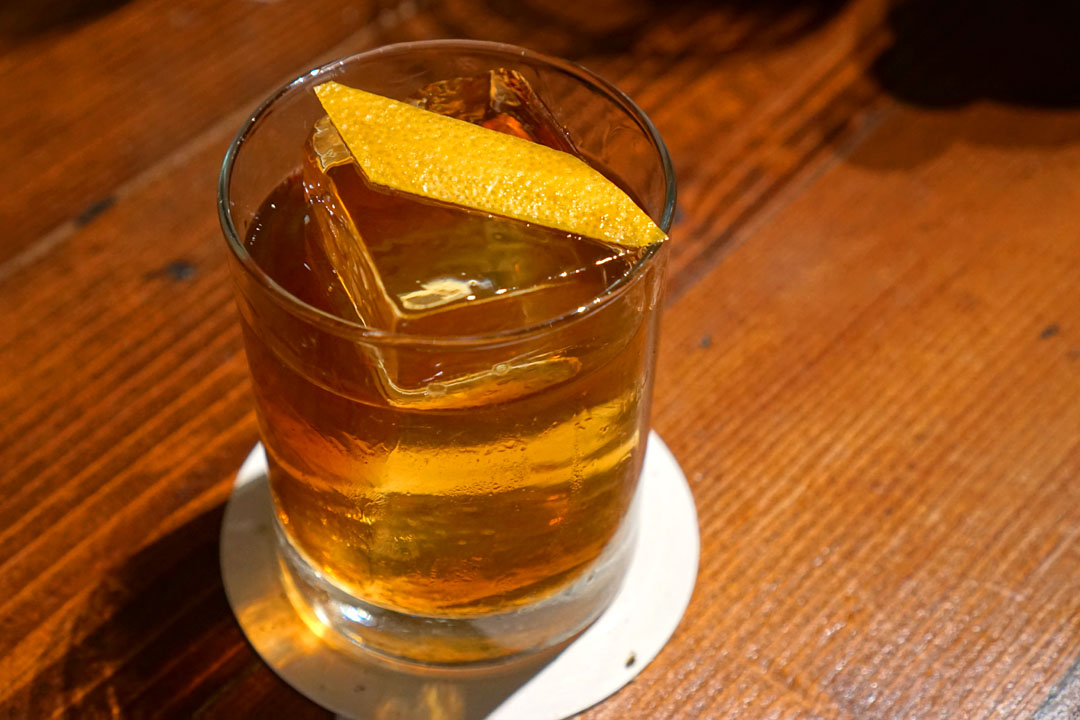 Gideon [$20.00]
| Bourbon, Stone Fruit, Dark Chocolate, Almond
This was probably the booziest cocktail of the six we tried. Following some astringency on the nose, I got boatloads of caramel, joined by a healthy amount of sugary dark fruit and bittersweet nuts. Everything came together really well.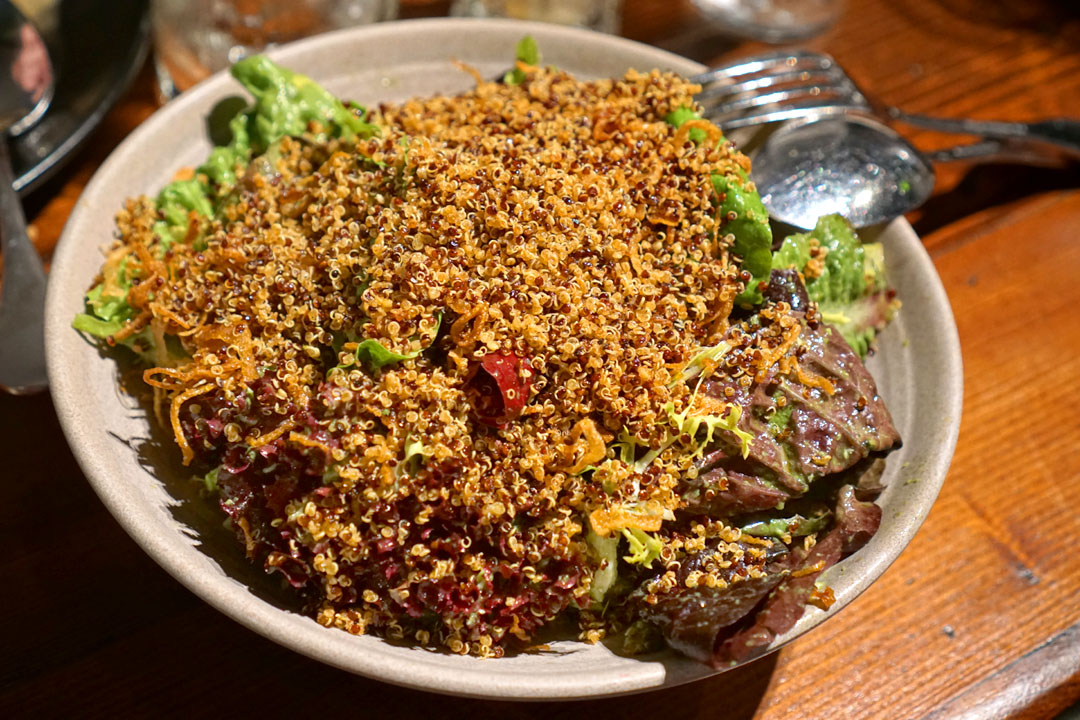 New Salad, Who Dis? [$20.00]
| Local Baby Greens, Double Dressing Theory, Crunchies, Freshies, Chewies
Here we have what I assume must be a variation on Justin Werner's signature "Ride or Die Salad," and I have to say that it was a worthy follow-up. For me, I was most drawn to the plethora of comfortingly savory, toasty parts in the dish, and how they played with the chewy, fruity components, all while the base salad and dressing contributed bitterness and tang. Some great textures here too, of course.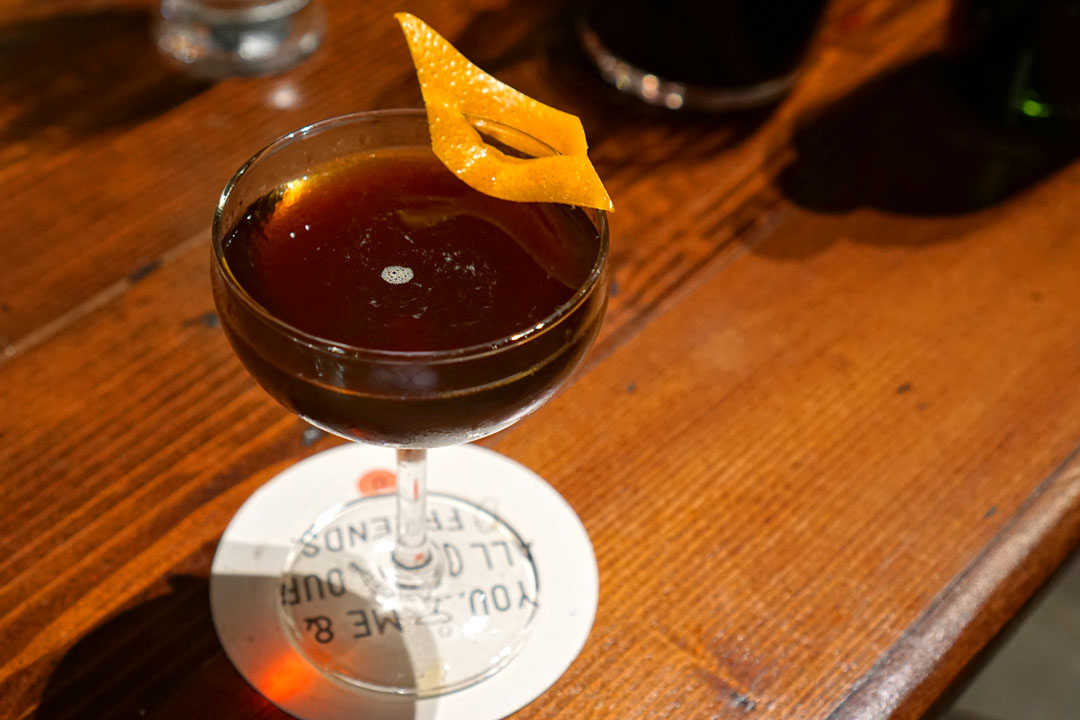 Day Man [$18.00]
| Gin & Coffee Infused Averna
Cocktail
numero sei
was also a winner. I was a fan of how the coffee interacted with the bitter, herby, spicy nature of the amaro, all while the botanical essence of the gin made its presence known toward the finish. Very cool.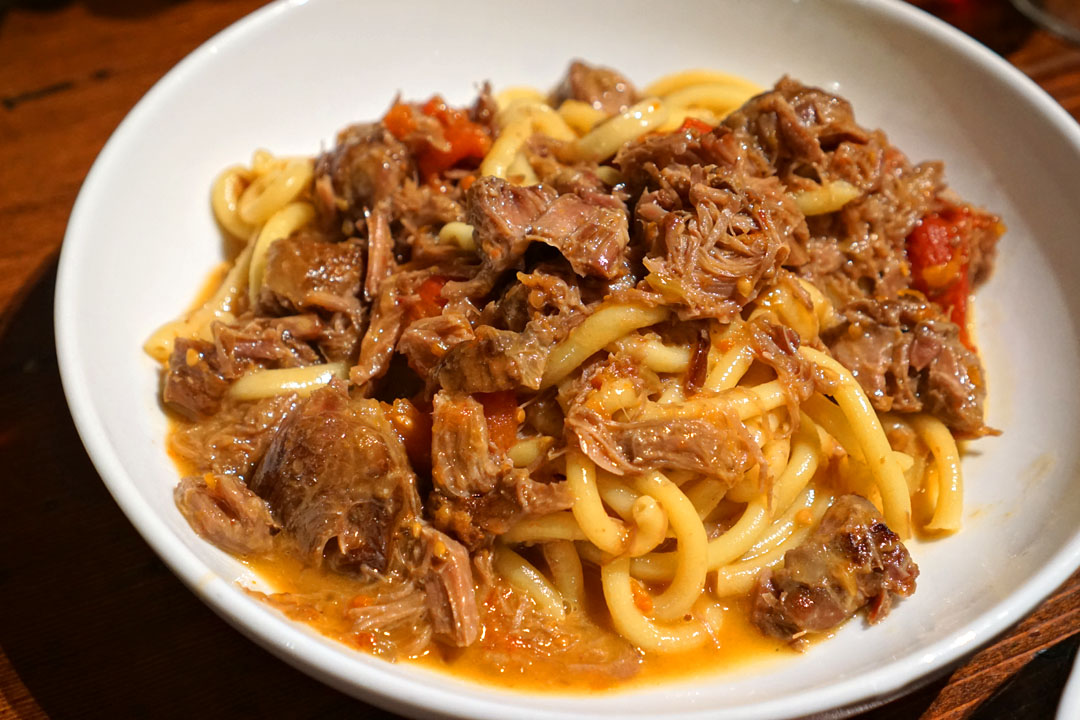 Parkie's Pork Cheek Sunday Gravy [$35.00]
| Bucatini, Sugar Bomb Tomatoes
We had to get some pasta of course, and went with the Chef's interpretation of
bucatini all'amatriciana
. The pasta itself was spot-on texturally, but the star of the show for me was the long-cooked pork, which was falling-apart tender and brimming with cozy, homey, porcine flavors that were offset just a smidge by the tartness of the tomatoes.
I also brought along a bottle of Bordeaux: the
2005 Château Lynch-Bages
, which I actually opened at 4:00pm and decanted shortly after arrival at the restaurant. It smelled strongly of grape jellies upon being uncorked, but this was later joined by aromas of chocolate, forest floor, and mint, and the wine actually got noticeably mustier when initially poured into a glass. On the palate, I got some noticeably grippy, tannic sensations, though these did subside, giving way to dark fruit, cedar, tobacco, and herb, with more of those grape candies bringing up the rear. Overall, this one could probably use a few more years in the cellar. And interestingly, I'd say that this was likely the most chameleon-like wine I've had. Not only did its presentation vary wildly depending on the food we ate with it, but the wine even tasted drastically different depending on whose glass I sipped it out of. I literally drank it back-to-back from my glass and then from one of my dining companion's glasses, and there was a world of difference between the two. We were even suspecting that the phenomenon might be due to the presence of soap residue on the stems.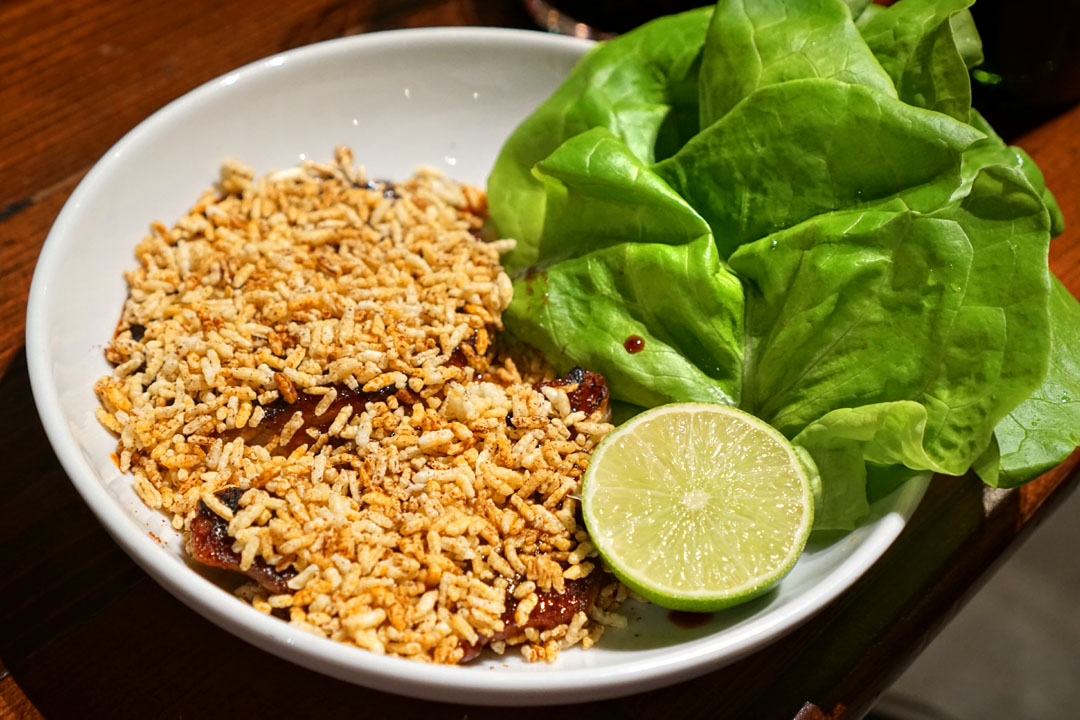 Gochujang Glazed Pork Jowl [$35.00]
| Puffed Rice, Butter Lettuce, Lime
Pork jowl is one of those things that I always tend to order when I see it on a menu, and I'm glad I did tonight. The meat was beautifully textured, and I was impressed by how its rich, fatty nature was so effectively balanced out by the mouthwateringly spicy, savory nature of the chili paste. I was also a fan of the crunchiness of the puffed rice, while the silky lettuce performed its
ssam
duties admirably.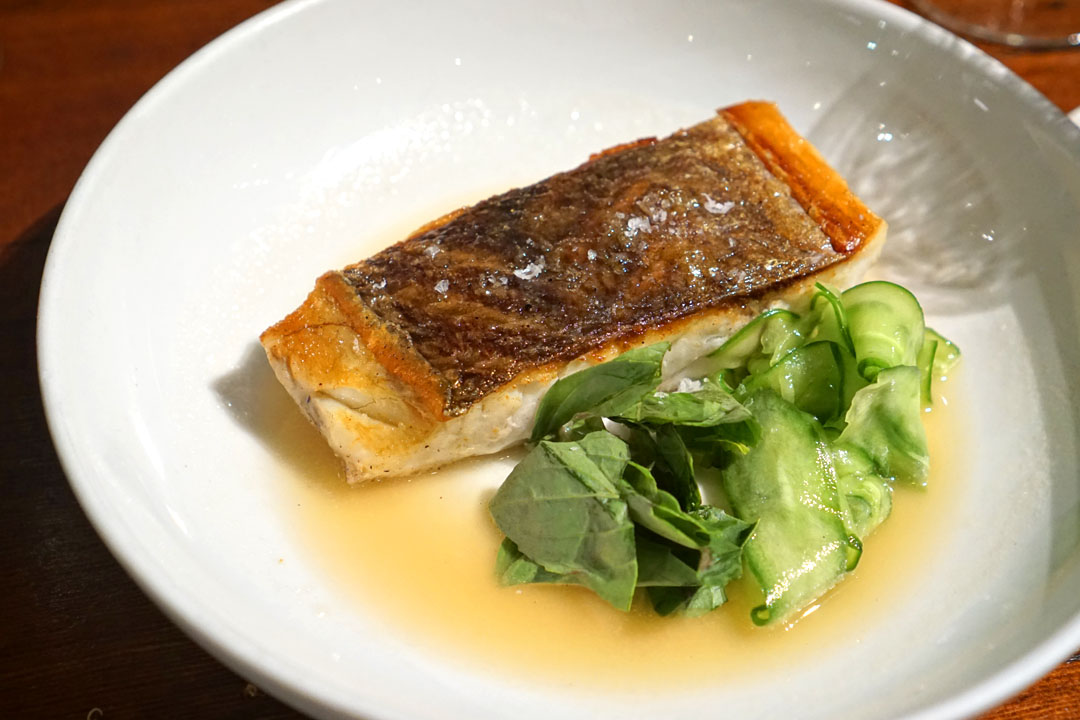 Grilled White Sea Bass [$45.00]
| Young Coconut, Salted Cucumber, Thai Basil
Our final savory dish was also a table favorite. The seabass was pretty much flawless in terms of cook, and showed off a somewhat firm, meaty, flaky consistency that really hit the mark. At the same time, the fish's finessed flavors worked hand-in-hand with the subtly aromatic nature of its accompaniments, while the crispy skin offered up perfectly placed hits of savor and salt.
Budino di Riso [$15.00]
| Strawberry, Hazelnut, Balsamic
There were four desserts offered this evening, half of which we'd already tried from Playground, so we opted to sample the two new entrants. First up was one of the better rice puddings I've had, especially texturally. The flavors really recalled strawberry shortcake for me, and I enjoyed the crunch from those hazelnuts, too.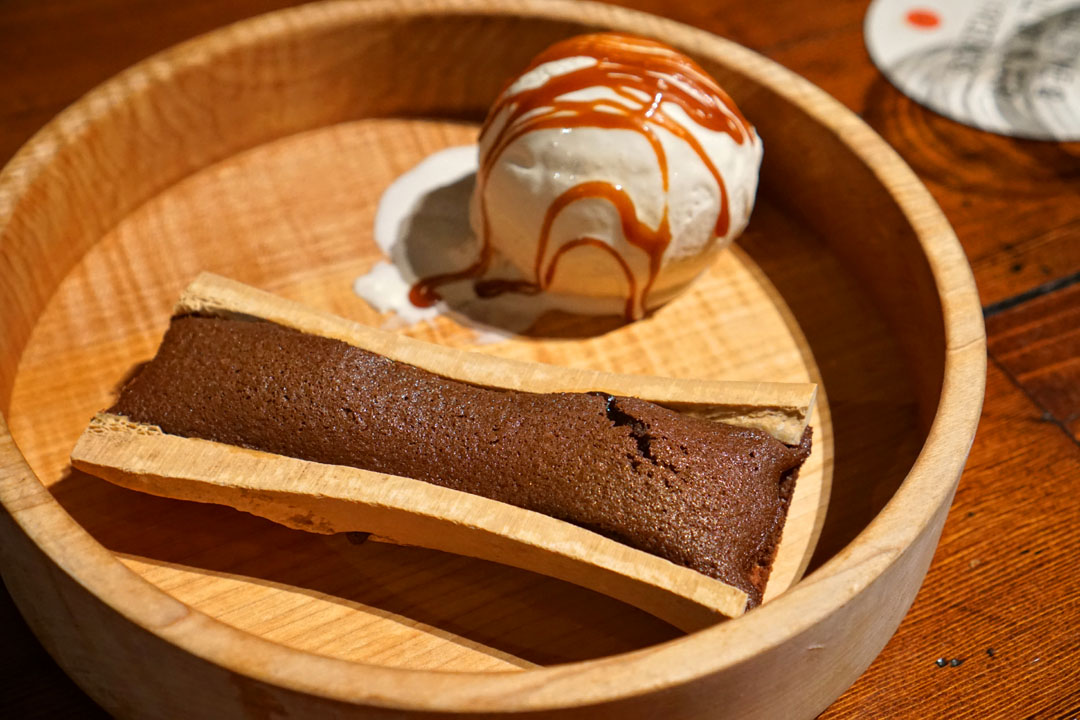 Bone Marrow Chocolate Cake [$16.00]
| Single Barrel Whiskey Semifreddo
Our second dessert was more intriguing. The cake seemed to have a bit of funkiness from the marrow, which worked out surprisingly well, and I imagine it might fun to bone luge with some chocolate liqueur. However, the hero here was that semifreddo, which did a wonderful job conveying the nature of the whiskey while also serving as a smart foil to the cake.
I was certainly saddened by Playground's closure, but I'm delighted to report that Detention is a more than worthy replacement. The restaurant is off to a strong start, pretty much firing on all cylinders right off the bat, which I guess shouldn't be too surprising given that most of the old Playground team is still in place here. I'd say that the cooking's a tad less "out there" compared to what I've encountered during the Playground years, but it's still fun, fresh, and even a bit whimsical, and I'm very interested to see where Chef Parker takes his cuisine in the future.