Gogo's Tacos (Los Angeles, CA)
Gogo's Tacos
3660 Beverly Blvd, Los Angeles, CA 90004
213.277.1935
www.gogostacos.com
Wed 01/12/2022, 09:00p-10:00p

I was recently looking for a place to get some taco-based takeout, and decided to check out Gogo's, which is probably one of the buzzier taquerías as of late. Situated in a somewhat offbeat part of town that's simultaneously north Koreatown and Rampart Village, the restaurant takes over the former home of Tacos Mexico, and grand-opened back on September 1st. As for who's behind this project, Gogo's is the work of none other than Brittney Valles, and is supposedly named after her mother's nickname.
Now if you're not familiar with Valles, she's most known for her work with
Guerrilla Tacos
, but actually started her hospitality career at Handsome Coffee Roasters and
Petty Cash
.
Wes Avila
asked her to come on as a partner in GT in late 2015, and the pair opened the brick-and-mortar
Guerrilla Tacos
location in 2018. She became the main owner of GT in 2020 following Avila's departure, and she's since expanded the business to include the daytime-only Guerrilla Cafecito, and has also involved herself with Hollywood's Tiago Coffee Bar + Kitchen. Gogo's has been in work since at least 2020, and to run the kitchen here, Valles has brought on LA dining veteran Christina Galtman as Executive Chef.
About the Chef
: Born in July 1982, Galtman hails from Whittier, and first got interested in cooking through her Mexican grandmother. Following graduation from Pioneer High School in 2000, she enrolled at the California School of Culinary Arts in Pasadena, and got her first real kitchen job at the original
Patina
(on Melrose), cooking under both
Walter Manzke
and
Eric Greenspan
. She then began working with
Gary Menes
, and followed him to Marché, The Hall Courtyard Brasserie (at Palihouse), the Quartier pop-up at Olive & Thyme, and
Le Comptoir at Tiara Cafe
. Galtman subsequently stepped away from the restaurant industry to focus on her kids, and thus found employment as a private and corporate chef (she even worked for Sodexo and sold tamales out of her home). However, starting in 2015, she did help out with Guerrilla Tacos (remember, both she and Wes Avila worked extensively with Gary Menes), so it makes sense that, in July last year, Valles selected her to be Gogo's' Exec Chef.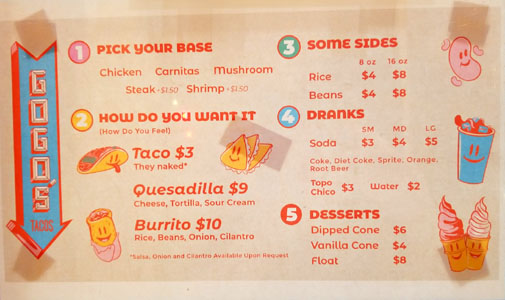 The menu's pretty simple: five proteins in your choice of format, along with a couple sides. Click for a larger version.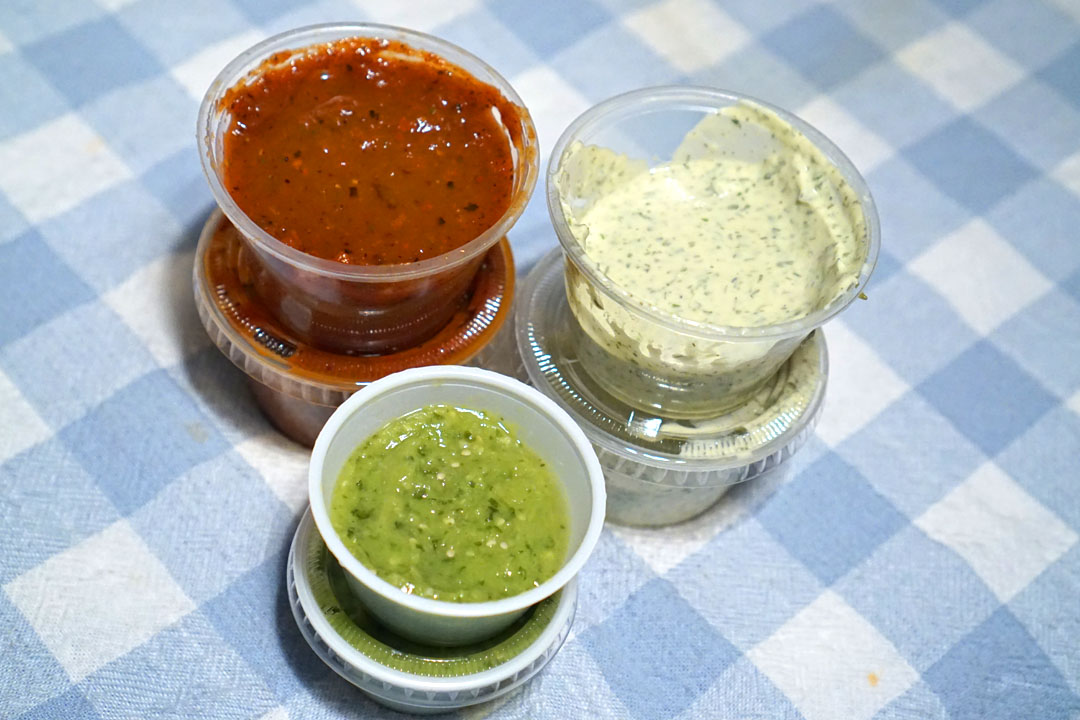 I was provided three complimentary salsas with my order. The roja showcased a tomato-y sweetness up front, which then led to smoke, salt, and surprisingly potent heat that lingered long. On the other hand, the verde ate tangy and even a bit vegetal, while the Gogo's sauce was almost crema-like, and quite herbaceous (is that dill I taste?).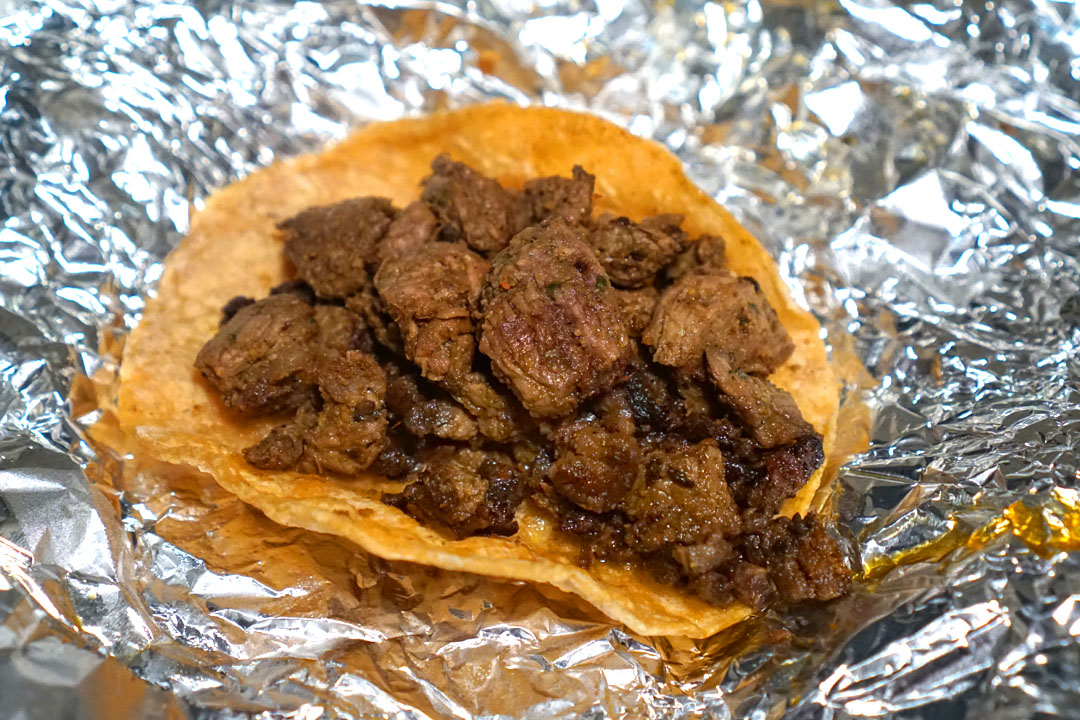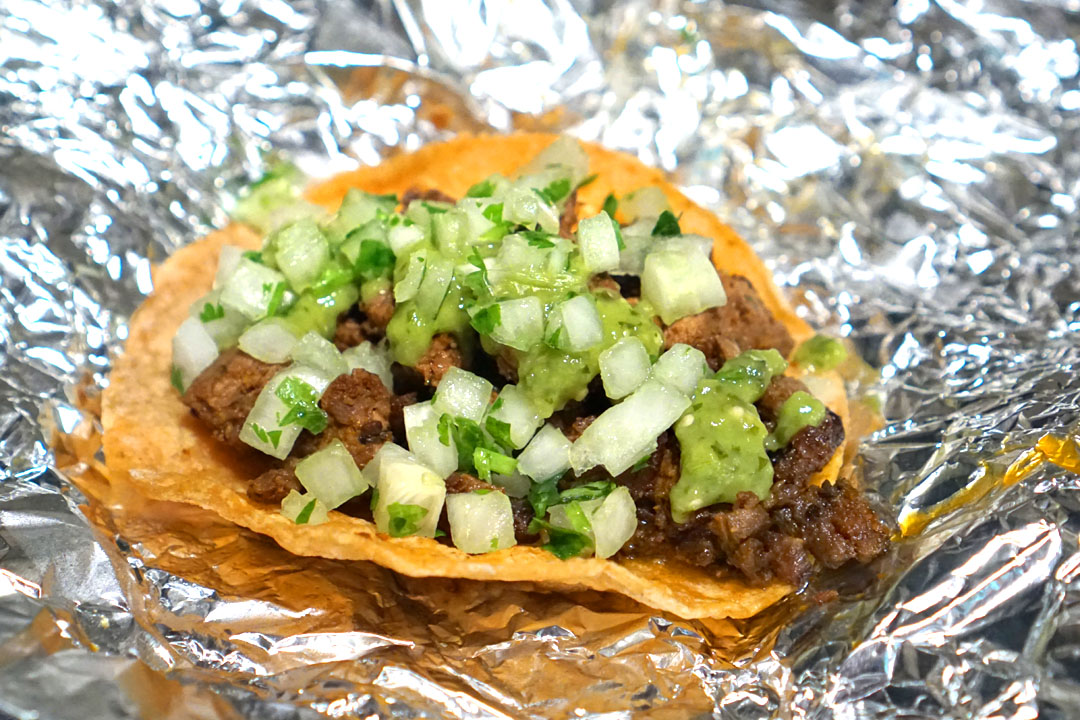 Steak Taco [$4.50]
| They naked
I had to begin with the carne asada, no doubt the most prototypical of taco fillings. The steak used is apparently prime rib eye, and I found it well-seasoned and full-flavored, with some crispy bits to boot. It opened up quite nicely when taken with a dash of green sauce, though I definitely would've preferred a rarer cook on the meat.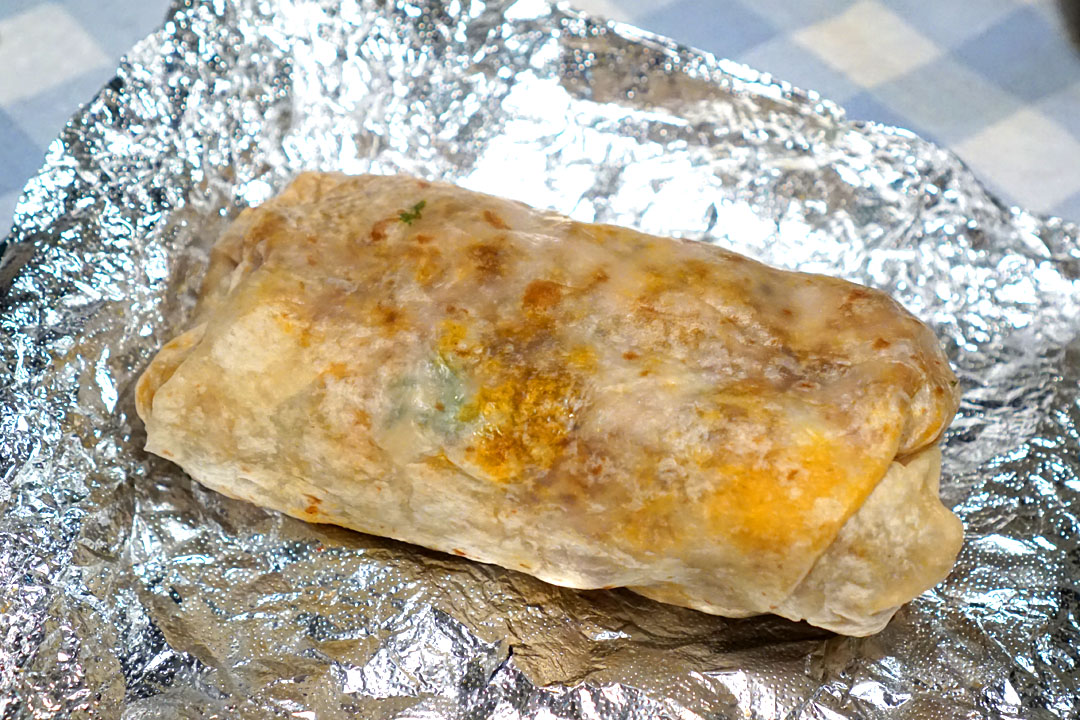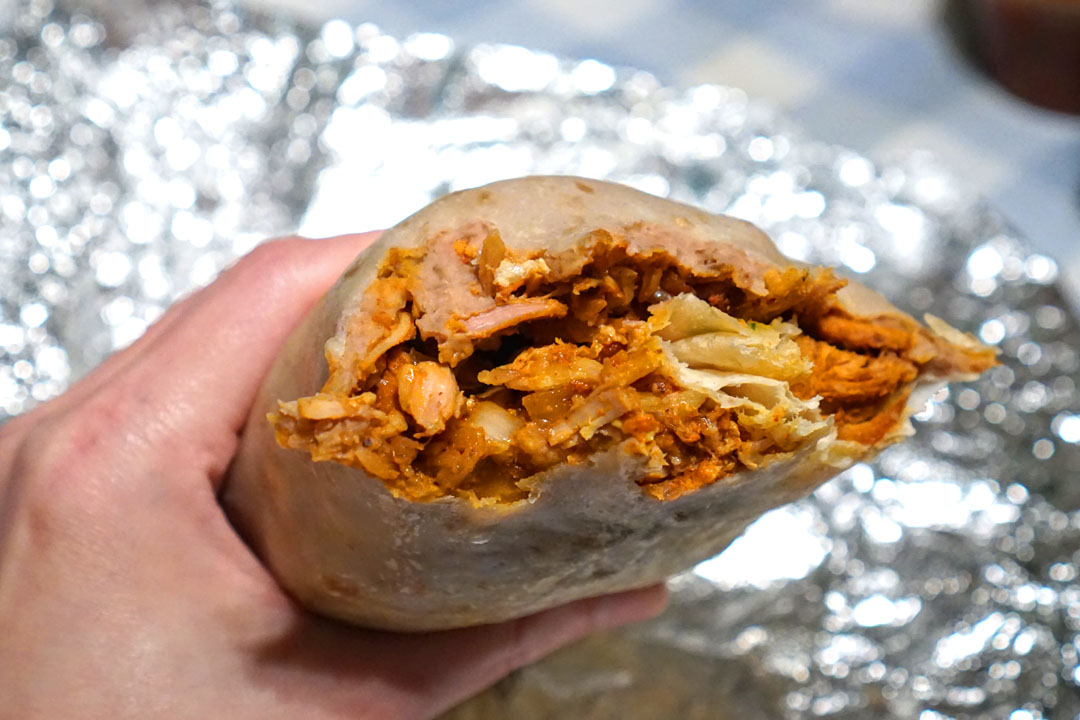 Chicken Burrito [$10.00]
| Rice, Beans, Onion, Cilantro
The burrito was a rather hefty package, and pretty old school in its execution. Its filling of chicken (thigh I believe, based on the texture) displayed some classic, cozy, tinga-like flavors that called for a sprinkling of onions and cilantro, as well as some salsa verde, to really enliven things.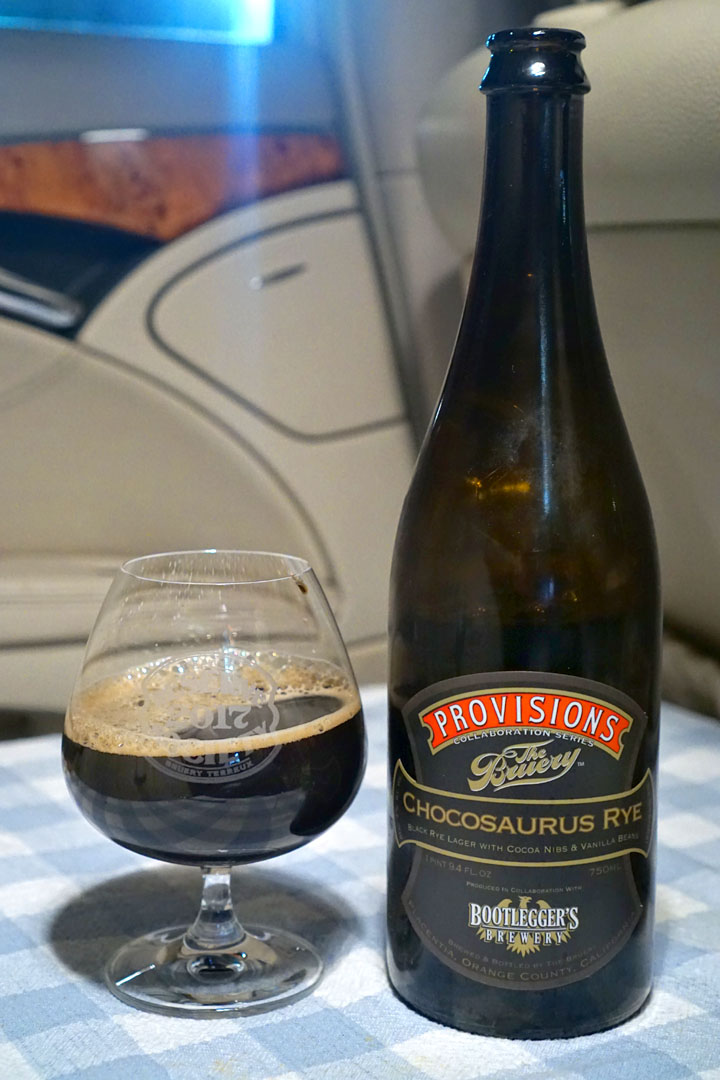 Beverage duties were taken care of by the
2012 The Bruery Provisions Collaboration Series: Chocosaurus Rye
, a black rye lager with cocoa nibs and vanilla beans that was created in concert with Bootlegger's Brewery out of Fullerton. The beer smelled sweet and malty at first blush, but I also got secondary notes of musty plums, metallics, and green olives. Taste-wise, think roasted malts, chocolate, toffee, dark fruit, and more of that olive on the back end. I didn't get much of the advertised vanilla, but overall, this one has held up reasonably well over the past decade.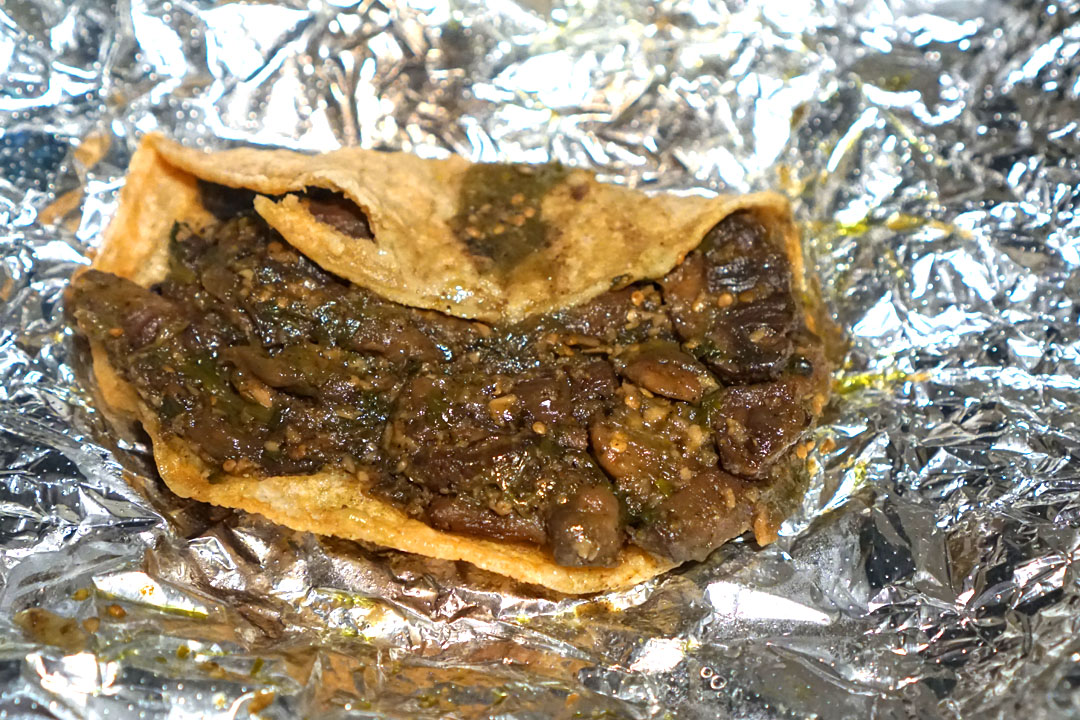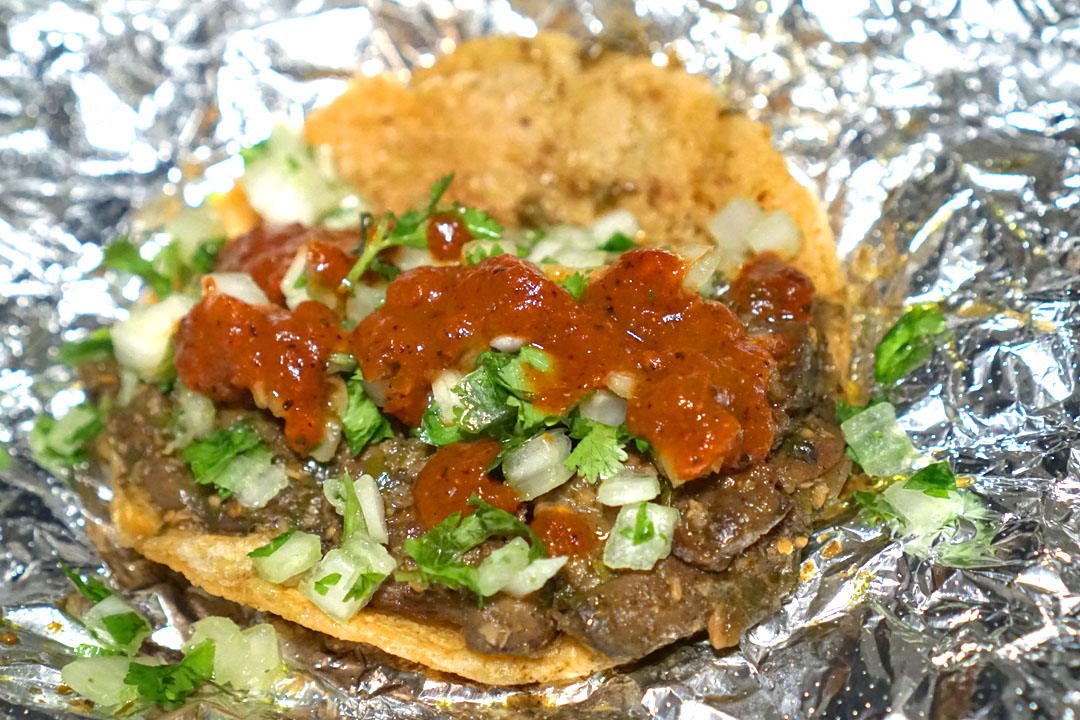 Mushroom Taco [$3.00]
| They Naked
Mushrooms were assertively seasoned, and had a definite herbal quality to them, along with a nutty backing. Cilantro and onion were crucial for balance, and the
hongos
also seemed to emphasize the floral qualities of that salsa roja.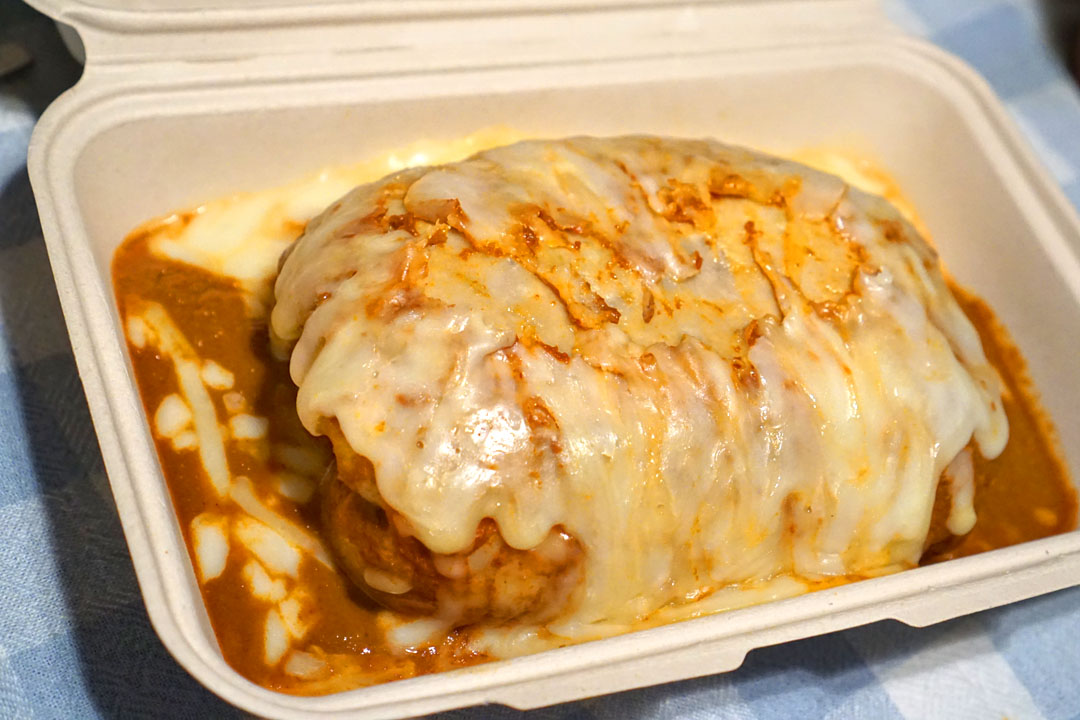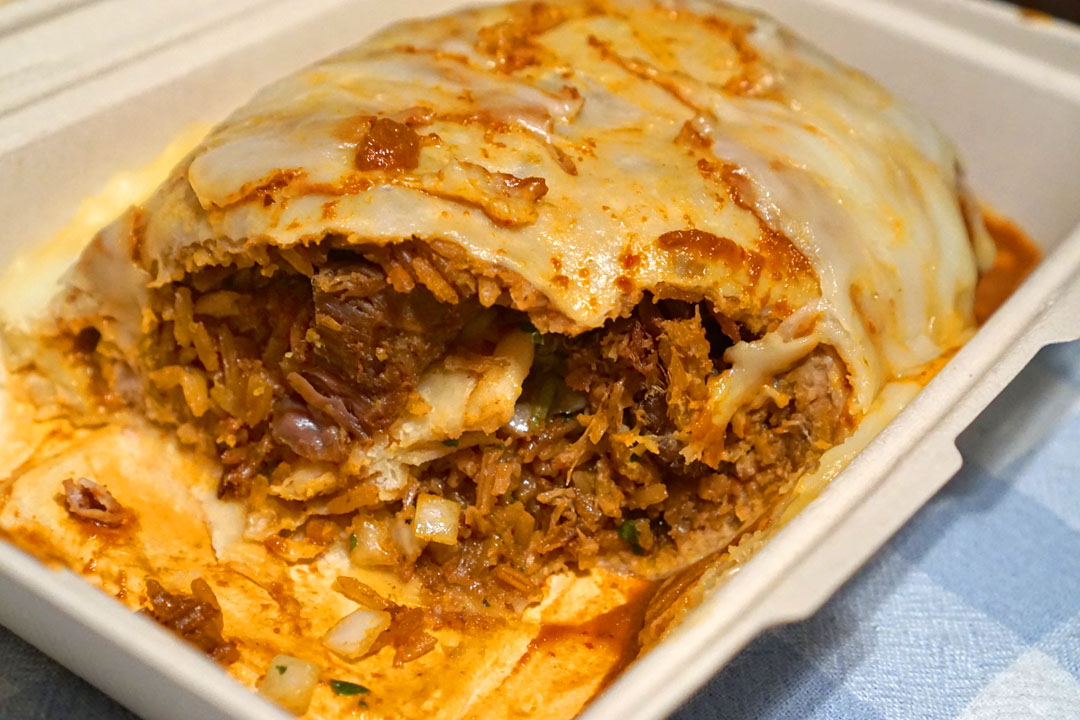 Carnitas Wet Burrito
A massive brick of a thing, the
mojado
burrito was a special this evening, and came doused with liberal amounts of both mild red sauce and shredded cheese. The carnitas was about what I expected, the meat's porky, salty, homey character really yearning for the application of salsa, cilantro, and onion to brighten things up.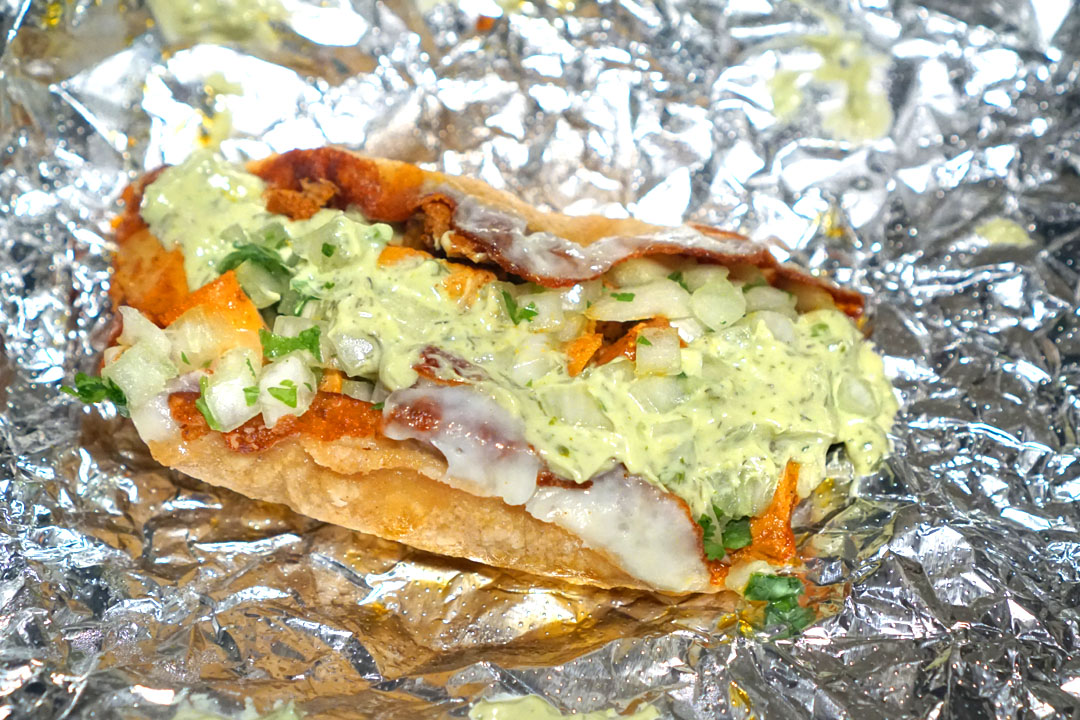 Chicken Taco Gogo's Style [$3.00 + $1.00]
I had my pollo taco dressed up "Gogo's Style," and the result was better than I expected. The mild spicing on the chicken melded surprisingly well with the creamy, herby nature of the Gogo's sauce, and I quite enjoyed the very apparent nature of the fried cheese here as well. An effective variation on the classic taco formula.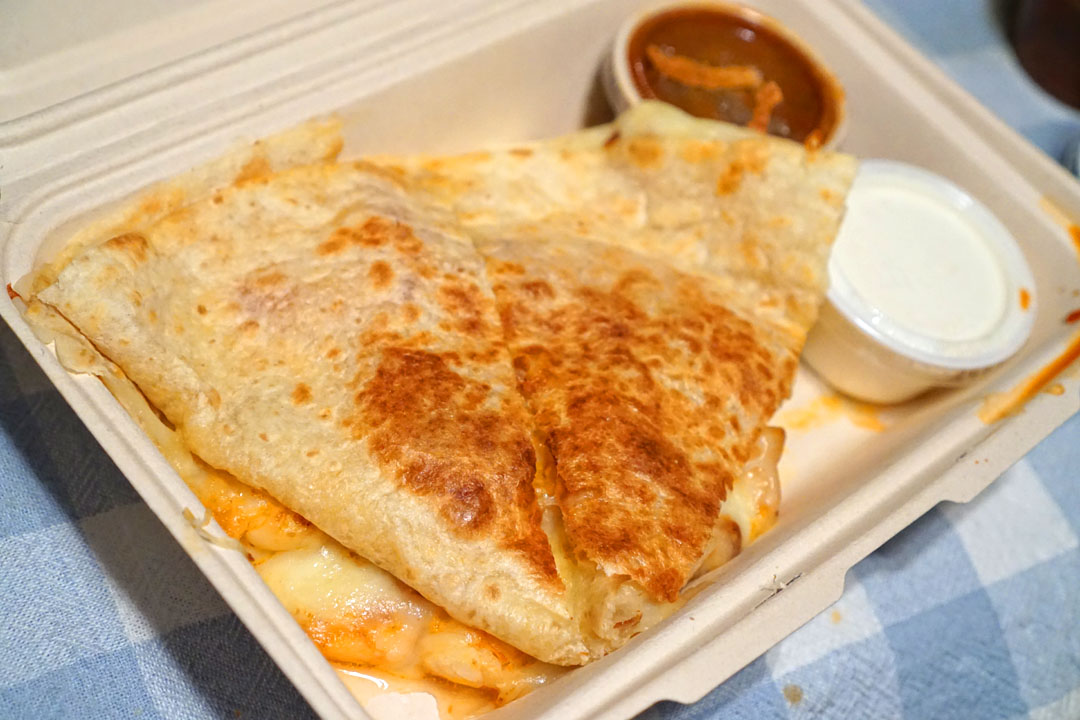 Shrimp Quesadilla [$10.50]
| Cheese, Tortilla, Sour Cream
Last up was the quesadilla, and with this one, I was pretty impressed with the cook on the actual shrimp, which weren't overdone and showed off a nice snap. They also had a healthy brine to 'em, one that married easily with all the cheese going on. Try this with the Gogo's sauce as well.
Gogo's is quite unlike Guerrilla Tacos, which I guess is sort of the point. The cooking here is generally pretty straightforward, and the place makes for a solid taco option in the area. From what I've seen, the spot appears to be well-received thus far, and Gogo's seems like an easily replicable concept, so I wouldn't be surprised if Valles has expansion on her mind. This also makes sense, as given that she's committed a portion of the restaurant's earnings to the Juan Carlos Cantoni Foundation (a transitional age youth-focused non-profit), more locations would mean potentially more people helped.