Yangban Society (Los Angeles, CA)
Yangban Society
712 S Santa Fe Ave, Los Angeles, CA 90021
213.866.1987
www.yangbanla.com
Sat 01/15/2022, 09:35p-11:00p

The first "big" debut of 2022 has got to be that of Downtown's new Yangban Society, which opened on January 10th. It comes to us from the Korean-American wife-and-husband team of Katianna Hong and John Hong, in partnership with
Sprout LA
, the ubiquitous hospitality group responsible for many of our City's most beloved eateries. The restaurant takes its name from the
yangban
(양반), basically Joseon-era aristocracy, but the Hongs have used the term ironically here, as this place is meant to have mass appeal. And indeed, the main draw is a deli that serves up fare inspired by Korean, Californian, and even Jewish culinary traditions. More composed plates are also available from the kitchen, and if that's not enough, there's even a retail component selling various food and drink items, as well as home and personal goods, all with a focus on local and Asian-American producers.
About the Chefs
: Born in July 1983 in Chungnam, South Korea, Katianna Hea-in Hong was formerly known as Katianna Weiner, since she was adopted by an American couple at three months old. Raised by a German-Jewish lawyer dad and an Irish-Catholic art teacher mom, she grew up in Clifton Park, a town in Upstate New York. Though her family wasn't particularly into cooking, she did develop somewhat of an interest in food (specifically the more Jewish aspects), but her main focus in those early years was on gymnastics. Hong was actually training for Olympic-level competition, but in her early teens, suffered an injury that dashed those chances and strained her relationship with her parents.
After graduating from the Albany Academy for Girls in 2002, she attended Manhattan College, but quit after only a semester. She subsequently returned home and got a job at a catering company, which reignited her interest in cooking. As a result, Hong soon enrolled at a local culinary school, and later transferred to The Culinary Institute of America in Hyde Park, completing her associate degree in 2005. Following, she moved to Las Vegas, where she studied hospitality at UNLV and also got her first real kitchen jobs at B&B Ristorante (2006) and DJT (2008). In 2009, she relocated to LA and became a cook at
Melisse
, which is where she first met her future partner in both business and life.
John M. Hong was born in July 1987 in Illinois, and grew up in Highland Park (a suburb of Chicago), raised by parents who had immigrated to the US from Korea in the 1980s and ran a dry cleaning business. Following graduation from Highland Park High School, he briefly attended a traditional college, but soon realized that he wanted to cook for a living. Thus, Hong pursued his associate degree at The Cooking and Hospitality Institute of Chicago from 2006 to 2007, an even externed at
Alinea
during this period. Following completion of his studies, he continued working at Alinea, but moved to Southern California with his family in 2009. Now in LA, he landed a line cook gig at Melisse, met Katianna, and the two soon bonded.
In June 2010, Christopher Kostow was a guest chef at Melisse, and invited Katianna to
stage
at
The Restaurant at Meadowood
, an offer she quickly accepted. She enjoyed her experience at TRaM, and as a result, relocated to Napa to work there in 2011, bringing John along with her. The two were still only friends at this point, but quickly became lovers while moving up the ranks at Meadowood. They started out in
garde manger
, but by 2013, both were already sous chefs, as well as engaged; they married in January 2015. At the end of April 2015, Katianna was named Meadowood's first ever Chef de Cuisine, and in that role, she helped maintain the restaurant's three Michelin stars. However, she eventually felt the need for more of a work-life balance, and in 2017, left TRaM to become opening Executive Chef at The Charter Oak, Kostow's more casual eatery. Following, John took over as CdC at Meadowood, and was also able to retain its three stars.
Things went smoothly for a while, and in 2018, Katianna was even named one of "America's Best New Chefs" by
Food & Wine
, while Charter Oak was deemed one of "America's Best New Restaurants" by
Bon Appetit
and was also a James Beard "Best New Restaurant" nominee. But in October that year, the Hongs decided to start a family, and by the end of December, Katianna was pregnant. She left her post at Charter Oak in July 2019, and was replaced by David Guilloty. After giving birth to daughter Alessia ("Sia") in September 2019, she and John moved back down to Los Angeles to begin work on their own restaurant. The two were soon introduced to some people at Sprout, and by spring 2020, plans for Yangban Society, including the location, were already in place.


Yangban Society resides in a roughly 5,000 square-foot Arts District space that previously held the likes of
Bon Temps
,
Petty Cash
, and
Fifty Seven
. The design here was the work of the Hongs, in collaboration with David "Shin" Irvin's
Folklor
and
Ross Design
. The lower level encompasses the delicatessen portion of Yangban, while the upper features more formal banquette seating, as well as the aforementioned mini-mart tucked away in one blue-painted corner.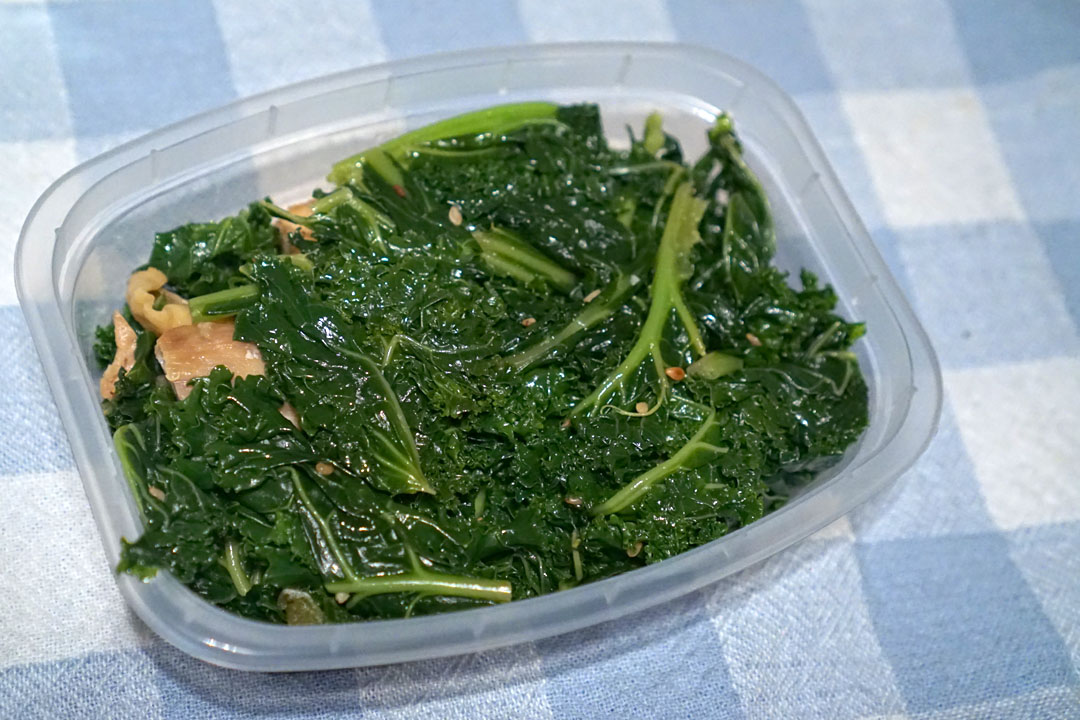 Seasoned Kale and Chicken Salad [$5.63]
| Chopped kale seasoned with sesame oil, toasted sesame seeds, raw garlic, and soy/dashi seasoning.
I focused tonight's visit on the deli component of the restaurant, and thus ended up ordering one of each available prepared dish for takeout. Now I generally scoff at kale salads, but quite enjoyed this one. The key was how utterly seamlessly the bitterness of the veggie paired with all the nuttiness going on from the sesame, while the chicken imparted a deep, soy-sourced savor.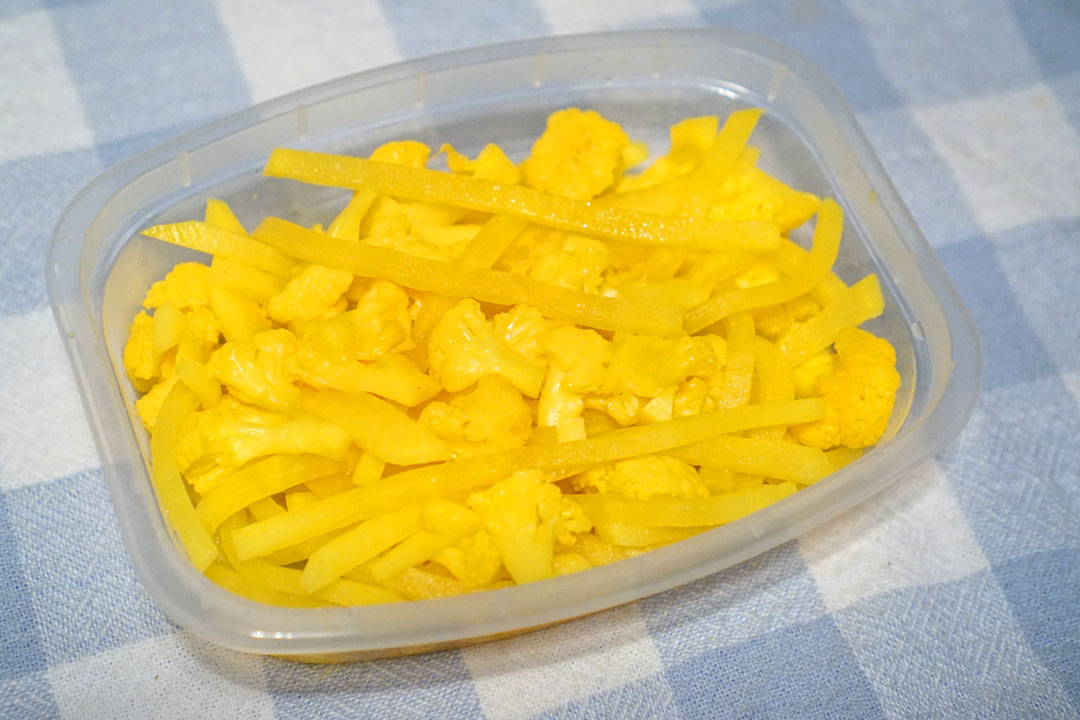 "Danmuji" Pickle [$3.00]
| Korean radish and cauliflower florets pickled with bay leaf, black peppercorns, turmeric, and garlic.
The Hongs' take on
danmuji
rendered the traditional pickle in new textures, while flavors were also a touch "punchier" than I'm accustomed to.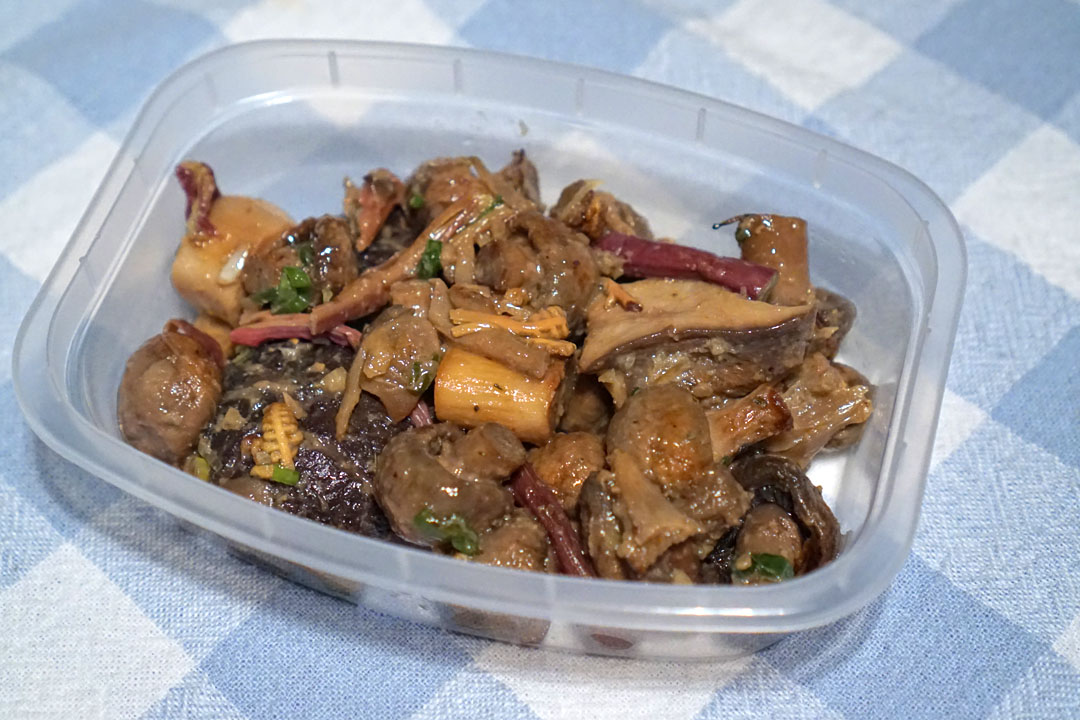 Mushroom "Namul" with Bracken Fern [$6.25]
| A variety of seasonal mushrooms and bracken fern roasted with doenjang oil and thyme. Finished with perilla seed oil, garlic, scallions.
A dish of mixed
beoseot
certainly delivered. I was particularly impressed with the variety of textures here, as well as how the mushrooms' elegant sort of earthiness melded with the various aromatics.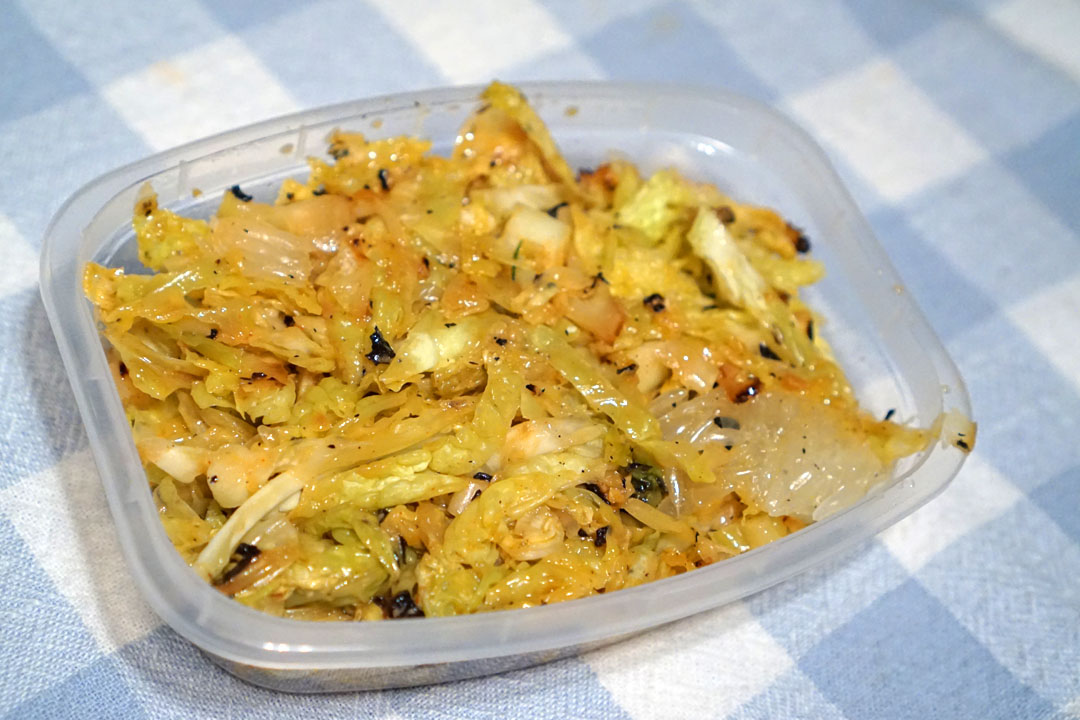 Coal Roasted Cabbage Slaw, Oro Blanco [$4.48]
| Shredded coal roasted savoy cabbage dressed in a ssamjang vinaigrette, oro blanco.
I'm a big fan of cabbage in general, and true to form, I'd say that this was one of my favorite dishes of the night. The sweet, citrusy underpinning from the oroblanco was crucial, but even more important was the pervasive nutty-savoriness from the
ssamjang
, which worked beautifully as a foil to the bitter, slightly smoky cabbage.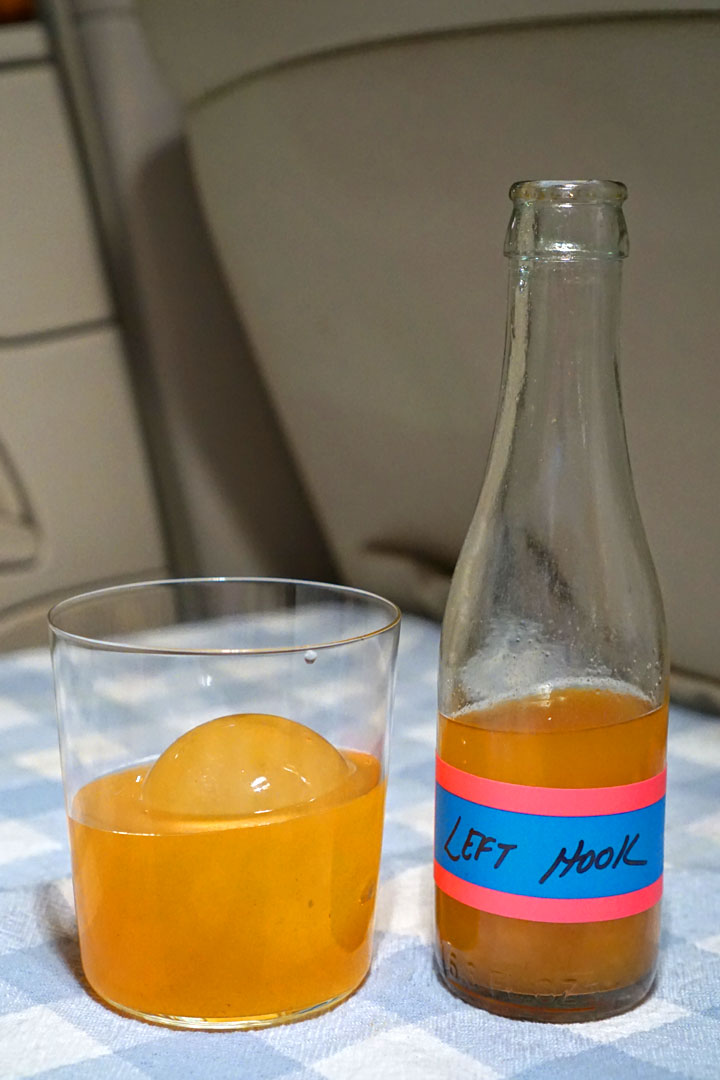 Left Hook Cocktail [$16.00]
| Our version of a punch with a house made blend of passion fruit and a touch of gochujang for spice. Contents: Cimarron Blanco Tequila, Carpano Bianco, El Silencio Mezcal, Passion Fruit Syrup, Gochujang, Lemon Acid
I ordered a couple bottled cocktails to-go, and this first one commingled the sweet-tart nature of passion fruit with loads of citrusy zing, while the spicy, savory qualities of gochujang came in later and lingered long.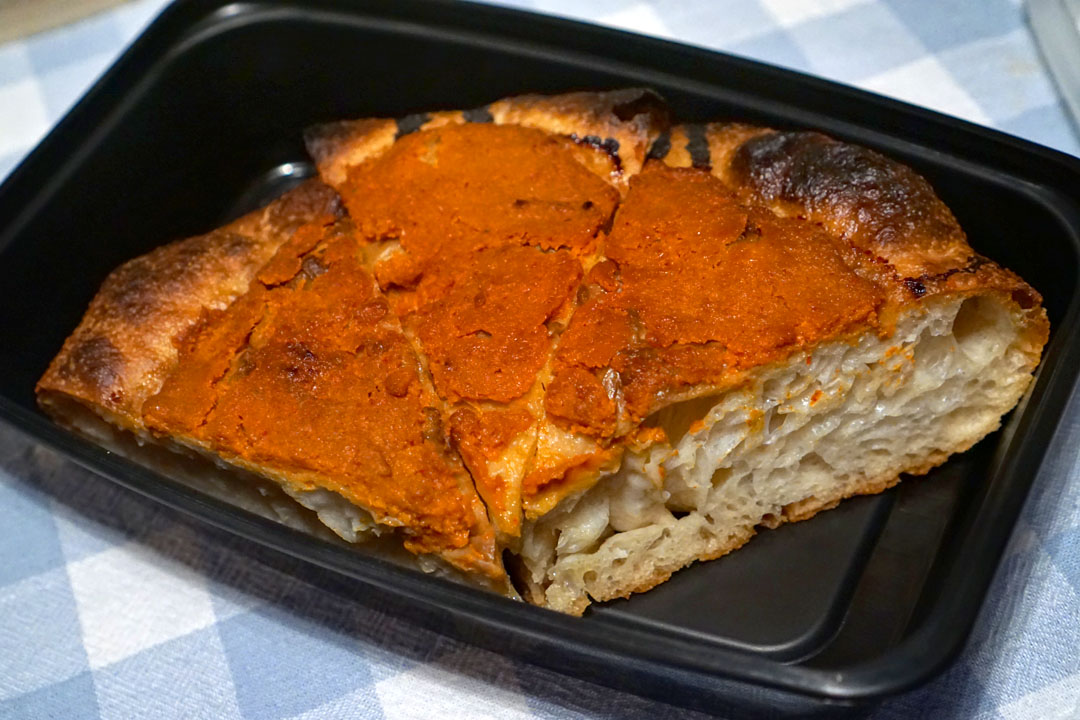 Kimchi Focaccia "Ppang"
| Baked in a cast iron pan with a generous amount of California olive oil and kimchi "marinara".
Given that I'd ordered so much, the kitchen gifted me some complimentary bread, which was much appreciated. This riff on focaccia featured a light, airy interior along with a crunchy, charred crust, while flavors demonstrated a familiar back-and-forth between notes of tomato and olive oil.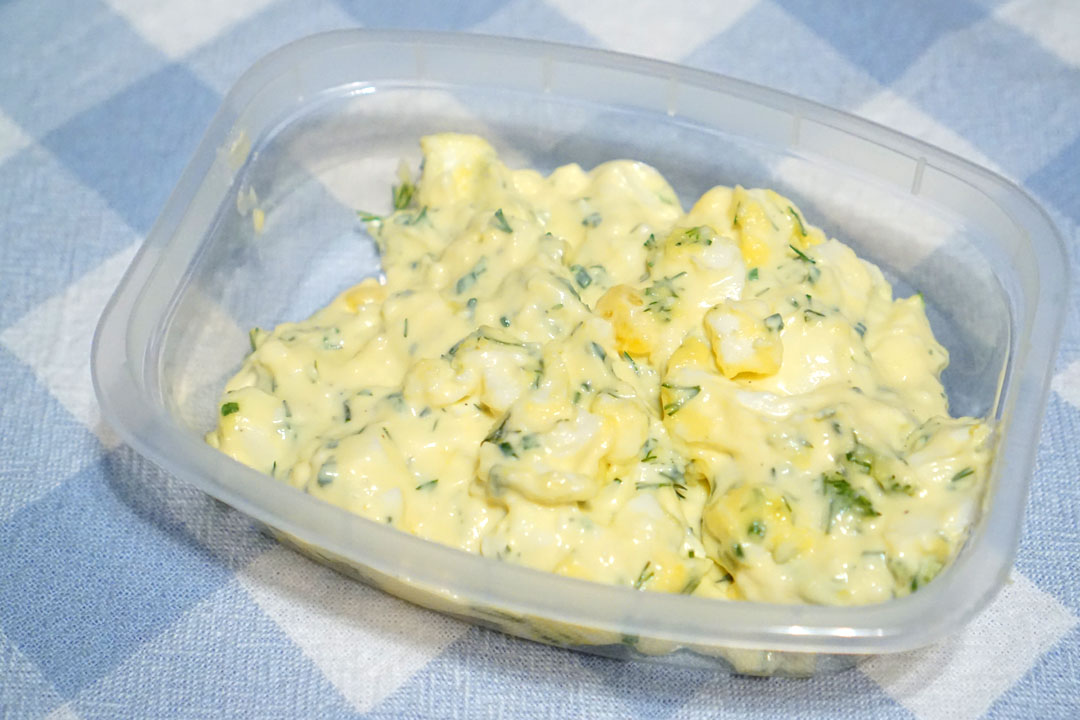 Organic Egg Salad [$4.50]
| Steamed farm fresh eggs, chopped and mixed with kewpie mayo, chopped dill and chives.
I'm a sucker for egg salad, so it came as no surprise that I enjoyed this. The dish had all the lush, creamy flavors I was expecting, but kicked up a notch thanks to the liberal amounts of dill and chive present. This would be great in a sandwich.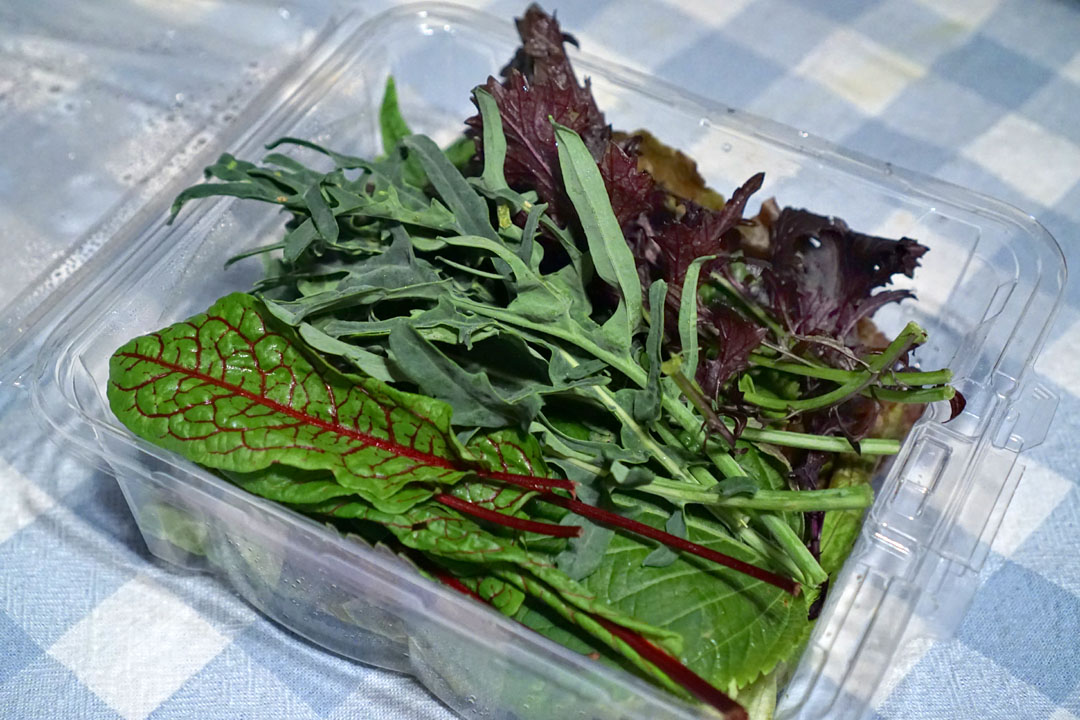 Ssam Box - Side [$8.00]
| A collaboration with Girl n Dug Farm of various seasonal Korean herbs & leaves meant for dipping & wrapping.
I also requested some leafy vegetables (blood sorrel, spigariello, ruby mustard, sesame leaf, and some sort of lettuce) to serve as accompaniments to all the "banchan," and I have to say that they were some of the most robustly-flavored raw veggies I've had in a while. A common theme here was bitterness, but along with that bitterness came a bevy of citrusy, sweet, horseradish-y, and minty flavors that really enlivened my meal.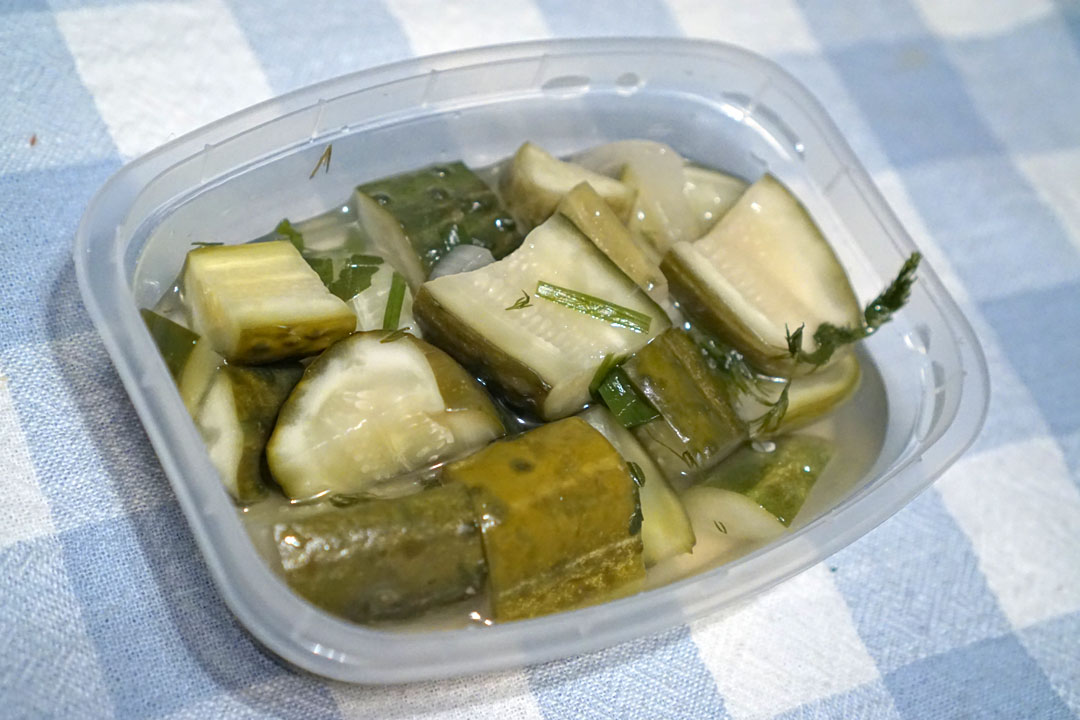 Deli Pickles [$3.00]
| Chopped cucumbers pickled in brown rice vinegar, white soy, dill, perilla leaf, celery seed and garlic chives.
Deli-style pickled cucumbers had all the crunch and sourness I was expecting, but also displayed a particularly potent herbaceousness that I wasn't.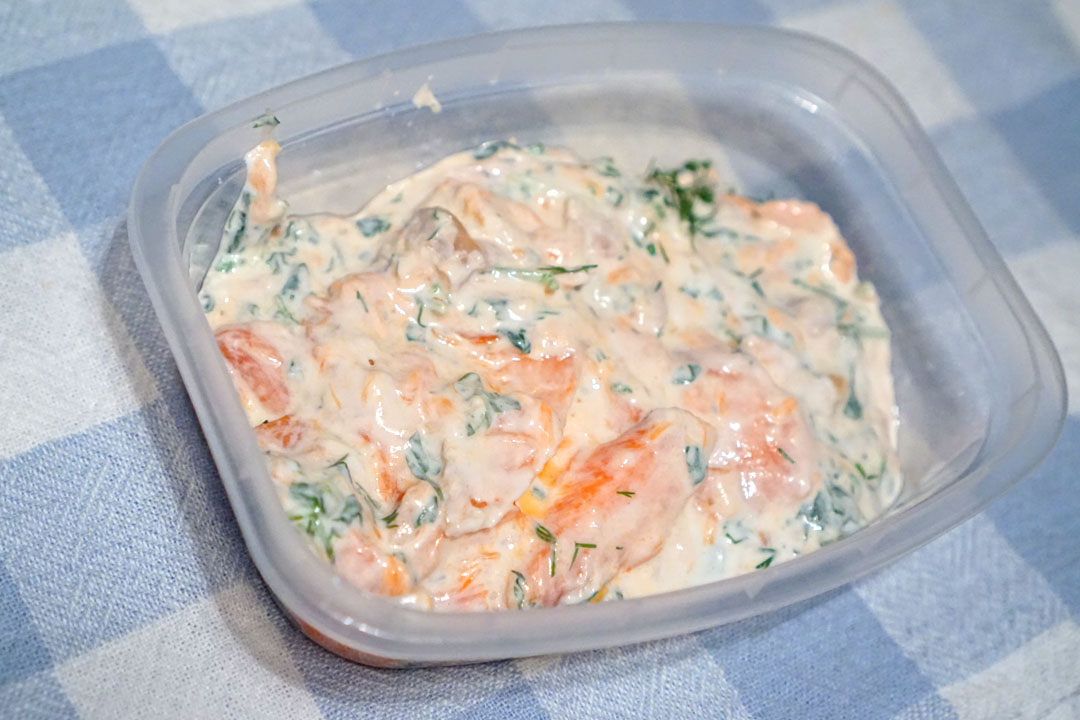 Hot Smoked Trout Schmear [$8.75]
| Flaked, hot smoked ocean trout mixed with minced shallot, chives, dill, pea leaves, sour cream, lemon juice and zest. Finished with fresh horseradish root, additional dill and chives, and extra virgin olive oil.
I have a hard time turning down most any sort of smoked fish, and tonight was no exception. The trout had the supple-yet-flaky texture I was looking for, while the fish's smoky, saline flavors meshed easily with the creamy, herby elements present. Very nice when taken with the
ssam
veggies above, too.
Blossom Cocktail [$16.00]
| Our version of the white negroni with undertones of sesame and locally produced Amaro Angeleno. Contents: Sesame-Washed St. George's Botanivore Gin, Amaro Angeleno, Carpano Bianco Vermouth, Salt
My next bottled cocktail showed off all the classically bittersweet flavors you'd want in a Negroni, but backed up by a wonderful layer of nutty sesame. Pretty neat.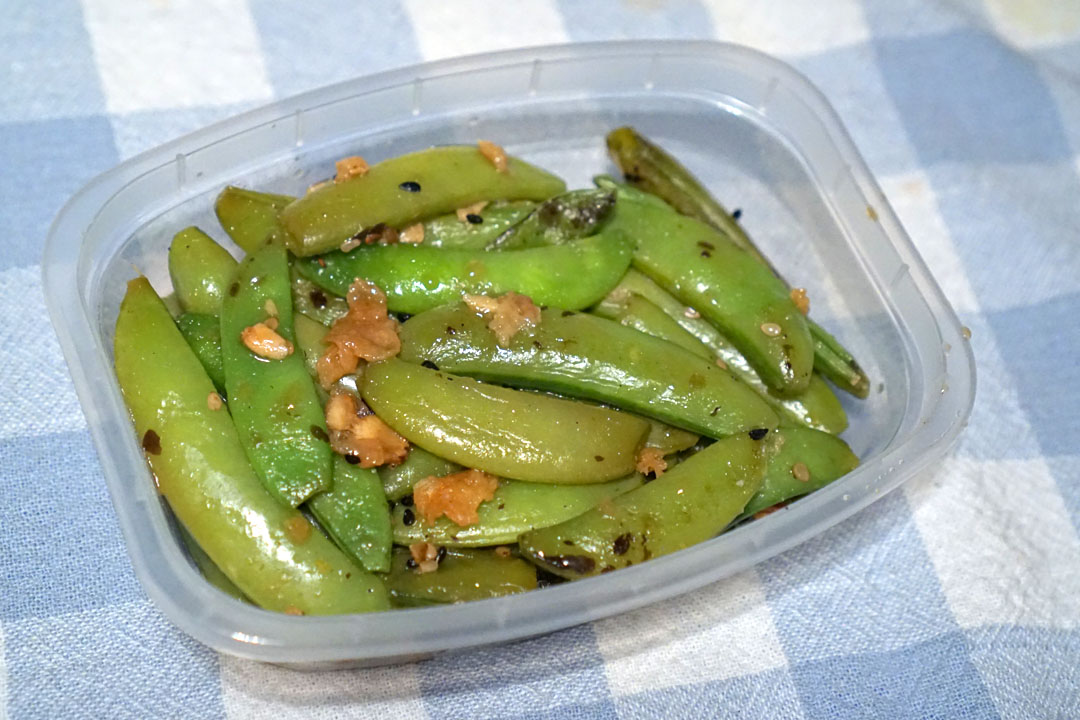 Blistered Snap Peas [$5.50]
| Snap peas blistered and tossed with everything bagel seasoning, soy sauce and lemon zest.
As their name would imply, sugar snap peas arrived delightfully snappy, while their intrinsic brightness combined effortlessly with the dish's zesty bagel seasoning and overarching notes of citrus.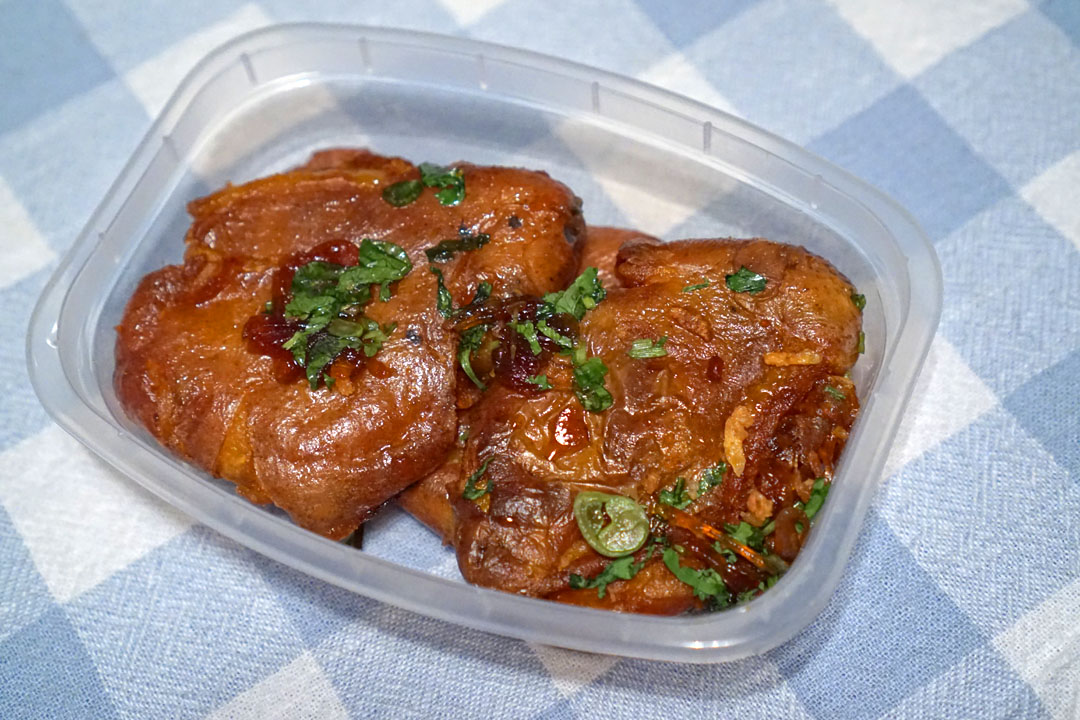 Twice Fried Magic Myrna Potatoes [$4.00]
| Smashed and fried Magic Myrna potatoes, seasoned with brown butter, fish sauce caramel, chopped cilantro, fried shallots, lemon juice and scallions.
These potatoes were also a favorite of mine. The fingerlings were a joy texturally, especially their crispy skin, and displayed a deep savoriness before transitioning to a plethora of sweet, caramelized nuances that left me wanting more. Excellent use of shallots here as well, since they really soaked up all the flavors at play.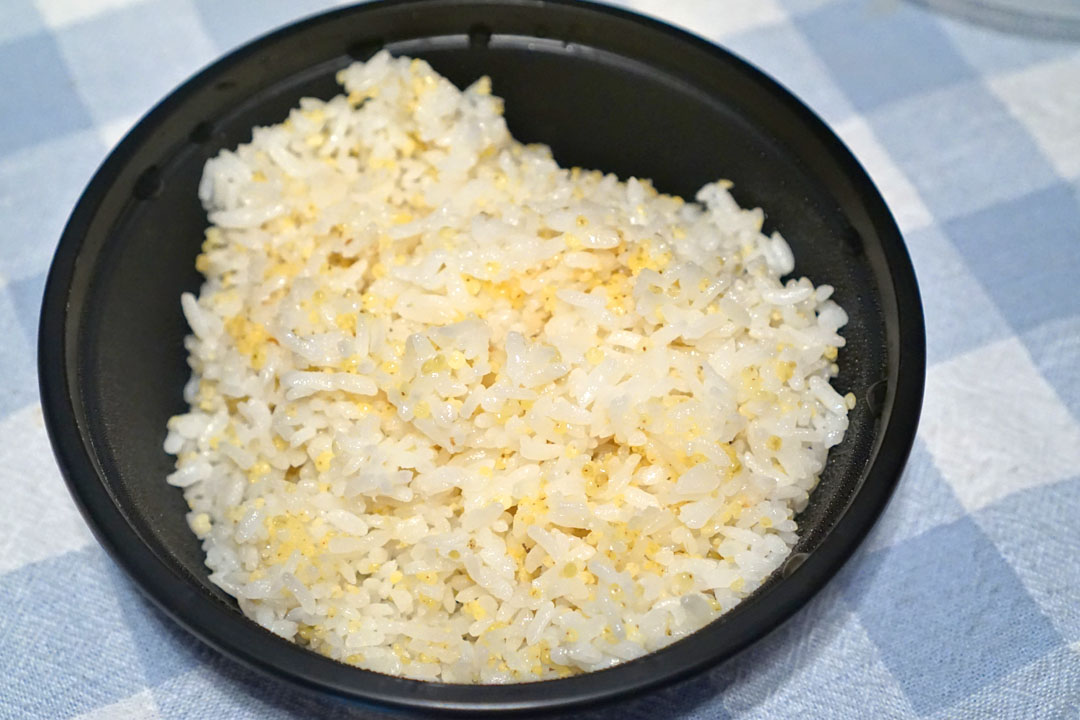 Golden Millet Rice - Side [$4.00]
| Steamed short grain rice & golden millet (small seeded grasses or cereal plant)
It just seemed natural to have some rice with all the food I ordered. Yangban's ate sticky and dense, and worked well to even out some of the stronger tastes this evening.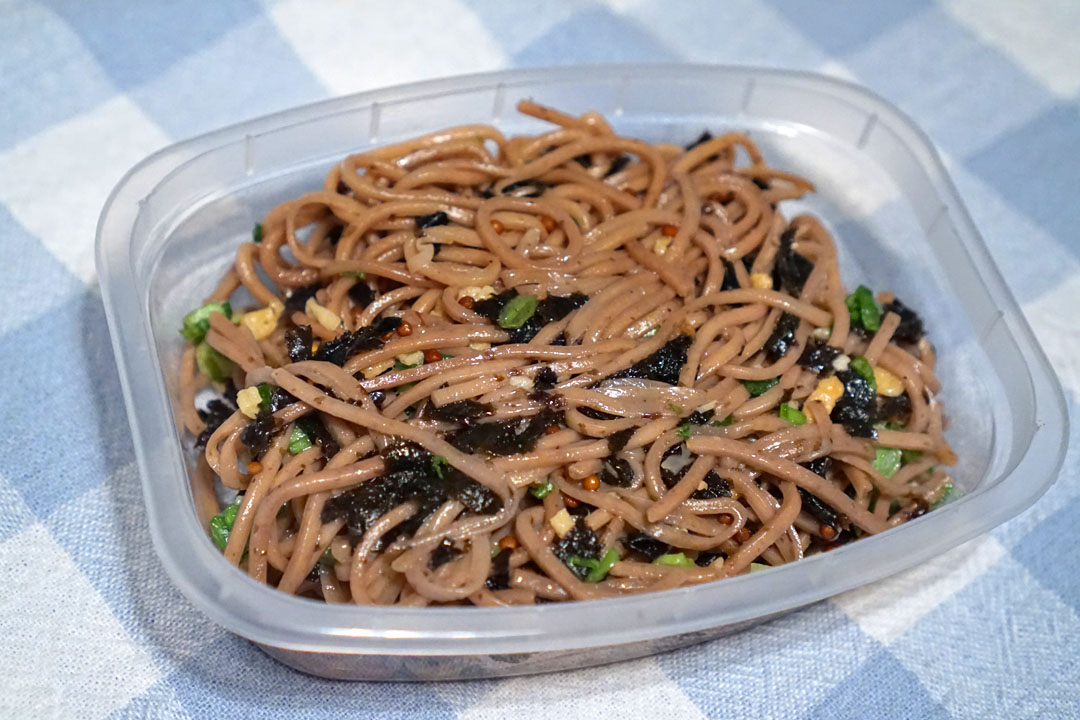 Chilled "Dotori" Noodles [$4.38]
| Chilled acorn noodles, roasted korean seaweed, fried garlic, scallions, and pickled perilla seed dressed lightly in a shirodashi based vinaigrette
A dish of
dotoriguksu
was definitely a winner. I was a fan of the noodles' rather satisfying consistency, while the interplay between seaweed, sesame, scallion, and dashi was absolutely spot-on.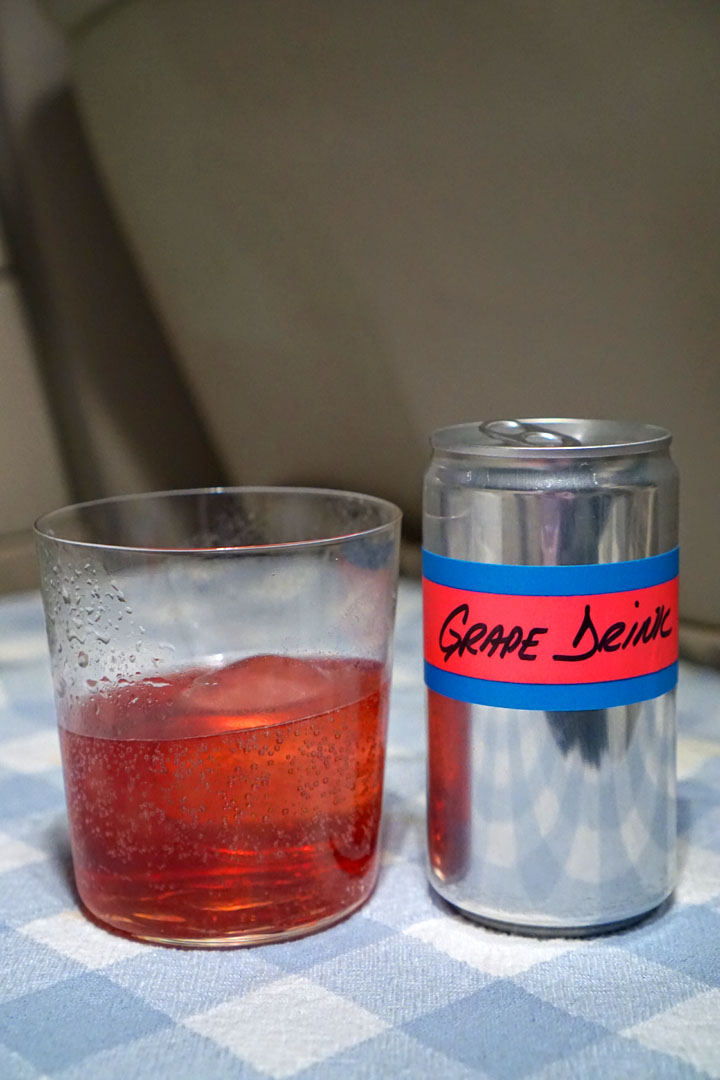 Grape Drink Cocktail [$12.00]
| Inspired by the classic collins cocktail and a childhood nostalgia of koolaid and Welch's grape soda, this iteration utilizes a combination of Sac Sac Grape and Manischewitz. Contents: Argonaut Saloon Strength Brandy, Manischewitz, Lemon Acid, Sac Sac Grape, Cane Syrup, Salt, Sparkling Water
My final libation was a canned cocktail that was certainly on the fun, gluggable side of things. Think familiar flavors of sugary grape candy, but with a boozy edge.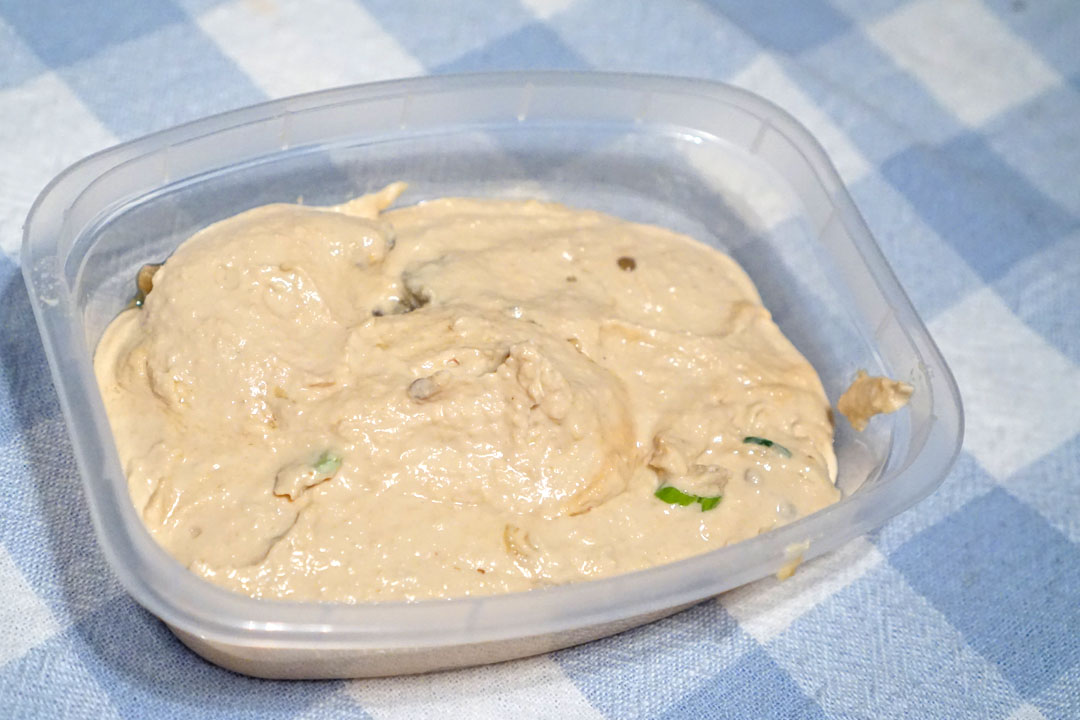 Soybean Hummus [$4.00]
| Soybean and silken tofu hummus. Coal-roasted eggplant sesame oil. Buchu.
Yangban's take on hummus was delish, and made me yearn for some pita on the side. I loved how brazenly nutty the dip was, as well as how it was undergirded by this deep, familiar savoriness. At the same time, you had the eggplant hidden in there, which offered up both smoke and texture.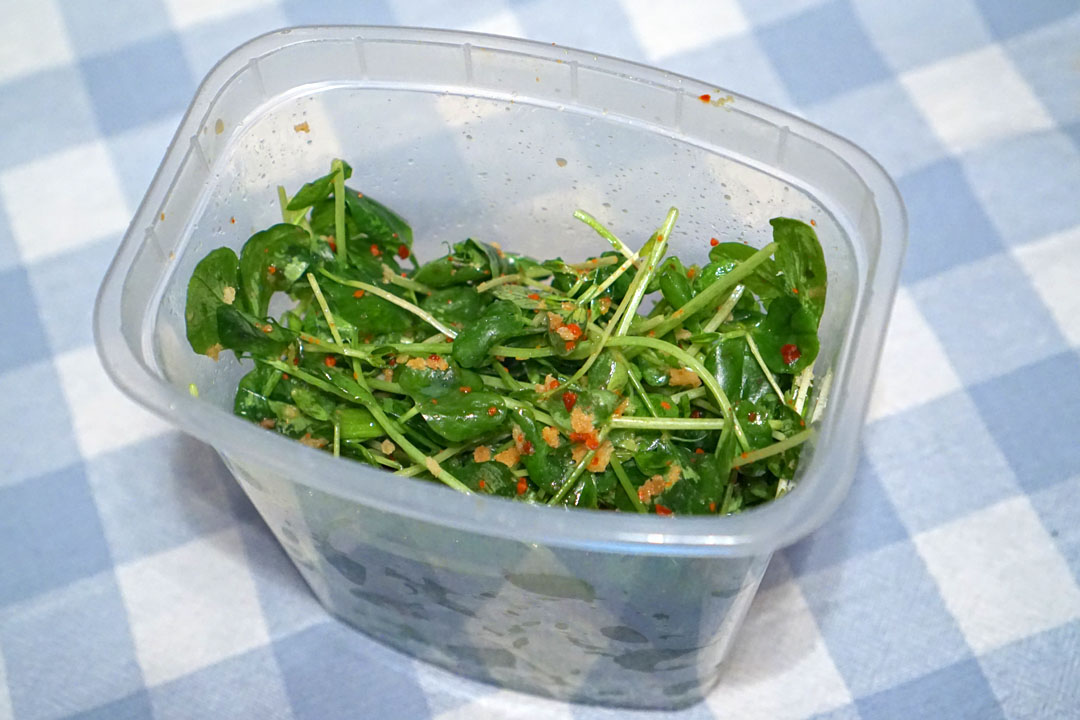 Pea Shoot and Chive [$6.25]
| Dressed in soy sauce, apple vinegar and olive oil. Finished with Korean chili flakes, lemon zest and butter toasted panko crumbs.
Pea shoots ate bright and bitter, and were well accompanied by tangy citrus and a touch of heat from the chile. However, the crux of the dish was the use of panko, which provided a smart bit of savoriness that did a great job moderating all the other flavors present.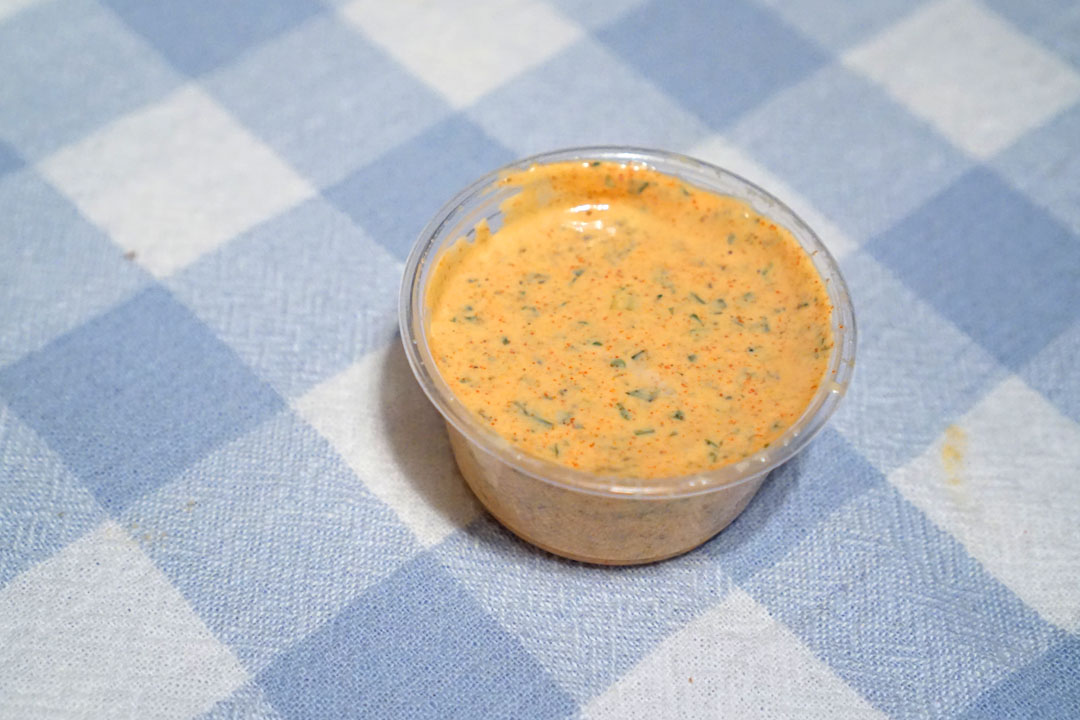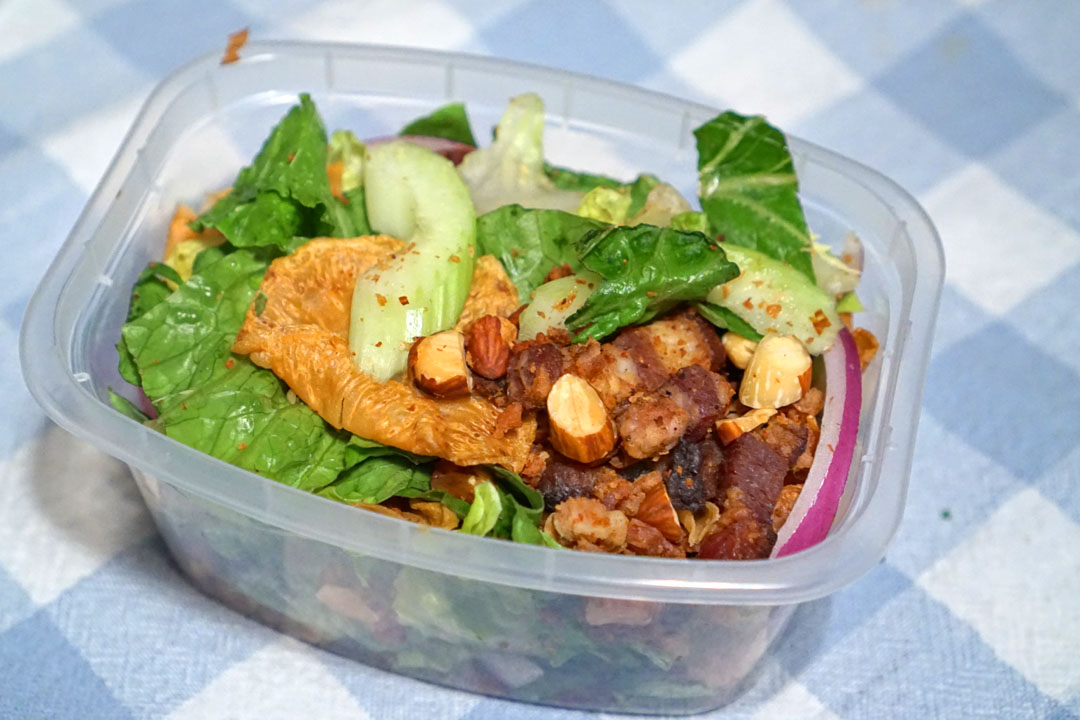 Yangban Bacon Chopped [$7.00]
| Romaine, celery, red onion, toasted almonds, pickled perilla seeds, bacon bits, and fried celery root chips. Served with house made K-ranch dressing.
The chopped salad showcased a welcoming spice character up front that combined easily with the nuttiness of almonds and the salty punch of bacon, all while raw onion and celery offered up a contrasting astringency. As for the included Korean ranch, I found it markedly zippier and herbier than your typical preparation, and also enjoyed it as a pairing with the previously mentioned
ssam
veggies.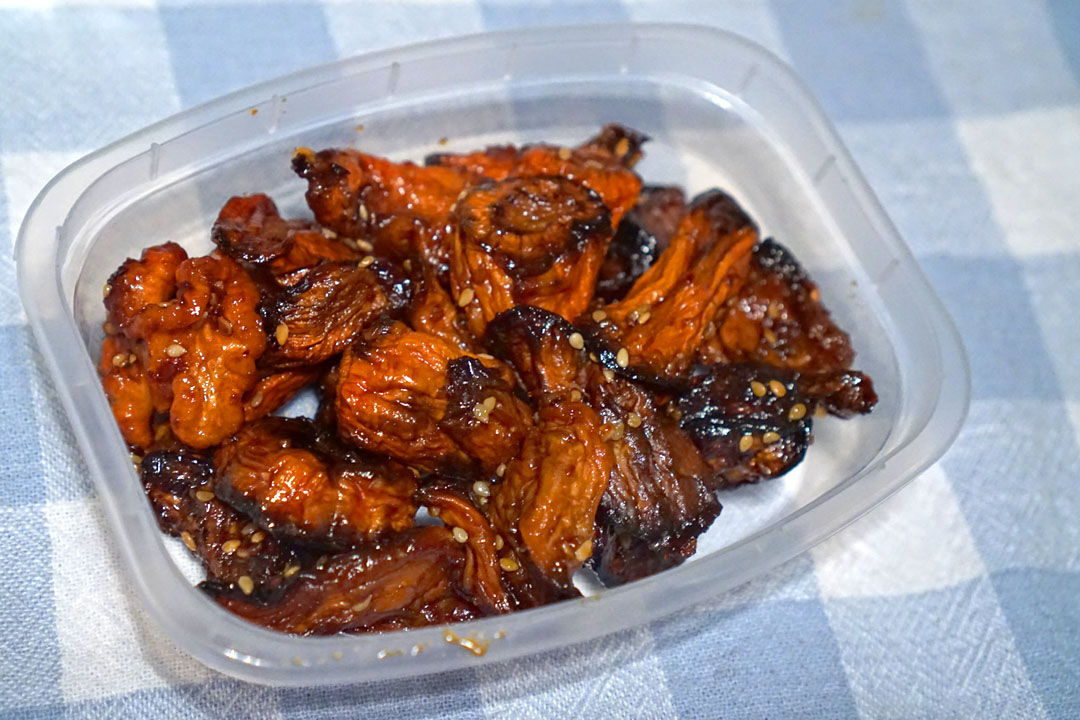 Honey Walnut Carrots [$5.13]
| Garlic, soy & honey glaze, gochu-candied walnuts.
The carrots were a surprise standout. I was super impressed with their sugary, candied, caramelized nature, and enjoyed their soft, "sticky" consistency as well. The carrots married beautifully with the nuttiness of the walnuts, and took well to their deeply savory soy glaze, too.
After finishing dinner and reflecting back upon it, the first word that came to mind was "thoughtful." Despite the fact that these were relatively straightforward deli items, there was just something
extra
to the cooking here, and I think this speaks to the Chefs' considerable training and experience in the kitchen. Yangban Society is quite unlike anything I'd ever encountered before, and given the strength of this experience, I'm undoubtedly looking forward to returning and enjoying a proper meal consisting of the place's kitchen dishes.