Cabra (Los Angeles, CA)
Cabra at The Hoxton
1060 S Broadway, Los Angeles, CA 90015
213.725.5858
www.cabralosangeles.com
Tue 01/25/2022, 08:00p-10:30p

You might recall that I reported on
Pilot
, the rooftop restaurant at The Hoxton hotel, back in October last year. Part of the reason for the visit was because I knew that the place was closing soon, to be replaced by Cabra ("goat" in Spanish), a Peruvian concept from Chef
Stephanie Izard
and Boka Restaurant Group. Cabra was supposed to debut in December, but its opening was pushed back to January 18th, which is still a really quick flip. And given that I went to Pilot, I felt compelled to check out Cabra as well.
Pictured above is Cabra's menu, which reads similarly to that of the original Chicago location. As for drinks, you get theme-appropriate cocktails, a few beers, and wines compiled by Beverage Director Daniel Dooreck (
Republique
, Taverne Bernhardt's and La Banane in Toronto). Click for a larger version.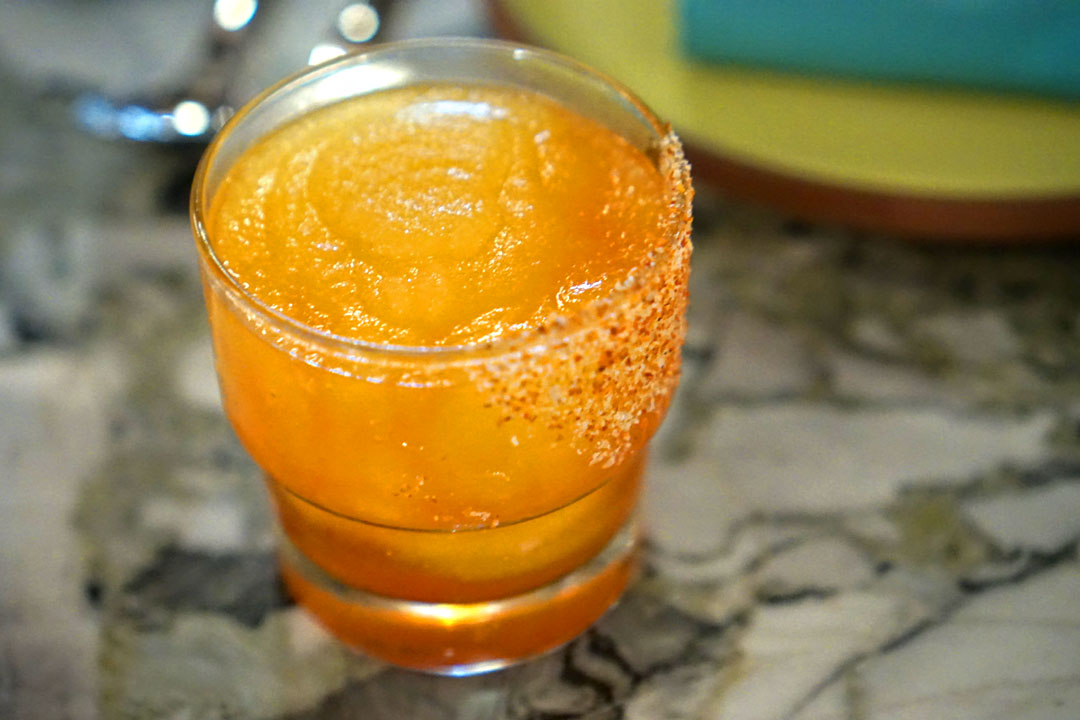 Pisco Fever [$16.00]
| pisco . mango . aji panca (frozen)
Beverage-wise, we got started with this slushy-esque cocktail, which showed off sweet, tropical mango flavors all over the place, offset just enough by a spicy-salty rim.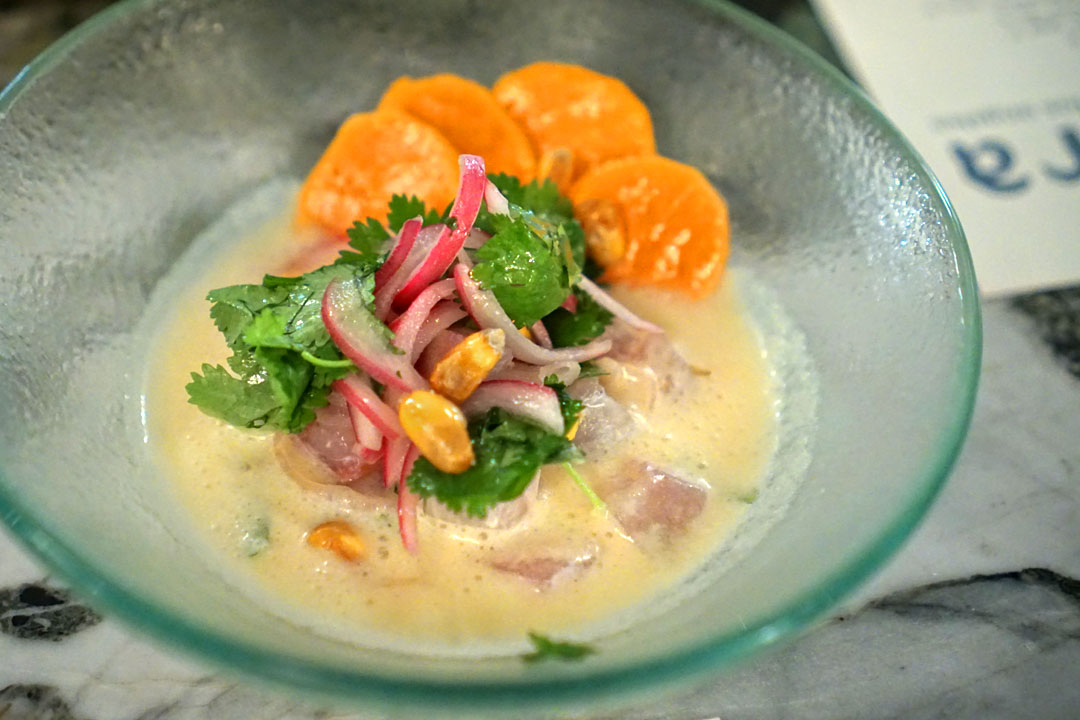 Classic Ceviche [$17.00]
| bass . sweet potato . leche de tigre . crispy cancha
I have a hard time not getting ceviche at a Peruvian restaurant, and this particular example was indeed as classic as its name would imply. The sea bass was pretty spot-on texturally, and displayed a potent brine that was countered by the fish's sour marinade, raw onions, and salty toasted corn, all while the
camote
contributed a moderating sweetness.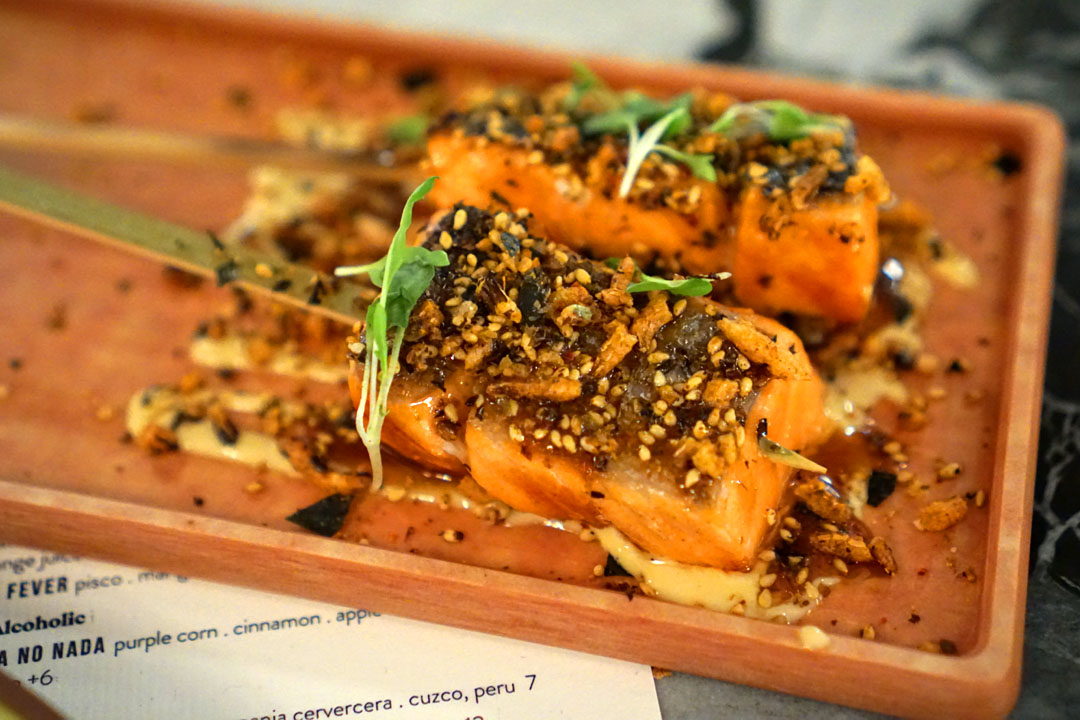 Salmon Anticucho [$18.00]
| sake-soy . furikake
For our first skewer, I was actually surprised that the salmon was cooked rare (as I prefer), and not overdone as it often is. The fish ate lush and fatty, so the all the nutty, crunchy elements present were key for balance.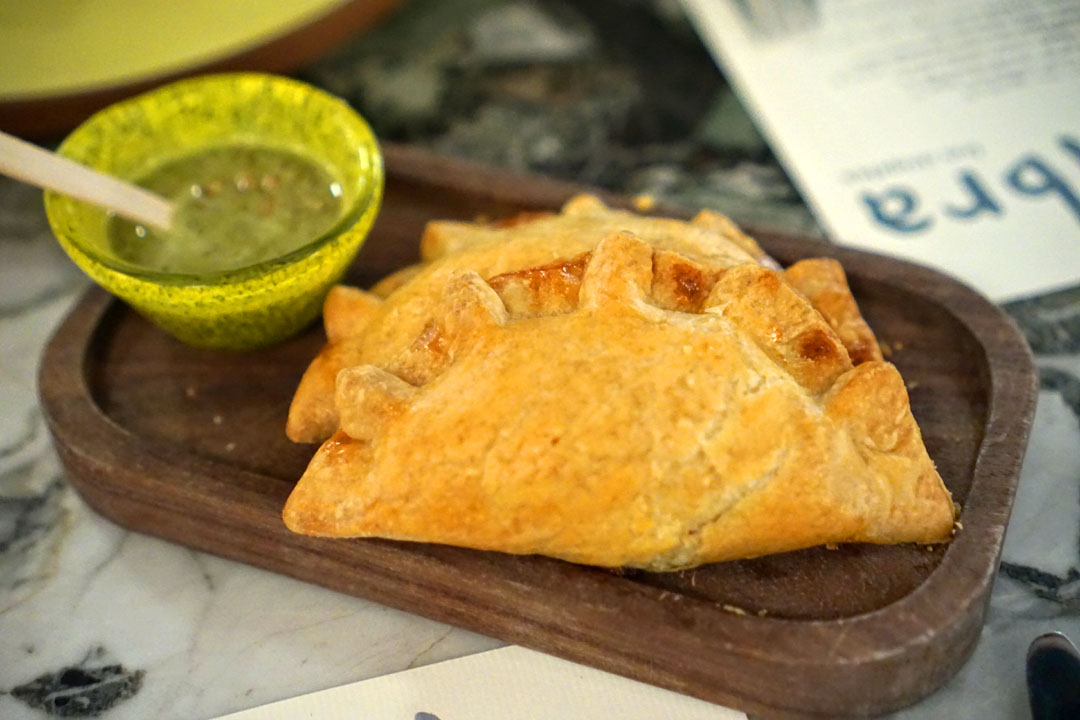 Aji de Gallina Empanadas [$14.00]
| pecan chimi
Here we have perhaps the largest empanadas I'd ever encountered. They featured a flaky, somewhat buttery crust hiding an interior of cozy, mildly-spiced chicken that was unfortunately a bit drier than I was hoping for. However, the dish was improved with a dab of the zingy, nutty chimichurri on the side, which really helped open things up.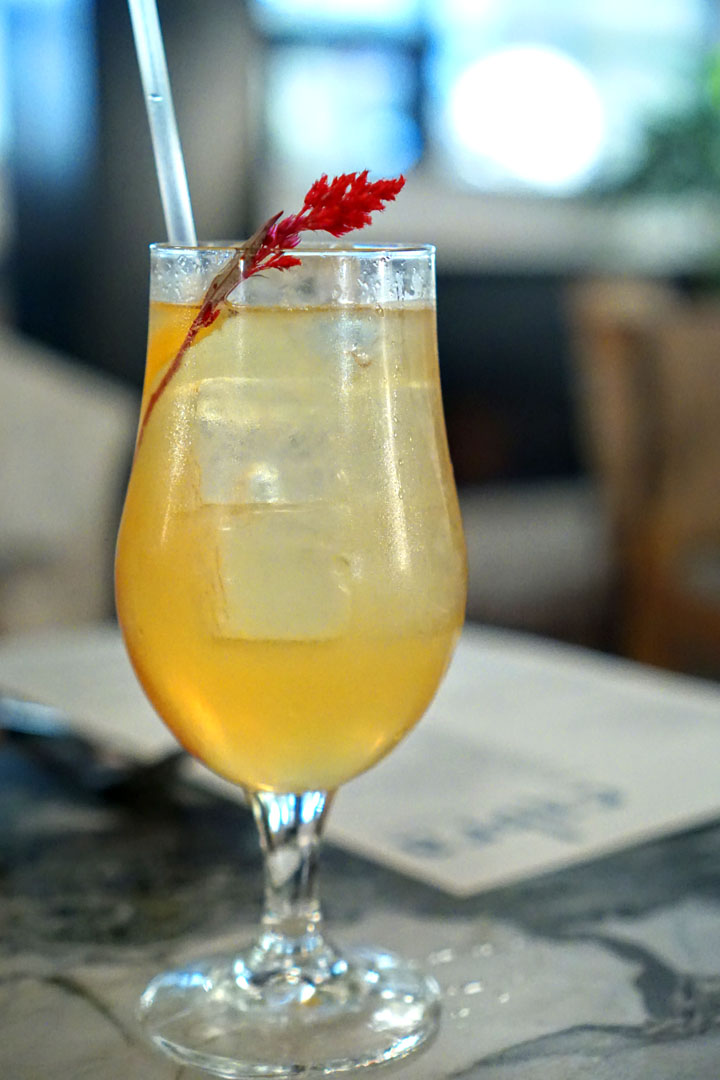 Sunshower Tonic [$14.00]
| cilantro rum . montenegro amaro . pickled green mango syrup . tonic
This cocktail ended up being my favorite of the evening. What was intriguing was that I got an almost yogurt-like sensation that I wasn't expecting, which was underpinned by notes of cilantro and tropical fruit.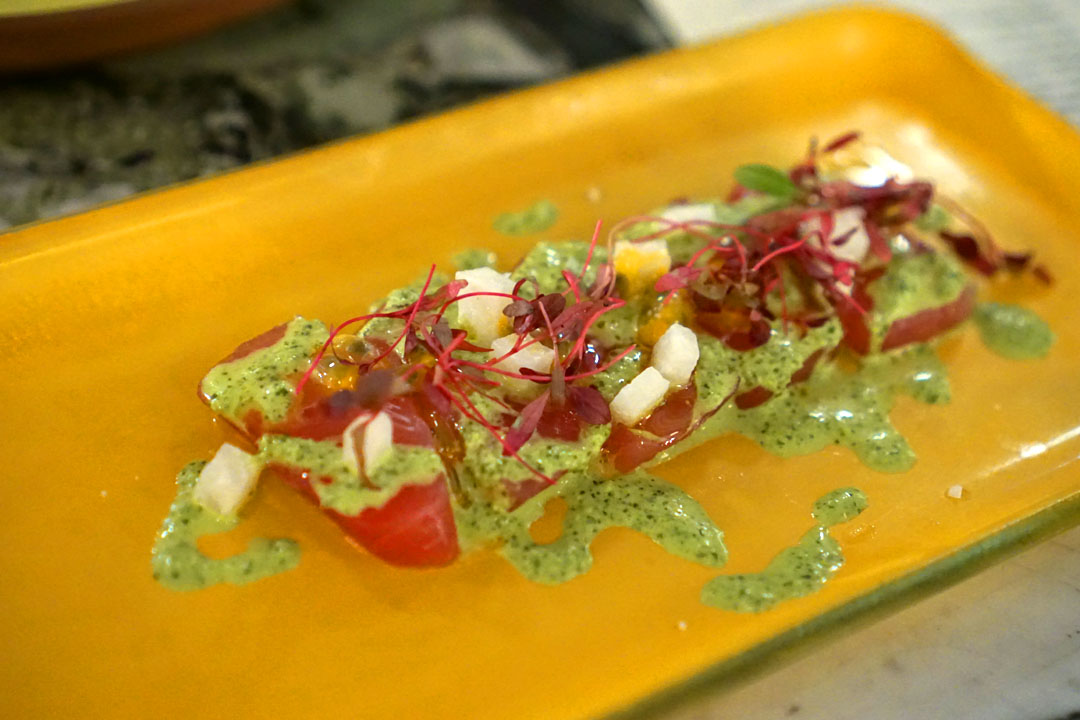 Tuna Tiradito [$18.00]
| serrano-cilantro . passion fruit . jicama
The tiradito was a standout. I was a fan of its sour-spiciness up front, and how that played with the firm, subtle cuts of tuna, while passion fruit contributed an omnipresent sweetness that just worked. Also crucial were the pinpricks of herbiness in the dish, as well as the crunch from the small cubes of jícama.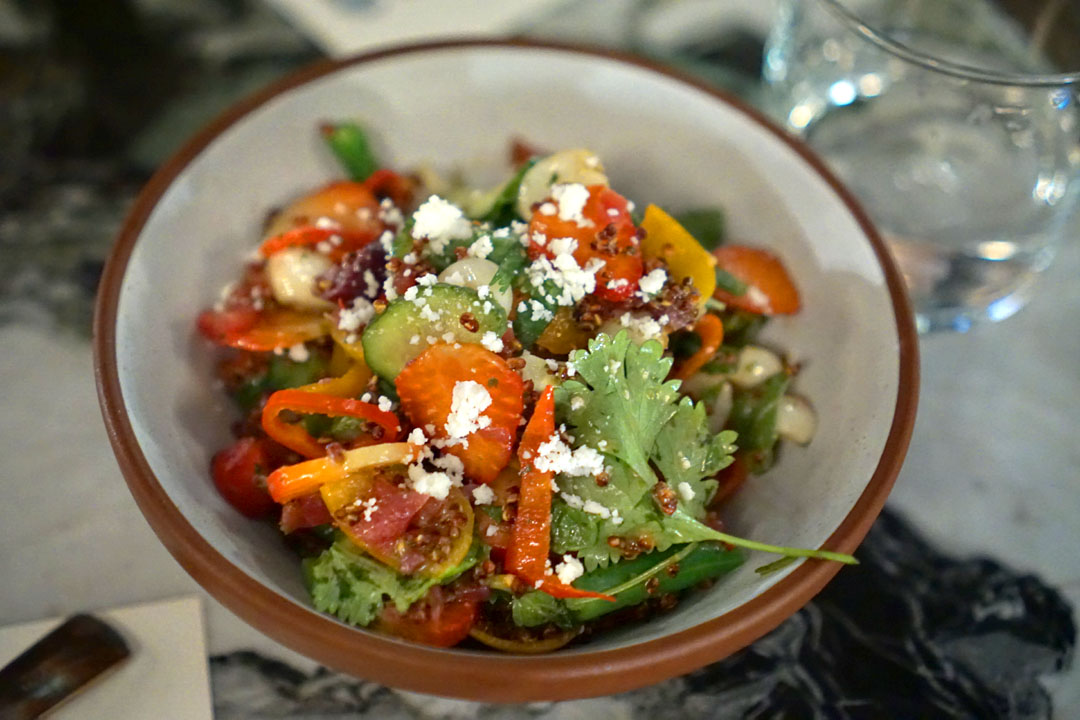 Solterito [$17.00]
| tomato . lima beans . green mango . kumquats . queso fresco . olives . herby chimi
Pictured above is one of the more interesting salads I've tasted. What struck me first was the overarching sweet-tartness from the strawberry. This then gave way to a mish-mash of fresh, fruity, herby, and nutty flavors, perked up by hits of piquant olive, while bringing up the rear was a palpable heat that served as a nice finishing touch.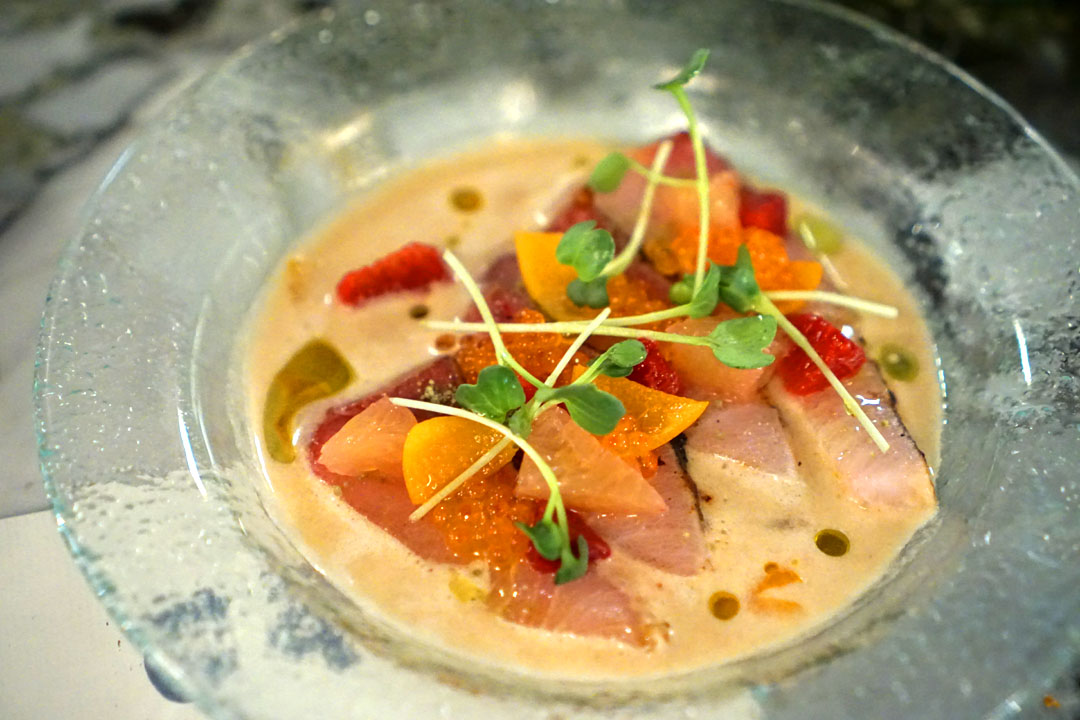 Hamachi Tiradito [$19.00]
| citrus . smoked trout roe . dashi leche de tigre
Firm, fatty shards of yellowtail were supplemented by a surprisingly savory dressing, while juxtaposed against those flavors were notes of smoky roe and juicy bursts of citrus. I will say that I would've preferred smaller cuts of the fish.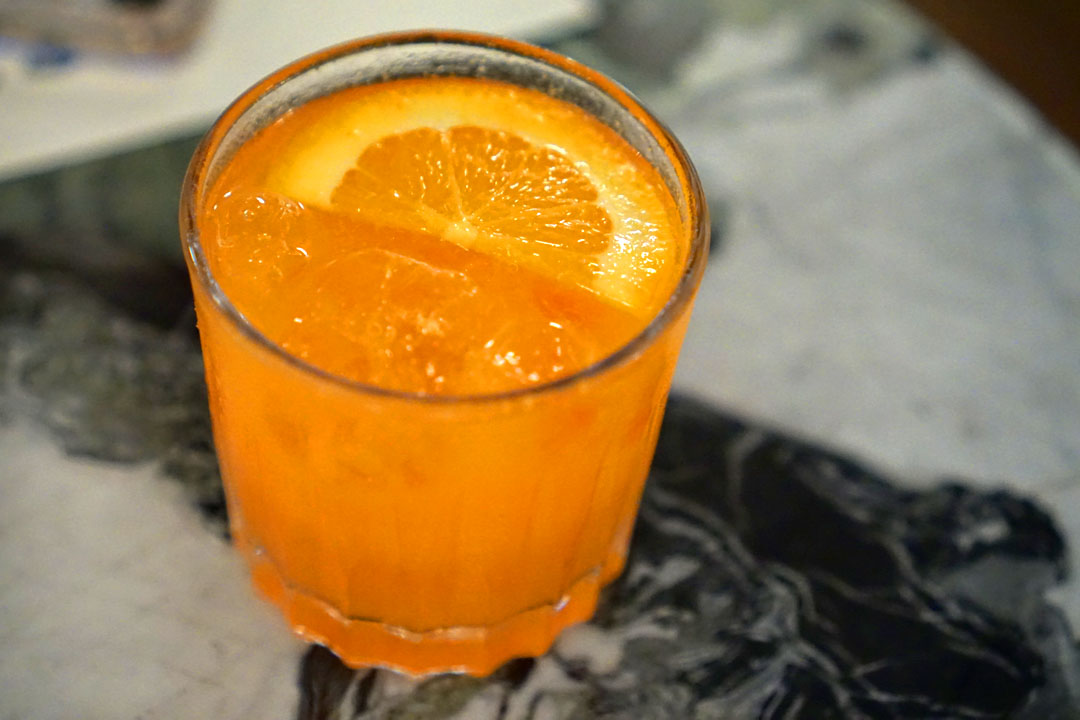 Limorange You Glad [$17.00]
| mezcal . tequila . aperol . aji hot sauce . limorange juice
In this next cocktail, I got a nice back-and-forth between robust citrus fruit and the potent smoke of mezcal, while the
aji
resulted in a lingering heat in the back of my throat.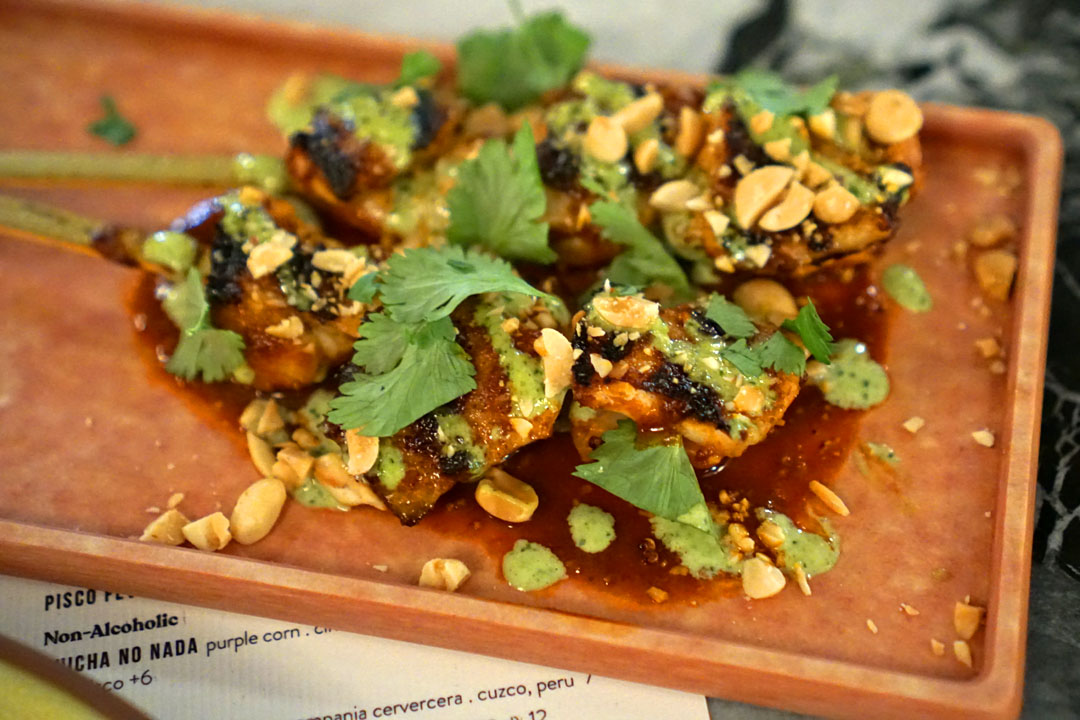 Chicken Thigh Anticucho [$14.00]
| peanut aji panca sauce . yuzu-cilantro
Cuts of chicken thigh possessed a supple, almost gelatinous texture along with a smokiness that matched well with all the sour, spicy, nutty nuances in the dish.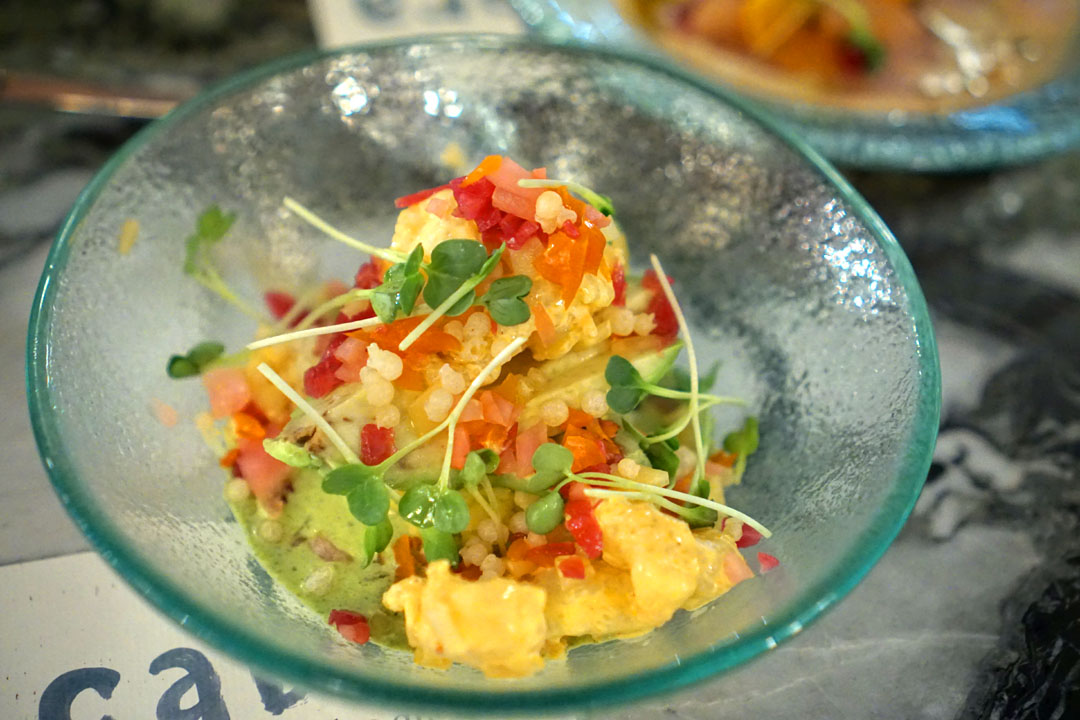 Shrimp Causa [$17.00]
| aji potato . shrimp salad . limey huacatay
The
causa
managed to be a surprise favorite this evening. The shrimp had this familiar, satisfying savoriness that actually reminded me of the rock shrimp tempura at Nobu. This flavor profile married beautifully with the zippiness of the huacatay and the creaminess of the avocado, while the silky-smooth potatoes did a great job grounding the dish.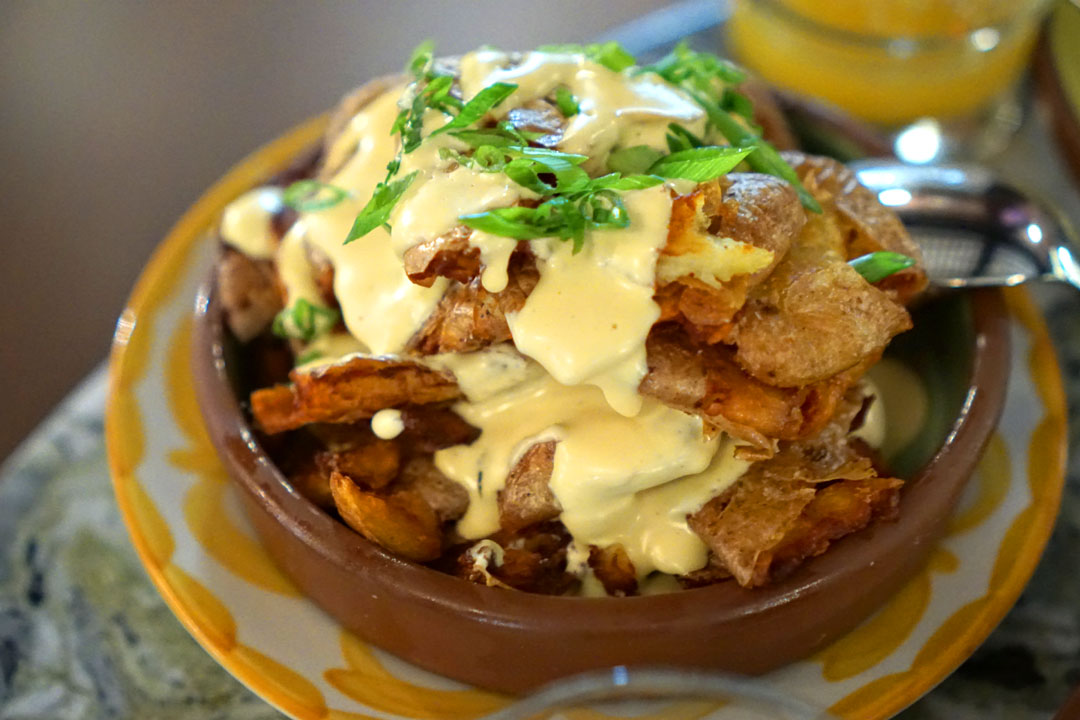 Papas Huancaina [$14.00]
| smashed fried fingerlings . huancaina sauce
This updated version of
papa a la huancaína
was a crowd pleaser. The potatoes showcased a hearty, gratifying texture, while taste-wise, they melded wonderfully with both the creaminess of that cheesy sauce and the zippiness of green onion.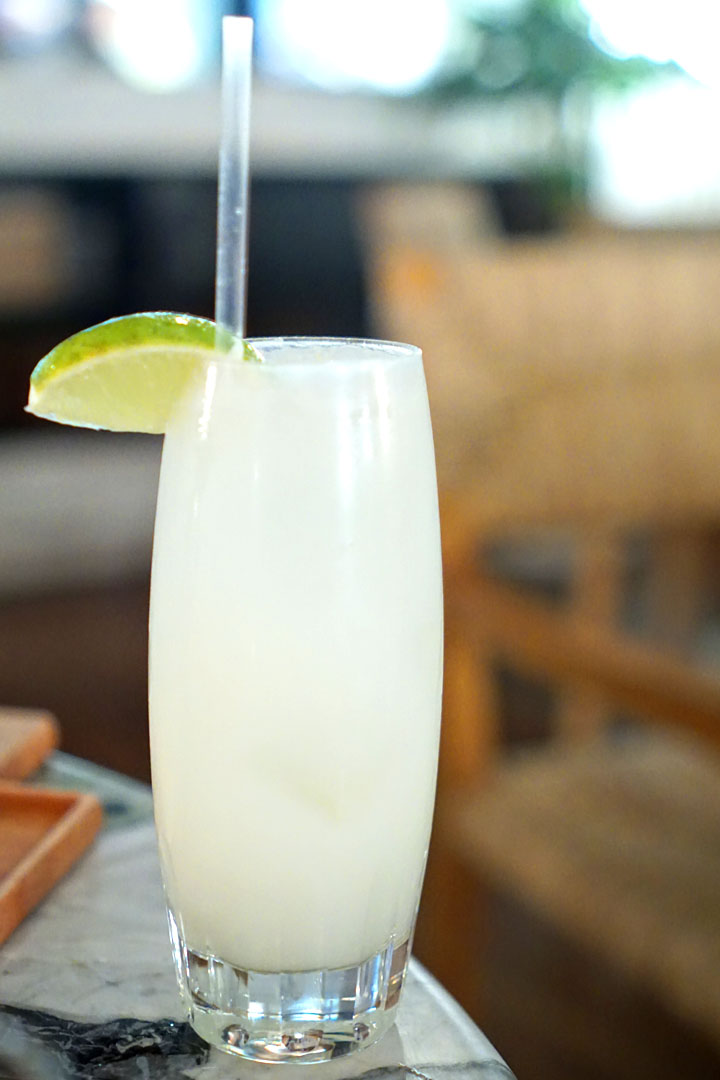 Tropical Fizz [$15.00]
| gin . coconut . banana . soda
Our penultimate cocktail was this riff on the classic gin fizz, and gave up loads of lime up front, transitioning to coconut on the mid-palate before the botanicals from the gin kicked in. I actually wanted more banana, though.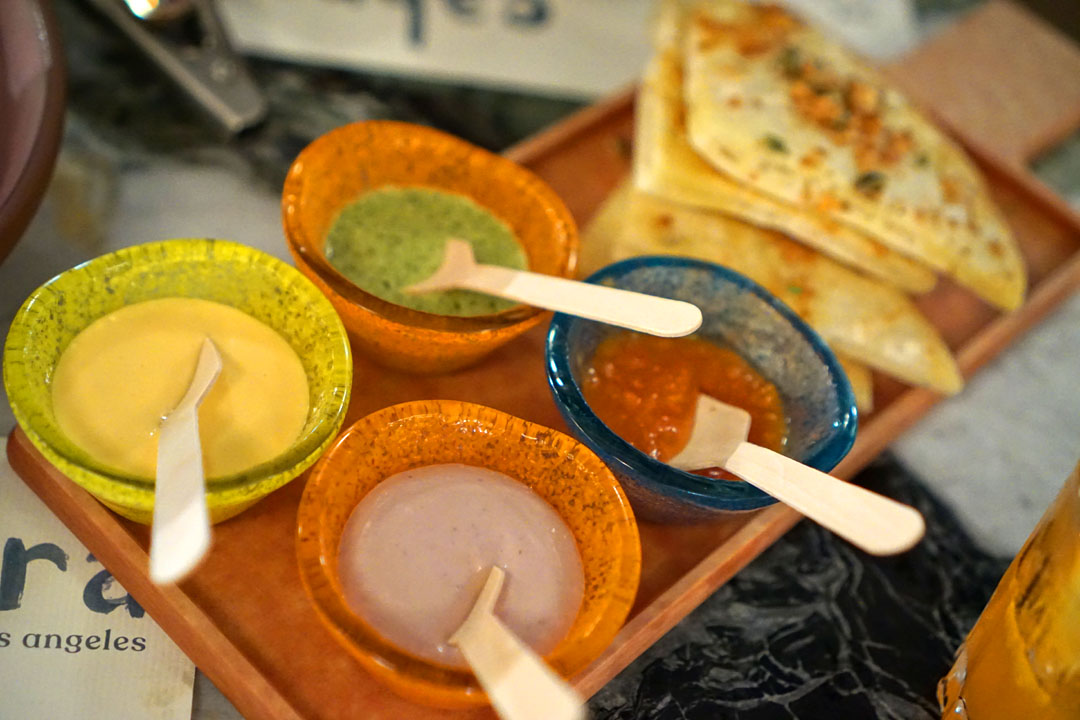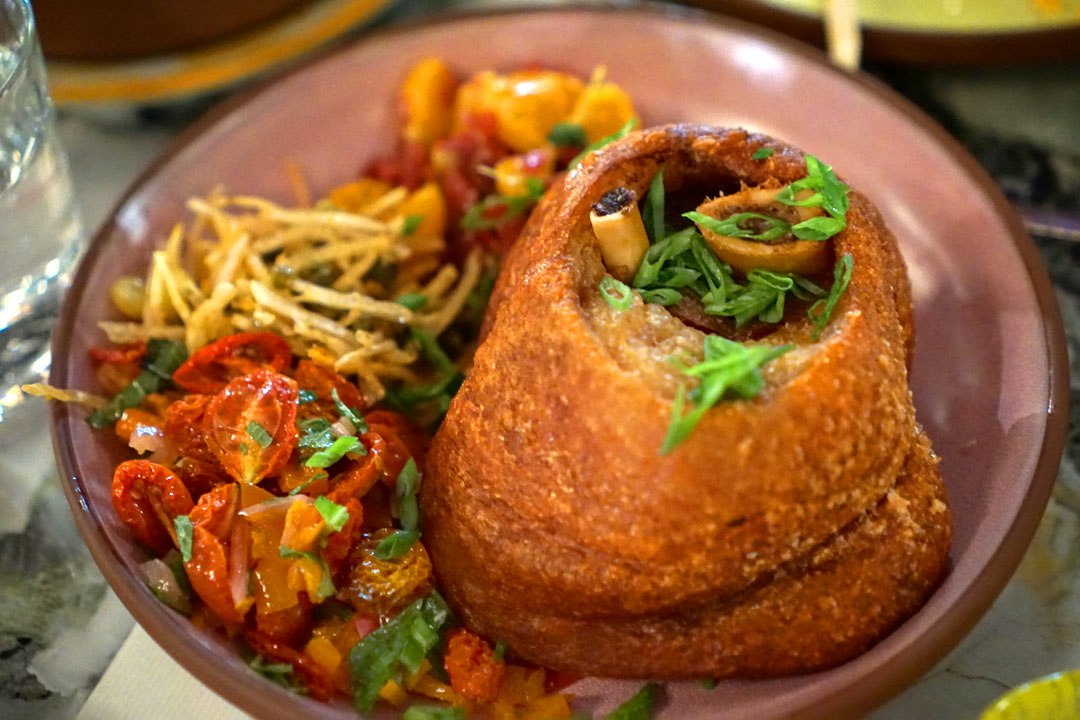 Chicharrón del Puerco [$38.00]
| skin-on fatty pork shank . tangerine salad . dried tomato salad . crispy potatoes . black olive mayo . aji mayo . serrano-cilantro . spicy yuzu-tomato . flatbread
The pork shank was indeed as fatty as advertised, and in fact, just might've been the most decadent example I'd ever eaten. Given its unabashed richness, depth, the porcine funk, the shank's super crispy skin was absolutely critical as a counterpoint, as were the various accoutrements, the citrus salad in particular. A quartet of sauces offered up further contrast (my favorite was the serrano-cilantro), while even better was that wonderfully fluffy, stretchy flatbread, with its warm, welcoming spice that left me wanting more.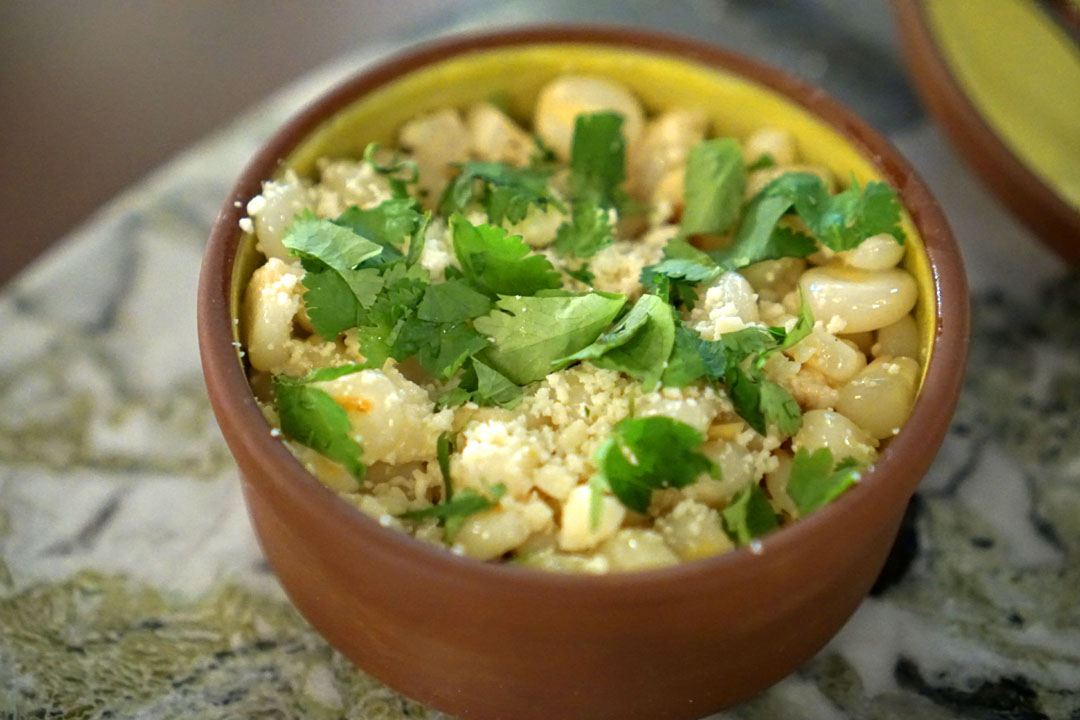 Choclo [$13.00]
| cotija . cilantro . lime
Large kernels of Peruvian corn were a joy texturally thanks to their chewy, substantial bite. At the same time, their relatively subdued taste matched up swimmingly with the dish's enveloping cheesiness and zesty cilantro. This was almost like a play on esquites.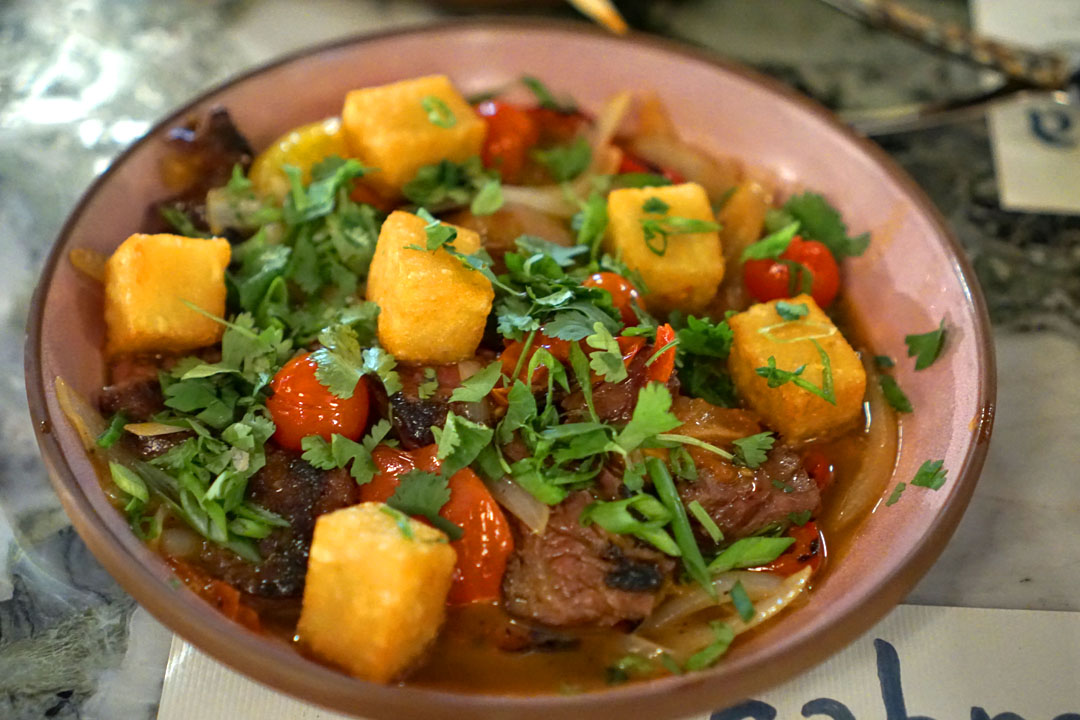 Skirt Steak Saltado [$32.00]
| peppers . onions . tomatoes . tots . saltado sauce
Here we have a rejiggered version of the Peruvian staple that is lomo saltado. I enjoyed all the familiar, savory, soy-fueled flavors in the dish, as well as how the veggies all worked as a counterbalance to the beef. My favorite thing here, though, were those delightful crispy fried potatoes, which took the place of your usual French fries. However, I wanted smaller cuts on the meat, as this would've made the dish easier to eat, and some rice seemed like it would've made sense, too.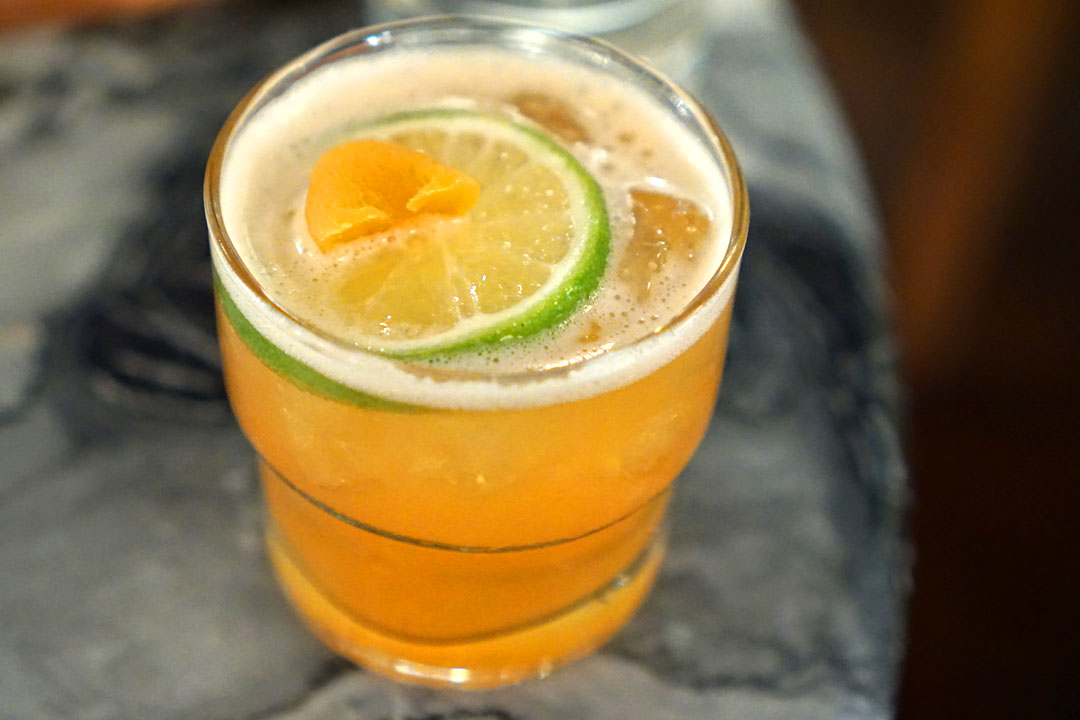 Pass the Honey [$16.00]
| bourbon . passionfruit honey . apricot
My final cocktail was perhaps a variation on the Gold Rush, and featured a pleasantly astringent character up front leading to honeyed stone fruit toward the finish. Nicely put together.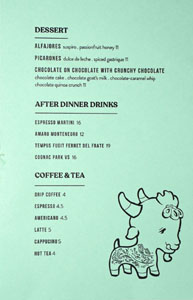 And here we see the dessert menu, which is certainly on the more compact side. Click for a larger version.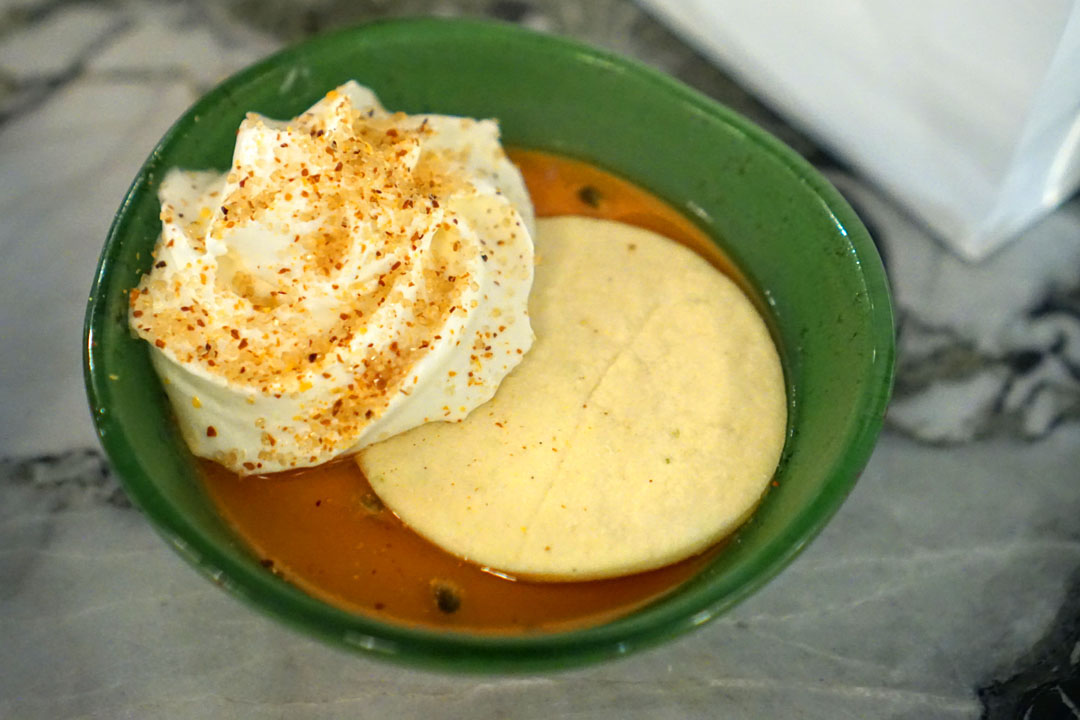 Alfajores [$11.00]
| suspiro . passionfruit honey
Our first dessert was essentially a reinterpretation of the classic
suspiro de limeña
, and featured a passion fruit-boosted cream component tempered by an
alfajor
-style cookie and meringue.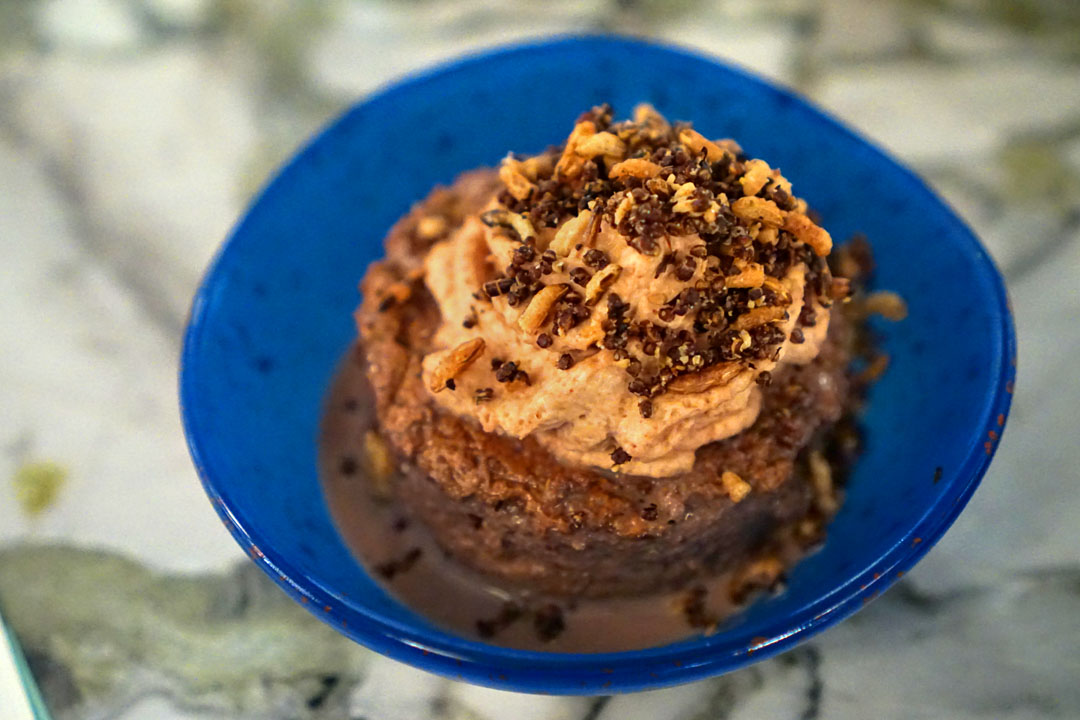 Chocolate on Chocolate with Crunchy Chocolate [$11.00]
| chocolate cake . chocolate goat's milk . chocolate-caramel whip . chocolate quinoa crunch
We'll conclude with this four-way of chocolate, the star of which was a well-saturated chocolate tres leches cake. The goat's milk and whipped cream amped up the chocolate factor even further, but far more crucial were all the crispy bits.
Cabra looks to be off to a solid start, with Izard and her team doing a pretty good job with their reinterpreted versions of Peruvian classics, though I do think there's still room for some improvement. As for what's next, Boka has taken over food and beverage for the entirety of The Hoxton, so I'm curious to see if the group will be revamping things at Sibling Rival, the hotel's ground floor eatery. I guess we'll find out eventually.