Fox Bros. Bar-B-Q (Atlanta, GA)
Fox Bros. BBQ
1238 DeKalb Ave NE, Atlanta, GA 30307
404.577.4030
www.foxbrosbbq.com
Sat 02/26/2022, 01:05p-02:20p

Given that it was my final day in ATL, I felt that it'd be appropriate to seek out some barbeque, and when looking into some places, a name that kept coming up was Fox Brothers. Located in Candler Park, not far from
Lazy Betty
, the Texas-meets-Southern spot opened back in August 2007, and is the brainchild of twin brothers Jonathan and Justin Fox.
A bit of history
: Native Texans Justin and Jonathan Fox hail from Fort Worth, and their whole business actually traces its roots to when Jonathan began cooking while working at a local bistro during high school. He moved to Atlanta at the start of 1998, and after finding a lack of good Texas-style 'cue in the city, began getting serious about making his own. Justin relocated to ATL in 2000, and the following year, the two began hosting BBQ parties for friends and family out of their backyard in Brookhaven. From there, the Foxes started catering, and in 2004, were introduced to the owners of Smith's Olde Bar: Dan Nolen, Beau Nolen (father and son), and Mike Reeves. The brothers began cooking out of the music venue the following year, and after Jonathan was laid off from his day job, they decided to team up with the Olde Bar team to open their first restaurant.
Fox Bros Bar-B-Q ended up launching in August 2007, and quickly began making a name for itself in the ATL BBQ scene. The success of the venture allowed the Foxes to expand, and they did just that in May 2011, when the Texas-themed Big Tex dropped in nearby Decatur. Further good news came in July 2014, when Fox Bros became the official barbecue supplier of the Atlanta Falcons. However, in November that year, Big Tex shuttered so that the team could focus on the growth of their BBQ operation, in particular the build-out of a catering facility on Ottley Drive in Buckhead. The Big Tex space was subsequently used as a temporary catering kitchen, but actually re-opened in July 2017 without the brothers' involvement (it shuttered permanently two years later). In November 2015, it was reported that Fox Bros was expanding to the Upper Westside's Bolton neighborhood, taking over the old Adams Hardware store on Marietta Road, but those plans fell through, reportedly due to issues with having smokers on-site.
Expansion did finally come in October 2016 with the debut of the Fox Bros Que-osk, a walk-up kiosk located a stone's throw from the aforementioned Ottley Drive commissary kitchen in Armour Yards. Further expansion arrived in April 2017, when Fox Bros opened up at SunTrust Park (now Truist Park) as well as inside Terrapin Taproom at The Battery Atlanta, an adjacent mixed-use development. This was followed shortly by another outpost and a new concept called Tex Mex-A-Cue, both at Mercedes-Benz Stadium. Lastly, a proper Fox Bros location dropped in August 2021 at The Works, a mixed-use project in the Upper Westside. This one is approximately double the size of the original, and sports an expanded food and drink menu as well.

Inside, things are about what you'd expect from a BBQ joint, with loads of crap on the walls. Now the place has been renovated since it opened, as the building suffered damage in August 2012 when a storm caused a tree to collapse on to the structure. Also, do keep in mind that much of the seating is outdoors, as you can see in the topmost photo.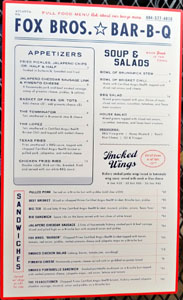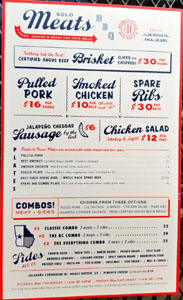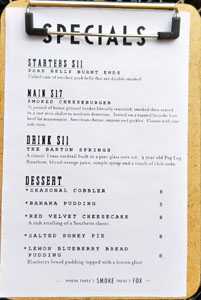 The menu is about par for the course for a barbecue place, with the featured meats joined by appropriate sides, starters, and a surprisingly lengthy selection of sandwiches. Be sure to take a gander at the specials menu as well. Click for larger versions.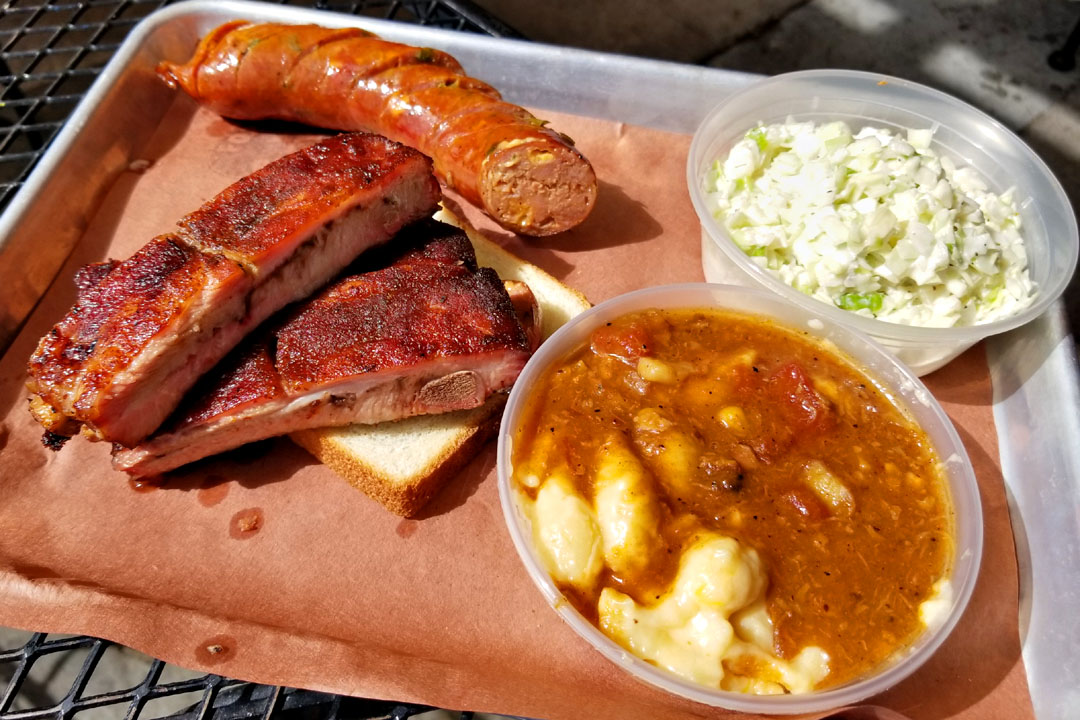 Classic Combo [$22.00]
| 2 meats + 2 sides
We ended up going with a couple combination platters in order to maximize the number of proteins sampled.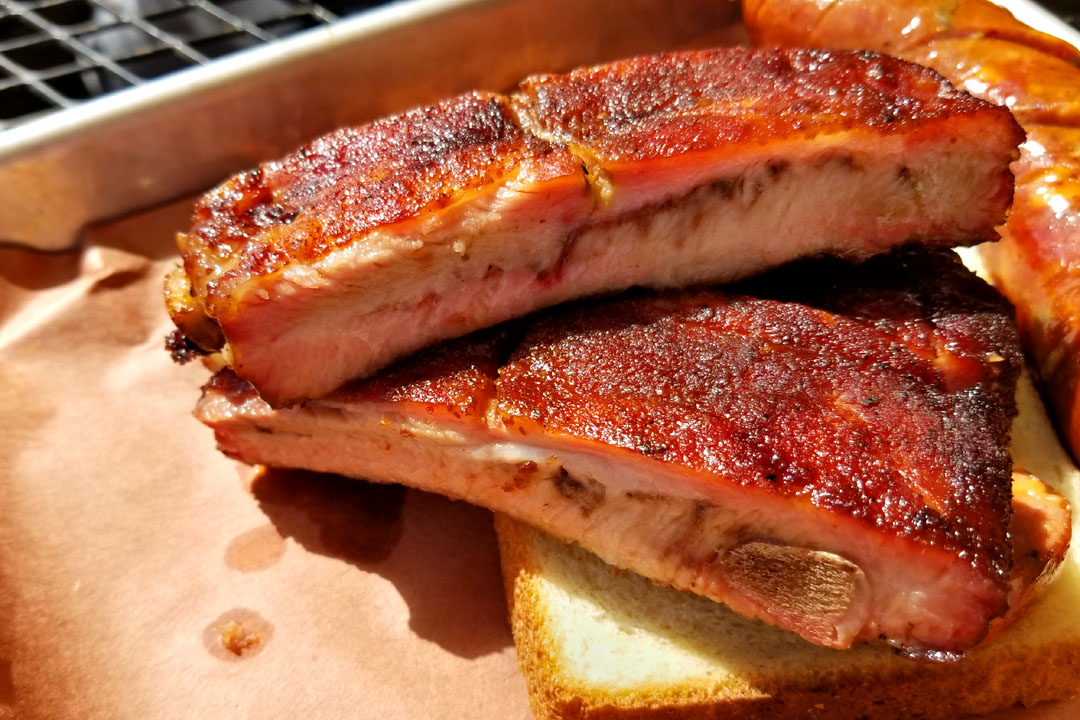 Up first were the
Spare Ribs
, which ended up being my favorite meat of the day. They were just about perfect texturally--tender, the flesh ripping cleanly off the bone--while in terms of taste, I got a spot-on balance of smoky and sweet to go along with the inherent savoriness of the pork.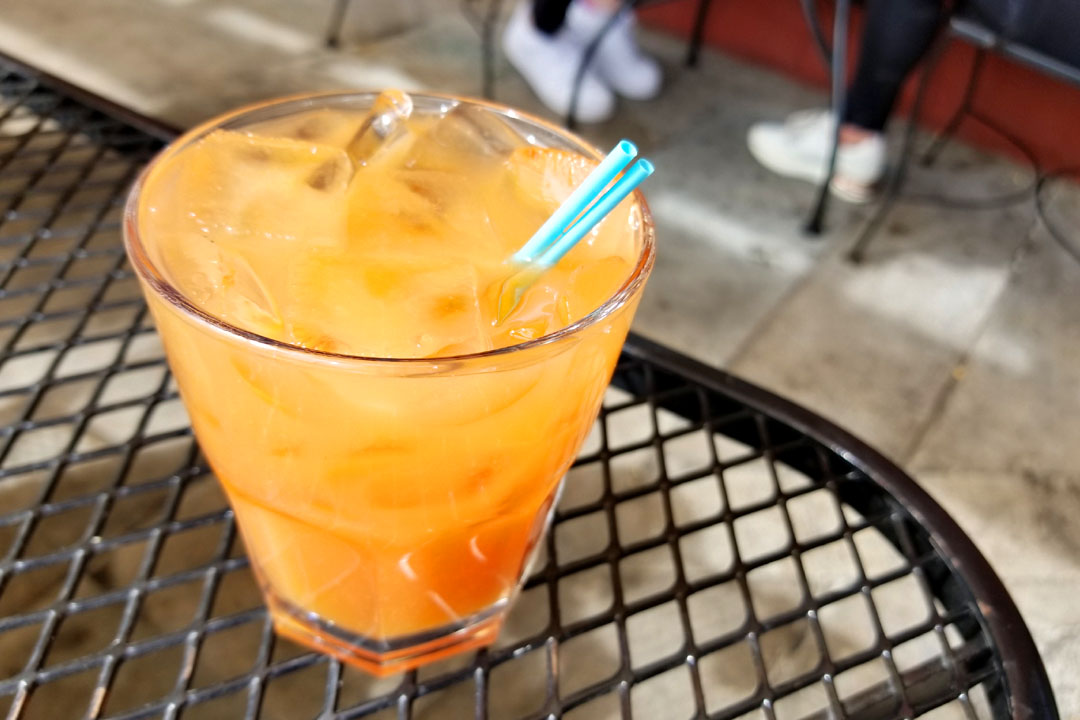 The Barton Springs [$11.00]
| A classic Texas cocktail built in a pint glass over ice. 4 year old Peg Leg Bourbon, blood orange juice, simple syrup and a touch of club soda.
Beverage-wise, I got things started with this cocktail special, ostensibly named after a natural spring in Austin. I found it pretty straightforward and easy-going, with a simple back-and-forth between bourbon and plenty of citrus.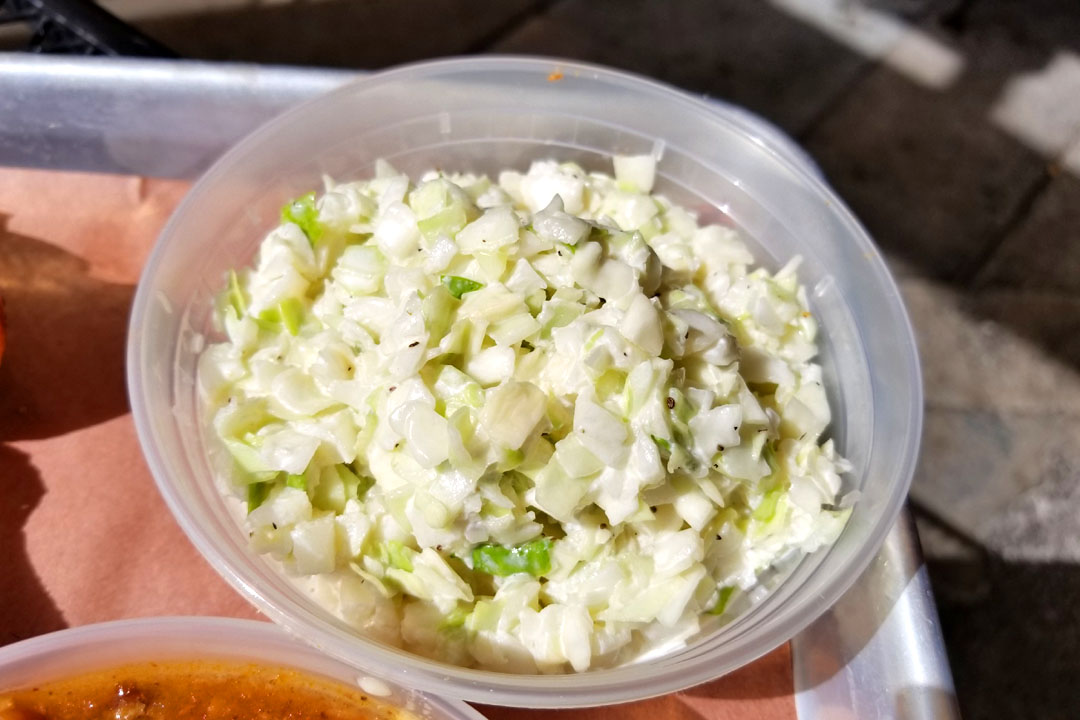 A finely-shredded
Cole Slaw
ate creamy and crunchy, and also displayed a delightfully peppery edge. A great foil to all the aggressive flavors going on.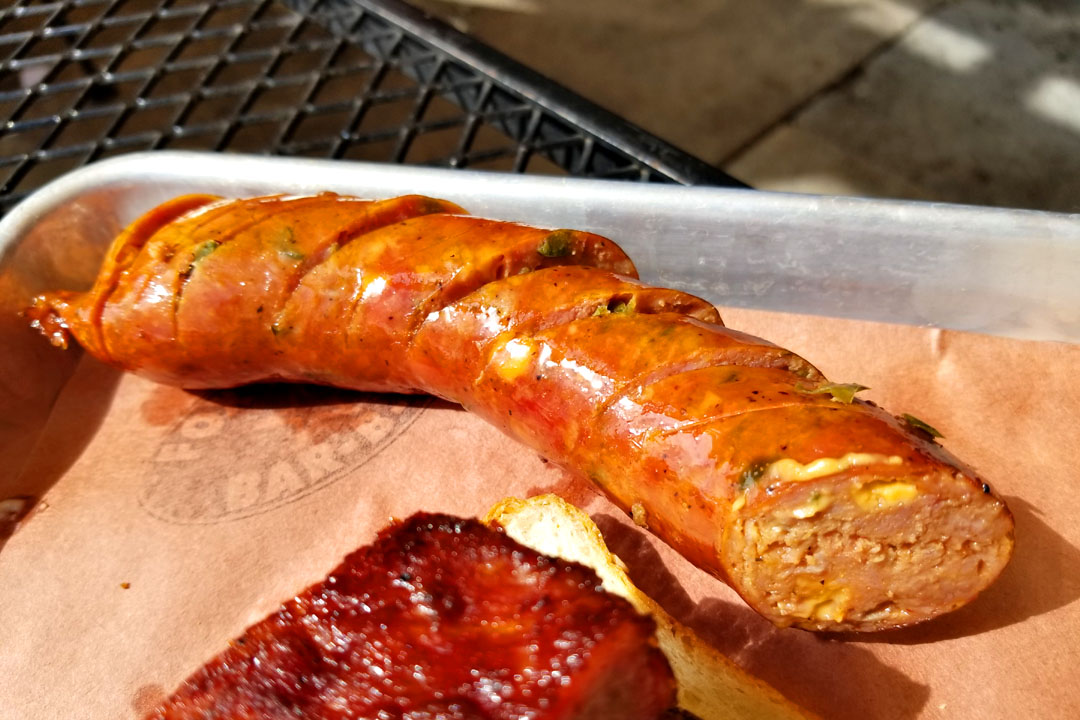 The
Jalapeño Cheddar Sausage
was a winner thanks to its wonderfully snappy casing and delicious interplay between gooey cheese and the spicy-vegetal kick of the peppers.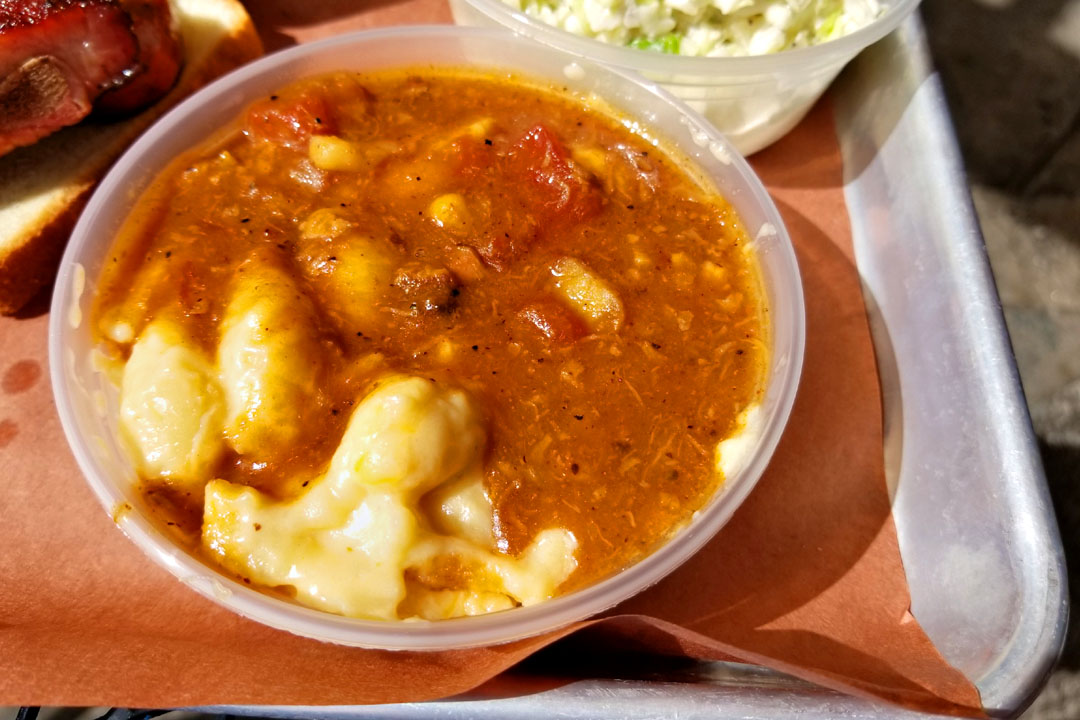 The
Fox-A-Roni
was a smart take on macaroni and cheese, one featuring well-textured pasta shells, luscious cheese, and the extra oomph of a ladle of Brunswick stew on top.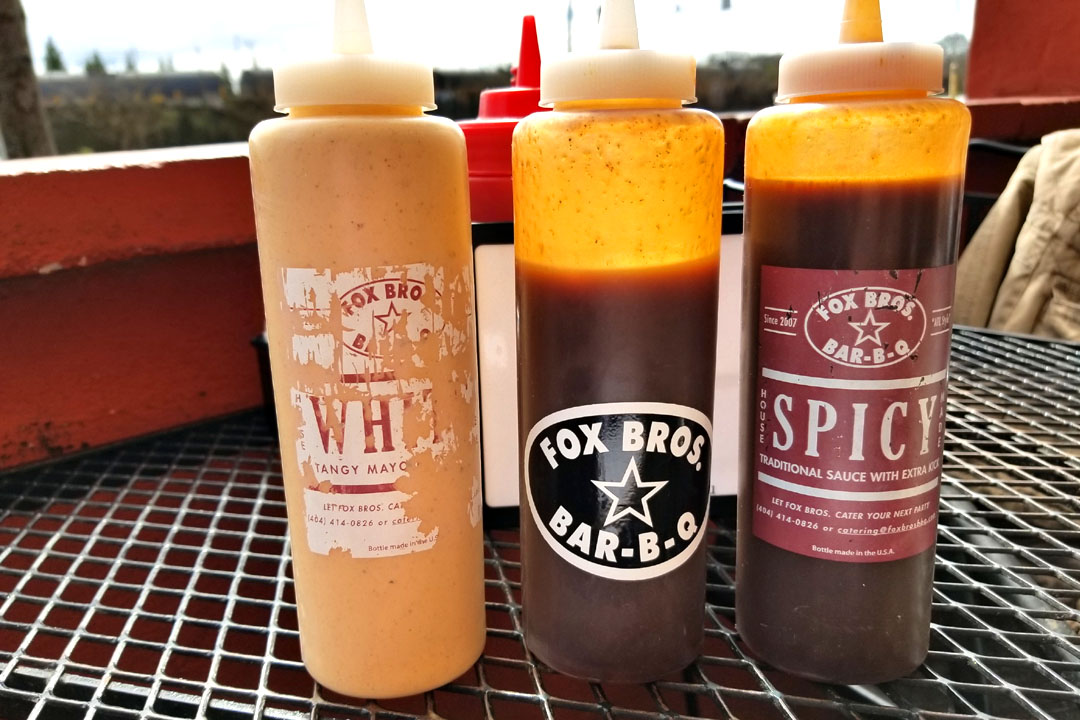 We were provided three sauces to go along with the meats. They weren't strictly necessary, but add some additional dimension to the food, which I appreciated:
Fox Bros White Bar-B-Q Sauce: Described as buttermilk- and mayonnaise-based Nashville-style white sauce, one that's only available at the restaurant, this was my favorite of the threesome due to its simultaneously creamy and tangy nature.
Fox Bros Bar-B-Q Sauce: Quite zippy, and fortunately not too sweet, with a great spice-fueled depth.
Fox Bros Spicy Bar-B-Q Sauce: This one had a more pronounced vinegary quality that matched up well with sauce's elevated heat levels.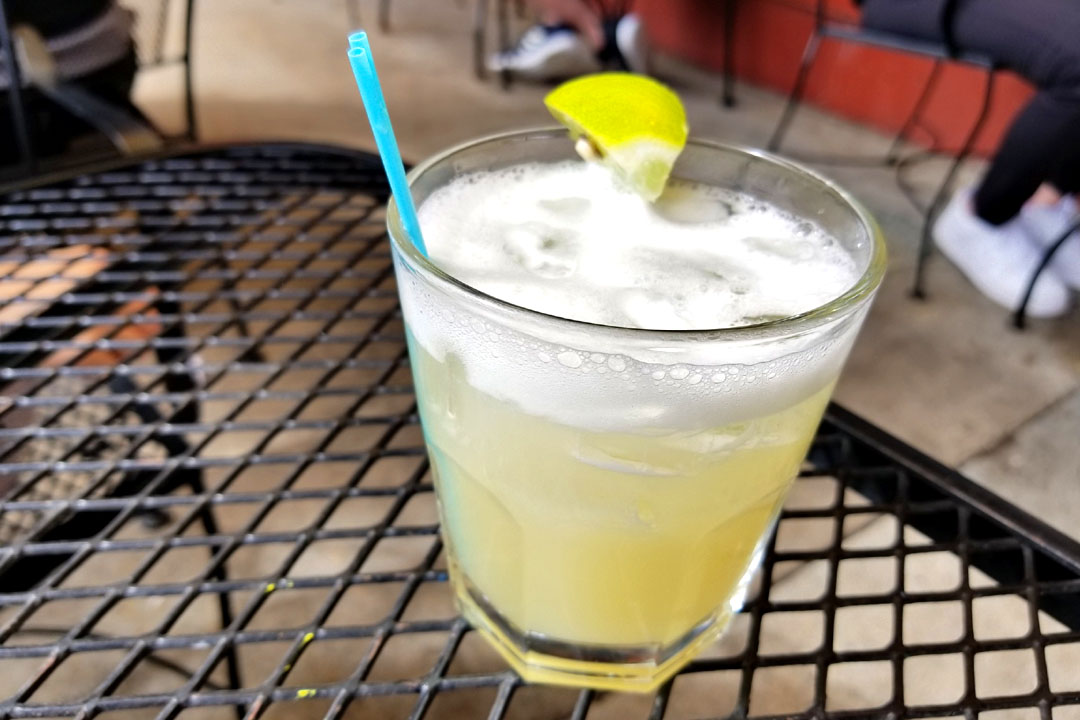 Gold Coin Margarita [$12.00]
| Herradura Anejo, fresh-squeezed lime juice, a touch of triple sec, agave nectar.
Our next cocktail was the restaurant's take on a margarita, and it turned out to be one of the better versions I've had in a while. The key was how apparent the citrus was, and how that all worked with the sugary combo of triple sec and agave, while the tequila came in and kept it all in check.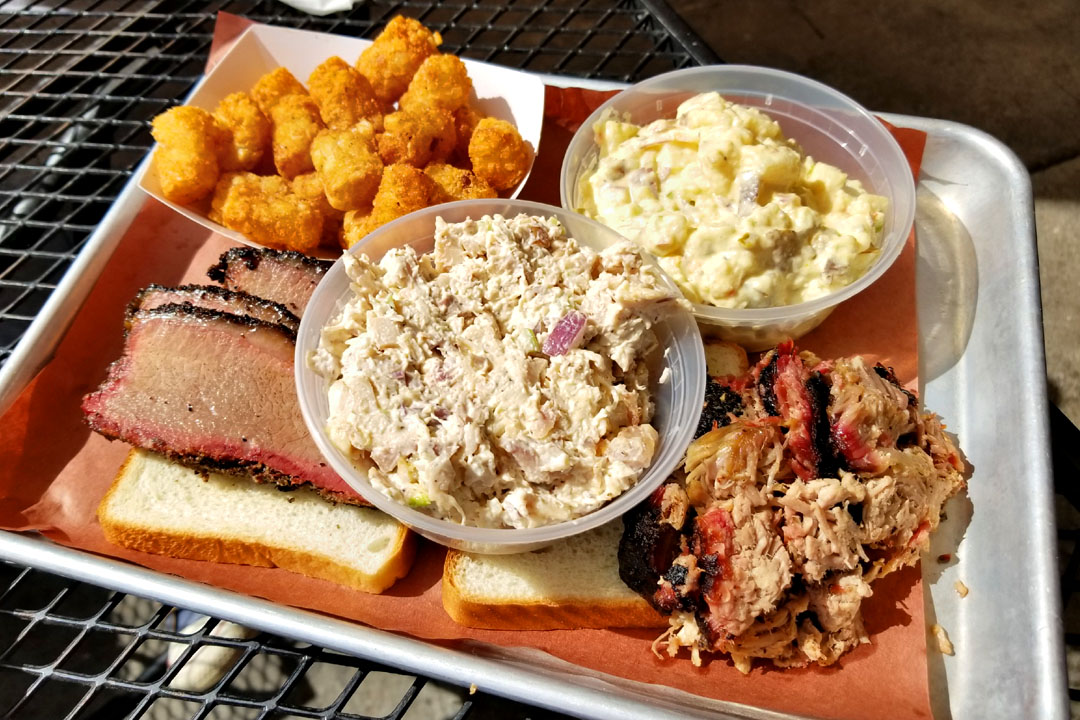 The BC Combo [$28.00]
| 3 meats + 2 sides
And here we see our second combination plate, this one with a trio of proteins.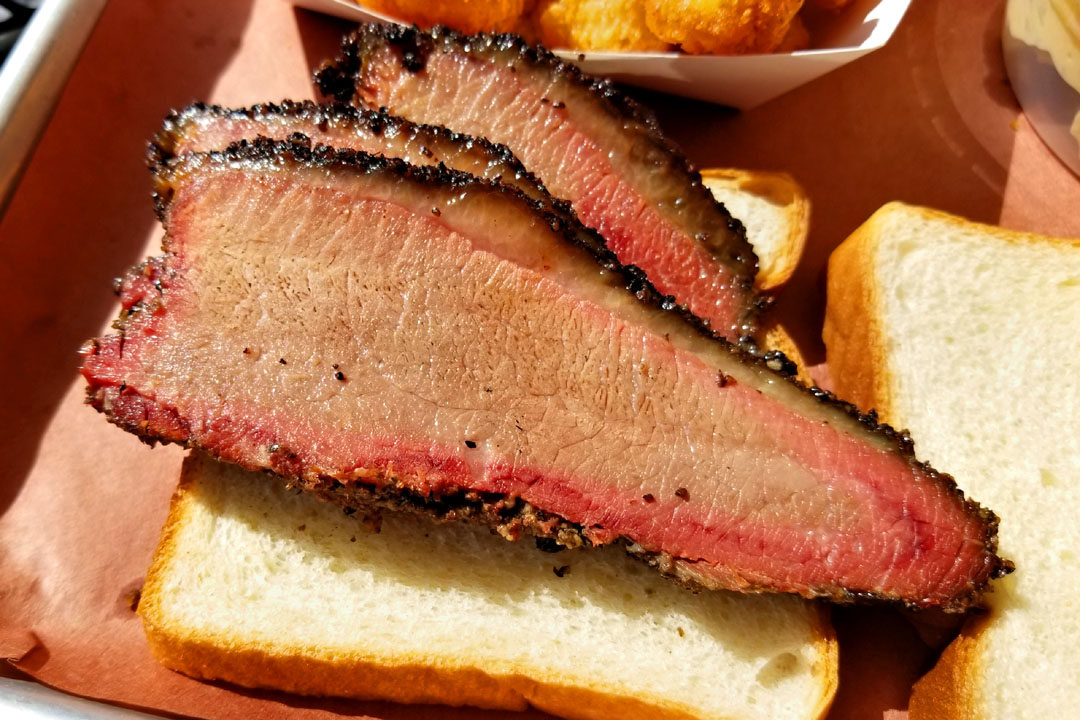 Now the
Prime Certified Angus Beef Brisket
was obviously a must-try, and I ended up requesting a mix of lean and fatty parts in order to mix things up in terms of texture. The meat delivered with a very pervasive smokiness that spoke to me, and I loved how delightfully peppery the bark was. Do note that the brisket is offered in both sliced and chopped forms, and I chose the former in order to get a more gratifying chew.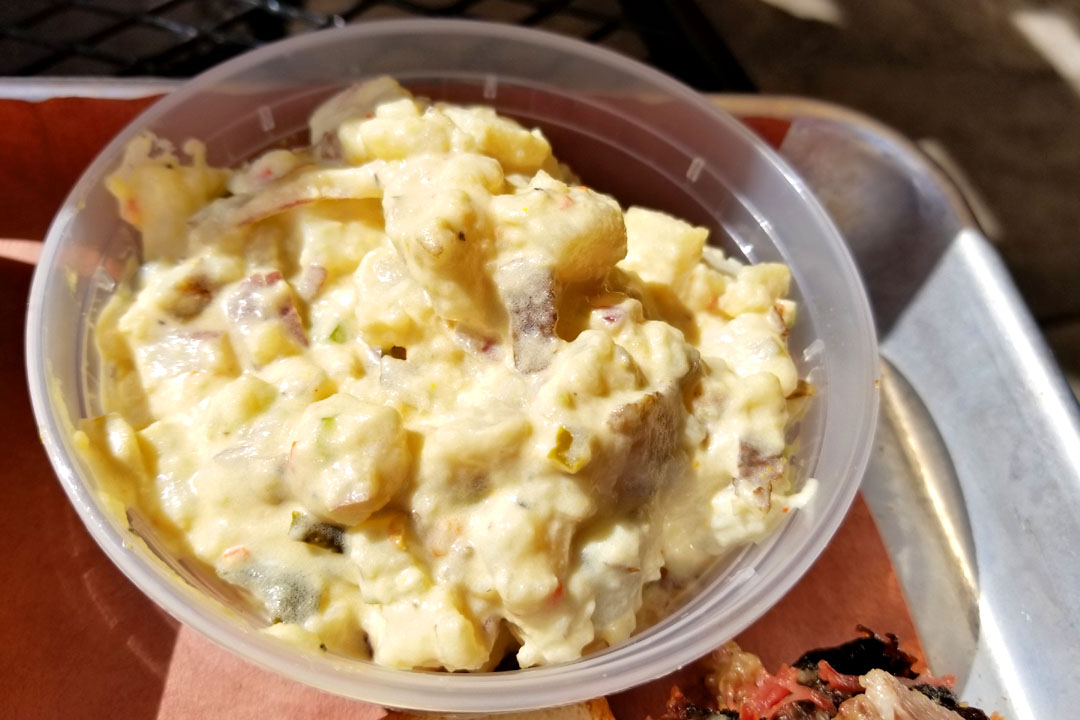 As regular readers will know, I'm a sucker for
Potato Salad
, and this example conveyed a nice mix of creaminess and crunchy, veggie-fueled piquancy, while the substantial taters brought it all together.
The
Pulled Pork
was also one of the better versions I've tried, in part due to the meat's relatively restrained sweetness. Instead, what came to the fore was smoke and the spicing on the dry rub, which just worked hand-in-hand with the shredded pork. Nice textural component from those crispy bits, too.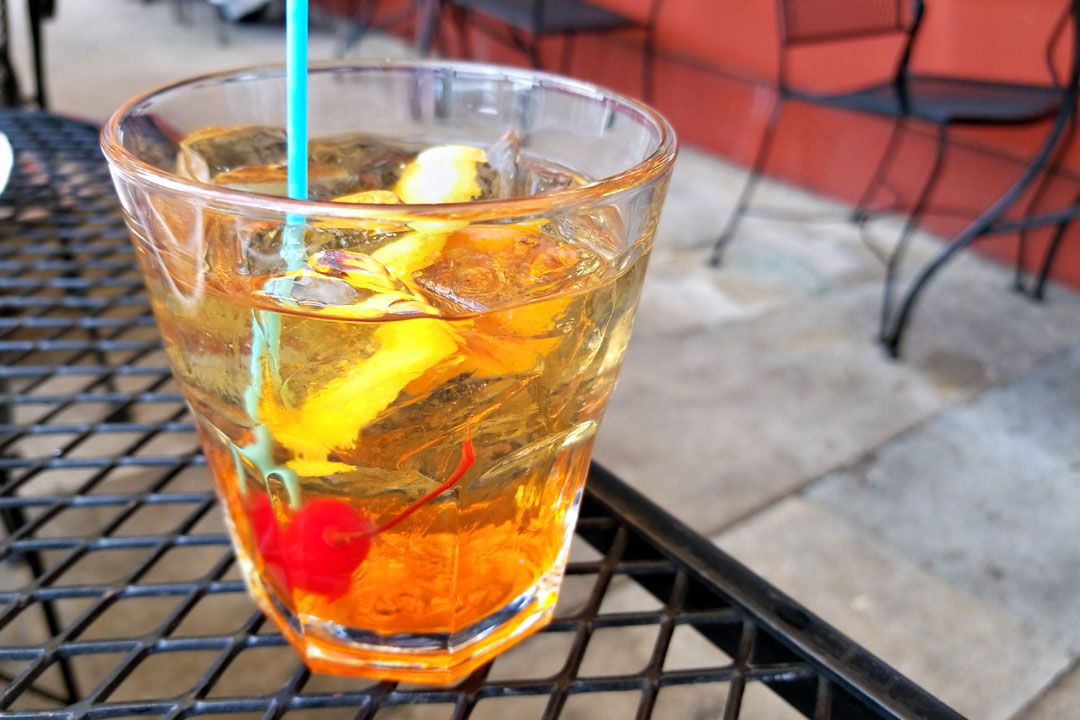 Peg Leg Old Fashioned [$10.00]
| Peg Leg Porker 4yr Whiskey, Bittermilk Barrel Aged Old Fashioned Shrub.
My third and final cocktail was an old fashioned variation that was decidedly spirit-forward, with loads of spice and some counterbalancing citrus to boot.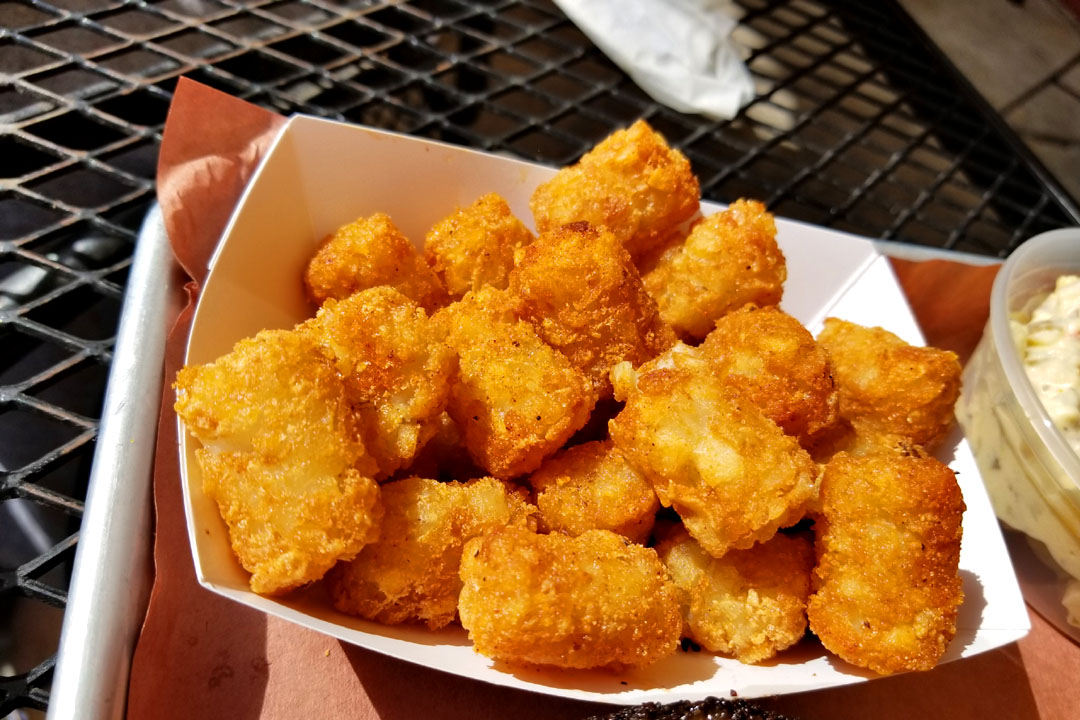 I have a hard time resisting
Tater Tots
, and these were just about perfect on account of their seemingly extra crispy character.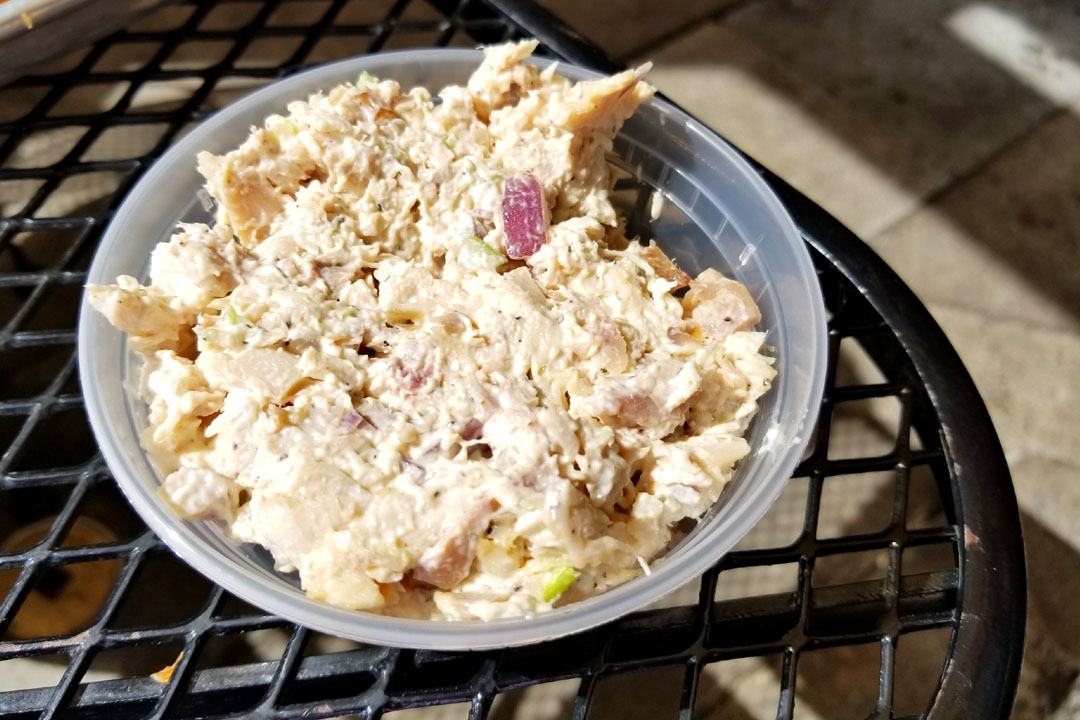 Last up was the
Chicken Salad
, which is sort of an unusual sight to see at a BBQ restaurant. But given that I'm quite a fan of the dish in general, I just had to sample it, and was not disappointed. It was perhaps the smokiest, richest example I'd ever encountered, but the robustness of the salad was effectively evened out by the crunch and tanginess of the diced veggies. Worth a try.
I'm really glad I made it out here, as this was certainly some of the best barbeque I've had, with both the meats and the sides being pretty much totally on point. I can see why this place is so popular. As for what's next, the Fox Bros team is working on a third standalone restaurant in Brookhaven, in the old Hudson FC International Sports Pub space. It's slated for a summer 2022 debut, and I wouldn't be surprised if the Foxes have even more locations up their sleeves.