Lazy Betty (Atlanta, GA)
Lazy Betty
1530 DeKalb Ave NE, Atlanta, GA 30307
404.975.3692
www.lazybettyatl.com
Fri 02/25/2022, 07:45p-11:20p

For my
first meal
in Atlanta, I opted for something very classically Southern, but for my second dinner in town, I definitely wanted something fancier, something tasting menu-y. Thus, after looking at a few restaurant options in the city, I decided on the whimsically-named Lazy Betty in Candler Park, a spot that features cuisine with a curious combination of Chinese, Southern, and French influences. The place is the creation of Chefs/Owners Ron Hsu and Aaron Phillips, while Hsu's siblings Anita and Howard (proprietors of the nearby Sweet Auburn BBQ) are also on board as partners.
About the Chefs
: A Stockbridge native, Ronald Hsu comes from a Chinese-Malaysian background, and his parents Betty and George actually ran a number of restaurants under the Hunan Village banner from 1980 to 2008. He thus got his start in the culinary field at an early age, though after finishing his studies at Woodward Academy, he put cooking aside and enrolled at the University of Georgia, majoring in business. However, the kitchen beckoned, and Hsu found work at both a local pizzeria and a tapas spot during his college years. He eventually moved to Australia to attend an outpost of Le Cordon Bleu in Sydney, and graduated in 2004 (he left UGA his junior year). After his visa expired, he returned to Atlanta and landed a position at Dish. There, he worked under Sheri Davis, who'd previously cooked at the ATL outpost of Brasserie Le Coze, which was owned by Gilbert and Maguy Le Coze of
Le Bernardin
fame.
Davis soon sent Hsu to New York, where he was hired by Eric Ripert at the age of 24. He spent around eight years at the vaunted seafood spot, working his way up from line cook to exec sous, and even dabbled in Ripert's consulting business. During this time, he also won the Ferdinand Metz culinary competition, which allowed him to apprentice in Japan at Shinichiro "Shin" Takagi's Zeniya in Kanazawa in 2011 (this later led to an appearance with Takagi on Netflix's
The Final Table
in 2018). However, Hsu ended up leaving Ripert's side in May 2013 for an Exec Chef position at Le Colonial, a long-established neo-Vietnamese eatery in Manhattan. That didn't last long though, as a couple years later, he was back at Le Bernardin, this time as Creative Director.
Aaron Phillips, meanwhile, hails from St. Louis, and comes from a Jewish background. By the age of six, he already knew that he wanted to be a chef, and thus later decided to study at the Culinary Institute of America at Hyde Park. Following completion of his culinary degree, he decided to stay in NYC, and cooked at The Mark Restaurant by Jean-Georges, Le Bernardin (where he first met Hsu), Bouley, and the Four Seasons. This was followed by relocation to Atlanta, and here in ATL, he found employment at Atlas at the St. Regis hotel.
Hsu subsequently recruited Phillips and the two began work on opening a restaurant together. In May 2018, they started holding pop-ups to preview Lazy Betty (named, ironically, after Hsu's mom), which was originally going to be situated in Atlanta's Poncey–Highland neighborhood, right next to Sweet Auburn BBQ. However, the place ended up launching in its current location on February 26th, 2019 and quickly began making a name for itself, snagging
Atlanta
magazine's "
Best New Restaurant
" honors in December that year, while James Beard bestowed "Best New Restaurant" semifinalist status the following February. In addition, the success of Lazy Betty has allowed the team to expand. They launched a Vietnamese-inspired eatery called Juniper Cafe back in December, and are working on Humble Pie, a pizza/pot pie/dessert pie-focused joint that should be dropping in the near future.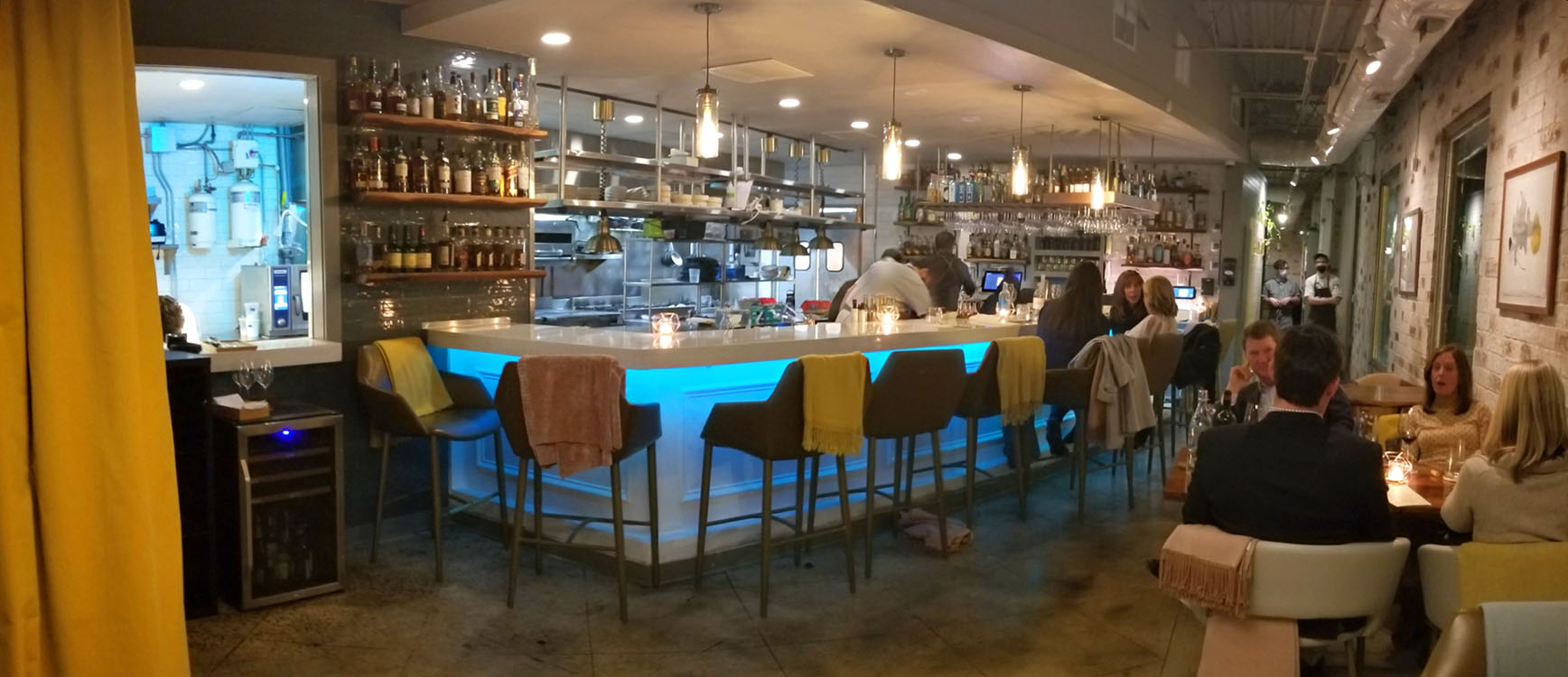 Lazy Betty resides in the former home of the longstanding Radial Cafe, which opened in 1999. The space has been gussied up by the team at
PRAXIS3
, though the same basic layout (and indeed, even some of the fixtures) remains. Note that there's also a patio, which you can sort of see in the photo at the top of this post.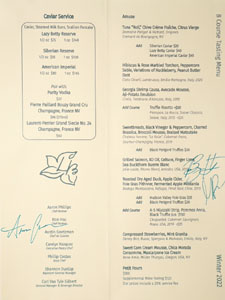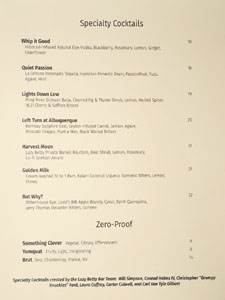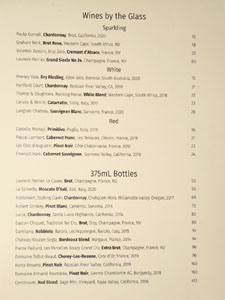 The restaurant offers six- and eight-course tasting menus priced at $140/$180, with numerous supplements, as well as wine pairings at $90/$120. Note the signature of CdC Austin Goetzman and junior sous chefs Bryce Hardison and Graham Rooks (both of whom apparently started out as dishwashers). Also pictured above is the beverage list, and in addition, there's a more comprehensive wine list available for perusal, too. Corkage is $35 a bottle. All prices are inclusive of service, which is appreciated. Click for larger versions.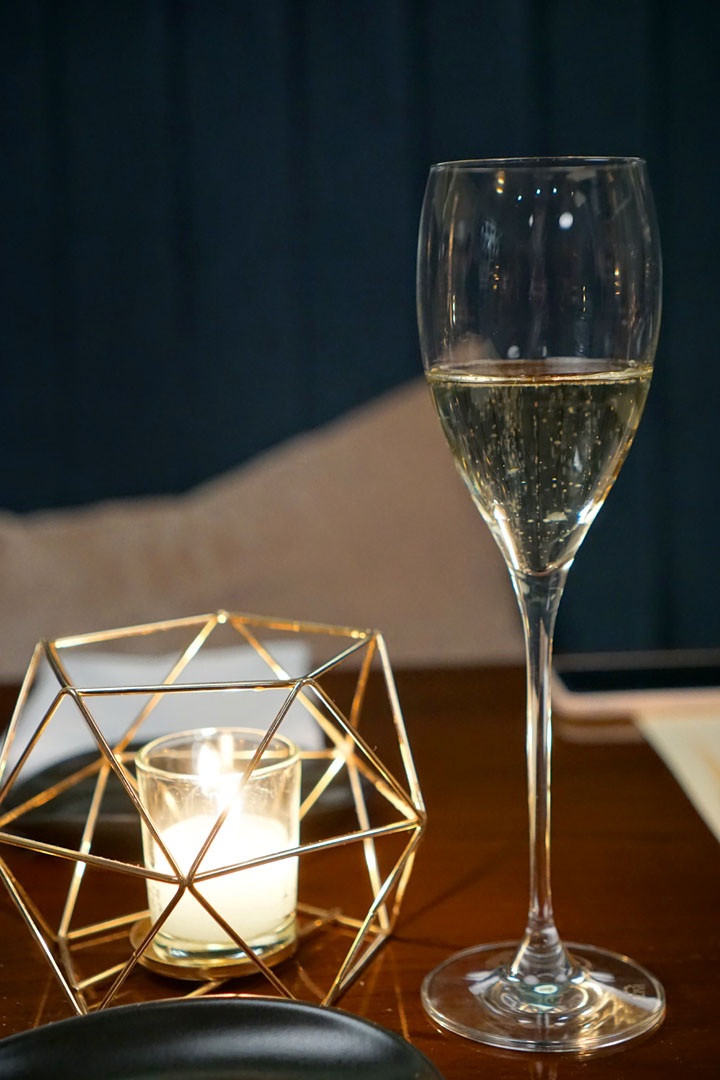 Upon being seated, we were quickly welcomed with a complimentary glass of Champagne, a dry, lively sparkler that functioned as an apt apéritif.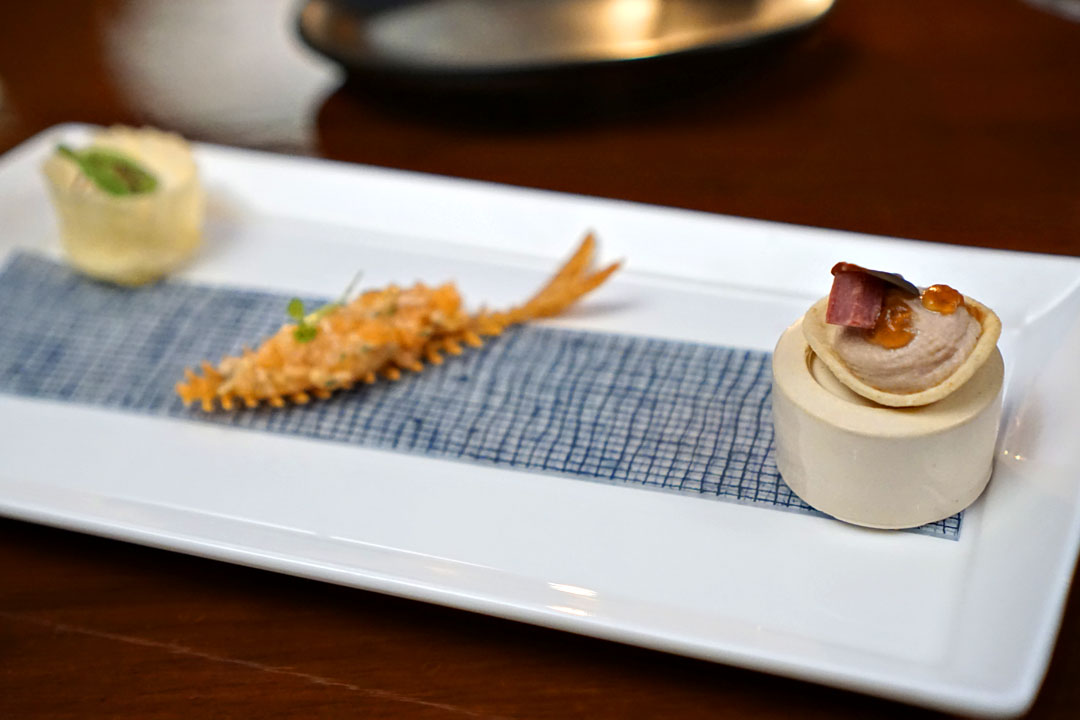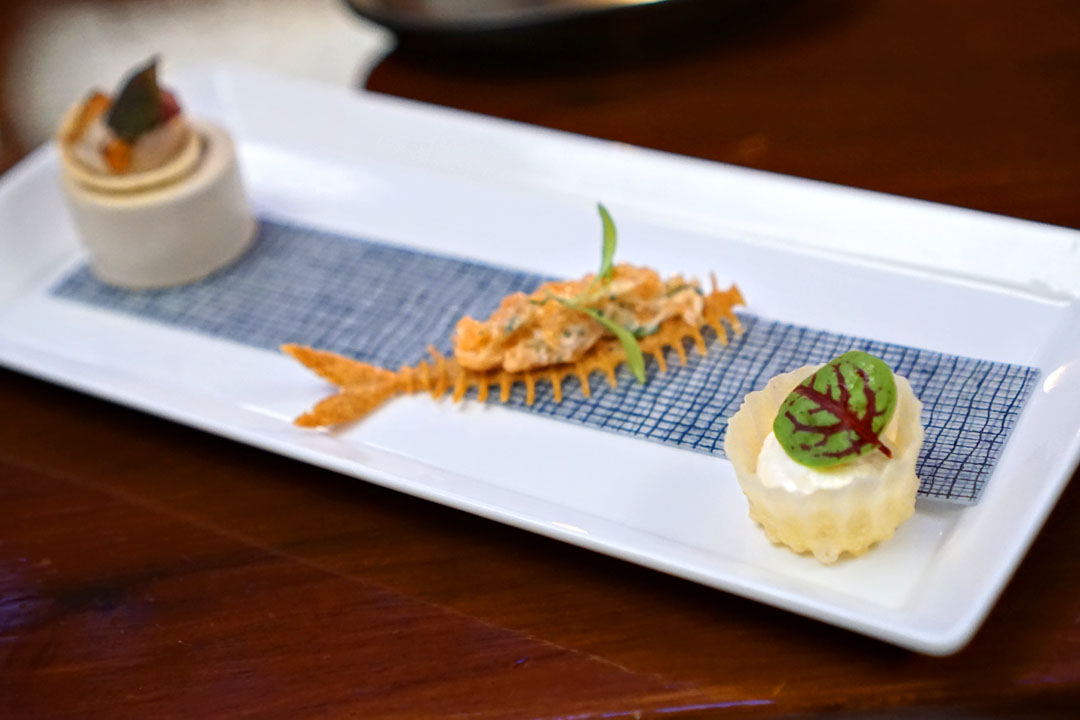 Next to arrive was an amuse bouche trio. Going left to right in the first photo:
A miniature tart that played the potency of smoked ricotta against overarching notes of Meyer lemon and micro-basil.
In the middle was a delightfully crunchy, savory "scaled onion" cookie topped with a perfectly lush, briny salmon tartare.
Last up was a savory farro(?) cracker crowned with an earthy-yet-refined duck liver mousse, smoky-salty duck ham, and a Glera wine reduction.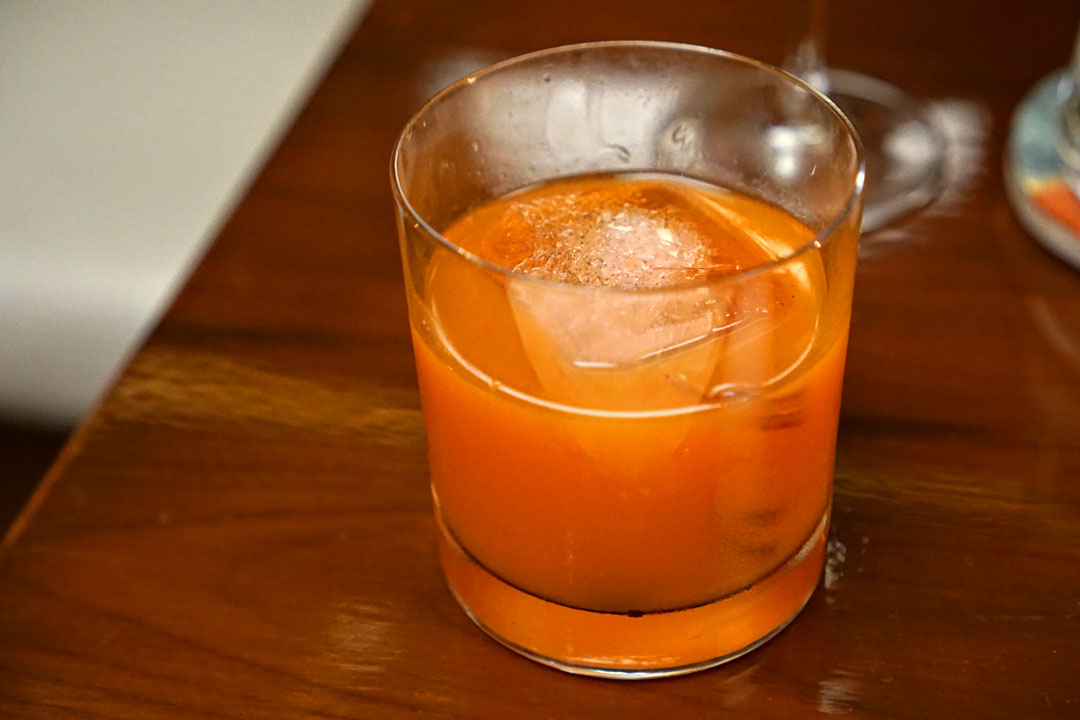 Left Turn at Albuquerque [$20.00]
| Bombay Sapphire East, Ceylon-Infused Carrot, Lemon, Agave, Moscato Grappa, Punt e Mes, Black Walnut Bitters
We ended up trying all the available cocktails, and this first one was the best of the bunch. The key was how flawlessly the drink's warm-n-spicy notes were layered over the intrinsic sweetness of carrot, and how this then transitioned to a mid-palate and finish redolent of bitterness and herbs, with even a bit of
suanmei
in there. This actually might be my favorite cocktail of 2022 thus far.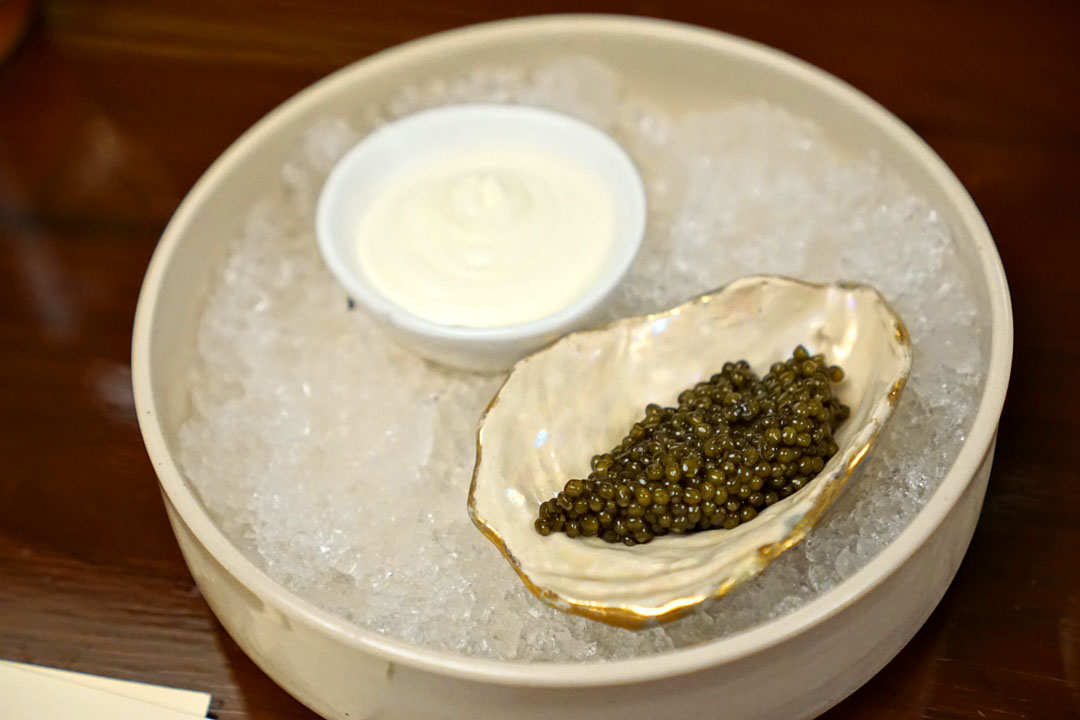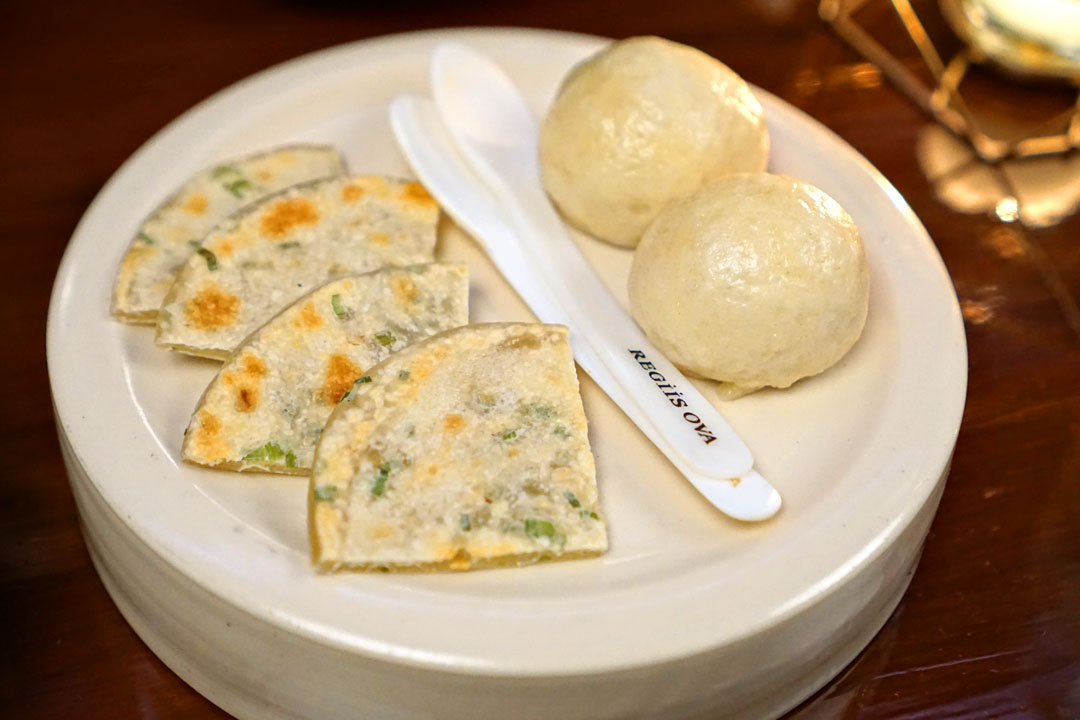 Supplement: Caviar Service - Lazy Betty Reserve (1/2 oz) [$75.00]
| Caviar, Steamed Milk Buns, Scallion Pancake
The meal proper began with caviar, a particularly rich, sticky example with an almost buttery sweetness set against the expected saline. The roe paired effortlessly with a pretty classic rendition of
cong you bing
, either with or without the yogurt-y, chive-infused crème fraîche. Even better, though, were the airy-yet-substantial, subtly sweet,
mantou
-like steamed buns, which let the caviar shine even more.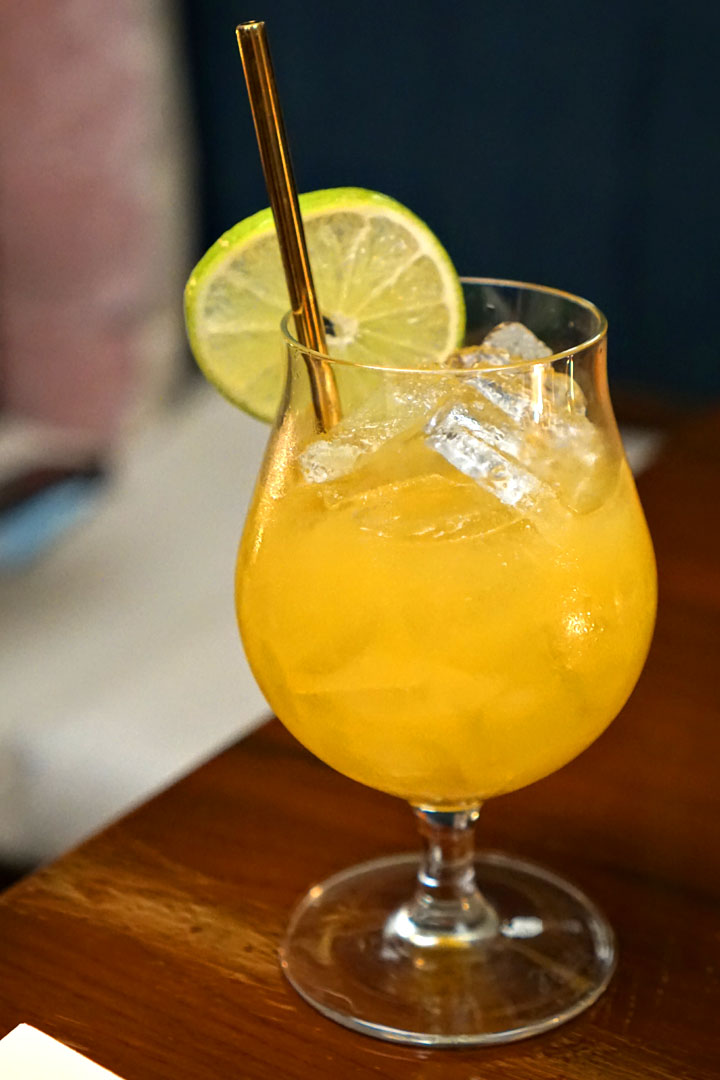 Quiet Passion [$18.00]
| La Gritona Reposado Tequila, Hamilton Pimento Dram, Passionfruit, Yuzu, Agave, Mint
Coincidentally, my second cocktail was also my second favorite. I was impressed by how well-integrated the drink was, especially with regard to the interaction between mint and tropical fruit, and how that all meshed with the pungent, spicy notes present.
Given that this is the South, a biscuit was appropriate for bread service, and it turned out to be perhaps the best I've ever had. It showed all the cozy, familiar, delicately sweet flavors I wanted, but the crux was its texture, which was beautifully flaky and croissant-like; I don't think I've seen anything quite like it before. Now I thoroughly enjoyed the biscuit alone, but I do have to say that it was even better when matched with that jammy, silky, sea salt-studded mixed berry butter.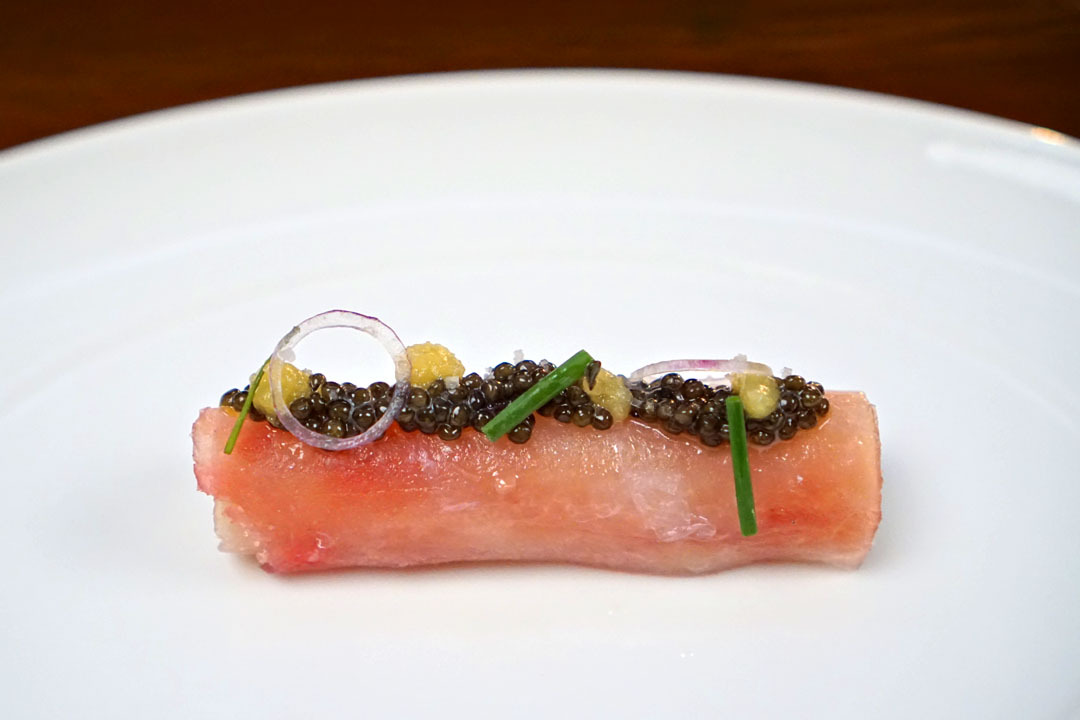 1: Tuna "Roll," Chive Crème Fraîche, Citrus Vierge + Siberian Caviar [+$20.00]
Our first "official" course seemed like something that could've been served at Le Bernardin, and that's a good thing. The star here was the three-way back-and-forth between the brine of yellowfin, the bright-n-herby nature of the lemon chive-infused crème fraîche, and the savory crunch of feuille de brick pastry. Layered on top of that base was the simultaneous presentation of caviar and Meyer lemon, punctuated by hits of astringency from raw red onion.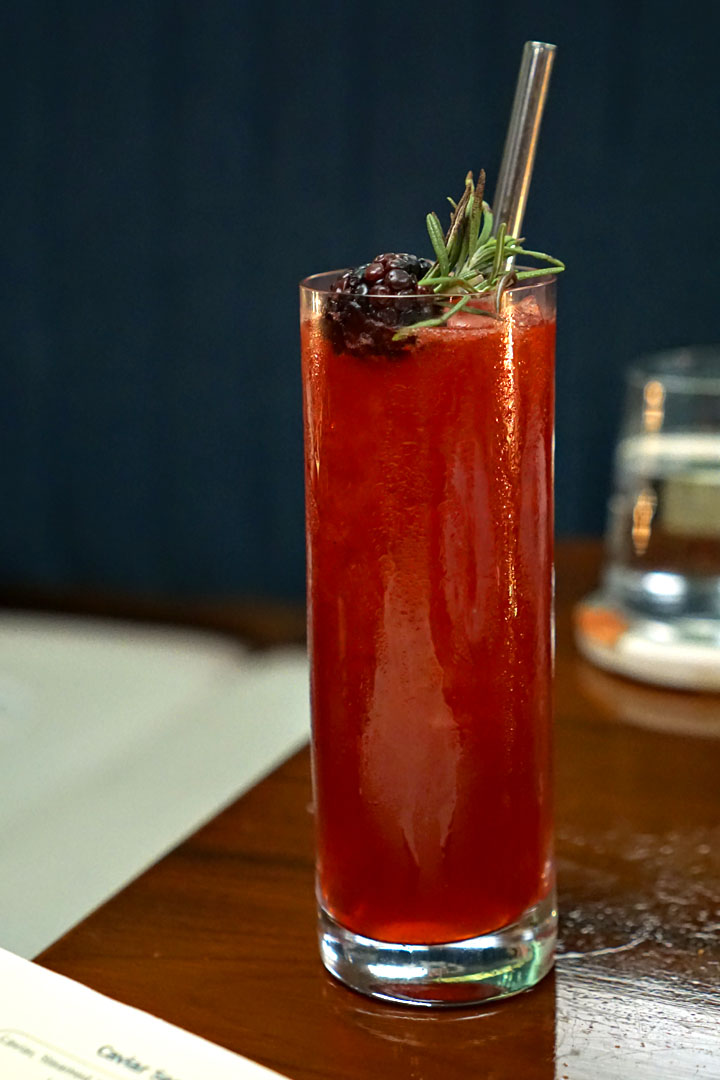 Whip It Good [$18.00]
| Hibiscus-Infused Absolut Elyx Vodka, Blackberry, Rosemary, Lemon, Ginger, Elderflower
This next cocktail ended up being my least favorite of the sextet. Think bracing, lingering ginger set over muted berry fruit and surprisingly light hibiscus. I just felt that it was a bit thin and lacking oomph.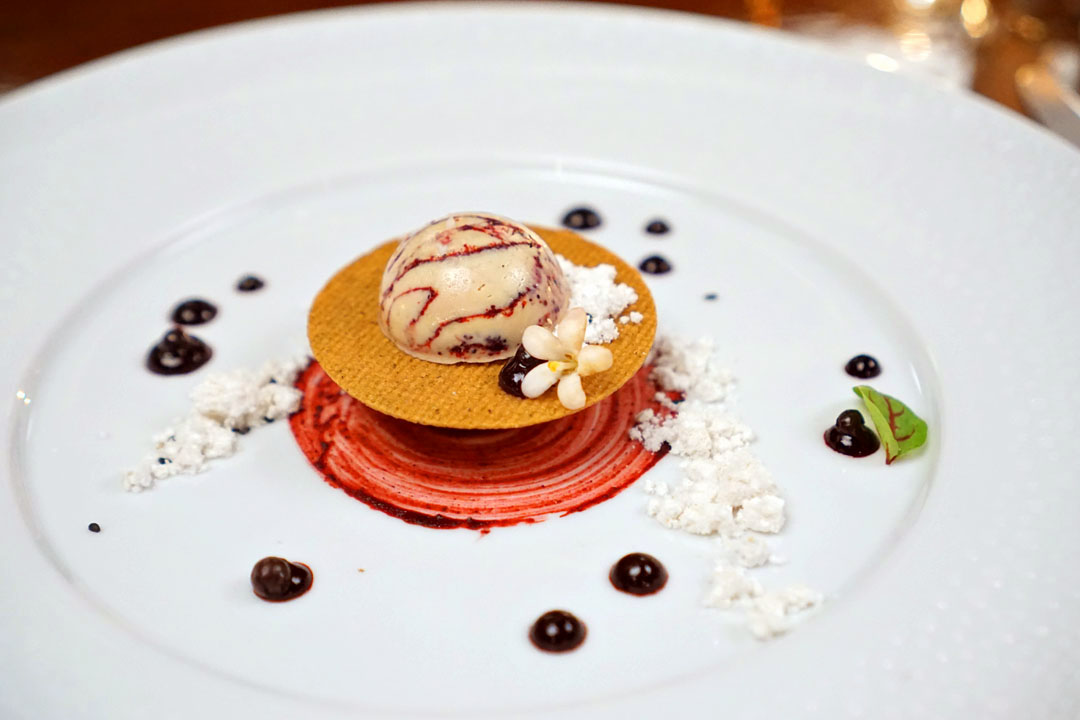 2: Hibiscus & Rose Marbled Torchon, Peppercorn Sable, Variations of Huckleberry, Peanut Butter Dust
This marbled hemisphere of duck liver was a reminder of how well foie, fruit, and floral can pair. I loved how the juicy notes of the huckleberry compote melded with the aggressively earthy notes of the liver, while the "dust" and benne seeds sprinkled on the plate completed the PB&J-esque experience. If that wasn't enough, a crumbly black pepper sablé offered up a deft contrast in texture. A standout for sure.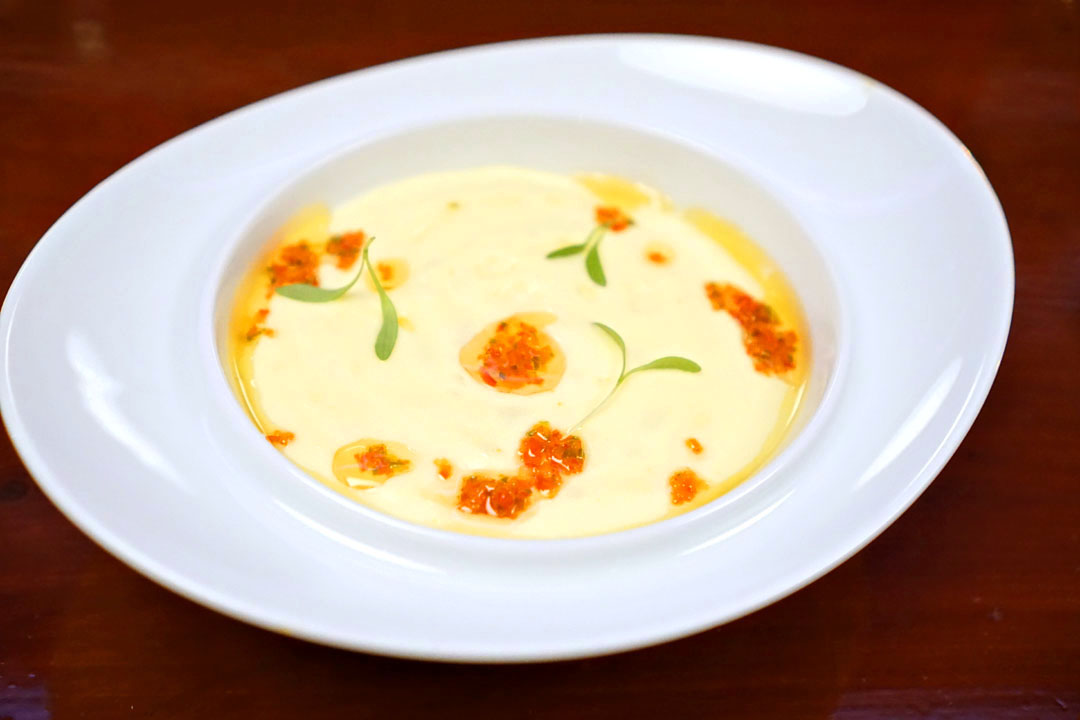 3: Georgia Shrimp Causa, Avocado Mousse, Aji-Potato Emulsion
Shown above is a very smart take on the Peruvian staple dish of causa. I made sure to dig my spoon in deep to get all the layers, and what I tasted first was a mash-up of light, airy potato and silky avocado. This then led to cool, saline bits of white wine-poached Tybee Island shrimp, while the finish conveyed the surprisingly sharp, lingering heat of a red pepper coulis.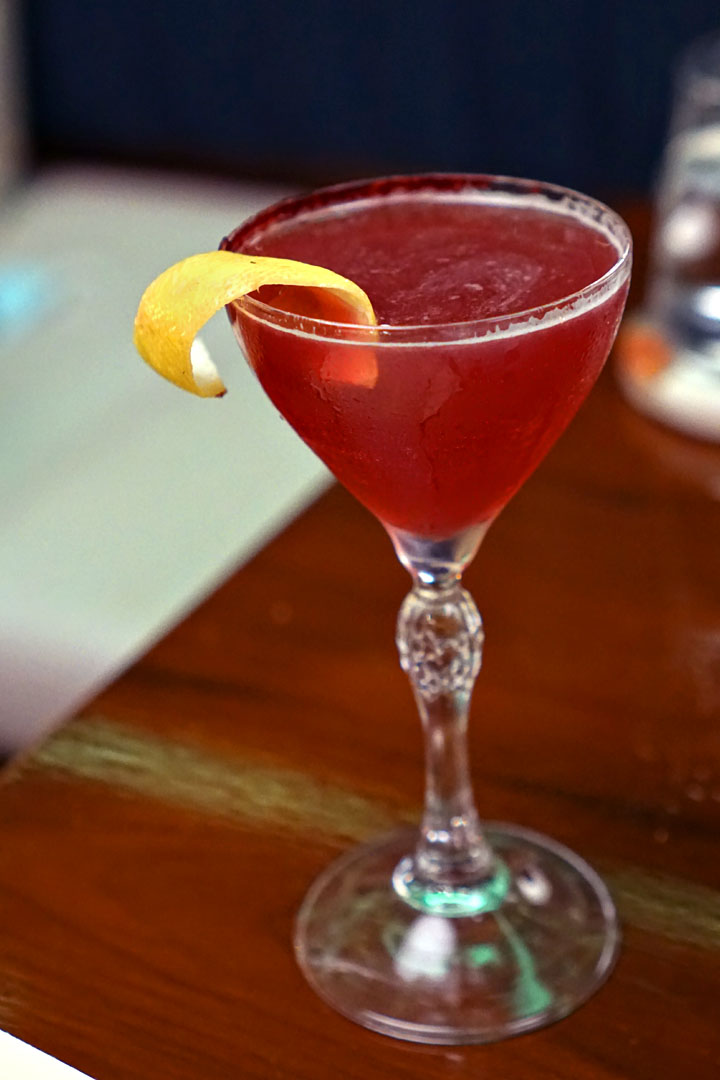 Harvest Moon [$21.00]
| Lazy Betty Private Barrel Bourbon, Beet Shrub, Lemon, Rosemary, Lo-Fi Gentian Amaro
This garnet-tinted cocktail delivered enveloping nuances of citrus and rosemary, set over a supporting structure of cacao-like notes and the unmistakable kick of bourbon.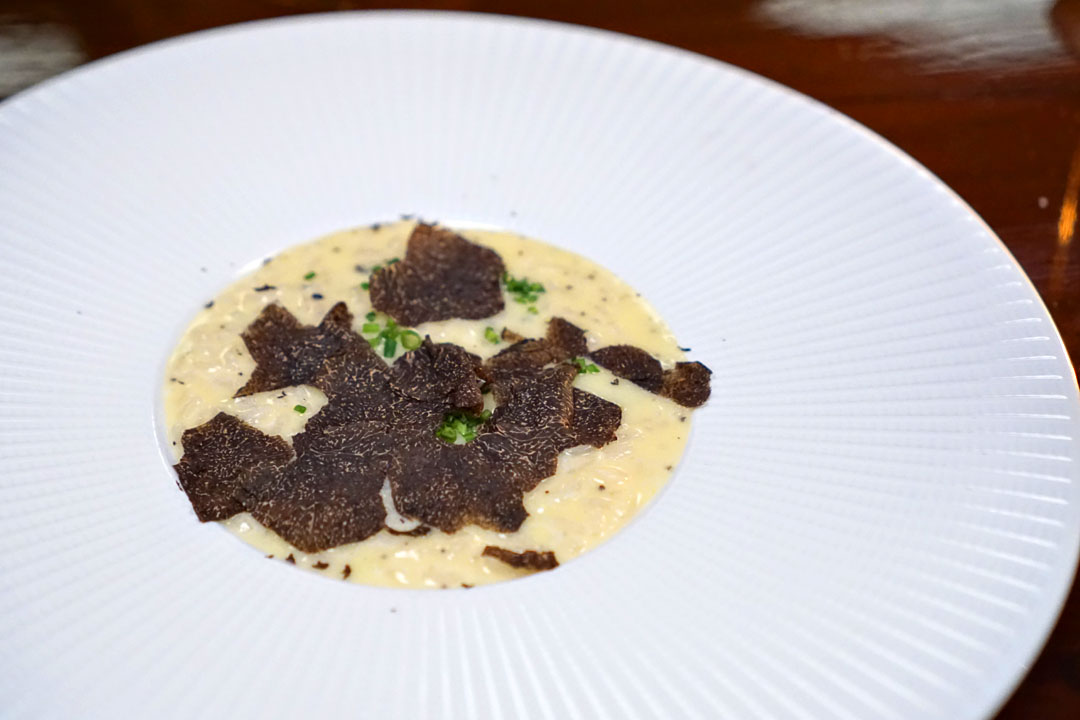 Supplement: Truffle Risotto [$50.00]
I have a hard time turning down a truffle risotto, so naturally I had to add this on to my meal. Cooked with white truffle and topped with black truffle, it was the most truffle-forward risotto I'd ever had. The dish had a real funk to it, though this was kept in check by some very apparent, very savory notes of onion. Spot-on texture with the rice, too.
4: Sweetbreads, Black Vinegar & Peppercorn, Charred Brassica, Broccoli Mousse, Braised Matsutake
Oven-roasted sweetbread was perfectly crispy on the outside, yet creamy on the inside. Meanwhile, flavors demonstrated a balance between an elegant offal-y earthiness and a General Tso's-esque sweetness, all accented by smoky, bitter qualities from the dish's other elements.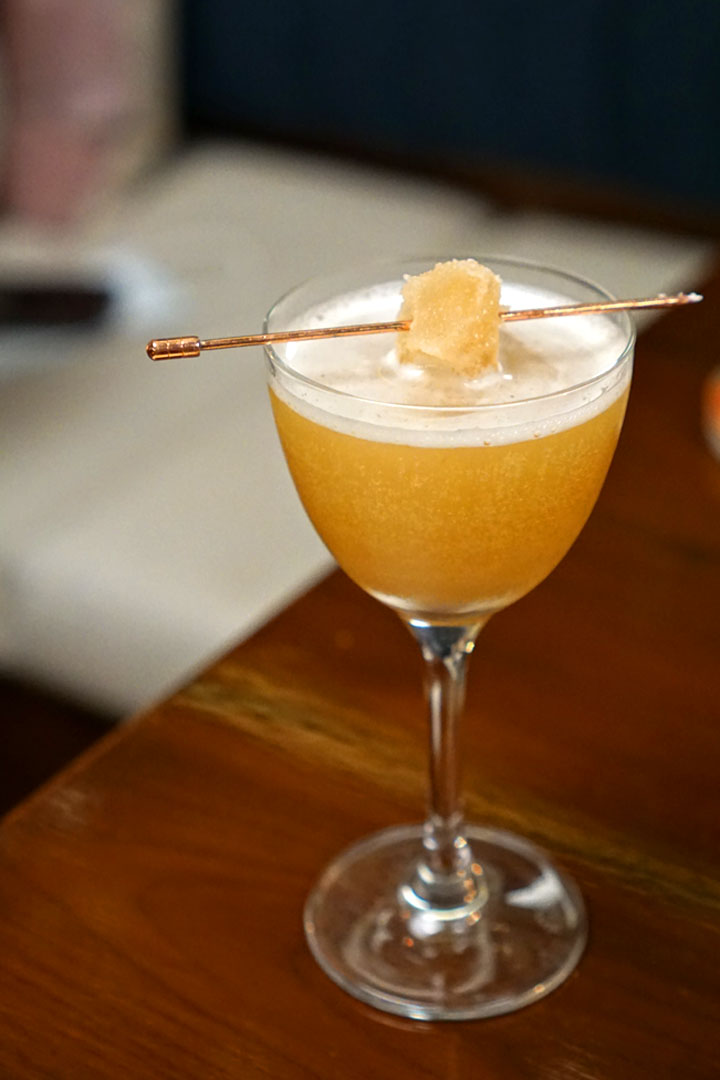 Golden Milk [$21.00]
| Cream-washed 10 to 1 Rum, Kalani Coconut Liqueur, Turmeric Bitters, Lemon, Honey
This cocktail managed to live up to its moniker, being both golden and milky. At first blush, I tasted a blast of super tropical, lychee-like flavors, which then led to coconut, honey, and some distinctly yogurt-y elements. Pretty damn good.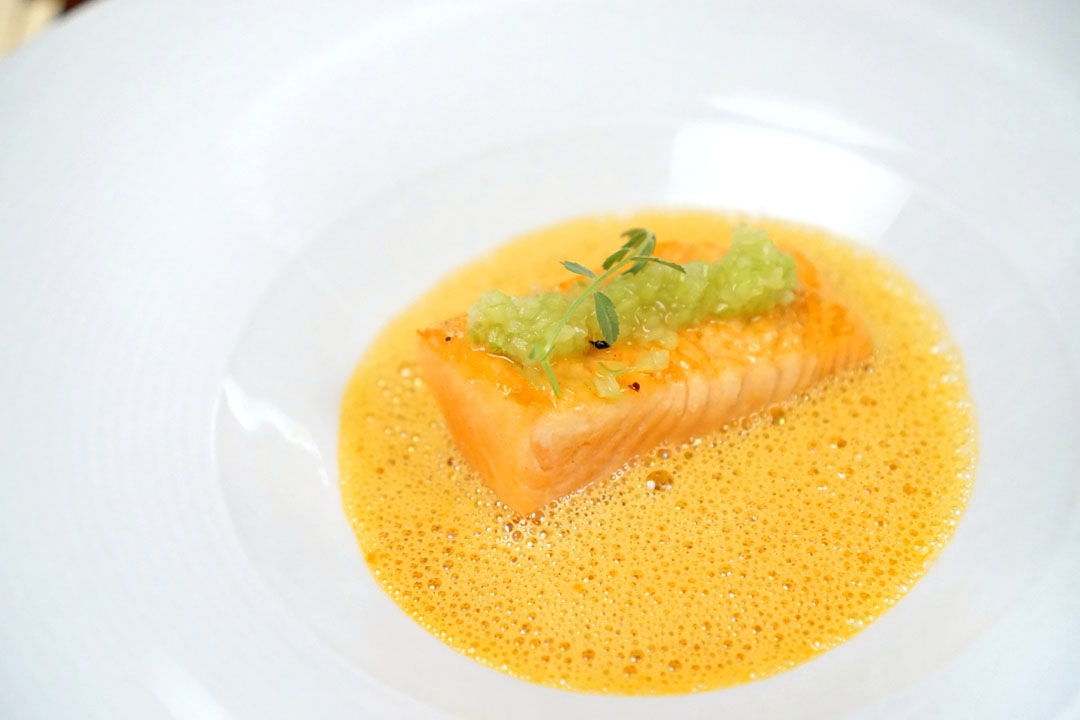 5: Grilled Salmon, XO Oil, Celtuce, Finger Lime, Sea Buckthorn Beurre Blanc
A cut of charcoal-seared salmon was cooked just how I like it: rare, buttery, and briny. The fish's lusciousness married easily with the tangy, buckthorn-boosted beurre blanc, but even better was the celery-like zing from the celtuce.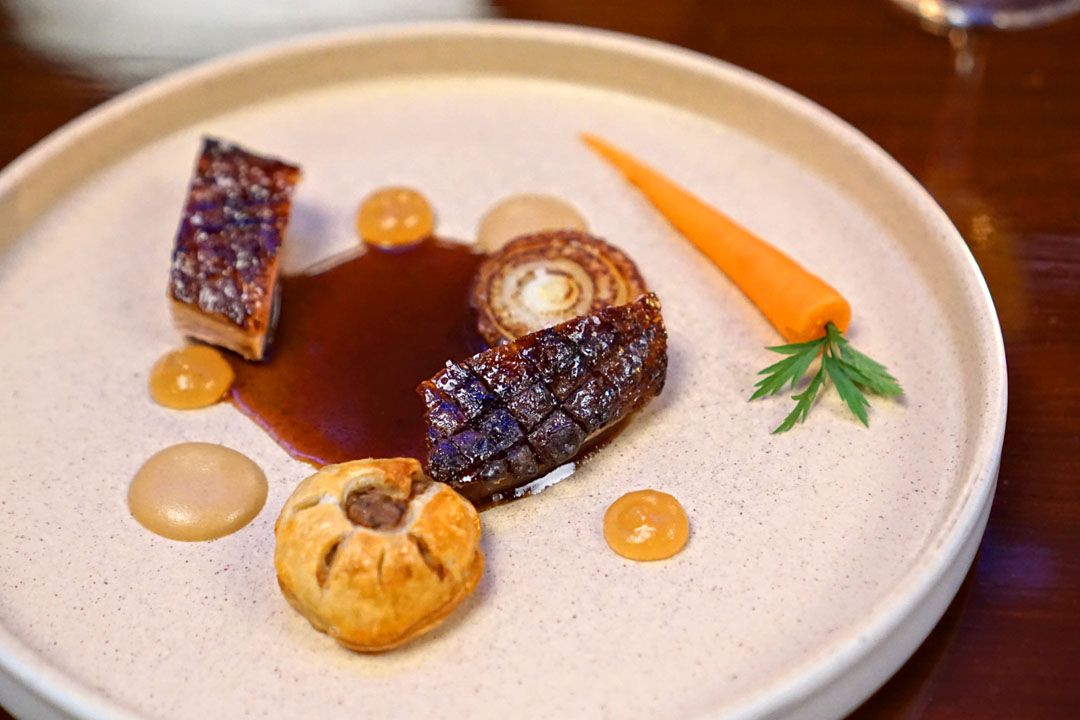 6: Roasted Dry Aged Duck, Apple Cider, Foie Gras Pithivier, Fermented Apple Mostarda
Our final savory course was a winner as well. We had here 14-day-aged Muscovy from Hudson Valley, and the first thing that stood out to me was the bird's wondrously crispy, shattery skin. Taste-wise, the duck showcased a sophisticated, yet potent mix of umami, earth, and sweetness, and paired seamlessly with the zip of the apples. I also have to give credit to the pithivier as well, both for its puff pastry crust and how well it displayed the foie.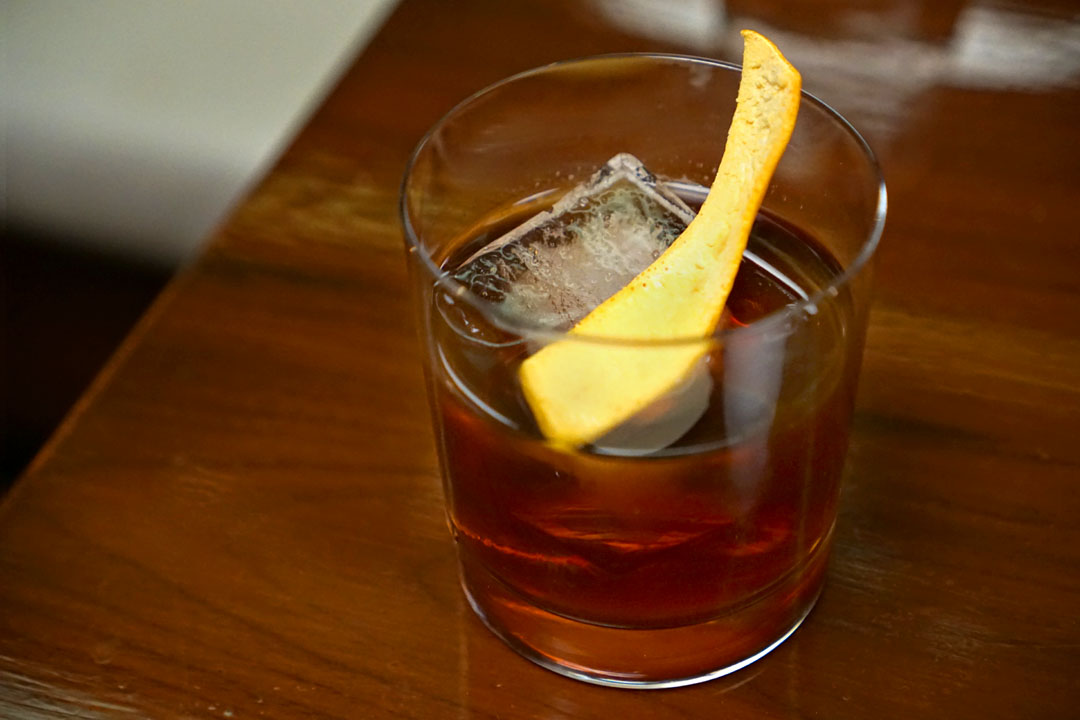 But Why? [$22.00]
| Rittenhouse Rye, Laird's BIB Apple Brandy, Cynar, Byrrh Quinquina, Jerry Thomas Decanter Bitters, Gomme
My last cocktail was certainly the booziest of the pack, and exhibited a decidedly citrus-forward nose leading to a palate brimming with dark fruit, medicinal herbs, bittersweet spices, and mint.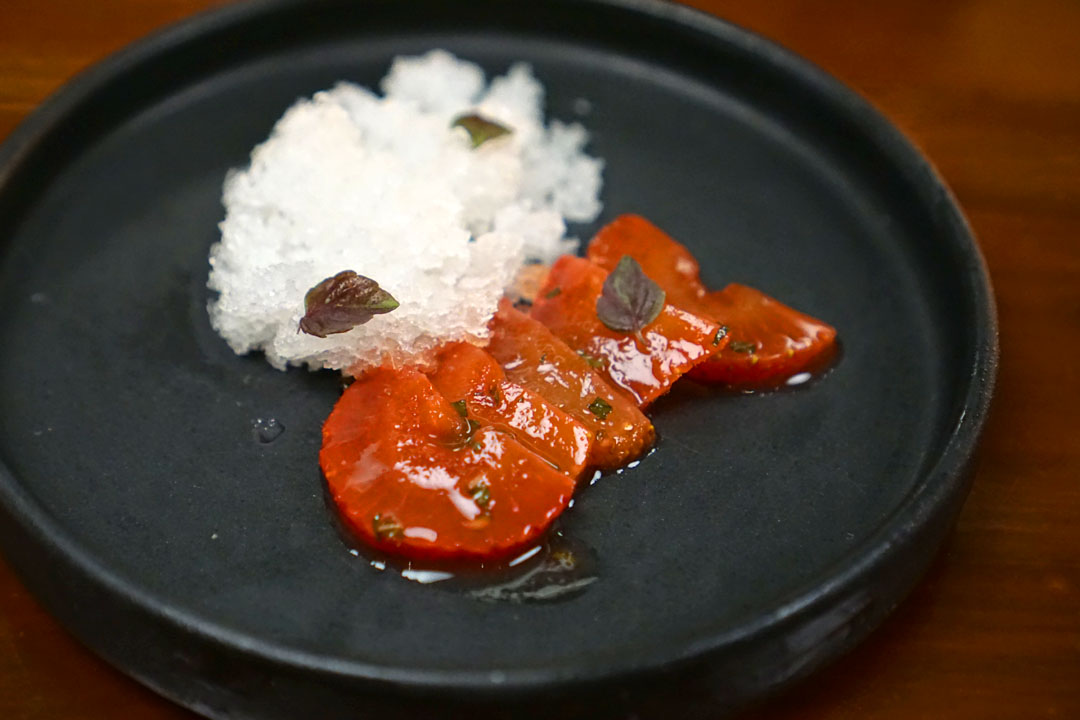 7: Compressed Strawberries, Mint Granita
Pre-dessert featured strawberry compressed with its own juices and sugar, making for an intense, concentrated presentation of the fruit that linked up swimmingly with both the mintiness of the granita and the herbaceousness of microbasil. An effective, refreshing palate cleanser.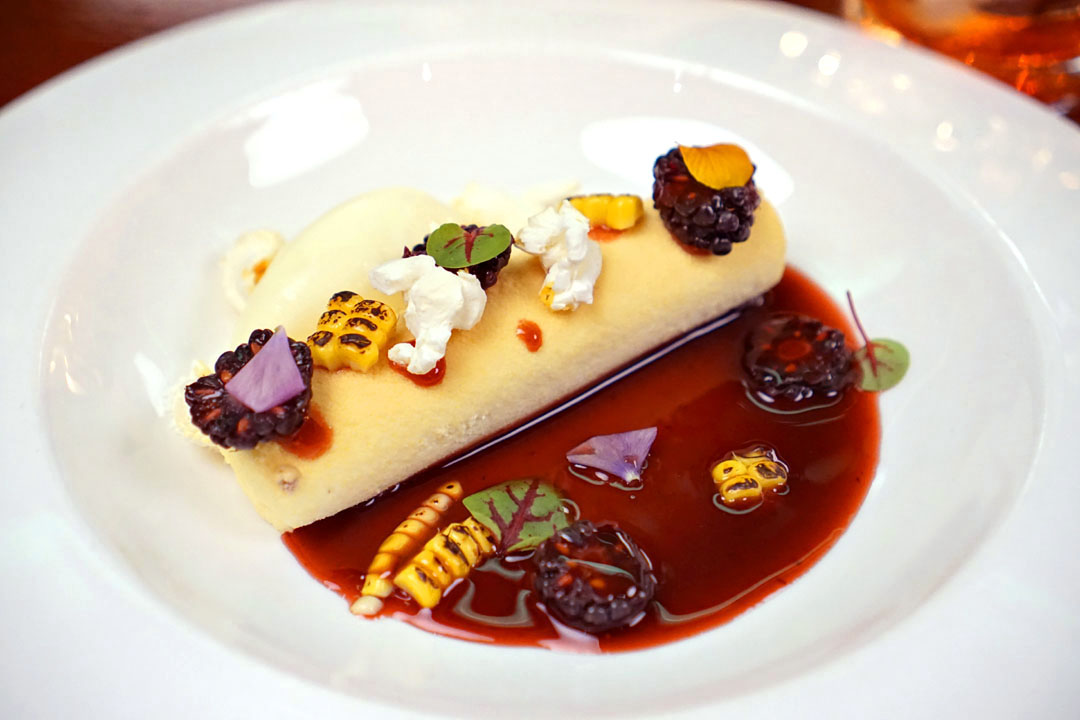 8: Sweet Corn Cream Mousse, Chicha Morada Consomme, Mascarpone Ice Cream
Dessert proper came courtesy of Executive Pastry Chef Carelys Vazquez, and clearly took inspiration from Peru. The sugary essence of the corn was expertly expressed in the mousse, which combined effortlessly with the tangy, floral nature of the chicha morada, though I might have to conclude that the mascarpone was an even better pairing. I got some great hits of salt and crunch from the popcorn, too.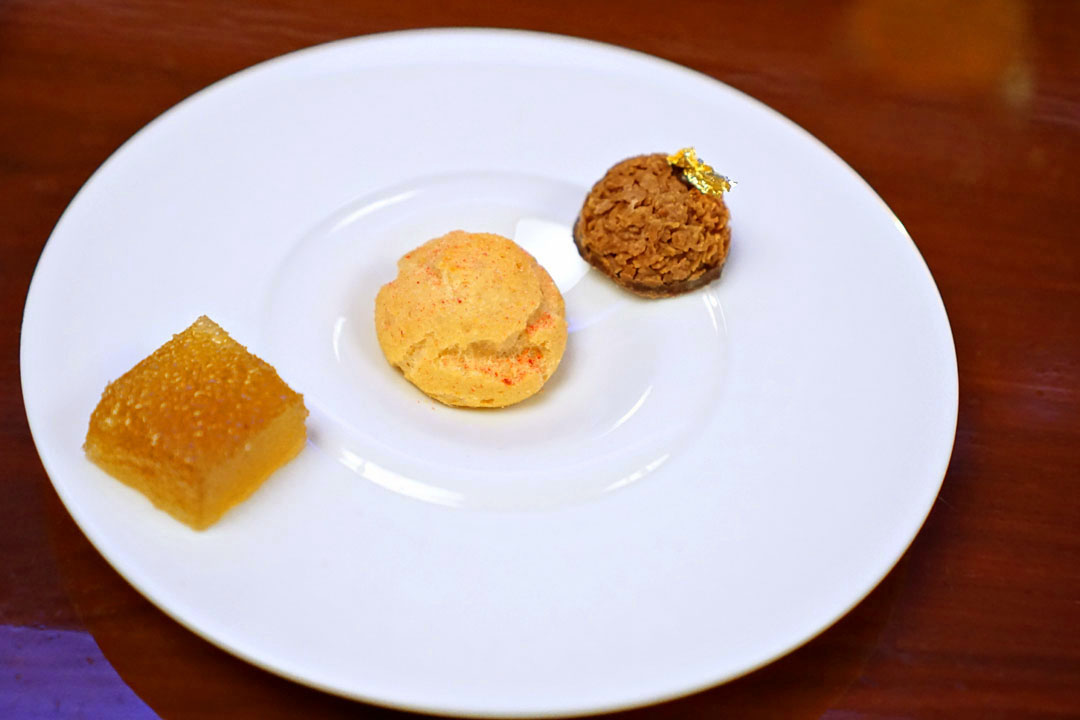 We then were given three types of petits fours:
A dense, chewy kiwi-passion fruit pâte de fruit loaded with intense tropical notes.
A strawberry profiterole that was both jammy and a bit savory.
And finally, a salted caramel crunch with a familiar blend of caramel and nutty-chocolatey flavors.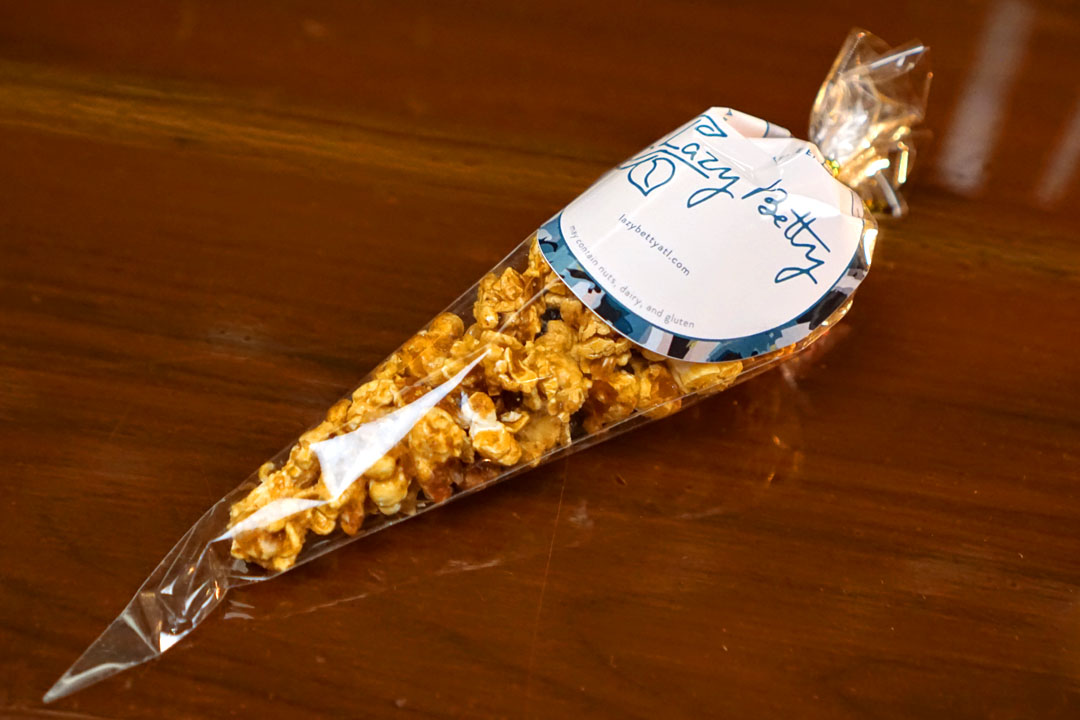 To take home: a bag of bourbon-pecan popcorn, which I enjoyed a few days later.
I didn't expect my best meal of 2022 thus far (admittedly, we're still very early in the year) to be in Georgia, but that looks to be the case, as Lazy Betty was an undoubtedly top-notch experience. There's both finesse and familiarity to the cooking here, and everything I tasted was well-thought-out and well-executed, with a palpable vibrancy to boot. In fact, it was a meal that I'm still thinking about as I write this post today, so if you happen to be reading this and live in Atlanta, this place definitely needs to be on your list to check out.