Shin-Sen-Gumi Yakitori (Gardena, CA)
Shinsengumi Yakitori
18517 S Western Ave, Gardena, CA 90248
310.715.1588
www.shinsengumigroup.com/restaurants/shin-sen-gumi-yakitori-original-gardena/
Wed 02/16/2022, 08:45p-11:20p

The Shin-Sen-Gumi (新撰組) family of restaurants is one of the most successful Japanese mini-chains in the Los Angeles area, so it's actually a bit surprising that I'd never posted about any of their locations before. That all changed recently when I was searching for a late-ish dinner in the South Bay, and yakitori at the first-ever SSG sounded like a good idea.
A bit of history
: The Shin-Sen-Gumi Restaurant Group is the creation of "Kyokucho" Mitsuyasu Shigeta (重田光康), who was born in 1965 in Amagi, a town on Tokunoshima island in Kagoshima Prefecture. In April 1984, he moved to Hakata-ku, Fukuoka to study civil engineering, and had plans to take over his father's construction business. While attending college, he worked part-time at a local yakitori spot called Tonsho (屯所),
which I believe is still around
, and quickly took a liking to the environment and the food. In April 1988, following graduation, Shigeta immigrated to the US in order to improve his English. Things were tough for him, and he dabbled in various professions--making Japanese lunchboxes, cleaning, working at the fish market--and even got his real estate license.
However, he eventually decided to start a restaurant, and to prepare, went back to Hakata ward to learn at the original Shin-Sen-Gumi, a yakitori-ya opened by an old coworker from Tonsho (the place
looks to still be operating
). He was given permission to use the Shin-Sen-Gumi name (a reference to a special police force created to protect members of Tokugawa shogunate), returned to the United States, and launched his first eatery in September 1992, at the age of 26. The place was a success, which allowed Shigeta to debut his follow-on ramen and hot pot spots simultaneously in June 1996. The was followed by numerous additions to the SSG family throughout the years, and the company now boasts 15 locations, including one in Tokyo.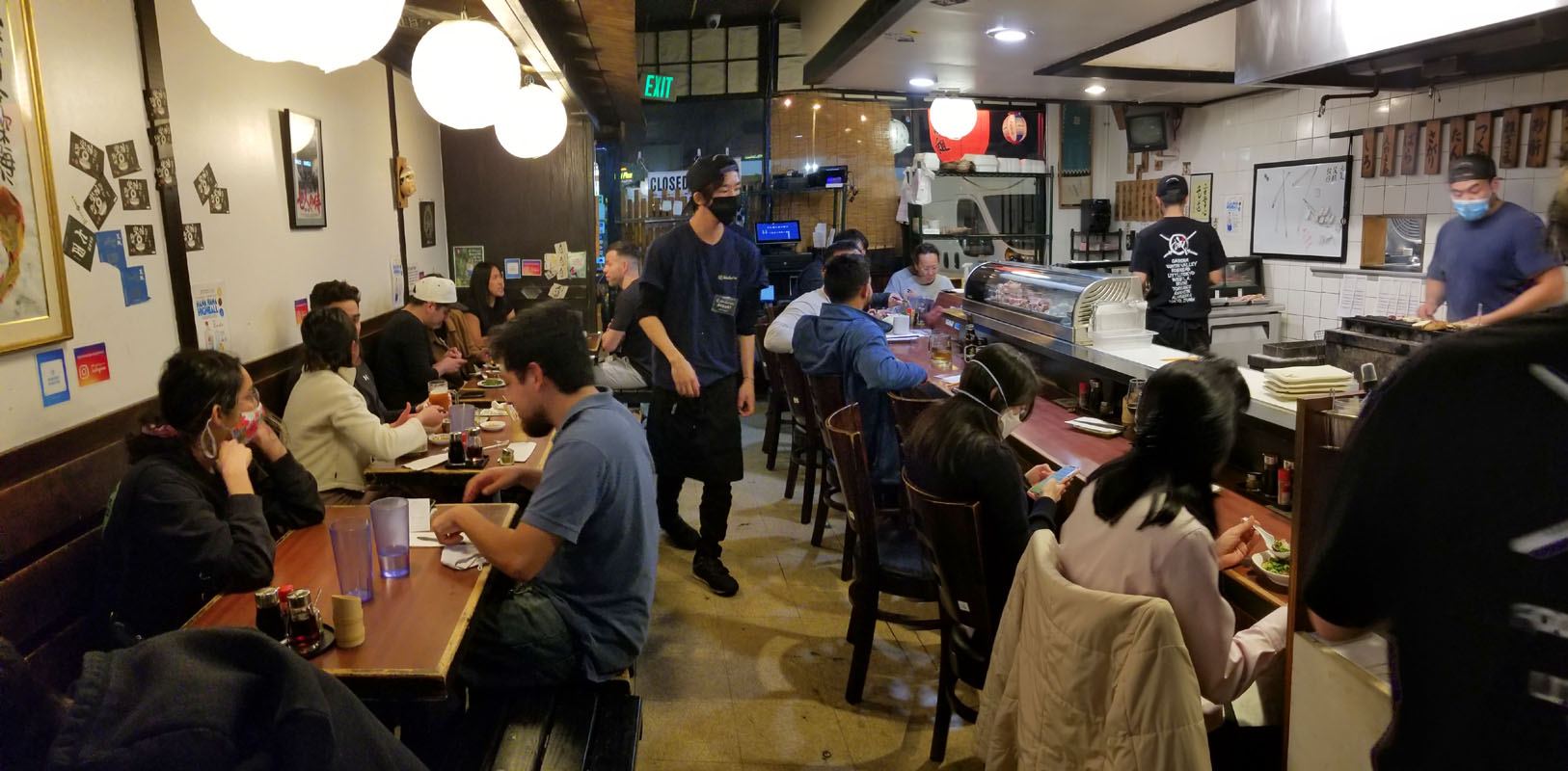 My guess is that the interior hasn't changed too much since the place opened, which isn't a bad thing, since the decor is just what I'd expect from a yakitori joint.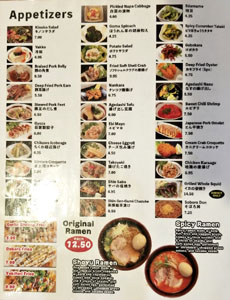 As for Shinsengumi's menu, it's centered on yakitori of course, but those skewers are joined by a wide-ranging array of side dishes, many of which are worth exploring in their own right. Beverage-wise, you get a typical selection of beers, shochus, and sakes, not to mention wines you wouldn't want. Corkage was $15. Click for larger versions.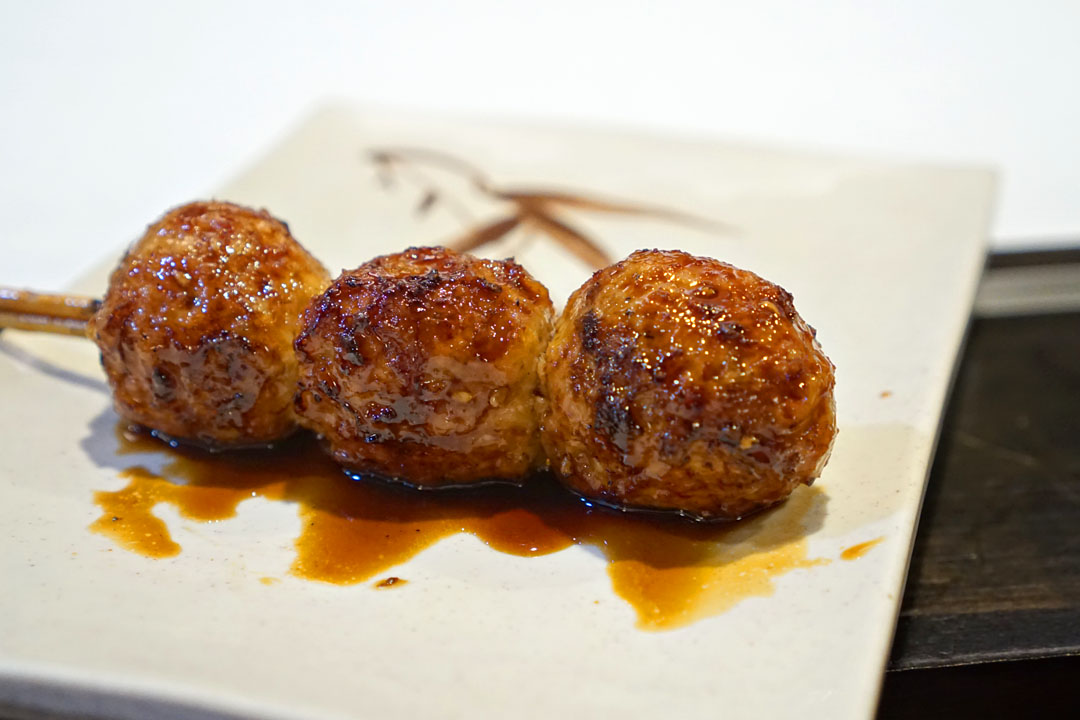 つくね / Meatball [$3.25]
Tsukune
is a must-try for me when it comes to yakitori. I enjoyed the balls' lightly crispy, lightly charred exteriors, while flavor-wise, I detected a scintilla of astringency from the scallion mixed in with the chicken, while drizzles of
tare
sauce imparted just enough sweetness.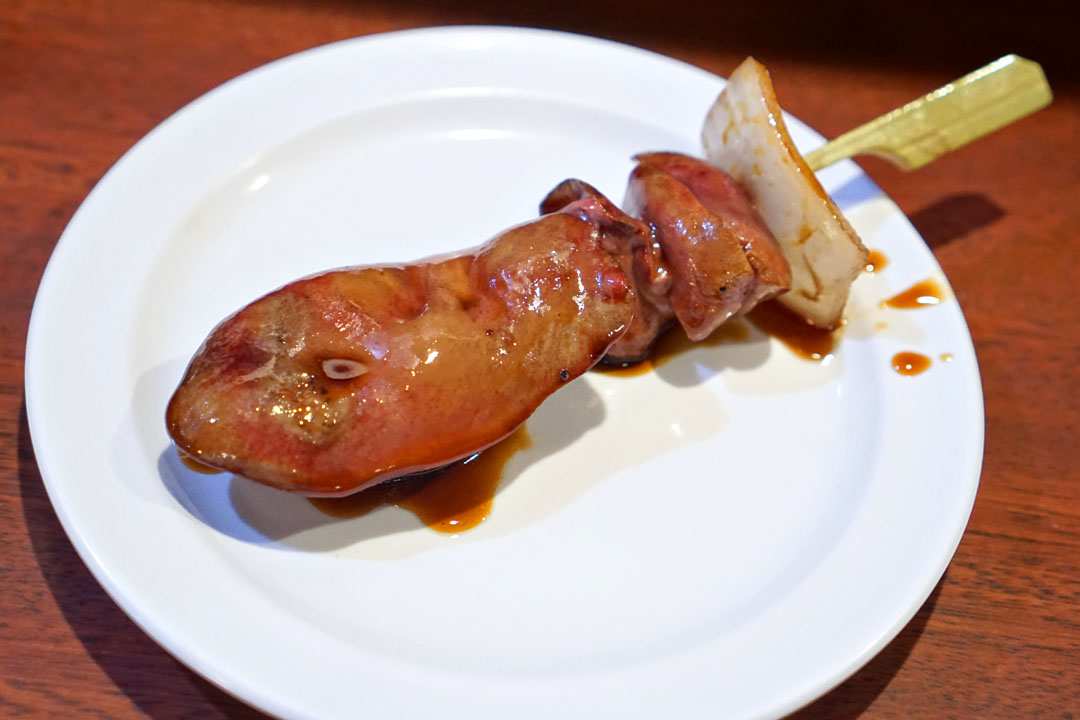 レバー / Liver [$3.00]
Reba
was cooked slightly rare, which was to my liking, and in terms of taste, I got a good mix of smoky, funky, and sweet.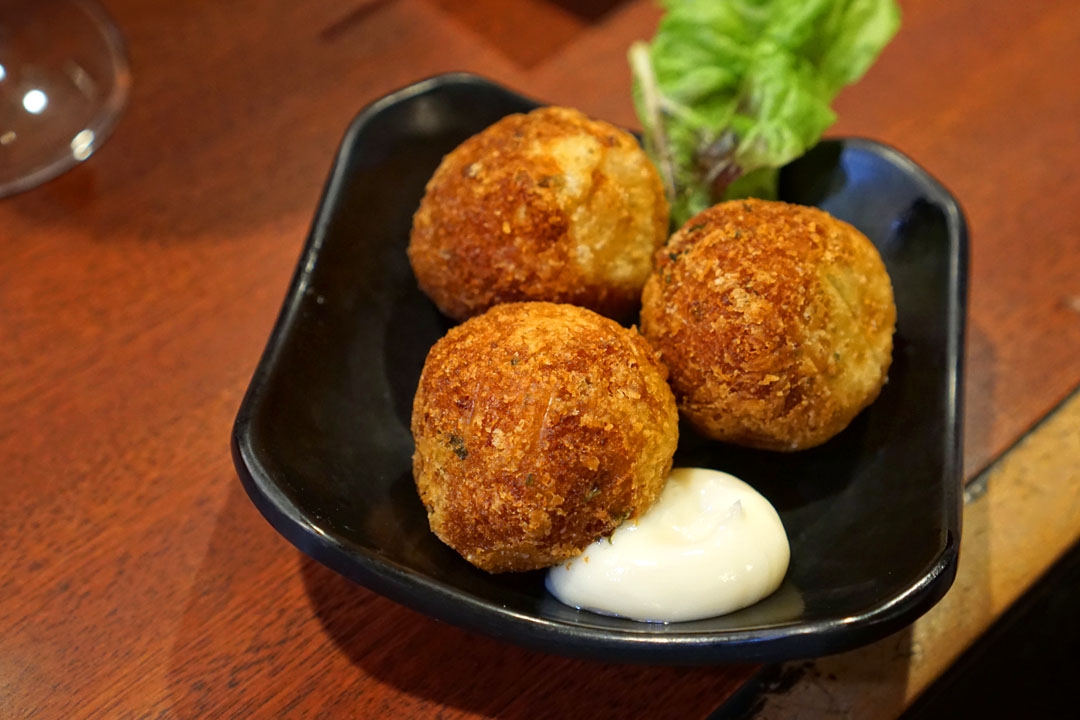 金太郎コロッケ / Kintaro Croquette [$7.00]
I'm not sure why these
korokke
were named after Japanese folk hero Kintaro, but they were fulfilling. Comprised of soft potato and what seemed like bacon and green onion, they ate super homey, and reminded me of the mashed potatoes of my childhood.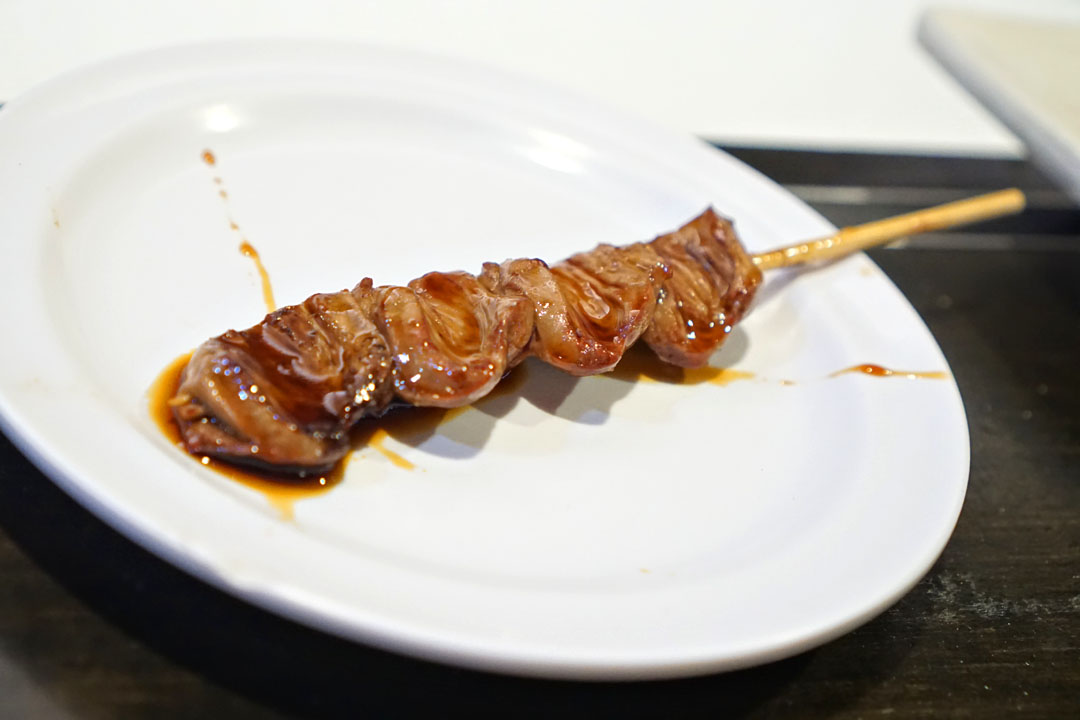 ハツ / Heart [$2.95]
Hatsu
is another yakitori staple for me, and this was a classic, nicely textured example, showing off a touch of earthiness to go along with the sweetness of the accompanying sauce.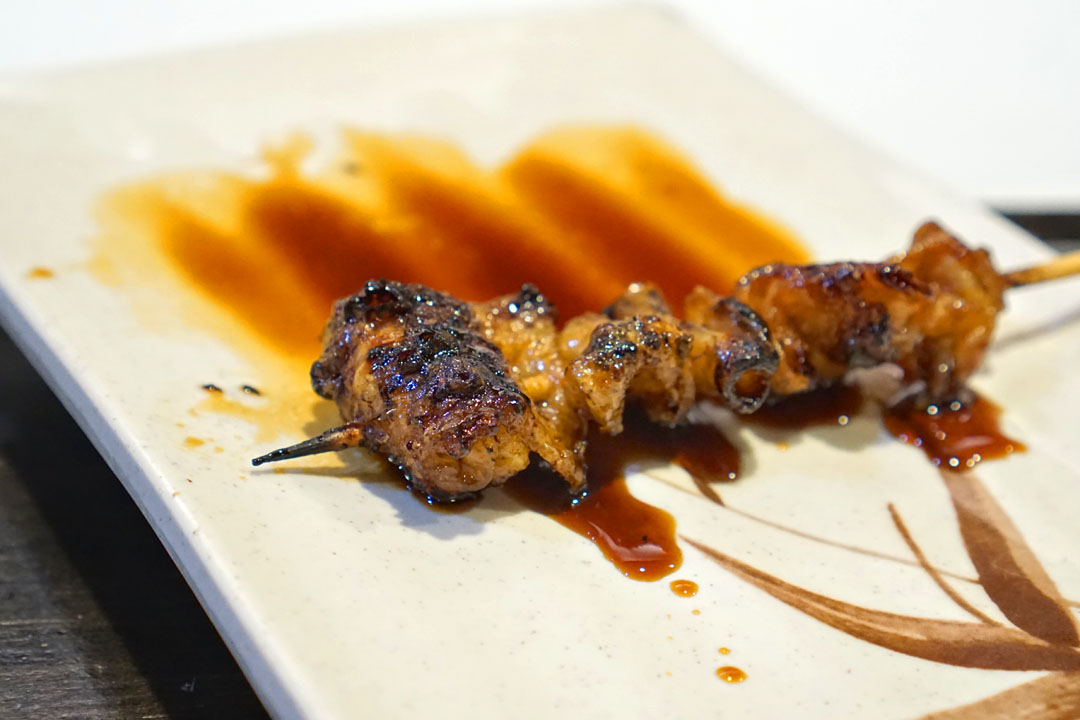 カワ / Skin [$2.95]
The
kawa
certainly delivered with its great chew and spot-on blend of smoky and sweet.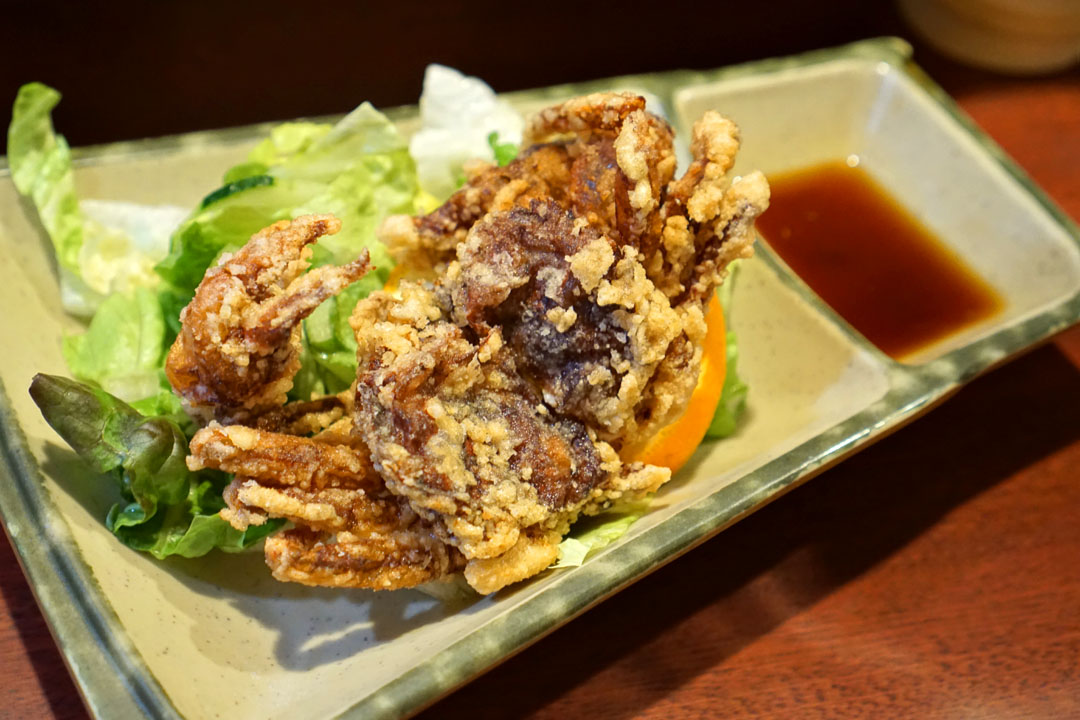 ソフトシェルクラブの唐揚げ / Fried Soft Shell Crab [$9.95]
Soft-shell crab had a properly crispy exterior, while its flesh conveyed a potent brine that was evened out by both the dipping sauce and the greens.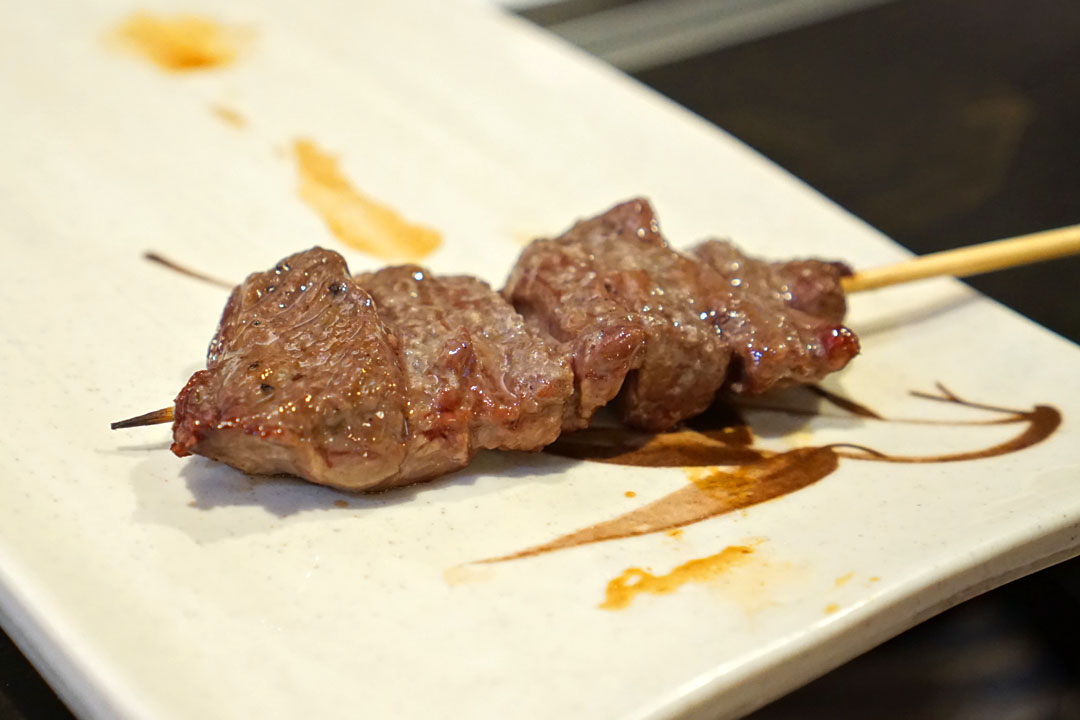 さがり / Flap Meat [$3.95]
The
sagari
had a super satisfying mix of smoky and beefy flavors, and was pretty tender to boot.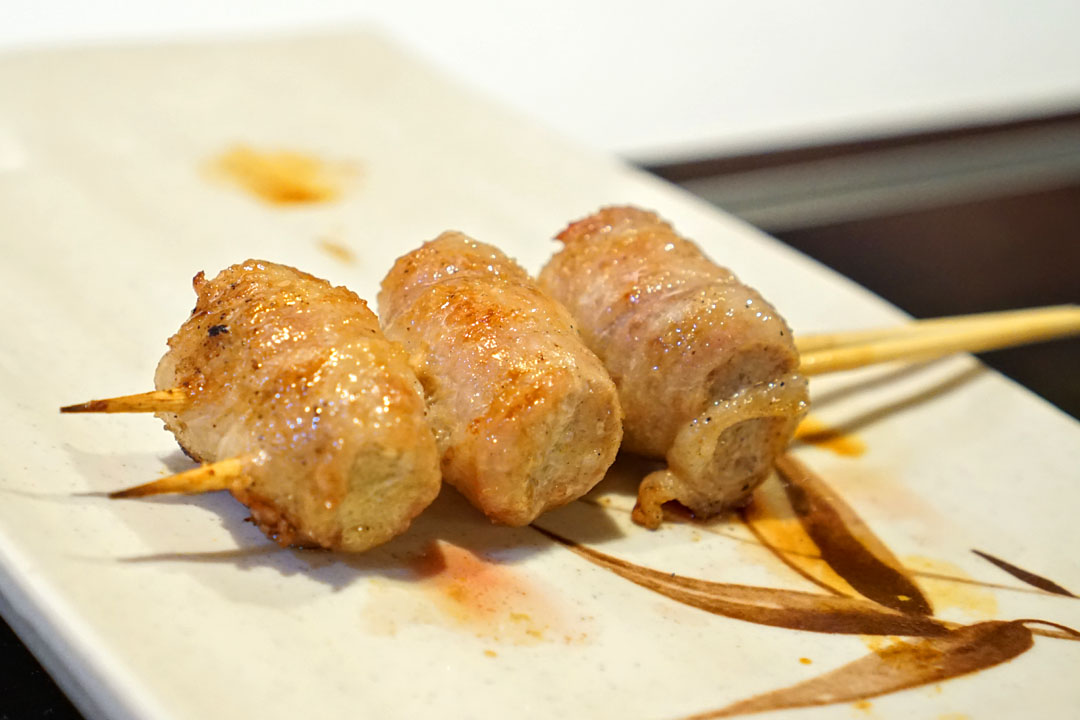 えのき巻き / Enoki Mushroom w/Pork Belly [$3.50]
Enokitake
showcased that unique crunchy-yet-squishy texture that I love, while their mild woodsiness went well with the saltiness of their pork wrapper.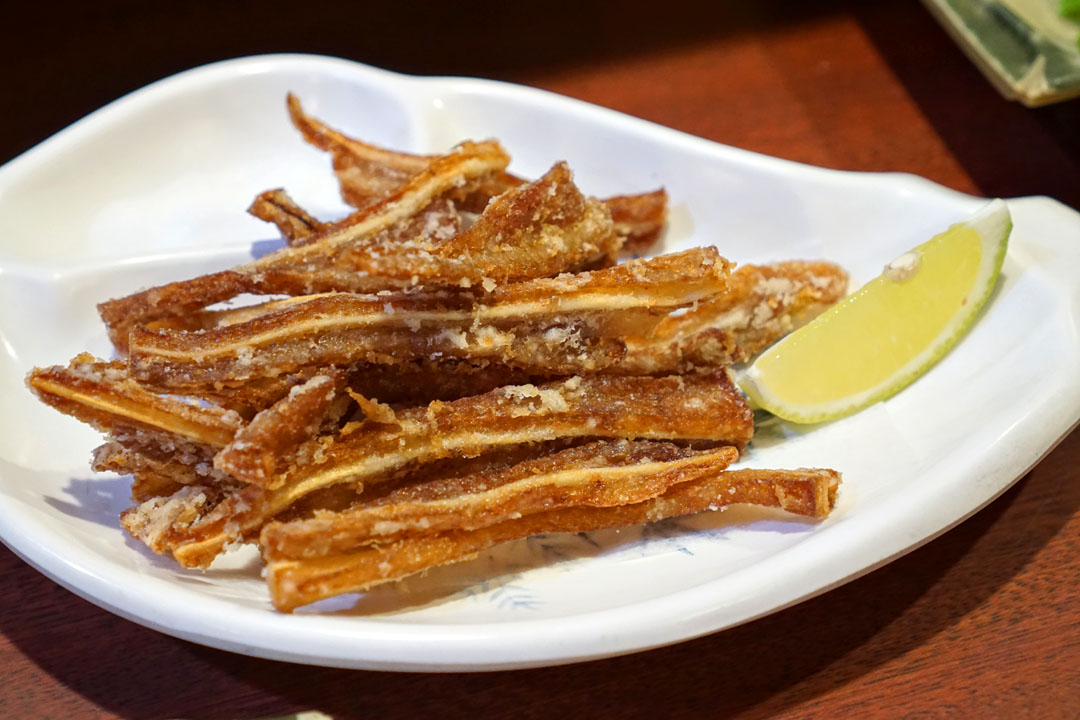 豚耳の唐揚げ / Deep Fried Pork Ears [$5.50]
I was a big fan of the
tonmimi
as well. The ears were perfect texturally--with just the right balance of crunchy and chewy--and came loaded with all the porcine flavors I wanted. Try them with a dab of salt or a squirt of citrus.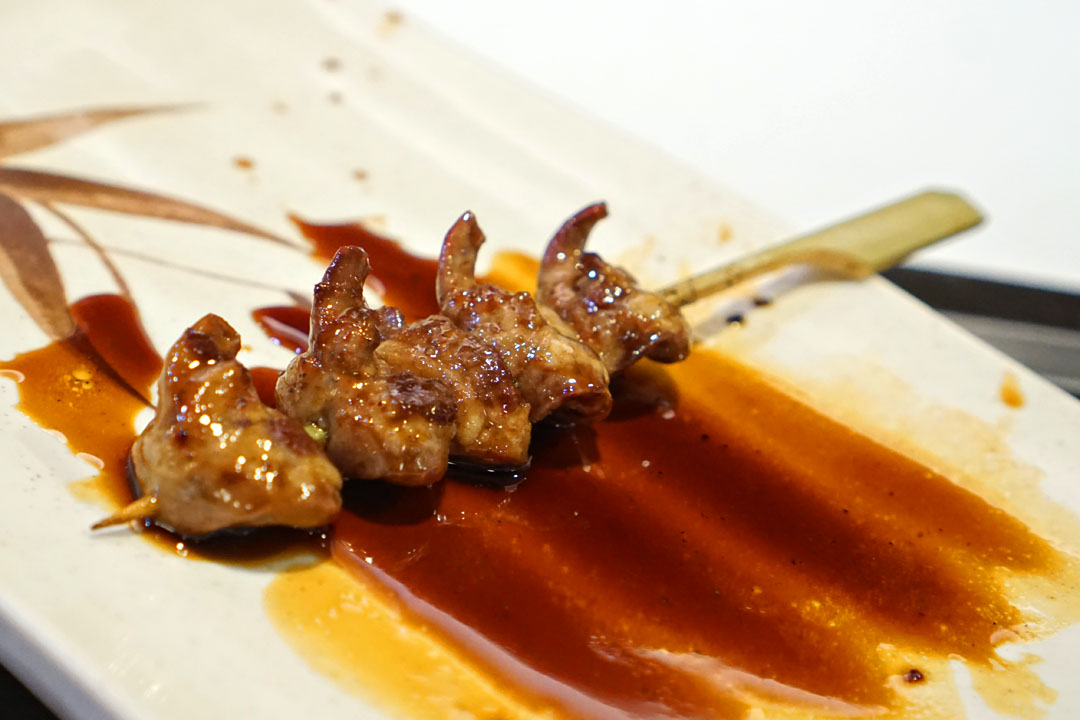 特ハツ / Special Heart [$3.40]
The
toku hatsu
had a softer, suppler chew than the regular heart above, while in terms of taste, it displayed an almost "eggy" quality.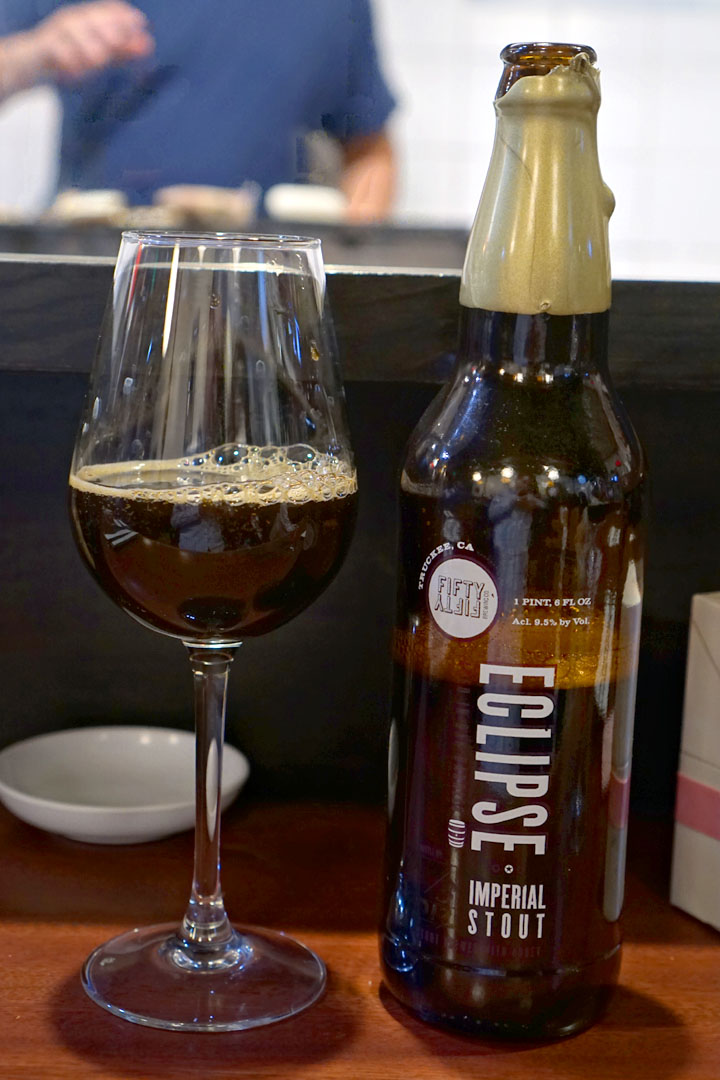 To drink, I brought along a couple beers, the first of which was the
2012 FiftyFifty Eclipse - Mellow Corn
, an imperial stout brewed with honey, aged in oak barrels that previously held American corn whiskey. The nose here was quite nice, with chocolate at the fore joined by notes of honey and dark fruit. As for the palate, it was silky smooth, and I also got well-integrated flavors of sugary malt, chocolate, nuts, and a trace of barrel. I'd say that this one has matured quite well over the past decade.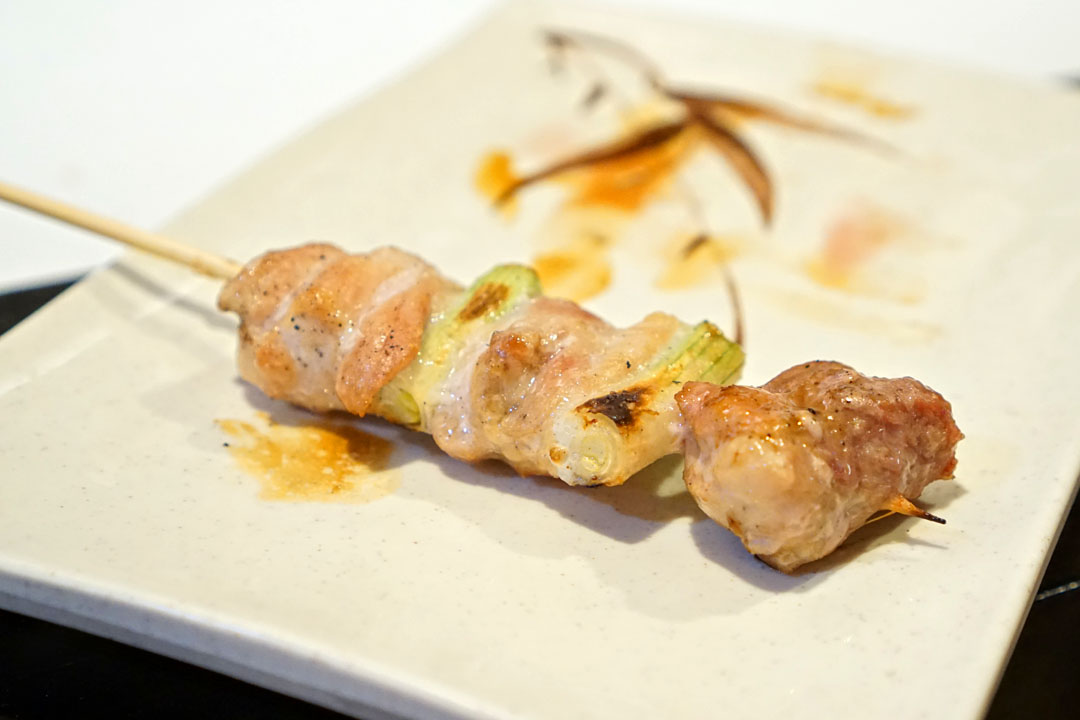 ネギマ塩 / Thigh w/ Green Onion (Salted Flavor) [$2.95]
The
negima shio
was a standout thanks to its flawless meshing of savory, juicy thigh meat and zesty green onion.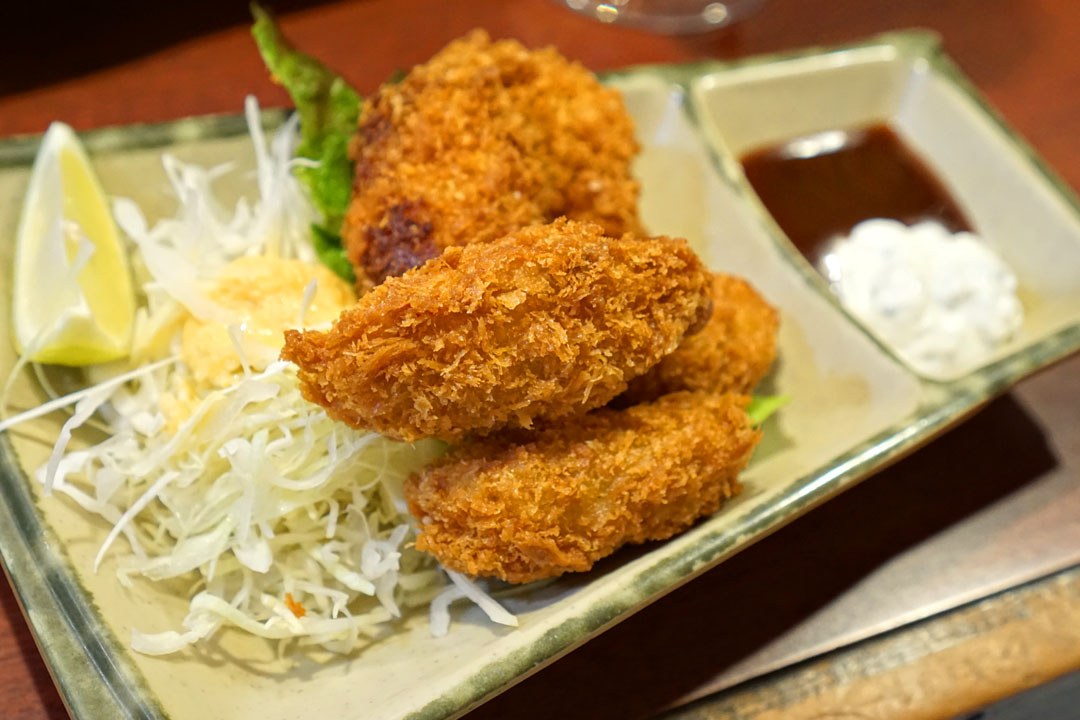 カキフライ / Deep Fried Oysters [$8.75]
The
kaki furai
had a just about perfect panko coating, resulting in a great marriage of crispy outside and creamy, saline interiors. Even better when taken with some tartar sauce and shredded cabbage.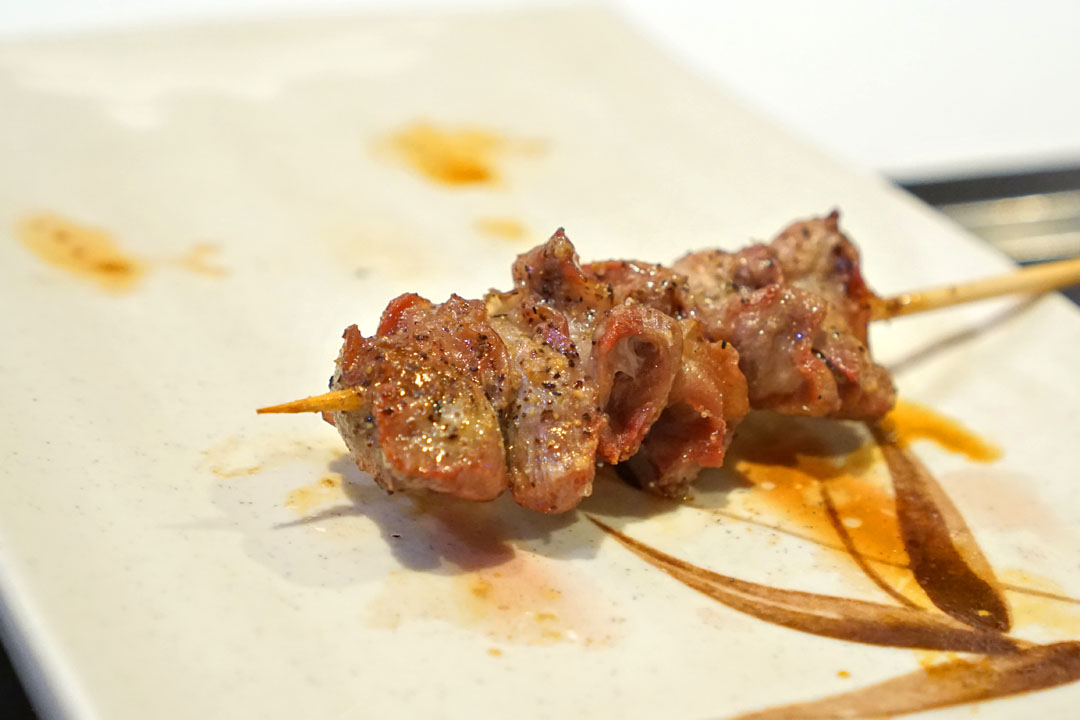 ずり皮 / Gizzard Skin [$2.75]
Zuri kawa
was one of the more uncommon yakitori items I tried tonight, and it ate very crunchy, very chewy, and very flavorful.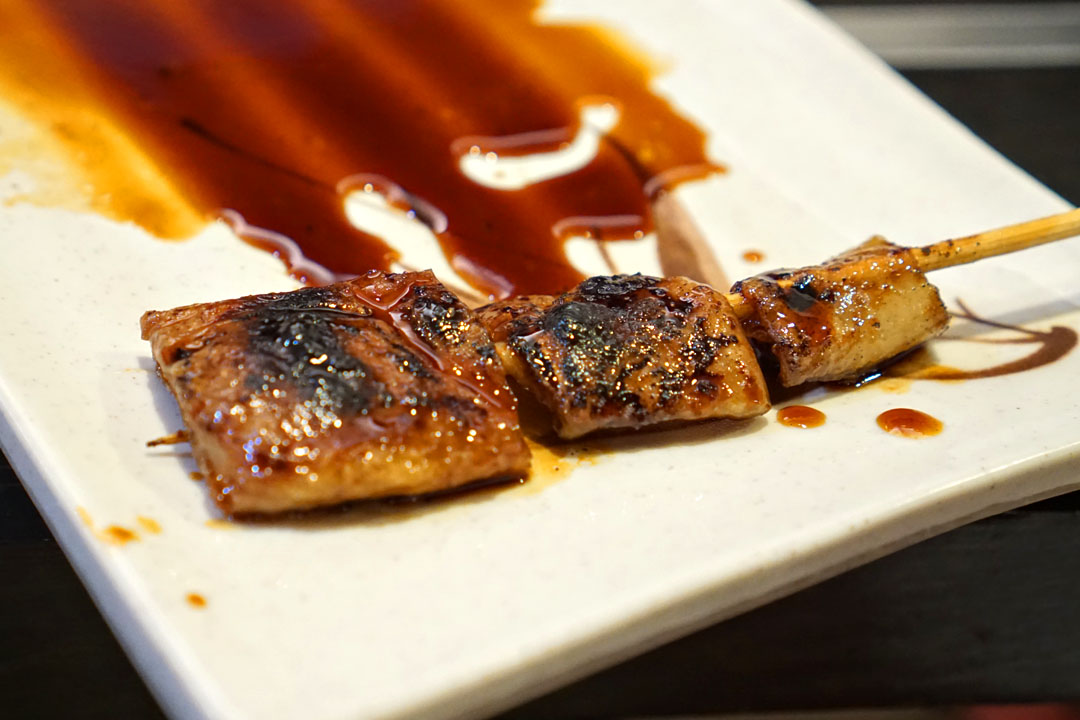 シロ / Intestine [$3.00]
Another more unusual selection was the small intestine, or
shiro
, which actually turned out to be a favorite of mine. I loved its amalgamation of smoky and sweet flavors, as well as its "sticky" consistency and caramelized bits.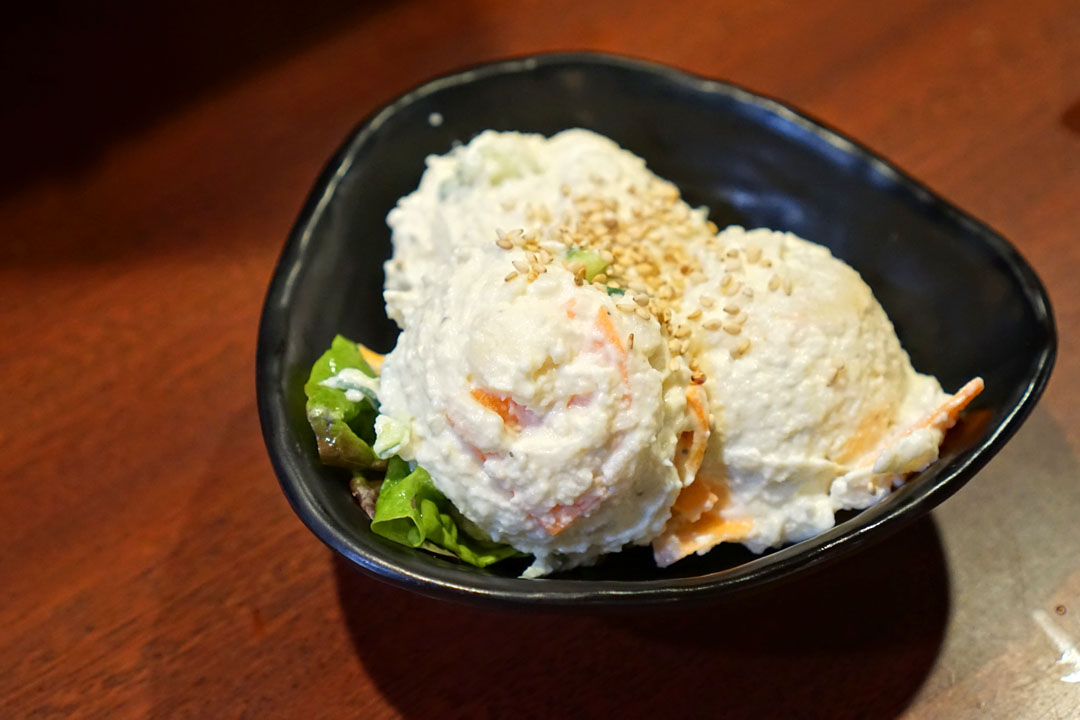 ポテトサラダ / Potato Salad [$4.75]
I'm quite the
potesara
fan, and often can't resist ordering it in restaurants. Shinsengumi's version had the smooth, creamy consistency I expected, and of particular note was the salad's cucumber-y brightness and crunch, as well as the lovely nuttiness imparted by the sesame seeds.
玉ねぎ / Onion [$2.50]
The
tamanegi
was the sole vegetable skewer tonight. Think sweet and astringent onion flavors, but tinted with smoke.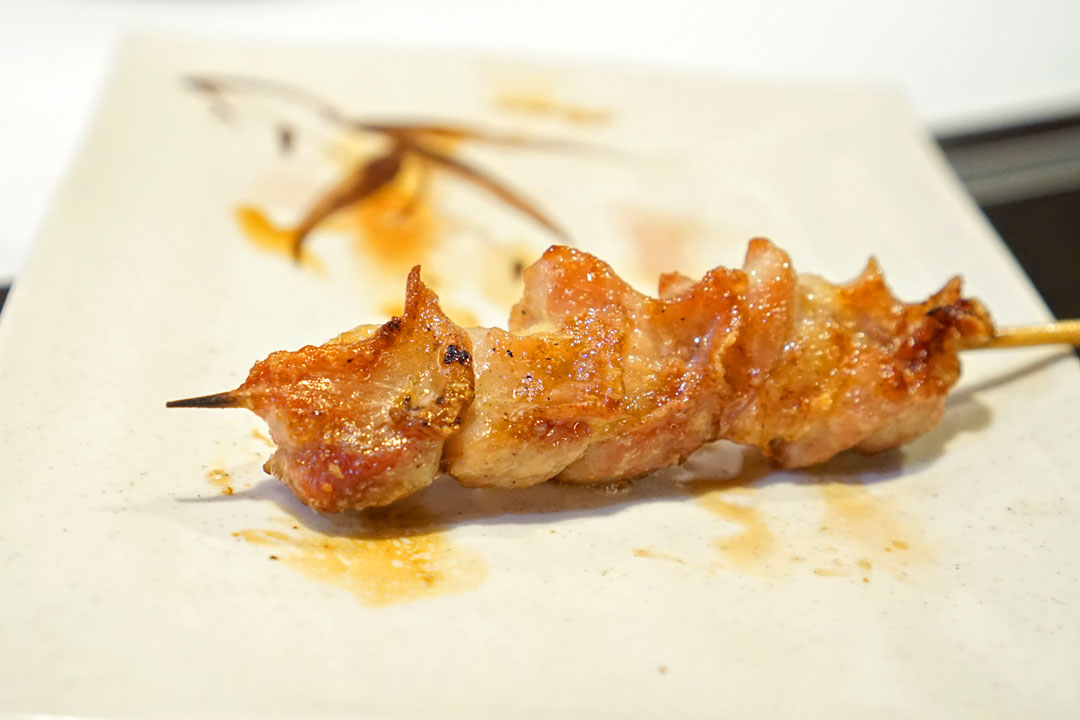 ナンコツ / Cartilage [$2.75]
Next came the
nankotsu
, which delivered the crunch I was craving, and also had quite a nice sear going on.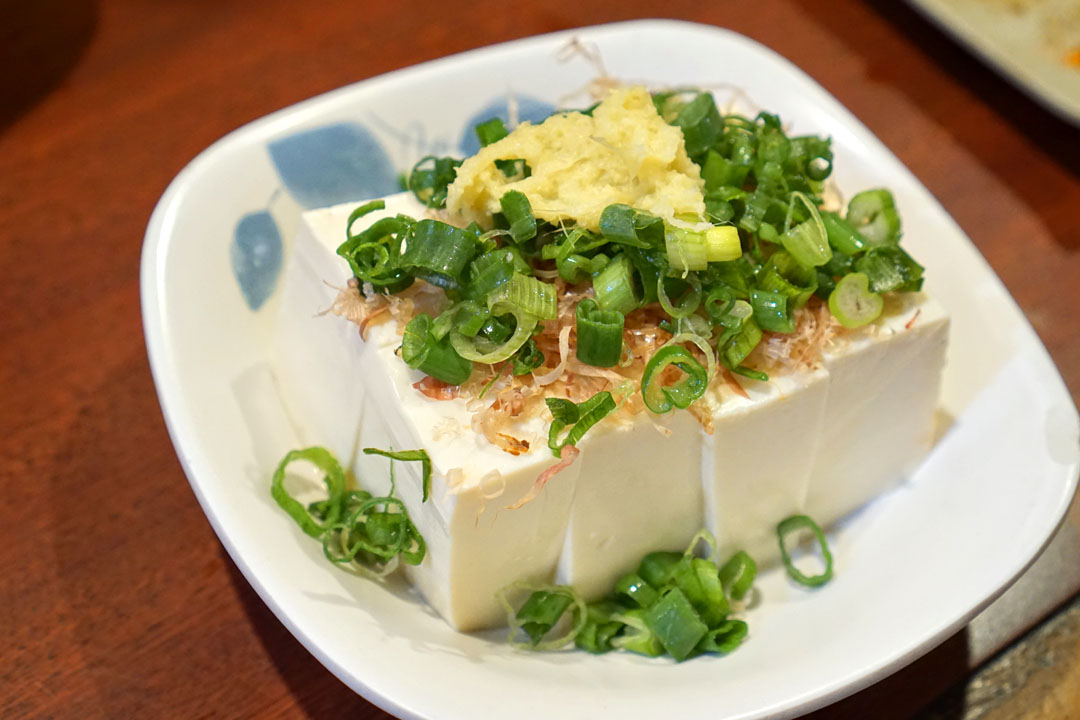 冷奴 / Yakko (Cold Tofu) [$4.95]
Serving as a bit of a respite from all the heavy flavors we were having was the
hiyayakko
, a cold, dense preparation of tofu enlivened by umami-rich
katsuobushi
, zingy scallion, and the unmistakable piquancy of grated ginger.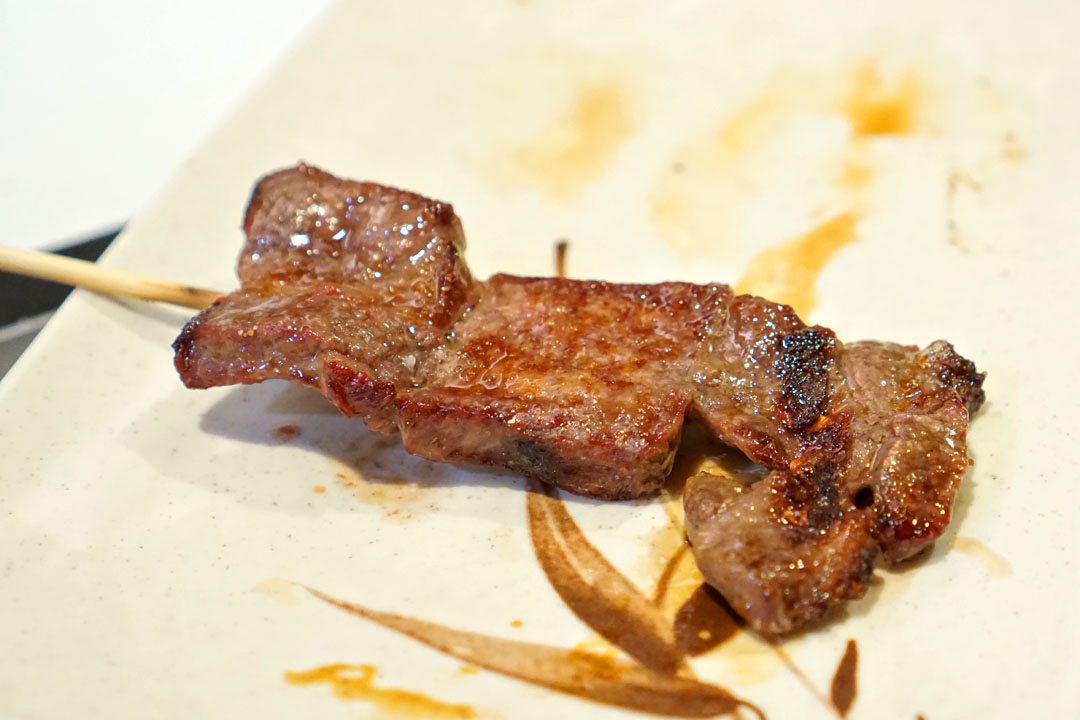 タン / Tongue [$3.75]
I quite liked the
gyutan
, which I found fatty and flavorful, with a healthy smoke and a very gratifying chew.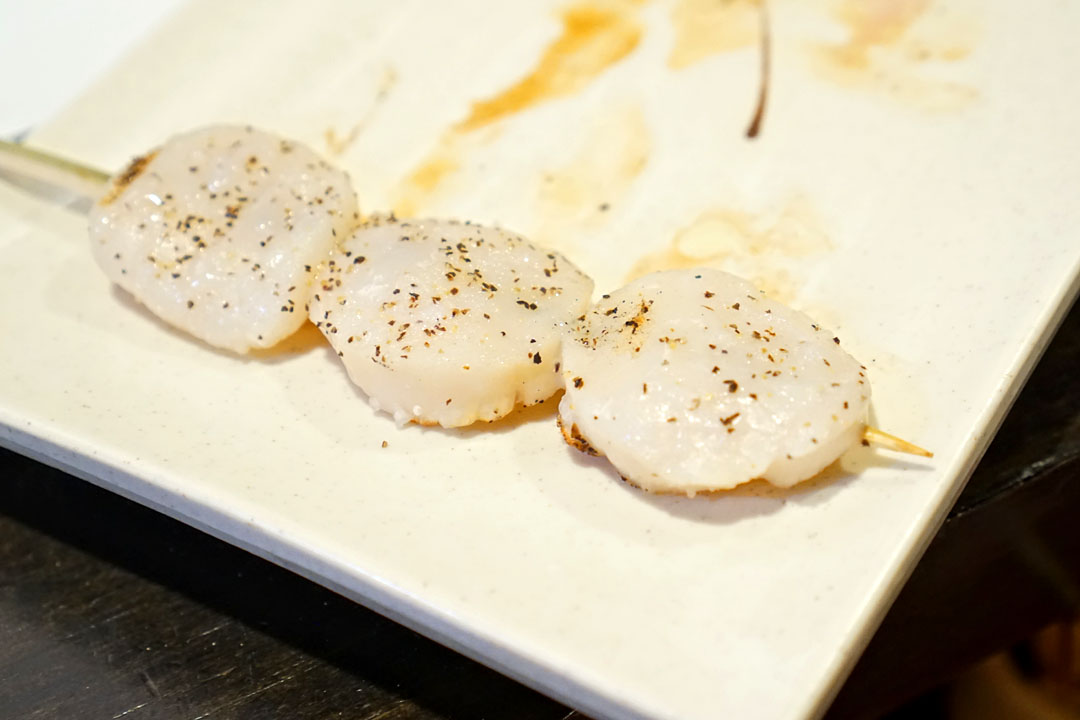 北海道ホタテ貝柱 / Hokkaido Scallop [$4.50]
Thankfully,
hotate kaibashira
weren't overdone, and still showed off their signature sweet salinity.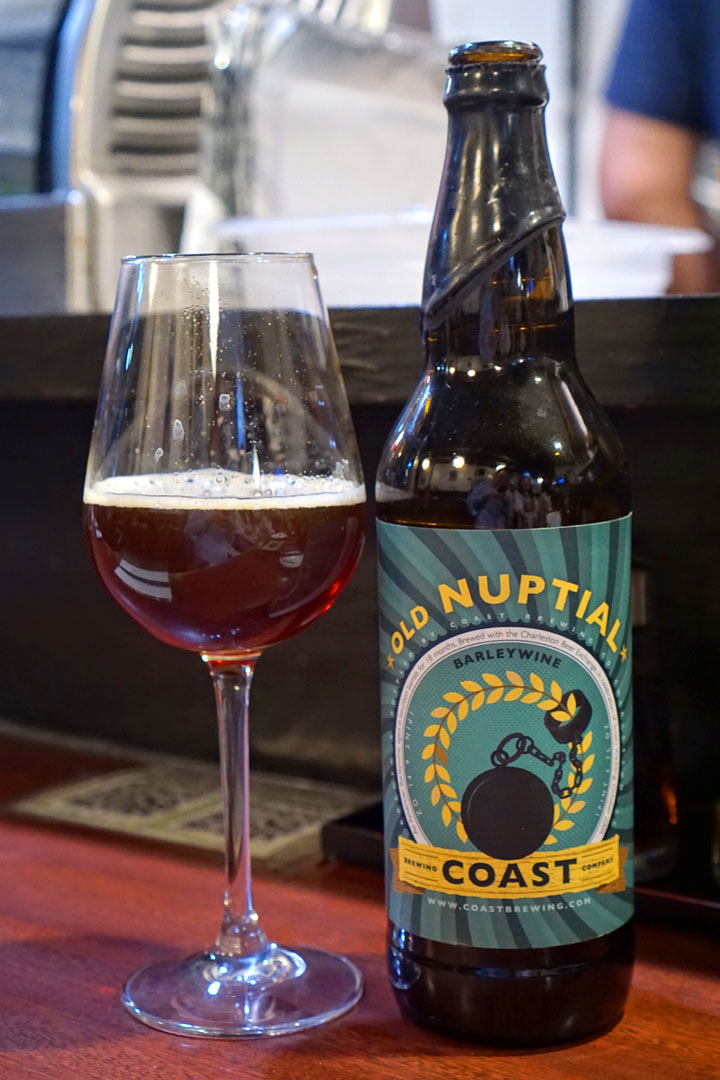 My second bottle was the
2014 Coast Old Nuptial Barleywine
, an American barley wine partially aged in bourbon barrels for 18 months. Aromas here were of malty plums and dark-toned fruit. Taste-wise, I got a core of apple-like sweetness commingled with cinnamon-esque warming spice, along with dark stone fruits, chocolate, and wood. This is yet another beer that's held up well over the years.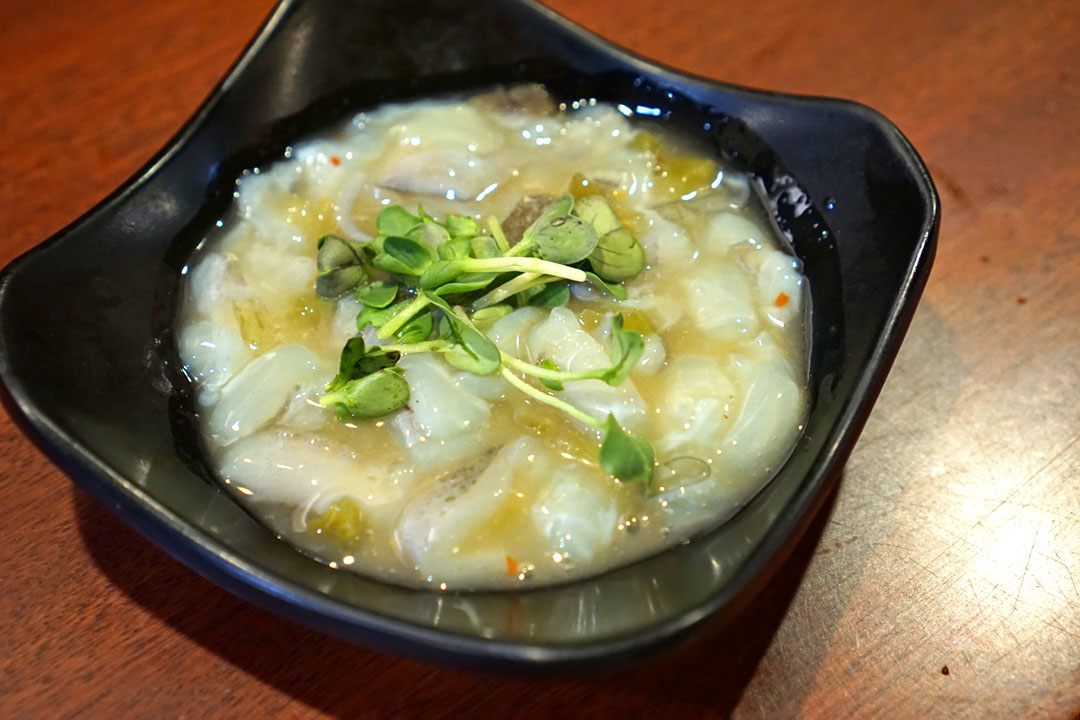 タコワサ / Takowasa (Wasabi Octopus) [$5.25]
Here we had slick, slippery bits of octopus paired with a sinus-clearing amount of wasabi.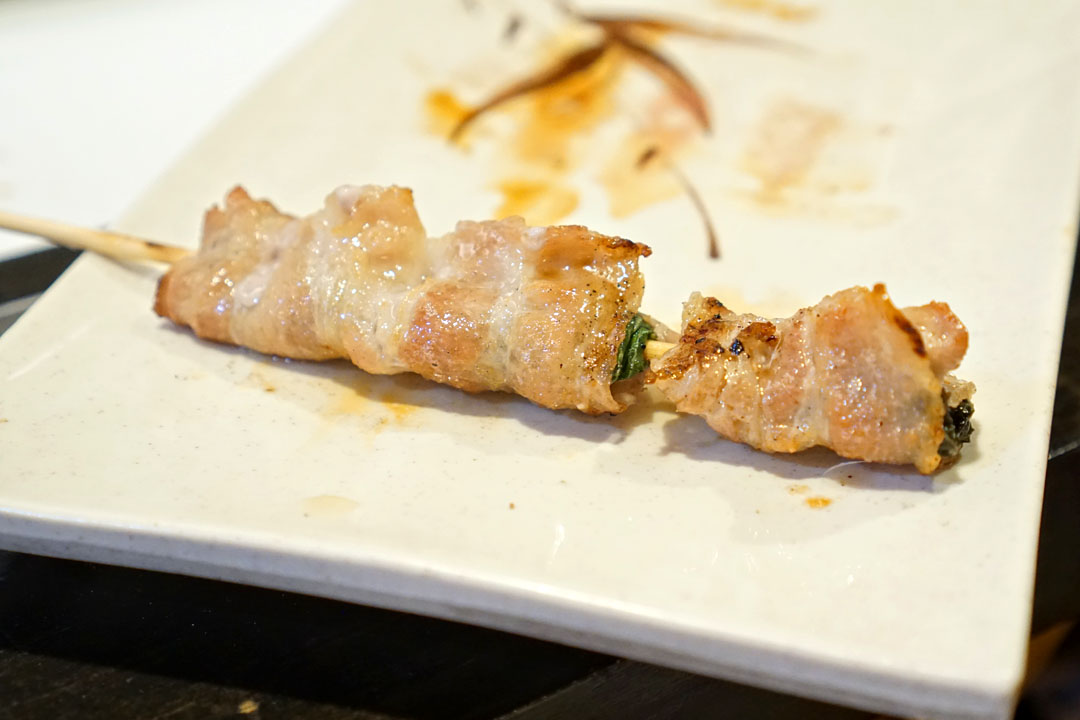 しそ巻き / Shiso Basil w/Pork Belly [$3.50]
The tightly-rolled
shiso-maki
played fresh, minty flavors against the richness of pork belly.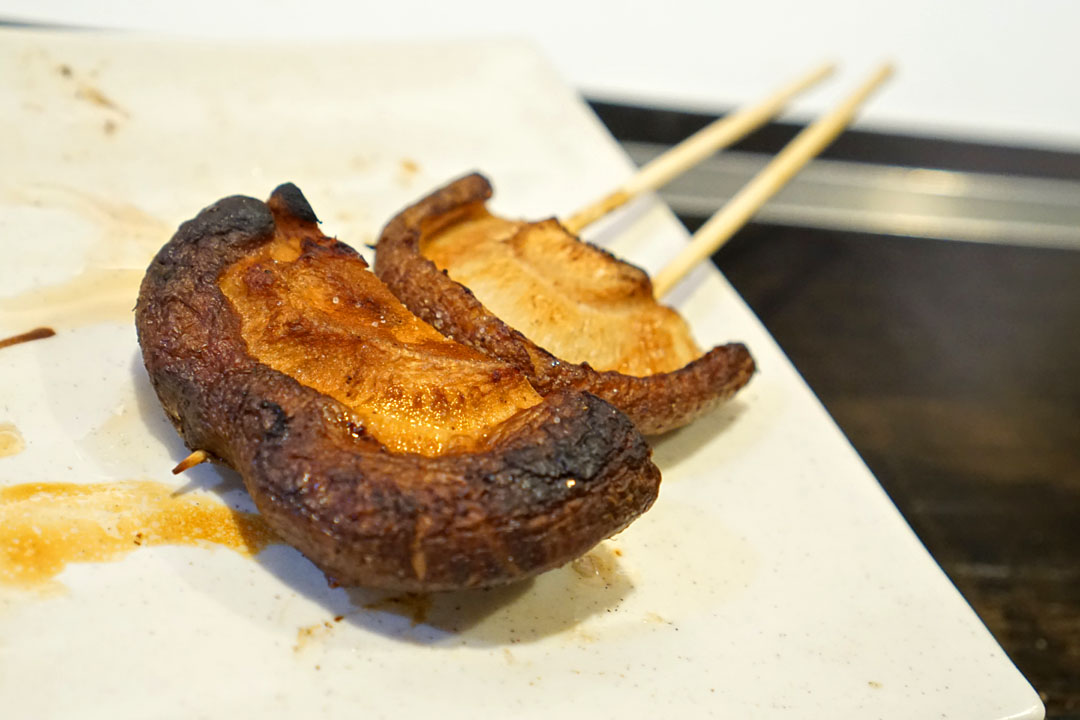 椎茸 / Shiitake Mushroom [$2.95]
Shiitakes were absolutely teeming with the earthy, umami-rich flavors you'd want and expect, and were also a joy texturally, with a nice "juiciness."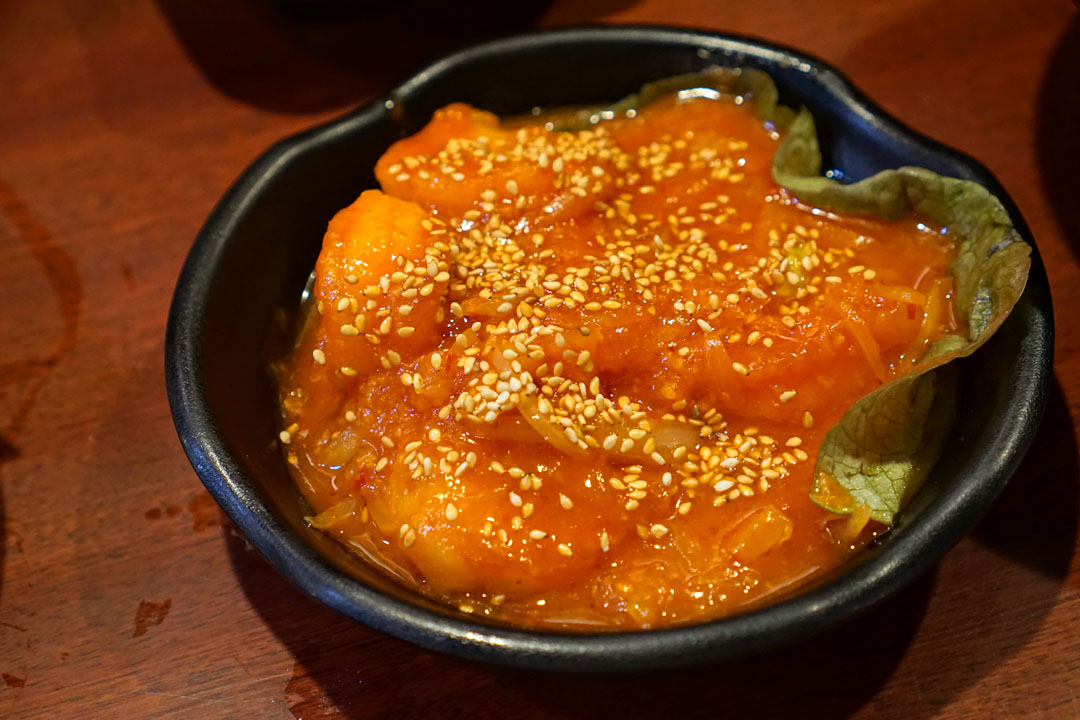 エビチリ / Sweet Chili Shrimp [$7.50]
A Japanese take on a classic Chinese dish, the
ebichiri
had a very familiar flavor profile, its blend of sweet and spicy tastes taking well to the nuttiness of sesame. Nice texture on the actual shrimp, too.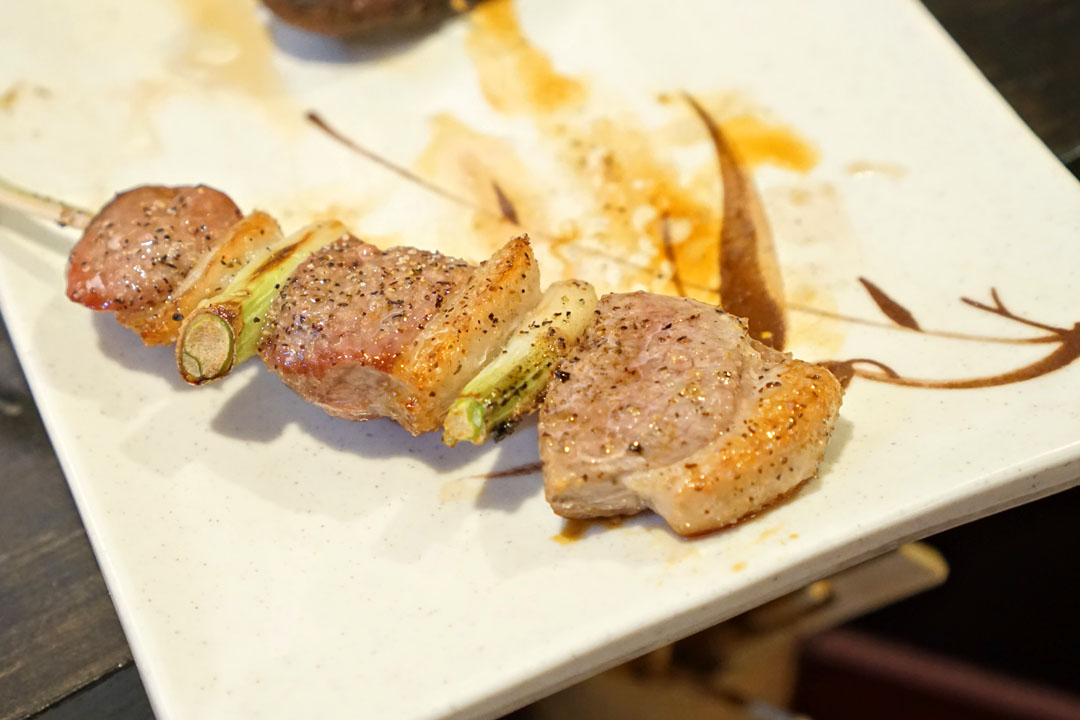 鴨ネギ / Duck w/ Green Onion [$4.95]
The
kamo negi
was another standout, as its pairing of deeply savory, almost funky duck and pungent scallion was pretty much a match made in heaven.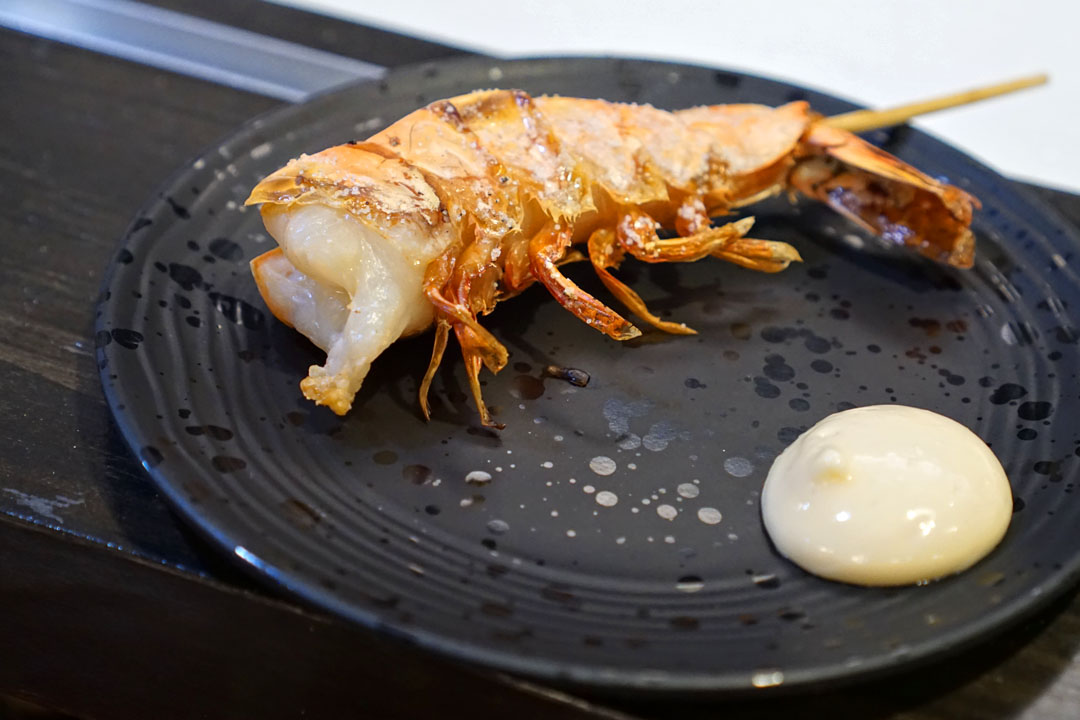 海老 / Shrimp [$4.25]
The
ebi
was expertly cooked, and possessed a texture that was a good mix of snappy and smooth. With its delicate brine, the shrimp was tasty just by itself, but I did appreciate the creamy condiment on the side as well.
Soboro Fries [$7.00]
Next came an unconventional take on
soboro don
, one that replaced rice with French fries. I still got all the sweet 'n' savory flavors I was anticipating from the ground chicken, along with a proper dosing of wasabi heat for contrast.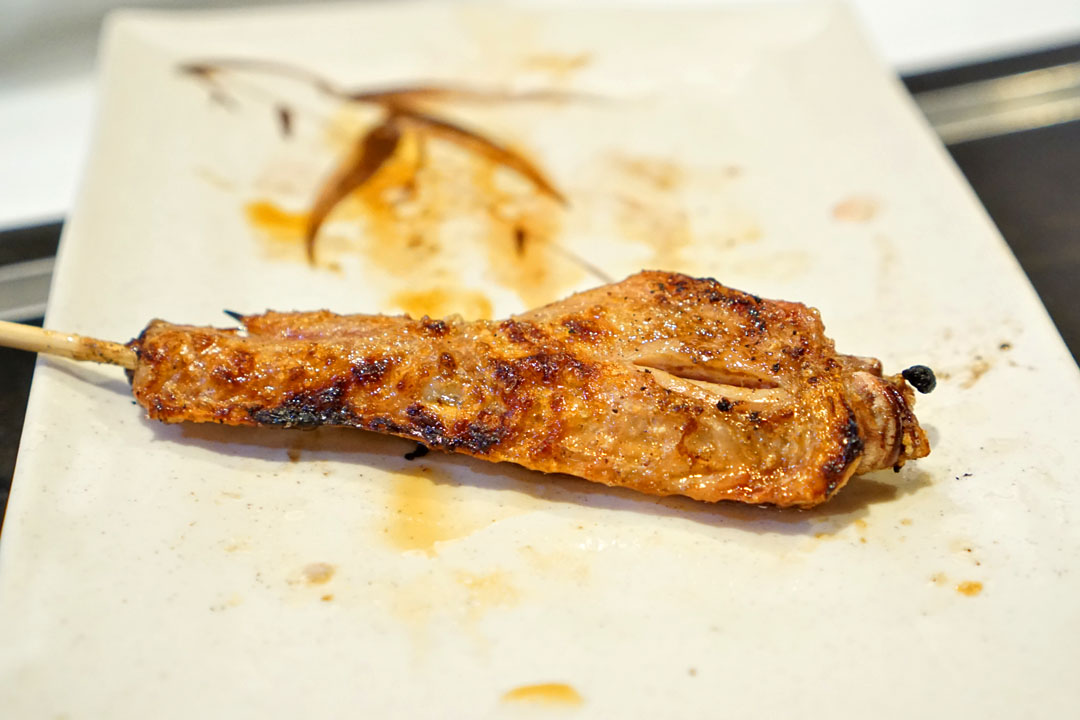 手羽先 / Wing [$2.95]
Not surprisingly, the
tebasaki
was one of the most flavorful skewers of the evening. I found the wing immensely gratifying, and loved how just the right amount of char was applied to the meat.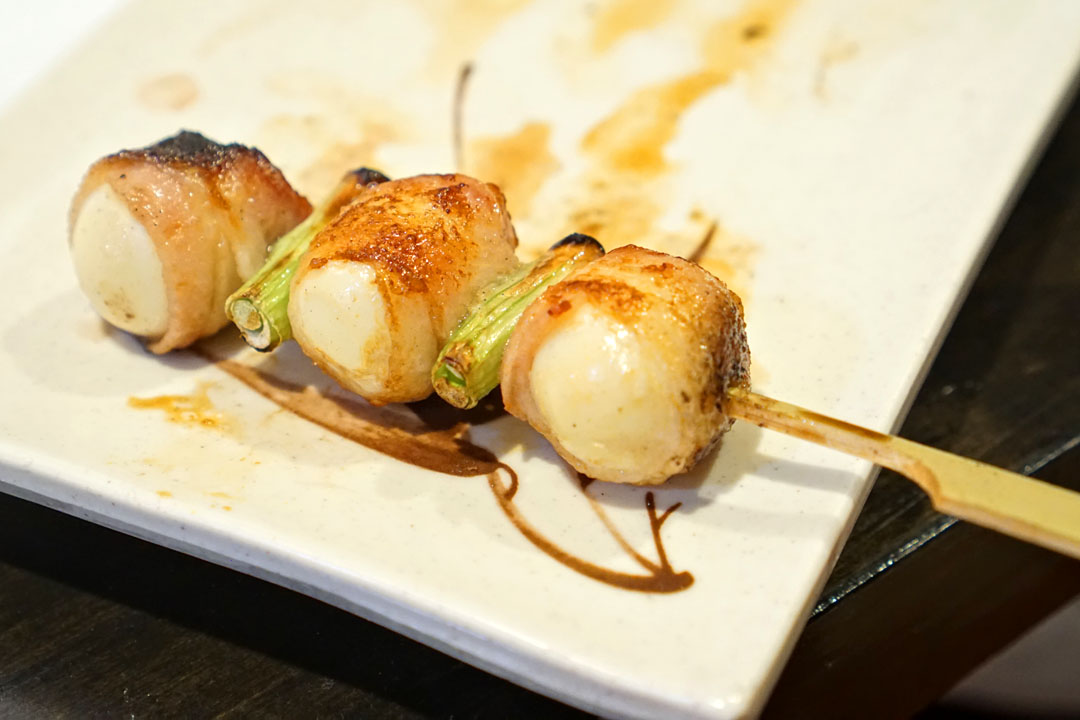 うずらベーコン / Quail Egg w/Bacon [$3.50]
Uzura
had a nice "pop" to them, while their relatively mild, creamy flavors made sense when taken with the winning combination of bacon and onion.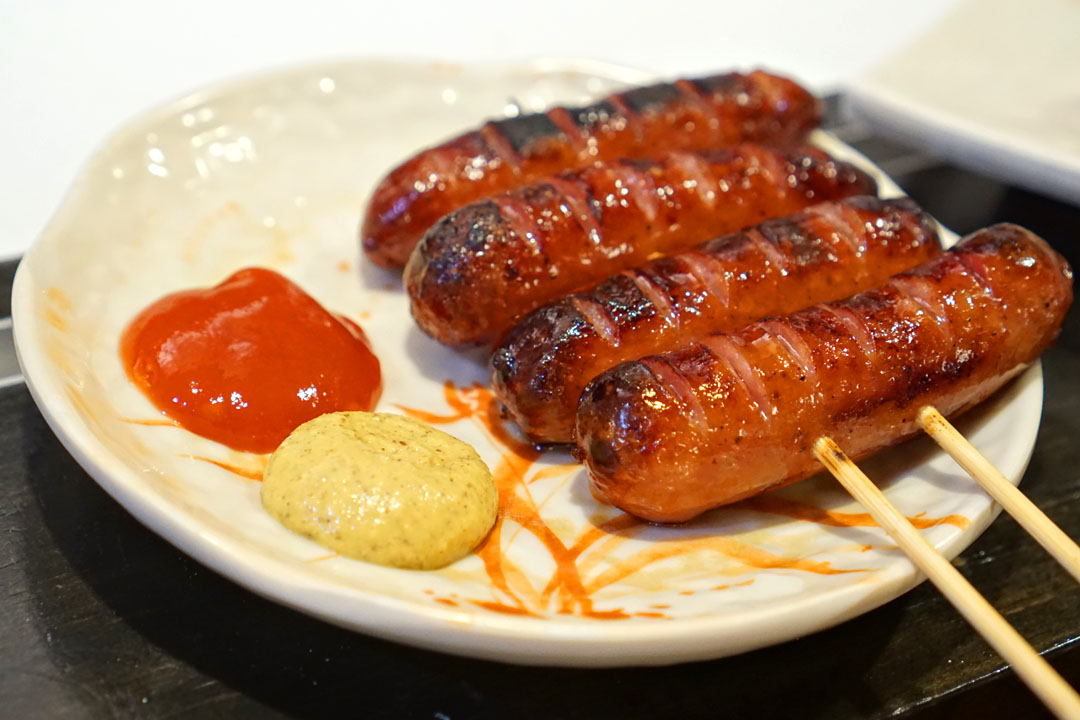 粗挽きソーセージ / Coarse-ground Sausage (4pc) [$6.00]
Arabiki
sausages had wonderfully snappy casings, while their coarse filling of pork showed off a straightforward, satisfying savor tinged with just a touch of sweetness. Even better with a dab of the mustard on the side.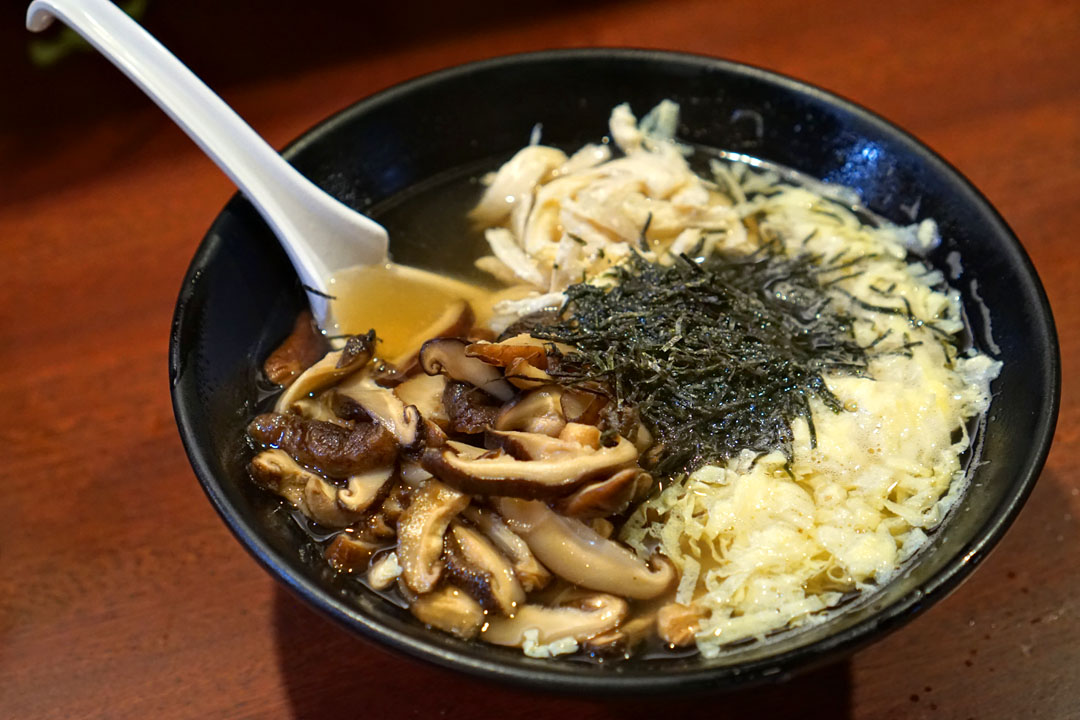 新撰組茶漬け / Shin-Sen-Gumi Chazuke [$6.50]
The
ochazuke
made for a fitting conclusion to the meal. I got boatloads of umami from the one-two punch of seaweed and 'shrooms, all set against a backdrop of rice, meaty shreds of chicken, and tea-fueled bitterness.
It's about damn time that I reported on Shin-Sen-Gumi, especially since I had a pretty great meal here. The yakitori is not far off from the top I've eaten in LA (are there any spots I'm missing?), and the non-skewered dishes certainly held their own as well. This experience actually makes me feel that I should explore more from the SSG family.