Yui Restaurant (Sierra Madre, CA)
Yui Sushi
24 W Sierra Madre Blvd, Sierra Madre, CA 91024
626.325.3840
www.yuirestaurant.com
Sat 02/12/2022, 05:30p-07:20p

Located in the sleepy town of Sierra Madre, in the foothills of the San Gabriel Valley, Yui (ゆい 寿司) is a sushi spot that'd been on my "to eat" list for a couple years now, and I actually had scuttled plans to dine here a couple times before. The place opened in May 2017, and comes to us from Chef Katsu Hisanaga, a longtime fixture in the SFV Japanese dining scene.
About the Chef
: Katsunori Hisanaga hails from Japan, unsurprisingly, and attended culinary school in Tokyo. After graduating, he received an offer to work as a sushi chef in the Los Angeles area, but apparently it took three years for his visa to come through, during which time he honed his sushi skills in the capital. He was eventually able to make his way Stateside, and in 2000, began working at Kushiyu, a longstanding (founded 1987) sushi-slash-kushiyaki spot in Tarzana helmed by Masayuki "Nick" Niikura. He stayed there for years, gaining a loyal customer base, until deciding to strike out on his own with the opening of Yui.
We were served tonight by Hisanaga's second-in-command, Taka-san, who moved to the US in 2006 to attend college in Alabama, majoring in computer science. Degree in hand, he relocated to Silicon Valley in early 2009, but couldn't find a job due to the recession. Thus, he began toiling in restaurants in the Bay Area, starting out as a dishwasher before working his way up. Taka-san was able to land a gig at the Michelin-starred Omakase in San Francisco, though later moved down to SoCal. He was at Pasadena's Osawa for a few months, but lost his job because of the pandemic, though fortunately, he was able to secure his current position at Yui last year.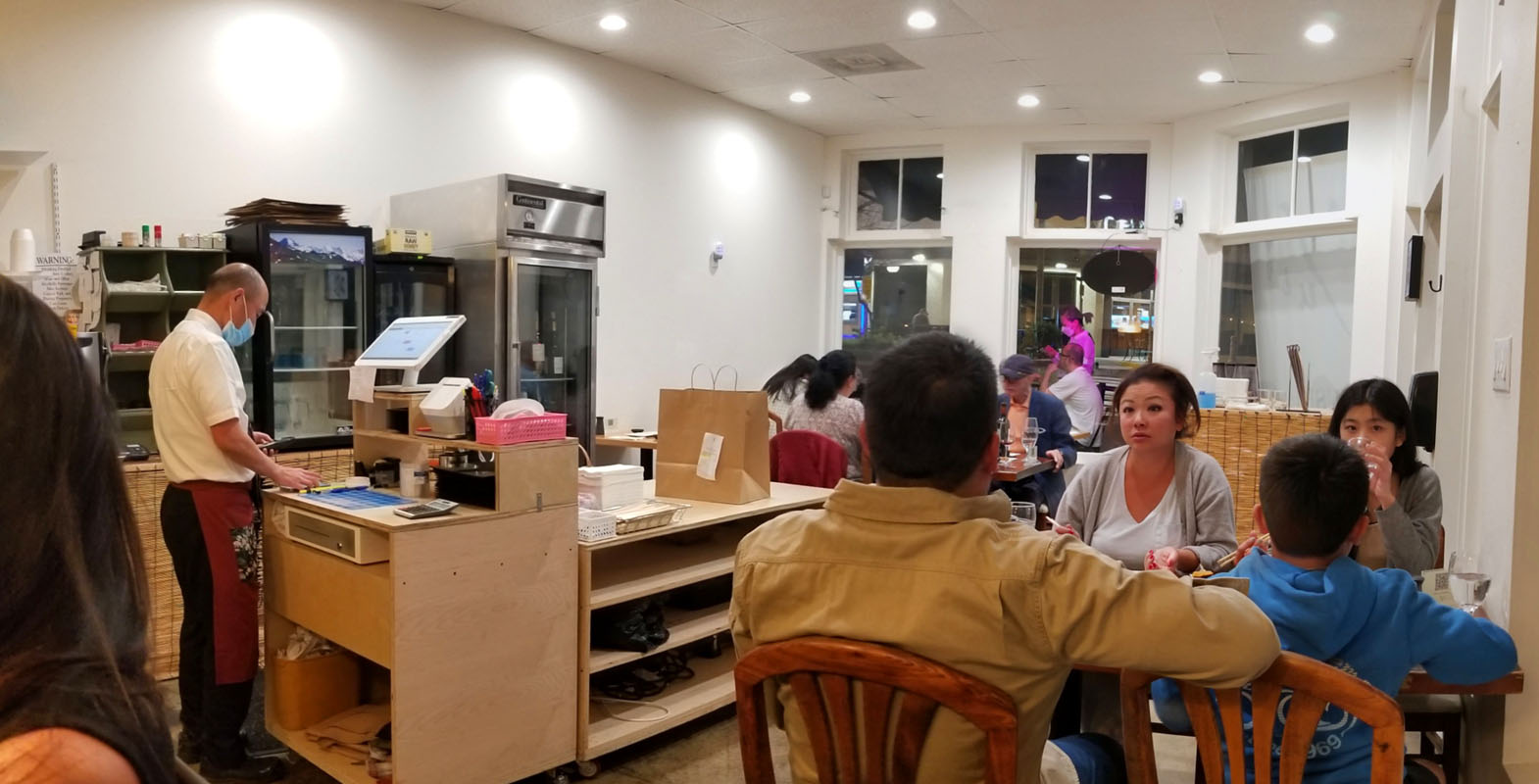 Yui occupies a storefront that was previously home to the likes of Citta Cafe, Vicious Dogs, Mountain View Sushi, Mountain View Restaurant, and Cajun Way Cafe. It's a pretty small space, with room for only five at the sushi bar. Speaking of that bar, we sat there and were not offered a menu, as we made it clear right from the start that we were interested in the restaurant's omakase experience. I was then asked for a price point, and threw out $150pp, which seemed like a reasonable number--not crazy high, but high enough to get the "good stuff."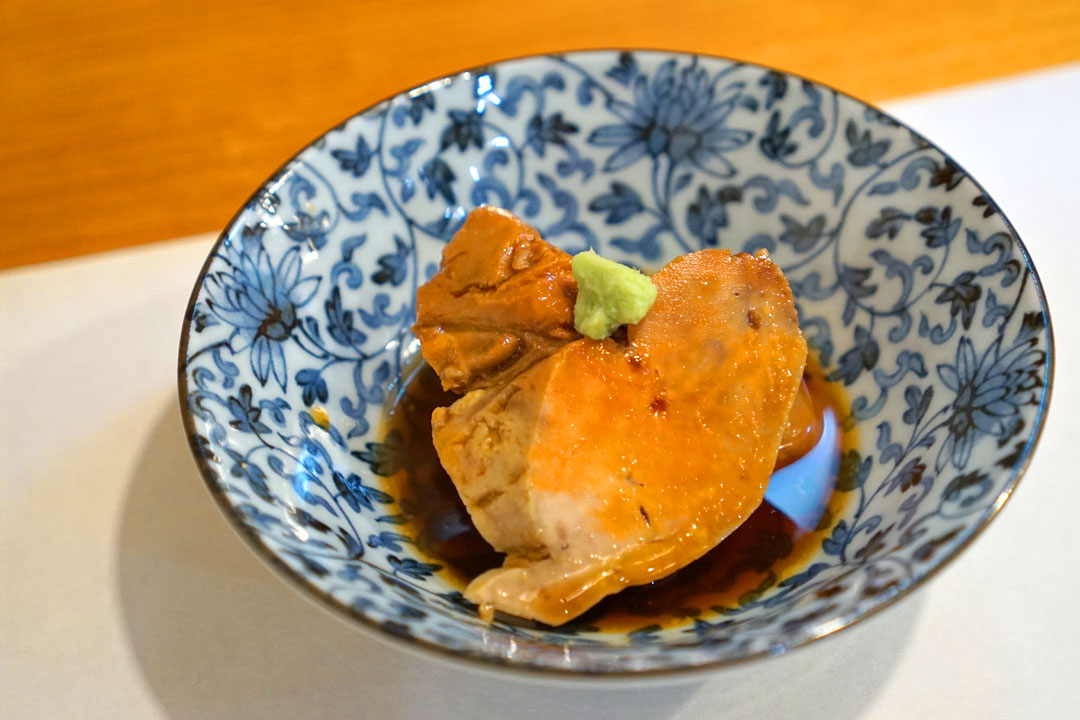 1: Ankimo
The meal began with a smattering of
sakizuke
. Monkfish liver conveyed its signature creamy sweetness, set against restrained bitterness and brine, while ponzu and wasabi functioned just as expected. A promising start.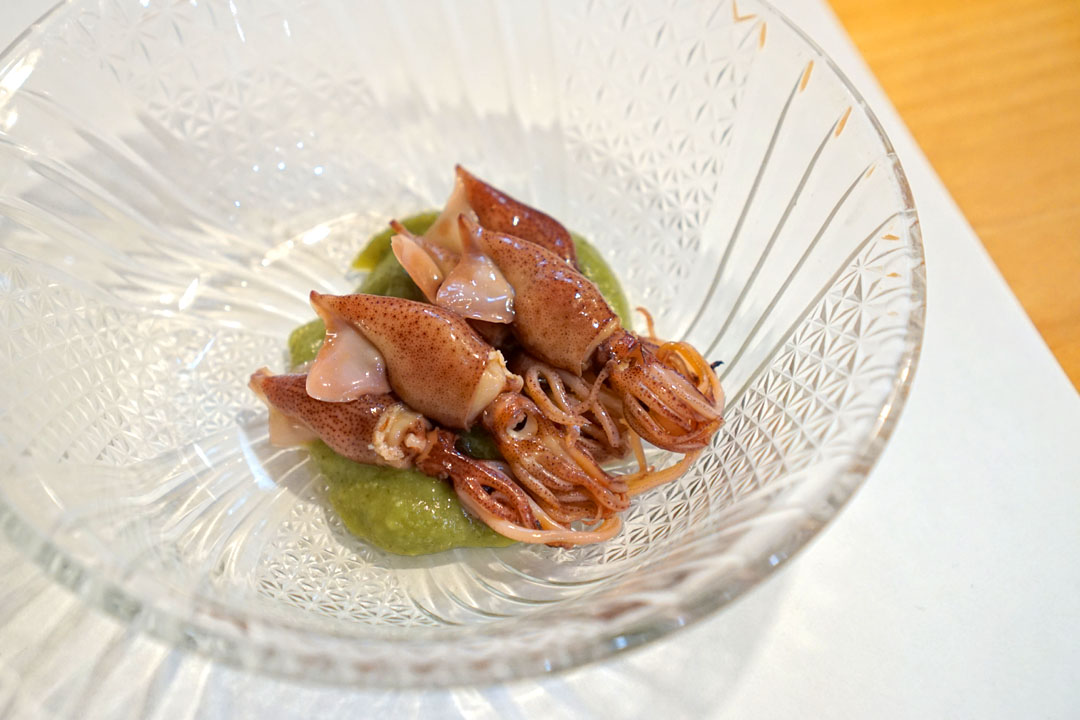 2: Hotaru Ika
Sourced from Hyogo, firefly squid were fresh and pleasantly "snappy," their subdued salinity working hand-in-hand with the sweet, vegetal, funky nature of the dish's miso-based condiment.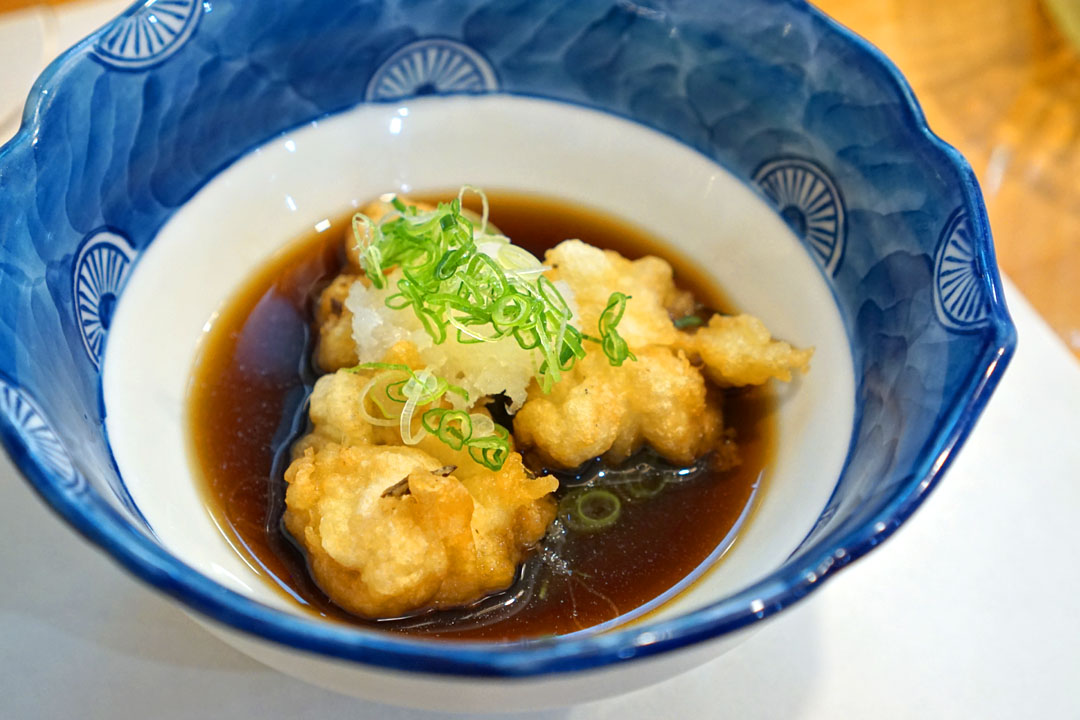 3: Shirako Tempura
A wintertime delicacy nearing the end of its season, the soft roe from Nemuro, Hokkaido was a standout for sure, and probably one of the best preparations of the ingredient I've had. I loved the cod milt's delicate taste and creamy nature, and how that melded with its crispy, savory, tempura'd exterior. At the same time, a ponzu broth offered up a tangy contrast, while the grated daikon and scallion really brightened things up beautifully.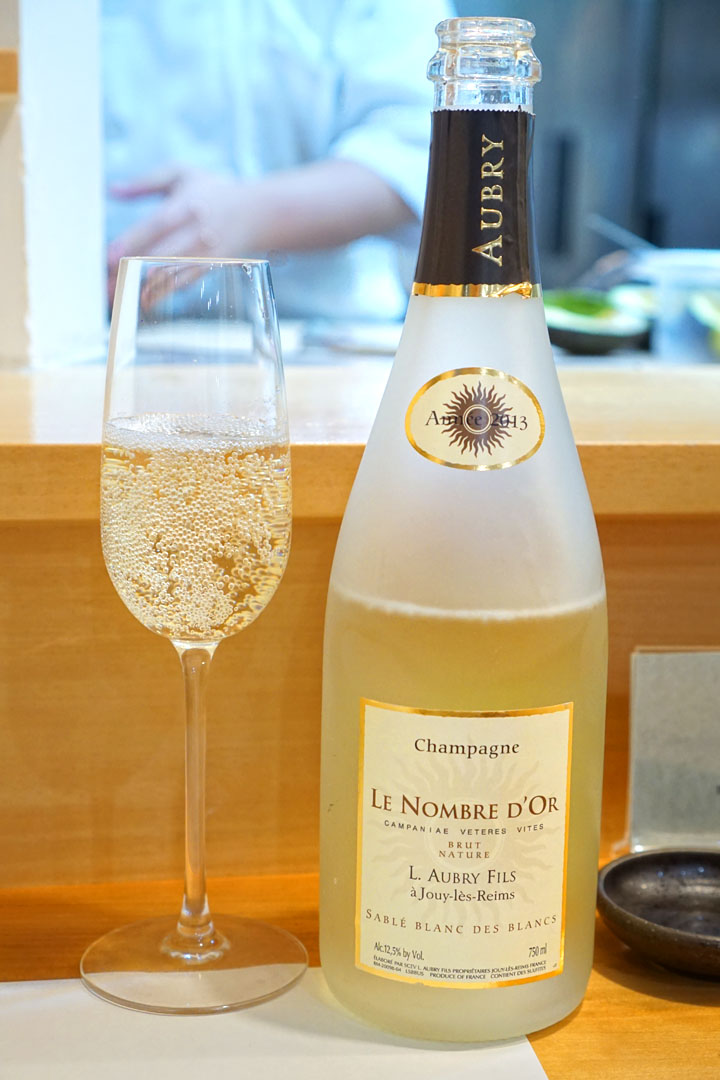 Corkage at Yui is a very reasonable $10, so I brought along a bottle of the
2013 L. Aubry Fils Le Nombre d'Or Sablé Blanc des Blancs Brut
to drink. The Champagne had a vibrant nose filled with fresh apples and citrus backed by layer of minerals. On the palate, I found the wine racy and effervescent, with flavors of pome fruit at the fore, supplemented by underpinnings of stone and saline.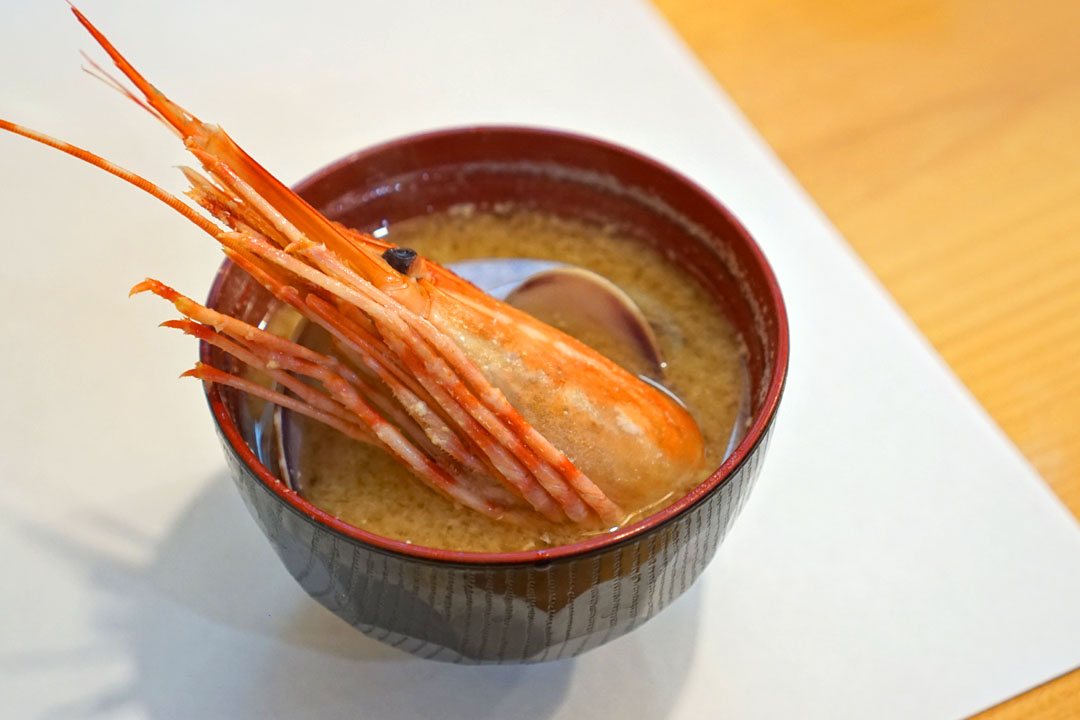 4: Misoshiru
A classic, cozy miso soup was boosted by
asari
and the head from what I assume must be the prawn below. It was tasty, but my complaint here was that the broth was marred by shards of clam shell.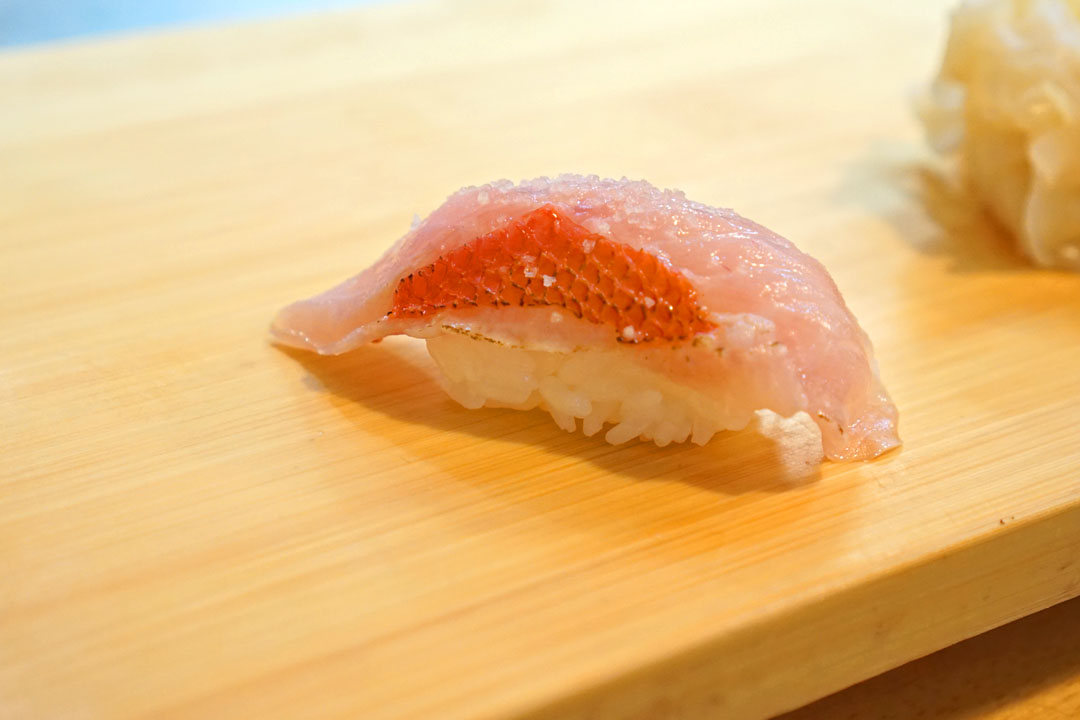 5: Ji-Kinme Dai
The nigiri portion of our meal kicked off with one of my favorite
neta
: golden eye snapper from Chiba. I was a fan of the fish's sheer suppleness, while its elegant flavors took well to a slight sear, and finished with pinpricks of salt and wasabi.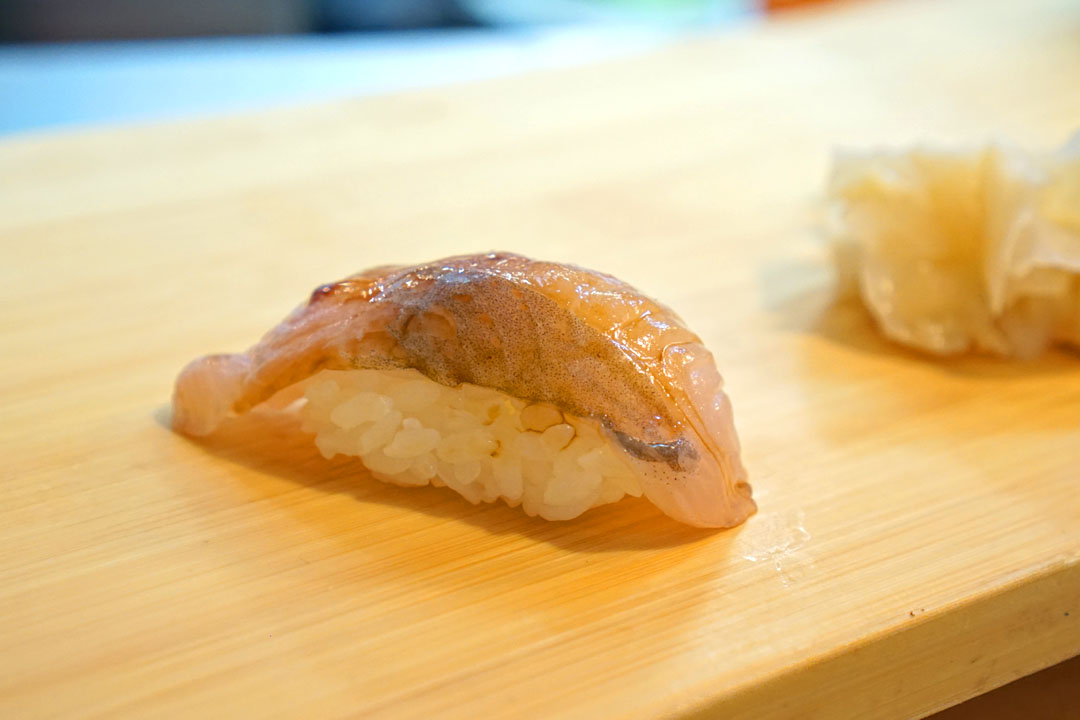 6: Hokke
Hailing from Hakodate, Hokkaido was the atka mackerel, which I actually don't believe I'd ever had before. I quite liked the fish's uncommonly silky texture, while its taste went in a somewhat bittersweet direction, perked up by traces of wasabi heat.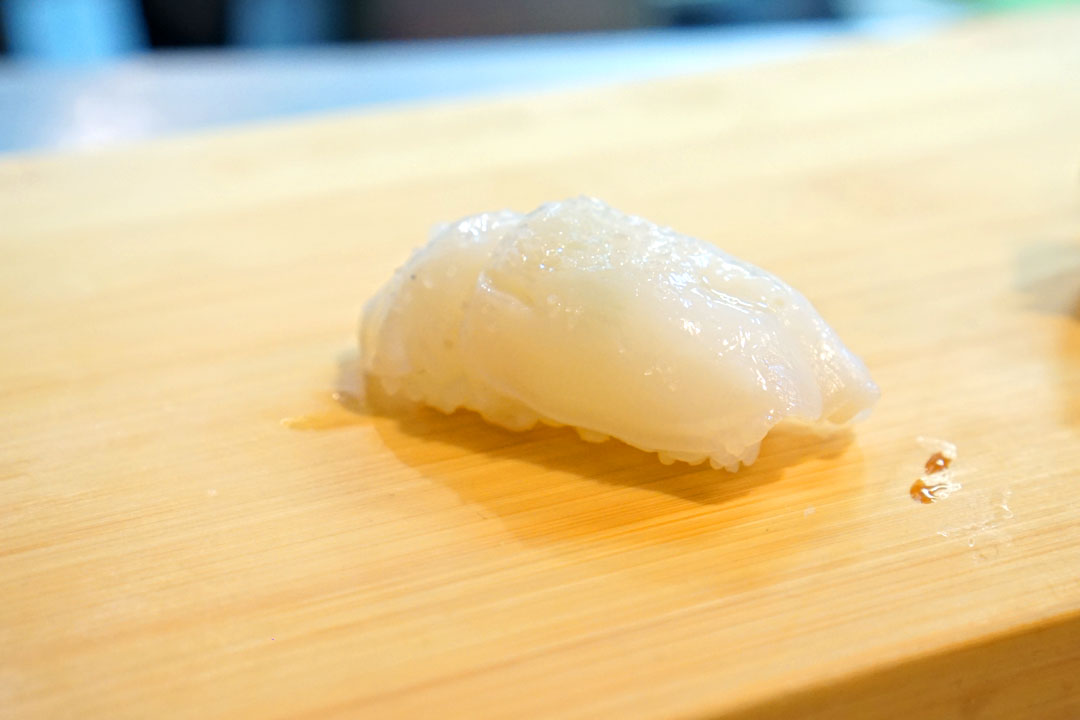 7: Nama Tako
Raw octopus showcased a chewy-yet-yielding consistency that definitely hit the spot, while its mild flavors were well-accented by citrus, salt, and 'sabi.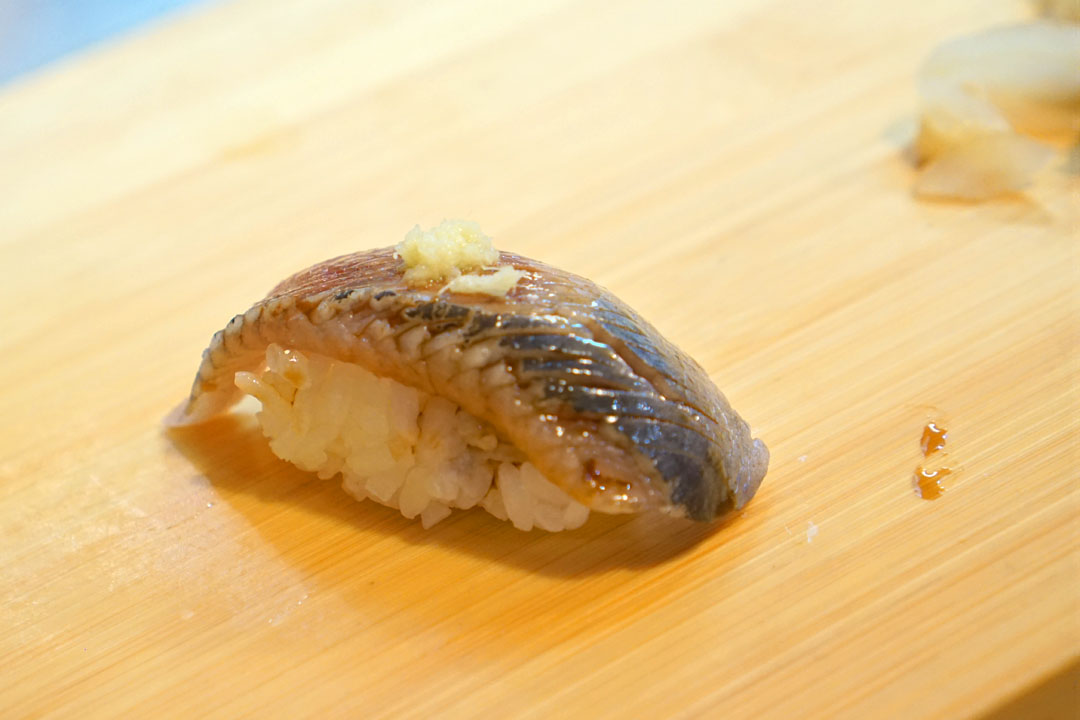 8: Iwashi
Sardine from Chiba was a great representative of the
hikarimono
family thanks to its dainty brine and fruitiness. The rice made itself particularly known here, and I mean that in a good way.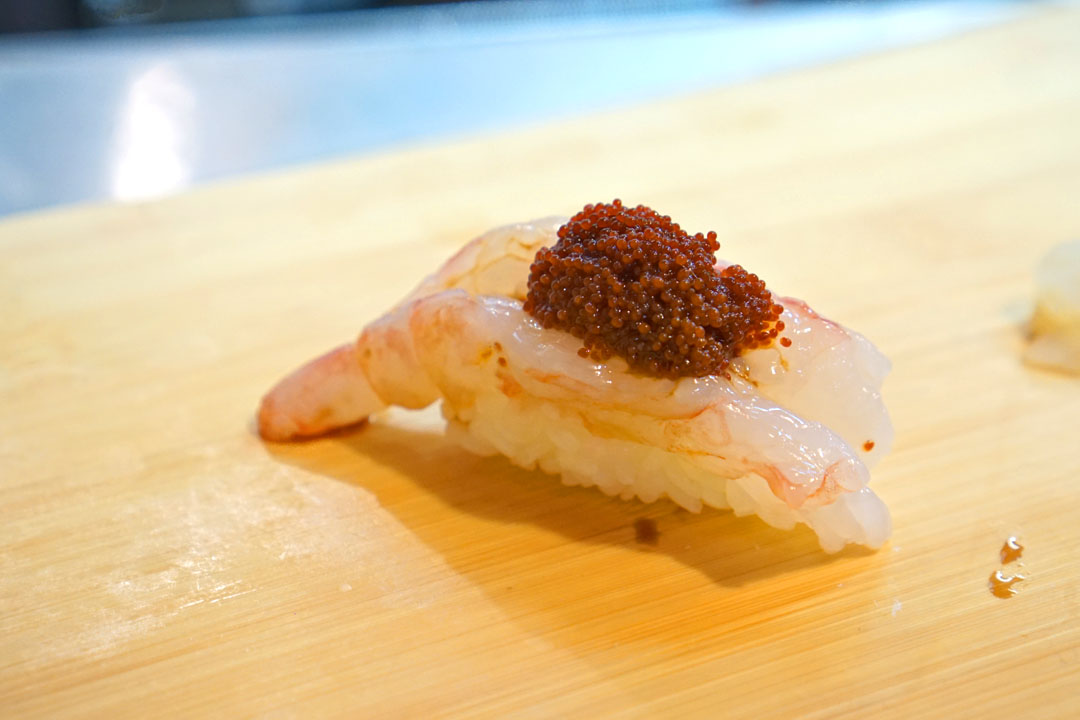 9: Ama Ebi
Baja spot prawn featured an excellent "crunch," while its inherent sweetness was supplemented by its roe, which imparted both brine and bite. Also important were the overarching citrusy notes present, as well as the palpable burn from the wasabi on the back end.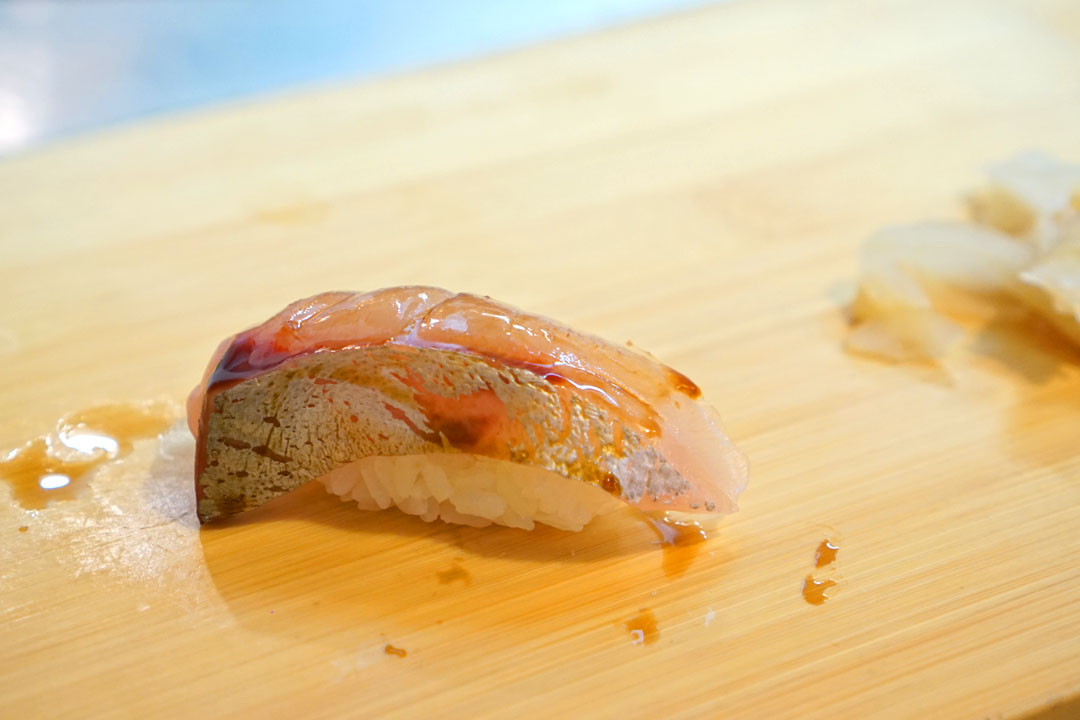 10: Shima Aji
Miyazaki-sourced trevally (a.k.a. striped jack) was gratifyingly textured, while its gentle flavors actually seemed to emphasize the Chef's
shari
.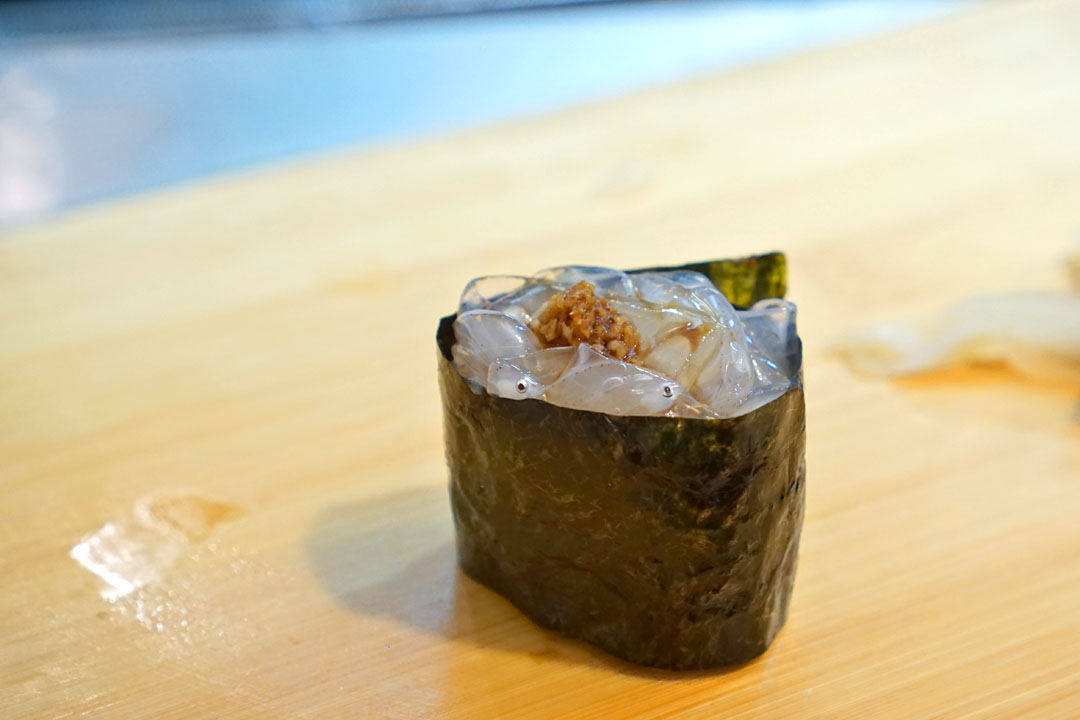 11: Noresore
Raw baby eel is a seasonal treat best enjoyed right at the start of spring, and this example from Ehime displayed a slippery consistency and refreshingly oceany taste that matched beautifully with both the ginger and seaweed. This is a relatively rare sight at sushi bars, so I was happy to see it tonight.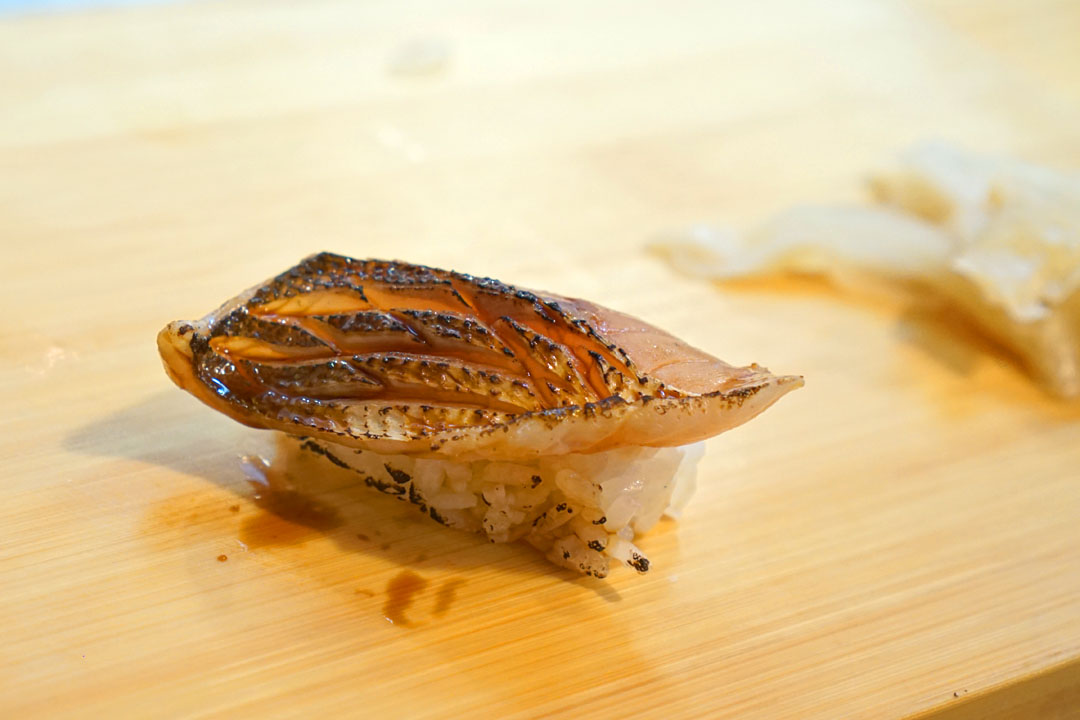 12: Kamasu
The barracuda was a winner. I loved the back-and-forth between the fish's sear and soft, subtlety-flavored flesh, all while the bite finished with a nice balance of rice and wasabi.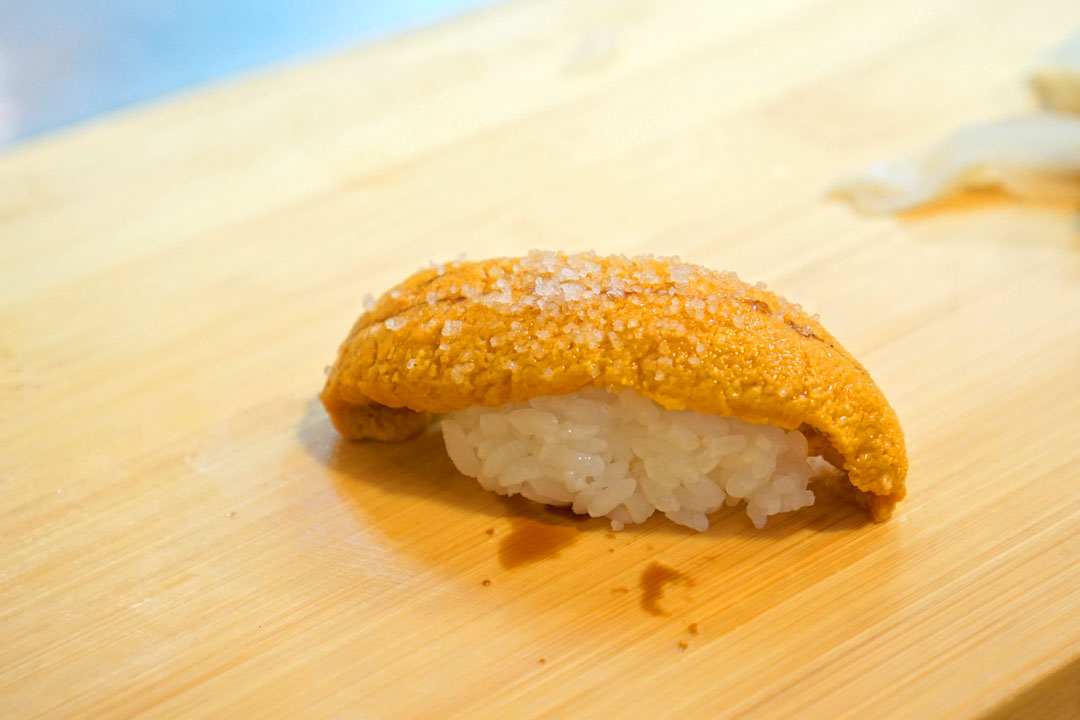 13: Uni
A tongue of Santa Barbara sea urchin was stickier than usual and seemingly extra creamy, its sweet-salinity nicely accentuated by stings of salt.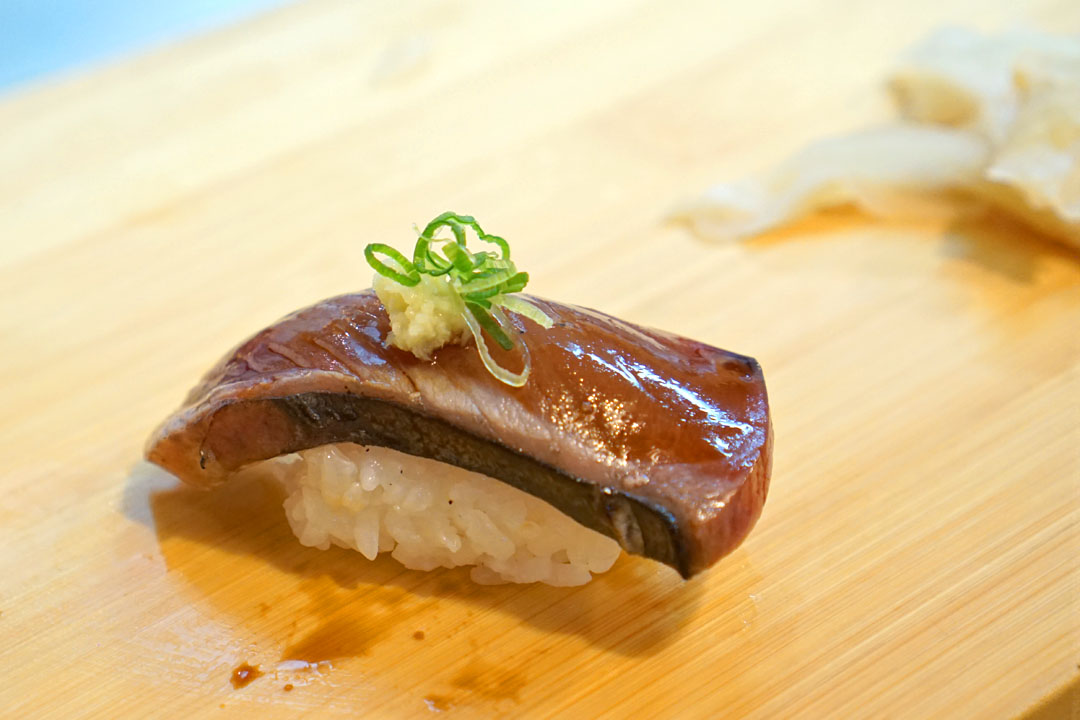 14: Hatsu Katsuo
Caught off the coast of Miyazaki, spring bonito is a harbinger of the season, and showed off a clean, lean texture and a slight bitterness that linked up easily with offsetting forces of ginger and wasabi.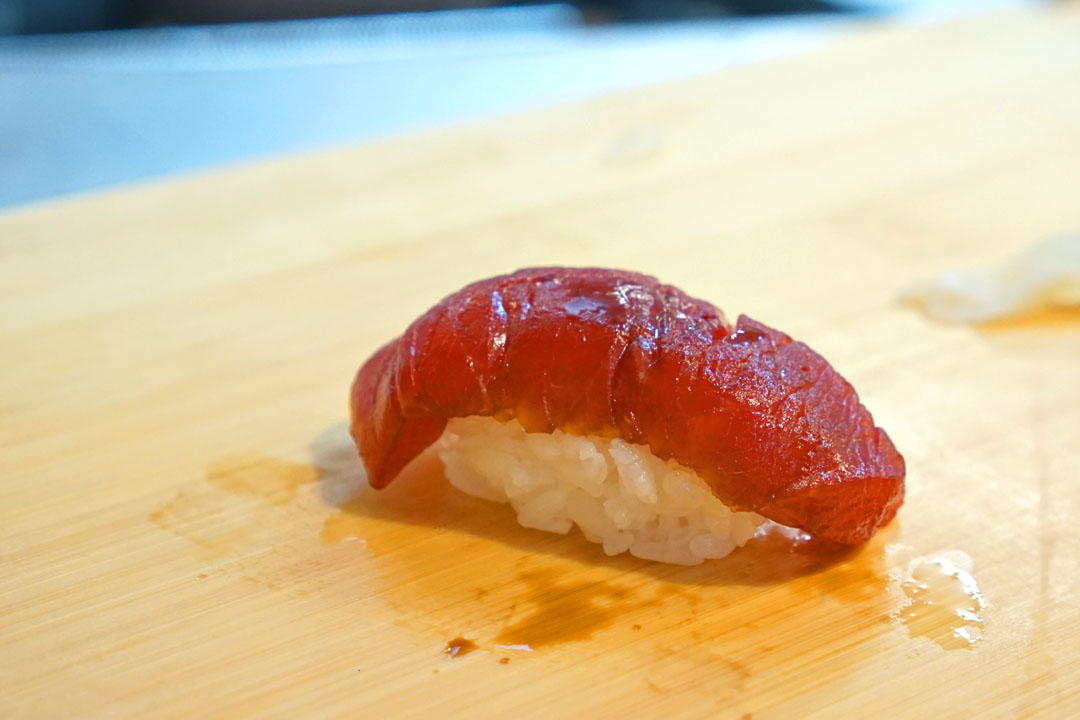 15: Akami
Spanish bluefin ate soft and savory--a classic presentation with umami at the forefront and a great counterpoint from the sushi rice.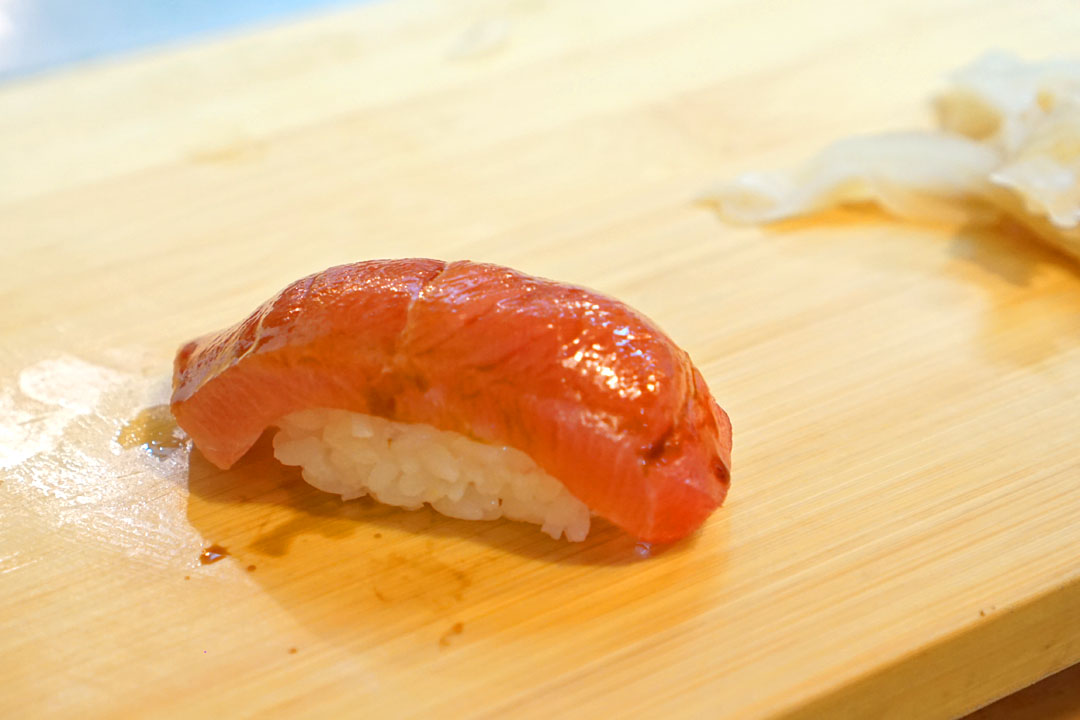 16: Chutoro
Ostensibly taken from the same bluefin as above, the medium fatty tuna was a huge step up in the fattiness department, and had a real oily depth to it.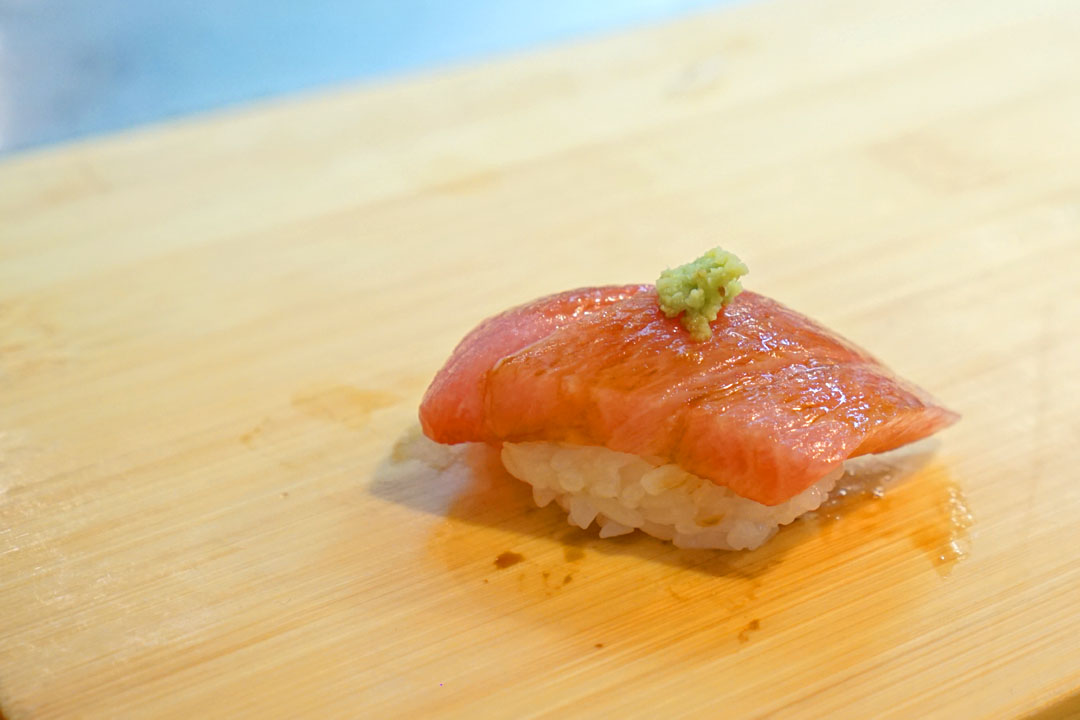 17: Otoro
Also taken from the same fish was the fattiest part of the tuna belly, which actually ate a bit more balanced than the chutoro, surprisingly. This might've been due to the more forceful application of wasabi here, which kept things in check.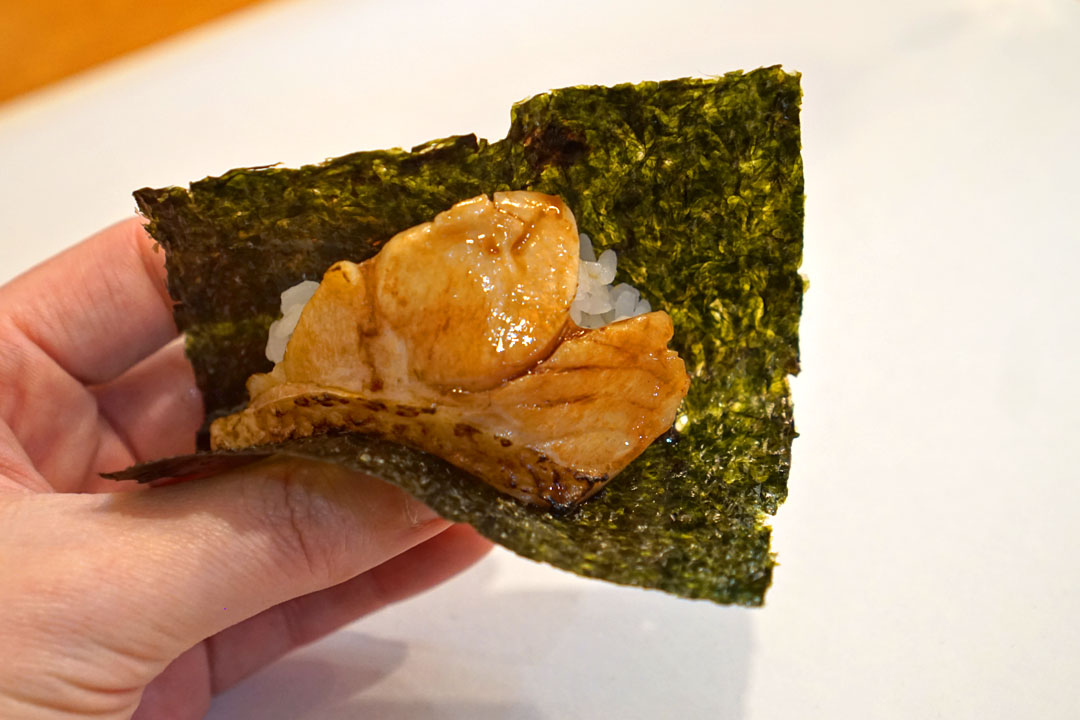 18: Nodoguro
Blackthroat seaperch (a.k.a.
akamutsu
) is my favorite fish, so I was very glad to see it as part of the menu. This example from Nagasaki was served cooked, which really highlighted the fish's signature marriage of refinement and richness, all juxtaposed against nori and rice. Yum.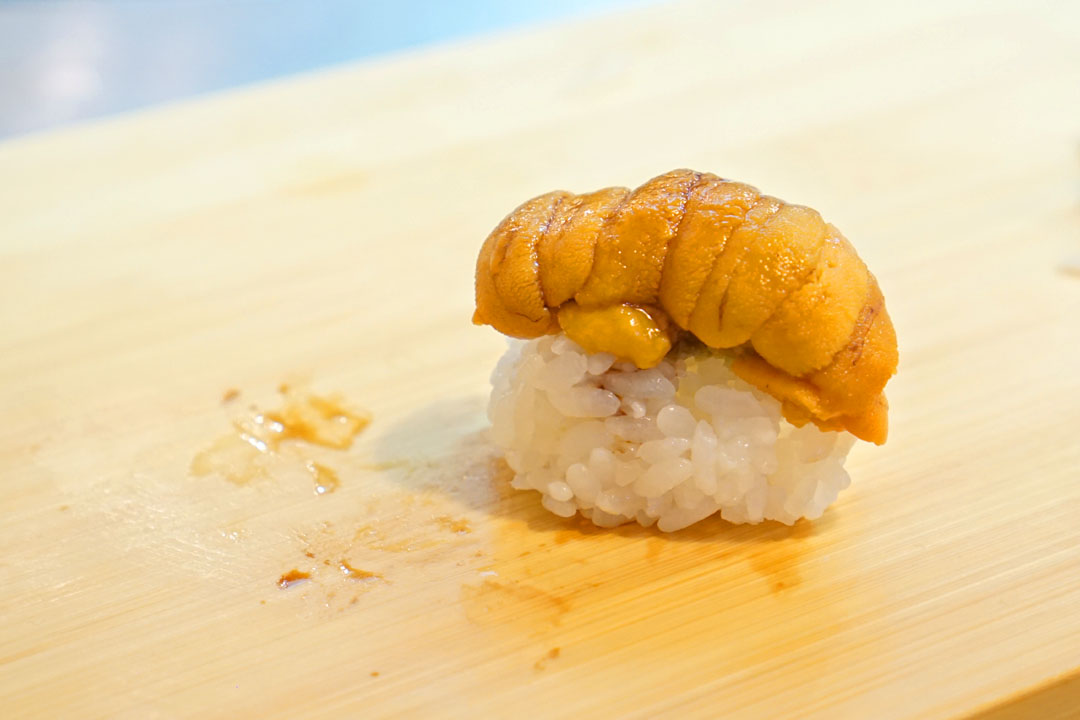 19: Bafun Uni
Last up was more sea urchin, but this time sourced from Nemuro in eastern Hokkaido. Compared with the version above, this was more mineral-driven, as expected, and featured a delectably cool, saline character that was somewhat contemplative, yet still uncompromisingly delicious.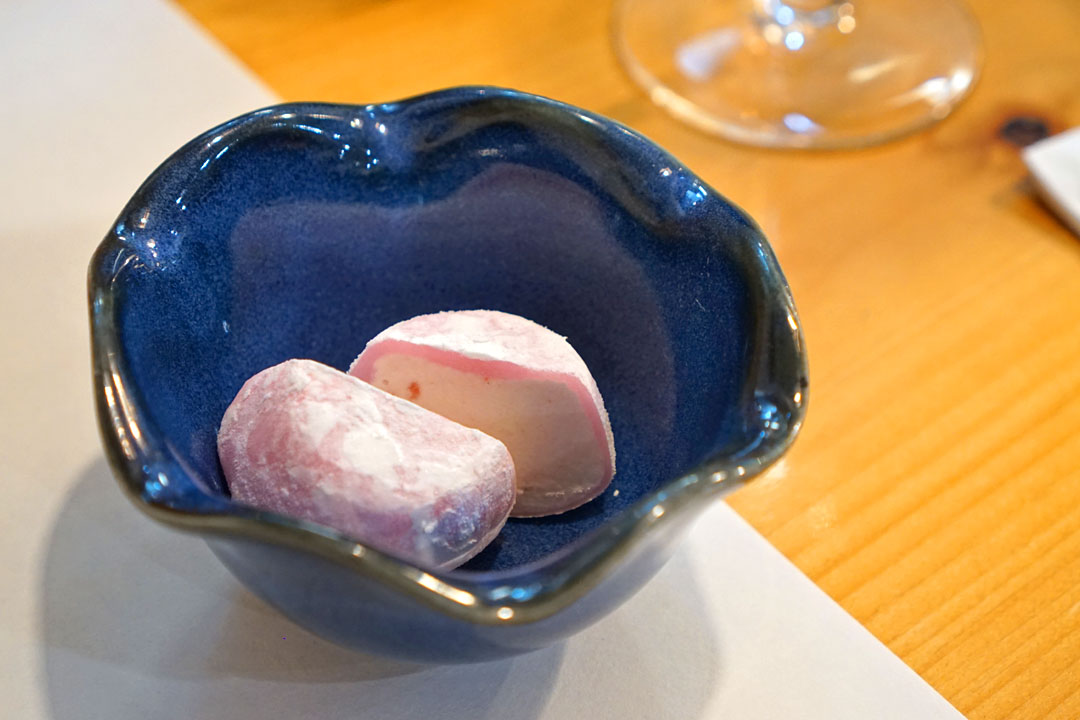 20: Mochi Ice Cream
Dessert comprised a straightforward serving of strawberry mochi ice cream, what I'd actually not had in a while.
I feel like the San Gabriel Valley's sushi landscape had gotten quite a bit better over the past several years or so, and Yui is a prime example of a strong newcomer to the scene. People rarely seem to talk about this place (I'm guessing because it's a little out of the way), which is a shame, since this was definitely one of the best sushi meals I've had in the area, and I found little to complain about. If you're a sushi-loving denizen of the SGV, Yui should definitely be on your list to check out.