Caboco (Los Angeles, CA)
Caboco Restaurant
1850 Industrial St, Los Angeles, CA 90021
213.405.1434
www.cabocola.com
Sun 02/13/2022, 08:05p-10:15p

If I had to pick one restaurant that helped kickstart the revitalization of the Arts District, it would be Church & State, without a doubt. The restaurant debuted back in 2008 under the command of Greg Bernhardt, but came into prominence when
Walter Manzke
was installed in the kitchen. Manzke was succeeded by Joshua Smith, Jeremy Berlin,
Tony Esnault
, and finally,
David Féau
, but the spot ended up closing for good in November 2019.
By the time that Féau was cooking here, C&S was already under the control of prolific LA restaurateur William "Bill" Chait, and following the place's closure, the plan was reportedly to convert it into a branch of Tony Xu's Chengdu Taste. However, those plans fell through, and the vacant space was used for a series of pop-ups under the "Taqueando" banner before news came that it'd be taken over by Rodrigo Oliveira, a lauded chef known for his elevated interpretations of northeastern Brazilian fare. Caboco thus opened at the start of September last year, and I'd been wanting to check it out ever since.
About the Chef
: A native of São Paulo, Oliveira was born in 1980 to parents from the Brazilian state of Pernambuco. His father José Oliveira de Almeida (a.k.a. Seu Zé Almeida) originally opened Mocotó in São Paulo's Vila Medeiros district in 1973. It was more of a grocery store back then, but eventually morphed into an eatery, and Oliveira began helping out at the place at the age of 13, first washing dishes before getting behind the stove. He attended college briefly for environmental engineering, but quickly realized that he wanted to cook for a living, and thus decided to switch over to a culinary education. Following completion of his studies, he went back to Mocotó, and subsequently took over its kitchen in 2001, blending the restaurant's traditional
sertaneja
cuisine with some elevated flourishes.
Oliveira soon began to garner national and international acclaim for his cooking, and Mocotó's success allowed him to expand, albeit at a measured pace. In May 2013, the more contemporary Esquina Mocotó opened right next door to the original restaurant, but though the place was well received (landing a Michelin star), it shuttered in October 2018. The first Mocotó Café opened in December 2015 at Mercado Municipal de Pinheiros, while the second debuted a year later at the Shopping D complex. There's also Balaio IMS inside the Instituto Moreira Salles (a non-profit cultural institution), which dropped in July 2017, and month before Oliveira's first cookbook was published. More recently, a takeout operation based in Guarulhos called Mocotó pra Viagem launched in 2020, as did Quebrada Alimentada, the Chef's charitable organization that has the mission of combating hunger in São Paulo.
As for how Caboco came about, apparently Oliveira fell in love with LA after a 2017 visit, and announced his intentions to open here that fall. Through an introduction by Bill Esparza, he came into contact with Chait, and plans were hatched for a Balaio-esque spot in Hollywood, reportedly at the new Thompson hotel. However, those plans obviously never came to fruition, and the team of Oliveira, Chait, and Victor Vasconcellos (Oliveira's CdC back in Brazil) eventually decided to relocate the restaurant to its current home in Downtown.

Inside, the same basic layout remains from the C&S days, though things have been gussied up considerably by the folks over at
Preen Inc
. Of particular note are murals painted by Brazilian street artist
Speto
.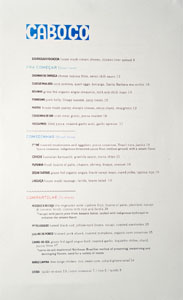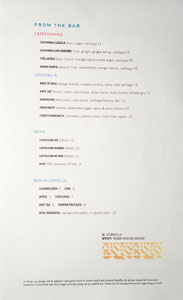 Divvied up into four straightforward sections, Caboco's menu is of a refreshingly manageable size. On the beverage side of things, you get a handful of beers, wine, and generally easy-going cocktails by Marcus Ragas (The Chestnut Club in SaMo, Neighbor in Venice, On the Thirty in Sherman Oaks). Click for larger versions.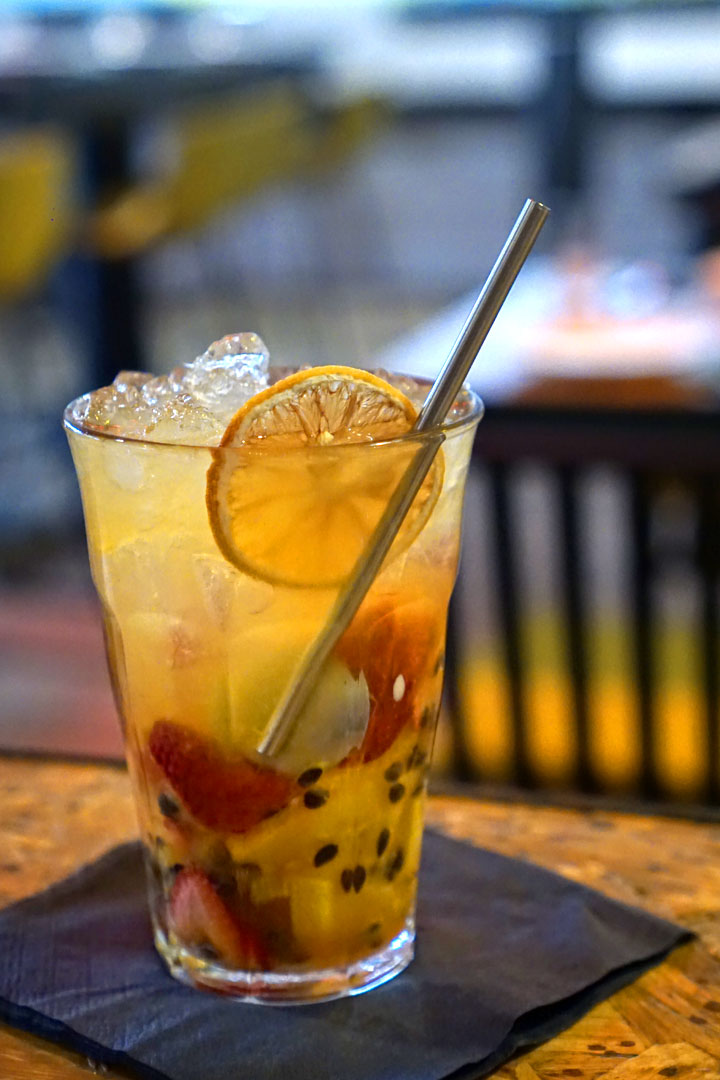 Karina Bonita [$16.00]
| passion fruit, strawberry, orange, lemon cachaça
Beverage-wise, we began with something from the caipirinha portion of the cocktail list. This definitely veered toward the sweet, tropical side, with loads of passion fruit on the finish, but this was all tempered by a backbone of grassiness from the cachaça.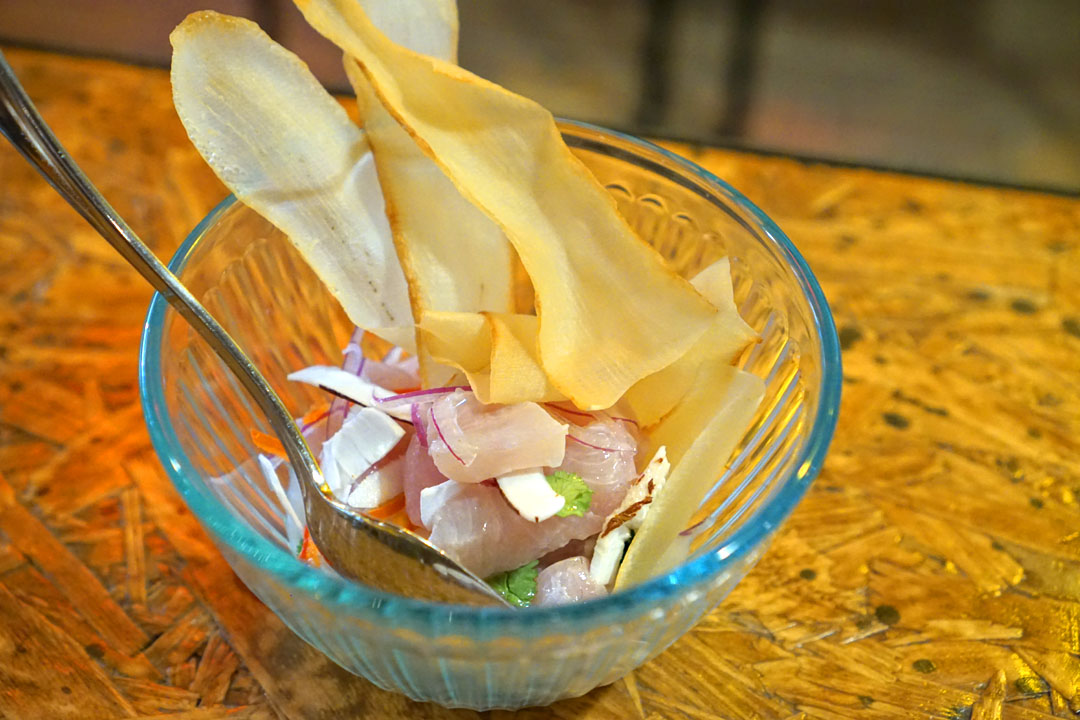 Ceviche [$21.00]
| hawaiian kampachi, graviola sauce, yucca chips
Shards of yellowtail were satisfyingly meaty, with a palpable brine that matched up easily with the sweet-n-sour leche de tigre, all while herbs and raw onion perked things up even further. I also liked the crunch and slight saltiness from the yuca chips, and it all made for a fitting start to the meal. Do note that we began with this dish at the recommendation of our server, as the kitchen had run out of the crab gratin we'd initially wanted. Unfortunately, said server also failed to remove the crab from the bill, which was the only real misstep in terms of service tonight.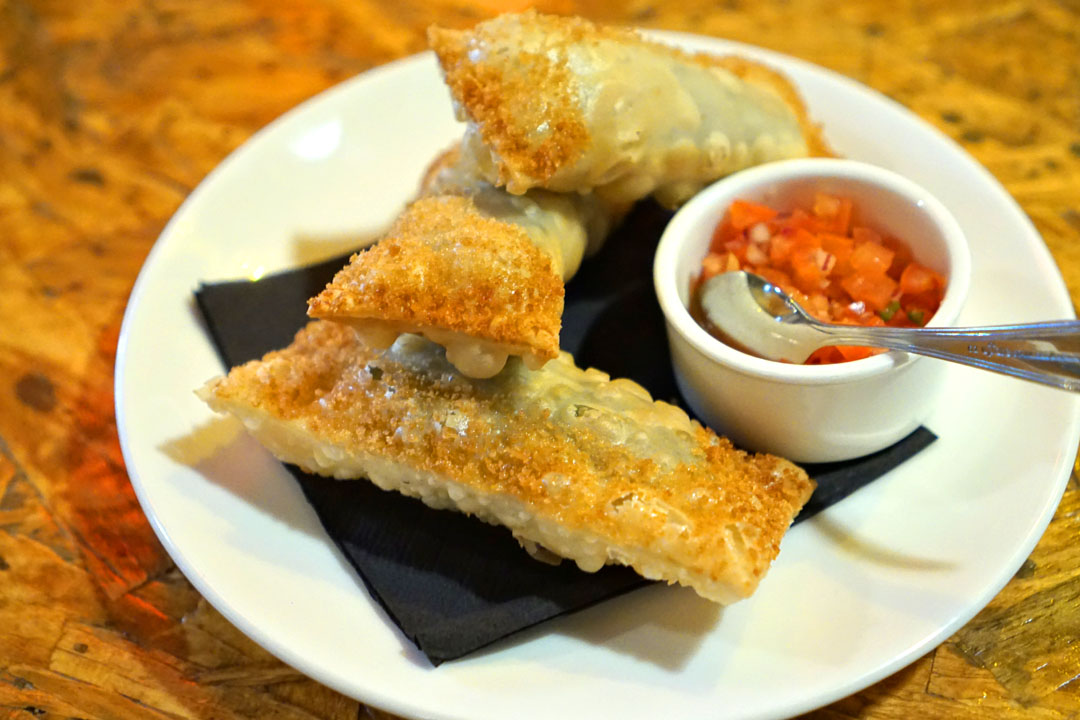 Pasteis [$13.00]
| house made pastry, sheep's cheese, swiss chard, vinaigrette
Deep-fried pies showed off thin, crisp, delicate crusts that I found somewhat reminiscent of Chinese spring rolls. Stuffed inside was a filling of lush cheese and bitter chard, which made for an effective back-and-forth that was well-accented by the acidity of that vinaigrette.
Dadinho de Tapioca [$13.00]
| cheesy tapioca fries, sweet chili sauce
Cubes of tapioca had slightly crispy exteriors, while their insides were delightfully chewy and elastic. Taste-wise, the fritters were subtly savory, and really opened up with a dip into that sweet-tangy sauce on the side.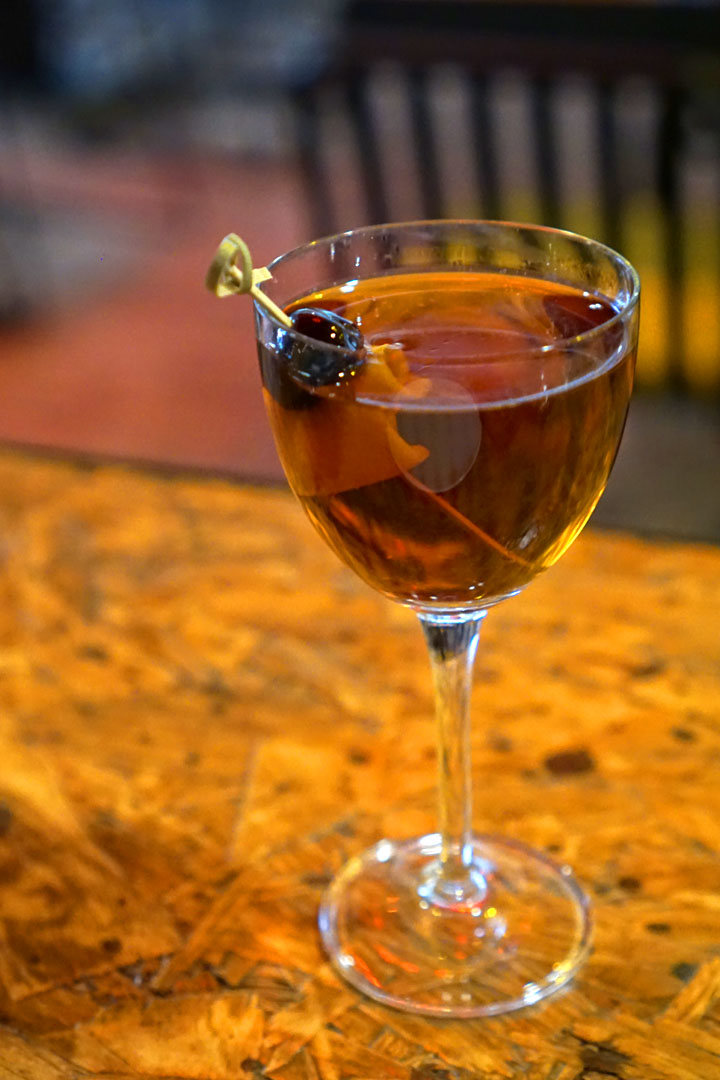 Rabo de Gato [$14.00]
| orange bitters, carpano antica, cynar, oak cachaça
My second cocktail was much more contemplative than the first, and was almost aperitif-esque with its stimulating bittersweetness, citrus, herbs, and dark fruit.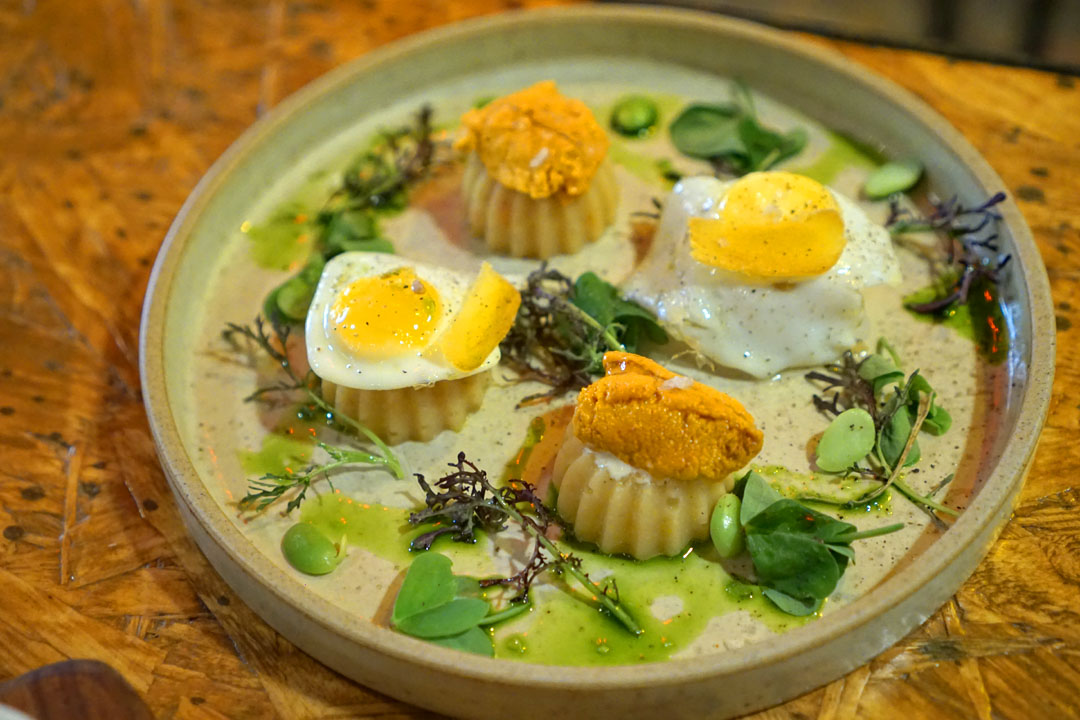 Cuscuz Paulista [$18.00]
| corn polenta, quail eggs, bottarga, Santa Barbara sea urchin
This take on a classic couscous dish featured a base of fine-grained polenta that linked up swimmingly with the richness of the sea urchin, but was even better when paired with those runny eggs. At the same time, I loved the zippiness of the greens, though I didn't get too much from the bottarga.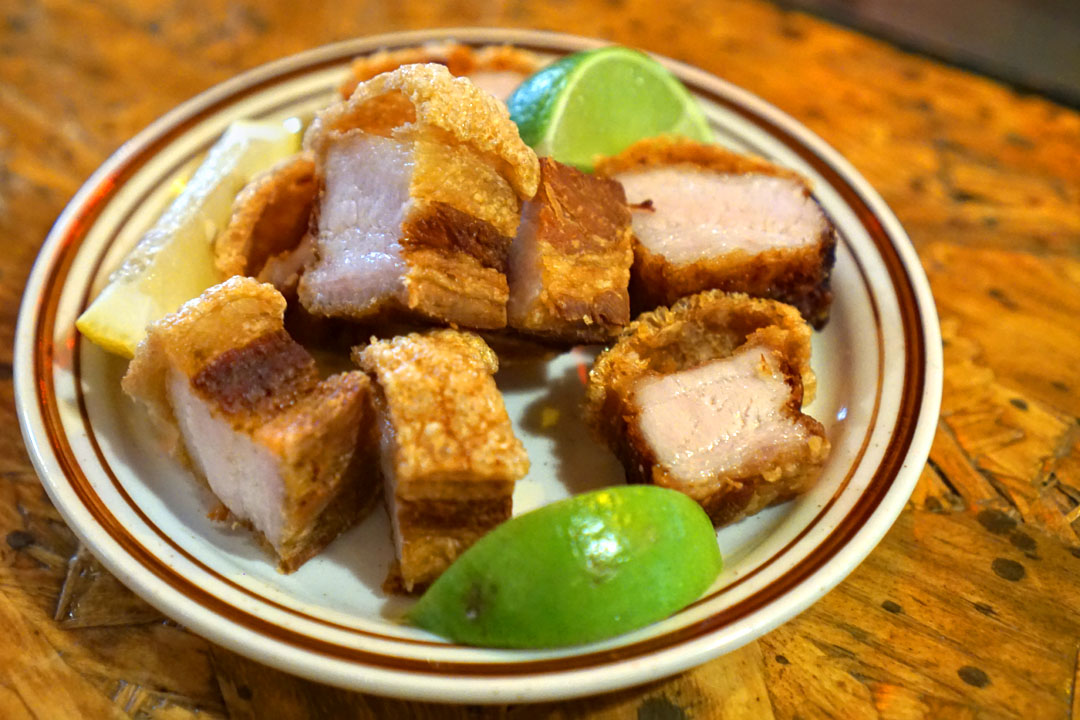 Torresmo [$15.00]
| pork belly. Crispy outside, juicy inside
From what I've read, Chef Oliveira is somewhat known for his pork belly, and I'm happy to report that his reputation is deserved. The meat was dense, concentrated, juicy, and positively teeming with porcine funk, but even better was the rind, which was absolutely one of the best crispy skins I've ever had. Great alone or with a squirt of citrus.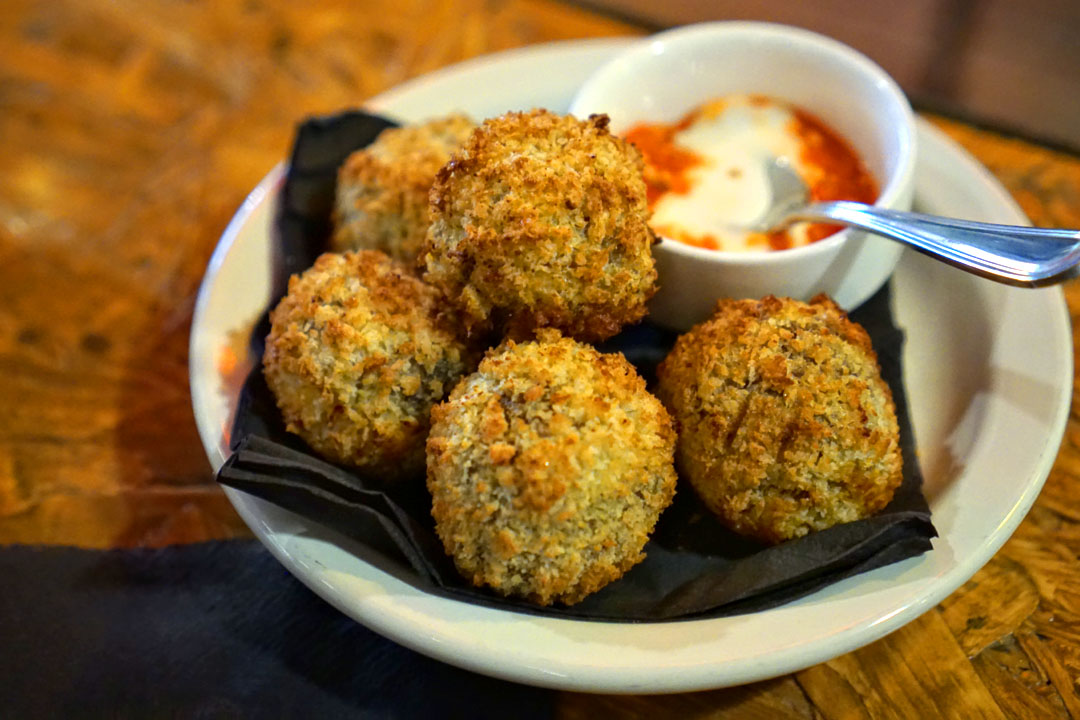 Bolinho [$14.00]
| grass fed organic angus croquette, milk and chili mayo
Beef fritters were just crisp enough on the outside, while flavors were simultaneously homey and elegant, and I was pretty enamored with the pungent-yet-creamy nature of the accompanying condiment.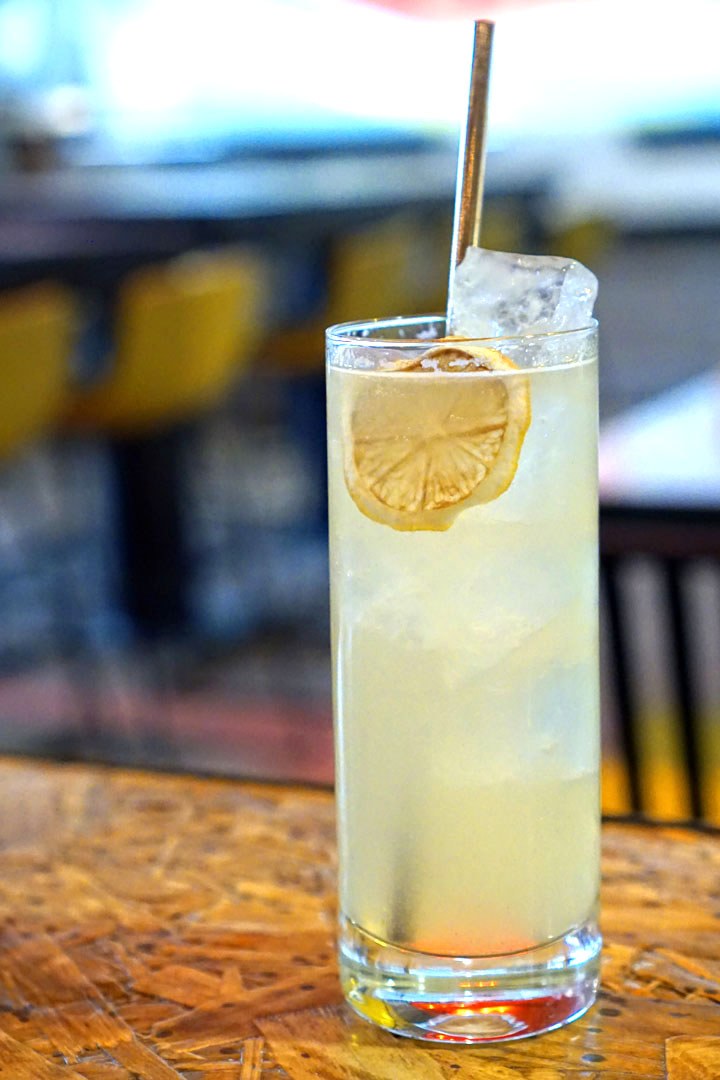 Mate G&T [$13.00]
| lemon, tonic, chartreuse, dolin blanc, mate, honey infused gin
Our third cocktail was a smart riff on the iconic gin and tonic. I found it a particularly well-integrated drink that showcased an herbaceous/astringent/fruity complexity from the combo of mate, Chartreuse, and vermouth.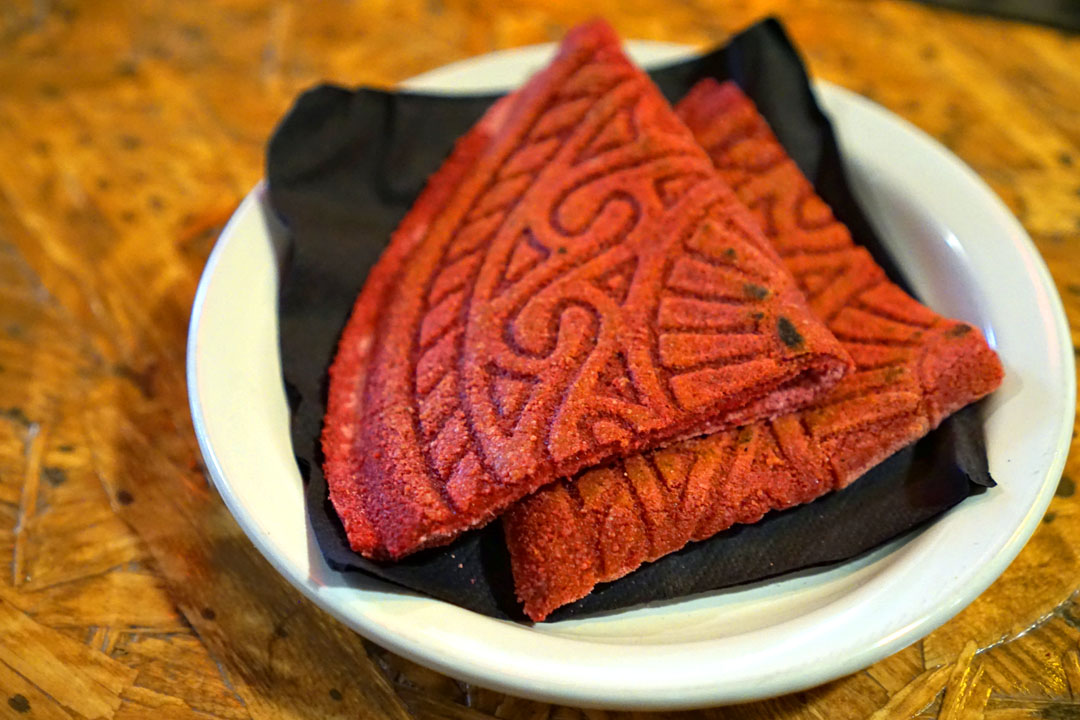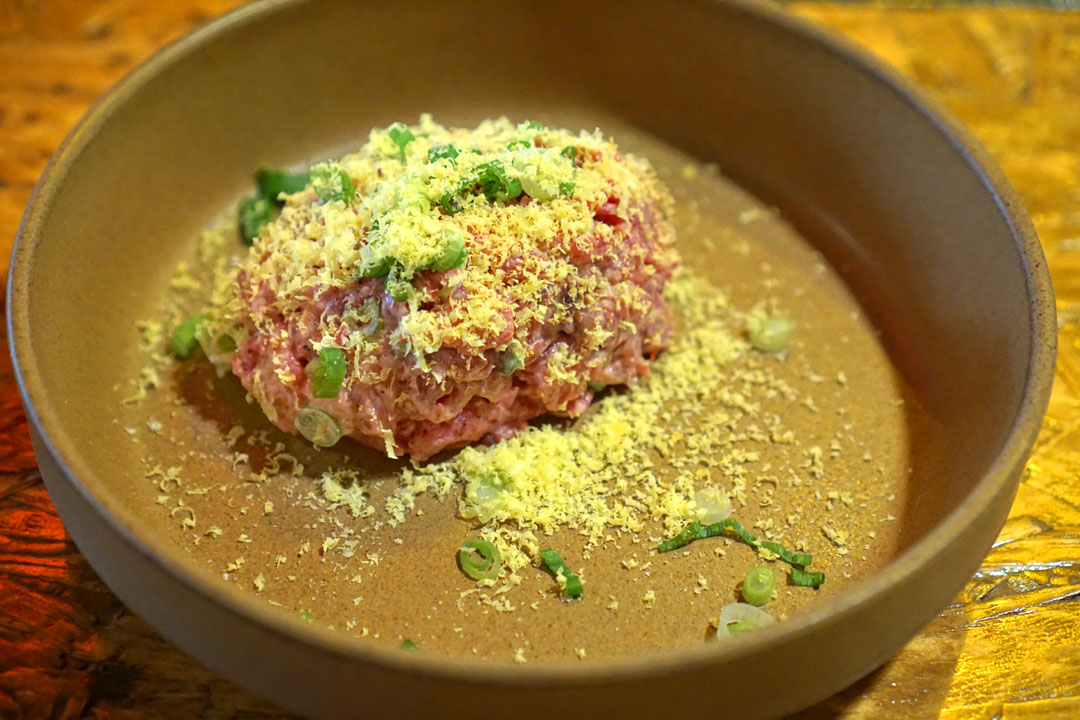 Steak Tartare [$19.00]
| grass fed organic angus, black tucupi mayo, cured yolks, tapioca biju
I'm a sucker for a good beef tartar, and Caboco's version was a winner for sure. The dish conveyed a clear, focused beefiness that really spoke to the Angus' grass-feeding, and I loved the layer of umami provided by the mayo. Also crucial was the enveloping lusciousness from the shaved egg yolks, while the scallions provided a zestiness that really uplifted the dish. As for the intricately-patterned
beiju
crêpes, think dry, gritty, and a fitting foil to the meat.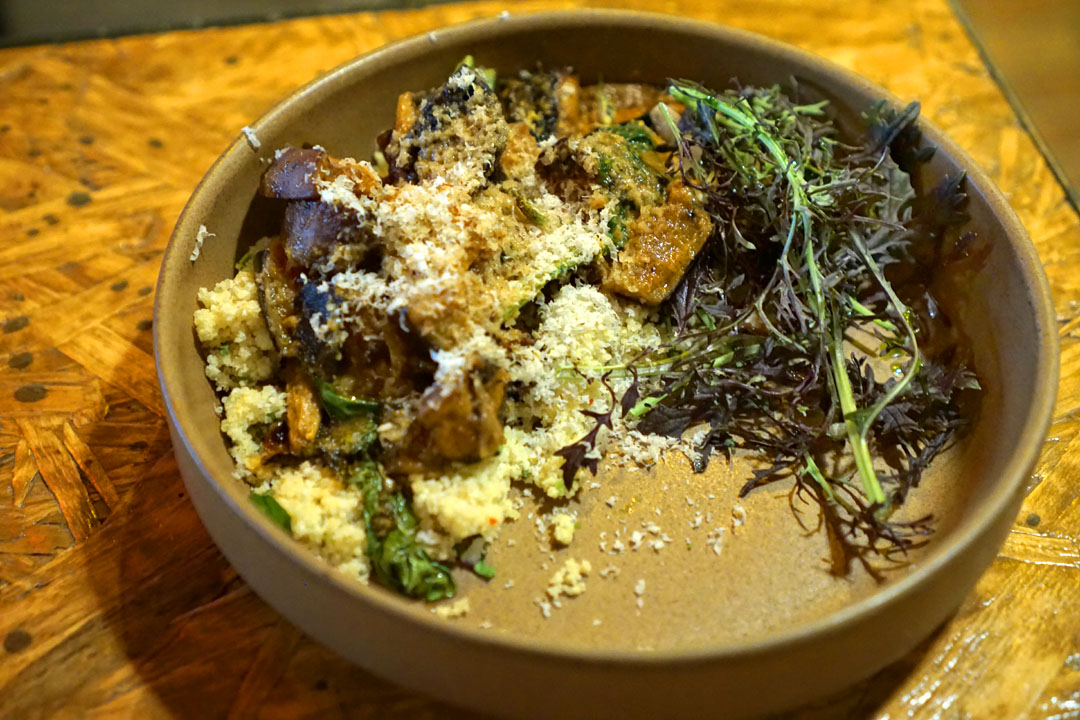 Chibé [$18.00]
| roasted mushrooms and eggplant, yucca couscous, Brazil nuts, jambú
This vegetable-centric dish packed a punch thanks to the earthy, smoky qualities of the mushrooms and eggplant, which played well with the moderating effect of the couscous, while the greens imparted a bitterness that helped bring it all together.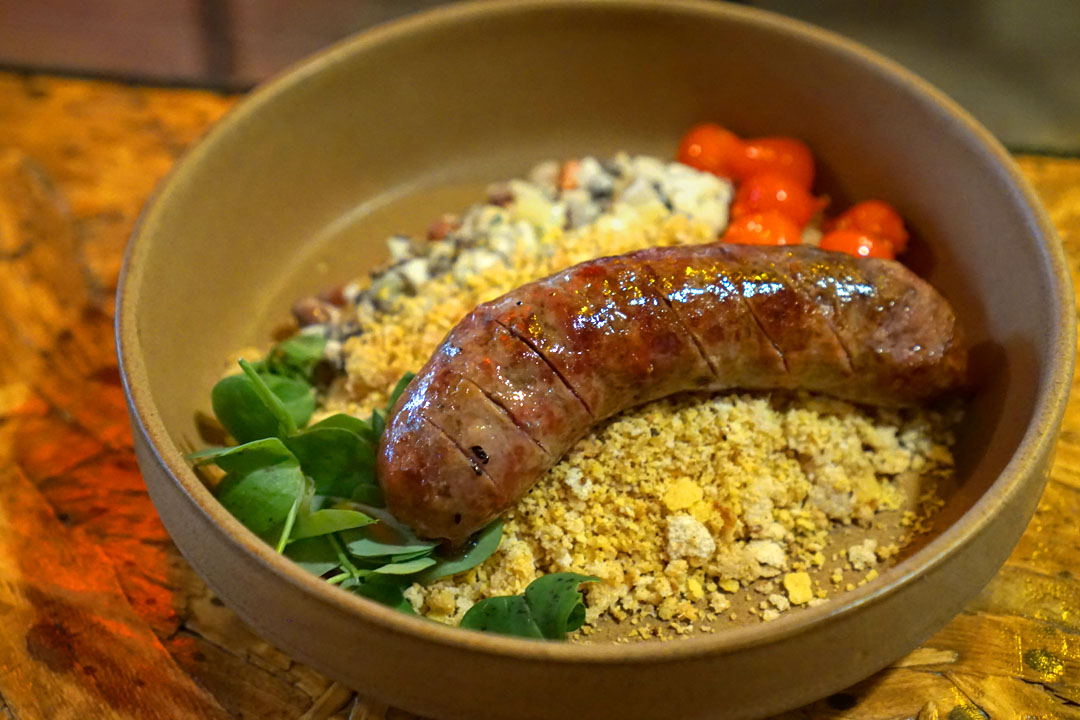 Linguiça [$19.00]
| house made sausage, farofa, beans salad
I have a hard time turning down sausage, and this was a pretty exquisite example. The linguiça was spot-on with its robust spicing and unabashed meatiness, and was enhanced even further by the seasoning on the
farofa
. Even better, though, was the countering brightness of the bean salad and the sour, herby notes from the veggies.
Mandacaru [$12.00]
| lime juice, caju syrup, cachaça branca, salt
This next cocktail came recommended by our server, and he knew what he was talking about, since drink did a bang-up job balancing the fruitiness of the
caju
with lime and the robustness of cachaça. Nice salted rim on this one, too.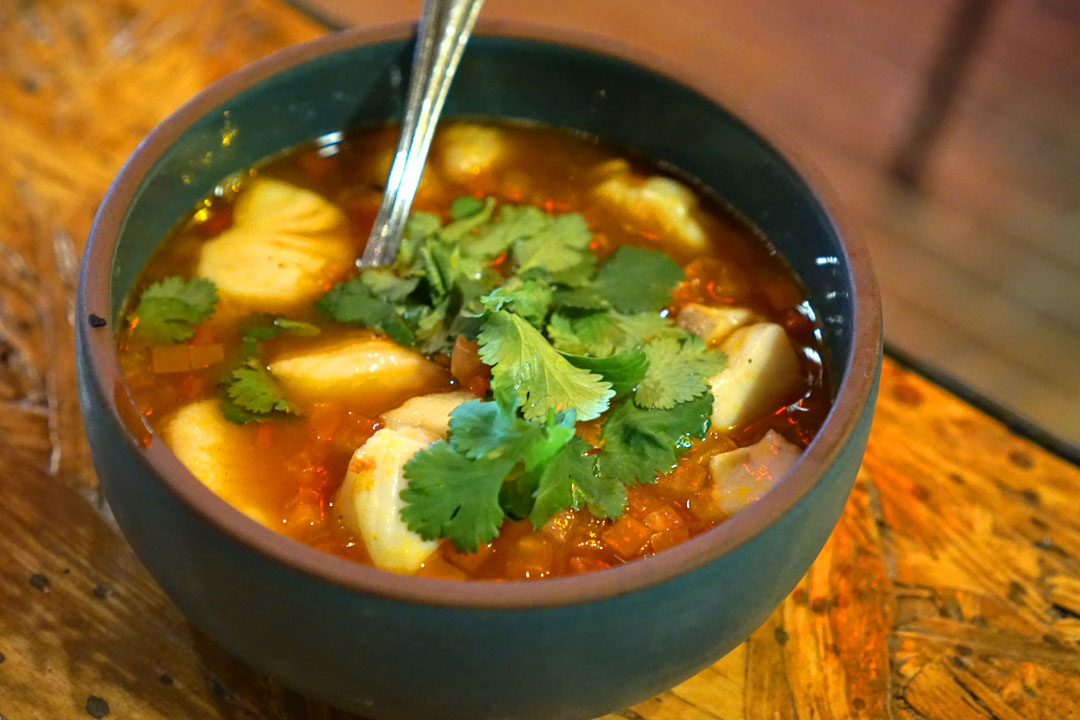 Moqueca Capixaba [$38.00]
| comes with rice and farofa
For our first main dish, we had a special off-menu
moqueca
, one that incorporated some of the softest, silkiest fish I'd ever had, as well as shrimp. The seafood was set in a piquant, cozy-yet-sophisticated broth, and I loved the contrast provided by the cilantro.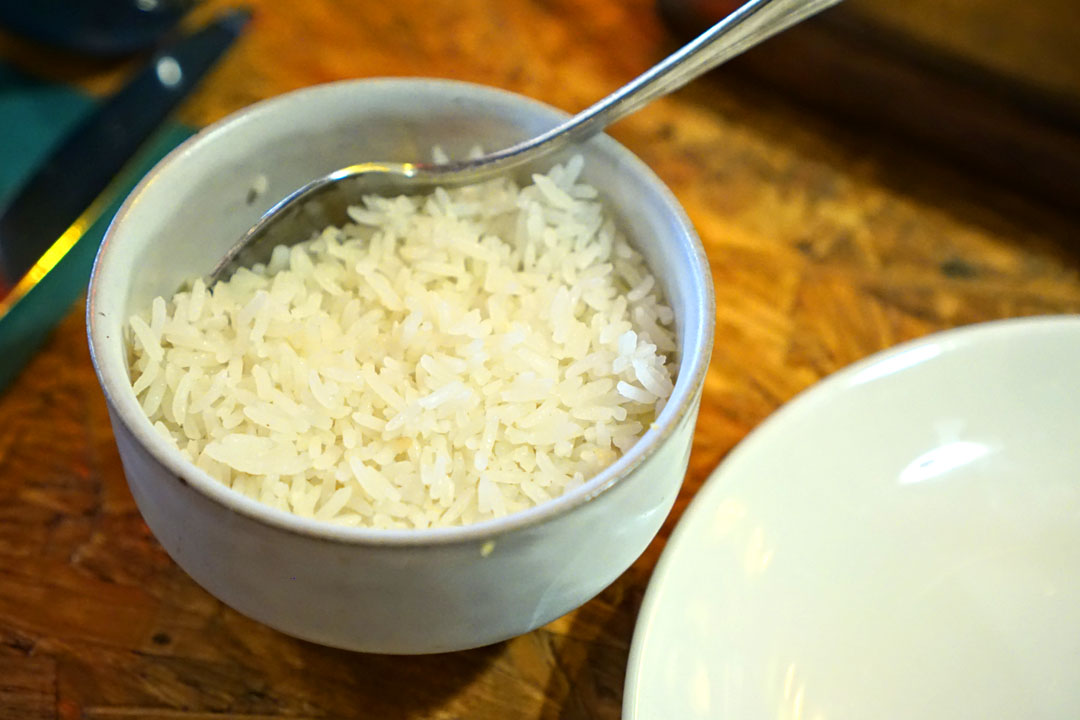 The stew above was joined by some beautifully-textured rice, which was a necessary pairing.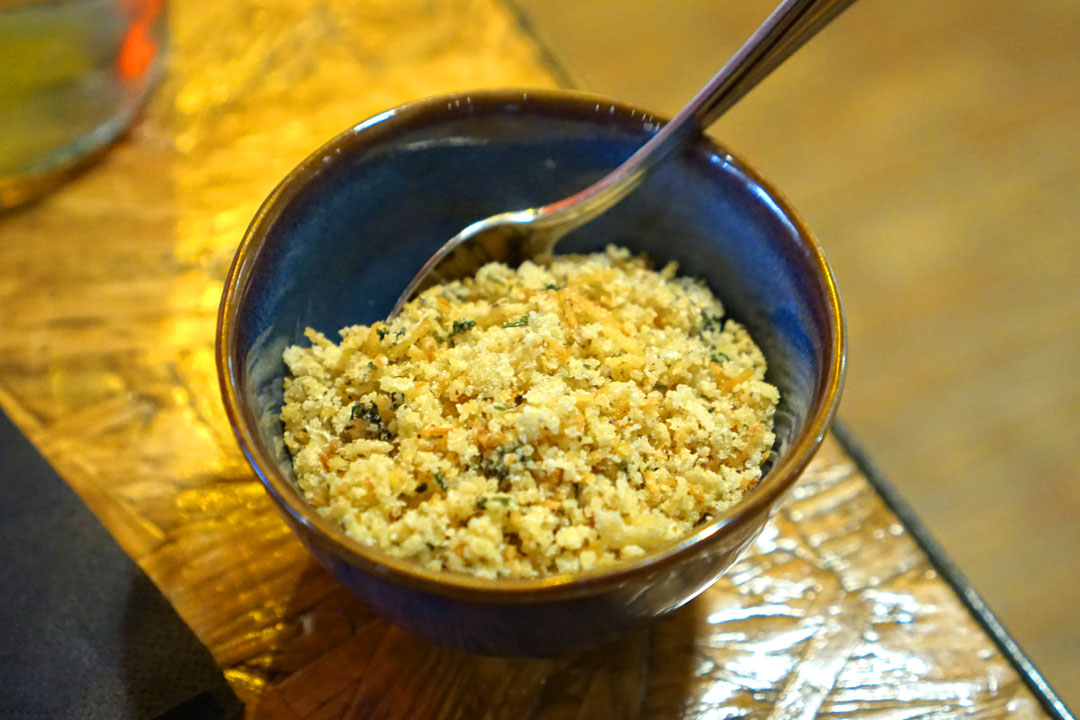 Not quite as necessary, but greatly appreciated was the toasted cassava flour, which offered up both crunch and a touch of sweetness.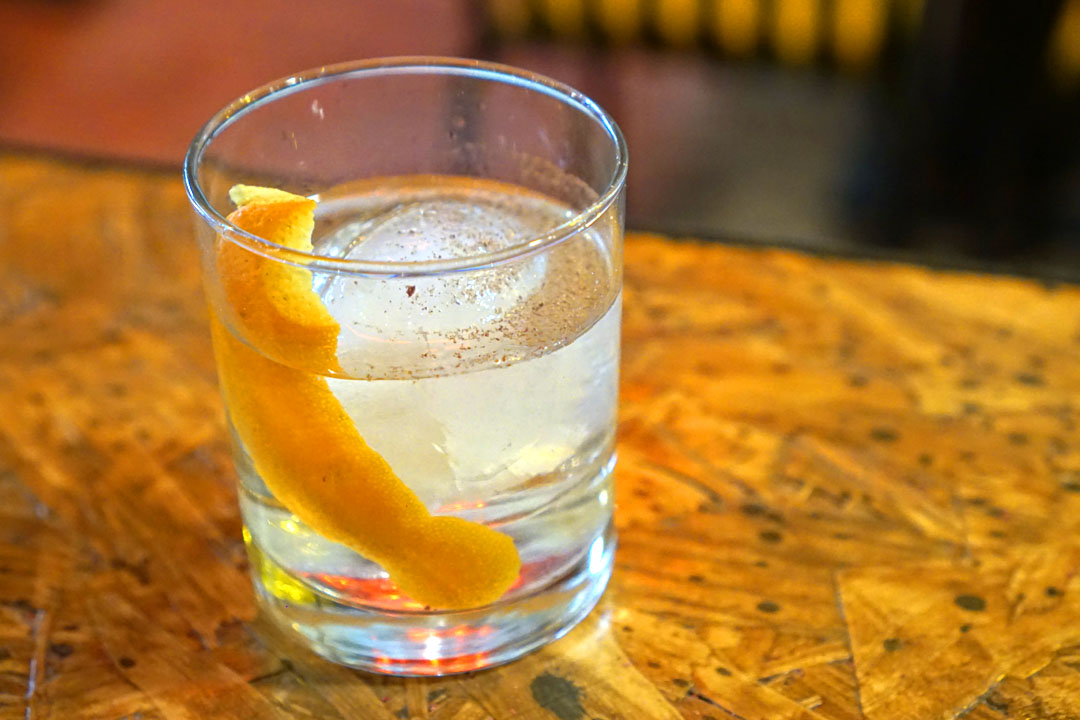 Oaxacan OF [$13.00]
| mezcal, demerara sugar, spicy & aztec bitters
My final cocktail was this variation on an old fashioned. The nose here was all about citrus and smoke, but presented itself in a relatively subdued manner. On the palate, I found this thick, viscous, with an amalgam of sweet, spicy, smoky, and boozy notes that really gave me a kick in the pants.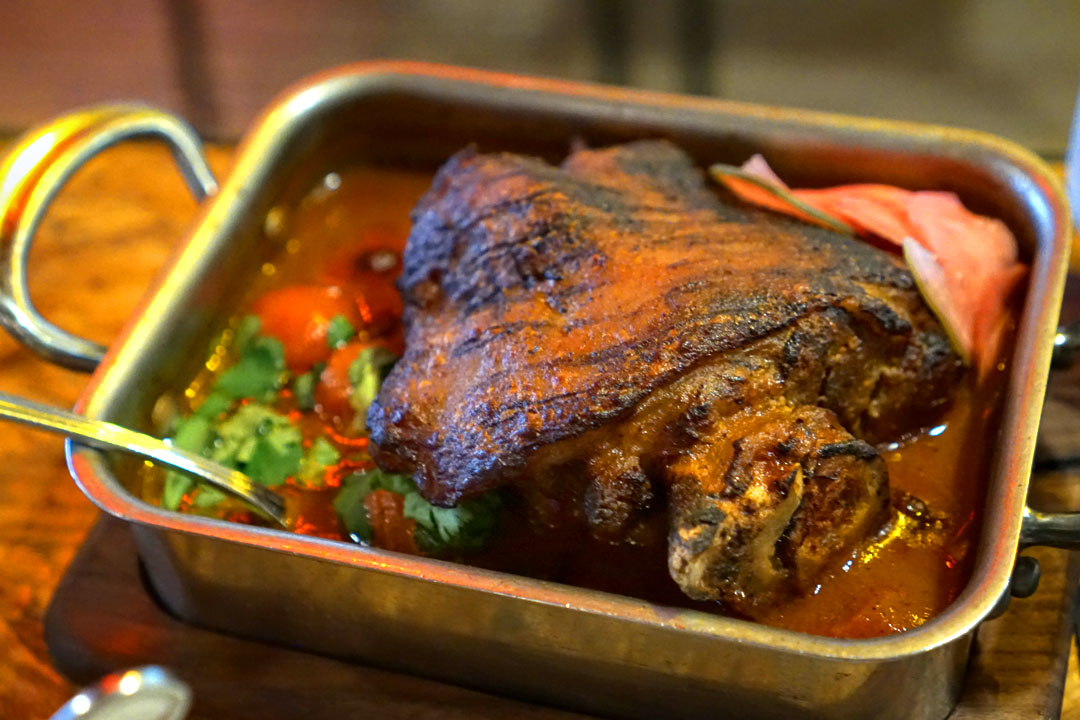 Joelho de Porco [$35.00]
| braised pork shank, roasted pumpkins, organic corn couscous
The shank was an impressive sight, and certainly delivered in the taste department as well. I found the pork wonderfully tender, unquestionably juicy, and expertly seasoned, with a healthy dosing of gelatinous fat to boot. Given the sheer heft of the meat, the tomatoes and herbs were absolutely crucial for some semblance of balance.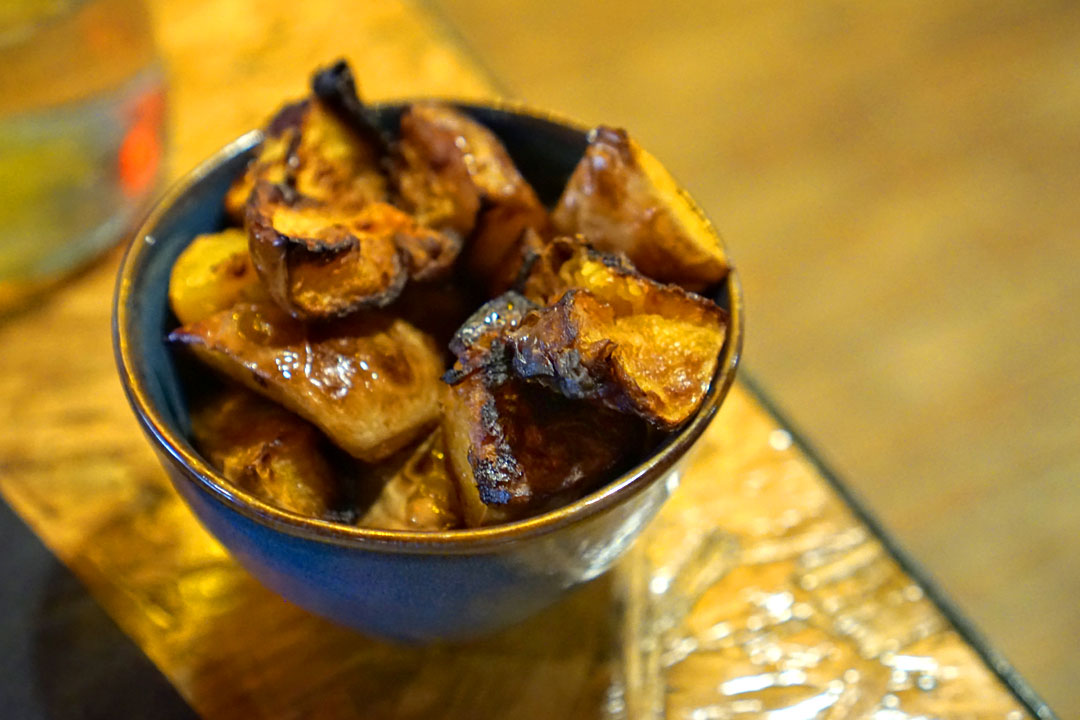 Along with the shank came pieces of pumpkin, which were roasted, giving them a welcomed smoke and bitterness to counteract their inherently sugary nature.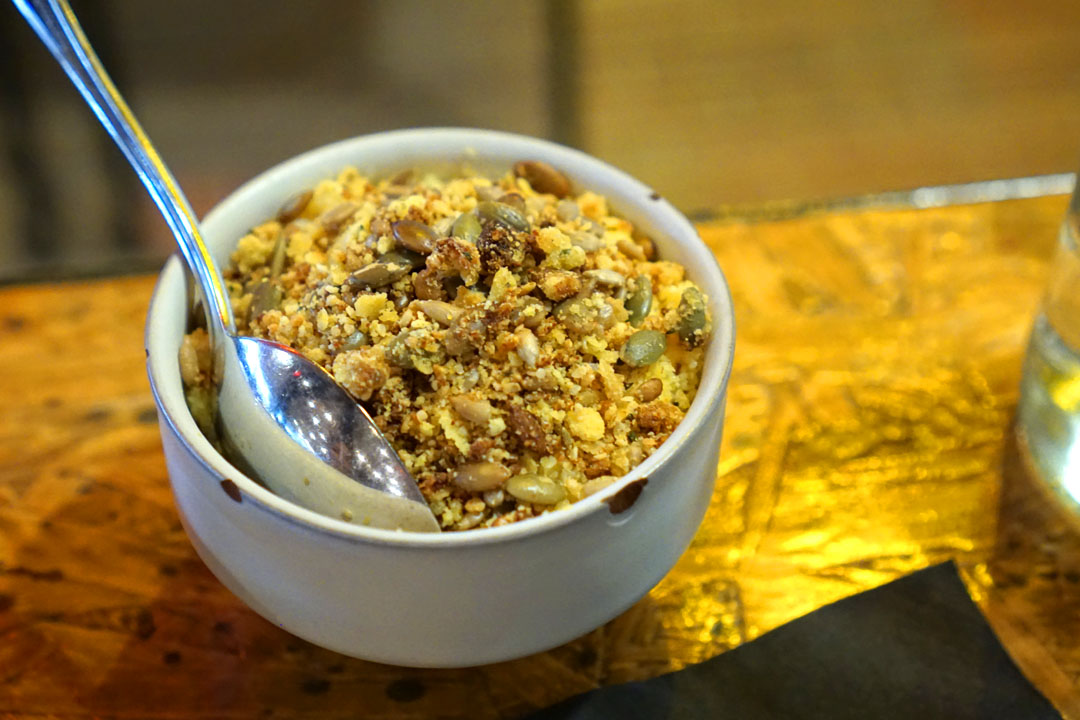 A corn-based couscous had a lovely texture, and perfectly conveyed the sweetness of the kernels. And if that wasn't enough, I was a big fan of the crunch and nuttiness from the pumpkin seeds as well.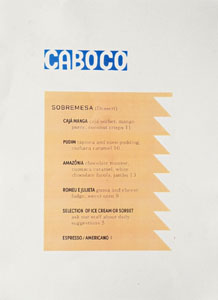 And here we see the dessert menu, a relatively brief affair that's certainly on-theme. Click for a larger version.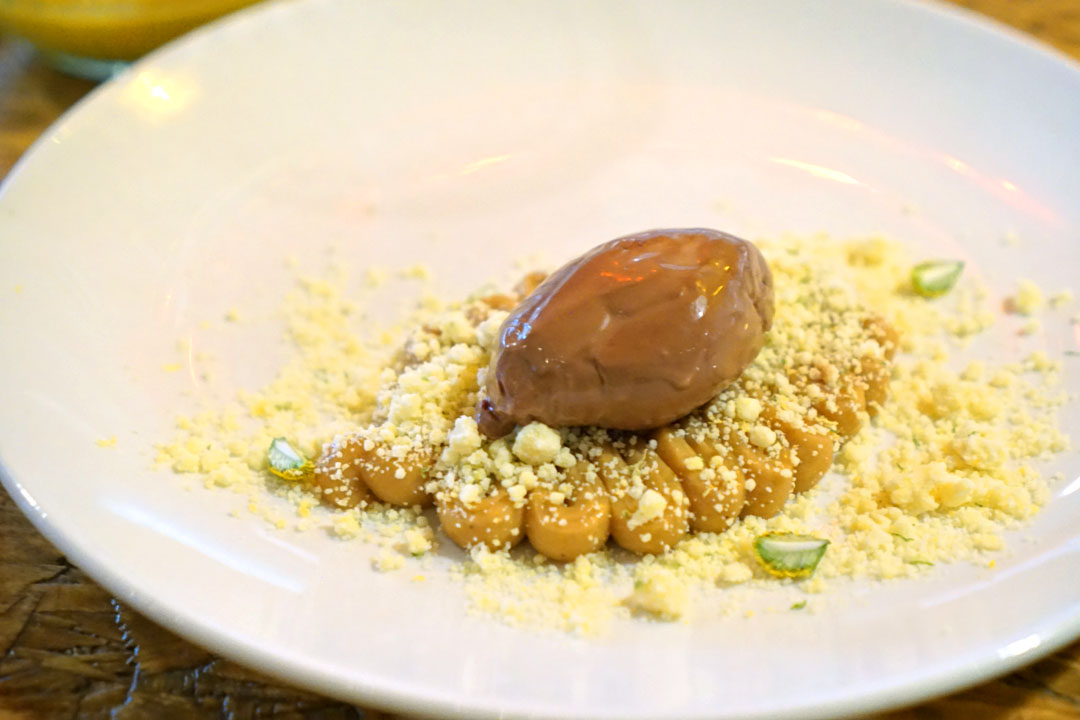 Amazônia [$13.00]
| chocolate mousse, cupuacu caramel, white chocolate farofa, jambu
The requisite chocolate dessert was intriguing in that it had an extremely pronounced tropical fruitiness to it, I'm assuming due to the cupuaçu. This was evened out by the dish's nuttiness, as well as its underlying astringency.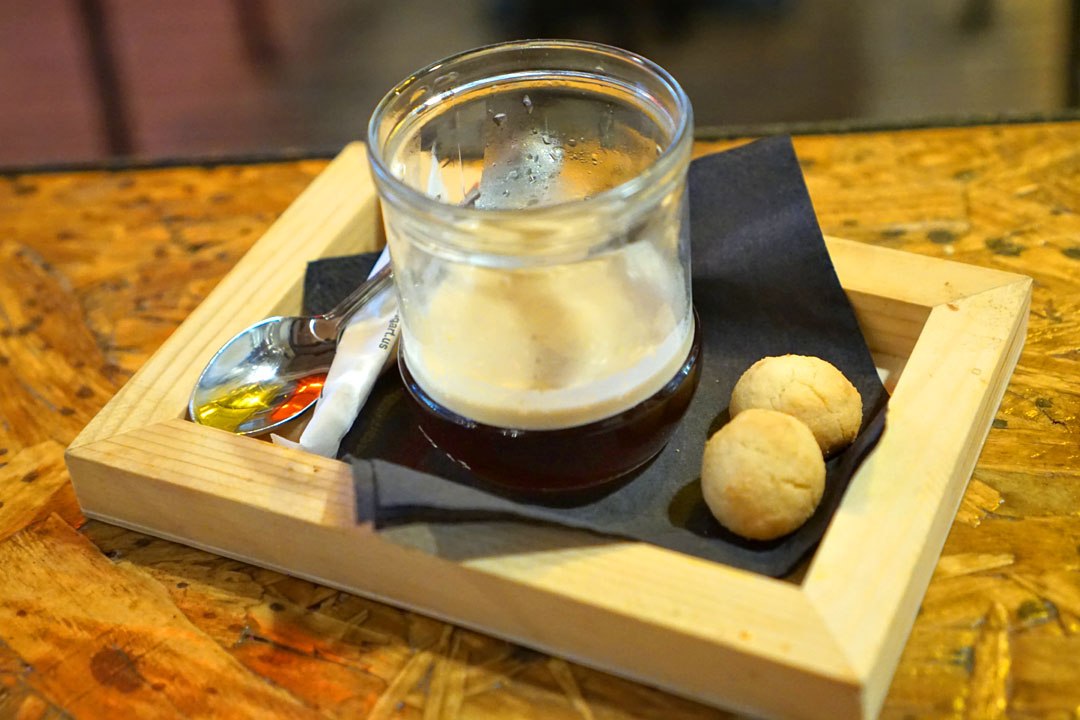 Espresso [$4.00]
It made sense to enjoy some coffee with dessert, and this was a fine example.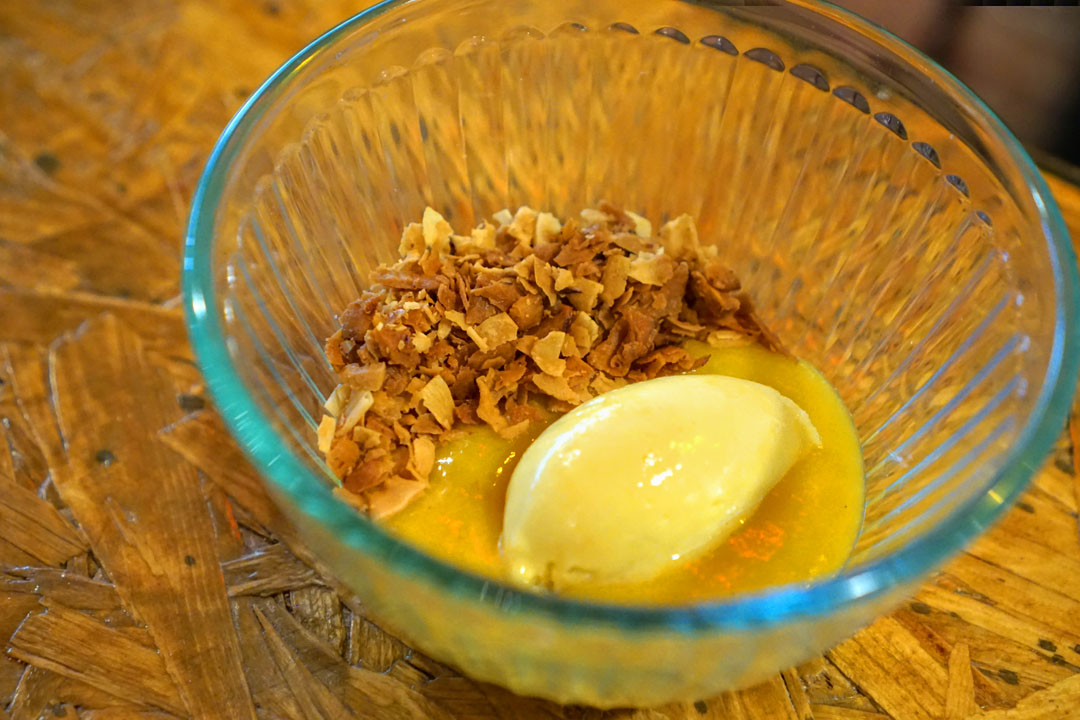 Cajá Manga [$11.00]
| cajá sorbet, mango purée, coconut crisps
Last up was this super fruity, super floral combination of sorbet and purée, set against a sprinkling of sweet, toasty, coconut-y bits.
I've never had Brazilian food quite like what I experienced tonight, and I have to say that I walked out of here pretty impressed. As far as I know, Caboco is the first restaurant of its kind here in the Southland, and there's definitely a modernity and refinement to the cuisine, but at the same time, it's also obvious (and crucial) that the cooking is rooted in tradition. I was certainly saddened to hear about Church & State's closure, but we have here what appears to be a more than worthy replacement.