Mary Mac's Tea Room (Atlanta, GA)
Mary Mac's Tea Room
224 Ponce De Leon Ave NE, Atlanta, GA 30308
404.876.1800
www.marymacs.com
Wed 02/23/2022, 07:20p-09:00p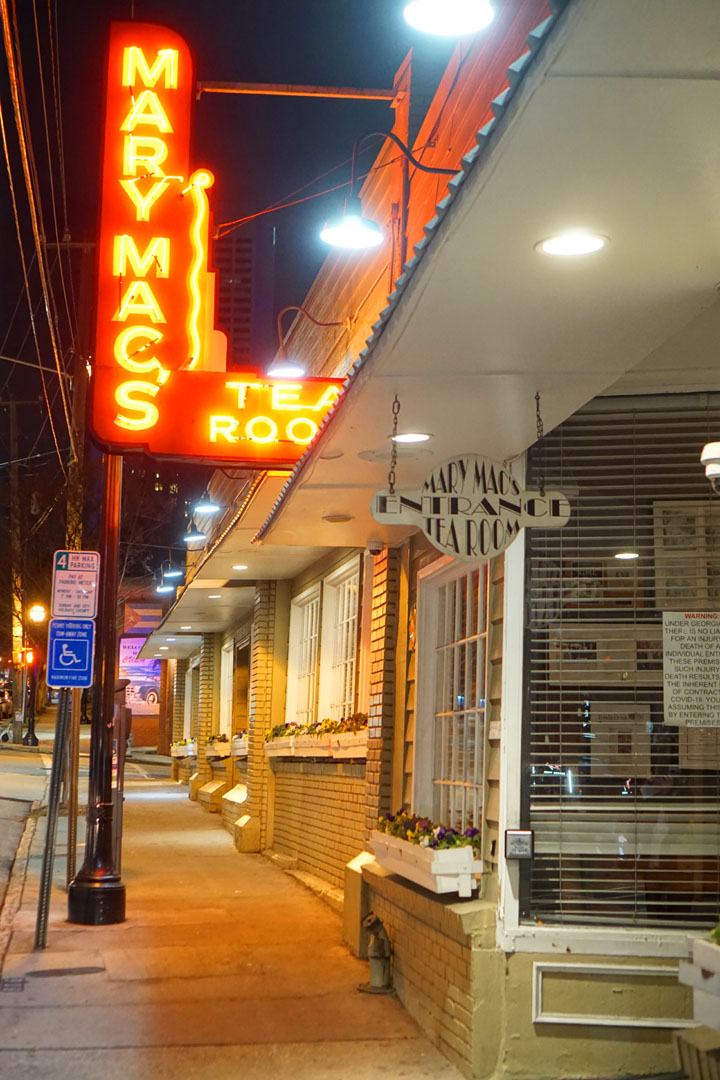 I recently found myself in Atlanta on short notice, and it was actually my first time visiting the City. For my introductory meal in ATL, I felt that it just made sense to go with traditional Southern cuisine, so I decided on a visit to Midtown's historic Mary Mac's Tea Room.
A bit of history
: The history of this place is a bit fuzzy, but from what I can gather, it all starts with a woman named Mrs. Fuller, who opened Mrs. Fuller's Tea Room in the early 1940s ("tea room" being a fancier name for a restaurant). Circa 1945, she moved her eatery to this current location on Ponce De Leon Avenue, but quickly sold the business to a series of owners before Mary MacKenzie took over in 1951. MacKenzie was a widow who lost her husband in World War II, and already had experience running another tea room in the area.
In 1953, she changed the restaurant's name to Mary Mac's Tea Room, and under her leadership, the place quickly began making a name for itself. In 1962, ownership was transferred to one Margaret Lupo, an acquaintance of MacKenzie's who previously ran another tea room called Margaret's Tray Shop. In was during the 1960s and 1970s when Mary Mac's was firmly established as a local institution, and the place kept going strong up until the early 1990s.
By this time, Lupo was looking at retiring, and after a couple failed attempts at finding a new owner, she eventually sold the place in 1994 to John Ferrell, a old college friend of her daughter's whom she personally trained. Ferrell continued to steward Mary Mac's for the next 26 years, but had to shutter the spot in March 2020 on account of the COVID-19 pandemic. However, in October that year, the restaurant was purchased by a team led by local businessman Harold Martin Jr., and re-opened on November 2nd, a day before its 75th birthday.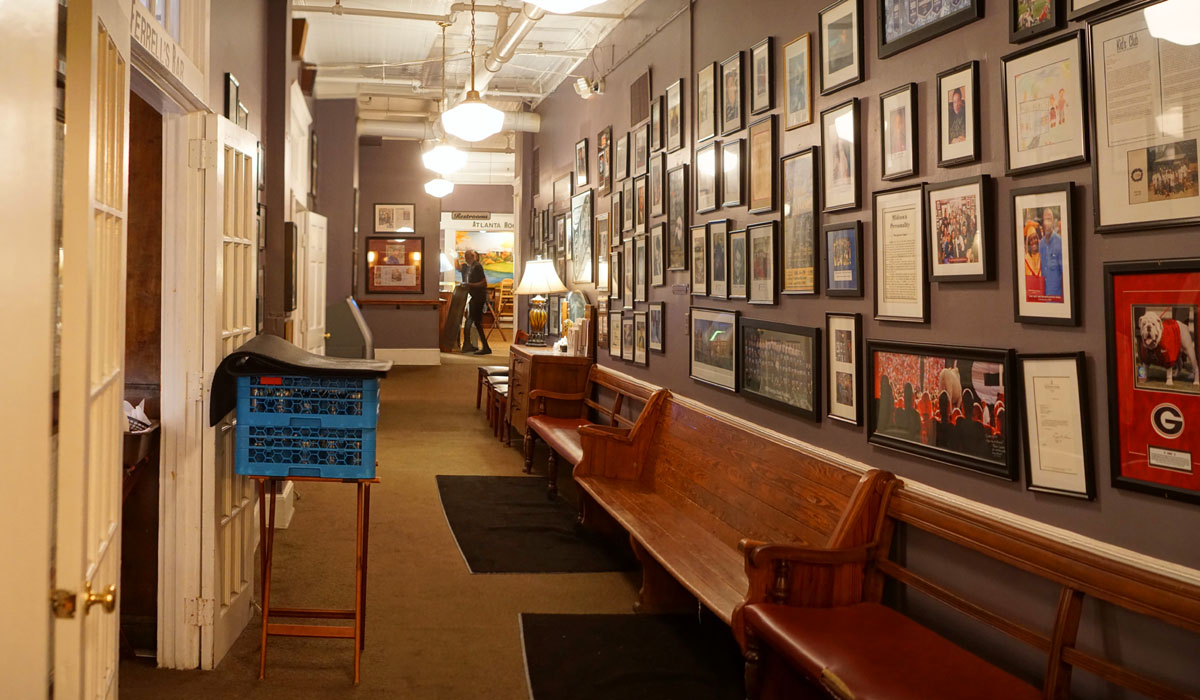 Mary Mac's is a rather spacious establishment (spanning 13,000 square-feet and five storefronts in the Old Fourth Ward), having been expanded several times under Lupo's ownership to encompass multiple dining rooms and a full bar. Shown above is the hallway that connects the various rooms (adorned with photos of famous visitors), as well as the Atlanta Room, which is the restaurant's original dining space (and where we were seated).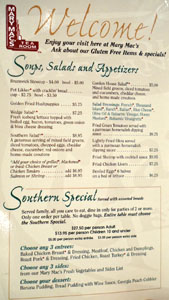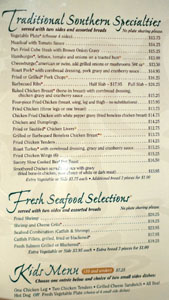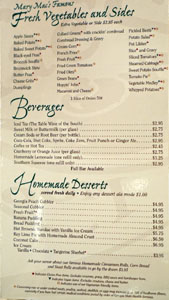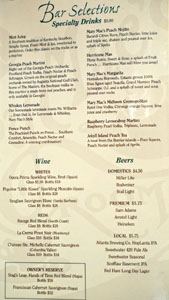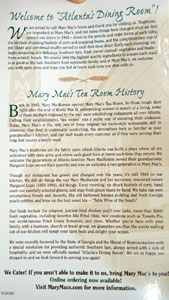 Pictured here is the menu, which, unsurprisingly, is filled with most all your classic Southern favorites. Now what I did find interesting is that ordering is done using a pencil and an
order form
, a setup that I don't think I've encountered outside of dim sum. Click for larger versions.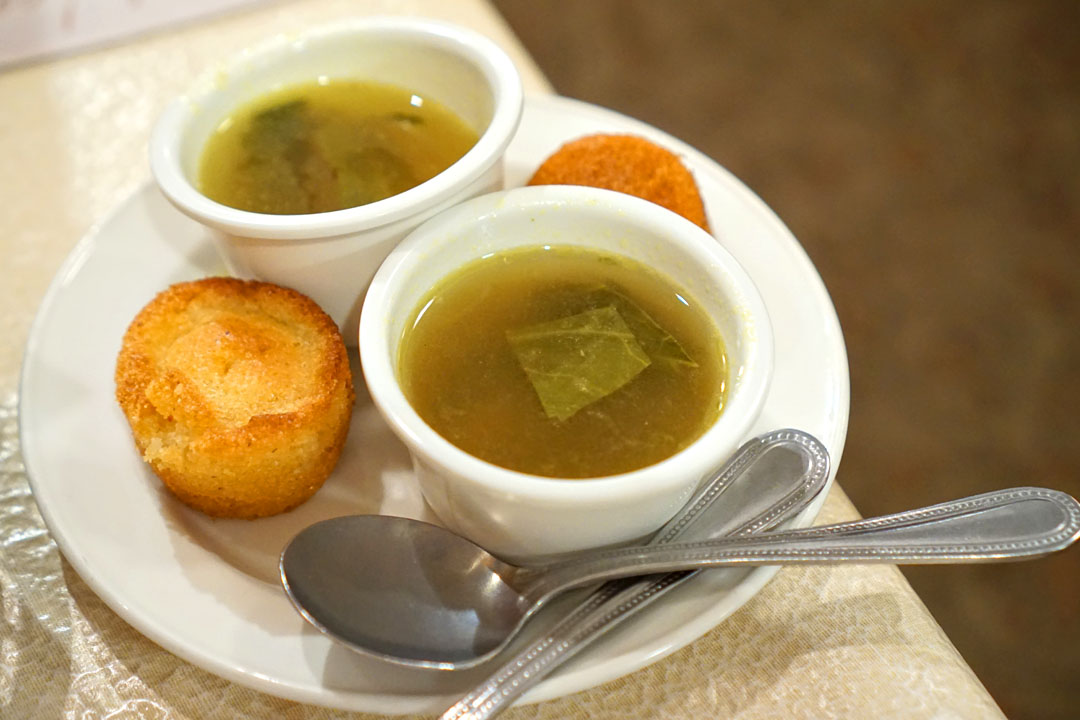 Given that it was our first time at Mary Mac's, we were provided with complimentary servings of
Pot Likker
(a.k.a. pot liquor) to start. The soup made for a snug, invigorating beginning to the meal, its earthy, bitter flavor profile playing nicely with the sweet, gritty, crispy-topped cornbread muffins (which I crumbled into the liquid).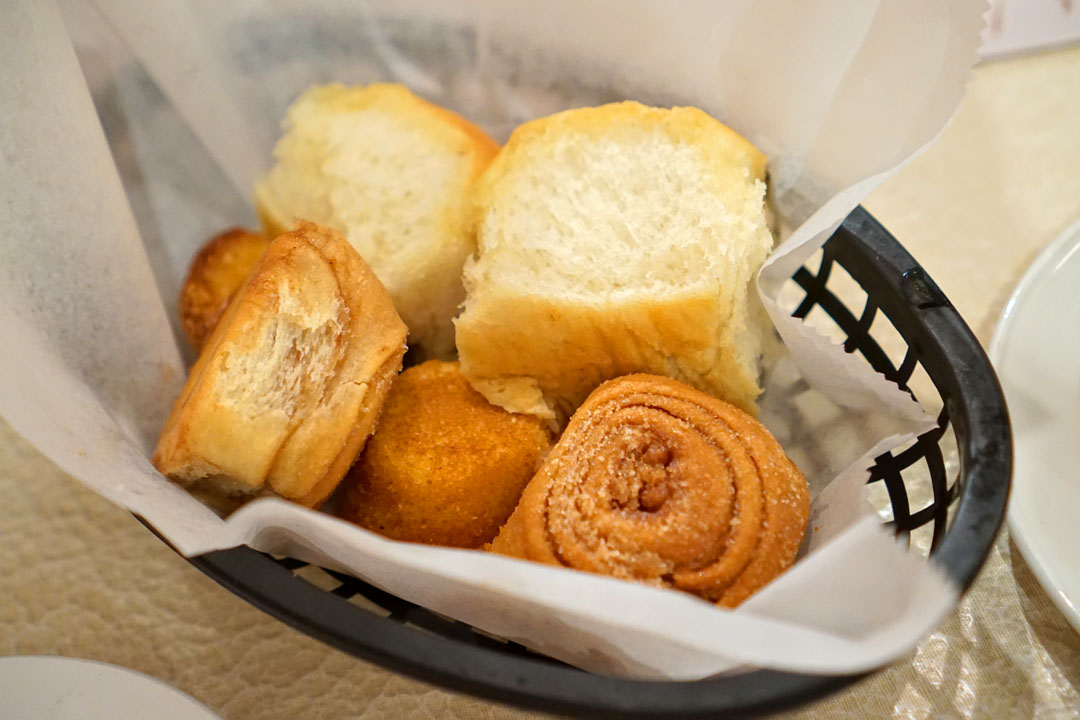 Speaking of bread, we were also provided a basket filled with more
Corn Bread
, fluffy
Yeast Rolls
, and some wonderfully sweet-n-spicy
Homemade Cinnamon Rolls
(my favorite).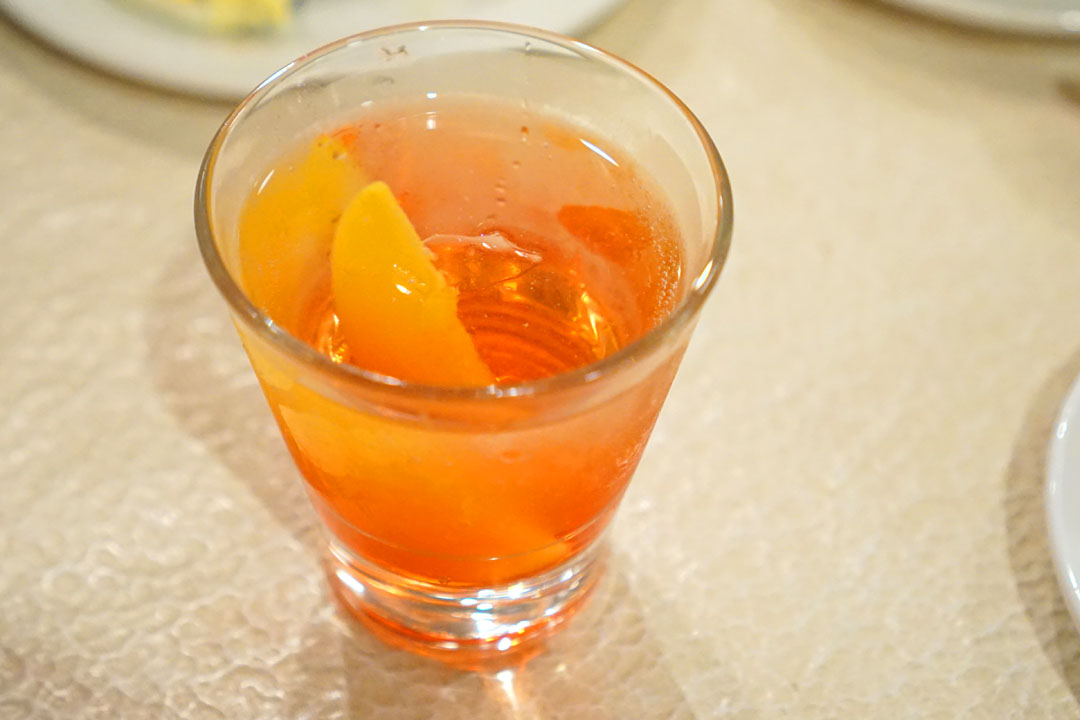 Georgia Peach Martini [$9.00]
| Right out of the Georgia Peach Orchards; Fruitland Peach Vodka, Peach Nectar & Peach Schnapps. Grown on the original orchards owned by Augusta National Golf Club, home of The Masters, the boutique vodka in this martini is made from real peaches, and is only available in Georgia!
I was curious to try some of Mary Mac's' cocktails, and the first was this riff on the martini. It was probably the least boozy version of the drink I've had, due to its almost cloyingly sugary notes of peach schnapps. I really wanted to taste more from the vodka.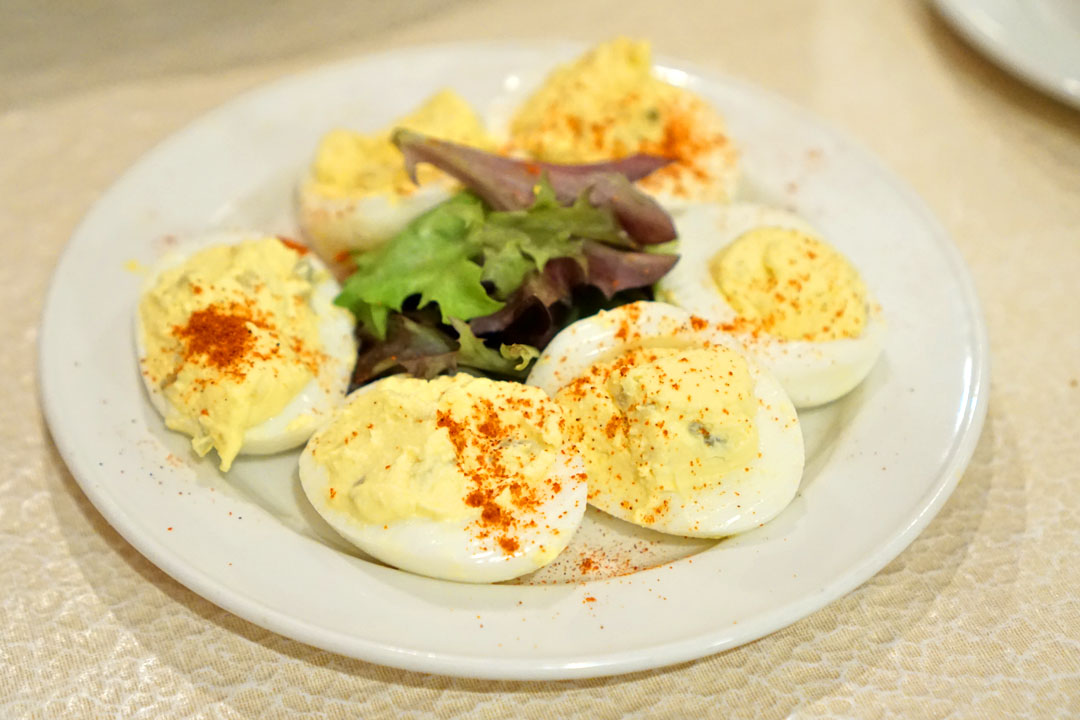 Deviled Eggs [$6.25]
| 6 halves on a bed of lettuce
I'm a sucker for deviled eggs, and these hit the spot. I was a fan of their pickle-y tartness up front, which then led to a lovely sweetness from the yolk, while the greens offered up a bitter contrast. Great texture on the hard-boiled whites, too.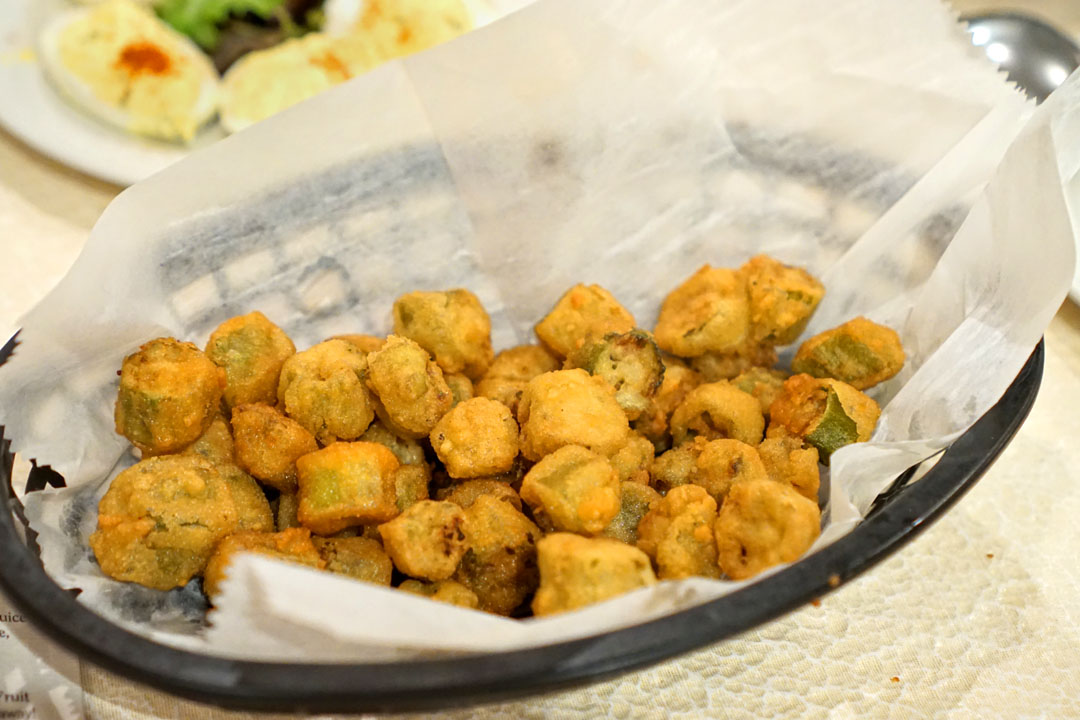 Lightly Fried Okra [$7.25]
| served with a parmesan horseradish dipping sauce
Here, the okra's lightly fried exteriors effectively played foil to the vegetable's inherently mucilaginous nature, though unfortunately, the kitchen seemed to have forgotten about the advertised dipping sauce.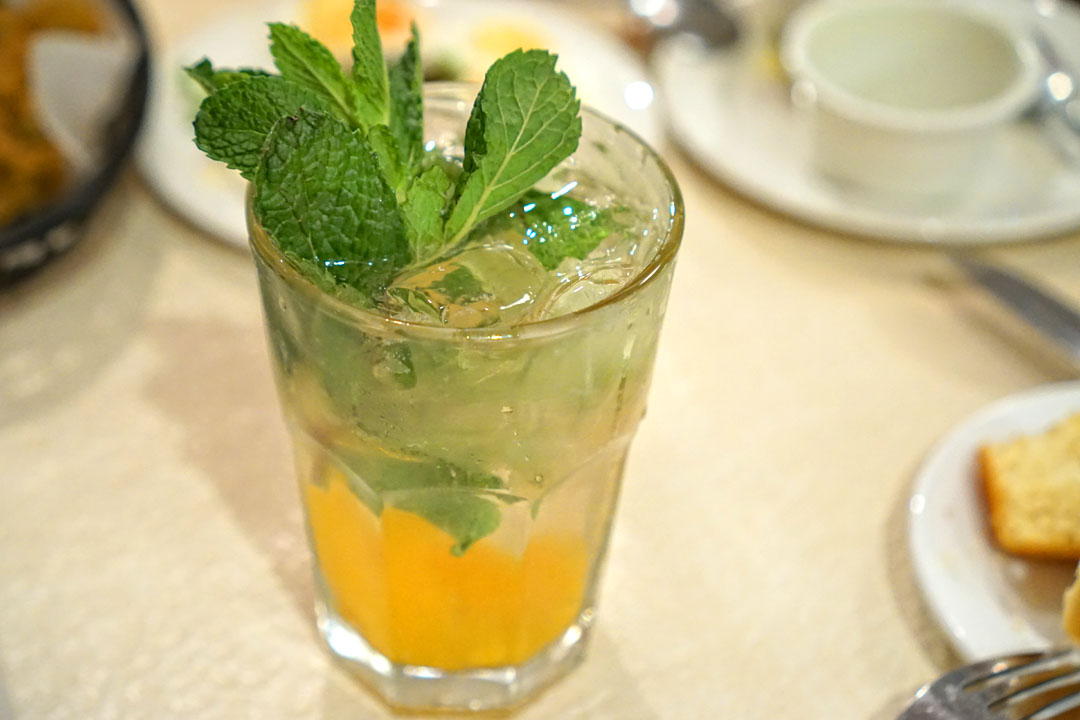 Mary Mac's Peach Mojito [$9.00]
| Bacardi Citrus Rum, Peach Nectar, lime juice and triple sec, shaken and poured over ice, splash of Sprite
My next cocktail was this variation on the mojito, one that kept things relatively traditional, but also showed off a finish that was noticeably peach-y.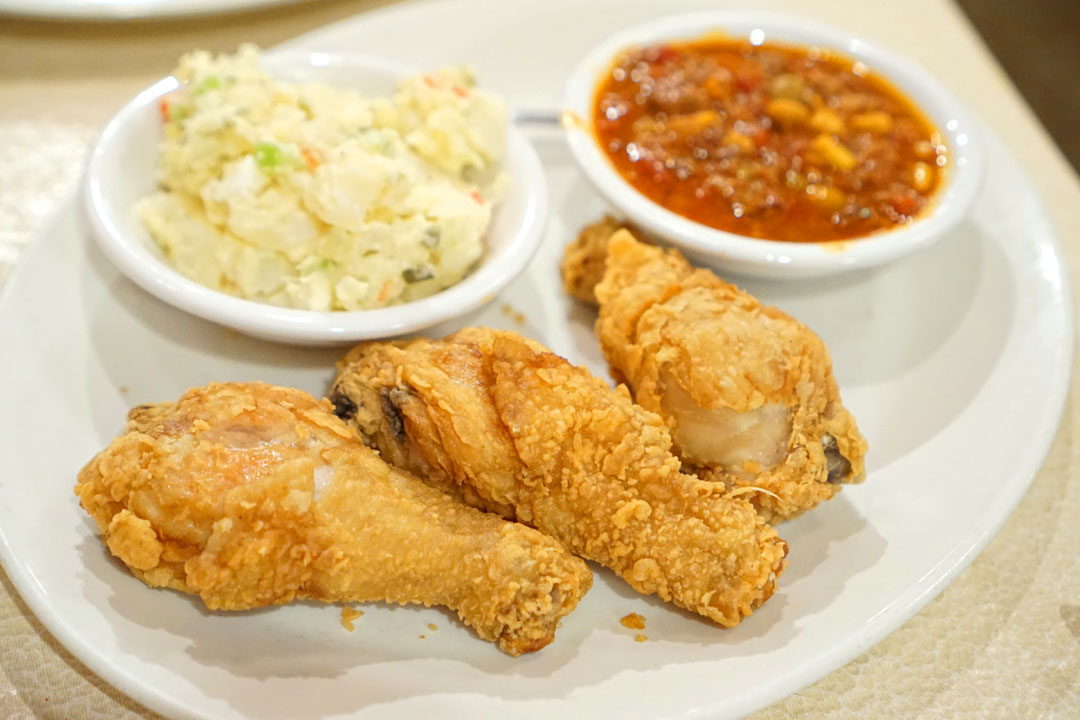 Fried Chicken [$13.75]
| three legs
At this point, we got into our main courses, which each came with two side dishes. Fried chicken legs were pretty prototypical, with satisfyingly crispy outsides and decently juicy interiors, while seasoning was relatively restrained, thus highlighting the intrinsic taste of the drumsticks.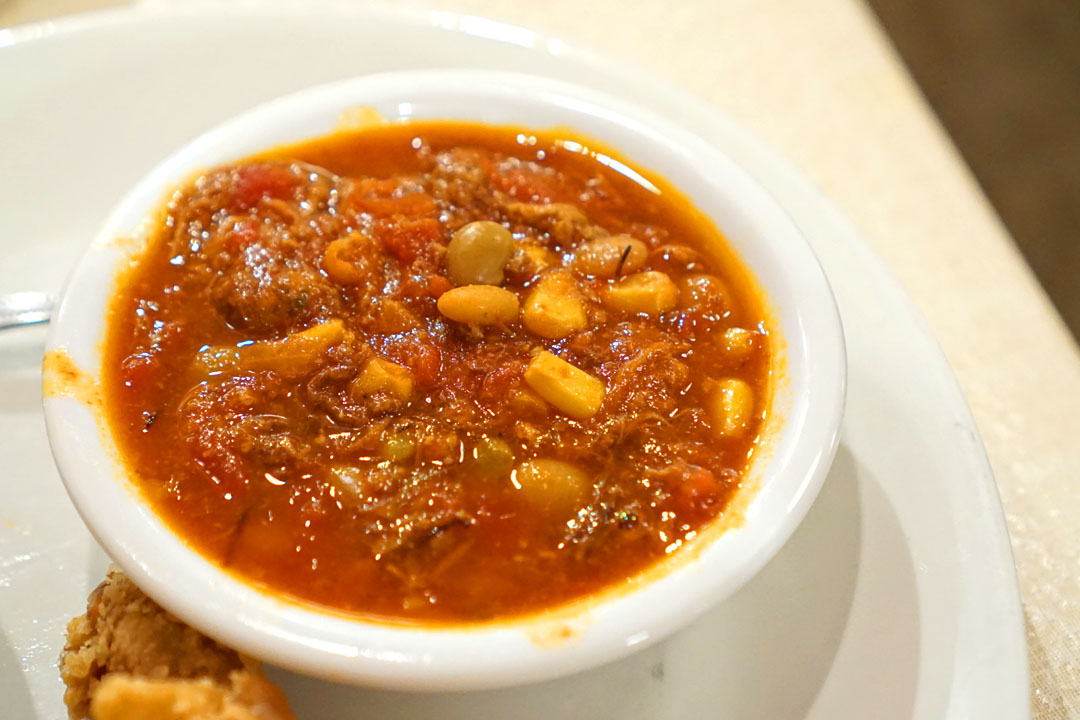 Speaking of sides, I opted for the
Brunswick Stew
, as I'd actually never had it before. Think tangy-sweet, slightly smoky, almost BBQ-esque flavors, lightened up by the beans and corn.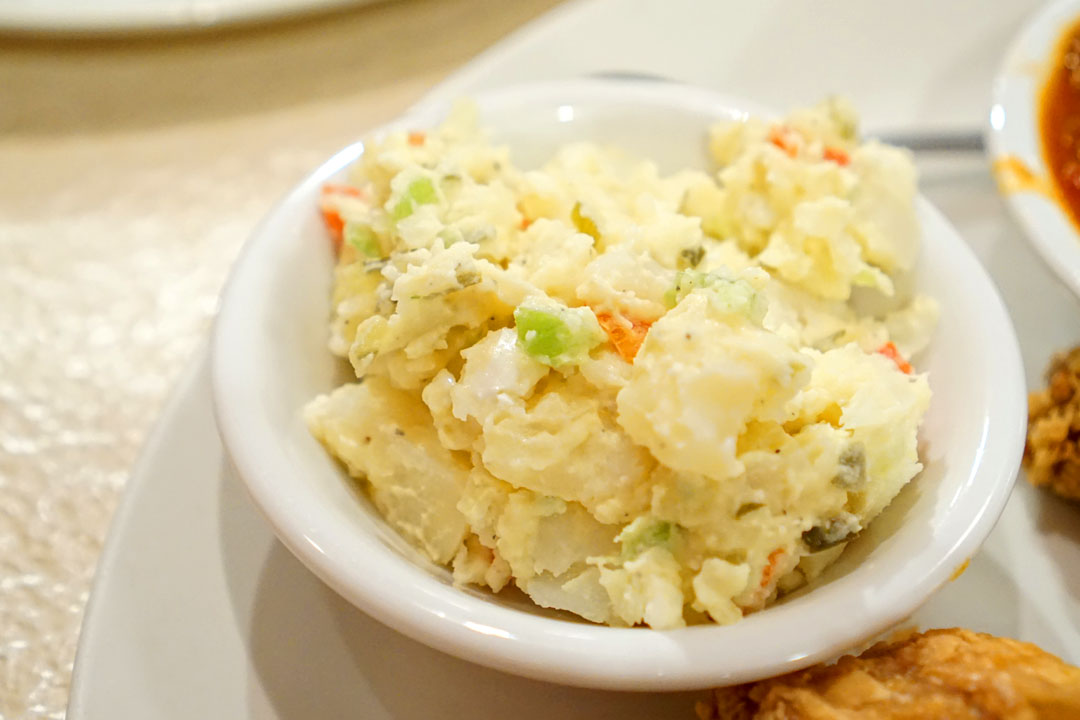 Given my penchant for
Potato Salad
, it was a must-try tonight, and didn't let me down. I thoroughly enjoyed the relative firmness of the potatoes, not to mention the dish's general tanginess and spot-on incorporation of veggies. Nicely put together.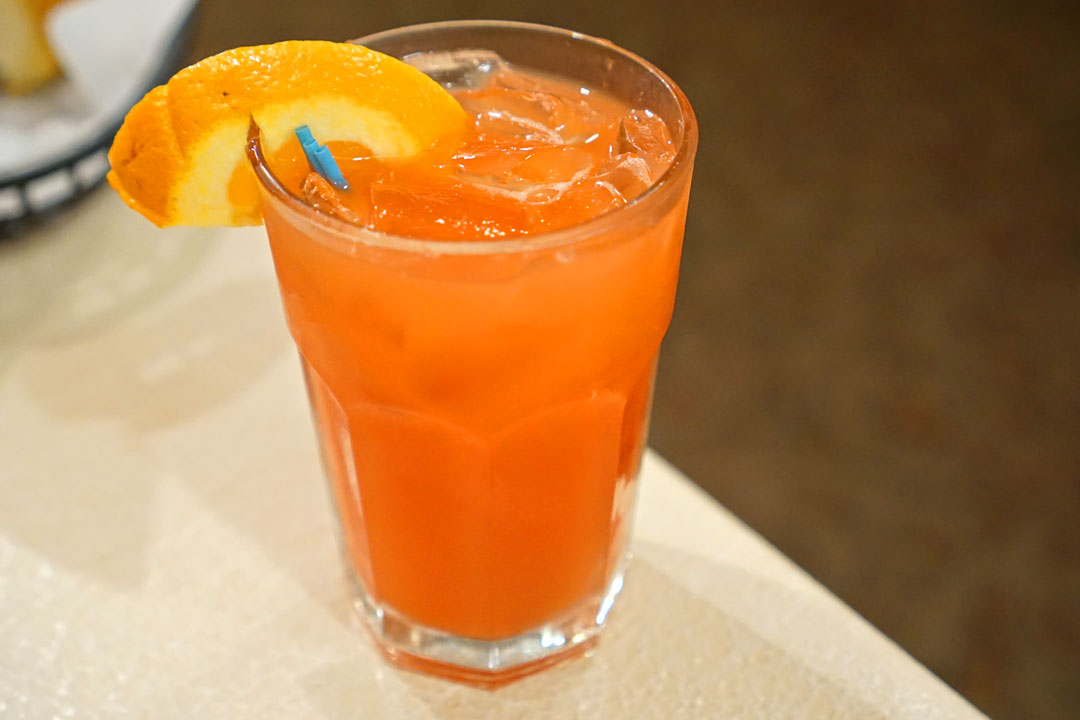 Ponce Punch [$9.00]
| The Peachiest Punch on Ponce... Southern Comfort, Amaretto, Peach Nectar and Grenadine. A winning combination!
Our final cocktail was definitely on the refreshing, easy-drinking side, and featured a surprisingly apparent pineapple character, even though the fruit wasn't listed as an ingredient.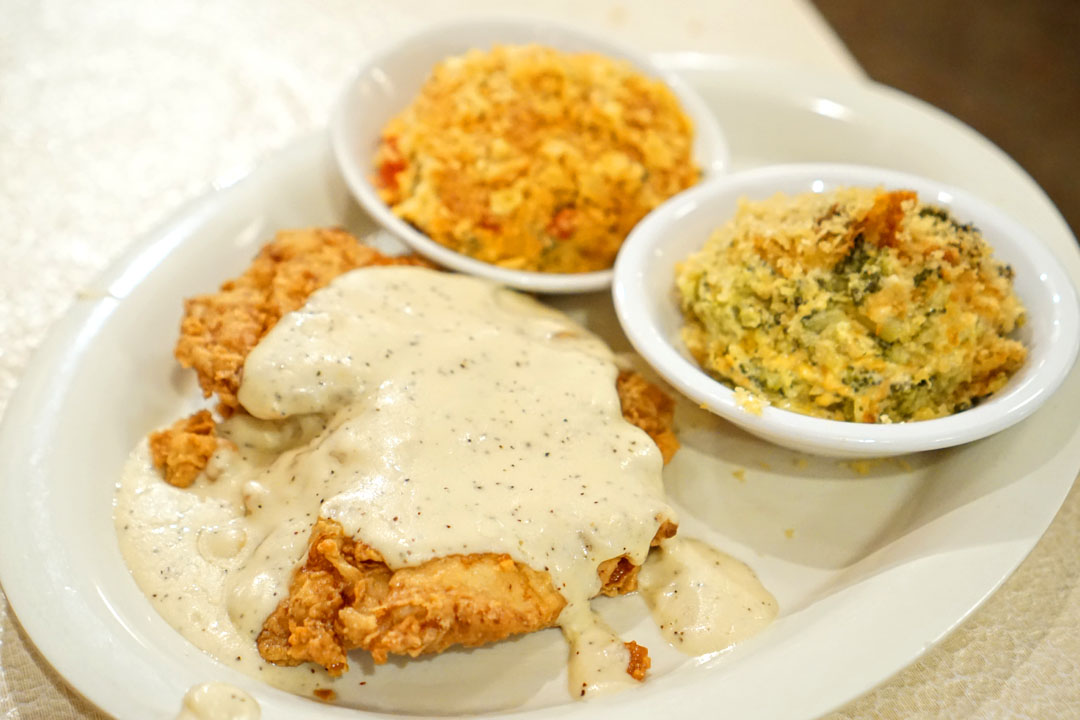 Chicken Fried Chicken [$14.75]
| with white pepper gravy (friend boneless chicken breast)
The chicken fried chicken was a winner. I was satisfied with the juiciness and tenderness of the breast, as well as the crunchiness of the bird's breading. However, the hero here was the gravy, which contributed just the right amount of peppery zing. Can't go wrong with this.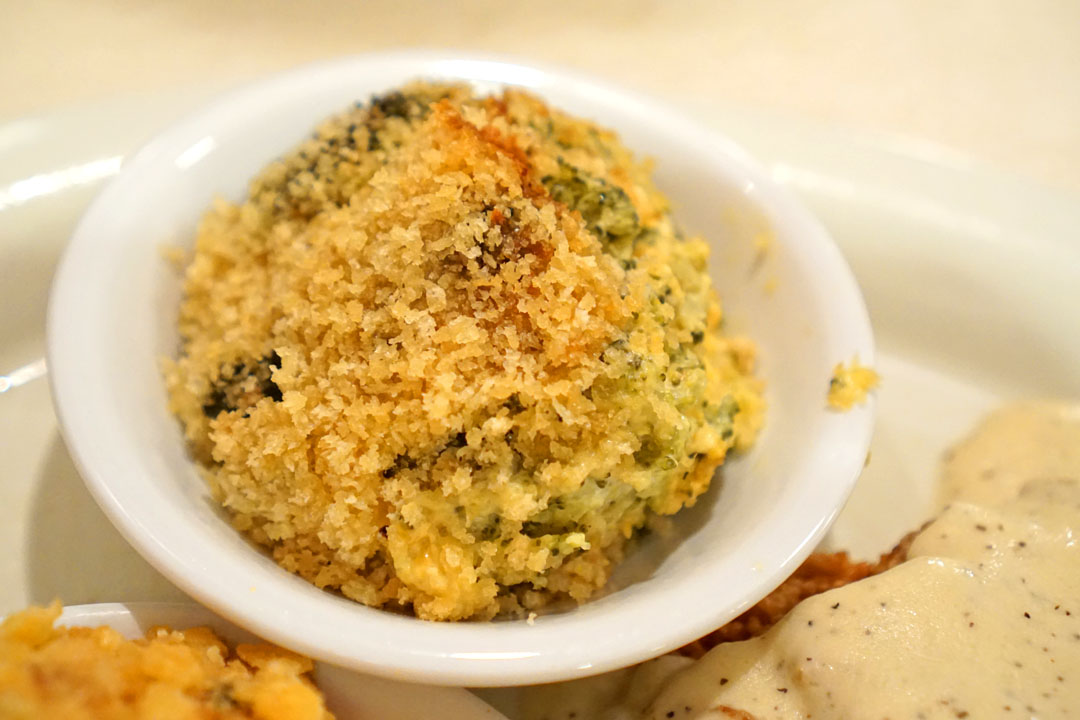 The homey
Broccoli Soufflé
combined the bitterness of the veggie with plenty of cheese, while the breadcrumbs offered up some textural interest.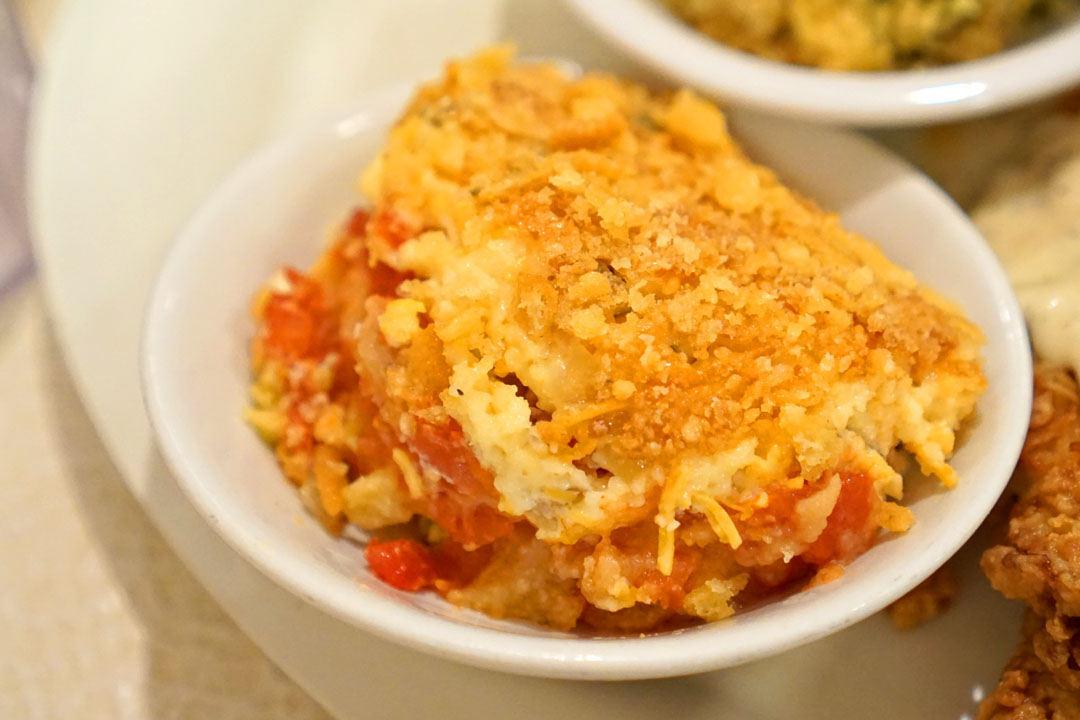 Our final side was the
Tomato Pie
, which had the sweet-tartness of tomato at the fore, set against a bevy of creamy, cheesy notes and the aromatics of basil. It was almost pizza-like in terms of taste.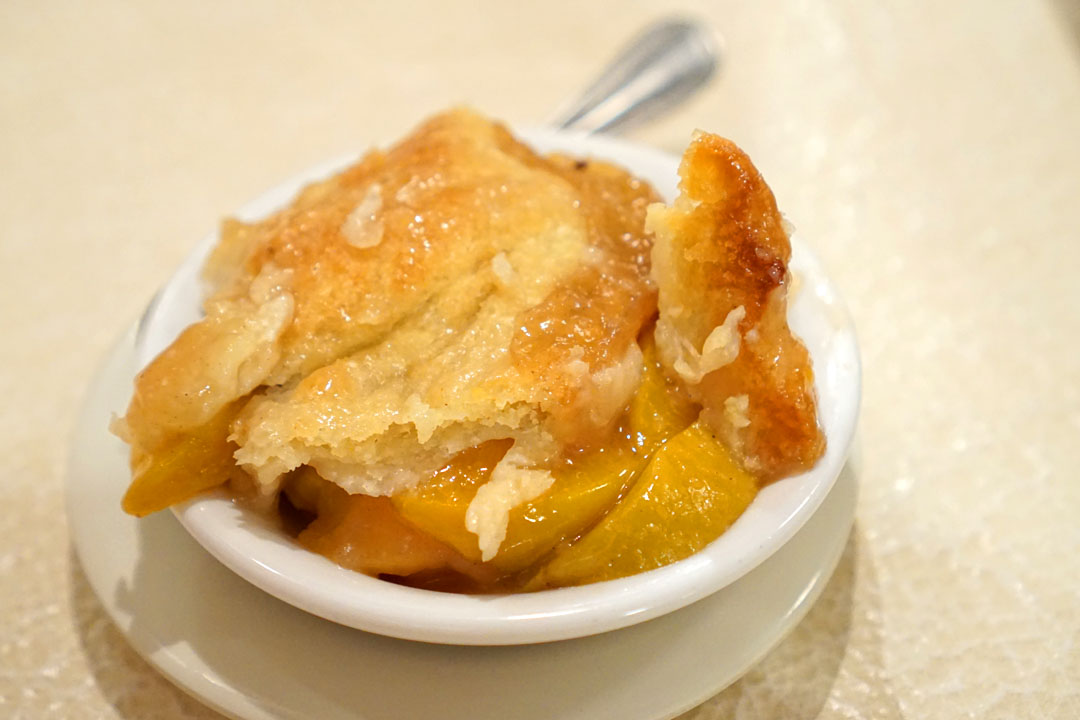 Georgia Peach Cobbler [$4.95]
For dessert, it just felt right to get a peach cobbler, and this particular example conveyed the expected sweet stone fruit flavors, but paired with a warming spice, some almost boozy notes, and an undercurrent of astringency.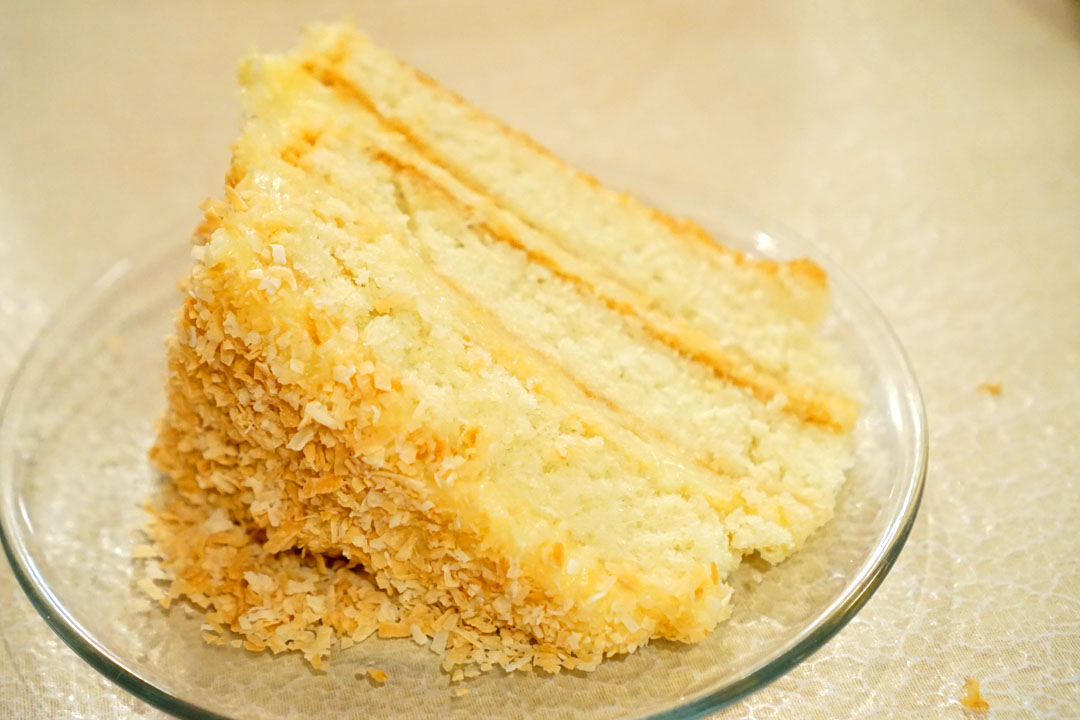 Coconut Cake [$6.95]
Coconut cake is probably my favorite type of cake, so I was obviously curious to try it here. The version tonight was likely the richest I've had, and was almost buttery, with very, very apparent coconut flavors. Interestingly, I took this back as leftovers, and enjoyed it even more the following day.
Mary Mac's served as a fitting welcome to Atlanta. The food is essentially classic Southern fare at its most traditional, and I actually wish that I could've tried more of the menu, the meatloaf, pot roast, and shrimp 'n' grits in particular. The cooking certainly doesn't break new ground, but is instead comforting and cozy fare served in an uncommonly friendly environment, one that demonstrated what we often think of as Southern hospitality.