Poppy & Seed (Anaheim, CA)
Poppy and Seed
350 S Anaheim Blvd, Anaheim, CA 92805
714.603.7130
www.poppyandseedoc.com
Sat 02/19/2022, 07:30p-10:10p

The Anaheim Packing District is undoubtedly one of my go-to destinations when I'm looking for food and/or drink around north Orange County. A restaurant there that's recently gotten onto my radar is Poppy & Seed, a relative newcomer that soft-opened in March last year. The place serves updated takes on product-driven American fare (the menu apparently incorporates produce grown on-site), and is operated by Chef Michael Reed and his business-slash-life partner Kwini Reed (née Musgrove).
About the Chef
: Chef Reed was born and raised in Oxnard, California. His family was definitely on the more food-centric side (dad loved barbequing and mom had a penchant for baking), and even maintained a garden. From 2003 to 2004, he studied at Oxnard College, attaining an associate degree in economics, then transferred to UC Santa Barbara on a running scholarship. However, after injuring his foot junior year, he dropped out and enrolled at Santa Barbara City College, where he took culinary classes. In 2006, Reed moved to New York to attend The Culinary Institute of America, and during his tenure there, he apprenticed at The Modern under Gabriel Kreuther. After completing his degree in 2008, he came back to SoCal and began working for David Myers at
Sona
. In August 2009, he moved over to
Osteria Mozza
, but eventually got burned out. September 2010 saw Reed take over the kitchen at
Xiomara
, but that gig didn't last too long either. The Chef ended up starting his own catering company, Root of All Food, in March 2011, and it's still going strong to this day.
However, he did want to get back into restaurants, and in April 2013, he became EC at The Standard hotel in West Hollywood, which is where he met and fell in love with Kwini, who was working in the accounting department. In 2014, Reed purchased a Flower District property to house his growing catering business, and in July that year, this space turned into his first solo venture: Poppy + Rose, a country-style breakfast/brunch spot opened in partnership with Diana Yin. He became Exec Chef at Wilshire in March 2016, got married at the start of July 2017, and left the Santa Monica spot shortly afterward. That November, he started consulting for Avalon Hotel in Beverly Hills, and a year later, opened H Café at the H Hotel in Koreatown (interestingly, while he was there, he actually won best dish honors at
Plate by Plate 2019
). Reed left both of those roles, though, once COVID-19 hit, and soon began working on launching Poppy & Seed.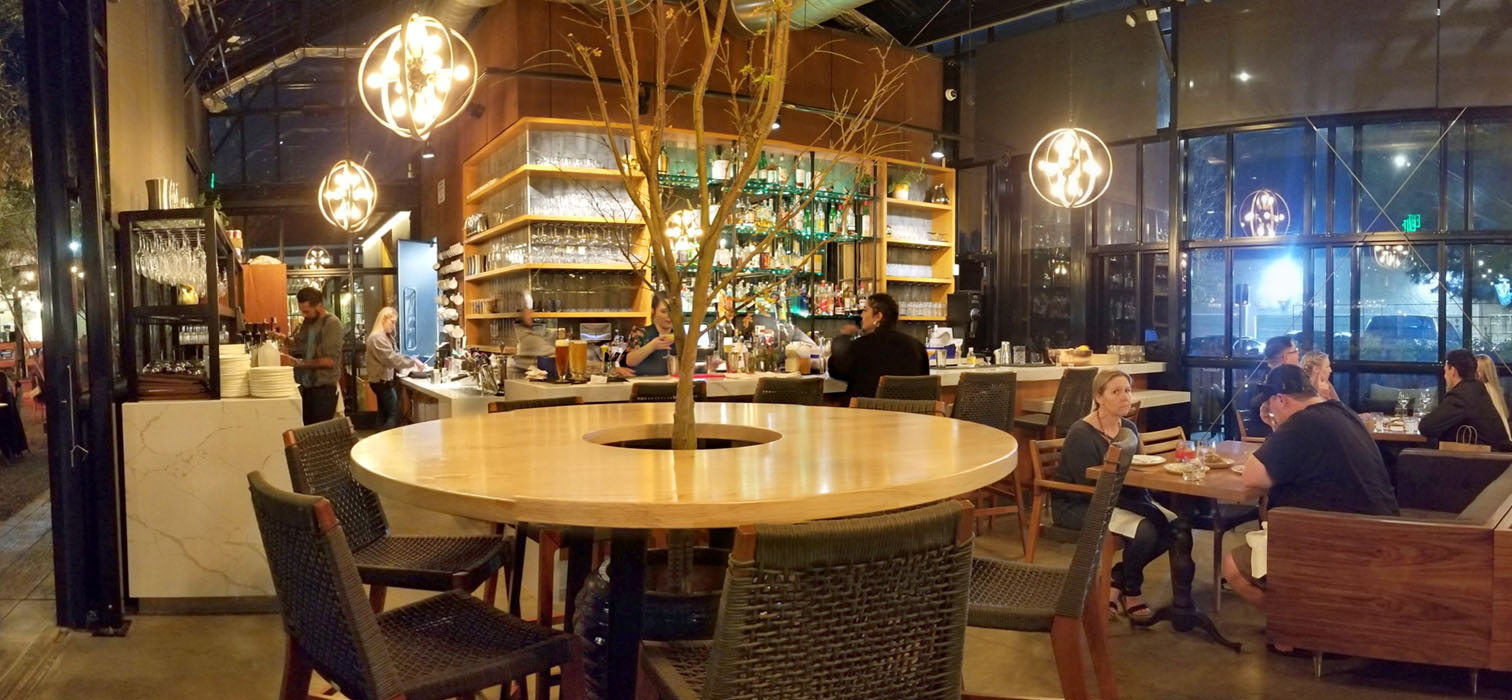 Poppy & Seed resides in the former Farmers Park home of Cultivation Kitchen, which shuttered at the start of the pandemic. The greenhouse-esque space houses the bar and some lounge-y seating, but the main dining area is located outside, in an expanded patio that has taken over Cultivation's old bocce ball and cornhole courts.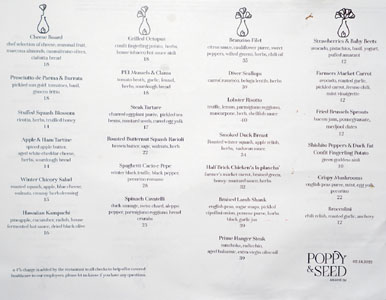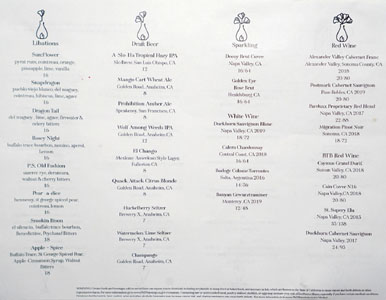 Pictured above is the menu, which is divvied up into sections and ostensibly encourages diners to order in a coursed format. I've heard that the Chef also does a tasting menu, but it didn't appear to be on offer tonight. Beverage-wise, I opted for cocktails, but there's an array of beer and wine available, too. Click for larger versions.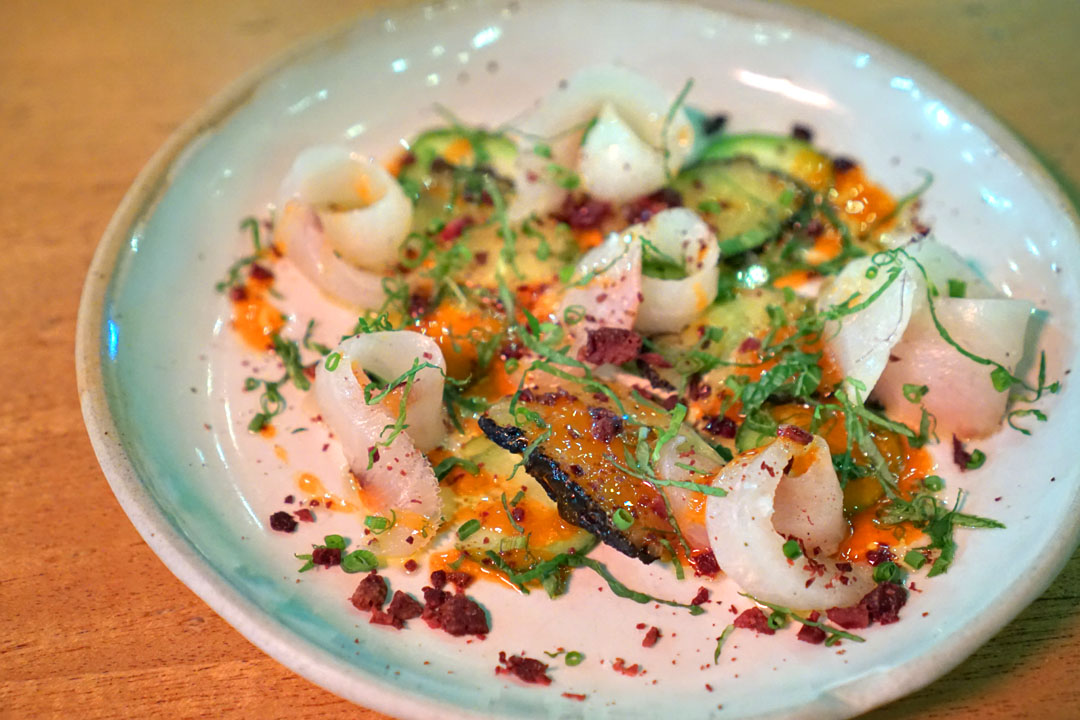 Hawaiian Kampachi [$16.00]
| pineapple, cucumber, radish, house fermented hot sauce, dried black olive
We'll begin with a dish of crudo, one featuring firm, fatty shards of yellowtail smartly playing off an amalgam of fruity, sour, spicy, and salty nuances, all while the olive contributed an underlying funk. A promising start.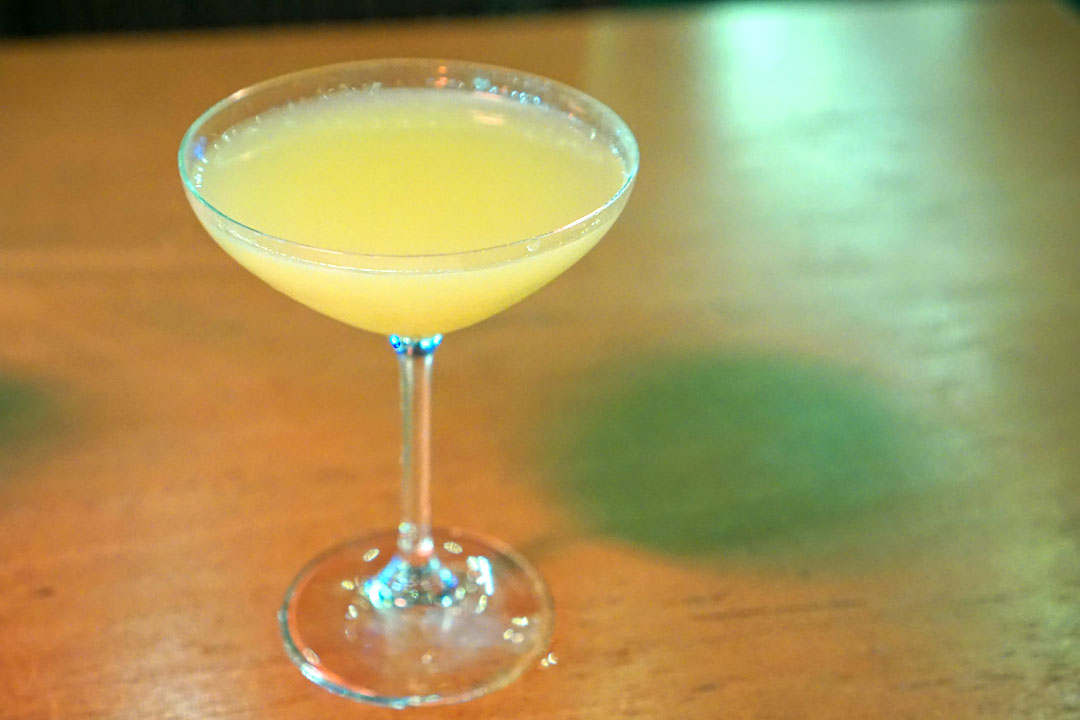 Sun:Flower [$16.00]
| pyrat rum, cointreau, orange, pineapple, lime, vanilla
My first cocktail showed off a nose that was as bright as its name would imply, with lots of juicy citrus all over. Taste-wise, I got loads of OJ up front, combined with bittersweet elements, some nuttiness, and light pineapple in the background. I didn't detect much vanilla, though.
Grilled Octopus [$18.00]
| confit fingerling potato, herbs, house tobacco hot sauce aioli
As regular readers will know, I have a hard time turning down octopus, and tonight was no exception. The octo ate tender and savory, and conveyed a palpable brine that meshed well with the hearty potatoes. Just as crucial, though, was the zestiness of the greens, the scallions in particular, which really livened up the dish.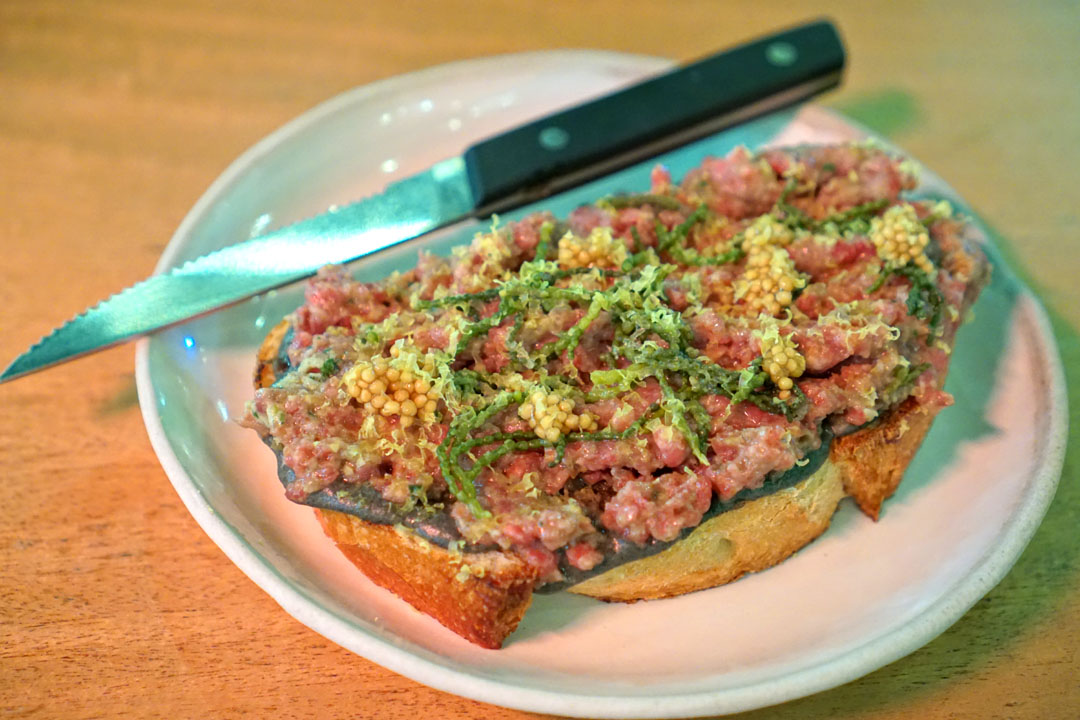 Steak Tartare [$17.00]
| charred eggplant purée, pickled sea beans, mustard seeds, cured egg yolk
Raw beef came out supple and fine-spun, with a delicate taste that made sense with the smokiness imparted by the eggplant, as well as the dish's base of toasty bread. At the same time, sea beans boosted the saline factor a bit, and I liked the piquancy from the mustard, too.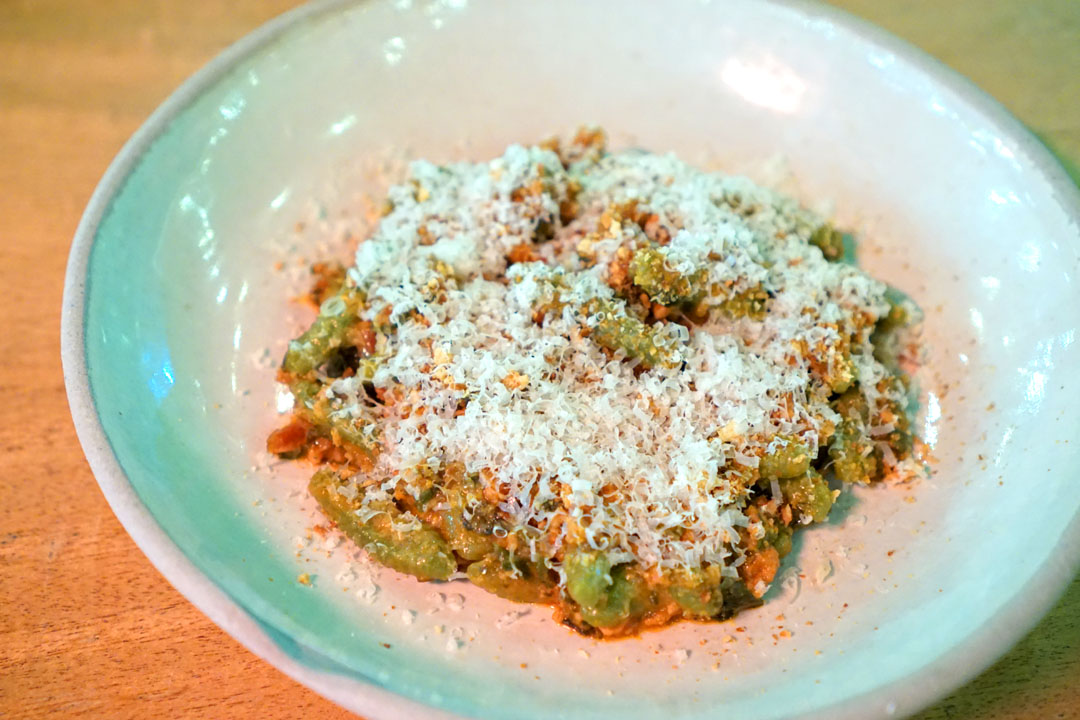 Spinach Cavatelli [$23.00]
| duck sausage, swiss chard, aleppo pepper, parmigiano reggiano, bread crumbs
I made sure to try one of the pastas on offer, and opted for the cavatelli, which came out pleasantly dense and chewy. The shells served as a fitting stage for the full-flavored sausage and the tangy, tomato-y notes in the dish, and I also appreciated the bit of overarching weight from the shaved cheese.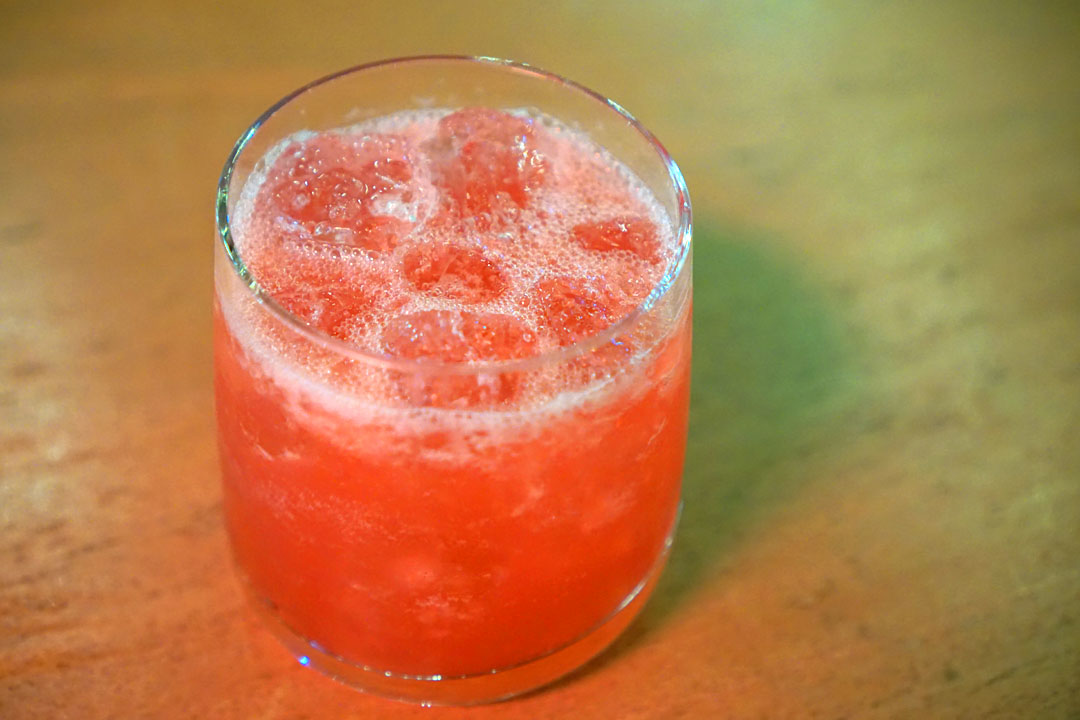 Snapdragon [$16.00]
| pueblo viejo blanco, del maguey, cointreau, hibiscus, lime, agave
The night's second cocktail smelled surprisingly salty and vegetal, even recalling celery at times, while in terms of taste, I found fruity, floral flavors at the fore leading to a counterbalancing smoke.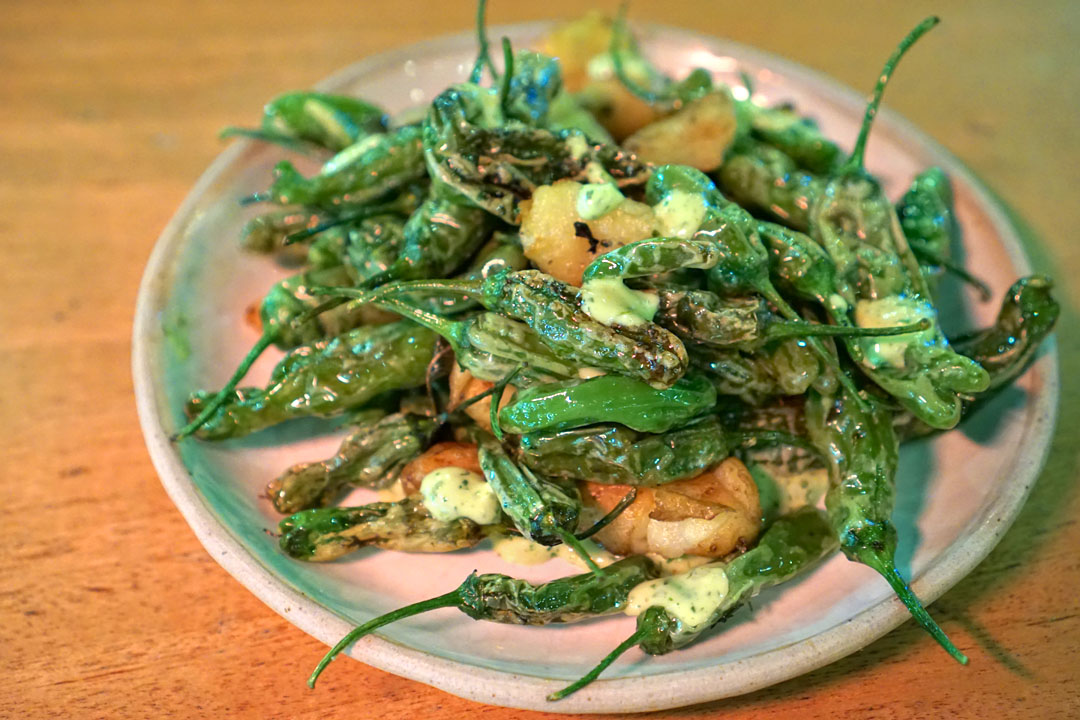 Shishito Peppers & Duck Fat Confit Fingerling Potato [$10.00]
| green goddess aioli
Shishitos were just a tad bit smoky, and interestingly, I don't think I got a single super spicy one. The peppers matched up nicely with the heft of the confit potatoes, but the crux here was the green goddess, with its cool, creamy nature that offered a bit of a moderating effect.
Smoked Duck Breast [$34.00]
| Roasted winter squash, apple relish, herbs, vadouvan sauce
The duck combined ham-like smoke with a fruity sweetness, which then played off the warm spice character of the vadouvan. It was all pretty effective, though I could've used a bit less apple and more greenery.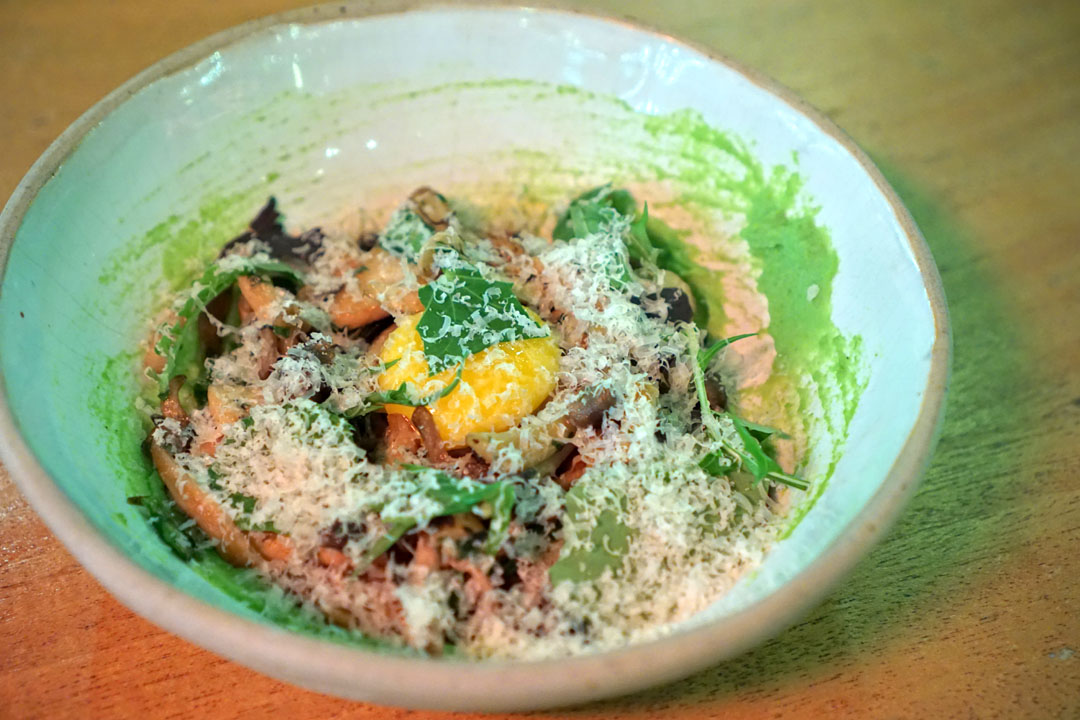 Crispy Mushrooms [$22.00]
| english peas puree, mint, egg yolk, pecorino
The mushrooms had a real depth and funk, and this was augmented by the lusciousness of that runny yolk and hits of salt from the pecorino, while the peas provided a key contrast.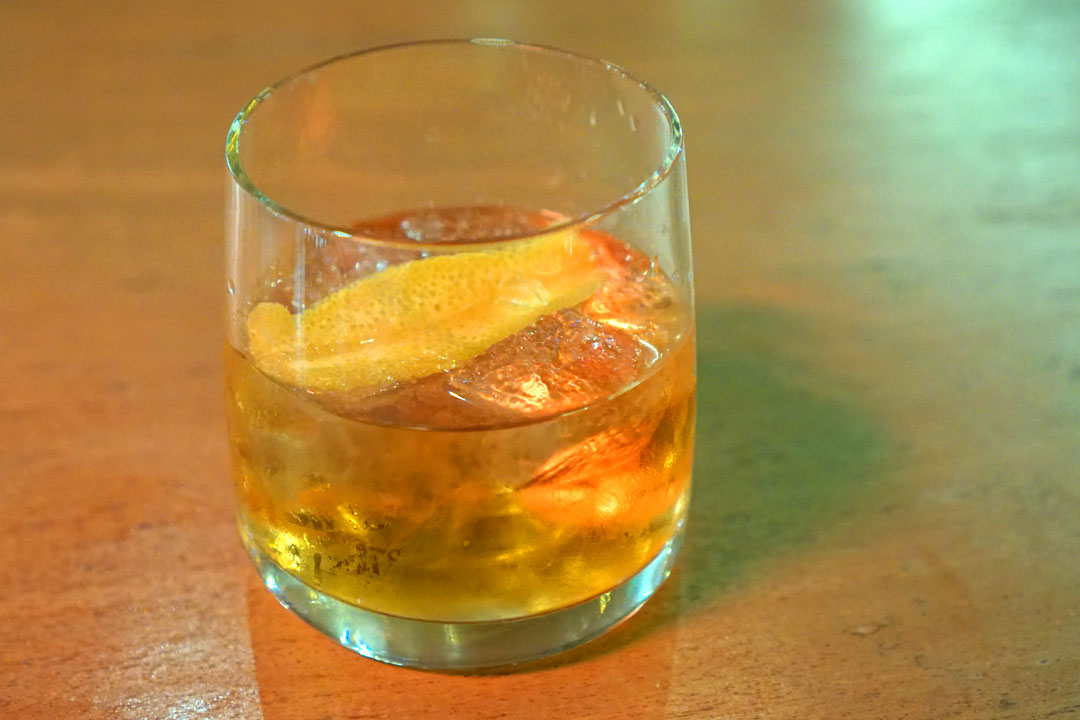 Smokin Bison [$18.00]
| el silencio, buffalo trace bourbon, Benedictine, Peychaud Bitters
My final cocktail was certainly the booziest of the bunch. It had aromas that went in surprisingly herby directions, but with tempering touches of brown sugar and citrus. On the palate, I found this thick and lush, and quite smoky at first blush; however, a blast of sugariness appeared on the mid-palate, along with dried herbs, while the drink's long-lasting finish was almost candied.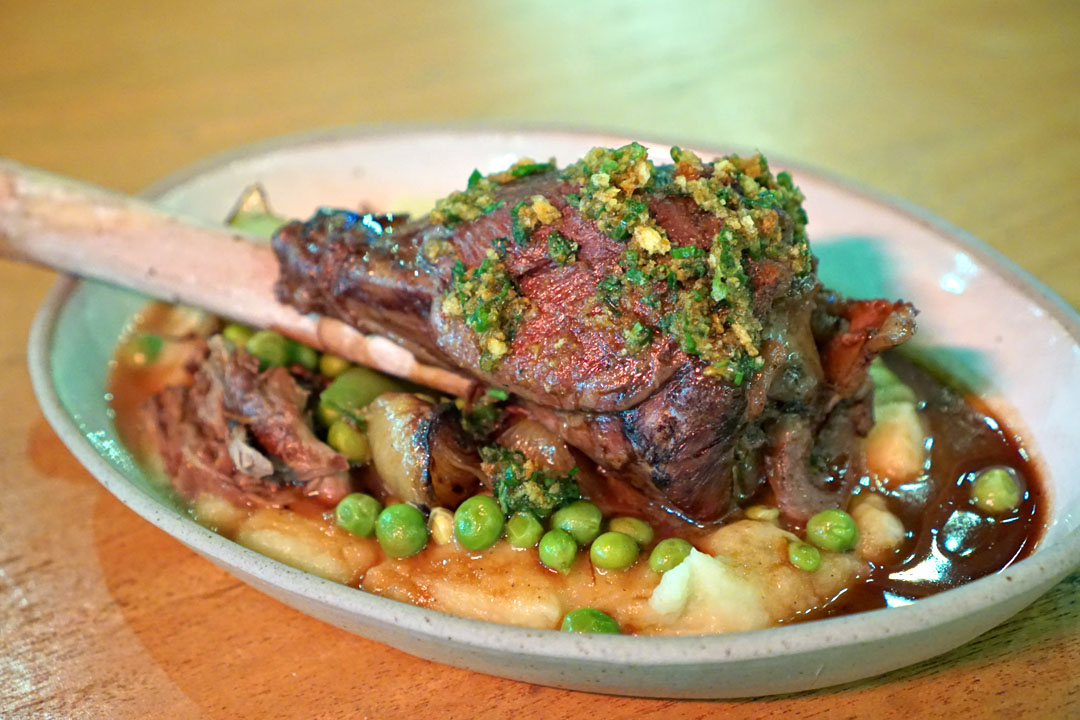 Braised Lamb Shank [$39.00]
| english peas, sugar snaps, pickled cipollini onion, pomme puree, herbs, black garlic jus
Lamb arrived falling-apart tender, and positively teeming with the dark, sticky flavors that I was expecting. Mashed potatoes, peas, and pickled onions all served to even out the strong flavors at play, and were quite effective at the task I have to say.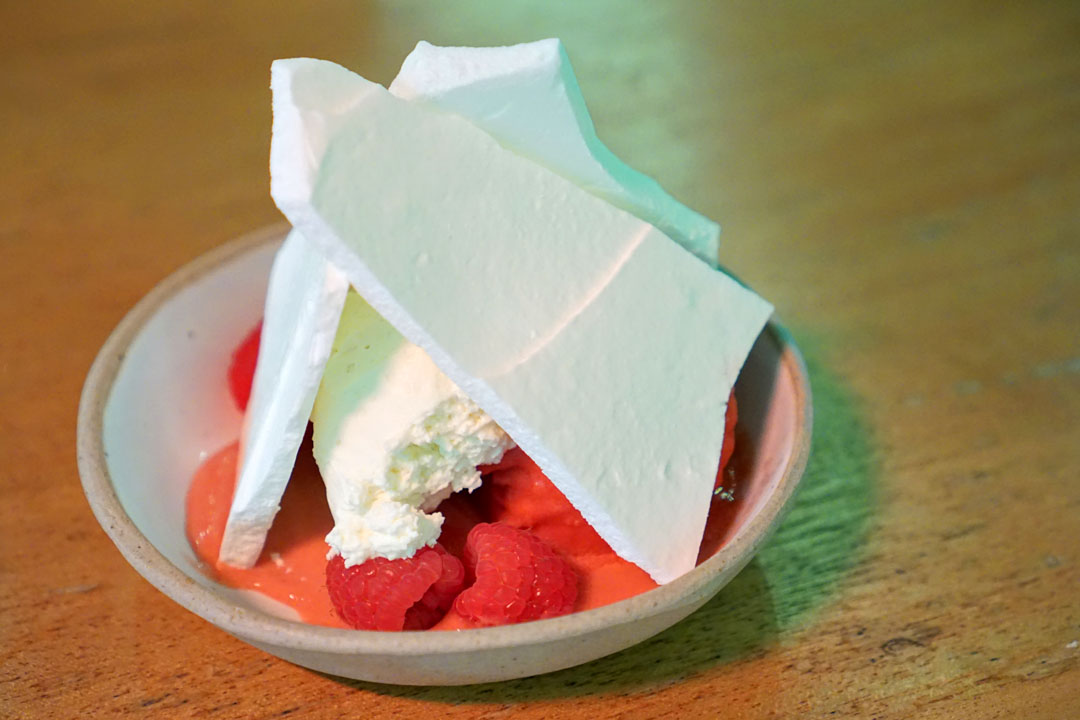 Eton Mess [$12.00]
For dessert, I went with the Eton mess, which actually ended up being comped. It was quite lovely, its rich, tangy raspberries meshing effortlessly with a light whipped cream, while airy, eggy, sticky shards of meringue provided some texture.
Both Reed and his second-in-command, Chef de Cuisine Jesse Baxter, were in the kitchen tonight, and they did a pretty commendable job. Their farm-to-table-style cooking reads just elevated enough, but is still approachable, and largely worked for me. This is some of the best cooking going on in the area for sure, though my one concern was how leisurely the pace of service was. I'm assuming this was due to the restaurant being short-staffed on account of industry-wide hiring difficulties, so I'm confident that the situation will improve, and I do plan on keeping Poppy & Seed in mind for future dinners.