Heritage (Long Beach, CA)
Heritage Restaurant
2030 E 7th St, Long Beach, CA 90804
562.343.1068
heritagerestaurant.fullbellyfoodgroup.com
Fri 02/11/2022, 07:50p-09:55p

My last post was on LBC pizza joint
Little Coyote
, and coincidentally, I've decided to follow up with a report on Heritage, which is located just a couple blocks away. The New American eatery is helmed by Phillip "Philip" Pretty, whom, you might recall, we last encountered over at
Restauration
, another Long Beach spot. To recap: he was Chef/Partner there along with Dana Robertson (née Tanner), and things seemed to be going well for them, but unfortunately, the restaurant suffered a pretty devastating fire in November 2018. It took them a year to re-build and re-open, but by late 2019, Pretty was ready to move on, and decamped around the start of the pandemic (Restauration shuttered in April 2021 following ownership's flouting of COVID-19 dining regulations).
The Chef then decided to team up with his sister Lauren Pretty, who comes from a bartending background and worked at both
Hinoki & the Bird
and
Pizzeria Ortica
. They soon began looking for a space, and in June 2020, signed a lease on a 1922-era Craftsman in LBC's North Alamitos Beach neighborhood. After a quick flip, Heritage Sandwich Shop opened on August 1st, selling out on its first day, and was met with considerable success. The fancier Heritage Restaurant subsequently debuted on May 8th last year, serving an à la carte menu, but switched over to a tasting menu format on November 16th, shortly after the place was awarded a Michelin Plate.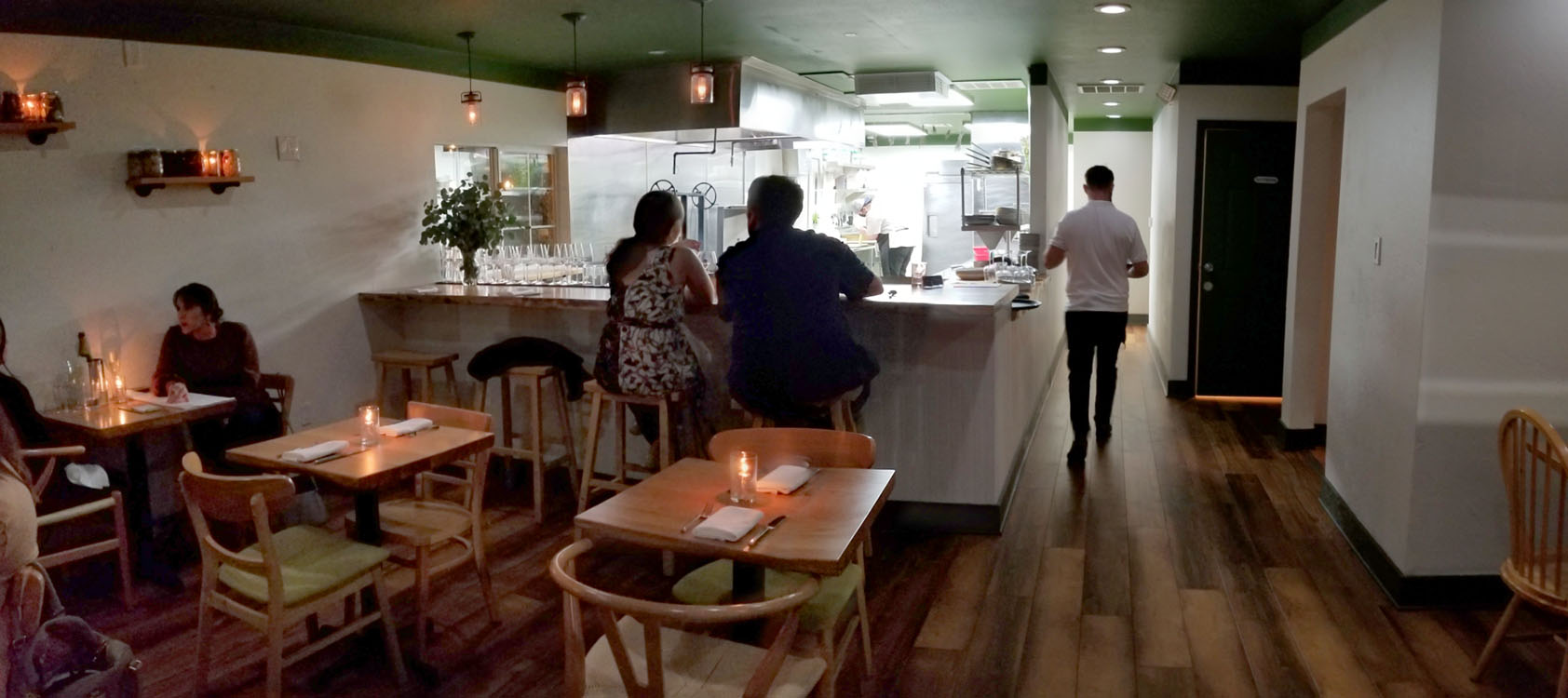 The restaurant resides in a bungalow that was apparently partitioned into two in the 1990s (and is located just a few doors down from the Chef's domicile). Pictured above is the left side of the building, which formerly served as home to Taqueria El Carboncito/Midnight Grind Café/JK Sam Beauty Salon and now houses Heritage Sandwich Shop during the day while functioning as a dining room for Heritage at night. Meanwhile, the right side of the building (the old Rose Nails space) was converted to additional dining room space in November last year.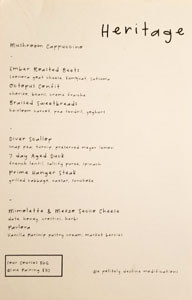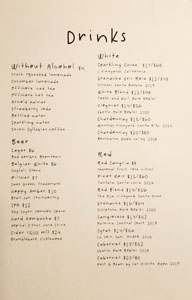 Heritage offers a four-course prix fixe at $65 a head, plus $30 for wine pairing. There's also a small wine and beer selection, while corkage is $20. Click for larger versions.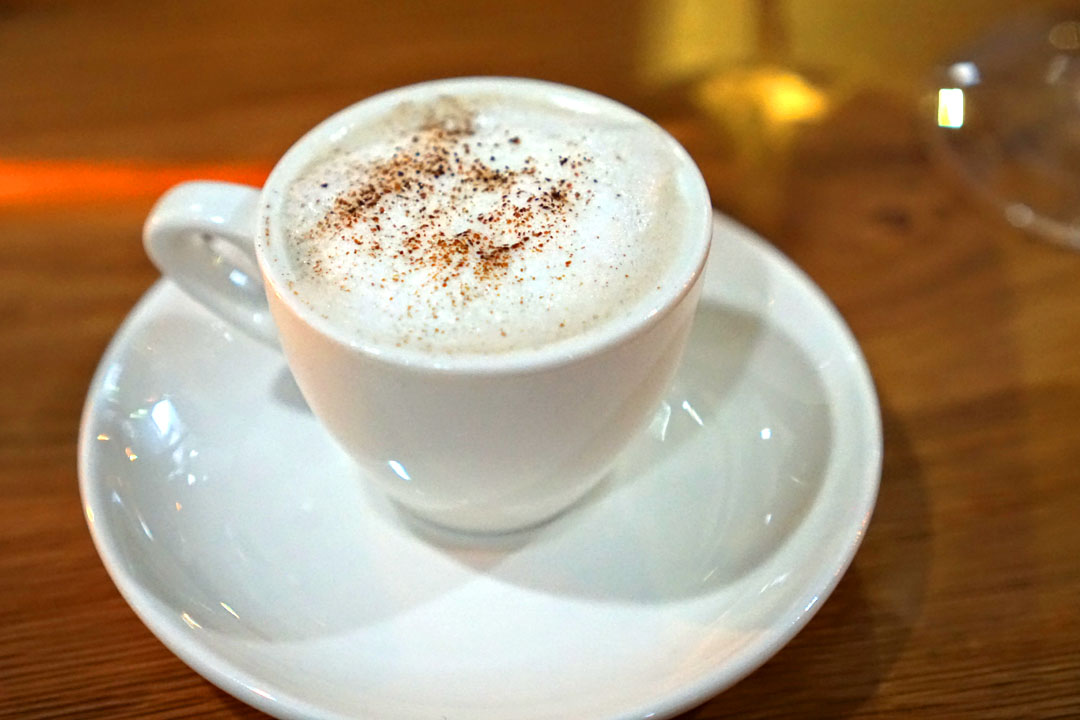 1: Mushroom Cappuccino
The Chef's liquid amuse bouche showcased the focused earthiness of mushroom alongside an undercurrent of sweetness and the aromatics of thyme. It set a cozy tone for the rest of the meal.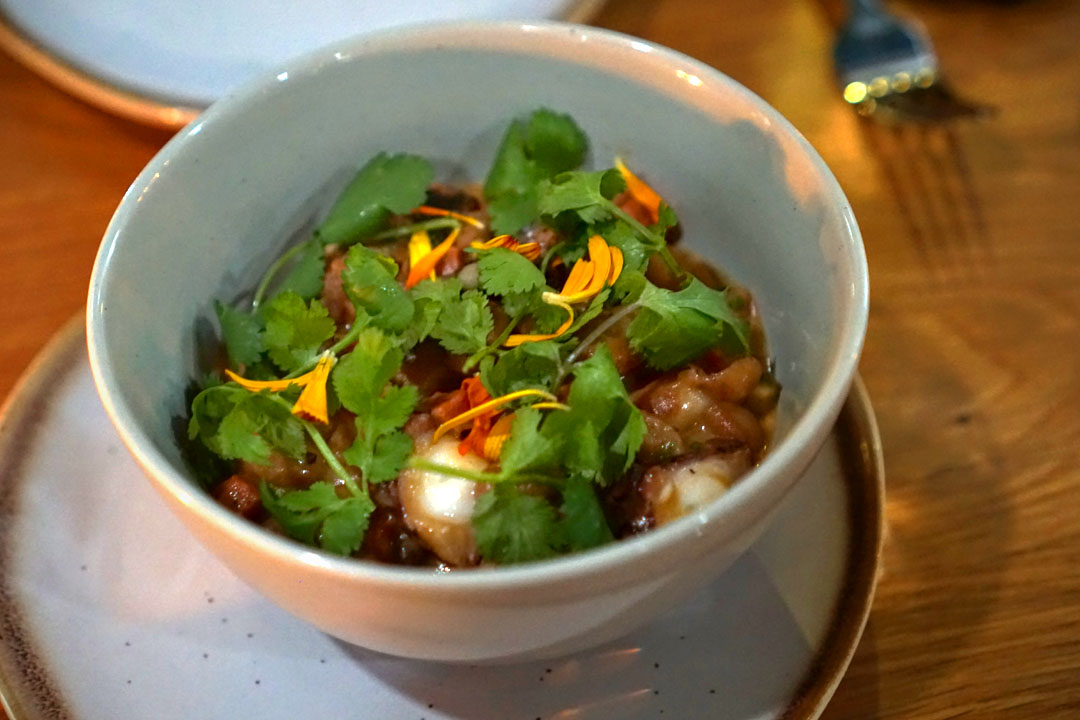 2a: Octopus Confit
| chorizo, beans, creme fraiche
Octo featured a soft, springy bite, while its savory-saline nature took well to the salty-spicy-sour chorizo. Also key were the beans, which added a welcomed heft to the dish, and I was definitely a fan of the overarching herbiness of the cilantro, too. Quite lovely overall.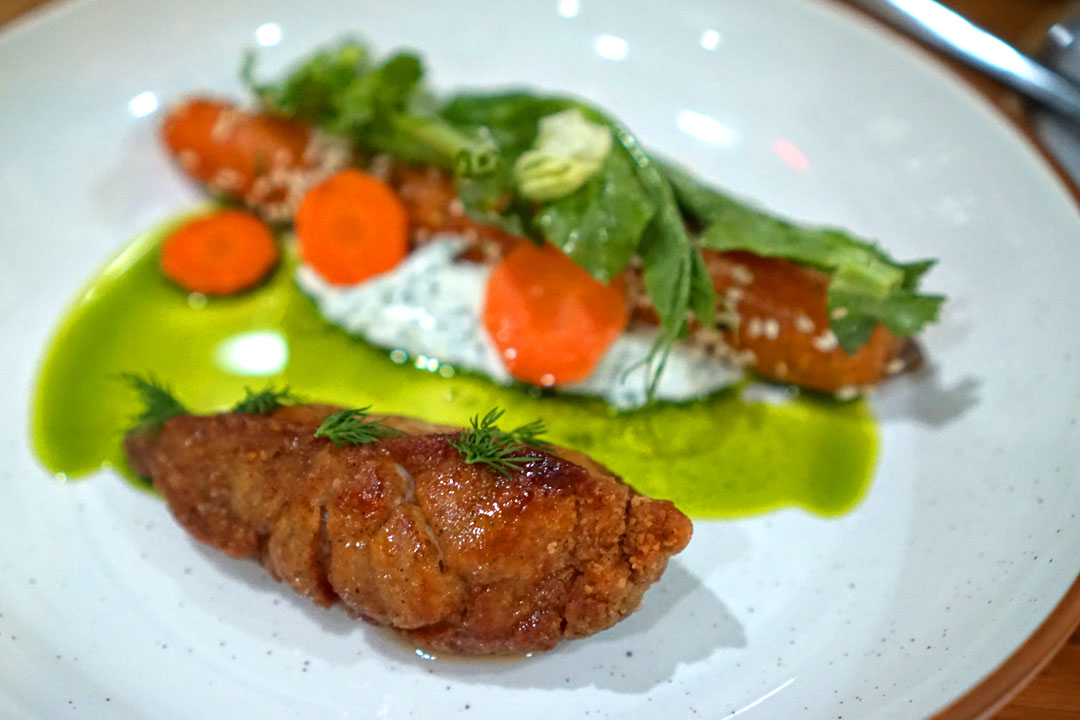 2b: Braised Sweetbreads
| heirloom carrot, pea tendril, yoghurt
Sweetbread showed off a great juxtaposition of crispy outside and creamy interior, while flavors were relatively delicate; think slightly chicken-y, a bit earthy, a touch briny. The offal paired well with the cool, creamy yogurt, while the carrot imparted both sweetness and crunch. Even better, though, was the refreshing contribution from the pea greens.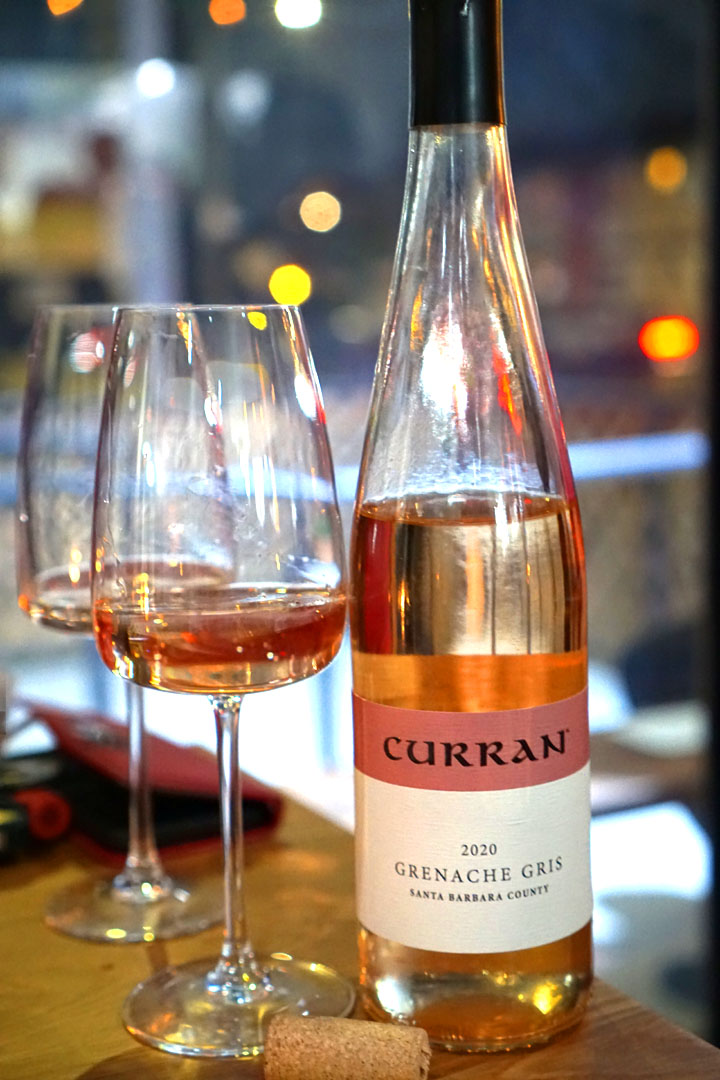 To drink, I opted for a bottle of the
Grenache Gris Rosé, Curran, Santa Barbara, 2019 [$48]
. The wine had a juicy, inviting aroma of tropical fruit, pineapple in particular, and almost recalled
fènɡlí sū
. Taste-wise, I found this eminently quaffable, with more of those pineapple cake notes joined by zippy red fruit and a tinge of floral. This would be perfect for day drinking.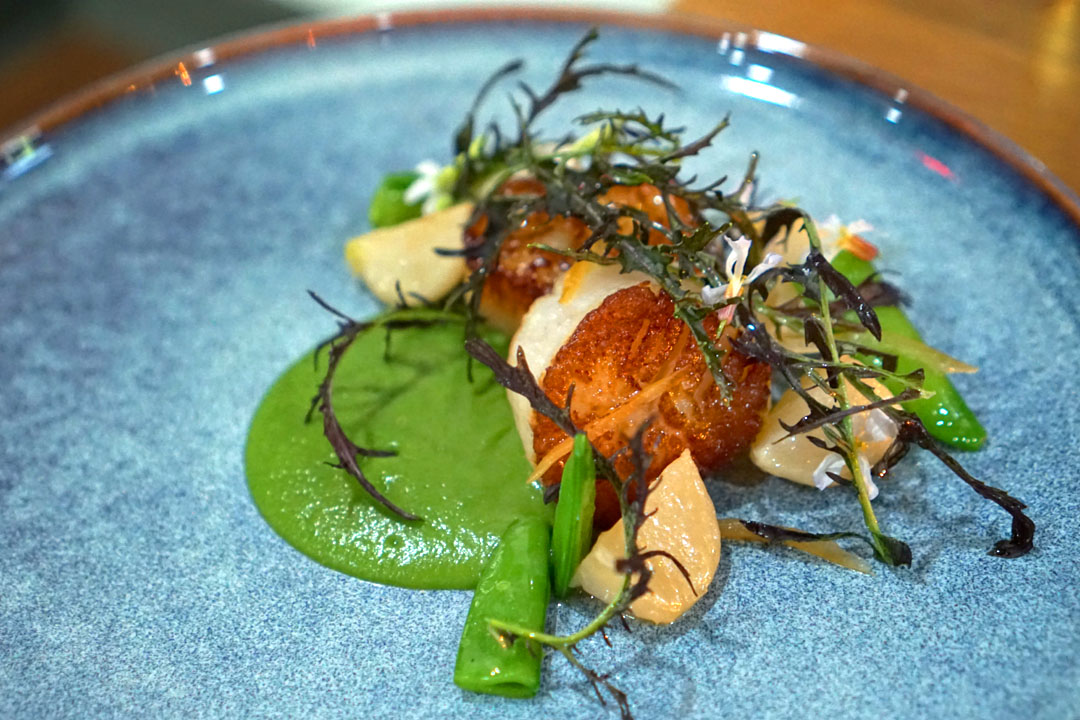 3a: Diver Scallop
| snap pea, turnip, preserved meyer lemon
Scallops were well-caramelized, but were still nicely rare on the inside, and their sweet-oceany flavor profile made sense with the brightness of the snap peas and pea purée. I quite liked the juicy, crunchy, bitter character of those turnips, too.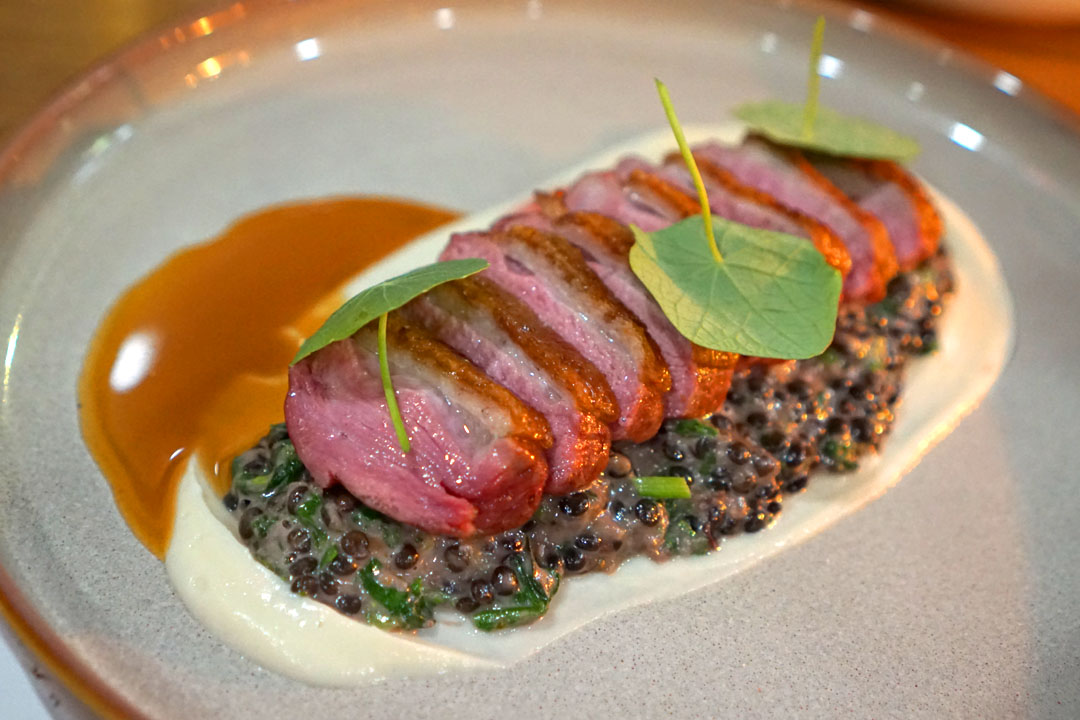 3b: 7 Day Aged Duck
| french lentil, salsify purée, spinach
The duck ended up as my favorite dish of the night, and one of the best preparations of the protein I've had in a while. The breast conveyed a real anatine funk that was both potent yet elegant, while the meat's juiciness matched well with its wonderfully crispy skin and expertly rendered layer of fat. The bird was certainly delicious alone, but the nutty lentils were a great complement, and I liked the zestiness of the nasturtium as well.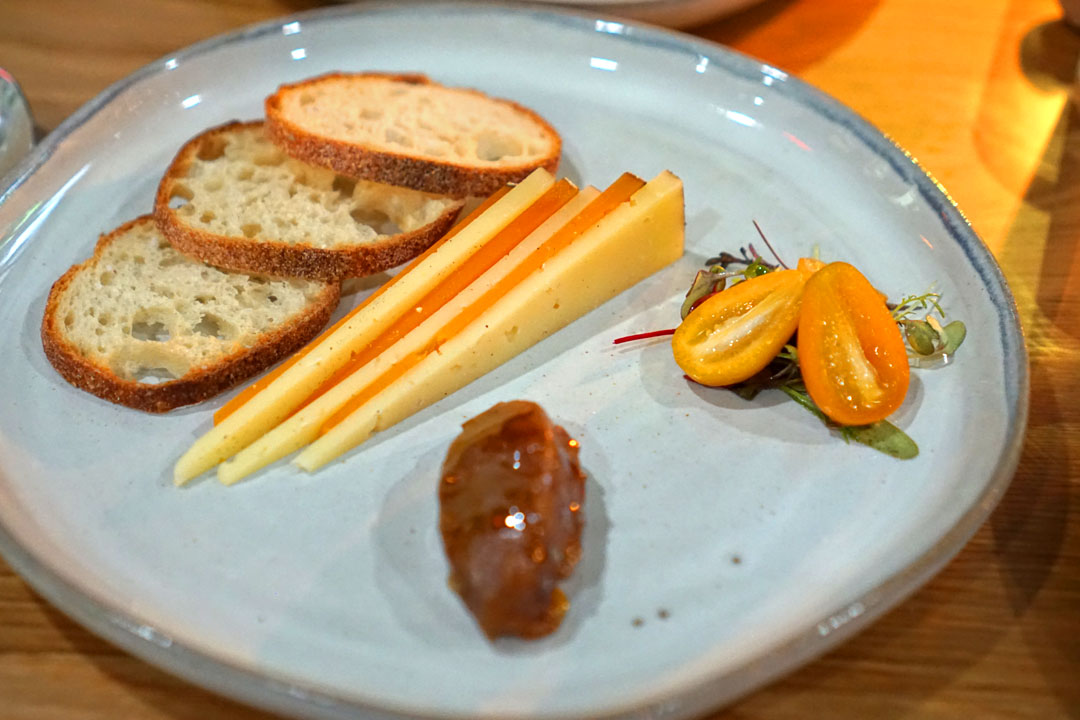 4a: Mimolette & Mezzo Secco Cheese
| date, honey, crostini, herbs
In this semi-composed fromage course, the two varieties of cheese played off of each other well, both in terms of taste and texture, and married easily with the super crispy bread and sugary fruit.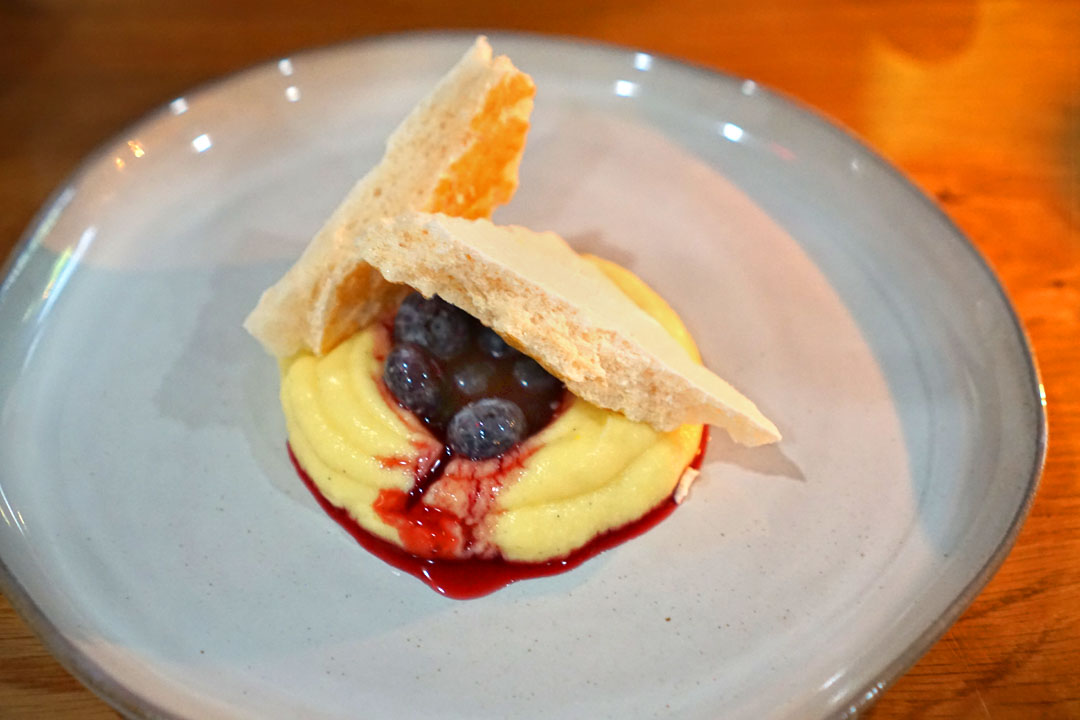 4b: Pavlova
| vanilla parsnip pastry cream, market berries
Last up was this take on the pavlova, one that featured a delightfully aromatic vanilla-laced cream set against a center of tart, juicy berries, all while shards of meringue offered up textural contrast.
Phil Pretty's move from
Fundamental LA
down to Restauration was a win for Long Beach, and his transition into Heritage is another victory for the City. The food represents the latest evolution of the Chef's cooking, and there's a clarity, a purity to the cuisine that's pretty evident. I'd actually like to see the kitchen push things even further and move to a lengthier tasting menu format, but that may take some time. For now, I'll simply plan to have Heritage around as one of the best places to eat in the LBC.