Little Coyote (Long Beach, CA)
Little Coyote Restaurant
2118 E 4th St, Long Beach, CA 90814
562.434.2009
www.littlecoyotelbc.com
Mon 02/07/2022, 08:55p-10:20p

It'd been a while since I last reported on a pizza joint, so I decided to check out the new-ish Little Coyote in Long Beach. Situated on Retro Row in the former Number Nine space, the restaurant opened in June 2020, and takes its inspiration from old-school New York-style pizzerias. The place is the brainchild of two partners, the first of which is none other than Jonathan Strader, whom I first encountered at
Wolf in Sheep's Clothing
and followed up with at
The Hart and The Hunter
,
Ladies' Gunboat Society
, and
Hatchet Hall
. He actually moved to Long Beach in 2018 (having purchased a home in the Wrigley neighborhood), and left Hatchet Hall at the start of the COVID-19 shutdowns to focus on opening Little Coyote with the spot's other partner: Chef Jack Leahy.
About the Chef
: Alfred John Leahy grew up in a large family, and his father Joe was apparently quite the cook and entertainer. He thus got interested in food at a young age, and his first hospitality job was supposedly at a donut shop. He attended culinary school in New York, but eventually dropped out to take a garde manger position at Suzanne Goin and Caroline Styne's much-lauded
A.O.C
. After taking a break from cooking, Leahy got back into the kitchen at
The Hungry Cat
, which was opened by David Lentz, Goin's husband. There, he met Brian Dunsmoor, then followed him to Ladies' Gunboat Society and later became opening Chef de Cuisine at Hatchet Hall, which debuted in July 2015. At the start of 2018, he took on the Executive Chef role at
L&E Oyster Bar
, and stayed there through the start of the pandemic.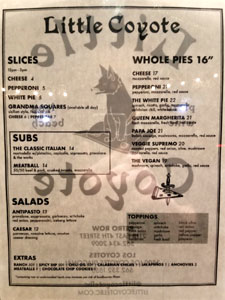 Pictured above is Little Coyote's menu, which is a straightforward affair, centered on a selection of 16-inch pies joined by a couple of sandwiches and sides. Click for a larger version.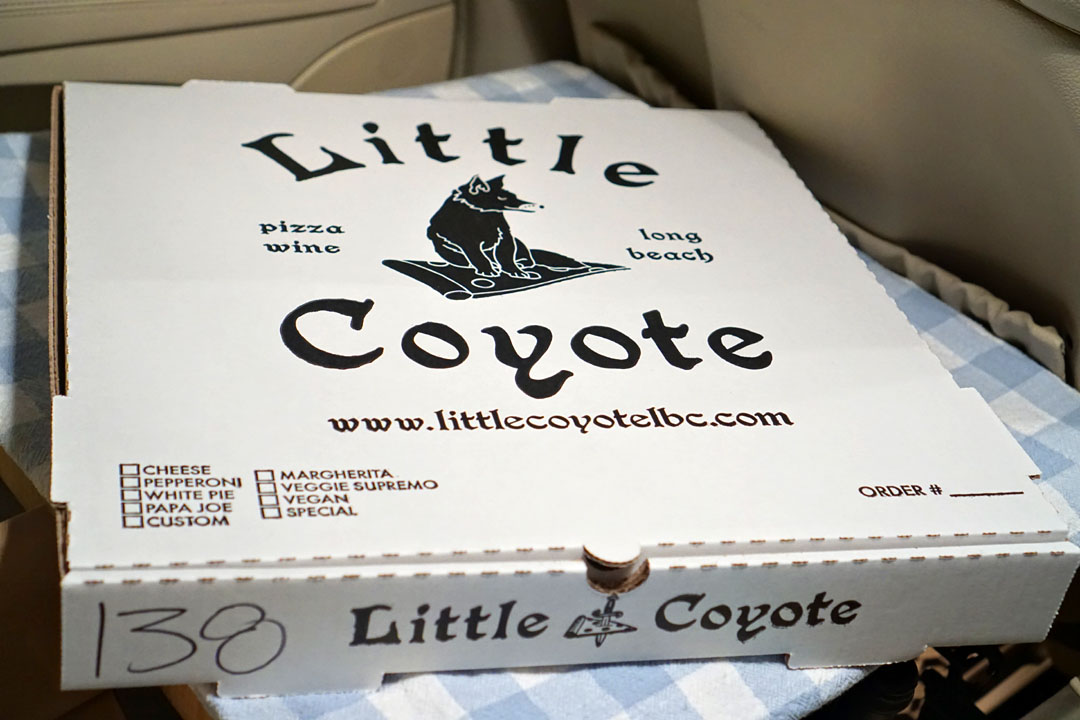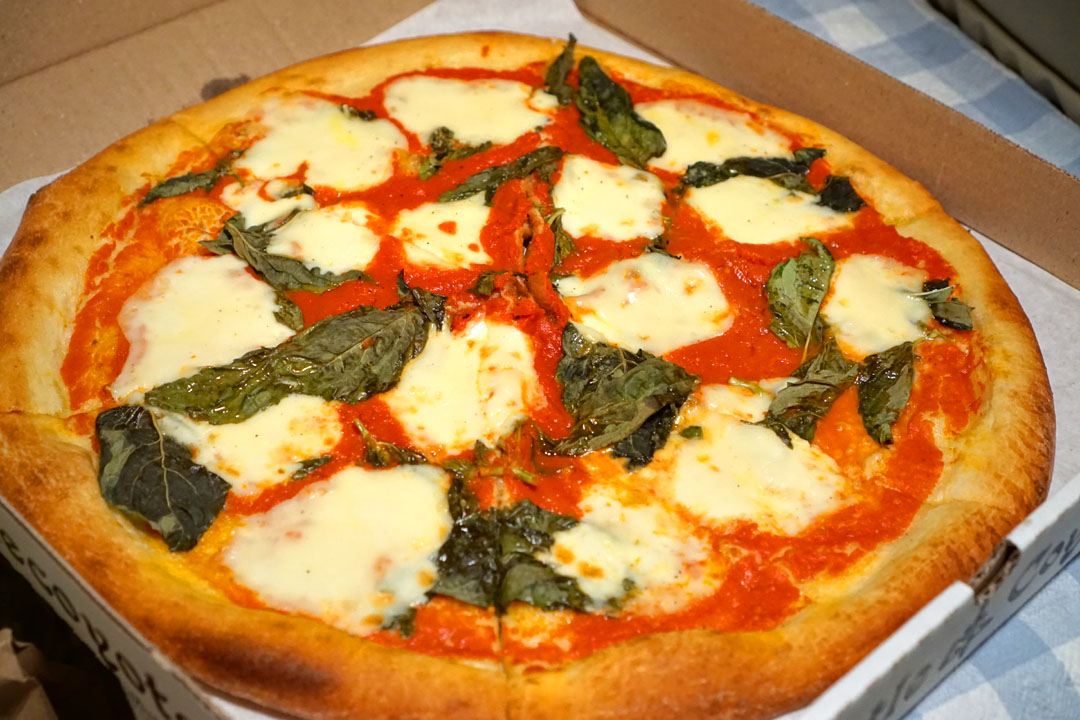 Queen Margherita [$21.00]
| fresh mozzarella, fresh basil, red sauce
We'll begin with Little Coyote's interpretation of the iconic Margherita pizza. The thing that struck me first was how the basil was far more robust than in most preparations. These aromatics linked up well with the creamy, salty cheese, while the tanginess of the tomatoes moderated everything. As for the foldable crust, it ate slightly crisp, slightly chewy, with subdued charring, and was just what I was expecting.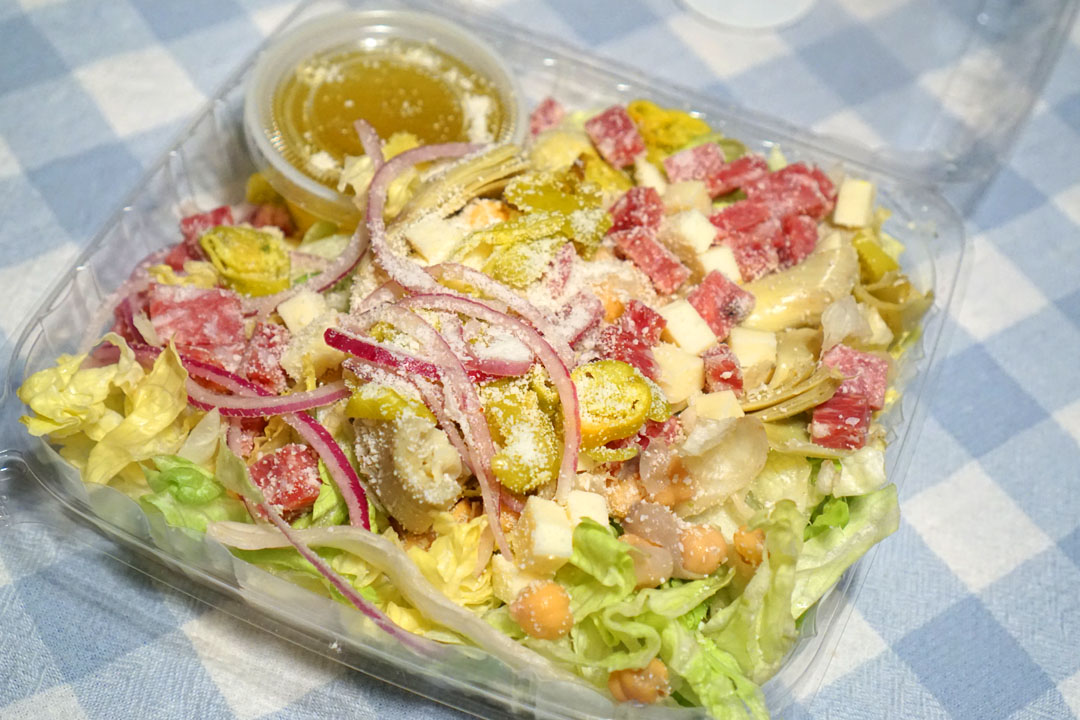 Antipasto [$13.00]
| provolone, soppressata, garbanzo, artichoke, red onion, pepperoncini, iceberg lettuce
The antipasto salad was lovely, presenting a bevy of meaty, salty, peppery, cheesy, and sour flavors brought together by a rich olive oil-based dressing, all while the lettuce offered up a light, bright contrast.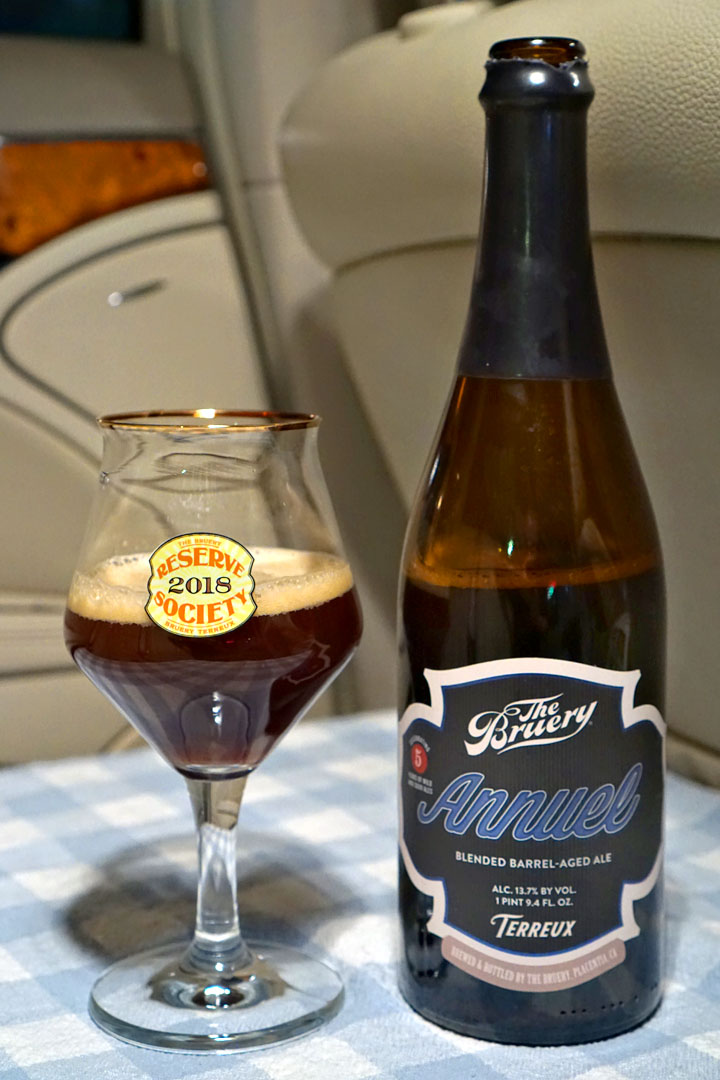 To drink, we have here a bottle of the
2020 The Bruery Terreux Annuel
, a blend of sour quadruple, sour blonde, and solera-aged old ale, all matured in oak and bourbon barrels. The beer smelled of tarty, musty berries backed by notes of caramel. On the palate, I found this tart, acidic, and almost puckering up front, but with an underpinning structure of sweet malt, dark fruit, and brown sugar, all leading to a boozy, sour finish that really stuck around in the back of my throat.
The White Pie [$22.00]
| spinach, ricotta, garlic, mozzarella, calabrian chili, white sauce
Little Coyote's white pizza hit the spot. The crux of the pie was the back-and-forth between the pungency of the spinach and the lush, creamy, subtly sweet ricotta. Garlic and chili played supporting roles, while the crust was particularly well-integrated, and also showed off a tempering effect.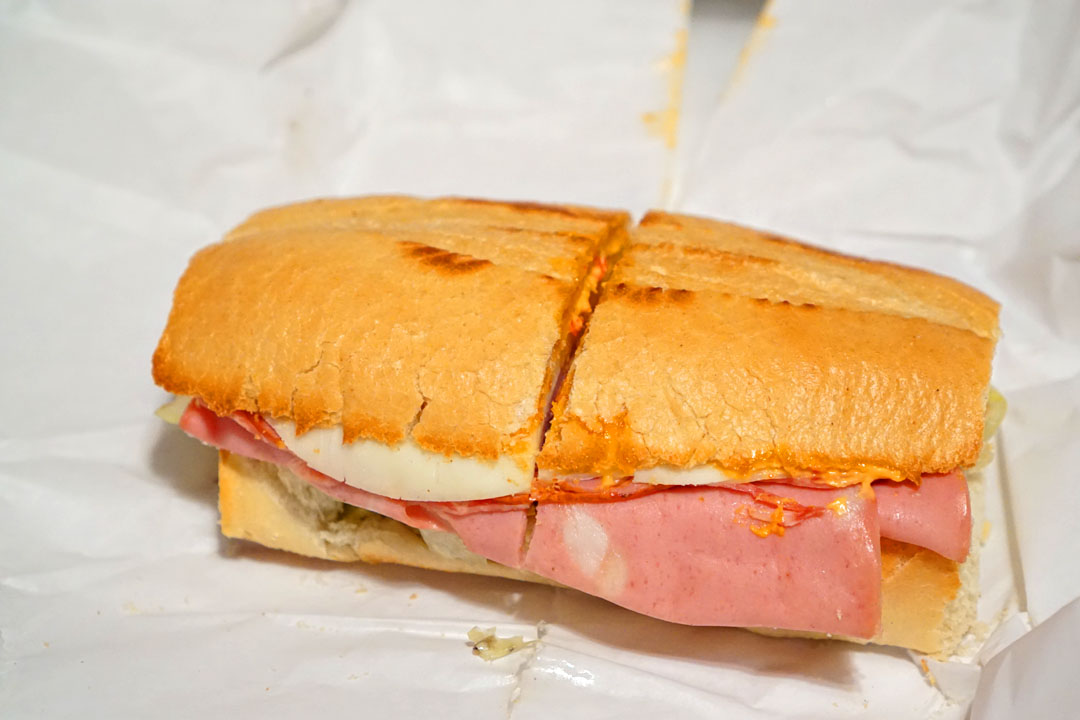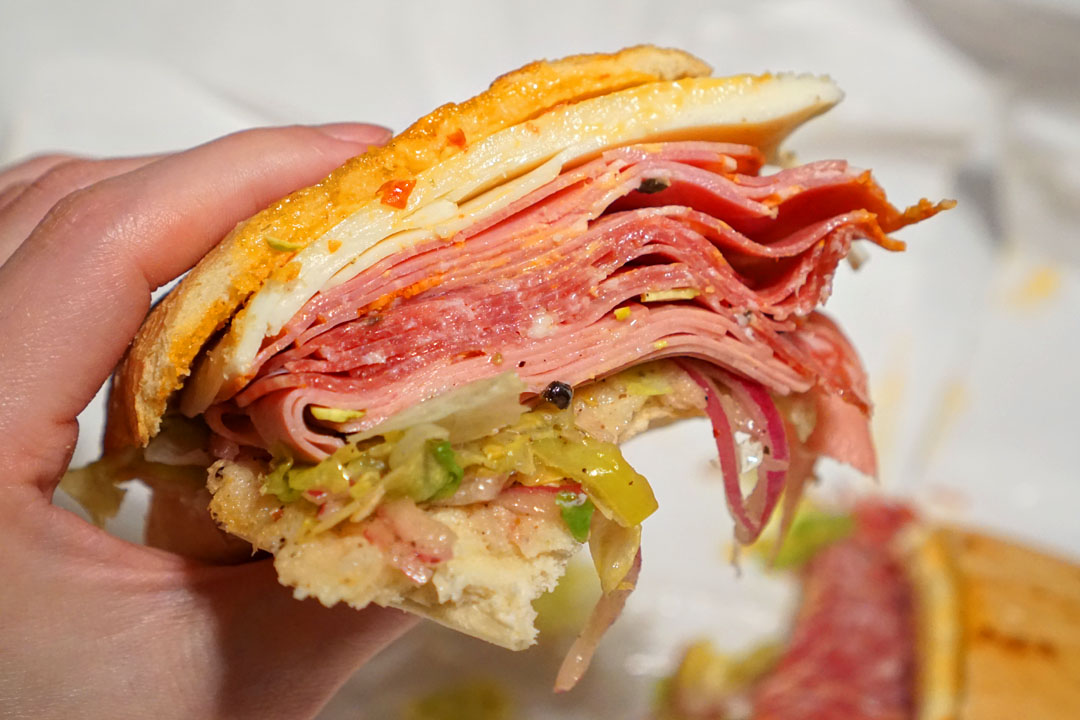 The Classic Italian [$14.00]
| mortadella w/pistachio, capicolla, soppressata, provolone, & the works
The Italian sandwich delivered as well. A combo of dense, meaty, salty cold cuts was perked up by a delightfully peppery spice and melded easily with potent cuts of provolone. It was all pretty weighty, so the sando's piquant heat and zesty veggies were absolutely crucial for balance. Nice toastiness on the bread, too.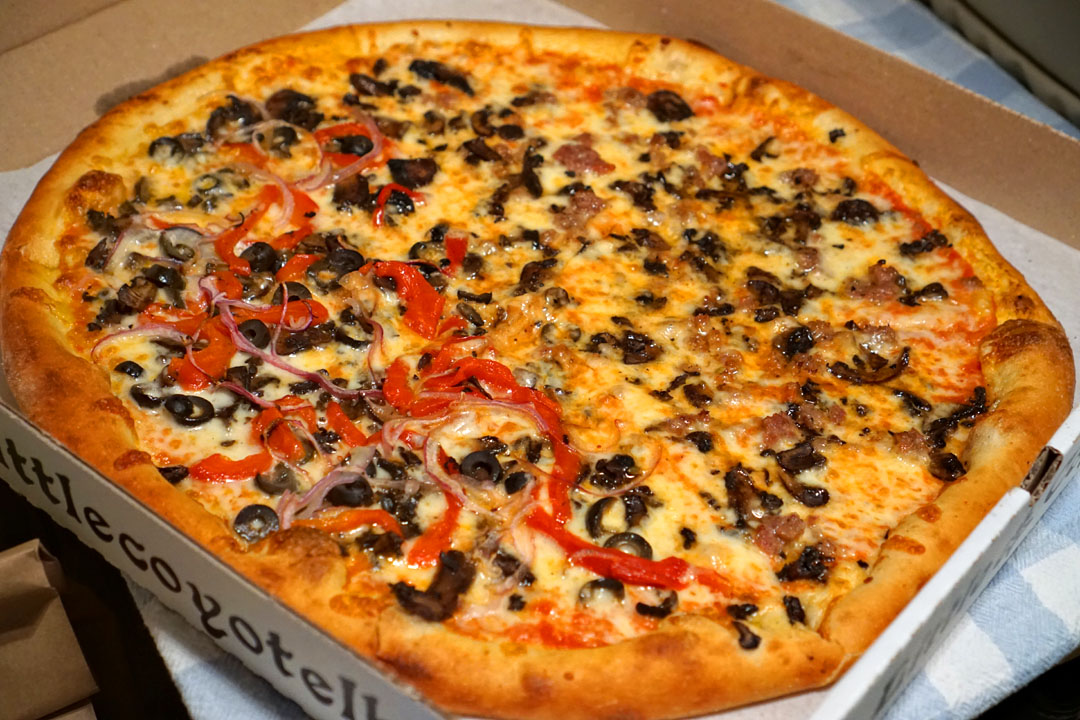 Papa Joe / Veggie Supremo [$21.00]
| italian sausage, mushrooms, mozzarella, red sauce / roasted peppers, red onion, olive, mushroom, mozzarella, red sauce
My final pizza was split between two topping schemes. I began with the vegetarian, and noted its very apparent base of olive, which meshed beautifully with the zippiness of raw red onion, all while mushroom and tomato softened the flavors at play. As for the Papa Joe (named after Leahy's father), I was a fan of the classically herby nature of the sausage, and how that worked so seamlessly with complimentary toppings of 'shrooms and olives.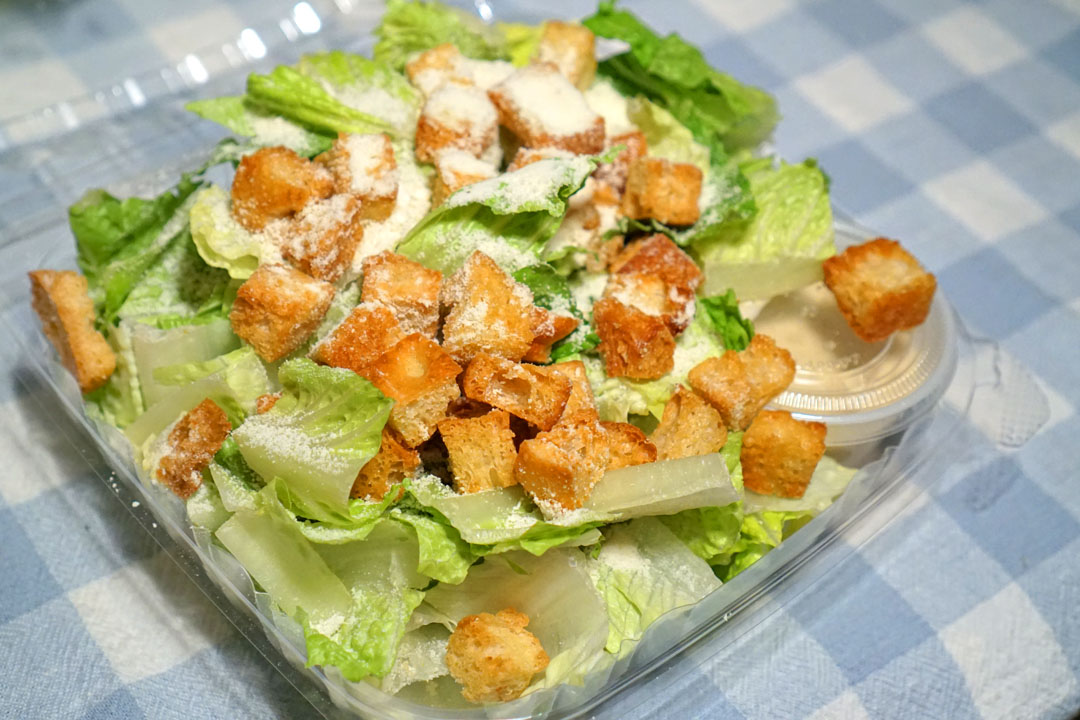 Caesar [$12.00]
| parmesan, romaine lettuce, crouton, caesar dressing
Last up was one of the better Caesar salads I've had. The lettuce ate light and crunchy, as expected, but what wasn't expected was its surprisingly palpable sweetness. I was also impressed with the super toasty croutons, which were far superior than most, as well as the dish's overarching cheesiness. However, the star here for me was the dressing, which displayed a real brine and depth that I very much enjoyed.
I had no complaints with Little Coyote. It's straightforward, honest-to-goodness food that they're putting out, and it all makes for a compelling neighborhood-y spot. In fact, the team looks to be doing pretty well, as they actually already opened a second location in September last year, situated inside a building in Long Beach's Plaza East neighborhood that once held the likes of Lou & Mike's and Ferraro's Italian Kitchen. Furthermore, Leahy and Strader are about to launch a takeaway pasta concept called Jr's Pasta, and the two are also converting an old bodega at Broadway/Cherry into a cafe called Mom & Bert's, so be on the lookout for that.