Magari (Los Angeles, CA)
Magari Restaurant
6115 Sunset Blvd, Los Angeles, CA 90028
310.256.3555
www.magarirestaurant.com
Sat 03/26/2022, 06:00p-10:05p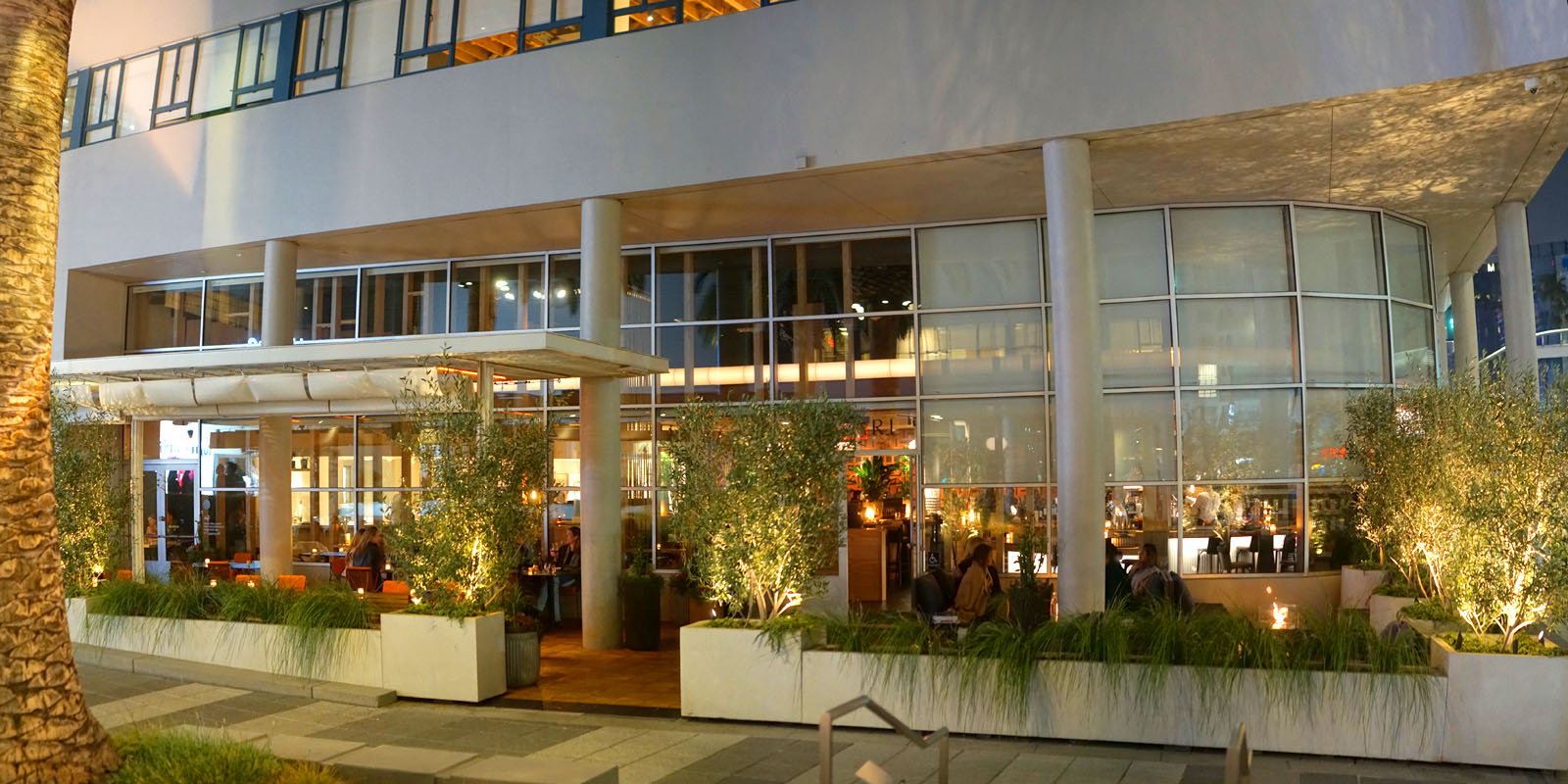 A group of us were recently in search of suitable restaurant for a birthday dinner, and we ultimately decided on Magari, a new Hollywood spot serving Italian-Japanese cuisine. Opened on March 4th, the place is named after an Italian phrase roughly translating to "let's hope," and comes to us from Ozumo Concepts, a restaurant group based up in the Bay Area. The culinary team here is composed of Chef/Partner Yoshiyuki Okuno, Executive Chef Enrico Merendino (who runs the day-to-day), and Tony Messina, who's on board in a consulting role.
About the Chefs
: Okuno Yoshiyuki (奥野義幸) was born and raised in Wakayama Prefecture, and grew up in the restaurant industry, as his parents ran a traditional
ryotei
. He did not initially pursue a career in food, though. After graduating from college in the US, he returned to Japan and worked at a real estate investment firm. However, Okuno was eventually drawn back into hospitality, and began cooking at a local Italian spot in Tokyo. He later moved to northern Italy and trained at eight restaurants in the region, including Al Rododendro in Piedmont, San Giorgio in Genoa, and Al Bersagliere in Verona. After coming back to Tokyo, he opened a small Italian eatery called Via Brianza in Azabujuban in September 2003. Okuno later expanded with Brianza 6.1 in Ark Hills in January 2014, La Brianza in Roppongi Hills in May 2016, Focacceria La Brianza in Nihonbashi in September 2018, Brianza Tokyo in Otemachi in July 2021, and finally, Pasta Magari in Tsukuba, Ibaraki in April 2022.
Meanwhile, Enrico Merendino got his culinary start at the Istituto Tecnico Industriale Statale (ITIS) in Augusta, Sicily. Following graduation, he eventually made his way to the United States, landing in the Pacific Northwest. In September 2010, he found employment as a sous at Ristorante Roma in Portland, where he stayed for two years. He then transitioned to a similar role at Seattle's Barolo Ristorante, where he also spent two years. This was followed by a stint at A Cena Ristorante back in Portland, while in September 2016, Merendino moved to Atlanta and became kitchen manager at Varuni Napoli. After about a year, he got the role of pasta maker at Ecco in Midtown, and in March 2019, was named sous at Ecco's Buckhead location. August 2020 saw him relocate to LA, where he secured the position of Chef de Cuisine at Cara Hotel in Los Feliz.
Finally, Anthony Messina hails from East Boston, and grew up in a food-focused Sicilian-American household. He began his culinary career at the age of 14 at a local catering company called Spinelli's after his uncle got him a job, and worked there until he finished high school in 1999. After stepping away from hospitality for a few years (he joined the Boston police academy), he eventually got back into the mix, and began shucking oysters at Legal Sea Foods. In 2007, Messina went to work for Michael Schlow at Alta Strada, which had just opened. He enrolled at the Cambridge School of Culinary Arts in 2009, and during this period, apprenticed at a number of local spots including Clio, Hamersley's Bistro, No. 9 Park, Radius, and Salts. Following graduation, he returned to Alta Strada as sous, but soon left to join the opening team at Barbara Lynch's Menton, which debuted in April 2010.
Messina then decided to expand his knowledge of Japanese cuisine, and thus became sashimi assistant at Chris Chung's AKA Bistro in 2011. September 2012 saw him move to Ken Oringer's Uni Sashimi Bar (located inside Clio's lounge area), which is where he really began making a name for himself. In 2016, Uni expanded to encompass the entire Clio space, with a broader Japanese-based menu; Messina was named Executive Chef/Partner with this transition. He then won the title of "Best Chef: Northeast" from James Beard in 2019, after receiving nominee and semifinalist status the previous two years. However, Messina stepped down from his post at Uni on May 1st last year, and announced that he was moving to LA to be closer to his fiancée (they got married in August).


Magari is situated at the Columbia Square development, inside the former home of Greg Bernhardt's Paley. The space has been redone by
Cass Calder Smith
, and now seats approximately 190 guests, including 50 or so on the patio.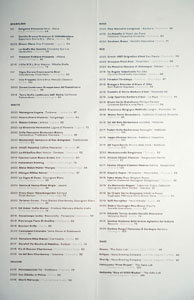 Magari's menu features Japanese-Italian fare with a slight seafood bent. On the beverage side of things, you get an all-Italian wine list, smatterings of beer and sake, and cocktails from Liam Baer and Payman Bahmani. Click for larger versions.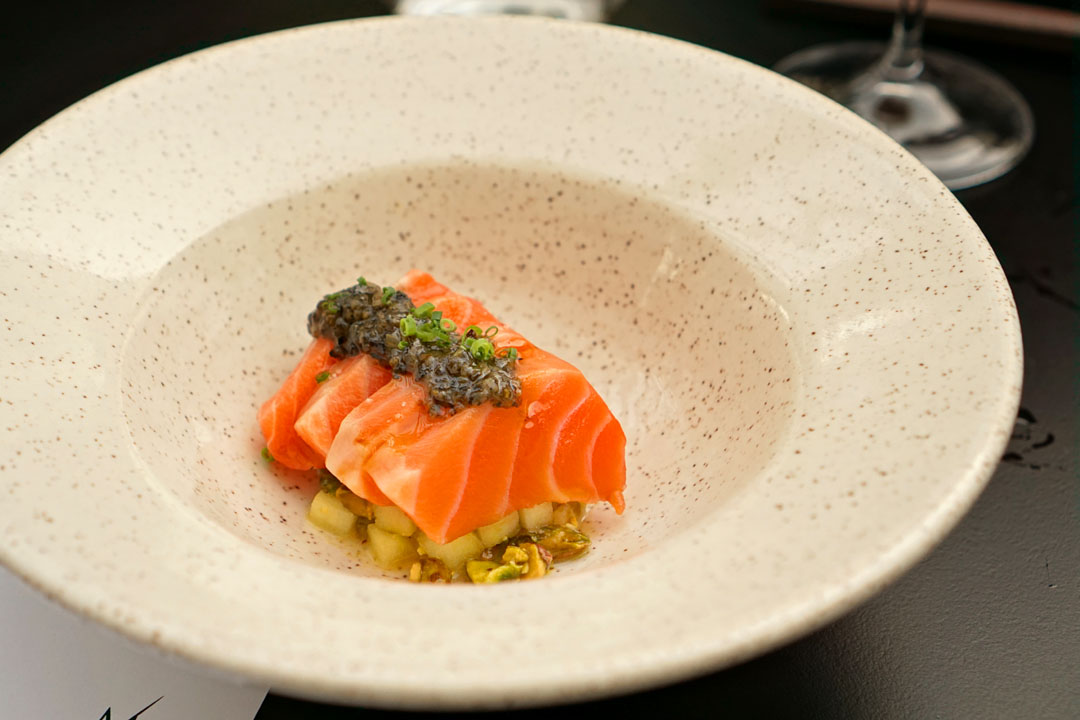 Ash Cured Ora King Salmon [$16.00]
| pistachio, apple, charred negi
Our meal began with lush, fatty slices of salmon, set against the nuttiness of pistachio and the juicy crunch of diced apple. A promising start.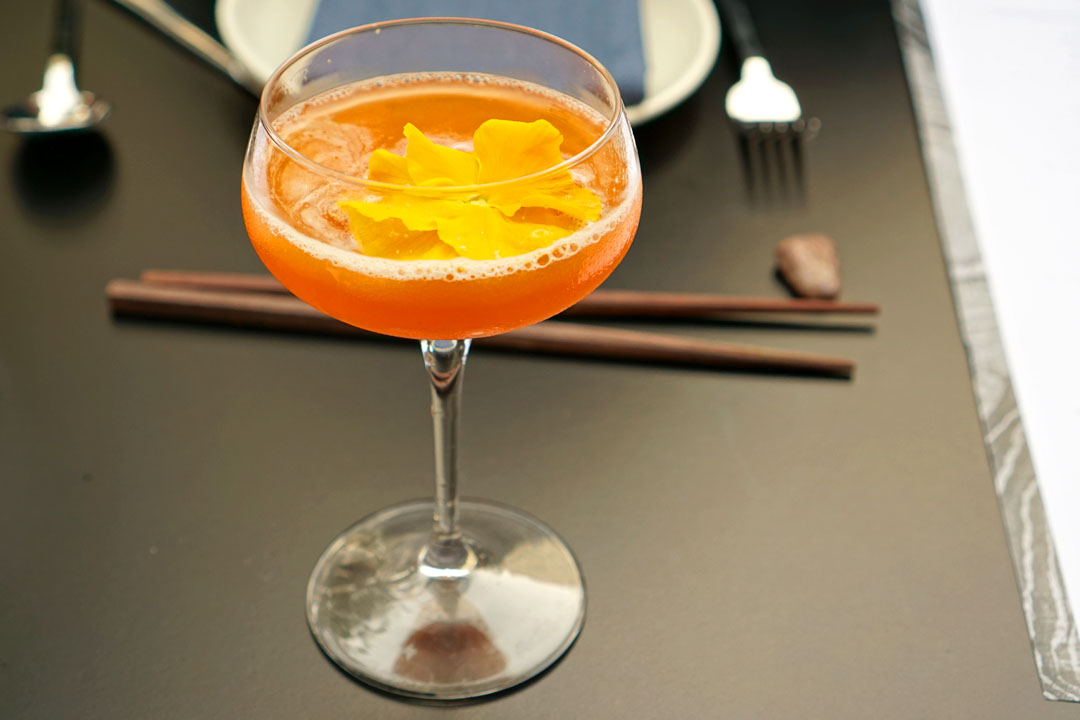 Tachinomi [$17.00]
| sour - vodka, passionfruit, aperol, citrus, cacao, japanese cinnamon
We ended up trying all the cocktails available, and this first one effectively combined robust, lip-smacking tropical and citrus with a distinct backbone of chocolate. Nice!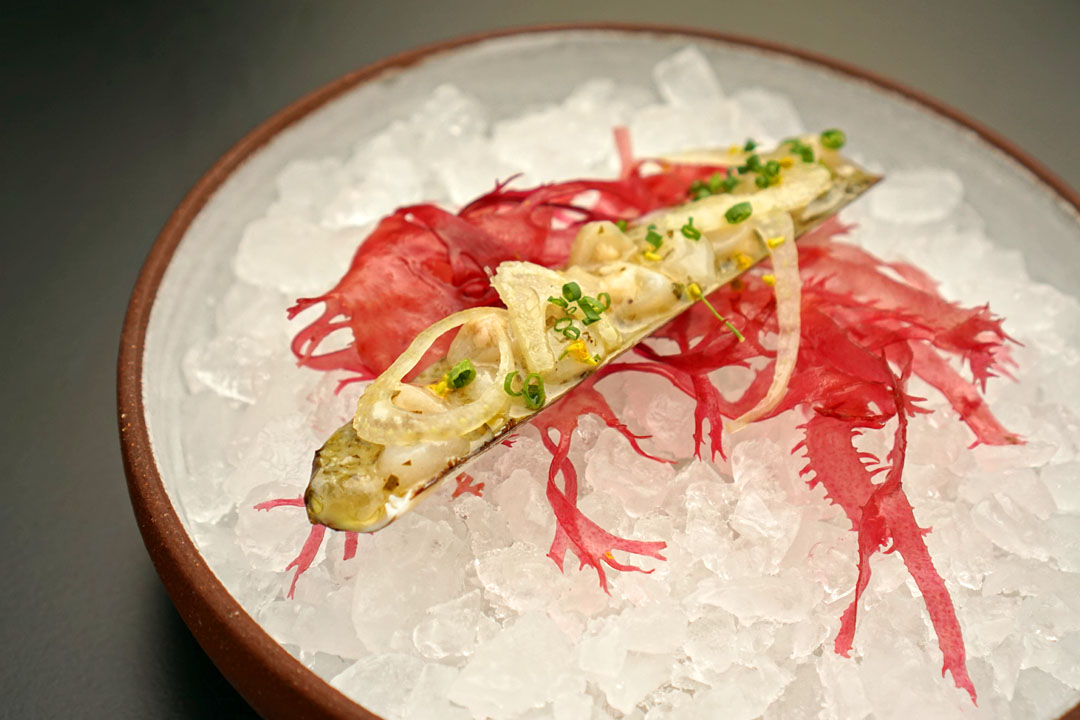 Razor Clam [$14.00]
| salmoriglio, sudachi, fennel
Dainty cuts of razor clam displayed a refined brine that was smartly offset by the application of sweet, tart, herby elements.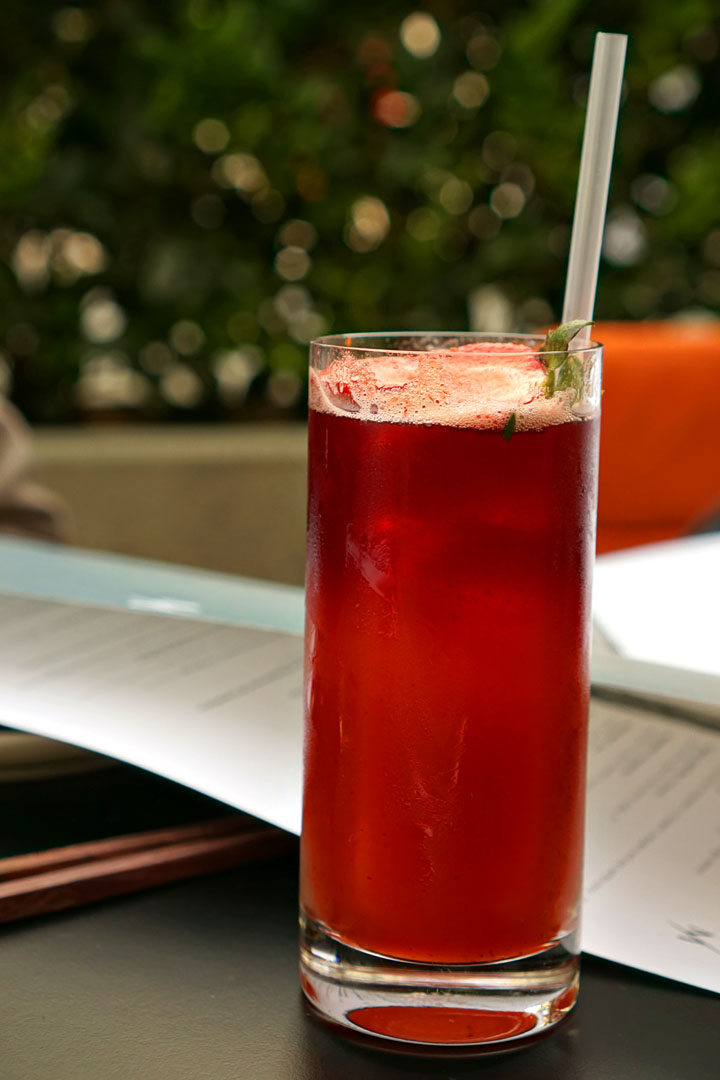 Siciliano [$16.00]
| spritz - amaro dell'enta, strawberry, rhubarb, carpano antica, lambrusco
Our first long cocktail was undoubtedly on the easy-drinking side, with loads of intense strawberry counteracted by just a smidge of amaro-fueled bitterness.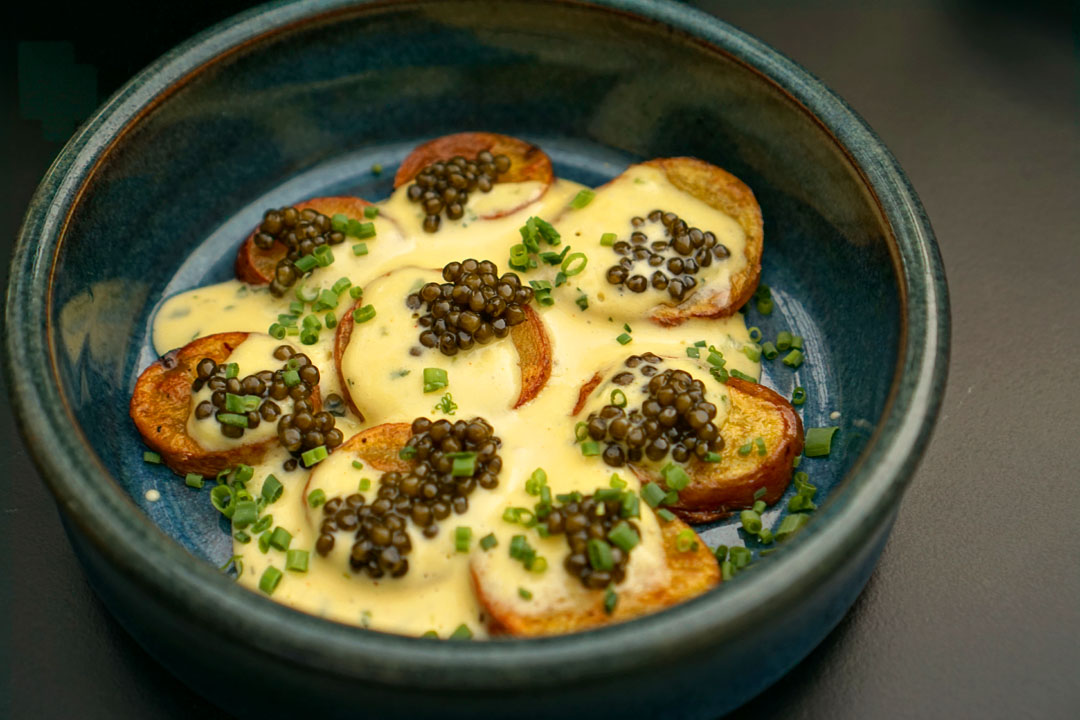 Ember Roasted Potatoes [$24.00]
| wagyu fat bearnaise, osetra caviar
Medallions of potato took well to the rich, buttery-sweet béarnaise, while salty hits of caviar worked to even things out.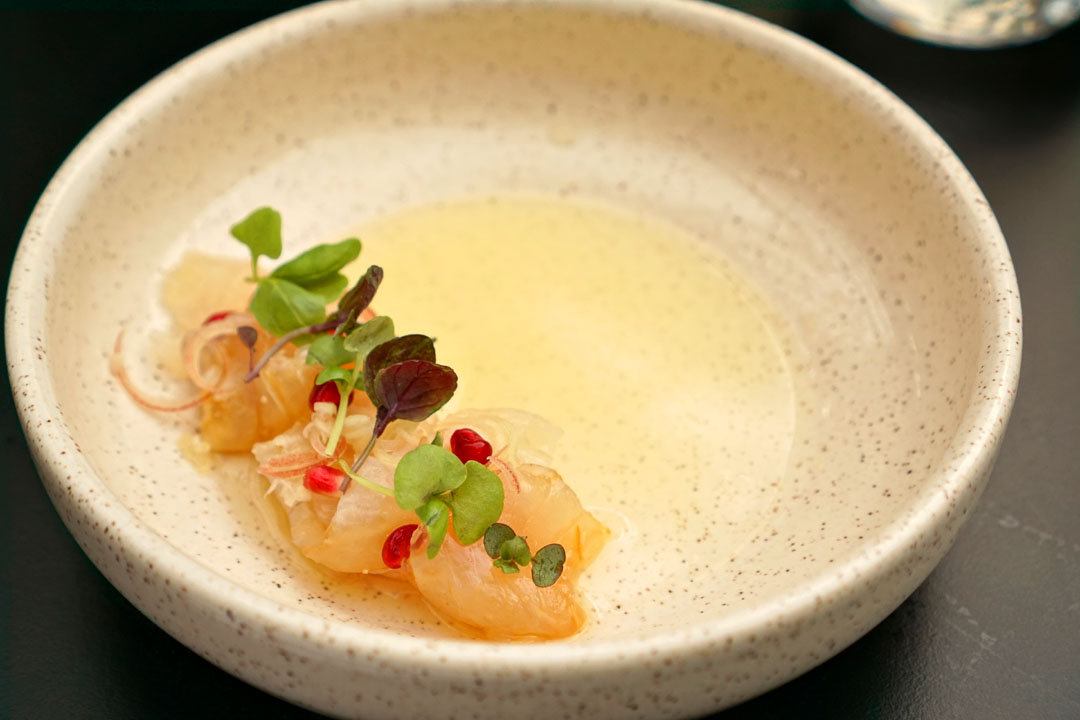 Dry Aged Sea Bream [$16.00]
| lemonade, pomegranate, myoga
Translucent slices of sea bream were pretty great texturally, and matched up well with the myoga, though I could've used less of the lemonade, which gave the dish an almost 7 Up-like flavor profile.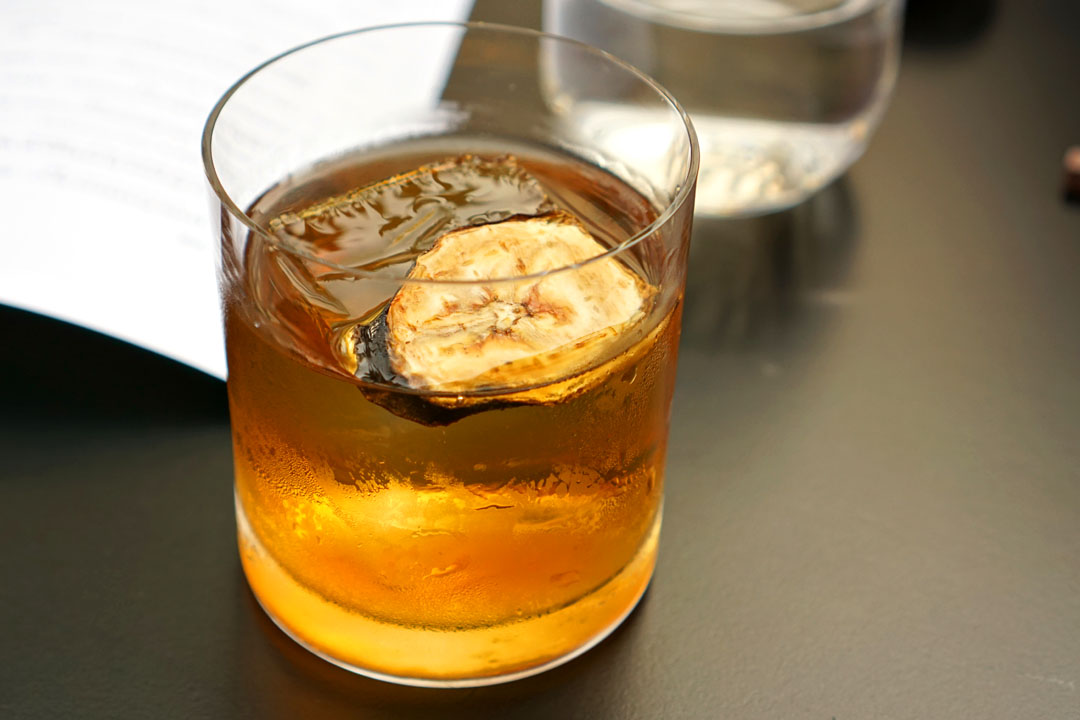 Kodawari [$18.00]
| old fashioned - whiskey, toasted sesame, banana, black walnut, amontillado
This old fashioned variation ended up being a favorite cocktail of the evening. I loved its unabashedly sesame-filled bouquet, while taste-wise, I got more of those nutty-sweet notes, which, when combined with the booze, gave up a nearly PB&J-esque sensation. Delish.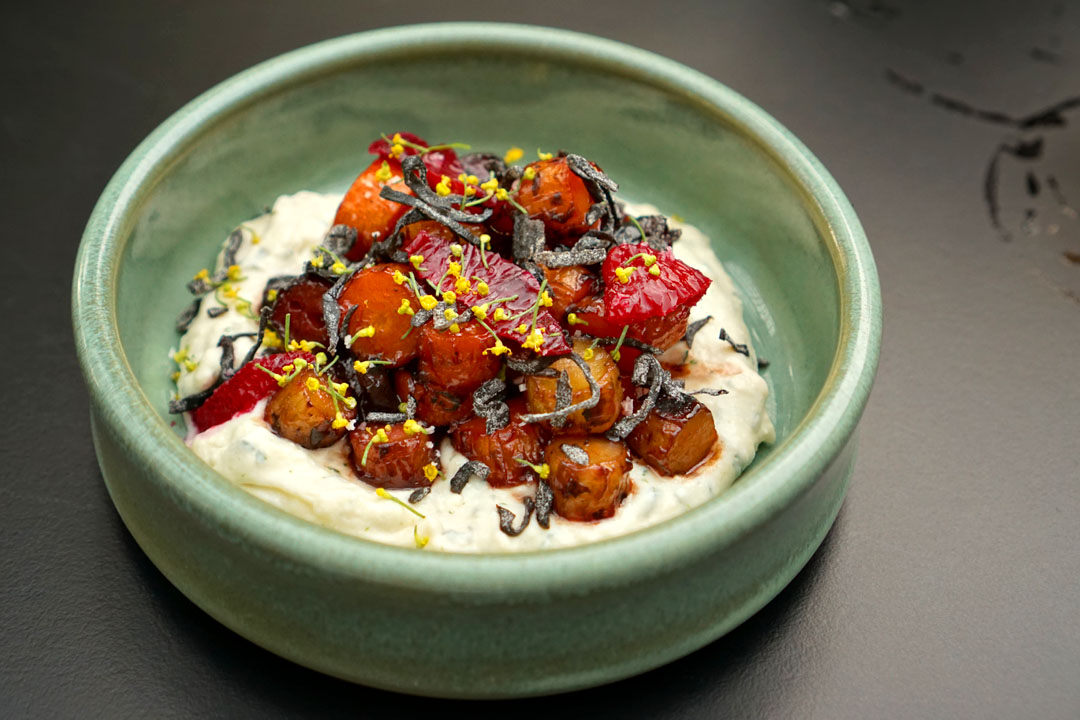 Campari Glazed Carrots [$14.00]
| blood orange, shio kombu, tarragon ricotta
Carrots had a superb smoke that linked up swimmingly with their inherent sugariness, as well as that of the seaweed, all while the tarragon-laced ricotta moderated all the strong flavors going on.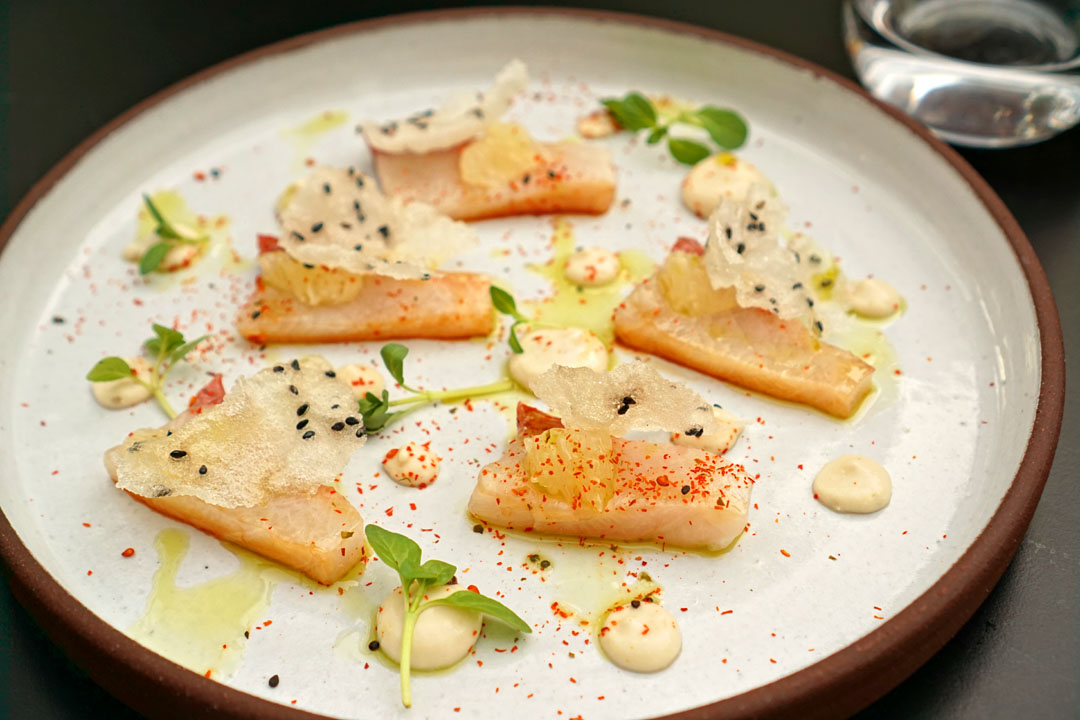 Dry Aged Yellowtail [$15.00]
| grapefruit, coconut-kosho, mint
Shards of yellowtail came out firm and fatty, with a focused salinity that worked well with the tropical, fruity flavors in the dish. Even better, though, were the savory, nutty notes from those crispy bits.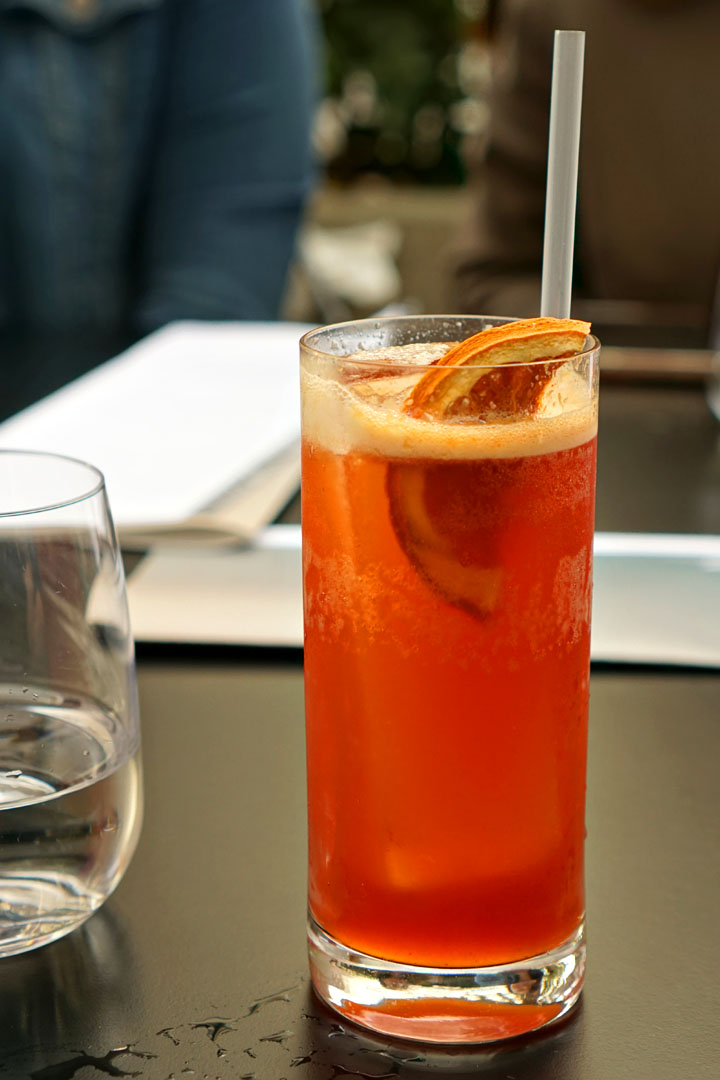 Luna Rossa [$16.00]
| low abv highball - amaro amara, punt e mes, blood orange, lemon, mezcal, salted honey, tonic
This cocktail may have been low in alcohol, but certainly didn't lack in intensity. I really appreciated its multifaceted bittersweetness, well-accented by touches of citrus and honey.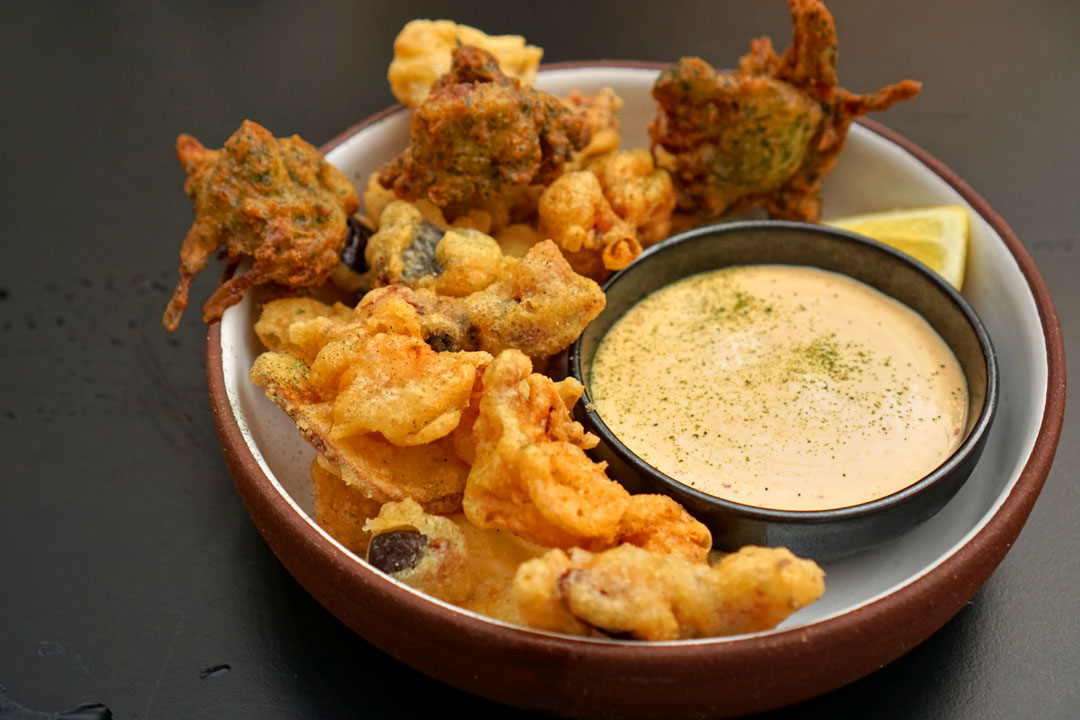 Fritto Misto [$16.00]
| calamari, shirauo fritter, pickled orata, karasumi mayo
An updated take on fritto misto combined tasty fritters of squid, icefish, and gilt-head bream with root veggies and olives. I quite liked the general brininess of the dish, as well as the crispness of the batter, while the mullet roe-boosted mayonnaise contributed a creamy piquancy to the equation.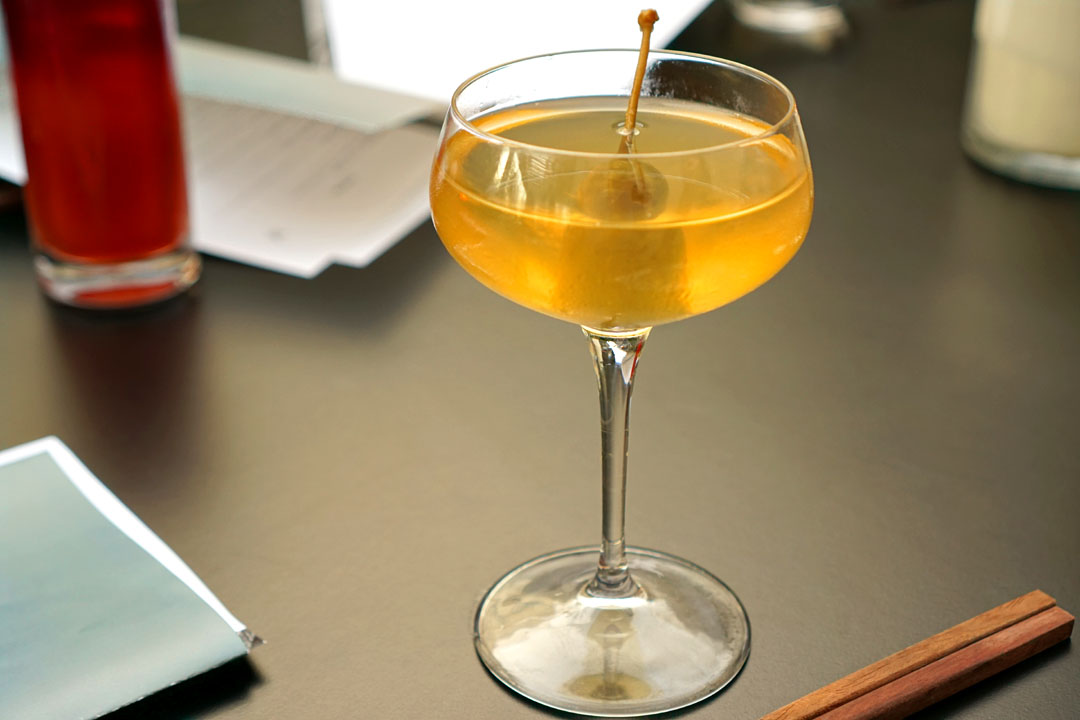 Kegareta [$18.00]
| martini - vodka, tomato water, sansho pepper, amontillado, bordiga dry, umami
Garnished with a caper berry, our next cocktail was one of the most intriguing riffs on the martini I've ever had. Upon tasting the drink, I couldn't help but be reminded of Chinese food due to its immensely savory character, punctuated by pricks of salinity and herb.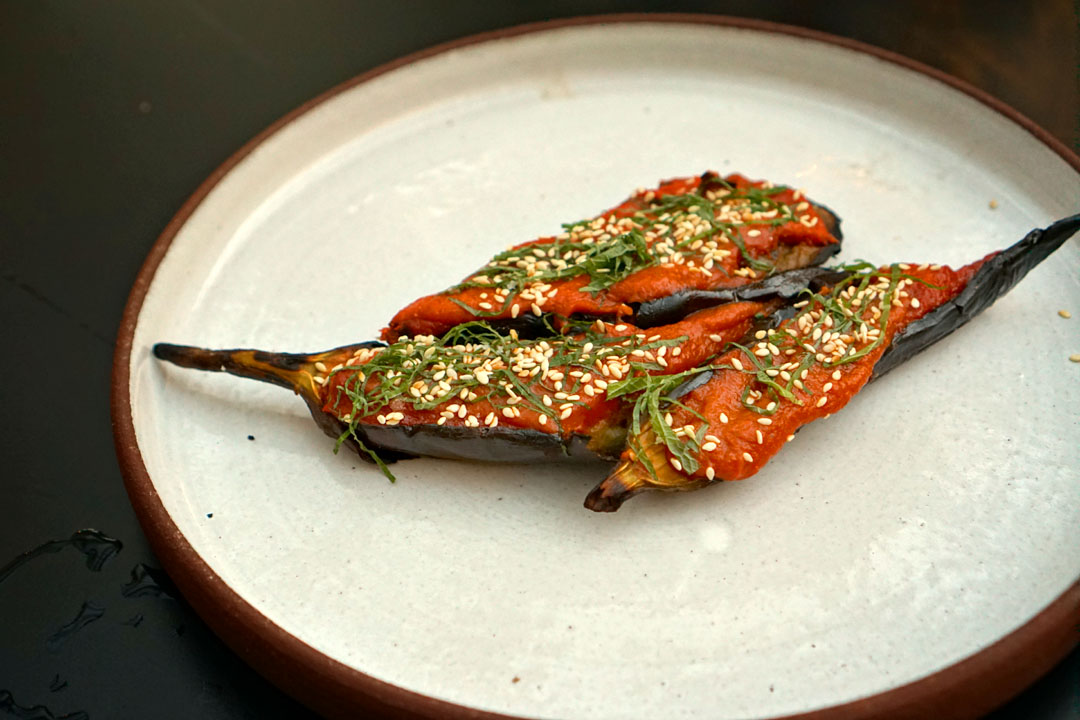 Japanese Eggplant [$16.00]
| tomato dengaku sauce, sesame
Eggplant responded well to both the sweet-savory nature of its
dengaku
marinade and the smokiness imparted by the grilling process. I got a nice nuttiness from the sesame seeds, too.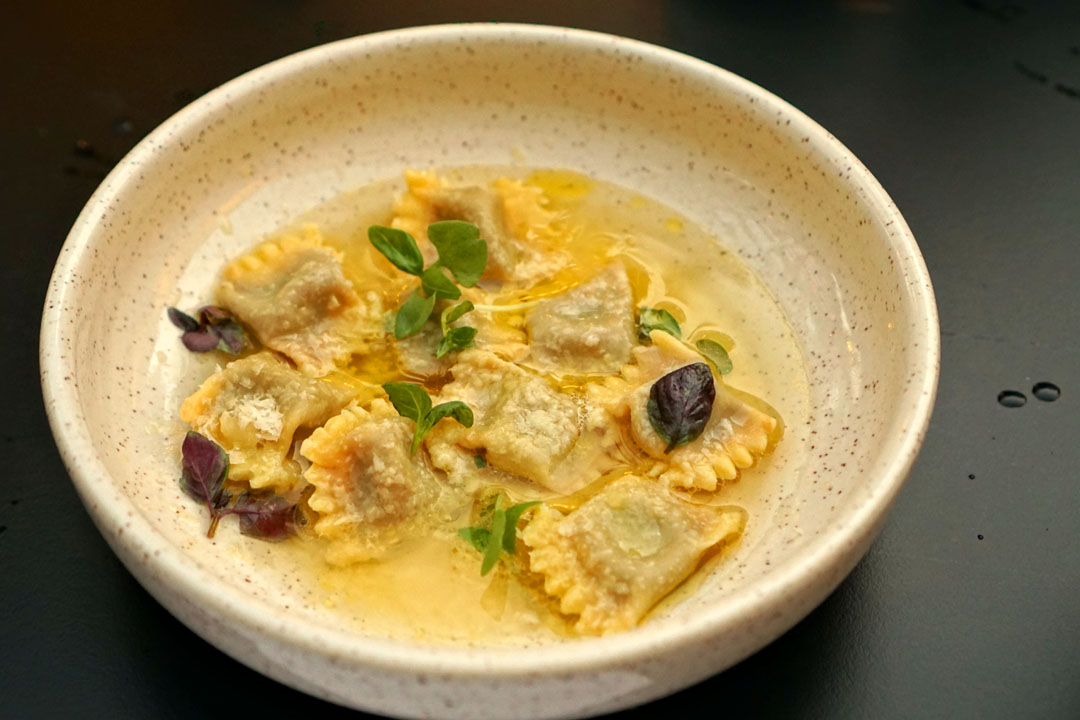 Eggplant Parmigiana Agnolotti [$21.00]
| shio koji-tomato water
Eggplant made another appearance in our first pasta dish, where it was joined by some surprisingly fruity flavors and the delightfully salty nature of the cheese.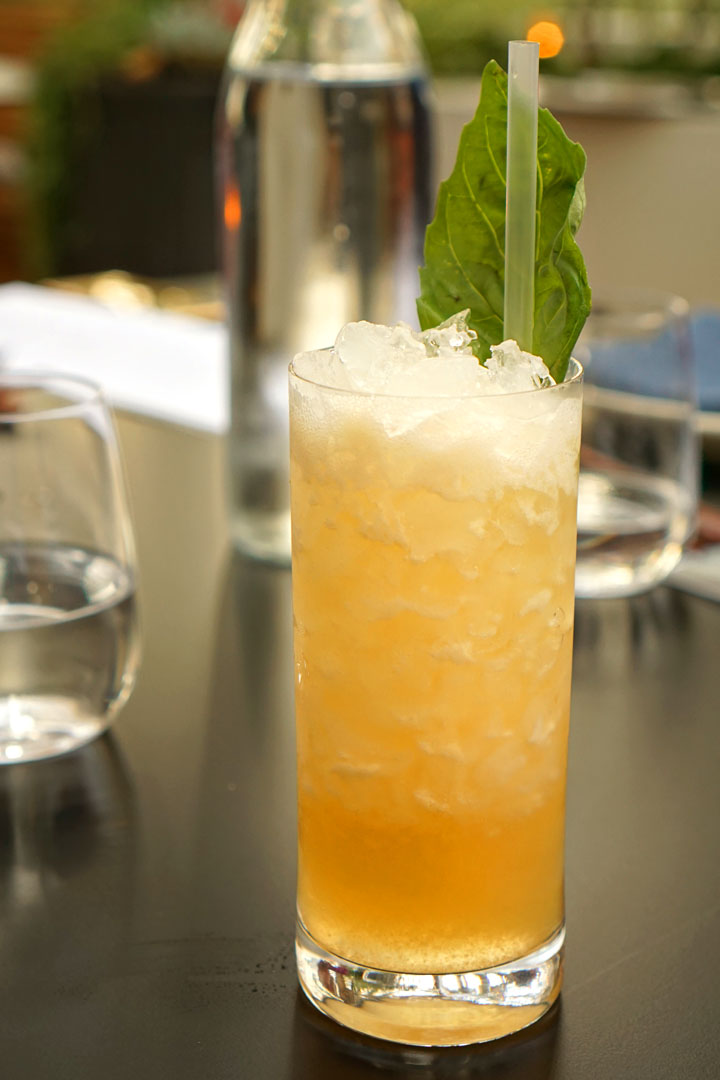 Tokyo Ice Tea [$17.00]
| tropical - gin, melon, jasmine tea, lemon, soda
This next cocktail was unexpectedly thick in terms of mouthfeel, and was the sugariest of the nine we tried, veering nearly candied in nature, with a melon-laden finish.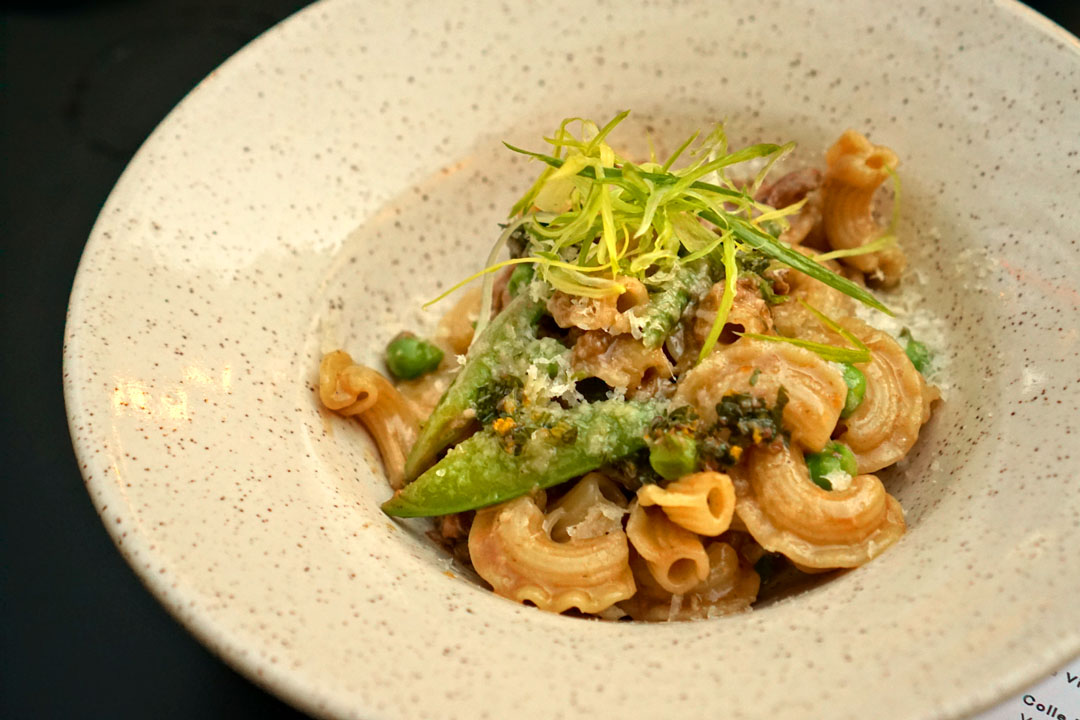 Creste di Gallo [$26.00]
| braised duck, peas, yamamomo gremolata
Cockscomb pasta was a joy texturally, and served as a great base for the amalgam of richly-flavored, long-cooked duck, bright peas, and zippy gremolata.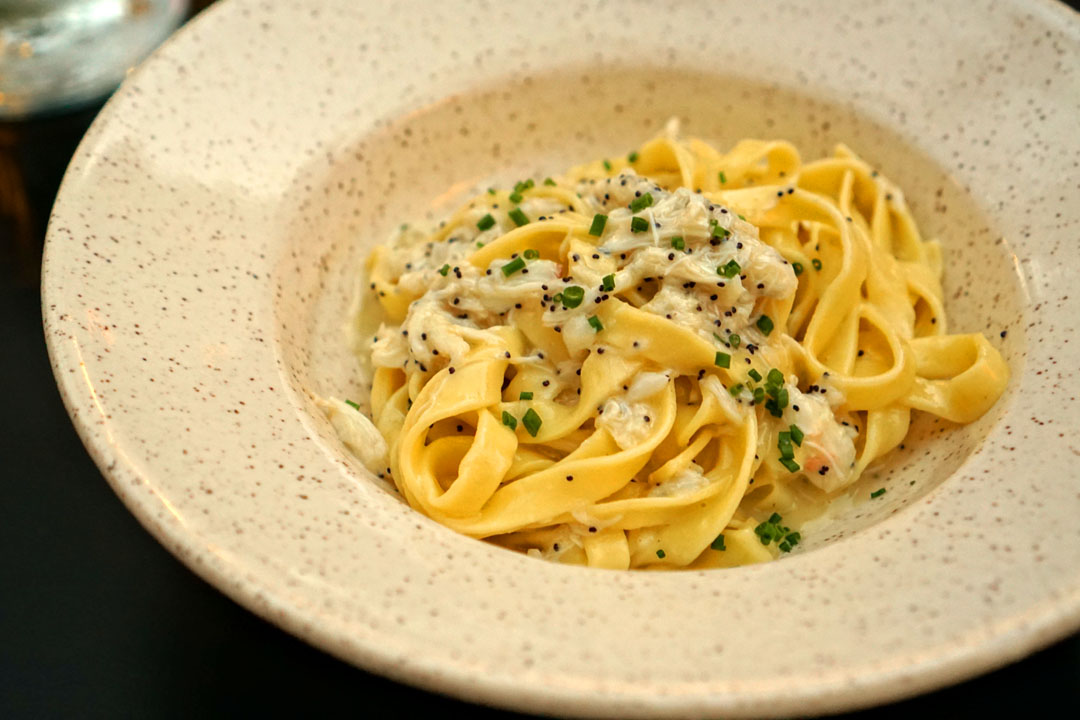 Yuzu Tagliatelle [$28.00]
| crab, poppyseed, parmigiano
Ribbons of tagliatelle were also on-point in terms of texture, while taste-wise, the dish's very apparent citrus worked hand-in-hand with the oceany shreds of crab. The poppyseed, meanwhile, was an unexpected, but not unwelcomed addition.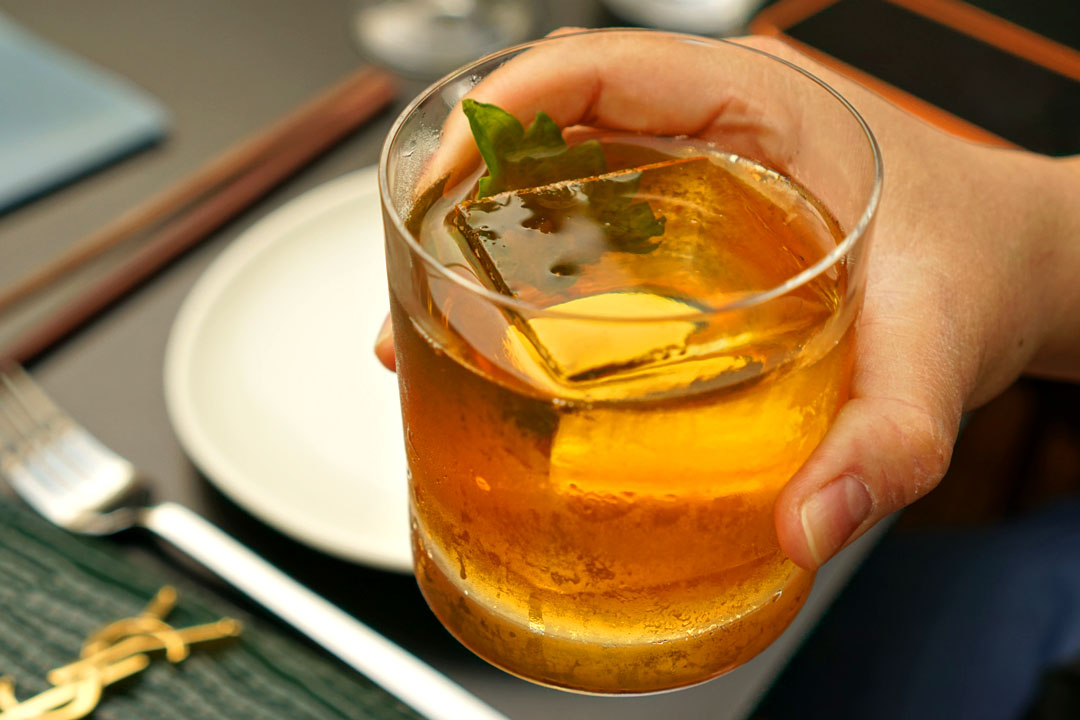 Ora d'Oro [$18.00]
| white negroni - gin, rooibos tea, bianco bitter, umeshu, sakura vermouth
The Negroni is perhaps the quintessential Italian cocktail, and this was easily one of the best versions I've had. The drink had an unabashedly earthy, minty aroma that I was pretty enamored with, while its palate was thick and viscous, its plethora of sweet, bitter, herbaceous nuances in perfect balance.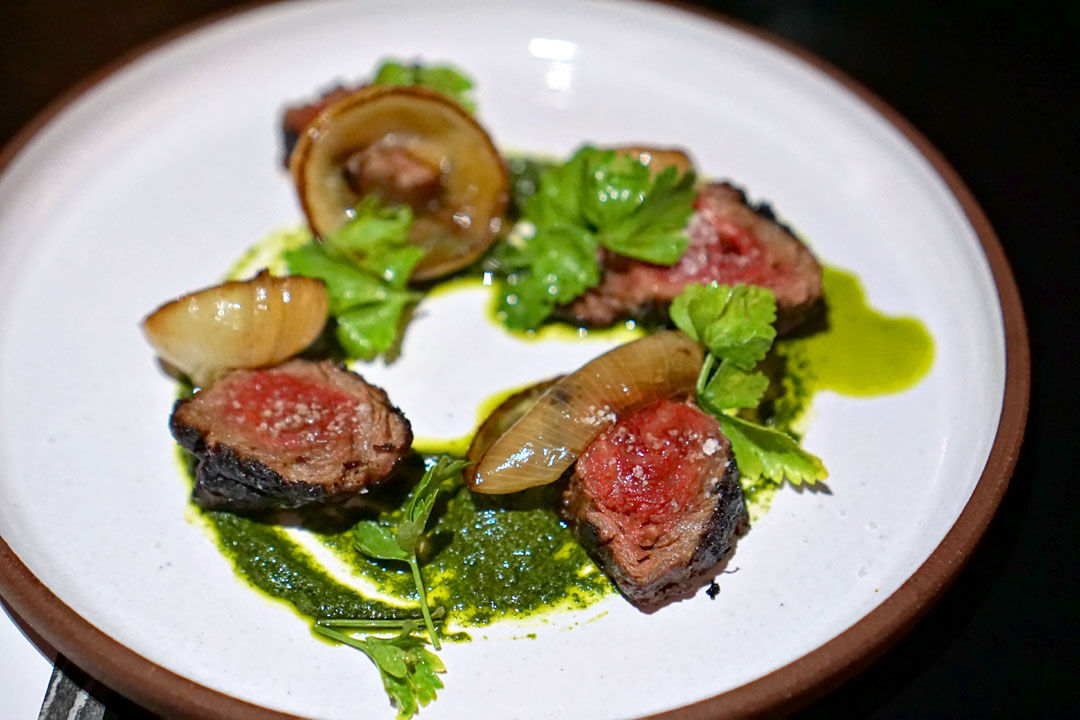 Grilled Rib Eye Cap [$45.00]
| sake kasu, vincotto glazed onion, salsa verde
The ribeye cap was a winner thanks to its brazenly beefy, almost funky flavor profile and generous amounts of sear. I enjoyed the steak by itself, but I will say that it was even better when taken with a dab of that zingy green sauce.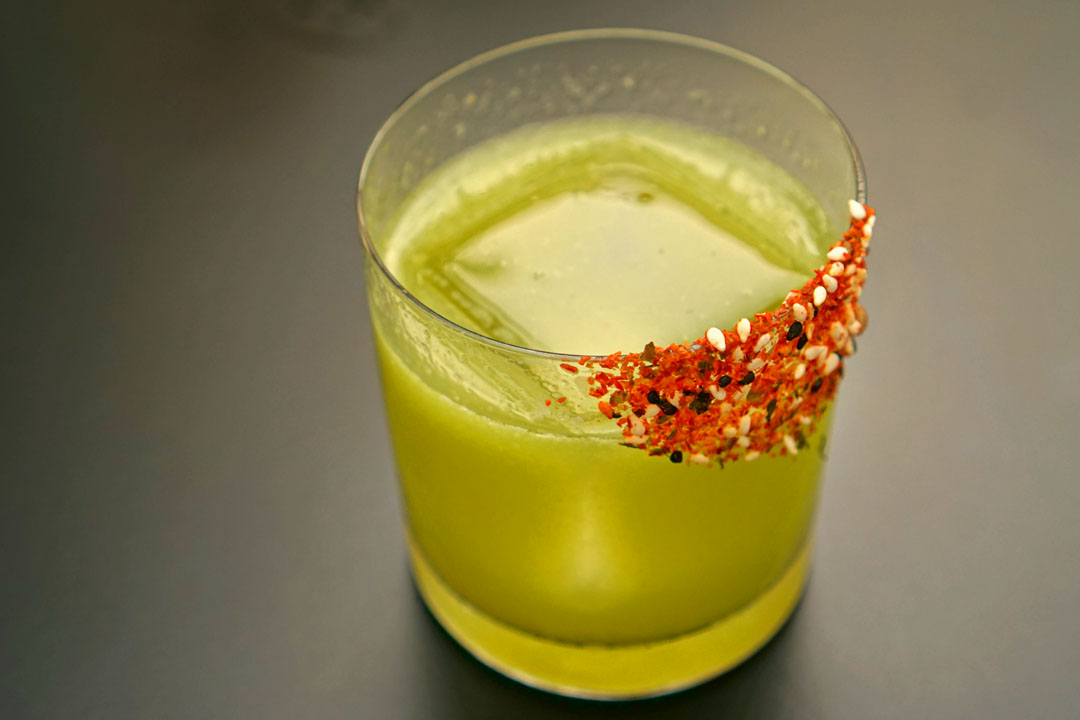 Hinokami [$18.00]
| margarita - mezcal, shishito pepper, lemon, yuzu kosho, magari salt rim
The final cocktail of the nine listed on the menu was this variant on the classic margarita. It really packed a punch, its spicy, sour, smoky components making themselves known in strident manner, but never becoming domineering.
Grilled Yari Ika Squid [$18.00]
| tuna puttanesca
Spear squid showed off a lovely char, while its subtle savor paired well with a salty, olive-y puttanesca without becoming overwhelmed.
Grilled Dry Aged Turbot [$38.00]
| goji-shiso salsa, masago arare
Turbot came out with a somewhat more concentrated flavor profile than usual, which I'm assuming was the result of its aging. The fish's firm, toothsome flesh took well to the grill, and also matched up easily with the pungent-yet-refreshing nature of the salsa, all while rice crackers provided some textural play.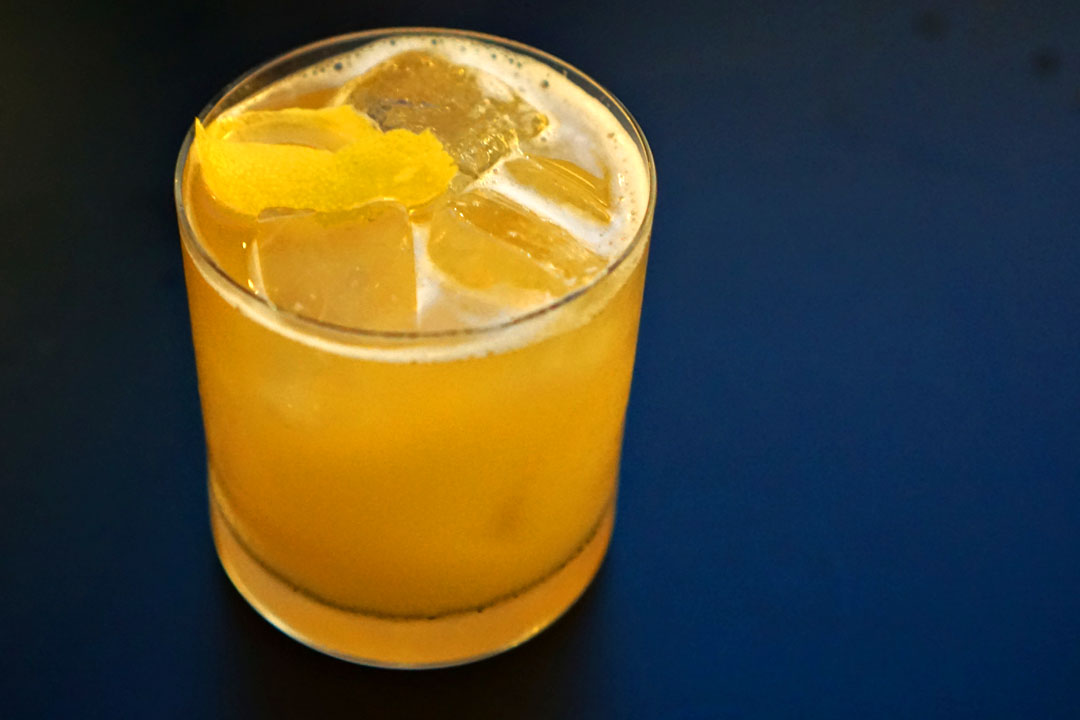 Penicillin [$16.00]
I then asked our server for an off-menu cocktail, and the bar ended up giving me a Penicillin, but one ostensibly made with Buffalo Trace instead of scotch (so would that make it a Gold Rush variation?). I got a very obvious smokiness from the drink, but evened out by omnipresent citrus and a strong undercurrent of ginger.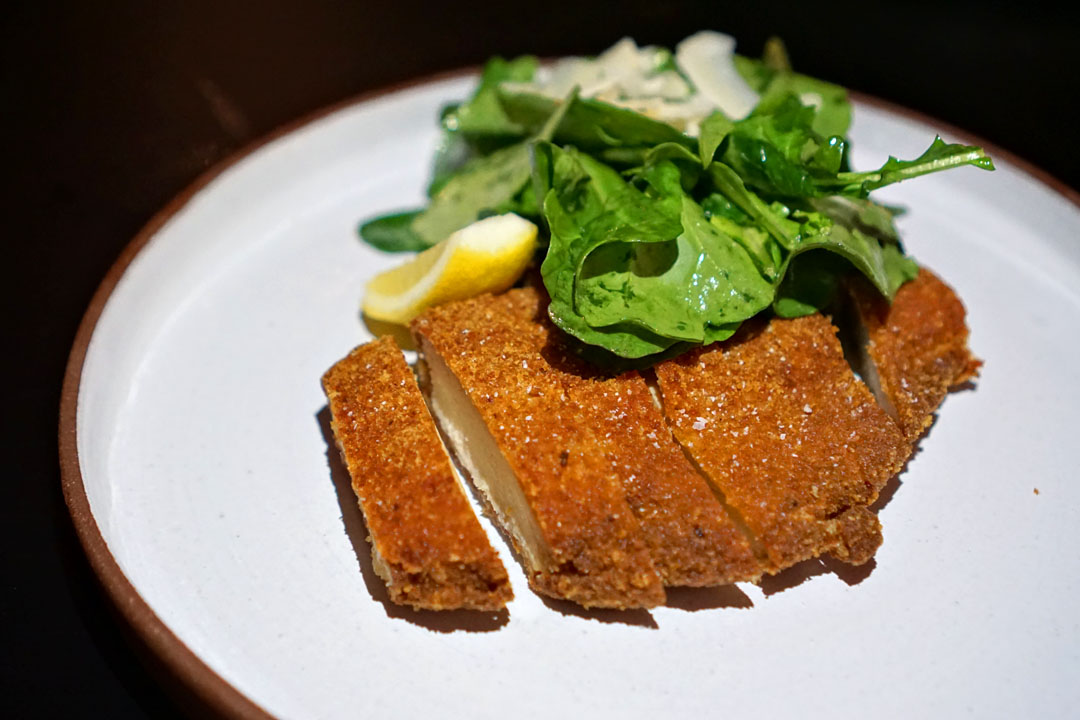 Chicken Milanese [$24.00]
| karaage marinade
This untraditional Milanese did convey the essence of
karaage
, and was properly crispy, but unfortunately, the actual chicken was on the dry side. That being said, the bitter, tangy greens did help things, as did the salty shavings of cheese on the side.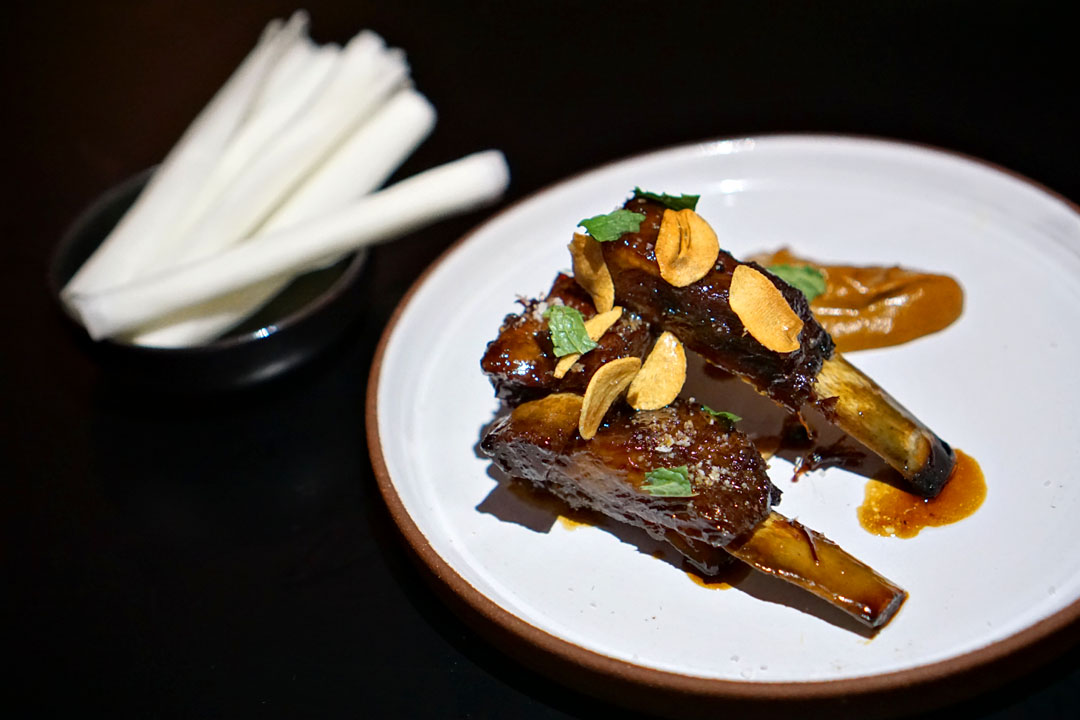 Lamb Ribs [$29.00]
| black garlic-cashew romesco, kurosu caramel
Lamb was falling-off-the-bone tender, and showcased a plethora of smoky, sweet, and savory flavors, all in harmony. Yum.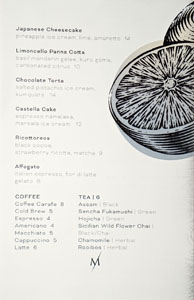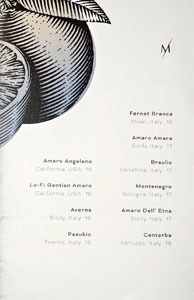 And here we see Magari's dessert menu and selection of after-dinner drinks. Click for larger versions.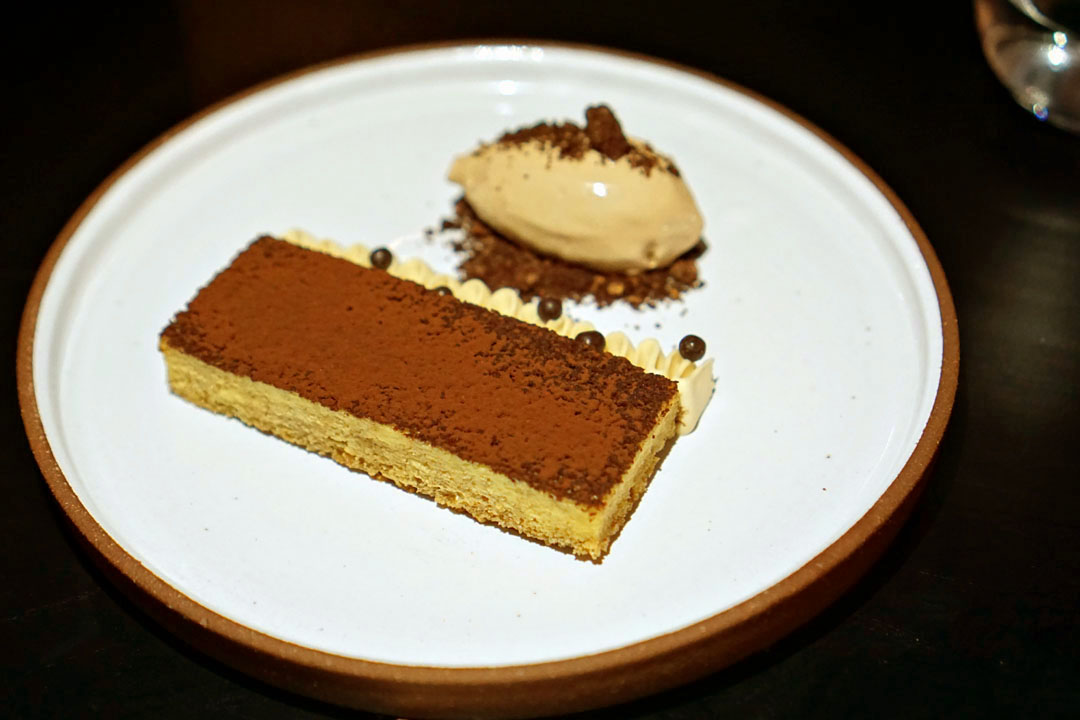 Castella Cake [$12.00]
| espresso namelaka, marsala ice cream
A low-slung castella was simultaneously moist and airy, its layer of coffee cream playing well with the quenelle of marsala-enriched ice cream.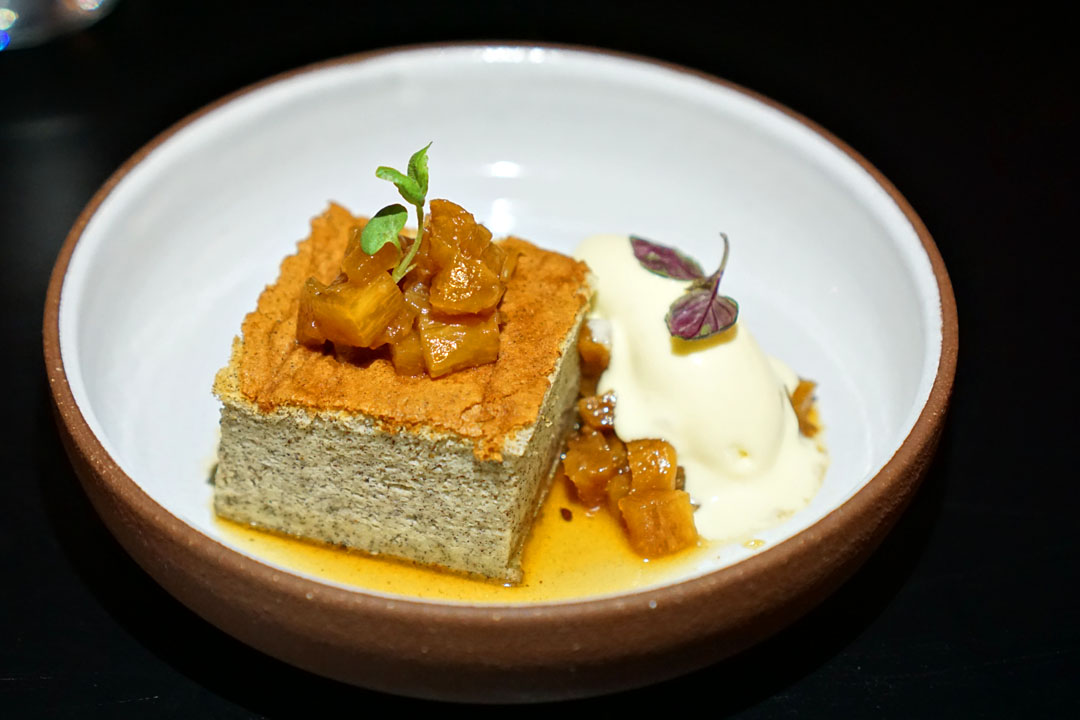 Japanese Cheesecake [$14.00]
| pineapple ice cream, lime, amaretto
In our final dish, a Japanese-inspired cheesecake ate fluffy yet saturated, its subdued sweetness meshing easily with all the tangy, tropical tones from the pineapple.
The team at Magari made for a very successful birthday dinner. The kitchen did a pretty commendable job combining the essence of Italian cookery with just enough of a Japanese influence, and the results of this marriage seemed natural, effortless. Cocktails were also surprisingly good, and we had no misgivings about the service, either. Hollywood is no doubt continuing its rise as one of LA's most exciting dining scenes, and Magari's a worthwhile contributor to that ascent.