Here's Looking at You (Los Angeles, CA) [3]
Here's Looking at You Restaurant
3901 W 6th St, Los Angeles, CA 90020
213.568.3289
www.hereslookingatyoula.com
Thu 03/10/2022, 08:15p-10:20p

Koreatown's
Here's Looking at You
, the inimitable brainchild of Chef Jonathan Whitener and Lien Ta, was no doubt one of the pandemic-era shutters that saddened me the most. However, during a visit to
All Day Baby
(the partners' other spot) last November, I was informed that HLaY would be born again,
soon
. I was elated to hear that, and the restaurant ended up reopening on January 9th. I would've liked to have come back here sooner, but reservations haven't been the easiest to snag.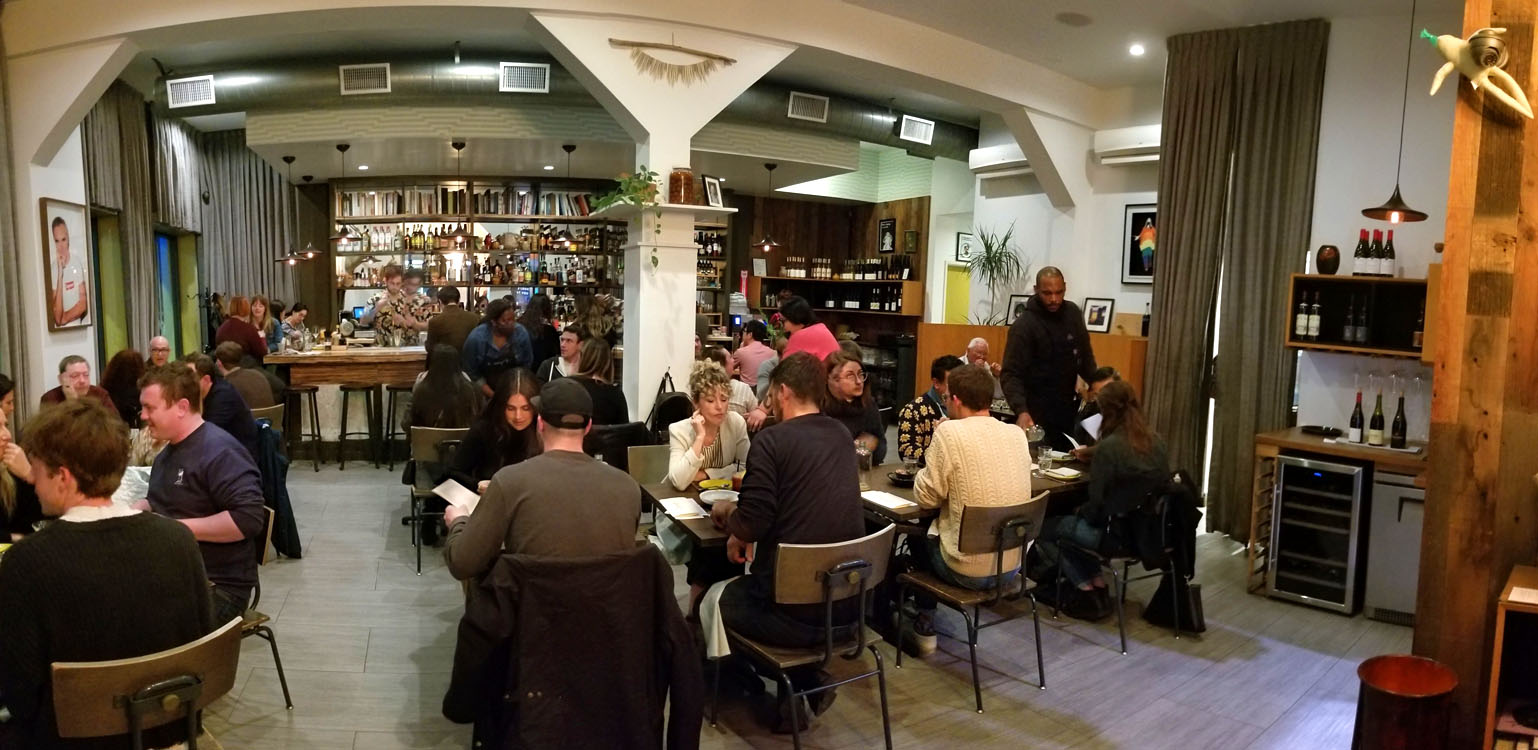 Inside, things look much the same as they always did, which is a good thing in my book.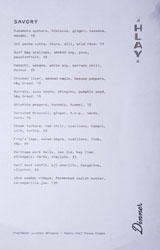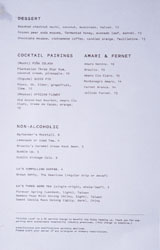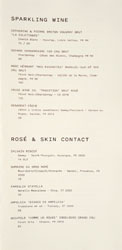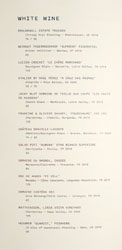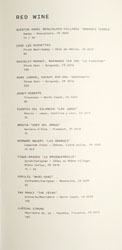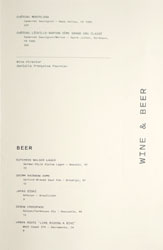 The current menu is slightly abbreviated, and comprises many of the most popular dishes from the restaurant's former life. Much the same could be said for HLaY's much-lauded mixology program, which draws from past favorites but also features a smattering of
tiki specials
. As for the wine list, it's still assembled by Danielle Françoise Fournier, and is as neat as ever. Click for larger versions.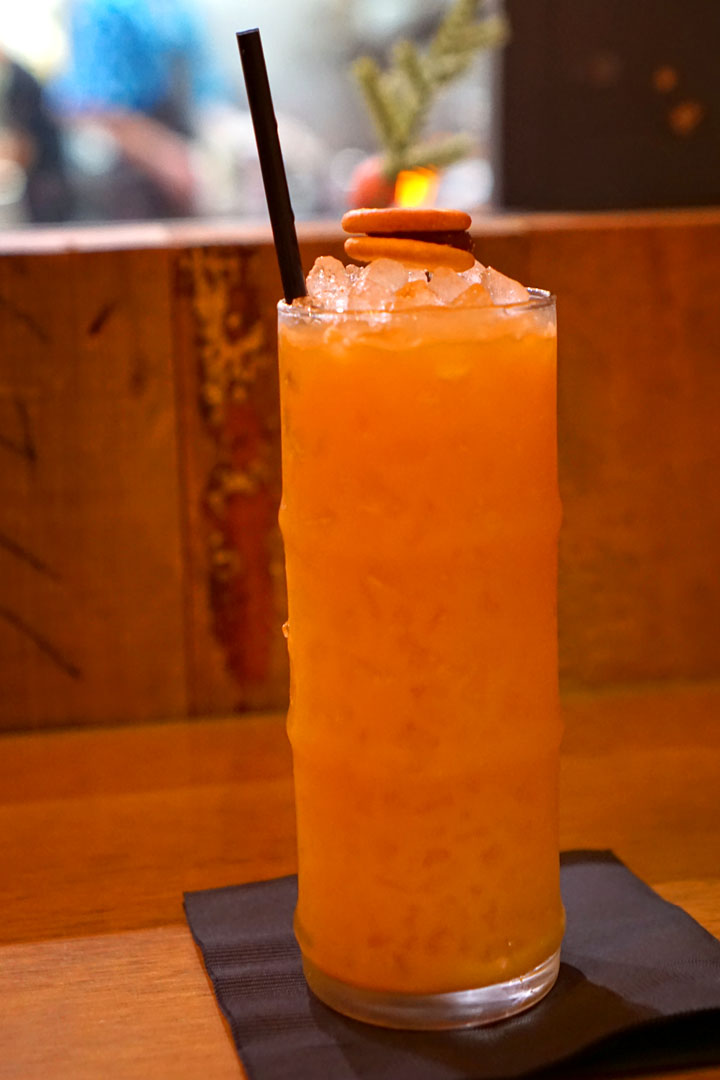 Undisputed King [$17.00]
| Thai Tea-infused Daron Calvados, Rum Bar 80, Coconut Cream, Butter Pecan Orgeat, pineapple syrup, lime
Our table wasn't quite ready when we arrived, so we ended up ordering a couple cocktails to enjoy while waiting. The first was a tiki take on Thai iced tea, one featuring nutty, tropical nuances smartly layered over the core characteristics of the classic beverage. The end result was uncommonly delicious, not to mention intriguing, and made for one of my favorite cocktails that I've had all year.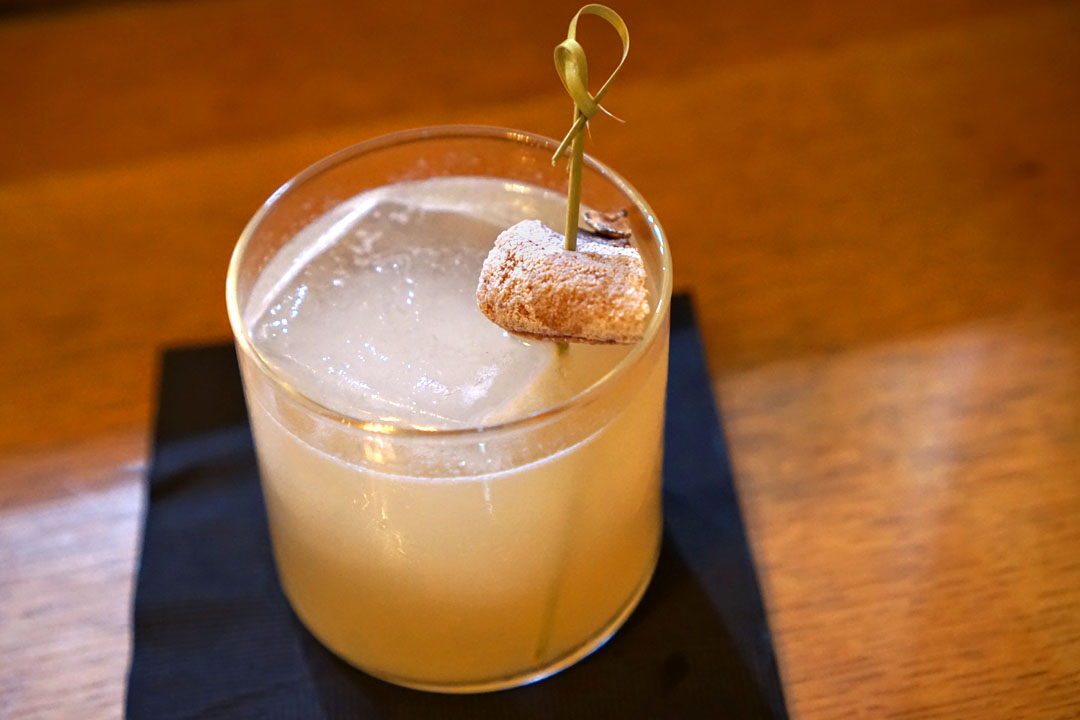 Folk Hero [$17.00]
| Persimmon leaf-infused Tequila, winter citrus, yuzu, honey, Swiss Violette
Cocktail #2 was also a delight thanks to its spot-on amalgamation of tangy, floral, vegetal, spicy, herbal, and bitter elements. There was a lot going on, but it all came together beautifully.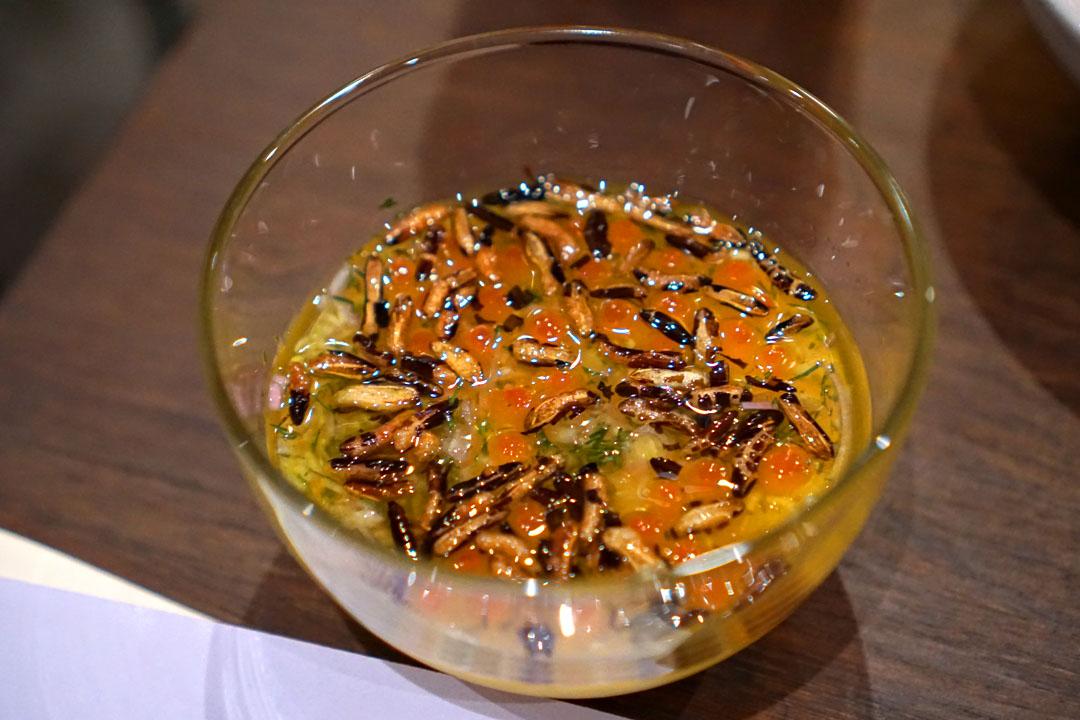 Uni panna cotta, ikura, dill, wild rice. [$17.00]
My first dish was probably my favorite of the night, and really did a great job setting the tone for the rest of the meal. I was impressed by how well the panna cotta conveyed the saline-sweet nature of the sea urchin, while the salmon roe boosted the oceanic factor even further. However, the star of the show for me was the rice, which contributed a crunch and nuttiness that uplifted the dish in a way that I'd never quite experienced before--superb.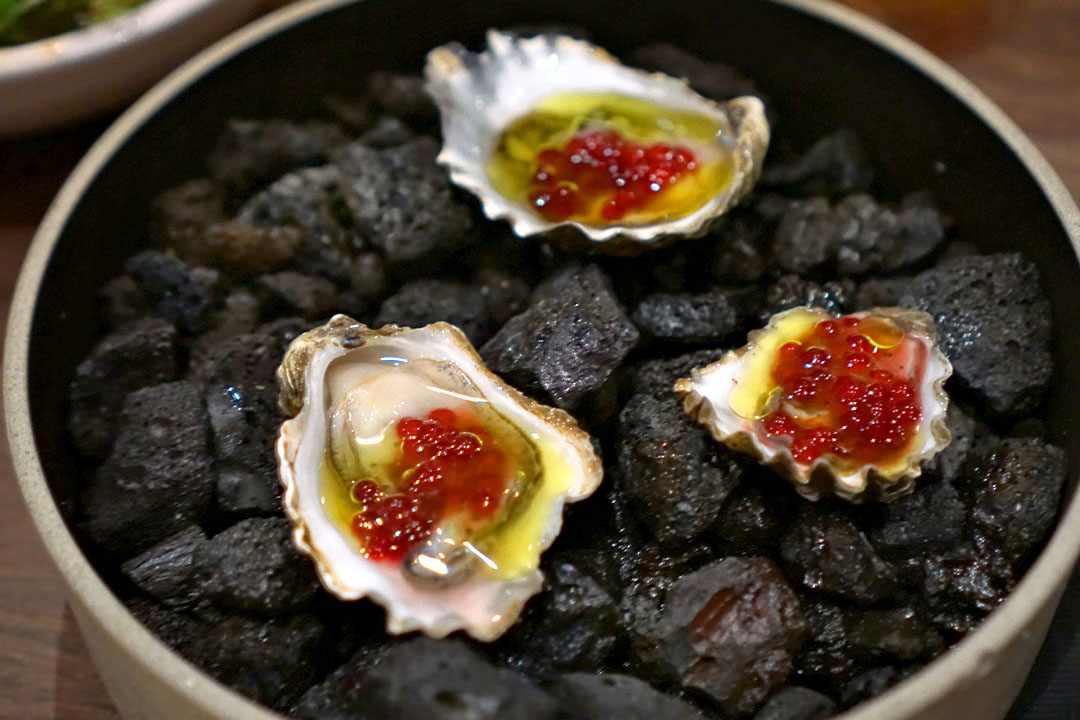 Kumamoto oysters, hibiscus, ginger, cassava, wasabi. [$18.00]
At first blush, Kumamotos brought both a focused wasabi heat and notes of sweet-floral hibiscus, but this quickly subsided, leaving traces of a refined brine that lingered long.
Shishito peppers, tonnato, huamei. [$15.00]
The kitchen then sent out these shishitos, which were probably the best preparation of the ingredient that I've had. The key was how flawlessly the smoky, vegetal spice of the peppers meshed with that lush, creamy tonnato sauce, all while the powdered plums imparted a salty, sour accent. Super smart, and just the sort of dish I'd expect from the team here.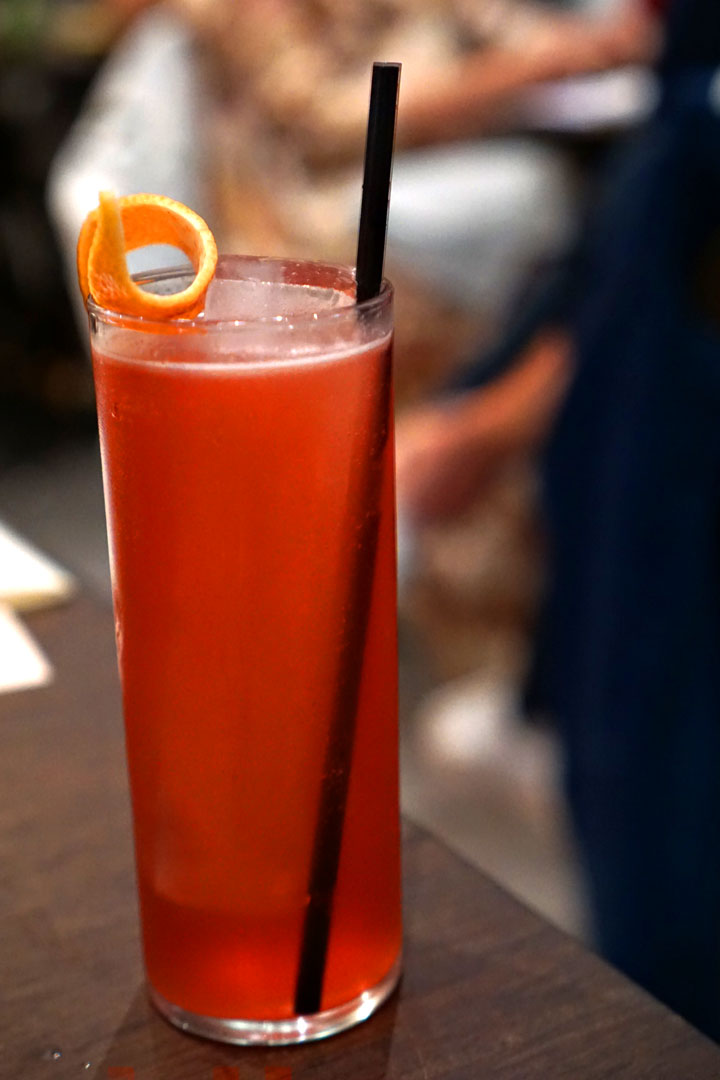 Arturo's Case [$17.00]
| La Luna Mezcal, Gancia Aperitivo, lime, hibiscus tea-pineapple wine syrup
Essentially a mezcal Collins, this garnet-hued cocktail from summer 2018 effectively displayed the requisite smoke of the spirit, but set against rich fruit flavors and just a hint of astringency.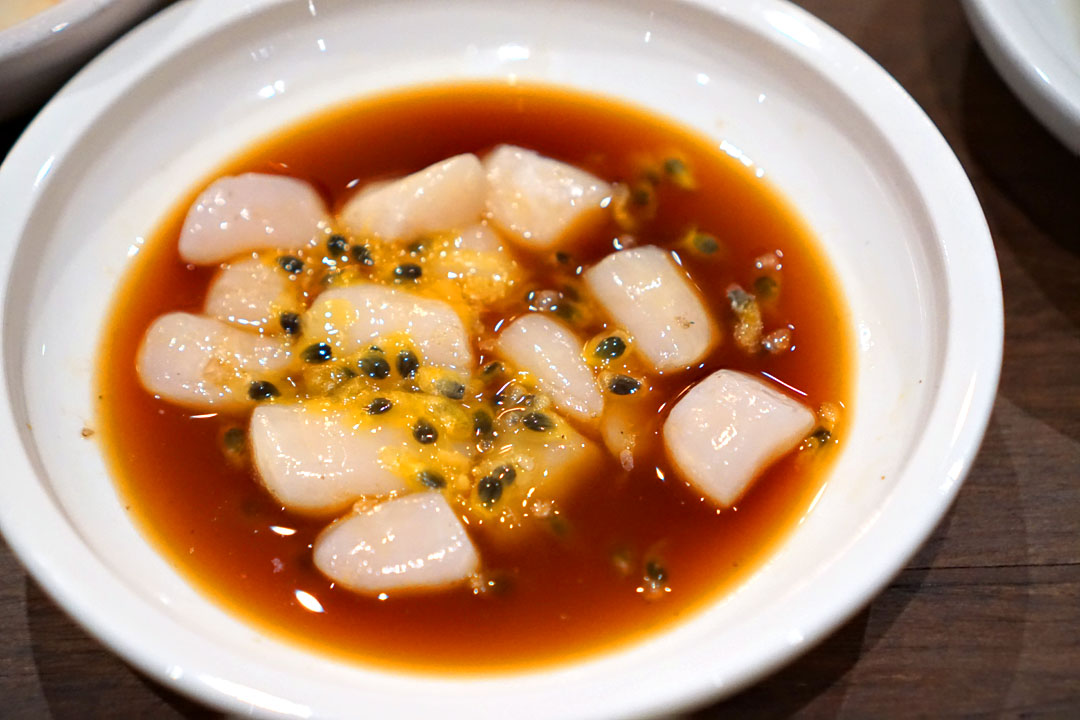 Gulf bay scallops, smoked soy, yuzu, passionfruit. [$22.00]
Scallops showed off their cool, sweet brine, which made sense with the smoky, umami-laden flavors from the soy. What was a bit surprising, though, was the unmistakably tropical qualities from the passion fruit, which really brightened up the dish in sort of a strident manner.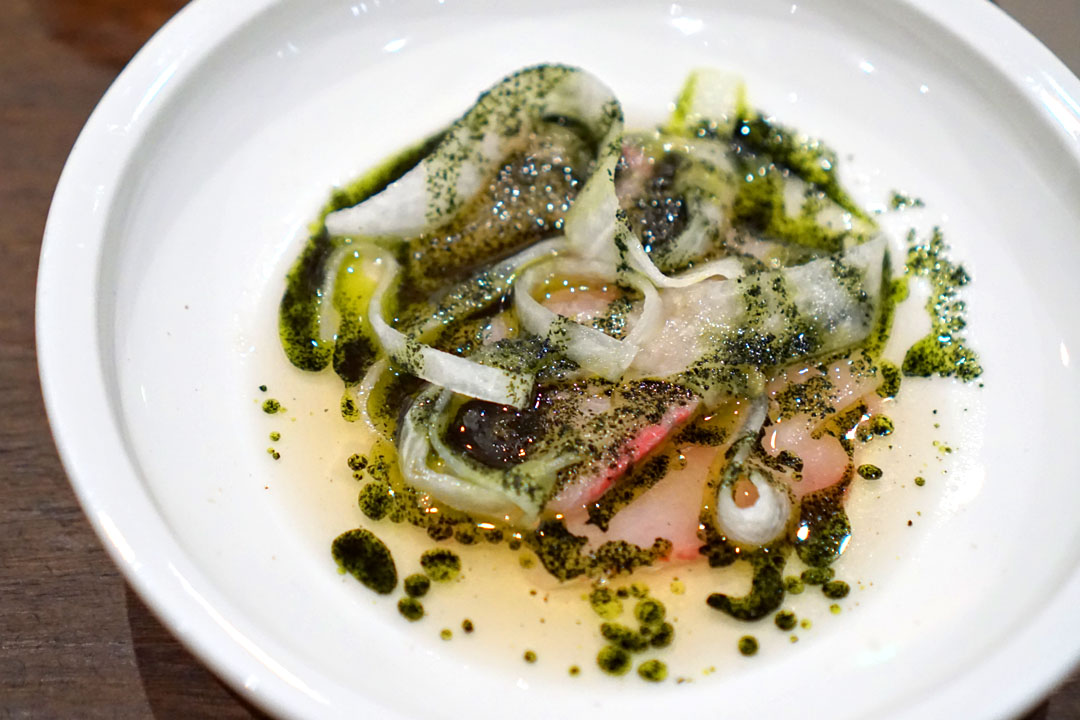 Hamachi, wakame, white soy, serrano chili, daikon. [$22.00]
Here, fatty, briny shards of yellowtail were joined by blasts of sour, salty, and savory that managed to complement the fish without overwhelming it.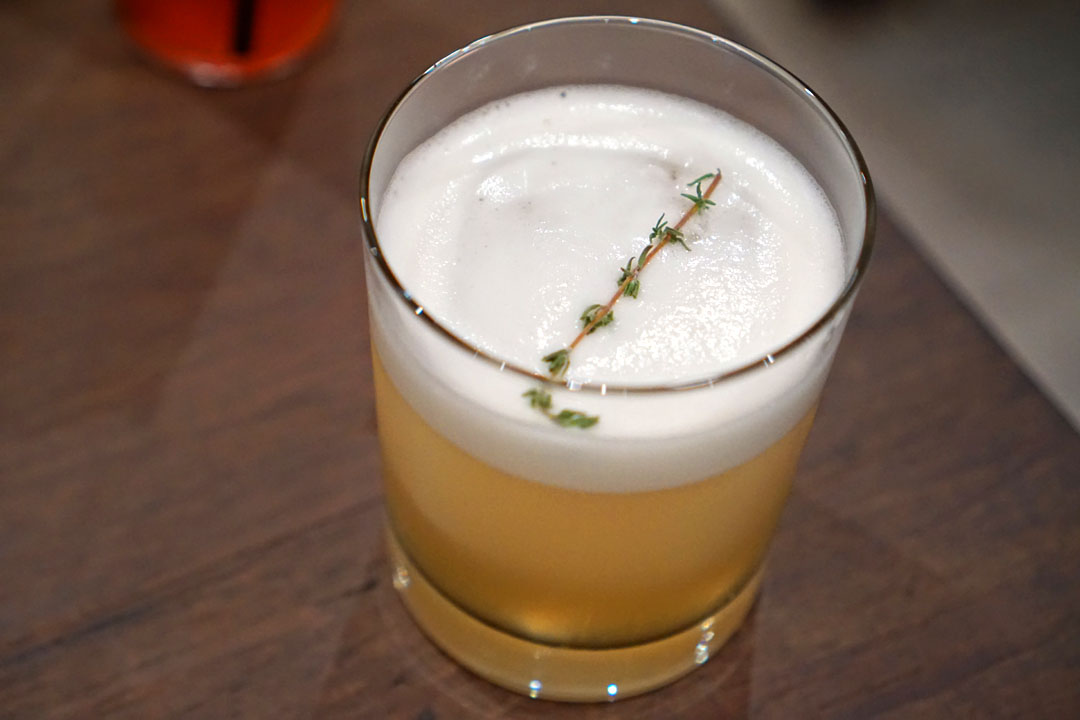 Singing Cowboy [$17.00]
| Thyme-infused Kin White Whiskey, Wild Turkey 101, Balcones Brimstone, Claremont Craft Pepper & Pale Ale Syrup, Pineapple Vinegar, egg white, lemon
An unaged whiskey sour from the summer of 2019, this next cocktail showcased a wonderfully fluffy foam along with some delightfully fruity flavors offset by a spicy-smoky edge.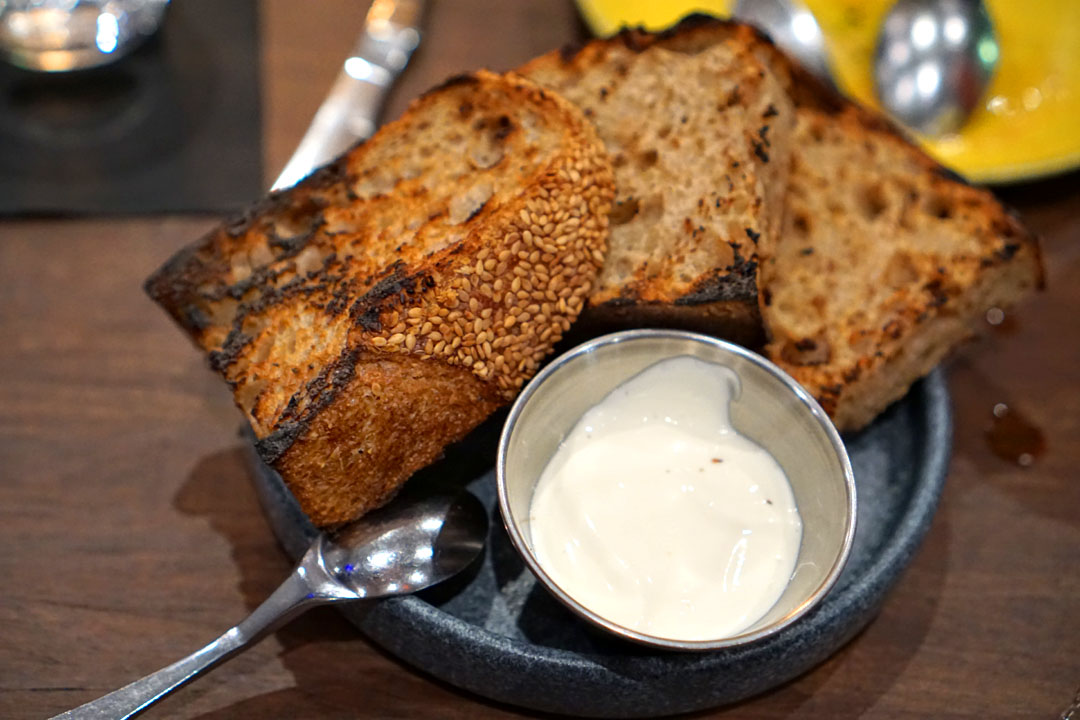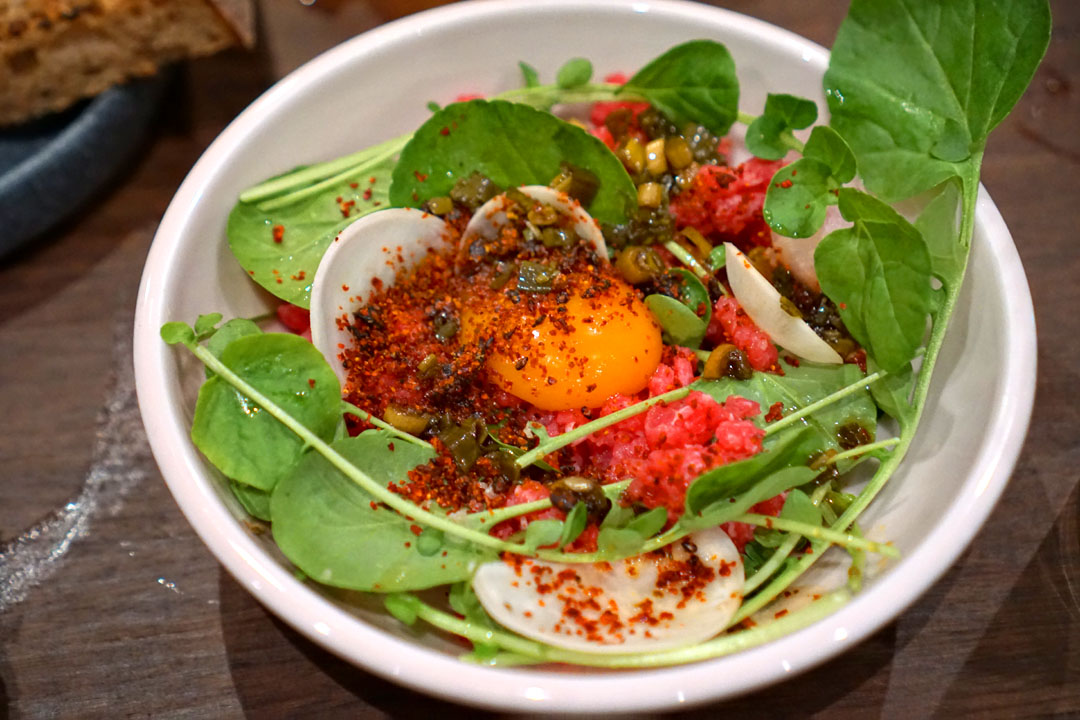 Steak tartare, red chili, scallions, tamari, yolk, turnip. [$23.00]
Steak tartar is one of those things that I pretty much always have to order, and apparently tonight was no exception to that rule. The beef itself had a finespun consistency, and was joined by a bevy of tangy, savory notes and a familiar, immensely satisfying heat, while the greens lightened things up. The tartare was certainly tasty by itself, but was even better when taken with that excellent bread all its nutty, toasty qualities.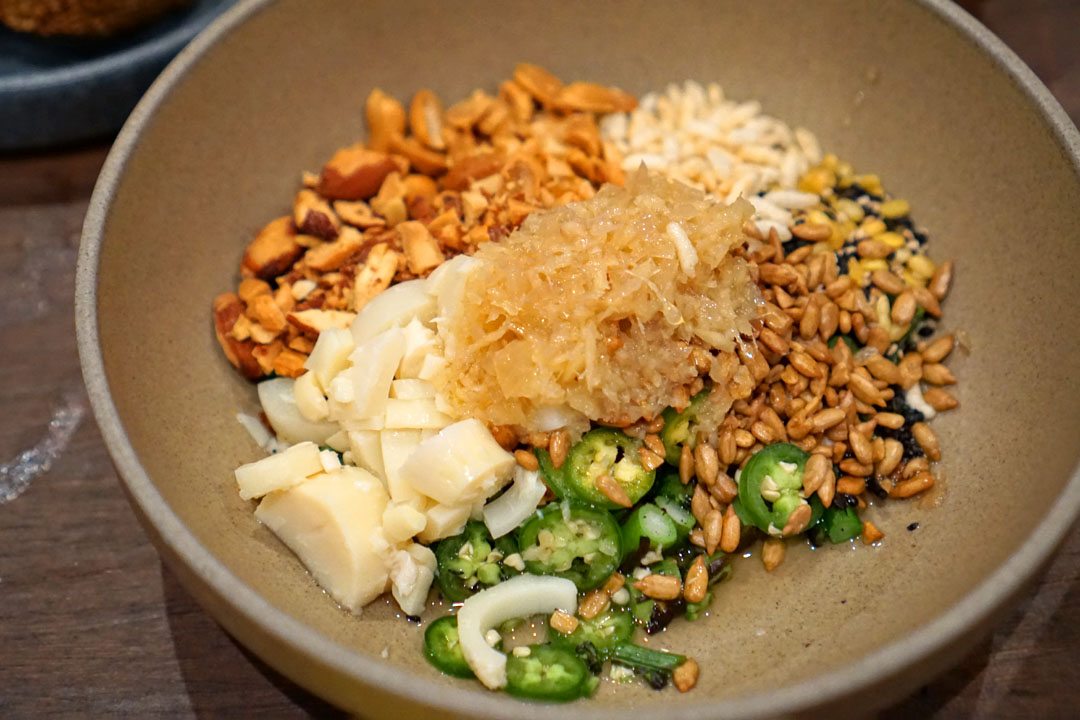 Sprouted broccoli, ginger, h.o.p., seeds, nuts. [$16.00]
This was another standout for me, a perfect union of disparate tastes and textures that married the bitterness of broccoli with nutty, sweet components and the unmistakable zestiness of ginger. Seemingly simple, yet a bit profound.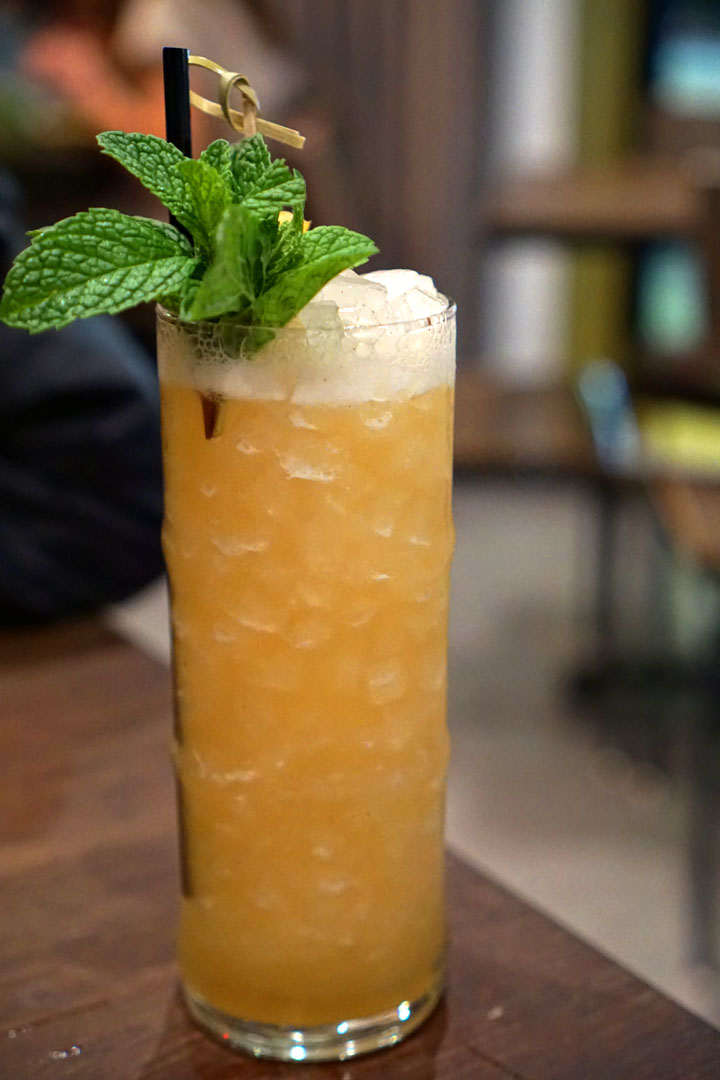 HLAY One-of-a-Kind: Tropical Medicine [$16.00]
| Ask your server what's for today
Our next cocktail was a tiki special for the evening. Essentially a mango-based riff on the Penicillin, the drink was easy to enjoy, demonstrating a commixture of tropical and ginger-y notes juxtaposed against a savory sting.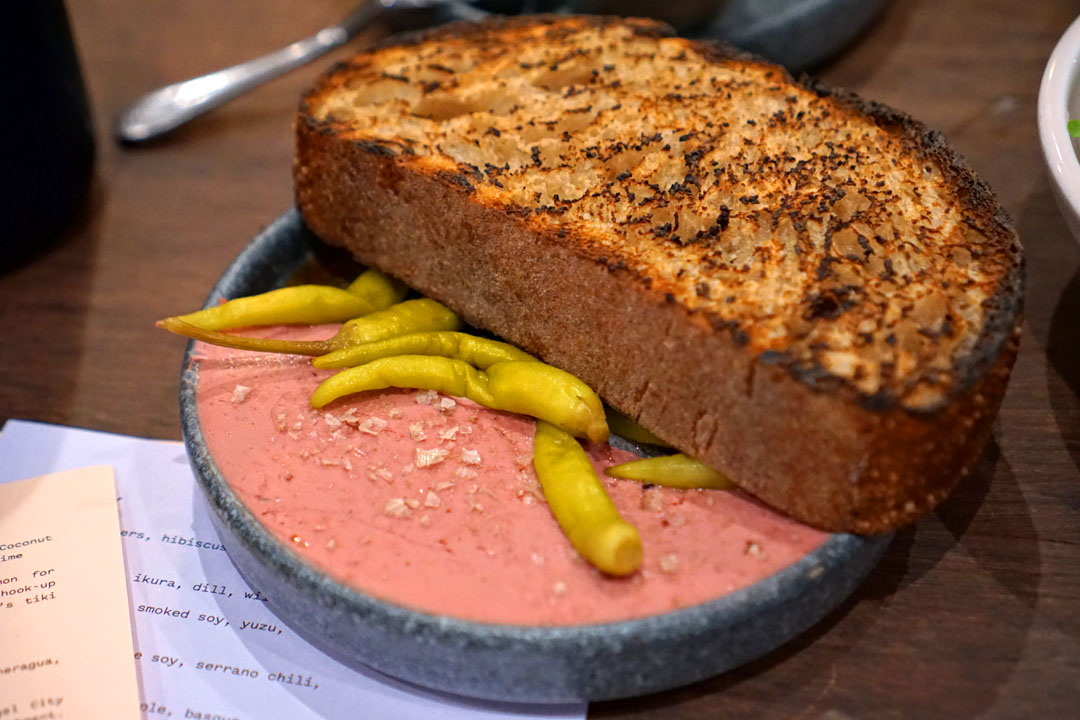 Chicken liver, smoked maple, basque peppers, b&g bread. [$15.00]
Chicken liver was masterful in its concurrent presentation of earth and elegance. The tartness of the pickled peppers worked great for contrast, but even better, and more surprising, was that sugary maple syrup, which really did a bang-up job counterbalancing the heft of the offal. I can't forget about the Bub and Grandma's bread, either, which also functioned as a very fitting foil in the dish.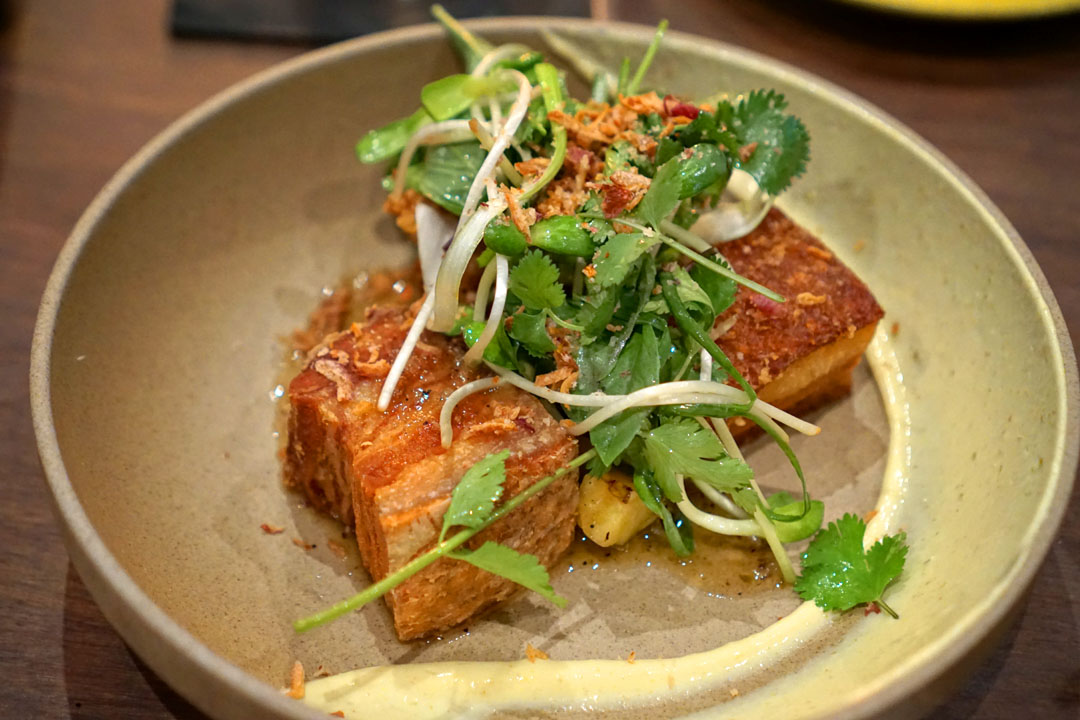 Heritage pork belly, nam jim, key lime, pineapple, herbs, shallots. [$33.00]
Our final savory course was a pretty fantastic Thai-inspired take on pork belly. The crux here was the back-and-forth between the pig's full-flavored, almost funky flesh and its marvelously crispy skin, but nearly as important was the zippiness of the herbs and
nam jim
, while the pineapple contributed a sweet underpinning.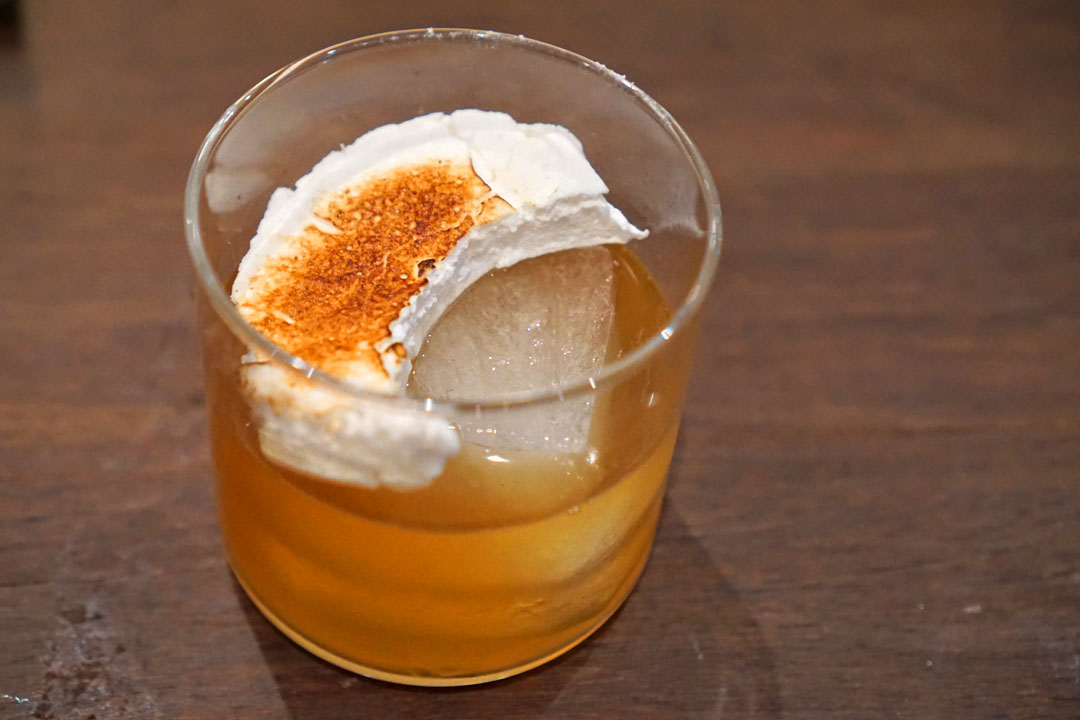 Bettencourt [$17.00]
| Old Grand-dad Bonded Bourbon, Corbin Cash Sweet Potato Liqueur, Jameson Caskmates Stout, toasted marshmallow
This old fashioned variation was a fitting cocktail to end the night with. The drink smelled great, with loads of sugary spice joined by a distinctly caramelized character. Taste-wise, I got more of those sweet baking spice notes, but commingled with the kick of whiskey and a noticeable mintiness on the back end.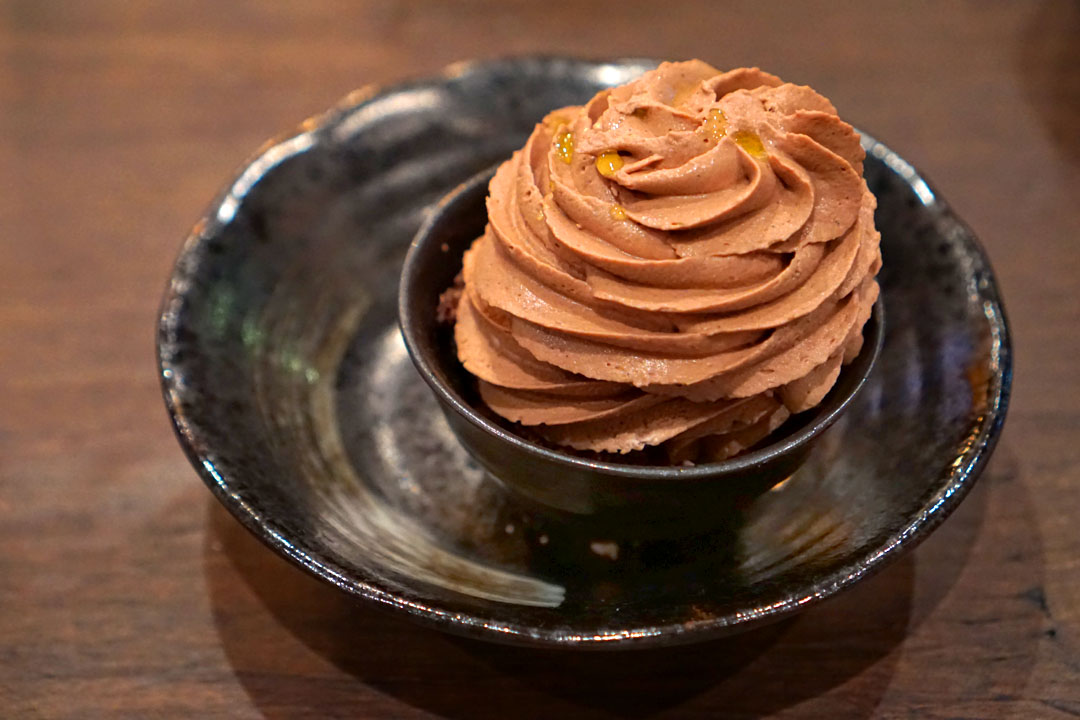 Chocolate mousse, vietnamese coffee, candied orange, feuilletine. [$13.00]
At this point it was time for dessert, which comes to us from Pastry Chef Thessa Diadem. This first one highlighted an interplay between chocolate and coffee (I could've used more of the latter), perked up by pricks of citrus, all while the feuilletine offered up a splendid textural piece.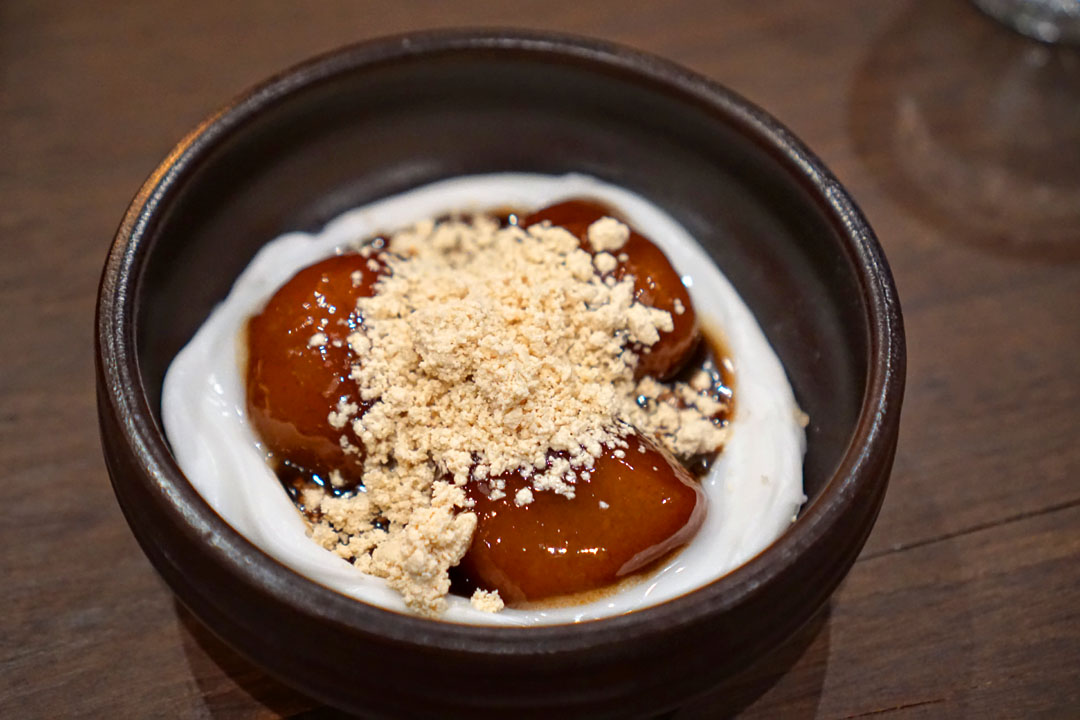 Roasted chestnut mochi, coconut, muscovado, halvah. [$13.00]
Then came this simultaneously warm, rich, slick, supple, chewy preparation of mochi that really hit the spot. Aside from the texture on the rice cakes, I also appreciated the overarching coconut flavors and robustness of the muscovado here, as well as how the halva crumbles lightened up the dish.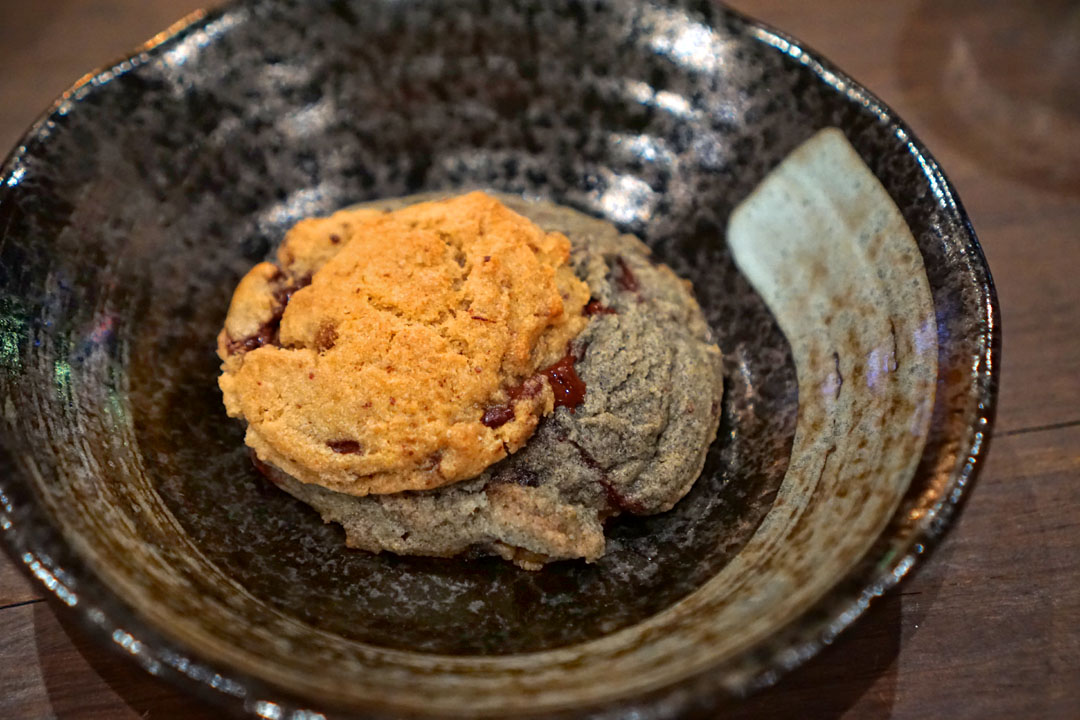 To close: a complimentary, cozy
Blue Corn Chocolate Chip Cherry Cookie
that had that soft, chewy, almost gooey consistency I wanted.
I'm happy to report that Here's Looking at You remains a beacon in Angeleno dining, and its return is a definite win for the City, with Whitener's sometimes unorthodox, most always delicious cooking delighting as much as ever. Now as I mentioned above, most of what we enjoyed tonight represents the greatest hits from the restaurant's first phase of life, and those dishes do hit hard. But what I'm even more tickled about is where the Chef will take things in the future, and I do look forward to returning to find out.