Morihiro (Los Angeles, CA) [2]
Morihiro Restaurant
3133 Glendale Blvd, Los Angeles, CA 90039
323.522.3993
www.morionodera.com
Sun 03/06/2021, 05:30p-08:50p

Back at the start of last year, during the depths of the pandemic, I enjoyed some pretty fantastic takeout from Atwater Village's
Morihiro
, the latest effort from LA sushi icon Mori Onodera. However, as tasty as that takeaway was, I knew it wasn't going to compare to a proper meal at the (now Michelin starred) restaurant, so once on-site dining was allowed to resume, I just had to make my way back, so here we are.

Though the restaurant actually has quite a few tables, if you ask me, the right way to dine here is at the six-seater bar, and as you can see above, I was fortunate enough to be seated right in front of the master himself.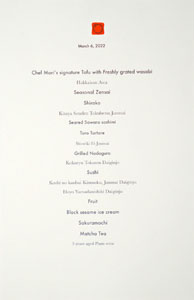 There are multiple ways to eat at Morihiro, ranging from a $45 vegan prix fixe at a table all the way to the full monty: the Chef's seasonal $380 omakase at the bar, which is what we were here for this evening. The menu we received at the end of the meal is pictured above. Click for a larger version.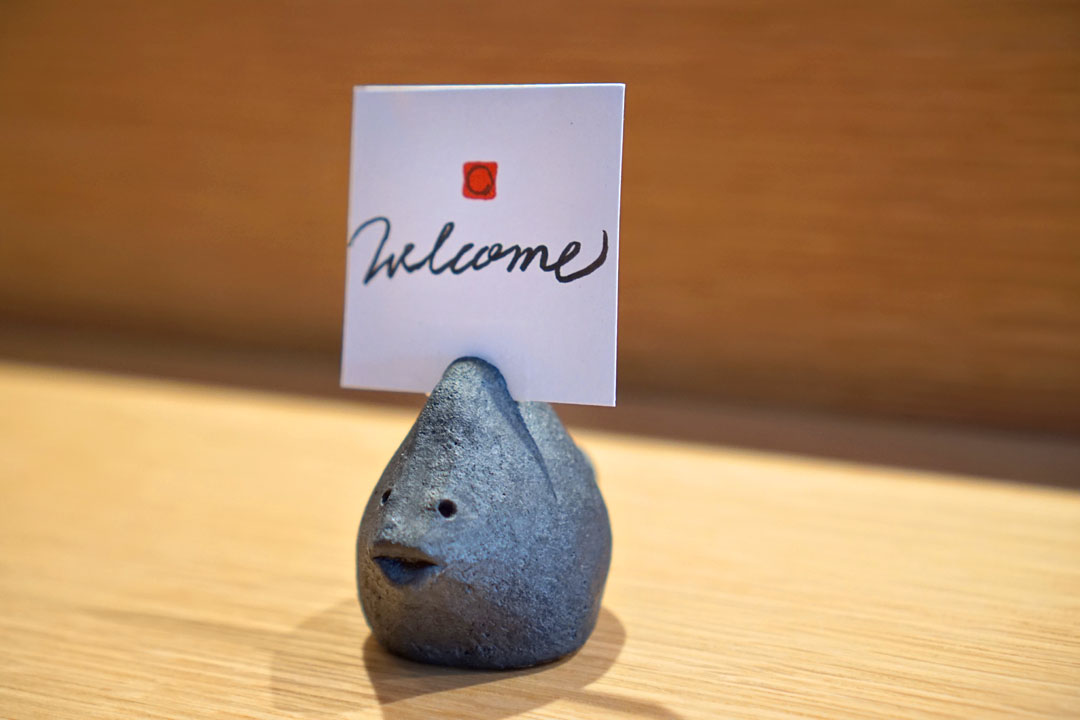 A welcome card set in a whimsically-shaped receptacle greeted us at the bar upon our approval.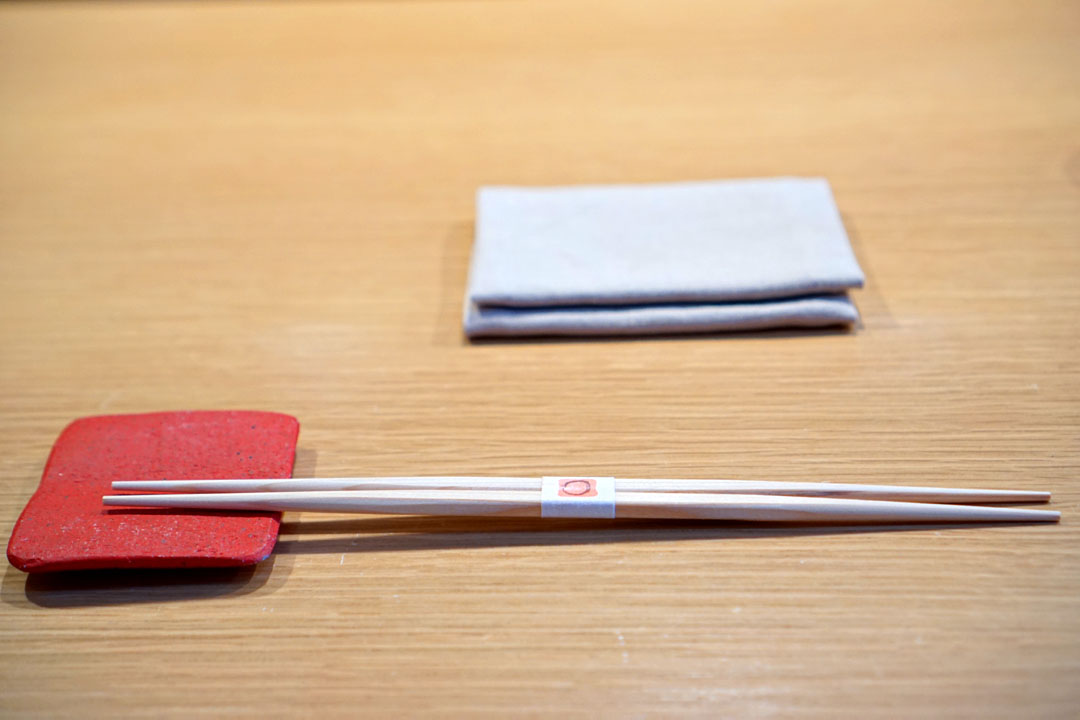 Morihiro's place setting stood out due to its vibrantly-hued
hashioki
. A warm
oshibori
was also provided.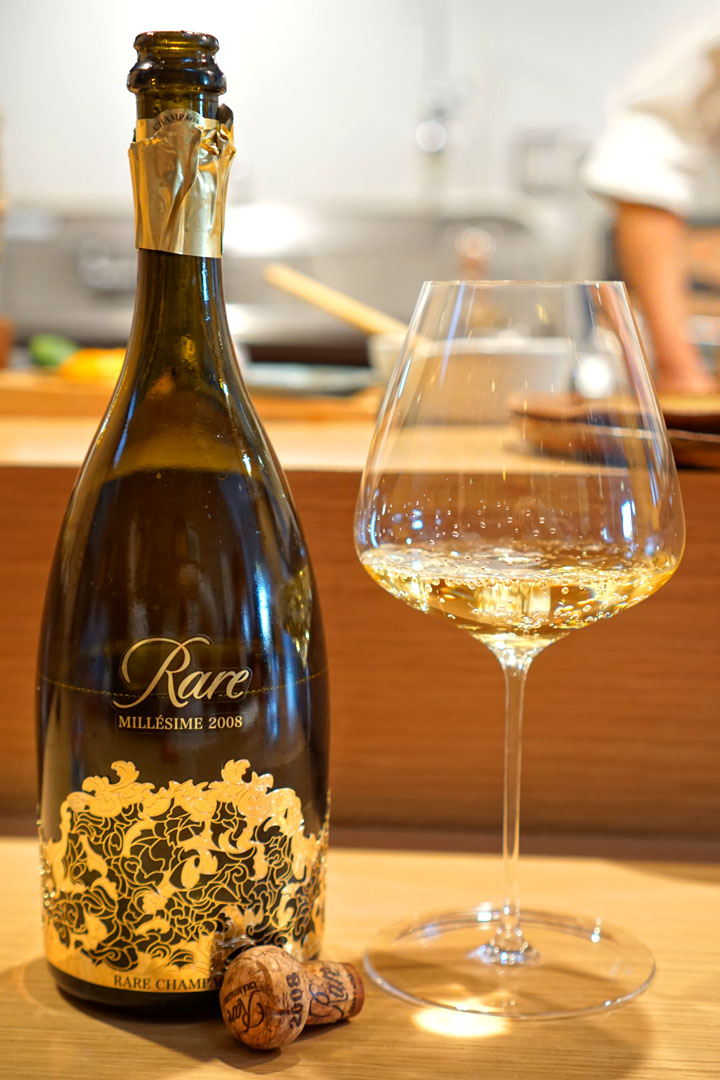 We brought a couple bottles to pair with the dinner (corkage was $50 per), and first to imbibe was the
2008 Piper-Heidsieck "Cuvée Rare" Brut Champagne
. The wine had a super concentrated, unabashedly heady bouquet filled with pome fruit, funk, and some acerbic minerality. Taste-wise, I got a core of stone fruit jam, toast, citrus, saline, and nuts, all layered over a rather racy, acidic base. This one was drinking acceptably tonight, but really does call for some more time in the cellar in order to better amalgamate everything. I'll be sure to revisit the bottling in the future.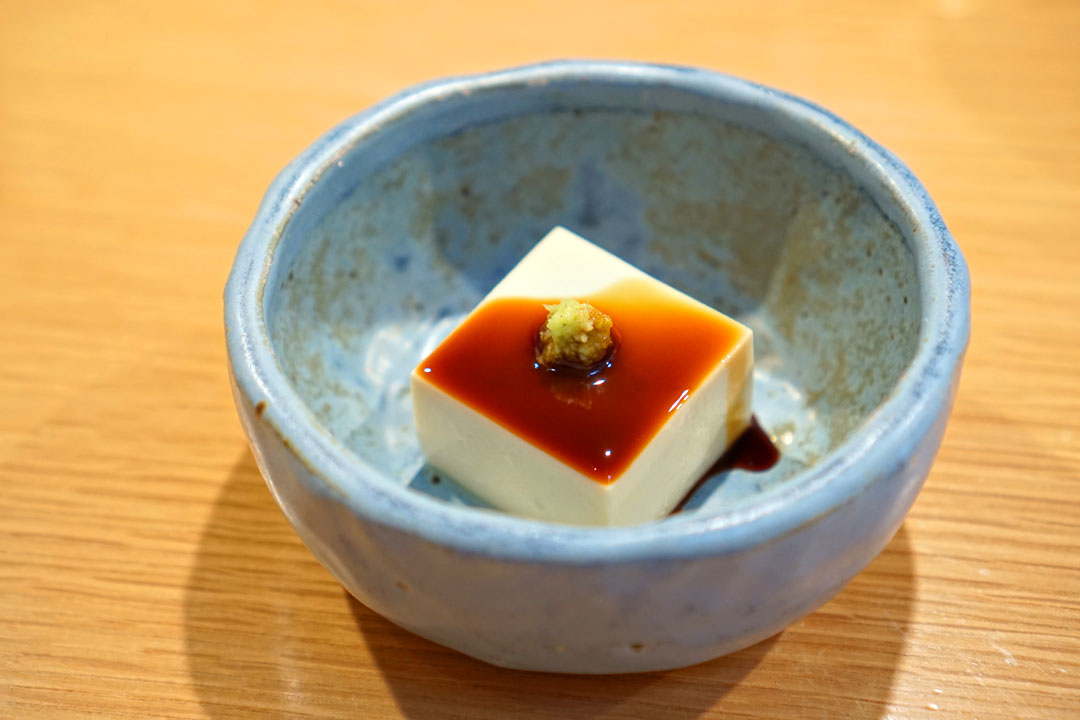 1: Chef Mori's Signature Tofu with Freshly Grated Wasabi
Onodera's trademark housemade tofu was even better than I remember, with its cool, classic, subtly nutty flavors meshing beautifully with wasabi heat and the enveloping, integrating umami notes from the dashi soy. I loved the baby blue bowl--made by the Chef himself I believe--utilized for this first course as well.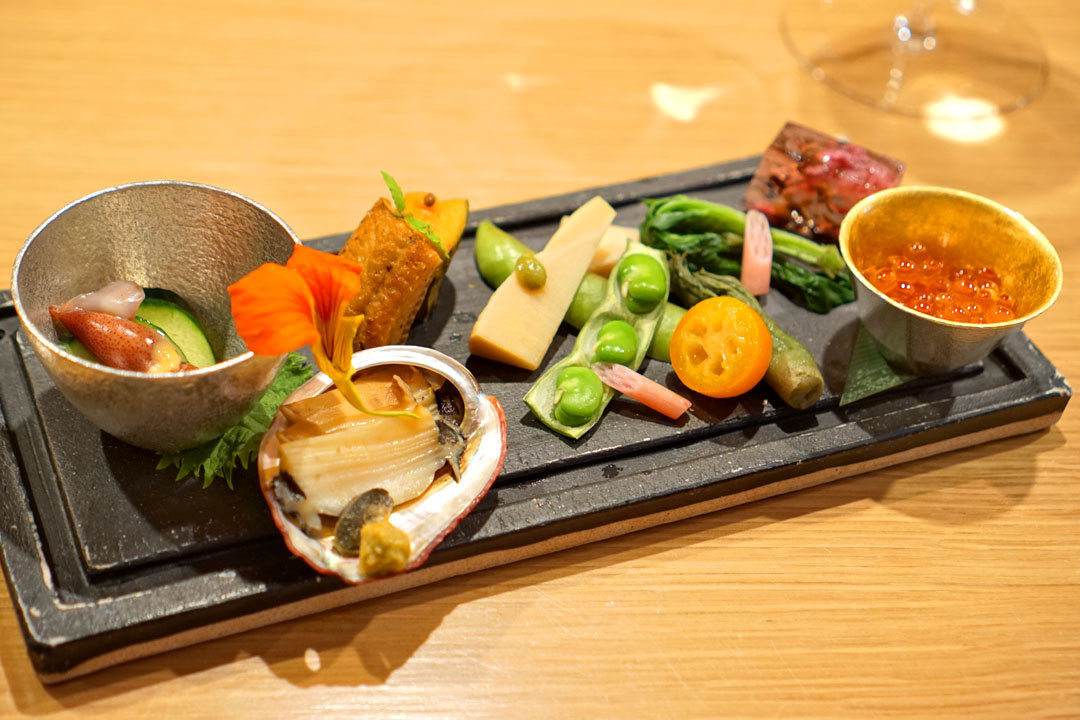 2: Seasonal Zensai
Next came an array of small bites meant to evoke the season. Going from left to right:
Firefly squid from Toyama showed off a refined brine that worked easily with a sweet-n-sour mustard vinaigrette miso, all while cucumber and nasturtium flower lightened things up.
Steamed abalone conveyed a supple-yet-chewy texture that I loved. Its savory-saline taste was amped up by the kimo, while yuzukosho imparted a salty-spicy-sour punch that served as the perfect finishing touch.
The sea eel had a great ginger-y quality that really spoke to me, but even more remarkable was the paired kabocha, which was one of the best I've had due to its restrained sugariness and unexpectedly savory character.
A super saccharine, almost candied kumquat was joined by tangy, floral baby lotus roots, crunchy fava beans and bamboo, as well as soft, bitter greens.
Ikura offered up delightful pops of salinity, while its dashi soy sauce marinade boosted the intensity of the roe even further.
Last up was the most interesting bite of the sextet: an utterly fragrant cherry blossom set in plum wine jelly. Very neat, with some lovely textures, too.
3: Shirako
Set in a bowl of dashi, the cod milt was easily one of best preparations of the ingredient that I've had. I loved how fine-spun its taste and texture were, as well as how the soft roe married with its refreshing, yet uncompromisingly savory broth. This one was masterful in its delicacy.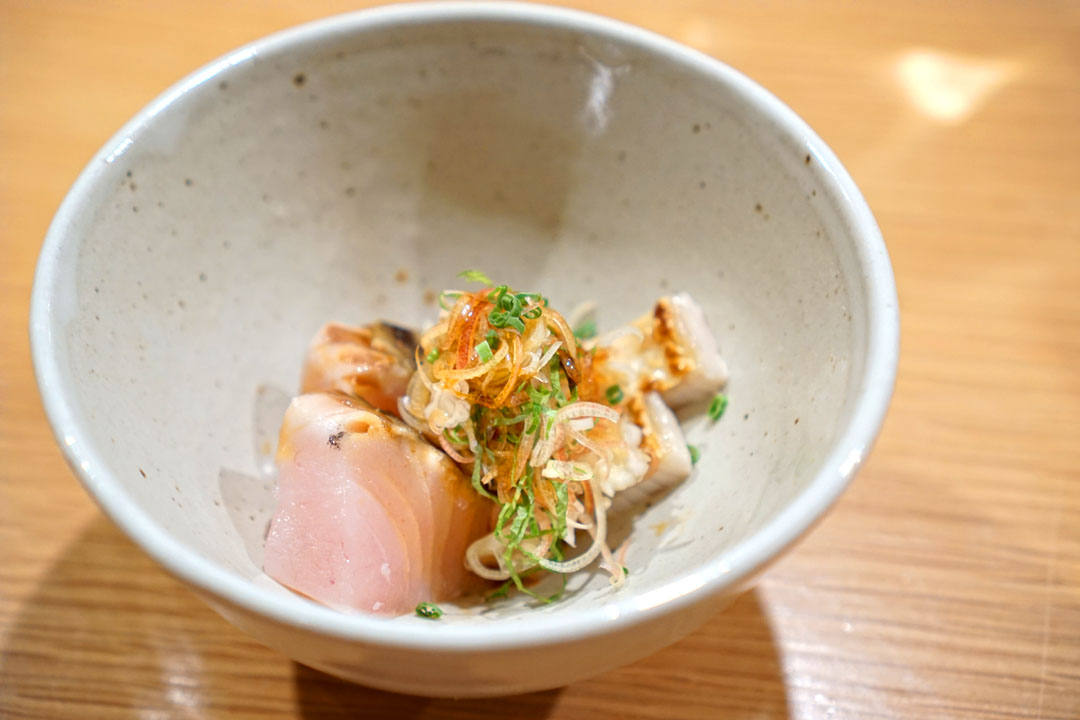 4: Seared Sawara Sashimi
Konro
-seared king mackerel from Saga Prefecture was superb, its combination of sear, smoke, and saline savor blending beautifully with chiffonades of shiso and Japanese ginger (
myoga
).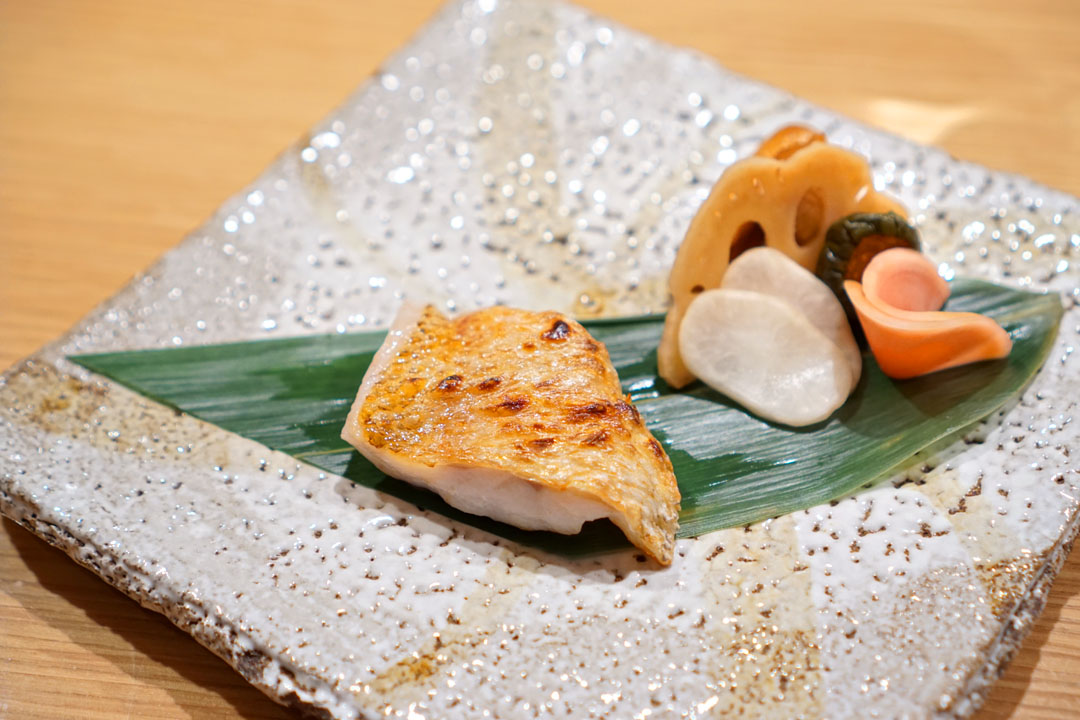 5: Grilled Nodoguro
This next course served as a reminder why blackthroat seaperch is my favorite fish, and why it's best eaten grilled. The
akamutsu
demonstrated a flawless balance between its luscious, fatty, flavorful flesh and its crispy, salty, savory skin--a real masterclass in combining elegance with power. At the same time, we were provided a selection of crunchy, acidic pickles (turnip, lotus root, cucumber, daikon) to mellow things out. This was one of the best cooked fish preparations I've ever had.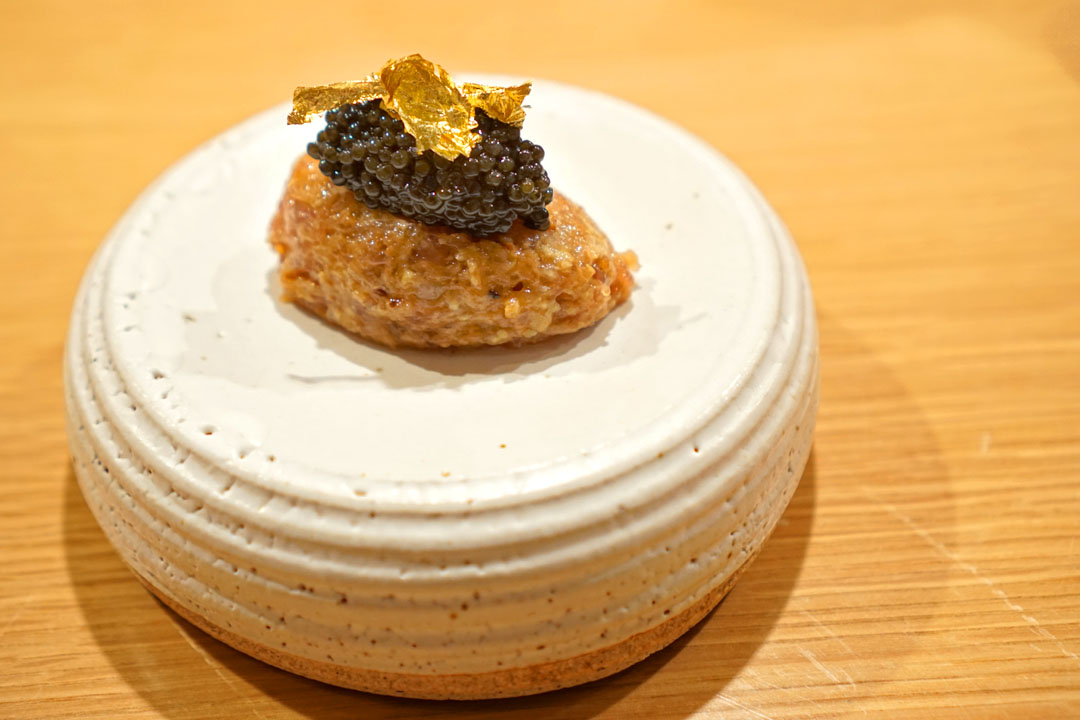 6: Toro Tartare
I do appreciate a good toro tartar, and this was a damn good example, one of the finest I've encountered. I first tried this
sans
caviar, and the fatty nature of the tuna was proudly displayed, but the key was the incorporation of pine nuts, onion, and a hint of wasabi, all of which really complemented the fish gorgeously. Adding the Ossetra into the mix really tempered the lusciousness of the belly even further, and also contributed a nice lingering saltiness on the back end.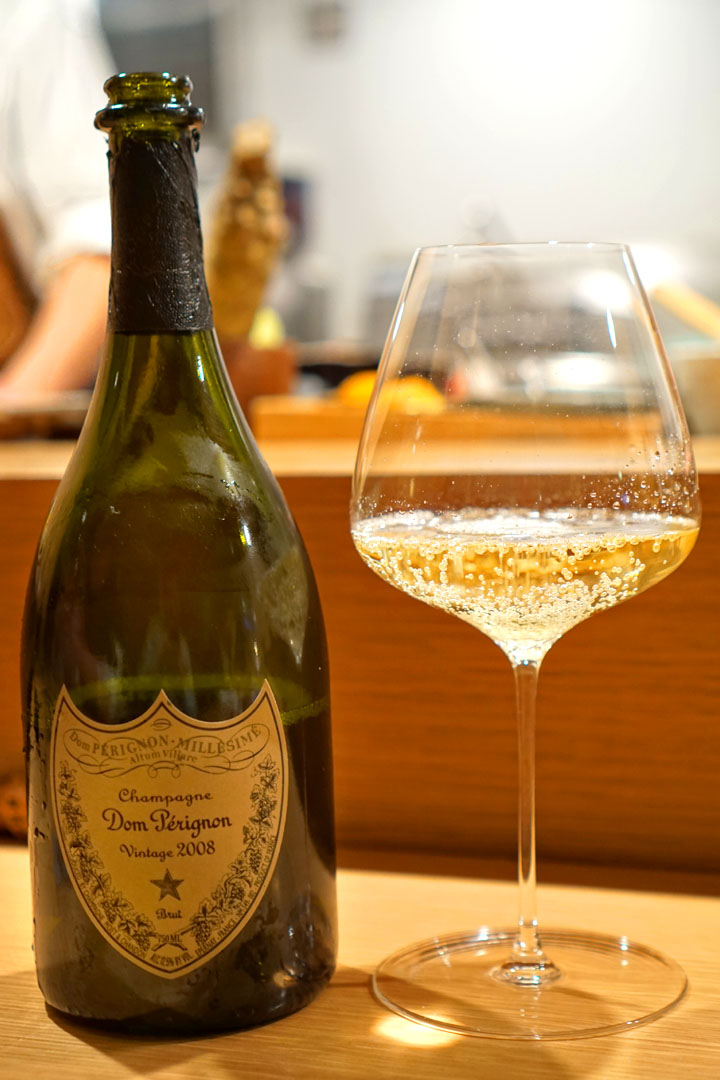 The second sparkler that we brought was the
2008 Dom Pérignon Brut Champagne
. The nose here was uncommonly intense for a DP, and showed a palpable mustiness and depth to go along with notes of pome fruits, lemon, and traces of astringency. On the palate, I found the wine unquestionably potent, structured, with a base of honeyed, citrusy nuances backed by a sharp minerality, some toastiness, and a persistent acidity. As was the case with the Piper-Heidsieck above, this one was drinking young, and really calls for more time in the cellar. I'd wait at least three years before re-visiting.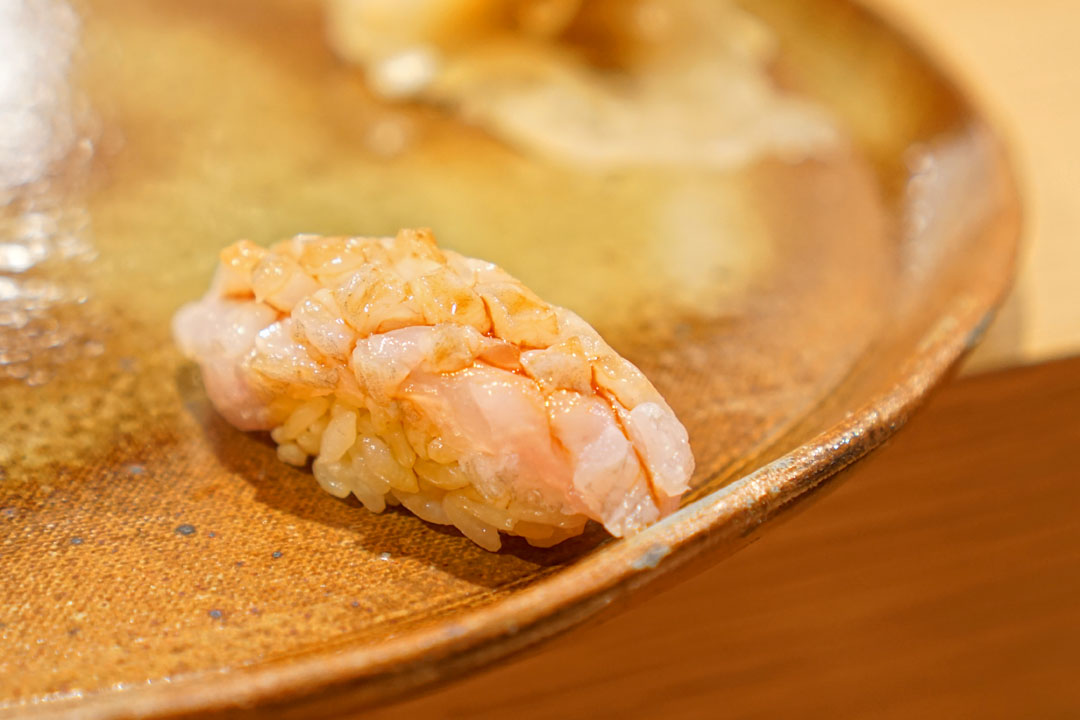 7: Engawa
Mori-san kicked off the nigiri portion of our meal with flounder fin, which presented just the right amount of chew, and actually highlighted the unusually gratifying taste and texture of the Chef's sushi rice.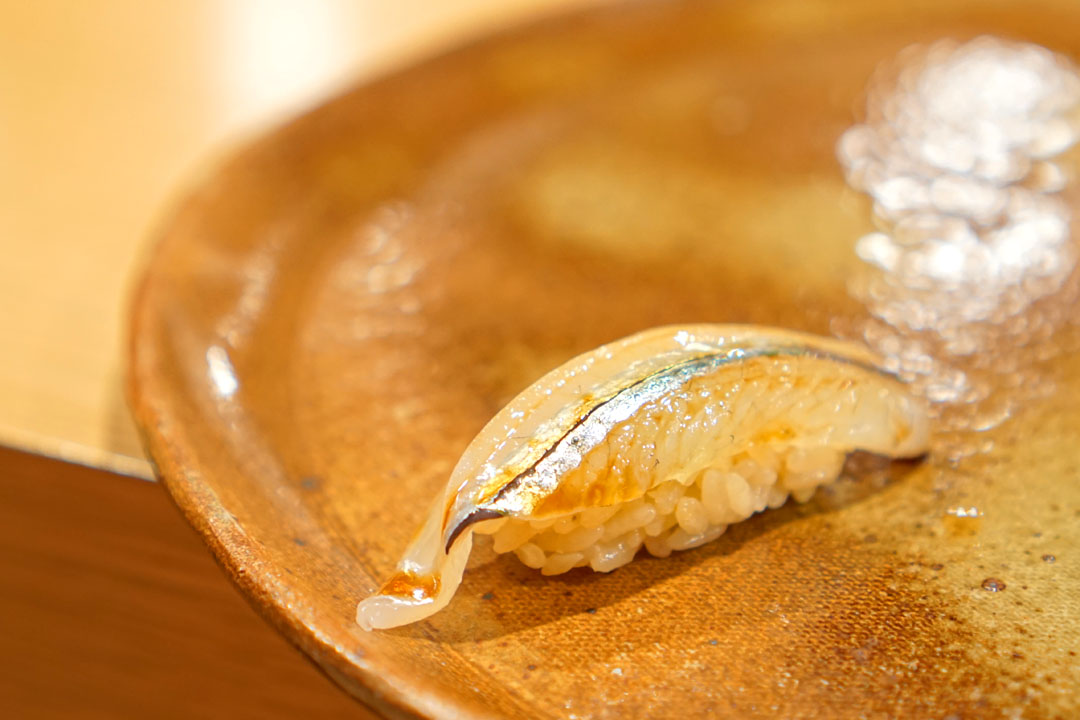 8: Sayori
The needlefish was a treat in terms of its consistency, while its relatively subdued flavor profile linked up well with a brushing of soy.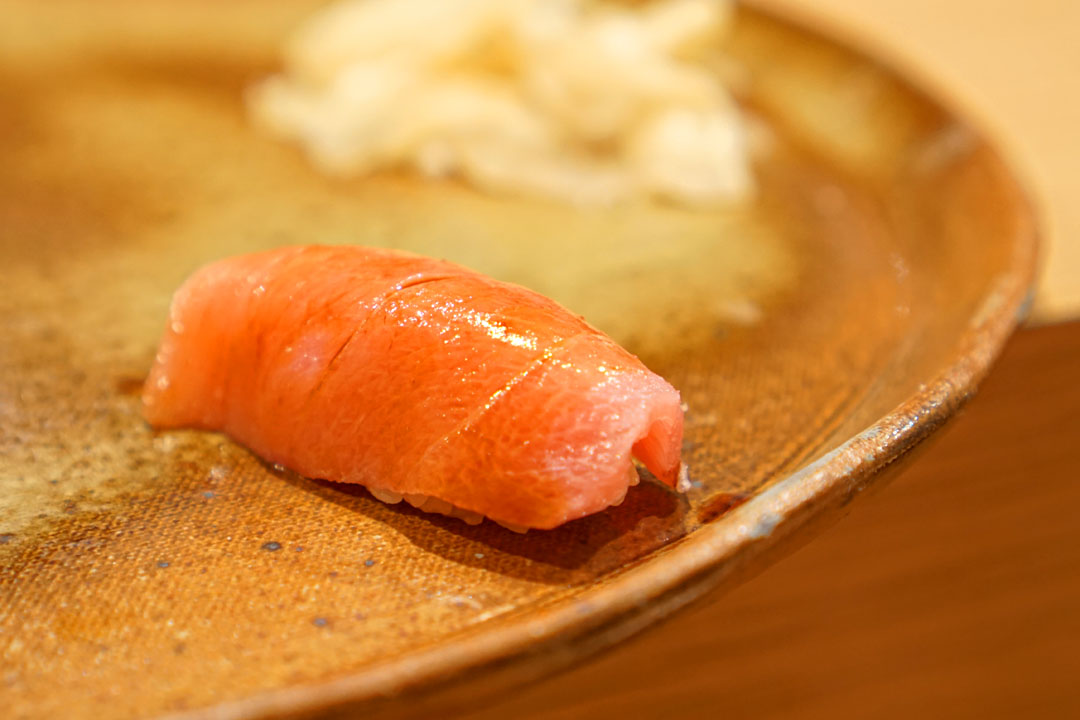 9: Chutoro
A pleasantly pink cut of medium fatty tuna was somewhat richer than most, and again, really drew attention to the importance and quality of Onodera's rice.
10: Akami
Surprisingly, we were told that instead of bluefin, this was actually bigeye (
mebachi
). The tuna did have a somewhat lighter taste than I was expecting, with less of an umami component, but still was very enjoyable, and really sang with the included wasabi. The Chef mentioned that his rationale for eschewing
hon maguro
was due to sustainability concerns.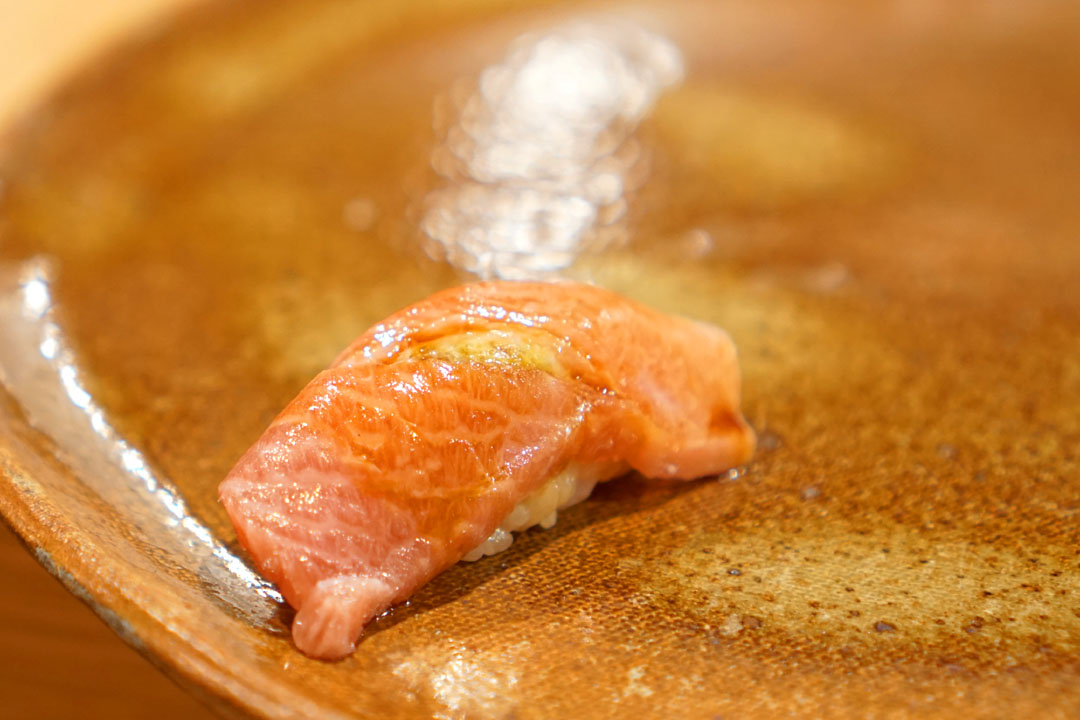 11: Otoro
Sourced from North Carolina, the o-toro had the in-your-face fat, oil, and umami that I was wanting and expecting, but was also keenly balanced, and never overwhelming. Delish.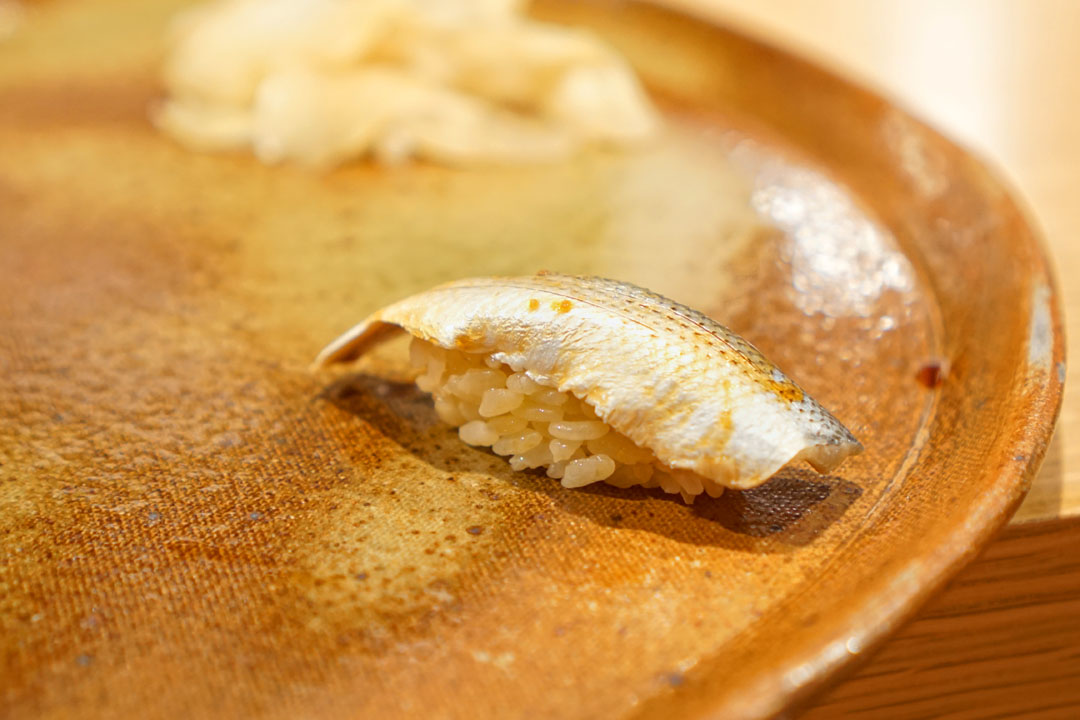 12: Kohada
Next came a succession of three
hikarimono
, and up first was this textbook gizzard shad, with its robustly briny and fruity flavors in perfect harmony. Intensity and finesse, all rolled into one.
With the wine dispensed with, we moved on to carafes of sake, starting with the
Koshi No Kanbai Kinmuku "Milky Way" Junmai Daiginjo [$93]
, which is apparently one of the Chef's favorites. The nose here was pretty amazing, smelling just like banana cotton candy. On the palate, I found it soft and smooth and round, with more of those banana qualities joined by touches of spice as well as a countering ricey umami.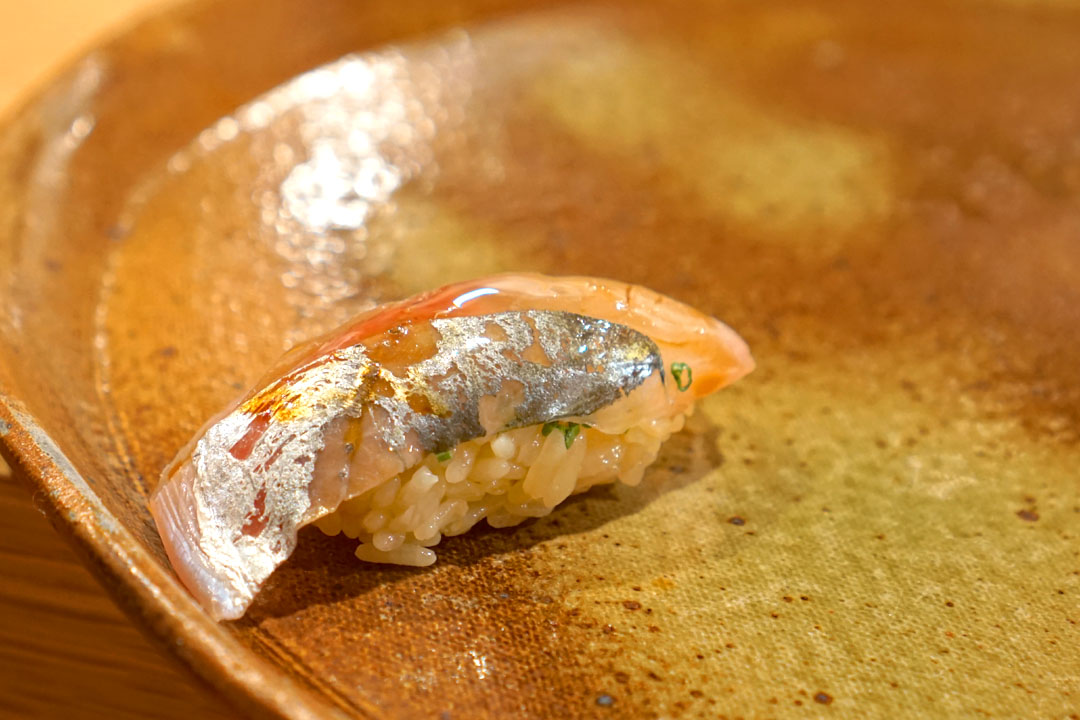 13: Aji
Horse mackerel had a firm, almost "crunchy" bite that I adored, as well as a polished brine that connected perfectly with the ginger-y flavors present.
14: Saba
Tonight's mackerel displayed a particularly luxurious consistency, while its salinity was apparent, but complemented by a very noticeable sweetness. Those who dislike mackerel (and I've met quite a few) might change their mind after tasting this.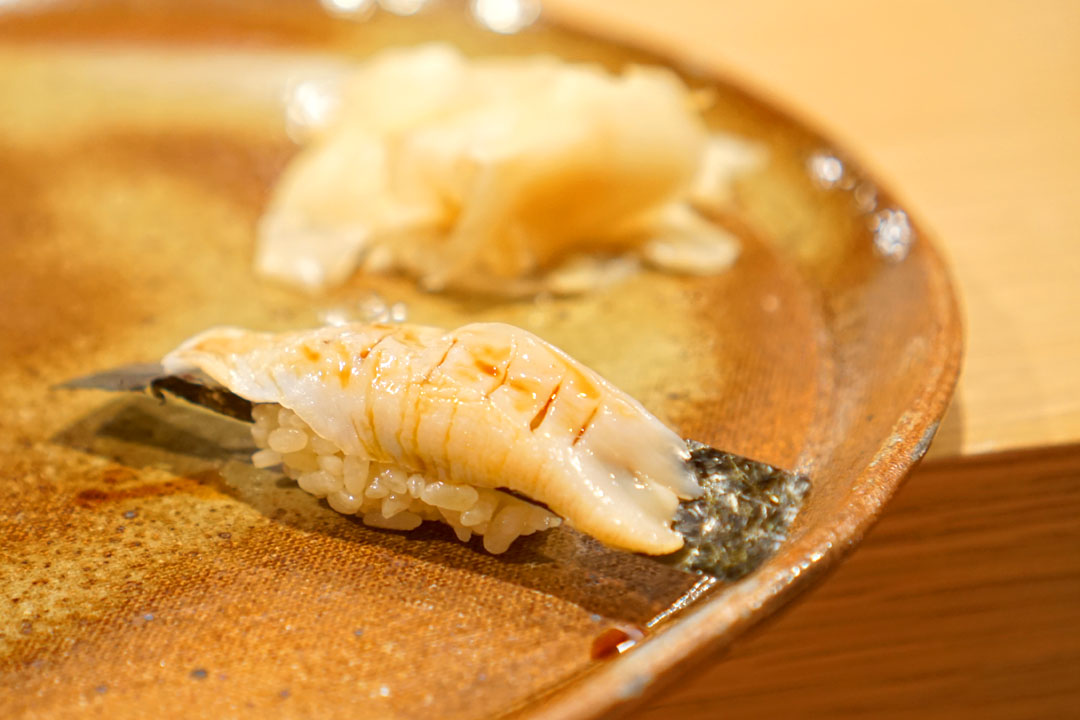 15: Mirugai
Here, geoduck actually sat atop a slice of nori, a presentation that I don't think I've seen anyone else attempt before. It made sense though, as the assertively oceany, wasabi-fueled flavors of the clam were nicely offset by the dry, umami-forward nature of the seaweed.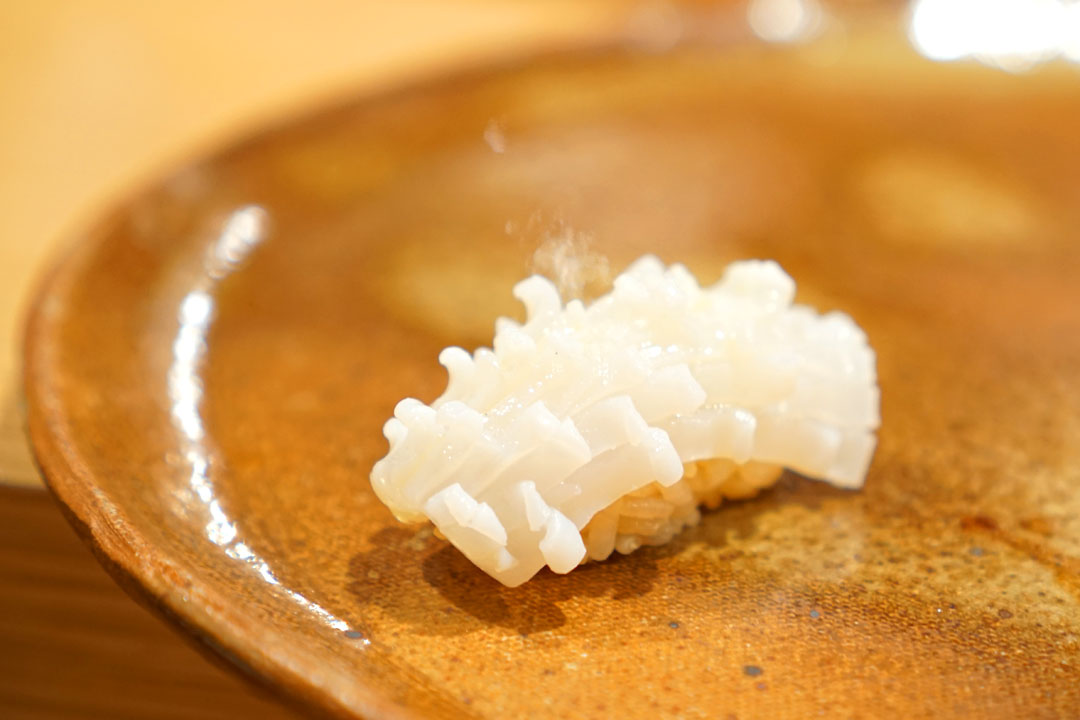 16: Yari Ika
A fancifully-scored cut of Kyushu spear squid was supple to the bite, and really opened up taste-wise thanks to deft applications of citrus and salt.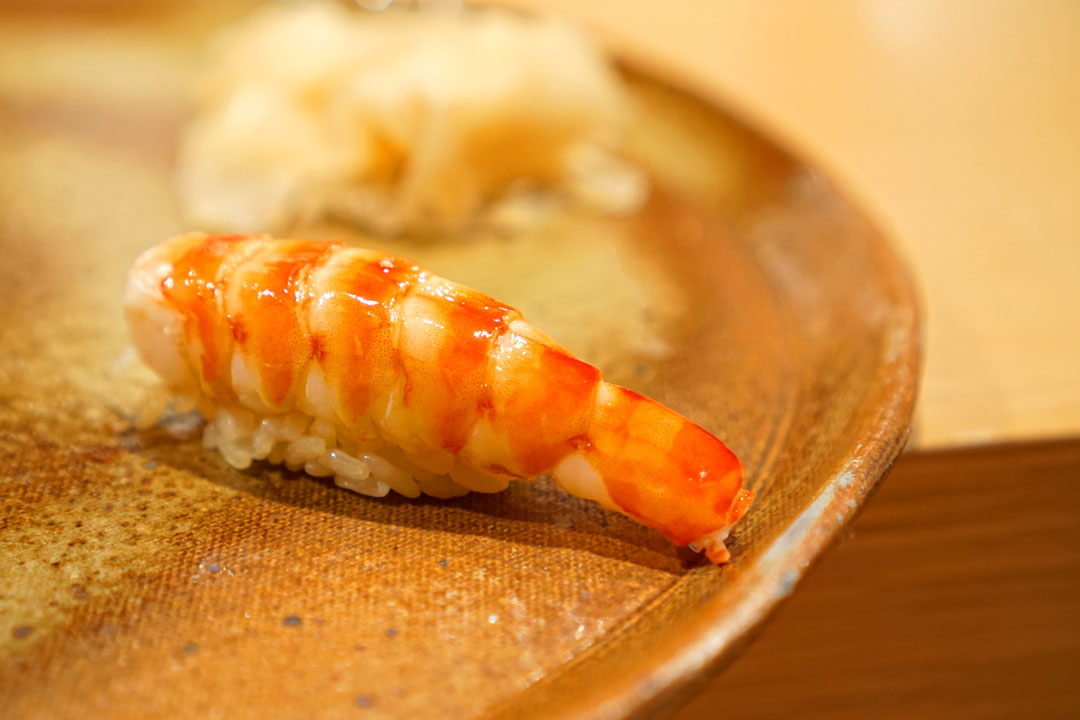 17: Kuruma Ebi
My Japanese tiger prawn was a joy texturally, and showed a faultless interplay of sweet and saline, with just a touch of heat to boot.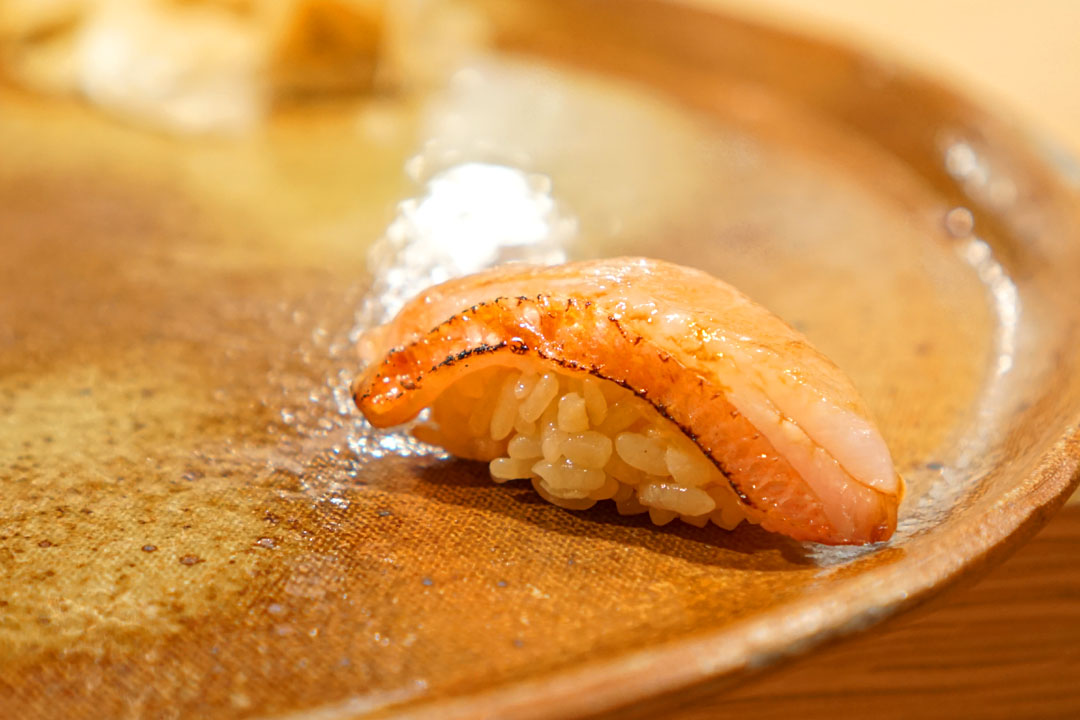 18: Kinmedai
Over the past decade or so, golden eye snapper has become of my favorite sushi toppings, and tonight's preparation didn't let me down. As is usually the case, the beauty here lies with the interaction between the fish's supple bite, graceful taste profile, and touches of sear and smoke.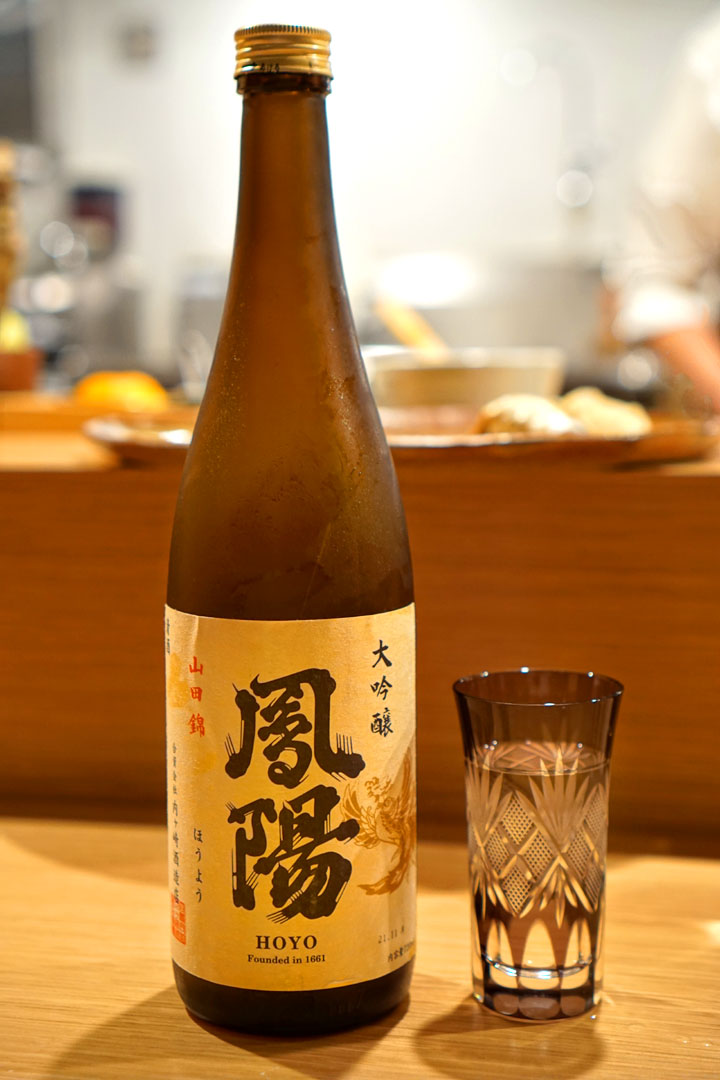 Next to try was a carafe of the
Hoyo Yamadanishiki "Last Chance at Love" Daiginjo [$83]
. On the nose, I got what I'll describe as reticent notes of bubblegum. Tasting the sake, I found overarching notes of flowers and orchard fruits, but underpinned by a spicy, ricey bite.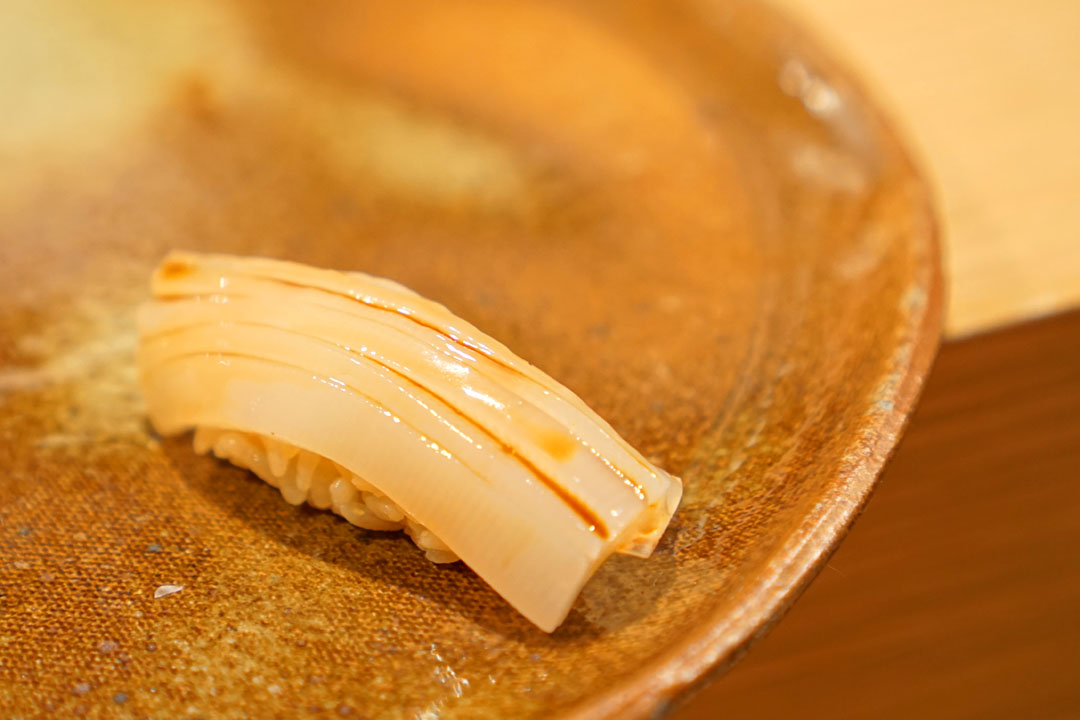 19: Ika no Mimi
Here we have squid fin (a.k.a. squid ear), which is a pretty uncommon sight. Served raw, it had a great "crunch" to it, along with a subdued sweetness that took well to a brush of soy.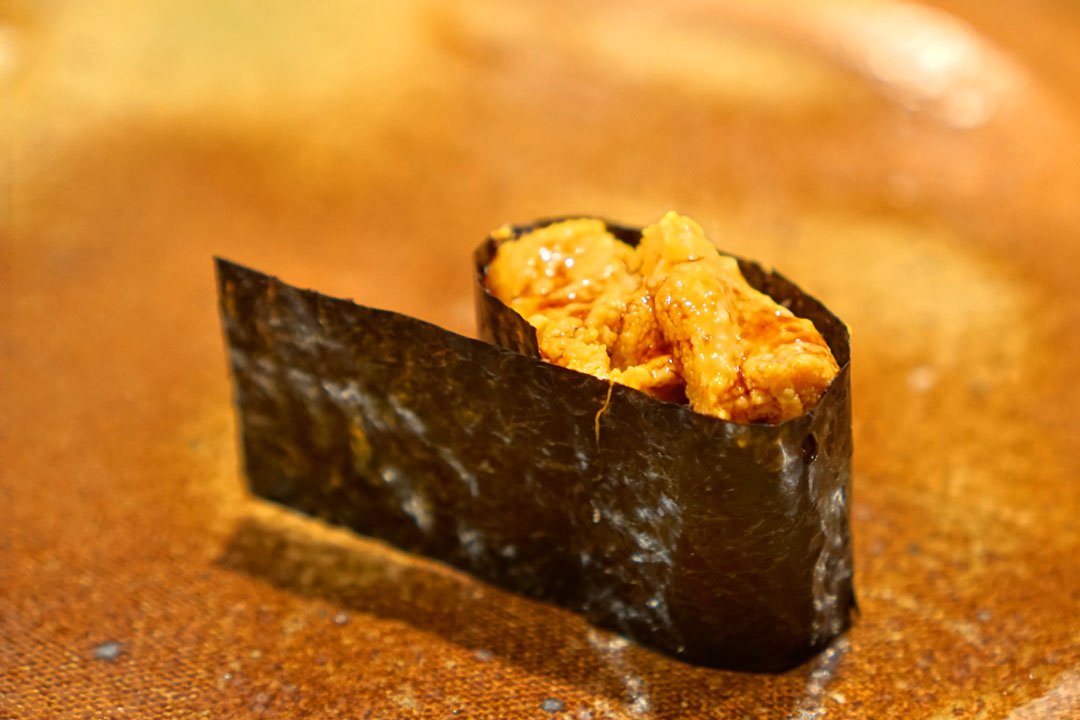 20: Uni
The first of two sea urchins hailed from Santa Barbara, and showcased the variety's signature combination of creamy sweetness and salinity, all set against the moderating effect of nori.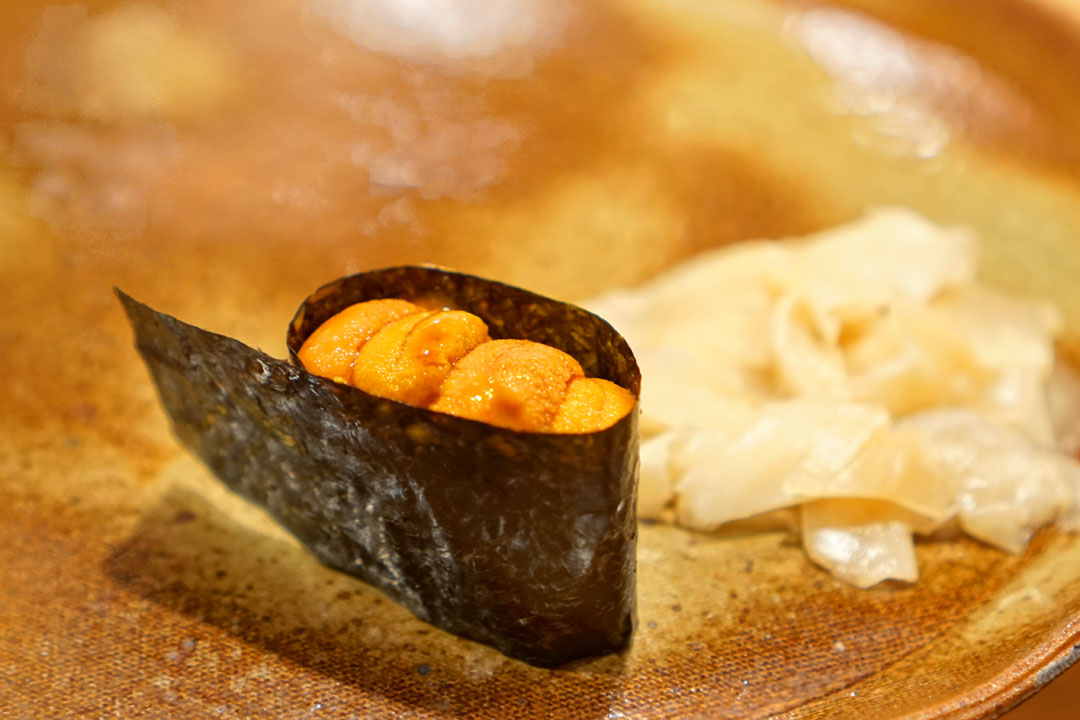 21: Bafun Uni
Sourced from Hokkaido,
Ezo bafun
gonads possessed a cooler, more mineral-driven flavor profile, as one would expect, but also had a more luscious-than-anticipated consistency. It was great to be able to compare the two uni types back-to-back.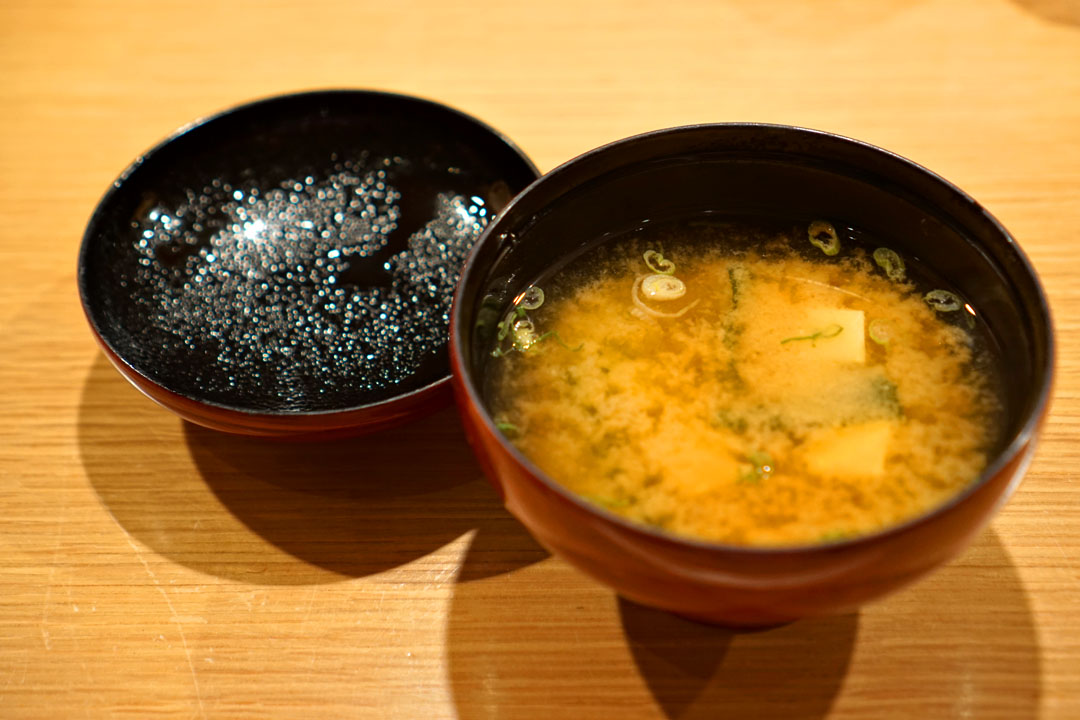 22: Miso Soup
A hot and cozy bowl of miso soup signaled the beginning of the end of our meal.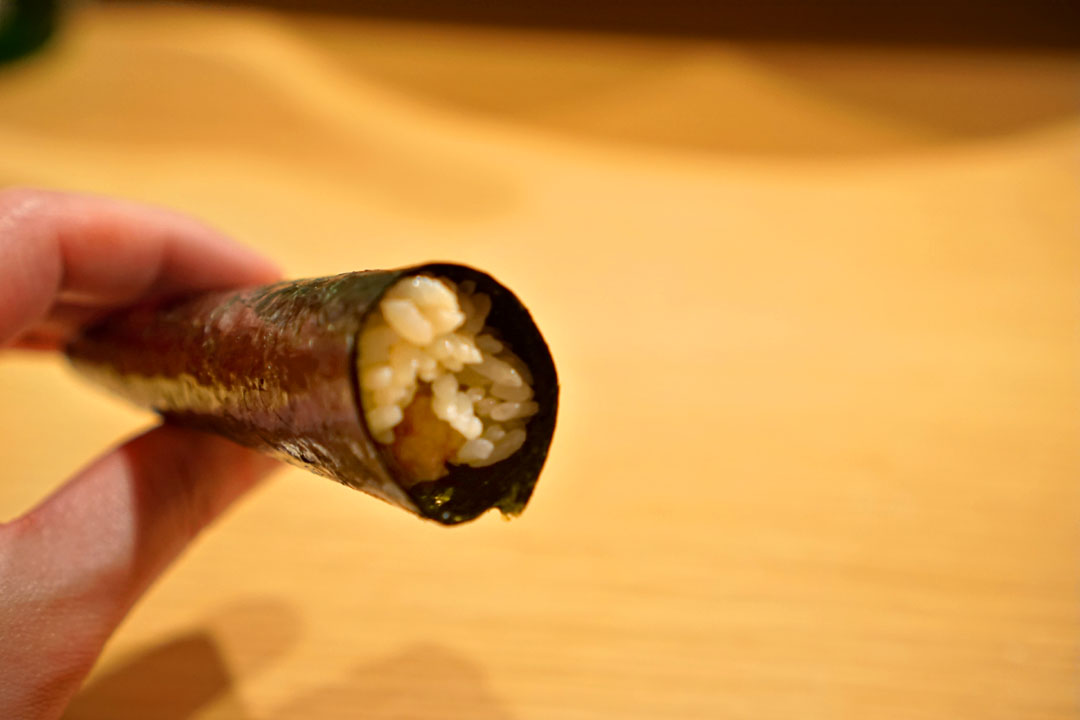 23: Negitoro
A tightly wound roll highlighted the sweet, fatty nature of the tuna, but softened by requisite elements of seaweed and wasabi. The scallion was actually less overt than in most preparations.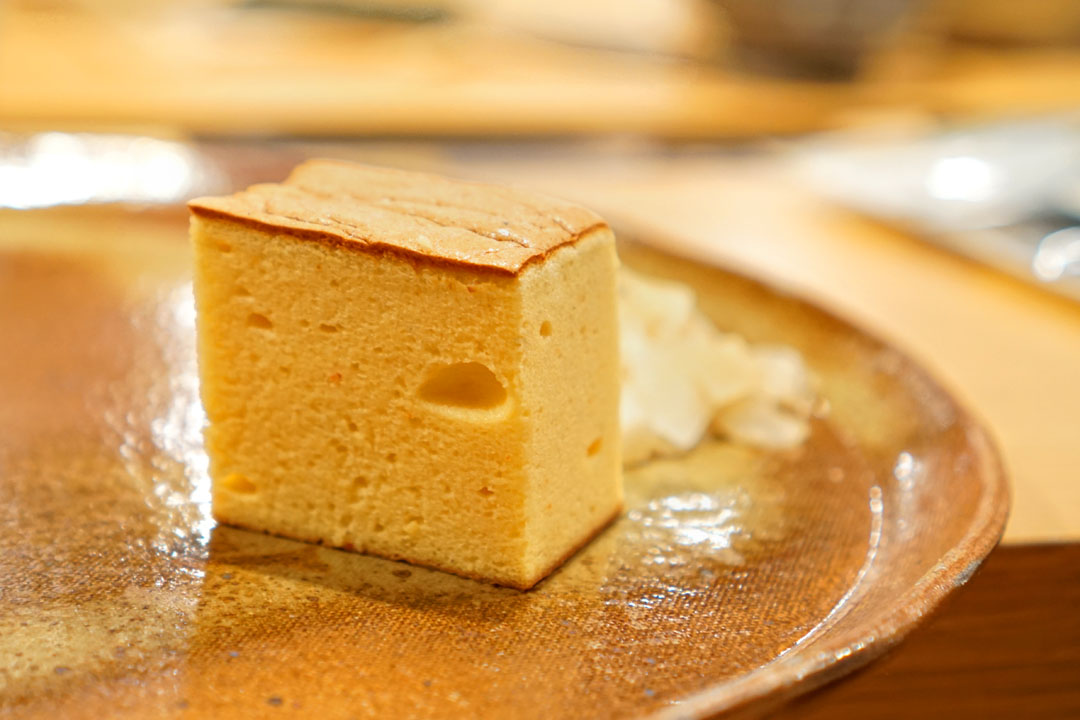 24: Tamagoyaki
The cake-style
gyoku
was airy and sweet, and helped transition the meal into its dessert phase.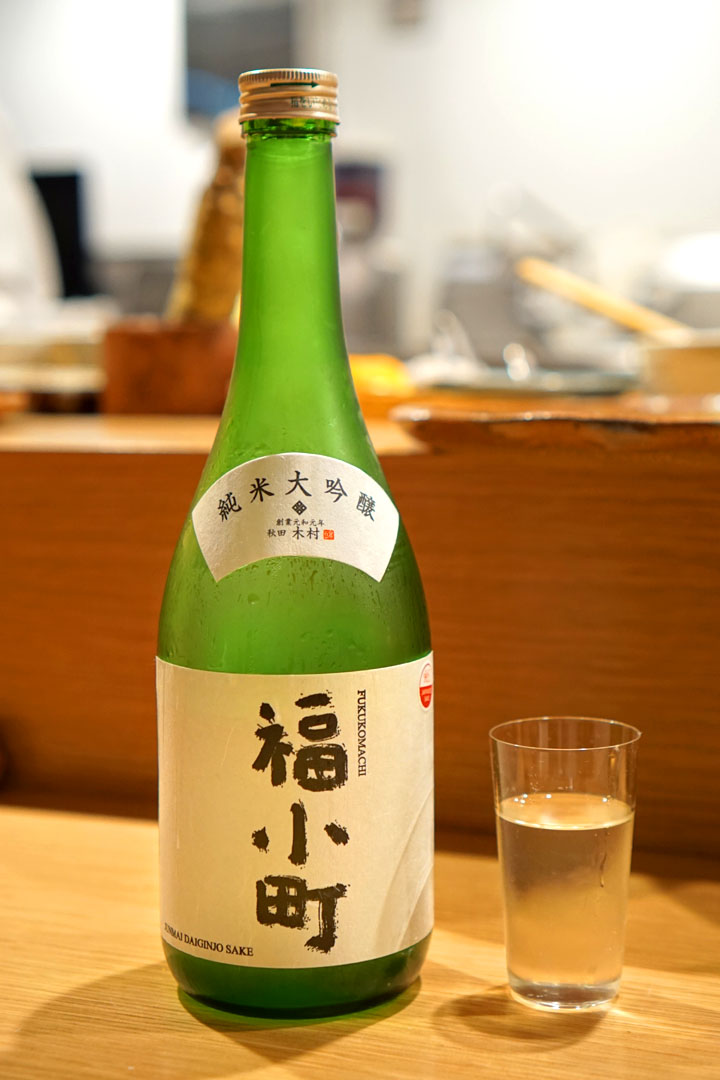 Last to drink was another carafe, this time of the
Fukukomachi Junmai Daiginjo [$69]
. Aromas here represented a balanced mix of fruits and flowers, while the sake tasted of juicy melon and tropical fruits, without much rice character.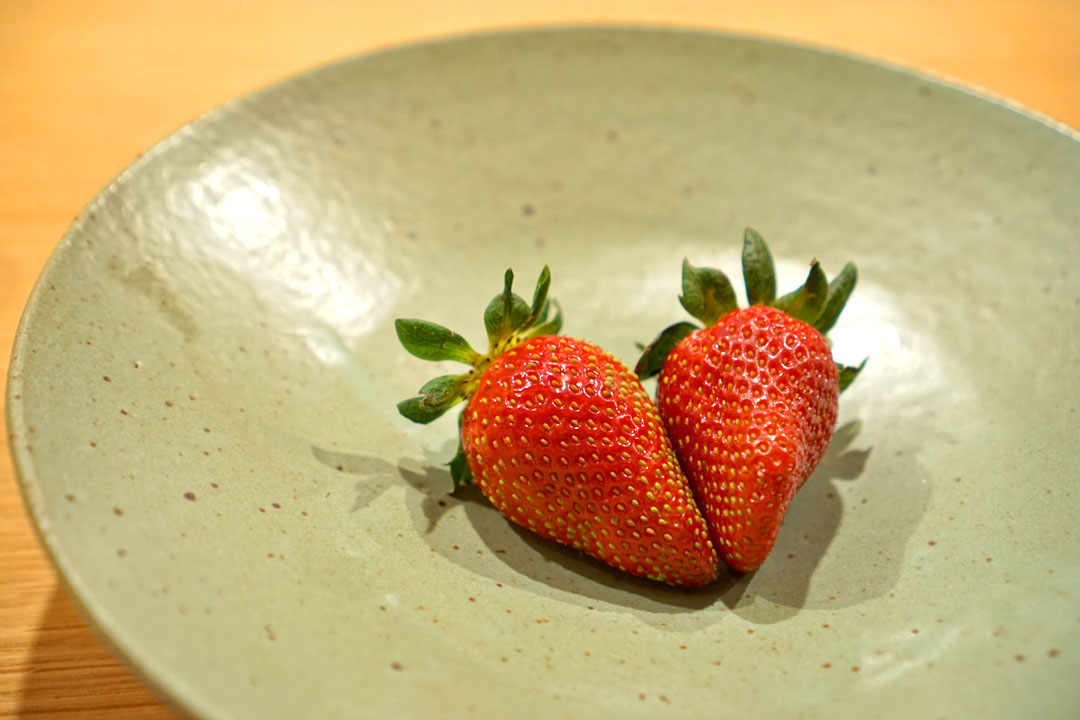 25: Fruit
Up first: a pair of exquisite strawberries.
26: Matcha Tea
A cup of grassy, bitter, earthy green tea served as a fitting foil to the sweets below.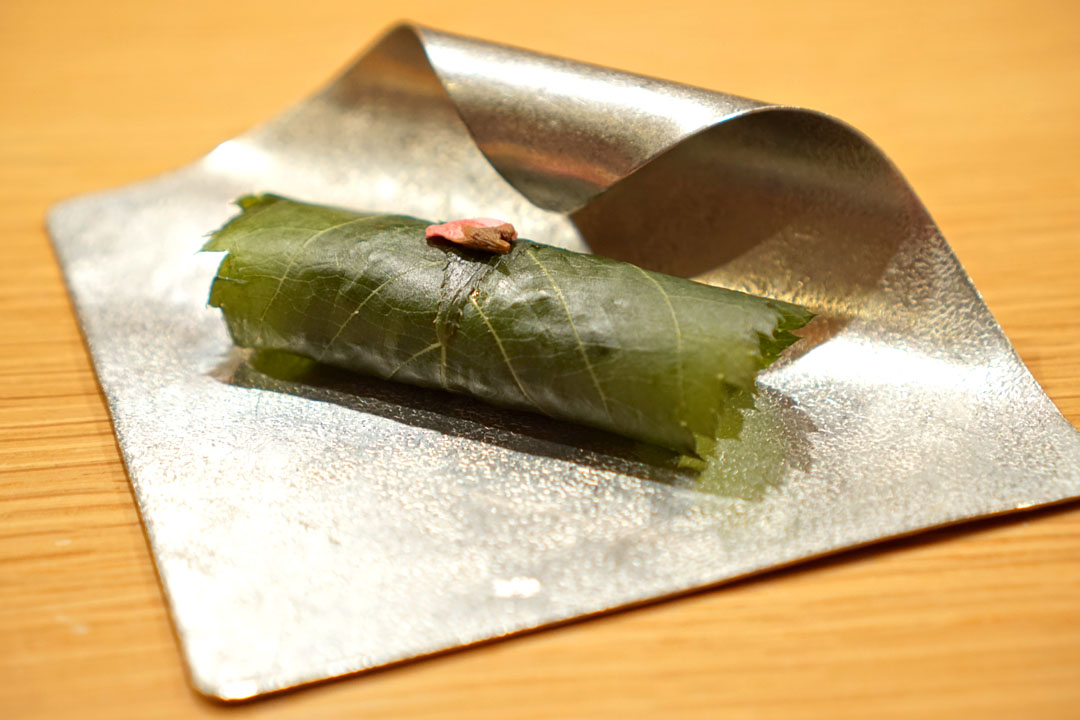 27: Sakuramochi
A springtime
wagashi
, the rice cake featured a dense, thick, satisfying chew, along with a commixture of fruity and floral flavors that definitely hit the spot. Yum.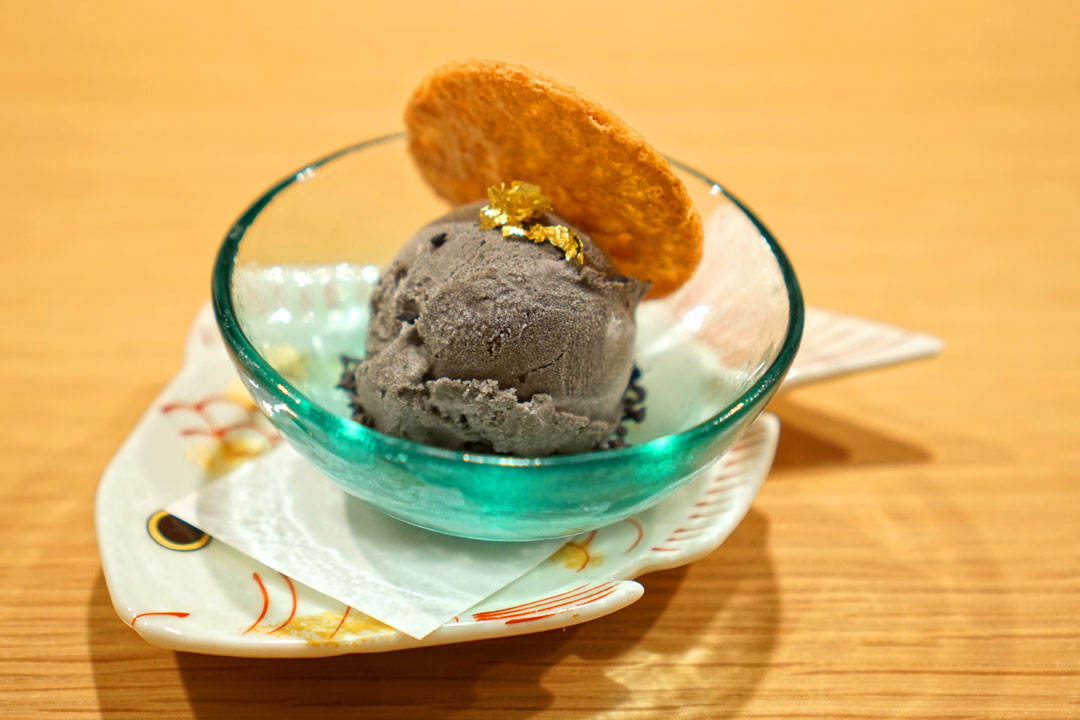 28: Black Sesame Ice Cream
This vegan(?) ice cream did a wonderful job showcasing the nuttiness of black sesame, and I was a fan of the almost buttery rice bran tuile as well. A great closer.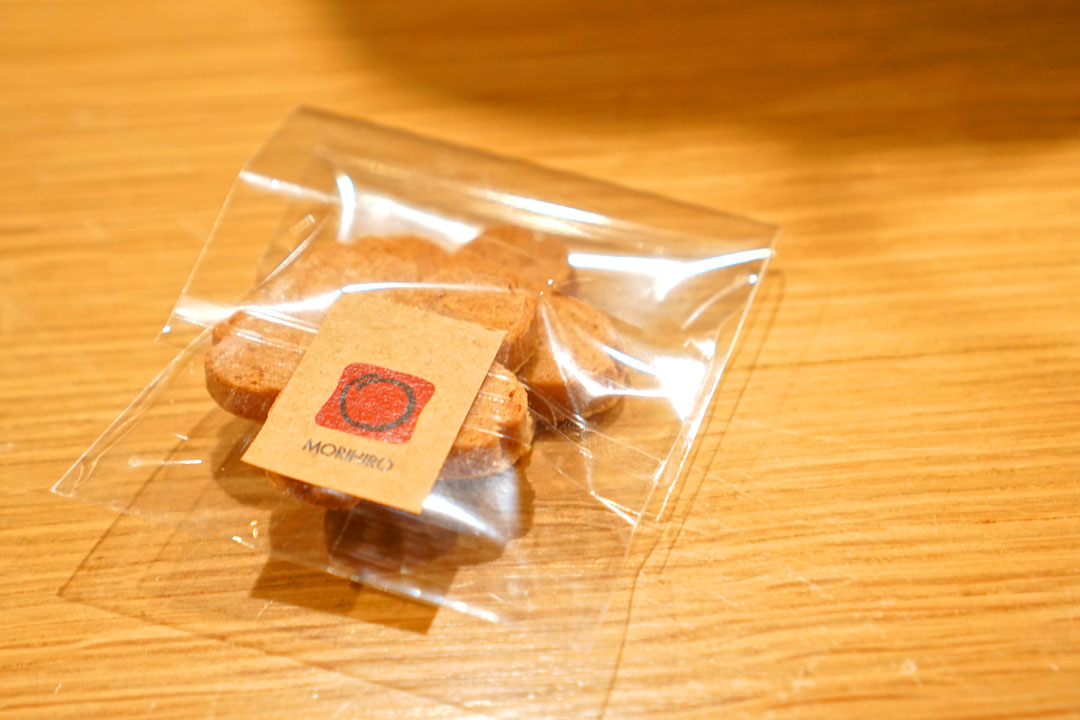 Speaking of rice bran, these take-home cookies also incorporated it, as well as some honeyed flavors that I quite liked.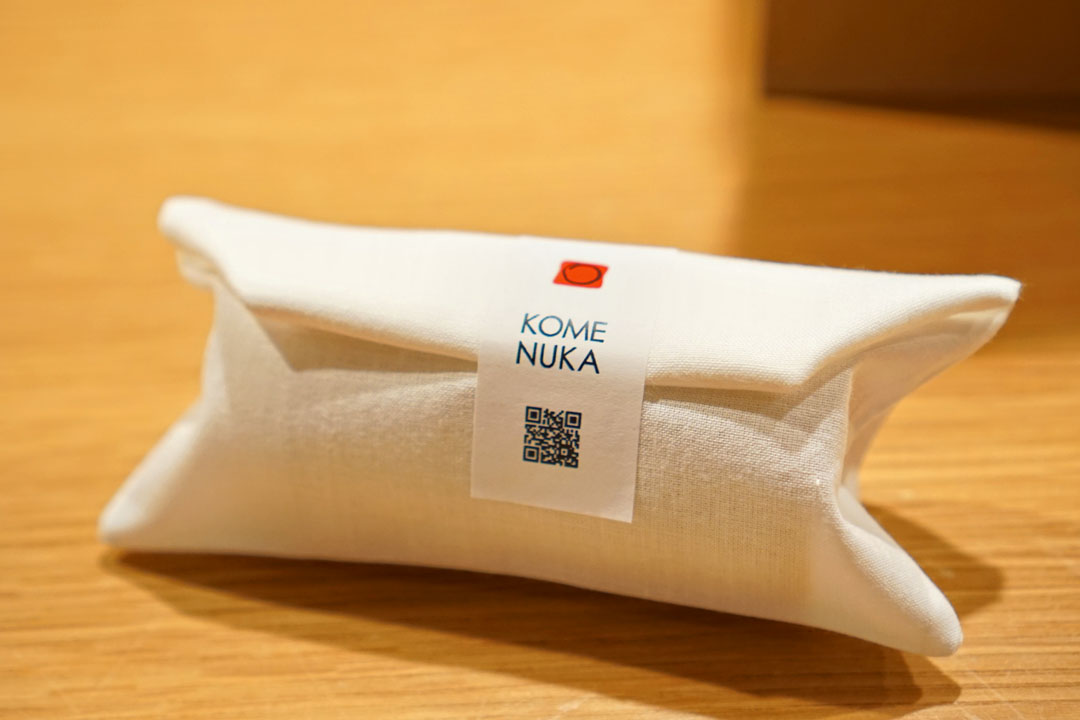 We were even gifted a container of rice bran.
Komenuka
encompasses a wide range of uses, but I ended up consuming it over the course of the following week, basically sprinkling it on top of whatever food I happened to be eating.
Mori-san is apparently using Akitakomachi rice from Iwate these days, milled in-house daily, and as always, his shari game was
on point
, especially with regard to texture. Actually, I'm finding it difficult to find any real flaws in the food we had, and in fact, I'm tempted to say that the Chef's cooking is better than ever. This is clearly at the top end of sushi spots (and Japanese places in general) here in the Southland. However, I was a bit concerned that the meal didn't have the level of interaction I was hoping for. I think the issue is that Morihiro is trying to do too much, that is, to be both a place for casual everyday sushi as well as extravagant omakases, when, at this point in Mori-san's career, he really should be focusing on the latter. The Chef was simply too busy; he barely had time to catch his breath the entire night, let alone engage with customers. It was an altogether different experience compared to our last dinner with Onodera at
Inn Ann
, where we were able to delight in his presence, personality, and ease.