Intercrew (Los Angeles, CA)
Intercrew Restaurant
3330 Wilshire Blvd, Los Angeles, CA 90010
213.878.1201
www.intercrewla.com
Thu 03/17/2022, 08:15p-11:10p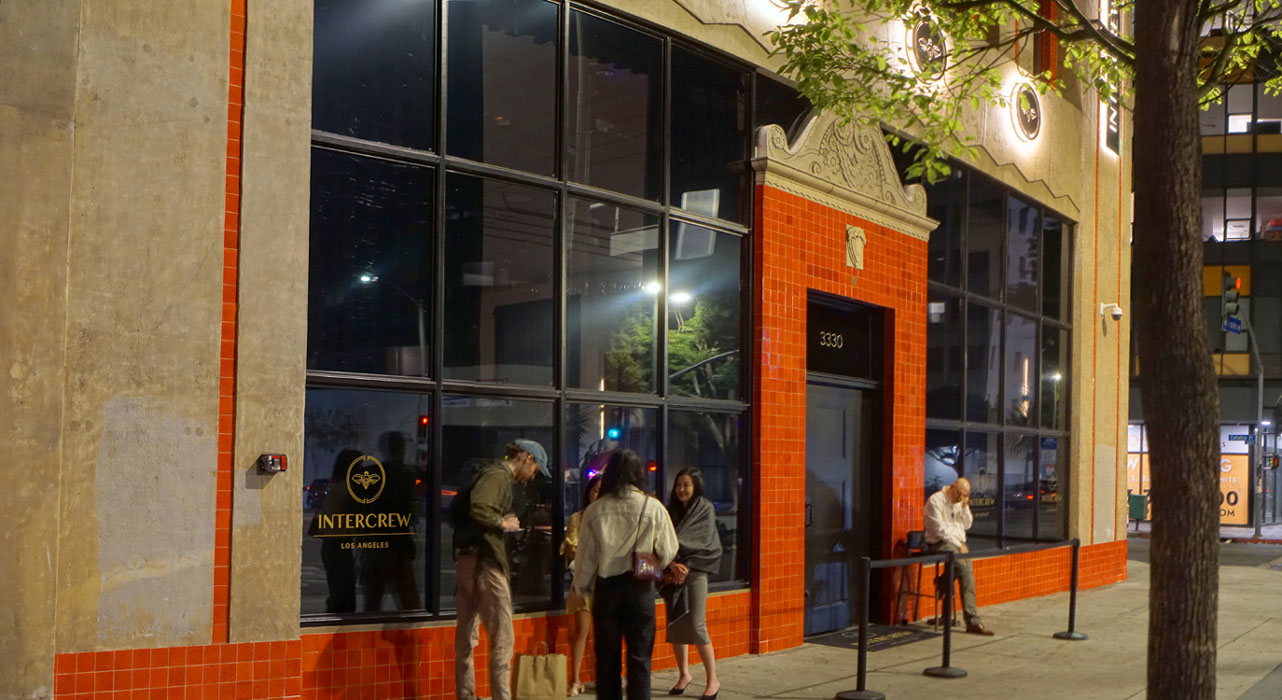 Intercrew International might be a familiar name if you're a longtime Angeleno. The K-town club had its heyday in the late 1990s/early 2000s, and was actually situated in Chapman Plaza, inside the current home of
Quarters
. I'd heard about it during my college years, but sadly, never made it out there before the place closed. After its shutter, the Intercrew name sort of faded from memory until recently, when it was revived for a new restaurant/lounge from a company by the name of Good Times Group LLC. Good Times is led by nightlife veteran Richard Nam (The Belasco), with backing from Twitch co-founder Kevin Lin and four principals behind record label Transparent Arts: Yusup "Kirby" Lee, filmmaker Daniel "DPD" Park, and two members of Far East Movement: Kevin Nishimura (Kev Nish) and James Roh (Prohgress). This new incarnation of Intercrew debuted in June last year with a menu by Executive Chef Erik Sun and CdC Johnny Tran.
About the Chefs
: Erik Sun grew up in Laguna Hills, and comes from a family originally from Hong Kong. He went to the prestigious Phillips Academy boarding school in Andover, Massachusetts, and during his high school years, got involved with spearfishing and wrestling. He attended UCLA from 2004 to 2007, where he majored in English and continued to wrestle. At the start of college, Sun became a co-owner of Sumora, a South African spearfishing equipment manufacturer, and also began seriously cooking around this time. Following graduation, he worked in wealth management at HSBC for a year, but soon decided to focus his efforts on growing the spearfishing business. In 2008, he befriended and Ori Menashe (who was working at
Angelini Osteria
at the time), and three years later, became a minority partner in
Bestia
(where's he's been known to cook on occasion). Sun also took on a similar stake in Menashe's sophomore effort
Bavel
a few years later.
In 2014, he became Exec Chef of Bos Creek, a grass-fed beef company from Montana, but the firm appears to have shuttered just a couple years later. His next venture came in 2015, when he launched Zabuton Restaurant Group up in San Francisco. The company was originally slated to open two concepts at 715 Brannan St (The Arsenal, with a focus on high-end Asian fare) and 445 Harriet St (The Hunted, with a focus on live fire, whole animal cookery), but neither of them have come to fruition. In 2018, Sun founded Pursuit Farms, an importer of wagyu beef, and the company would eventually lend its name to Pursuit, a yakiniku-slash-ramen concept taking over the Arsenal space that should be debuting in the near future.
Meanwhile, Chef de Cuisine Johnny Tran got his culinary start at The Art Institute of California in San Diego, where studied from 2006 to 2009. During his time in school, he cooked at both Nozomi in La Jolla and at the Hilton San Diego Airport/Harbor Island. Following graduation, he got a job at a catering company by the name of Chef Axel in La Mesa, but only stayed for a couple months. Tran also stayed on at the Hilton, serving as sous there until the end of 2011. At that point, he transitioned to another sous chef position at The Pearl Hotel in San Diego, and in February 2013, moved to a similar role at the Best Western Plus Island Palms Hotel & Marina. December 2015 saw Tran relocate to LA to become CdC at Manhattan Beach's Shade Hotel, and he remained there until June 2018, when he landed a gig at
The Fields
, the food hall at Banc of California Stadium. There, he met none other than Tim Hollingsworth, and five months later, was able to transition to
Otium
as a sous.

Intercrew resides in the Morgan Adams Building, a 1929-era Art Deco structure that was renovated by the team at
J Lou Architect
(they also did Hotel Normandie). The main dining room is pictured above, and I do appreciate its sense of grandeur and occasion.

There's also an upstairs bar/lounge area, which wasn't in use on this particular evening.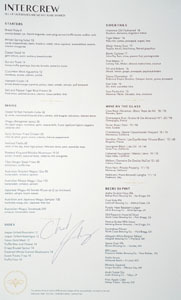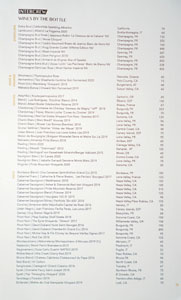 As for the menu, it's a bit on the eclectic side, but does have a focus on steak. The beverage situation is pretty decent as well, and even features cocktails from
Julian Cox
. Click for larger versions.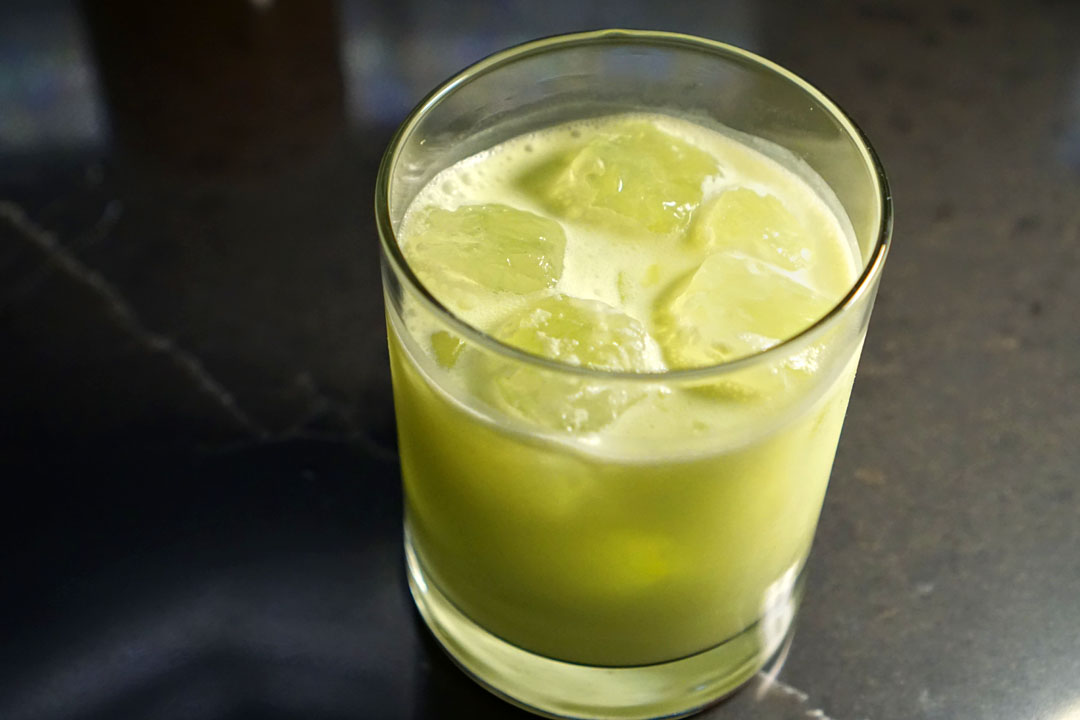 Post Melon [$17.00]
| Suntory Toki, Midori, almond, makrut lime, coconut
I do like a good punny cocktail name, so this first drink certainly fit the bill in that department. It was tasty to boot, giving up loads of in-your-face, almost candied melon cut by touches of bitterness and citrus.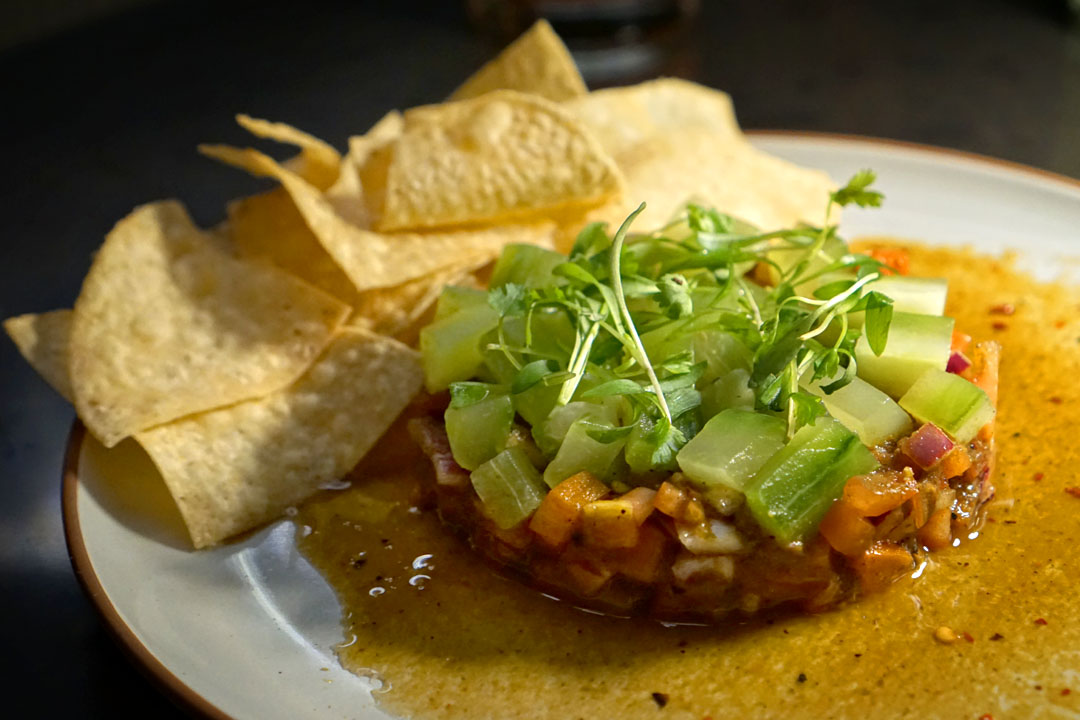 Cucumber Black Aguachile [$12.00]
| tomatoes, onions, cilantro, tortilla
This vegetarian aguachile turned out better than I thought it would. The dish conveyed a surprising amount of depth and spice, which played well with the tomatoes, while the cucumbers imparted the needed crunch and levity. Nice accent from the cilantro as well.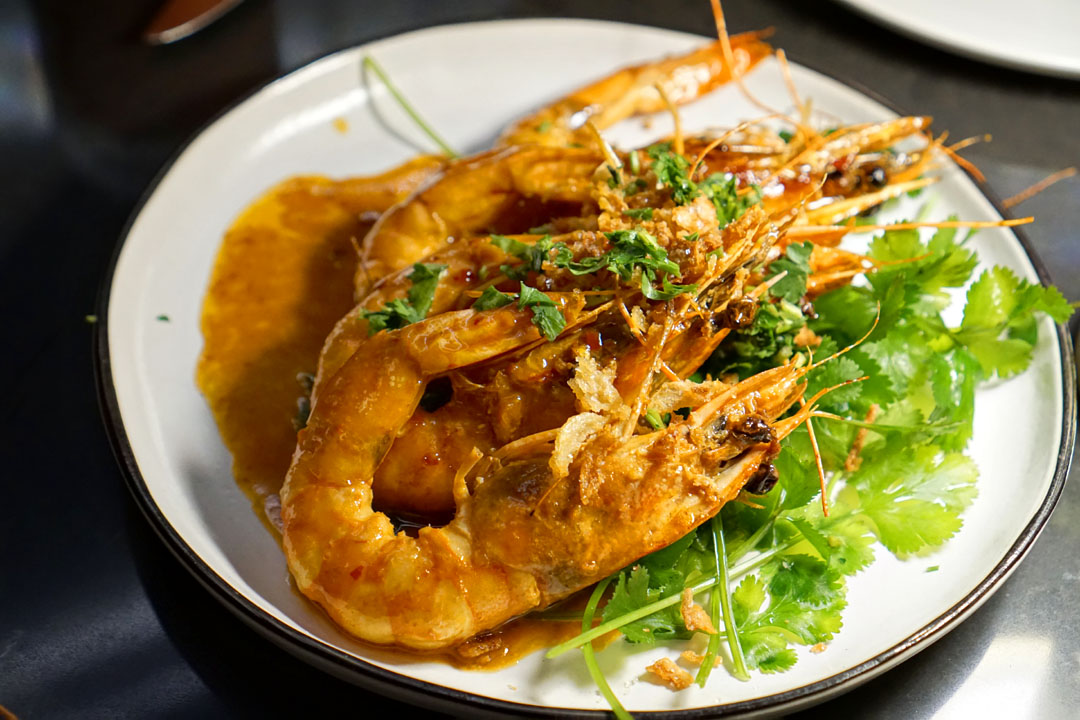 Salt and Pepper Tiger Blue Prawns [$26.00]
| fried onion, pickled serrano, cilantro, house sambal, lime
I didn't get the salt-n-pepper flavors I was expecting here. Instead, the star of the show was the mouthwatering heat from the sambal, which complemented the shrimp without overwhelming them, in the process making for a rather gratifying eating experience. Be sure to suck the heads, too.
Guava Chameleon [$17.00]
| Redwood Empire Bourbon, Campari, lemon, guava, pineapple
The puns continued with the next cocktail, which was unusually thick on the palate, and showed off plenty of true-to-life guava flavors alongside just a smidge of astringency.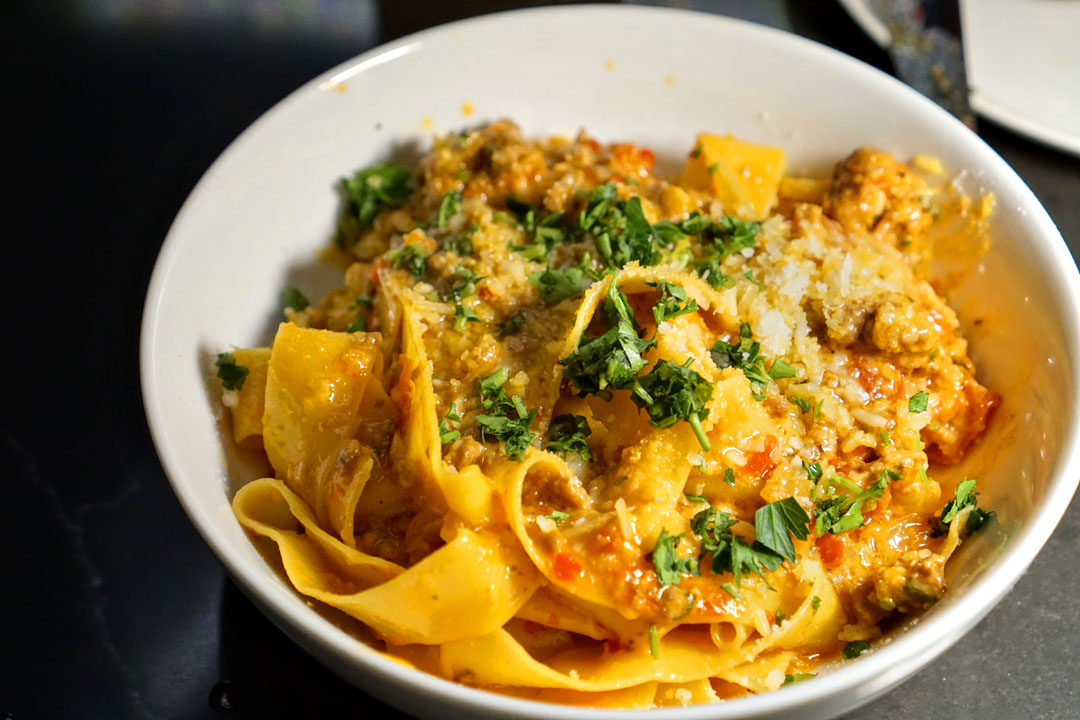 Wagyu Bolognese [$28.00]
| dry-aged wagyu, tomatoes, garlic, pappardelle, 5 year aged parmigiano reggiano, calabrian chili
The pasta was a definite crowd pleaser thanks to the sheer meatiness and assertive spicing on the ragù, which played easily with the firm-ish ribbons of pappardelle.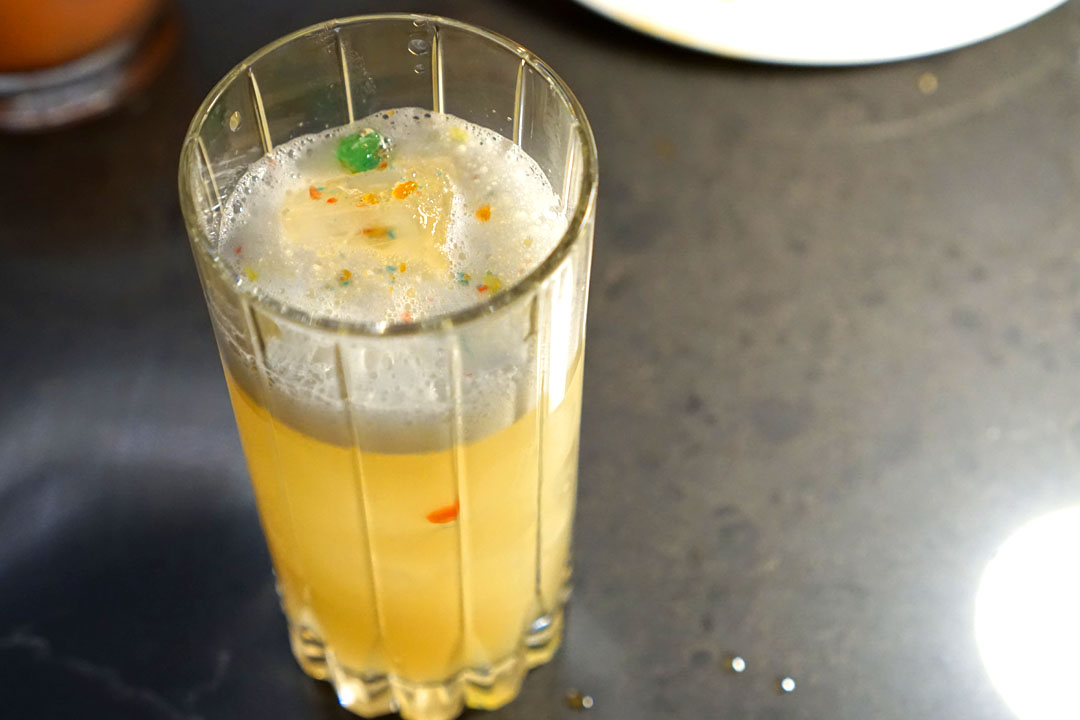 Sour Peche Kid [$15.00]
| Massenez Pêche, Calvados, lime, cinnamon
Our first long cocktail demonstrated sugary, candied notes of peach up front, but fortunately, things were kept in check by an undercurrent of bitterness and the kick of that apple brandy.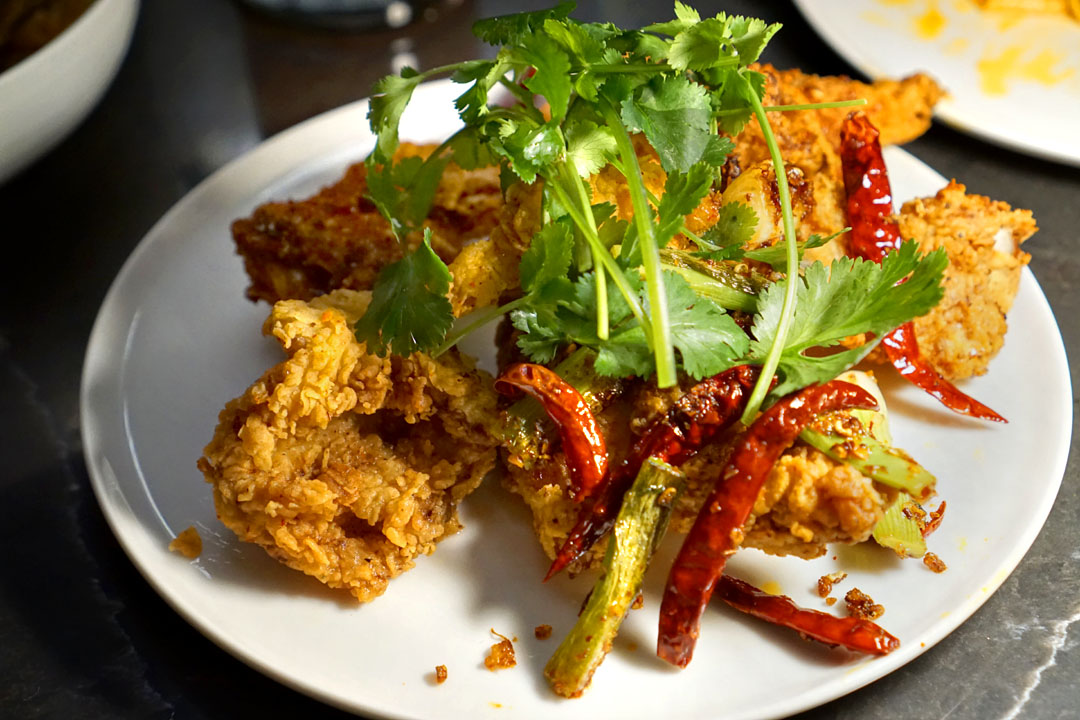 Spicy Sichuan Fried Chicken [$26.00]
| chile de arbol, green onions, cilantro, Sichuan peppercorn
I have a hard time turning down fried chicken, so I just couldn't resist myself here. The bird was decently juicy and properly crunchy, but the crux of the dish was clearly the seasoning, which did an admirable job conveying the sour, spicy, and numbing notes of its Sichuan inspiration.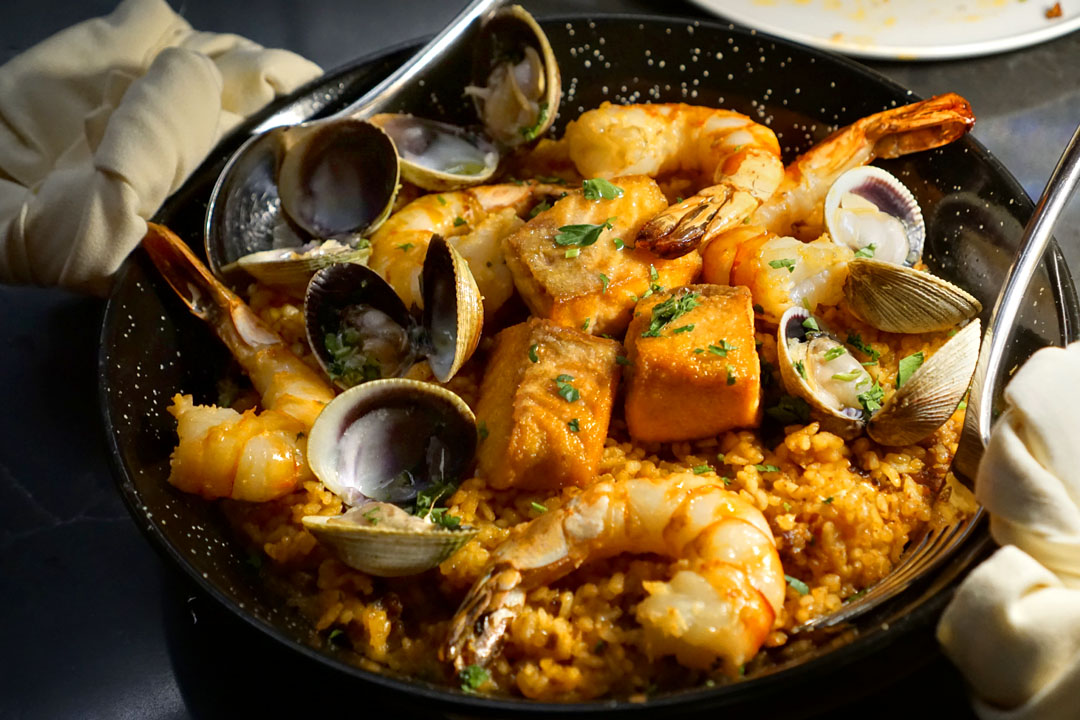 Seafood Paella [$68.00]
| catch of the day, black tiger prawn, littleneck clams, pork, soondubu base
This Korean-ish paella mostly met the mark. The hero here was the seafood: the snappy, smoky shrimp; lush, fatty cuts of salmon; and of course, those juicy, briny clams. I could also taste the tofu stew flavors that the kitchen was going for in the rice, but really wanted more soccarrat (or would it be
nurungji
?).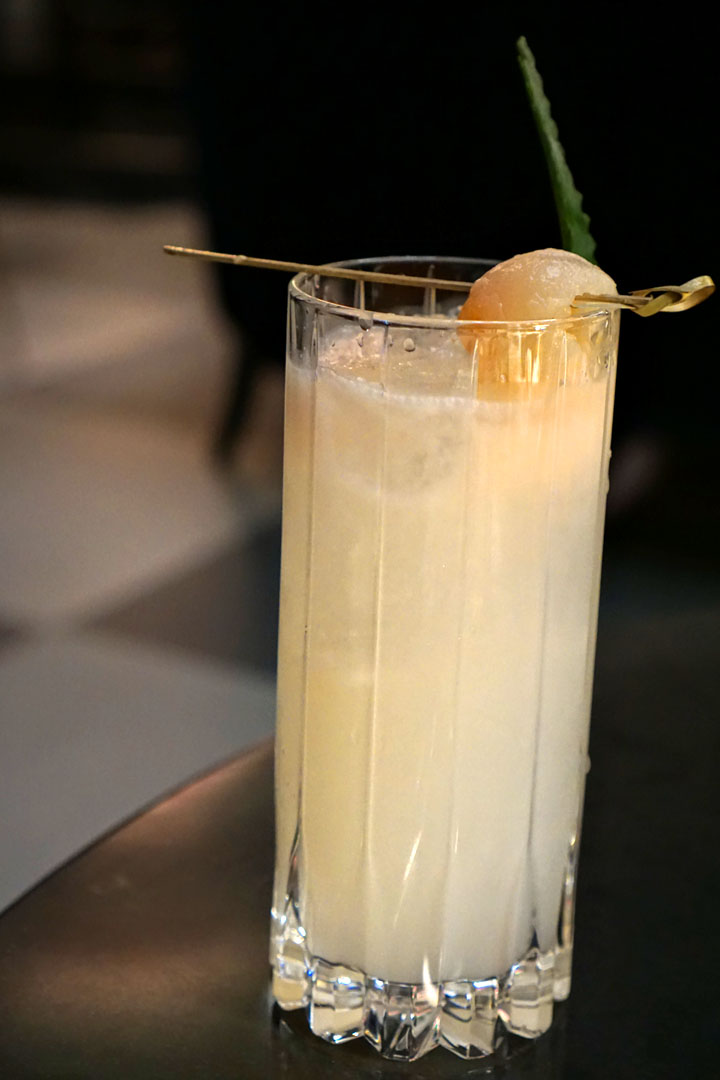 Tiger Water [$16.00]
| Roku Gin, lychee, pineapple, orgeat, lime
This next cocktail was sweet and lychee-forward at its core, but the tartness from the lime and pineapple were crucial for balance.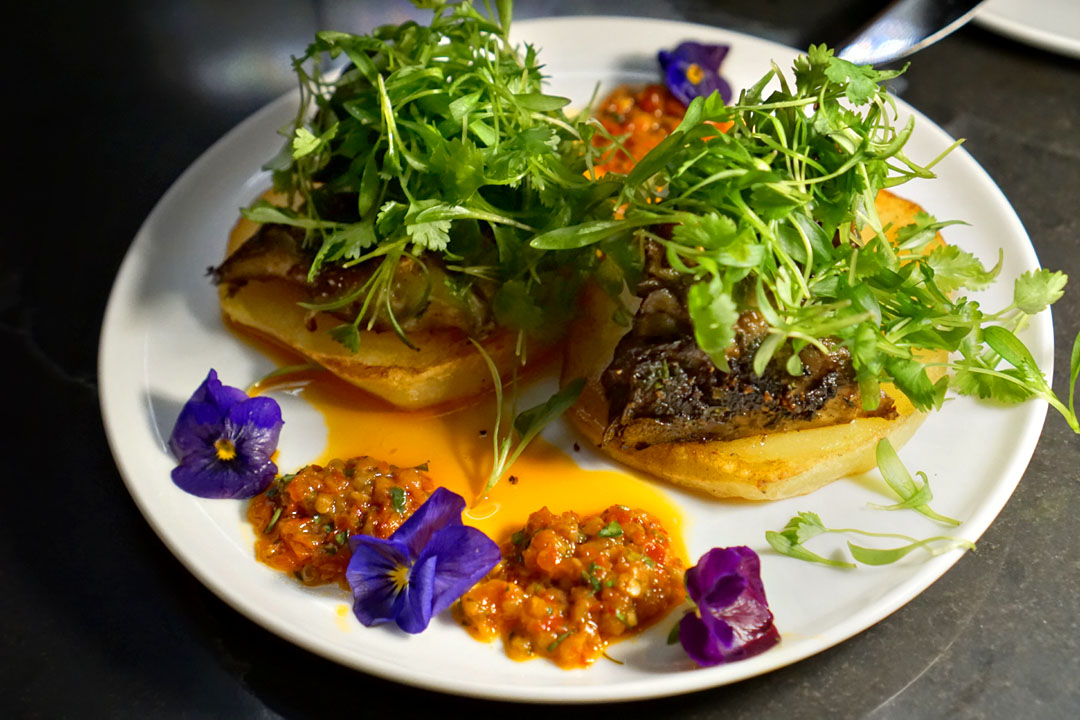 Roasted King and Maitake Mushroom [$19.00]
| potato fondant, seasonal herbs, calabrian chili vinaigrette
Here we had a somewhat unusual, but tasty combination of woodsy 'shrooms and herby medallions of potato, all perked up by that zingy chili sauce.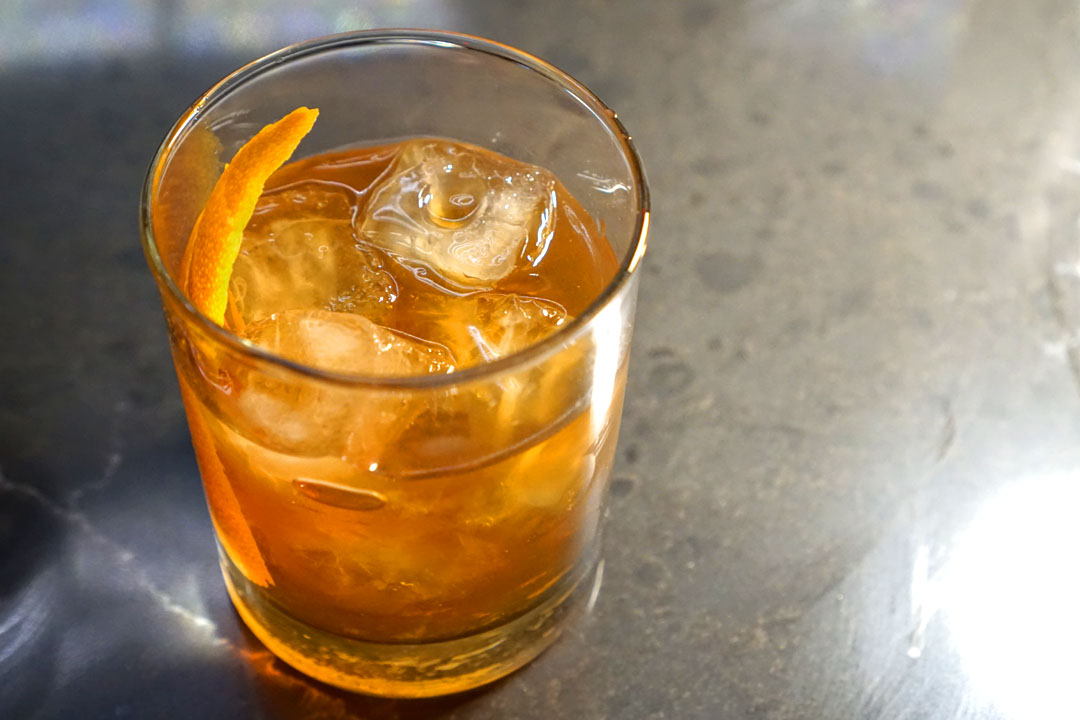 Intercrew Old Fashioned [$16.00]
| Bourbon, demerara, angostura bitters
My final cocktail was this straightforward take on the old fashioned. I got a good dosing of citrus and brown sugar on the nose, while taste-wise, think spirit-forward and caramel-y, with apparent herbs on the back end.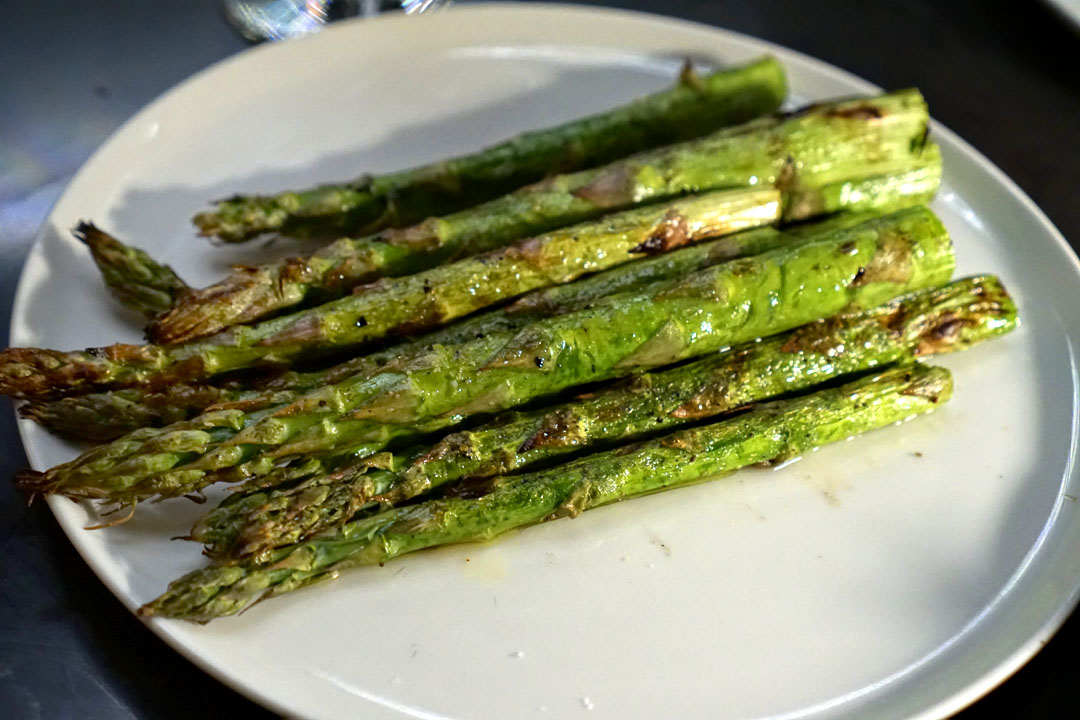 Josper Grilled Asparagus [$12.00]
Spears of asparagus were well-textured and juicy, displaying your classic bitterness, but kissed with just a bit of sear.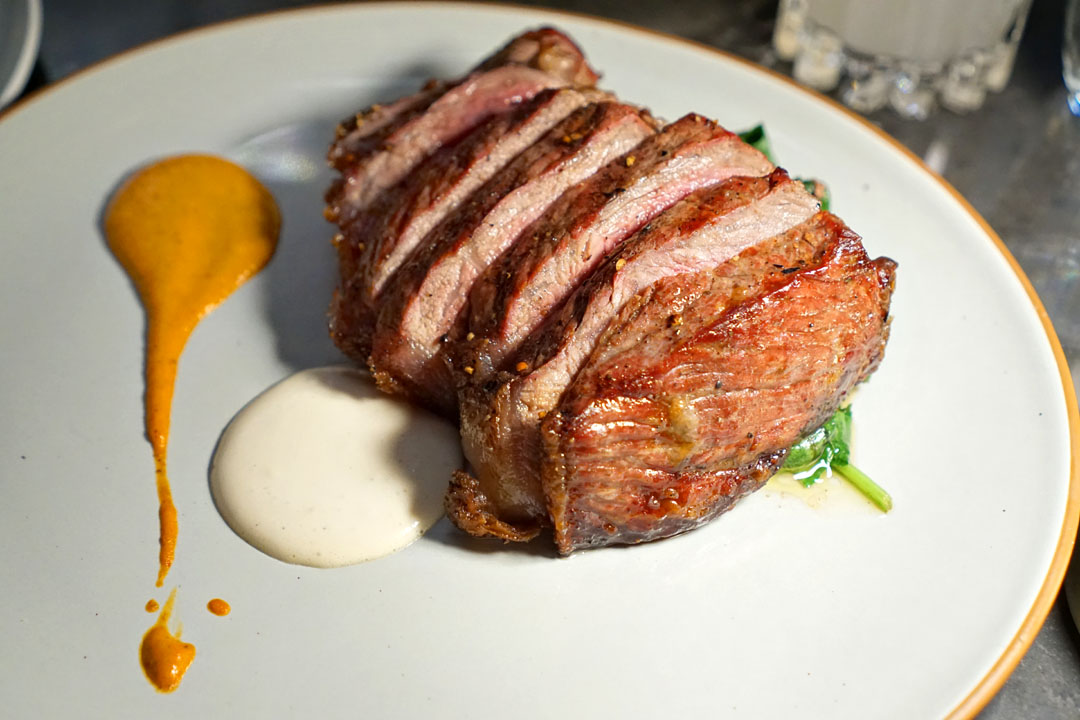 Australian Striploin Wagyu 12oz [$90.00]
| horseradish, romesco, spinach
Cooked medium-rare, our strip steak showcased a nice depth, along with a healthy sear on the outside, while its texture was relatively tender, with hints of the lushness you expect from wagyu. The beef was certainly enjoyable alone, but I appreciated the contrast from the spinach here, and didn't mind those sauces, either.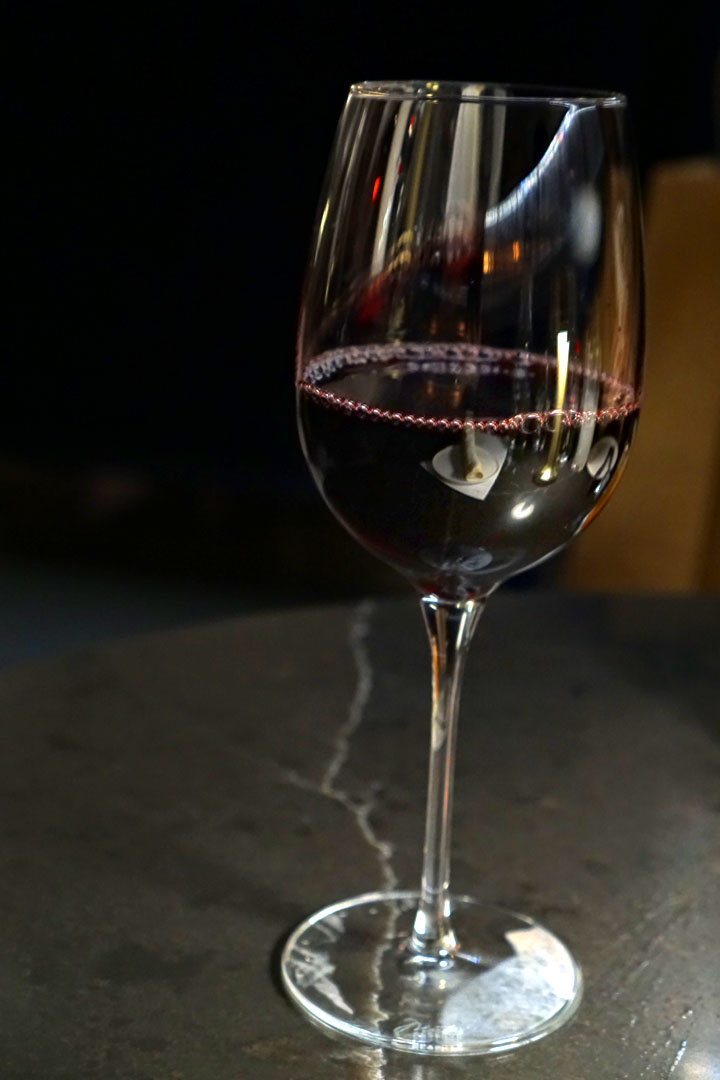 To pair with the steak, I requested a glass of the
Cabernet Sauvignon / Merlot | Venn [$19]
from Napa Valley. The wine had a straightforward nose of dark fruits, while its palate was silky smooth, with more of those berries joined by traces of tobacco spice.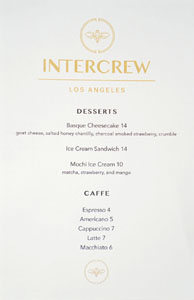 The dessert menu is somewhat more abbreviated than I'd like, but works well enough. Click for a larger version.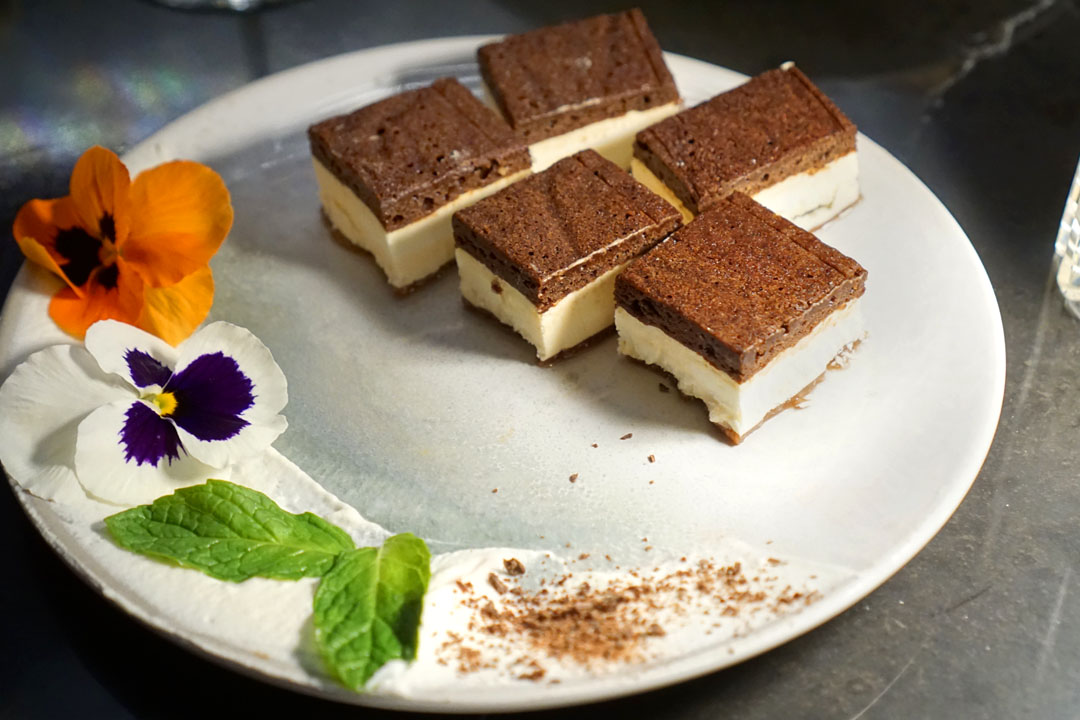 Ice Cream Sandwich [$14.00]
Our first dessert was a relatively classic interpretation of the old school ice cream sandwiches of my childhood--fun and familiar.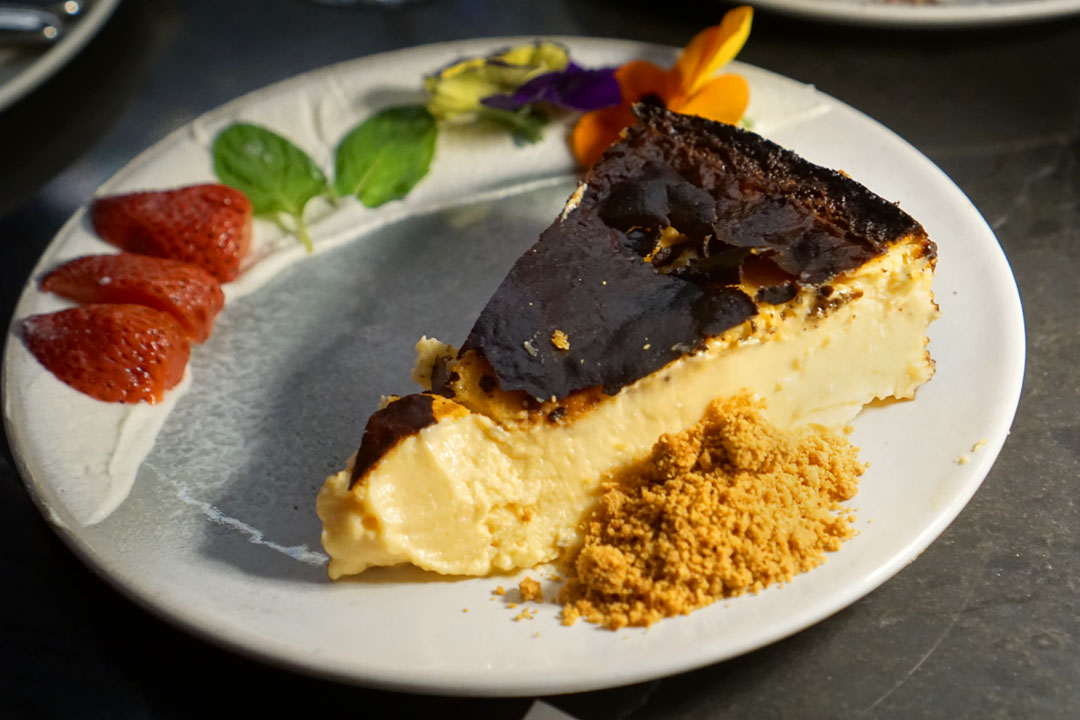 Basque Cheesecake [$14.00]
| goat cheese, salted honey chantilly, charcoal smoked strawberry, crumble
As for the Basque cheesecake (all the rage these days), it was one of the cheesiest I've had, even recalling Laughing Cow at times, but the cake's smokiness worked to rein things in. I liked the texture from those crumbs, too.
Given that Intercrew is a bit on the "clubbier" side (with bottle service and everything), I was slightly concerned that the food would be disappointing. Fortunately, what I ate tonight was generally pretty good, and combined with the ambiance and service, resulted in a rather enjoyable experience overall. For me, this is a welcomed addition to Koreatown's nightlife scene, and I'll definitely be keeping the place in mind for future outings.