Sea Harbour (Rosemead, CA) [2]
Sea Harbour Seafood Restaurant
3939 Rosemead Blvd, Rosemead, CA 91770
626.288.3939
www.seaharbourrosemead.com / www.seaharbourseafood.com
Sat 03/12/2022, 06:30p-01:30a

When I think of quality Cantonese cuisine here in the Southland,
Sea Harbour
is one of the first names that come to mind. Opened by Chef/Owner Hui Dong "Tony" He (sometimes written as Tony Ho) 20 years ago, the place pretty much ushered in the era of non-cart dim sum in Los Angeles, and that's still the core of its business to this day. In fact, from what I understand, the restaurant only offers dinner by reservation (we definitely had a reservation).
About the Chef
: He Hui-dong (何惠東) grew up in China's Guangdong province, and began his culinary training at the age of 15 (circa 1980). In 1992, he and some associates decided to start a business together, and subsequently opened the first Sea Harbour in the city of Zhongshan. Four years later, the Chef immigrated to Vancouver with his family, and in 1999, launched another Sea Harbour (海港大酒樓) in the city of Richmond, British Columbia. In 2002, He debuted Sea Harbour in Rosemead; this was followed by an outpost in Rowland Heights in 2003, and the more casual Sea Harbour Gourmet House (海港美食坊) in San Gabriel not long after. 2005 saw the Chef return to his old stomping grounds in Zhongshan, where he opened the first Yi Dong Seafood Restaurant (颐东大酒楼), which was later followed by another Yi Dong in Xingbao Square (颐东星宝大酒楼); both are now closed.
In December 2008, He expanded Sea Harbour to Caesars Palace in Las Vegas. It lasted until 2011, which was also the year that the Sea Harbour in Richmond moved to a new building across from the River Rock Casino Resort. The Yi Dong brand then came to Canada in January 2014 with the debut of a location in Richmond (頤東大酒樓), which had the English name Chef Tony Seafood Restaurant. He expanded further in 2017 with the premiere of the Chef Tony Dim Sum stall at the food court at Metrotown in Burnaby, BC, and again in August 2019 with Chef Tony Dim Sum and Chinese Cuisine in Edmonton, AB. Back in LA, Chef Tony Dim Sum (頤東精點) landed in Old Pasadena's historic Bear Building in February 2020, taking over the former home of 800 Degrees, but the place shut down not long after due to the pandemic. Finally, a second Chef Tony Dim Sum dropped last August, situated in a storefront that previously held the original Din Tai Fung.

Inside, things are about the same as before, but the decor has been gussied up a bit in recent years. More notably, a set of private dining rooms was added to the southern end of the building in late 2017. An interesting bit of trivia: this structure used to house Farrell's Ice Cream Parlour.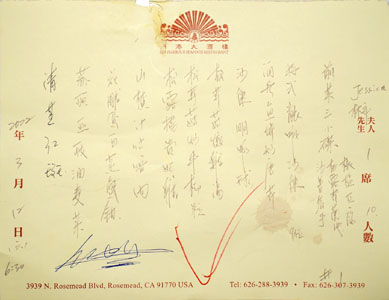 This particular meal was arranged by a friend of a friend, an acquaintance of the Chef, whose hand-written menu is pictured above. The goal was to aim for a target price of $100 per person, which was accomplished. Click for a larger version.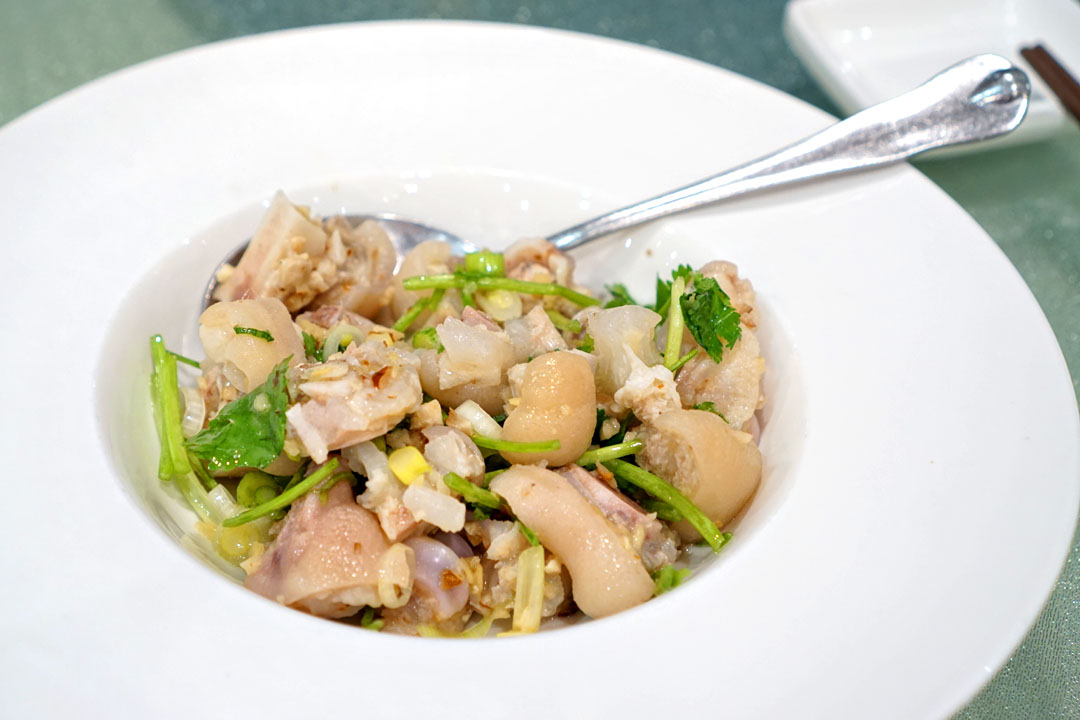 Appetizer 1: 油姜豬手 (Pork Knuckles) [$16.80]
By the time I arrived, the appetizer above was already on the table (or more accurately, on the Lazy Susan). What we had here were crunchy, brazenly porcine fragments of trotter, joined by plenty of cilantro for balance. I enjoyed this more than I thought I would.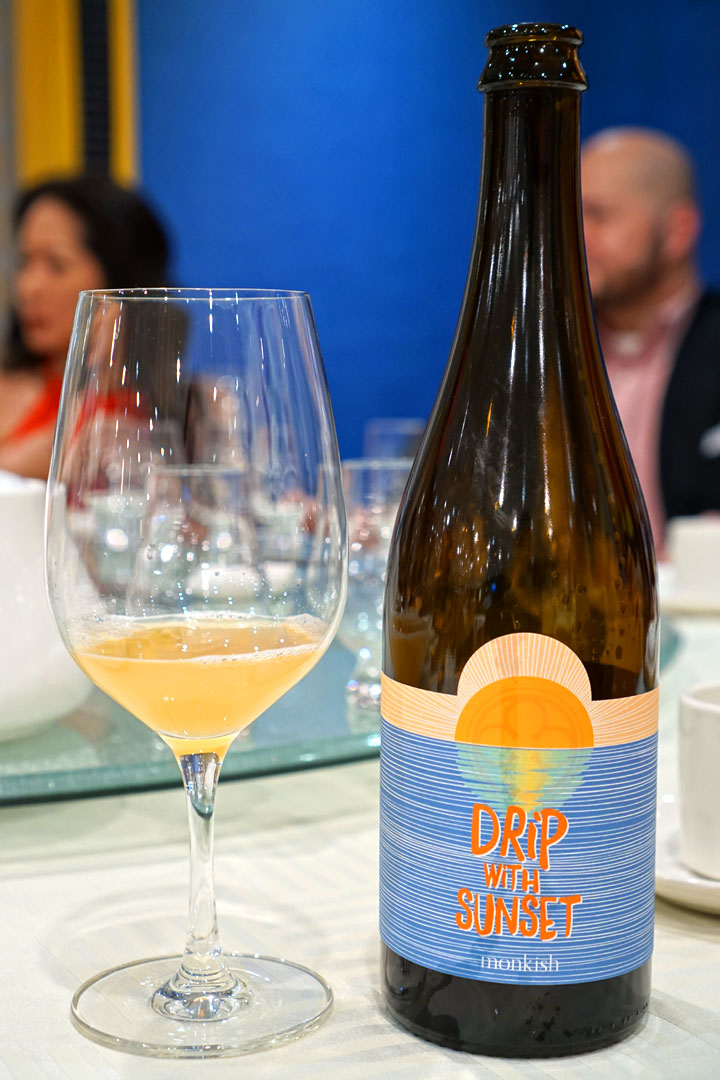 We weren't charged any corkage fees, so it was pretty much a free-for-all with regard to booze. I ended up bringing three bottles, and started with something light in the form of the
2018 Monkish Drip with Sunset
, an oak-aged wild ale with Masumoto peaches. The beer was super aromatic, and I could smell its stone fruity, yeasty bouquet from across the table, while taste-wise, I got robust flavors of peach in a sour-yet-soft, subtly earthy package. This actually made for a pretty nice apéritif.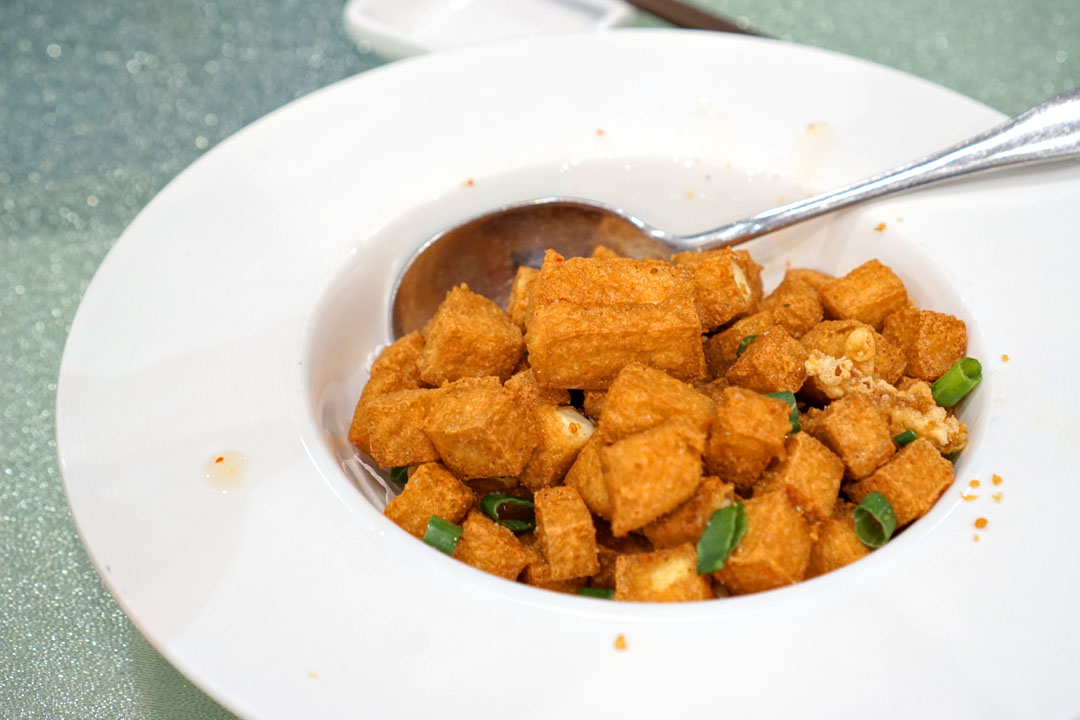 Appetizer 2: 椒盐豆腐 (Salt and Pepper Tofu) [$10.80]
Next up was perhaps the best
jiāoyán
tofu I've ever had. I loved the contrast between the bean curd's elegantly crispy exteriors and silky, melt-in-your-mouth insides, while the S+P seasoning was fairly aggressive, and paired well with the dish's slight funk. This was something that I just wanted to keep eating.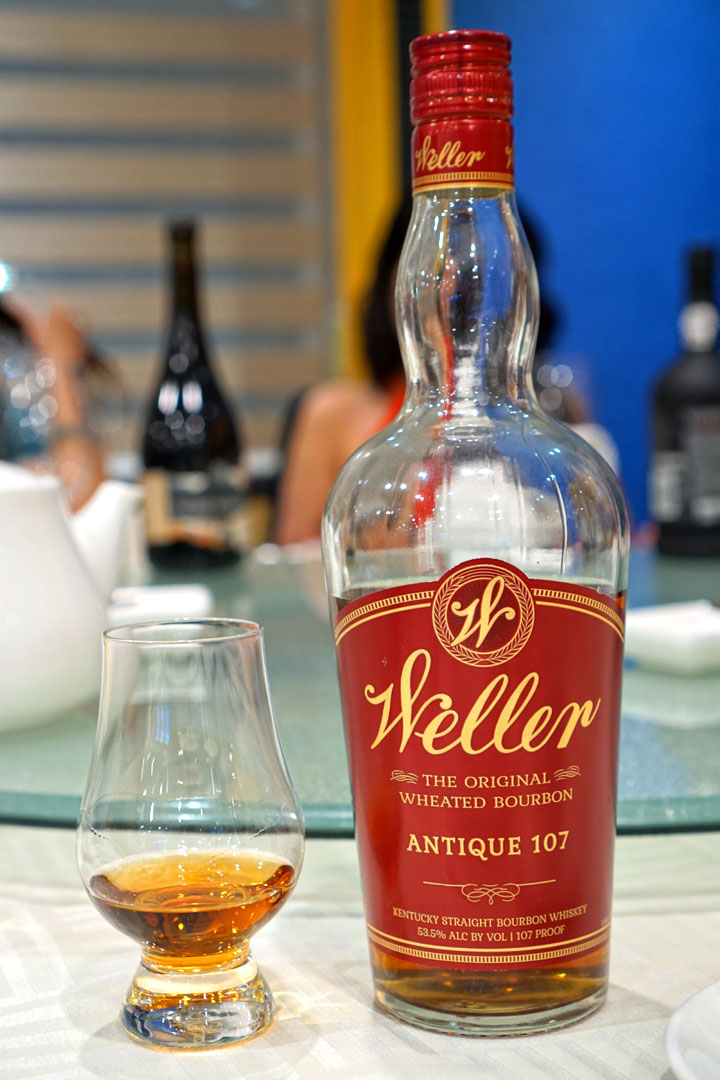 We then opened up a bottle of
W.L. Weller Antique 107
, which speaks to the aforementioned free-for-all nature of our BYOB situation. A wheated bourbon, it smelled strongly of brown sugar, with light spices, some orchard fruit, and a surprising amount of citrus, while the palate displayed a commixture of caramel, dark fruits, and sharp herbs, all in balance.
Appetizer 3: 松露芥蘭片 (Chinese Broccoli with Black Truffle) [$10.80]
Here, the bitter crunch of gai lan worked great with the heady musk of truffle, making for a lovely juxtaposition of tastes and textures.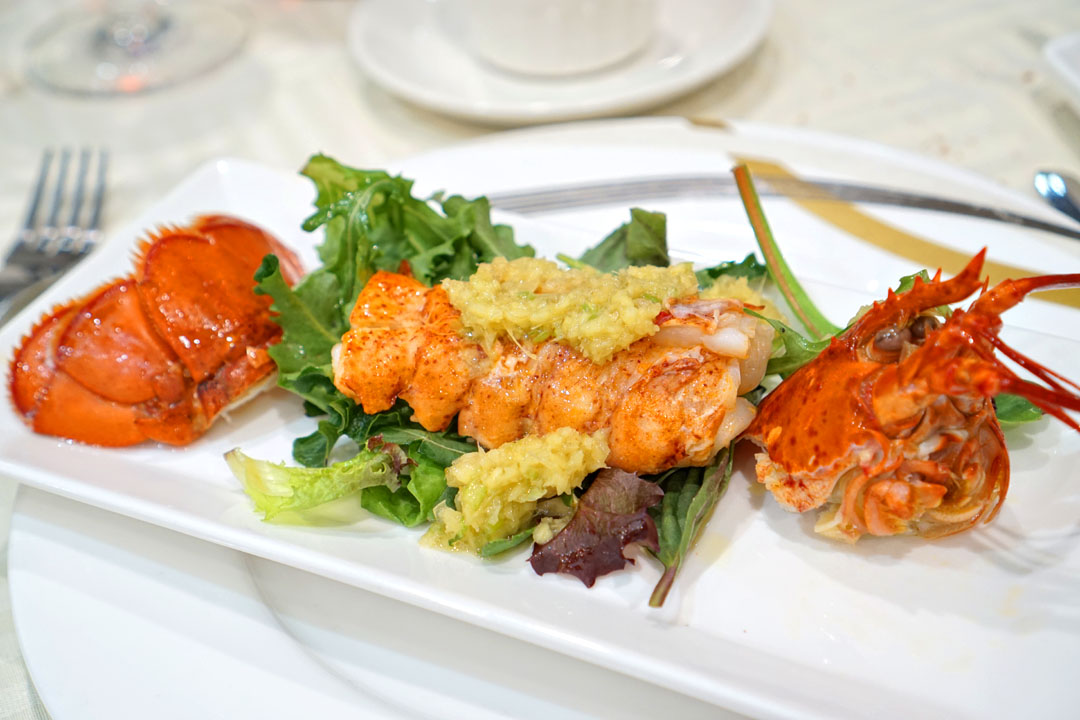 1: 特式龍蝦沙律 (Special Lobster Salad) [$43.20]
Our first proper course brought out a gratifyingly meaty chunk of lobster, one that had its signature sweetness on display, set against a delightfully ginger-y, herbaceous condiment and a subtle, growing heat.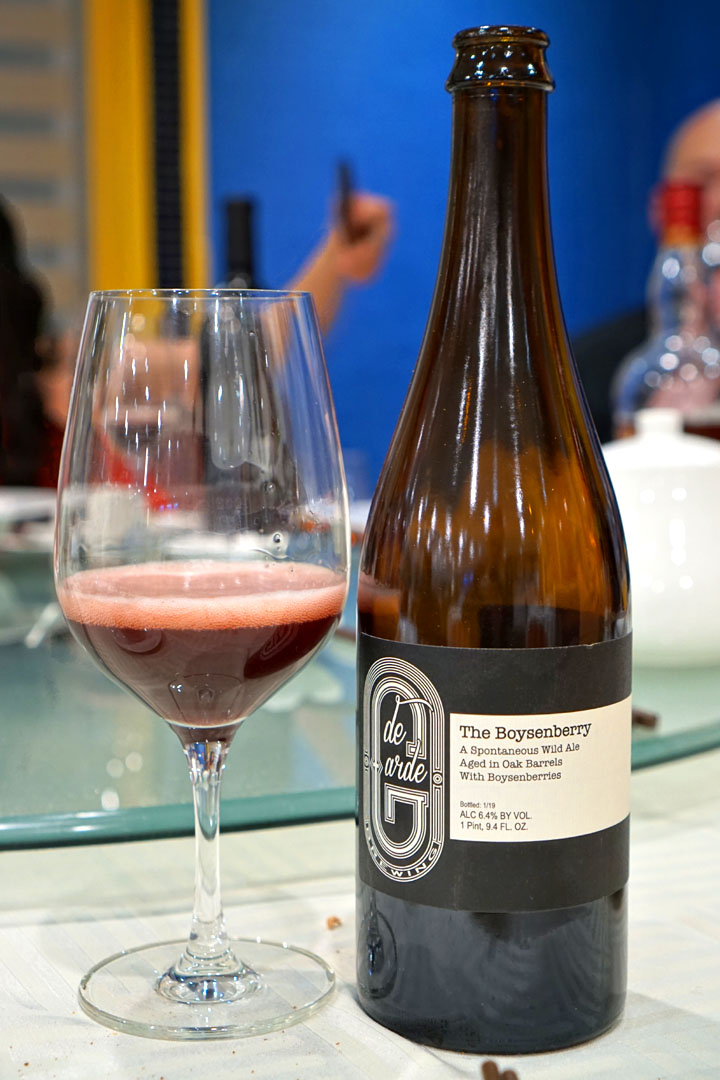 My second bottle was another beer, the
2019 de Garde The Boysenberry
, a spontaneously fermented wild ale aged in oak barrels with the namesake fruit. The nose on this one was super jammy, as well as "seedy," which I really enjoyed, while its taste went in a bright, super fruit-forward direction, offset by just enough mustiness. A crowd pleaser for sure.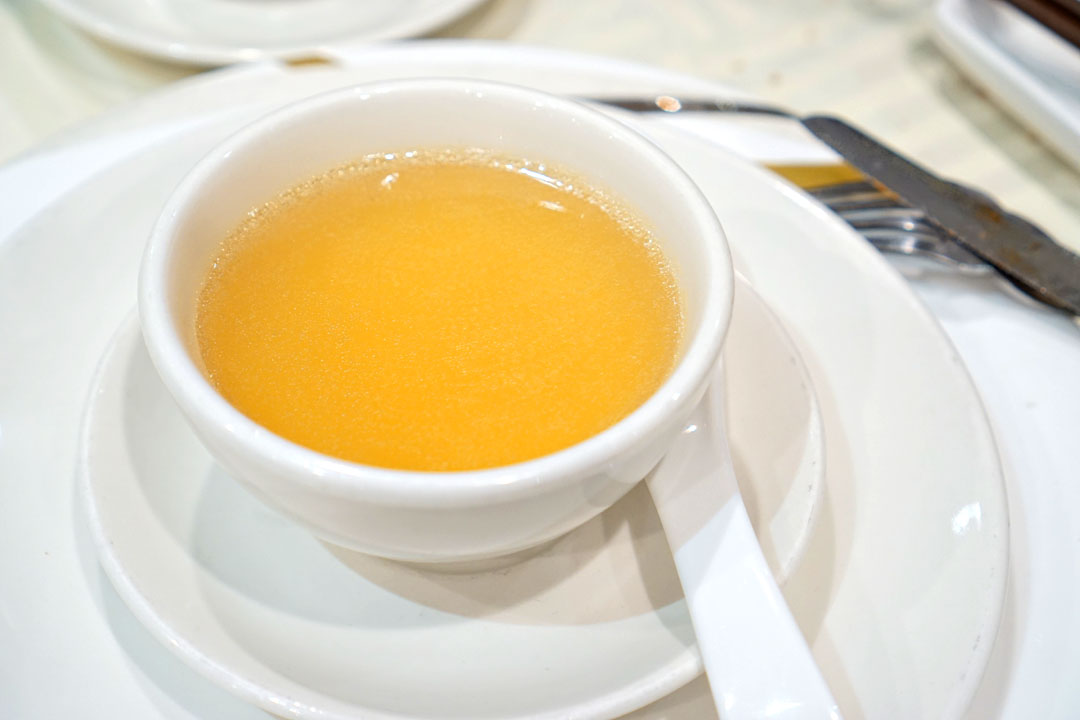 2: 松茸菇燉雞湯 (Chicken and Matsutake Mushroom Soup) [$7.76]
This was a dainty broth that conveyed plenty of chicken up front before transitioning to the musk and astringency of the mushrooms on the back end.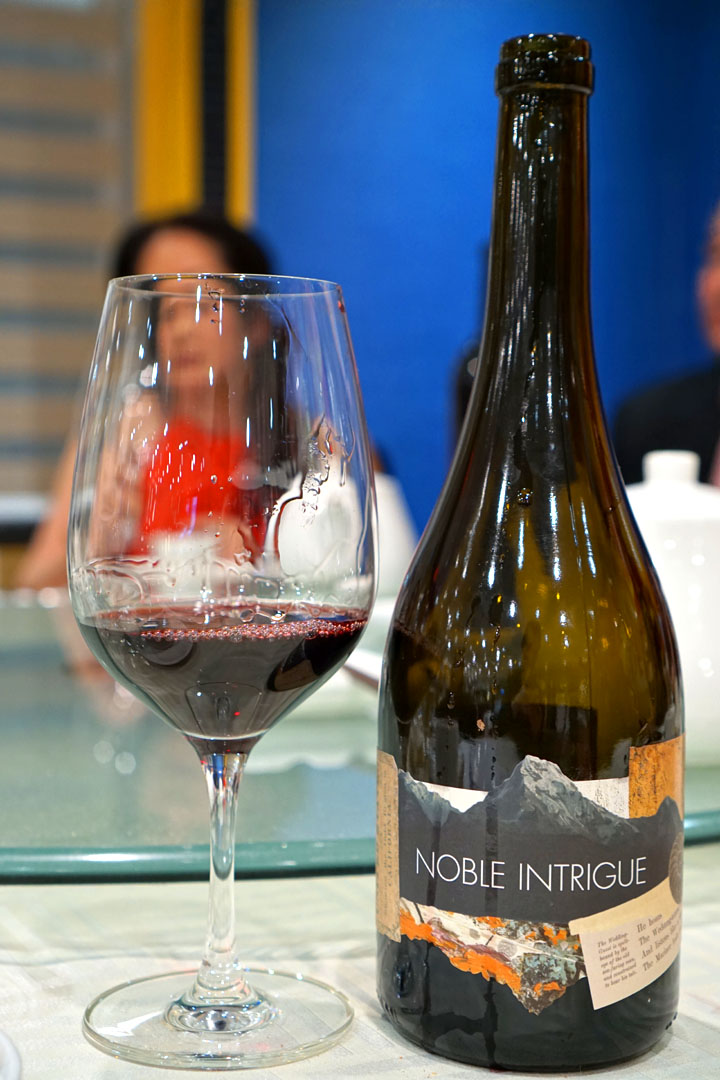 The first wine of the night was the
2017 ONX Syrah Noble Intrigue Bien Nacido Vineyard
from the Central Coast's Santa Maria Valley. I got massive notes of strawberry on the nose, perhaps more than in any other wine I've had, along with traces of meatiness and herb. On the palate, I found the wine silky smooth, with red fruits at the fore countered by an undercurrent of spiciness and just a trace of smoke.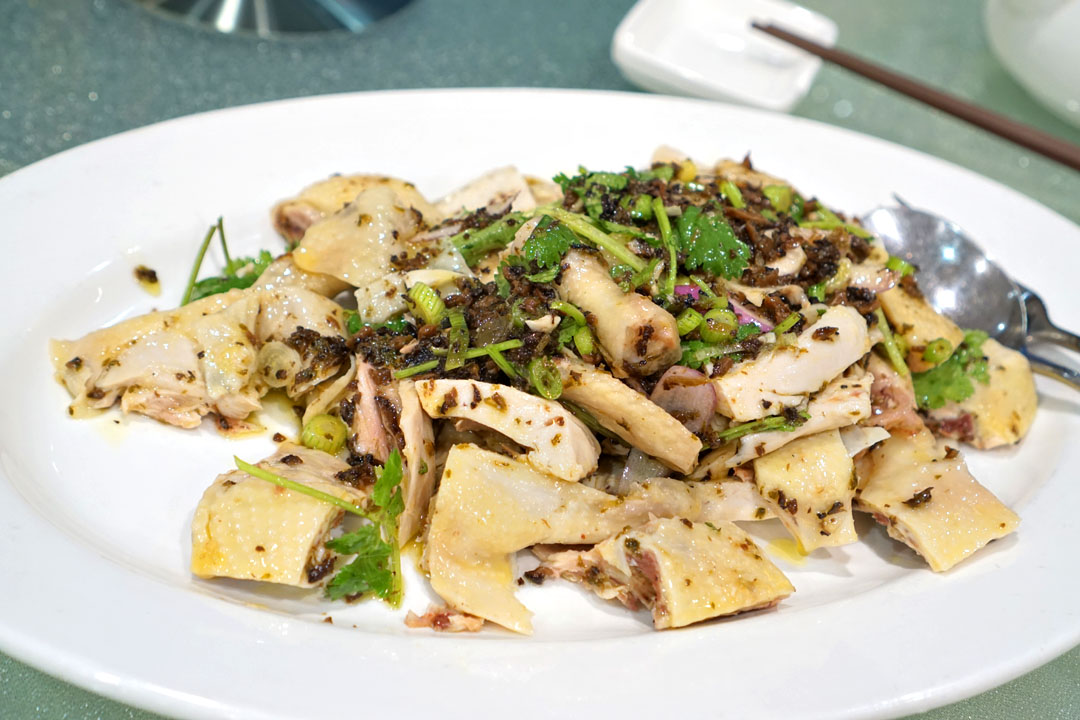 3: 松露撈貴妃雞 (Chicken Salad with Black Truffle) [$60.60]
Poached chicken was on point texturally, and the bird's concentrated yet delicate flavors meshed easily with the woodsiness of those truffles, all while the dish's other elements provided a delightfully sour, herby contrast. A standout dish.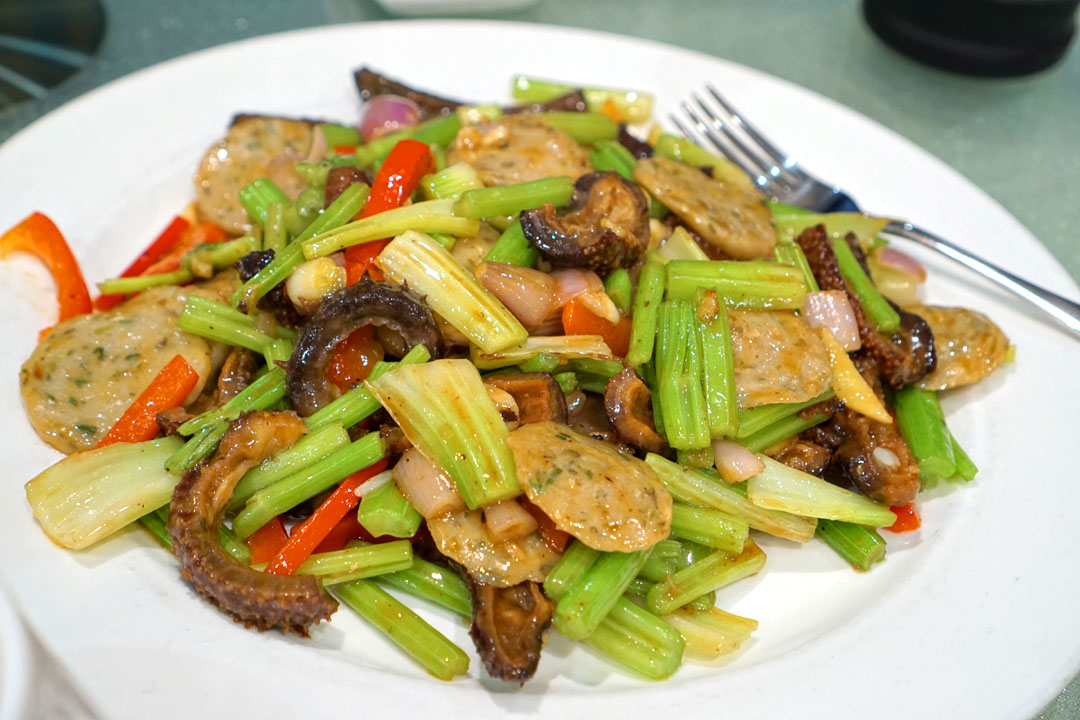 4: 海參魚餅炒唐芹 (Sea Cucumber and Fish Cakes with Celery) [$62.60]
Sea cucumbers had a great bite, coming out a bit chewy, a bit firm, yet still yielding. They had a palpable umami to them that worked hand-in-hand with the sharp crunch of celery, but even better was the fish cake (dace?), which imparted a real depth to the dish.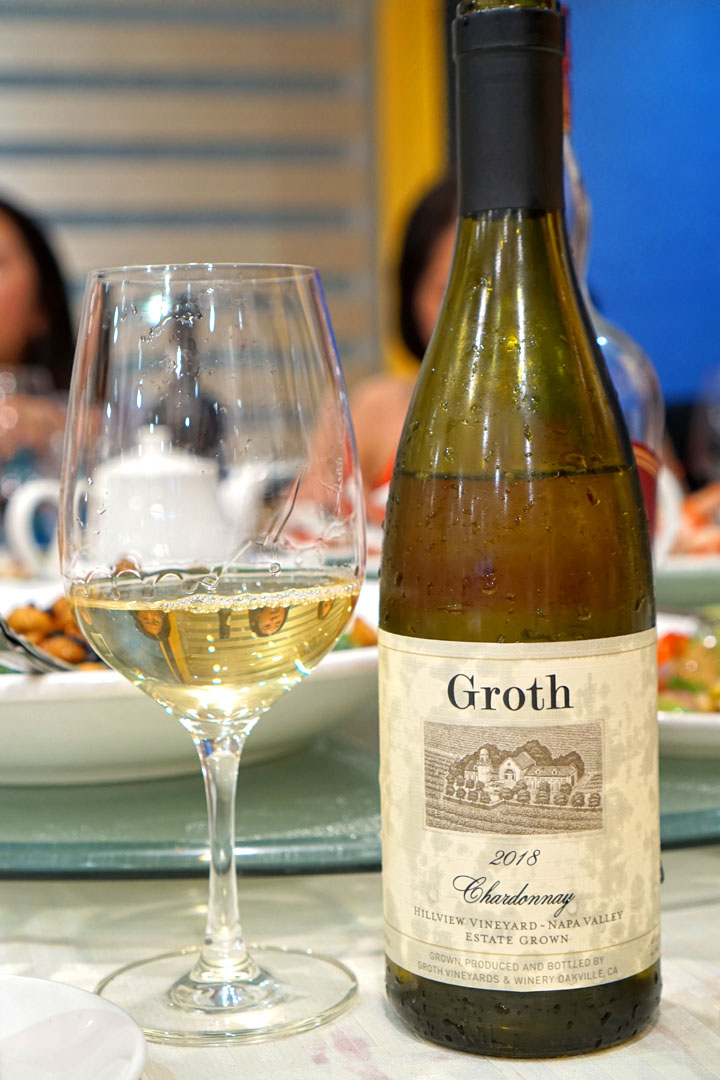 Since we didn't have any white wine, the restaurant provided a complimentary bottle of the
2018 Groth Chardonnay Hillview
. The Chard smelled far nuttier than I was anticipating, though I still got hints of the expected pome fruit aromas. In terms of taste, think more of those orchard fruits, but subdued in presentation, commingled with oak, saline, and spice.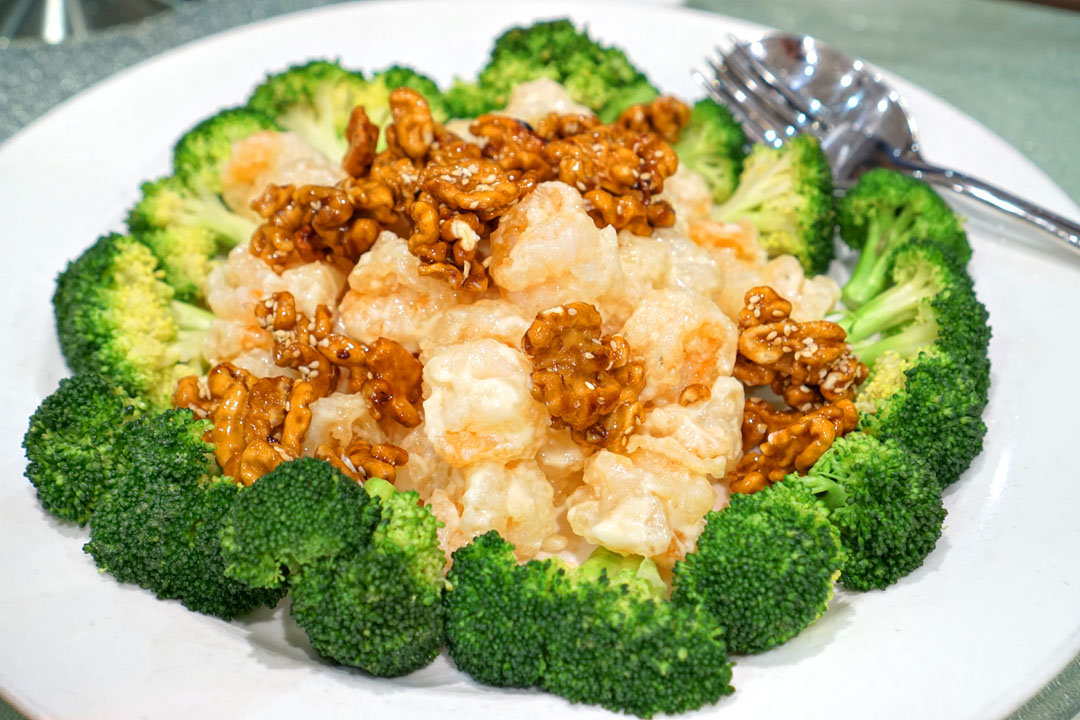 5: 沙律明蝦球 (Stir-fried Prawns with Salad Dressing) [$32.70]
This version of honey walnut prawns began with some very well-textured shrimp, coated in a creamy, but not-too-sweet sauce, and paired with some excellent candied walnuts. The broccoli florets, meanwhile, worked to lighten things up a bit.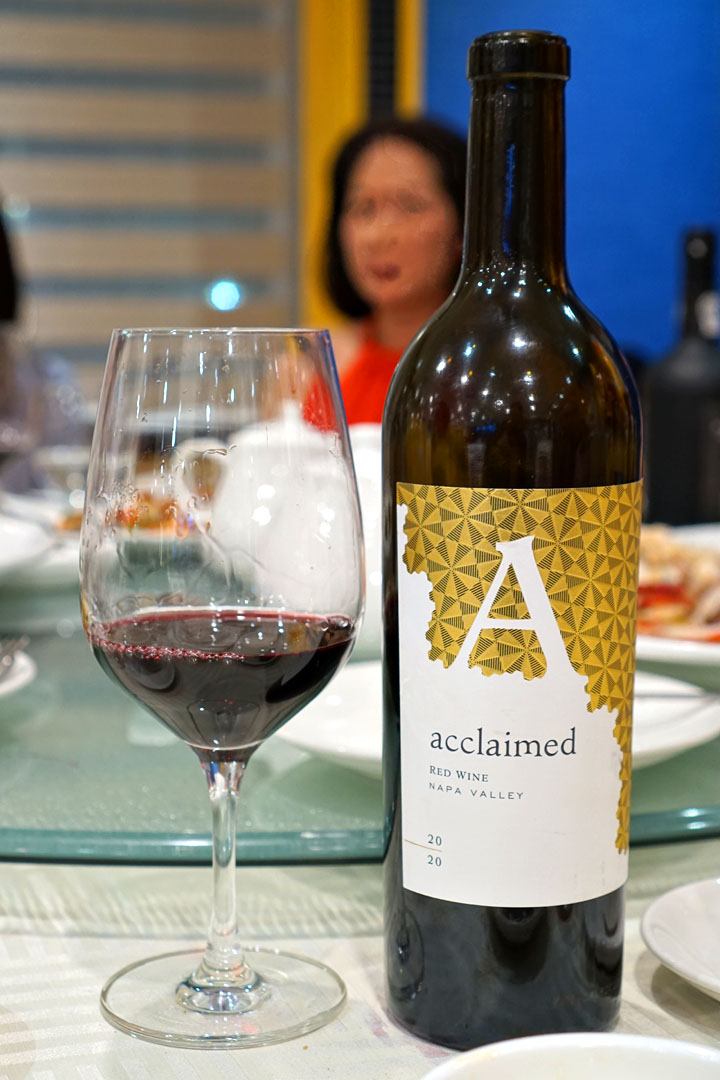 The
2020 Acclaimed Red Wine
was a proprietary red blend from Napa Valley. Lots of sweet berries on the nose, counterbalanced by touches of smoke. Super smooth on the palate, with more of those dark fruits commixed with pert spices and a slight mintiness toward the rear.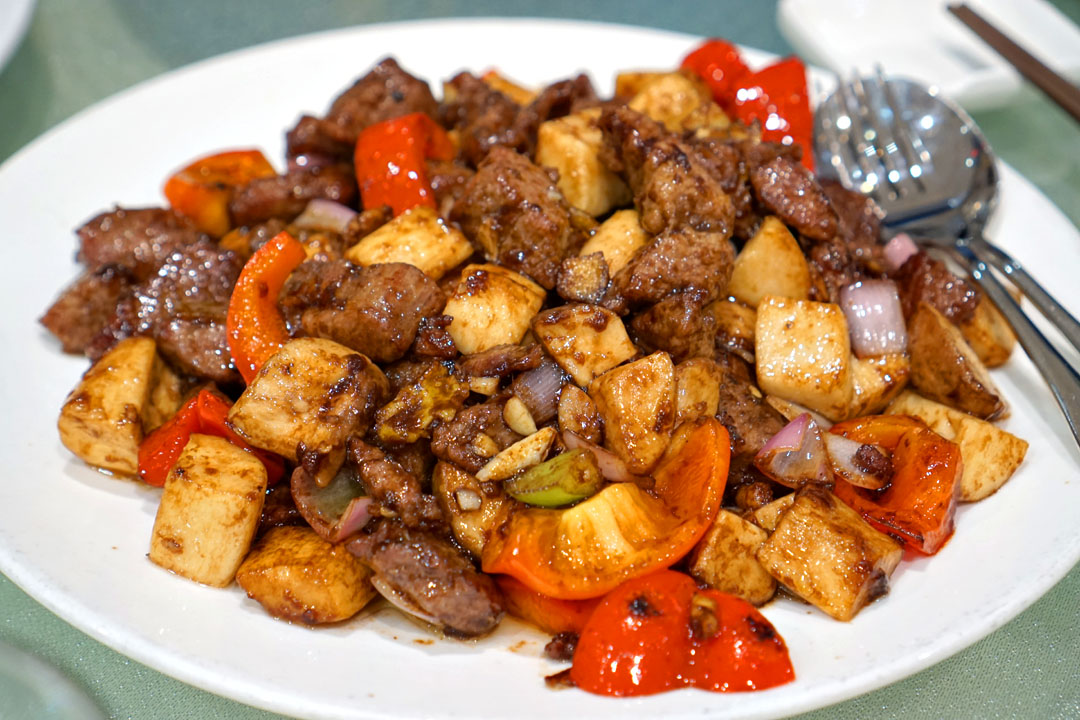 6: 松茸菇炒牛柳粒 (Stir-fried Beef Tenderloin with Matsutake Mushrooms) [$28.20]
This next dish was another favorite of mine largely thanks to just how ridiculously tender the beef was. The filet also took well to the strong seasoning employed, and I thoroughly enjoyed the complementary meatiness and pungency of the 'shrooms.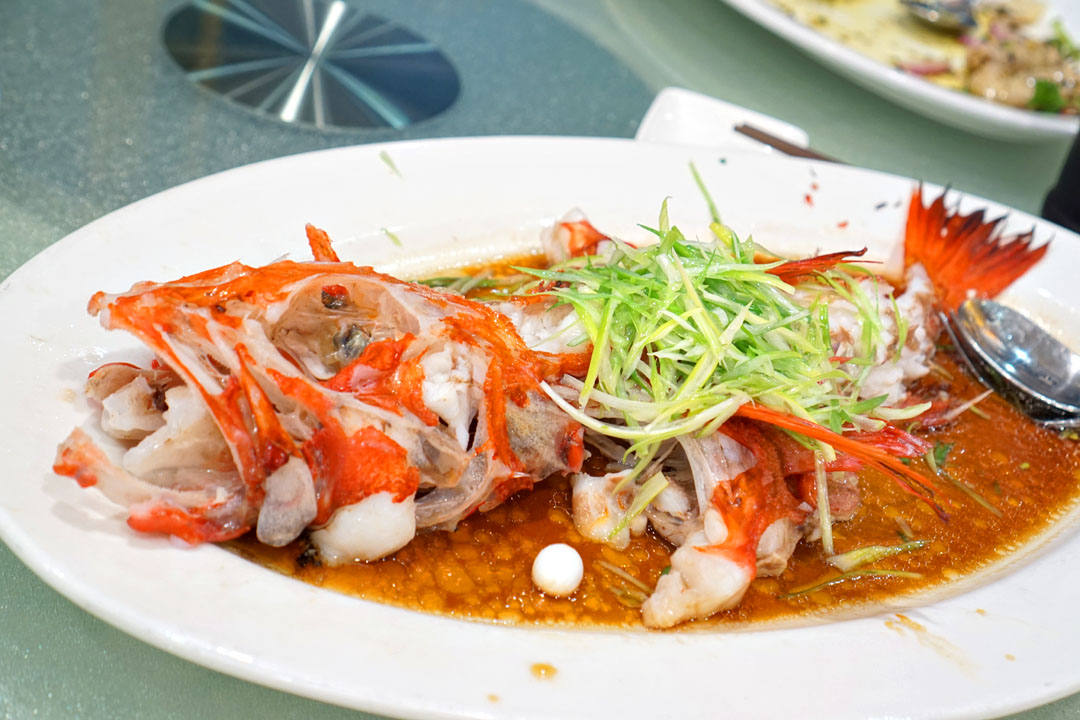 7: 清蒸紅斑 (Steamed Red Grouper) [$213.00]
Next came a spot-on preparation of Cantonese-style steamed fish. The grouper (a.k.a. coral trout or rock cod) showed off its delicately flaky, springy flesh in textbook fashion, while its intrinsic sweetness married flawlessly with traditional accoutrements of soy sauce and scallion.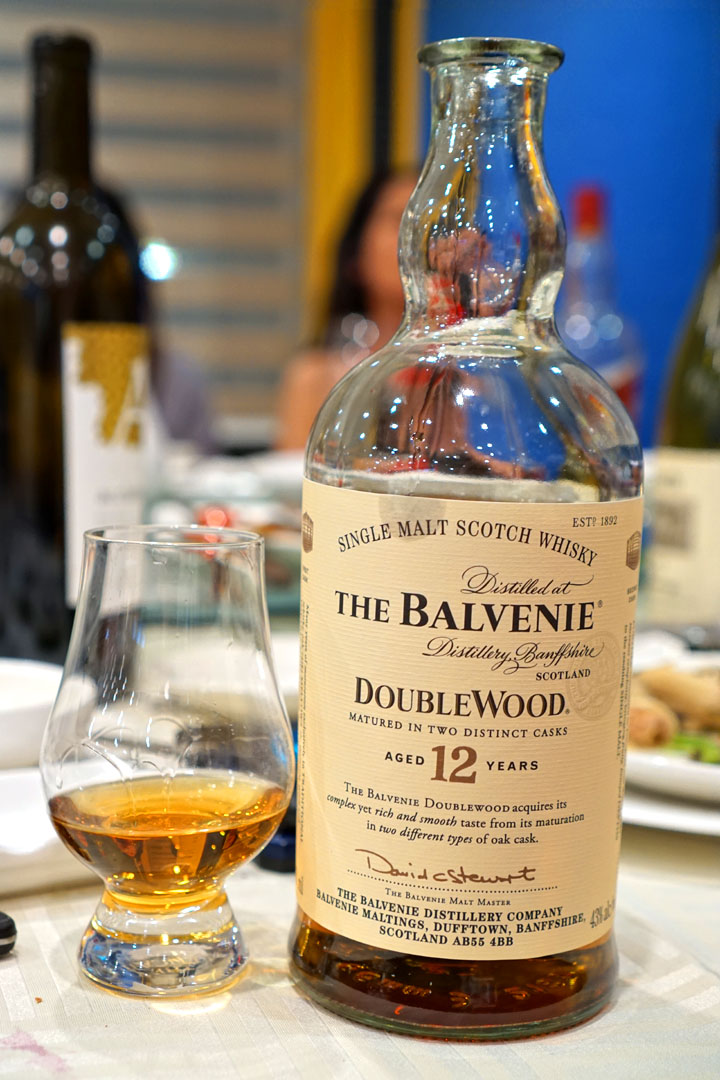 At this point, the Chef opened up a bottle of Scotch for us,
The Balvenie DoubleWood 12
, aged in both bourbon barrels and oloroso sherry casks. The whisky smelled of juicy apples, smoke, and nuts, with a distinct crème brûlée character, while taste-wise, I got more of those smoky, nutty notes, combined with barrel, sweet spices, and pome fruits.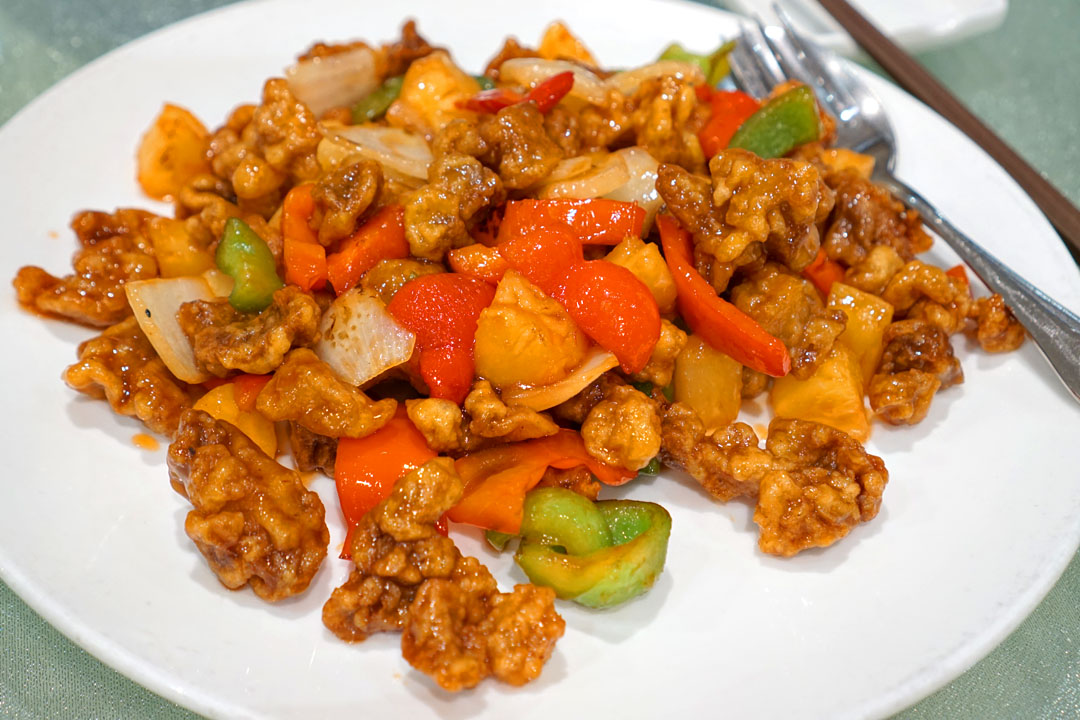 8: 山楂汁咕嚕肉 (Sweet & Sour Pork with Special Ham Sauce) [$23.70]
The iconic dish of sweet and sour pork was somewhat more graceful, more restrained compared to most in terms of the actual sweet-n-sour flavors, and I quite liked the crispy bits on the batter, too.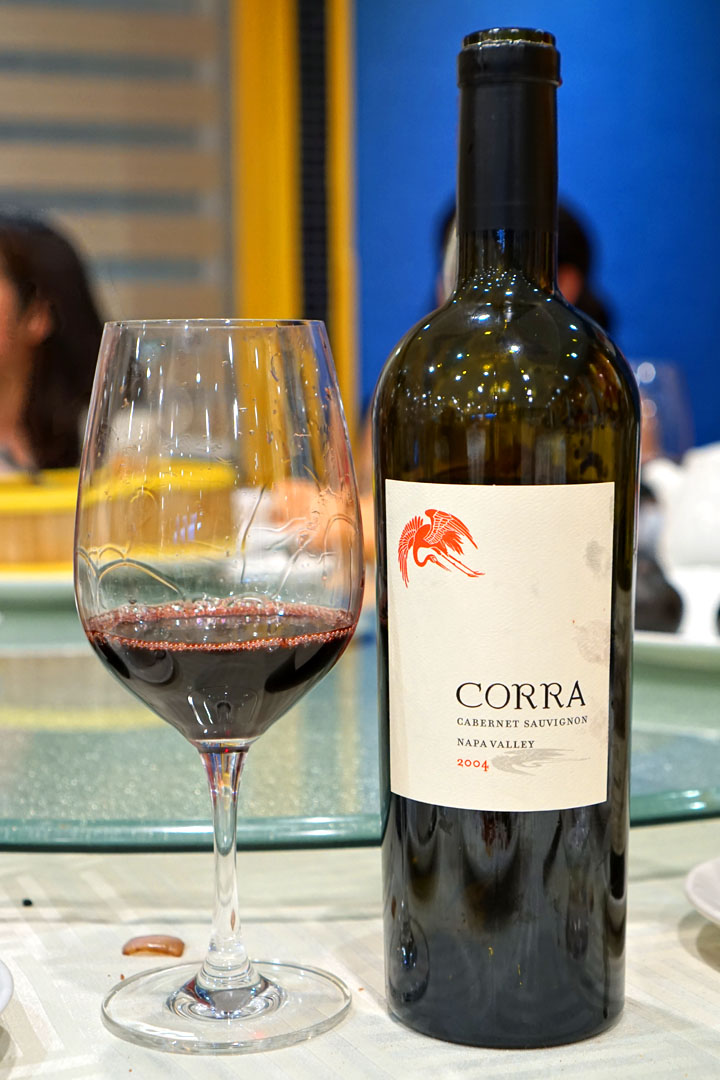 My third bottle was the
2004 Corra Cabernet Sauvignon
, a Napa Valley Cab that I'd actually purchased upon release in '05 and had been cellaring ever since. The nose was potent, displaying meaty, musty nuances at first blush before giving way to fruits and flowers. On the palate, I found surprisingly firm, persistent tannins alongside notes of black fruits, dry-savory herbs, woody spice, and mint. Overall, the wine was definitely mature, yet still vivacious.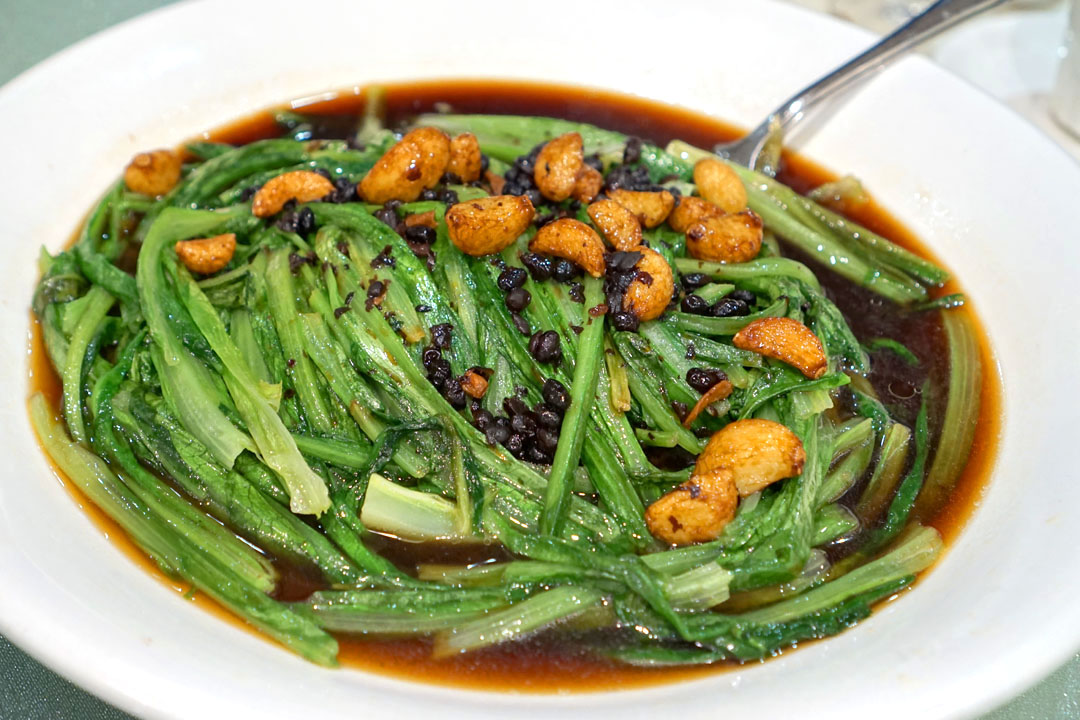 9: 蒜豉豆豉油姜菜 (Stir-fried Seasonal Vegetable) [$25.20]
A菜 (A-choy) was perfectly textured, and the veggie's crisp, refreshing nature matched up swimmingly with the depth of black bean and savory chunks of garlic.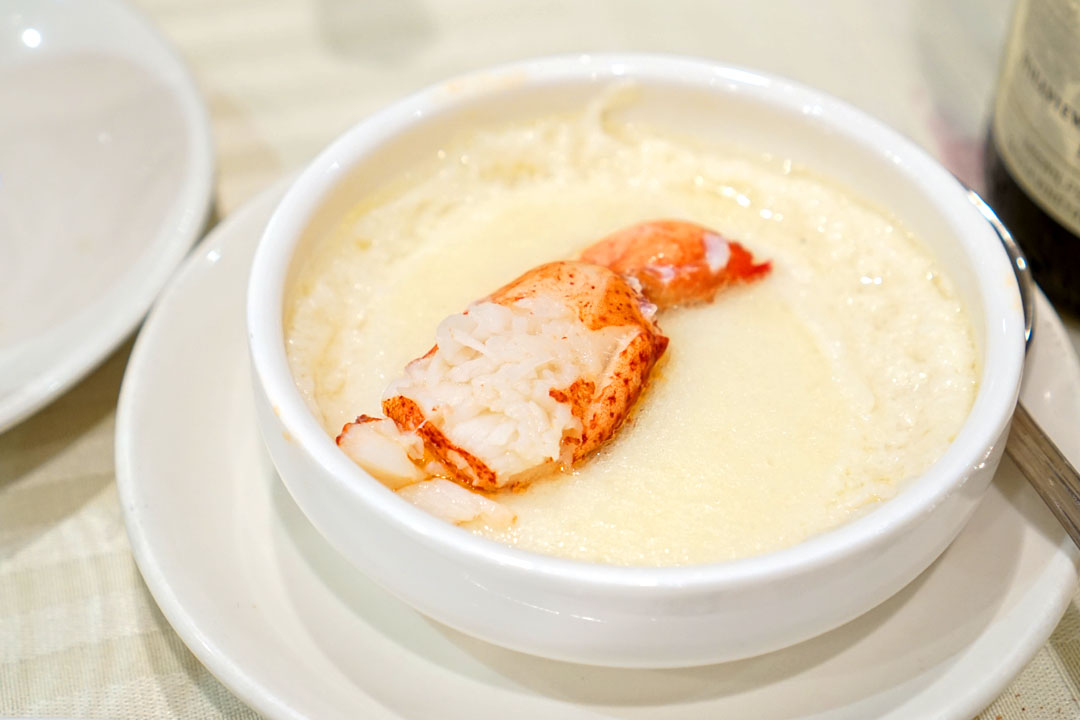 10: 花雕蛋白蒸蟹鉗 (Steamed Egg Custard with Crab Claw) [$1.92]
Our final course prior to dessert was this light, silky, almost fluffy egg custard that managed to be simultaneously potent and finespun, while the claw added additional sweetness and texture to the dish.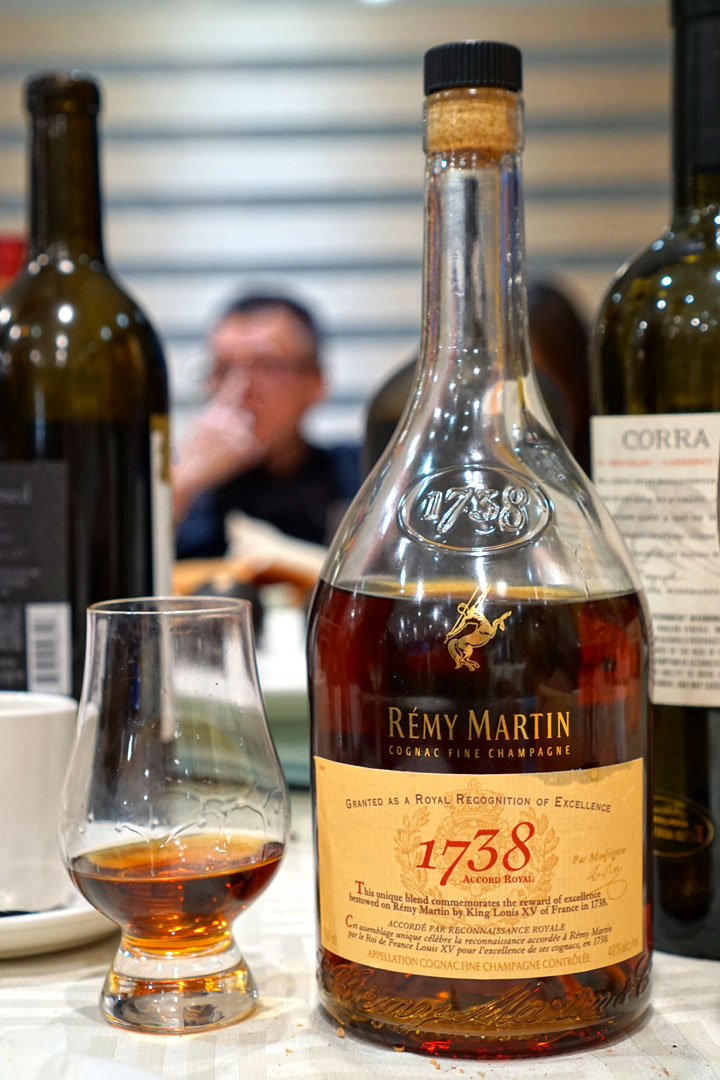 The next tipple was the
Rémy Martin 1738 Accord Royal
. The cognac had a nose that was more overtly wine-y than most, with concentrated fruit that even recalled port at times, though I also detected some woodiness in there. Sipping the spirit, I got quite a bit of fruit right up front, balanced by bitter notes, oak, spice, and brown butter.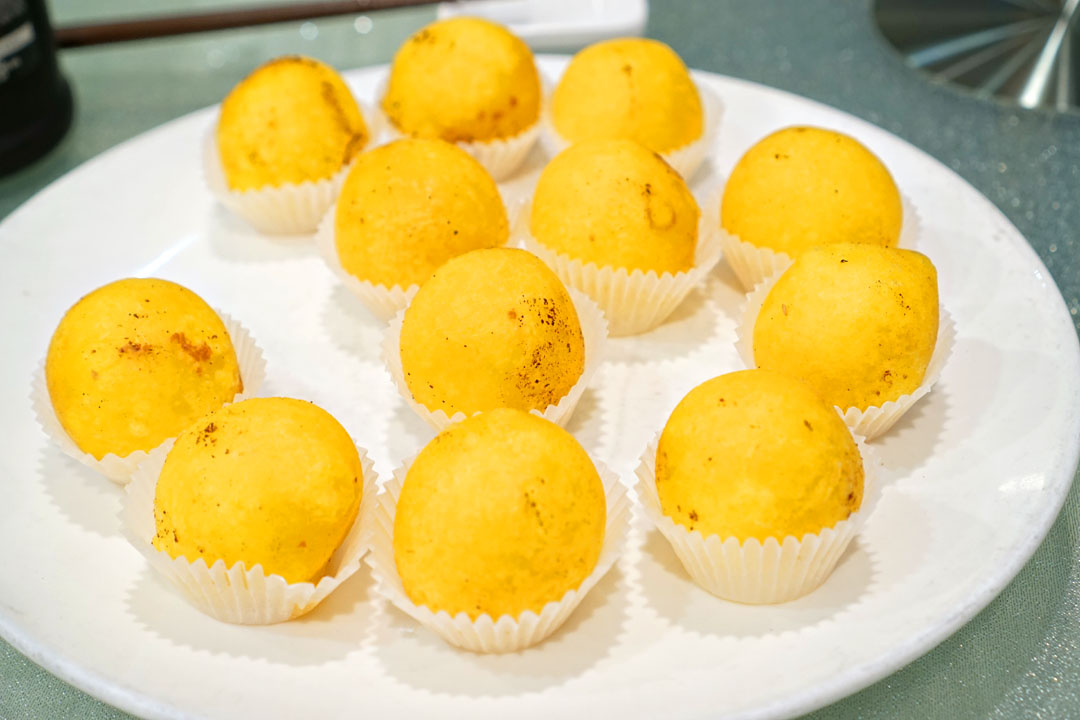 Dessert 1: 金沙湯丸 (Sticky Rice Ball Stuffed with Salty Egg Yolk)
Desserts ended up being gratis, and our first featured salted egg yolk. Now I'm not usually a fan of the stuff, but really enjoyed this thanks to how balanced the salty, sweet, and eggy flavors were here, and how well they worked with the hot, chewy rice ball.
We also had some ruby port in the form of the five year-aged
Sandeman Porto Founder's Reserve
. The wine demonstrated loads of ripe, raisin-y notes along with touches of wood and nutty cacao, all in a bright, lively package.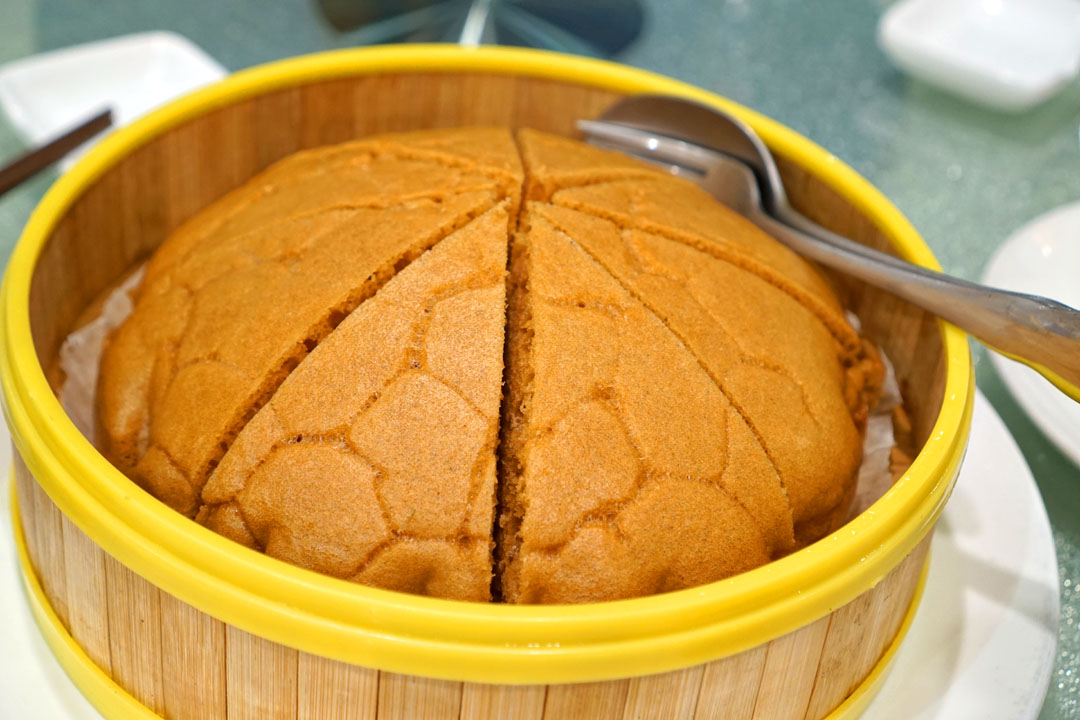 Dessert 2: 馳名馬拉糕 (Steamed Caramel Sponge Cake)
Here was the Chef's version of Malay sponge cake, which I believe incorporated tapioca flour. I found it light, airy, and even "jiggly," with a delectable caramel-laced taste profile.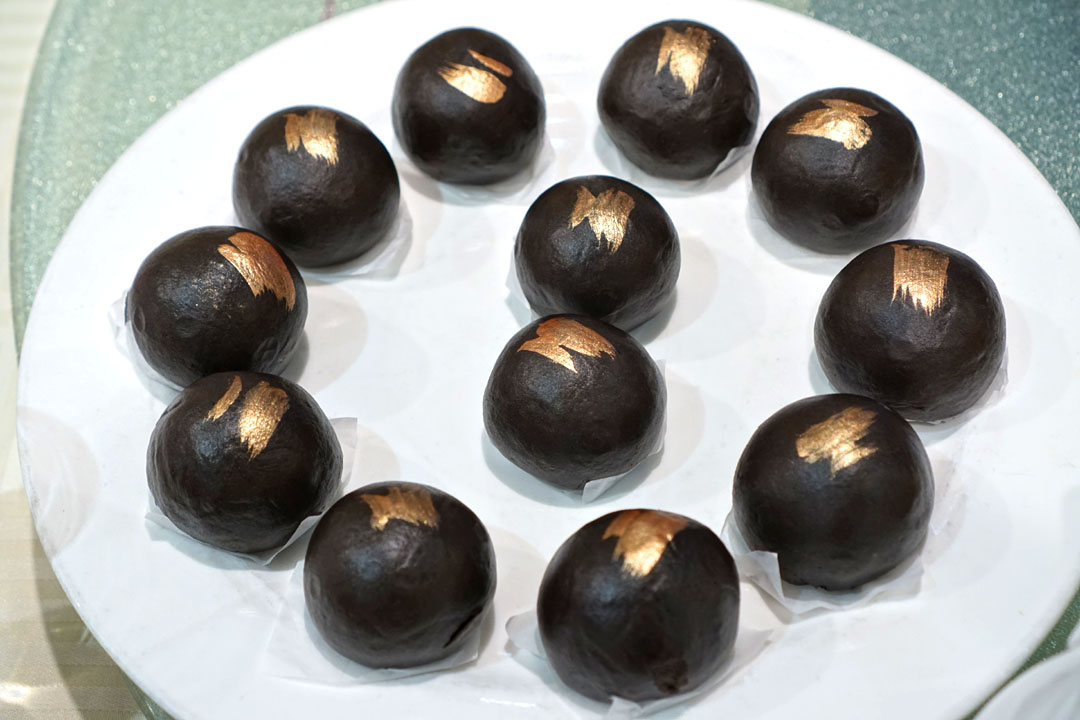 Dessert 3: 金箔流沙包 (Steamed Lava Salty Egg Yolk Bun with Gold Foil)
Speaking of salted egg yolk, this final dessert was even better than the one above. Again, there was a masterful blend of sweet and salty here, but what made this stand out even more was the buns' sheer fluffiness, and how that contrasted with their gooey, luscious insides. Yum.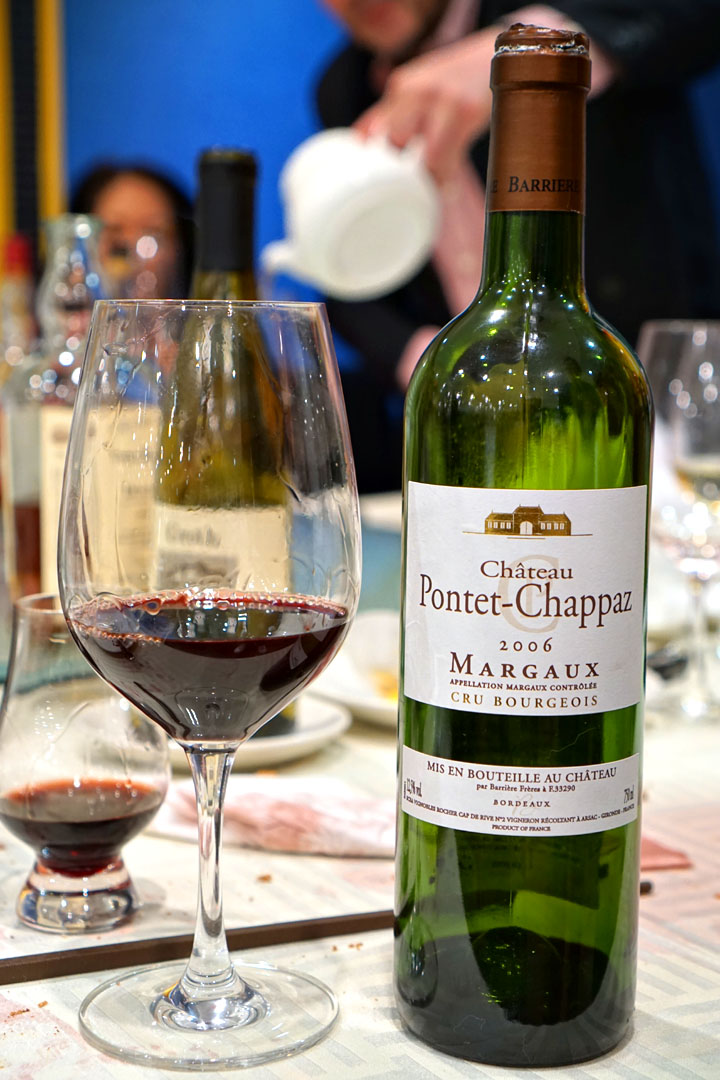 Last to imbibe was the
2006 Château Pontet-Chappaz
, which was also provided by the restaurant. A 50/50 blend of Cabernet/Merlot from Margaux, the wine had a surprisingly savory nose filled with mushroom, leather, and celery. On the palate, I found rather forceful tannins along with herbaceous, vegetal notes over a backbone of woodiness and earthy fruits.
We had a great time at Sea Harbour, as the kitchen was able to deliver my favorite Chinese meal of recent times, one that certainly reminded me of the joys of a Cantonese-style dinner. In fact, at the end of the night, we were talking about coming back some time for an even higher-end experience, to include abalone, as the Chef ostensibly trained with "Abalone King" Yeung Koon-yat of Hong Kong's vaunted Forum Restaurant. As for He's next steps, he recently re-opened the Pasadena location of Chef Tony Dim Sum, so I might just check out the place.