Merois (West Hollywood, CA)
Merois at Pendry West Hollywood
8430 Sunset Blvd, West Hollywood, CA 90069
323.918.3410
www.wolfgangpuck.com/dining/merois-west-hollywood/ / www.pendry.com/west-hollywood/dining/merois/
Sun 02/27/2022, 06:30p-09:50p

Wolfgang Puck is pretty much the celebritiest of celebrity chefs, so when he announces something new, I do tend to pay attention, even if many of his ventures don't move the needle for me. His latest effort is Merois, a pan-Asian-meets-Cal-French spot located on the rooftop of the new Pendry West Hollywood (part of the Montage International family). The hotel also contains Ospero, a more casual Italian-ish cafe, and both opened on April 2nd last year, though Merois was initially reserved for Pendry guests only. The restaurant is apparently being managed by Byron Lazaroff-Puck, Puck's son, while the back-of-the-house is the responsibility of Executive Chef Matt Dahlkemper and Chef de Cuisine Nicole Abisror.
About the Chefs
: Born and raised in Chicago, Matthew Dahlkemper attended Kendall College from 2005 to 2008, eventually attaining an associate degree in culinary arts. During his time in school, he worked as a line cook at Sofitel Chicago Magnificent Mile, but following graduation, moved over to David Burke's Primehouse at The James Hotel. At the start of 2010, Dahlkemper relocated to Las Vegas where he served chef de partie roles at both Alizé (at Palms) and Trump International. However, that November, he jumped over to The Cosmopolitan, where he was lead butcher and helped launch the hotel.
September 2012 saw the Chef at The James Royal Palm in Miami Beach, while two years later, he was opening CdC for Michael Mina's Locale Market in Saint Petersburg, FL. In January 2016, Dahlkemper found himself working for Mina at the Four Seasons at Dubai's International Financial Centre. He returned to the US in the middle of 2019, and in August that year, became Exec Chef at Tom Colicchio's Temple Court inside The Beekman in NYC. That was his last post before being named EC at Pendry WeHo last September.
As for Nicole Kang Abisror, she attended culinary school at the Pasadena outpost of Le Cordon Bleu from 2012 to 2014. During this period, she worked on the line at a local Nordstrom, and stayed there for a few months after achieving her associate degree. In March 2014, she was able to secure a position at Michael Cimarusti's fine dining standby
Providence
, where she cooked for about two years. Abisror moved over to Puck's iconic
Spago
in June 2016, and the following March, took over as sous chef at Puck's steakhouse
CUT
. She was there until June 2020, then quickly transitioned to another sous role at Pendry before being promoted to CdC last May.


Pictured above is the main dining room, which does afford diners a pretty nice view. Do note that there's also outdoor seating as well as an adjacent bar area.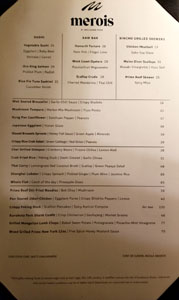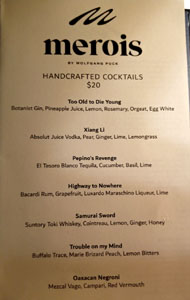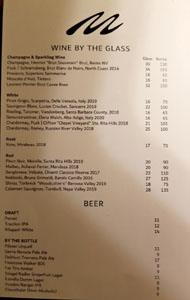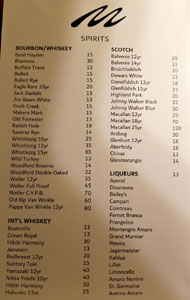 Merois' menu reads rather fusion-y, which is exactly what I'm expecting given the concept behind this place. We also see the restaurant's selection of cocktails, wines by the glass, beers, and spirits. There's also a separate wine list available of course (not pictured), while corkage was $35 a bottle. Click for larger versions.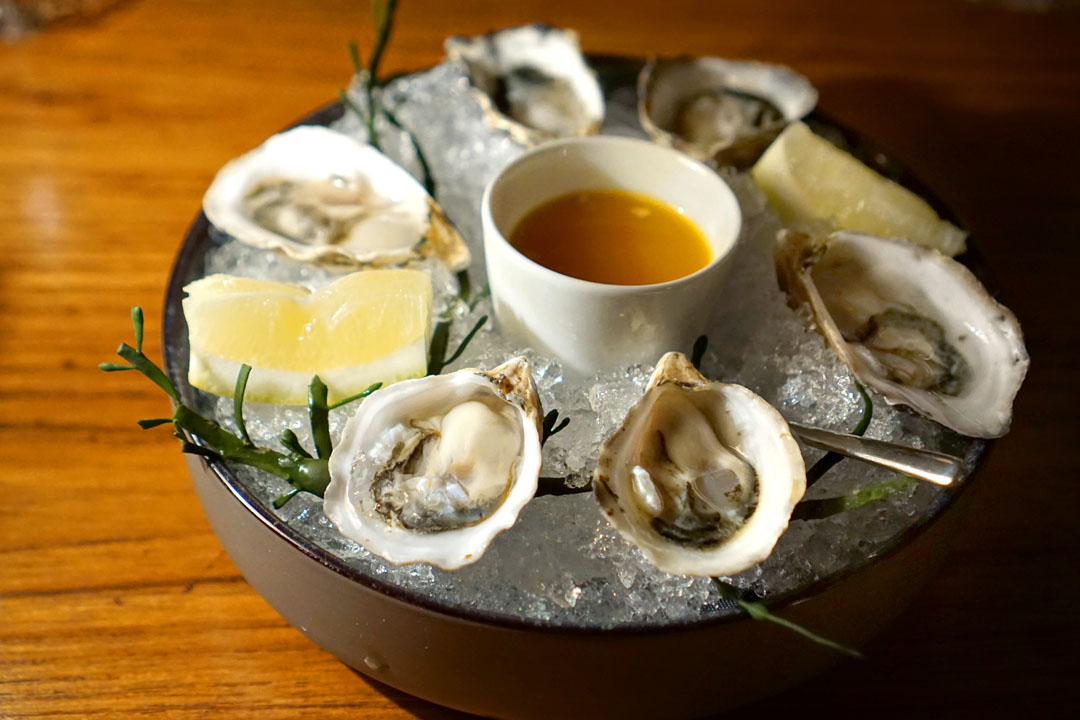 West Coast Oysters [$28.00]
| Passionfruit Mignonette
It seemed proper to start with oysters, and these Kumiais from Baja displayed a crisp brine that I quite liked alone, though the unmistakable tropical tang of that passion fruit mignonette made sense, too.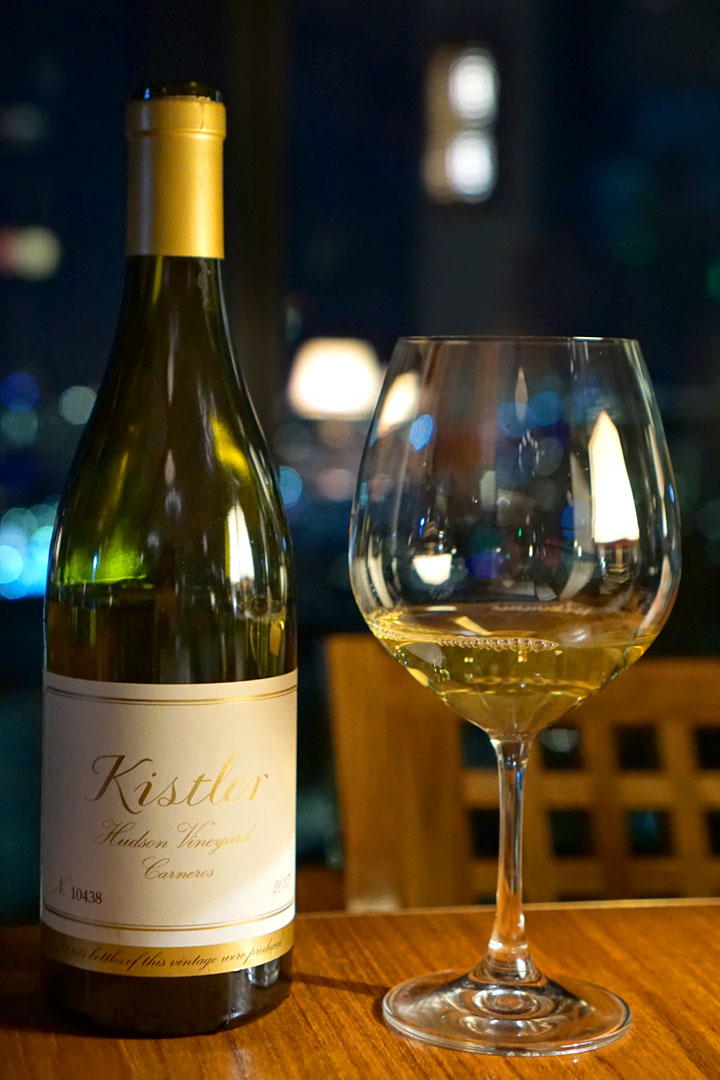 To drink, we started with a bottle that we'd brought, the
2017 Kistler Chardonnay Hudson Vineyard
. The wine's bouquet gave up yellow fruits at the fore, backed by grassiness and subtly acerbic notes. On the palate, I found this one rich and round, its flavors of stone fruit and citrus veering more floral as the Chard warmed, while an undercurrent of roasted nuts and minerals managed to be pretty persistent.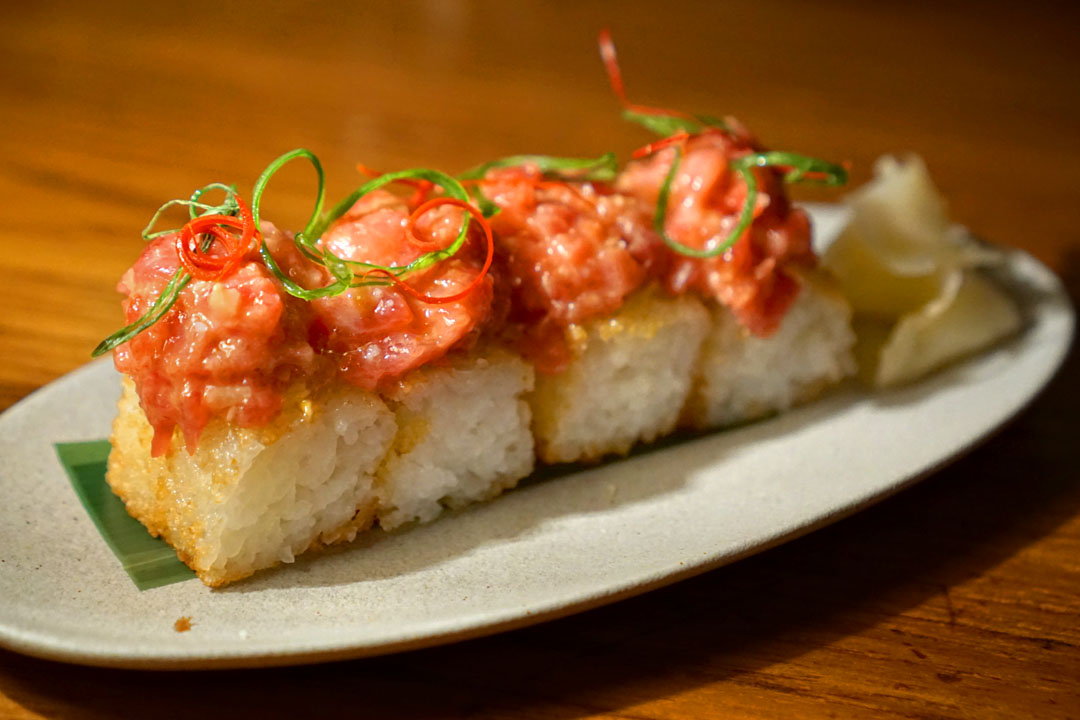 Crispy Toro [$50.00]
| Golden Brown Sushi Rice
A special tonight, what we have here is basically an upmarket take on the ubiquitous dish of spicy tuna crispy rice. Fortunately, it was far better than most due to the lush, fatty nature of the toro here, which certainly worked with the crispy, chewy, toasty texture of the rice. A bit basic perhaps, but undeniably tasty.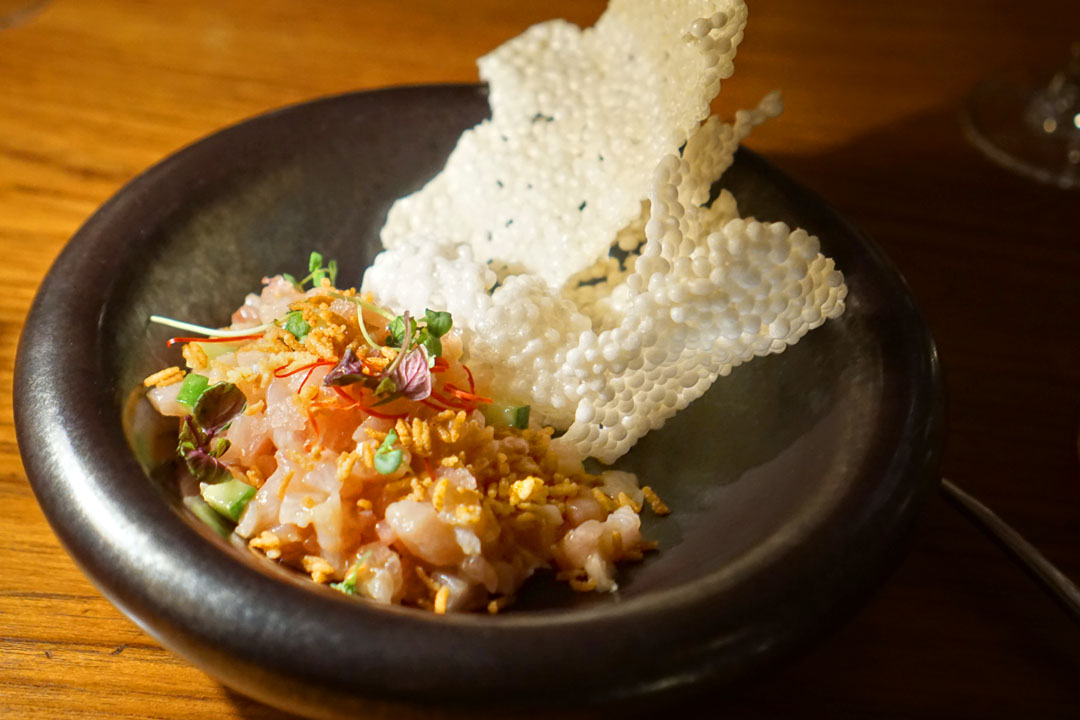 Hamachi Tartare [$28.00]
| Nam Prik, Finger Lime
The yellowtail tartar managed to be one of the better versions I've had thanks to the piquancy of that
nam phrik
and the dish's pervasive onion-y savor, both of which complemented the fish beautifully. Nice crunch from those rice crackers, too.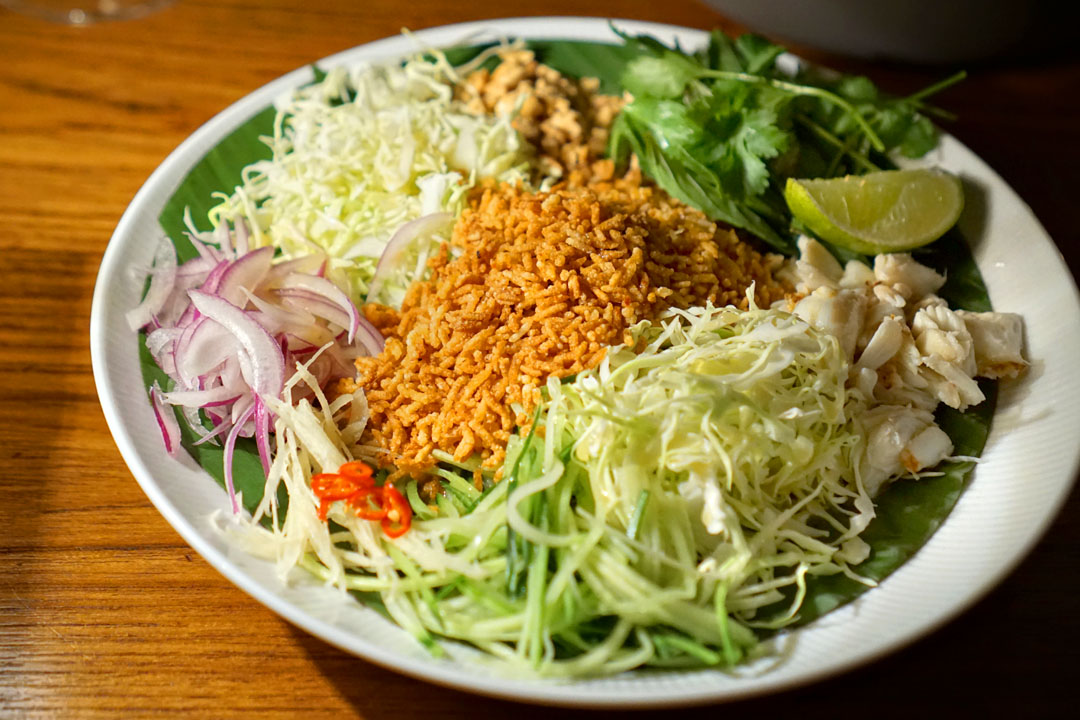 Crispy Rice Crab Salad [$31.00]
| Green Cabbage, Red Onion, Peanuts
Our next dish was also Thai-inspired, and one of my favorites of the night. It was reminiscent of
nam khao tod
, and did a great job showing off the sweet-saline qualities of the crab, which linked up swimmingly with the light, bright veggies and the salad's lingering heat. However, the best part just might've been the fantastic crunch and nuttiness of the rice.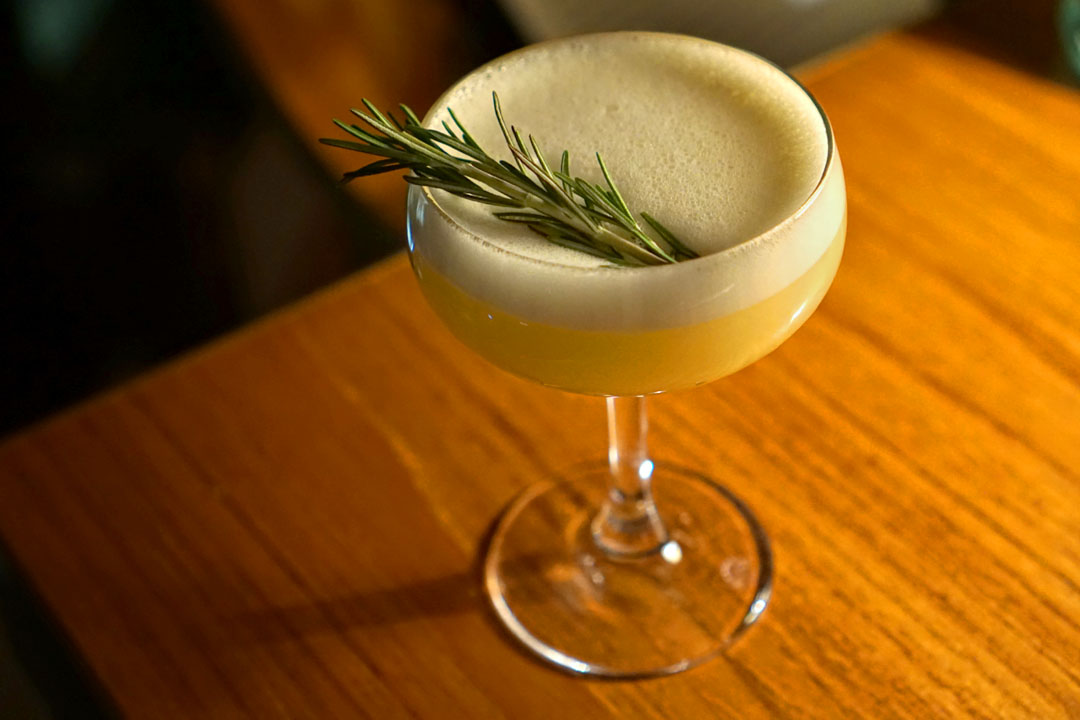 Too Old to Die Young [$20.00]
| Botanist Gin, Pineapple Juice, Lemon, Rosemary, Orgeat, Egg White
With the wine all drunk up, we moved on to some cocktails. This first one started with a blast of eggy brine before moving on to a commixture of sweet spice and juicy fruits, with the gin just peeking through.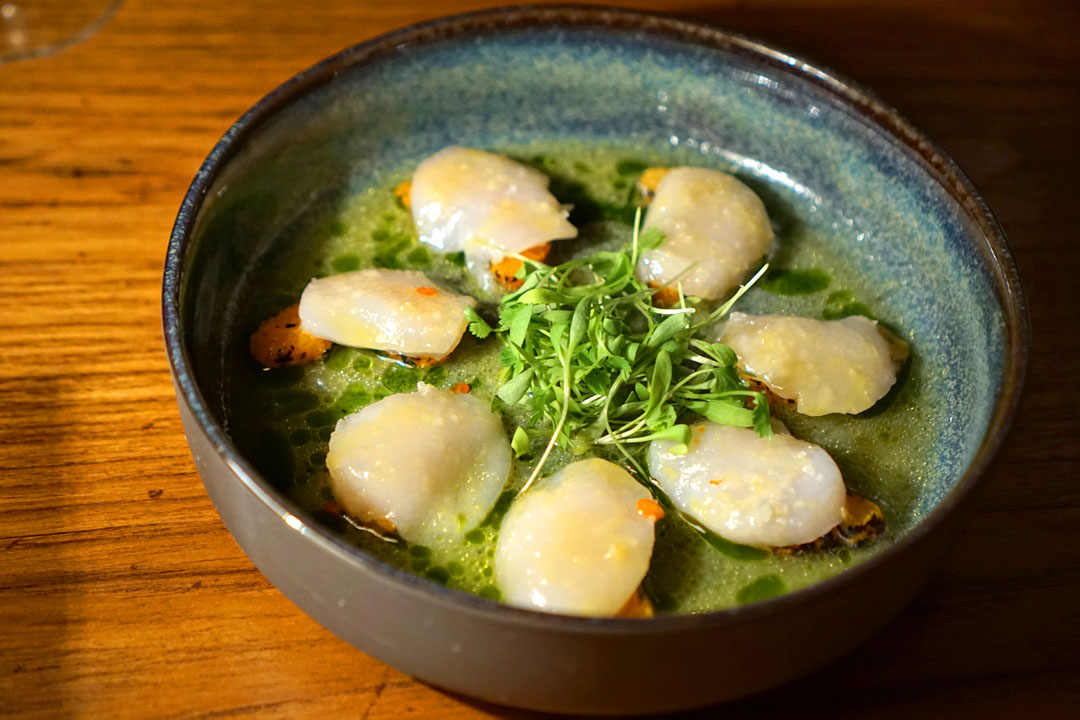 Scallop Crudo [$28.00]
| Charred Mandarine, Thai Chili
Medallions of scallop arrived cool and supple, their softly saline nature perked up by juicy notes of citrus, pinpricks of salt, and just the slightest hint of heat.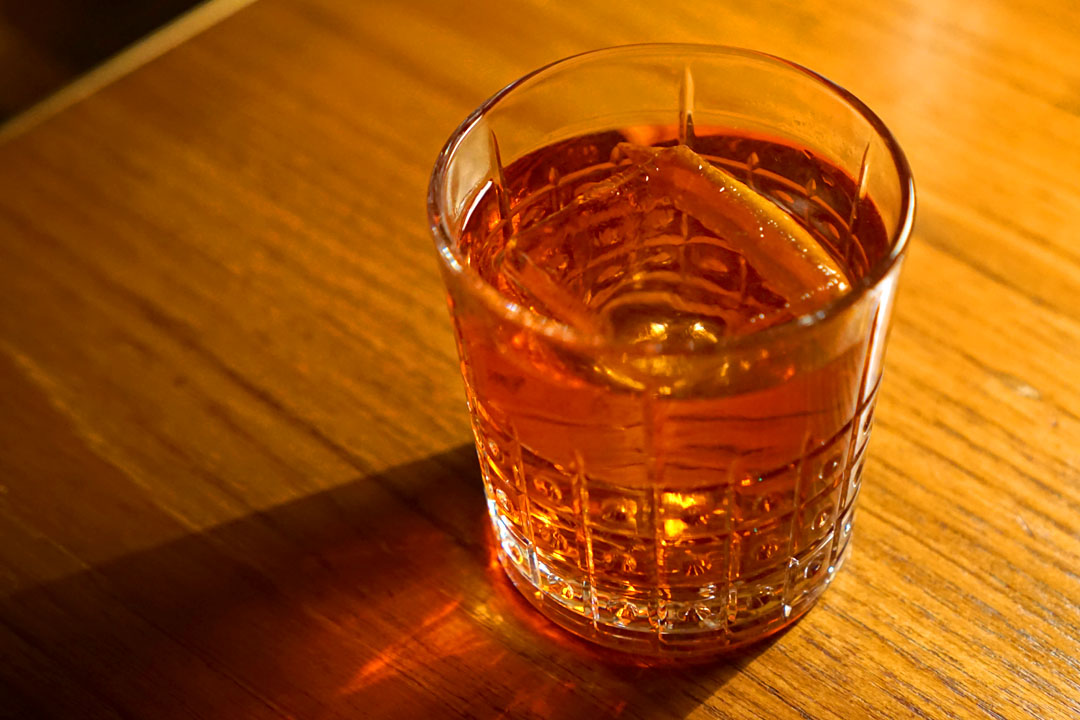 Oaxacan Negroni [$20.00]
| Mezcal Vago, Campari, Red Vermouth
Here we have a riff on the iconic Negroni. The drink had a surprisingly light, fresh, floral nose, while its palate went in a decidedly thick direction, with bittersweetness and smoke coming together seamlessly. One of our favorite cocktails this evening.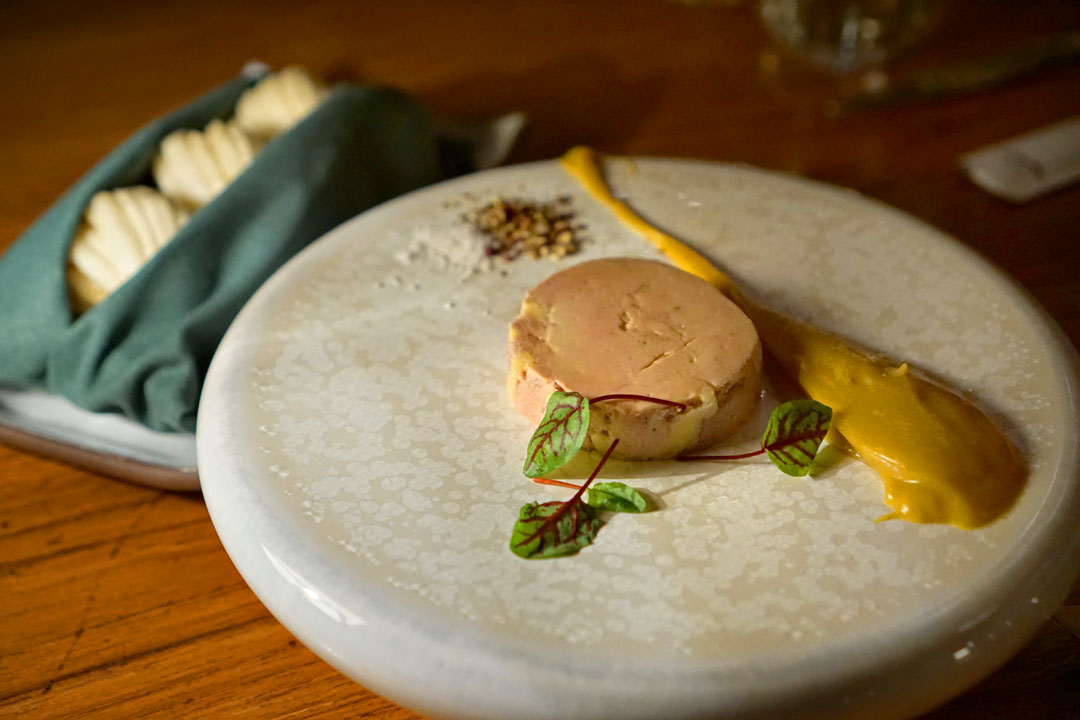 Foie Gras Terrine [$34.00]
| Persimmon Brown Butter-Ginger Purée, Housemade Szechuan Pepper Bao
I was definitely a fan of the foie, which was another off-menu special. The liver itself was classic, its refined earthiness linking up gorgeously with the dish's fruity notes, all while those pillowy buns contributed an excellent peppery edge.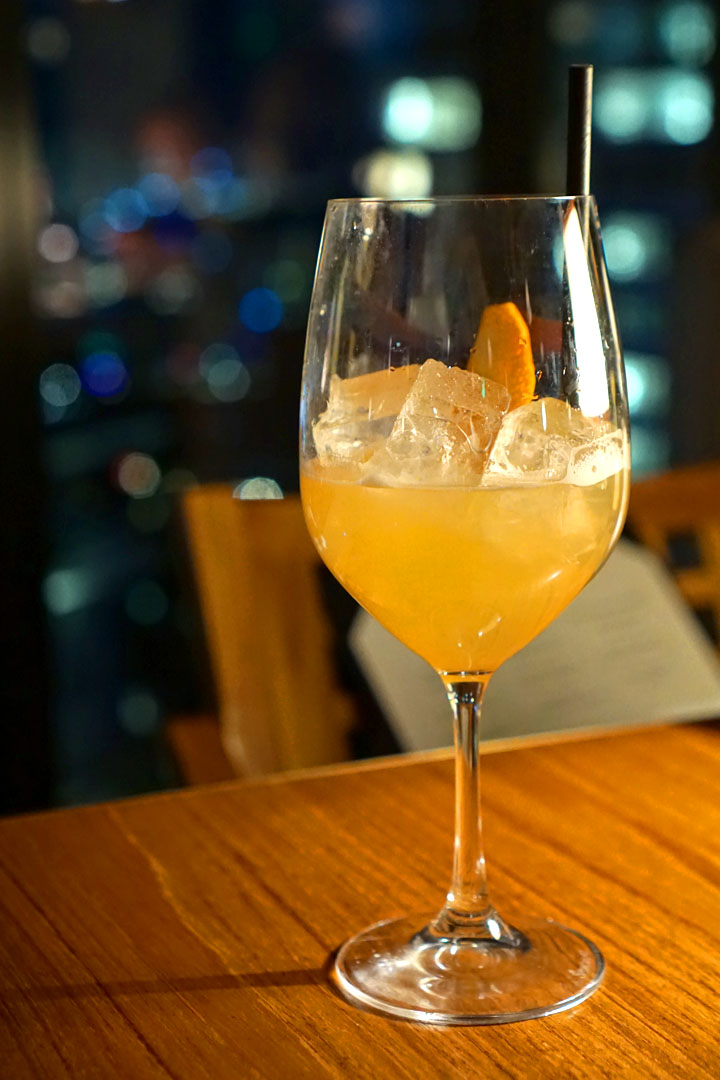 Trouble on my Mind [$20.00]
| Buffalo Trace, Marie Brizard Peach, Lemon Bitters
Served in a wine glass, our third cocktail showcased loads of sugary, nearly candied fruit up front prior to transitioning to medicinal, cough syrup-like nuances on the mid-palate.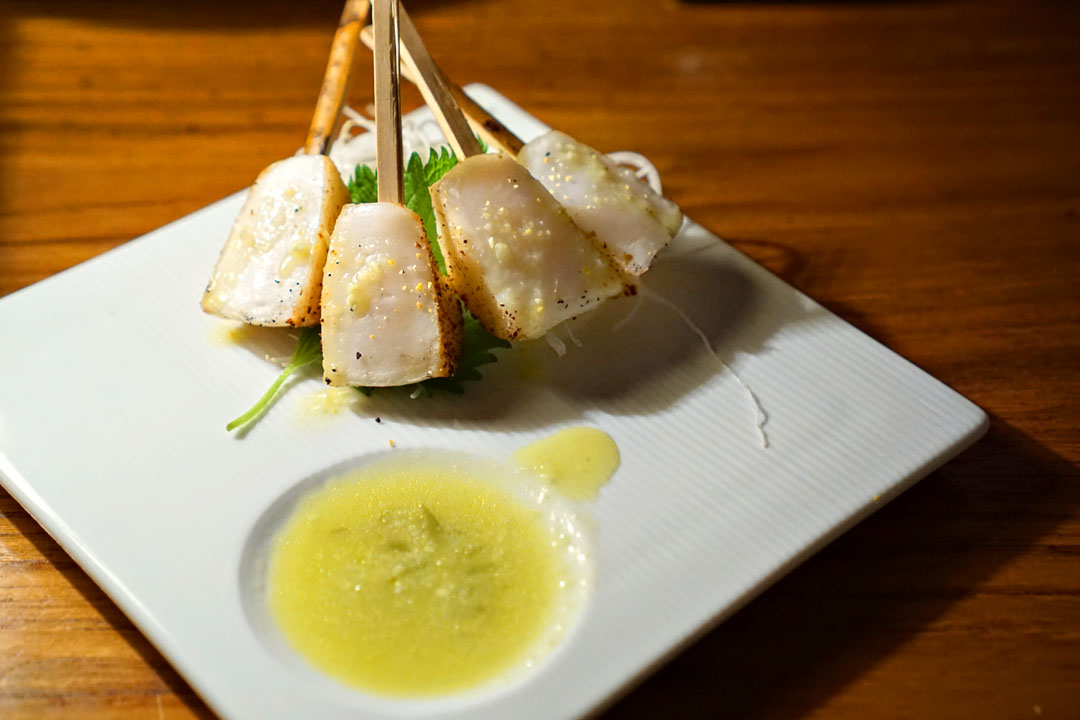 Maine Diver Scallops [$31.00]
| Wasabi Vinaigrette, Yuzu Salt
Meaty, thick-cut scallops showed of a superb salinity and sear, and worked hand-in-hand with that zesty vinaigrette, which was almost
yuzukosho
-esque.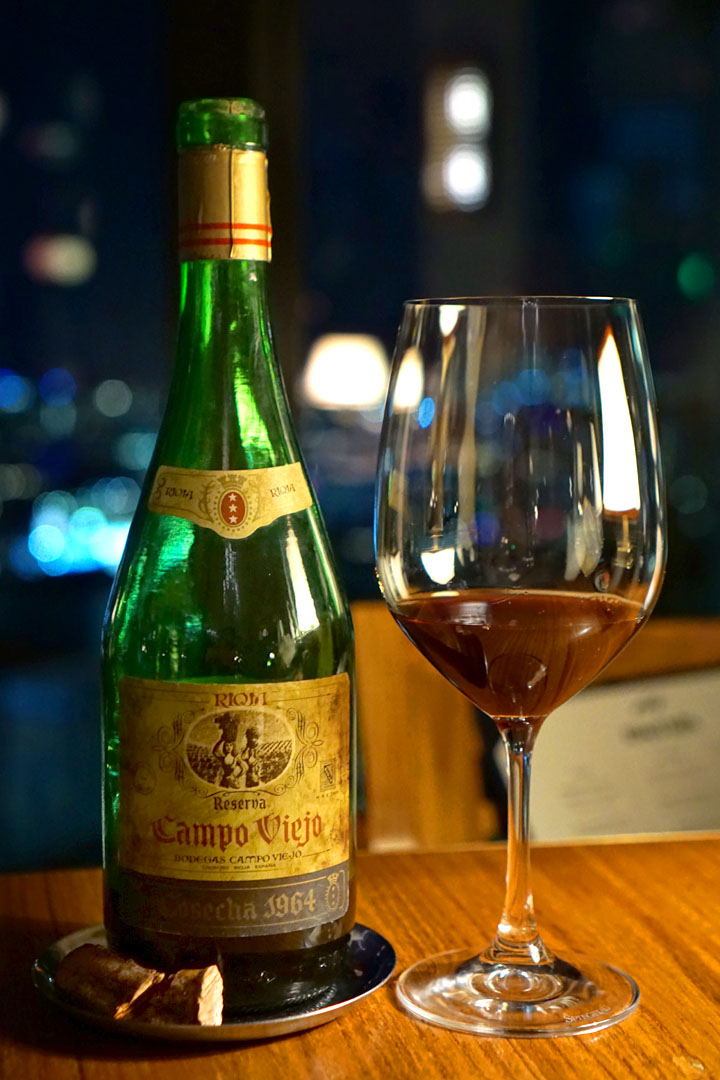 At this point, we switched back to wine, and opened up another bottle that we'd brought: the
1964 Campo Viejo Rioja Reserva
. Amazingly, the wine smelled nearly exactly like
suanmei
initially, but then gradually gave way to aromas of mature, musty fruit. In terms of taste, I got more of those sour plum notes, commingled with earthy, meaty elements, as well as a slight mintiness toward the rear. Despite being nearly 60 years old, this one has actually held up quite nicely over the decades, and I enjoyed it much more than I thought I would.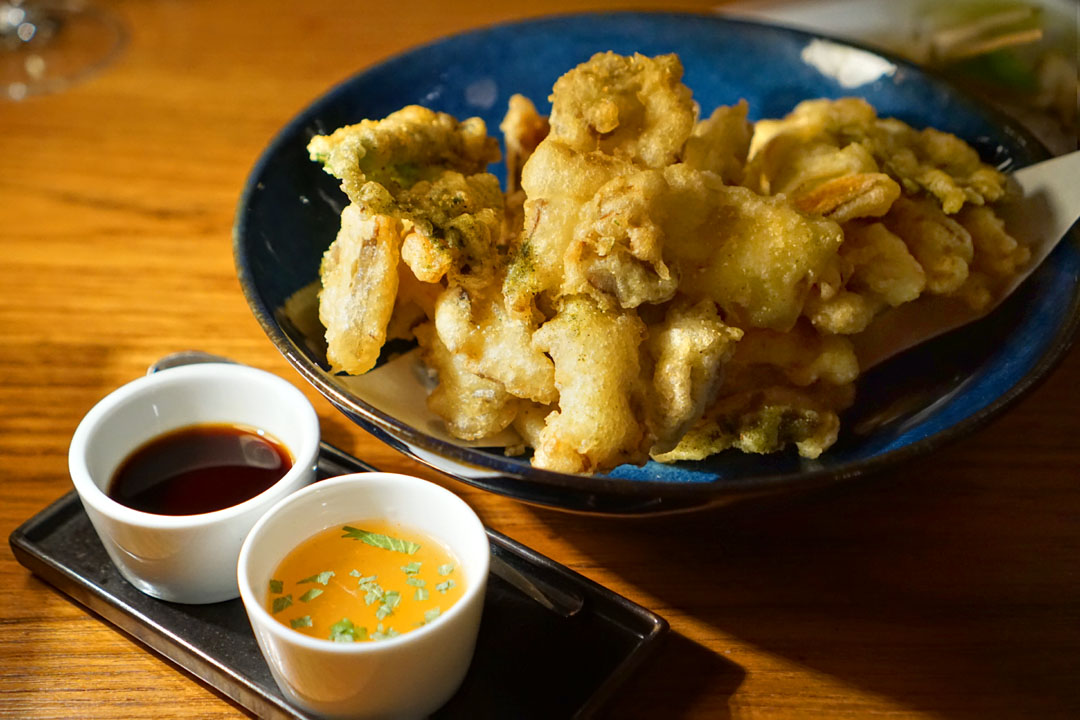 Mushroom Tempura [$21.00]
| Market Mix Mushroom, Yuzu Ponzu
I have a hard time turning down tempura, and it looks like tonight was no exception. Texturally, the batter wasn't quite what I was accustomed to, being somewhat airier and sweeter, but still worked great in concert with the sturdiness of the 'shrooms. The fritters were certainly tasty alone, but I didn't mind a dip into those sweet-n-sour and ponzu sauces, either.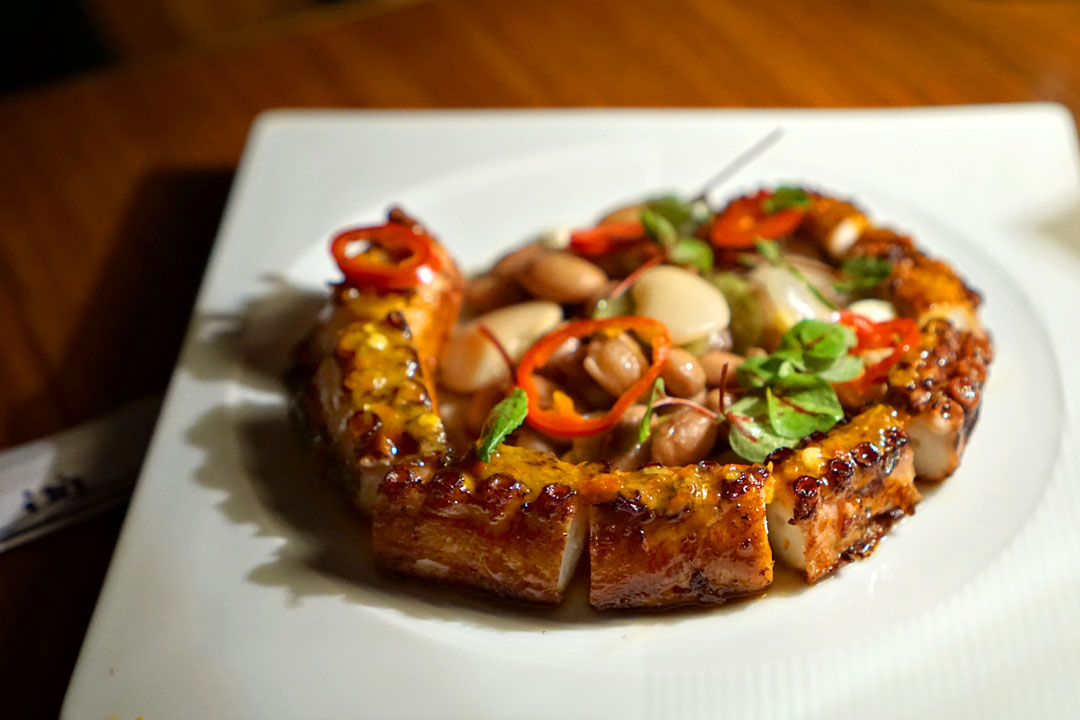 Char Grilled Octopus [$28.00]
| Cranberry Beans, Fresno Chilies, Lemon Aioli
The octo was a must-try for me, and didn't let me down. It was spot-on texturally, and I loved how the dish's bitter heat meshed with the firm, nutty beans and an overarching, celery-like astringency.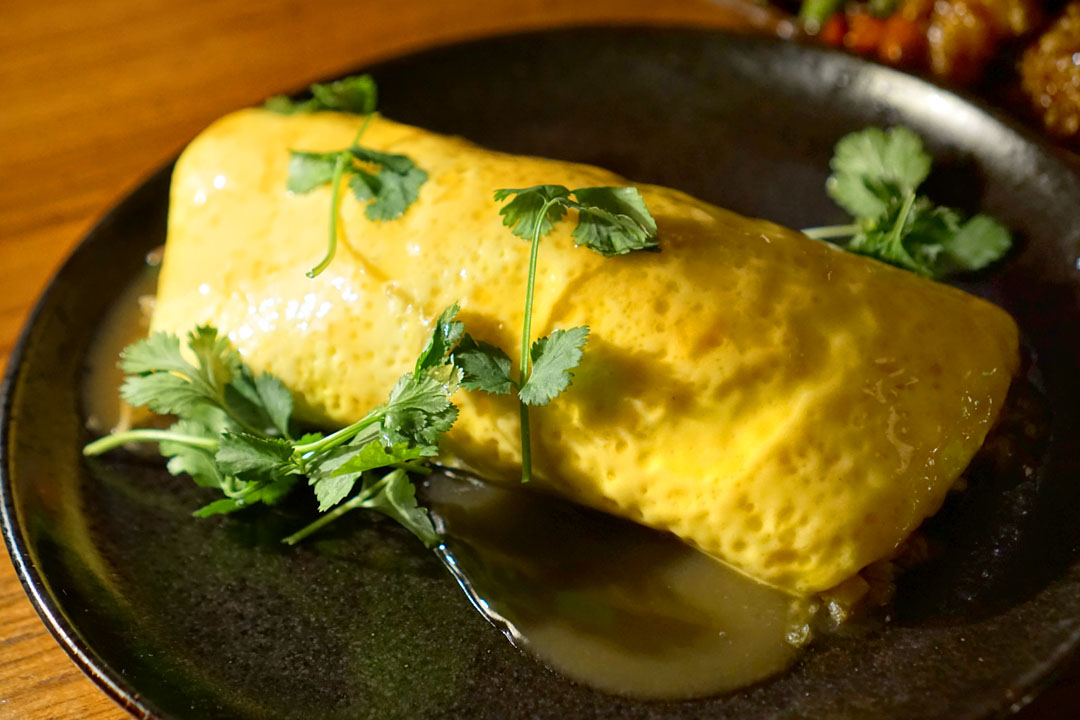 Crab Fried Rice [$31.00]
| Peking Duck, Dashi Omelet, Garlic Chives
This omurice-inspired fried rice was a crowd pleaser. I was pretty smitten by how well the sweetness of the crab was conveyed here, as well as how it matched up with the ginger-y notes present, but the star of the show was the dish's super fluffy egg blanket, which was just a delight.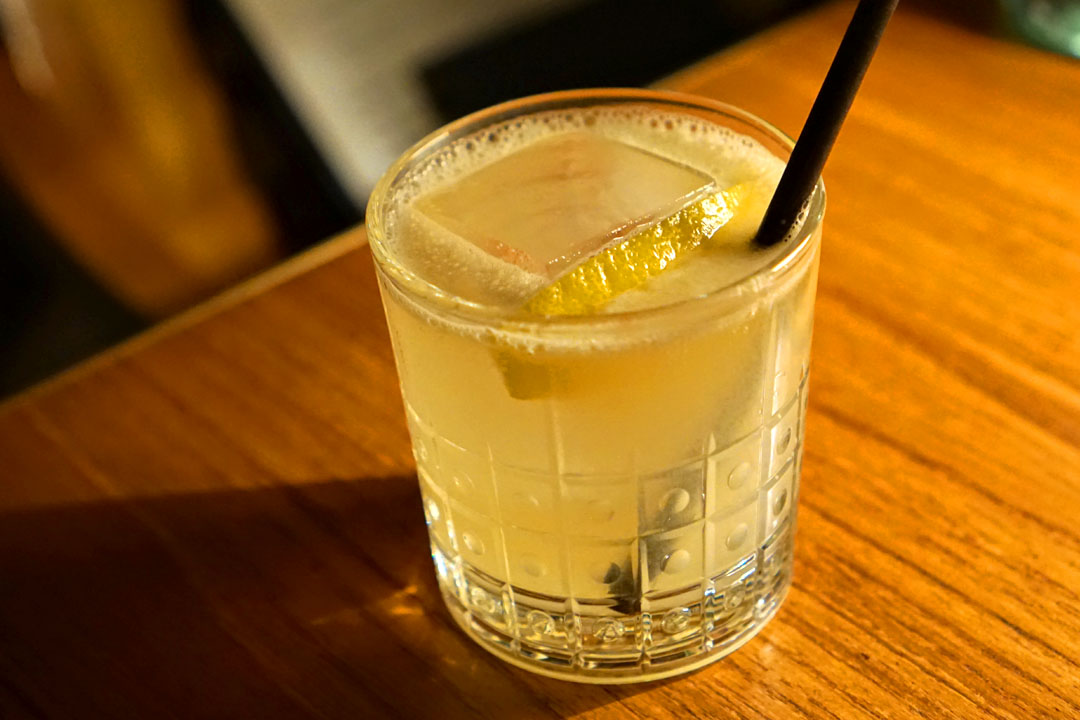 Samurai Sword [$20.00]
| Suntory Toki Whiskey, Cointreau, Lemon, Ginger, Honey
Beverage-wise, we concluded the meal with another round of cocktails. This Penicillin variation highlighted bittersweet flavors of citrus up front, leading to candied notes and the punch of the whisky on the back end.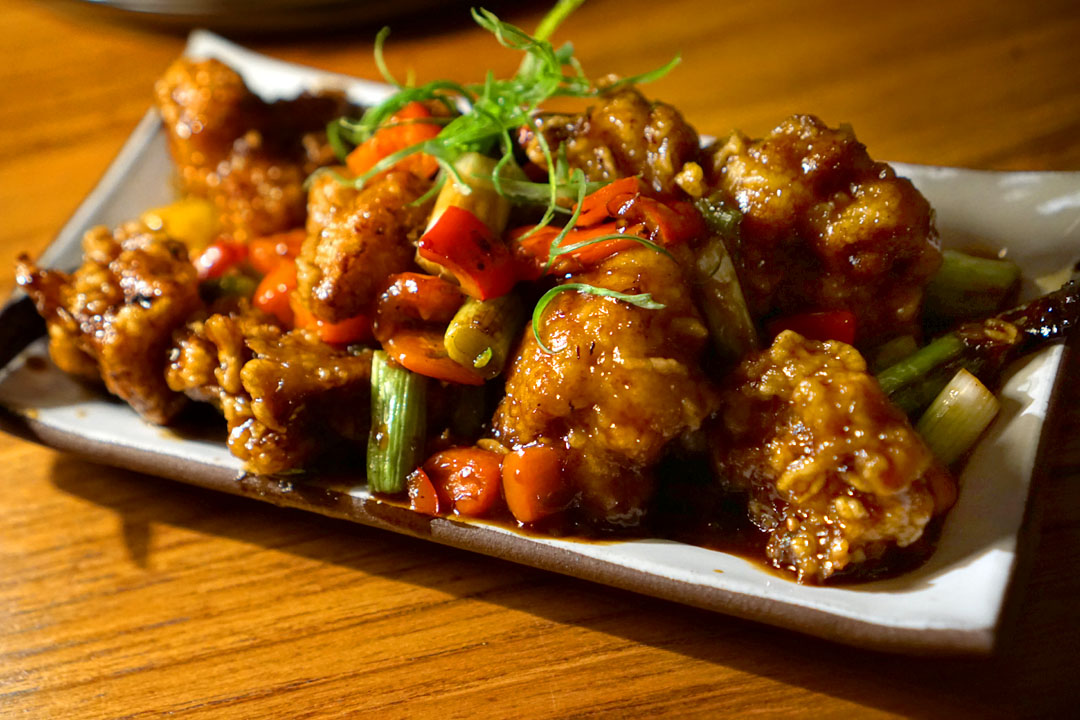 Kung Pao Cauliflower [$17.00]
| Szechuan Pepper, Peanuts
In terms of taste, this was a pretty prototypical preparation of kung pao, with some fairly aggressive sweet-savory-spicy flavors that played well with the green onion. As for the actual cauliflower, think tender on the inside, but with some nice crispy caramelized bits on the outside.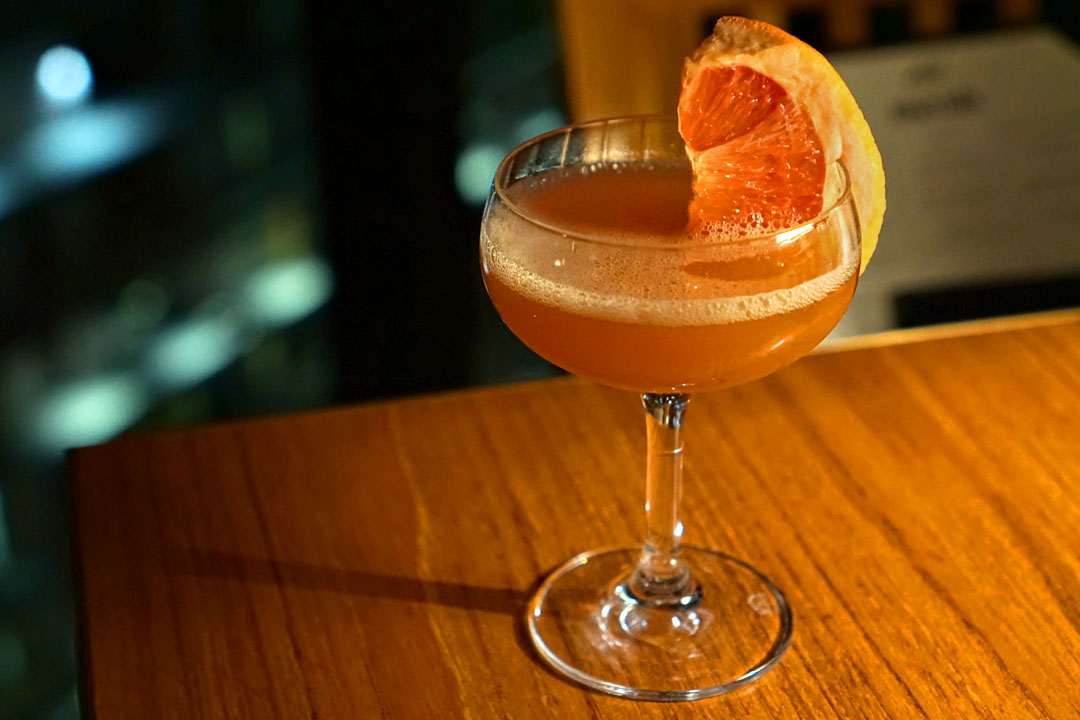 Highway to Nowhere [$20.00]
| Bacardi Rum, Grapefruit, Luxardo Maraschino Liqueur, Lime
Featuring a rather large segment of grapefruit embedded into its rim, this next cocktail was particularly well-integrated when it came to its mish-mash of sweet, bitter, herby, and citrus flavors, and went down easy.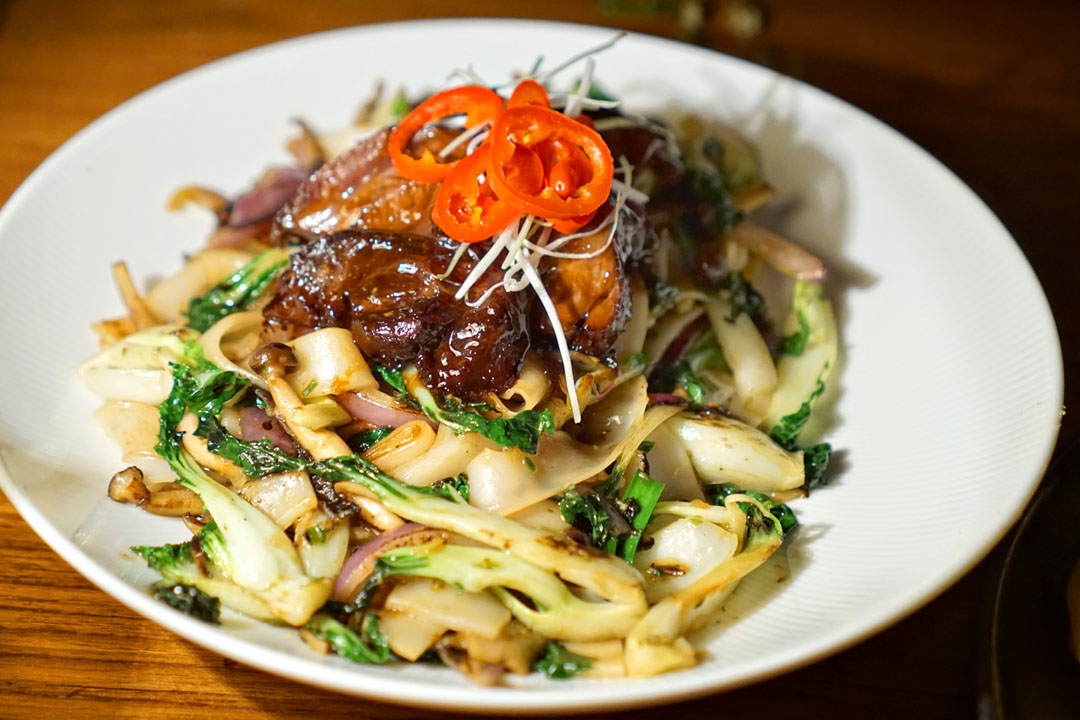 Prime Beef Stir Fried Noodles [$36.00]
| Bok Choy, Mushroom
Our final savory was essentially Merois' take on the iconic dish of beef chow fun. The noodles themselves were on point thanks to their slightly stretchy, slightly chewy bite. However, the hero here was the beef itself, which ate almost "sticky," and had an agreeable amount of depth and umami that married wonderfully with the bitter crunch of the bok choy.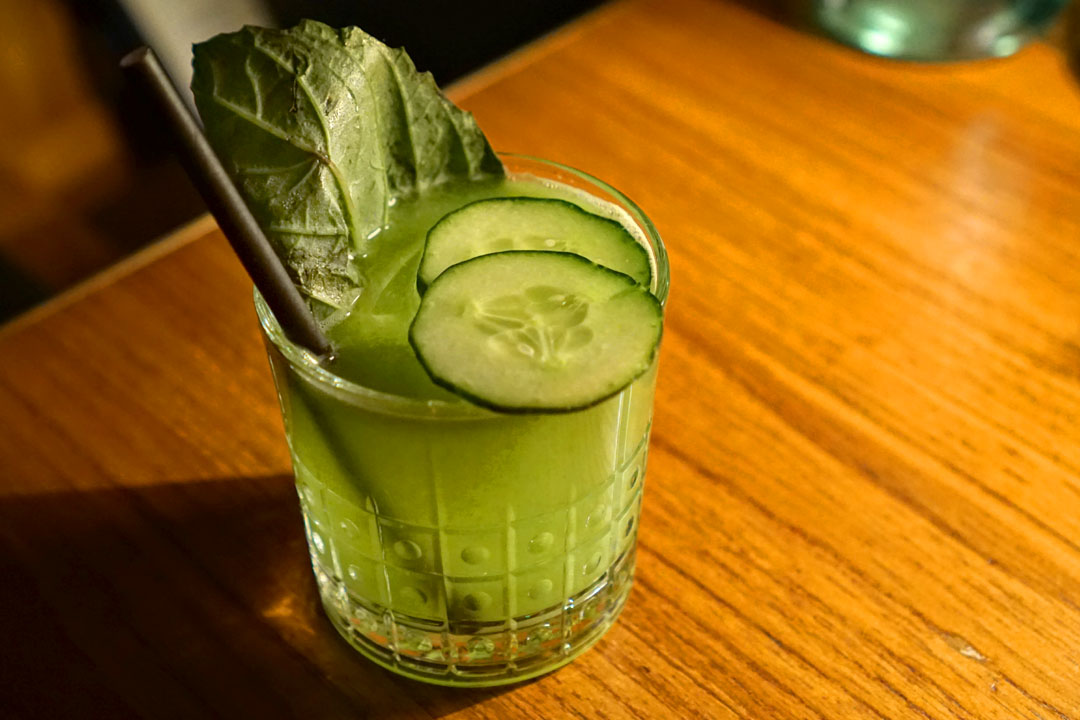 Pepino's Revenge [$20.00]
| El Tesoro Blanco Tequila, Cucumber, Basil, Lime
This decidedly green-tinted cocktail featured a bevy of herby, vegetal notes, all set against flavors of cool cucumber and sweet melon.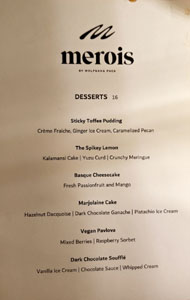 Desserts at Merois appear to be a bit less fusion driven, and are the charge of François Behuet (Bottega Louie, Petrossian, François Payard) and his second-in-command Sylvain Piffeteau (La Chouquette). Click for a larger version.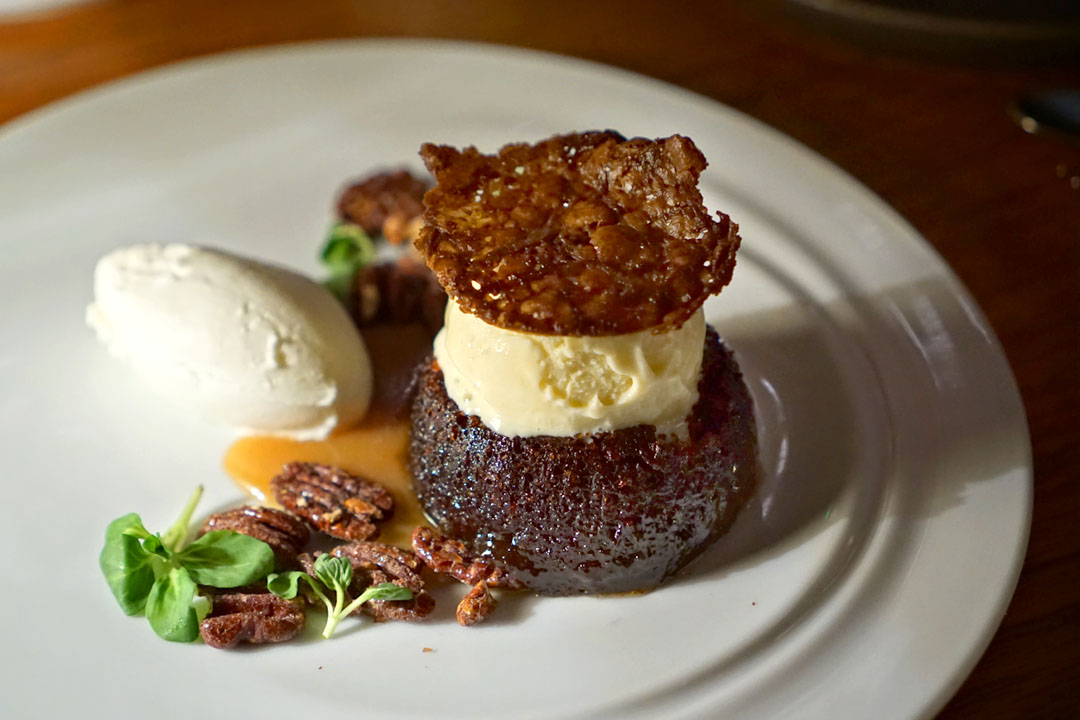 Sticky Toffee Pudding [$16.00]
| Crème Fraiche, Ginger Ice Cream, Caramelized Pecan
Sticky toffee pudding rarely disappoints, and Merois' certainly did not. Recommended by our server, it was as good as any I've had, with an especially deep, fruity character that melded flawlessly with the banana-like notes in the ice cream. Great nutty crunch from those pecans, too.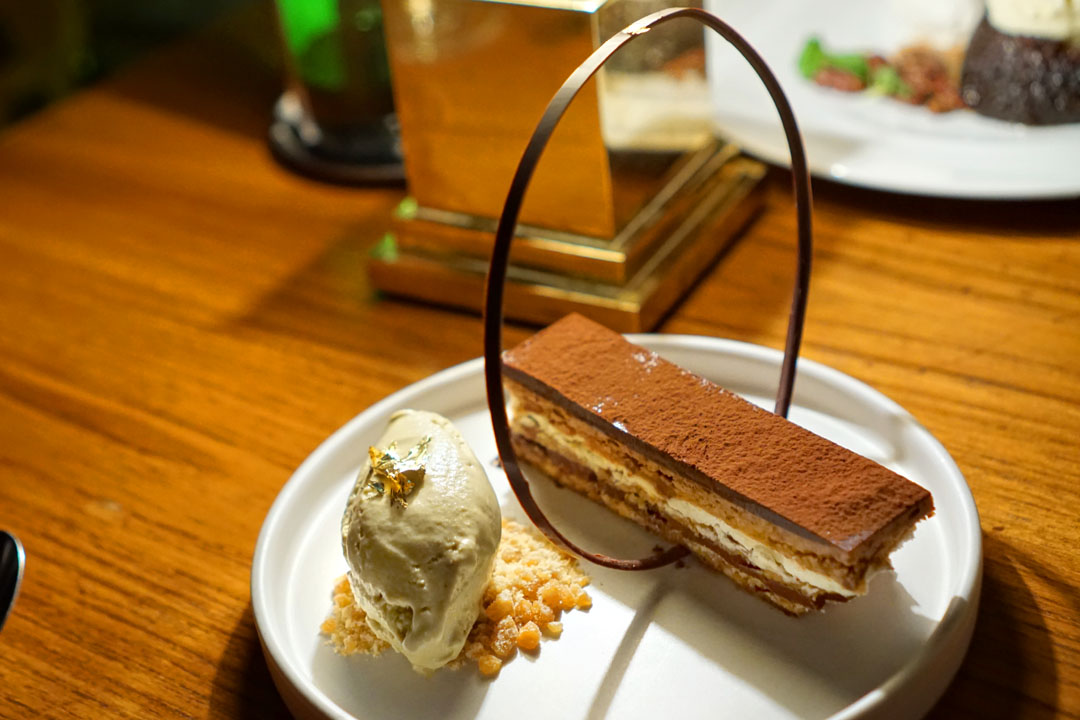 Marjolaine Cake [$16.00]
| Hazelnut Dacquoise, Dark Chocolate Ganache, Pistachio Ice Cream
I was curious about the
dacquoise
, and I was happy to see that the cake offered up a flawless pairing of hazelnut and chocolate, rendered with just the right amount of crunch. At the same time, the pistachio ice cream served as the perfect finishing touch.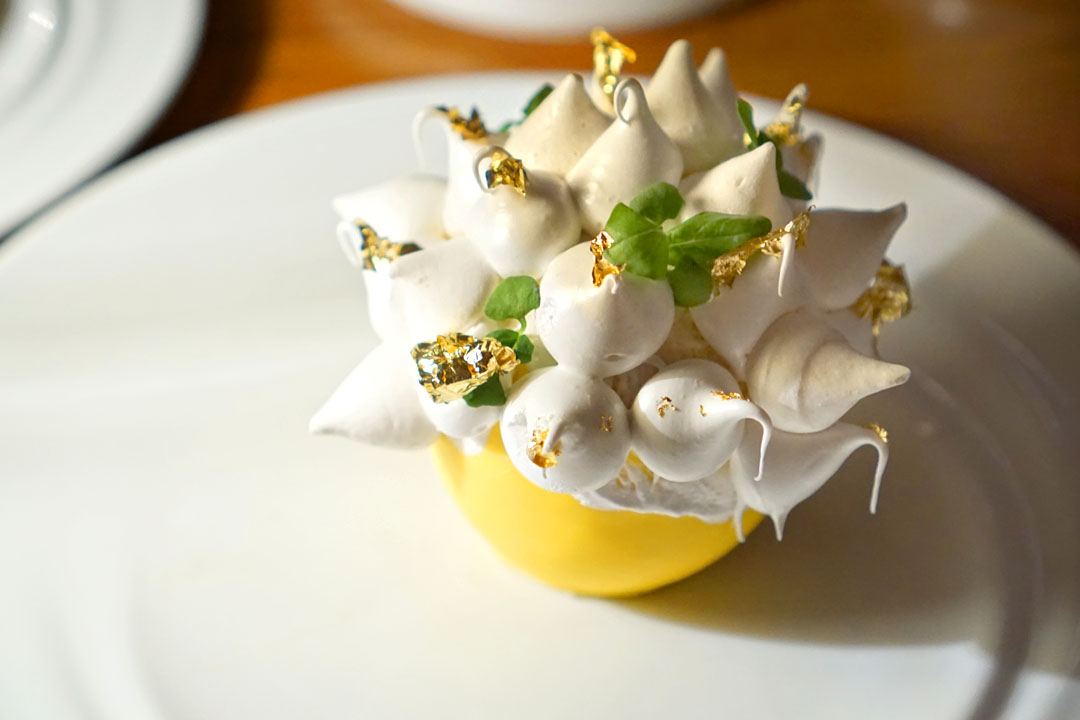 The Spikey Lemon [$16.00]
| Kalamansi Cake, Yuzu Curd, Crunchy Meringue
And for something lighter, the calamansi cake flaunted the signature sourness of the citrus, but offset by a base of almost chocolate-y sugariness, while the meringue "spikes" provided a contrast in both taste and texture.
Given that we ordered so much, we were also given a complimentary chocolate cake to close out the night. Humorously, it wasn't anybody's birthday.
I ended up enjoying this dinner at Merois more than I expected to. Traditional Asian fusion fare may be considered outmoded these days, but it's clear that Puck and company do it better than most. The kitchen has kept the cooking up to date and relevant, but there's still a hint of old school flair in there, and what I ate tonight was pretty delicious across the board. I also have to give the team good marks for service, and overall, the place is a worthy spot for a night out. I'll be keeping Merois in mind next time I'm looking for fancier meal in the area.