Mr Fries Man (Gardena, CA)
Mr. Fries Man
14800 S Western Ave, Gardena, CA 90249
424.292.3616
www.mrfriesman.com
Sun 04/03/2022, 08:15p-09:10p

I was recently passing through the South Bay, and was looking for a quick and easy takeout spot in the area. After considering a few options (including Mom's Touch), I settled on Craig Batiste's much-hyped Mr Fries Man, which I'd been hearing about for years now.
About the Chef
: A Los Angeles native, Craig Batiste Jr was born in 1985, and grew up in the unincorporated South LA community of Westmont. Though he'd been exposed to cooking at an early age, he didn't initially set out for a career in culinary. After completing his studies at Gardena High School, he began working at LAX, but soon moved over to a merchandising position at Pepsi, where he stayed for about 10 years. At the beginning of 2016, shortly after his fiancée Dorothy Morales had lost her job, Batiste began selling fries out of his Gardena home in order to make ends meet. It started out with mostly friends, but as word spread, he began taking orders from strangers on Instagram and delivering out of a parking lot of a nearby donut shop. The operation later moved to the Taco Bell on Rosecrans/Western, then to the now-shuttered Smart & Final at 1550 W Redondo Beach Blvd.
After 10 months, the business had grown significantly due to social media exposure, and the couple even tried running a food truck for a brief period, but eventually decided to set up shop at this strip mall location. The brick-and-mortar Mr Fries Man thus grand-opened on February 4th, 2017 to considerable anticipation, and was busy from the get-go. The success of the business allowed Batiste to expand, and in 2020, he began franchising. The first franchised restaurant opened in Inglewood in the former home of Equelecua Cuban Cafe in September that year. This was followed by a third outpost across from Banc of California Stadium, a fourth in Las Vegas, and ultimately around a dozen more locations. However, given that this was my first Mr Fries Man experience, I wanted to make sure that it was at the original.

Here we see what the place looks like inside. When Batiste first started out, Mr Fries Man actually shared a space with an existing business called Wings N Greens (a.k.a. Krispy Krunchy Chicken), and before that, the storefront was home to another chicken spot called D's Wing Joint. Do note that the interior has been reconfigured since the place opened, with the rear area having been sealed off for some reason.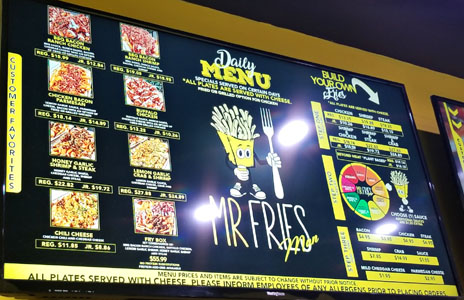 Pictured above is the current menu (with some oddly specific pricing), which allows you to build your own fries dish or choose from preselected combinations (what I opted for). Do note that the kitchen was out of grilled chicken this evening. Click for a larger version.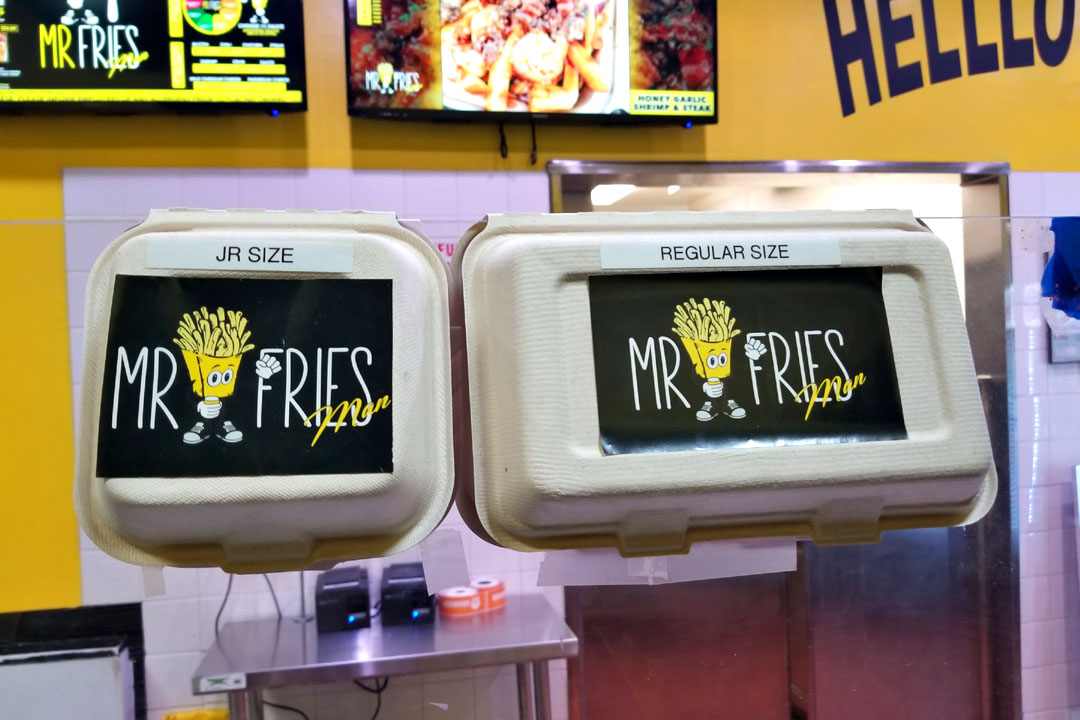 Here's the comparison between Regular and Jr sizes. As you can see, the former is a much better value, though I opted for Juniors tonight in order to sample more. And curiously, when the restaurant opened, it appears that they had Large and Small sizes, with the Small being approximately the size of the current Regular. But somewhere down the line, ownership decided to only serve one size (the Small), before adding the Junior this year.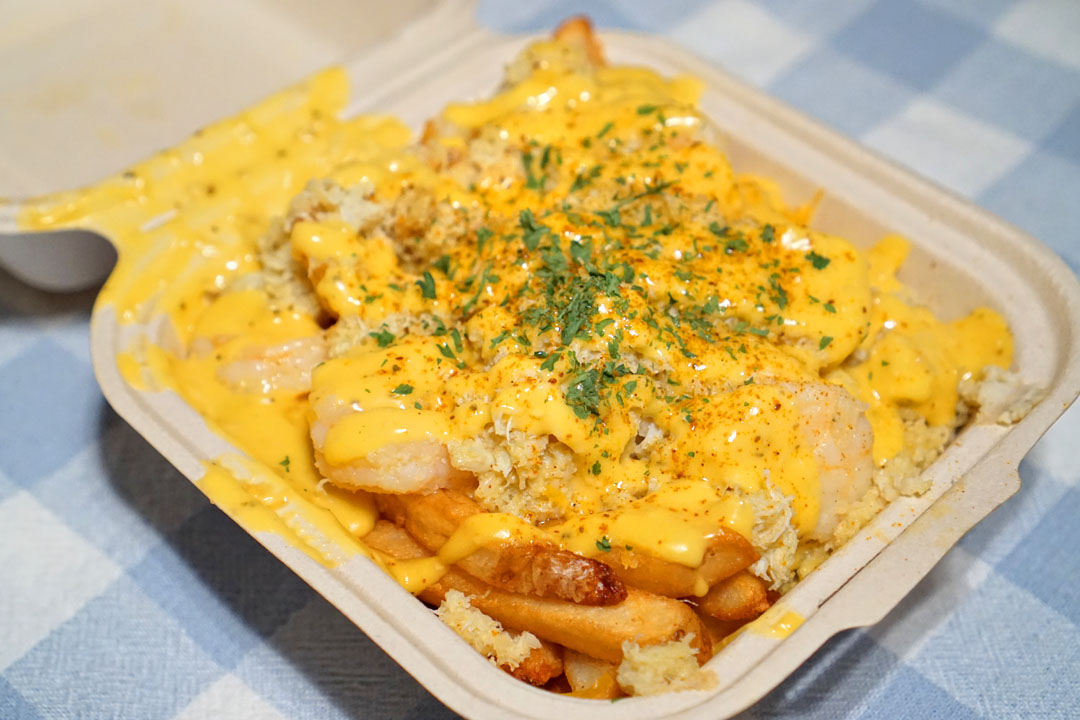 Lemon Garlic Crab & Shrimp [$24.89]
| Lemon Garlic Sauce, Cheddar Cheese, Crab and Shrimp
It felt right to begin with Batiste's signature creation. As I was expecting, the shrimp were cooked more than I would've liked, though they did possess a decent salinity that was further boosted by the shreds of crab in the dish. I actually didn't get much from the lemon-garlic sauce, and the cheese was surprisingly unobtrusive as well. Meanwhile, the fries themselves were somewhere between crispy and soggy texturally, and did help moderate the flavors at play.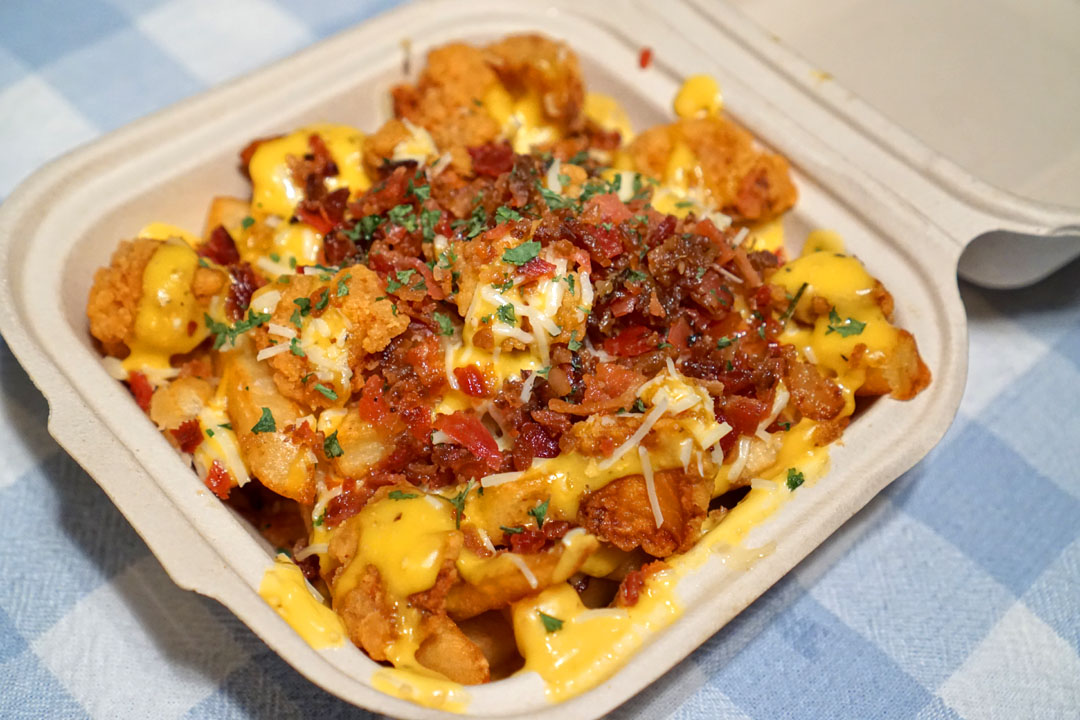 Chicken Bacon Parmesan [$14.89]
| Lemon Garlic Sauce, Parmesan Cheese, Bacon with an Option of Fried or Grilled Chicken
The lemon-garlic sauce was a bit more apparent in this preparation, enlivening the fried chicken, which, although properly crispy, was underseasoned. The bacon imparted touches of sweetness and smoke, while again, the fries kept it all in check.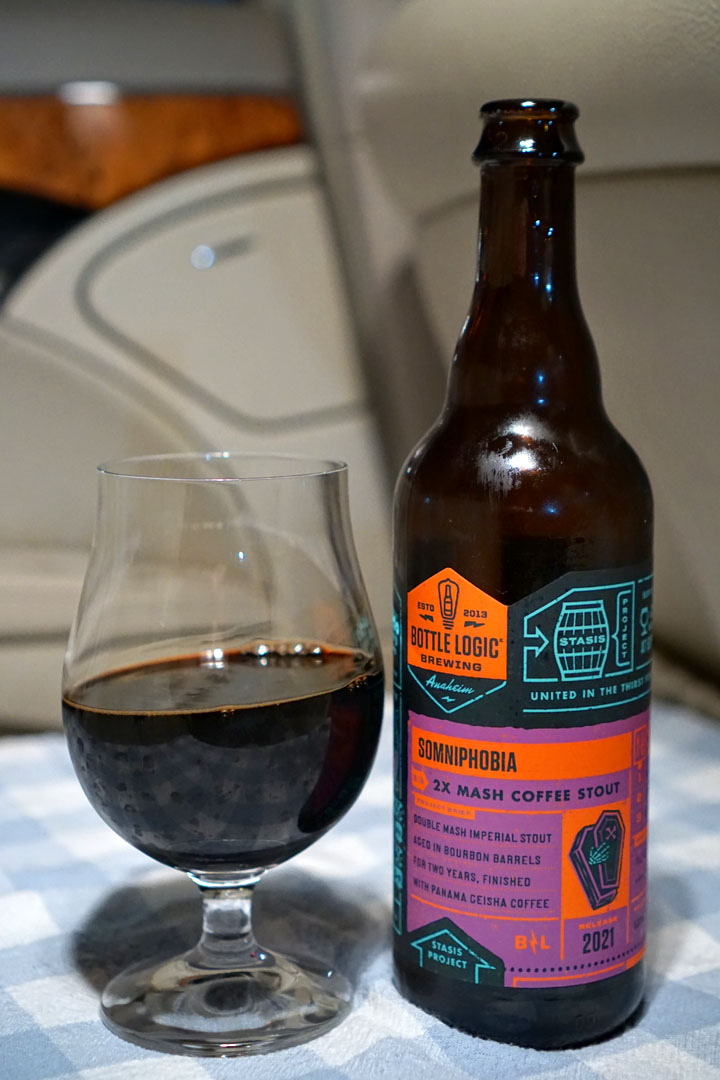 To drink, I brought along two bottles, the first of which was the
2021 Bottle Logic Somniphobia
. Created in collaboration with Voodoo Brewing, it was a double mash imperial stout aged in Heaven Hill bourbon barrels for two years, finished with Panama Geisha coffee from Mostra. The beer had a nose filled with lush, creamy milk chocolate all over the place. Taking a sip, I found it super thick, chewy almost, with coffee astringency and an oaky bite up front leading to notes of dark fruit and cocoa. And as the stout warmed, the ale's Tootsie Roll-esque flavors only intensified.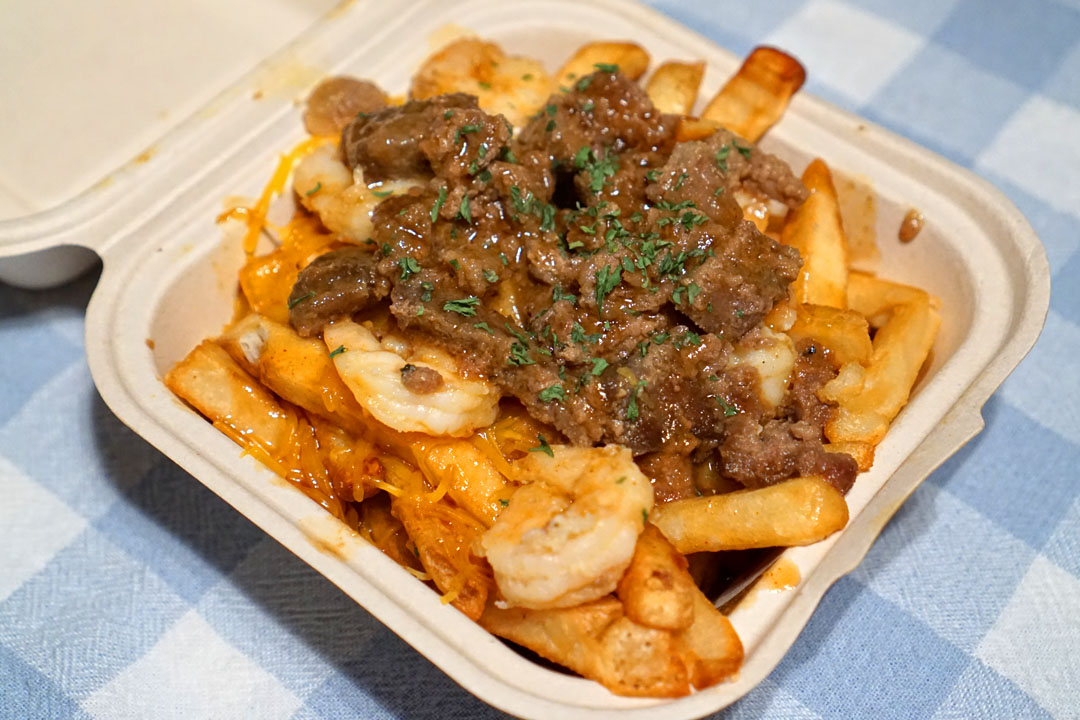 Honey Garlic Shrimp & Steak [$19.72]
| Honey Garlic Sauce, Cheddar Cheese, Shrimp and Steak
This was probably the least successful of the items I tried. As was the case above, the shrimp were overcooked, but so was the beef, which was also lacking in sear and smoke. I found the honey-garlic sauce overly sugary as well, though it did effectively convey the advertised garlic.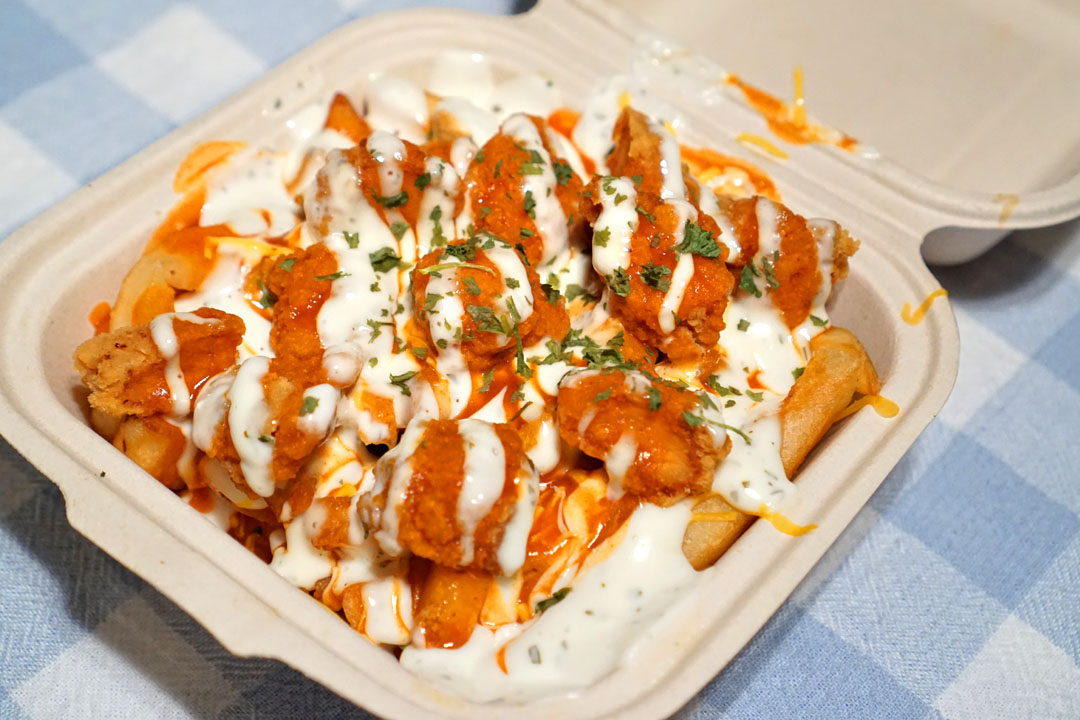 Buffalo Chicken [$10.26]
| Buffalo Sauce, Ranch Sauce, Cheddar Cheese with an Option of Fried or Grilled Chicken
Up next was perhaps the most cohesive dish flavor-wise. The fried chicken took well to the vinegar-y heat of the Buffalo sauce, while the ranch served as a cool, creamy counterpoint.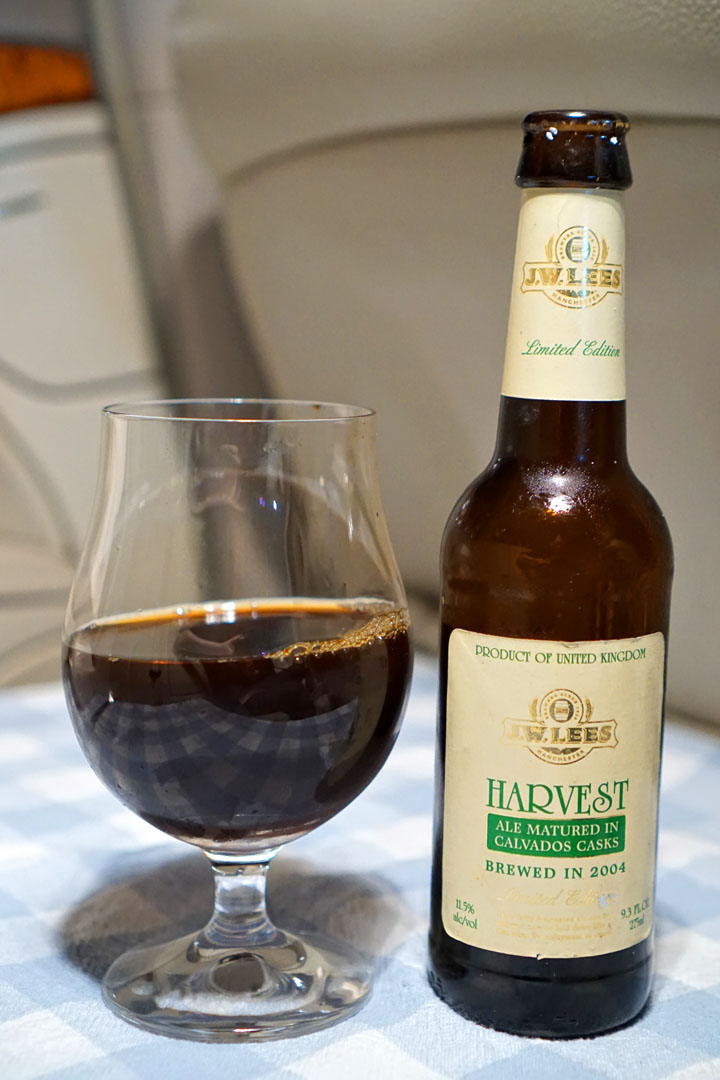 My second bottle was the
2004 J.W. Lees Harvest Ale (Calvados Cask)
, a vintage barley wine matured in oak casks that previously held calvados. The ale smelled lovely, with boatloads of sweet prune--very inviting. On the palate, the beer was soft and velvety, gliding over my tongue in super smooth fashion, while flavors combined candied grapes with hints of brandy and some chocolate-y nuances, all while the finish displayed a touch of tempering bitterness. I'd say that this one has aged rather well over the past 17 years, and I wish I had more.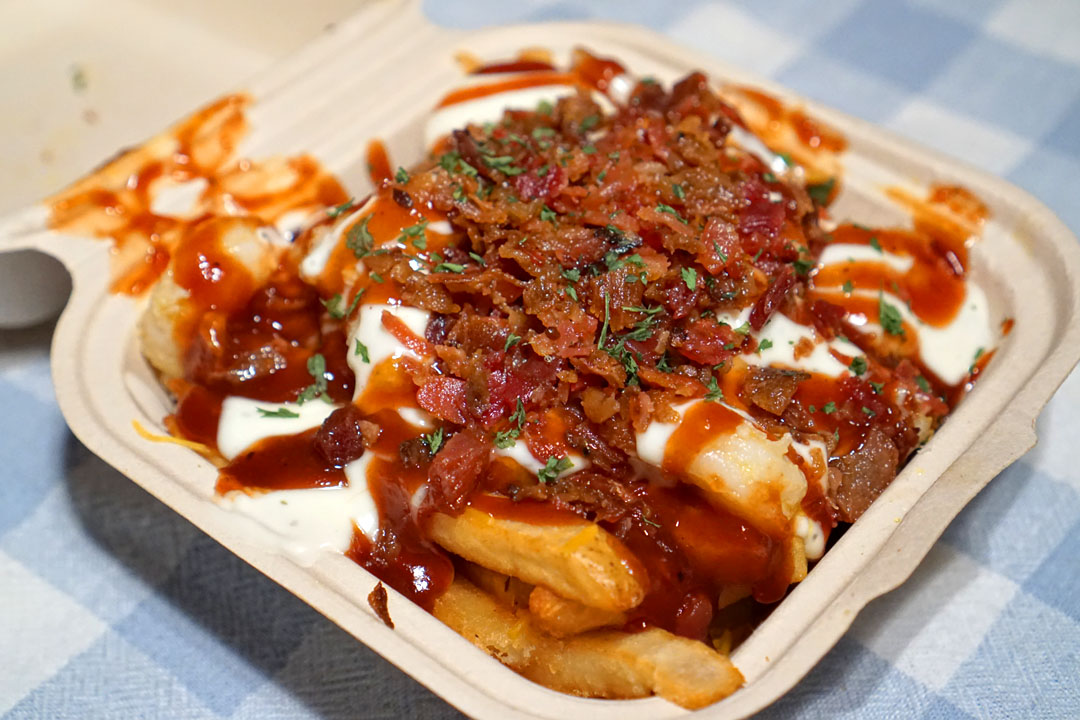 BBQ Bacon Ranch Shrimp [$15.95]
| BBQ Sauce, Ranch Sauce, Bacon, Cheddar Cheese and Shrimp
Fortunately, the shrimp here were better textured compared to the two preparations above. However, I found the barbeque sauce way too sweet, and thus could've really used some smoke to even things out. The bacon did offer up somewhat of a contrast, but it wasn't enough, while the ranch was largely relegated to the background.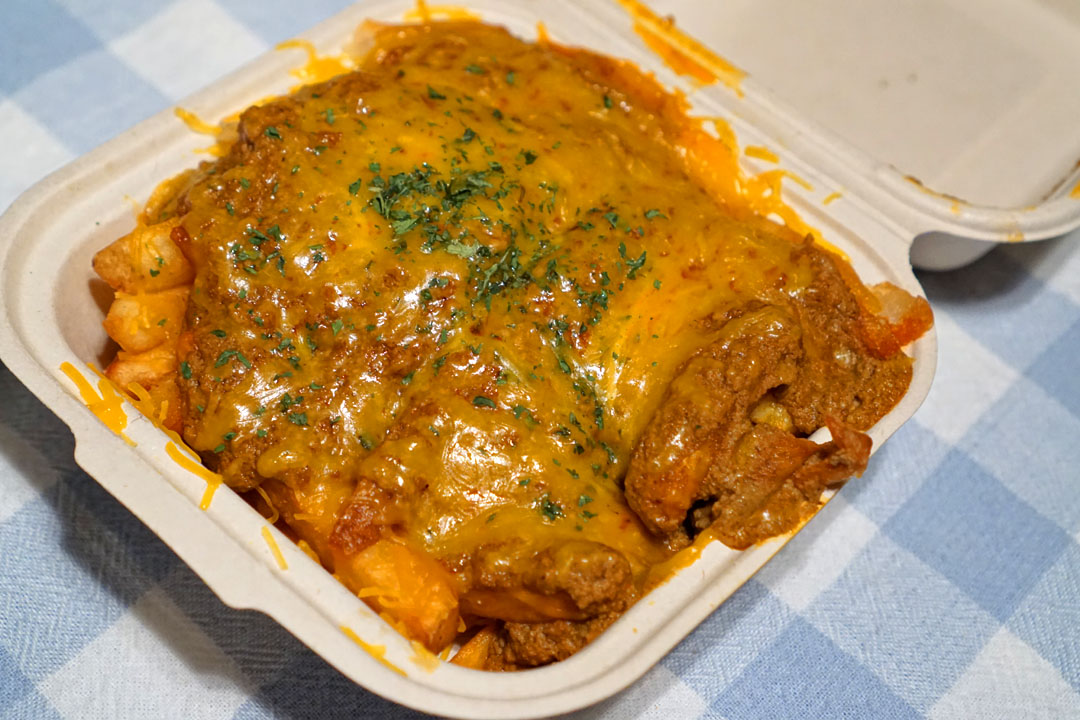 Chili Cheese [$8.86]
| Chicken Chili and Cheddar Cheese
Batiste's take on chili fries was classic at its core, with the spice and seasoning I was hoping for. The gooey cheese helped tie everything together, though I will say that some raw onion would've taken this to the next level.
The food was about what I expected, which is to say it was acceptable, but a bit clumsy, a bit haphazard. I don't quite see what all the fuss is about. Mr Fries Man is worth a try if you're in the area, but you don't need to go out of your way to come here.