Mun Korean Steakhouse (Los Angeles, CA)
Mun Korean BBQ
3519 W 6th St, Los Angeles, CA 90020
213.355.3634
www.instagram.com/munkoreansteakhouse/
Thu 03/31/2022, 09:30p-11:45p

I was looking for a higher-end KBBQ spot in Koreatown recently, and decided to check out one of the latest entrants in that arena, Mun (문). The place is the creation of Kim Jung-yoon (김정윤), a hospitality industry veteran whose parents have operated a barbeque spot called Dongdaemun Sirloin (동대문 등심) in Seoul for four decades. He's partnered up with Ahjung "Claire" Kim, Jongpil Kim, and Hoyoung Kim, and together, they soft-opened the restaurant at the end of July last year (the grand opening was September 23rd).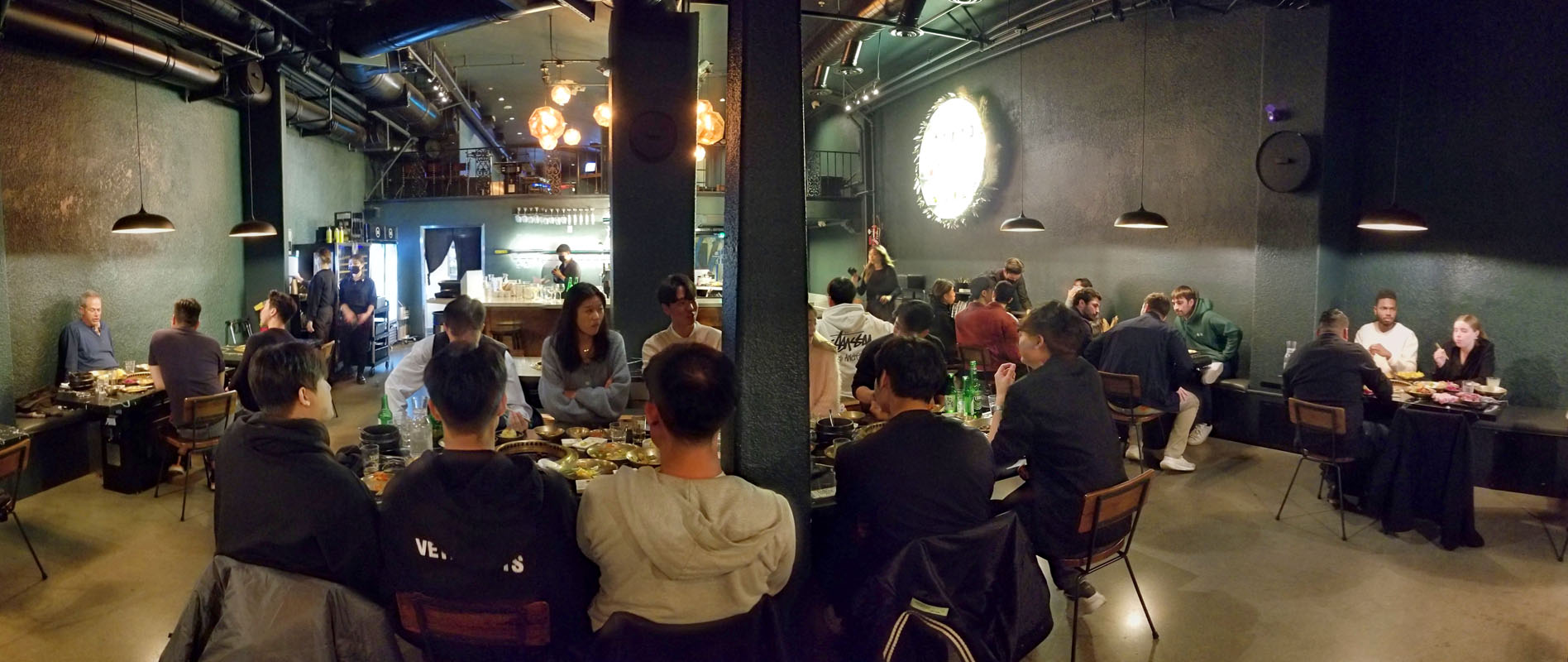 Mun resides in the historic, 1928-era Chapman Park Studio building, which was constructed in the Spanish Revival style alongside the more popular Chapman Plaza across the street (home to the likes of
Tokki
and
Quarters
, among others). The restaurant actually combines two previously separate storefronts; the left formerly held the likes of Tappan Gallery and The Perfect Exposure, while the right was once home to 71 Stanton fashion boutique, Bressons interior design, and Terra Design. Mun also features an upstairs dining area (though the space wasn't in use this evening), and ownership is in the process of installing a patio out back as well.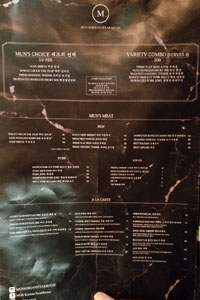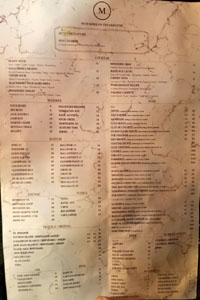 Mun's menu is fairly prototypical for a Korean barbecue spot, though the lack of bone-in galbi cuts is strange for an ostensibly high-end establishment. According to staff, this is due to supplier issues, so hopefully that'll eventually be resolved. As for the beverage situation, there's a full bar, a handful of beers, soju, and some wine. Note that corkage is not allowed, which is unfortunate given that I'd brought a nice bottle to enjoy with the meal; I think this is actually the first time I'd ever encountered issues with BYOB at a KBBQ place. Click for larger versions.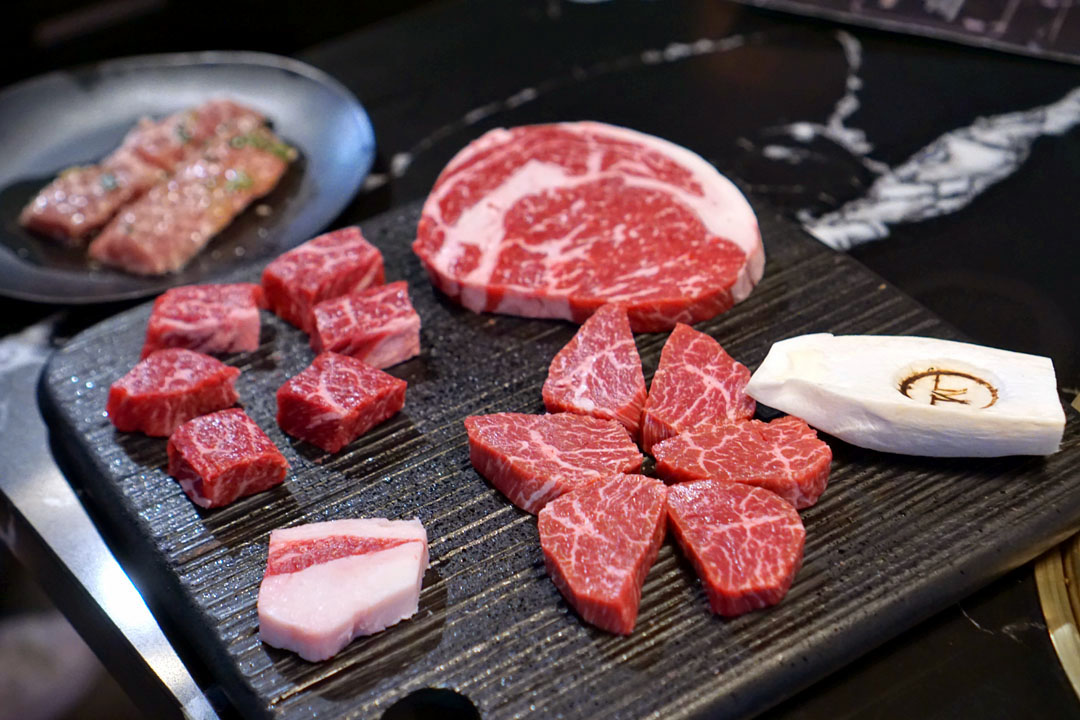 Mun's Choice – 쉐프의 선택 [$55.00/person × 2]
We ended up going with the restaurant's prix fixe menu, which includes four meats and appropriate accoutrements.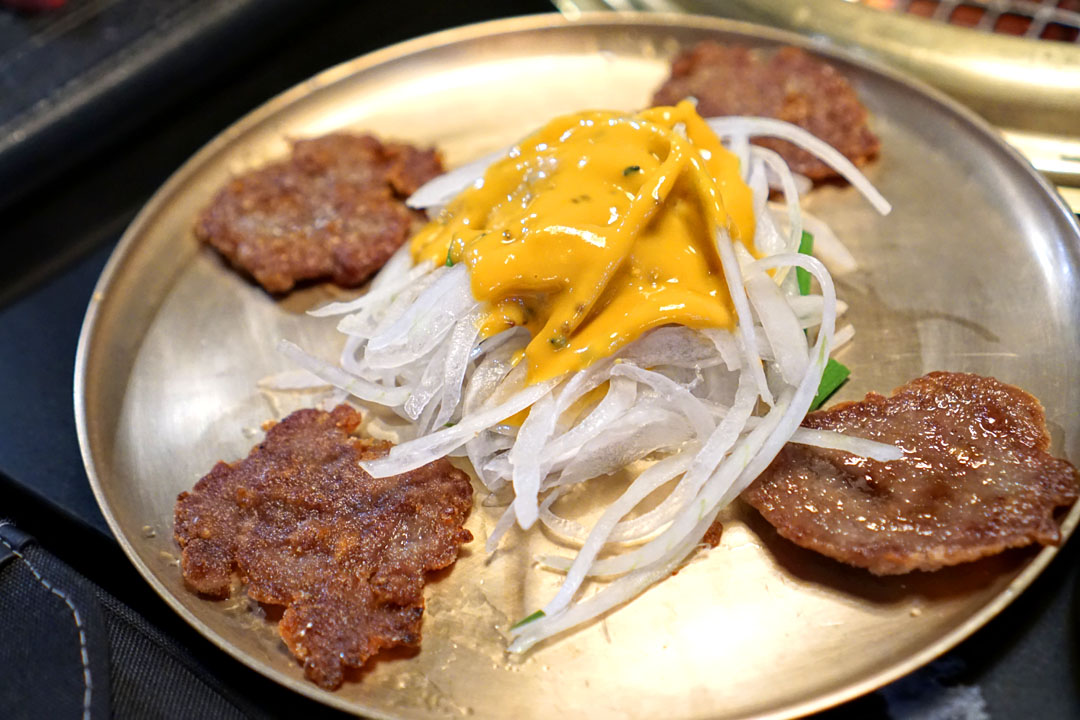 Bulgogi Yuk Jeon – 불고기 육전
Those aforementioned accoutrements included these thin, crispy meat patties, flavored with sweet bulgogi seasoning and accompanied by the zippy combo of raw onion and a mustard-y dressing.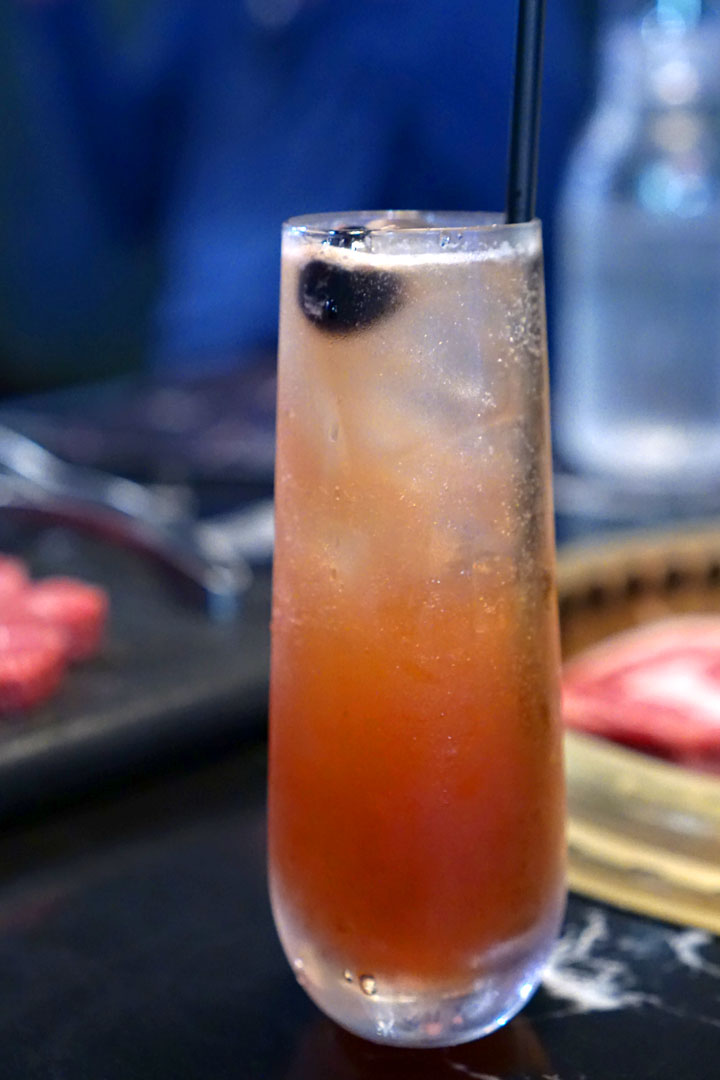 Cherry Soda [$15.00]
| Grey Goose Vodka / Heering's Cherry Liqueur / Lemon / Club Soda
We ended up ordering a couple cocktails to start. Now cherry is arguably my favorite type of soda, so this sounded promising, but I really didn't taste much of the advertised fruit, instead getting a muddled sort of sweetness perked up by touches of citrus.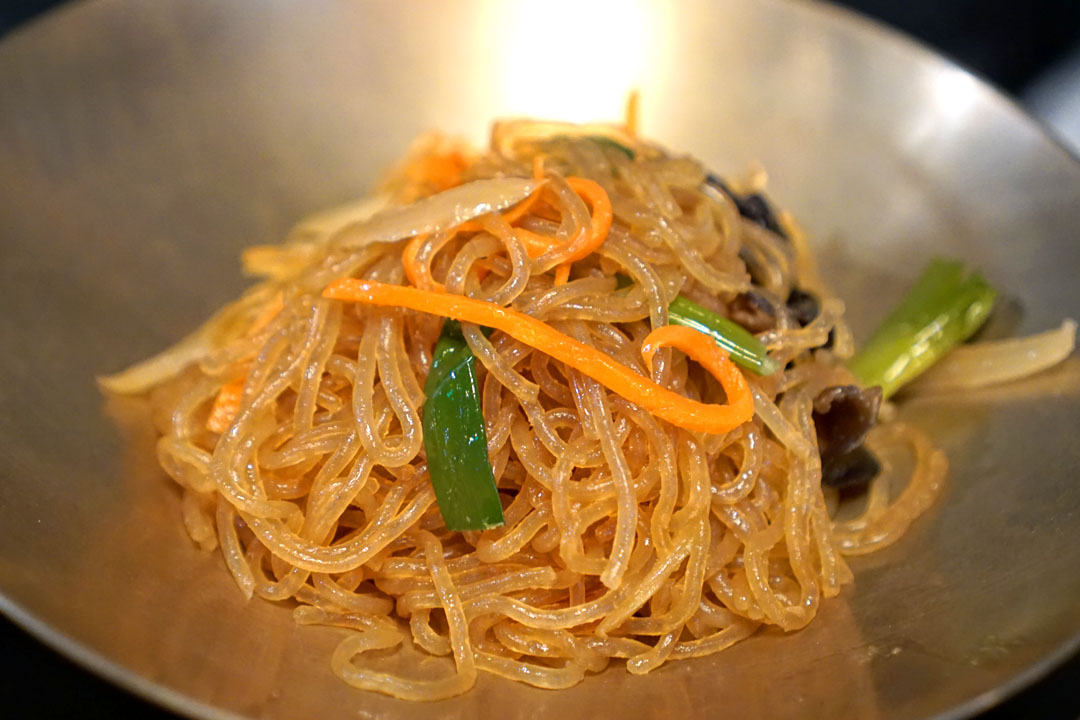 Japchae – 잡채
The glass noodles were on point, with the
dangmyeon
having a somewhat sturdier consistency than usual, while all the savory/sesame flavors I wanted were there.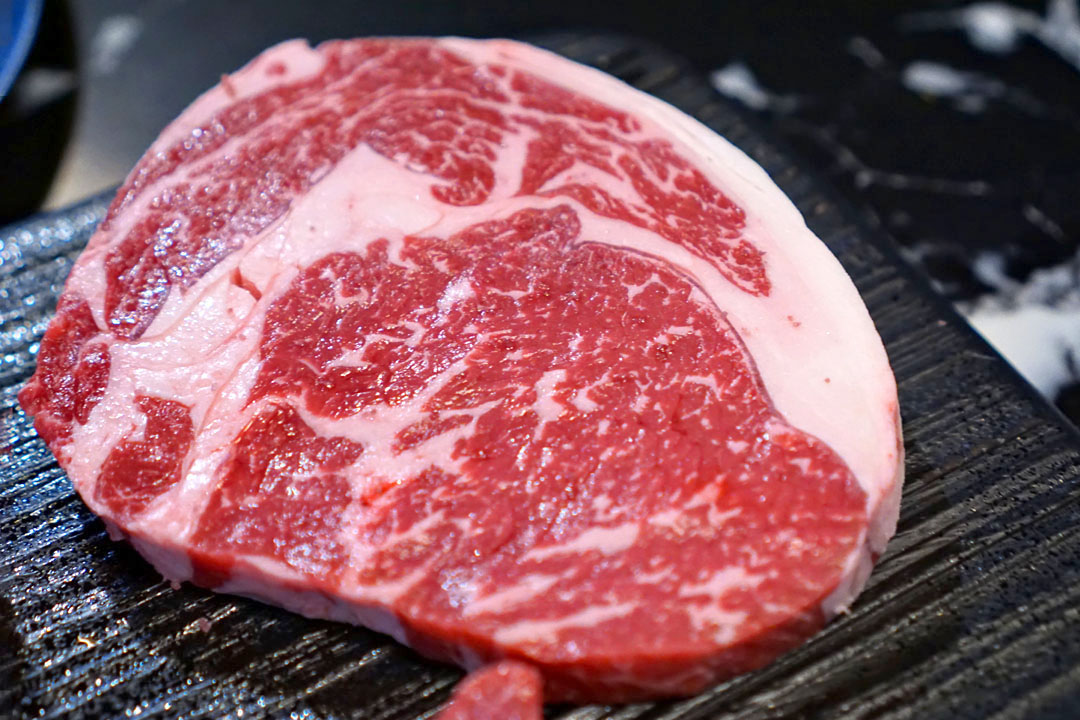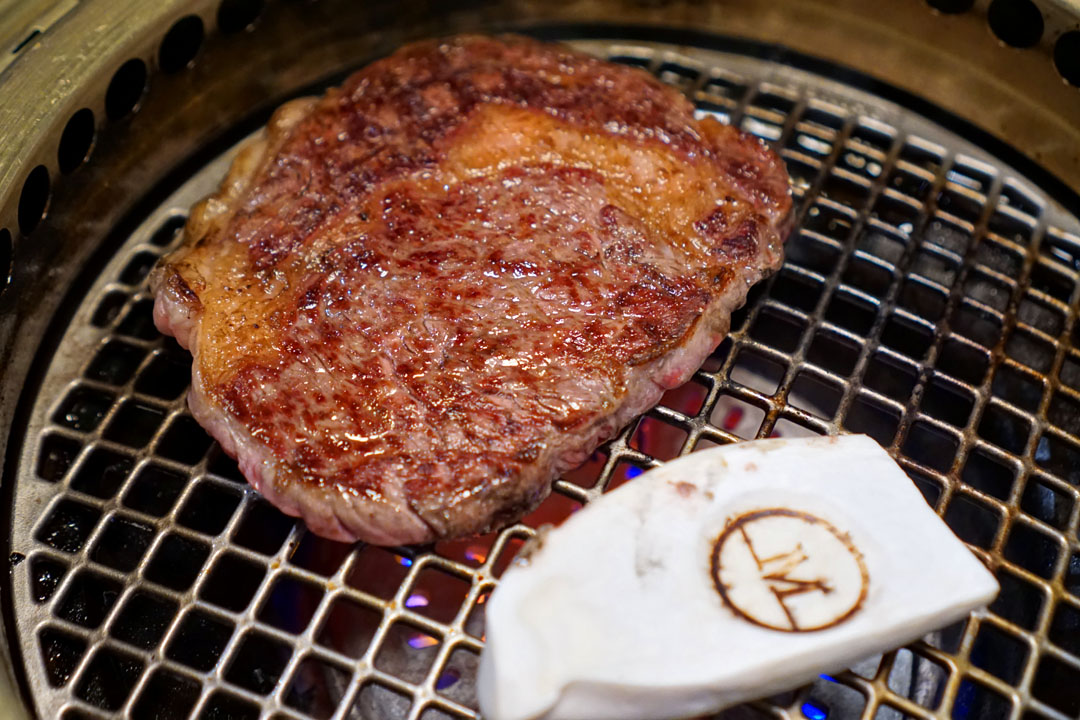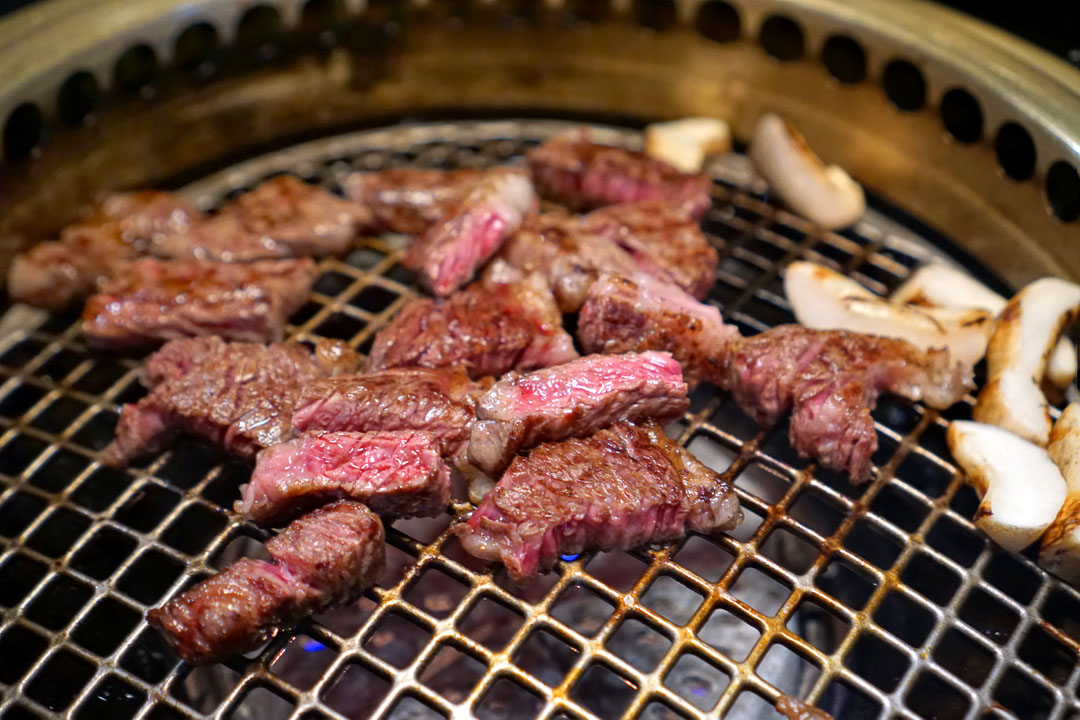 Aged Ribeye – 숙성 등심
The first meat I tried was the
sugseong deungsim
, a tender, oily cut with a focused beefiness that really opened up nicely with a dab of salt. Note also the included king trumpet mushroom (새송이버섯, or
saesongi beoseot
), which was a delight texturally. A promising start.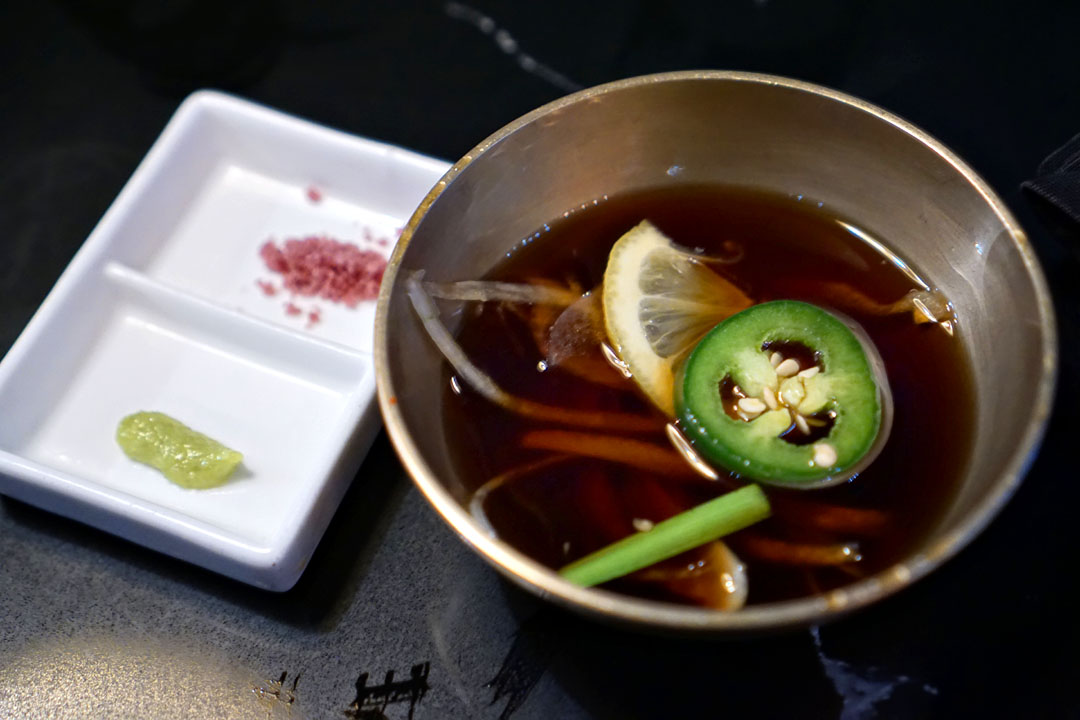 Speaking of salt, it was of the red wine variety, and was joined by wasabi and a soy-based dipping sauce.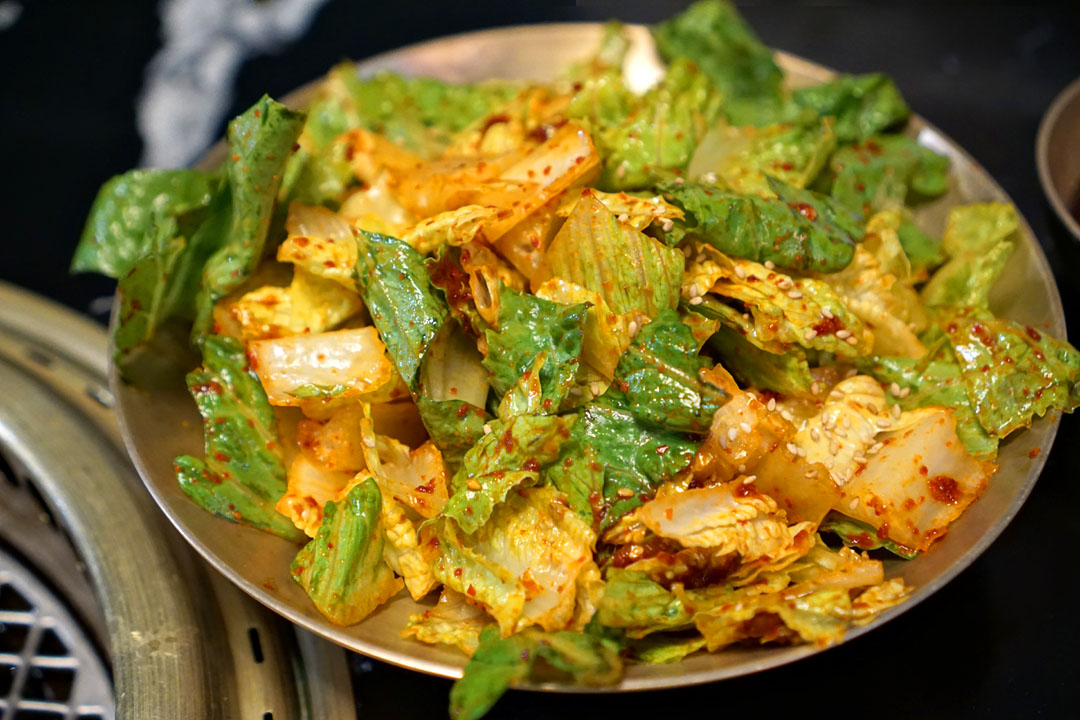 The salad was surprisingly good thanks to its spot-on marriage of heat and nutty sesame notes, and was in fact one of the best versions I've had at KBBQ.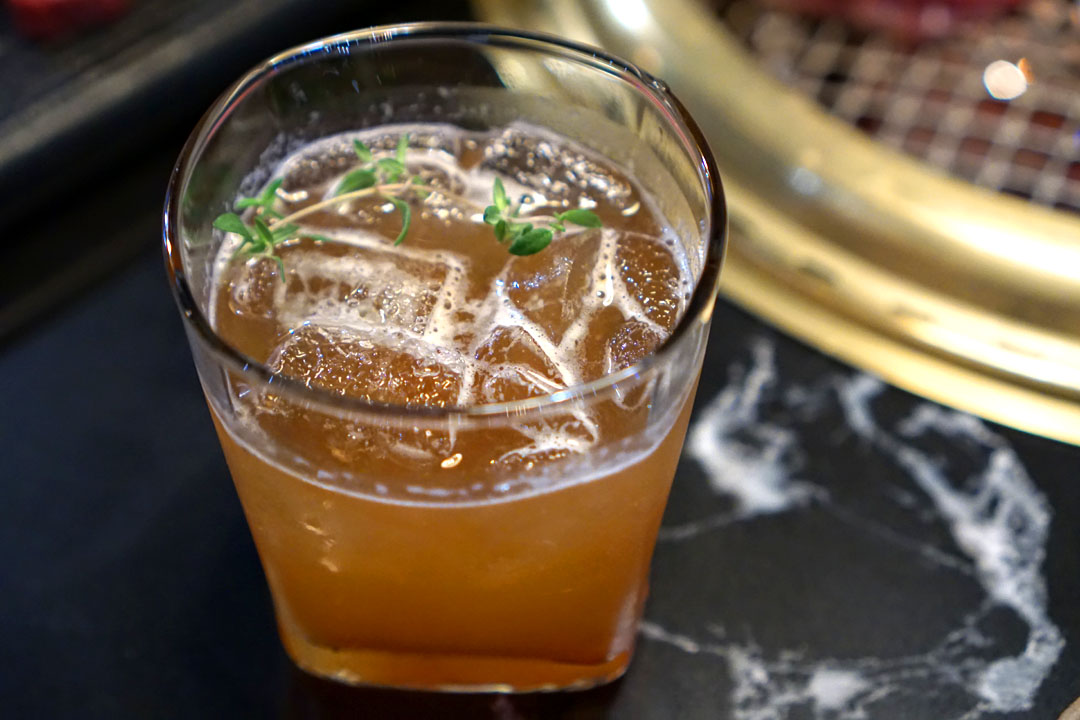 Thyme Sour [$14.00]
| Maker's Mark Bourbon / Thyme / Maple Syrup / Lemon
My second cocktail wasn't particularly notable either, presenting a nondescript sugariness from the maple alongside tart lemon and not enough thyme.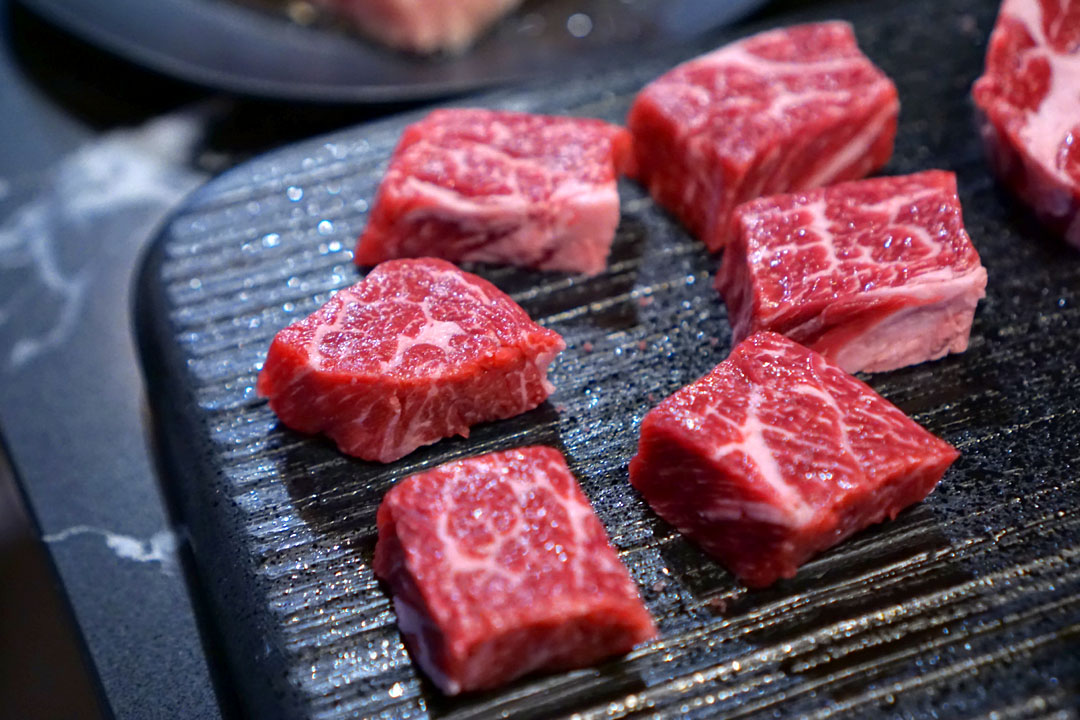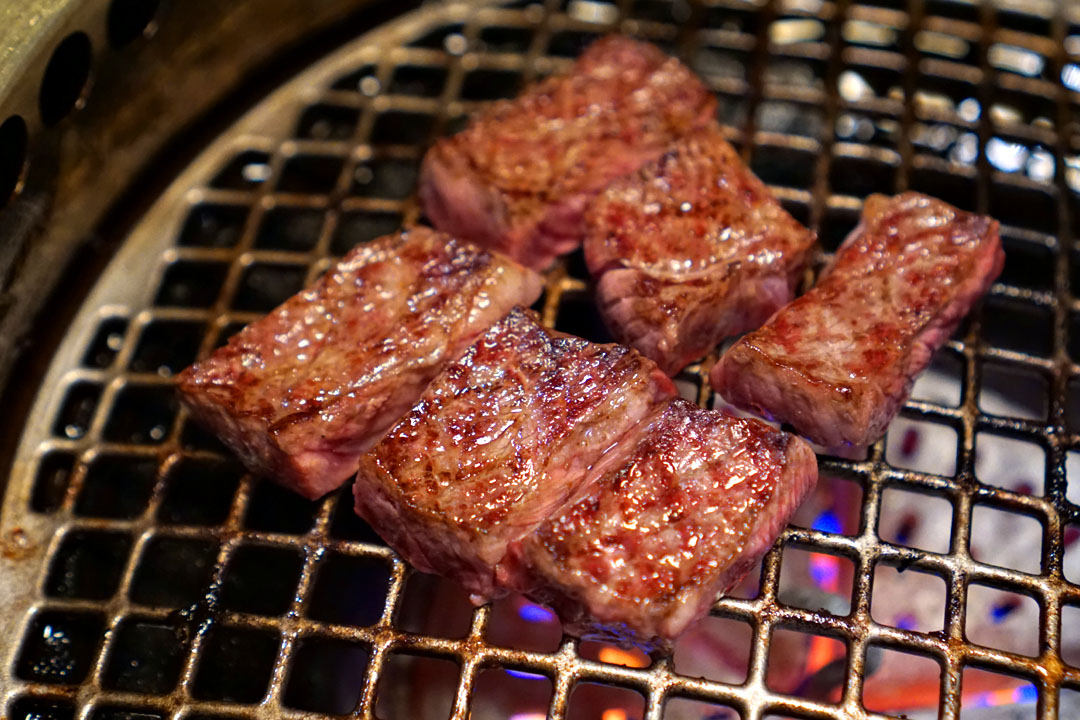 Wagyu Chuck Tail Flap – 와규 살치살
Compared to the rib eye above, the
salchisal
was an altogether different experience. The meat was dense, substantial, with a satisfying chew, while flavors were decidedly full-throated, and much more in-your-face in terms of how the cut's fattiness and beefiness were conveyed.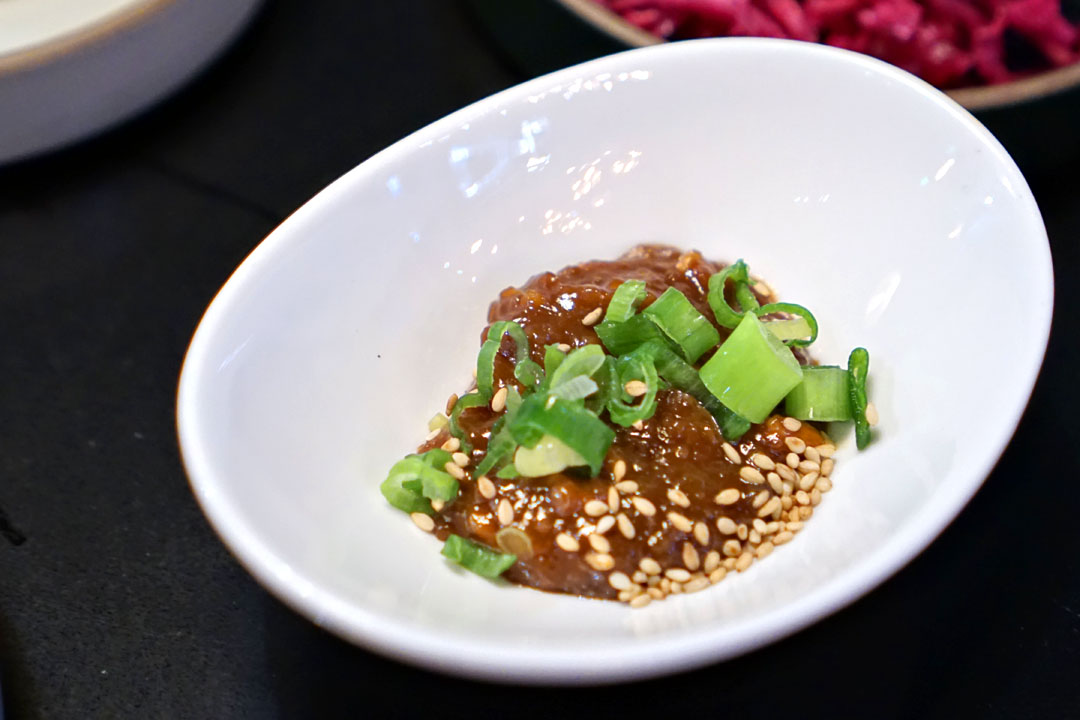 The provided
ssamjang
was earthier than usual, which was appreciated, as was the inclusion of scallions and sesame seeds.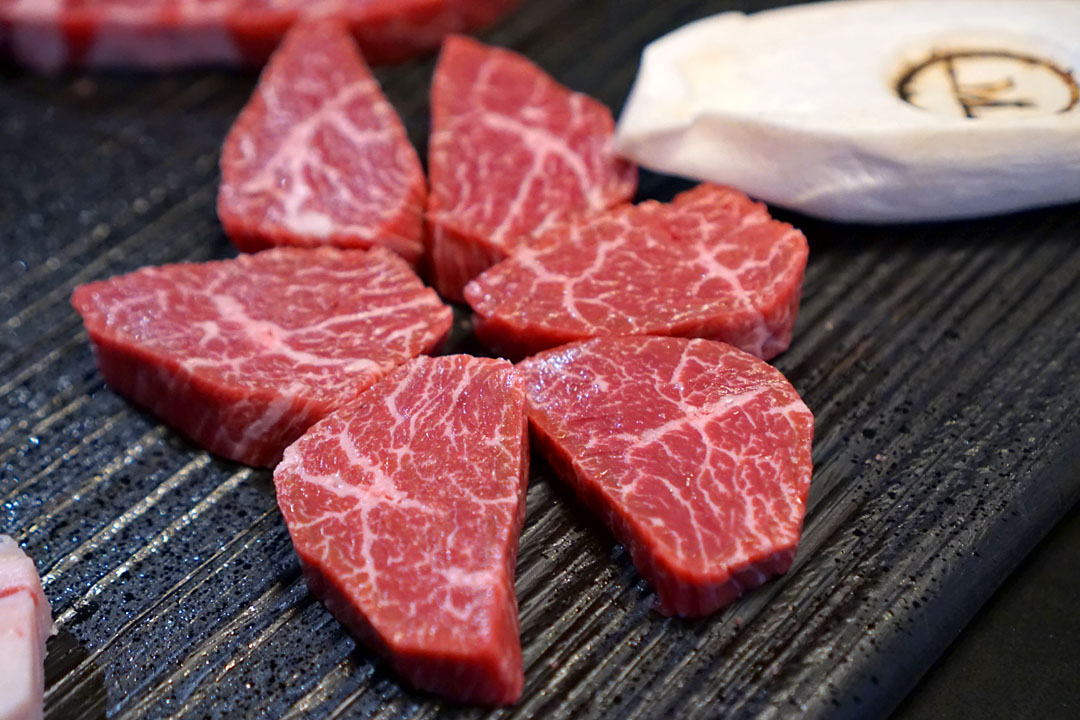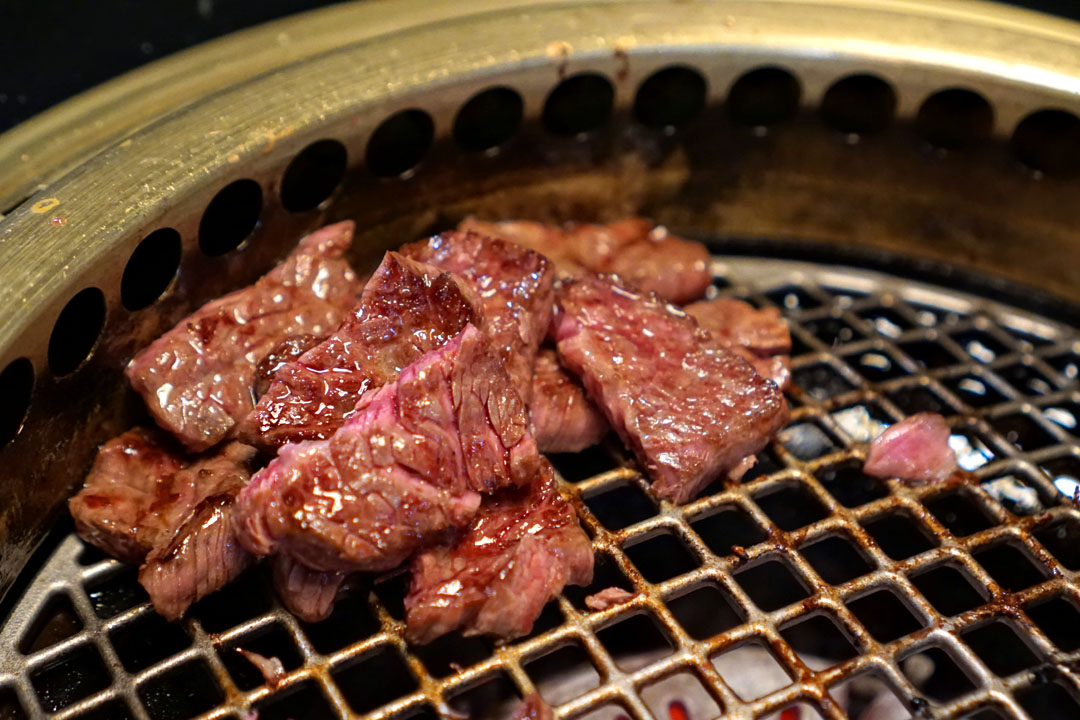 Prime Hanging Tender – 프라임 토시살
Toshisal
isn't a cut that I find too often at KBBQ spots here in LA, so I was glad to see it tonight. The meat was as tender as its name would imply, with a less overt, more delicate flavor profile that appealed to me.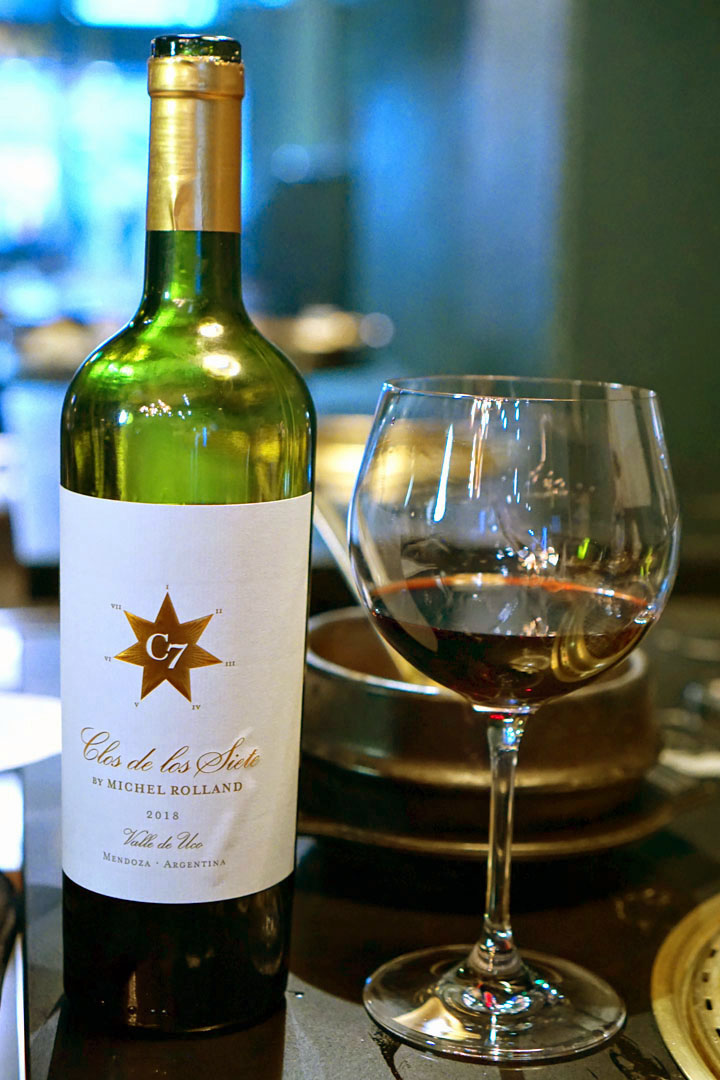 For red wine, we ended up going with the
Clos de los Siete Red Blend, Valle de Uco, AR 2018 [$40]
. The Malbec-based blend showed off inviting aromas of inky dark berries supported by a smidge of chocolate-y smoke. The palate was soft, round, with more robust, heady fruits along with an undercurrent of herbs, oak, spice, and a bit of minerality.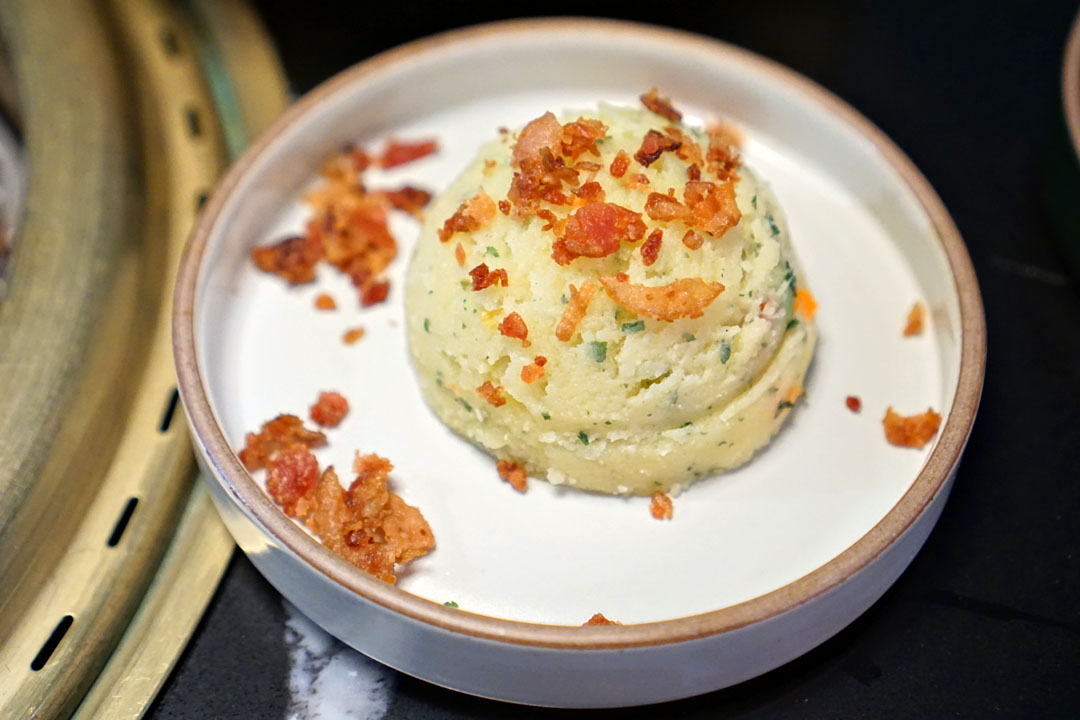 The potato salad wasn't my favorite banchan, as I would've preferred it creamier, less dry, and more importantly, less sugary.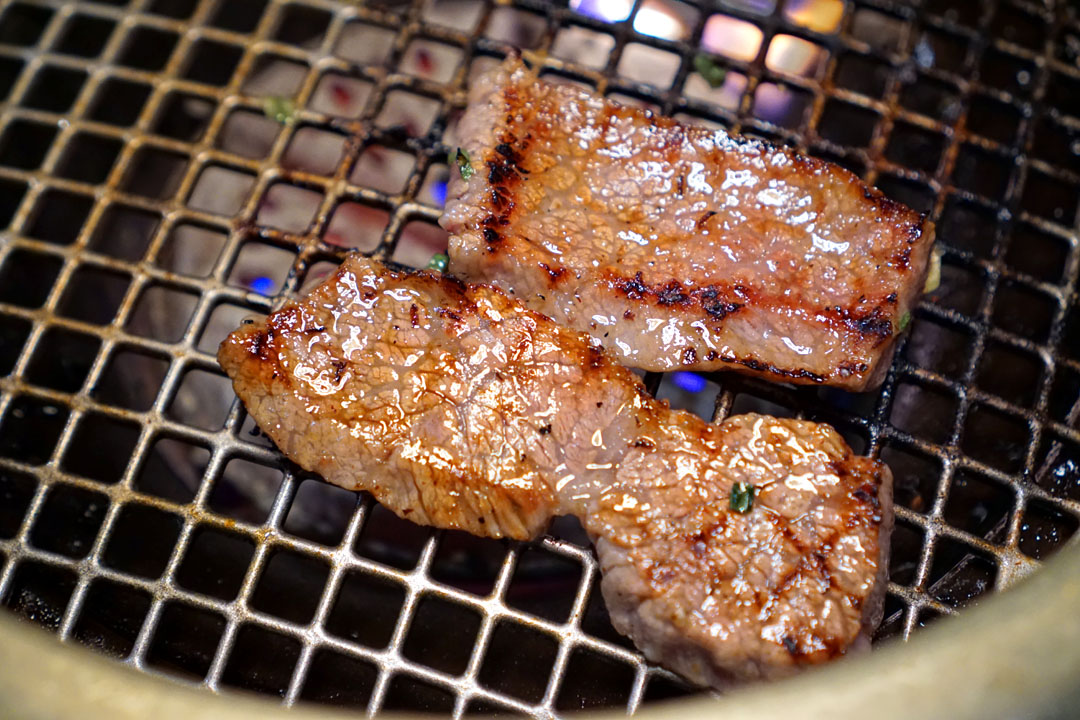 Marinated Boneless Short Rib – 꽃살양념갈비
The
kkotsal yangnyeom galbi
was a somewhat unusual cut, but a tasty one nonetheless. The marinade has this almost pear-like fruitiness that simply worked with the beef's sear, smoke, and savoriness.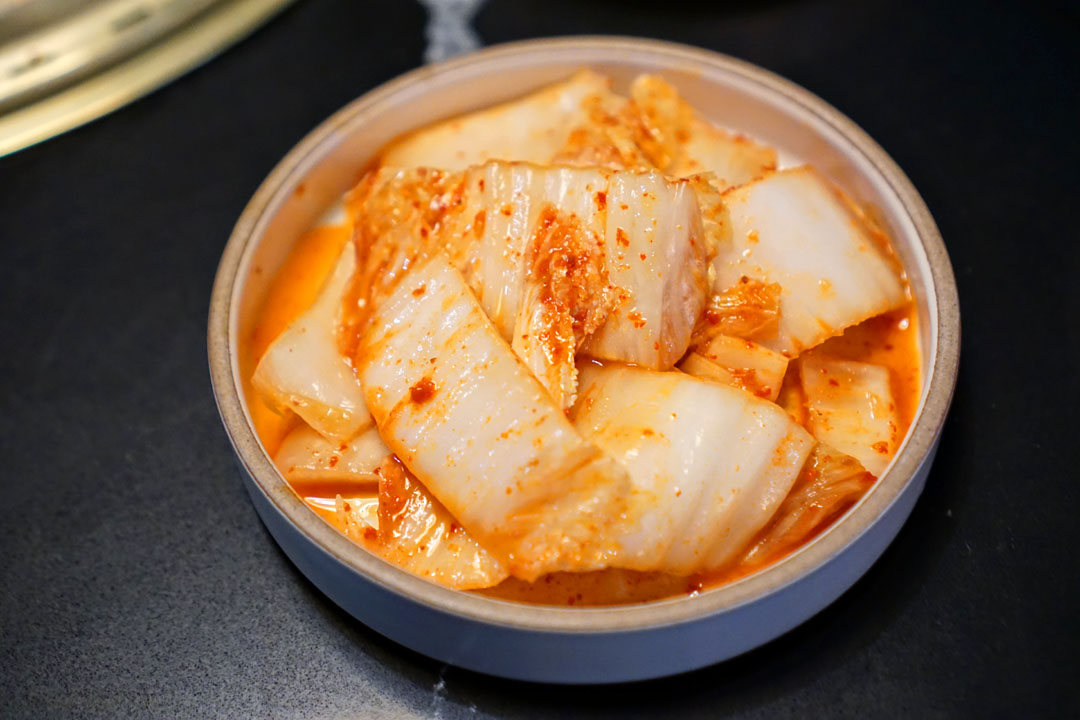 Mun's kimchi was relatively restrained, coming out not too sour, not too funky, with a good crunch.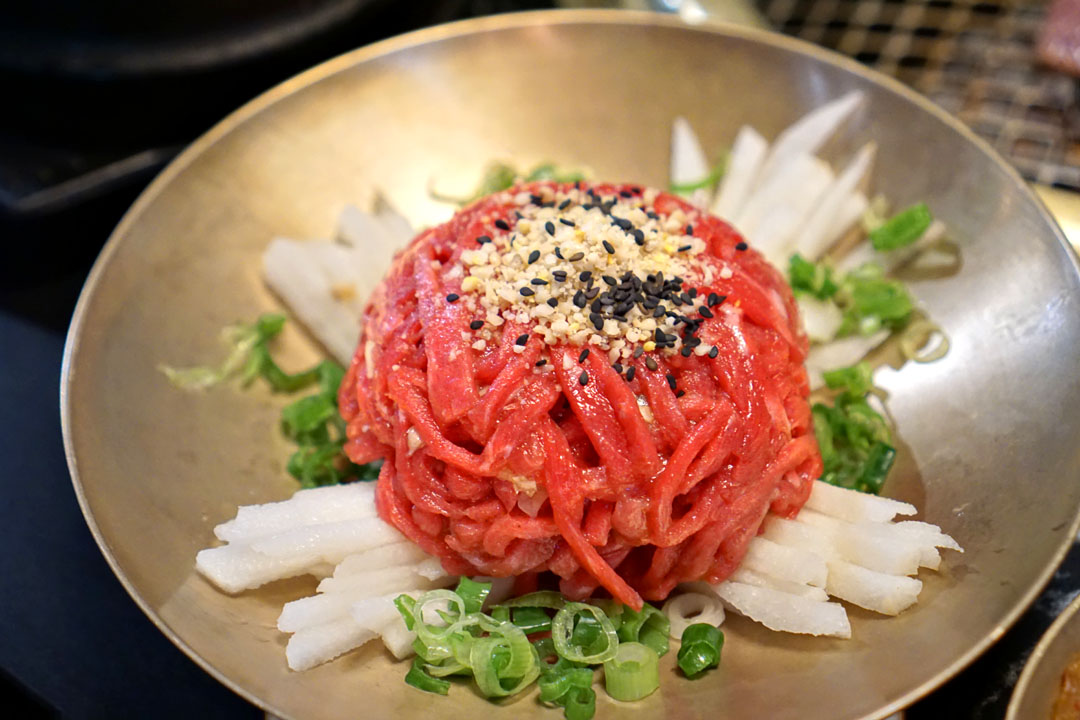 Beef Tartare – 육회 [$30.00]
I couldn't resist ordering the
yukhoe
, which turned out to be a very solid preparation. The meat melded effortlessly with the fruity, nutty, savory notes in the dish, with the crisp, juicy nature of the
bae
being particularly notable. However, my favorite ingredient here was the green onion, which offered up a wonderful zestiness that really enlivened the tartar.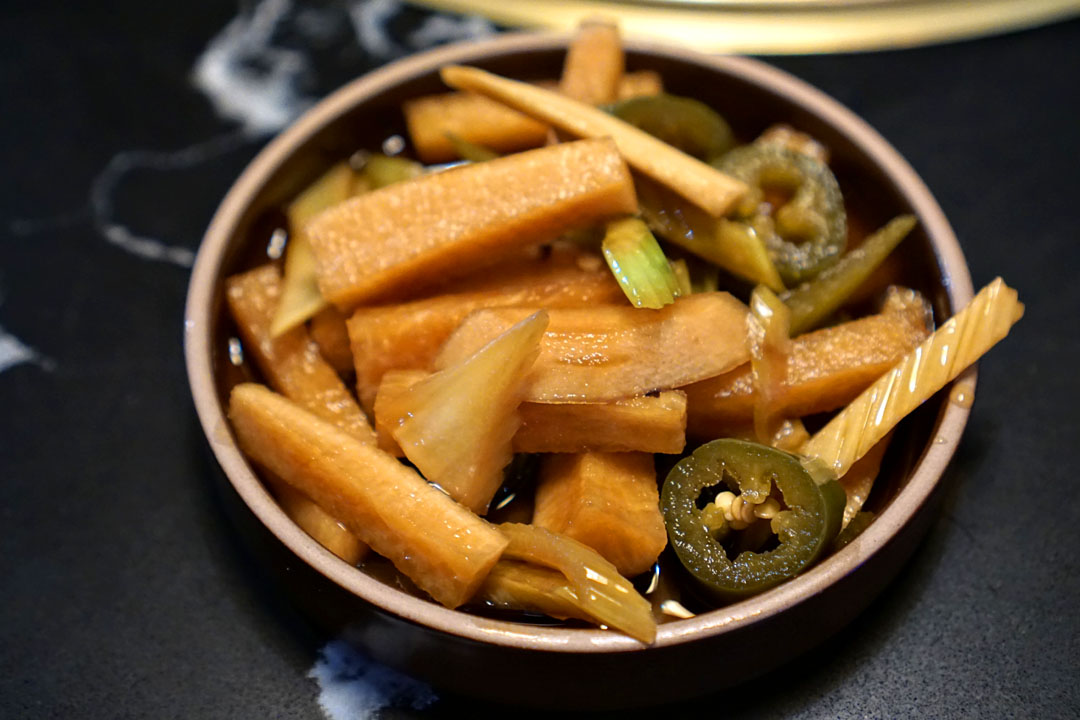 Jangajji
pickles ate crunchy and sweet, and served as a fitting foil to all the beef.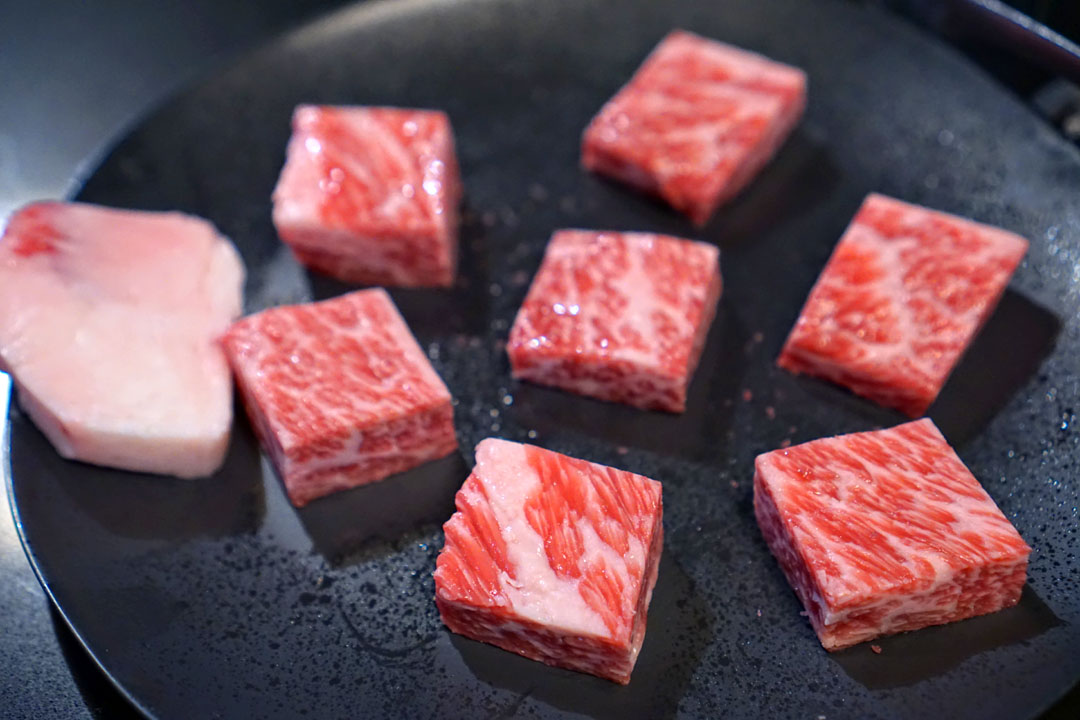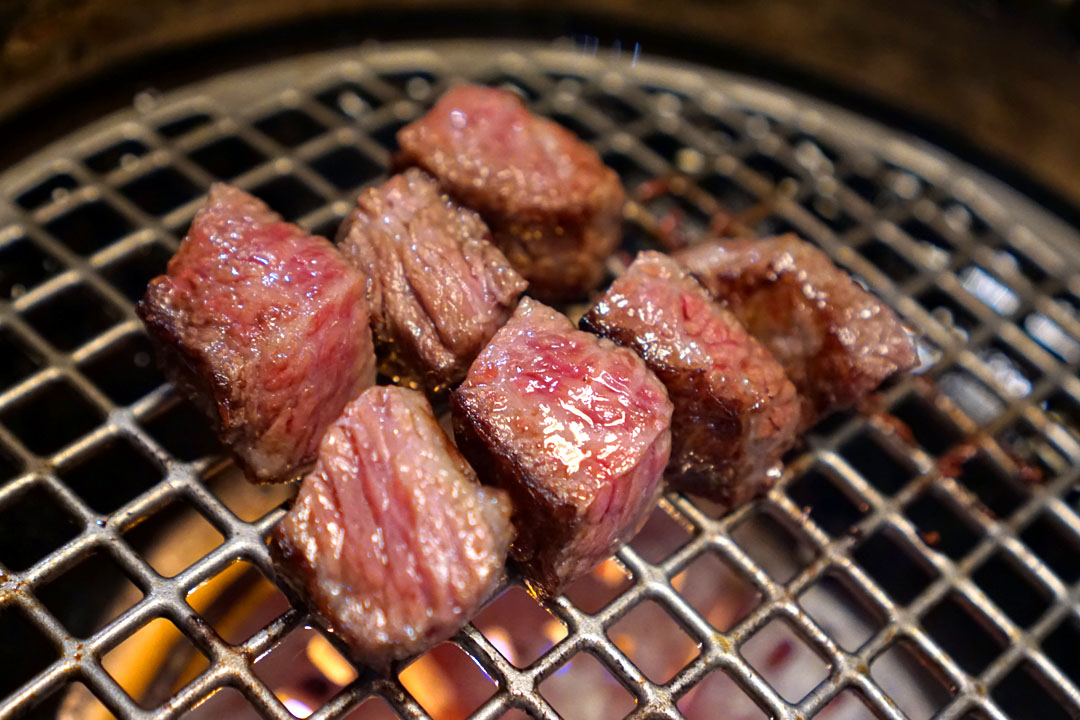 Aged Boneless Short Rib – 숙성 꽃살 [$27.00/half order]
The evening's final type of beef was the
sugseong kkotsal
, which was sliced into the sharpest square cuts I'd ever seen at KBBQ. This was perhaps the most balanced meat I had tonight, both in terms of texture and taste, and represented a consummate combination of potency and finesse.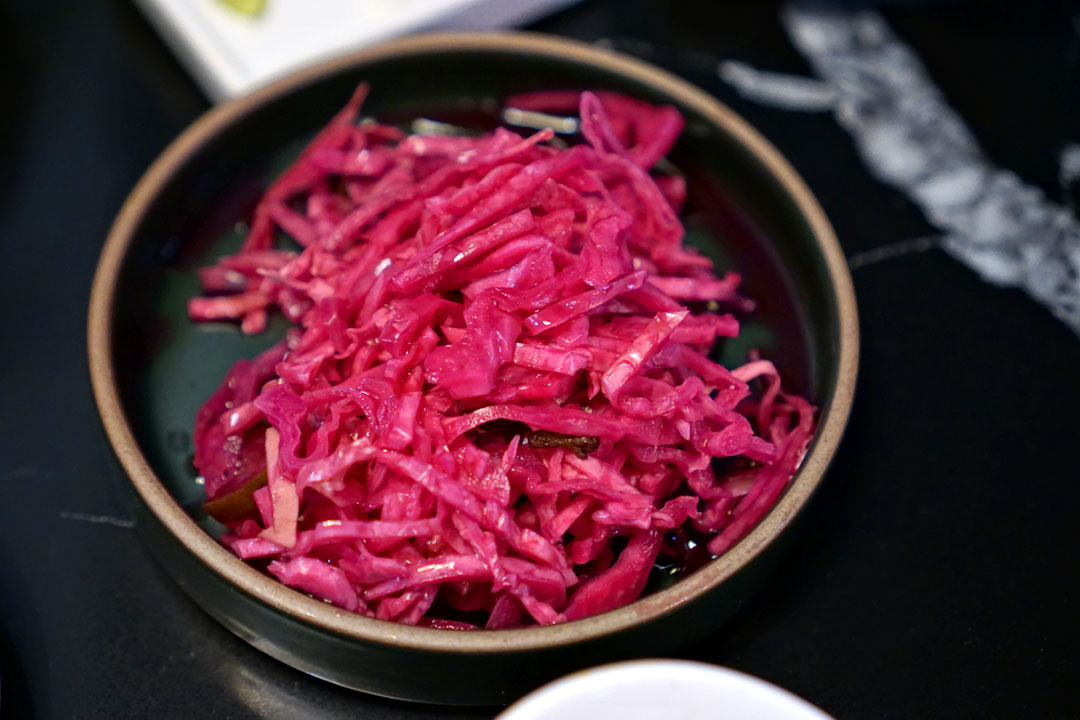 Shredded red cabbage went in a sweet, slightly acidic direction, and worked to even out the strong flavors we were having.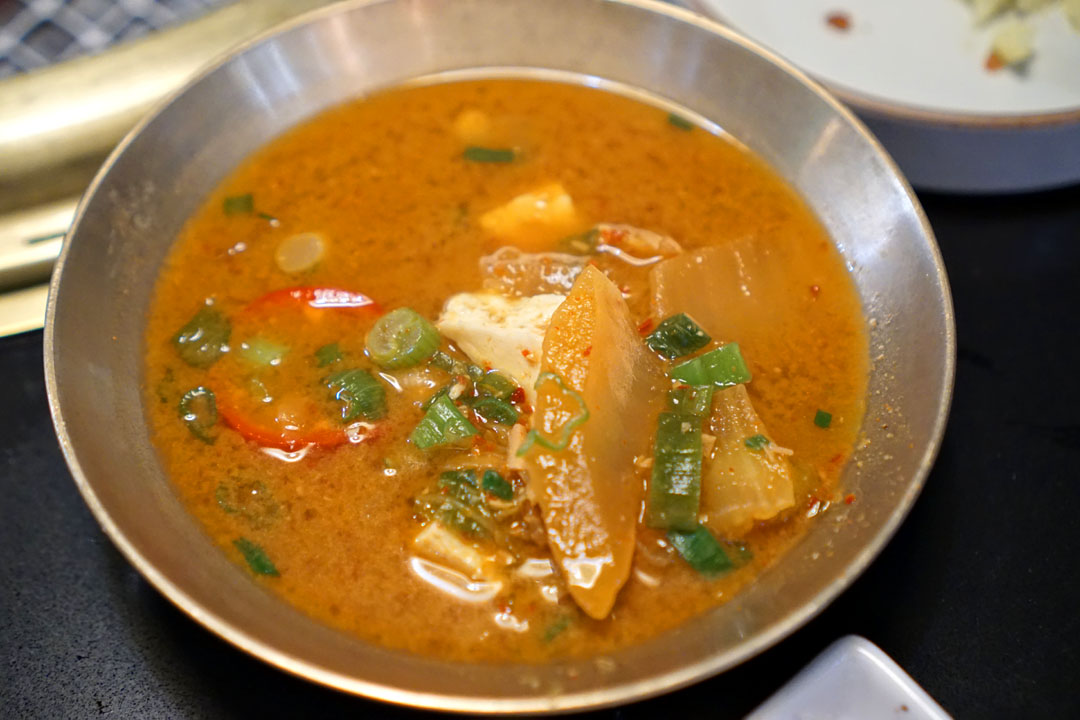 Mun Stew – 문 찌개
The restaurant's signature
jjigae
hit the spot, and I'd liken it to a spicier variant of your classic
doenjang
stew.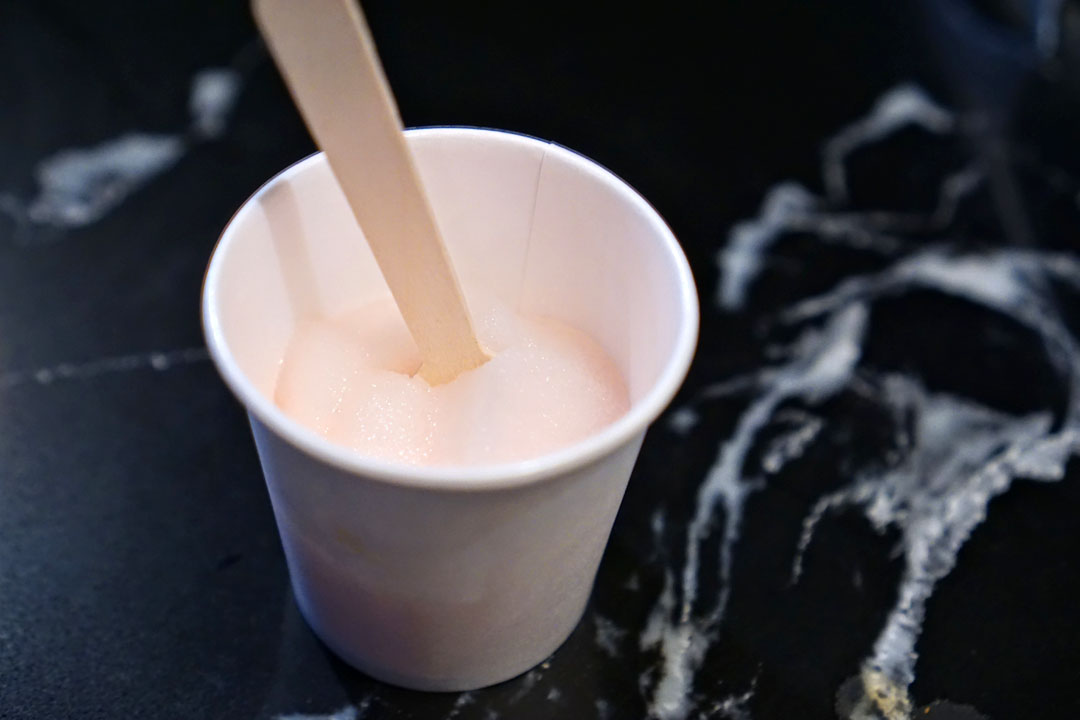 Seasonal Slush – 슬러쉬
Last up was a small serving of strawberry(?) slush, which worked as an apt palate cleanser to close out the night with. It was unfortunate that this was served in a paper cup though, as it cheapened the experience.
I was pretty happy with the food tonight; the meats delivered across the board, and the side dishes were generally quite good as well. Mun's certainly a worthwhile contender in the K-town
gogi gui
scene. My only major concern would be the aforementioned corkage situation, which would likely prevent me from coming back here regularly, as there are plenty of other comparable Korean BBQ spots in the area that aren't so inflexible in that regard.