Friday Saturday Sunday (Philadelphia, PA)
Friday Saturday Sunday Restaurant
261 S 21st St, Philadelphia, PA 19103
215.546.4232
www.fridaysaturdaysunday.com
Wed 06/08/2022, 07:40p-10:40p

You might recall that I recently posted about my experience at
Little Fish
, which came highly recommended by a number of industry folks I spoke to on my previous visits to Philly. As much at Little Fish was touted though, the curiously-named Friday Saturday Sunday was even more widely endorsed, so I knew that I had to make it out here on my latest trip. The Rittenhouse Square restaurant has actually been around much longer than I'd initially thought. In fact, it was opened by a photographer by the name of Weaver Lilley all the way back in 1973, at the site of the former Gilded Cage, a coffee shop that was popular in the 1950s and 1960s, but reportedly shuttered in 1969. Interestingly, Lilley operated the business all the way up until 2015, when he sold it to its current owners: the husband-and-wife team of Chef Chad Williams and GM Hanna Williams.
About the Chef
: A child of the early 1980s, Williams is a native Philadelphian, having grown up in West Philly among a family of teachers. He found his way to Howard University, and after junior year, started cooking professionally at a Caribbean spot in DC called Rocky's Cafe, then moved on to the nearby Cashion's Eat Place. He quickly fell in love with the craft, and thus decided to pursue a career in the kitchen, much to his mother's dismay. After a trip to Europe, where he
staged
at Mugaritz and Guy Savoy, Williams returned to Philly in 2002 and began an eight-year run working for Jose Garces. He first cooked at Alma de Cuba and El Vez, then moved over to Amada in 2007, where he served as Chef de Cuisine and also met his eventual wife, Hanna Whitaker (whose parents were in the biz and used to frequent FriSatSun back in the day).
In 2008, he took on the opening CdC role at Garces' Peruvian-Chinese eatery Chifa, and during this period, also helped his boss compete on
The Next Iron Chef
. After leaving Garces' side in 2010, Williams worked stints at heavy hitters Eleven Madison Park,
Manresa
, and
Saison
. Following, he came back to his hometown to take the reins at Tela's Market & Kitchen (working title: Fairmount Grocery), which opened in November 2013. He didn't stay long though, since in 2015, he and Whitaker purchased Friday Saturday Sunday and began an 18-month remodel of the iconic restaurant. The couple actually got married in the building on October 13th 2016, then opened for service that December.
The place earned a
three-bell review
from Craig LaBan of
The Philadelphia Inquirer
, and soon established itself as one of the premier dining destinations in the city. Things went smoothly until the pandemic hit, and the restaurant was forced to make all sorts of pivots, from hosting barbecues to slanging lobster rolls. Williams was able to reopen for indoor dining at the start of 2021, but due to seating limitations, he had to replace his old à la carte menu with a tasting in order for things to make sense financially. This actually was a blessing in disguise, since it gave the Chef the opportunity to do things that simply weren't feasible with the old format. Even James Beard seemed to agree, as the organization ended up deeming Friday Saturday Sunday an "Outstanding Restaurant" semifinalist in February this year.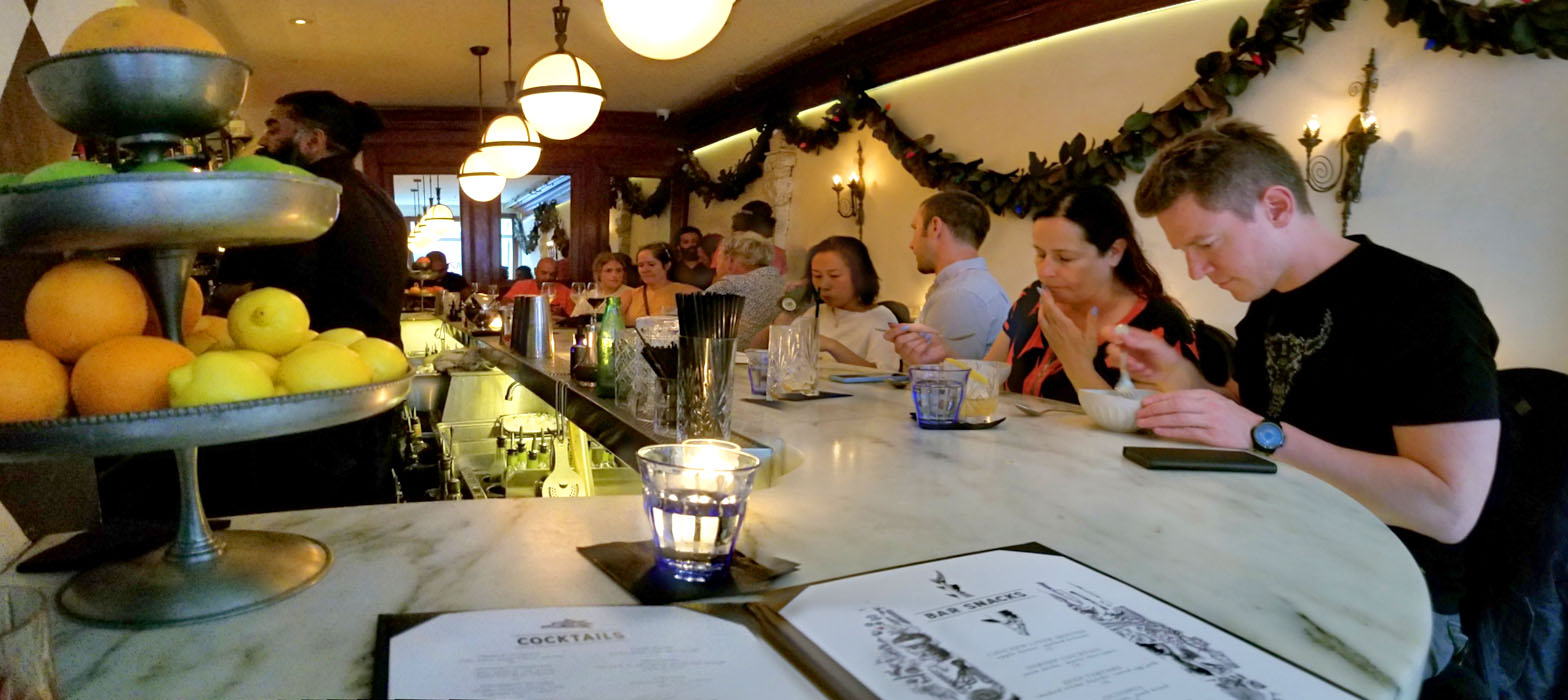 I arrived early for my reservation, and thus took a seat at the downstairs bar, which is available for walk-ins. Old Fri Sat Sun patrons may recall that, in its previous life, the so-called Tank Bar (opened eight years after the restaurant apparently) was actually located upstairs, in what was once Lilley's apartment, while the dining room was on the ground floor, so there's been a bit of a switcheroo.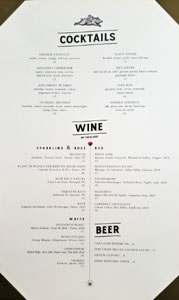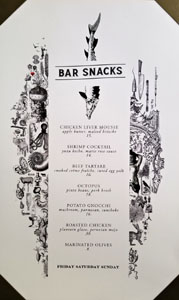 Pictured above is the bar menu, which features some pretty appealing bites as well as wines, beers, and interesting cocktails from bartender Paul MacDonald (a.bar, Society Hill Society, Farmers' Cabinet). Click for larger versions.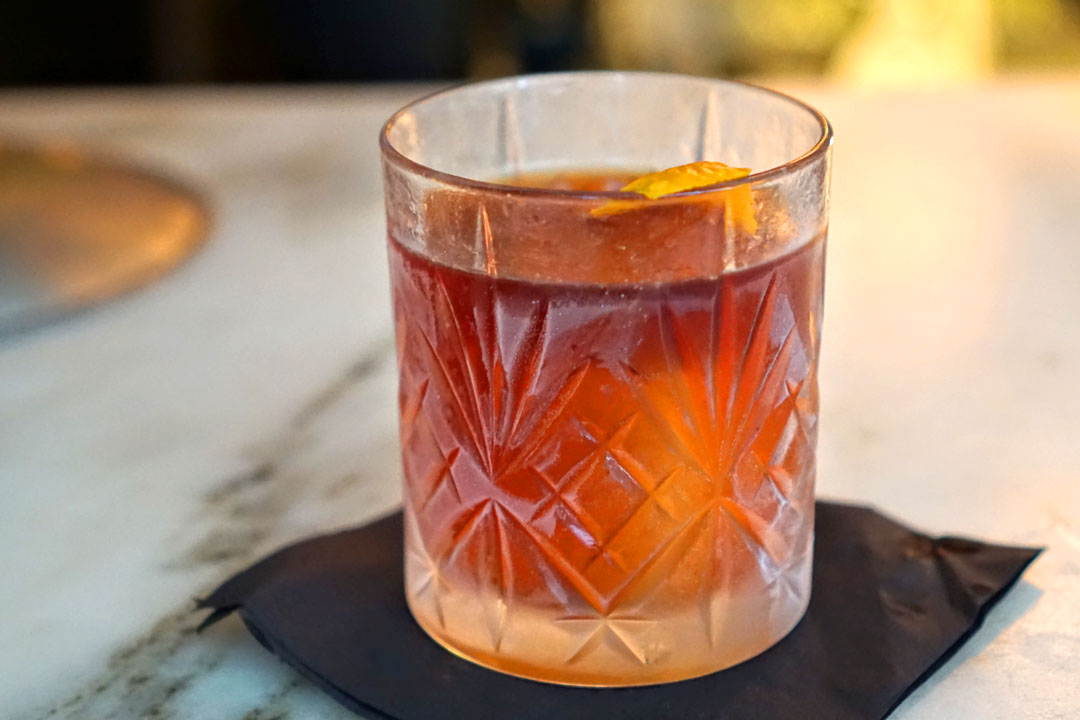 Assassin's Handbook [$15.00]
| cognac, jamaican rum, averna, mulled wine shrub, habanero
Given that I already had a tasting menu lined up for later, I passed on the snacks and ordered something to drink. My choice of cocktail ended up being quite unlike anything I'd had in recent memory. I got a huge cinnamon-y spice up front, leading to a growing, palpable, persistent heat, while a backing of bitter, herbaceous, and chocolatey notes provided the necessary counterpoints.

After enjoying the bar scene for a while, I eventually made my way up to the cozy upstairs dining room.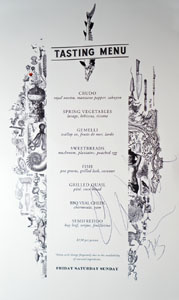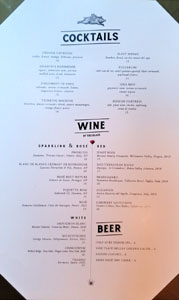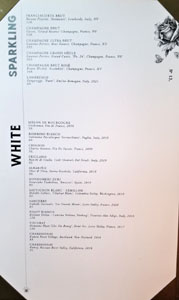 As mentioned above, though Chef Williams originally opened Friday Saturday Sunday with an à la carte menu, the restaurant now solely offers an eight-course tasting, priced at a reasonable $130 a head. We also see here the wine list, as well as the same beverage selection from the bar. Click for larger versions.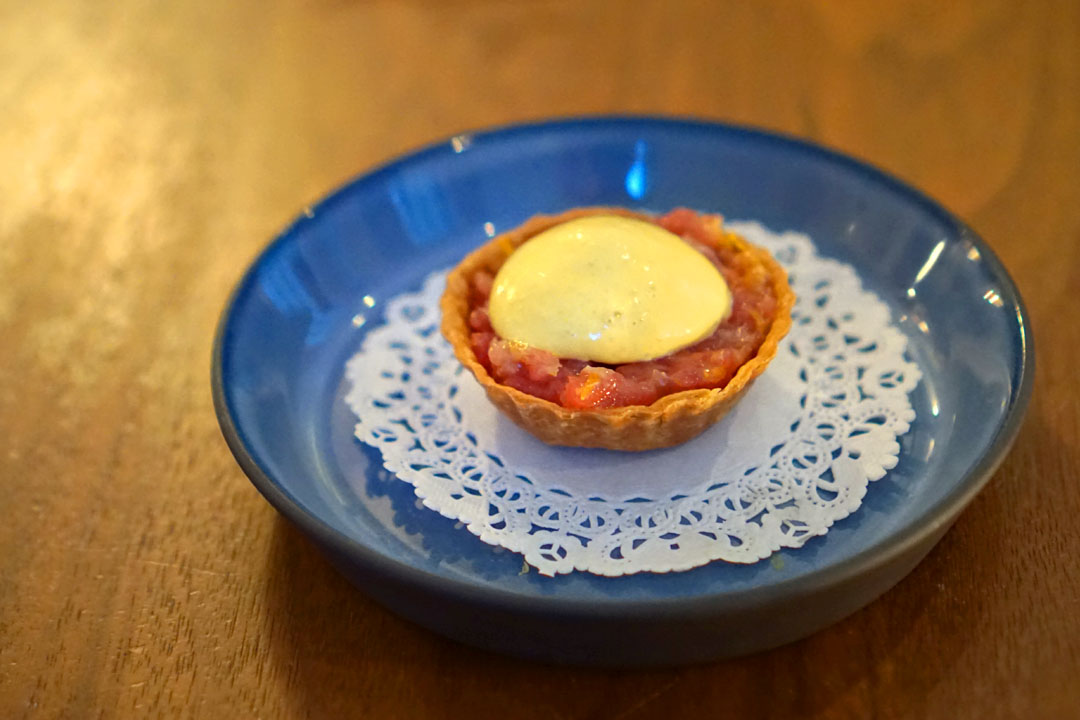 1: Crudo
| royal ossetra, manzano pepper, sabayon
My first course served as a bit of an amuse bouche, and featured sweet-n-saline tuna paired with a delightfully crumbly crust and the lush-yet-light nature of the sabayon. I didn't get much from the peppers, though, so I'm curious as to how some heat would've played here.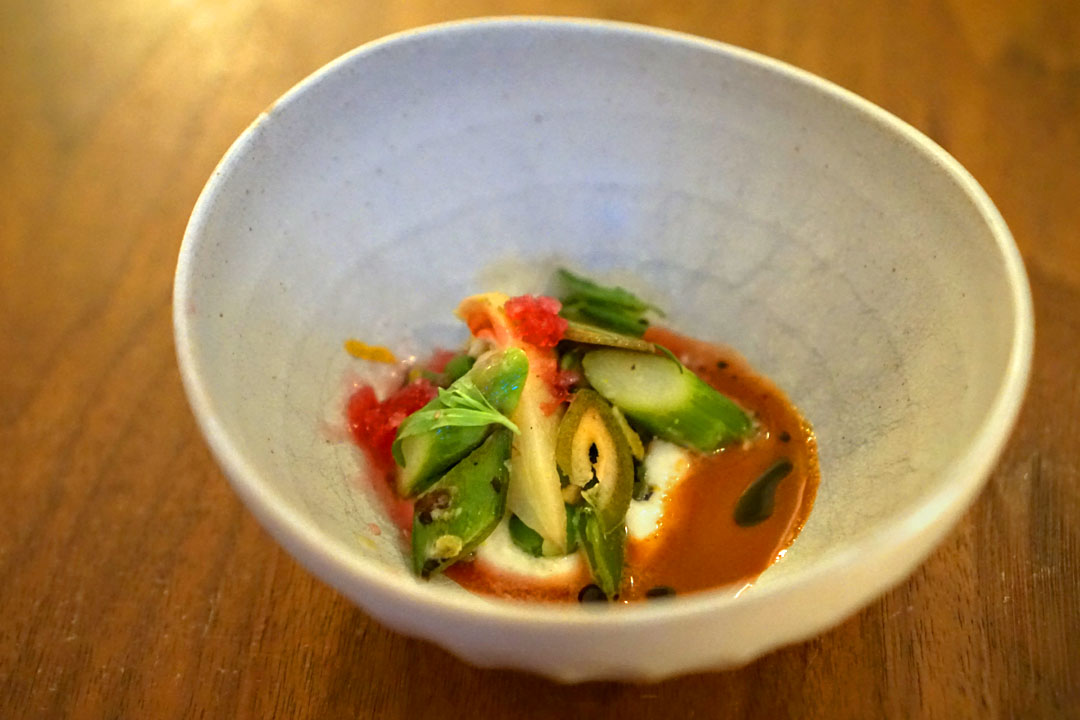 2: Spring Vegetables
| lovage, hibiscus, ricotta
The salad course was a winner. I was impressed by the back-and-forth between the fruity-floral hibiscus and creamy ricotta, all set over a backbone of refreshingly bitter, zippy veggies. I quite liked the incorporation of what I believe were pickled green almonds, too.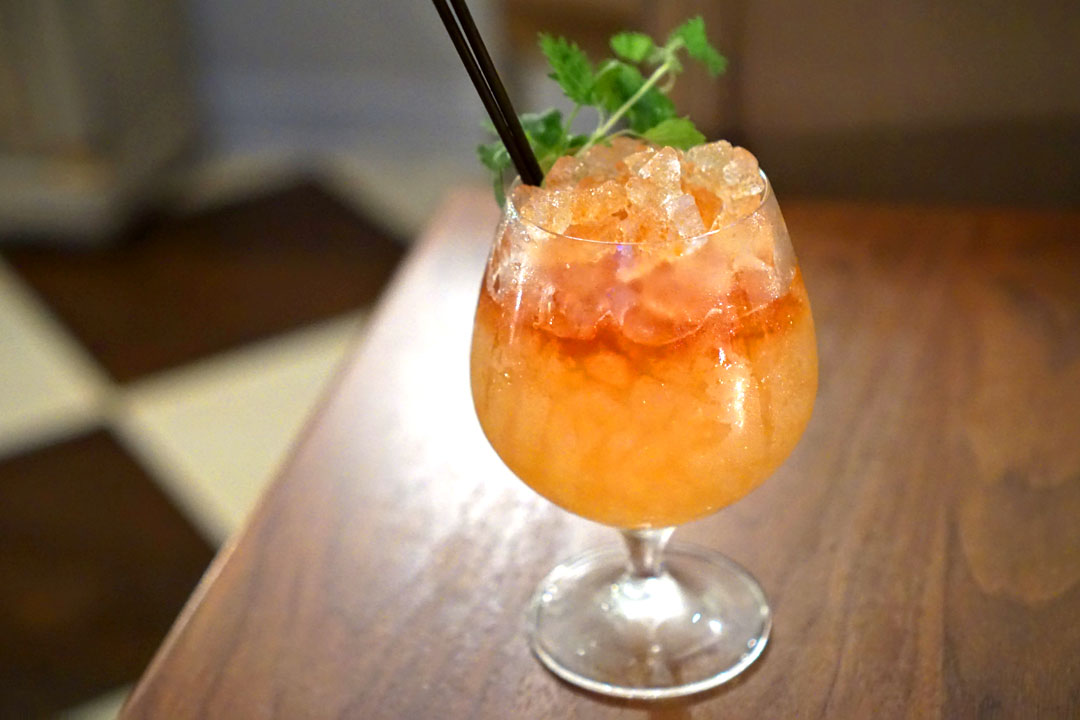 Judgement of Paris [$15.00]
| calvados, torino vermouth, lemon, angostura bitters, cilantro
I was rather fond of my second cocktail. The key here was the drink's commixture of cacao, fruit, and bittersweet notes, and the whole thing actually tasted somewhat of birthday cake(!) at times. Very neat.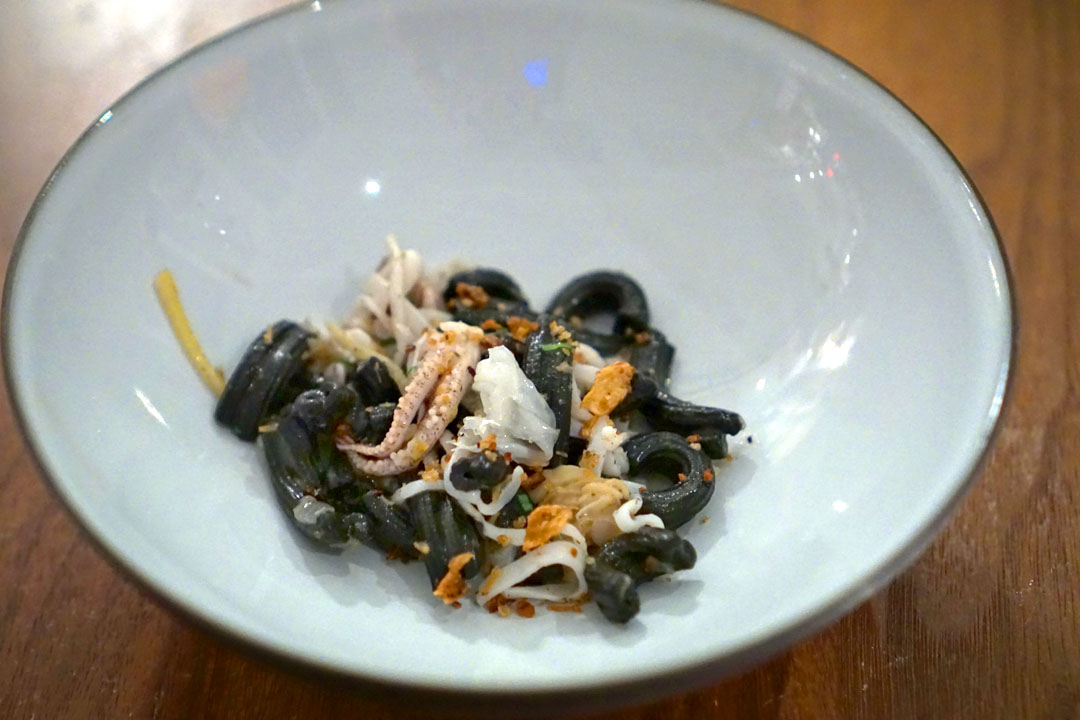 3: Gemelli
| scallop xo, fruits de mer, lardo
Next came probably the best pasta dish I've had all year. The gemelli were spot-on in terms of consistency, but what really took this over the top was that XO. The sauce offered up loads of depth and umami from the dried scallop, which melded perfectly with the brine of the octopus and squid. It was a match made in heaven, and I also got a great bit of texture from the crunchy bits sprinkled on top.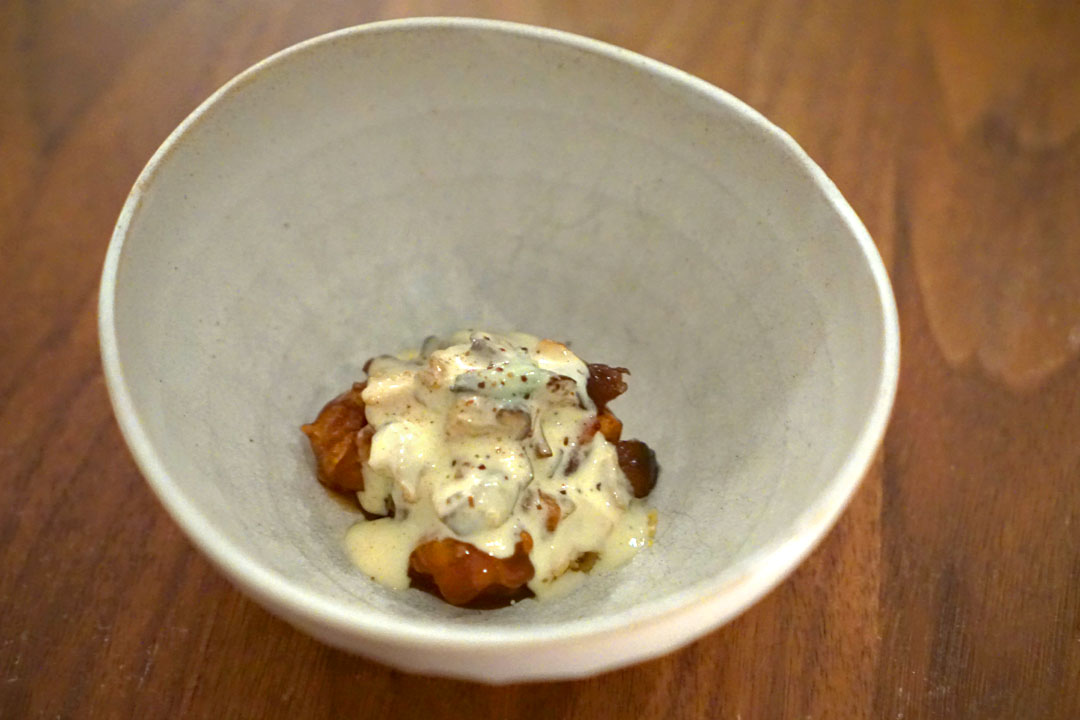 4: Sweetbreads
| mushroom, plantains, poached egg
Sweetbreads had wonderfully crispy exteriors that actually reminded me of General Tso's, while taste-wise, the dish went in a sharp, earthy direction. It was a bit intense, so I would've liked to have seen more from the poached egg to even things out.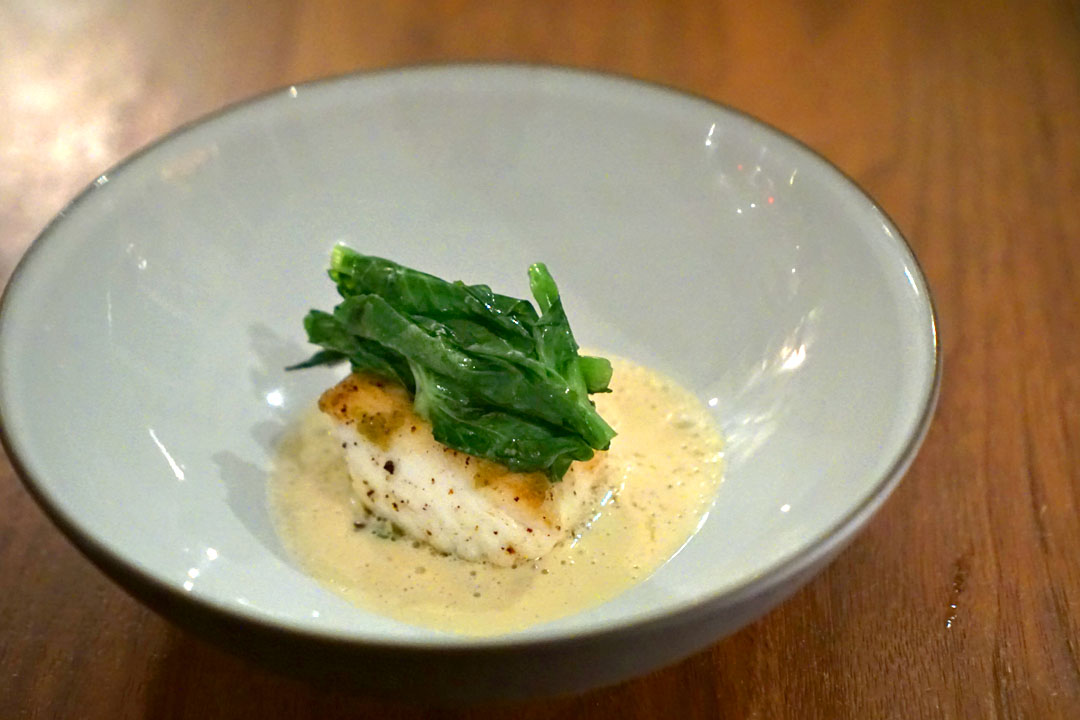 5: Fish
| pea greens, grilled leek, coconut
Halibut arrived perfectly cooked, with a satisfying, supple texture that really spoke to me. The delicate sweetness of the fish paired easily with its herby, buttery, coconut-infused sauce, but the crux of the dish was the bitter, savory counterpoint from those pea greens--yum.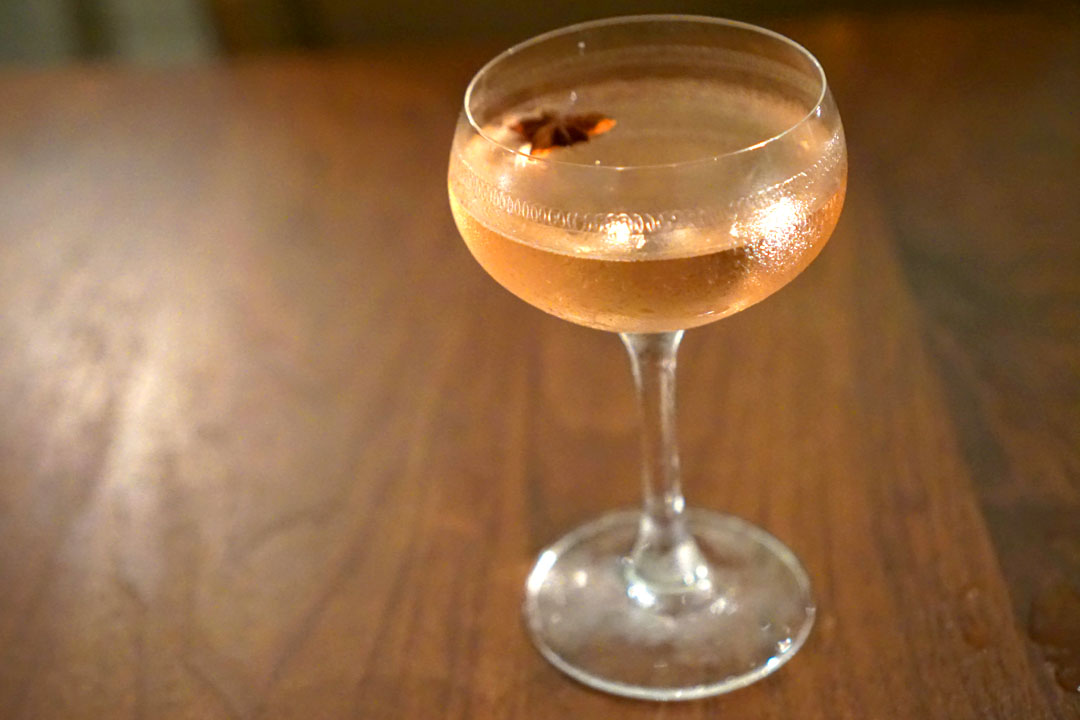 Hellebore [$15.00]
| cider eau de vie, saler's gentian aperitif, blanc vermouth, peychaud's bitters
My final cocktail was pretty great as well. What I liked here was the drink's astringent, stone fruit-like flavors, which actually made a lot of sense with all the piney, minty nuances present.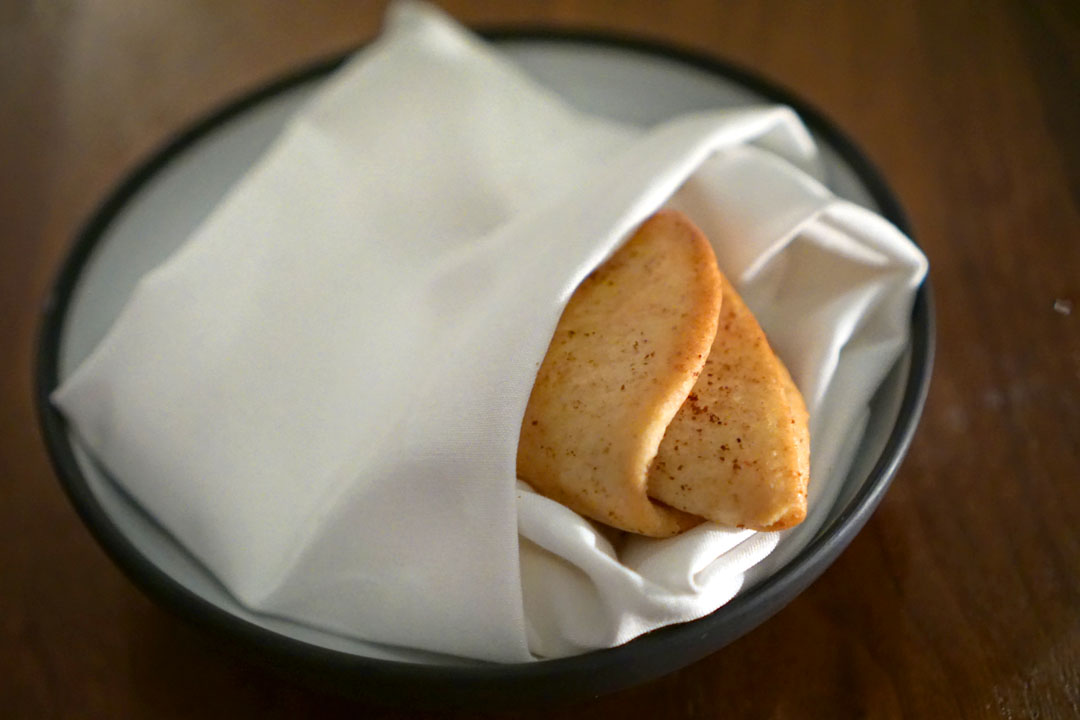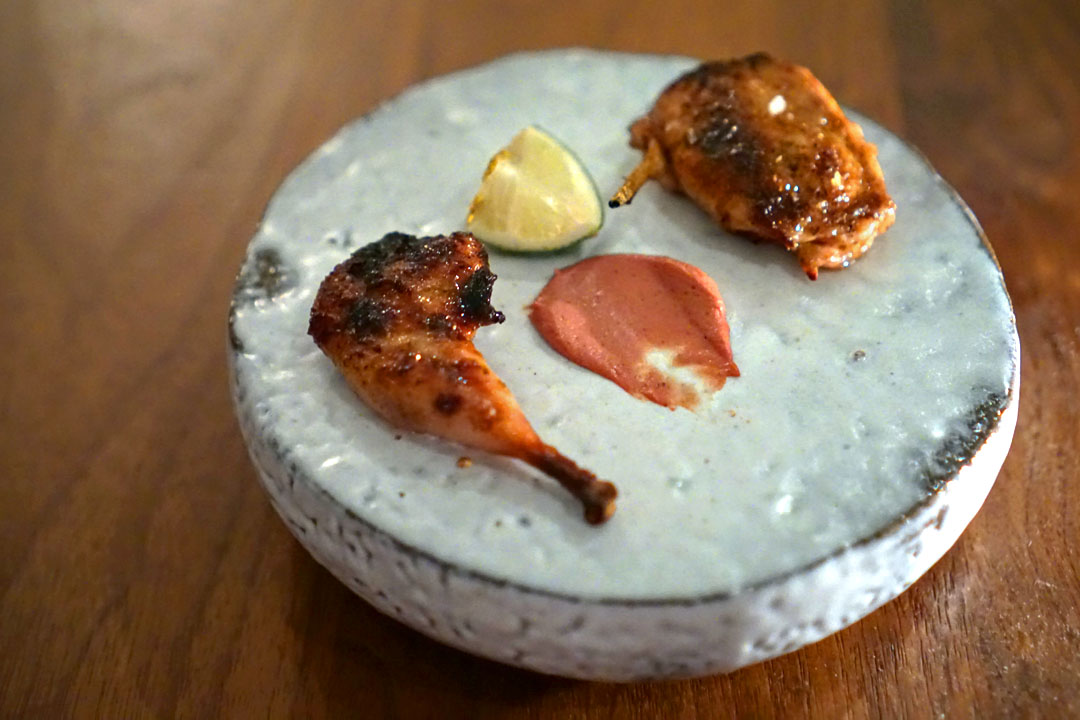 6: Grilled Quail
| pâté, coco bread
Here we have one of the best preparations of quail I've had in a while. The bird came out super juicy, imbued with sweet spice and a tempering touch of smoke. It was delicious alone, but was even better when taken with that earthy, spicy liver pâté. The whole combination linked up flawlessly with the fluffy, sweet-savory coco bread, which was instilled with a familiar, South Asian-esque seasoning.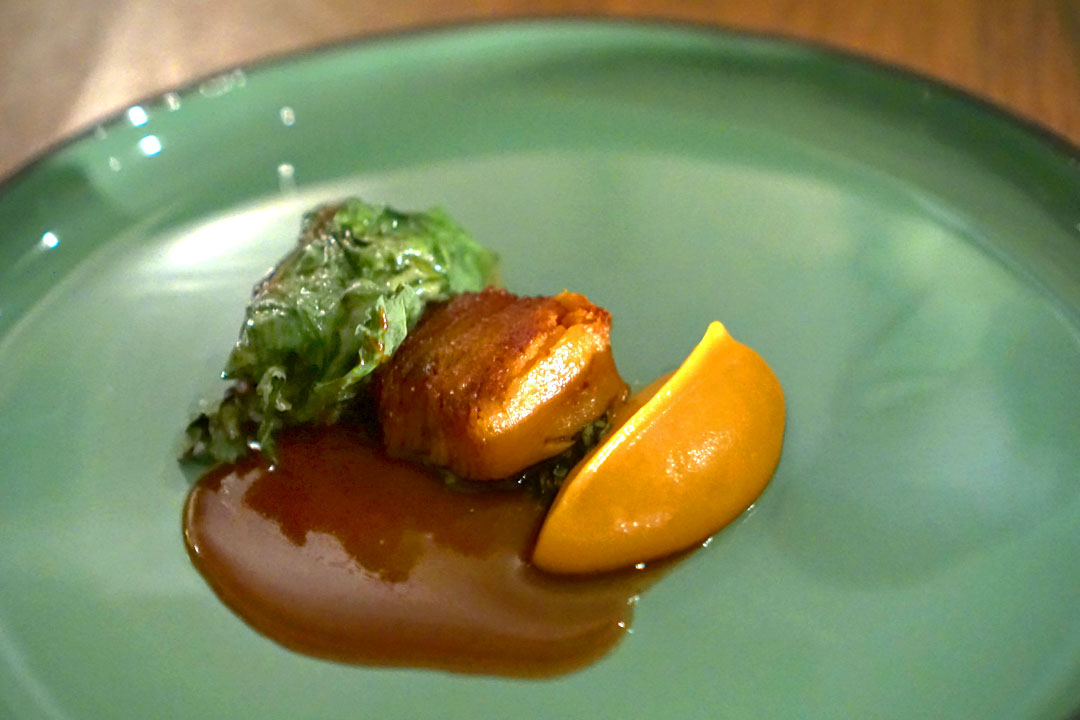 7: BBQ Veal Cheek
| chermoula, yam
The meal's last savory course was also a highlight. The veal ate exceptionally tender, and came brimming with all the barbeque-inspired flavors that I could want, all while the greens imparted a bitterness that helped keep things in check. However, the biggest surprise here was actually the yam. I often find the root veggie overly sugary, but it worked out beautifully in this application, so I'm impressed by how the Chef was able to incorporate it into the dish; I think the key was the spicing utilized, which made the yam mesh with the veal in a really seamless manner.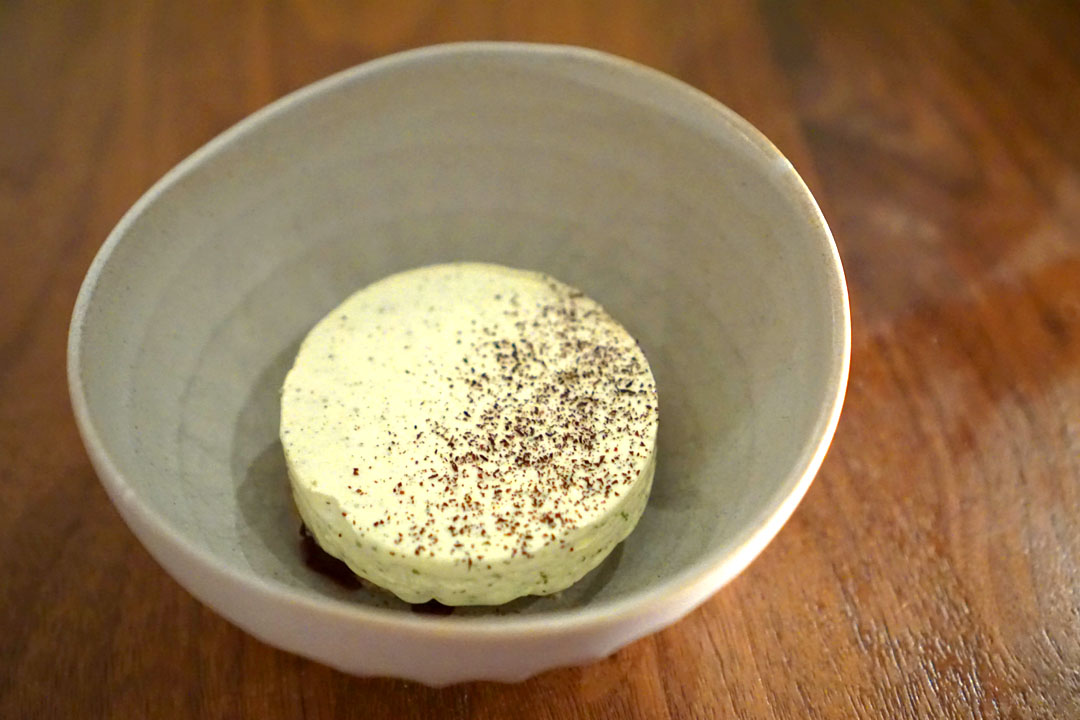 8: Semifreddo
| bay leaf, verjus, feuilletine
Dessert comprised an excellent version of a semifreddo. I certainly couldn't fault its semi-frozen consistency, and loved the interplay between the aromatics of the bay leaf and the fruity verjus, moderated by the custard. I got a nice crunch and salt from the crust on the bottom, too.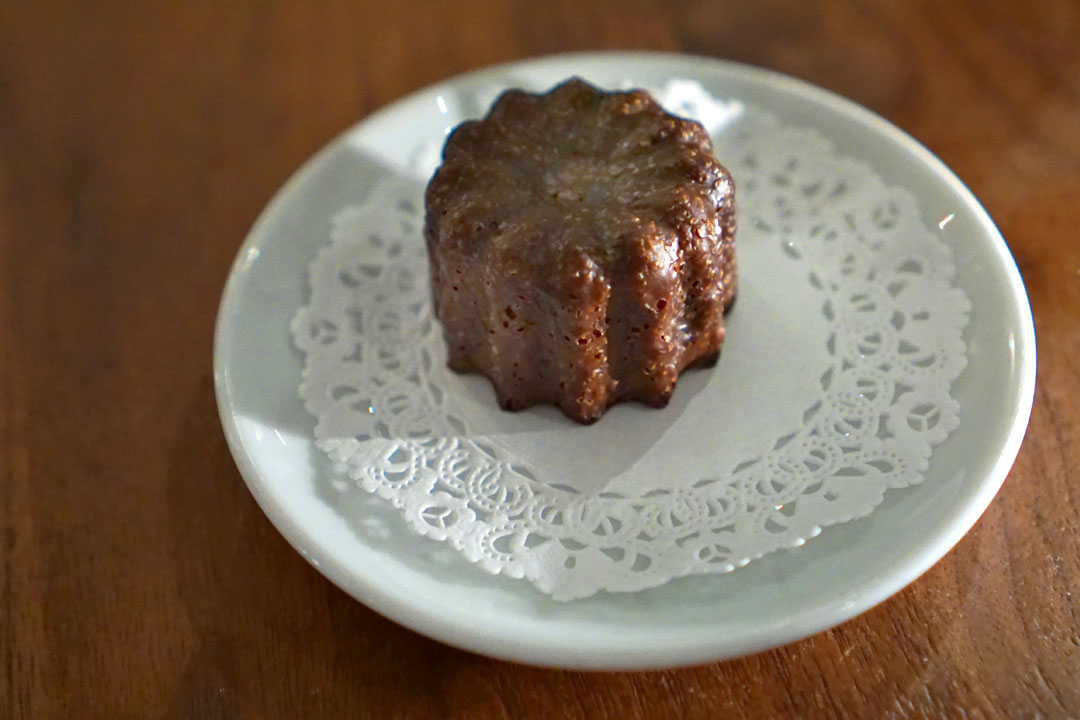 Mignardise duties were handled by a lone vanilla-scented canelé, one with a particularly caramelized crust but a moist, gooey interior.
I was pretty impressed with Williams' cooking tonight, and I'd probably say that it was my strongest meal in Philadelphia thus far. I think the food here takes its inspiration from the classics, but there's enough creativity and fun to keep things interesting, and a boldness and complexity to the cuisine. Service was on point as well, and overall, I can definitely see why so many regard Friday Saturday Sunday as the best restaurant in Philly. I might have to return sometime and enjoy dinner at the bar.